Marketing Associate
Los Angeles, California
Direct, small ticket ($10k-$250k) leasing company
looking for an energetic, intelligent quick thinker to be our Marketing Associate. 3+ years of commercial equipment leasing experience required. Daily activities include: deal previews, prospecting, managing prospect
database and other marketing support.
Contact: Michael Green, mgreen@dakotafin.com
(310) 696-3030 x 124

Dakota Financial provides equipment leasing/finance solutions to small businesses throughout the United States. We specialize in providing funding for those who can not obtain financing from traditional sources.
www.dakotafinancial.com


Wednesday, February 7, 2012


Today's Equipment Leasing Headlines

Classified Ads---Sales Manager
Mass Fax Class Action Case against Balboa Capital
Why I Became a CLP – Bruce J. Winter
Classified Ads---Help Wanted
Channel Partners Last 20 Funding Deals
Buying Branches hits Top Banks EPS,
but Loan Growth and Deposits Grow!
1,210 World Billionaires—Only One Lessor
Complete Leasing Association Conferences---Up-date
Feb. preliminary Money Anxiety Index stands at 92.3
Union Bank to Double Sales Staff by 2014
SBA Loan Volume Increased Substantially in 2011
MCI Sales and Service Joins with Advantage Funding
60 Months plus $286,442 for evading $150,000 in taxes
Irvine, California Adopt-a-Dog
News Briefs---
CIT Redeeming $4 Billion debt for Investment-Grade
American Express/Macquarie Leasing Launch a Global First
Xtra Lease orders 9,400 new vans, reefers
Closed Alpharetta founder indicted in robo-signing case
States w/Highest Foreclosure Rates Among Bank Deal Holdouts
Bank of America Plaza becomes Atlanta's priciest repo
Frantic last days of MF Global detailed in new report
Developer plans to make bid for Philly newspapers
Allstate using driving records set homeowners' rates
Obama increases Alzheimer's funding
Broker/Funder/Industry Lists | Features (collection)
Top Ten Stories Chosen by Readers | Top Stories last six months
Clint Eastwood—It's Halftime in America
You May Have Missed
20 Active Valentine Date Ideas
SparkPeople--Live Healthier and Longer
Sports Briefs---
Football Poem
California Nuts Briefs
"Gimme that Wine"
This Day in American History
SuDoku
Daily Puzzle
GasBuddy
Weather, USA or specific area
Traffic Live----

######## surrounding the article denotes it is a "press release" and was not written by Leasing News nor information verified, but from the source noted. When an article is signed by the writer, it is considered a "by line." It reflects the opinion and research of the writer. It is considered "bias" as it is the writer's viewpoint.

[headlines]
--------------------------------------------------------------

Mass Fax Class Action Case against Balboa Capital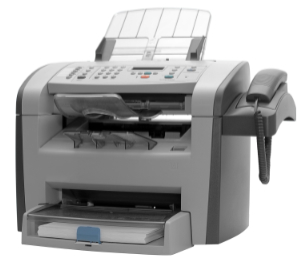 A class action case against Balboa Capital, Irvine, California was brought by Attorney Aytan Bellin, While Plains, New Jersey, joined by Joseph R. Compoli, Jr. Cleveland, Ohio, and Roger Furman, Los Angeles, California in a class action suit regarding unsolicited fax advertisements. A jury trial has been scheduled for February 18, 2013. (1)
"(14. 14. The Telephone Consumer Protection Act of 1991, Pub. L, 102-243, § 3(a), added Section 227 to Title 47 of the United States Code, 47 U.S.C. § 227, In pertinent part, 47 U.S.C. § 227(b) provides that "[i]t shall be unlawful for any person within the United States, or any person outside the United States if the recipient is within the United States . to use any telephone facsimile machine, computer, or other device to send an unsolicited advertisement to a telephone facsimile machine[.]" 47 C.F.R. § 64.1200(a), a regulation prescribed under 47 U.S.C. § 227(b) and effective as of December 20, 1992, provides in pertinent part that "[n]o person may . [u]se a telephone facsimile machine, computer, or other device to send an unsolicited advertisement to a telephone facsimile machine."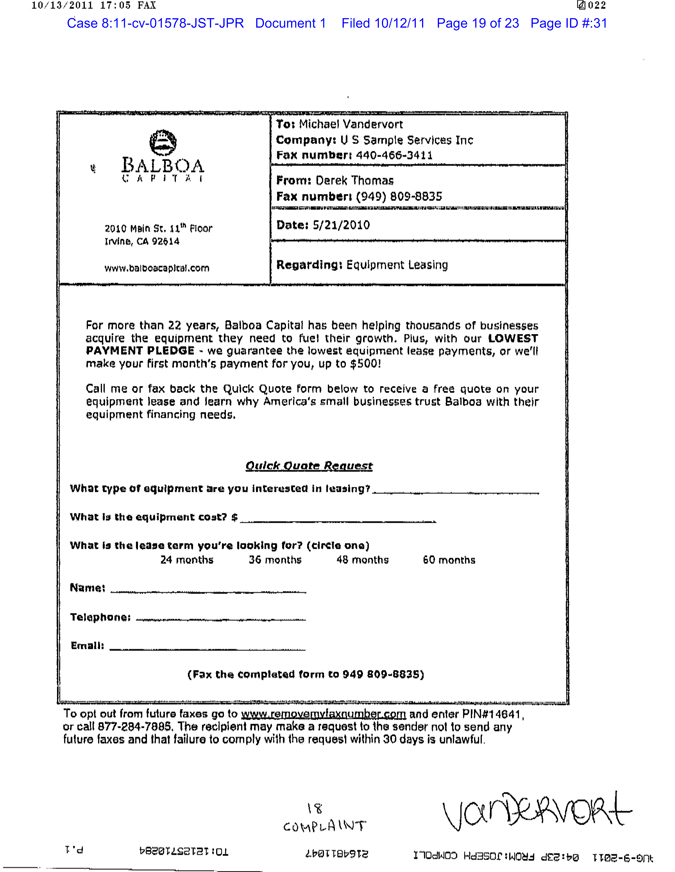 There are several other comments in the 23 page complaint
One of the aspects, according to the complaint, stating it does not satisfy the requirements of 47 U.S.C 227(b)(2)(D). (Pages 2 and 3 10. 11.)
The complaint further states: 12 (..., Defendant has, from four years prior to the date of the filing of the instant Complaint through the present, either negligently or willfully and/or knowingly sent and/or arranged to be sent more than 10,000 unsolicited fax advertisements, advertising the commercial availability or quality of property, goods, or services, to fax machines and/or computers belonging to thousands of persons all over the United States. Upon information and belief, those facsimile advertisements contained a notice at the bottom identical or substantially similar to that contained on the fax advertisement sent to Plaintiffs."
Prayer for Relief

"A. an order certifying the Classes, appointing Plaintiffs as the representatives of the Classes, and appointing the law firms representing Plaintiff as counsel for the Classes;
"B. on the first and second claims, an award to Plaintiffs and the members of Classes A and B, and against Defendant, of statutory damages excess of $5,000,000 for each of Classes A and B, pursuant to 47 U.S.C. § 227(b), for Defendant's violations of that statute and the regulations thereunder;
"C. on the first and second claims, if it is found that Defendant willful and/or knowingly sent and/or caused to be sent fax advertisements to Classes A and/or B, a tripling of the award of statutory damages pursuant to 47 U.S.C, § 227(b) to an amount in excess of $15,000,000 for each of Classes A and B against Defendant;
on the third claim, an injunction against Defendant prohibiting
Defendant from committing further violations of the above-mentioned statute and regulations..."
Balboa Capital was contacted for a comment or statement, but none was received prior to press time.
Trial Date Set:
http://leasingnews.org/PDF/Balboa_Trial_Date_Set.pdf

Balboa Complaint:
http://leasingnews.org/PDF/Balboa_Complaint.pdf
[headlines]
--------------------------------------------------------------


Classified Ads--- Sales Manager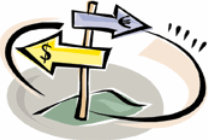 (These ads are "free" to those seeking employment or looking
to improve their position)

Fort Myers, Florida

Very experienced and strong skills with both Captive
and Specialty Sales Management.
Over 25 years, will relocate and travel
---successful and team player.
e-mail: tlinspections@gmail.com
Free Posting for those seeking employment in Leasing:
http://www.leasingnews.org/Classified/Jwanted/Jwanted-post.htm

All "free" categories "job wanted" ads:
http://www.leasingnews.org/Classified/Jwanted/Jwanted.htm
((Please click on ad to learn more))
(Leasing News provides this ad "gratis" as a means
to help support the growth of Lease Police)


[headlines]
--------------------------------------------------------------

Why I Became a CLP – Bruce J. Winter
After passing the exam I had our business cards reprinted to include the letters "CLP" after our names. While I was somewhat skeptical that the initials "CLP" on my business card would make a meaningful difference in my career, I have a real story that shows the impact of the CLP designation.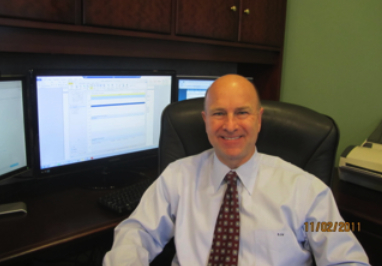 President, FSG Leasing, Inc
21 Years in Business
We were working on a highly competitive transaction for $3 million, and when meeting with the client for the first time, he inquired about the meaning of "CLP". I explained to him the program, our desire to challenge ourselves to become better practitioners in our industry and the commitment and mental effort necessary to study and then sit for the seven hour CLP exam. I told him we were grateful for the opportunity and even more honored when we learned our entire team passed on the first try. He seemed impressed.

Within a few weeks, we won the deal, gained credit approval and were again sitting in front of the customer with final documents for his signature. It was then that the customer told us that the CLP designation was a differentiating factor for him when making his final financing decision. While our financing proposal was slightly more creative, he felt that the competition, GE Capital, just wasn't as dedicated and professional as the staff at FSG. He told me he respected our dedication to learning and supplementing our skills. He happily signed our documents and we earned a handsome fee when we sold the deal on a non-recourse basis. To close the loop, our non-recourse funding source was the buy-desk of GE Capital!
This happened again, and also has been helpful in other transactions, although it was furthers from my mind. I first learned of the CLP Program when the Eastern Association of Equipment Lessors (EAEL) held its first ever joint conference with the United Association of Equipment Lessors (UAEL) in New Orleans in 1996. As a long time EAEL member, I had never been associated with UAEL (nor the old Western Association of Equipment Leasing) and was impressed with the UAEL people and their accomplishments. In particular, I was very interested in the CLP Program, which was a product of UAEL in those years.
While the creditability of the CLP brand was growing, I saw the CLP exam as an opportunity for me and my staff to expand our leasing knowledge in a professional and measureable way. I had been in the leasing business for 14 years, and after the first few years had few new opportunities to continue the learning process. As an owner of an independent leasing company, I had many of the skills necessary to become a CLP, but I also recognized that the CLP program offered a broad based educational experience that included areas of which I had little knowledge, such as leasing to the Federal government. The ability to see all sides of the equipment leasing business was even more valuable for several of my key employees.
We purchased the CLP Handbook, studied individually for several weeks and then condensed a three day review course into one long 11 hour study day with Johnnie Johnson as our facilitator. The next day we sat for the exam.
To say my brain was "fried" after these two days would be an understatement, but we all felt confident with our performance and were elated when we later found out our entire team passed!
www.clpfoundation.com

[headlines]
--------------------------------------------------------------
Leasing Industry Help Wanted




Sales Professional-Nationwide
Are you producing over $400,000 a month and
want the ability to reach $1 million a month?

Ascentium Capital is self-funded equipment finance company focused on vendor programs across many industries, as well as end-user transaction sizes ranging from $10,000 to $500,000 per schedule.

We offer unlimited earnings potential based on your ability to innovate and produce results within an entrepreneurial sales environment. In addition, we offer a comprehensive benefits package which includes Medical, Dental, Vision, 401(k), Profit-Sharing as well as paid holidays.

If you believe that you have what it takes, please send your cover letter and resume to: SalesCareers@AscentiumCapital.com

www.ascentiumCapital.com
Join a resource-rich company with over $300,000,000 in lending capacity for your customers.
Marketing Associate
Los Angeles, California
Direct, small ticket ($10k-$250k) leasing company
looking for an energetic, intelligent quick thinker to be our Marketing Associate. 3+ years of commercial equipment leasing experience required. Daily activities include: deal previews, prospecting, managing prospect
database and other marketing support.
Contact: Michael Green, mgreen@dakotafin.com
(310) 696-3030 x 124

Dakota Financial provides equipment leasing/finance solutions to small businesses throughout the United States. We specialize in providing funding for those who can not obtain financing from traditional sources.
www.dakotafinancial.com


For information on placing a help wanted ad, please click here:
http://www.leasingnews.org/Classified/Hwanted/Hwanted-post.htm

Please see our Job Wanted section for possible new employees.
[headlines]
--------------------------------------------------------------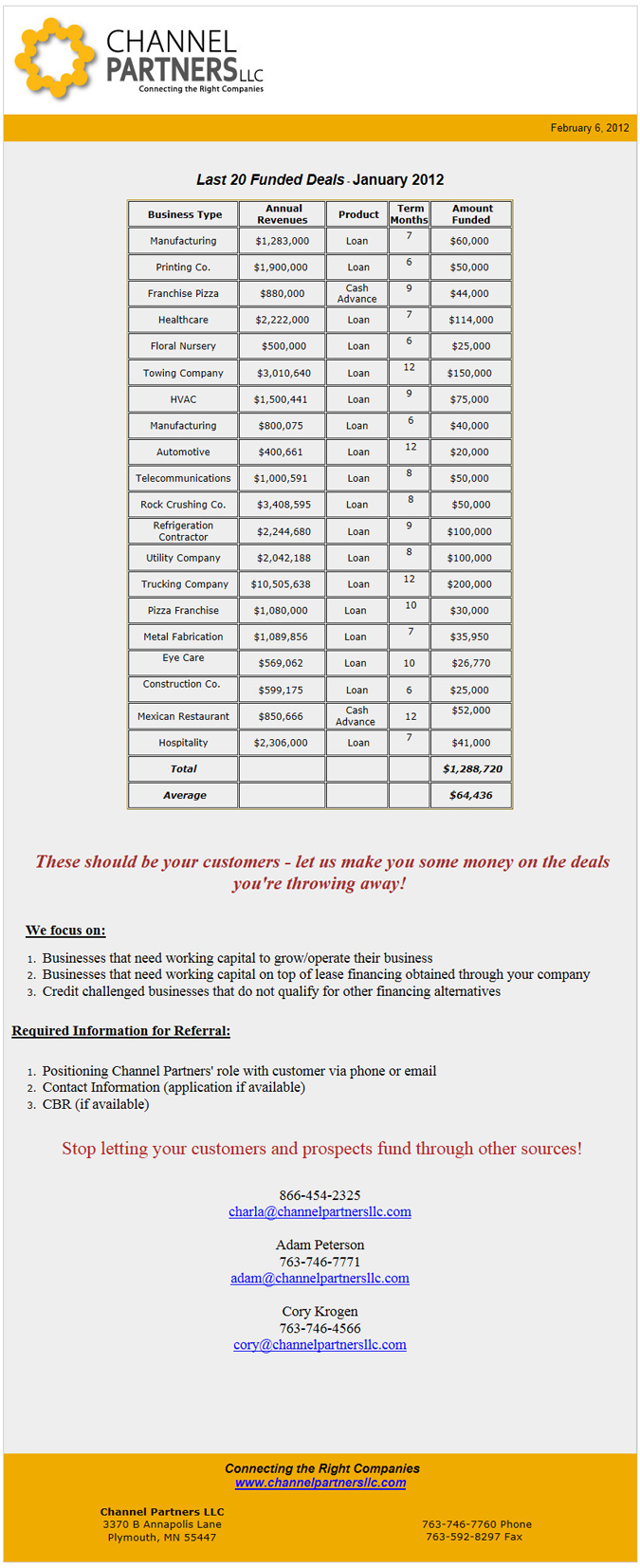 [headlines]
--------------------------------------------------------------
[headlines]
--------------------------------------------------------------
[headlines]
--------------------------------------------------------------
Leasing Association 2012 Conferences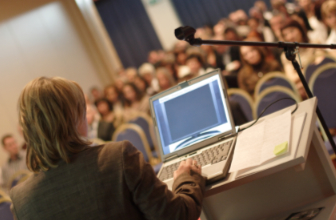 ---
National Equipment Finance Summit
March 22-24, 2012
San Diego, CA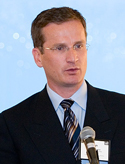 "It is essential for industry conferences to bring more than just peer to peer presentations," Hugh Swandel, president of NEFA said regarding speaker Mike Robbins. "He will bring members a unique perspective and some different ideas on how to get the most out of your business efforts!
Bestselling author Mike Robbins will be a featured Saturday luncheon speaker March 24th.
"I'm aware of what their industry has gone through and admire the folks who are still moving forward and investing in themselves today as their industry turns around," he said. "My Power of Appreciation presentation will help them build on those things that have gotten them through this far, and help them leverage those lessons for motivating themselves and those around them onto greater
and greater success this year."
Michael J. Stead, Director of Capital Markets for Bank of the West,
will be the featured luncheon speaker on Friday, March 23, 2012.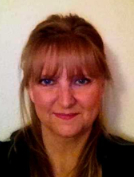 Lynne Wicker, Conference Chairperson, RTR Services, Salem, Oregon, noted "With over six weeks still to go, we've already registered many more people than we had in total at this event last year, so we're really expecting a good turnout and an exciting event."
In an effort to widen its membership, the National Association of Equipment Leasing is planning ...more educational sessions than prior years including a special series for brokers wanting to become lessors"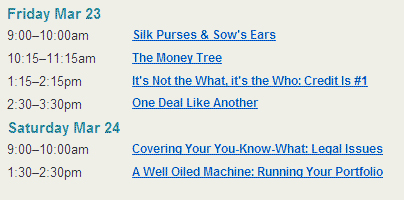 A successful broker himself for many years, Gerry talks about the struggles faced today by many brokers and describes a way out by taking more control of your business and outlines a path for learning how to do just that. Always, positive, always encouraging, Gerry also tells how NEFA connections and conferences helped him and countless other brokers and what's specifically planned for this year's Summit to continue to pay that forward. Time: 6:46
Agenda:
https://m360.nefassociation.org/frontend/event/schedule.aspx?EventId=39465
Pricing with registration
http://www.nefassociation.org/displaycommon.cfm?an=1&subarticlenbr=166
---
April 17-19
24th Annual National Funding Conference
Fairmont Hotel
Chicago, Illinois
"For over two decades, companies like yours have been profiting from the relationships established at the ELFA National Funding Conference. You've met, talked and done business with some of the finest organizations in the equipment finance industry, and you've enjoyed excellent return on your investments. This year's Conference continues to make it easier, more flexible and extremely affordable for Funding Sources to participate and meet with the companies that fit your funding profile."
The National Funding Conference Exhibitor Brochure:
http://www.elfaonline.org/cvweb_elfa/cgi-bin/documentdll.dll/view?DOCUMENTNUM=535
---
April 23-25
National Vehicle Leasing Association
Annual Conference
Worthington Renaissance Hotel
200 Main Street
Fort Worth, Texas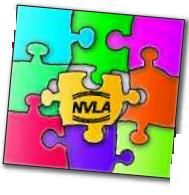 NVLA Program:
http://www.nvla.org/LinkClick.aspx?fileticket=BCh9J9IJ0ns%3d&tabid=150
---
April 26-28, 2012
Denver Sheraton Downtown Hotel
Denver, Colorado
NAELB Annual Conference Exhibitors (As of January 25, 2012):

360 Equipment Finance
Amerisource Funding, Inc.
Bankers Capital
Blue Bridge Financial, LLC
Dakota Financial, LLC
Diversified Lenders, Inc.
Financial Pacific Leasing, LLC
instaCOVER
Maxim Commercial Capital, LLC
Pawnee Leasing Corporation
Preferred Business Solutions
Quiktrak, Inc.
RLC Funding a Division of Navitas Lease Corp.
TEAM Funding Solutions


Conference Brochure:
Conference brochure
Schedule:
http://www.naelb.org/displaycommon.cfm?an=1&subarticlenbr=281
Registration with fees:
https://www.paymyassociation.com/displayemailforms.cfm?SessionId=12444721-EB8B-7832-CF209E9F55C9119C&emailformnbr=174905&event=375692
---
AGLF/ELFA Public Sector Finance Forum
May 9 - May 11
Doubletree Magnificent Mile
Chicago, Illinois
Registration
http://members.aglf.org/source/events/event.cfm?event=ANN12
---
September 13—15
Funding Symposium
Rennaisance Washington, DC Dupont Circle Hotel
1143 New Hampshire Avenue, NW
Washington, DC 20037-1522


---

October 21-23
ELFA 51st Annual Convention
JW Marriott Desert Springs
Palm Desert, California
---
November 7 - 9, 2012
32nd Annual Fall Conference
Hilton La Jolla Torrey Pines
La Jolla, California

-------------------------------------------------------------------
To view Leasing Association Events-Meetings Open to All, please click here.
[headlines]
--------------------------------------------------------------
[headlines]
--------------------------------------------------------------

[headlines]
--------------------------------------------------------------

[headlines]
----------------------------------------------------------------
This Day in History
-------------------------------------------------------------

SuDoku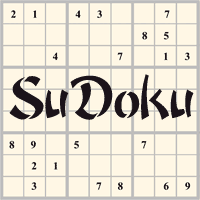 The object is to insert the numbers in the boxes to satisfy only one condition: each row, column and 3x3 box must contain the digits 1 through 9 exactly once. What could be simpler?
http://leasingnews.org/Soduku/soduko-main.htm
--------------------------------------------------------------

Daily Puzzle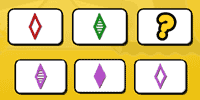 How to play:
http://www.setgame.com/set/puzzle_frame.htm
Refresh for current date:
http://www.setgame.com/set/puzzle_frame.htm
--------------------------------------------------------------


http://www.gasbuddy.com/
http://www.gasbuddy.com/GB_Map_Gas_Prices.aspx
http://www.gasbuddy.com/GB_Mobile_Instructions.aspx
--------------------------------------------------------------

Weather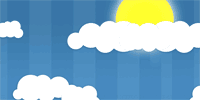 See USA map, click to specific area, no commercials
--------------------------------------------------------------

Traffic Live---
Real Time Traffic Information
You can save up to 20 different routes and check them out with one click,
or type in a new route to learn the traffic live
--------------------------------