Classified Ads---Sales Manager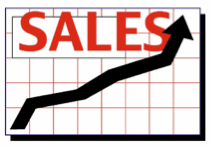 (These ads are "free" to those seeking employment or looking
to improve their position)
Bayville, NJ
Dedicated individual seeking a account management position, 3 years leasing experience and 15+ years sales experience. Resume furnished upon request,
email Frank at weag4th@gmail.com .
Fort Myers, Florida
Very experienced and strong skills with both Captive and Specialty Sales Management. Over 25 years , will relocate and travel---successful and team player.
e-mail: tlinspections@gmail.com
Free Posting for those seeking employment in Leasing:
http://www.leasingnews.org/Classified/Jwanted/Jwanted-post.htm

All "free" categories "job wanted" ads:
http://www.leasingnews.org/Classified/Jwanted/Jwanted.htm

[headlines]
--------------------------------------------------------------

As With US Bank, Key Products Grow except Leasing
by Christopher Menkin
Key Corp earnings more than doubled, reaching $813 compared with $390 million in all of 2010, but fourth-quarter earnings fell by 30% to $194 million from $279 million in the previous year. Key noted its fourth-quarter results were hurt by a $24 million charge resulting from Visa's late fourth-quarter announcement of a planned litigation escrow deposit.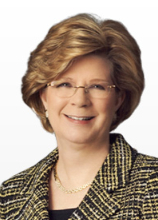 Beth Mooney
Chairman/CEO Key Corp.
Once one of the leading lease financing entities, similar to US Bank Manifest (1), the direction of the Key has obviously changed as the numbers divulge; and as per Beth Mooney, Chairman and CEO, said November 20, 2010 in the announcement becoming CEO of Key Bank, replacing Chairman and CEO Henry Meyer, who was retiring, she said among her goals was to make sure that Key remains focused on being a "relationship-based, community bank." She said Key wants to grow and potentially have more branches and do business in more cities. The bank has been moving in that direction. (2)
January 12, 2011 CEO Mooney announced acquire 37 retail banking branches currently owned by HSBC Bank NA, ("HSBC") in Buffalo and Rochester, NY. This transaction will strengthen Key's ability to grow its presence, acquire customers and provide exceptional service to consumer, business banking and wealth.
Ironically more community banks are reportedly becoming interested in the lease financing product; the regional and super regional banks like Key and US Bank seem less interested.
Charles B. Wendel notes in the December Equipment Leasing and Finance Foundation report "Community Banks and Equipment Finance---What it Takes to be a Success" (b), community banks, in particular, appear to be "rediscovering" the attractiveness of leasing. In some cases it can be the lead product that results in a fuller relationship. (3)
Perhaps the key is maintaining control of the credit, due delligence, and portfolio with the larger the size, the more people involved, the more the actual quality meteorites as the goal is to "beat the last quarter." Community Banks can maintain better control over quality from learning the mistakes of the past and going back to the basic good banking credit decisions. They can also pick up depositors and new general loan customers, too.
| | | |
| --- | --- | --- |
| Key Commercial Lease Financing | (dollars in billions) | |
| Fourth Quarter, 2011 | $5,982 | |
| Third Quarter, 2011 | $6,045 | $6,157* |
| Fourth Quarter, 2010 | $6,484 | |
Nonperforming Assets from Continuing Operations
| | |
| --- | --- |
| Commercial Leasing Financing | (in millions) |
| 4Q11 | 27 |
| 3Q11 | 31 |
| 2Q11 | 41 |
| 1Q11 | 42 |
| 4Q10 | 64 |
FDIC Filing Charge Offs
Lease Financing Receivables
(millions)

Average Balance Sheet
Commercial Lease Financing
(billions)

December 31, 2010

$63,489

6,754

December 31, 2009

$106,556

8,220

December 31, 2008

$62,452

9,642

December 31, 2007

$28,827

10,252

December 31, 2006

$12,420

9,773

December 31, 2005

$130,252

10,122

December 31, 2004

$42,246

8,269

December 31, 2003

$56,528

7,961

December 31, 2002

$101,897

7,263

December 31, 2001

$67,547

7,049
*http://leasingnews.org/archives/Oct2011/10_21.htm#key
(1) U.S. Bancorp Loan Products Up, but Not Lease Financing
http://leasingnews.org/archives/Jan2012/1_19.htm#bancorp
(2) New CEO
http://www.cleveland.com/business/index.ssf/2010/11/a_new_ceo_for_key_means_the_ba.html

(3) Report is available for $300 or free to a contributor to the Equipment Leasing and Finance Foundation:
http://www.store.leasefoundation.org/cgi-bin/msascartdll.dll/ProductInfo?productcd=CommBanks2011\
Key Bank Fourth Quarter:
Key Bank 8K PDF
[headlines]
--------------------------------------------------------------

2011 Fourth Quarter Breaks New Business Record
With Charts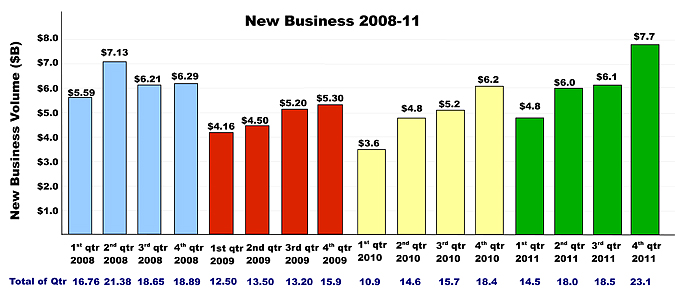 (Leasing News Chart)
The Equipment Leasing and Finance Association's (ELFA) Monthly Leasing and Finance Index (MLFI-25), showed overall new business volume for December was $10.8 billion, up 20 percent from volume of $9.0 billion in the same period in 2010. Volume was up 74 percent from the previous month. Cumulative new business volume for 2011 rose 25 percent over 2010.
MLFI-25 New Business Volume (Year Over Year Comparison)

click to make larger
(ELFA Chart)
It appears every December, the year end brings great new business numbers, and may be due to the companies in the MFLI-25 list, such as ADP, who gets annual renewals of contracts, or some of the others on the list. (1)
ELFA President and CEO William G. Sutton, CAE, said: "The dramatic surge in December new business volume is the result of several factors, which, when combined, form an almost 'perfect storm' of unusually strong business activity. First, demand for the lease/finance product increased as businesses replenished their capital equipment stock. Related to this are reports from many ELFA member organizations of a highly competitive pricing environment.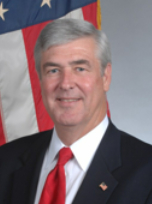 Rear Admiral, ret., William Sutton
"In addition, the pick-up in new business volume seems to support recent bank data that suggest that lenders are making more credit available to their commercial and consumer borrowers. Add to the mix a frenetic pace for end-of-quarter, end-of-year closings and the result is a very robust monthly performance."
David Schaefer, President, Orion First Financial, LLC, located in Gig Harbor, WA, said, "Confidence is on the rise and businesses are beginning to replace aging equipment since they have been holding back over the previous few years. We remain optimistic that equipment replacement will continue but we aren't certain we have entered an expansion phase across all industries.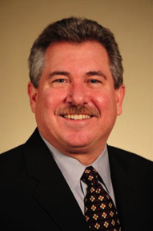 David Schaefer
"The equipment leasing and finance industry continues to have access to capital and with rates low, we are well positioned to serve Main Street businesses as demand grows."
The Equipment Leasing & Finance Foundation January 2012 Monthly Confidence Index for the Equipment Finance Industry showed an increase to 59.0 from December 57.2.
Harry Kaplun, President, Frost Equipment Leasing and Finance, representing the Bank, Middle Ticket Marketplace, said, ""Business continues to improve but not in a robust manner. Replacement equipment along with some strategic capital investments are driving the improvements. Several historically active equipment segments remain flat."
Previously ELFA president, Valerie Hayes Jester, President, Brandywine Capital Associates, representing Independent, Small Ticket, observed: ""The industry has lent effectively through the recession and recovery and continues to play a strong role as businesses start to replace outdated equipment and undertake expansion plans.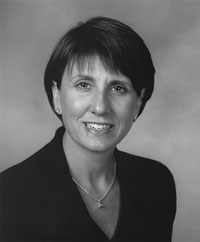 Valerie Hayes Jester
"In the small ticket segment, we see opportunities that had not been present over the past few years. We view recent fourth quarter 2011 activity as a sign that 2012 may be the best year we have seen in the past three."
Unfortunately, if charts above are correct, January always starts low.
Here are other ELFA MFLI-25 Charts:

Aging of Receivables:


click to make larger
Average Losses (Charge-offs) as a % of net receivables
(Year Over Year Comparison)


click image to make larger

Credit Approval Ratios As % of all Decisions Submitted
(Year Over Year Comparison)


click image to make larger
Total Number of Employees
(Year Over Year Comparison)
click image to make larger
(1) ELFA MLFI-25 Participants
ADP Credit
BancorpSouth Equipment Finance
Bank of America
Bank of the West
BB&T Bank
BMO Harris Equipment Finance Company
Canon Financial Services
Caterpillar Financial Services
CIT
De Lage Landen Financial Services
Dell Financial Services
EverBank Commercial Finance
Fifth Third Equipment Finance Company
First American Equipment Finance
GreatAmerica
Hitachi Credit America
HP Financial Services
Huntington Equipment Finance
John Deere Financial
Key Equipment Finance
M&T Bank
Marlin Leasing
Merchants Capital
PNC Equipment Finance
RBS Asset Finance
SG Equipment Finance
Siemens Financial Services
Stearns Bank
Suntrust
Susquehanna Commercial Finance
US Bancorp Equipment Finance
Verizon Capital
Volvo Financial Services
Wells Fargo Equipment Finance

Previous ELFA MLFI-25 Monthly New Business Reports:
http://www.leasingnews.org/Conscious-Top%20Stories/ELFA-Survey.htm
Why Choose Advanced Property Tax Compliance?


Dedicated to the leasing industry
click here to learn more.

Hear What Our Clients say about us
click here

Gary DiLillo, President 440.871.0555 or gary@avptc.com
[headlines]
--------------------------------------------------------------
Leasing Industry Help Wanted

Marketing Associate
Los Angeles, California
Direct, small ticket ($10k-$250k) leasing company
looking for an energetic, intelligent quick thinker to be our Marketing Associate. 3+ years of commercial equipment leasing experience required. Daily activities include: deal previews, prospecting, managing prospect
database and other marketing support.
Contact: Michael Green, mgreen@dakotafin.com
(310) 696-3030 x 124

Dakota Financial provides equipment leasing/finance solutions to small businesses throughout the United States. We specialize in providing funding for those who can not obtain financing from traditional sources.
www.dakotafinancial.com



National Business Development Manager
with minimum seven years experience and
current book of business. Strategically located throughout
US in various targeted industries.
Click Here for more info.
Western Equipment Finance, a subsidiary of Western State Bank
established in 1901, solicits originations throughout the US and
provides funding solutions for a wide range of industries

Senior Accountant NYC
5 Year accounting, prefer bank or finance experience.
CPA preferred. Full description, please click here.
Please send resume to: financecompanyhr@gmail.com
www.easternfunding.com
A Commercial Finance Subsidiary of a publicly
held bank, growing rapidly, is successful and has
a dynamic, exciting culture.

For information on placing a help wanted ad, please click here:
http://www.leasingnews.org/Classified/Hwanted/Hwanted-post.htm

Please see our Job Wanted section for possible new employees.
[headlines]
--------------------------------------------------------------
New Hires---Promotions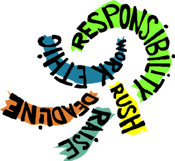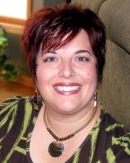 Bonita Gorghuber named Business Development Manager at American Financial Partners, Garfield, Minnesota. Previously she was senior equipment finance & leasing specialist, Synergy Resources (November, 1998-August, 2010), Senior Equipment Finance Specialist, U.S. Bank Business Equipment Finance Group (1995-August, 2010), Credit Manager, Norwest Financial (June, 1998-November, 1998), Credit Underwriter, The Manifest Group (May, 1995-May, 1998), Service Desk Attendant, Memorial Union-North Dakota State University (September, 1992-May, 1995), Assistant Marketing/Personal Banker, Farmers & Merchants Bank (June, 1994-Setpember, 1994), Summer internship in college. Information Specialist, North Dakota Tourism (May, 1993-Setpember, 1994).North Dakota State University B.S, Business Administration (1992 – 1995)
http://www.linkedin.com/pub/bonita-gorghuber/7/aa/6b6
Gerard Hanabergh has joined First Capital, Boca Raton, Florida as Executive Vice-President and Chief Credit Officer. Previously he was Executive Vice-President and Senior Credit Officer, RBS Commercial Finance (April, 2009-Present), Managing Director, GE Capital (July ,2005-February, 2009), Managing Director, GE Commercial Finance (November, 2004-June, 2005), Chief Risk Officer Corporate Lending Retail and Restructuring Divisions, GE Commercial Finance (October, 2002-November, 2004), Chief Risk Manager, GE Corporate Lending east Region (GE Commercial Finance (August, 2000-October, 2002), S.VP. Syndications, GE Capital Markets Services, GE Commercial Finance, August, 1998-July, 2000). Pace University - Lubin School of Business MBA, Finance (1984 – 1988) Providence College B.S., Business Management (1974 – 1978) Graduated with a strong minor in Political Science Activities and Societies: Student Security Supervisor, Intramural Sports, Tennis Team
http://www.linkedin.com/pub/gerard-hanabergh/11/219/286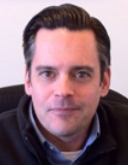 Christopher Holland hired as Business Development Manager at EquipmentEngine Finance Services Company, LLC, Portsmouth, New Hampshire. Previously he was equipment management/Technology Assets, Vantage Point Asset Solutions (January, 2011-JNovember, 2011), Commodities & Currency Trading, Atlantic Enterprises (August, 2009-December, 2010), Loan Portfolio Administration, Amvest Capital, LLC (August, 2007-August, 2009), Equipment Management/Technology Assets, Vantage Point Asset Solutions (June, 2005-August, 2007), Leasing & Development, Commercial Real Estate Investment & Development (April, 2004-September, 2005), Feature Film Production, Walt Disney Feature Animation (June, 1995-March, 2004). University of Virginia Bachelor of Arts, Foreign Affairs (1987 – 1991), Wakefield School (1981 – 1987).
http://www.linkedin.com/pub/christopher-holland/31/480/435
Kevin F. Pickard named NetSol U.S. -based chief financial Officer, Calabasas, California. "Pickard has extensive accounting experience in the securities industry that includes serving as CFO and providing advisory services for publicly held companies in technology and software sectors. Additionally, Pickard has expertise advising on acquisitions and financial reporting for growth-stage companies...Pickard, a certified public accountant, earned Bachelor of Science in accounting and Master of Accountancy degrees from Brigham Young University."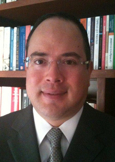 Ulises Quezada has been named a consultant for The Alta Group Late American Region, LLC. He is located in Mexico. "...with more than 20 years of experience in the equipment and financing market, is the former commercial director of CIT Vendor Finance in Mexico. He joins Alta LAR's team formed by Raul Valencia del Toro and Carlos Ruiz in the Mexican office. Quezada brings to the team his skills in day-to-day management of vendor financing operations in Mexico.

Kevin Ronan joins the CIT Group's Capital Equipment Finance Business as Director-Originations, "helping to rebuild CIT's previously well known and well respected middle market lending franchise. I will be primarily targeting non investment grade companies in all industries throughout the US, providing CAPEX financing, acquisition financing, restructures and recapitalizations. CIT will also "participate" in transactions with other lenders and intermediaries to help manage overall hold limits. My primary office will be based in Norwalk, CT., however I will also be working out of CIT's 42nd Street office in New York City on a regular basis. "Previously he was vice-president RBS Asset Finance (March 2010-Present), and was Senior Level Business Direct and Indirect, Originations Sales Leader (January, 2990-January-2011), Senior Vice-President, Commercial Sales Leader, Asset Management, GE Capital (December, 2004-December, 2008), Vice-President, NE Regional Sales manager, GE Capital (April, 1997-December, 2004), Vice-President, Region Account Executive, General Electric (April, 1993-December, 1997). Pace University - Lubin School of Business MBA, Finance 2009 – 2012 (expected) Lubin School of Business Pace University - Lubin School of Business 1981 – 1985
http://www.linkedin.com/in/ktronan
Carlos José Sosa has been named a consultant for The Alta Group Late American Region, LLC. He is located in Columbia. "...with more than 25 years of experience in management consulting, is a former officer of Maraven (a PDVSA subsidiary). He entered the management consulting business with James Martin & Co., Ernst & Young, then worked with EDS Consulting, where he was assigned as regional consultant in both Colombia and Venezuela. Sosa has been providing management consulting advisory services since moving to Colombia. He is a computer science graduate with a master's of business administration degree from the Universidad Central de Venezuela."
Juan Nicolas Uribe-Holguin has been named a consultant for The Alta Group Late American Region, LLC. He is located in Columbia. He has "...more than 30 years of experience in the banking and financing industry, is a former officer of Citibank, Financiera Colpatria, Multifinanciera and Banco del Pacifico, where he led the corporate credit divisions. He is well known as an expert in workouts, restructures, and liquidations. Uribe-Holguin is an active management consultant in the financial services industry and a graduate of the business administration program at Boston University."

Taylor Walton hired as Credit Analyst for Blue Bridge Financial, LLC, Buffalo, New York. Mr. Walton, a recent graduate of the University of Buffalo School of Management, will be responsible for credit review of small business equipment loan applications. Brian Gallo, President, commented, "We are pleased to welcome Taylor to the Blue Bridge team. He will be an integral member of our credit group, which has grown in line with our over 400% increase in transactions funded during 2011."
[headlines]
--------------------------------------------------------------
Why I Became a Certified Leasing Professional
Bob Robichaud, CLP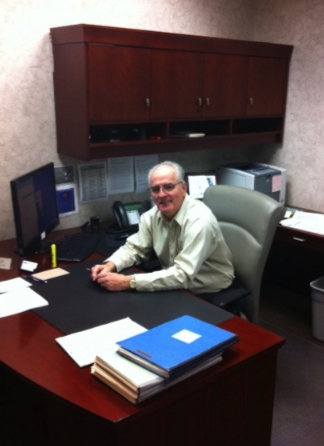 Vice President, Equipment Finance Department
Commerce National Bank
Anaheim, California

My journey is a long one! I first started back in March of 1970 as a credit analyst trainee for Westinghouse Credit Corporation in Downey, California. After several years in credit, I was asked if I would be willing to move over to the dark side (sales) because they were growing and needed someone. I had dealt with most of their vendor sources and it seemed like an easier job. In those early days the equipment financing, we did was primarily financed using conditional sales contracts and chattel mortgages. It didn't really seem like selling to me because a sale was already being made. All that was left to decide was whether the buyer wanted to pay cash or needed some help with financing. I knew credit and could help the applicant. I also got out from under the daily paper rush and out of the office.
Business was booming and leasing was not even on our radar. I was building up vendor relationships and helped their customers and also getting repeat business. As the years went, I moved over to ITT Industrial Credit Corporation in 1980 as a Senior Sales Representative, but within three months I was promoted to Manager of their Los Angeles Branch Office (What were they thinking?!). That's when the fear set in and I began to realize just how little I really knew about not only my own profession, but how was I to deal with all the other responsibilities of managing a dozen or so others. I felt I was a pretty good credit man, an okay salesman, but basically it was my fairly decent understanding of credit that got me ahead, but I soon realized a lot of other people seemed to know a whole lot more. We still didn't work with or have a lot of experience dealing with leasing companies, as only a few existed and those we did see had these weird unfamiliar leasing documents and end of term conditions. There wasn't a whole lot of educational leasing information available.
In 1985, I was hired to open a new office for Bank America Commercial Finance who wanted to do much larger transactions. The economy was sluggish and we weren't price competitive and so within eighteen months we were absorbed into another BofA department and so I decided it was time to leave.
Now what? I didn't know what my next move would be. One of my best friends, Warren Emard, President of Saddleback Financial and who I had worked with for nearly ten years at Westinghouse Credit Corporation, offered me a sales position with Saddleback Financial. For the next fourteen years I brokered lease and Equipment Finance Agreement (EFA) contracts. While I knew very little about lease documents, pricing, residuals, or what the various conditions in the documents meant. I knew a little about leasing credit and I learned whatever I could pick up from Warren and those already there. Although the Western Association of Equipment Leasing ((WAEL) now the National Equipment Finance Association)), I didn't attend any meetings and training was still largely unavailable. Eventually after crossing paths on a number of deals with a few unscrupulous lease brokers, I was burned out and decided to leave the broker side and go back into credit. I was hired as a credit manager for a small leasing company that said they wanted to grow but that didn't happen.
In the summer of 2001, I was referred to Ron Lear at PFF Bank & Trust. PFF, who at that time, was providing $1,000,000 to $50,000,000 full recourse warehouse and borrowing base credit lines to discount Lessors. The portfolio was rapidly growing and Ron needed someone to come in and help tweak and create back office processes needed to run and monitor the daily operations for the many relationships Ron had developed over the previous years. It took the bank over four months to go through the hiring process and because that was also during the 9/11 tragedy, I was certain nothing would happen. Happily, it did and I was hired. However; two weeks later Ron had a lot of vacation time and because I was there, he left on vacation for five weeks--- that's when I realized, under fire, that I needed to know a whole lot more about this business because I was now dealing on a daily basis with senior management of twenty to thirty major leasing companies, our bank's leasing attorney and the bank's senior management.
In the spring of 2002, my wife Janet and I, attended our first United Association of Equipment Leasing ((UAEL) now National Association of Equipment Leasing)) Conference in Las Vegas, Nevada. As I had never been to a leasing association conference before and I was eager to attend as many educational sessions as I could. In looking through the program agenda I noticed that one of the events was the Certified Leasing Professional (CLP) "Soaring with Eagles" breakfast meeting. I didn't even know what a CLP was but I liked a good breakfast so my wife and I decided to check it out. We went and as we started going through the buffet line this wonderful, smiling, tiny ball of energy politely told me that unfortunately we were not invited to the breakfast because it was only for actual CLP's. That's how I first met Cindy Spurdle. Cindy told me I needed to become a CLP and she introduced me to my first CLP Handbook, which I also didn't even know existed. I bought a copy and read it through several times……but I still wasn't going to sit for the test. Who was I kidding? I hadn't been to school in over thirty years and I heard the horror stories of those that passed before me! Although I had been in the industry over thirty years, how would I feel if I failed?
Thankfully and with gentle persistence, over the next couple of years I'd see Cindy at the spring and fall conferences and she'd always ask me when I was going to sit for the CLP Exam. In my case, I knew it was only the fear of failing that prevented me. Never-the-less, in 2005, I cautiously promised Cindy I would seriously study and sit for the next exam at the spring conference. I began to study the Handbook dally. I outlined each chapter; I made 3X5 cards and had sticky notes with definitions stuck on all the walls of my office and would refer to them throughout my day. I also met with Jaime Kaneshina, CLP, and my mentor, once a week and I was ready………….that is until I opened the exam and felt the pending doom.
Anyway, I managed to get through it, but after a few weeks had passed and I sitll hadn't heard anything, I was convinced I failed. When Cindy finally called to inform me I had passed and to congratulate me. I was obviously very pleased and proud and I was ready to "soar with the eagles" at the next CLP breakfast.
While becoming a CLP definitely gave me much more knowledge and introduced me to many areas of leasing I wasn't previously familiar with, it's much, much more then the knowledge. It's a validation that you've decided to became a much better leasing professional, that you are willing to continue with your education, that you are able to "talk the talk" with your peers, and you are aware of additional tools and methods needed daily to successfully navigate the many opportunities and problems this business has.
The CLP designation means you know your business and have earned respect from your peers and you are able to deal with almost any situation. Also, it means that you too can attend the CLP Breakfast and "Soar with Eagles"!
www.clpfoundation.org

[headlines]
--------------------------------------------------------------

2012 Annual Convention February 11-14
Marriott World Center
Orlando, Florida, United States
IFA salutes our Veterans

IFA's VetFran Operation Enduring Opportunity program is a campaign to hire 80,000 veteran franchise owners and team members, including 5,000 wounded warriors. Along with over 447 member companies involved in the campaign, come hear how you can play a role during our Panel of the Pros Super Session, Tuesday February 14th.
Convention Brochure:
http://emarket.franchise.org/Convention2012Brochure_0105.pdf
Supplier Member Application: $2900
http://www.franchise.org/uploadedFiles/Files/SupplierApp.pdf
The object is to insert the numbers in the boxes to satisfy only one condition: each row, column and 3x3 box must contain the digits 1 through 9 exactly once. What could be simpler?