NATIONWIDE SALES POSITIONS AVAILABLE

Healthcare, Commercial and Industrial

We are a premier small ticket and middle market full service equipment finance company. Our compensation programs are aggressive and include full insurance benefits, matching 401k, etc.
Positions are available for well experienced industry
professionals with an established book of business
originating equipment finance transactions.
Please email your resume to sschachtel@bankozarks.com
or call directly at 973-768-7501
Bank of the Ozarks was recognized as the top performing bank
in the United States, based on financial performance,
five years in a row, 2011-2015.
• Rated as "well capitalized" –
the highest available regulatory rating
• Publicly traded company on the
NASDAQ Global Select Market, symbol OZRK
• Headquartered in Little Rock, Arkansas
• Chartered in March 1903, a 111-year heritage
256 Offices, $18.5 billion in assets, second quarter
2016 net income of over $54 million
www.bankozarks.com/equipment

Bank of the Ozarks

We are an equal opportunity employer and give consideration for employment to qualified applicants without regard to race, color, religion, sex, national origin, sexual orientation, disability status, protected veteran status, or any other characteristic protected by federal, state, and local law. Member FDIC.
Tuesday, January 17, 2017


Today's Equipment Leasing Headlines

Leasing News is Back Online
But More Rain Later this Week
Infamous CMC Bill Hanson Passes Away
Was also a High School Basketball Coach
First Bank to Fail in 2017
Harvest Community Bank, New Jersey
Position Wanted – Credit
Work Remotely or Relocate for Right Opportunity
New Hires/Promotions in the Leasing Business
and Related Industries
Leasing Industry Ads---Help Wanted
Career Goals or Plans
"Are You Meeting Your Career Goals or Plans?"
Career Crossroad---By Emily Fitzpatrick/RII
Starts Today, January 17, 2017
Monica Harper is Back at NAELB
From Typewriters to Drones in 60 years
How a lease finance company evolved and survived
California Supreme Court Scalps Pay Day Lenders
Using Indian Tribes as Surrogate Lenders
By Tom McCurnin, Leasing News Legal Editor
Ascentium Capital Reports 28% Growth
in Funded Volume for 2016
Marketplace Lending Association Announces
11 New Company Members
Fences/Things to Come
The Magnificent Seven/Snowden/Roma
Movies/DVD Reviews by Fernando Croce
Retriever Mix
Pittsburg, Kansas Adopt-a-Dog
Leasing News Free Classified Ads
Accounting/Aircraft/Appraisals
News Briefs---
Funding Circle's New $100 Million Funding Round
is a Surprise, But it's Really Not by Sean Murray
Another Community Bank President Indicted for Bank Failure
by Bob Coleman
Broker/Funder/Industry Lists | Features (writer's columns)
Top Ten Stories Chosen by Readers | Top Stories last six months
www.leasingcomplaints.com (Be Careful of Doing Business)
www.evergreenleasingnews.org
Leasing News Icon for Android Mobile Device
You May have Missed---
American Football Poem---
Sports Brief----
California Nuts Brief---
"Gimme that Wine"
This Day in American History
SuDoku
Daily Puzzle
GasBuddy
Weather, USA or specific area
Traffic Live----
######## surrounding the article denotes it is a "press release" and was not written by Leasing News nor information verified, but from the source noted. When an article is signed by the writer, it is considered a "by line." It reflects the opinion and research of the writer.


Please send a colleague and ask them to subscribe. We are free.
Email kitmenkin@leasingnews.org and in subject line: subscribe

[headlines]
--------------------------------------------------------------
Leasing News is Back Online
But More Rain Later this Week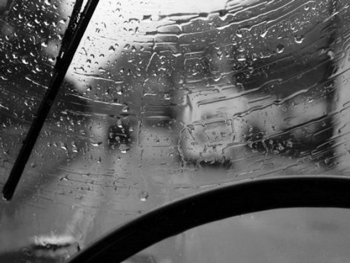 Northern California finally got hit with rain. We needed it.But not with such force, closing roads due to mudslides, major highways, power outages. Weather has improved, but forecasts call for more rain the end of this week. We really need the water, so no real complaints.
The outside Christmas lights are still up. Maybe when it clears up, time will occur to take them down.
Editor
[headlines]
--------------------------------------------------------------
Infamous CMC Bill Hanson Passes Away
Was also a High School Basketball Coach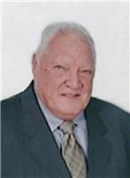 Long time Leasing News' readers may remember in the early years of 2000 Commercial Money Center (CMC), who borrowed more than $300 million from financial institutions through it sale of sub-prime equipment lease pools, insured, but insurance companies tried to renege. It was also the first time Leasing News interviewed Attorney Tom McCurnin, now Leasing News Legal Editor, who was successful in winning a judgement. CMC was not licensed in California as a Finance Lender! The case came back for litigation in 2008. (2)
Long time readers may also remember the many stories, or participated in the "Meet the Leasing News Maker" on line chat forum involving Bill Hanson as Sales Manager, working primarily with leasing brokers. He made many promises. After CMC failed, he tried to go back into the leasing business, but wound up filing bankruptcy. (3)
Mr. Hanson's obituary was sent to Leasing News by his CMC boss, Ron Fisher, convicted of tax evasion and fraud in running Commercial Money Center. He served time as well as paid large fines.
The subject of the email Mr. Fisher sent to Leasing News: "Bill Hanson-One of the nicest guys to ever lived - has died."

Obituary, Published Morning Sun, Jan. 4, 2017 (3 pages)
http://leasingnews.org/PDF/WilliamHanson2017.pdf
(1) CMC Officers to be Sentenced
http://leasingnews.org/archives/Feb2010/2_03.htm#cmc
(2) CMC paper and Officers Back to Litigation
http://www.leasingnews.org/archives/November%202008/11-19-08.htm#cmc
(3) CMC's Bill Hanson to Return All Advance Rentals
http://www.leasingnews.org/Conscious-Top%20Stories/CMC.htm
Commercial Money Center Stories
http://www.leasingnews.org/Conscious-Top%20Stories/CMC_stories.htm
Please click on ad to learn more
Leasing News provides this ad "gratis" as a means
to help support the growth of Lease Police

[headlines]
--------------------------------------------------------------
First Bank to Fail in 2017
Harvest Community Bank, New Jersey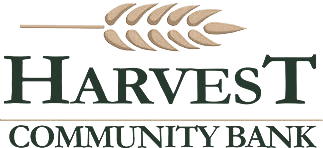 The four branches of Harvest Community Bank, Pennsville, New Jersey, were closed with First-Citizens Bank & Trust Company, Raleigh, North Carolina, to assume all of the deposits. The bank was established January 18, 2000. As of September 30, 2016, the bank had 34 full time employees; 2008, 40 full time employees. Sept., 2016 Tier 1 Risk-based capital ratio 2.22%

Net Equity
2006
$12.4
2007
$13.7
2008
$14.4
2009
$15.4
2010
$16.0
2011
$14.6
2012
$15.7
2013
$15.3
2014
$9.2
2015
$3.4
9/2016
$2.2
Profit
2006
$714,000
2007
$924,000
2008
$821,000
2009
$522,000
2010
$624,000
2011
-$2.1
2012
$1.1
2013
$862,000
2014
-$6.8
2015
-$6.0
9/2016
-$1.4
Non-Current Loans
2006
$940,000
2007
$1.2
2008
$2.9
2009
$5.6
2010
$9.6
2011
$11.1
2012
$12.1
2013
$16.4
2014
$25.4
2015
$19.7
9/2016
$19.3
Charge Offs
Construction and Land, 1-4 family multiple residential, Multiple Family Residential, Non-Farm Non-Residential loans (non-owner occupied).
2006 $26,000 ($29,000 loans to individuals, -$3,000
commercial/industrial loans)
2007 $37,000 ($58,000 construction land, $10,000 consumer, -
$31,000 commercial/industrial loans)
2008 $143,000 ($166,000 nonfarm/nonres., -$20,000 loan indiv., -
$3,000 commercial/industrial)
2009 $151,000 ($120,000 loans to indiv., $50,000 1-4 residential, -
$19,000 commercial/industrial)
2010 $1.7 (1.1 nonfarm/nonres., $584,000 1-4 residential, -
$10,000 commercial/industrial.)
2011 $3.2 ($1.5 1-4 residential, $1.5 commercial/ind., $133,000
loans to individuals)
2012 $722,000 ($489,000 commercial/ind., $223,000 construction
land development, $10,000 individuals)
2013 $279,000 ($284,000 commercial/ind. loans, $1,000 indiv., -
$6,000 construction/land development)
2014 $2.1 ($2.0 commercial/ind., $24,000 1-4 residential,
$42,000 construction, land development)
2015 $6.1 ($5.0 commercial/ind., $841,000 nonfarm/nonres.,
$166,000 construction/land development, $38,000 1-4
Residential)
9/2016 $206,000 ($206,000 commercial indust., $1,000 loans to
individuals, -$1,000 construction/land development)
Complaints about the bank on line:
http://www.timyanbankalert.com/2012/04/harvest-community-bank-pennsville-nj.html
As of September 30, 2016, Harvest Community Bank had approximately $126.4 million in total assets and $123.8 million in total deposits. In addition to assuming all of the deposits of the failed bank, First-Citizens Bank & Trust Company agreed to purchase essentially all of the assets.
The FDIC estimates that the cost to the Deposit Insurance Fund (DIF) will be $22.3 million.
FDIC Press Release
https://www.fdic.gov/news/news/press/2017/pr17004.html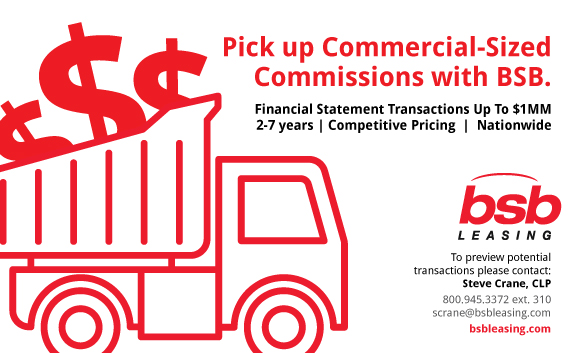 [headlines]
--------------------------------------------------------------
Position Wanted – Credit
Work Remotely or Relocate for Right Opportunity

Each Week Leasing News is pleased, as a service to its readership, to offer completely free ads placed by candidates for jobs in the industry. These ads also can be accessed directly on the website at:
http://www.leasingnews.org/Classified/Jwanted/Jwanted.htm
Each ad is limited to (100) words and ads repeat for up to 6 months unless the candidate tells us to stop. Your submissions should be received here by the end of each week.

Please encourage friends and colleagues to take advantage of this service, including recent graduates and others interested in leasing and related careers.

Credit
Will relocate for the right opportunity and can work remotely. I have (25+) years in making credit decisions, as well as helping sales team and third party originators close more transactions via understanding their applicant's financial abilities. I can create alternative or additional opportunities (and income) by knowing which type of loan is best for the borrower
aaacorrespondent@gmail.com


Chicago, Illinois
Highly knowledgeable and analytical Equipment Leasing Executive; leveraging 25 years in Portfolio Management, Operations, Credit, and Collections within Banking environment and Commercial Equipment Leasing Industry; proven track record, developing/ implementing strategies, sound operational excellence and process improvement, while maximizing revenues and positioning organizations for greater success. wgriffith61@yahoo.com
Resume


Orlando, Florida
As a Commercial Credit Analyst/Underwriter, I have evaluated transactions from sole proprietorships to listed companies, across a broad spectrum of industries, embracing a multitude of asset types. Sound understanding of balance sheet, income statement and cash flow dynamics which impact credit decisions. Strong appreciation for credit/asset risk.
rpsteiner21@aol.com
407 430-3917


Work Remotely from Portland, Oregon
Experienced commercial banker and former commercial equipment leasing industry professional seeking full-time or part-time work out of my home in Portland, Oregon. Over twenty years' experience in credit analysis, underwriting, sales and collections. Known for creative problem solving and strong quantitative & qualitative analytical skills. Demonstrated ability to gather information, evaluate and make informed strategic business decisions to maximize profit and mitigate risk. Well known for ability to develop strong business relationships with Clients and large list of national equipment leasing Brokers. Please see attached resume and contact me below if interested.
Resume
JFrank@BL-Solutions.com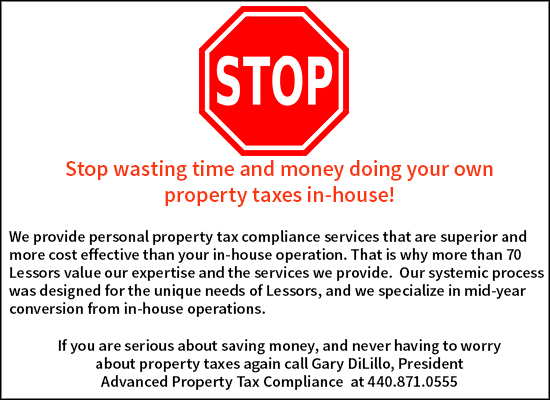 [headlines]
--------------------------------------------------------------
New Hires/Promotions in the Leasing Business
and Related Industries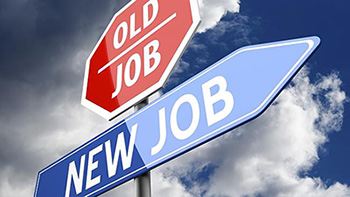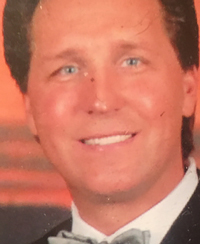 Derrick Bavol was hired as Senior Vice President, Sales Originations, Mitsubishi UFJ Lease & Finance (U.S.A.), Inc., Tampa, Florida. He continues as Co-Founder, Fortran Group International, Inc. (July, 1992 – Present). Previously, he was Senior Vice President, ATEL Capital Group (June, 2015 – December, 2016); Major Accounts, Danka Office Imaging (1988 – 1992); Sr. Account Manager, Boring Business Systems (1986 – 1988); Professional Water Skier, Cypress Gardens (1983-1986). Volunteer: Men's' Club, Saint Mary's Catholic Church (2005 – 2014). Education: Oakland Community College, N/A, Business (1983 – 1984). Linden High School, High School Diploma (1979 – 1983). Activities and Societies: Football and Track.
https://www.linkedin.com/in/derrick-bavol-2901b514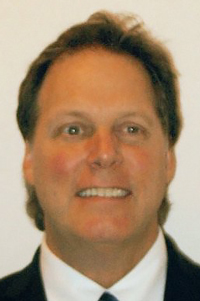 Charles Bonano was hired as Vice President, Connel Equipment Leasing Company, St. Louis, Missouri. Previously, he was Vice President, Commercial Equipment Finance, Fifth Third Bank (November, 2013) – (October, 2016); Vice President, Senior Account Executive, CapStar Bank, Commercial Finance Division (April, 2012 – November, 2012); Vice President, Territory Manager, Wells Fargo Equipment Finance (September, 2006 – December, 2010); National Sales Representative, Bancsource Inc, (August, 2004 – September, 2006); Vice President, Area Manager, US Bancorp Equipment Finance
(January, 2001 – August, 2004); District Manager, Key Equipment Finance (October, 1997 – January, 2001); Assistant Vice President PNC Equipment Finance (May, 1994 – October, 1997). Languages: French, Italian. Education: Saint Louis University School of Law (1988 – 1990). Saint Louis University, BA, Political Science/French Literature (1980 – 1983). Activities and Societies: President, French National Honors Society (1981 – 1983); College St-Michel, Fribourg, Switzerland. Classical Studies (1978 – 1979). Fribourg, Switzerland.
https://www.linkedin.com/in/charles-bonano-a007835

Tim Borger was hired as Municipal Finance Manager, TCF Equipment Finance, Houston, Texas. Previously, he was Vice President/Water Infrastructure Finance, Key Equipment Finance (October, 2014 – December, 2016); Public Finance, Government Capital Corporation (June, 2008 –September, 2014): Account Manager, Siemens Financial Services (March, 2007 – June, 2008); Vice President, Citigroup (June, 1985 – February, 2004); Acct. Rep., CIT (1978 – 1981). Education: Bowling Green St. Univ. (1973 – 1977).
https://www.linkedin.com/in/tim-borger-19278a8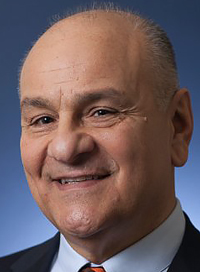 John Caruso was announced as Vice President at LeaseQ, Burlington, Massachusetts. He joined the firm September, 2016. Previously, he was Senior Director, Global Financial Services (Global Portfolio and Operations), EMC Corporation (June, 1995 – April, 2016); Vice President, Senior Credit Officer, Fleet Bank (May, 1981 – December, 1994); Credit and Collections Manager, General Electric Credit Corporation (May, 1979 – May, 1981). Languages: French, Italian. Education: Boston University - School of Management Bachelor of Science (BS), Finance, General (1974 – 1978).
Activities and Societies: Beta Gamma Sigma National Honor Society
https://www.linkedin.com/in/johnocaruso


Charles Clary is now Principal at Clary Capital Advisors, LLC. Prior, he was at Regional Bank as Commercial Executive since September, 2010; Senior Credit Risk Manager, Bank of America (September, 1983 – September, 2010). Languages: Spanish. Certifications: Certified Corporate Risk Manager, Ohio State University; South Centers Risk Management Association, Certified Commercial Finance Managers Association (CCFMA) (January, 2011 – January, 2016). Education: Gardner Webb University, Business/Commerce, General, The University of Georgia Terry Bus School. University of Georgia, Terry College of Business, Master of Business Administration (MBA), Business Administration and Management, General.
https://www.linkedin.com/in/charles-clary-91391243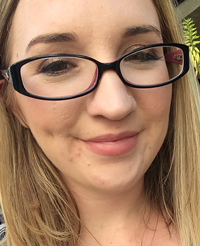 Jenny Cody was promoted to Funding Coordinator, Select Funding, Calabasas, California. She joined firm September, 2015, as Credit Analyst. Previously, she was Funder, Oak Capital Group (June, 2014-September, 2015).
https://www.linkedin.com/in/jenny-cody-985008a0
Angela Hillebrand was promoted to Vice President of Operations at Wholesale Truck and Finance, Kingwood, Texas. She started at the firm, 2006. She remains Assistant Vice President, Vendor Services Ascentium Capital (September, 2006 - Present). Education: Sam Houston State University, Bachelor of Business Administration (B.B.A.), Finance (2015).
https://www.linkedin.com/in/angela-hillebrand-b0b95a28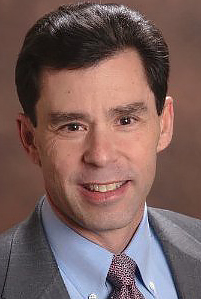 Louis "Lou" E. Maslowe was hired as Senior Vice President and Chief Credit Officer, Marlin Business Services, Mount Laurel, New Jersey. Previously, he was SVP, Chief Risk, Officer-Americas Region, DLL (January, 2005 – December, 2016); Director, Risk Management- North America, Hewlett-Packard Financial Services (2003 – 2005); Senior Vice President of Credit, ORIX Financial Services (2001 – 2003); Southwest Region Manager, HSBC Business Credit (1991 – 2001); Credit Supervisor, Westinghouse Credit Corporation (1986 – 1989). Education: Drexel University, LeBow College of Business, MBA, Marketing and Finance (1987 – 1990). Bloomsburg University of Pennsylvania, BSBA, Finance (1980 – 1984).
https://www.linkedin.com/in/lou-maslowe-51b2698


Joel Neufeld was promoted to Manager of Treasury & Reporting, National Leasing, Winnipeg, Canada. He joined the firm May, 1997, Credit Analyst; promoted December, 2007, Corporate Business Analyst; promoted August, 2012, Senior Financial Analyst. Certifications: Certified Professional Accountant, CPA Manitoba. Organizations: CMA Member. Education: CMA Manitoba, CMA (2007). University of Manitoba, BComm, Accounting & Small Business Mgmt. (1992 – 1997).
https://ca.linkedin.com/in/joel-neufeld-8b93aa30
Michael Ollio was hired as Director, Capital Equipment Finance, CIT. He is based in the Greater Pittsburg Area. Previously, he was President and Co-founder, MLCM Real Estate Holdings, LLC; Dream Team Sports, LLC ; All-Around Storage, LLC (July, 2016 – December, 2016); Vice President, Indirect Originations, Siemens Financial Services, Inc. (December, 2004 – July, 2016); Vice President, Manager, Lease Pricing & Structuring, PNC Leasing, LLC (January, 1998 – June, 1999) Assistant Vice President, PNC Bank Corporate Banking - Management Credit Training Program (July, 1995 – February, 1996); Senior Auditor/ Credit Analyst, PNC Bank - Secured Credit/ Asset Based Lending (November, 1992 – July, 1995); Senior Auditor, PNC Financial Corp. - Internal Audit (April, 1990 – November, 1992). Education: Robert Morris University, BS, Accounting and Quantitative Business Analysis (1985 – 1989).
https://www.linkedin.com/in/michael-ollio-38063110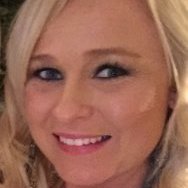 Christina (Robinson) Spolter was hired as Funding Coordinator at Dimension Funding, Irvine, California. Previously, she was at Partners Capital Group, starting September, 2013, Sales Support; promoted December, 2013, Billing Manager; promoted October, 2014, Documentation/ Funding/ Underwriting. Previously, she was Sr. Executive Assistant, Corinthian Colleges, Inc. (February, 2010 – June, 2012); Office Manager, Creative Maintenance Systems (2006 – 2008) Education: University of Phoenix, Bachelor of Applied Science (B.A.Sc.), Health/Health Care Administration/ Management (2013 – 2015). Canyon High School, High School Diploma, General Ed, 3.8 (1999 – 2002).
https://www.linkedin.com/in/christina-spolter-738863aa
[headlines]
--------------------------------------------------------------

NATIONWIDE SALES POSITIONS AVAILABLE

Healthcare, Commercial and Industrial

We are a premier small ticket and middle market full service equipment finance company. Our compensation programs are aggressive and include full insurance benefits, matching 401k, etc.
Positions are available for well experienced industry
professionals with an established book of business
originating equipment finance transactions.
Please email your resume to sschachtel@bankozarks.com
or call directly at 973-768-7501
Bank of the Ozarks was recognized as the top performing bank
in the United States, based on financial performance,
five years in a row, 2011-2015.
• Rated as "well capitalized" –
the highest available regulatory rating
• Publicly traded company on the
NASDAQ Global Select Market, symbol OZRK
• Headquartered in Little Rock, Arkansas
• Chartered in March 1903, a 111-year heritage
256 Offices, $18.5 billion in assets, second quarter
2016 net income of over $54 million
www.bankozarks.com/equipment

Bank of the Ozarks

We are an equal opportunity employer and give consideration for employment to qualified applicants without regard to race, color, religion, sex, national origin, sexual orientation, disability status, protected veteran status, or any other characteristic protected by federal, state, and local law. Member FDIC.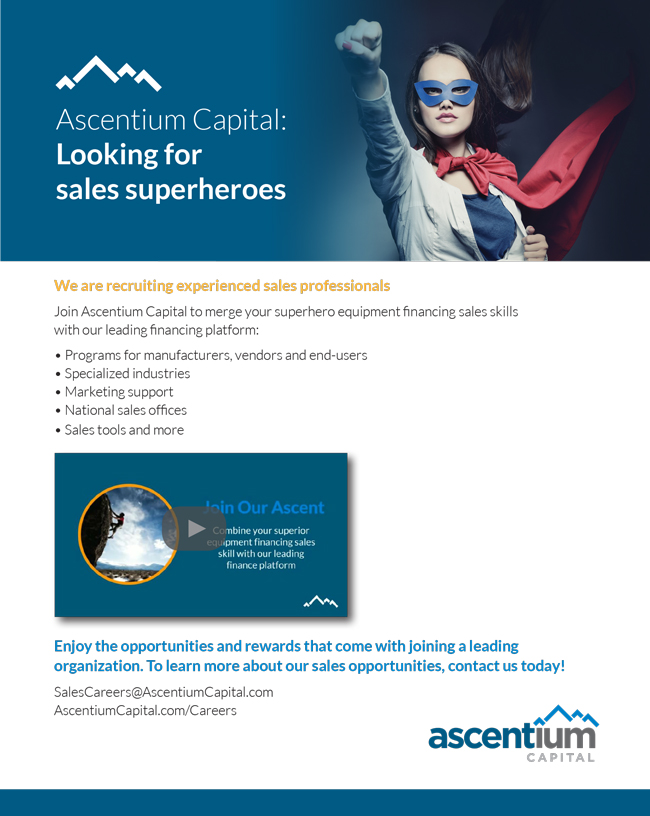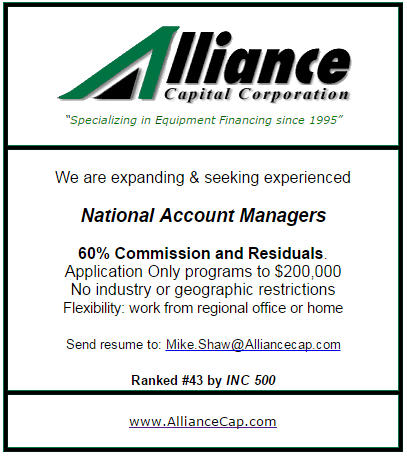 For information on placing a help wanted ad, please click here:
http://www.leasingnews.org/Classified/Hwanted/Hwanted-post.htm

Please see our Job Wanted section for possible new employees.

[headlines]
--------------------------------------------------------------
"Are You Meeting Your Career Goals or Plans?"
Career Crossroad---By Emily Fitzpatrick/RII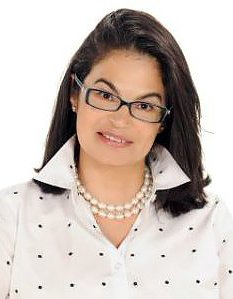 Make sure the position you are interviewing for does not veer from your Career Plans. Most individuals when beginning their education or a new career path, they often do so without a clear sense of direction, and this can lead to a waste of valuable time and effort. Laying out a CAREER PLAN can help to clarify your goals and implement how you plan to achieve them. Once this completed, make sure that future career endeavors meet these set Career Goal Plans.
HOW TO SET UP A CAREER PLAN: You will need some dedicated time to reflect and maybe conduct research, e.g. speak to others, search and review industry periodicals, ghost someone who is in a role you are considering, volunteer, and read some more. Do not rush this is a long-term process and project that will pay dividends in the end (peace, happiness, excitement in your contributions and the benefits go on and on).

SET UP, REVIEW & COMPLETE THE FOLLOWING
Goal: Your specific, ultimate career goal.
Education: Your current education.
Required Education: Any education (formal or informal) needed to reach goal.
Current Skills/Experience: Any skills or experience you possess that are relevant.
Required Skills/Experience: Any additional skills or experience you need for your goal.
Target Completion Date: Write down a date for each step to prioritize and keep on track.
OR HERE IS ANOTHER APPROACH
Discover your desires and passions; if you're struggling with this, there are some free and fee-based self-assessment tests available (RII / we have some as well).
Focusing on your core job strengths and weaknesses; again, there are free and fee-based career skill assessment tests available.
Setting Your Career Objective:
Now it's time to decide.
Set goals and timelines based on your career objective.
Implement Career Development Plan:
Action time; if your plan involves a career change, utilize a Career Consultant or Recruiter to assist you with your career search, resume, cover letter and job interview questions.
Get the Most Out of Your Career:
Get the most out of your new career, planning strategies and learning skills will help you get to the next level.
Be Prepared to Answer Questions About Your Career Plan:
By planning your career, you're on your way to your ideal career. Knowing your strengths and skills, along with having a plan, will give you the confidence and motivation needed to make a positive change.
DO NOT DEVIATE FROM THIS PLAN
RII has numerous blueprints, plans, documents, and assessments meant to assist our Candidates in securing or moving toward their ultimate Career Goals. Just ASK or email to make an appointment
Emily Fitzpatrick
Sr. Recruiter
Recruiters International, Inc.
Phone: 954-885-9241
Cell: 954-612-0567
emily@riirecruit.com
www.riicareer.com
Invite me to Connect on LinkedIn
www.linkedin.com/pub/emily-fitzpatrick/4/671/76
Also follow us on Twitter #RIIINFO
https://www.pinterest.com/recruitersinter/rii-career-services/
Career Crossroads Previous Columns
http://www.leasingnews.org/Conscious-Top%20Stories/crossroad.html


[headlines]
--------------------------------------------------------------
Starts Today, January 17, 2017
Monica Harper is Back at NAELB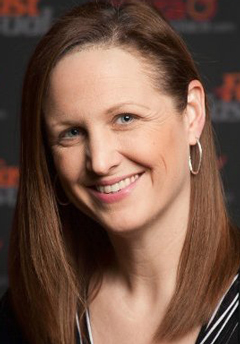 Michael Parker, Credential Leasing & Finance, President of National Association of Equipment Leasing Brokers, invited members and friends to welcome Monica Harper Back with FSA today, January 17.
"Please reach out to Monica and welcome her back, her email is MHharper@hqtrs.com
"And her direct number is 502-574-9928. Please pass on to others."
Previous Leasing News Return Announcement:
http://leasingnews.org/archives/Jan2017/01_04.htm#monica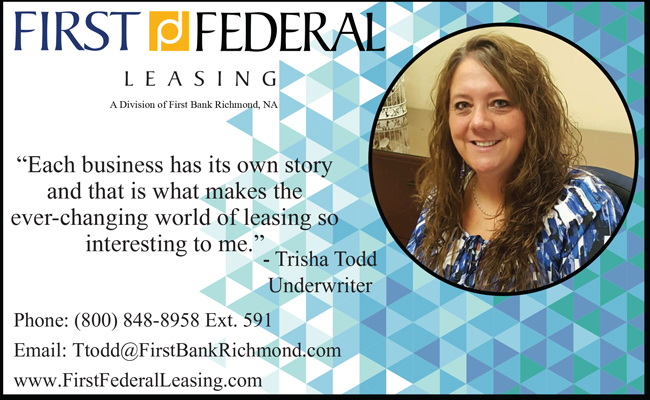 [headlines]
--------------------------------------------------------------
From Typewriters to Drones in 60 years
How a lease finance company evolved and survived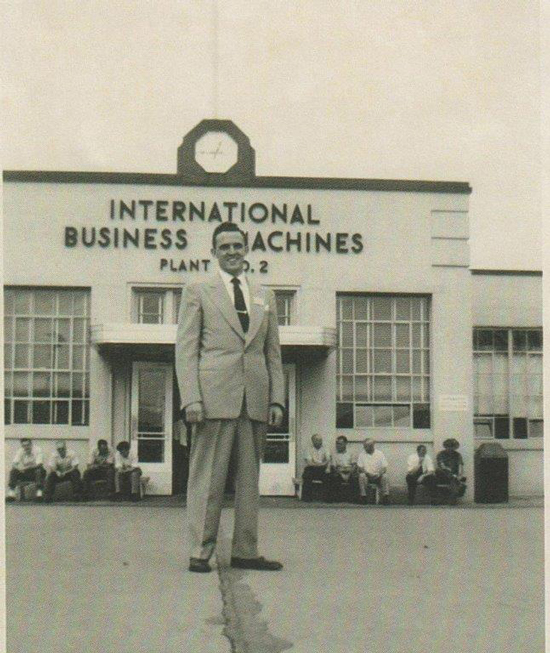 When Bob Clune started Clune Equipment Leasing Company in 1957 to finance IBM Typewriters for his customers, he could not have envisioned the array of equipment that his company would finance 60 years later. The portfolio now includes cutting edge IT networks and systems, multi-function printers/copiers, medical diagnostic equipment, agricultural products, and yes, drones that are used by surveyors...but no typewriters.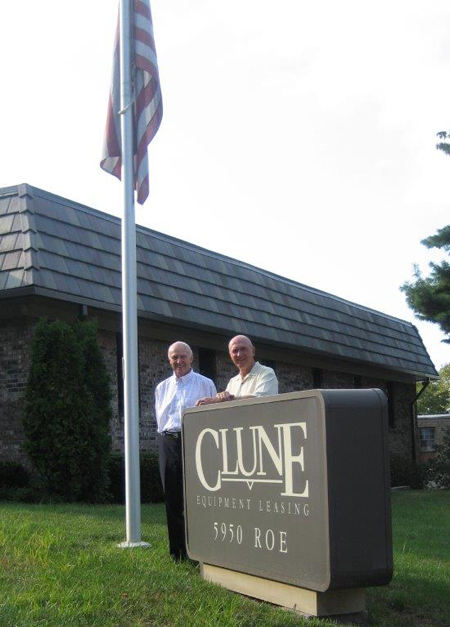 Currently named Clune & Company LC, Bob's son, Kevin F. Clune, CLFP, has been Chairman since the elder Clune's retirement in 1991. Based in the Kansas City metropolitan area, it may be the oldest leasing business in America that has been under continuous family ownership.

Kevin F. Clune, CLFP
As an independent lessor, Clune has expanded from serving a regional area to now working directly with both equipment vendors and leasing customers across the country. The 60 year old company has maintained their unique business model in which they oversee credit decisions "in house" and maintain and service their own portfolio.
Kevin says, "Customers can always contact us with any questions about the terms of their lease contracts and will get a quick response and a straight answer.

"Some banks, equipment manufacturers, and even equipment vendors have established their own lease finance divisions. However, their extra fees and end of lease contract terms may differ dramatically from the typical Clune Lease. Clune & Company has differentiated ourselves from these competitors with our flexible and straightforward lease finance products, without any 'gotchas', and business practices that ensure long term relationships. We can credit our many loyal customers to our adaptability and resilience over the past 60 years."
[headlines]
--------------------------------------------------------------
California Supreme Court Scalps Pay Day Lenders
Using Indian Tribes as Surrogate Lenders
By Tom McCurnin
Leasing News Legal Editor
The Practice of Pay Day Lenders to Use Indian Tribes to Make High Interest Loans is Disapproved by California Supreme Court
People ex rel. Owen v. Miami Nation Enterprises, No. S216878, 2016 WL 7407327 (Cal. Dec. 22, 2016).
Many Pay Day Lenders have a problem. They are not licensed by individual states requiring licenses (California, Alaska, Delaware, Nevada, South Dakota, Vermont, etc.) and to "launder" their loans, they enter into a business relationship with various Indian tribes. Typically, the tribes ostensibly loan the money, and then assign the paper to a limited liability company, containing one of the tribe members. Because the tribes are viewed as separate nations, under "sovereign immunity," the lenders to which the paper is assigned are not required to have licensed in the states they operate. Pretty slick deal.
Two years ago, I reported on a California Court of Appeals decision, which upheld sovereign immunity for the pay day lenders using an Indian tribe as the source of the loan (1). That decision was ultimately appealed to the California Supreme Court which reversed the holding, invalidating and voiding the practice. The facts follow.
In 2003, the California legislature enacted the California Deferred Deposit Transaction Law, which limits the size of each loan and the fees that lenders may charge. In response to this law and similar legislation in other states, some lenders sought affiliation with federally recognized Indian tribes, which are generally immune from suit on the basis of tribal sovereign immunity.
In 2005, a pair of federally recognized tribes (Miami Tribe of Oklahoma and the Santee Sioux Nation) created entities which provided deferred deposit loans through the internet to borrowers in California under terms that clearly violated the Deferred Deposit Transaction Law. In August 2006, the Commissioner of the California Department of Corporations (now DOB) issued a desist and refrain order to the tribes' surrogate lenders. The lenders did not heed the order. In 2007, the DOB filed a lawsuit against the tribes and lenders. The lenders specially appeared and moved to quash service based on lack of jurisdiction, e.g., sovereign immunity. The lower court granted the motion and dismissed the action, and the court of appeals affirmed. The DOB appealed to the California Supreme Court.
On appeal, the California Supreme Court acknowledged that the tribes are themselves immune from suit. However, the issue as to extending tribal immunity to off-reservation commercial lending activity is not well established, and that was the question for the court. Ultimately, under the existing case law, five factors need to be considered to reach the decision of immunity for lending activity:
Method of Creation. The court examined how the lender entity's formation occurred, including whether the tribe initiated or simply absorbed the lenders. There was no evidence how the entities were formed within the tribe and indeed the initial capital for the lenders did not come from the tribes.
Tribal Intent. The court examined whether there was evidence of whether the tribe intended the entity to share in its immunity. Again, there was no evidence from the tribes that the tribe shared in the immunity.
Purpose. The court examined the entity's purpose may elucidate whether its relationship to the tribe is sufficiently close. The court considered the fact that lending is not a fundamental purpose of the tribe.
Control. The court examined the lenders' entity's "structure, ownership, and management, including the amount of control the Tribe has over the entities. The court concluded that neither tribe maintained operational control over the lenders.
Financial Relationship. The court examined whether a judgment against the entity would reach the tribe's assets. The court concluded that neither tribe would be directly liable for any judgment against the lenders. None of the tribes provided any detail how the profits from the lending operations flow to the tribes or the proportion of tribal revenue that those profits comprise. This was significant.
The Supreme Court held that the burden of proving the immunity was on the tribes. After all the evidence was in, it remained unclear what profits go to support tribal operations and programs. Furthermore, it appeared to the court that the lenders were governed not by tribal members but non-tribe executives, some of which benefitted from personal expenses being paid by the operations. Therefore, the California Supreme Court ruled that the Indian tribes do not enjoy immunity from DBO regulation as to on-line lending activities. The court remanded the matter back to trial court to determine the underlying violations. State of California won, Indian tribe lost.
What are the takeaways here?
• First, This is Bad News for Unlicensed Lenders Seeking Back Door Exemptions from Indian tribes. The practice of "rent a tribe" to establish a lending exemption will no longer work in California. Readers should expect other states to follow California's lead. For lawyers, there is another case as well, but it is regulatory, Consumer Finance Protection Bureau v. CashCall CV 15-7522 (C.D. Cal. 2016) [Holding that "rent-a-tribe" would not work to avoid application of CFPB regulations].
• Second, This is Good News for Banks and Other Traditionally Recognized Lenders. Certainly there is a market share for this type of loan product, which will now be driven to more traditional, government licensed sources.
• Third, This is Good News for the General Public. If I may pass moral judgment, I think it is good public policy to have lenders licensed and therefore governed and controlled. Having unlicensed lenders without any restrictions is bad policy. These types of lenders, if allowed to go unregulated, would not be subject to any laws whatsoever.
The bottom line to this case is that the State of California has essentially taken away a big chunk of the business of online pay day lenders. Expect other states to follow suit. The "rent-a-tribe" procedure is clearly not a business model which is sustainable.
Court Holds that Indian Tribe May Conduct Business as Pay Day Lender in California Without Securing Lender's License
http://leasingnews.org/archives/Jun2014/6_02.htm#indian
People v. Miami Nation Enterprises (23 pages)
http://leasingnews.org/PDF/PeoplevMiami2017.pdf

Tom McCurnin is a partner at Barton, Klugman & Oetting in Los Angeles, California.
Tom McCurnin
Barton, Klugman & Oetting
350 South Grand Ave.
Suite 2200
Los Angeles, CA 90071
Direct Phone: (213) 617-6129
Cell (213) 268-8291
Email: tmccurnin@bkolaw.com
Visit our web site at www.bkolaw.com
Previous Tom McCurnin Articles:
http://www.leasingnews.org
Previous Tom McCurnin Articles:
http://www.leasingnews.org/Conscious-Top%20Stories/leasing_cases.html
[headlines]
--------------------------------------------------------------
##### Press Release ############################
Ascentium Capital Reports 28% Growth
in Funded Volume for 2016

KINGWOOD, TX – Ascentium Capital LLC reported $898.5MM in funded volume, representing a 28% increase over last year. Highlights for the company during 2016 included:
Management of $1.2 billion in assets representing 33% growth
Launch of the Merchant Finance division
Employ over 230 national finance professionals
Launch of the comprehensive MyAscentium partner portal
Applying a deep understanding of key markets combined with a leading decision platform, enables the company to scale operations, experience growth, and effectively manage risk. The company's business plan for 2017 is focused on expanding into specialized niches and evaluating strategic acquisition opportunities.

Chief Executive Officer Tom Depping commented, "Ascentium's unique combination of people, products, and processes allow us to be a force in SMB financing, and growth will be fueled by all business segments."

Richard Baccaro, Chief Sales and Marketing Officer, said, ""We established significant momentum and Ascentium is well-positioned to implement breakthrough marketing and sales strategies. To continue our dominance, we will invest in national sales recruitment and continue to enhance our client relationship platform."
As a direct lender, Ascentium Capital LLC specializes in providing a broad range of financing, leasing and small business loans. The company's offering benefits equipment manufacturers and distributors as well as direct to businesses nationwide. Ascentium Capital is backed by the strength of leading investment firm Warburg Pincus LLC. For more information, please visit www.AscentiumCapital.com.
### Press Release ########################


[headlines]
--------------------------------------------------------------
### Press Release ############################
Marketplace Lending Association Announces
11 New Company Members
Association Expands Beyond Personal and Small Business Lending with the Addition of Student Loan Refinancing, Real Estate
and Diverse Funding Models
WASHINGTON -- The Marketplace Lending Association (MLA) announced the addition of eleven new companies to the Association. The new members join as the MLA works to expand its presence in Washington. The MLA was formed in 2016 by founding members Funding Circle, Lending Club, and Prosper Marketplace with the goal of promoting a transparent, efficient and customer-friendly financial system.
New Members include: Affirm, Upstart, CommonBond, Avant, PeerStreet, Marlette Funding, Sharestates, Able, and StreetShares. New Associate Members of the MLA include dv01 and LendIt.
This expansion represents a new chapter for the MLA, as it extends the group beyond consumer and small business lending to include platforms focused on student loan refinancing and real estate, as well as greater diversity of funding models, including lending platforms that hold loans on balance sheet.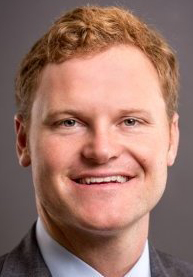 Nathaniel Hoopes
Executive Director, MLA
"On behalf of the founding members, I welcome these new members to the Association and I look forward to working with them to advance our mutual public goals both in Washington and in state capitols around the country," said Nathaniel Hoopes, executive director of the MLA. "As MLA member companies continue to innovate and create new opportunities for borrowers and investors, the MLA will play an important role in sharing data and insights that help educate policy makers on the benefits that these companies bring to consumers, businesses, and our financial system."
To provide policymakers with a general overview of its 2017 agenda, the Association also today sent letters to the incoming Trump Administration and to the leaders of the 115th Congress.
ABOUT MLA
MLA, a professional trade association, was formed in 2016. The goals of the Association are to promote a transparent, efficient, and customer-friendly financial system by supporting the responsible growth of marketplace lending, fostering innovation in financial technology, and encouraging sound public policy at the state and federal level. To be eligible to join the association MLA companies must abide by the highest standards of business conduct in providing credit and services to consumers and businesses.
For more information about MLA, its members and its membership standards, visit the MLA website at www.marketplacelendingassociation.org.
Alternate Finance Association Membership
United States
http://leasingnews.org/archives/Aug2016/08_03.htm#alt
#### Press Release #############################
[headlines]
--------------------------------------------------------------
Fernando's View
By Fernando F. Croce
A pair of stirring and perceptive dramas ("Fences," "Things to Come") make for a particularly fine double-bill at the box-office, while DVD releases include Western action "Magnificent Seven"), hot-button intrigue ("Snowden"), and an impressionistic city tour ("Roma").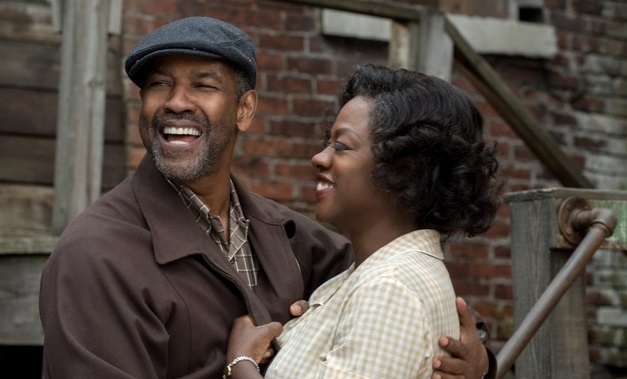 Fences (Paramount Pictures): Denzel Washington does double-duty as director and star of this stirring screen adaptation of August Wilson's award-winning play, set in Pittsburgh in the 1950s. In one of the finest performances of his career, Washington stars as Troy Maxson, a former convict and professional baseball player now living with his family. Troy enjoys his life with his wife Rose (Viola Davis) and longtime friend Jim (Stephen Henderson) by his side, but tension comes from his relationship with his son Cory (Jovan Adepo), who has his own dreams to follow. Plagued by anger and resentment over missed opportunities, Troy unsettles his place in his own household. Faithfully preserving the wisdom, pain, and humor of the play, Washington and the superb ensemble cast give vital flesh to Wilson's acclaimed words.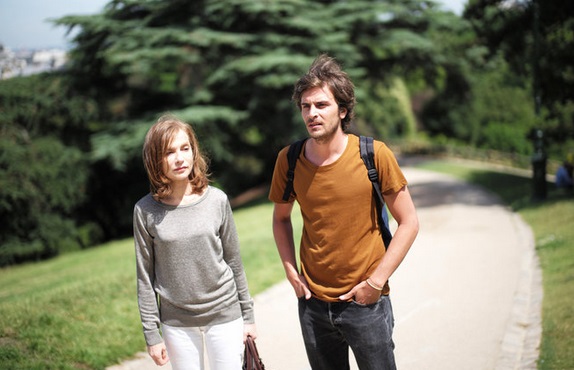 Things to Come (Sundance Selects): Complementing the icy ruthlessness of her role in "Elle" with a loose, mature warmness here, the brilliant French actress Isabelle Huppert shines in this perceptive, subtle drama from director Mia Hansen-Love ("Goodbye First Love," "Eden"). Huppert plays Nathalie, a philosophy professor at a particularly challenging crossroads of her life. It begins when her husband of 25 years (Andre Marcon) suddenly leaves her for another woman, and continues with the loss of both her job and mother (Edith Scob). Alone but with a newfound sense of freedom, Nathalie pursues a new set of interests, growing closer to one of her former students (Roman Kolinka). Capturing its main character's philosophical inquiries with her emotional discoveries, Love's film paints a patient and richly rewarding portrait of a complex woman. With subtitles.

Netflix Tip: A joyous light in screen comedies and musicals for decades, Debbie Reynolds (1932-2016) was Hollywood's consummate trouper. So check out Netflix for some of her best roles, which include "Singin' in the Rain" (1952), "Susan Slept Here" (1954), "The Unsinkable Molly Brown" (1964), "Charlotte's Web" (1973), and "Mother" (1996).
On DVD: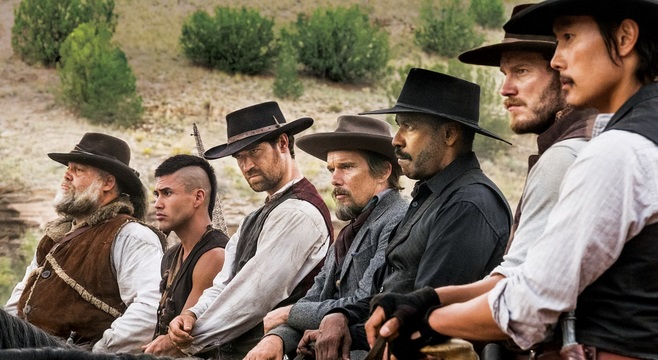 The Magnificent Seven (Sony): The all-star 1960 Western classic gets the diversity treatment in this robust remake, directed by Antoine Fuqua ("Training Day"). Fuqua's favorite leading man Denzel Washington stars as Sam Chisolm, an Old West bounty hunter whose latest mission takes him to the frontier town of Rose Creek. Hired by determined widow Emma (Haley Bennett), Sam learns of the corrupt industrialist (Peter Sarsgaard) controlling the village and gathers a group of fellow fighters to come to the rescue. They include a Southern sharpshooter (Ethan Hawke), a Scripture-quoting mountain man (Vincent D'Onofrio), and a Comanche gunslinger (Martin Sensmeier). Tackling a story that goes back beyond the original and into Akira Kurosawa's samurai yarns, Fuqua creates a handsomely old-fashioned shoot 'em up with its own view of communal fulfillment.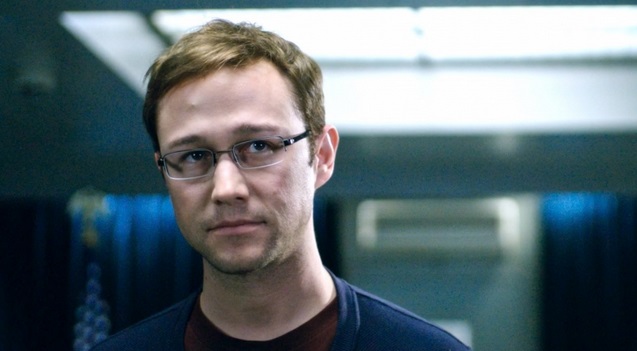 Snowden (Warner Bros.): Never one to shy away from tackling a hot-button subject, Oliver Stone ("Born on the Fourth of July") directs this engrossing account of controversial CIA whistle-blower Edward Snowden. Structured as a secretive interview given by Snowden (portrayed by Joseph Gordon-Levitt), the story follows his beginnings in the military and at the National Security Agency, where his prodigious cyber-talent is plugged right into the post-9/11 world of global surveillance. The more he finds out about the government's questionable use of new technology, however, the more disillusioned he becomes. When the time comes for him to take a stand, it's a decision that might endanger his life with his girlfriend Lindsay (Shailene Woodley). No matter where viewers stand on Snowden's actions, Stone's film remains a robust and informative entertainment.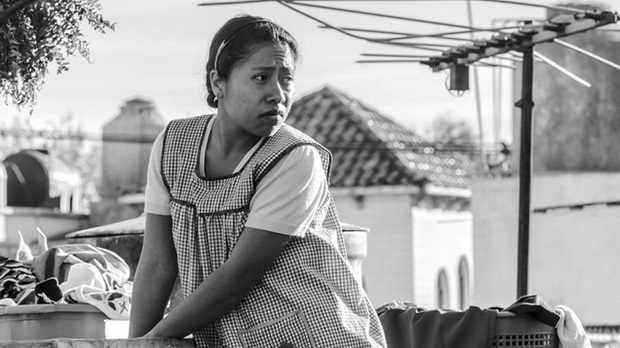 Roma (Criterion): The city of Rome has set the stage for several of the films of legendary Italian director Federico Fellini, so it was only a matter of time before he turned it into his main character in this strange and wonderful 1972 comedy-drama. Unfolding in a flowing, impressionistic style, the film plays as a mosaic of people and places associated with Fellini's views and memories of the city, with portraits of his youth that anticipate his Oscar-winning autobiography "Amarcord" two years later. There are glimpses of raucous music-hall audiences during wartime, ancient art that emerges amid the urban bustle only to disintegrate, and even a Vatican ceremony that morphs into a glitzy fashion show. Mixing documentary with stylization, Fellini crafts a beguiling tour of the grand metropolis in his feverish imagination. With subtitles.
[headlines]
--------------------------------------------------------------
Retriever Mix
Pittsburg, Kansas Adopt-a-Dog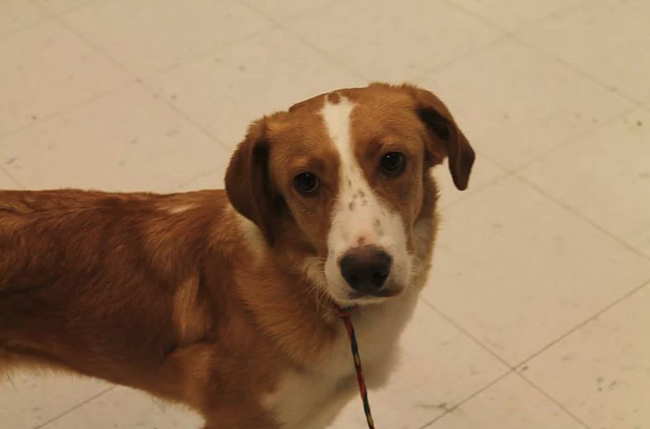 Dora
Female
1 Year Old
Southeast Kansas Humane Society
85 E. 560th
PO Box 783
Pittsburg, KS 66762
(620) 232-1840
http://sekhumanesociety.com/

Adopt a Pet
http://www.adoptapet.com/
[headlines]
--------------------------------------------------------------
Accounting / Aircraft / Appraisals
Appraisals: Boston, MA
Nationwide appraisals, remarketing, audits, inspections and more! Over 15-years industry experience and dedicated to deliver personal, prompt, professional services.
Call Chris @ 508-785-1277.
Email:
chris@dovermanagementgroup.com



Appraisals: National Equipment Appraisal prepares Certified Machinery and Equipment Appraisals. IRS qualified, USPAP Compliant. Nationwide - fast turnaround.
Visit
nationalequipmentappraisal.com or
call 714-282-1525.
Accounting: Dallas, TX
Provide cost effective Sales and Use Tax and Property Tax consulting and administration Services to the leasing industry. Many leasing industry referrals available.
E-mail: mattm@osgsolutions.com

Accounting: National Property Tax Compliance Services to the leasing industry. Over 80 years experience and 70 Lessors as clients. References and free quotes available
440.871.0555
E-mail gary@avptc.com

Aircraft Delivery: Seattle, WA
Global Aircraft Delivery ferries all types of aircraft all over the world. We are a unique ferry company moving your aircraft with our expert turnkey operation.
www.globalaircraftdelivery.com
E-mail:
info@globalaircraftdelivery.com
Asset Management: Canada
Cease Bailiff Services Incorporated:
Asset Investigation/Tracing; Asset Recoveries; Asset Protection/Security
Asset Liquidations/Sales; Ottawa, Canada; www.ceasebailiff.ca dave@ceasebailiff.ca; Phone 613 898 7376 ; Fax 613 225 2452

Asset/Recovery & Collections:
Charlotte, NC
IRTC Continencies: Commercial Collections-Skip Trace- Repossessions-judgment enforcement-Investigations- Asset Re-marketing& No Cost Warehousing East Coast USA. Call 336-877-3077 ask for Robert or
E-mail to Robert@mbsfinancial.com

Nationwide Seasoned anfair priced workforce is at your service for all lease collections, repossessions, and asset liquidations, appraisals. Call Nassau Asset Management 800-462-7728 dcastagna@nasset.com

Asset/Recovery: NorthWest
Sequent provides collateral recovery, remarketing, and storage services to lenders with assets located in the greater Pacific Northwest. Professional services at reasonable pricing. Contact rossr@sequentam.com
Asset Marketing/Recovery: Remarking solutions for big rigs assets and trucking related companies including collections, recovery, repair and re-sales. North South Leasing cell # 586-909-8797 bob@nsleasing.com
Appraisals/Asset Recovery
Melville, New York
Auctions, Appraisals, National Repossessions. ALL asset classes. 20+ year team works for you. Spend less, Net More… Fast!
Ed Castagna 516-229-1968
ecastagna@inplaceauction.com

Appraisals/Inspections – Construction & Mining Heavy Equipment, Transport, Agriculture and Manufacturing. We provide Certified Appraisal Reports, (USPAP Compliant), Inventory Inspections, Collateral Valuation, VIN and Serial Number Verification with Detailed Photos, Lessee and Vendor Site Inspections including Customized Inspections. In a Hurry? Try our Kwik-Kwote
Emailwww.MobileEquipAppraisals.com
[headlines]
--------------------------------------------------------------

News Briefs----
Funding Circle's New $100 Million Funding Round
is a Surprise, But it's Really Not by Sean Murray
http://debanked.com/2017/01/funding-circles-new-100-million-funding-round-is-a-surprise-but-its-really-not/
Another Community Bank President Indicted for Bank Failure
by Bob Coleman
http://colemanreport.com/fraud-friday-another-community-bank-president-indicted-for-bank-failure/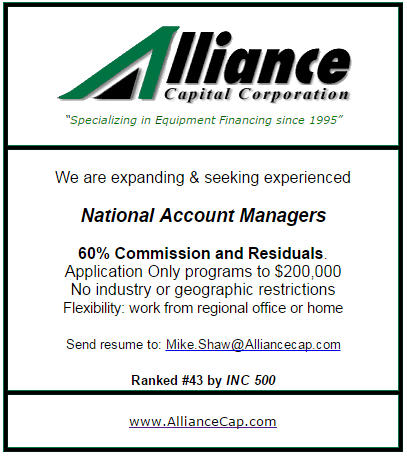 [headlines]
--------------------------------------------------------------

California Nuts Briefs---
Sorry, Wal-Mart, Amazon wants your food-stamp customers too
http://www.seattletimes.com/business/sorry-wal-mart-amazon-wants-your-food-stamp-customers-too/
[headlines]
--------------------------------------------------------------
American Football Poem
American Football Poem & Shakespeare
The modern spelling of the word "football" is first recorded, when it was used disapprovingly by William Shakespeare. Shakespeare's play King Lear (which was first published in 1608) contains the line: "Nor tripped neither, you base football player" (Act I Scene 4). Shakespeare also mentions the game in A Comedy of Errors (Act II Scene 1):

Am I so round with you as you with me,
That like a football you do spurn me thus?

You spurn me hence, and he will spurn me hither:
If I last in this service, you must case me in leather.

("Spurn" literally means to kick away, thus implying that the game involved kicking a ball between players.)
[headlines]
--------------------------------------------------------------

Sports Briefs----
Patriots' McDaniels bows out; 49ers' focus turns to Shanahan
http://www.sfchronicle.com/49ers/article/Report-49ers-unlikely-to-land-Josh-McDaniels-10860279.php
Herhold: The 49ers and Santa Clara, a failing marriage
http://www.mercurynews.com/2017/01/14/herhold-the-49ers-and-santa-clara-a-failing-marriage/
Dak Prescott has 'bright future' with Cowboys, will see what's next for Tony Romo
http://sportsday.dallasnews.com/dallas-cowboys/cowboys/2017/01/16/jason-garrett-dak-prescott-bright-future-cowboys-will-see-next-tony-romo?_ga=1.189798888.2116015216.1484614651
Chargers moving to L.A.? Time for San Diego to move on, too.
http://www.sandiegouniontribune.com/opinion/editorials/sd-san-diego-chargers-moving-to-los-angeles-20170112-story.html


[headlines]
--------------------------------------------------------------


California Nuts Briefs---
Oakland whistleblower:
I spent two years complaining about fire inspections
http://www.mercurynews.com/2017/01/13/oakland-whistleblower-i-spent-two-years-complaining-about-fire-inspections/
Latest Oakland firetrap underscores Libby Schaaf's dilemma
http://www.sfchronicle.com/bayarea/matier-ross/article/Latest-Oakland-firetrap-underscores-Libby-10857571.php
Lester Holt: Sacramento's diversity prepared him for his NBC job
http://www.sacbee.com/entertainment/tv/article126768374.html
A Silicon Valley down payment could buy you
an entire house in much of the U.S.
http://www.mercurynews.com/2017/01/16/a-silicon-valley-down-payment-could-buy-you-an-entire-house-in-much-of-the-u-s/
(Leasing News provides this ad as a trade for investigative
reporting provided by John Kenny)
[headlines]
--------------------------------------------------------------



"Gimme that Wine"

http://www.youtube.com/watch?v=EJnQoi8DSE8
Starbucks to stop selling alcohol at more than 400 U.S. stores
http://www.chicagotribune.com/business/ct-starbucks-evenings-20170106-story.html
Napa Valley barrel broker celebrates 45 years
http://napavalleyregister.com/business/napa-valley-barrel-broker-celebrates-years/article_f82a4924-34d4-53e3-a97e-5287fead9a04.html
What you can learn from wine labels
http://www.courierpostonline.com/story/life/2017
Free Mobile Wine Program
http://leasingnews.org/archives/Feb2010/2_26.htm#mobile
Wine Prices by vintage
http://www.winezap.com
http://www.wine-searcher.com/
US/International Wine Events
http://www.localwineevents.com/
Leasing News Wine & Spirits Page
http://two.leasingnews.org/Recommendations/wnensprts.htm

[headlines]
----------------------------------------------------------------
This Day in American History
1524 – Giovanni da Verrazzano, seeking a sea route to the Pacific Ocean, left Madiera, Spain, heading west. He is renowned as the first European to explore the Atlantic coast of North America, including New York Bay and Narragansett Bay. The bridge connecting Brooklyn and Staten Island in New York is named for him.
1706 - Birthday of Benjamin Franklin (d. 1790), Boston. "Elder statesman of the American Revolution," oldest signer of both the Declaration of Independence and the Constitution, scientist, diplomat, author, printer, publisher, philosopher, philanthropist and self-made, self-educated man. Author, printer and publisher of Poor Richard's Almanac (1733-58). His birthday is commemorated each year by the Poor Richard Club of Philadelphia with graveside observance. In 1728, Franklin wrote a premature epitaph for himself. It first appeared in print in Ames's 1771 almanac: "The Body of BENJAMIN FRANKLIN/Printer/Like a Covering of an old Book/Its contents torn out/And script of its Lettering and Gilding/Lies here, Food for Worms/But the work shall not be lost/It will (as he believed) appear once more/In a New and more beautiful Edition/Corrected and amended/By the Author."
http://memory.loc.gov/ammem/today/jan17.html
http://www.fi.edu/franklin/
1759 - Birthday of Paul Cuffee (d. 1817), Cuttyhunk Island, MA. Merchant, shipbuilder and Black nationalist. The wealthiest African-American in the United States at the time.
http://www.ccds.charlotte.nc.us/diversity/cuffe.htm
http://www.isomedia.com/homes/bhd2/paul_cuffe.htm
http://www.africana.com/Articles/tt_280.htm
1771 - "Father of the American Novel," Charles Brockden Brown (d. 1810) was born Philadelphia, Pennsylvania. His first novel, "Wieland" (1798) involves a demented man who uses ventriloquism to convince his brother to kill his wife & children. It set the stage for two of America's great authors, Edgar Allan Poe and Nathaniel Hawthorne.
1773 - Captain James Cook became the first to cross Antarctic Circle.
1775 - Colonial workmanship was reflected in the responses by seamstress through the colonies during this rough winter in 1775. An appeal went out by the Continental Congress for 13,000 winter costs for the Continental Army. The quality of the coats was generally so high that many troops chose to accept coats rather than their "bounty." The names of these troops and the makers of their coats are still listed in many New England communities on what is called a Coat Roll.
1779 - Almost one year to the day when Captain Cook had first sighted the Hawaiian Islands, and after giving up on finding the Northwest Passage, he returns to Hawaii with his two ships. Little did he know that, within less than a month, he would be killed on the beach at Kealakekua by the Polynesian natives. The story is a native got on the ship, stole something, his men went and got it back, and the natives then got mad, and stormed the ship. They did not have guns, but they had spears and many of them. In the skirmish, Cook was killed.
1817 - A luminous snowstorm occurred in Vermont and New Hampshire. Saint Elmo's fire appeared as static discharges on roof peaks, fence posts, and the hats and fingers of people. Thunderstorms prevailed over central New England.
1865 - General William T. Sherman's army hits heavy rain at Savannah, Georgia, as it waits to begin marching into the Carolinas. In the fall of 1864, Sherman and his army marched across Georgia and destroyed nearly everything in their path. Sherman reasoned that the war would end sooner if the conflict were taken to the civilian South, a view shared by President Lincoln and General Ulysses S. Grant. Sherman's men tore up railroads, burned grain stores, carried away livestock, and left plantations in ruins. The Yankees captured the port city of Savannah just before Christmas, and Sherman paused for three weeks to rest his troops and re-supply his force. After his rest, he planned to move into the Carolinas and subject those states to the same brutal treatment that Georgia received. His 60,000 troops were divided into two wings. General Oliver O. Howard was to take two corps and move northeast to Charleston, South Carolina, while General Henry Slocum was to move northwest toward Augusta, Georgia. These were just diversions to the main target: Columbia, South Carolina. As Sherman was preparing to move, the rains began. On January 17, the Yankees waited while heavy rains pelted the region. The downpour lasted for ten days, the heaviest rainfall in 20 years. Some of Sherman's aides thought a winter campaign in the Carolinas would be difficult with such wet weather, but Sherman had spent four years in Charleston as a young lieutenant in the army, and he believed that the march was possible. He also possessed an army that was ready to continue its assault on the Confederacy. Sherman wrote to his wife that he "...never saw a more confident army...The soldiers think I know everything and that they can do anything." Sherman's army did not begin moving until the end of the month. When the army finally did move, it conducted a campaign against South Carolina that was worse than that against Georgia. Sherman wanted to exact revenge on the state that had led secession and started the war by firing on Fort Sumter.
1871 - Andrew Hallidie received a patent for a cable car system that began service in San Francisco in 1873. Hallidie Plaza in The City is named after him.
http://www.sfmuseum.org/bio/hallidie.html
(Lower half of: http://memory.loc.gov/ammem/today/jan17.html )
1880 – Mack Sennett was born Michael Sinnott (d. 1960), Richmond, Quebec. Known as an innovator of slapstick comedy in film, during his lifetime he was known at times as the "King of Comedy". His short "Wrestling Swordfish" was awarded the Academy award for Best Live Action Short Film in 1932 and he earned an Academy Honorary Award in 1937. He founded Keystone Studios in Edendale, CA in 1912 (which is now a part of Echo Park). The original main building which was the first totally enclosed film stage and studio ever constructed, is still there today. comedies were noted for their wild car chases and custard pie warfare especially in the Keystone Cops series. Additionally, Sennett's first female comedian was Mabel Normand, who became a major star under his direction and with whom he embarked on a tumultuous romantic relationship. Sennett also developed the "Kid Comedies," a forerunner of the "Our Gang" films, and in a short time his name became synonymous with screen comedy which were called "flickers" at the time.
1893 - The Hawaiian monarchy is overthrown by a conspiracy of non-Hawaiians organized by John L. Stevens, the United States Minister assigned to the sovereign and independent Kingdom of Hawaii. On 14 January, he had conspired with a small group of non-Hawaiian residents of the Kingdom of Hawaii, including citizens of the United States, to overthrow the indigenous and lawful Government of Hawaii. In pursuit of the conspiracy, the US Minister and the naval representatives of the US caused armed naval forces, and three hundred US Marines from the US cruiser Boston to Hawaii, allegedly to protect American lives, invade the sovereign Hawaiian nation on 16 January 1893, and position themselves near the Hawaiian Government buildings and Iolani Palace to intimidate Queen Liliuokalani and her government. On the afternoon of 17 January 1893, a Committee of Safety that represented the US and European sugar planters, descendants of missionaries, and financiers, deposed the Hawaiian monarchy and proclaimed the establishment of a Provisional Government. The US Minister thereupon extended diplomatic recognition to the Provisional Government that was formed without the consent of the Native Hawaiian people or the lawful Government of Hawaii, and in violation of treaties between the two nations and of international law. Among them was a group of American sugar planters under Sanford Ballard Dole, who became president of the new provincial government. The first known settlers of the Hawaiian Islands were Polynesian voyagers who arrived sometime in the eighth century. In the early eighteenth century the first American traders came to Hawaii to exploit the islands' sandalwood, which was much valued in China at the time. In the 1830s, the sugar industry was introduced to Hawaii, and by the mid-nineteenth century, had become well established. American missionaries and planters brought about great changes in Hawaiian political, cultural, economic, and religious life, and in 1840, a constitutional monarchy was established, stripping the Hawaiian monarch of much of his authority. Four years later, Sanford B. Dole was born in Honolulu, Hawaii, to US parents. Over the next four decades, Hawaii entered into a number of political and economic treaties with the United States, and in 1887, a US naval base was established at Pearl Harbor as part of a new Hawaiian constitution. Sugar exports to the US expanded greatly over the next four years, and US investors and American sugar planters on the islands broadened their domination over Hawaiian affairs. Today there is no sugar being harvested
for exporting. The last plant closed in 2016.
1893 - The mercury dipped to 17 degrees below zero at Millsboro, DE, to establish a state record.
1899 - Robert Maynard Hutchins (d. 1977), American educator, foundation executive and civil liberties activist, born at Brooklyn, NY. He was president and later chancellor of the University of Chicago, where he introduced many educational concepts, including the Great Books program.
1899 – Al Capone (d. 1947) was born in Brooklyn.
https://en.wikipedia.org/wiki/Al_Capone
1902 - Birthday of pianist James "Stump" Johnson (d. 1969), Clarksville, TN.
http://www.venerablemusic.com/BluesRecordPages/DOCU_5250.htm
1910 - American jazz drummer. Sid Catlett (d. 1951) was born in Evansville, IN. Catlett was one of the most versatile drummers of his era, adapting with the changing music scene as it progressed toward bebop.
http://www.drummerworld.com/drummers/sid%20catlett.html http://www.musicweb.uk.net/encyclopaedia/c/C70.HTM http://nfo.net/.WWW/c3.html
1912 - Tenor sax player Vido Musso (d. 1982) born Carrini, Sicily.
http://www.sicilyjazz.org/en/Microsoft/VitoMusso.html
1912 – Captain Robert Falcon Scott reached the South Pole, one month after Roald Amundsen.
1915 - The Cleveland American League franchise will now be known as the Indians, replacing the nickname the Naps - a change due to Nap Lajoie, the player-manager for whom the team is presently named, leaving for the Philadelphia A's. Team owner Charles Somers asked the city's baseball writers, who in turn asked their readers for suggestions. A false rumor claimed that the origin of the name was former Cleveland Spiders outfielder, Chief Sockalexis.
1916 - A group of 35 New York area golf professionals met for lunch at the Taplow Club, hosted by department store magnate Rodman Wanamaker. They discussed forming a national organization that promotes interest in the game and elevates the status of the professional golfer. The group appointed an organizing of seven to work on a constitution that was approved on April 16, forming the Professional Golfers Association of America.
1920 - Walter Bailes (d. 2000), a member of the early country trio The Bailes Brothers, was born in Kanawha County, WV.
1922 - Birthday of Betty White, Oak Park, IL. Actress and animal protection advocate, author, comedian, radio host, singer, and television personality. Regarded as a pioneer of television, White was one of the first women to have control both in front of and behind the camera and is recognized as the first woman to produce a sitcom, which contributed to her receiving the honorary title as the Mayor of Hollywood in 1955. She is known for her Emmy Award-winning roles as Sue Ann Nivens on "The Mary Tyler Moore Show" (1973–77) and Rose Nylund on "The Golden Girls" (1985–92). The Writers Guild of America has included both sitcoms in its list of the 101 Best Written TV Series of All Time. A staple guest of many American game shows, White has been dubbed the 'First Lady of Game Shows' and became the first woman to receive an Emmy Award for Outstanding Game Show host in 1983 for the show "Just Men." From 2010 to 2015, she starred as Elka Ostrovsky in the TVLand sitcom "Hot in Cleveland," for which she has won two consecutive Screen Actors Guild Awards and she was nominated for an Emmy Award. In a career that has spanned more than 75 years, she has received seven Emmy awards, three American Comedy Awards, three Screen Actors Guild awards, and a Grammy. She also has a star on the Hollywood Walk of Fame, is a Television Hall of Fame inductee (class of 1995), and a Disney Legend (class of 2009). In 2013, the Guinness World Records recognized White as having the longest television career for a female entertainer.
1927 - Sultry nightclub singer Eartha Kitt (d. 2008) was born in Columbia, South Carolina. Her real birth date wasn't known until 1997 when students at Benedict College in Columbia tracked down her birth certificate. Kitt had picked her own birth date, January 26th, because she was adopted at age six when her mother died and did not know her father. She began her professional career in the troupe of famed dancer Katherine Dunham, with whom Kitt toured Europe and Mexico. Within a year, Kitt was headlining at top European clubs with her singing and dancing. She also starred in three films in France. She returned to the US in the early 1950's, playing such famous nightspots as the Village Vanguard in New York and the Mocambo in Los Angeles. Eartha Kitt is best known for her 1953 recordings of "C'est Si Bon" and "Santa Baby."
1938 - The first jazz concert at Carnegie Hall in New York City took place when Benny Goodman and his Orchestra played with guest performers Jess Stacy, Count Basie, and members of the Basie and Duke Ellington orchestra. The record album available on Columbia is considered a jazz "classic."
1941 - On Okeh Records, Gene Krupa and his band recorded "Drum Boogie."
1942 - Former heavyweight champion boxer Muhammad Ali born Cassius Marcellus Clay (d. 2016), Louisville, KY. He was widely regarded as one of the most significant and celebrated sports figures of the 20th century. From early in his career, Ali was known as an inspiring, controversial, and polarizing figure both inside and outside the ring. At age 18, he won a gold medal at the 1960 Summer Olympics in Rome, after which he turned professional later that year. In 1964, he won the WBA, WBC and heavyweight titles from Sonny Liston in an upset. Clay then converted to Islam and changed his name from Cassius Clay, which he called his "slave name," to Muhammad Ali. He set an example of racial pride for African-Americans and resistance to white domination during the 1960s Civil Rights Movement. In 1966, two years after winning the heavyweight title, Ali further antagonized the white establishment in the U.S. by refusing to be conscripted into the U.S. military, citing his religious beliefs and opposition to American involvement in the Vietnam war. He was eventually arrested, found guilty of draft evasion charges and stripped of his boxing titles. He successfully appealed to the Supreme Court, which overturned his conviction in 1971, by which time he had not fought for nearly four years—losing a period of peak performance as an athlete. Ali's actions as a conscientious objector to the war made him an icon for the larger counterculture generation. Ali is regarded as one of the leading heavyweight boxers of the 20th century. He remains the only three-time lineal heavyweight champion, having won the title in 1964, 1974 and 1978.
http://www.webgalleria.com/alibio.html
http://www.ali.com/
1944 – Allied forces launched the first of four assaults on Monte Cassino with the intention of breaking through the Winter Line and seizing Rome, an effort that would ultimately take four months and cost 105,000 Allied casualties.
1945 - Top Hits
"Don't Fence Me In" - Bing Crosby & The Andrews Sisters
"There Goes that Song Again" - Russ Morgan
"I'm Making Believe" - Ella Fitzgerald & The Ink Spots
"I'm Wastin' My Tears on You" - Tex Ritter
1948 - Mick Taylor, one of the great slide guitarists in rock music, was born in Welwyn Garden City, England. He left school at 15 and taught himself guitar, playing in a local group called The Gods. Taylor sat in for Eric Clapton when Clapton missed a gig with John Mayall's Bluesbreakers. Taylor later joined Mayall's group when Clapton left permanently. Taylor's playing on John Mayall's "Bare Wires" album led to him being selected to replace the deceased Brian Jones in the Rolling Stones in 1969. His highlight with the Stones is the album "Exile on Main Street." Mick Taylor left the Stones in 1974, played briefly with a band led by Jack Bruce, then in 1979 began a solo career.
1949 - "The Goldbergs" premiered on TV. Originally broadcast by CBS, this show was one of the earliest TV sitcoms. The show centered around a Jewish mother and her family living in the Bronx and later in the suburbs. Gertrude Berg created the hit radio show before she wrote, produced and starred as Molly Goldberg in the television version. Contributing actors and actresses included Philip Loeb, Arlene McQuade, Tom Taylor, Eli Mintz, Menasha Skulnik and Arnold Stang.
1950 - A team of 11 thieves, in a precisely timed and choreographed strike, steals more than $2 million from the Brinks Armored Car depot in Boston, Massachusetts. The Great Brinks Robbery, as it quickly became known, was the almost perfect crime. Only days before the statute of limitations was set to expire on the crime, the culprits were finally caught. Tony Pino, a lifelong criminal, was the mastermind behind the audacious theft. Together with Big Joe McGinnis, he assembled a group that meticulously planned the heist. They staked out the depot for a year and a half to figure out when it was holding the most money. Then, the gang stole the plans for the depot's alarm system and returned them before anyone noticed that they were missing. The criminal team held repeated rehearsals, with each man wearing blue coats and Halloween masks. On January 17, they finally put their plan into action. Inside the counting room, the gang surprised the guards and tied up the employees. Fourteen canvas bags, weighing more than half a ton, were filled with cash, coins, checks, and money orders. Within 30 minutes, the Brinks robbery team was gone-taking $2.7 million with them. They left no clues at all. Next, the gang met and split the proceeds of the theft. They agreed that each would stay out of trouble for six years and they almost made it. However, one of the men, Specs O'Keefe, left his share with another member because he had to serve a prison sentence for another crime. O'Keefe, worried that he would be cheated out of his money, indicated that he might begin to talk. The others decided to send a hit man to kill O'Keefe but he was only wounded, and the assassin was caught. O'Keefe made a deal with police and testified against the others. Eight participants in the Great Brinks Robbery were caught and convicted. However, only a small part of the money was ever recovered. Tours of Boston today take you down this street and tell you about
the individuals in the robbery.
1952 - After a short period of small bands, Count Basie brings his big band back with
a recording contract at Clef records.
1953 - Top Hits
"Why Don't You Believe Me" - Joni James
"Don't Let the Stars Get in Your Eyes" - Perry Como
"Keep It a Secret" - Jo Stafford
"Midnight" - Red Foley
1956 - British pop star Paul Young is born in Bedfordshire, England. His biggest hit is "Every Time You Go Away'' in 1985. The No. 1 song is written by Daryl Hall.
1960 - Nearly 20 million people watch Cliff Richard and The Shadows perform on "Sunday Night at The London Palladium," where the singer is presented a Gold record for his hit, "Living Doll".
1961 - President Dwight D. Eisenhower, in his farewell address to the nation on national radio and television, spoke the sentences that would be the most quoted and remembered of his presidency. In a direct warning, he said, "In the councils of government, we must guard against the acquisition of unwarranted influence, whether sought or unsought, by the military-industrial complex. The potential for the disastrous rise of misplaced power exists and persists."
1961 - Top Hits
"Wonderland by Night" - Bert Kaempfert
"Exodus" - Ferrante & Teicher
"Will You Love Me Tomorrow" - The Shirelles
"North to Alaska" - Johnny Horton
1963 - Keith Richards, Mick Jagger, Brian Jones, Bill Wyman, Charlie Watts and Ian Stewart perform together for the first time at London's Marquee Jazz Club.
1964 - No. 1 Billboard Pop Hit: "There! I've Said It Again,'' Bobby Vinton. This song can be considered the last No. 1 song before the British invasion. After four weeks at No. 1, Vinton turns over that spot to the Beatles and their first U.S. hit, "I Want to Hold Your Hand.''
1967 - The first "Human Be-In" was held on the polo field of San Francisco's Golden Gate Park. It is estimated 20,000 "hippies" gathered to listen to psychedelic music, love each other, and use recreational drugs, not necessarily in that order. Among the performers were the Jefferson Airplane, the Grateful Dead, Quicksilver Messenger Service and Big Brother and the Holding Company. Among the speakers were Jerry Rubin, Allen Ginsberg, Lawrence Ferlinghetti & Timothy Leary. Participants were urged to bring food to share, flowers, beads, costumes, feathers, bells, cymbals & flags. The Be-In was produced by Michael Bowen. Sponsored by Haight Independent Proprietors (H.I.P.) & the Communication Co.
http://www.summeroflove.org/altman.html
http://www.summeroflove.org/images/law/allen.ginsberg.jpeg
http://www.summeroflove.org/images/vignes/ginsberg.jpeg
http://www.summeroflove.org/wolman.html
http://www.summeroflove.org/event.html
1967 - 40-year-old David Mason recorded the piccolo trumpet solo for The Beatle's "Penny Lane" at Abbey Road Studios in London. He was paid 27 pounds, 10 shillings ($42) for his performance. In August, 1987, the trumpet he used was sold at a Sotheby's auction for $10,846.
1967 - London's Daily Mail newspaper carries an article about potholes in Blackburn, Lancashire. It was this article that inspired the line John Lennon wrote in "A Day in the Life."
1968 - A Pacific storm battered the southern coast of California. Winds gusting to 65 mph uprooted trees in San Diego. Los Angeles reported an all-time record low barometric pressure reading of 29.25 inches.
1969 - Top Hits
"I Heard It Through the Grapevine" - Marvin Gaye
"I'm Gonna Make You Love Me" - Diana Ross & The Supremes & The Temptations
"Wichita Lineman" - Glen Campbell
"Daddy Sang Bass" - Johnny Cash
1969 - Led Zeppelin, "Led Zeppelin" released.
1969 - Elton John, "Lady Samantha" released.
1970 - Willie Mays is named as the Player of the Decade for the sixties by the Sporting News.
1971 - Marvin Gaye performs the national anthem at Super Bowl V in Miami, FL.
1971 - Baltimore defeats Dallas 16-13 in Super Bowl V on Jim O'Brien's 32-yard field goal with five seconds remaining.
1972 - Highway 51 South in Memphis, TN is renamed "Elvis Presley Blvd."
1974 - No. 1 Billboard Pop Hit: "Show and Tell,'' Al Wilson.
1975 - "Baretta" premiered on TV; CBS series starring Robert Blake as Baretta, a police detective who defied his superiors and solved his cases in a most unorthodox manner--usually by figuring it out while talking to his pet cockatoo, Fred, or his informant, Rooster (played by Michael D. Roberts). Commanding officer Lieutenant Hal Brubaker was played by Edward Grover. The last telecast aired on June 1, 1978.
1976 - Barry Manilow's "I Write the Songs" hits #1, written by the Beach Boys' pianist, Bruce Johnston. He played in my band in high school.
1977 - Top Hits
"You Make Me Feel Like Dancing" - Leo Sayer
"I Wish" - Stevie Wonder
"Car Wash" - Rose Royce
"You Never Miss a Really Good Thing (Till He Says Goodbye)" - Crystal Gayle
1984 - VCR home taping ruled legal: The US Supreme Court ruled that private use of a home videocassette recorder did not violate copyright laws. The decision overturned a 1981 ruling that made the copying of programs and the sale of video recorders illegal. The Supreme Court's decision marked a major defeat for Walt Disney, Universal City Studios, and other entertainment companies that had fought to ban home videotape machines. Over the next fifteen years, as technology improved for reproducing and electronically distributing images, words, movies, and other media, intellectual property cases like the VCR suit would become increasingly important.
1984 - No. 1 Billboard Pop Hit: "Owner of a Lonely Heart,'' Yes.
1985 - Top Hits
"Like a Virgin" - Madonna
"All I Need" - Jack Wagner
"You're the Inspiration" - Chicago
"The Best Year of My Life" - Eddie Rabbitt
1987 - A winter storm spread snow from the Southern Rockies into the Middle Mississippi Valley and southwestern sections of the Great Lakes Region, and freezing rain across Texas and Oklahoma. Snowfall totals ranged up to 16 inches at Tulia, TX, with 12 inches at Wellington, KS.
1988 - The Denver Broncos won their second consecutive AFC championship by defeating the Cleveland Browns, 38-33, at Denver's Mile High Stadium. Denver quarterback John Elway threw three touchdown passes, and Jermiah Castille stripped the ball from Cleveland's Earnest Byner late in the game as he was about to score the go-ahead TD, to preserve the victory.
1990 - Twenty cities across the southeastern half of the country reported record high temperatures for the date. Record highs included 61 degrees at Williamstown, PA and 85 degrees at Brownsville, TX. Evening thunderstorms produced large hail and damaging winds from eastern Texas to Mississippi.
1990 - The Fifth Annual Rock and Roll Hall of Fame induction ceremonies are held in New York City. Inductees include Hank Ballard, Bobby Darin, The Four Seasons, The Four Tops, The Kinks, The Platters, Simon and Garfunkel, and The Who.
1991 - Operation Desert Storm began. The first serviceman killed in the Gulf War was Navy pilot Scott Speicher. His F-18 Hornet fighter was shot down over Iraq by anti-aircraft fire. The U.S. and its United Nations allies went to war to drive Saddam Hussein's army out of Iraqi-occupied Kuwait. U.S. General Norman Schwarzkopf gave the go-ahead for bombing raids on Baghdad, followed a few weeks later by assaults with ground troops on Iraqi troops in southern Iraq and Kuwait. During the following six weeks Iraq fired its Scud missiles at U.S. bases in Saudi Arabia and at the general population in Israel, but was routed soundly. Iraqi troops left Kuwait, retreating all the way to Baghdad and, in many cases, surrendering in the field.
1993 - President Clinton's Inauguration ceremonies feature a free outdoor concert at which Aretha Franklin, Michael Bolton, Tony Bennett, Bob Dylan, and Diana Ross (among others) perform.
1994 - An earthquake measuring 6.6 on the Richter scale struck the Los Angeles area about 4:20 AM. The epicenter was at Northridge in the San Fernando Valley, about 20 miles northwest of downtown Los Angeles. A death toll of 51 was announced Jan 20. Sixteen of the dead were killed in the collapse of one apartment building. More than 25,000 people were made homeless by the quake and 680,000 lost electric power. Many buildings were destroyed and others made uninhabitable due to structural damage. A section of the Santa Monica Freeway, part of the Simi Valley Freeway and three major overpasses collapsed. Hundreds of aftershocks occurred in the following several weeks. Costs to repair the damages were estimated at 15-30 billion dollars.
1995 - Los Angeles Rams announce that they are moving to St Louis. They moved back in time to play the 2016 season at the LA Memorial Coliseum.
1996 - Center Steve Yzerman of the Detroit Red Wings scored the 500th-regular season goal of his National Hockey League career as the Wings defeated the Colorado Avalanche, 3-2.
1996 - The Eleventh Annual Rock and Roll Hall of Fame induction ceremonies are held in New York City. Inductees include David Bowie, Gladys Knight and the Pips, Jefferson Airplane, Little Willie John, Pink Floyd, The Shirelles, and The Velvet Underground.
1998 - Savage Garden's "Truly, Madly, Deeply" was the number-one single in the U.S. for the first of two weeks. "I want to stand with you on a mountain; I want to bathe with you in the sea; I want to lay like this forever; until the sky falls down on me."
1999 - At the American Music Awards, Billy Joel is given the Special Award of Merit for his "inspired songwriting skills" and "exciting showmanship."
2010 - A series of strong Pacific storms impacted Arizona, California, Colorado, New Mexico, Nevada and Utah from January 17th through 23rd, leaving behind several feet of snow across the higher terrain and breaking numerous lowest barometric pressure records across the region. Sunrise Mountain, Arizona received 77 inches of snow, while Mammoth Lakes, California received 90 inches.
2013 - After stripping Lance Armstrong of his seven Tour de France Titles, the IOC took away the cyclist's bronze medal from the 2000 Summer Olympics; he was found guilty of doping.
2014 - Responding to privacy concerns raised by former spy contractor Edward Snowden's NSA disclosures, President Barack Obama announced reforms to NSA phone surveillance.
2015 - President Barack Obama vowed to veto additional sanctions proposed by Congress against Iran, citing the delicacy of international talks currently underway with the nation regarding limitations on its nuclear program.
Super Bowl Champions:
1971 - Baltimore Colts
-------------------------------------------------------------

SuDoku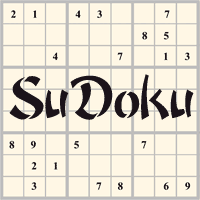 The object is to insert the numbers in the boxes to satisfy only one condition: each row, column and 3x3 box must contain the digits 1 through 9 exactly once. What could be simpler?
http://leasingnews.org/Soduku/soduko-main.htm
--------------------------------------------------------------

Daily Puzzle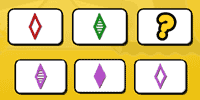 How to play:
http://www.setgame.com/set/puzzle_frame.htm
Refresh for current date:
http://www.setgame.com/set/puzzle_frame.htm
--------------------------------------------------------------


http://www.gasbuddy.com/
http://www.gasbuddy.com/GB_Map_Gas_Prices.aspx
http://www.gasbuddy.com/GB_Mobile_Instructions.aspx
--------------------------------------------------------------

Weather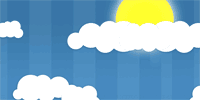 See USA map, click to specific area, no commercials
--------------------------------------------------------------

Traffic Live---
Real Time Traffic Information
You can save up to 20 different routes and check them out with one click,
or type in a new route to learn the traffic live
--------------------------------