###### Extra############ Regular Edition Follows####################
Extra ---Leveraged leases
"I don't know how much of your readership is affected by leveraged leases, but the FASB officially killed them on Wednesday. Although we all knew it was coming, there was still hope that they would be grandfathered, but the FASB also voted to not allow grandfathering. I am not certain of how lessors will react, but I have heard rumors that some leveraged lessors are talking of spinning off their leveraged leases."
1. A lessor would account for leveraged leases under the proposed new leases guidance. There would not be a different lessor approach for leveraged leases.
2. A lessor would apply the same transition guidance to current leveraged leases as required for all other leases; that is, existing leveraged lease transactions would not be grandfathered.

Shawn
Shawn Halladay, Managing Director
www.thealtagroup.com
801 322 4499 direct
801 322 5454 fax
shalladay@thealtagroup.com
Global Experience Provides Direction
###### Extra########### Regular Edition Follows####################
Friday, July 15, 2011

Today's Equipment Leasing Headlines

Waiting for the Debt Ceiling to hit the fan
by Christopher Menkin
Classified Ads---Sales Manager
"The courts define what is fraud, not you or anyone else"
by Bernie Boettigheimer, CLP
Direct Capital, Gonor Funding, GreatAmerica Leasing
join Evergreen Notification List
Cartoon---Get Serious, Greg!
New Hires—Promotions
Classified Ads---Help Wanted
Two named for 2011 Operation & Technology Excellent Award
Time to turn to that reliable cooling system known as cinema
Summer DVD Reviews by Fernando F. Croce
Arlington, Virginia Adopt-a-Dog
Top Language Jobs
News Briefs---
Dubai leasing firm cancels 35 Boeing orders
FDIC sues insiders at failed Geogia bank
Europe Looks for Hope in Bank Test Results
1.17MM homes get foreclosure notices so far/25% Drop
Mortgage rates fall to labor pains
Google quarterly results beat expectations
Skype: The inside story of the boffo $8.5 billion deal
Life after Banking, ex CFO looks for a new job
Broker/Funder/Industry Lists | Features (collection)
Top Ten Stories Chosen by Readers | Top Stories last six months
5 Disastrous Consequences of a Debt Ceiling Meltdown
You May have Missed---
Sports Briefs
California Nuts Brief---
"Gimme that Wine"
This Day in American History
SuDoku
Daily Puzzle
GasBuddy
Weather, USA or specific area
Traffic Live----

######## surrounding the article denotes it is a "press release" and was not written by Leasing News nor information verified, but from the source noted. When an article is signed by the writer, it is considered a "by line." It reflects the opinion and research of the writer. It is considered "bias" as it is the writer's viewpoint.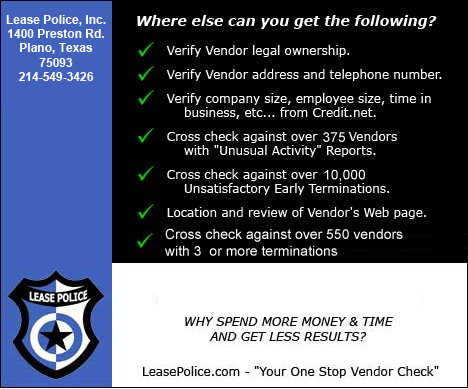 [headlines]
--------------------------------------------------------------
[headlines]
--------------------------------------------------------------

[headlines]
--------------------------------------------------------------

[headlines]
--------------------------------------------------------------

New Hires—Promotions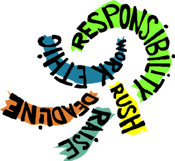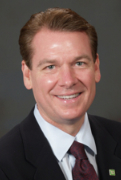 Jule Kreyling was named Vice-President, Senior Regional Director for TD Equipment Finance in Greenville, South Carolina. He is responsible for growing TD Equipment Finance's business throughout the bank's southern footprint, which includes Metro D.C., Virginia, Maryland, North Carolina, South Carolina and Florida. Previously he was President, Watchung Portfolio Management (June, 2009-May, 2011), Executive Vice-President, Omni National Bank (December, 2002-May, 2009), Vice President & Division Manager, CitiCapital (a Division of Citigroup), September, 1999-May, 2002). Vice-President, Textron Financial (1992-1999), Associate, Troutman Sanders, LLP (June, 1989-June, 1992). He has a JD, Law, Harvard Law School (1986-1989), a BA, American Studies, William College (1984-1986).
http://www.linkedin.com/pub/jule-kreyling/7/501/2b9

Dan Nuss has been named Senior Vice President, Technology Vendor Financial Services at US Bank, Des Moines, Iowa. He is now the sales leader for the Technology Segment of US Bancorp Equipment Finance, Vendor Services. He previously was previously National Sales Director, CIT Group (October, 2008-July, 2011), Vice-President, Business Development, CIT (January, 2007-October, 2008), Vice President, National Accounts, CIT (January 2005-January, 2007), Technology Finance Sales Manager, CIT (November, 2002-January, 2005). He has a Bachelors degree in Business administration from Upper Iowa University
http://www.linkedin.com/pub/dan-nuss/1/332/835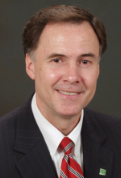 Charles R. Philips joins TD Equipment Finance in Framingham, Massachusetts, as Vice-President, Express Lease Sales Officer; he is responsible for new business direct lease and vendor program origination for existing and new TD Bank small business clients throughout New England, with transactions ranging from $5,000 to $500,000. He has more than 25 years of experience in the financial services industry. Prior to joining TD Equipment Finance, he worked at Hewlett Packard, Bank of America Global Vendor Finance and ePlus. A resident of Southborough, Mass., Phillips is a 1981 graduate of St. Bonaventure University in St. Bonaventure, N.Y.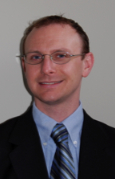 Richard Shanahan has been named Director of Government Relations, Equipment Leasing and Finance Association, Washington, DC. will engage members in grassroots activities at the federal level as well as operate the association's political action committee (LeasePAC). He previously was Associate, Legislative & PAC Affairs, Deere & Company (February, 2005-May, 2011), Mailroom/Constituent Assistant, Office of Senator Ben Nelson (D-Neb.) He has a MPP, Public Policy, The George Washington University (2006-2009) and a BS, Elementary Education, Fort Hays State University (1998-2003). He is active in the Sigma Alpha Epsilon Fraternity and Knights of Columbus.
http://www.linkedin.com/pub/richard-shanahan/30/55a/509
Paul Torres was named Senior Credit Officer at Mechanics Bank, Richmond, California. On line, it shows he was Senior Credit Analyst, Bay Area Development Company, February, 2006--March, 2009, Trinity Capital, San Francisco, Chief Operating Officer, Bay View Commercial Leasing (Bay View Bank), West Coast Marketing Director, Livery Resources, a Chicago-based bank-owned leasing subsidiary, Credit Manager, Warren Capital, Credit, Ford, Credit, Toyota, He graduated with a BA in Financial Information, California State University-Fullerton (1983-1988). He previously served on the Leasing News Advisory Board. He is a previous Certified Leasing Professional. Paul Torres is also an accomplished musician on piano, bass, rhythm guitar.
http://www.linkedin.com/pub/paul-torres/22/4b8/101

************

These are from a recent Commercial Capital announcement adding three leasing veterans. The actual positions were filled near the beginning of the year, one going back to February, but since cannot find a record that they appeared in Leasing News (although they may have), here they are:

****************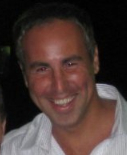 Steven G. Clyne has been hired by LEAF Commercial Capital, Philadelphia, Pennsylvania as regional sales manager to cover the Northeast region; based in the greater New York area.
LinkedIn notes he is Regional Sales Manager, Northeast, LEAF Financial Corp (March, 2011-present), previously Director, Patriot Funding Corporation (May, 2009-February, 2011), National Sales Manager, CIT Group (October, 2007-Feburary, 2009), Major Account Sales Executive, Citigroup (May, 2000-October, 2007), Account Manager & Sales Rep, Copelco Capital (May, 1996-May, 2000). He graduated University of Delaware (1991-1995), Westfield High School (1988-1991).He is Chairman, The Gregg F. Clyne Memorial Foundation, Organizer, Old St. Patrick's Cathedral Basketball, NYC.
http://www.linkedin.com/pub/steven-clyne/3/696/179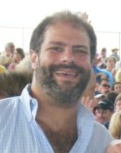 Evan Cohn has been hired by LEAF Commercial Capital, Philadelphia, Pennsylvania as regional sales manager to cover the Southeast region. LinkedIn shows is Regional Sales Manager, LEAF Commercial Credit (February, 2011--Present), previously Senior Account Manager, Janus Displays (2010-2010), National Account Manager, CIT (April, 2007-February, 2009), Regional Sales Manager, CitiCapital, formerly Copelco Capital (2005-2007), Regional Sales Manager, Wells Fargo Financial (201-2005), Regional Sales Manager, GE Capital (2001-2003), Regional Sales Manager, Copelco Capital (1998-2002), Remarketing Manager, AT&T (1986-1992), Remarketing Manager, Eaton Financial (1985-1990). He has a BA, History from Brandeis University.
http://www.linkedin.com/pub/evan-cohn/11/673/749

Stephen Donahue has been hired by LEAF Commercial Capital, Philadelphia, Pennsylvania as regional sales manager to cover the Western region. "Donahue brings 25 years of equipment and commercial finance experience with Master Lease Corp, First Valley Leasing and Butler Capital in various roles."
[headlines]
--------------------------------------------------------------

Leasing Industry Help Wanted


Equipment Leasing Opportunities throughout the U.S. Controller: West Coast • Copier Sales Reps: Florida
• Producing Healthcare Leasing Mgr: Midwest
• Truck / Trailer Leasing Rep: Southwest
• Vendor Sales Team: Anywhere U.S.
info@riirecruit.com
www.riirecruit.com


For information on placing a help wanted ad, please click here:
http://www.leasingnews.org/Classified/Hwanted/Hwanted-post.htm

Please see our Job Wanted section for possible new employees.

[headlines]
--------------------------------------------------------------

[headlines]
--------------------------------------------------------------

[headlines]
----------------------------------------------------------------
Please send to a colleague---Leasing News is Free
This Day in American History
-------------------------------------------------------------

SuDoku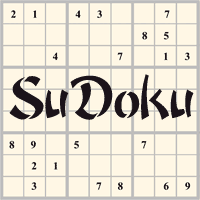 The object is to insert the numbers in the boxes to satisfy only one condition: each row, column and 3x3 box must contain the digits 1 through 9 exactly once. What could be simpler?
http://leasingnews.org/Soduku/soduko-main.htm
--------------------------------------------------------------

Daily Puzzle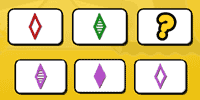 How to play:
http://www.setgame.com/set/puzzle_frame.htm
Refresh for current date:
http://www.setgame.com/set/puzzle_frame.htm
--------------------------------------------------------------


http://www.gasbuddy.com/
http://www.gasbuddy.com/GB_Map_Gas_Prices.aspx
http://www.gasbuddy.com/GB_Mobile_Instructions.aspx
--------------------------------------------------------------

Weather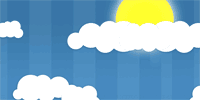 See USA map, click to specific area, no commercials
--------------------------------------------------------------

Traffic Live---
Real Time Traffic Information
You can save up to 20 different routes and check them out with one click,
or type in a new route to learn the traffic live
--------------------------------