Sales Reps

Due to expansion, we have openings in Richmond VA, Raleigh NC and Washington DC. To see job information, click here. Submit resume to pshelley@wwsmanagement.com

Since 1986, CSC Leasing has worked with well-managed companies who appreciate the value of leasing.

Wednesday, July 25, 2007
Headlines---
Peter Eaton, CLP, joins OFC Capital
Classified Ads---Sales Manager
Tom Weiden/Lakeview Capital Partners
Douglas-Guardian: Site Inspection List
Classified Ads--Help Wanted
Letters—We get eMail!!!
Cartoon---Einstein on Third Base
Sales Make it Happen by Linda P. Kester
"Be an Idea Dispenser"
Alter Moneta Expands Equipment Leasing
Corporations Have Trouble Borrowing
Paccar's profit declines 19.4%
Top Lender Sees Mortgage Woes for 'Good' Risks
First Republic Bank Reports Strong 2nd Q
News Briefs---
You May have Missed---
Sports Briefs---
"Gimme that Wine"
Calendar Events
Snapple Real Facts
Today's Top Event in History
This Day in American History
Baseball Poem
SuDoku
Daily Puzzle
######## surrounding the article denotes it is a "press release"
---------------------------------------------------------------------------

Peter Eaton, CLP, joins OFC Capital
"Peter Eaton, CLP, First National Leasing Palo Alto, California, took his role as Chairman of the Western Association of Equipment Lessor's Crystal Anniversary Conference (1991) in Monterey, California, to heart. He is shown above catching a few waves—still sporting a tuxedo jacket and bow tie."
Peter Eaton, CLP, one of the leaders of the Leasing Industry has left Pentech Financial Service, Campbell, CA, to join OFC Capital Corporation out of Roswell, Georgia.
"This is an exciting and challenging opportunity for me with a strong and established company in the financial services business, "he told Leasing News. "I'll keep you posted."
Eaton will be primarily in charge of the OFC Capital Warehouse Lines of Credit, according to Robert "Chip" Leas, President and CEO of OFC Capital.
"I have known Peter both professional and personally for over 15 years and we are very excited about him joining our staff, "he said in a press release.
" 'There's nothing like a well-armed woman,' (clockwise from left) Maureen Colton, Patricia Eaton, Cheryl Leas, and Holly Houghtaling show us their stuff."
November, 1995 United Association of Equipment Leasing
"His industry experience and knowledge will provide us with a great opportunity to deliver our Warehouse lines and revolving lines of credit," Leas said. "Both are both geared to provide liquidity to a select group of lessors."
"Conference Chairman Peter Eaton, CLP,(l) and his wife Patricia visit with First National easing Corporation executive Vice-President Casey Kolp and his wife Linda during the Sports Reception."
October, 1990, Western Association of Equipment Lessors Conference, Monterey, California
In Palo Alto, California, he first headed the First National Leasing Corp West Coast Office. He then went on his own with Sevilla Leasing and Associates in Palo Alto, Ca. In 1993, he joined Leasing Associates in Mountain View, California, to help build the established broker program. When Leasing Associates main line Colonial Pacific Leasing (CPL) moved to GE Commercial, things changed, and in fact, Leasing Associates was the last discounter GE funded in the Pegasus program. Steve Dunham, the founder Leasing Associates moved to the East Coast, continued the operation, and Eaton joined Pentech Financial as Executive Vice President. He continued working with brokers and also developing the venture leasing program at Pentech until the dot.com bust hit the area.
The third set of Certified Lease Professionals was granted final approval and received plaques commemorating the designation at the Fall Conference in Hawaii.
New CLPs recognized by Western Association of Equipment Leasing President Joe Woodley (left) (now *** of the same organization now known as the United Association of Equipment Leasing) from left: Michael Walsh, Atlantic Financial Savings
Bank; Ron Wagner, Heritage Leasing Capital (Now with Pentech in a relationship with US Bancorp/Manifest); Brian Pindell, Commercial Equipment Lease Corp.; Ben Millerbis, Pentech Financial Services; Peter Eaton, First National Leasing Corp.; Duane Russell, Atlantic Financial Savings Bank (now retired).
November, 1987 WAEL NewsLine
In the changing direction of Pentech Financial from the venture leasing field to a commercial lessor and small ticket operation run by Ron Wagner out of Southern California, Navigator, Eaton and his wife Patricia moved to Madison, Wisconsin; to also be closer to their daughters and other relatives. He then became Commercial Sales-East for Pentech Financial with Larry Blazek in charge of Western Region Sales. May 2, 2007, Pentech appointed Brad Brisbin Vice President, Sales & Marketing.
While Peter Eaton is known both for being quite the horseman, what his daughters also love, and riding his Harley Davidson on road trips with his wife Patricia, he considers himself more a golfer ( handicap not disclosed.) He is reportedly as popular on the course as well off the course.
Among his many professional achievements, Eaton is a past President of United Association of Equipment Lessors (UAEL) and served on the board of directors of this association for six years, chairing committees and conventions.
Peter may be contacted at (608) 310- 6930 or at peter.eaton@ofccap.com
"Pictured here is some of the Western Association of Equipment Leasing Past President who were honored during special recognition ceremonies in commemoration of WAEL's Fifteenth Anniversary---the Crystal Celebration.
Conference Chairman Peter Eaton, CLP, First National Leasing Corporation(center) joins Past Presidents (l to r) Jim Possehl, CLP, President R epublic Financial Corporation(1989), President Steve Dunham, Leasing Associates (WAEL's first President—1974); Bob Jacobson, III, CLP, Consultant (1984 president); Eaton (1994 president); Ted Parker, CLP, LSA West Capital Corporation (1986 President): and Steve Head, Interbank Leasing Corporation (1977 President)."
--------------------------------------------------------------

Classified Ads---Sales Manager
Atlanta, GA
Strong sales and leadership skills; demonstrated with sales training and sales performance. Lead team in both regional and national operations and developed marking programs.
Email: mll1946@comcast.net
Resume:
http://www.leasingnews.org/Classified/Resumes/Michael_Leonard.pdf
These job-wanted ads are free. We also recommend to both those seeking a position and those searching for a new hire to also go to other e-mail posting sites:
http://www.leasingnews.org/Classified/Posting_sites.htm
In addition, those seeking employment should go to the human resource departments on company web sites for funders, captive lessors, and perhaps "broker-lessors."
To place a free "job wanted" ad here, please go to:
http://www.leasingnews.org/Classified/Jwanted/Jwanted-post.htm
For a full listing of all "job wanted" ads, please go to:
http://www.leasingnews.org/Classified/Jwanted/Jwanted.htm
--------------------------------------------------------------

Lakeview Capital Partners joins "Broker/Lessor" list
Tom Weiden for several years was a Senior VP @ GE Commercial Finance in Cleveland, Ohio from which he just retired in June. He started Lakeview Capital to provide lease/loan financing and M&A advisory services for small and mid market companies, primarily in the Cleveland area.
He has an impressive background:
Oct 1971: Started at U.S. Leasing, working for Tom Wajnert;
Apr 1976: Opened and ran a lease/private placement operation for
10 years @ McDonald Investments (now part of KeyCorp;
1985-1989: Owned/operated Lakeview Capital Corp, a lease/loan and
consulting business;
1989-1992: John Hancock Leasing Corp;
1992-1996: BGLC & KeyCorp Investment Banking;
1996-June 2007: GE Commercial Finance, Capital Funding & Corporate Lending;
July 2007: Lakeview Capital Partners
"Broker/Lessor" List
Third Column: YES - Year Company Started | YELB - Years in equipment Leasing Business
A - City Business License | B- State License | C - Certified Leasing Professional |
D - State(s) sales/use tax license |
E - Named as "lessor" on 50% or more of lease contract signed. |
Name
City, State
Contact
Website
Leasing Association

YCS
YELB


(see above for meaning)

# of Empl.

Geographic Area

Minimum
Dollar
Amount

Buisness Reports

D

2007
35

Cleveland, OH and surrounding states

$1.0 million and greater

N

N

N

N

N
To view the complete list, please click here.
--------------------------------------------------------------

Douglas-Guardian up-dated: Site Inspection List
Site Inspection Services
( To apply to be listed, please fill in this form and fax to 408.374.3843 or you
may e-mail to: kitmenkin@leasingnews.org )
Site Inspection Form
Full-time
Employees

Part-Time
Employees or Ind. Contractors

Additional
Services

Major
Clients

300

Pre-Funding Inspections, Post-Funding Inspections, Vendor Verifications, Collection Inspections, Collateral Management and Floor Plan Inspection Services

USA/Canada
(A) "Douglas Guardian has probably been doing site inspections longer than any other company in the market today. This is our 75th year in business. We even do inspections for some of the people on your editorial board. Please include Douglas Guardian in your survey. We do not subcontract our inspections to independent contractors like many of our competitors. We utilize a network of over 300 company trained and certified employees. We operate throughout the US and Canada performing pre-funding inspections, post-funding inspections, collection inspections and vendor verifications."
Bruce Lurie, President
blurie@douglasguardian.com
-----------------------------------------------------------------
Associations are abbreviated. See our Associations page full name and information.
To view the entire list, please go here.
--------------------------------------------------------------

Leasing Industry Help Wanted
Accounts Manager

ACCOUNT MANAGER
Phoenix, AZ or virtual office
Responsible for developing and managing Vendor Programs with equipment manufacturers and vendors. Click here for more detailed information.
Manufacturers' Lease Plans Inc. (MLPi) is the pioneer of short-term rental and operating lease financing, funding high technology equipment manufacturers since the 1960s.
Collections

Collections Opportunity
Seeking an experienced collector to join its growing staff. Candidates should have a minimum 2 years of high volume collections experience, preferably in commercial vehicle lending or leasing. Competitive salary plus comprehensive package available. For consideration please fax resume in confidence to R.Z. 718-392-3933 or e-mail to rzerillo@advantagefunding.us


EFD Marketing Specialist


EFD Marketing Specialist
Walnut Creek, CA
You will serve as a liaison between the department's equipment leasing brokers and internal staff. Requires a BA or 3 years of relevant experience. CLICK HERE for a detailed description and resume submission
info.


Managed Services Division
Operations / Doc / Funding

OPERATIONS / DOC / FUNDING
COSTA MESA, CALIFORNIA

Full Time Documentation / Funding Clerk
START DATE:
Position Available Immediately

Ground floor opportunity to join fast growing Independent Lessor. Experience required. Word and Excel skills a must.
Benefits provided. Bonus plan participation.
Salary commensurate with experience.
Please fax resume to 714-556-3765. Outline salary expectations.
Sales Representatives

Sales Reps

Due to expansion, we have openings in Richmond VA, Raleigh NC and Washington DC. To see job information, click here. Submit resume to pshelley@wwsmanagement.com

Since 1986, CSC Leasing has worked with well-managed companies who appreciate the value of leasing.

--------------------------------------------------------------

Letters—We get eMail!!!

Christopher "Kit" Menkin, editor
Chronological order received:
http://www.leasingnews.org/archives/July%202007/07-23-07.htm#top5
"I just read the Top Five Hiring Mistakes story and was surprised that Pre-employment screenings wasn't included on the list. It should have been at the top. As someone who provides this service to clients, I am consistently reminded of the importance of verifying applicant information and, more importantly, running criminal background checks on applicants.

"We regularly uncover information not included on applications that applicants outright lie about, including the guy who wanted to work at the retail store who had only recently been released from prison for assaulting a police officer and stalking. Not exactly the kind of person you want to expose your employees or customers to. In the space provided on his application where it said "Have you ever been convicted of a crime", he answered "No".

"Pre-employment screenings and Criminal background checks not only help avert potential disasters, most employers' insurance companies provide monetary incentives as well. This is important information you might want to pass on to your readers.

"Hope you're having a good day. Keep up the good work."
John Kenny
Receivables Management
PO Box 331
Mohawk, NY 13407
315.866.1167
Celebrating Ten Years of Serving Our Clients!
A Proud Member of Associated Credit Managers
www.ASCMI.net
---
"Since you have been good enough to include us on the list of Leasing Schools / Franchisors, I wanted to update our information. We recently started advertising for additional Regional Managers to fill
some of the territories we have open.
" Our philosophy has always been that we are primarily in the leasing business rather than the training business.
"We believe we can make more money by generating leases than by charging for training. We do charge a $1500 security deposit that is refunded as leases are generated in addition to the normal commissions. We supply our Regional Managers with training materials, a web site and 1000 leads targeted to specific market within their territory. They are required to sign an Agency Agreement
that outlines their responsibilities.
"Most important, they have access to our on line Bulletin Board which has over 400 posts with tips on marketing and new programs. When one person asks a question on the Board, everyone benefits from the answer. I encourage all of our people to take advantage of my 41 years of leasing experience to determine quickly which applications have merit and which are a waste
of time.
"Our training is geared to help our people start making money for themselves and for us in the shortest period of time so much of the training is done while we are actually doing leases."
Ken Glasgow
Corporate Capital Leasing Group, Inc.
800-549-9570
888-248-0688 (fax)
ken@cclg.com
www.cclg.com
---
from former Bank of the West Credit Analyst/Loan Officer, long
time employee: Kathy Robb:
"Hey good buddy,
"I need to have you send the "leasing news" to:
kdrobb@yahoo.com
"I am retiring (at least for two years) to Truckee to enable the younger goat to finish high school and ski competitively.
"Would love to stay in touch with your words of wit as I count trees and granite boulders versus credit packages…
"Who knows, I could be back in a few years.
"Thanks for all of the work you provide with the 'LN'.
kathy robb
(We asked permission to print her e-mail. One of my favorite credit analyst/loan officers, even when she has turned deals down for me. After an approval, she would also cut through the paperwork for you. She really had it together. One of the few loan officers you could not argue with as she really knew what she was doing. Kit Menkin.)
---
"Thank you for providing the leasing industry with the best source of news available!
We all appreciate you."
Joseph M. Flowers, Director
LogicaLease, LLC
847.428.7465 (office)
888.206.4935 (toll free)
847.426.1582 (fax)
847.220.5200 (cell)
joe.flowers@logicalease.com
---
"This event happened in July instead of June.

"1969 - American astronaut Neil Armstrong, 240,000 miles from Earth, speaks these words to more than a billion people listening at home: "That's one small step for man, one giant leap for mankind." A moment later, he stepped off the lunar landing module Eagle and became the first human to walk on the surface of the moon.
"Sorry, had to poke a little fun - I enjoy the newsletter."

Todd Loudis
Sandstone Capital Corp.
2302 West 13th Street
Joplin, MO 64801
417-624-5327
800-653-5327
Fax 417-624-9550
cfeleas@joplin.com
www.scclease.com
(Thank you for straightening this out. I appreciate it. When I was up-dating this page I thought it strange that I didn'thave this event on this day, and thought I double-checked it, but obviously not. Thank you for catching it as I try to make "This Day in American History" accurate. Editor)
"Our firm Premier Funding Group, Inc. out of Alpharetta has been a super / master broker for 10 years. We have provided many experienced brokers a back office support base, as well as several new brokers from Bob Bakers Wildwood school of leasing a home until they got on their feet.
"Its my fault that we have not been on your radar, I would like to be included on that list if possible, we have been around it seems forever, serving the broker community and thought it would be appropriate to be included. I really enjoy your news letter. Its the only way I can stay in touch with the industry. We have several companies under our umbrella and our leasing company serves as our flagship company.
"I really appreciate what you do for the industry. thank you and best regards,"

David Hamilton
Premier Funding Group, Inc.
678-527-5060
david@pfglease.com
---
"The Best Deal"
http://www.leasingnews.org/archives/June%202007/06-13-07.htm#sales
"Your article on "The Best Deal" was "the best" concise, persuasive, effective leasing/financing piece I have seen in many years! It was a perfect blend of useable knowledge for financing rookies to veterans to business owners and decision makers.

"Keep up the great work,"
Keith
Keith Drayer
Henry Schein Financial Services Director
Henry Schein, Inc.
135 Duryea Road
Melville, NY 11747
Keith.Drayer@henryschein.com
Tel: 631 843 5625
Fax:631 843 5620
Mobile: 516 770 4705
Helping Healthcare Practitioners Be Successful
---
"I have been out of the leasing business for a few years but still read Kit's newsletter. Your article on verifying financial data is a good reminder. Here are a few comments and observations:

Have the customer sign a simple statement that: "The copies of the tax returns bring provided (list the returns) are copies of the -as-filed returns missing only the original signature. The lessor is relying upon this representation, in whole or in part, in its credit approval process." Have the certification signed by the lessee and the guarantor (Bill Jones, President, Jones Corporation, Bill Jones, individually as guarantor). If there is a fraud, this certification may make your claim that much more non dischargeable in bankruptcy.

"If a customer will create fake financials, they will create fake aging reports. There is an easier solution. Learn the basic ratios of the industry - as an example, in the printing industry paper is typically the largest line item and should account for 25% to 40% (these figures may be a bit old) of revenue. When calling the main suppliers, ask about average monthly purchases. Add them up, divide by .25 and see if the figure seems to match the reported revenue. If not, they may be hiding a major trade or overstating revenue. Typically, it means the client did not want to provide a key supplier that they pay slowly. Using the ratio approach is the easiest way to verify the numbers whether it is injection molding, metal stamping, or auto repair. "
--
Thank you,
David Rabinovitz
drabinovitz@gmail.com
Phone (617) 281-0710
--
"I had a chance to read the letters and there are a lot of differing opinions from company insiders. Many feel that Dan (Dyer) will not sell and try to grow the company further. This year will be a good indicator of whether that is possible.
"Most insiders feel that there needs to be a strong sales and marketing
person hired from outside the organization. The current management team consists mostly of numbers oriented individuals. Dan Dyer and George Pelose have very similar personalities and are great at crunching numbers, unfortunately they have no experience growing sales.
"Since this company offers no dividend, they have to grow their earnings at a pretty hefty pace to keep their stock going up. One thing that they can do is cut costs and overhead. They have a lot of management expense in the branch offices of Chicago, Atlanta and Denver. They also pay a lot of money to managers in Utah, including a bank president for a bank whose charter has yet to be approved. If they can cut some of those costs and manage losses, which they are very good at, there is a lot of upside in short term earnings growth. The P/E ratio is very attractive right now and the stock appears to be a strong buy.
"I believe Dan will stay and steer this ship, at least for the next couple of years. If the fed starts to ease rates, Marlin can start growing their margins again. Early returns from their factoring division show impressive yields. It will take some time, however for the factoring portfolio to mature. It is unclear if losses will be higher than from traditional leasing efforts.
"One concern is how long it is taking them to find a new president. This could be an indicator of how Dan and George (Pelose) work together, perhaps too deliberate in their decision making. Gary Shivers had a reputation for not being afraid to pull the trigger and take a chance on a new direction. "
Name Withheld
(Still no president since December…maybe they don't need one. Editor)
--------------------------------------------------------------

--------------------------------------------------------------

Sales Make it Happen
by Linda P. Kester
Linda Kester is nationally recognized as an outstanding equipment leasing sales trainer, and professional speaker. She has twenty years of experience in leasing sales and marketing equipment. Her teachines make a tremendous positive impact on company's sales--from start-up firms to corporate giants.
Here is an excerpt from her latest book, the "366 Marketing Tips for Equipment Leasing," available from www.leasingpress.com.
28
Be an Idea Dispenser
When I bring up becoming an "idea dispenser" in my sales training seminars, I always give out Pez Dispensers at the same time.
Why? Because if you keep a Pez Dispenser on your desk, hopefully you'll remember that the point is to be an idea dispenser to your customers.
This means that every time you talk to a vendor or a lessee, you have some ideas for them. You are calling to give---not to get.
It is inevitable that some despondent sales "rep" will whine, "Linda, I don't have any ideas,ah." I have to add the "ah" at the end because when they whine, they also tend to add a syllable to the word! Ugh.
Not whining! You do have ideas! Think! Here, I'll make it easier on you and kick-start the thinking process for you.
Call the vendor and say, "Mr Beard, I have some ideas that I think can help you sell more equipment." These ideas could be:
Vendor Tips (from this book)
Technology Tips that help them communicate better with their sales people.
Come up with your own ideas and write them directly on this page!
Linda Kester helps leasing companies increase volume. For more information, visit: www.lindakester.com. Questions, contact: Linda@lindakester.com.
Previous "Sales makes it Happen" columns at:
http://www.leasingnews.org/Legacy/index.html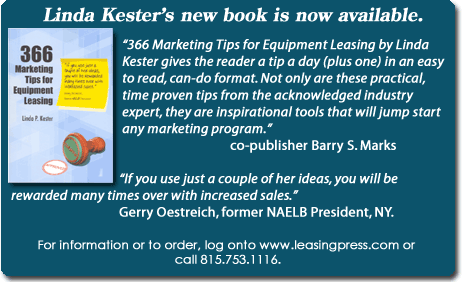 ---------------------------------------------------------------
### Press Release ###########################

Alter Moneta Expands Equipment Leasing
Buffalo, NY, —The U.S. headquarters of Alta Moneta here in Buffalo announced it has added another sales manager for this company's westward expansion. Christopher B. (Chris) Benitez, previously employed by The CIT Group, joined Alter Moneta this month to expand sales and grow equipment financing services in Colorado and Wyoming.

Christopher B. (Chris) Benitez
As a district sales manager, Benitez will arrange revolving lines of credit, equipment loans, and commercial leases for assets used in construction, transportation and manufacturing. He will be drawing upon loyal relationships earned during his seven years in the equipment leasing and finance industry.
He reports to Jerilyn M. Nicholsen, an Alter Moneta vice president of sales based in Novi, Mich., who joined Alter Moneta in April, and also expanded her sales team southward, as announced last month.
Nicholsen who had observed Benitez's success at CIT said he is "dedicated to developing and maintaining customer loyalty well above usual standards."
Benitez has a Bachelors of Science degree in Business Administration from Brigham Young University, Provo, Utah with an emphasis in entrepreneurship. He said he joined Alter Moneta because he likes helping companies grow, and he treats the company employing him as if it were his own business.
Alter Moneta is one of the fastest growing independents in North America, listed as number 55 in the Monitor 100's ranking of top leasing and finance companies. The company has more than $1 billion in net assets, including autos, as reported at year end, 2006. Alter Moneta has offices distributed throughout the United States and Canada and serves companies with a wide variety of equipment needs in both countries. Established in 1998, this middle-market company plans to triple its workforce by 2012.
Benitez will operate from a Colorado Springs office to serve Alter Moneta customers in the two western states mentioned. He will also help to develop new business, building upon industry relationships established upon trust and a proven track record. "They simply trust that I will get things done," he said.
While at CIT he was recognized for being one of the top 10 salesmen nationwide and honored for expanding the company's presence in Colorado. Before CIT, he launched retail businesses and gained management experience at the division level for super Target Retail Stores.
For more information on Alter Moneta, visit www.altermoneta.com.
About Alter Moneta
Alter Moneta, with headquarters in Montreal and Buffalo was established in 1998. Today it is one of North America's fastest-growing independent financial services companies with significant market presence in both the United States and Canada. The company provides funds to purchase or lease a wide variety of new and used revenue-producing equipment for middle-market businesses in the trucking and warehousing, construction, passenger transport, manufacturing, and waste management sectors. Through its Vendor Finance Group, Alter Moneta also provides financing programs for manufacturers and dealers. Its Lutex subsidiary in Quebec provides auto-leasing services. For more information, visit altermoneta.com.
### Press Release ###########################

Corporations Have Trouble Borrowing
USA Today (07/24/07) P. 4B ; Shell, Adam
ELFA eNews Daily
The collapse of the subprime mortgage market has hampered the profits of many lenders, which has forced those firms to tighten their borrowing standards for consumers and corporations alike. Lending terms now include higher interest rates.
Additionally, companies' debts are not as appetizing to investors as they were in the past, forcing many firms to scale back on junk bond issuance. Some companies are scaling back expansion plans that would require additional financing until the market recovers, but some others are issuing high-yield bonds or IOUs with ratings below investment grade.
Wall Street players are concerned about the restrictive credit terms and their impact on private equity and other buyout deals.
For now, deals are not hampered by changing lending conditions, particularly because the spread between junk bonds and the 10-year Treasury note keeps junk-rated securities' borrowing cheap.

Full USA Today story:
http://www.usatoday.com/money/economy/housing/2007-07-23-subprime_N.htm
### Press Release ###########################
--------------------------------------------------------------

News Briefs----
Paccar's profit declines 19.4%
http://seattletimes.nwsource.com/html/businesstechnology/
2003803710_webpaccar25.html
Top Lender Sees Mortgage Woes for 'Good' Risks
http://www.nytimes.com/2007/07/25/business/25lend.html?_r=1&hp&oref=slogin
First Republic Bank Reports Strong Second Quarter Operating Results
http://money.cnn.com/news/newsfeeds/articles/prnewswire/AQTU10424072007-1.htm
QCR Holdings, Inc. Announces Earnings Results For the Second Quarter of 2007
http://money.cnn.com/news/newsfeeds/articles/primenewswire/123535.htm
Bank of Italy Tells Italease Managers, Board to Quit
http://www.bloomberg.com/apps/news?pid=20601085&sid=a4Ks8SnWqbks
Sterling National Bank Offers Low Rate, Quick Turnaround Loans to Businesses Affected by NYC Steam Pipe Explosion
http://biz.yahoo.com/prnews/070724/nytu031.html?.v=98
House refuses to cut Amtrak subsidies
http://www.sacbee.com/838/story/289056.html
Amazon profit triples on electronics sales; shares rise
http://www.chicagotribune.com/business/chi-070724amazon-story,0,
4952070.story?coll=chi_tab04_layout
---------------------------------------------------------------


You May have Missed---
Paulson Says U.S. Hurt by High Tax Rates
http://www.nytimes.com/2007/07/25/business/25tax.html?ref=business
---------------------------------------------------------------

Sports Briefs----
Braves 7, Giants 5, 13 innings—Bud Selig there, but no homer for Bonds on his 43rd birthday
http://sfgate.com/cgi-bin/article.cgi?f=/n/a/2007/07/24/sports/s232900D52.DTL
Blank 'disappointed' in Vick—The Atlanta Journal
http://www.ajc.com/sports/content/sports/falcons/stories/2007/07/24/
0725blank.html?cxntlid=homepage_tab_newstab
----------------------------------------------------------------


"Gimme that Wine"
Appraising the Mâconnais in a Great Year---Eric Asimov
http://events.nytimes.com/2007/07/25/dining/reviews/25wine.html?ref=dining
Buried WWI cognac draws visitors to Macedonia
http://www.usatoday.com/travel/destinations/2007-07-24-vintage-cogna
c-macedonia_N.htm
Chicken, Dressed Up as Fish, Has a Date with White Wine
http://www.nytimes.com/2007/07/25/dining/25pair.html?ref=dining
Sonoma Grape-growers encouraged to irrigate at night
http://www1.pressdemocrat.com/article/20070724/NEWS/70724020/1033/NEWS01
Michigan Wine rules: Two years after court fight, has Michigan learned its lesson?
http://www.lsj.com/apps/pbcs.dll/article?AID=/20070724/OPINION01/
707240309/1085/opinion
Evans Bill Allowing More California Wine Industry Support to Non-Profits Goes to Governor
http://www.californiachronicle.com/articles/viewArticle.asp?articleID=33016
Screwcaps worst for the environment says closure company
http://www.decanter.com/news/131520.html
Wine Prices by vintage
http://www.winezap.com
http://www.wine-searcher.com/
US/International Wine Events
http://www.localwineevents.com/
Winery Atlas
http://www.carterhouse.com/atlas
Leasing News Wine & Spirits Page
http://two.leasingnews.org/Recommendations/wnensprts.htm
The London International Vintners Exchange (Liv-ex) is an electronic exchange for fine wine.
http://www.liv-ex.com/
----------------------------------------------------------------

Calendar Events This Day
Act Like A Caveman Day
http://www.bonairetalk.com/newsgroup/messages/23830/103524.html?1059223675
Carousel Day
http://homeschooling.about.com/library/blmay17a.htm
Costa Rica: Guanacaste Day
– National holiday. Commemorates the 1814 transer of the region of Guanacaste from Nicaragua to Costa Rica by Spain.
Culinarians Day
http://holidayinsights.com/moreholidays/July/culinariansday.htm
Day-Out-Of-Time
– the worldwide festival of human creativity on Earth in tune to a New Time is a synchronized renewal of the Earth occurring each July 25. This planetary holiday has been celebrated for more that 13 years by planetary kin following the Thirteen Moon/28-day calendar of natural time.
Puerto Rico: Constitution Day
– Also called Commonwealth Day or Occupation Day. Commemorates proclamation of constitution in 1952.
Spain: Saint James Day
– Holy day of the patron saint of Spain. When this day falls on a Sunday it is a holy year and pilgrims make the pilgrimage to Santiago de Compostela, the site of the saint's tomb. 2010 is the next holy year.
Threat a Needle Day
http://holidayinsights.com/moreholidays/July/threadtheneedle.htm
Tunisia: Republic Day
– National holiday. Commemorates the proclamation of the republic in 1957.
Saint feast Days
http://www.catholic.org/saints/f_day/jul.php
----------------------------------------------------------------

Most cats don't like lemonade
#339
(Could not find any information to back up this claim. YouTube has a cat drinking lemonade:
http://www.youtube.com/watch?v=0MoHIvjwxZQ )
----------------------------------------------------------------

Today's Top Event in History
1906—Alto sax player Johnny "Rabbit" Hodges birthday
http://blackhistory.eb.com/micro/273/36.html
http://www.downbeat.com/artists/window.asp?action=new&aid=339&
aname=Johnny+Hodges
http://thrill.to/Hodges
[headlines]
----------------------------------------------------------------

This Day in American History
1651- African slaves in America arrived for the first time at the Spanish colony of St. Augustine, FL. They belonged to King Phillip II of Spain. The first slaves in the English colonies in America were introduced in Jamestown, VA, in August, 1619 by a Dutch man-of-war that sold 20 kidnapped Africans to the planter colonists. They were treated as indentured servants, since slavery was not legalized in Virginia for several decades. Forms of slavery were also practiced among Native American peoples from ancient times.
1729- North Carolina becomes royal colony. As Jews were being banished in Europe from many cities for practicing their religion, they began migrating to the New World along with many other Christian faiths who no longer wanted to follow either the Church of England or the Vatican. Although few in number, Jewish immigrants were strong contributors to the religious life of America, according to historians. The first permanent Hebrew congregation to the colonies was formed in 1729 in New York City; the next year the members constructed a synagogue on Mill Street that was described as a "solid, neat, stone Temple. " The congregation later added the first school for Jewish children. Around this time Jewish communities were also developing Charleston, S.C., Newport, R.I.., and Philadelphia, PA, and by the time of the American Revolution, there were between 2000 and 3000 Jews in the colonies, mostly merchants and traders. An act of Parliament in 1740 allowed Jews to be naturalized, and in the colonies they found more political and religious freedom than anywhere else in the world.
1814- Battle of Niagara Falls (Lundy's Lane); Americans defeat British
http://www.lundyslanemuseum.com/battle.html
1850 - Gold is discovered in the Rogue River in Oregon, extending the quest for gold up the Pacific coast.
1861 - The Crittenden Resolution, calling for the American Civil War to be fought to preserve the Union and not for slavery, is passed by Congress. The measure was important in keeping the pivotal states of Missouri, Kentucky, and Maryland in the Union.Although the measure was passed in Congress, it meant little when, just two weeks later, President Lincoln signed a confiscation act, allowing for the seizure of property—including slaves—from rebellious citizens. Still, for the first year and a half of the Civil War, reunification of the United States was the official goal of the North. It was not until Lincoln's Emancipation Proclamation of September 1862 that slavery became a goal.
1851-New Mission Toll Road opened. First toll station at Third and Stevenson. The planked roadway ran from Clay and Kearny, out Third to Mission, and then along Mission to Corbett Road. It bridged the marsh between Sixth and Eighth St. Tolls were 25 cents for riders on horseback, 75 cents for two-horse wagons an one dollar for a four-horse team.
1863-The first Monument to commemorate the Civil War was a plain brownstone shaft designed by Nelson Augustus Moore and dedicated this day, two years before the end of the war, at a cost of $4350. It was "erected to commemorate the death of those who perished in suppressing the Southern Rebellion" and eventually carried the names of 16 men. It is still standing.
http://www.chs.org/ransom/images/004.jpg
http://www.chs.org/ransom/004.htm
1866-- David G Farragut became 1st rear admiral in US Navy
http://www.abraham-lincoln.org/admiralfarragut.org/
1868- Territory of Wyoming created.
http://www.wyomingnews.com/
http://www.wyomingtourism.org/tourism/internal.cfm
1874- "The Maple Leaf Forever," one of Canada's most famous patriotic songs, was said to have been performed for the first time during the laying of the foundation stone for the Christian Baptist Church in Newmarket, Ontario. The song's composer, Alexander Muir, conducted a choir of schoolchildren. But "The Maple Leaf Forever" likely had its first public performance years earlier. An early sheet music edition of the song in 1871 said it had been "sung with great applause by J.F. Hardy, Esquire, in his popular entertainments."
(sounds very much like "My Country 'Tis of Thee)
http://www.geocities.com/loyal1ca/queen.mid
http://www.canadafirst.net/maple_leaf_forever/
http://www-2.cs.cmu.edu/afs/cs.cmu.edu/user/clamen/misc/Canadiana/
MapleLeafForever.html
1891-Heat wave at Los Angeles with 103 on the 24th and 100 on the 25th. Peak during heat wave was 109
1897-birthday of guitarist Sylvester Weaver, Louisville, KY
http://www.artistdirect.com/music/artist/bio/0,,508077,00.html?artist=Sylvester+Weaver
1898-Puerto Rico was invaded by U.S. Forces led by Major General Nelson A. Miles. The landing was made at Guanica, on the southern coast. Resistance was minimal.
http://www.arlingtoncemetery.com/namiles.htm
http://www.pbs.org/weta/thewest/people/i_r/miles.htm
1899-birthday of coronet player Johnny Wiggs, New Orleans, LA
http://www.artistdirect.com/music/artist/bio/0,,509639,00.html?artist=Johnny+Wiggs
1903- Castle on top of Telegraph Hill, San Francisco, burns down.
http://www.discountgraphics.net/photo-sbloom/sbloom/sbnorbeach.html
http://www.sfneighborhoodparks.org/parkhistories/pioneer.html
1906—Alto sax player Johnny "Rabbit" Hodges birthday
http://blackhistory.eb.com/micro/273/36.html
http://www.downbeat.com/artists/window.asp?action=new&aid=339&aname=
Johnny+Hodges
http://thrill.to/Hodges
1907-Birthday of guitarist Slim Green, Bryant, TX
1908-birthday of Pianist Henry Brown, Troy, NT
1916-African-American Garrett T. Morgan, inventor of the gas mask, rescues six from gas-filled tunnel in Cleveland, Ohio Garrett T. Morgan
http://www.kytales.com/gmorgan/gmorgan.html
http://www.enchantedlearning.com/inventors/page/m/morgan.shtml
1918- Annette Abbot Adams became the first woman District Attorney, serving as U.S. district attorney in the Northern California District from July 25, 1918 to June 26, 1920. http://www.stanford.edu/group/WLHP/papers/aaahtml.html
1918 -Race riot in Chester Pennsylvania (3 blacks and 2 whites killed)
http://www4.stormfront.org/whitehistory/hwr54i.htm
http://africana.umn.edu/hist1901_25.htm
1925 - Station 2XAG in Schenectady, NY became the first radio station in the U.S. to broadcast with a 50,000-watt transmitter. The station, soon known as WGY Radio, could broadcast with 50,000 watts, since it was owned by the General Electric Company. Today, WGY still broadcasts with its original call letters and is still using 50,000 watts of power.
http://www.wgy.com/main.html
1930-Birthday of Maureen Forrester, one of the world's leading contraltos, was born in Montreal, Canada. She has appeared with top orchestras and choirs in Europe and North America under such renowned conductors as Sir Thomas Beecham, Leonard Bernstein and Herbert von Karajan. In 1971, Forrester was awarded the Molson Prize by the Canada Council for outstanding cultural achievement.
http://www.bach-cantatas.com/Bio/Forrester-Maureen.htm
1930-Birthday of singer Annie Ross, Mitcham,UK
http://www.ddg.com/LIS/InfoDesignF96/Ismael/jazz/1960/Ross.html
http://www.hopper-management.com/ar_bio_e.htm
1934-Birthday of trumpeter Don Ellis, Los Angeles, CA. Died December 17, 1978
http://www.handofgord.com/donellis/
http://home.earthlink.net/~tfronauer/info.html
1934-The first president to visit Hawaii while in office was Franklin Delano Roosevelt; at Hilo, HI. He was officially welcomed by Governor Joseph Poindexter on board the cruiser U.S.S. Houston. Hawaii was then a territory of the United States.
1936-Today in History salutes Federal Theatre Project (FTP) of the Works Progress Administration (WPA).
http://memory.loc.gov/ammem/today/jul25.html
1936- 115 acre Orchard Beach opens in the Bronx, part of Penham Bay Park
http://www.newyorkled.com/pelhambay.htm
http://www.newyorkled.com/moreNYseasonal_Beaches.htm
1936-Birthday of American composer Edward Gold, Brooklyn, NY.In recent years, Mr. Gold has composed entirely on the computer and has sequenced his own music as well as the music of others, including Elgar, Schumann, Liszt, and Brahms.
1942 - Capitol Records first number one hit made it to the top this day. It was one of their first six records released on July 1. The new company's hit was "Cow Cow Boogie", by Ella Mae Morse and Freddy Slack. http://www.redhotjazz.com/cowcow.html
http://www.prescottlink.com/morse/ella.html
1943-The SS Leonard Roy Harmon was launched in Quincy, MA, the first warship named for a Black person.
http://www.history.navy.mil/photos/sh-usn/usnsh-h/de678.htm
http://www.history.navy.mil/photos/pers-us/uspers-h/l-harmon.htm
1943-Jim McCarty, drummer for the Yarbirds, was born.
1944 –The first jet fighter used in combat (Messerschmitt 262) Toward the end of the war Germany was not only producing rockets to bomb England, but building them to bomb the US, larger and stronger tanks, working on an atomic bomb, to be put on the rockets, and were now in production of jet air craft.
http://www.fighter-planes.com/info/me262.htm
http://www.users.bigpond.com/markltuc/me262a-1a.htm
http://www.stormbirds.com/warbirds/sims/sims_swotl.html
1946- The first bikini is shown at a Paris fashion show.
http://www.bikiniatoll.com/Bikiniwaxing.html#anchor456238
http://www.247dreams.com/
1946 - Singer Dean Martin and comedian Jerry Lewis staged their first show as a team at Club 500 in Atlantic City, NJ. Actually, the two had met while performing -- separately -- at the Glass Hat in New York City and decided to try an ad-lib act -- together. Reportedly it was their wives he did not get along, who eventually broke up the partnership.
http://www.deanmartinfancenter.com/index/rightframe/07mandl/07mandl.html
1947-The National Security Act of 1947 was passed by Congress. The act unified the armed forces, including the newly formed US Air Force, the Navy and War Department to form US Department of Defense, creating the cabinet position of Secretary of Defense. It also established the National Security Council and the Central Intelligence Agency. The act was signed on July 26 by President Truman, who nominated Secretary of the Navy James V. Forrestal as the first secretary of Defense. Forrestal was confirmed by Congress on July 27.
1948-Birthday of guitarist/songwriter Steve Goodman, Chicago, IL Died, 1984.
http://www.hepcat.com/goodman/good.html
http://www.hepcat.com/goodman/fcs.html
1950---Top Hits
Bewitched - The Bill Snyder Orchestra
Mona Lisa - Nat King Cole
I Wanna Be Loved - The Andrews Sisters
I'm Moving On - Hank Snow
1952- Puerto Rico became a Commonwealth of the United States, ratified this day. Residents of Puerto Rico possess all the rights of U.S. citizens except that of voting in federal elections.
http://welcome.topuertorico.org/government.shtml
http://americanhistory.si.edu/vidal/
http://www.puertorico.com/
http://escape.topuertorico.com/
1953- GUILLEN, AMBROSIO Medal of Honor
Rank and organization: Staff Sergeant, U.S. Marine Corps, Company F, 2d Battalion, 7th Marines, 1st Marine Division (Rein.). Place and date: Near Songuch-on, Korea, 25 July 1953. Entered service at: El Paso, Tex. Born: 7 December 1929, La Junta, Colo. Citation: For conspicuous gallantry and intrepidity at the risk of his life above and beyond the call of duty while serving as a platoon sergeant of Company F in action against enemy aggressor forces. Participating in the defense of an outpost forward of the main line of resistance, S/Sgt. Guillen maneuvered his platoon over unfamiliar terrain in the face of hostile fire and placed his men in fighting positions. With his unit pinned down when the outpost was attacked under cover of darkness by an estimated force of 2 enemy battalions supported by mortar and artillery fire, he deliberately exposed himself to the heavy barrage and attacks to direct his men in defending their positions and personally supervise the treatment and evacuation of the wounded. Inspired by his leadership, the platoon quickly rallied and engaged the enemy in fierce hand-to-hand combat. Although critically wounded during the course of the battle, S/Sgt. Guillen refused medical aid and continued to direct his men throughout the remainder of the engagement until the enemy was defeated and thrown into disorderly retreat. Succumbing to his wounds within a few hours, S/Sgt. Guillen, by his outstanding courage and indomitable fighting spirit, was directly responsible for the success of his platoon in repelling a numerically superior enemy force. His personal valor reflects the highest credit upon himself and enhances the finest traditions of the U.S. Naval Service. He gallantly gave his life for his country.
1954-The "Andrea Doria" and the "Stockholm" collide off the coast of New England in dense fog. 52 people were killed
1954 – Birthday of Walter Payton (Pro Football Hall of Famer: Chicago Bears RB: Super Bowl XX; NFL individual record-holder: rushing yards gained in one game [275], in career [16,726]; career [1975-87] touchdowns scored [110]; born Columbia, MS; died Nov 1, 1999)
http://sportsillustrated.cnn.com/football/nfl/news/1999/11/01/payton_obit/
http://payton34.org/
1958---Top Hits
Hard Headed Woman - Elvis Presley
Poor Little Fool - Ricky Nelson
Little Star - The Elegants
Alone with You - Faron Young
1961-Roger Maris hits home runs 37, 38, 39 and 40 in a double header.
1962 - The Elvis Presley film ``Kid Galahad'' premieres.
1964- Beatles' "Hard Day's Night, A," album goes #1 & stays #1 for 14 weeks
1964- Race riot in Rochester NY
http://www.lib.rochester.edu/rbk/Raceriot.stm
1964-Billboard reports England has a hot new band. The Animals debut single "House of the Rising Sun" entered the U.K. chart at #16. The next week, it's at #3 and seven days later it's number one. To promote the group in the U.S., disc jockeys were sent boxes of animal crackers wrapped with special promotional material.
1965- Bob Dylan, backed by the Paul Butterfield Blues Band, horrified the audience at the Newport Folk Festival with his new electric sound. He was booed off stage after three tunes but returned with his acoustic guitar to play two songs -- "It's All Over Now, Baby Blue" and "Mr. Tambourine Man."
1966-In San Francisco, the Rolling Stones perform their last U.S. concert with Brian Jones.
1966---Top Hits
Hanky Panky - Tommy James & The Shondells
Wild Thing - The Troggs
Lil' Red Riding Hood - Sam the Sham & The Pharoahs
Think of Me - Buck Owens
1966- Trivia for followers of Al Davis, named commissioner of the American Football League just three a half months earlier, he resigned this day and returned to his previous position, president of the general partner of the Oakland Raiders. Davis resigned two weeks after NFL commissioner Pete Rozelle announced a merger between the two leaguers. He has never been happy since. 1966 –Supremes with Diana Ross release "You Can't Hurry Love"
http://www.infoplease.com/ipsa/A0109117.html
http://library.thinkquest.org/12590/davisal.htm?tqskip1=1&tqtime=0723
1966-New York Yankee manager Casey Stengel elected to Hall of Fame.
1966-- Red Sox great Ted Williams is inducted into the Hall of Fame. In his induction speech the 'Spendid Splinter' makes a strong appeal for the inclusion of Negro League stars at Cooperstown.
1966 - Eric Clapton plays lead guitar for George Harrison's ``While My Guitar Gently Weeps'' on the album ``The Beatles'' (also known as ``The White Album'').
1967- Construction begins on San Francisco Muni Metro(Market Street subway http://www.nycsubway.org/us/sf/metro/
http://www.transitinfo.org/Muni/
http://www.sfmuni.com/rider/visitors.htm
1969- Toronto native Neil Young joined Crosby, Stills and Nash for the first time at a concert at the Fillmore East in New York. Young and Stephen Stills had worked together previously in Buffalo Springfield. Crosby, Stills, Nash and Young's second appearance was at the Woodstock Festival a month later. The quartet broke up in 1971.
http://www.neilyoung.com/
1970-Chicago's "25 or 6 to 4" is released.
1971-The Beach Boys make a return with the release of their album "Surf's Up." It hits #29 which is their highest charting L
1972-The US admits that Blacks were used for 40 years as "guinea pigs" in the Tuskegee Syphilis Experiment.
http://www.thetalkingdrum.com/tus.html
http://www.africana.com/Articles/tt_423.htm
http://www.amazon.com/exec/obidos/ASIN/0029166764/inktomi-bkasin-20/
103-4403830-8968645
1974---Top Hits
Rock Your Baby - George McCrae
Annie's Song - John Denver
Rock and Roll Heaven - The Righteous Brothers
Maria Laveau - Bobby Bare
1975- the musical "A Chorus Line" opened at the Shubert Theatre in New York after a two-month run at a small theatre in the New York Shakespeare Festival complex in the East Village. "A Chorus Line" became Broadway's longest-running show, finally closing on April 28th, 1990, after 6,137 performances. More than six-and-a-half million people paid 150 million dollars to see the show during its Broadway run. Productions of "A Chorus Line" were also mounted in more than 20 countries.
http://www.imagi-nation.com/moonstruck/albm56.html
1979-Tropical Storm Claudette produced phenomenal rainfall totals in southeast Texas. 30-40 inches fell in 24 hours around Alvin. Freeport reported a total of 30 inches. Total damage from flooding was over $400 million
1980- AC\DC releases "Back In Black," their first album with Brian Johnson as lead singer.
1981 - Walter Payton signed a contract to play with the Chicago Bears of the NFL on this, his 27th birthday. The famed running back earned almost $2 million over three years. "Sweetness," as he was nicknamed (because of his disposition), became the highest-paid player in the National Football League.
1982---Top Hits
Eye of the Tiger - Survivor
Rosanna - Toto
Hurts So Good - John Cougar
Take Me Down - Alabama
1985 -Spokeswoman for movie star Rock Hudson confirmed he had AIDS.
1987-Beckley, WV equals all-time high of 91, established the previous day. It marked the fourth straight day with 90 readings after it was reached just 2 times in the previous 25 years
1990- At the time, very popular actress-comedienne Roseanne Barr, star of the TV series "Roseanne," sings the National Anthem at San Diego Padres game . Sports fans go nuts. Boo her out of the stadium. Her popularity wanes from this event.
http://www.museum.tv/archives/etv/R/htmlR/roseanne/roseanne.htm
1990-US Ambassador tells Iraq, US won't take sides in Iraq-Kuwait dispute.
http://www.roseanneworld.com/home/index.php
1990 - Comic Roseanne Barr is booed off the field after she screeches a crotch-grabbing rendition of the national anthem at a Padres baseball game in San Diego. President Bush calls the performance ``disgusting.''
1990---Top Hits
She ain't Worth It - Glenn Medeiros featuring Bobby Brown
Hold On - En Vogue
Cradle of Love - Billy Idol
The Dance - Garth Brooks
1997 - "Air Force One", with Harrison Ford. Rebel Russian highjackers capture the plane. It earned $37.13 million the first weekend.
1997- Dr. John D. Gearhart and a team of researchers at the John Hopkins University, Baltimore, MD, announced they had cultured human stem cells in a laboratory, using tissue taken from aborted human embryos. Stem cells are the basic, unspecialized cells from which all other cells in the body develop during the growth of a baby in the womb.
1999 - Lance Armstrong rode to victory in the Tour de France, capping an amazing comeback from cancer. He was only the second American to win cycling's showcase race.
http://www.laf.org
http://graphics8.nytimes.com/images/2005/07/24/sports/lance.section.2.jpg
Lance Armstrong and the Discovery Channel team after the 21st and final stage of Armstrong's last Tour de France.
http://www.nytimes.com/pages/sports/sportsspecial/index.html
1999-- Nolan Ryan, Robin Yount, George Brett, Nestor Chylak, Orlando Cepeda, Frank Selee and 'Smokey' Joe Williams are enshrined in the Hall of Fame.
2000---Top Hits
It s Gonna Be Me- N Sync
Bent- matchbox twenty
Everything You Want- Vertical Horizon
Try Again- Aaliyah
2001- E. Stanley O'Neil to become Merrill Lynch & Co chief executive, first African American to lead a major Wall Street securities firm.
2004-- Paul Molitor, a member 3000 hit club, and Dennis Eckersley, who appeared in the most games of any Hall of Fame pitcher (1,071 games) are inducted into the Hall of Fame. Long time Bay Area (A's and Giants ) broadcaster Lon Simmons wins the Ford C. Frick Award and the J.G. Taylor Spink Award is won by New York Times' Murray Chass enabling both to become members of the Hall for their outstanding reporting of the national pastime.
2005---Top Hits
We Belong Together- Mariah Carey
Pon de Replay- Rihanna
SRP/Def Jam | 004809* | IDJMG
Hollaback Girl- Gwen Stefani
Don't Cha- The Pussycat Dolls Featuring Busta Rhymes
--------------------------------------------------------------

Baseball Poem
by Mary Kennan Herbert
Night Baseball, 1947
Enos Slaugher in left field
Musial in right field
the pitcher
warming up to the sound
of my brother's heartbeat
my father's voice
it is a lost July night in St. Louis
and my dress flutters behind me
as we run to catch a streetcar
after the game
"Line Drives" 100 Contemporary
Baseball Poems, edited by Brooke Horvath
and Time Wiles
--------------------------------------------------------------

SuDoku
The object is to insert the numbers in the boxes to satisfy only one condition: each row, column and 3x3 box must contain the digits 1 through 9 exactly once. What could be simpler?
http://leasingnews.org/Soduku/soduko-main.htm
--------------------------------------------------------------

Daily Puzzle
How to play:
http://www.setgame.com/set/puzzle_frame.htm
Refresh for current date:
http://www.setgame.com/set/puzzle_frame.htm
--------------------------------