Wednesday, July 22, 2009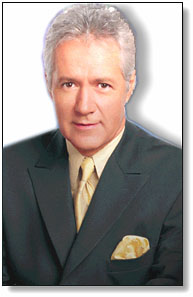 Headlines---
Correction: Advance Fee/Deposit/Broker Licenses
Classified Ads---Controller
CIT: Shoulda, Woulda, Coulda?
by Christopher Menkin
IFC Credit--Up-date
Most Influential Women in Leasing
How to handle Vendor Points
Lease Police adds New Feature
Leasing Schools/Franchisors
Sales make it Happen---by Anonymous
Ten Sales Points
Quitrak joins forces with Vision Commerce
News Briefs----
Some small businesses still struggle to get financing
Bank of Florida loss swells with Silverton failure
Medical Capital Holdings halted from selling securities
Companies: New Lease Rule Means Labor Pains
Zions Bancorp posts 2Q loss on higher loan losses
Equifax, Fair Isaac Tool Measures Credit Capacity
You May have Missed---
California Nuts Brief---
"Gimme that Wine"
Today's Top Event in History
This Day in American History
Baseball Poem
SuDoku
Daily Puzzle
GasBuddy
Weather, USA or specific area
Traffic Live----
######## surrounding the article denotes it is a "press release"
--------------------------------------------------------------

Correction:
Advance Fee/Deposit/Broker Licenses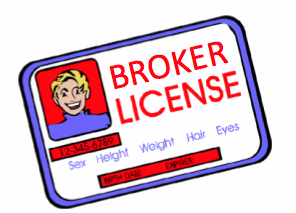 "Regarding registration requirements in New Mexico, the Mortgage Loan Company and Loan Broker Act is specific to the business of providing home loans and mortgages. I see nothing in the Act which requires me to register my company as a commercial equipment lease/loan broker."
Frank Bagnato
Vice President
D&F Funding Inc.
Albuquerque, NM
505-323-8696/505-350-7584
Fax 866-701-4498
(Mr. Bagnato is correct as it applies primarily to those in the mortgage business. There is a "financial institution" regarding loans, but it primarily is for licensed banks and savings and loans, not brokers or lessors.
(There is reportedly a Nevada license requirement, but could not verify this, so not on the list. Editor)
Corrected List:
http://leasingnews.org/Pages/Advance_requirements_by_state.htm
--------------------------------------------------------------

Classified Ads---Controller
Boca Raton, FL
CPA w/ Sarbanes Oxley/ 15 years management exp. as CFO/ Controller/5 yrs w/ PWC Extensive exp providing accounting/ tax guidance for the equipment lease industry. Willing to relocate.
Email: bltushin@hotmail.com

Chicago, IL
experienced in lease accounting, operations, management, and Sarbanes-Oxley. Seeking position with equipment lessor. Would consider contract assignments or relocating.
Email: leasecontroller@comcast.net

Southeastern, MI
Controller & Management experience w/ equip lessors &broker. MBA, CPA w/ extensive accounting, management, securitization experience with public and private companies. Willing to relocate.
Email: Leasebusiness@aol.com
For a full listing of all "job wanted" ads, please go to:
http://www.leasingnews.org/Classified/Jwanted/Jwanted.htm
To place a free "job wanted" Leasing News ad:
http://www.leasingnews.org/Classified/Jwanted/Jwanted-post.htm
ELFA Career Center: Job Seekers (free):
http://careers.elfaonline.org/search.cfm
--------------------------------------------------------------

CIT: Shoulda, Woulda, Coulda?
by Christopher Menkin
Shoulda, Woulda, Coulda? When the economy comes back, the high tide will raise all boats. That have not sunk. Or have been flushed down the toilet.
Despite all the positive reinforcement from industry trade publications from the garment industry, small businesses, and even Leasing News, the government turned down the CIT Group for a "loan extension." It must have felt quite different to be on the other side of the desk being told "no."
This is what the government saw as CIT officially informed the SEC and public in a filing yesterday what was going on inside, they needed $7 billion of unsecured debt to meet its funding needs for the 13 month ending June 30, 2010. They had other serious problems, too. The government was already aware about a July 16 FDIC cease and desist order on unit CIT Bank and a consent agreement with the Utah Department of Financial Institutions (disclosed in a Form 8-K made public.) If CIT does file for bankruptcy relief, it said the FDIC could place CIT Bank into receivership or conservatorship, making assets unavailable to creditors. There goes $2.3 billion from the government, plus brokered deposits the bank purchased. This is what the government saw when they said, "No way! No more." The government bites the bullet, something it has been criticized for doing, and said, "No way. No more!"
So the company went to the bondholders and others saying you can lose a lot more, lend us more, and we'll even pay 13% (prime is zero, basically.) Associated Press reported it at "a minimum of 13%," noting the SEC filing. Ironic the factor for small businesses has little left to factor for itself. Its customer could little complain about the factoring rate, and now CIT is the customer. And to bring in more business, it must sell at a higher rate than its competitors, attracting more subprime business as the better credits go elsewhere.
Then there was talk about letting the CEO Jeffrey Peak go, as GM and other companies let their coaches go. But the story then came out that Peek is owed $14.7 million if he's terminated or there's a change of control at CIT. But then again, is that enough to compensate him for what he has gone through the last 18 months.
Former Chairman Al Gamper got the company back from Tyco, raised the money, then retired as many of the key department heads, operation people, and top sales personnel also retired. They moved the securitization to Arizona and CIT moved into a major building, branding into the consumer market place, hiring a major advertising firm to set the new direction.
In October, 2008, Leasing News questioned the loss of some major department heads such as Walter Owens, President of Corporate Finance, as well as Rick Wolfert "resigning" and Thomas Hallman, "retired," when we interviewed him a few months earlier on his expansion plans in the vendor marketplace.
For those that retired, they worry about their pension. And as to the CIT stock that they earned over the years of employment, perhaps people such as Bob Cragin should have stayed at Harrah's in Reno, Nevada instead of winning the top awards in sales at CIT.
The official second quarter SEC report is due Tomorrow, July 23rd. As one Leasing News reader wrote in "We get emails:"
"CIT should have stayed in its core businesses, equipment financing being one of them. According to insiders, the leasing broker generated portfolio of equipment finance contracts was one of its most profitable divisions. Instead, it cut off all it's brokers, closed its broker program, and went into sub-prime residential mortgages and student loans and got creamed."
Bankruptcy may be CIT's only choice, and hopefully they will not stay in it for very long.
July 21 SEC 8-K Filing:
http://leasingnews.org/PDF/CIT_GROUP_July_21_09.pdf
Owens out at CIT-Is Peek Next?
http://www.leasingnews.org/archives/October%202008/10-06-08.htm#cit
--------------------------------------------------------------

IFC Credit--Up-date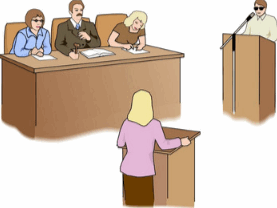 Beth Anne Alcantar, Attorney
The hearing for a permanent takeover via First Chicago Bank Trust and Len Ludwig, former major stockholder of First Portland Corporation dba First Corp, sold to IFC Credit Corporation (International Funding Company), Morton Grove, Illinois hearing has been postponed until July 27, 2009 in Cook County Court Municipal Court 1, Illinois.
According to one source, "All sales personnel in the FirstCorp small ticket group have now been terminated. Called a 'layoff' it is what it is. These individuals stuck by this company over the past year (approximately 7 of over 30 from a year ago) when they had their salaries slashed and had their vendors mistreated to the point where the 7 individuals lost the most valuable assets they had in their career - long time vendors who were 'duped' just like the sales people. The ones recently laid off were the top producers in the company over the past 5 years."
The basically leaves at IFC Credit Corporation, Morton Grove, Illinois: David Keenan, Senior Vice President, Controller and Treasurer, Dave Farber, Senior Vice President of FirstCorp Vendor Sales & Marketing, Scott A. Jarnac, Senior Vice President of IFC Middle Market Sales, and Thomas E. Laury as "Project Manager," basically representing Len Ludwig, who is trying to regain control of the company.
Adding to the mix is Marcus Davin, of Benchmark Financial Group, Aliso Viejo, California ,who is telling all those who will listen, when he sold Blue Dot to IFC, he became the third largest stockholder of IFC Credit. One of his then main investors is suing IFC for $1,000,000.
A highly reliable source has told Leasing News all staff have been let go at Pioneer Capital, Addison, Texas, except for Executive Vice-President and General Manager John Boettigheimer.
It also appears Pioneer Capital is in default in several issues, including the recent one of July 21st where Joseph M. Hill, Trustee for the Bankruptcy Estate of Today's Destiny, Inc., filed a "Motion against Pioneer for Turnover of Property Belonging to the Bankruptcy Estate or, Alternatively, Motion to Enforce Settlement Agreement, and in support thereof would respectfully show the Court:
"The terms of the Settlement Agreement stipulated that in exchange for $8,000.00 paid in two installments of $4,000.00 due April 1, 2009 and May 1, 2009, Trustee would release any and all claims against Pioneer and dismiss it from this litigation.
2. Pioneer paid the first installment of $4,000.00 on June 11, 2009, over two months late.
3. Pioneer has refused to comply with the May 1 payment deadline and has not made the second payment of $4,000.00 as specified in the Settlement Agreement."
As reported several banks have filed suit against IFC Credit/First Corp., with MT&T gaining a judgment, several others in the wings not knowing what to do, perhaps not wanting to report to their board such as DZ Bank or Susquehanna, among others.
CoActiv Capital Partners of Horsham, Pennsylvania on July 9, 2009 filed a suit for over $2 million against IFC Credit Corporation, as well as the funding group, plus both Rudolph Trebels and Marc Langs, as individuals. It may be a larger amount, as vendor as still contacting Leasing News.
"One customer has made seven payments to IFC.
"The other customer has not made any payments on his new lease. He had arranged a deal where his advance payments would be applied to settle an older lease with IFC and the new lease would be cancelled. Tom Laury at IFC told me that my customer's cancellation letter would be mailed June 23 or 24. The customer called IFC last week to report that the letter had not been received and was then told that the lease had been sold to CoActiv. Interestingly enough, CoActiv filed a lawsuit against IFC on July 9 for Breach of Contract and Fraud. This week Tom Laury is not returning our calls. He had always been very responsive before...
"Our invoices do not have any verbiage regarding the passing of title. They just cite the purchase order numbers that IFC issued to us. We did not file any UCC's. A recent D&B search on my customers did not show that IFC ever filed a UCC either.
"Like you, I don't believe we will ever be paid, but I was not sure if there was anything further I could or should do. Placing the account with a collector won't cost anything unless something is collected. Going to an attorney will just cost and probably not yield any results....
"I stumbled upon your newsletter a couple months ago while doing an internet search on IFC. I quite enjoy reading it!
"I 'Google' IFC about once per week to see if they have filed bankruptcy."
New Destiny Bankruptcy/Pioneer Capital:
http://leasingnews.org/PDF/IFC5.pdf
Cook County Contract Complaint:
http://leasingnews.org/PDF/courtlinklexisn.pdf
Previous stories on IFC Credit:
http://www.leasingnews.org/Conscious-Top%20Stories/IFC_stories.htm
--------------------------------------------------------------

Most Influential Women in Leasing
Send nominations to: kitmenkin@leasingnews.org
They also should meet the caliber of those nominated. To start the list, here are the women who made it to the Top 25 Most
Influential in Leasing:
Laurie Bakke--athlete, sailor, Athletic Hall of Fame - 2000. After learning the finance and leasing business at ITT Commercial Finance, including Manager, Quality Control and Credit Manager, she joined NordFinance, Inc., a subsidiary of Nordbanken, AB, Sweden's largest financial institution, credit manager, vice-president Vendor program, finally named President. She then joined Irwin Commercial Finance as Executive Vice President and General Manager. She brought her vendor and operation skills to Huntington National Bank as Vice President, Vendor Finance. She has served on the board of directors of the Equipment Leasing and Finance Association and on the board of trustees for the Leukemia & Lymphoma Society.
http://www.linkedin.com/in/bakke2009
Shari Lipski, CLP--Principal, ECS Financial Services, joining the company in 1999. She was vice-president of Public Funding Company, which was sold to First Sierra Financial, where she became responsible for managing the Chicago branch office, as well as portfolio of vendor services. She has been actively involved in the Equipment Leasing and Finance Association, serving on many committees, Eastern Equipment Association of Lessors, Mid-America Association of Lessors, National Association of Equipment Leasing Brokers, and the United Association of Equipment Leasing, as well as serving on the board of directors of the Certified Leasing Professional Foundation. She has served many companies with her expertise in many areas including marketing and managing a lease portfolio, back-office leasing company operations, sales and personal property tax compliance and consulting. She and her husband Phil are the proud owners of Oak Spring Kennels in Poplar Grove, Illinois.
http://www.edwinsigel.com/services/vitae/Lipski.pdf
http://www.leasingnews.org/archives/March%202008/03-28-08.htm#akc
Cynthia "Cindy" Spurdle---Long time executive director of the Certified Leasing Professional Foundation, who began her career in 1982 Wrigley Group Ltd., a family owned leasing company started by her father. Her late husband and she purchased the business in 1988. "In 1990 I was working on a transaction with a broker in Albany, NY, Gerry Oestreich, who later became President of the NAELB. He told me about a brand new association called the NAELB just getting underway in Atlanta." She took the position as the first Executive Director of the NAELB in 1998 and took over the management of the entire association, except the books, and all of the conferences and meetings for two years. She then went to the Cindy went to the United Association of Equipment Leasing office, helped with the conferences, but main job was the Certified Financial Professional program, which is now a "foundation" that she is the executive director. She is active at many conferences for all the associations, a hard worked, always in the background, gets the job done, above and beyond what is asked of her.
http://www.leasingnews.org/whateverhappenedto/sprudle.htm
Women Nominated prior to Today:
--------------------------------------------------------------

How to handle Vendor Points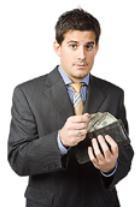 It is common that major companies enter into referral fee or commissions to vendors of equipment, particularly manufacturers or major distributors. Most actually print both their broker and vendor fee commissions.
In this economy, more and more sales personnel are looking for extra dollars to make up for their lack of sales or ability to find financing for their customers. The question of "spiff," such as you may give a restaurant captain for a better table or fee for a seat or better seat at an event, is quite common. Spiffs for business is also becoming more common.
This first appeared in the National Association of Equipment Leasing Broker's Forum on "Ethics and Legal Issues" by Gerry Egan, well-known leasing instructor and guru. With his permission, it is printed here.
"I thank goodness for vendor points!
"This is an interesting discussion and I appreciate all the different posts and points of view. I've never engaged in much debate about the ethics or legality of the 'points' issue since, it seems to me, effective arguments can be made for either side; as has been done here. The only reason I've ever needed for not paying points to vendors has also been clearly articulated here -it doesn't work.
"It's always been presented to me as a way of getting a stream of business but if that's the deciding factor it can just as easily be used by a competitor to take that same stream of business away. Let me ask, rhetorically, is there anyone who pays points, who truly believes that I couldn't come along offering significantly higher points and not take the business away from you? You could get it back, but what would you have to do to get it back? That's the real reason I've always avoided it. It defines the reason to do business as something that I can't control and once the door is open it's all but impossible to close.
"I say thank goodness for vendor points, though, as I credit facing that issue with a large portion of whatever success I've enjoyed over many years in this business. It was about this issue that one of the single best business lessons I ever learned was taught to me by a vendor many years ago. It was a hard lesson and an unpleasant one to learn but, once I accepted it, it totally changed my business for the better, making it both easier and more profitable.
"I was fortunate to have a very difficult vendor with a very strong personality and he wasn't at all bashful about speaking candidly with me. After going around and around a few times about paying points, he told me, in no uncertain terms, that ---from his perspective--- there was no difference between me and any other leasing source and so he wanted the points from me that he could get from others. That was the lesson.
"I realized that it didn't mean diddley-squat what I thought I was doing for him or how special I thought I was; the only thing that mattered was what he thought and his request for points was telling me that he didn't see enough of a difference between me and any other company in any other way. I don't mind telling you that I didn't like hearing or thinking that and you may not either, but if you'll step back from it, and be candid with yourself, you'll realize, too, that's exactly what the whole points issue is telling us.
"Let's prove it. I did to myself. Ask yourself about it this way. If a given vendor believed, (not that you believed, but the vendor believed), that working with you got him something that was completely unique; that he simply couldn't get from any other source; that working with you had a specific, measurable and unique impact on his bottom line; would he require that you pay him points to work with you? That's how I proved it to myself.
"I began to focus my efforts exclusively on things that I could easily measure the impact of. That's how I began my focus on direct marketing and lead generation for my vendors. Every lead I generated was, by definition, a lead they didn't have and was, therefore, both measureable and unique to me. Did it work? Believe it or not, in the ensuing years, I've been asked many more times by vendors if they had to pay me points than I've ever been asked to pay points to them.
"But the dollar value of the points wasn't even the biggest impact on my business. Because I was now in charge of the leads that I worked on, my approval and funding rates skyrocketed, making the business more productive and profitable. The best part, though, was that I now appealed to the more successful vendor reps and was able to start concentrating on them and avoiding the rest. That's how I began focusing on individual, top-performer, vendor sales reps as opposed to focusing on vendor company programs. That's the application of the 80/20 concept many of you have heard me speak about before.
"It was this points issue, though, (and it's been around this industry for as long as I have been and probably a lot longer), that was the catalyst for change for me. I didn't change the vendors. I didn't change the funders. I didn't change the economy. I changed myself and how I looked at my business, (and, ultimately, how I operated it), and that made all the difference.
"For that reason, I say thank goodness for vendor points!"
Gerry Egan
LearnLeasing.com
A Division of TecSource, Inc.
5621 Departure Drive, Suite 113
Raleigh, NC 27616
Phone: 919-790-1266
Fax: 919-790-2262
E-Mail: mailto:GerryEgan@LearnLeasing.com
Internet: www.LearnLeasing.com
--------------------------------------------------------------

Lease Police adds New Feature
"Beginning today we will have a New Feature on all LeasePolice.com reports, "Bernie Boettigheimer, CLP, President, announced. " A Vendor's web page address field has been added on all Vendor records. Many of you do not request this normally on your applications and Vendor Reference Sheets but this is a new idea whose time has come. Since this feature is new, it will take some time for us to get our database fully populated with web addresses, but the uses of this information will have wide ramifications. Let me explain the direction we are going with this move and several others to come:
"In all leasing transactions, we have three basic components--the Lessee, Vendor and the Equipment. Seasoned veterans in the industry understand that each segment is vitally important to the successful repayment to the Lessor. Two vendors can be selling the very same equipment in the same marketplace and have wildly different loss rates on the paper they produce. Despite this knowledge, however, almost all leasing companies focus on just one metric-----the credit worthiness of the Lessee? Elaborate scoring systems have been developed but they only analyze one third of every transaction. In the months ahead it is our plan to develop tools that will allow your credit department to make one stop at the Lease Police file and thus being able to investigate all three components of each transaction. Let's see what we have in our reports already:
"WEB ADDRESS - By adding this address you can click on the link and learn more about the vendor, his products, and company history.
DATA FILES - With over 35,000 total data files (all computer scored) there is a very good chance there is a "matched" active file. There are no charges otherwise !
PHONE CHECK - All phones can be checked from the button on top of the page. It is also an entrance to Google for other checks.
CREDIT DATA - All credit information is instantly posted except when the business in question is new, or has the wrong name of business or telephone number given. This info comes right out of the Credit. Net data base.
ALERTS - With over 270 "Alerts" of Unusual Activity you are kept up-to-date on all our investigations. With a new "alert" all inquirers in the last 2 years are notified.
REPOSSESSIONS - We have over 5600 repossessions recorded and our Funders are now preparing to send us those incurred in the first half of the year. Spot high risk vendors by noticing those which generate high amounts of repossessions.
SATELLITE MAPS - View the vendor's place of business from the air. Is it in a commercial area? Possible "street views" on some locations are available on many vendors.
LEGAL LINKS - Check with each Secretary of State to determine legitimacy, correct corporate name, principals and time in business. These links can take you directly to the correct site!
BETTER BUSINESS BUREAU - You can check all vendors for negative activity on all their BBB files in the United States using our direct link!
More information about Lease Police is available by contacting:
Bernie Boettigheimer, CLP
President
Lease Police, Inc.
972-361-8111
972-692-8091-fax
214-549-3426-cell
bernieb@leasepolice.com
--------------------------------------------------------------

Leasing Schools/Franchisors
(For our "Financial and Sales Training" list, please click here)
(does not include those specifically employed in training or education, but who have a similar program as the following entities:)

Mona James, CLP, who was the key person under the late founder Bob Baker's Wildwood Financial, has teamed up with several former key members of Advanta and Marlin Leasing to form Canyon Leasing, a "school" to develop more leasing brokers.
The headline on the web site says:
"Start you Own Leasing Company."
$19,500 for "Three days of Intense Training at our corporate training center in southern New Jersey...With the exception of a computer, a phone and a fax, there is very little needed to open your lease broker business – no special equipment, no inventory, no shipping costs, no warehousing costs, and no employees."
http://www.canyonleasing.com
They also promise a Coaching Program:
"*Daily Phone calls for the first three weeks
*Phone call twice a week for the following 4 weeks
*Weekly "staff" meetings thereafter held every Monday morning"
http://www.canyonleasing.com
"Canyon will also provide you with continuing support in all aspects of your business to include individual transactions, selling processes such as vendor proposals and relationships with funding sources."
http://www.canyonleasing.com
Canyon Leasing, Inc.
6991 N. Park Drive
East Bldg., Suite 200
Pennsauken, NJ 08109
Toll Free: (866) 644-7407
Phone: (856) 903-9018
Fax: (856) 910-9600
Email: Info@CanyonLeasing.com
------------------------------------------------------------------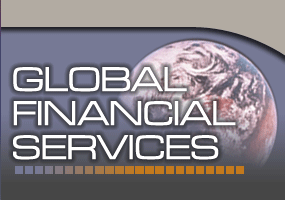 Program cost: $19,950.00
In 2003, broker/lessor Global Leasing founder Phil Dushey created a new division to train independent salesmen in all the aspects of finance, including leasing ,accounts receivable financing, business acquisitions, debt restructuring, working and venture capital. His students have found great success and he spends most of his time now developing entrepreneurs, who also utilize his knowledge and sources of funds."
" We are not superbrokers and have never been one. Occasionally we will co-broker a transaction ,but generally we function as a lessor for our own accounts. 2. Our website address for our training is www.globalbrokersystems.com 3 When we train our students we do not have them send transactions through Global. We set them up to deal directly with the lenders. We also require that all lenders who work with our students will automatically approve them to do business with them. Also our current price for the program is $24,950 We also model our training program from the experience we have from being in the business for about 25 years that a broker needs to serve all of the financial needs of their clients ,whether it be equipment leasing ,factoring,acquisitions,SBA Loans or debt restructuring, we do it all."
Philip Dushey
Global Financial Services
17 State Street
New York NY 10004
Email phil@globaleasing.com
Phone 212-480-4900

Mr. Dushay is also on the Leasing News Advisory Board
http://www.leasingnews.org/Advisory%20Board/Dushay_Phil.htm
----------------------------------------------------------------------------------------------------------
Lease One, Lynnfield, Massachusetts

Program Cost: $19,900.00
Since 1989 Lease One has been providing superior training along with unprecedented ongoing support to our broker network. With offices from coast to coast we proudly exhibit the foremost training experience available. Our one time initial investment will provide you with the training and support for the lifetime of your venture with no on-going fees (Hotel/Airfare/Materials/Leads are all included in this price).
"The Lease One Opportunity is the only turn key business opportunity that allows you to devote the time necessary to building a business, no need to worry about processing or underwriting your deals; we do it for you, forever! Our unique program is the only one that offers free marketing assistance along with a devoted graphics design department to enable you to creatively attract new customers to your business. Call us today or visit our website ( www.leaseoneopportunity.com ) to learn more about this exciting opportunity. We are Lease One; It's the Lease we can do!"
Joseph L. Angelo Jr.
Lease One Corp.
220 Broadway, Suite 102
Lynnfield , MA 01940
www.leaseoneopportunity.com
----------------------------------------------------------------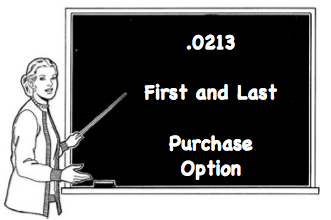 Formed by Ken Glasgow, President of Corporate Capital Leasing Group, Inc. and Sal Cozza, President of Flexlease Financial, have formed "Leasing Partners, LLC. Glasgow says they will train new brokers, "but will be distinctly difference from other schools. The emphasis
will be on 'Partners'."
"For $5900 we are offering a three day all expenses included (air, beach front hotel, meals) training session in Naples, Florida. It will be 'No BS' (boring statistics) training geared to enable the Broker to start making money the day they get home."\
"Due to the number of inexperienced people entering or wanting to enter the leasing industry, there have been a number of leasing schools being formed. As you have reported in the past, Corporate Capital Leasing Group, Inc. has had a successful Regional Manager program for over four years in which we have trained people to be Lease Brokers. Thanks to articles about us in Leasing News we have had requests to expand our program.
"We will eliminate the subjects that new Brokers don't have to know to get started but that they will learn as part of their ongoing training which continues after they return to their office."
"Graduates of our training will have access to our online Bulletin Board that has over 300 posts where Brokers can search for information they need. They get 500 leads a month for the first 6 months together with postcards and mailing labels. We provide a full service back room and through our Agency Agreement access to dozens of funding sources. We can also provide a web site for the Broker if needed including an online application.
"Most important, we offer a formula where the Broker can earn a total refund of their training fee. We will 'Partner' with the Brokers to make sure they are successful. This is a turnkey Broker startup package that includes basic training.
For more information, here is the latest article on Leasing Partners: http://www.leasingnews.org/archives/August%202008/08-13-08.htm#today
----------------------------------------------------------------
Podium Partners

Podium Partners is basically an extension of the Goodman & Associates "Complete Lease Broker Training Course." Founded by Ken Goodman, CLP, Goodman & Associates will continue to offer training services and is on the Leasing News Financial & Sales Training list.
"I found that the missing component in that program was day to day ongoing support," Ken Goodman, CLP says." Certainly I was available to my graduates to offer answers to their questions and advise on marketing, but I couldn't commit the time to 'live with them' in terms of deal by deal processing/placement or helping them close a particular lease. This program offers that kind of intimate follow up.
"Rather than requiring clients to buy the whole package, they can choose from a 'menu' of services and buy only the components that interest them. The training program (with hotel costs, an HP17, T-Value and a CD with forms and letter samples) is $8000; we can design a corporate ID Package for them (website, brochure, cards and stationery) for $3000; and the ongoing support program is $600 a month. We think we will appeal to some established brokers who don't like tying up a lot of time on processing and would rather just sell, as well as those people looking for a 'business opportunity' as a new lease broker."
Kenneth D. Goodman, CLP
Managing Director
Podium Partners, a Division of Podium Financial Group, Inc.
485 East 17th Street - Suite 200, Costa Mesa, CA 92627
direct 949/999-8613 - cell 888/852-7560
toll free 800-532-7336 - fax 949/646-7094
ken@leasegood.com - www.podiumpartners.com
---------------------------------------------------------------

$19,995 for five "intensive day training" in Atlanta, Georgia . Premier Leasing Academy offer "back office support" for one year and access to over 20 "lenders."
The caveat also promises "2 full days of Sales and Marketing training to participants as part of the week long course" with Ms. Linda Kester.
A press release states "She will also provide a full year of support via newsletters, email, and teleconferences. Linda has this to say about her decision to partner with Premier Leasing academy, "Jim, David & Randy have a superior level of integrity. Their complete knowledge of the industry and attention to detail makes them a dynamic team. I'm proud to be a part of that team."
Named as founders are James DuBois, David Hamilton and Randy Russell.
[Biographies]
www.LeasingCareer.com
105 Hembree Park Dr., Ste. B
Roswell, GA 30076
Phone: 866-625-5154
http://www.leasingcareer.com
info2@leasingcareer.com
---------------------------------------------------------------
http://wheelerbusinessconsulting.com/leasingschool.html
Program Cost: $14,500
The training and support provided will allow individuals to establish their own independent brokering businesses. This program is not a franchise operation and therefore has no future royalty payments due. There is a one time upfront investment. The ongoing business expenses are determined by you.
A five day course taught by Scott Wheeler, CLP. There is no financial requirement or obligation with the application. Upon completing the pre-screening process and being accepted into the program you will be asked to sign an agreement with Wheeler Business Consulting LLC.
With over twenty-six years of leasing experience and an Executive Masters in Business Administration, Scott is an accomplished senior leasing executive with leadership qualities in marketing and operations. His extensive experience will benefit organizations looking to reach a higher level of profitability and corporate development.
Biography: http://wheelerbusinessconsulting.com/bio.html
Link to articles written by Scott Wheeler:
http://wheelerbusinessconsulting.com/recentarticles.html
Contact Information:
Wheeler Business Consulting LLC 1314 Marquis Ct.
Fallston, Maryland 21047
Phone: 410-877-0428
Fax: 410-877-8161
email: scott@wheelerbusinessconsulting.com

Website: www.wheelerbusinessconsulting.com
--------------------------------------------------------------

Sales Make it Happen
--- by Anonymous
Ten Sales Points
Believe in your leasing services.
Gather as much information as you can before talking to a decision maker.
Ask everyone you talk to how decisions about leasing are made.
Have two objectives set before making a call. For example one objective could be to obtain their email address, a second objective would be to have them go to your web site.
Listen to the prospect-listen to understand-if they take the conversation to a different place than you wanted the conversation to go-just go with it. The goal is to establish a relationship.
Bring something of value to each prospect call. A new idea, sales tips, an interesting article or web site to visit. It's not about you-it's about them.
Ask them "What is most important to you in a leasing company?"
Make your calls with confidence and enthusiasm. I became eager and anxious to make calls because I had thought about the vendor, I studied their situation, and had some ideas I believed might be of value to them.
Find out what your prospects want and help them get it.
Never give up!
Sales Makes it Happen articles:
http://www.leasingnews.org/Legacy/index.html
--------------------------------------------------------------

### Press Release ############################
Quiktrak and Vision Commerce Announce Strategic Alliance
BEAVERTON, Oregon Quiktrak, Inc., an industry-leading field inspection and inventory auditing firm, and Vision Commerce, a pioneer in providing Microsoft .NET front-end automation solutions, announced a strategic alliance whereby Vision will incorporate Quiktrak web functions within the Vision product suite.
Under the agreement, Vision Commerce has integrated Quiktrak's inspection services into the Vision platform through a secure web service. Joint Vision and Quiktrak customers will have direct access to order Quiktrak reports as well interface with the Quiktrak system to view job status and communicate change orders, thereby eliminating the need to reenter job information that already exists within the Vision system.
"We are continually looking for ways to enhance our services through collaboration with other industry leading products. Vision certainly fits this criteria, and as such we are looking forward to building on this relationship," said Quiktrak CEO Greg Froomer.
"Integrating critical need value-added services such as Quiktrak into the Vision application will help our clients streamline and safeguard their businesses," said Steve Lundergan, President of Vision Commerce.
About Vision Commerce, Inc.
Vision Commerce, Inc. was created to serve the leasing and finance industries. Vision's goal is to provide its clients access to e-commerce solutions at an affordable price. The company's philosophy is that technology should automate routine processes and provide real-time information, but it can never replace industry experience and product knowledge. The leadership team offers finance industry experience, technology expertise and a commitment to listen to the customer. Vision Commerce is a closely held, employee-owned company.
For more information about Vision Commerce, call (866)707-9929 or visit www.visioncommerce.com.
About Quiktrak
Headquartered in Beaverton, Oregon, Quiktrak is a leading provider of a wide range of due diligence services including equipment verifications, site inspections, condition reports, collections and inventory auditing services. Founded in 1991, Quiktrak utilizes cutting edge technology and a network of more than 600 inspectors to provide the industry's most reliable and trusted field inspection services. Quiktrak's due diligence services help protect the assets of industry leading lenders, captive finance groups, and leasing companies in the US, Canada and the UK.
For more information about Quiktrak, call (800)927-8725 or visit www.quiktrak.com.
#### Press Release #############################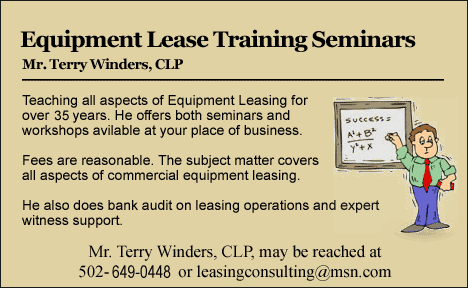 (This ad is a "trade" for the writing of this column. Opinions
contained in the column are those of Mr. Terry Winders, CLP)
-------------------------------------------------------------

News Briefs----
Some small businesses still struggle to get financing
http://www.usatoday.com/money/smallbusiness/2009-07-21-small-businesses-credit_N.htm
Bank of Florida loss swells with Silverton failure
http://www.bizjournals.com/tampabay/stories/2009/07/20/daily17.html
Medical Capital Holdings halted from selling securities
http://www.latimes.com/business/la-fi-sec-fraud21-2009jul21,0,5791268.story?track=rss
Companies: New Lease Rule Means Labor Pains
http://www.cfo.com/article.cfm/14072875/c_14071565?f=home_todayinfinance
Zions Bancorp posts 2Q loss on higher loan losses
http://finance.yahoo.com/news/Zions-Bancorp-posts-2Q-loss-apf-3755995391.html?x=0&.v=1
Equifax, Fair Isaac Tool Measures Credit Capacity
http://www.creditcollectionsworld.com/article.html?id=20090721F1PE11L3&from=creditandcollectionnews
---------------------------------------------------------------

You May have Missed---
Survey: Ford tops Toyota's new car quality
http://www.upi.com/Business_News/2009/07/21/Survey-Ford-tops-Toyotas-new-car-quality/UPI-61891248192944/
----------------------------------------------------------------


California Nuts Briefs---
Editorial: California's budget agreement is an ugly mess
http://www.contracostatimes.com/top-stories/ci_12883847?nclick_check=1
Calif. pension funds post $100B in losses
http://www.upi.com/Business_News/2009/07/21/Calif-pension-funds-post-100B-in-losses/UPI-76201248219594/
----------------------------------------------------------------


"Gimme that Wine"
Sauvignon Blanc for the Summer--by Eric Asimov
http://www.nytimes.com/2009/07/22/dining/22wine.html?ref=dining
Franzia wins, loses in wine competition
http://www.pressdemocrat.com/article/20090721/LIFESTYLE02/907209948?Title=Franzia-wins-loses-in-wine-competition
Rachael Ray Picks pro-mis-Q-ous
http://news.prnewswire.com/DisplayReleaseContent.aspx?ACCT=104&STORY=/www/story/07-20-2009/0005062935&EDATE=
California Winery Becomes First in State to Earn LEED-Gold Certification
http://www.reuters.com/article/gwmBuildings/idUS304252082020090718
Wine Prices by vintage
http://www.winezap.com
http://www.wine-searcher.com/
US/International Wine Events
http://www.localwineevents.com/
Winery Atlas
http://www.carterhouse.com/atlas/\
Leasing News Wine & Spirits Page
http://two.leasingnews.org/Recommendations/wnensprts.htm
The London International Vintners Exchange (Liv-ex) is an electronic exchange for fine wine.
http://www.liv-ex.com/
----------------------------------------------------------------

Today's Top Event in History
1860-Birthday of Mother Marie Joseph Butler - Irish-born Roman Catholic American nun. As the Mother General of the Congregation of the Sacred Heat of Mary, she began the Marymount school system. She opened 14 schools in the United States , three of which became colleges
[headlines]
----------------------------------------------------------------

This Day in American History
1587-The second English colony established on Roanoke Island off North Carolina . The Roanoke Island Colony, sponsored by sir Walter Raleigh, was established on Roanoke Island, off the northeast coast of what is now North Carolina , under the leadership of Sir Richard Grenville and Sir Ralph Lane . the settlers fared badly and returned to England in June of 1586. In 1587, Raleigh sent out another group under John White, consisting of 117 men, women and children, who landed this day. White returned to England for supplies, but was unable to get back to Roanoke until August 17, 1590, three years later. He found all the colonists gone; the only clue to their fate was the word Croton carved on a tree. The meaning of this remains unexplained and no trace was ever found of the settlers. Whether they met their fate by Indians, a cold Winter, lack of food, or disease is not known. http://personal.pitnet.net/primarysources/ronoake.html
1620- A small congregation of English Separatists, led by John Robinson, began their emigration to the New World . Today, this historic group of religious refugees has come to be known as the 'Pilgrims.' Pastor John Robinson was the last face the Pilgrims saw as their ship left for the New World . He never made it to America , but this one man is credited with planting a single word — independence http://www.ohioroundtable.org/cfdocs/shows.cfm?
showcode=968&fromhome=YES
http://www.revjohnrobinson.com/art.htm
http://www.mlp.org/sermon.html
http://members.aol.com/calebj/robinson_letter.html
http://www.newnorth.net/~johhnson/~jrobinson.html
1667- New Netherland was ceded to England by the Dutch by the Peace of Breda, which ended the second Anglo-Dutch War (1665-1667). The British had captured Fort Amsterdam and divided the territory into New Jersey and New York . Colonization was slow and the territory was re-organized in 1674.
http://www.infoplease.com/ce6/history/A0816459.html
http://www.infoplease.com/ce6/history/A0857845.html
1724 The Alamo , to become famous as the site of a great battle of the war for Texan independence in 1836, was constructed at about this time as a Franciscan mission.
http://www.thealamo.org/faqs.html#one
http://www.americanwest.com/pages/alamo.htm
1796-Surveyors commissioned by General Moses Cleaveland (sic.) completed the plan for the town of Cleaveland (sic.), Ohio . ( lower half of:
http://memory.loc.gov/ammem/today/jul22.html )
http://www.travelcleveland.com/About_Cleveland/cleveland_history.asp
1860-Birthday of Mother Marie Joseph Butler - Irish-born Roman Catholic American nun. As the Mother General of the Congregation of the Sacred Heat of Mary, she began the Marymount school system. She opened 14 schools in the United States , three of which became colleges.
1861-An intention to issue an Emancipation Proclamation was announced by President Lincoln to his Cabinet. He read the entire proclamation. He wanted to issued it the same day as strictly military effort to cripple Confederate manpower. His Cabinet persuaded him to wait as it was not good political timing, both because the Union was not doing well in the war, and many politicians were questioning the cause. Lincoln argued it needed to be done soon, but was persuaded to wait for a more favorable military situation to avoid the appearance of "desperation."
1864- The Battle of Atlanta , GA. Young General John Bell Hood attacks General William Tecumseh Sherman, resulting in terrible loses for the Confederate Army; Estimated casualties: 12,140 (3,641 Union , 8,499 Confederate)
http://ngeorgia.com/history/battleofatlanta.html
http://www2.cr.nps.gov/abpp/battles/ga017.htm
http://www.civilwarhome.com/hoodbio.htm
http://ngeorgia.com/people/hood.html
http://home.sprynet.com/~randyyoung/ransom.htm
1886-In San Francisco a brewery workers union formed last month among mostly socialist German workers, to resist the prevailing 16-18 hour workday. Today breweries admitted defeat & gave in to union demands for FREE BEER, the closed shop, freedom to live anywhere for brewery workers (who had, until now, typically lived in the brewery itself), a 10-hour day, six-day week, & a board of arbitration.
1872-birthday of Tom "Boss" Pendergast, St. Joseph , MO
http://www.allaboutjazz.com/jazznew.htm
http://www.energy2001.ee.doe.gov/GoinToKC.htm
http://www.experiencekc.com/truman.html\
http://organizedcrime.about.com/library/weekly/aa102500a.htm
1882-birthday of painter Edward Hopper, Nyack , NY .
http://www.artchive.com/artchive/H/hopper.html
http://sunsite.dk/cgfa/hopper/
http://artcyclopedia.com/artists/hopper_edward.html
http://sheldon.unl.edu/HTML/ARTIST/Hopper_E/AS.html
http://art-posters-art-prints.com/edward-hopper.html
http://www.mcs.csuhayward.edu/~malek/Hopper.htm
1888-brithday detective novelist Raymond Chandler
http://www.america.net/~davdmock/chandler.htm
http://www.hifibliss.com/peter/chandler.htm
http://www.kirjasto.sci.fi/rchandle.htm
http://hometown.aol.com/chandlerla/
http://www.angelfire.com/sd/kreelah/chandler.html
http://www.amazon.com/exec/obidos/search-handle-form/
102-8899986-2380120
1890- Rose Kennedy Birthday. If you travel to Boston , be sure to see the
Italian section and where she grew up. Rose Kennedy became the epitome of a stalwart woman who maintained her dignity while her wealthy husband openly flaunted his many adulteries and somehow maintained her composure when three of her four sons were killed, her other son caused the death of a young woman, and a daughter proved to be mentally limited.
http://www.wic.org/bio/rkennedy.htm
http://www.geocities.com/CapitolHill/Senate/1968/rose.htm
http://www.amazon.com/exec/obidos/ASIN/0791016226/
avsearch-bkasin-20/103-5362656-4423850
1890- the observation "Everybody talks about the weather, but nobody does anything about it" was written by editor Charles Dudley Warner in the Hartford Courant., The remark has wrongly attributed to his Hartford friend Mark Twain.
1893-birthday of Karl Menniger, American psychiatrist, born at Topeka , KS . Along with his father and brother, he founded the Menniger Clinic and Foundation at Topeka in the 1920s. He died July 18, 19990, at Topeka .
1899-birthday of sculptor Alexander Calder. http://memory.loc.gov/ammem/today/jul22.html
1906-Birthday of Writer and pilot Anne Morrow Lindbergh, Englewood , New Jersey . Lindbergh attended Smith College , where her writing won several coveted literary awards. At age 23, she married celebrated aviator Charles Lindbergh, who had made the first transatlantic solo flight in 1927. The couple flew frequently, and she became the first woman to receive a glider pilot's license. She got her airplane pilot's license in 1931 and published several books about her experiences, including North to the Orient (1935), about the couple's flight over Canada and Alaska to Asia. The couple's infant son was kidnapped for ransom in 1932, which led to his death. The tragedy affected the entire nation. In 1934, she became the first woman to win the National Geographic Society Hubbard Gold Medal. Her 1944 book, "Gift from the Sea" became a bestseller and was reissued in a special anniversary edition 25 years after its publication.
1908- Amy Vanderbilt birthday- U.S. author. AV wrote Vanderbilt's Complete Book of Etiquette that took a more modern approach to manners and etiquette than did Emily Post.
http://www.allperson.com/allperson/legend/0000000893.asp
http://www.quotationspage.com/quotes.php3?author=Amy+Vanderbilt
1915-birthday of trumpet player/singer Taps Miller, Indianapolis , IN
http://seattletimes.nwsource.com/html/artsentertainment/
134463975_lawrence17.html
1916-A bombing in San Francisco during a Preparedness Day parade killed 10 persons and wounded 40. In 1917 labor leader Tom Mooney was sentenced to hang and Warren K. Billings was sentenced to life imprisonment for the dead. President Wilson commuted Mooney's sentence to life imprisonment in 118, but because of confessions of perjured testimony at the trial, the case was an international cause celebre for many years. On January 8, 1939, Governor Culbert L. Olson of California pardoned Mooney. Billings was released a later in the year.
1917-July 22, Lou McGarity Birthday http://shopping.yahoo.com/shop?d=product&id=1927006
998&clink=dmmu.artist&a=b
Feast day of Mary Magdalene, who, according to Biblical texts, witnessed both the crucifixion and the resurrection of Jesus. According to Biblical texts, she was the only one of Jesus' followers to do that - and the only one to whom Jesus spoke at the tomb - avoiding Peter and asking her to explain to everyone that he was ascending to heaven. Many feminist religious scholars cite Jesus' orders to Mary Magdalene, asking her to spread the word as surpassing the Pauline (Paul) later philosophy that women were not to speak in church or teach men.
http://elvis.rowan.edu/~kilroy/JEK/07/22.html
http://www.pbs.org/wgbh/pages/frontline/shows/religion/
maps/primary/mary.html
http://www.st-mary-magdalene.org/newpage4.htm
http://www.magdalene.org/biblical.htm
1918 - A single bolt of lightning struck 504 sheep dead in their tracks at the Wasatch National Forest in Utah. Sheep often herd together in storms, and as a result the shock from the lightning bolt was passed from one animal to another.
1924- singer Margaret Whiting was born in Detroit . Her father was the famous songwriter Richard Whiting. She began her career in the early 1940's singing with the bands of Freddie Slack and Billy Butterfield. With trumpeter Butterfield, Whiting recorded the 1944 million-seller "Moonlight in Vermont ." Her 1948 recording of "A Tree in the Meadow" also sold a million, as did her 1949 duet with Jimmy Wakely, "Slippin' Around."
http://www.northwood.edu/dw/1994/whiting.html
1924-birthday of pianist Al Haig, Newark , NJ
http://music.barnesandnoble.com/search/artistbio.asp?
userid=0HNQVIRQ19&ctr=70344
http://www.bobjanuary.com/alhaig.htm
http://jazzinstituteofchicago.org/index.asp?target=/
jazzgram/people/alhaig.asp
http://www.amazon.com/exec/obidos/external-search/102-8899986-2380120?tag=drjohnholleman&keyword=al+haig&mode=music
http://music.zodchiy.com/A/Al_Haig.html
1924-birthday of Tensor tax Bill Perkins. http://music.barnesandnoble.com/search/artistbio.asp?
userid=0HNQVIRQ19&ctr=70886
1930-The Philadelphia Athletics executed a triple steal in the first inning of a game against the Cleveland Indians and another one in the fourth inning. This is the only game in which two triple steals have occurred.
1933-the first Opera prima donna who was African American was Caterina Jarboro (born Katherine Yarborough in Wilmington, North Carolina,) who appeared as Aida, the Ethiopian slave, in Giuseppe Verdi's opera Aida, presented by Alfredo Salmaggi's Chicago Opera Company at the New York Hippodrome, Sixth Avenue and 43 rd Street, New York City. Caterina attended school in Wilmington (where she is noted in their "Walk of Fame" until, at age 13, she journeyed to New York to study music. During her illustrious career, she achieved international fame as a soprano and paved the way for other talented African-Americans in American opera. Caterina performed in many of the world's great opera houses, including Paris , Vienna , Warsaw , Madrid , Moscow and the United States . She also thrilled Wilmington audiences on two occasions by performing at the Academy of Music (Thalian Hall) and the Williston High School auditorium . Died August 23,1986 at the age of 88. Manhattan , NY
http://www.spinnc.org/spinsites/arts/wof_jarboro.htm
1934-birthday of tenor sax player Herman "Junior" Cook, Pensacola , FL
Died February 4,1992. http://members.tripod.com/~hardbop/jrcook.html
http://www.fantasyjazz.com/catalog/cook_j_cat.html
1936-birthday of Don Patterson, organ, Columbus , OH
http://www.amazon.com/exec/obidos/tg/stores/artist/glance/-/49897/ref=m_art_dp/102-8899986-2380120
1937 - Hal Kemp and his orchestra recorded the now-standard, "Got a Date with an Angel", for Victor Records in Hollywood , California . The distinctive vocal on the tune is provided by Skinnay Ennis
1939- the first judge who was an African-American woman was Jane Matilda Bolin, who on this day was appointed judge of the Court of Domestic Relations by Mayor Fiorello La Guardia of New York City . She was also the first African-American woman to graduate from Yale Law School and the first to be admitted to the New York City Bar. http://www.blackseek.com/bh/2001/172_JBolin.htm
1941-Robert "Lefty" Grove of the Boston Red Sox won the 300 th and last game of his major league career, defeating the Cleveland Indians, 10-6.
1942-Harry James with Helen Forrest record " I Had the Craziest Dream."
1943-Two weeks after the July 10 Allied invasion of Sicily , the principal northern town of Palermo was captured. Americans had cut off 50,000 Italian troops in the west, but Germans were escaping to the northeastern corner of the island After 39 days, on August 17, 1943, the entire island of Sicily was under the control of Allied forces. The official total of Germans and Italians captured was put at 130,000. The Germans, however, managed to transfer 50,000 of their 90,000 men back to the Italian mainland.
1944 - The Bretton Woods ( New Hampshire ) Conference created the International Monetary Fund on this day. The IMF is "...a cooperative institution that [many] countries have voluntarily joined because they see the advantage of consulting with one another in this forum to maintain a stable system of buying and selling their currencies so that payments in foreign money can take place between countries smoothly and without delay." The IMF was based on the ideas of the U.S. Treasury Department's Director of Monetary Research, Harry Dexter White, John Maynard Keynes of England and the IBRD (International Bank for Reconstruction & Development). The IMF began operations in Washington , D.C. in May 1946 with 39 member countries.
1944--SKAGGS, LUTHER, JR. Medal of Honor Rank and organization: Private First Class, U.S. Marine Corps Reserve, 3d Battalion, 3d Marines, 3d Marine Division. Place and date: Asan-Adelup beachhead, Guam, Marianas Islands, 21 -22 July 1944. Entered service at: Kentucky. Born: 3 March 1923, Henderson, Ky. Citation: For conspicuous gallantry and intrepidity at the risk of his life above and beyond the call of duty while serving as squad leader with a mortar section of a rifle company in the 3d Battalion, 3d Marines, 3d Marine Division, during action against enemy Japanese forces on the Asan-Adelup beachhead, Guam, Marianas Islands, 21 -22 July 1944. When the section leader became a casualty under a heavy mortar barrage shortly after landing, Pfc. Skaggs promptly assumed command and led the section through intense fire for a distance of 200 yards to a position from which to deliver effective coverage of the assault on a strategic cliff. Valiantly defending this vital position against strong enemy counterattacks during the night, Pfc. Skaggs was critically wounded when a Japanese grenade lodged in his foxhole and exploded, shattering the lower part of one leg. Quick to act, he applied an improvised tourniquet and, while propped up in his foxhole, gallantly returned the enemy's fire with his rifle and hand grenades for a period of 8 hours, later crawling unassisted to the rear to continue the fight until the Japanese had been annihilated. Uncomplaining and calm throughout this critical period, Pfc. Skaggs served as a heroic example of courage and fortitude to other wounded men and, by his courageous leadership and inspiring devotion to duty, upheld the high traditions of the U.S. Naval Service.
1945-birthday of guitarist Al DiMeola, Jersey City , NJ
http://www.aldimeola.com/
http://www.pixelplanet.com/Music/EG.htm
http://www.daddario.com/DADDARIO_ENDORSEES/ALDIMEOL.HTM
http://www.dwponline.com/rock/dimeola.htm
1947---Top Hits
Peg o' My Heart - The Harmonicats
I Wonder, I Wonder, I Wonder - Eddy Howard
Chi-Baba, Chi-Baba - Perry Como
Smoke! Smoke! Smoke! (That Cigarette) - Tex Williams
1948- Peggy Fleming birthday - U.S. figure skater, winner of 1968 Olympic singles gold medal. She became an outstanding business woman who revamped the ailing Ice Capades show into a profitable business. She lives right here in Los Gatos , California , where she is active in the Silicon Valley Community
1949-birthday of film score composer Alan Menken, New Rochelle , NY .
http://disney.go.com/DisneyRecords/Biographies/Menken_Bio.html
http://menken.dyns.net/
1954- In an attempt to put more pop in the lineup, Casey Stengel inserts Mickey Mantle in the infield as the shortstop. The experiment works as the 'Commerce Comet' homers in the tenth inning giving the Yankees a 3-2 victory over the White Sox.
1955---Top Hits
Rock Around the Clock - Bill Haley & His Comets
Honey-Babe - Art Mooney
The House of Blue Lights - Chuck Miller
I Don't Care - Webb Pierce
1962-Gary Player of South Africa became the first nonresident of the US to win the PGA championship. He defeated Bob Goalby by one stroke at Aronimink Golf Club in Newtown Square, PA.
1963---Top Hits
Surf City - Jan & Dean
So Much in Love - The Tymes
Memphis - Lonnie Mack
Act Naturally - Buck Owens
1963- history records the first bank to lease personal property was the Bank of America , San Francisco , CA , which instituted the service this day, under the direction of Robert D'Oyly Syer. James Joseph Saxon comptroller of the currency, advised national banks on March 18, 1963, that they were permitted to lease personal property, buying equipment and leasing it directly to customers.
1963 - World Heavyweight Champion Sonny Liston hung on to his boxing title by knocking out challenger Floyd Patterson in the first round of a bout in Las Vegas , NV .
1965 - "Till Death Us Do Part" debuted on England 's BBC-TV. The show was so popular that it became a TV series in Great Britain and was the forerunner of the 1971-92 CBS-TV hit, "All In The Family", starring Carroll O'Connor and Jean Stapleton.
1967- Using five pitchers in same inning, the Braves establish a major league mark for the number hurlers called upon in one inning. Ken Johnson, Ramon Hernandez, Claude Raymond, Dick Kelley and Cecil Upshaw all face the Cardinals in the ninth inning.
1967 - The "Billboard" singles chart showed that "Windy", by The Association, was the most popular record in the U.S. for the fourth straight week. The Los Angeles-based sextet would make way for Jim Morrison and The Doors a week later when "Light My Fire" became the hottest record of the mid-summer.
1969- The All-star game is postponed by rain for the first time in major league history.
1971---Top Hits
It's Too Late/I Feel the Earth Move - Carole King
You've Got a Friend - James Taylor
Don't Pull Your Love - Hamilton, Joe Frank & Reynolds
When You're Hot, You're Hot - Jerry Reed
1973 -The Reds All-Star shortstop Dave Concepcion will miss the rest of the season due to a broken ankle.
1975 - Confederate General Robert E. Lee had his U.S. citizenship restored by the U.S. Congress.
1977 - Tony Orlando announced his retirement from show business. Orlando was performing in Cohasset , MA when he said that he had finally decided to call it quits. Orlando had two solo hits in 1961 ("Halfway to Paradise " and "Bless You") and 14 hits with his backup singers (known as Dawn) through the mid-1970s. He also hosted a weekly TV variety show with Dawn (Telma Hopkins and Joyce Vincent) from 1974-1976.
http://www.tonyorlandoonline.com/
http://www.friends-of-toad.com/
1979---Top Hits
Bad Girls - Donna Summer
Good Times - Chic
Makin' It - David Naughton
Shadows in the Moonlight - Anne Murray
1979- golfer Sam Snead, age 67, became the first to shoot below his age on a Professional Tour, on the fourth day of the Quad Cities Open Tournament at Coal City, IL. His score was 277 ( 70,67,74, 66 ).
1983 -128ø F (-89ø C) recorded, Vostok, Antarctica (world record
1984- Kathy Whitworth won the Rochester Open to become the all-time winningest professional golfer. Her 85 th victory surpassed the 84 tournament wins of Sam Snead. Her picture made the Wheaties "Breakfast of Champions" box. http://www.golfweb.com/u/ce/feature/pgatour/0,1977,839844,00.html
http://www.golfeurope.com/almanac/players/whitworth.htm
1984- TV Host George Alexander "Alex" Trebek born July 22, 1940 Sudbury, Ontario, Canada, began hosting Jeopardy in 1984.
http://www.imdb.com/name/nm0871618/
1985- Bruce Springsteen's fans disabled the phone system in Washington , D-C by overloading the circuits with requests for tickets to the Boss's show at Robert F. Kennedy Stadium. The concert was sold out within an hour-and-a-half.
1986 - Hurricane Estelle passed 120 miles south of the Hawaiian Islands creating a ten to twenty foot surf. The large swells resulted from a combination of high tides, a full moon, and 50 mph winds. The hurricane also deluged Oahu Island with as much as 6.86 inches of rain on the 24th and 25th of the month.
1987---Top Hits
Alone - Heart
Shakedown - Bob Seger
Don't Disturb This Groove - The System
I Know Where I'm Going - The Judds
1988-The Atlanta Hawks began a 13-day trip through the Soviet Union by beating a Soviet team, 85-84. The Hawks won the second game but then lost the third to conclude the first such tour by an NBA team.
1990 - Greg LeMond won his third Tour de France. He outdistanced all other cyclists by finishing in 90 hours, 43 minutes and 20 seconds. His time was slower than his past wins. LeMond won in 1986 and again in 1989 with his best time of 87 hours, 38 minutes and 35 seconds. It seems like you have to be French to win
1994- more than 54-thousand fans jammed Giants Stadium in East Rutherford, New Jersey, as Billy Joel and Elton John performed the first of five concerts together. They duetted on "Your Song," "Honesty" and "I Guess That's Why They Call It the Blues."
2002- Over 20,000 fans gather at Fenway for a two-hour tribute entitled, "Ted Williams: A Celebration of an American Hero," The two hour salute of the man many consider to be the greatest hitter in baseball history, a vet of the World War II and the Korean War and a generous supporter of the Jimmy Fund, in addition to moving music and video, includes comments from present and former Red Sox players and broadcasters, historian Ken Burns, and former U.S. Senator John Glenn, who was Ted's wing man during the Korean War.
2006-The fourth day over 100 in Los Gatos/Saratoga. Today it reached 107, and we didn't go into the swimming pool until after 6pm when there was more shade in the backyard, as the sun was much too hot, even to go into the water.

--------------------------------------------------------------

Baseball Poem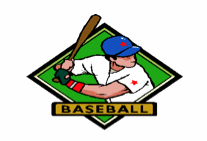 SHORTSTOP
by Charles Ghigna ©
Published: Boyd Mills Press (2003)
The slits of his eyes
hidden in shadows
beneath the bill of his cap,
he watches and waits
like a patient cat
to catch what comes
his way.
Crack!
and he pounces
upon the ball,
his hands flying
above the grass,
flinging his prey
on its way
across the diamond
into a double-play.
--------------------------------------------------------------

SuDoku
The object is to insert the numbers in the boxes to satisfy only one condition: each row, column and 3x3 box must contain the digits 1 through 9 exactly once. What could be simpler?
http://leasingnews.org/Soduku/soduko-main.htm
--------------------------------------------------------------

Daily Puzzle
How to play:
http://www.setgame.com/set/puzzle_frame.htm
Refresh for current date:
http://www.setgame.com/set/puzzle_frame.htm
--------------------------------------------------------------


http://www.gasbuddy.com/
http://www.gasbuddy.com/GB_Map_Gas_Prices.aspx
http://www.gasbuddy.com/GB_Mobile_Instructions.aspx
--------------------------------------------------------------

Weather
See USA map, click to specific area, no commercials
--------------------------------------------------------------

Traffic Live---
Real Time Traffic Information
You can save up to 20 different routes and check them out with one click,
or type in a new route to learn the traffic live
--------------------------------