Monday, July 26, 2010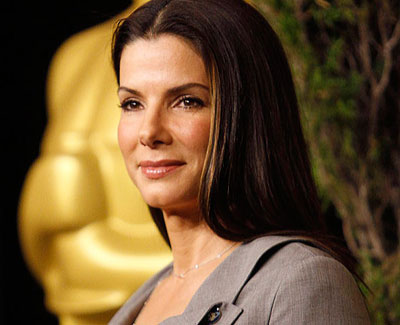 Actress Sandra Bullock born 26 July 1964 Arlington, Virginia, who's mother was a German opera singer and a voice teacher. She originally wanted to be a singer; speaks fluent German. She won the Golden Globe and the Screen Actors Guild award for Best Actress, and also captured her first Oscar for "Blind Side." Also starred in "Speed," "While You Were Sleeping," and "Miss Congeniality." She has a reputation for caring about her community.
http://www.nola.com/business/index.ssf/2009/09/actress_sandra_bullock_purchas_1.html

Headlines---
Richard Anderson passes away
Classified Ads---Controller
LEAF Specialty to Vacate Premise by July 31st
Financial Pacific up-dated "Funder List 'A'"
Commercial Capital added to "Broker-Lessor" List
Leasing 102 by Mr. Terry Winders, CLP
"Hiring Sales Personnel"
Classified Ads---Help Wanted
Top Stories---July 19-July 23
The Famous Leasing News "The List" ---June
Bank Beat----103 Bank Failures
Housing and Banks and Equipment Leasing
Glendale, California --- Adopt-a-Dog
News Briefs---
BP chief Tony Hayward 'set to stand down'
LEAF Financial Announces expansion of capital
You May have Missed---
California Nuts Brief---
"Gimme that Wine"
This Day in American History
Baseball Poem
SuDoku
Daily Puzzle
GasBuddy
Weather, USA or specific area
Traffic Live----

######## surrounding the article denotes it is a "press release" and was not written by Leasing News nor information verified, but from the source noted. When an article is signed by the writer, it is considered a "by line." It reflects the opinion and research of the writer. It is considered "bias" as it is the writer's viewpoint.

[headlines]
--------------------------------------------------------------

Richard Anderson passes away

"Richard Charles Anderson, 73, passed away peacefully Tuesday, July the 20th, at his home in Phoenix, Arizona. He was born January 21st, 1937 in Minneapolis, Minnesotan to Charles and Alice Anderson. He served in the Army prior to graduating from the University of Minnesota. He worked most his life in Leasing and Finance (twenty years at LeaseAmerica.) Richard had a passion for living life and an energy that was boundless. He loved golf, good conversation, and his friends and family. He is survived by his loving wife Sheila Brooks Anderson, son Chad Anderson, sisters Patricia Polydisky & Susan Kennell, and brother Walter Anderson. Please join us at Richard's life celebration on Saturday July, 31st from 2:00 – 5:00 PM at the Heritage Heights Unit 4 Clubhouse at 2837 E Mission Lane, Phoenix, Arizona."

[headlines]
--------------------------------------------------------------

Classified Ads---Controller
Chicago, IL
experienced in lease accounting, operations, management, and Sarbanes-Oxley. Seeking position with equipment lessor. Would consider contract assignments or relocating.
Email: leasecontroller@comcast.net

Southeastern, MI
Controller & Management experience w/ equip lessors &broker. MBA, CPA w/ extensive accounting, management, securitization experience with public and private companies. Willing to relocate.
Email: Leasebusiness@aol.com
Acton, MA
Strong experience in lease accounting, operations, & systems.
Implemented lease plus, Great Plains, networks.
Excellent financial reporting and analysis skills. Looking for new opportunity.
LinkedIn
alexanderzlenz@gmail.com| Resume
Southern CA
20 years exp. as hands-on leasing CFO, managing accounting, treasury, FP&A, including securitizations, Great Plains/FRx, budgets, risk management. MBA. Also available as interim Controller/CFO, consultant.
Email: leasecfo@gmail.com
For a full listing of all "job wanted" ads, please go to:
http://www.leasingnews.org/Classified/Jwanted/Jwanted.htm

Other e-Mail Posting Sites:
http://www.leasingnews.org/Classified/Posting_sites.htm

[headlines]
--------------------------------------------------------------

LEAF Specialty to Vacate Premise by July 31st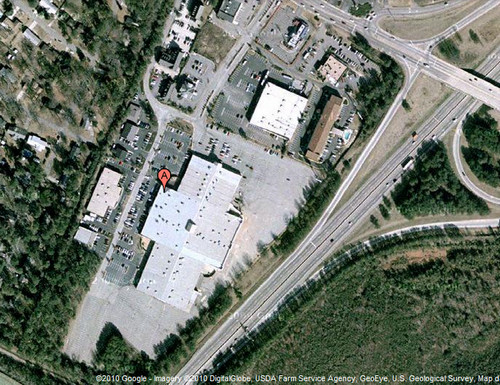 Andrew Weddle, principal/managing partner for HighBridge Properties, Corte Madera, California, told Leasing News that Marketpark Offices owned by Al Said has agreed to a settlement with LEAF Financial on the 21,000 square foot office in Columbia, South Carolina. He credits it as a "win-win" for both sides due primarily to LEAF Financial CFO Robert Moskovitz.
The new tenant will start work Monday with IT and other improvement for 30% of the property. Marketpark Offices plans to lease the remaining 70% within 60 days, speaking to several probably tenants.
In the meantime, Dwight Galloway, LEAF Specialty CEO, continues with the hopes of having a new operation ready to open by August 2, 2010. Accordingly, he is to vacate the premises by July 31st and complete his negotiations and find a new office in the meantime. He was not available at press time for a comment. He remains as an "individual" member of the National Association of Equipment Leasing Association and National Equipment Finance Association.
August 18, 2008:
"LEAF Financial Corporation announces today that it will be consolidating two of its processing centers and transitioning essentially all of its third party operations and servicing to Columbia, South Carolina. This consolidation coincides with the September opening of LEAF's new expanded facility in South Carolina. The new office will provide nearly 20,000 square feet of space and room for over 150 employees dedicated to serving the broker and third party market segment. With the opening of this new facility and business consolidation, LEAF will be phasing out its Santa Barbara, California location. The new location will combine the programs, products, and services of LEAF Third Party Funding (formally the leasing division of Pacific Capital Bank) and LEAF Specialty Finance (formally NetBank Business Finance) under one roof in order to provide third party lease originators an integrated solution for all of their business needs. Dwight Galloway has been promoted and will run the combined operations.
"Although combining operations is the right thing to do from an efficiency standpoint to better serve this market segment, it is personally very difficult to close our Santa Barbara office. The very talented employees, while only a small percent of our overall staff, have been a big part of LEAF's growth and success over the past year," said Crit DeMent, Chairman and CEO of LEAF Financial Corporation. "The opening of our new facility and expansion of our operations in Columbia demonstrates our commitment to the indirect market. While several financial institutions have abandoned this segment in the past several months, LEAF continues to be committed to supporting our valued partners."


[headlines]
--------------------------------------------------------------

Financial Pacific updated Funder List 'A'

A -Accepts Broker Business | B -Requires Broker be Licensed C -Sub-Broker Program | D -"Private label Program" E - Also "in house" salesmen
"FinPac has lowered their best rates by 400 bps to 12%. While our focus is still in our second tier credit niche with appropriate pricing, we are trying to respond to our TPO's (third party originators) needs in that better rate segment. We believe that our historical knowledge and the experience we've gained over the past two years helps us properly identify and price for risk."
Paul J. Menzel, CLP
President & CEO

Funder List "A"
http://www.leasingnews.org/Funders_Only/Funders.htm

[headlines]
--------------------------------------------------------------

Commercial Capital added to "Broker-Lessor" List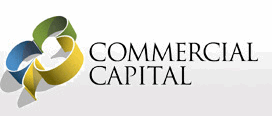 A - City Business License | B- State License | C - Certified Leasing Professional | D - State(s) sales/use tax license |E - Named as "lessor" on 50% or more of lease contract signed. |
"Commercial Capital Company has been in business for over 25 years centrally located in Overland Park, Kansas, a suburb of Kansas City. Throughout our history, we have been known as the company that can get it done."

Click here: Commercial Capital Team:
http://www.ccckc.com/index/About%20Us/p/cat/1552/content/2360?session_id=
4293728eb83bf7ee63635a201a11f9a955aa97ae

Full List "A" Broker-Lessor:
http://www.leasingnews.org/Brokers/broker_Lessor.htm
[headlines]
--------------------------------------------------------------

Leasing 102
by Mr. Terry Winders, CLP
Hiring Sales Personnel
One of the most difficult tasks for the leasing industry is hiring "competent" sales personnel. Some people are eager to work, but lack the skills to be a leasing sales person. Sales require a person who is aggressive, organized, neat, and personable. Sounds funny that I did not say smart or good looking, or even well dressed.
The smartest sales person I ever had work for me was fat, older, and mostly bald headed, But he was one that dressed for his market, enjoyed the people he called on and loved the market because those few industries were passions of his and he loved to talk about the equipment. He became a part of those industries and could discuss it with his customers. He not only knew his customer but much about the equipment they used in their industry.
Always hire someone that has sold before or expect a long ramp-up period. Learning sales is harder than learning leasing. However both can be taught if the person is capable. Most leasing companies try to teach their products and capabilities to their new sales staff but forget that they will face all kinds of competition and need to know leasing in its entirety.
Look for people that have sold equipment in the market you want to penetrate. They usually understand how important it is to know the subject completely and also they can get in to see the decision makers with relative ease because they have been there before. Generally they know the importance of leasing and financing and also know the equipment sales personnel from having been there. They may even have some information on customer needs they would help with your lease structures.
I think hiring sales personnel is made easier or harder by the markets you chose to approach and the equipment cost. Select your target markets that will accept your capabilities and your limitations and then look for sales personnel that fit those markets.
A sales person becomes a liaison between the Lessee and the Lessor. Someone who is a negotiator! Therefore they need to have people skills. Understanding leasing and credit is not enough. Any trained individual can review credit and price a deal, but someone that can sense what a lessee is looking for and can present reasons for accepting your proposal is rare.
Learning to "listen" to the lessee is one of the most important qualities of a successful salesperson. Knowing how to ask leading questions that lead the conversation into the structure that will be acceptable is a conversational talent. Listening to the lessee or the vendor and knowing when they are "over asking" for parameters that are out of reach and redirecting them back to what is possible takes patience. A good salesperson must be able to sell not just to present.
Look for people that are good at explaining a complex subject. Pick something they understand, but you do not, and have them explain it to you. Do not sound like you understand it too quickly and request them to try a different method or way for you to get it. You may even want to challenge their thought process. This will show their talent for listening to your difficulties to understand the subject, and then can they assess how to convince you that they are correct. See how they think out the problem and see if they can handle the presentation with finesse and maintain your good will. Those people that can teach a subject seem to have the listening skills required to learn what it takes to convince a lessee of the benefits of their leasing product.
I know that a good sales person can sell in any market but it is also important that your sales staff have longevity. The slow steady and consistent performer that stays around is preferred to the flash in the pan that produces excellent volume and then moves on. The longer you work with a customer base or a vendor the more stable your company will be and the secret to that is a stale sales staff.
Mr. Terry Winders, CLP, has been a teacher, consultant, expert witness for the leasing industry for thirty years and can be reached at leaseconsulting@msn.com or 502-327-8666.
He invites your questions and queries.
Previous #102 Columns:
http://www.leasingnews.org/Conscious-Top%20Stories/Leasing_102/Index.htm

(This ad is a "trade" for the writing of this column. Opinions
contained in the column are those of Mr. Terry Winders, CLP)

[headlines]
--------------------------------------------------------------

Leasing Industry Help Wanted

Looking for experienced vendor reps. across the country.
A book of business is a plus... Our value proposition
is unmatched in the industry.
contact: mscritchfield@homecoastcapital.com

Please see our Job Wanted section for possible new employees.

[headlines]
--------------------------------------------------------------

Top Stories---July 19-July 23
Here are the top ten stories opened by readers:
(1) U.S. Bancorp Oliver-Allen group Closing Down
http://leasingnews.org/archives/July2010/7_21.htm#bancorp_cutbacks
(2) Correction ---U.S. Bancorp Oliver-Allen group Closing Down
http://leasingnews.org/archives/July2010/7_23.htm#correction
(3) Funder List Up-dated: Bank of the West Leasing
http://leasingnews.org/archives/July2010/7_19.htm#funder_bow
(4) Two More Cases against Allied Health
http://leasingnews.org/archives/July2010/7_19.htm#more_allied
(5) ABCO latest to file against Allied--More to follow?
http://leasingnews.org/archives/July2010/7_21.htm#abco_suit
(6) 7th Bank files against Allied Health Care Services
http://leasingnews.org/archives/July2010/7_23.htm#7bank
(7) Bank Beat---Ex BofA Exec. buy 23 Branches; MI,FL again
http://leasingnews.org/archives/July2010/7_19.htm#bank_beat
(8) US Bancorp Profits Increase—plus Leasing Numbers
http://leasingnews.org/archives/July2010/7_23.htm#bancorp_profits
(9) ZRG Partners—Unemployment is the worst behind us?
Exclusive to Leasing News
http://leasingnews.org/archives/July2010/7_23.htm#zrg
(10) Key Corp Starts to Control Leasing Portfolio
by Christopher Menkin
http://leasingnews.org/archives/July2010/7_23.htm#key_corp

[headlines]
--------------------------------------------------------------

The Famous Leasing News "The List" ---June
Synopsis:

U.S. Bank Manifest Funding Services, Marshall, Minn. (06/10) More cuts (06/10) Division changes, executives being moved to vendor side, brokers staff being cutback, brokers being informed on new requirements, many to be dropped.
GCR Capital, Safety Harbor, FL (06/10) Receives Bulletin Board Complaint not paying broker since January.
LEAF Financial (Philadelphia, PA (06/10) Having trouble with Columbia, South Carolina landlord regarding 21,000 square foot lease (06/10) Receives modified, lower line of credit.
Full Listing: Chronological:
http://www.leasingnews.org/list_chron_new.htm
Full Listing: Alphabetical
http://www.leasingnews.org/list_alpha_new.htm
[headlines]
--------------------------------------------------------------

Bank Beat----103 Bank Failures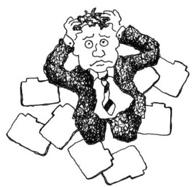 The pace of bank failures continues faster than last year at this point when it reported 64 bank failures. At this date, 2010, it now stands at 103.
The 100th bank to fail this year was accepted into the national banking group January 28, 1903, became part of the FDIC program when President Roosevelt started this program January 1, 1934 and when closed had 18 full time employees. They had opened their second branch 1917 in Hunter, Kansas.
The two branches of Thunder Bank, Sylvan Grove, Kansas were closed with The Bennington State Bank, Salina, Kansas, to assume all of the deposits.
According the Sylvan Grove Historic Society, "On March 4, 1892, eleven men met for the purpose of organizing a bank at Sylvan Grove. The capital stock of Five Thousand Dollars was subscribed and the name of the bank selected. On April 7, 1892, the Sylvan State Bank opened for business. It was a little wooden building located one block north of the tracks on the west side of main street. On November 12, 1894, the Sylvan State Bank was involved in an event that has survived the decades to become a legend – the first attempt to rob a bank in Lincoln County. An armed bandit robbed the bank, but upon his attempted getaway, was shot and killed by the bank cashier. Two accomplices on horseback managed to get away. All of the stolen money was recovered on the dead man.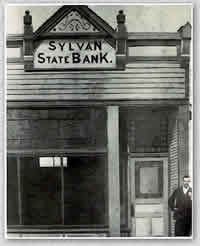 "In 1912, a new brick bank was built with office rooms and then later the city library upstairs. This building, although renovated and expanded, still houses the bank in Sylvan Grove today."
http://www.sylvangroveks.com/history.htm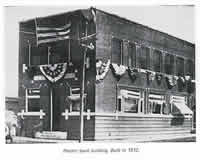 2000 census states there were 324 people, 157 households, and 88 families living in Sylvan. The median income for a household in the city was $27,188, and the median income for a family was $36,375. 96% White Non-Hispanic (Ancestries: German (37.7%), English (11.7%), French (9.6%), Irish (8.0%), French Canadian (4.6%), Swedish (4.3%).
Over two-thirds of the businesses on the main street are located in limestone buildings.
As of March 31, 2010, Thunder Bank had approximately $32.6 million in total assets and $28.5 million in total deposits. The bank equity was $2 million, going from $3.3 million March 31, 2009, losing $200,000 the period before and $759,000 March 31, 2010 with $586,000 in non-current loans after a charge off of $195,000 ( $71,000 in construction and land development, $122,000 1-4 multifamily residential property, and $2,000 in loans to individuals. Tier 1 risk-based capital ratio 3.19%. The bank was considered to specialize in agricultural loans.
The FDIC estimates that the cost to the Deposit Insurance Fund (DIF) will be $4.5 million.
http://www.fdic.gov/news/news/press/2010/pr10166.html

SouthwestUSA Bank, Las Vegas, Nevada was closed with Plaza Bank, Irvine, California, to assume all of the deposits.
When it opened May, 2001, it was Peter Kingman's "vision" to have a "private banking services for elite clients...to serve the ever-growing affluent population in Southern Nevada...Unlike other banks, SouthwestUSA Bank has no teller windows or lines. Entering the bank foyer, clients encounter a beautifully appointed lobby with an aquarium and a large, wall-mounted flat-screen television tuned to the business and financial market news of the day. Once the client's desired banking services are ascertained, meetings take place in a one-on-one conference room where a personal banking officer negotiates the desired transaction or banking service for the client. The system is designed to provide personalized service with absolute discretion. An additional unique amenity at the bank is a full-service, professional kitchen. It is designed to prepare refreshments for clients during routine visits or scheduled meetings, and also to provide for special events at the bank, such as financial planning seminars."
http://www.nevadabusiness.com/issue/0901/8/204
As of March 31, 2010, SouthwestUSA Bank had approximately $214.0 million in total assets and $186.7 million in total deposits. The bank had 33 full time employees.
Equity had dropped from $21.5 million to $9 million following a $3.6 million loss March 31, 2009 to a $866,000 loss March 31, 2010 but with $47.5 million in non-current loans. The FDIC and Plaza Bank entered into a loss-share transaction on $111.3 million of SouthwestUSA Bank's assets. Tier 1 risk-based capital ratio 4.68%.
The FDIC estimates that the cost to the Deposit Insurance Fund (DIF) will be $74.1 million.
http://www.fdic.gov/news/news/press/2010/pr10168.html

The five branches of Home Valley Bank, Cave Junction, Oregon, were closed with South Valley Bank & Trust, Klamath Falls, Oregon, to assume all of the deposits. The bank was founded August 15, 1980 in Cave Junction, then in 1994 opened their first branch in Grants Pass, another in 1998, a third in 2004 and a fourth in 2007.
"Oregon's smaller commercial banks loaned heavily to residential real estate developers during the boom and paid a heavy price when the housing industry fell into disarray, "Jeff Manning wrote for the Oregonian. "With the exception of Central Oregon, Home Valley's home turf of Josephine and Jackson counties has suffered some of the steepest housing value declines and highest foreclosure rates in the state.
He notes, "Seven other Oregon banks are also operating under orders from regulators to boost their capital or otherwise improve operations: PremiereWest Bancorp of Medford; Albina Community Bancorp of Portland; Liberty Financial Group, parent of Liberty Bank of Eugene; Pacific West Bank of West Linn; Cascade Bancorp in Bend; Merchants Bancorp in Gresham; and Columbia Community Bank of Hillsboro. "
Home Valley Bank had 59 full time employees when they closed following a $403,000 loss March 31, 2009 and a $457,000 profit March 31, 2010, plus had reduced their non-current loans from $18.5 million to $12.8 million with $633,000 charge offs in real estate ( $621,000 construction and land development.) Bank equity had gone done from $17.4 million March 31, 2009 to $12.4 million March 31, 2010. Tier 1 was above the 5% goal at 6.70%. Among recent banks that were closed, this one appears healthy by the numbers and may have been more a management issue or perhaps geographical decision.
As of March 31, 2010, Home Valley Bank had approximately $251.80 million in total assets and $229.6 million in total deposits. South Valley Bank & Trust will pay the FDIC a premium of 1.05 percent to assume all of the deposits of Home Valley Bank.
The FDIC estimates that the cost to the Deposit Insurance Fund (DIF) will be $37.1 million.
http://www.fdic.gov/news/news/press/2010/pr10169.html

As in a community fresh water fish tank, the first that grow larger than the small fish eat the smaller fish and become larger.

The six branches of Sterling Bank, Lantana, Florida, were closed with IBERIABANK, Lafayette, Louisiana, to assume all of the deposits.
For Iberiabank, this marks its third failed bank acquisition in Florida. In November, it acquired the assets and 34 branches of Sarasota-based Century Bank and Naples-based Orion Bank. The $8.7 billion-asset Iberiabank now has 220 offices in 12 states. The company said it now has $3 billion in deposits and 42 offices in Florida and should rank 20th in the state in deposits.
Sterling Bank was the fifth-largest bank chartered in Palm Beach County. As of March 31, 2010, Sterling Bank had approximately $407.9 million in total assets and $372.4 million in total deposits. The bank had 64 full time employees.
The net equity had gone from $27.6 million March 31, 2009 to $5.1 million with $30.1 million in non-current loans. The bank had lost $1.97 million the previous period and $5.47 million March 31, 2010 with charge offs of $3.3 million, all in real estate ($2.5 million construction and land development, $500,000 in 1-4 multifamily residential property, $332,000 in nonfarm nonresidential property. Tier 1 risk-based capital ratio 3.26%.
The FDIC and IBERIABANK entered into a loss-share transaction on $244.3 million of Sterling Bank's assets.
The FDIC estimates that the cost to the Deposit Insurance Fund (DIF) will be $45.5 million.
http://www.fdic.gov/news/news/press/2010/pr10163.html

The 11 branches of Crescent Bank and Trust Company, Jasper, Georgia were closed with Renasant Bank, Tupelo, Mississippi, to assume all of the deposits.
As of March 31, 2010, Crescent Bank and Trust Company had approximately $1.01 billion in total assets and $965.7 million in total deposits. Renasant Bank will pay the FDIC a premium of 1.0 percent to assume all of the deposits of Crescent Bank and Trust Company. In addition to assuming all of the deposits of the failed bank, Renasant Bank agreed to purchase essentially all of the assets.
According to the Atlanta Journal-Constitution Newspaper, "Crescent was a heavy lender to subdivision developers, strip retail centers and builders of vacation homes. From 2004 to 2008, Crescent doubled in size from $500 million in assets to $1 billion, fueled by a diet of real estate development loans.
"Problems started in 2007 with the collapse of the housing market."
From the March 31, 2009 period to March 31, 2010 the bank had gone from 186 full time employees to 169, net equity had diminished from $56 million to $12.3 million after a loss of $4.7 to a loss of $13.2 with $112.6 million in non-current loans and a charge off of $12.8 million ($9.7 million construction and land development, $1.4 million in 1-4 multifamily residential property, $736,000 multifamily residential property, and $611,000 in non-farm non-residential property, as well as $233,000 in commercial and industrial loans. Tier 1 risk-based capital ratio 1.52%.
The FDIC and Renasant Bank entered into a loss-share transaction on $617.4 million of Crescent Bank and Trust Company's assets. Renasant Bank will share in the losses on the asset pools covered under the loss-share agreement.
The FDIC estimates that the cost to the Deposit Insurance Fund (DIF) will be $242.4 million.
http://www.fdic.gov/news/news/press/2010/pr10164.html

The five branches of Williamsburg First National Bank, Kingstree, South Carolina were closed with First Citizens Bank and Trust Company, Inc., Columbia, South Carolina, to assume all of the deposits. The bank had 46 full time employees. First Citizens bought another failed bank in September, Georgian Bank of Atlanta.
As of March 31, 2010, Williamsburg First National Bank had approximately $139.3 million in total assets and $134.3 million in total deposits. First Citizens Bank and Trust Company, Inc. will pay the FDIC a premium of 0.5 percent to assume all of the deposits of Williamsburg First National Bank. In addition to assuming all of the deposits of the failed bank, First Citizens Bank and Trust Company, Inc. agreed to purchase essentially all of the assets.
Bank net equity had dropped from $12.8 million March 31, 2009 to $2.27 million March 31, 2010 following a $2.2 million loss, $13.2 million non-current loans and $3.5 Million charge off ($1.6 million construction and land development, $598,000 1-4 multi-family residential property, $1.199 million secured by non-residential non-farm property. Tier 1 risk-based capital ratio 3.02%.
The FDIC and First Citizens Bank and Trust Company, Inc. entered into a loss-share transaction on $64.4 million of Williamsburg First National Bank's assets.
The FDIC estimates that the cost to the Deposit Insurance Fund (DIF) will be $8.8 million.
http://www.fdic.gov/news/news/press/2010/pr10165.html
Community Security Bank, New Prague, Minnesota was closed with Roundbank, Waseca, Minnesota, to assume all of the deposits. As of March 31, 2010, Community Security Bank had approximately $108.0 million in total assets and $99.7 million in total deposits. Roundbank will pay the FDIC a premium of 0.89 percent to assume all of the deposits of Community Security Bank.
They had 23 full time employees with bank equity going from $9.9 million March 31, 2009 to $3.37 million March 31, 2010, following a $653,000 loss the previous time period and $1.8 million March 31, 2009 with $20.4 million in non-current loans. Tier 1 risk-based capital ratio 2.12%
The FDIC estimates that the cost to the Deposit Insurance Fund (DIF) will be $18.6 million.
http://www.fdic.gov/news/news/press/2010/pr10167.html

List of Bank Failures:
http://www.fdic.gov/bank/individual/failed/banklist.html
Bank Beat:
http://www.leasingnews.org/Conscious-Top%20Stories/Bank_Beat.htm
((Please Click on Bulletin Board to learn more information))
(Leasing News provides this ad "gratis" as a means
to help support the growth of Lease Police)
[headlines]
--------------------------------------------------------------

Housing and Banks and Equipment Leasing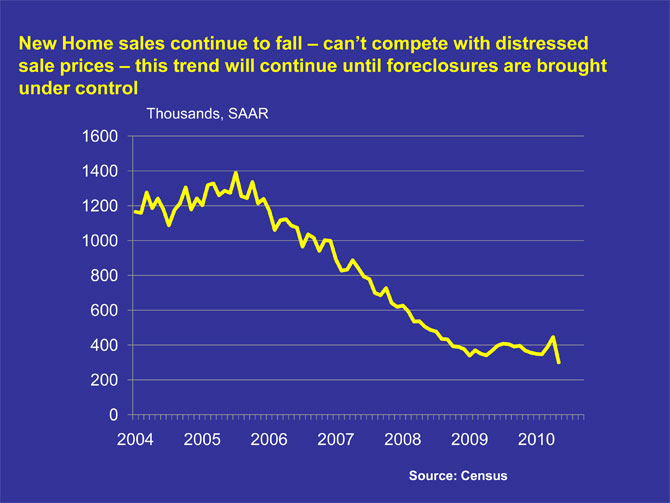 The dots connect from the housing marketplace to banks and involve equipment leasing as one of the industries affected. From writing the Bank Beat column every Monday, and also seeing the news from the bank trade publications, the construction and land development has taken a very large hit. In almost all the bank failures, the huge write offs and non-current loans fall into this category. A survey recently found 80% of the regional and small banks out of this market place. Driving down the street and seeing a sign that says, "Construction Financing by First National" is rare today.
One reason is the "take out" loan being available, another is the interim financing not be available, and thus the construction industry is down, one of the largest numbers of activity in the Equipment Leasing and Finance Industry monthly report. This in turn affects employment, property values for schools, taxes for cities and counties and states, and gives many business fear about spending cash or extending credit to expand their business.
In addition, it takes away a profit center from smaller banks that are being squeezed out of other products by the very large banks and their pricings as well as products.
According to Al Schuler, who Leasing News has been quoting for almost ten years as the US Agriculture forecaster, involved in wood products ( the key to understanding construction of new houses and commercial property), new housing will continue to fall not only due to mortgage money available, but the over building of homes in many areas of the United States:

"Regionally new housing starts were weak everywhere: the northeast was off 11.3%; Midwest was off almost 7%; the south was off 2.4% 5 and the west was down 5.9%.
He predicts new home construction will continue to fall, particularly without tax stimulus or other government incentives.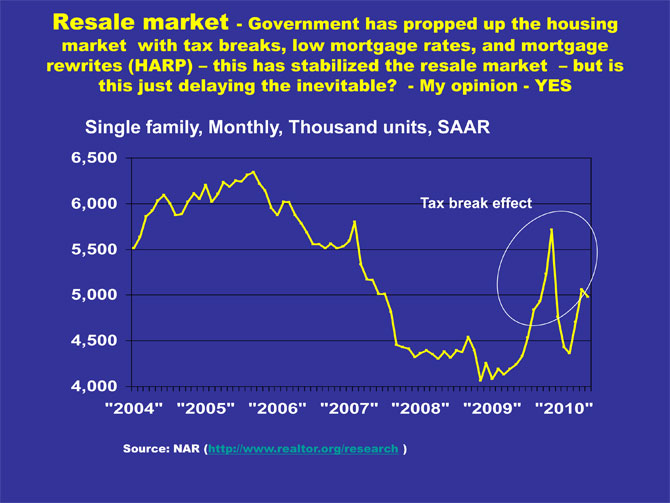 "Although we have a number of difficult problems facing the economy, there are two "elephants" that will hold back the economy for an extended period of time.

"(1) Debt - which exists at both the government level (federal, and state), and the private sector, particularly individual citizens. Those sectors that don't have access to "printing presses" ( i.e., you and me), are deleveraging or paying off debt.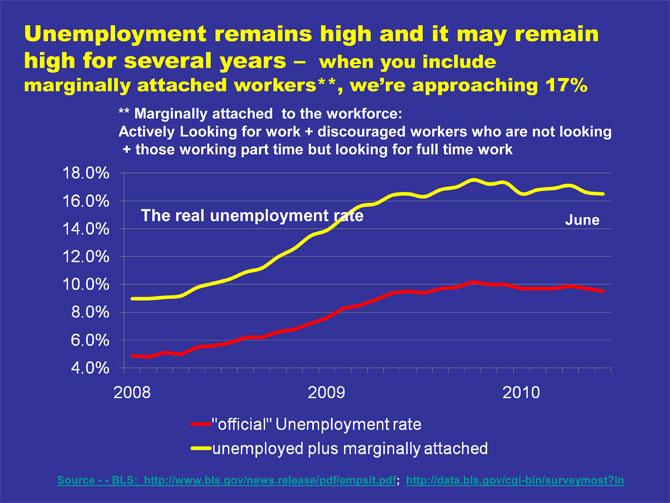 "2) Jobs - the job market is stabilizing 5 but consider these alarming numbers:
14 million remain unemployed -
8.6 million working part time, but want full time jobs -
3.8 million discouraged so not counted
Total = 26 million - 18% of the workforce
Both the debt problems and the weak job market will continue to impact consumer spending ( 70% of the economy) including housing expenditures. An indicator of consumer spending is confidence that too is feeling the impact of the weak job market.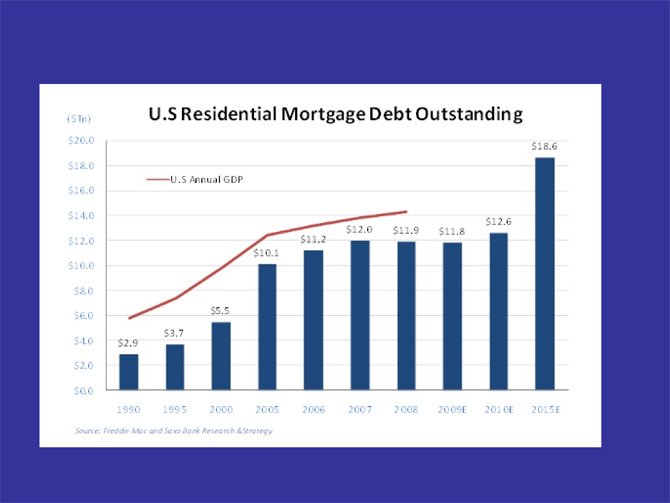 "Another set of issues the mortgage market, foreclosures, and housing supply:
--The mortgage market is in a state of disarray to put it mildly 95% of the mortgages written, held, or insured in the past 24 months were by the GSE's ( Fannie, Freddie, etc.). They hold/insure about 53% of all residential mortgages here in the USA. Fannie and Freddie have an enormous amount of debt, and by the way, they were placed in conservatorship two years ago ( i.e, insolvent).
--Foreclosures will continue to be a problem 24% of U.S. mortgages are underwater."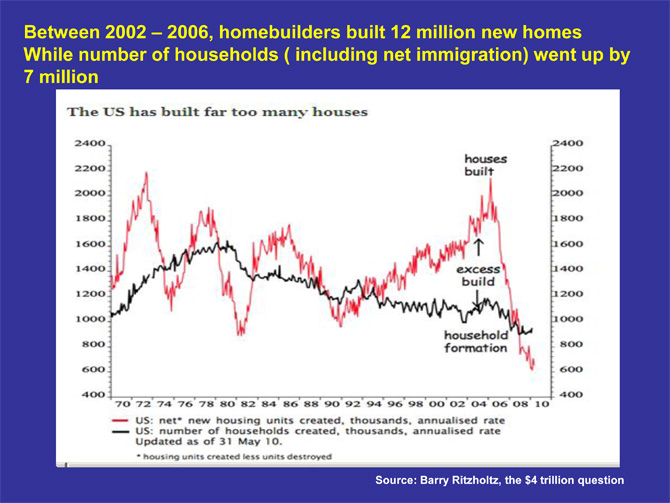 "--- We built too many homes over the past decade according to some analysts, this one included. If you compare houses built ( net of houses torn down) with household formations, beginning in the early 1990's, we probably built about 4 million excess homes. E.g., between 2002 and 2006, we built 12 million new homes while the number of households went up by 7 million.
"If you subtract about 1 million destroyed (beyond economic life, etc.), the "net" is 11 million new supply compared with 7 million (household formations) demand: 11 million 7 million = 4 million excess supply."

The question is does this mean Florida, Arizona, Nevada, and California or areas hardest hit by unemployment, such as Michigan, or suburban areas from larger population areas that were at one time expanding and today are not.
Or is this a trend for home re-modeling or tearing down old homes or just abandoning them, which are happening in areas of Illinois and Michigan.
[headlines]
--------------------------------------------------------------

Glendale, California--Adopt-a-Dog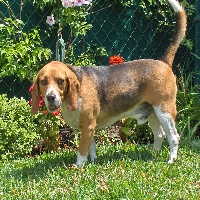 SPENCER - Male, Beagle
Available: NOW
"Spencer is your typical handsome, forty pound, five year old Beagle. He was turned in by a local family. They were moving out of the country and could not take him with them. Spencer is affectionate, comical, and keeps his nose to the ground. He would do best in an adult home or with a family with older children"

Adoption Procedure:
http://www.glendalehumane.org/adopt.html

Glendale Humane Society
717 West Ivy Street
Glendale, California 91204
Phone: 818-242-1128
Fax: 818-242-4565
Email: glenspca@earthlink.net
Website: www.glendalehumane.org/
Adopt-a-Pet by Leasing Co. State/City
http://www.leasingnews.org/Conscious-Top%20Stories/Adopt_Pet.htm

Adopt a Pet
http://www.adoptapet.com/
[headlines]
---------------------------------------------------------------



News Briefs ---


BP chief Tony Hayward 'set to stand down'
http://www.bbc.co.uk/news/business-10757751
LEAF Financial Announces expansion of capital
http://pr-usa.net/index.php?option=com_content&task=view&id=442976&Itemid=28


You May have Missed---
Naked Cowboy Slaps Leather at Naked Cowgirl
http://www.courthousenews.com/2010/07/23/29080.htm


California Nuts Briefs---

40,283 of our neighbors are in mortgage limbo
http://www.contracostatimes.com/top-stories/ci_15590329?nclick_check=1
California Chardonnay With a French Accent
http://www.businessweek.com/lifestyle/content/jul2010/bw20100722_042092.htm
Dan Berger: Blended reds are back in style
http://www.pressdemocrat.com/article/20100721/LIFESTYLE/100719572
Chianti Classicos With an Identity Crisis
http://events.nytimes.com/2010/07/21/dining/reviews/21wine.html?ref=dining

Free Mobile Wine Program
http://leasingnews.org/archives/Feb2010/2_26.htm#mobile
Wine Prices by vintage
http://www.winezap.com
http://www.wine-searcher.com/
US/International Wine Events
http://www.localwineevents.com/
Winery Atlas
http://www.carterhouse.com/atlas/\
Leasing News Wine & Spirits Page
http://two.leasingnews.org/Recommendations/wnensprts.htm

[headlines]
----------------------------------------------------------------
This Day in American History
1526 - The Spaniard Lucas Vasquez de Ayllon and his colonists left Santo Domingo in the Caribbean for Florida.
1559 - The French relinquished Fort Ticonderoga in New York to the British under General Jeffrey Amherst.
1579 - Francis Drake left SF to cross Pacific Ocean.
1603- James VI of Scotland was crowned King James I of England. He then 'authorized' an English translation of the Scriptures, first published in 1611 and known since as the' King James Version' of the Bible. It brought more interest in "religious freedom." His reign brough Europeans to the new world, where less than 10% of the native population survived, once they had started to settle the new land. In 1600, the Indian population of what was to become the U.S. was about 1,000,000 when European exploration began. They were tall, healthy, hunters, farmers, had wooden houses and large leather teepees. In the beginning, some of the earliest pioneers, as at Jamestown, VA were adventurers, interested more in making a quick fortune form the alleged riches of the New World than in engaging in agriculture or forestry. In later years, through a greater diversity of settlers arrived, and brought with them a variety of skills. They ranged form wealthy Englishmen, who wanted to carve out large estates, to servants. Merchants saw the opportunity for trade as populations grew. Groups seeking religious freedom were also prominent, bringing with them a tradition of had work and a willingness to start anew (an example of the social position of the first settlers comes from the fact that among the male settlers of Jamestown, VA., the first permanent English settlement in America, of the 105 men, 35 were considered gentlemen, persons who means freed them from the need to work or engage actively in trade. The second expedition to Jamestown contained 33 gentlemen out of 120.
1775-Benjamin Franklin was appointed the first Postmaster General. He had served the crown as deputy postmaster at Philadelphia, PA, form 1737 to 1753, and as deputy postmaster general for the colonies from 1753 to 1774.
1788-New York became the 11 th state to ratify the Constitution.
(Lower half of: http://memory.loc.gov/ammem/today/jul26.html )
1835-The first sugar cane plantation started in Hawaii
1847-American Black Joseph Jenkins Roberts declared Liberia, formerly a colony of the American Colonization Society, an independent republic.(Liberia and its independence was the subject of my University High School English Semester Report. Do you remember yours?)
http://memory.loc.gov/ammem/today/jul26.html
1860 -- Emperor Norton in San Francisco dissolved the United States:
"NOW, THEREFORE, WE, Norton I, by the Grace of God Emperor of the Thirty-three states & the multitude of Territories of the United States of America, do hereby dissolve the Republic of the United States, & it is hereby dissolved; & all laws made from & after this date, either by the National Congress or any State Legislature, shall be null & of no effect.
All Governors, & all other persons in authority, shall maintain order by enforcing the heretofore existing laws & regulations until the necessary alterations can be effected. Given under our hand & seal, at Headquarters, San Francisco, this 26th day of July, 1860."
1863- Confederate General John Hunt Morgan was ordered to invade Kentucky He was to direct and draw General William S. Rosecrans' army from Tennessee. But Morgan went farther than he was ordered. He led a group of volunteer cavalrymen, raiding public property, burning bridges, taking horse, and captured railroad supplies. They also caused severed losses among the Union Troops and Morgan Raiders were feared wherever they went. While he never commanded more than 4,000 men, it is said he captured as many as 15,000 Union soldiers. He was a maverick. He had not followed orders and began harassing (some say plundering homes, others say they were Union sympathizer's homes) in Tennessee and Ohio, going in the opposite direction, actually into "enemy territory. "He was captured this day with 364 of his men at New Lisbon, Ohio. He had broken through the federal lines in Kentucky and crossed the Ohio River into Indiana. Used to lighting raids and use of his cavalry, a flood caused the river to rise. He could not find a way to return to Confederate territory. He was imprisoned in the Columbus, Ohio Penitentiary. It did not hold him long. He escaped the next November, continuing his many his raids. He finally made it to Kentucky, in June, 1864, where Union troops were no very strong. He was caught and defeated, but with his fast Calvary, out ran the Union troops, and regrouped. He then went to Greenville, Tennessee, which now was also in Union hands, where he was killed in battle, September, 1864.
1865- Patrick Francis Healy is first black awarded PhD (Louvain Belgium)
1875-Windstorm (possibly a tornado) rips through Erie, PA killing 134 and doing $500,000 damage
1875 -Black Bart, a poet with a fondness for Wells Fargo, robs his first stagecoach, the Sonora to Milton stage, in Calaveras County, California — the same stage line he targets in his last heist (his 29th) in 1883.
"I've labored long & hard for bread,
For honor & for riches,
But on my corns too long you've tread
You fine-haired sons of bitches."
1890-Powerful F3 tornado raked Lawrence, MA at 9:10 am, killing 8 and injuring 63. The storm destroyed 35 homes and damaged 60. Storms of this strength and occurring at this early hour are very rare in New England.
1892-Birthday of Pearl S Buck US, novelist (The Good Earth)
1902-birthday of trumpet player Gus Aiken, Charleston, SC.
1902--- (1896), birthday of Gracie Allen - U.S. comic. GA was the Allen of the highly popular comedy team of Burns and Allen. Gracie took no part in the writing or promotion of the comedy, preferring her home and children. Her comedic delivery was impeccable, and the duo retained high popularity, but she got tired of the airhead with the twisted logic that she was forced to portray - although she continued to do it so very well. It was totally different from her own personality. Her right arm had been badly scalded when she was a child, and she always wore long sleeves.
1907 - The first turbine-propelled ship was launched. The speedy vessel was named "Chester" and was built for the U.S. Navy.
1914-birthday of bandleader Erskine Hawkins, Birmingham, Al1918- Race riot in Philadelphia (three whites and one black are killed)
1922-Birthday of Jason Robards, a staple on the American stage and screen for six decades. Robards was born at Chicago, IL., and was a decorated World War II veteran. He won the Oscar for Best Supporting Actor tow years in a row for 1976's "All the President's Men" and in 1977s "Julia." His most famous stage roles were in the plays of Eugene O'Neill, including " The Iceman Cometh" and "Long Day's Journey into Night." Saw him in both. He was outstanding. O'Neil in "The Iceman Cometh" calls for a rotund salesman, but Robards was extremely convincing, even mesmerizing in this very long play about a salesman who has become sober and visits his favorite bar to bring reality, but only wakes up the demons, including in himself. He won the Tony Award in 12959 for his portrayal of a fictionalized F. Scott Fitzgerald in The Disenchanted. Played many key roles in files, such as The Philadelphia Story. He died in Bridgeport, CT, December 26, 2000.
1922-birthday of guitarist Charles Walker, Macon, GA
1924-Drummer Louis Bellson Birthday
1926-National Bar Association incorporates
1928- American film writer and producer Stanley Kubrick, born at the Bronx, NY. Kubrick started out in photography at the age of 16 with Look magazine. His first film, Day of the Fight, produced in 1950, was a documentary of his photo series about fighter Walter Cartier. His film credits include Dr. Strangelove, Full Metal Jacket and 2001: A Space Odyssey. Eyes Wide Shut, Kubrick's final film, was released posthumously in the summer of 1999.He died at London, England, Mar 7,1999.
1929-birthday of drummer Charles Persip, Morristown, NY.
1932-Billy Banks's Rhythmakers ( Red Allen, PeeWee Russell, Fats Waller ) records " Mean Old Bed Bug Blues."
1937-birthday of Al Banks ( the Turbans), Philadelphia, PA1938-birthday of pianist Joanne Brackeen, Ventura, CA.
1939 - Sixteen-year-old singer Kay Starr got a big break. She recorded "Baby Me" with Glenn Miller and his orchestra on Victor Records. Starr was filling in for Marion Hutton who, at the last minute, was unable to attend the recording session.
1942 - Judy Garland joined Gene Kelly to record "For Me and My Gal" for Decca Records. The song is featured in the movie of the same name.
1942 - About 400 miles southeast of Fiji, the American aircraft carriers Wasp, Enterprise and Saratoga rendezvous with the invasion force for Guadalcanal. It is the most powerful force the US Navy has yet assembled in the Pacific.
1942 - Actor Gene Autry is sworn into the Army Air Corps on the air, during his regular radio show, Gene Autry's Melody Ranch. He served as an officer until 1945, when he resumed his show.
1943-Birthday of Michael Phillip (Mick) Jagger, lead singer of the Rolling Stones since their beginning in 1962, was born in Dartford, England. The Stones began billing themselves as the greatest rock 'n' roll band in the world in the late '60s, and few denied the potency of their blend of blues, R'n'B and teen rock. Their manager, Andrew Loog Oldham, promoted them as the bad boys of British rock - the opposites of the clean-cut Beatles. And Jagger was portrayed as a leering, satanic figure. The Stones' number-one records in the '60s included "Satisfaction," "Get Off My Cloud" and "Time Is On My Side." The Stones survived the departure and subsequent death of guitarist Brian Jones in 1969. In fact, this and other notorious incidents, including a rumored liaison with Margaret Trudeau in 1978, seemed to enhance the Stones' following. The group continued to hit the charts into the 1980's, with such hits as "Start Me Up" and "Harlem Shuffle." Mick Jagger's duet with Tina Turner was one of the highlights of the 1985 Live-Aid concerts. He is still touring today, more magnificent then ever. Whenever I go to his concerts, I get third or four row. You pay a premium with a broker, but it is an event you will never forget as the band gives you every dollar's worth in their performance and show.
1943- Gene Autry, the world's most famous singing cowboy, joined the US Army Air Corps. Autry flew cargo and supply planes over enemy territory in the Middle and Far East.
1943-Record high for the state of Oklahoma set at Tishomingo with 120.
1944--WILSON, LOUIS HUGH, JR. Medal of Honor
Rank and organization: Captain, U.S. Marine Corps, Commanding Rifle Company, 2d Battalion, 9th Marines, 3d Marine Division. Place and date: Fonte Hill, Guam, 25-26 July 1944. Entered service at: Mississippi. Born: 11 February 1920, Brandon, Miss. Citation: For conspicuous gallantry and intrepidity at the risk of his life above and beyond the call of duty as commanding officer of a rifle company attached to the 2d Battalion, 9th Marines, 3d Marine Division, in action against enemy Japanese forces at Fonte Hill, Guam, 25-26 July 1944. Ordered to take that portion of the hill within his zone of action, Capt. Wilson initiated his attack in mid-afternoon, pushed up the rugged, open terrain against terrific machinegun and rifle fire for 300 yards and successfully captured the objective. Promptly assuming command of other disorganized units and motorized equipment in addition to his own company and 1 reinforcing platoon, he organized his night defenses in the face of continuous hostile fire and, although wounded 3 times during this 5-hour period, completed his disposition of men and guns before retiring to the company command post for medical attention. Shortly thereafter, when the enemy launched the first of a series of savage counterattacks lasting all night, he voluntarily rejoined his besieged units and repeatedly exposed himself to the merciless hail of shrapnel and bullets, dashing 50 yards into the open on 1 occasion to rescue a wounded marine lying helpless beyond the frontlines. Fighting fiercely in hand-to-hand encounters, he led his men in furiously waged battle for approximately 10 hours, tenaciously holding his line and repelling the fanatically renewed counterthrusts until he succeeded in crushing the last efforts of the hard-pressed Japanese early the following morning. Then organizing a 17-man patrol, he immediately advanced upon a strategic slope essential to the security of his position and, boldly defying intense mortar, machinegun, and rifle fire which struck down 13 of his men, drove relentlessly forward with the remnants of his patrol to seize the vital ground. By his indomitable leadership, daring combat tactics, and valor in the face of overwhelming odds, Capt. Wilson succeeded in capturing and holding the strategic high ground in his regimental sector, thereby contributing essentially to the success of his regimental mission and to the annihilation of 350 Japanese troops. His inspiring conduct throughout the critical periods of this decisive action sustains and enhances the highest traditions of the U.S. Naval Service.
1944- During WWII this day the US Army ordered desegregation of its training camp facilities. Later the same year black platoons were assigned to white companies in a tentative step toward integration of the battlefield. However, it was not until after the War—July 26, 1948—that President Harry Truman signed an order officially integrating the armed forces.
1945-The U.S. Cruiser Indianapolis arrived at Tinian Island in the Marianas with a deadly cargo. Aboard were the makings of the atomic bomb. On the island waited scientists prepared to complete the assembly.
1947-President Truman signed legislation unifying the two branches of the armed forces into the Department of Defenses. The branches merged were the war Department (Army) and the Navy. The Air Force was separated from the Army at the same time. Truman nominated James Forrestal to be the first Secretary of Defense. The legislation also provided for the National Security Council, the Central Intelligence Agency and the Joint Chiefs of Staff.
1947 - President Harry S. Truman signs the National Security Act, which becomes one of the most important pieces of Cold War legislation. The act established much of the bureaucratic framework for foreign policymaking for the next 40-plus years of the Cold War. By July 1947, the Cold War was in full swing. The United States and the Soviet Union, once allies during World War II, now faced off as ideological enemies.
1948— President Harry S. Truman signed an executive order officially integrating the armed forces.
1948 The first black host of a network show-CBS' Bob Howard Show.
1948-- The Bambino makes his final public appearance at the New York premiere of The Babe Ruth Story. The Sultan of Swat will die three weeks later.
1949 - No. 1 Billboard Pop Hit: "Some Enchanted Evening," Perry Como.
1952-Bob Mathias of the US won the decathlon at the 2953 Summer Olympics in Helsinki, Finland, to become the first athlete to win the Olympic decathlon twice. His first victory came in the 1948 London Games. Daley Thompson of Great Britain equaled Mathias's feat in 1980 and 1984.
1953-Fidel Castro with his Revolutionary Army leads attack on Moncada Barracks to take over Cuba, today known as the " 26 th of July Movement." The "recognition" of Cuba is perhaps the last remains of the "Cold War" with the so-called communist form of government, which appears to be more of a "dictatorship."
1951---Top Hits
Too Young - Nat King Cole
My Truly, Truly Fair - Guy Mitchell
Mister and Mississippi - Patti Page
I Wanna Play House with You - Eddy Arnold
1952- "Half As Much" by Rosemary Clooney topped the charts and stayed there for 3 weeks.
1955- Count Basie records "April in Paris." ( One more "once!" )
1959---Top Hits
Lonely Boy - Paul Anka
A Big Hunk o' Love - Elvis Presley
My Heart is an Open Book - Carl Dobkins, Jr.
The Battle of New Orleans - Johnny Horton
1960-Salt Lake City UT soars to all-time record of 107
1960--Sam Cooke's "Chain Gang" is released.
1963- Bob Dylan appeared at the Newport Folk Festival, where he sang "Blowin' in the Wind." Dylan had written the song in April 1962. "Blowin' in the Wind" became the unofficial anthem of the civil rights movement - and a hit for Peter, Paul and Mary.
1963--Record high of 96 at Eastport, ME.
1963-Motown Records release "Mickey's Monkey" by Smokey Robinson & the Miracles. It peaks at number three on the R&B charts and number eight on the pop chart.
1964- Teamsters President Jimmy Hoffa convicted of fraud and conspiracy.
1965- Beach Boys drummer Dennis Wilson marries Carol Freedman, the first of what would be four wives, in Los Angeles.
1966 -The Temptations' dance and show at the San Francisco Fillmore Auditorium. I was there with my late, great friend Acklin Thibeaux (May he rest in Peace.)
1967---Top Hits
Windy - The Association
Can't Take My Eyes Off You - Frankie Valli
Light My Fire - The Doors
With One Exception - David Houston
1968 - John Lennon and Paul McCartney complete "Hey Jude" during a writing session at Paul's home. The song hits No. 1 in the U.S. a month later.
1968- The Jackson 5, discovered by Motown mainstay Gladys Knight (not, as legend has it, Diana Ross), signs to the label today for a one-year contract.
1968- Jeannie C. Riley records her number one hit: "Harper Valley P.T.A."
1968-The Rolling Stones album "Beggar's Banquet" has its release delayed because of their record label's objection to the album's cover design, which featured a graffiti-covered bathroom wall. Mick Jagger was furious. It was the first album on which Jagger played guitar.
1969 - Mick Jagger of The Rolling Stones celebrated his 26th birthday with the release of the album, "Beggar's Banquet". It was the first time that Jagger's guitar playing had been featured on any of the Stone's records.
1969 - Elvis Presley opens his first live engagement in nearly eight years. Las Vegas, Nev.
1969- The Rolling Stones' founding member and guitarist Brian Jones, found dead in his swimming pool just weeks earlier, is memorialized on the cover of Rolling Stone magazine.
1970-The San Francisco Chronicle received a letter from the Zodiac killer with an unsubstantiated claim of killing 13 people. The case was never solved, and is still considered "open." Speculation is he was killed in a car accident or committed to a mental institution as reasons he was never heard from again (no one knows.)
1970 - Home runs came in triplicate. Johnny Bench of the Cincinnati Reds belted three home runs against the St. Louis Cardinals, and Orlando Cepeda of the Atlanta Braves launched a trio of homers in a game with the Chicago Cubs.
1972 - No. 1 Billboard Pop Hit: "Alone Again (Naturally)," Gilbert O'Sullivan.
1974-John Denver earns a gold record for his all-time biggest hit, "Annie's Song." The song was written about his wife, who later divorced him.
1974- London graffiti artists hired by the Rolling Stones' management spray paint various local sites as promotion for the groups' latest single, "It's Only Rock And Roll."
1975-Nat King Cole's daughter, Natalie, debuts on the music charts with "This Will Be." It makes it to number six on pop charts and number one on the R&B.
1975---Top Hits
The Hustle - Van McCoy & The Soul City Symphony
I'm Not in Love - 10cc
One of These Nights - Eagles
Touch the Hand - Conway Twitty
1975 - Van McCoy and The Soul City Symphony reached the top spot on the "Billboard" record chart for the first -- and only -- time. The disco hit "The Hustle" became the top record in the U.S. The instrumental remained in the reflection of the disco mirror ball for only one week ... though plenty of other disco hits followed. Keep that white suit handy. Disco may just come back!
1976-Ted Nugent receives a gold record for his sixth, self-titled album. It includes "Hey Baby" and "Dog Eat Dog."
1980 - No. 1 Billboard Pop Hit: "It's Still Rock and Roll to Me," Billy Joel. It is Joel's first No. 1 single.
1983---Top Hits
Every Breath You Take - The Police
Electric Avenue - Eddy Grant
Is There Something I Should Know - Duran Duran
Pancho and Lefty - Willie Nelson & Merle Haggard
1984 - "Purple Rain", the film creation of Prince, premiered in Hollywood. Attending the gala at the Palace Theatre were Eddie Murphy, Lionel Richie and Stevie Nicks. MTV presented live coverage of the events.
1986--"Sledgehammer" by Peter Gabriel topped the charts and stayed there for a week
1987 - Robert Wrenn set a record for the Buick Open. He won the golf tourney with a 26-under-par 262, a seven-stroke victory. Wrenn just missed the PGA Tour record of 27-under-par at the tourney, which was held at Grand Blanc, MI.
1987-singer Billy Joel began a series of six concerts in the Soviet Union with a performance in Moscow. About 300 of the 10,000 people in attendance swarmed to the front of the auditorium, waving posters and climbing on each other's shoulders. It was an unusual display of enthusiasm for a Soviet audience, who usually showed appreciation by clapping slowly and rhythmically. At one point, Joel jumped from the stage and walked through the crowd followed by a procession of fans. He has an album plus a video/DVD on the tour.
1988- Thunderstorms produced large hail and damaging winds in the Middle Atlantic Coast Region, and in the south central U.S. Eight cities in the northwestern and north central U.S. reported record high temperatures for the date. Salem, OR, hit 103 degrees.
1989 - Morning thunderstorms produced heavy rain in southeastern Texas, with more than three inches reported at the Widllife Refuge in southwestern Chambers County. Evening thunderstorms produced severe weather in Montana, with wind gusts to 62 mph reported at Helena. Eight cities from Maine to Minnesota reported record high temperatures for the date, including Newark, NJ, with a reading of 99 degrees.
1990- President Bush signed the Americans with Disabilities Act, which went into effect two years later. It required that public facilities be made accessible to the disabled.
1991---Top Hits
Unbelievable - EMF
(Everything I Do) I Do It for You - Bryan Adams
P.A.S.S.I.O.N. - Rythm Syndicate
I Am a Simple Man - Ricky Van Shelton
1992 - Patty Sheehan defeated Juli Inkster in a playoff to win the 47th U.S. Women's Open at the Oakmont (PA) Country Club.
1998 - Hale Irwin birdied the 18th hole for a 69 to win the U.S. Senior Open by one stroke over Argentina's Vicente Fernandez at Riviera Country Club, Pacific Palisades CA.
1998-- Don Sutton and Larry Doby are inducted into the Hall of Fame along with Lee MacPhail, George Davis and Joe Rogan. MacPhail joins his dad, Larry, to become the first father and son to be enshrined at Cooperstown.
1998 --With his 44th homer, Mark McGwire surpasses Johnny Mize as the all-time Cardinal single-season home run leader.
1998-- Hitting his 380th career homer, Jose Canseco becomes the all-time Latin home run leader passing Orlando Cepeda and Tony Perez.
2000 - U.S. District Judge Marilyn Hall Patel (in federal court, San Francisco CA) issued a preliminary injunction against online music service Napster. The judge ordered Napster to stop distributing copyrighted songs on the Web. Although Napster fought the ruling for months, this was the beginning of the end for the Internet music distribution site.
2005-- After waiting through a 2 hours, 43 minutes rain delay in Atlanta to start the game, Greg Maddux becomes the 13th pitcher in baseball history to register 3,000 strikeouts. Taking an inside fastball in the top of the third inning, Omar Vizquel of the Giants becomes the historic victim of the crafty 39-year old Cubs' right-hander.
[headlines]
--------------------------------------------------------------

Baseball Poem

Gaylord
I have a friend that calls it
the Andy Griffith Syndrome.
the good ole boys
in eastern North Carolina
have this way of talking
like they've always known you,
the words warm your heart like back slaps
from the preacher,
so you've got to read their eyes,
but that's not always easy.
I heard Dietz said
that in the no-hitter
he caught three curves,
two sliders,
and ninety-seven unidentified pitches
that required a windshield.
the denial itself is legendary,
amidst all the psychosis-causing
motions:
hand to mouth to hat to mouth to hat to ball,
and later the country drawl,
why I DON ' T throw no spitter boy...
a voice that could be heard
anywhere at a tobacco auction
in a place like Williamston, NC.
Written by Tim Peeler
From "Touching All the Bases,"
Poems for Baseball
Published by McFarland and Company
--------------------------------------------------------------

SuDoku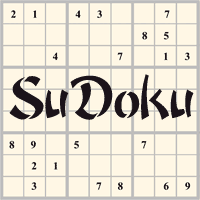 The object is to insert the numbers in the boxes to satisfy only one condition: each row, column and 3x3 box must contain the digits 1 through 9 exactly once. What could be simpler?
http://leasingnews.org/Soduku/soduko-main.htm
--------------------------------------------------------------

Daily Puzzle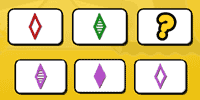 How to play:
http://www.setgame.com/set/puzzle_frame.htm
Refresh for current date:
http://www.setgame.com/set/puzzle_frame.htm
--------------------------------------------------------------


http://www.gasbuddy.com/
http://www.gasbuddy.com/GB_Map_Gas_Prices.aspx
http://www.gasbuddy.com/GB_Mobile_Instructions.aspx
--------------------------------------------------------------

Weather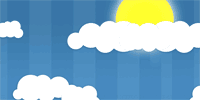 See USA map, click to specific area, no commercials
--------------------------------------------------------------

Traffic Live---
Real Time Traffic Information
You can save up to 20 different routes and check them out with one click,
or type in a new route to learn the traffic live
--------------------------------