Channel Partners Capital was formed in 2009 by a group of leasing professionals to work exclusively in the equipment finance market helping brokers/lessors gain access to working capital solutions for their customers. As a direct lender we provide small business loans that range in size from $10,000 to $250,000.

• Inc. Magazine 500/5000 fastest growing private companies for 4 consecutive years
• 100 Best Companies to Work for in Minnesota by Minnesota Business Magazine


BE A PART OF OUR GROWING TEAM

National Sales Representative
This position will be responsible for volume growth through existing and new third party relationships (TPRs). The NSR is the primary contact with TPRs actively managing customer contact, expectations, new product/program development and the sales pipeline. Nationwide scope with travel required from 25-50% of time.
More

Inside Sales Representative
This position is responsible for volume growth through existing and new third party relationships (TPRs). The ISR, supports assigned TPRs actively managing customer contact, expectations, new product/program development and the sales pipeline.
More

Please email cover letter and resume to: careers@channelpartnersllc.com
Wednesday, June 22, 2016


Today's Equipment Leasing Headlines

1993- Pictures from the Past
Shawn Giffin, CLP, VP Finance/Patrick Byrne, CLP
Companies Who Utilize Evergreen Clauses
for Extra Lease Payments
Leasing Industry Ads---Help Wanted
Now's the Time
Sales Makes it Happen---Ralph Mango
Evaluating a Sales Person
CFPB Proposes New Rules to Outlaw Arbitration
Agreements with Class Action Waivers for Banks
By Tom McCurnin, Leasing News Legal Editor
White German Shepherd Mix
Irvine, California Adopt-a-Dog
Leasing News Classified Ads
(Providing Services and Products)
News Briefs---
Fed Cautious on Rates due to Brexit,
Worried About Employment Rate: Yellen
Caterpillar Global Dealer Machinery Monthly Sales Slip
Yet Again---12% Last Three Months
Umpqua Bank names O'Haver CEO,
Ray Davis will remain on the board
Umpqua to 'consolidate' 26 outlets,
cites rise of online banking
Vivo To Launch X7 & X7 Plus Smartphones with
16MP Front Camera on June 30
Feds give go-ahead to small commercial drone use
624-page rule book
Broker/Funder/Industry Lists | Features (writer's columns)
Top Ten Stories Chosen by Readers | Top Stories last six months
www.leasingcomplaints.com (Be Careful of Doing Business)
www.evergreenleasingnews.org
Leasing News Icon for Android Mobile Device
You May have Missed---
SparkPeople--Live Healthier and Longer
Winter Poem
Sports Briefs---
California Nuts Brief---
"Gimme that Wine"
This Day in American History
SuDoku
Daily Puzzle
GasBuddy
Weather, USA or specific area
Traffic Live----
######## surrounding the article denotes it is a "press release" and was not written by Leasing News nor information verified, but from the source noted. When an article is signed by the writer, it is considered a "by line." It reflects the opinion and research of the writer.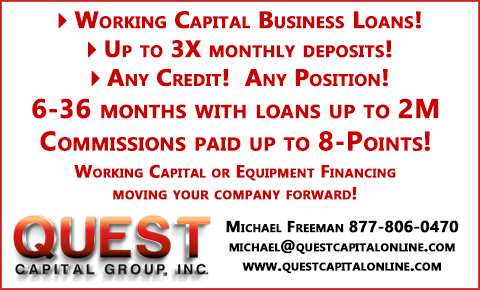 [headlines]
--------------------------------------------------------------
1993 -Pictures from the Past
Shawn Giffin, CLP, VP Finance/Patrick Byrne, CLP, President
Balboa Capital Corporation



TODAY
Patrick E. Byrne, Chief Operating Officer
Balboa Capital
(He is no longer "a Certified Leasing Professional
in Good Standing").
https://www.linkedin.com/pub/patrick-byrne/48/285/91a
Shawn Giffin, 45, passed away Thursday, June 17, 2010
[headlines]
--------------------------------------------------------------
Companies Who Utilize Evergreen Clauses
for Extra Lease Payments
ACC Capital, Midvale, Utah
Balboa Capital, Irvine, California
De Lage Landen, Wayne, Pennsylvania
IFC Credit, Morton Grove, Illinois
Jules and Associates, Los Angeles, California
LEAF Financial Group, Philadelphia, Pennsylvania
Marlin Business Leasing, Mount Laurel, New Jersey
Marquette Equipment Finance, Midvale, Utah
Mazuma Capital Corporation, Draper, Utah
Onset Financial, South Jordan, Utah
Pacific Western Equipment Finance, Cottonwood Heights, Utah
Republic Bank, Bountiful, Utah
Tetra Financial Group, Salt Lake City, Utah
These companies use language in their lease documents regarding purchase options to confuse, perhaps to deceive, resulting in an automatic continuation for an additional twelve months of payments. Often they win transactions with lower monthly payments as the lessee does not carefully read and prepare for the end-of-lease notification requirement (many are on ACH payments).
Several have continuation of payments and the requirement of replacing the equipment for a new lease. Leasing News has had complaints involving companies who invoke the twelve months on a $1.00 purchase option, as well as on an Equipment Finance Agreements.
Several have appeared in Leasing News "Complaints" Bulletin Board:
http://www.leasingnews.org/bulletin_board.htm
Additionally, Tom McCurnin has written often about Evergreen Clause court cases involving these companies.
http://www.leasingnews.org/Conscious-Top%20Stories/leasing_cases.html
Two of the companies on this list do a lot of copier leasing, where it is reported manufacturers are now getting a piece of auto-renewals and as well as insisting that they be in the lease as a condition of the business. Leasing News has heard from a very reliable source that some copier manufacturers also give dealers 4-5 months' notice of a discontinued model and agree to sell it to the dealer at 40% of list price, on the condition that the captive finance division not receive the business. Also buried in the contract on one is a one month rental return fee including an inspection fee at the location specified by lessor and at lessee's return expense (often not the local dealer who supplied the copier).

(Leasing News provides this ad "gratis" as a means
to help support the growth of Lease Police)
[headlines]
--------------------------------------------------------------
Leasing Industry Help Wanted

Channel Partners Capital was formed in 2009 by a group of leasing professionals to work exclusively in the equipment finance market helping brokers/lessors gain access to working capital solutions for their customers. As a direct lender we provide small business loans that range in size from $10,000 to $250,000.

• Inc. Magazine 500/5000 fastest growing private companies for 4 consecutive years
• 100 Best Companies to Work for in Minnesota by Minnesota Business Magazine


BE A PART OF OUR GROWING TEAM

National Sales Representative
This position will be responsible for volume growth through existing and new third party relationships (TPRs). The NSR is the primary contact with TPRs actively managing customer contact, expectations, new product/program development and the sales pipeline. Nationwide scope with travel required from 25-50% of time.
More

Inside Sales Representative
This position is responsible for volume growth through existing and new third party relationships (TPRs). The ISR, supports assigned TPRs actively managing customer contact, expectations, new product/program development and the sales pipeline.
More

Please email cover letter and resume to: careers@channelpartnersllc.com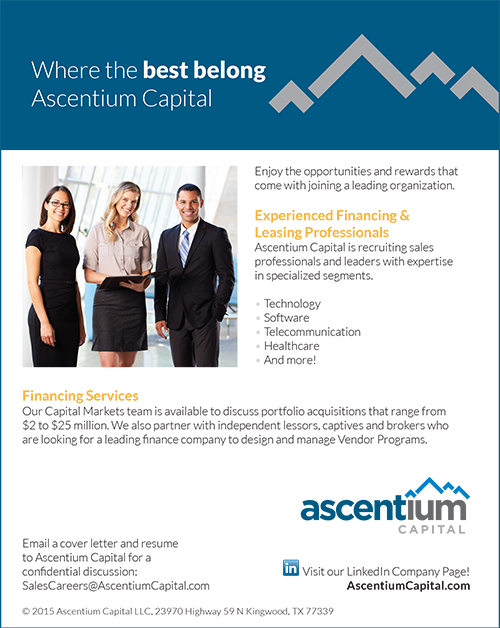 Senior Credit Analyst

- Minimum 5 years of small ticket/high volume equipment finance underwriting experience preferred
- Relocation benefits available for the right candidate
- For a complete job description, please click here

www.pawneeleasing.com
Established in 1982, Pawnee Leasing Corporation located in Fort Collins, CO specializes in commercial equipment leasing and financing up to $150,000 to smaller, closely-held business enterprises. Pawnee Leasing is a U.S. subsidiary of Chesswood Group Limited, a publicly-held specialty financial services company based in Toronto, Canada (TSX:CHW).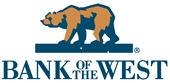 Inside Sales Manager
San Francisco
We are currently seeking qualified talent to be primarily responsible for overseeing the Inside Sales Department within the Vendor business group of the Equipment Finance Division, while developing and improving policies and procedures to properly support high production volume.
For more information
click here
For information on placing a help wanted ad, please click here:
http://www.leasingnews.org/Classified/Hwanted/Hwanted-post.htm

Please see our Job Wanted section for possible new employees.

[headlines]
--------------------------------------------------------------
Sales Makes it Happen---Ralph Mango
Evaluating a Sales Person
I had just taken over national responsibility for sales because the predecessor was terminated. The issue was underperforming sales. After reviewing performance evaluations and personnel files, which is the first step in my turnaround planning, it occurred to me that we likely had too many people in sales who would be better at something else, or leaving.

I contracted with a prominent assessment firm to develop a test of their skills, attitudes, likes, intellect and personalities. Not Meyers-Briggs but something more specific.
The questions were straightforward: (1) would you rather be at a beach reading or at a party? (2) When things aren't quite going your way, do you grouse around in anger, evaluate the situation and come up with a plan, or quit the company?...and many variations on situations.

It turned out that based upon their answers, over 40 percent did not have the personality, nearly one-third did not have the intellect or the attitude, and nearly 35 precent do not have the temperament for the problem-solving required for solution selling. Not only did have too many left-handed catchers playing shortstop, most of them would rather be playing soccer!
I am also reminded of Bill Walsh contacting Dr. Harry Edwards at Cal after the San Francisco 49ers' first Super Bowl win. He asked him to spend considerable time with Montana, Clark, Reynolds, Lott, Cross, etc., to find out what drives them, what makes them compete at such high levels, particularly when things are not going well. Then develop a survey by which to understand whether others, in answering the survey, exhibit similar characteristics.
Edwards completed the survey questionnaire and the first people he gave the test to were the Niners he interviewed. They blew the top off the test. From that day forward, in the days before the Wunderlich, every Niner signee, draftee, combine prospect, free agent had to take that survey and pass or they were not considered further.
Then-owner Eddie DeBartolo, soon to be Hall of Fame owner, said years later that he believed that to be one of the differentiators that made them great.

Currently, Senior Deal Desk Manager, comScore, Inc., Reston,VA. Volunteer Associate Editor, Leasing News. Editor: This Day in American History. His nearly 40-year equipment leasing career includes: Region Manager, Ingersoll-Rand Financial Services; Vice President, NCR Credit; Vice President of Sales, AT&T Capital Corporation; Sr. Vice President, Sales & Marketing, Newcourt Financial; Co-founder, Vice President, General Manager, Dell Financial Services; VP, General Manager, Western Star Finance; Director, Canon Financial Services; and VP, Broker Services, Marlin Leasing. He has broad and successful business unit general management experience in both indirect and direct equipment leasing as a captive lessor and vendor provider that began as a credit manager. He has also made the career change into digital analytics industry involving processes, controls and projects related to revenue issues, consumer demographics, adoption, and behavior in this digital age of morphing technologies.
ralphmango@hotmail.com
[headlines]
--------------------------------------------------------------
CFPB Proposes New Rules to Outlaw Arbitration
Agreements with Class Action Waivers for Banks
By Tom McCurnin
Leasing News Legal Editor
CFBP Study Commissioned by Dodd Frank Act Reveals That Arbitration in Deposit Agreements is Unfair to Consumers. Enacting of Proposed Rule is Likely
Back in 2008, the Dodd Frank Act commissioned a study of banks which use arbitration agreements to curtail class action lawsuits. The class action provisions essentially required consumers to arbitrate class action claims. The provisions were placed into bank deposit agreements as a result of the process of over-drafting accounts and how banks process debits, by processing larger items first, leaving more smaller items to overdraft the account, resulting in more NSF fees. These procedures have been litigated to death.
In an effort to stop the class actions, banks inserted provisions in their deposit agreements which while allowing such class actions, required them to be brought under the umbrella of an arbitration proceeding. Not unexpectedly, such class actions were dramatically reduced.
But while the banks were celebrating, the CFPB was conducting a study, which revealed what everyone already knew—these clauses were essentially killing class actions and allowing banks to arguably take advantage of consumers.
Last month, the CFPB released its study, and again, not unexpectedly, proposed new rules to essentially outlaw such arbitration provisions in a number of ways, many of which overlap. Any bank which has an arbitration provision in its deposit agreement will be required to submit such forms to the CFPB. The CFPB will, if the rule is adopted, outlaw any such arbitration provision which curtails the right of the consumer to bring a class action outside of a court.
Although the CFPB rules are merely proposals, no one in the banking industry believes that these rules will not be enacted this August. Quite frankly, the arbitration clauses worked so well, it was victim of its own success.
The bottom line to today's legal news is that banks should start to work up a new deposit agreement without class action waivers or class action arbitration clauses.
CFPB Arbitration Federal Register (106 pages)
http://www.leasingnews.org/PDF/CFPBArbitrationFederalRegister.pdf
Tom McCurnin is a partner at Barton, Klugman & Oetting
in Los Angeles, California.
Tom McCurnin
Barton, Klugman & Oetting
350 South Grand Ave.
Suite 2200
Los Angeles, CA 90071
Direct Phone: (213) 617-6129
Cell (213) 268-8291
Email: tmccurnin@bkolaw.com
Visit our web site at www.bkolaw.com
Previous Tom McCurnin Articles:
http://www.leasingnews.org
Previous Tom McCurnin Articles:
http://www.leasingnews.org/Conscious-Top%20Stories/leasing_cases.html

(Leasing News provides this ad as a trade for appraisals
and equipment valuations provided by Ed Castagna)

[headlines]
--------------------------------------------------------------
White German Shepherd Mix
Irvine, California Adopt-a-Dog


Ali
ID#A074218
Male
Age: 6 years/7 months
Shelter since April 7, 2016
For more information about this animal, call:
Irvine Animal Care Center at (949) 724-7740
Ask for information about animal ID number A074218
City of Irvine
Animal Care Center
6443 Oak Canyon
Irvine, CA 92618
Phone: 949-724-7740
Adoption Hours
The Center is closed on Tuesdays and holidays
Weekdays: noon-6 p.m.
Weekends: 10 a.m.-4 p.m.
Please allow yourself at least one hour
to visit with adoptable animals.
Adoption Criteria
The adopter must be at least 18 years old
Complete a pre-adoption questionnaire and counseling session
Everyone in the household must meet the animal prior to completion of the adoption
A copy of your rental agreement must be provided prior to the completion of the adoption if you rent your home
Adopt a Pet
http://www.adoptapet.com/
[headlines]
--------------------------------------------------------------
Leasing News Classified Ads
Services
(Providing Services and Products)
[headlines]
--------------------------------------------------------------

News Briefs---
Fed Cautious on Rates due to Brexit,
Worried About Employment Rate: Yellen
http://www.reuters.com/article/us-usa-fed-yellen-idUSKCN0Z71TA
Caterpillar Global Dealer Machinery Monthly Sales Slip
Yet Again---12% Last Three Months
http://www.businessinsider.com/r-caterpillar-global-dealer-machinery-monthly-sales-slip-yet-again-2016-6
Umpqua Bank names O'Haver CEO,
Ray Davis will remain on the board
http://www.bizjournals.com/portland/news/2016/06/20/umpqua-bank-names-ohaver-ceo-davis-will-remain-on.html
Umpqua to 'consolidate' 26 outlets,
cites rise of online banking
http://www.bizjournals.com/portland/morning_call/2016/03/umpqua-to-consolidate-26-outlets-cites-rise-of.html
Vivo To Launch X7 & X7 Plus Smartphones with
16MP Front Camera on June 30
http://androidadvices.com/vivo-launch-x7-x7-smartphones-16mp-front-camera-june-30/
Feds give go-ahead to small commercial drone use
624-page rule book
http://www.mercurynews.com/business/ci_30040313/white-house-clears-small-commercial-drones-takeoff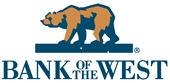 Inside Sales Manager
San Francisco
We are currently seeking qualified talent to be primarily responsible for overseeing the Inside Sales Department within the Vendor business group of the Equipment Finance Division, while developing and improving policies and procedures to properly support high production volume.
For more information
click here

[headlines]
--------------------------------------------------------------


--You May Have Missed It
The middle class went where? You'll be surprised.
http://finance.yahoo.com/news/middle-class-went-where-ll-000000086.htm

[headlines]
--------------------------------------------------------------
SparkPeople--Live Healthier and Longer

Healthy Beverage Guidelines
Drink Up, But Drink the Right Stuff
http://www.sparkpeople.com/resource/nutrition_articles.asp?id=605
[headlines]
--------------------------------------------------------------
Baseball Poem
For Junior Gilliam (1928-1978)
by B.H. Fairchild ©
In the bleak, bleacherless corner
of my rightfield American youth,
I killed time with bubble gum
and baseball cards and read the stats
and saw a sign: your birthday was mine.
And so I dreamed: to rise far
from Kansas skies and fenceless outfields
where flies vanished in the summer sun.
To wake up black in Brooklyn,
to be a Bum and have folks call me Junior
and almost errorless hit .280 every year
and on the field, like you, dance double plays,
make flawless moves, amaze the baseball masses.
You would turn, take the toss from Reese,
lean back and, leaping past the runner's cleats,
wing the ball along a line reeled out
from home and suddenly drawn taut
with a soft pop in Hodges' crablike glove.
And we went wild in Kansas living rooms.
The inning's over. You're in the shadows now.
But summers past you taught us how to play
the pivot (or how to dream of it).
And when one day they put me in at second,
I dropped four easy ones behind your ghost,
who plays a perfect game.

[headlines]
--------------------------------------------------------------
Sports Briefs----
Civil grand jury calls for audit related to Levi's Stadium
http://www.mercurynews.com/bay-area-news/ci_30037011/santa-clara-civil-grand-jury-calls-audit-related
12 Most Crushing Losses in SF Bay Area Pro Sports - Photos
http://photos.mercurynews.com/2016/06/21/most-crushing-losses-in-bay-area-pro-sports-history/#1
[headlines]
--------------------------------------------------------------


California Nuts Briefs---
Google tops LinkedIn's list of companies
best at recruiting and keeping talent
http://www.mercurynews.com/business/ci_30037957/google-scoops-keeps-best-talent-linkedin-report
What happened after California raised taxes and Kansas cut them
http://www.msnbc.com/rachel-maddow-show/what-happened-after-california-raised-taxes-and-kansas-cut-them?cid=eml_mra_20160621
(Leasing News provides this ad as a trade for investigative
reporting provided by John Kenny)
[headlines]
--------------------------------------------------------------



"Gimme that Wine"

http://www.youtube.com/watch?v=EJnQoi8DSE8

Orange Wine Has Finally Arrived.
Here Are Eight Bottles to Buy
http://www.bloomberg.com/news/articles/2016-06-15/orange-wine-has-finally-arrived-here-are-seven-bottles-to-buy
Trial Plantation to Slash Cork Growing Times
https://www.thedrinksbusiness.com/2016/06/trial-plantation-to-slash-cork-growing-times/
Turleys preserve property with Land Trust of Napa County
http://napavalleyregister.com/star/news/local/turleys-preserve-property-with-land-trust-of-napa-county/article_07294e29-11e0-5189-a161-2ebe755bcea0.html
Restaurants yank popular wine over
environmental controversy in Paso Robles, CA
http://www.sacbee.com/news/state/article84721932.html
Free Mobile Wine Program
http://leasingnews.org/archives/Feb2010/2_26.htm#mobile
Wine Prices by vintage
http://www.winezap.com
http://www.wine-searcher.com/
US/International Wine Events
http://www.localwineevents.com/
Leasing News Wine & Spirits Page
http://two.leasingnews.org/Recommendations/wnensprts.htm

[headlines]
----------------------------------------------------------------
This Day in American History
1610 - In their search for a marketable product, some settlers in the Colonies had begun growing tobacco. Europeans had acquired a taste for tobacco in the late sixteenth century when the Spanish brought samples from the West Indies and Florida. Initially expensive, it became popular among wealthy consumers. The high price appealed to Virginians, but they found that native Virginia leaf was of poor quality. John Rolfe began experimenting with seeds from Trinidad, which did much better. The first cargo of Virginia-grown tobacco arrived in England in 1617 and sold at a highly profitable 3 shillings per pound. Following Rolfe's success, settlers immediately planted tobacco everywhere- -even in the streets of Jamestown. Company officials, unwilling to base the colony's economy on a single crop, especially one that many people (including King James) considered to be an unhealthy indulgence, tried to restrict annual production to 100 pounds per colonist. Colonists, busy "rooting in the ground about Tobacco like Swine" as one observer reported, ignored these restrictions. But it was only after company rule ended that tobacco planting really surged. Between 1627 and 1669, tobacco exports climbed from 250,000 pounds to more than 15 million pounds. As the supply grew, the price plunged from 13 pence in 1624 to a mere penny in the late 1660s, where it remained for the next half century. What had once been a luxury product thus became affordable for Europeans of average means. Now thoroughly dependent on tobacco for their livelihood, the only way colonists could compensate for falling prices was to grow even more, pushing exports to England to more than 20 million pounds by the late 1670s.
1611 - After spending a winter trapped by ice in present-day Hudson Bay, the starving crew of the Discovery mutinies against its captain, English navigator Henry Hudson, and sets him, his teenage son, and seven supporters adrift in a small, open boat. Hudson and the eight others were never seen again. Two years earlier, in 1609, Hudson sailed to the Americas to find a northwest passage to Asia after repeatedly failing in his efforts to find a northeast ocean passage. The Discovery later returned to England, and its crew was arrested for the mutiny. Although Henry Hudson was never seen again, his discoveries gave England its claim to the rich Hudson Bay region.
1633 - Galileo Galilei was forced by the Pope to recant his research that the Earth orbits the Sun. On Oct 31, 1992, the Vatican admitted it was wrong.
1774 - The Quebec Act was passed by Parliament. It established a permanent government in Quebec and extended its boundaries south to the Ohio River, to include land contested by several American colonies. For this, it was considered by the colonists to be one of the Intolerable Acts that lead to the Revolutionary War.
http://www.wpi.edu/Academics/Depts/MilSci/BTSI/abs_coer.html
1775 - Continental currency was issued for the first time, totaling $3,000,000.
1807 - The crew of the British man-of-war, "Leopold," fired upon and boarded the United States frigate "Chesapeake." The commander of the "Chesapeake," James Barron, was court martialed and convicted for not being prepared for action. Along with some others, this incident led to the War of 1812. Eight years after the war, Stephen Decatur, a judge in the court martial, was killed in a duel. The victor of the duel was James Barron.
1808 – Zebulon Pike (1779-1813) reached the mountain summit that would be named for him. As a US Army captain in 1806–1807, he led the Pike Expedition, sent out by President Thomas Jefferson to explore and document the southern portion of the Louisiana territory and to find the headwaters of the Red River, during which he recorded the discovery of what later was called Pikes Peak.
1832 - John Ireland Howe of Derby, CT, obtained a patent for manufacturing pins. He exhibited it at the American Institute Fair in New York City, receiving a silver medal for his contribution to Manufacturing. He later founded the Howe Manufacturing Company and made improvements on his design. It was a great boon to the clothing industry, among others.
1839 - Cherokee leaders Major Ridge, John Ridge, and Elias Boudinot were assassinated for signing the Treaty of New Echota, which had resulted in the Trail of Tears. The treaty established terms under which the entire Cherokee Nation ceded its territory in the southeast and agreed to move west to the Indian Territory. Although the treaty was not approved by the Cherokee National Council nor signed by Principal Chief John Ross, it was amended and ratified by the US Senate in March, 1836. The supporters of Ross, in teams ranging up to twenty-five in number, converged on the houses of John Ridge, Major Ridge, and Elias Boudinot and murdered them.
1845 – Birthday of Tom Dula (d. 1868) in Wilkes County, NC. A former Confederate soldier, he was convicted of murdering Laura Foster. National publicity from newspapers such as The New York Times turned Dula's story into a folk legend. Dula was tried, convicted, and hung. Considerable controversy surrounded the case and in subsequent years, a folk song was written (entitled "Tom Dooley", based on the pronunciation in the local dialect), and The Kingston Trio recorded a hit version of the ballad in 1958.
1846 – Adolphe Sax (1846-94) patented his invention – the saxophone. He had invented the instrument early in the decade, and by the time the patent was granted there were 14 different saxophones – seven designed for orchestras and seven for bands. The saxophones designed for bands are the ones in common use today.
1847 – The doughnut with a hole was first invented in 1847 by American sea captain Hanson Crocket Gregory. He claimed to have invented the ring-shaped doughnut in 1847 aboard a ship. Gregory was dissatisfied with the greasiness of doughnuts twisted into various shapes and with the raw center of regular doughnuts. He claimed to have punched a hole in the center of dough with the ship's tin pepper box, and later taught the technique to his mother. Smithsonian magazine states that his mother, Elizabeth Gregory, "made a wicked deep-fried dough that cleverly used her son's spice cargo of nutmeg and cinnamon, along with lemon rind," and "put hazelnuts or walnuts in the center, where the dough might not cook through", and called the food doughnuts.
http://www.etni.org.il/challenge/challenge5.htm
1850 - In San Francisco, a 500-pound grizzly bear was caught near the Mission Dolores.
1868 – Arkansas was re-admitted to the Union.
1870 – Congress created the Department of Justice.
1870 – America's first boardwalk was built, in Atlantic City. In the mid-1800s, oceanside resorts and the railroads that provided transportation to them were enjoying a booming success, but they were also gritting their teeth against the problem of sand — it was everywhere! Finally, a solution was found to keep the sand at bay: a walkway made of boards that would lead from town to the beach, helping keep sand out of the tourists' shoes.
1896 - Dr. Mary Stone (Shih Mai-Yu) graduated from the Medical School of the University of Michigan, Ann Arbor, MI, becoming the first Chinese woman physician. She founded the Women's Hospital at Kiukiang, China, under the auspices of the Methodist Foreign Mission and served as its head for 25 years.
1894 - Legendary magician and escape artist Harry Houdini married Wilhelmina Beatrice Rahne. (Lower part of: http://memory.loc.gov/ammem/today/jun22.html )
1898 – Adm. Sampson begins amphibious landing near Santiago, Cuba. Lt. Col. Theodore Roosevelt and Col. Leonard Wood led the Rough Riders, a volunteer cavalry regiment, onto the beach at Daiquiri in the Spanish American War.
1899 - Richard Gurley Drew (d. 1980) was born in St. Paul, MN. He was an inventor who worked for Johnson and Johnson, Permacel Co., and 3M, where he invented masking tape and cellophane tape.
1903 – Birthday of Ben Pollack (d. 1971) in Chicago. Dixieland drummer, who owned a "pizza/beer/jazz " joint on Sunset Blvd in Hollywood, California, with a cover charge. When I was growing up, this was one of best hang outs as those under 18 could get in, and often, we had beer, although we were also not 21. Pollack was a "boom-chick-a-boom" drummer, but played with some of the best and is mentioned in many Chicago jazz era books. Warren Luening, Jr. would sometimes sit in and play trumpet with the band. Pollack really liked his playing, and it may have been one of the reason we were always able to drink beer here.
1903 – New York Giants Hall of Fame pitcher Carl Hubbell (d. 1988) was born in Carthage, MO. Twice voted the NL's MVP, a rarity for pitchers, Hubbell was inducted into the Hall in 1947. During 1936 and 1937, Hubbell set the Major League record for consecutive wins by a pitcher with 24. He is perhaps best remembered for his performance in the 1934 All-Star Game, when he struck out five of the game's great hitters and future Hall of Famers in succession: Babe Ruth, Lou Gehrig, Jimmie Foxx, Al Simmons, and Joe Cronin.
1903 – John Dillinger (d. 1934) was born in Indianapolis. His gang robbed twenty-four banks and four police stations. In the heyday of the Depression-era outlaw (1933–1934), Dillinger was the most notorious of all. The government demanded federal action, and J. Edgar Hoover developed a more sophisticated FBI as a weapon against organized crime, using Dillinger and his gang as his campaign platform to launch the FBI. Dillinger was gunned down by an FBI team outside a movie theater in Chicago.
1910 – Dancer, anthropologist, humanitarian, philanthropist
Katherine Dunham (d. 2006) was born in Chicago, IL.
http://www.eslarp.uiuc.edu/kdunham/bio.htm
http://www.pbs.org/wnet/freetodance/biographies/dunham.html
1912 - The Republican Party under President Roosevelt got into a bitter feud among the various factions of the party, starting out in the open with Roosevelt asking a faction to leave the convention; resulting in a split party. This basically gave the election to Democratic candidate Woodrow Wilson, who was not that popular but won because of the Republican split.
http://www.canoe.ca/MusicHistoryAugust/home.html
1912 – Ty Cobb was pinch hit for in an unusual scenario. With two outs in the 9th, and the Tigers down 11-3, Cobb was nowhere to be found, and George Mullin substituted and flied out to end the game. It turns out Cobb is in the clubhouse showering.
1915 – Subway service was launched in Brooklyn, the BMT for Brooklyn Motor Transit.
1918 - A Michigan Central Railroad troop train, after several days shuttling soldiers to New York from Chicago, was deadheading back to the Midwest when it struck the rear of the Hagenback-Wallace Circus train. The circus trained has stopped to have its brake box overhauled in Ivanhoe, Indiana. Fifty-three circus performers were killed. Of the circus animals not killed outright, many that were crippled and maimed had to be destroyed by police officers. The performers, of who only three could be identified, were buried in a mass grave. The engineer, A.K. Sargent, who was accused of falling asleep at the throttle, was tried and acquitted.
1919 - An F5 tornado struck the town of Fergus Falls, Minnesota. 59 people were killed and 400 buildings were destroyed. Lumber was carried for 10 miles and other debris were found 60 miles away.
1930 – Babe Ruth tied a Major League record by hitting five homers in two games and six homers in three games. The Yankee outfielder hit three homers in the second game of the doubleheader yesterday, two homers in today's opener and one more in the nightcap.
1932 - The National League club presidents finally approved players wearing numbers. The AL had started the practice in 1929.
1933 - Birthday of Dianne Feinstein, born Dianne Emiel Goldman in San Francisco. She is the U.S. Senator from California since 1992 and the former Mayor of San Francisco. In 1969, she became the first woman to be elected president of the San Francisco Board of Supervisors and then succeeded the murdered mayor George Moscone, serving 1978-88. She was defeated in a try for Governor of California and then was elected U.S. Senator in 1992.
1936 - Singer, songwriter and actor Kris Kristofferson was born in Brownsville, Texas. Kristofferson earned a Rhodes Scholarship to Oxford University, where he studied at Merton College. While at Oxford, he was awarded his Blue for boxing and began writing songs. With the help of his manager, Larry Parnes, he recorded for Top Rank Records under the name Kris Carson. His first success as a songwriter came when Roger Miller recorded "Me and Bobby McGee." That song was turned into a million-seller by Janis Joplin in 1971. And Sammi Smith sold a million with "Help Me Make It Through the Night," another Kristofferson song. By this time, Kristofferson had begun his career as a singer, and in 1972, his single, "The Silver-Tongued Devil and I," was certified gold. His other successes have included the single, "Why Me," and the albums "The Silver-Tongued Devil and I" and "Jesus Was a Capricorn." In 1985, Kristofferson, along with Johnny Cash, Waylon Jennings and Willie Nelson, recorded the hugely successful "Highwayman" single and album. There was a "Highwaymen Two" album in 1990 with the same cast.
1937 - At Chicago's Comiskey Park, Joe Louis won the World Heavyweight Championship title by knocking out James J. Braddock in the eighth round. Louis retained the title until his retirement in 1949.
1938 - Exactly one year after the Braddock fight, Joe Louis met Germany's Max Schmeling, at New York City's Yankee Stadium. Louis knocked out Schmeling in the first round.
http://www.ibhof.com/jlouis.htm
1940 - During World War II, Adolf Hitler gained a stunning victory as France was forced to sign an armistice eight days after German forces overran Paris.
1941 - Over 3 million German troops invaded Russia in three parallel offensives, in what is the most powerful invasion force in history.
1942 - A Japanese submarine shelled Fort Stevens, Oregon, at the mouth of the Columbia River. In a plan, balloons were launched with bombs that landed in Oregon, but the military along with the news media never mentioned the fires or damaged that occurred.
1944 - The GI Bill of Rights was signed by President Franklin D. Roosevelt. One of the most important governmental measures of the post-World War II era, the bill was designed to provide greater opportunities for returning war veterans. An important result of the bill was the training of almost 8 million veterans.
1942 – The Pledge of Allegiance was formally adopted by Congress
1945 - Howard Kaylan, one of the two lead singers of the Turtles, was born in New York City. The Turtles had hit singles with "It Ain't Me Babe" in 1965 and "Happy Together" and "She'd Rather Be With Me," both in 1967. Some members of the Turtles wanted the group to be more than a band that made hit singles. The resulting dissension led to the Turtles' breakup in 1968. Lead singers Howard Kaylan and Mark Volman joined the Mothers of Invention, and then embarked on a duo career as Flo and Eddie.
1947 - 12 inches of rain fell in 42 minutes at Holt, Missouri, setting a new rainfall intensity world record. That record was tied on January 24-25, 1956, at the Kilauea Sugar Plantation in Hawaii, as their state record was established with 38 inches of rain in 24 hours.
1947 – Ewell Blackwell just missed pitching back-to-back no-hitters when Eddie Stanky of the Brooklyn Dodgers singled with one out in the 9th inning. Blackwell won, 4-0, his ninth straight win, to improve to 11-2. Stanky's hit ended Blackwell's hitless-inning streak at 19. He had no-hit the Boston Braves on June 18th and won 16 consecutive games in 1947. Cincinnati's Johnny Vander Meer is the only Major League pitcher to throw consecutive no-hitters.
1949 - Top Hits
"Again" - Gordon Jenkins
"Some Enchanted Evening" - Perry Como
"Bali Ha'I" - Perry Como
"One Kiss Too Many" - Eddy Arnold
1950 - Prominent figures in the music industry, including Leonard Bernstein, Aaron Copland, Lena Horne, Pete Seeger and Artie Shaw, were named publicly as suspected Communist sympathizers in the infamous publication, "Red Channels: The Report of Communist Influence in Radio and Television".
1957 - Top Hits
"Love Letters in the Sand" - Pat Boone
"Teddy Bear" - Elvis Presley
"I Like Your Kind of Love" - Andy Williams
"Four Walls" - Jim Reeves
1959 - Eddie Lubanski bowled 24 consecutive strikes, that is two perfect games, back-to-back, in a bowling tournament in Miami, Florida.
1959 - Chuck Berry's "Memphis" is released.
1959 - Starting its fourth week at the top of the Tunedex was "The Battle of New Orleans" by Johnny Horton. The song spent six weeks at number one. It was Horton's only number one record and million copy seller. He had other big hits with movie music like "Sink the Bismarck" and "North to Alaska" from the film by the same title, starring John Wayne. Horton, from Tyler, Texas, married Hank Williams' widow Billie Jean Jones. On November 5, 1960, Johnny Horton was killed in a car crash.
1959 – The Dodgers' Sandy Koufax fanned 16 Phillies to set a new record for a night game, winning, 6-2.
1962 - St. Louis Cardinal Hall of Famer Stan Musial broke the late Ty Cobb's major league record of 5,863 career total bases.
1963 - "Fingertips - Pt 2," by Stevie Wonder, was released, and became his first number one single on August 10th. From 1963 to 1987, Wonder had 46 hits on the pop and R&B music charts, eight of which made it to number one.
1963 - The Safaris' "Wipe Out" is released.
1963 – Phillies' CF Tony Gonzalez played his 200th straight errorless game to help rookie Ray Culp beat Roger Craig and the Mets, 2-0.
1964 - The United States Supreme Court voted that "Tropic of Cancer," Henry Miller's controversial book, could not be banned.
1965 - Top Hits
"I Can't Help Myself" - The Four Tops
"Mr. Tambourine Man" - The Byrds
"For Your Love" - The Yardbirds
"Ribbon of Darkness" - Marty Robbins
1968 - Mason Williams' "Classical Gas" is released.
1968 - The Jeff Beck Group, with Rod Stewart and Ron Wood, made its US debut at the Fillmore East in New York City. Stewart was said to have had such a severe case of stage fright that he hid behind the speakers for the first couple of songs. The band, which had a major influence on the heavy metal groups that followed, broke up after two LPs and several North American tours.
1969 - The Cuyahoga River caught fire in Cleveland, drawing national attention to water pollution, and spurring the passing of the Clean Water Act and the creation of the EPA.
1969 – Singer/actor Judy Garland died at age 47.
1970 - President Nixon signed the 26th amendment, lowering the voting age to 18
1972 - Hurricane Agnes, a category 1 storm, made landfall near Apalachicola, Florida on the 19th, moved northeast, joined up with an upper level disturbance, and unloaded anywhere from 10 to 20 inches of rain across Maryland, Virginia, Pennsylvania, and New York during the period from the 20th to the 25th. Extreme flooding was the result -- the worst in U.S. history. A dike was breached at Wilkes-Barre, Pennsylvania and the resultant wall of water destroyed much of the city. Total damage was $3.5 billion and 122 lives were lost.
1973 - Top Hits
"My Love" - Paul McCartney & Wings
"Playground in My Mind" - Clint Holmes
"I'm Gonna Love You Just a Little More Baby" - Barry White
"Kids Say the Darndest Things" - Tammy Wynette
1976 – Randy Jones pitched the Padres to a 4-2 win over the Giants, and tied Christy Mathewson's 63-year-old NL record by going 68 innings without issuing a base on balls. He received a standing ovation from the home crowd to end the 7th. His streak ended when he walked C Marc Hill leading off the 8th.
1977 – Convicted Watergate conspirator and former Attorney General John Mitchell started a 19-month term in an Alabama Federal prison.
1981 - John Lennon's murderer, Mark David Chapman, pleads guilty to his crime and is sentenced to 20 Years to Life in New York's Attica State prison. He has since been up for parole five times, and has been denied every time.
1981 - A young woman from Lubbock, TX, was struck by lightning. The bolt of lightning struck just above her right shoulder near her neck, and passed right to left through her body, tearing her warm-ups, causing her tennis shoes to explode, and lifting her two feet into the air.
1981 - Top Hits
"Stars on 45 medley" - Stars on 45
"Sukiyaki" - A Taste of Honey
"A Woman Needs Love (Just like You Do)" - Ray Parker Jr. & Raydio
"But You Know I Love You" - Dolly Parton
1984 - In a teary home plate ceremony before the Twins-White Sox game at the Metrodome, Calvin Griffith and his sister, Thelma Haynes, signed a letter of intent to sell their 52 percent ownership of the Twins to Minneapolis banker Carl Pohlad for $32 million. Griffith and his sister had been involved with the franchise since 1922, when they were adopted by Clark Griffith, then owner of the Washington Senators. Griffith had moved the Senators, a charter American League franchise, to Minneapolis in 1960
1985 - "People" magazine took count of the deaths in Sylvester Stallone's "Rambo" movie, finding that 44 people directly killed. Those at "People" figured out this was an average of one person dying every 2.1 minutes. There were also 70 explosions that killed an uncountable number of people.
1987 - Thunderstorms in southern Texas produced wind gusts to 116 mph near Quemado. Thunderstorms in New York State produced 5.01 inches of rain in 24 hours at Buffalo, an all-time record for that location, and produced an inch of rain at Bath, PA. The temperature at Fairbanks, AK soared to 92 degrees, establishing a record for the date.
1988 - Sixty-five cities in twenty-four states reported record high temperatures for the date. Tucson, AZ reported an all-time record high of 114 degrees, surpassing the previous record of 112 degrees established a day earlier. Highs of 98 degrees at Pittsburgh, PA, and 100 degrees at Baltimore, MD, tied records for the month of June.
1989 - White Sox C Carlton Fisk surpasses Yogi Berra as the American League leader for career home runs by a catcher as his 307th home run helps to beat the Yanks, 7-3. But Yogi has 10 rings, Fisk has none. Subsequently, Mike Piazza passed Fisk and holds the MLB record for HRs by a catcher with 427.
1989 - Top Hits
"I'll Be Loving You (Forever)" - New Kids on the Block
"Satisfied" - Richard Marx
"Buffalo Stance" - Neneh Cherry
"Love Out Loud" - Earl Thomas Conley
1990 - The last-place Atlanta Braves fired manager Russ Nixon and replaced him with GM Bobby Cox, who last managed Toronto in 1985. Good move. Cox led the Braves to a dramatic worst-to-first turnaround, the first of its kind in the National League. In the World Series, his team lost to the (also) resurgent Minnesota Twins. Cox was name AP Manager of the Year (the first manager to be so named in both leagues) and repeated in 2004 and 2005. He led the Braves to a division title every season from 1991 to 2005, excluding the strike-shortened 1994 season. Those division titles also let to NL pennants, except for 1993 and 1997, and the Braves won their only World Series under Cox in 1995. Cox has the fourth highest win total of any manager in MLB history and he was inducted into the Baseball Hall of Fame in 2014 with contemporaries Joe Torre and Tony LaRussa.
1993 – White Sox C Carlton Fisk passed Bob Boone catching his 2,226th game to become the all-time leader.
1993 - New York Met Anthony Young tied the record with his 23rd straight loss.
1998 - CompUSA announced that it was buying Computer City from Tandy for $275 million. Tandy was selling the sickly chain as part of a turnaround it had started the previous year. Tandy president Leonard Roberts said, "Computer City was a losing operation for the company. The sale will allow us to completely focus on Radio Shack at a time when profits are at an all-time high." Radio Shack filed under Chapter XI in 2014 and was liquidated.
1990 - Billy Joel became the first rock artist to perform at Yankee Stadium.
1994 - Ken Griffey, Jr. broke Babe Ruth's record for most home runs by end of June (31).
2001 - Returning to the Major Leagues after a stint with Newark Bears of the independent Atlantic League, Jose Canseco starts as the designated hitter for the White Sox. The former All Star, who has 446 career home runs (23rd all time), didn't get any offers after being released by the Angels in the spring.
2002 – Darryl Kile (1968-2002) died. A pitcher for the St. Louis Cardinals who won 20 games in 2000, Kile died of undetected coronary disease in Chicago, where he and the Cardinals were staying for a weekend series against the Cubs.
2003 - In the 13th inning at Veterans' Stadium, pinch-hitter Todd Pratt hits a two-run homer giving the Phillies a walk-off 6-5 victory over the Red Sox. Boston's shortstop Nomar Garciaparra's club tying record 6-for-6 (all singles) performance could not prevent the bullpen from blowing three late leads; 2-1 in the 8th (Thome's HR ties it), 3-2 in 12th (Thome's second HR ties it).
2006 - California and the rest of the West Coast got hit by a big heat wave. For three days it has been over 100 degrees in the shade.
It was 104 degrees at Los Gatos, California, where I worked at the time. The air conditioning could not keep up and when the office hit over 85 degrees at 3pm, we closed up and all went home for a cool one.
2009 – Eastman Kodak announced that it will discontinue sales of the Kodachrome Color Film, concluding its 74-year run as a photography icon.
2009 - A DC Metro train, traveling southbound at the Fort Totten Station in suburban Maryland, collided into another train sitting in the station. Nine people were killed in the collision (eight passengers and the train operator) and at least 80 others were injured.
2009 – Donald Fehr announced his retirement as head of the MLB Players Association after 25 years. He was in charge during the 1994 strike that cancelled the World Series, the rampant use of PEDs that he protected under the cover of player privacy, and the relative labor peace that followed. His resignation was effective in March, 2010.
2015 - Nikki Haley, governor of South Carolina, supported removal of the Confederate flag from state grounds; however, the state legislature must first overturn a law requiring the flag to be flown at the Confederate Soldier Monument
NBA Champions
1994 - Houston Rockets
-------------------------------------------------------------

SuDoku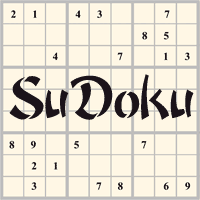 The object is to insert the numbers in the boxes to satisfy only one condition: each row, column and 3x3 box must contain the digits 1 through 9 exactly once. What could be simpler?
http://leasingnews.org/Soduku/soduko-main.htm
--------------------------------------------------------------

Daily Puzzle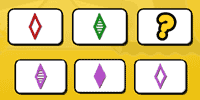 How to play:
http://www.setgame.com/set/puzzle_frame.htm
Refresh for current date:
http://www.setgame.com/set/puzzle_frame.htm
--------------------------------------------------------------


http://www.gasbuddy.com/
http://www.gasbuddy.com/GB_Map_Gas_Prices.aspx
http://www.gasbuddy.com/GB_Mobile_Instructions.aspx
--------------------------------------------------------------

Weather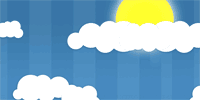 See USA map, click to specific area, no commercials
--------------------------------------------------------------

Traffic Live---
Real Time Traffic Information
You can save up to 20 different routes and check them out with one click,
or type in a new route to learn the traffic live
--------------------------------