Credit Analyst
Sausalito, CA
To start, $45M-60M per year depending upon experience and qualifications, small office in great community, work w/seasoned
professional; Banking or financial or leasing background required, opportunity to increase skills and knowledge: call Steve Pickens at 415-331-1725

Friday, June 16, 2006
Headlines---
Classified Ads---Sales
Advantage Funding Sold
White Paper: Equipment Leasing Insurance
CyberNet's former prez. to federal court
Community Banks Steps Up anti-ILC Campaign
Classified Ads---Help Wanted
Selling Up--- bv Steve Chriest
"The Good Coach"
Placard---Salesman did not meet quota
Accounting Today Blasts AICPA for Data Loss
Tuesday, June 20 Fraud web Seminar
CIT Expands its Diversified Industries Group
ePlus Wins Top Revenue Generator Award
NetSol Technologies Raises $5.5MM
Texas AG Greg Abbott Happy Father's Day
News Briefs---
You May have Missed---
Sports Briefs---
"Gimme that Wine"
Today's Top Event in History
This Day in American History
Baseball Poem
SuDoku Puzzle
######## surrounding the article denotes it is a "press release"
Classified Ads---Sales
Brotherhood Winery, Washingtonville, NY
(one of the East Coast wineries which claims to be the oldest in continuous production wineries )*
Note: Those seeking jobs in this category tell Leasing News they are not interested in receiving telephone calls from brokers who want them to work on a commission basis only. Many here are already employed, seeking to advance themselves, change companies, or get back into leasing. All who have contacted us are employed, some independently and would prefer to work where they get sick days, vacations, health benefits, support, and their family would also receive better financial security.
Bakersfield, CA
I have an extensive sales and management background in equipment leasing. My work history exhibits my major strength in small ticket equipment leasing.
Email:
pangress@msn.com
Boston, MA
Middle market originator, construction/Trucks / Trailers w/ 8 years in territory, looking for company / bank with competitive products
Email: mrichlease@comcast.net
Cedar Rapids, IA


Formally trained in Credit, Collections, & Sales with regional bank. Seeking sales or sales management. Over ten years in SM, vendor and end user.
Email: mjrprime@yahoo.com
Dallas, TX
17 years of experience in vendor sales. Solid book of business. Can hit the sales ground running in Dallas/Ft. Worth. Can Start ASAP
E-mail: whomadewho12@yahoo.com
Denver CO
Experienced Equipment Leasing Broker looking for a in house leasing company. Can bring a book of business with me or develop new territory where needed.
Email: Steven@eagle2.net
Detroit MI
Motivated self-starter w/5 yrs sales exp. IT leasing. Excellent communicator w/strong negotiation/biz dev. skills. Six-sigma certified w/ Fortune 50 company/book of business.
Email: playmakers1@sbcglobal.net
East Central FL
20+ years experience in all areas of leasing; sales, credit, operations, syndication. Currently independent seeking position with direct middle market lender in regional capacity
email: southernleasing@bellsouth.net
Fresno CA
Account Exec/Manager. 7+ years Leasing Sales: underwriting/contract, complex transactions, hi-tech, government, direct & vendor leasing. Captive & syndicator environments. Expert deal closer. Will send resume.
http://216.66.242.252/AL/LeasingNews/Resumes/Peck_david.pdf
Email: dsp559@pacbell.net
Greensboro, NC
Seeking direct & broker sales w/major finance companies in NC or southeast market. Small to mid-ticket range. Stable &family oriented. Will have series 6,63,65 license shortly.
Email: kc1492@aol.com
Kansas City, MO
20 years Senior Sales/Management experience in small ticket/government leasing. Program Management experience, managing 12 Reps. Credit Auth to $50K. Success in soliciting and maintaining accounts.
Email: dhundley1@kc.rr.com
Los Angeles CA
5 years experience structuring off-balance sheet finance solutions on computer and medical equipment. Perform detailed competitive analysis and market research. I uncover leads and sell.
email: barretthawk@hotmail.com
Mission Viejo, CA
Account Sales Executive with 10 years of leasing experience looking for company to bring existing customer base.
Email: makelly21@hotmail.com
Montgomery, AL
Individual with 10 years advertising sales exp. & 7 years insurance sales exp. Wants independent contractor situation in Alabama.Work with leasing company or broker.334-281-5200
E-mail: billmcneal2003@yahoo.com
Nashua, NH
10+ years sales experience small & mid-ticket hi-tech & telecom in a captive and vendor environment. Seeking new sales opportunity in New England.
E-mail: RPepa@aol.com
Newport Beach, CA
Direct sales rep. in the middle market w/22 years experience various types of equipment. Leasing/ financing from medical equip. to mfg. equip.. Strong closer.
E-mail: pauldriscoll1@lycos.com
Midsouth, TX
Lease Veteran-25+ years, heavy Vendor experience looking for new opportunity in MidSouth/SE. Experience in leasing to major accounts in high- tech/computers/Golf/transportation.
Email: LeaseVeteran@sbcglobal.net
North Carolina, Central
7 yrs. equip leasing &finance; specialist in heavy construction equip for 2-top-5-specialty finance/lease companies, NC &VA territories. $10-15MM annual funding. Downsized in 2002, now independent broker with varied customer base.
Email: sunriseleasing@aol.com
Philadelphia , PA
Seeking an open opportunity to advance in the automotive, commercial leasing & finance industry.........
Email: alexe362002@yahoo.com
Philadelphia, PA
25 years in Healthcare and seeking an opportunity to represent a lender for dental/medical funding in the Northeast to Mid-Atlantic states.
email: mitutz@msn.com
Portland, OR
"Exp. In direct sales and sales mgmt.I love Portland, but decent here jobs are few. Willing to be re-located, would like to work for you.
Email: pthygeson@netscape.net "
Prairie Village, KS
Have substantial deal flow and database of broker referral sources. Generated and closed over $22M LY. Seeking exclusive relationship w/direct founder.
Email: fiergl@aol.com
Saint Louis, MO
25+ years in sales + sale management. Top producer. Will relocate for right opportunity.
email: wwa2@htc.net
San Francisco Bay Area, CA
10+ yrs in middle market leasing. Seek direct lessor only. Transaction size from $500M to $10.0MM. Client base: printing, food, retail, manufacturing.
Email: edm173@sbcglobal.net
San Francisco Bay Area
Currently employed Vendor Program "Hunter", with complex program development experience. Also skilled at program management. Technology to yellow iron assets. Extensive national rolodex.
Email: VdrPgmBizDev@aol.com
San Francisco Bay Area
15+ yrs-mid mkt. $500M to $10.0MM. Seeking role w/ captive or global leasing firm. large book to bring with me! Debt, tax, 1 st amendment, etc.
Email: lac4002@yahoo.com
San Francisco Bay Area, CA
Experience in small and middle ticket-mostly vendor driven business; specialist in manufacturing, hi-tech & medical. Excellent analytical & marketing skills.
Email: deals_2_do@yahoo.com
Southern California
Equipment Financing Professional with strong background in Sales, Management, Marketing & Operations. Will consider relocation for Senior Sales or Management position offering dynamic growth opportunity.
Email: natsif@hotmail.com
South Central US
TX, OK, KS & AR Territory.
Equipment finance and leasing professional, 20 years experience. Top producer in middle to upper middle markets. Extensive customer base.
Email: usleasingrep@yahoo.com
For a full listing of all "job wanted" ads, please go to:
http://216.66.242.252/AL/LeasingNews/JobPostings.htm
To place a free "job wanted" ad, please go to:
http://216.66.242.252/AL/LeasingNews/PostingForm.asp
. Brotherhood Winery, Washingtonville, NY
. Listed on the New York State Register of Historic Places, Brotherhood, the oldest continually operating winery in America, offers an extensive tour, which includes the nation's largest underground wine cellars. Principal: Cesar Baeza
• Established: 1839
• Storage Capacity: 450,000 gallons
• Average Production: 18,000 cases
About the winery
http://www.brotherhoodwinery.net/pages/default.asp
Photo gallery
http://www.brotherhoodwinery.net/pages/photogallery.asp
"Tours and Lectures include a stroll through our museum, featuring memorabilia from over 160 years of preparing America's favorite wines and champagnes. Along with our exhibits, you will see the oldest and largest underground cellars in America where barrel aging continues in the traditional manner. Included in the tour is a viewing of our Champagne Vault which harbors our exquisite Methode Champenoise, "Grand Monarque Champagne". Take a peek inside our treasured vault at Brotherhood's rare and exceptional collection of wines. And don't forget everyone's favorite part of the tour - the wine tasting! Sample your old favorites and our exciting new line of premium wines. Our sales room is stocked to the brim, so get extra special discounts now!
Guided Wine Tasting Tours are available daily April through December. "
----------------------------------------------------------------

Advantage Funding Sold
Edward P. Kaye, President of Advantage Funding, Long Island City, New York, announced that his company was basically sold to Marubeni Motor Holdings, Inc., who purchased 80% of his corporate group's stock.
Kaye told Leasing News:
"1. They have other leasing companies but not vehicle and/or equipment leasing.
"2. No direct changes, management and all employees stay in place.
"3. We will not be moving to a new headquarters.
"4. We are looking to hire more salespeople and eventually operations people to support sales.
"5.. We will continue in vehicles but will look to establish industry specific programs (i.e. vendor programs) and Marubeni will bring us equipment to finance from other businesses they own." Kaye added, "The acquisition of Advantage by Marubeni gives us a world class partner to grow our core business and better serve our customers and vendors."
Marubeni Corporation is the world's 15 th largest company, according to Forbes International 500 in 2003 with total volume of trading transactions of $74 billion. Founded in 1858, the corporate headquarters is in Tokyo, Japan, with more than 5,200 employees in 74 countries. Marubeni Motor Holdings is 80% owned by Marubeni America Corporation and 20% owned by Marubeni Auto & Construction Machinery America, Inc.
Tsutomu Yamamoto, COO of Marubeni America Corp., and the President of Marubeni Motor Holdings, stated, "Marubeni sought to acquire an industry leader that could support our auto related and finance businesses, and we are fortunate to have been able to acquire Advantage Funding."
Advantage Funding specializes in the vehicle leasing industry and in the last few years has been entertaining equipment leasing to the ground transportation industry. The company reportedly originates and services a $100 million loan and lease portfolio specializing in the limousine, funeral, commercial coach and Para transit industries.
Eric C. Coolbaugh, Vice President of Advantage, added, "Marubeni's willingness to keep our management team in place and bring business to us is a very unique opportunity for a company such as ours."
"The synergy between our business and Marubeni will afford us structured growth and opportunities that would not otherwise be available to us," Michael Kaplan, Advantage Funding's Secretary Treasurer, stated.
Contact Edward P. Kaye:ekaye@advantagefunding.us or at (866) 392-1300, ext.14, for more information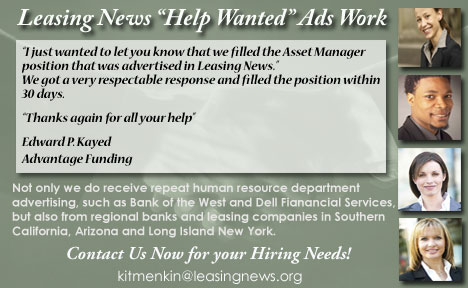 ----------------------------------------------------------------

White Paper on Equipment Leasing Insurance
by Christopher Menkin
None of the class action suits mentioned in this weeks stories have ever gone to trial, "but leasing companies have paid settlements ranging from $7.5 million to over $50 million rather than incur the risk and expense of litigation," notes James C. Donnelly, Jr., Partner of Mirick, O'Connel and Steve Dinkelaker, president of American Lease Insurance in a white paper to be published by the Equipment Leasing Association.
"Class Action lawsuits against leasing companies almost invariably target lease insurance programs that appear more concerned with enhancing the lessor's profit than protecting its interest in the lease equipment," the white paper states.
"The lessor's profit is often disguised---or at least not clearly disclosed-at the time of the lease transaction. If the sources of the lessor's profit are not fully disclosed to the lessee in the lease agreement, Class Action attorneys will call a foul."
"Since none of the Class Action lawsuits has ever gone to trial, there is little judicial guidance as to what is or is not permissible. The important point---for purposes of this analysis---is that both prominent and reputable leasing companies have chosen to pay multi-million dollar settlements to avoid the risk and expense of going to trial. The wisest course is a proactive strategy to avoid the type of conduct that typically precipitates Class Actions."
The eight page "Executive Guide to Equipment Lease Insurance" addresses primarily the "forced insurance" charges in the class actions and not "profit" from UCC fee and document charges in the California US Bancorp suit. That the businesses did not understand the leasing company was making a profit on the fees is preposterous.
The facts that these "profits" are costs for the extra administrative time, employee costs, and extra processing, has never been brought to court, as well as the relatively small l percentage cost charged to the customer, who also is in business to make a profit and charge for their services.
The reality in the property damage insurance is to protect both the lessor and lessee, not as another means of providing income. The lessee is responsible to make the payments even if the equipment is stolen, lost in a fire, or damaged in an accident.
The article goes into this philosophy and the purpose, including "liability" or "casualty" insurance---noted that the term is not property insurance, but another name for "liability" coverage.
The article discusses the need for ".a properly drafted lease insurance class" and lists five key elements that would have at worst defined the intention of the lessor, and at best, protected the lessor from such seemingly frivolous suits. and thus the reason for all those attorney jokes.
James C. Donnelly, Jr., Partner
Mirick, O'Connell
508-791-8500
jcdonnelly@modl.com
www.MirickOConnell.com
Steve Dinkelaker, President
American Leasing Insurance
888-521-6568 x 245
steve@aliac.net
www.aliac.net
White Paper, June 12, 2006 (from their web site)
http://www.leasingnews.org/docs/ALI_Guide.doc
Previous Story:
http://www.leasingnews.org/#fee
US Bancorp gets Class Action Suit
http://www.leasingnews.org/archives/June%202006/06-09-06.htm#bancorp
Collection of Attorney Jokes
(These are mostly from attorneys, including the great, late stand-up comic, leasing law expert Jeff Wong, Esq.):
http://www.leasingnews.org/Conscious-Top%20Stories/att_jokes.htm
----------------------------------------------------------------

CyberNet's former president going back to federal court
woodtv8.com
James Horton
GRAND RAPIDS -- 24 Hour News 8 has learned the man in the middle of a massive fraud investigation will plead guilty.
James Horton was the president of Grand Rapids-based The CyberNet Group from 1992 to 2004. The IT Company was shut down by the FBI when the investigation began in 2004. Its founder and chairman, Barton Watson, ended his life during a police standoff in his mansion shortly thereafter.
In April of this year, Horton pleaded not guilty in federal court to four felonies connected with the alleged bilking of $100 million from banks and leasing companies. The felonies include alleged bank and mail fraud, wire fraud and money laundering. One of the charges deals with a specific $17 million line of credit.
According to court documents obtained by 24 Hour News 8, Horton will appear in federal court next week for a plea hearing. That is when the U.S. Attorneys Office confirms a guilty plea is expected. It seems Horton has struck a better deal with prosecutors.
Horton faces decades in prison. He is the first and only person to be charged in this investigation. According to U.S. Attorney Tim Verhey, other charges are pending.
Previous story:
http://www.leasingnews.org/Conscious-Top%20Stories/Trial_set.htm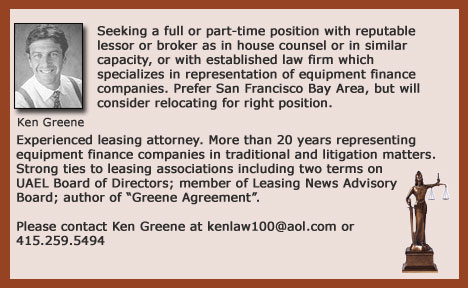 ----------------------------------------------------------------

Community Banks Steps Up anti-ILC Campaign
As reported on June 7, the Independent Community Bankers of America is urging members to contact their representatives to sign a drafted letter to the FDIC by Rep. Paul Gillmor, R-Ohio, and Rep. Barney Frank, D-Mass. The representatives ask the FDIC to "... impose a moratorium on approving any applications for deposit insurance for any new industrial loan companies owned by commercial firms and on approvals for acquisitions of existing ILCs until Congress has had an opportunity to consider the ILC issue."
The American Banker magazine reports bankers are also not happy over Home Depot's application to acquire EnerBank. They report the proposal ".is not going over well with community bankers who say the deal would put them at a competitive disadvantage.
The chief complaint among bankers is that EnerBank would allow Home Depot to offer financial services to a market they cannot tap. "I don't have the advantage of selling lumber. I can't get into their business," says Glenwood State Bank President Larry Winum. At a time when banks have been lobbying regulators and lawmakers to prohibit commercial firms like Wal-Mart from crossing the competitive barrier separating banking and commerce, lenders find Home Depot's application even more unnerving because unlike Wal-Mart, Home Depot would market EnerBank's products and services to contractors, who in exchange would refer customers back to the retailer.
According to Ron Ence, vice president for congressional relations with the Independent Community Bankers of America, EnerBank would have "the potential to capture the entire home improvement lending market in communities served by Home Depot."
Approximately 400 comment letters protesting the proposal have been sent to the Federal Deposit Insurance Corp.
There are several leasing companies who have industrial loan companies, such as CapitalSource with commercial loans, Daimler Chrysler automobile loans and LCA Bank Corporation, plus several news ones have applications into the State of Utah who have granted 35 charters, including Wal-Mart's chief competitor Target. Perhaps caught in this new storm is the ILC application from Marlin Business Services, who has not made any current comment to date on the matter, including in their SEC filings.
----------------------------------------------------------------

Classified Ads---Help Wanted
Account Executive

Exp. Account Executive
Salt Lake City, Utah
Intermediaries--Background in sales/leasing and/or finance required/credit experience preferred. Salary plus commission. Fax resume: 801-733-2363 or email: clong@acccapital.com


Jr. Analyst
Credit Analyst
Sausalito, CA
To start, $45M-60M per year depending upon experience and qualifications, small office in great community, work w/seasoned
professional; Banking or financial or leasing background required, opportunity to increase skills and knowledge: call Steve Pickens at 415-331-1725

Operations Manager

Operations Manager for growing equipment leasing/broker services co. in Costa Mesa, CA to oversee syndication, docs, & credit functions. Prior leasing experience pref. Salary with benefits. Send resume to: Sarah@Podiumfinancial.com

VP-Manager of Equipment Lease Division
----------------------------------------------------------------

"The Good Coach"
by Steve Chriest
I'll never forget the sales training and guidance I received from Al, my first sales manager. Fresh out of college, and eager to start my first job, I walked into Al's office on Monday morning and asked him when we would get started with my training. Al handed me a thick, white binder stuffed with brochures and product information sheets, leaned back in his chair and said, "I'm going to tell you what my first sales manager told me - "If you want to learn how to swim, there is no quicker, better way to learn than to jump right into the middle of the lake. Here is your binder with all our product information. Now, go get 'em tiger!"
I soon figured out that Al wasn't really a sales manager, and he certainly wasn't a coach. What I needed at that time, since I knew absolutely nothing about sales, was a good coach. So, what could Al, as my sales manager, have done to act like a good coach for me?
First, besides providing some basic product knowledge, Al could have assumed the role of a teacher. He could have taught me some of the fundamentals of selling. Effectively teaching fundamentals, in any discipline, are common to all good coaches.
Sales managers, who are also good coaches, must do more than teach fundamentals to their sales teams. One of the most important things all good coaches recognize is that practice doesn't make perfect -only perfect practice makes perfect! Once the manager teaches fundamentals, the learning's must be continuously reinforced. Good coaches know that even world class athletes must practice the fundamentals of their sports throughout their careers.
In the case of vendor sales, for example, selling fundamentals should include how to prospect for new business that fits the profile of a profitable relationship for their company, how to qualify sales opportunities, how to efficiently perform the work that must be done to move opportunities through a sales funnel, how to close sales opportunities and how to effectively manage established relationships.
Once the sales team understands and grasps the fundamentals, the sales manager, as a good coach, must reinforce the practice of those fundamentals until execution of sound fundamentals becomes part of the team's DNA.
Sales managers who are good coaches know that teaching and reinforcing, the cornerstones of good coaching, are never-ending processes. Sales managers who are also good coaches are hard to find. It's even harder to find sales managers who have learned how to become great coaches. Next week we will explore the attributes of great coaches.
Copyright © 2006 Selling Up TM . All Rights Reserved.
About the author: Steve Chriest is the founder of Selling Up TM ( www.selling-up.com ), a sales consulting firm specializing in sales improvement for organizations of all types and sizes in a variety of industries. He is also the author of Selling Up , The Proven System for Reaching and Selling Senior Executives. You can reach Steve at schriest@selling-up.com .
[headlines]
----------------------------------------------------------------

[headlines]
----------------------------------------------------------------

Accounting Today Editor Carlino Blasts AICPA for Data Loss
In an editorial this week, Accounting Today editor-in-chief Bill Carlino took the American Association of Certified Public Accountants (AICPA) to task-gently, but firmly-for losing a hard drive containing the names, addresses and Social Security numbers of 330,000 of its members.
The drive, which was sent out for maintenance in direct violation of the institute's internal controls policy, has yet to be declared officially lost by FedEx.
"I find this situation more than a bit ironic," writes Carlino, "since the topic of IT security usually comes near the top of the institute's annual Top 10 Technologies survey and headlines multiple seminars at every major IT conference."
http://nls.bfmag.com/t?ctl=2EA50:109907
### Press Release ###########################

There's Still Time To Register for June 20th ELA Web Seminar on Leasing FraudFRAUD...It's Back: The Cost of Leasing Equipment or the Penalty for NOT Doing Your Homework
An ELA Web Seminar
Tuesday, June 20, 2006
2:30 - 4:00 pm EDT
Already 100 companies have registered to participate in an important web seminar that focuses on the high cost of not doing your homework when it comes to the potential for fraud. Scheduled for Tuesday, June 20 th , this informative, web-based seminar discusses recent frauds and scams plaguing the industry and what you can do to detect and avoid them. Interested parties may still register by going here:
http://www.elaonline.com/events/krm.cfm
Leasing companies have lost a great deal of money due to fraudulent schemes. These schemes can be perpetrated by vendors, end users, insiders in leasing companies or a combination of all of the above. An experienced panel of inside and outside counsel will discuss recent frauds and scams, including the All Serve Systems case. Panelists will consider the anti-fraud tools and resources available, and the steps to take to mitigate losses from fraud. The panel will emphasize what set of facts and circumstances may warrant additional attention to a deal, and other suggestions to aid you in detecting fraud. Get answers to these and other questions:
• What new schemes and new technologies are being used to defraud leasing companies?
• What are the "red flags" of fraud?
• What can you do when you think you have detected a fraud?
• What actions can be taken when you believe your company may be subject to a fraud?
Time of Web Seminar (depending upon your time zone):
2:30 pm - 4:00 p.m. Eastern
1:30 pm. - 3:00 p.m. Central
12:30 p.m. - 2:00 p.m. Mountain
11:30 am - 1:00 pm Pacific
Panelists:
Michael A. Leichtling, Partner
TROUTMAN SANDERS LLP
Peter E. Ochroch, Assoc. General Counsel
DE LAGE LANDEN FINANCIAL SERVICES
Richard H. Weiner
Managing Partner
ARONSOHN, WEINER & SALERNO PC
Got Questions for the Instructors?
The instructors want to make sure they address issues that concern you. We invite attendees to submit questions in advance of the program. Please send these directly to Lesley Sterling at lsterling@elamail.com She will forward them on to the instructors.
Intended Audience
This program is designed for business executives, credit and sales personnel and all individuals involved in documenting and negotiating lease transactions. Most companies will want to include a multi-person team in this web seminar who represent these disciplines.
Registration and General Information
For complete registration information, please go here:
http://www.elaonline.com/events/krm.cfm
The tuition fee includes the seminar materials, one toll-free connection to the live web seminar and your personal name and password to log on to the internet. You will be able to follow the presentation, ask questions and participate in polling questions directly from your computer. You pay one fee and you can ask as many people to listen in on your one connection, via speakerphone, as you wish.
Can't Make the Web Seminar, but want the Audio CD and Materials?
If you can't attend the web seminar, you may still purchase the audio CD and seminar materials. For complete details, go here
http://www.elaonline.com/events/krm.cfm
and click on the "Recording" icon.
Web seminar services are provided by KRM Information Services, Inc. You may contact customer service at 715-833-5426 or 800-775-7654 to register for this event.
### Press Release ###########################

CIT Expands its Diversified Industries Group to Increase Business Growth
NEW YORK - - CIT Group Inc. (NYSE: CIT), a leading provider of commercial and consumer finance solutions, today announced the expansion of its Diversified Industries Group with the appointment of eight executives in credit and sales. The Group provides a full range of financial services, including senior debt financing and wholesale and retail financing to support manufacturers and distributors.
"The addition of these individuals to CIT's Diversified Industries Group reflects our commitment to grow our business and to provide customized financing solutions to our growing client base," said Mike Brown, president of CIT Diversified Industries.
The senior executive joining CIT's Diversified Industries Group, Capital Equipment Finance (CEF) Division is:
*Michael G. Nawara, senior vice president.
Based in Tempe, AZ, Nawara will be responsible for underwriting CEF transactions, assisting in the funding processes and negotiating credit commitments and documentation. Prior to CIT, he was vice president of credit at RBS Asset Finance. Nawara graduated with a BS in Finance from Northern Illinois University. He will report to Scott Spicer, chief credit officer.
The Middle Market Direct sales group has added three additional sales representatives. These individuals will focus on generating new business opportunities with sub-investment grade customers with annual revenues up to $100 million.
*Kent Monfore, district sales manager, Middle Market Direct.
Based in Los Angeles, Monfore will be responsible for direct originations from $1 million to $5 million. He joins CIT from GE Capital Equipment Finance where he served as vice president and was responsible for sourcing middle market corporate financing opportunities in Southern California. He graduated with a BS in Economics from Southern Methodist University.
*Peter Donovan, district sales manager, Middle Market Direct.
Based in Boston, MA, Donovan will focus on direct originations from $1 million to $5 million. Prior to this he worked at CIT's Small Business Lending Group where he focused on Commercial Real Estate. Prior to CIT, Donovan worked for GE Commercial Finance where he acquired middle market real estate in Massachusetts, Rhode Island and New York. He served in the USMC and graduated with a BS in Industrial Management from Lesley College and a MS in Taxation from Golden State University.
*Debra L. Hoffer, vice president, Middle Market Direct.
Based in Atlanta, GA Hoffer will be responsible for direct originations from $1 million to $5 million. Hoffer joins CIT from Key Equipment Finance Inc. where she focused on originating lease and loan transactions for general equipment acquisitions. She graduated with an Associates Degree from Anderson College and serves on the board of the Commercial Finance Association.
Additional members of the Diversified Industries Group are part of the Capital Equipment Finance sales team and will report to senior vice president and national sales manager Norm Hall. These individuals will focus on generating new business opportunities while focusing on CIT's emergence as a principal provider of commercial and consumer financial solutions.
*Jennifer L. Stamps, vice president, Business Development.
Based in Austin, TX, Stamps joined CIT from GE Commercial Finance where she served as senior vice president and was responsible for structuring financing proposals between $20 million and $500 million across a wide spectrum of industries. Prior to GE, she was a marketing director at Boeing Capital Corporation in charge of structuring customized financial products including single investor leases, structured debt and term loans. Stamps graduated with a BA in Business Administration and an MBA from the University of Texas.
*B. Forrest Taylor, vice president, Business Development.
Based in Houston, TX, Taylor joins CIT from Regions Bank where he was senior vice president for corporate banking with a focus on managing energy driven portfolios. Prior to Regions Bank, he was responsible for developing loan and lease opportunities at Merrill Lynch Capital and Heller Financial. Taylor graduated with a BBA in Finance from the University of Texas.
*Brent Edward Carey, vice president, Business Development.
Based in Los Angeles, CA, Carey joins CIT from GE Capital where he served as vice president in business development, completing approximately $450 million in structured deals. His focus was on fixed-asset based deals including equipment and single tenant real estate. Prior to GE Capital, Carey managed a staff at Jules & Associates, Inc. specializing in direct business development. Carey graduated with a BS in Business Administration from the University of Southern California and is a committee member for the Marshall Business Alumni Association Board.
About CIT Diversified Industries
CIT Diversified Industries is a leading lender and lessor in the packaging, printing, machine tools, plastics, and manufacturing markets. It offers full-service financing programs, private label programs, merchandising support and portfolio purchases. The group provides CIT's full range of financing services, including senior debt financing and wholesale and retail financing to support manufacturers and distributors. In addition, it handles the administrative process from credit risk evaluation to collecting and acts as an agent or participant in larger financing transactions.
About CIT
CIT Group Inc. (NYSE: CIT), a leading commercial and consumer finance company, provides clients with financing and leasing products and advisory services. Founded in 1908, CIT has more than $67 billion in assets under management and possesses the financial resources, industry expertise and product knowledge to serve the needs of clients across approximately 30 industries worldwide. CIT, a Fortune 500 company and a member of the S&P 500 Index, holds leading positions in vendor financing, factoring, equipment and transportation financing, Small Business Administration loans, and asset-based lending. With its global headquarters in New York City, CIT has approximately 6,700 employees in locations throughout North America, Europe, Latin America, and Asia Pacific. www.cit.com .
Sites of Reference:
### Press Release ###########################

ePlus Ranked Among North America's Top 500 Technology Integrators by
VARBusiness Magazine; Wins Top Revenue Generator Award
#87 Ranking Acknowledges ePlus' Success, Growth, and Standing in the Technology Equipment and Services Marketplace
HERNDON, Va.------ePlus inc. (Nasdaq NM:PLUS), a leading provider of Enterprise Cost Management solutions, announced it has been recognized by CMP Technology's VARBusiness magazine as one of North America's top technology integrators. ePlus placed number 87 (up from 122 last year) in the 12 th annual VARBusiness 500 ranking. In addition to this distinction, ePlus also received the Top Revenue Generator Award in the $500 million plus revenue Category, with 93% growth.
The 500 companies are the leading revenue producers among solution provider organizations in North America and account for $378 billion in sales of information-technology (IT) services and products. The complete listing of the VARBusiness 500 is published in the June 12, 2006 issue of the bi-weekly business magazine that provides strategic insight for technology integrators.
"Companies like ePlus play critical roles in providing the proper information-technology strategies and systems to corporations and institutions to help drive business forward," said Lawrence M. Walsh, VARBusiness editor.
"ePlus is pleased to be recognized again by VARBusiness magazine as one of the nation's top technology integrators," noted Phillip G. Norton, chairman, president, and CEO of ePlus. "Our jump into the top 100 affirms the value we bring to our customers, partners, and vendors. And the focus we have on providing advanced professional services, in combination with our proprietary software to automate business processes in the supply chain, is proving to be the right solution for today's business needs."
"I'm proud to see ePlus recognized in the marketplace, especially for our nearly 93% growth-giving us one of the highest rankings in that category and receipt of the Top Revenue Generator Award," said Mark Marron, senior vice president of ePlus. "I look forward to achieving further success with ePlus as we continue to increase our sales, foster and leverage our strategic partnerships, and deliver best-in-class solutions to our customers."
Complementing its equipment and technology offering, ePlus delivers a comprehensive suite of solutions, including financing and leasing services, industry-leading software, and professional services that work in concert to reap maximum benefits for customers.
To complete the 2006 ranking of the 500 largest North American solution providers, VARBusiness partnered with research firm Answers Research to help collect and analyze the data. VARBusiness designed the survey, which was administered on its Web site between February and April 2006, as a means to collect the data. Independent data sourcing (e.g., SEC filings, annual reports, etc.) also was conducted. Finalists were ranked according to their fiscal year 2005 revenue, based only on their reseller-related services business.
About VARBusiness Magazine
For the past 19 years, VARBusiness' strategic resources have been the gateway to the Solution Provider community. VARBusiness provides strategic insight for technology integrators through industry-defining research, in-depth editorial, channel events, and innovative Web services, enabling these IT professionals to make educated decisions for their businesses, partnerships, and customers. VARBusiness has been the recipient of numerous industry awards for both editorial content and design. Additional information about VARBusiness products, events, and services, is available at its Web site, www.varbusiness.com .
About ePlus inc.
ePlus is a leading provider of Enterprise Cost Management solutions to information technology, finance, procurement, operations, and supply chain professionals who want to reduce the costs of finding, purchasing, managing, and financing information technology goods and services. Our Enterprise Cost Management solutions provide sourcing, procurement, spend analytic, supplier management, document collaboration, asset management, professional services, and leasing to ePlus' 2,000+ customers. Profitable since inception in 1990, the company is headquartered in Herndon, VA and has more than 30 locations in the United States. For more information, visit
www.eplus.com , call
888-482-1122 or
email info@eplus.com .
ePlus, eECM, ePlus Enterprise Cost Management, and/or other ePlus products referenced herein are either registered trademarks or trademarks of ePlus inc. in the United States and/or other countries. The names of other companies and products mentioned herein may be the trademarks of their respective owners.
### Press Release ###########################

NetSol Techonogies Raises $5.5 Million in new Financing
Company Taps Institutional Investors, Funds Earmarked for Acquisition Strategy, Working Capital and Global Marketing Initiatives
CALABASAS, CA-NetSol Technologies, Inc. (NASDAQ:NTWK), a developer of proprietary software applications and provider of information technology (IT) services, announced that it has reached a definitive agreement to raise $5.5 million through a private placement of convertible notes and warrants with institutional investors.
The notes, which mature one year from the date of issuance, will be converted into Series A cumulative convertible preferred stock upon shareholder approval. Maxim Group LLC served as the exclusive placement agent for the transaction.
"We are pleased to announce the completion of this capital raise," said NetSol Chairman, Najeeb U. Ghauri. "The transaction will serve as a springboard for our growth strategy, driving the integration of our acquisition of CQ Systems and McCue Systems, and providing the necessary working capital for our continued global expansion."
Najeeb Ghauri
About NetSol Technologies, Inc.
NetSol Technologies is an end-to-end solution provider for the lease and finance industry. Headquartered in Calabasas, CA, NetSol Technologies, Inc. operates on a global basis with locations in the U.S., Europe, East Asia and Asia Pacific. NetSol helps its clients identify, evaluate and implement technology solutions to meet their most critical business challenges and maximize their bottom line. By utilizing its worldwide resources, NetSol delivers high-quality, cost-effective IT services ranging from consulting and application development to systems integration and outsourcing. NetSol's commitment to quality is demonstrated by its achievement of both ISO 9001 and SEI (Software Engineering Institute) CMM (Capability Maturity Model) Level 4 assessment. For more information, visit NetSol Technologies' web site at www.netsoltek.com .
NetSol Technologies:
Najeeb U. Ghauri, Chairman, or Tina Gilger, CFO
818.222.9195
najeeb@netsoltek.com
tina@netsoltek.com
(Note: NetSol recently purchased McCue Systems in Burlingame, California for $8.5 million, 50% cash transaction:
http://www.leasingnews.org/Conscious-Top%20Stories/John_McCue.htm )
### Press Release ###########################

Texas AG Greg Abbott Wishes Dads a Happy Father's Day Dads
who pay child support deserve recognition on Father's Day
AUSTIN - Texas Attorney General Greg Abbott praised Texas fathers who take care of their children by paying their child support. Ninety-three percent of the Attorney General's child support cases involve fathers who are required to make payments for their children who live in another household. Last year, the Office of the Attorney General collected a record $1.8 billion in child support, much of it made possible by fathers who make it a priority to pay their child support in full and on time.
"This Father's Day, I and the employees of the Division for Families and Children extend our sincere thanks to all fathers for giving their children the love and support they need and deserve," said Attorney General Abbott. "You are the unsung heroes in your children's lives."
Research confirms that fathers who pay regular child support are more likely to provide the emotional encouragement their children need to succeed in life. In addition, children with engaged, caring fathers perform better in school, are more self-confident, are more likely to exercise self-control, and are less likely to engage in risky behaviors as teens.
The Office of the Attorney General helps fathers without custody stay connected to their children by establishing paternity and child support orders, by referring unemployed and underemployed fathers to job training, and by funding local "Access and Visitation" programs that help fathers build healthy relationships with their children. This year, the Attorney General awarded grants to 12 organizations that help unmarried parents work together to parent their children.
The Office of the Attorney General also funds an Access and Visitation Hotline, which is staffed by attorneys who provide legal information and assistance about child custody and visitation matters. The hotline's toll free number, 1-866-292-4636, is answered in English and Spanish, Monday - Friday from 1 to 5 p.m.
The Attorney General's Division for Families and Children is directed by state and federal law to assist families who currently receive or have received public assistance, and families who request child support services. Services include locating absent parents; establishing paternity for children born to unmarried parents; establishing, enforcing and modifying child and medical support orders; and collecting and distributing child support payments.
For additional information, visit the Attorney General's Web site at
www.oag.state.tx.us , or
call
1-800-252-8014.
### Press Release ###########################
--------------------------------------------------------------

News Briefs----
Industrial production dips in May reflecting fall in auto output
http://www.signonsandiego.com/news/business/20060615-1426-economy.html
After the Enron Trial, Defense Firm Is Stuck With the Tab
http://www.washingtonpost.com/wp-dyn/content/article/2006/
06/15/AR2006061502025.html
Chicago Tribune Boardroom fight
http://www.chicagotribune.com/business/chi-060615tribune-debt-story,
1,669448.story?coll=chi-business-hed
Gates to leave day-to-day operations of Microsoft
http://seattletimes.nwsource.com/html/businesstechnology/
2003063990_webgates15.html
Fifth Third names Huntington veteran to fill treasurer opening
http://www.snl.com/interactivex/article.aspx?CdId=A-4373862-10852
Bush protects sea near Hawaii
http://www.mercurynews.com/mld/mercurynews/living/health/14823169.htm
---------------------------------------------------------------


You May have Missed---
Day one goes to Winged Foot as most clamor just for par; Tiger slumps to 76
http://www.usatoday.com/sports/golf/pga/2006-06-15-us-open_x.htm
---------------------------------------------------------------

Sports Briefs----
Even worse: Series tied after Game 4 flop
http://www.dallasnews.com/sharedcontent/dws/dn/latestnews/stories/
061606dnspomavslede.8df7c610.html
Roethlisberger Makes an Apology
http://www.nytimes.com/2006/06/16/sports/football/16ben.html?_r=1&oref=slogin
----------------------------------------------------------------


"Gimme that Wine"
Wine Researchers Using Biotechnology
http://www.sfgate.com/cgi-bin/article.cgi?f=/n/a/2006/06/15/financial/
f013947D33.DTL&hw=wine&sn=011&sc=210
August 17-19 Washington State Wine Festival
http://home.businesswire.com/portal/site/google/index.jsp?ndmViewId=
news_view&newsId=20060615005170&newsLang=en
South Africa new Wine corks
http://www.wine.co.za/news/news.aspx?NEWSID=8589&Source=News
Beaulieu Vineyard and Las Vegas Break Guinness World Record; Las Vegas Toast of the Century by BV Certified World's Largest Toast
http://home.businesswire.com/portal/site/google/index.jsp?ndmViewId=
news_view&newsId=20060614005760&newsLang=en
Wine Prices by vintage
http://www.winezap.com
http://www.wine-searcher.com/
US/International Wine Events
http://www.localwineevents.com/
Winery Atlas
http://www.carterhouse.com/atlas/\
Leasing News Wine & Spirits Page
http://two.leasingnews.org/Recommendations/wnensprts.htm
----------------------------------------------------------------

Today's Top Event in History
1967- The Monterey International Pop Festival opened in California. It was the first major rock festival and attracted 50,000 people over three days. Ticket prices ranged from $3.50 to $6.50 to see more than two dozen top rock acts. The performers played for free. The festival was immortalized in D.A. Pennebaker's 1969 documentary "Monterey Pop." Janis Joplin, The Jefferson Airplane, the Dead, Big Brother and other San Francisco artists performed. Fifty thousand spectators migrated to the site that featured Jimi Hendrix, Janis Joplin, The Mamas and the Papas and The Who. It was one wild weekend and I remember the smoke, the stoned performers and audience, and everyone was rocking all day and night long. I had press passes from KFRC radio and also went back stage, what I remember most was the booze, marijuana, and everything else right out in the open.
http://www.nostalgiacentral.com/pop/monterey.htm
----------------------------------------------------------------

This Day in American History
1738-Birthday of Mary Katherine Goddard - Colonial printer and publisher. She was the first to publish the Declaration of Independence. Her widowed mother worked in her son's printing plant in Rhode Island as she did. When he moved away leaving it in debt, the women continued the business and published the Providence Gazette. They sold it and moved to Philadelphia to publish the Pennsylvania Chronicle. Selling this paper, she moved to Maryland as the editor and publisher of the Maryland Journal which she published right through the Revolutionary war.
http://www.rebelswithavision.com/MaryKatherineGoddard.com/
http://www.baltimoremd.com/monuments/goddard.html
1822--Denamrk Vessy led slave rebellion in South Carolina, according to reports from 35 to 37 blacks slaves were hung, and perhaps up to 50 exiled into slavery into other parts of the world. The revolt had the opposite affect, arming whites, restricting travel of Black , education, bringing fear to whites of further black revolt and further laws of "repression."
http://www.aaregistry.com/african_american_history/510/
Slave_revolutionary_Denmark_Vesey_wanted_freedom
http://docsouth.unc.edu/church/hamilton/menu.html
http://www.afrigeneas.com/states/sc/SC-biblio.htm
http://www.digitalhistory.uh.edu/black_voices/voices_display.cfm?id=25
http://www.cr.nps.gov/nr/travel/charleston/ssa.htm
1858 - In a speech in Springfield, Illinois, Senate candidate Abraham Lincoln said the slavery issue had to be resolved, declaring, "A house divided against itself cannot stand."
1882 -- 17" hailstones weighing 1.75 lbs fall in Dubuque, Iowa. Small still- living frogs are found in some of those hailstones.
1883- the New York Giants hosted the first Ladies' Day baseball game. Both escorted and unescorted ladies were admitted to the game free.
1897 - The government signed a treaty of annexation with Hawaii.
1903 - Ford Motor Company was incorporated.
1904 -- James Joyce meets Nora Barnacle, a chambermaid at Finn's Hotel, Dublin, Ireland, & takes her for a walk. This is the day of Leopold Bloom's fictional odyssey through Dublin in Ulysses - Bloomsday.
http://www.2street.com/joyce/
1909- The first airplane sold commercially was the "Gold Bug," delivered by Glenn Hammond Curtis to the New York Aeronautical Society at Hammondsport, NY, for $5,000. Flying instructions were given to two members.
1917-Birthday of Katharine Meyer Graham, U.S. newspaper publisher who guided the Washington Post (and Newsweek magazine) to a place of prominence. Under her direction they challenged such national newspapers as the New York and Los Angeles Times, and Time magazine. She hired a strong staff of reporters and editors. She personally gave the go ahead to Post stories that exposed the Nixon political abuses and led to his resignation. She never, in the face of a lot of political pressure, failed to support her staff. In fact, Nixon's Attorney General John Mitchell had chortled after a Post article on the corruption of the Nixon administration that "this time she's got her tit in a wringer." He was that confident of the administration's power to crush her. He went to jail instead.
http://www.usatoday.com/news/washington/july01/2001-07-17-graham-dead.htm
1917 -Birthday of photographer Irving Penn.
http://www.tfaoi.com/aa/1aa/1aa393.htm
http://www.artic.edu/aic/books/subpenn.html
http://www.execpc.com/~torrey/notefoto.html#P
http://www.amazon.co.uk/exec/obidos/ASIN/082122459X/026-9304654-2918861
1917 - The temperature soared to 124 degrees at Mecca climaxing the most destructive heat wave of record in California history.
http://www.pe.net/~rksnow/cacountymecca.htm#history
http://en.wikipedia.org/wiki/Mecca,_California
1920- Birthday of John Howard Griffin, American author and photographer, deeply concerned about racial problems in US. To better understand blacks in American South, Griffin blackened his skin by the use of chemicals and ultraviolet light, keeping a journal as he traveled through the South, resulting his best-known book, "Black Like Me." Life Magazine syndicated the book, which was instrumental in the Civil Rights movement of the 60's.
1924 -Tenor player Lucky Thompson birthday.
http://www.fact-index.com/l/lu/lucky_thompson.html
http://www.artistdirect.com/music/artist/bio/0,,501507,00.html?artist
=Lucky+Thompson
http://www.fantasyjazz.com/catalog/thompson_l_cat.html
1933- Congress passed the Glass-Steagall Act, known as the Banking Act of 1933, creating bank deposit insurance. There was a sliding scale of protection, up to 50% over $50,000. In August 23,1935, the law was changed to a limit of $5,000 for any one depositor " to provide for the sound, effective and uninterrupted operation of the banking system, and for other purposes." Banks were regulated to obtain this insurance, which changed banking for both the business community and consumers, giving them more protection and regulating the banking industry.
1939- country rock singer Billy (Crash) Craddock was born in Greensboro, North Carolina. Craddock scored a hit on the pop charts in 1959 with "Don't Destroy Me," then quit the music business because his record company wouldn't allow him to record country songs. Craddock began recording again in the late 1960's, scoring hits with such rock-oriented country tunes as "Dream Lover," a former chart success for Johnny Burnette, and "Knock Three Times," a hit on the pop charts for Dawn. Billy (Crash) Craddock topped the Billboard country chart in 1977 with "Broken Down in Tiny Pieces."
1940-Blues singer Nolan Struck born Dunson, LA
http://centerstage.net/music/whoswho/NolanStruck.html
1946-Trumpet player Tom Harrell's birthday, born Urbana,IL.
http://home.earthlink.net/~tomharrell/harrbio.html
http://www.epinions.com/Music-Tom_Harrell_albums?sp=imed
1951---Top Hits
Too Young - Nat King Cole
On Top of Old Smokey - The Weavers (vocal: Terry Gilkyson)
Syncopated Clock - The Leroy Anderson Orchestra
I Want to Be with You Always - Lefty Frizzell
1952- Canadian pop singer and composer Gino Vanelli was born in Montreal. He had his first international hit in 1974 with "People Gotta Move." Vanelli's recording of "I Just Wanna Stop" was a million-seller, and garnered the singer a Grammy Award nomination and a Juno Award as male vocalist of the year in 1978. Vanelli traded heavily on his sex symbol image - good looks, shoulder length curly hair and tight jeans - during the 1970's. But that image was toned down with the release of his 1985 comeback album, "Black Cars."
1952 - Gale Storm (Margie Albright) and Charles Farrell (Vernon Albright) starred in "My Little Margie" which debuted on CBS-TV on this day. Fans of the popular comedy will remember that "My Little Margie" was based at the Carlton Arms Hotel, Apartment 10-A. Vern Albright was a very eligible widower who worked for the investment firm of Honeywell and Todd. Margie Albright, his 21-year-old daughter, was continually scheming to help dad and continually causing big trouble while helping.
1956 - Capitol Records released "Be-Bop-A-Lula" by Gene Vincent and His Blue Caps. Vincent was hailed as Capitol's answer to Elvis Presley. Of the three songs Vincent Eugene Craddock had hit the airwaves, "Lula" was biggest hit to make the pop music charts. The other songs were "Lotta Lovin'", and "Dance to the Bop." In 1971, Vincent died.
1959---Top Hits
Personality - Lloyd Price
Quiet Village - Martin Denny
Tallahassee Lassie - Freddy Cannon
The Battle of New Orleans - Johnny Horton
1965- Herman's Hermits earned their first gold record with "Mrs. Brown You've Got A Lovely Daughter".
1967- The Monterey International Pop Festival opened in California. It was the first major rock festival and attracted 50,000 people over three days. Ticket prices ranged from $3.50 to $6.50 to see more than two dozen top rock acts. The performers played for free. The festival was immortalized in D.A. Pennebaker's 1969 documentary "Monterey Pop." Janis Joplin, The Jefferson Airplane, the Dead, Big Brother and other San Francisco artists performed. Fifty thousand spectators migrated to the site that featured Jimi Hendrix, Janis Joplin, The Mamas and the Papas and The Who. It was one wild weekend and I remember the smoke, the stoned performers and audience, and everyone was rocking all day and night long. I had press passes from KFRC radio and also went back stage, what I remember most was the booze, marijuana, and everything else right out in the open.
http://www.nostalgiacentral.com/pop/monterey.htm
1968 - Lee Trevino became the first golfer in 68 years to play all four rounds of the U.S. Open golf tournament with sub-par totals of 69, 68, 69 and 67, respectively.
1967---Top Hits
Respect - Aretha Franklin
Him or Me - What's It Gonna Be? - Paul Revere & The Raiders
Somebody to Love - Jefferson Airplane
It's Such a Pretty World Today - Wynn Stewart
1972 - The only museum devoted exclusively to jazz music opened. The New York Jazz Museum welcomed visitors for the first time.
http://jazzmuseuminharlem.org/
1974 -- Homer Simpson & Marge Bouvier wed.
1975---Top Hits
Sister Golden Hair - America
Love Will Keep Us Together - The Captain & Tennille
I'm Not Lisa - Jessi Colter
When Will I Be Loved - Linda Ronstadt
1978 - After much success on Broadway, Grease, came to the big screen when it premiered in New York City. John Travolta and Olivia Newton-John starred in the hit movie. Several hit songs came out of the motion picture including "Grease," by Frankie Valli, "You're The One That I Want," and "Summer Nights," The first two songs went platinum selling 2,000,000+ copies, while the third sold a million.
1980 - The movie "The Blues Brothers" opened in Chicago, Illinois. Starring John Belushi and Dan Ackroyd, both formerly of NBC's "Saturday Night Live" the movie was a hit. The pair played Jake and Elwood Blues and were joined by celebrity guests James Brown, Ray Charles, and Aretha Franklin. Cab Calloway also appeared with a rendition of his song "Minnie the Moocher."
1981 - For $20.5 million, the "Chicago Tribune" purchased the Chicago Cubs baseball team from the P.K. Wrigley Chewing Gum Company. For over 60 years the Wrigley family had controlled the team. The longest, continuous ownership of a team, that stayed in its original city, ended with the sale.
1983---Top Hits
Flashdance...What a Feeling - Irene Cara
Time (Clock of the Heart) - Culture Club
My Love - Lionel Richie
Our Love is on the Faultline - Crystal Gayle
1985 - No. 1 Billboard Pop Hit: "Heaven," Bryan Adams.
1987 - Kareem Abdul-Jabbar signed a two-year contract with the Los Angeles Lakers for $5,000,000. The 18-year veteran of the NBA became the highest paid player in any sport at the time.
1988- the largest operatic production in Canadian history was staged at Montreal's Olympic Stadium. About 30,000 people paid between $20 and $150 each to watch Verdi's "Aida" - complete with a 14-metre model of the Sphinx, elephants, tigers and a four-metre python. The stars were soprano Katia Ricciarelli in the title role and tenor Nicola Martinucci as Radames. Giuseppe Raffa conducted a 120 piece orchestra and a 140 member chorus.The production was repeated two nights later in the Olympic Stadium. An even more grandiose staging of "Aida" took place in 1987 at Giza, Egypt, site of the real Sphinx.
1989- Sammy Sosa becomes the youngest (20-years, seven months) Dominican to play in the majors. The Ranger rookie goes 2-for-4 with a double against the Yankees.
1991---Top Hits
Rush, Rush - Paula Abdul
Love is a Wonderful Thing - Michael Bolton
Losing My Religion - R.E.M.
If the Devil Danced (In Empty Pockets) - Joe Diffie
1995 - "Batman Forever", the third film in the Batman series premiered. Batman/Bruce Wayne (Val Kilmer) faces Two-Face (Tommy Lee Jones) and the Riddler (Jim Carrey). Add a sexy psychologist (Nicole Kidman), with a thing for Batman and sidekick Robin (Chris O'Donnell), and you wind up with a smash: $52.78 million in the U.S. for opening weekend. Smash, Bang, Wow box-office, Batman!
1999 - Cher launched her "Believe" tour in Phoenix, Arizona. The CD had become a worldwide smash, and the single made Cher, at 52, the oldest woman to have a song hit Number 1 on the charts. It was the first time in nearly a decade that the exotic, charismatic diva had gone on a concert tour. To an enthusiastic sell-out crowd, she performed the hits from her "Believe" album, and many of the public's favorite spanning the previous three decades.
1999 - World-class sprinters all dream the impossible dream, to break the 100-meter world record. Maurice Greene's dream came true this day at an invitational track meet in Athens, Greece, the birthplace of track and field events. Running in the stadium (home of the 2004 Olympics) with no wind at his back, his friend and training partner in another lane, 24-year-old Maurice Greene finished the 100 meters in 9.79 seconds. The previous record (9.84 seconds), set at the 1996 Olympics, belongs to Canada's Donovan Bailey. Greene from Kansas City, Kansas is the first American to hold this sprint record since 1994. His training partner, Ato Boldon, placed second with a time of 9.86.
2000-Heat wave ends in San Jose with records over 109 degrees and over 100 degrees in San Francisco, breaking all weather history records. In June, San Francisco recorded 104, its highest ever in the history of the city.
2001- At Turner Field in a game which featured thousands of swarming moths, Boston beat the Braves and bugs in extra innings, 9-5. Although the insects had little bearing on the outcome of the game, the insects clearly bothered the some players, including Dave Martinez who claimed to having sucked one into his mouth.
NBA Finals Champions This Date
1996 Chicago Bulls
--------------------------------------------------------------


Baseball Poem
- from: Songs Of The Out-o'-doors
Published in: The Popular Magazine - April 7, 1912
If you've never sat in the blazing sun
and prayed the gods for another run,
If you're not clean daft till the season's done
and the talk of the game is through,
If you've never joined in the bleachers' roar
at a double play or a daring score,
Don't listen to this a minute more,
this ballad is not for you!
But if the sound of the ball that's hit
or the thump of a strike in the catcher's mitt,
And the umpire's voice and the coacher's wit
are spells that hold you sure,
If you're one of the faithful, cheering throng
that follows the fate of the team along
Maybe you'll join in the swinging song,
the song of the baseball lure!
Chuck-full of glamour,
Tumult and clamor,
Sparkling with vigor and zipping with zest.
Gingery, tangy,
Flippant, and slangy,
Brimful of action and banter and jest.
Sport of the multitude--held by its joys again,
Steadiest of people are nothing but boys again!
In every city or country spot,
in every corner or vacant lot,
In any old weather, cool or hot,
from earliest spring to fall,
The young and lively, old and gray
are there to join or watch the play,
The game that wields its royal sway
and keeps the land in thrall.
And if you're watching the players sweat,
down on the field where the scene is set,
You feel its ,magic and you forget your age
and your sense as well,
For the game--it turns your face to tan,
it makes a boy of the oldest man,
It turns the sane to a crazy fan
with nothing to do but yell!
Calling for muscle,
Hurry, and hustle,
Baseball's a tussle that's vivid with vim,
Heated but happy,
Peaceful but scrappy,
Evermore snappy and nevermore grim!
Sport of the multitude--every one's wild again,
Every true fan is as young as a child again.
Oh, the silence tense and the hush of doubt
with the bases full and two men out,
And the clean, sharp hit, and the rooters' shout
as the runners cross the plate,
Or the long-drawn "Ah!" as the ball soars high
and the fielder shields his sun dazed eye
And waits and gathers the falling fly
as certain and as sure as fate,
Oh, the jeers, the cheers, an the throbbing thrill,
the batter's might and the pitcher's skill.
The crowd that never is wholly still
but shouting its joy or woe,
These are the things that fan the flame,
that lend their wonder to the game,
That make it glorious in its fame.
the king of all games we know!
Free of the grafter,
Lighted with laughter,
Full of the spirit of never say die!
Action is in it!
Every sharp minute,
Something is doing to capture the eye!
Then--and the reason can never be hid again--
Best of it is--that it makes you a kid again!
--------------------------------------------------------------

SuDoku
The object is to insert the numbers in the boxes to satisfy only one condition: each row, column and 3x3 box must contain the digits 1 through 9 exactly once. What could be simpler?
http://leasingnews.org/Soduku/soduko-main.htm