Operations Manager for growing equipment leasing/broker services co. in Costa Mesa, CA to oversee syndication, docs, & credit functions. Prior leasing experience pref. Salary with benefits. Send resume to: Sarah@Podiumfinancial.com

Monday, May 22, 2006
Headlines---
Classified Ads---Doc. Mgr./Finance/Legal
R&K Financial Services Join List
Studebaker-Worthington Join Funder List
Marlin Amends Warehouse Line
Who is First Guardian Financial?
Alexa Ranks Leasing Media Web Sites
Top Stories--May-15-18
Classified Ads---Help Wanted
Why I Became a CLP
Part 3---"NAELB Legal Counsel"
Shawn Halladay in China
Leasing Association Meetings-Events
Leasing Schools/Franchisors
Fitch Affirms Citigroup at 'AA+'
Foreclosures Up 72% from Last Year
Yahoo goes after Google
2nd Global Debt Collection Summit
Key Equi.Fin. names Clif Gottwals EVP
News Briefs---
You May have Missed---
"Gimme that Wine"
Calendar Events
Today's Top Event in History
This Day in American History
Spring Poem
######## surrounding the article denotes it is a "press release"
----------------------------------------------------------------

Classified Ads---Documentation Manager / Finance / Legal
http://members.cox.net/egill5/country/Images/silvoak.gif
Silver Oak Winery, Napa Valley, California
available as print 8x10, $20 16x20 $40*
Documentation Manager: New York, NY
10+ years in equipment leasing/secured lending. Skilled in management & training, documentation, policy and procedure development & implementation, portfolio reporting. Strong work ethic.
Email: dln1031@nyc.rr.com

Documentation Manager: Phoenix, AZ
Lease Administrator with exp. in lease administration, doc. & porfolio management for $200M in IT assets. Additional experience financial analysis process improvement/development.
Email: jeg3894@cox.net

Finance: Austin, TX
20+ years all facets of lease/finance. Collection and credit management. Equipment & rolling stock structuring. $150k credit authority, $100 million portfolio management.
Email: texmartin@juno.com


Finance: Chicago, IL
Experienced in big ticket origination, syndication, valuation and workout.
Twenty five years, MBA, CPA,

JD, LLM (Tax), structuring specialist. Inbound and outbound transactions. Email: pal108381@comcast.net
Transaction Summary
Website: www.tlgattorneycpa.com

Finance: Orange County, CA
25+ years experience large ticket and mid-market commercial finance. Senior manager in operations, documentation, legal, credit, workouts, portfolio management. $2+Billion portfolio. MBA Finance. Juris Doctor.
Email: finance1000@cox.net


Finance: San Jose, CA
15+ years sourcing debt, managing cash and receivables and other treasury functions. Strong background in credit, contract
administration and bankruptcy litigation experience. MBA Finance.
Email: raycis@comcast.net
Finance: Sausalito, CA
Sr. Corp. officer, presently serving as consultant, fin. service background, M&A, fund raising, great workout expertise, references
Email: nywb@aol.com
Finance: Toronto
Long diverse career financial services industry. Executed billions of dollars of leases over 20 years; structuring, executing and pricing US/Canadian transactions. Per Diem or full time.
E-mail: eslavens@eol.ca
Information System: North Detroit, MI
INFOLEASE EXPERT - 18 years experience. Since being downsized in 2002, working as a consultant for several leasing companies.
Seeking consulting projects nationwide.
email: darwint@prodigy.net
Legal: Los Angeles, CA
Experienced in-house corporate and financial services attorney seeks position as managing or transactional counsel. Willing to relocate.
Email: sandidq@msn.com
For a full listing of all "job wanted" ads, please go to:
http://64.125.68.91/AL/LeasingNews/JobPostings.htm
To place a free "job wanted" ad, please go to:
http://64.125.68.91/AL/LeasingNews/PostingForm.asp
* Water Colors by Ed Gill
To view collection, and he also does commissions
from photographs you send to him:
http://members.cox.net/egill5/index.html
----------------------------------------------------------------

R&K Financial Services Joins "Broker/Lessor List"
Third Column: YES - Year Company Started | YELB - Years in equipment Leasing Business
A - City Business License | B- State License | C - Certified Leasing Professional |
D - State(s) sales/use tax license |
E - Named as "lessor" on 50% or more of lease contract signed. |
Name
City, State
Contact
Website
Leasing Association

YCS
YELB


(see above for meaning)

R&K Financial Services, Inc.
Deerfield Beach, FL.
Dave or Mark
954-420.0069
rkrk69@aol.com
(DD)

1995
11
(DD) R&K Financial Services, Inc. - State License under the name Exotic Imports of South Florida, Inc., owned by the principals with the same address and telephone number.
To view the entire list, please go here:
http://leasingnews.org/Brokers/broker_Lessor.htm
----------------------------------------------------------------

Studebaker-Worthington Leasing joins "Funder List"
A -Accepts Broker Business | B -Requires Broker be Licensed | C -Sub-Broker Program
| D -"Private label Program" | E - Also "in house" salesmen
Name
In Business Since
Contact
Website
Leasing Association

29.
(HH) Studebaker-Worthington Leasing Corporation - We will accept sub-broker business provided that it is disclosed at the time the application is submitted. We are a subsidiary of State Bank of Long Island.
To view the full list, please go here:
http://www.leasingnews.org/Funders_Only/Funders.htm
----------------------------------------------------------------

Marlin Amends Warehouse Line
"Marlin Business Services Corp. and its affiliates Marlin Leasing Corp., Marlin Leasing Receivables Corp. II and Marlin Leasing Receivables II LLC on March 15 amended and restated the series 2002-A $100 million warehouse financing facility with JPMorgan Chase Bank NA and Wells Fargo Bank NA, " the SEC filing reported.
"Marlin Business said in a Form 8-K filed March 17 that the amendment extended the termination date of this facility to March 15, 2009, and removed the requirement that the facility be credit enhanced by a third-party insurance policy."
The company also disclosed Daniel P. Dyer will act as principal Chief Financial Officer, until the new one "who is expected to join Marlin shortly," will become a non-voting member of the Office of the Chairman. The company's previous CFO, Bruce Sickel, announced his resignation in December 2005.
Leasing News has left messages for an on the contact for the press release,(Daniel P.Dyer, numerous times, but it is obvious they do not want to answer questions regarding this or why a successful company officers are selling stock, instead of purchasing more.
In a press release, the company was described:
"About Marlin Business Services Corp.
"Marlin Business Services Corp. is a nationwide provider of equipment leasing solutions primarily to small businesses. The company's principal operating subsidiary, Marlin Leasing Corporation, finances over 60 equipment categories in a segment of the market generally referred to as "small-ticket" leasing i.e. transactions less than $250,000 ( Their 2005 SEC filing discloses: "the average original lease transaction was $9,032, with an average remaining balance of $6,401." Editor)
"The company was founded in 1997 and completed its initial public offering of common stock on November 12, 2003. In addition to Mount Laurel, NJ, Marlin also has regional offices in or near Atlanta, Chicago, Denver, Philadelphia and Salt Lake City (and has an application pending for an industrial bank in Salt Lake City. editor ) "
----------------------------------------------------------------

Who is First Guardian Financial?
their website graphic
First Guardian Financial Corporation announced in a press release printed verbatim by other leasing trade publications that their board of directors has approved the establishment of a wholly owned leasing division.
The stock exchange listing shows stock at: 0.0072 - 0.0084
http://finance.yahoo.com/q?s=fgfc.pk&d=t
Yahoo Finance Summary shows 2 employees located in Brooklyn, NY:
http://finance.yahoo.com/q/pr?s=FGFC.PK
Most of the company's web site is under construction, but it does state:
"First Guardian Financial Corporation a Holding Company, currently provides Commercial Real Estate Financing & Invests for its own portfolio in small to mid sized businesses. Its primary goal is to provide short term financing within the commercial real estate market and investment/financing to businesses either in the start up stage or early growth stage throughout the United States.
"First Guardian also works with a diverse network of independent professionals, together with a network of leading financial institutions, reits and investor/equity groups that enables us to draw upon additional resources if needed above and beyond that of our own."
www.guardianfinancialcorp.com/index.html
Calls to the company went unanswered, but in the press release to leasing industry media, it was stated:
"The company's executive management had requested board approval to establish a leasing division as the company receives requests for equipment leasing and for other items required by businesses; management views this as another opportunity to cross market to clients along with its other services while adding an additional revenue stream.
"The company has yet to determine the name for the leasing company, several brand able names are under consideration and a decision will be made within the next two weeks. A search for the executive to head up the division is underway at this time and the company expects to have the position filled within the next thirty days. The company will announce the progress as it becomes available.
"About First Guardian Financial Corporation:
"The company provides Commercial Real Estate Financing & Invests/Lends for its own portfolio in small to mid sized businesses. Its primary goal is to provide short term financing within the commercial real estate market and invest in businesses either start up or growth wise throughout the United States."
----------------------------------------------------------------

Alexa Ranks Leasing Media Web Sites
| | | | | |
| --- | --- | --- | --- | --- |
| Rank | | | | |
| 1. | 84,827 | | | www.aba.com American Bankers Association |
| 2. | 142,509 | | | www.leasingnews.org Leasing News |
| 3. | 246,362 | | | www.elaonline.com Equipment Leasing Association |
| 4. | 346,467 | | | www.monitordaily.com Monitor Daily |
| 5. | 595,286 | | | www.ibaa.org Ind Community Bankers of America |
| 6. | 905,977 | | | www.cfa.com Commercial Finance Association |
| 7. | 1,090,921 | | | www.leasecollect.org Lean -Lease Enforcement Att Net |
| 8. | 1,092,227 | | | www.uael.org United Association of Equipment Leasing |
| 9. | 1,148,794 | | | www.naelb.org* National Assoc. of Equip Leasing Brokers |
| 10. | 1,429,521 | | | www.leasingnotes.com Leasing Notes |
| 11. | 1,429,724 | 1,774,809 | | www.us-banker.com U.S.Banker |
| 12. | 1,490,572 | | | www.iicl.org Institute of International Container Lessors |
| 13. | 1,668,342 | | | www.lessors.com eLessors Networking Association |
| 14. | 1,695,638 | | | www.executivecaliber.ws Exec Caliber-Jeffrey Taylor |
| 15. | 2,053,386 | | | www.leasefoundation.org Equip. Leasing & Fin Fndn |
| 16. | 2,884,385 | 5,063,466 | | www.clpfoundation.org CLP Foundation |
| 17. | 3,149,422 | | | www.Leasingpress.com Leasing Press |
| 18. | 3,881,541 | | | www.aglf.org Assoc of Government Leasing Financing |
| 19. | 4,715,670 | | | www.eael.org*Eastern Association of Equipment Leasing |
| 20. | 5,340,170 | | | www.leaseassistant.org Lease Assistant |
| 21. | No Data | No Data | | www.nationalfunding.org The National Funding Assoc |
| 22. | No Data | | | www.efj.com Equipment Financial Journal |
David G. Mayer's Business Leasing News is not included in the Alexa report list as it does not have its own individual site and Alexa finds Patton Boggs, LLP Attorneys at Law. The rating is not valid as it includes all those who visit and communicate with the law firm. When Business Leasing News has its own individual web site, it will be included in the Alexa survey.
*It should also be noted that two web sites have their "list serve" posted via their site, meaning their e-mails are counted as a visit to the site, whereas they are "list serve" communication. These are technically visits to the web site, but primarily to use "list serve."
These comparisons are compiled by Leasing News using Alexa and should be viewed as a "sampling," rather than an actual count from the website itself. Other than as noted above, we believe the ratings are reflective as most have stayed in the same position, basically, for over a year.
The Alexa tool bar works on most browsers.
They are partnered with Google.
You may download their free tool bar A graph and analysis of the last three months are available.
( Note: the lower the number, the higher you are on the list. It is based on all web sites. Leasing is only a very small part of the various sites such as Yahoo, MSN, Google, etc. )
----------------------------------------------------------------

Top Stories--May-15-18
Here are the top ten stories most "opened" by readers last week.
(1) Judge Montgomery Rules What a surprise!!!
http://www.leasingnews.org/archives/May%202006/05-18-06.htm#judge
(2) Orix USA Lease Financing "flat"
http://www.leasingnews.org/archives/May%202006/05-16-06.htm#orix
(3) Cartoon— Kit Menkin in Pocket of Mike Fleming
http://www.leasingnews.org/archives/May%202006/05-18-06.htm#toons
(4) Sales makes it Happen---by T.Winders, CLP
"Personal Guarantees
http://www.leasingnews.org/archives/May%202006/05-17-06.htm#sales
(5) Two Corrections: Ron Lear and Bull Dog
http://www.leasingnews.org/archives/May%202006/05-17-06.htm#correct
(6) U.S. Bank Equipment Finance Realigns Machine Tool Finance Group
http://www.leasingnews.org/archives/May%202006/05-16-06.htm#usbank
(7) Cartoon--- IFC VP Operations Patrick A. Witowski
http://www.leasingnews.org/archives/May%202006/05-18-06.htm#toon
(8) Why I Became a CLP
Part 1 -"The First CLP Attorney"
http://www.leasingnews.org/archives/May%202006/05-16-06.htm#clp
---tie
(8) Why I Became a CLP
Part 2 -"The Train Attorney" Jim Coston
---tie
• Halladay to Moderate Vendor Financing Program Roundtable
http://www.leasingnews.org/archives/May%202006/05-18-06.htm#hall
(10) Pawnee Stock Closing, Monday, May 15
http://www.leasingnews.org/archives/May%202006/05-16-06.htm#pawnee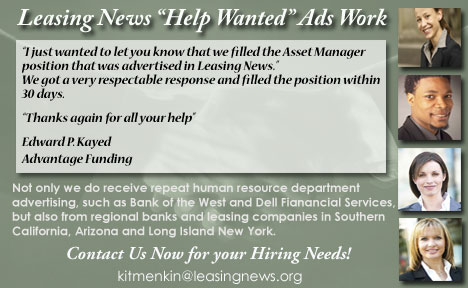 ----------------------------------------------------------------

Classified Ads---Help Wanted
Jr. Analyst
Jr.Analyst
Sausalito, CA
Banking, financial, leasing experience;
opportunity to grow, work w/seasoned
professional; small office, Excel a must
e-mail: spickens@oxfordfinance.com or
call 415-331-1725

Operations Manager

Operations Manager for growing equipment leasing/broker services co. in Costa Mesa, CA to oversee syndication, docs, & credit functions. Prior leasing experience pref. Salary with benefits. Send resume to: Sarah@Podiumfinancial.com

Senior Secondary Market Officer


Senior Secondary Market Officer
Walnut Creek, California
Work with secondary market syndication sources of leasing transactions. Minimum three years leasing experience & knowledge equipment leasing underwriting; to learn more and apply: click here.


VP-Manager of Equipment Lease Division
----------------------------------------------------------------

Why I Became a CLP
Part 3-"NAELB Legal Counsel"
Three Attorneys
Joseph Bonanno, CLP
Jim Coston, CLP
Barry Marks, CLP
This is the eighth in a series about the Certified Lease Professional program, explaining why individuals decided to become a CLP, the process, and their reaction to the knowledge and other benefits gained.
Since there are only three attorneys who are Certified Lease Professionals, this will be in three parts.
Part 3
Joseph Bonanno, CLP
"NAELB Legal Counsel"
Joseph Bonanno (MBA, JD), is admitted to the Massachusetts Bar and Federal Bar for the District of Massachusetts, specializing in the representation of those in the equipment leasing industry. In addition to maintaining his own practice, he is General Counsel to the National Association of Equipment Leasing Brokers (NAELB). In 1998, he succeeded Barry Marks, CLP as NAELB Legal Counsel. Bonanno states, "There are many people that put in long hours to contribute to the growth of the NAELB, which is approaching 800 members and is now the largest equipment leasing association."
He has served on the Massachusetts Governor's Council task force for the Adoption of Article 2A and for revision to Article 9 to the Massachusetts Uniform Commercial Code.
Mr. Bonanno has published in The Monitor, The Lease Closer, The International Leasing Resource Exchange and Leasing Logic, as well as Lawyer Journal Newsletters, "Equipment Leasing Newsletter." He is a co-author of UCC Article 2A Personal Property Leasing, and a contributing author for "Power Tools for Successful Leasing," having written a chapter on Broker/Funder Relations. He also serves on the faculty of the Leasing Institute of America: http://www.leasinginstitute.org and is a present member of the Board of Directors of the Certified Leasing Professional Foundation: www.clpfoundation.org
The CLP designation is something that is valuable to all those in the leasing industry, including licensed professionals such as myself that take pride in their level of service to the industry. There are a few topics pertaining to the CLP that I would like to touch on:
• The exam and studying. If you are committed to this industry, then the exam is something that you can successfully pass. Yes, it is work and study time, but it can be done at your leisure. I spent most of my time studying for the exam at the beach on Sunday afternoons. The study process was similar to what I went through in law school: read the material, create your own outline and condense that outline. That way, the night before the exam you are studying perhaps 15 – 20 pages of material, not looking through the entire handbook in a panic. Like any other test, study and preparation are keys to success. I am convinced that anyone that has experience in the industry, studies seriously for the exam and takes the exam seriously will be successful in the exam. The exam was a full day exam, but the most important thing to remember about the exam was that you could always try again. In fact, I looked at the exam not as intimidating, but as something that was fun, a chance to show exactly what I knew about leasing.
• The reasons to become a CLP. There are both personal and industry reasons for becoming a CLP. In a selfish way, I can address the personal reasons. Passing the CLP examination demonstrates a mastery of the body of knowledge that is required to be proficient in the leasing industry. From the perspective of the industry as a whole, an industry – wide designation of proficiency in the industry is a much better alternative than industry – wide regulation. Therefore, it is beneficial to the industry as a whole to encourage industry participants to participate in the CLP program. Think of it as your contribution to helping avoid industry regulation.
• Why I took the CLP. Professional Development, that's key to any business ranging from the practice of law to equipment leasing. It is important for anyone in any industry to continue to educate themselves, to obtain knowledge that makes them more competitive in what they do and to have a finer appreciation for the reasons why an industry functions the way that it does. Equipment leasing by definition is multi-disciplined and multi-dimensional. The CLP credential demonstrates that the CLP has an understanding of the multi-disciplines that are required to be proficient in the leasing industry. This understanding is what, in my opinion, leads to professional development in the leasing industry.
And selfishly, the CLP designation helps me to better serve my leasing industry clients. And it can do the same for those in the industry that want to serve their customers, vendors funding sources or brokers. I recommend the CLP program for individual professional development and advancement in the industry.
----------------------------------------------------------------

Shawn Halladay in China
Greetings from Beijing! Just so you don't view this post as just a travelogue, you should know that I have been busy doing things other than climbing the Great Wall and visiting the Forbidden City. One of these is teaching a leasing class on Selling Leasing to the CFO. There were 25 lease sales professionals in the class from Beijing, Shanghai, Singapore, Kuala Lumpur, Singapore, Hong Kong, and Taipei. It was a great experience, especially given the burgeoning growth of leasing in China. During the last year alone, for instance, there have been 10-15 new foreign leasing companies established in China, including Societe Generale, Deutsche Leasing, Xerox, Caterpillar, GE, and Siemens.
Leasing is becoming a truly global industry, which brings me to the other purpose of my visit to China. In addition to teaching the seminar, I also am attending our Alta Group meetings while I am here. This spring our US, European, Latin American, and Asian partners decided to gather in Beijing due to the rapidly expanding equipment leasing opportunities that are being created in China. As you know, China's growing market presents tremendous opportunities for exporters of goods and services throughout the world. US exports to China alone totaled $35 billion in 2004 and a tremendous amount of goods are flowing the other way. It only makes sense that leasing will follow this growth.
Like any growing leasing industry, there are still unanswered questions as to how to conduct leasing business in China. The National Peoples' Congress, for instance, currently is working on a new leasing law to provide better structure to the industry. We met with members of the committee working on this law to provide them with comments, additional insights, and perspective gleaned from many years of experience throughout the world. Alta also has had meetings with the financial press, several Chinese lessors, leasing association officers, and key government figures, including those from the Ministry of Finance, the Department of Taxation, and the National Development and Reform Commission.
Well, I have to get back to work. There are copious amounts of Peking duck to be consumed at our dinner with the Ministry of Finance officials tonight and I need to be ready for the challenge.
If you are interested in China and want to get a good overview of how leasing works there, you can read the Equipment Leasing & Finance Foundation report that I and several other Alta principals authored. that I and several other Alta principals authored:
http://leasingnews.org/PDF/China_Report_FINAL.pdf
Subscribe to Leasing Notes: www.leasingnotes.com
----------------------------------------------------------------

Leasing Association Events-Meetings Open to All
May 23,2006, Tuesday
Eastern Association of Equipment Lessors
Lunch, 12:00pm
Palm Restaurant
Charlotte, North Carolina
Hosted by: Tracy Lee and Bill Cowden
Please contact the EAEL office at 212 809 1602 or alison@eael.org for pricing and a registration form.
--------------------------------------------------------------------------
AN ANNUAL BALTIMORE TRADITION CONTINUES
EAEL IS SPONSORING ITS 8TH
ANNUAL NETWORKING CRAB FEAST
ON JUNE 8 TH , 2006
This event has grown from a small gathering of leasing professionals into an event that is greatly anticipated not only by the local Baltimore leasing community but leasing professionals as far away as California. This event can be attended by anyone connected to the leasing industry: Owners of companies, sales representatives, operational staff, accountants, funders, attorneys, bankers, spouses, seasoned CLP's and brand new professional trying to break into the industry. There is something magical about rolling up your sleeves and indulging in the messy process of picking hot Steamed Blue Crabs and sharing your leasing stories.
This year's event is being hosted by: Dennis Horner- The Equipment Leasing Company Nancy Pistorio- Madison Capital Bruce Winter- FSG Leasing
The event has been moved to a new location this year:
OBYRCKI's Crab House and Restaurant
1727 E. Pratt Street
Baltimore, Md 21231.
The event is growing to a weekend get away for out of town leasing professionals. Obyrcki's is a Baltimore institution, and is known across the country for its famous steamed crabs. The event is close to the Baltimore Inner Harbor, Fells Point, the National Aquarium, Fort McHenry and many other Baltimore attractions.
For more information and to register for this event visit: www.eael.org or contact Dennis Horner at 800 365 6566
Don't miss it!
---------------------------------------------------------------
June 20th Regional Meeting
Lunch
Garden City Country Club
Garden City, New York
To register or learn more, please go here:
http://www.eael.org/contact.asp
---------------------------------------------------------------
June 22th, Thursday
Registration: 11:45am
Lunch and Discussion: 12:00 to 2:00pm
Longfellow's Wayside Inn
Sudbury, MA
George Parker, Lewis Cowhn, Carl Anderson hosts
Please contact the EAEL office at 212 809 1602 or alison@eael.org for pricing and a registration form.
---------------------------------------------------------------
------------------------------------------------------------------
August 17th
Golf Outing
Rock Spring Country Club
West Orange, NJ
To register or learn more, please go here:
http://www.eael.org/contact.asp
-----------------------------------------------------------------------------

September 8-9th
Western Regional Meeting
Wyndham Orange County Hotel
Costa Mesa, California
To learn more, please call:
800-996-2352
------------------------------------------------------------------
September 18, Monday
EAEL Expo
Please contact the EAEL office at 212 809 1602 or alison@eael.org for pricing and a registration form.
------------------------------------------------------------------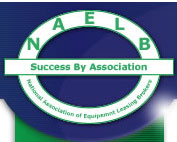 NAELB Eastern Regional Meeting
November 3 - 4, 2006 - Atlanta, GA
----------------------------------------------------------------

Leasing Schools/Franchisors
(For our "Financial and Sales Training" list, please click here)
(does not include those specifically employed in training or education, but who have a similar program as the following entities:)
Corporate Capital Leasing Group Grows to 24 Offices
"...we advertised this opportunity on Ebay and offered a protected territory of their home state. They would pay $500 for a security deposit on the training materials and when they booked $50,000 in business, they would get a refund of their security deposit plus a bonus of $200. They get a 60 page manual, four CDs and samples of marketing pieces. They would sign a 10 page Agency Agreement which clearly spelled out what they could or could not do and how their commissions would be paid including splitting commissions between territories in case of an overlap.
" The first month we had 4000 hits on the Ebay listing and over 90 people who were interested enough to ask for more information."
http://www.leasingnews.org/Conscious-Top%20Stories/Corp_cap_grows.htm
Program cost: $19,950.00
In 2003, broker/lessor Global Leasing founder Phil Dushey created a new division to train independent salesmen in all the aspects of finance, including leasing ,accounts receivable financing, business acquisitions, debt restructuring, working and venture capital. His students have found great success and he spends most of his time now developing entrepreneurs, who also utilize his knowledge and sources of funds."
" We are not superbrokers and have never been one. Occasionally we will co-broker a transaction ,but generally we function as a lessor for our own accounts. 2. Our website address for our training is www.globalbrokersystems.com 3 When we train our students we do not have them send transactions through Global. We set them up to deal directly with the lenders. We also require that all lenders who work with our students will automatically approve them to do business with them. Also our current price for the program is $24,950 We also model our training program from the experience we have from being in the business for about 25 years that a broker needs to serve all of the financial needs of their clients ,whether it be equipment leasing ,factoring,acquisitions,SBA Loans or debt restructuring, we do it all."
Philip Dushey
Global Financial Services
17 State Street
New York NY 10004
Email phil@globaleasing.com
Phone 212-480-4900

Mr. Dushay is also on the Leasing News Advisory Board
http://www.leasingnews.org/Advisory%20Board/Dushay_Phil.htm
Lease One, Lynnfield, Massachusetts
"Our program has been operating for 14 years, we charge $19,900 for a three day training, & offerlifetime support , ongoing marketingasst. plus complete underwriting which allows the associate more time to market there company& we provide everything from materials, airfare, hotel , food, equipment etc..."
Joe Angelo, Jr.
http://www.leaseone.com/equipment-leasing-opportunities.html
Sudhir Amembal, Chairman and CEO of Amembal & Associates, a pioneer of lease education and author or coauthor of 14 books specific to the leasing industry including the industry bestseller The Handbook of Equipment Leasing , announce the reduction in cost to their hugely successful Executive Lease Broker Training Program.
Due to the unprecedented successes of the first 14 months of the program and significant streamlining to the program, The Leasing Institute of America has lowered the cost of the program from $30,000 to $12,500. Mr. Amembal explained: "The significantly lower cost enables us to serve a larger number of those aspiring to become successful lease brokers".
The program is more that just a "how-to" in leasing. LIA offers individuals state-of-the-art lease specific tools, funding source access, a weeks worth of intensive training, an additional three-month coaching program and a life time of mentoring. Mr. Lowder explained: "The main aim of this program is to inevitably trim several years off the start up time for a new brokerage".
Mr. Amembal's pioneered techniques in lease education is the best foundation for anyone wishing to enter leasing. Designed for today's entrepreneur, the Executive Lease Broker Training Program fast tracks education and practical principles into a cutting edge comprehensive five-day intensive in class training.
For more information contact: Jason Smith, General Manager at 1-800-429-3335 or via email at
jason@leasinginstitute.org.
Parker Leasing and Financial Services
Fort Lauderdale, Florida Formed December 1, 1969, this is a sole proprietorship, according to the Better Business Bureau, who many consider quite controversial. Mr. Parker has advertised in USA Today perhaps since the paper started in 1982, offering to train those in his office for $5,000. Former students have said today it is a one person office with an answering service and the manual was a mimeograph. Today most of his business appears to be of international nature where he also raises investor money, it is claimed. There are no claims against his company in the Better Business Bureau. He is not a member of any equipment leasing association.
http://www.bbbsoutheastflorida.org/nis/newsearch2.asp?ID=
1&strBCode=06330000&ComID=0633000011001649
Leasing News has one Bulletin Board Complaint and has not been able to reach him regarding a situation in Indonesia.
http://www.leasingnews.org/Complaints-Bulletin_Board/Year2001.htm#parker
Wildwood Financial---$34,950 To Get Into Leasing
The oldest, most experienced school-program run byleasing veteran Bob Baker, CLP; perhaps the most successfulto date. He, and his staff, continue to help all students after they graduate, making recommendations and helping their business grow.
Wildwood also acts a super broker, a middle man for their graduates. "It is very important to understand we only do this for their first 2 or 3 deals as part of their suppor. More importantly, we do not get any of the income, NONE. Helping them through their first few deals is part of what they paid $34,950 for. This is one of the reasons funders like Net Bank allow us to send in deals from our graduates when normally they do not allow super broker deals. We only submit transactions from Wildwood graduates. No exceptions. Wildwood is a training company, period. "
Bob Baker
Mr. Baker is on the Leasing News Advisory Board
http://www.leasingnews.org/Conscious-Top%20Stories/wildwood.htm
(If we have left out your company and its "franchise" or "like" program, please contact us:
kitmenkin@leasingnews.org )
Equipment Leasing License
Most banks in California require those who send leases to them have a license, and if they are discounters, also have a State Board of Equalization license.
* The above is from our archives, and needs to be up-dated. If any one can help us up-date it, please send to : kitmenkin@leasingnews.org
----------------------------------------------------------------

Fitch Affirms Citigroup & Subsidiaries IDR's at 'AA+'
Fitch Ratings-Chicago-19 May 2006: Fitch affirms all ratings of Citigroup Inc. and its subsidiaries. The Rating Outlook is Stable. A complete list of ratings is included below.
Fitch's ratings for Citigroup incorporate an expectation of strong financial performance accompanied by a high level of stability. The sustainability of this performance will depend on many factors, including market share expansion in global consumer and investment banking, the maintenance of good asset quality, efficient operations, and accretive acquisitions. The breadth of Citigroup's products and its disciplined credit and market risk management are also integral to the ratings. Fitch believes these factors also contribute to its strong financial performance.
----------------------------------------------------------------

Foreclosures Up 72 Percent from Last Year
jeffreyarizona@aol.com
National foreclosure filings continued to climb in the first three months of 2006, evidence that more U.S. homeowners are struggling to stay current on their monthly mortgage payments.
A total of 323,102 properties nationwide entered some stage of foreclosure in the first quarter of 2006, a 72 percent year-over-year increase from the first quarter of 2005 and a 38 percent increase from the previous quarter, according to the RealtyTrac. The nation's quarterly foreclosure rate of one new foreclosure for every 358 U.S. households was higher than in any quarter of last year.
Georgia documented the highest state foreclosure rate in the first quarter of 2006 — one new foreclosure for every 127 households. Colorado's quarterly foreclosure rate of one new foreclosure for every 138 households registered as the nation's second highest state foreclosure rate. With one new foreclosure for every 165 households, Indiana documented the nation's third highest state foreclosure rate in the first quarter of 2006.
Other states with first-quarter foreclosure rates ranking among the nation's 10 highest included Nevada, Michigan, Texas, Ohio, Tennessee, Utah and Florida.
Texas reported the most first-quarter foreclosures of any state, 40,236, and Florida reported the second most with 29,636. California was a close third with 29,537 properties entering some stage of foreclosure in the first quarter of 2006, but the state's quarterly foreclosure rate of one foreclosure for every 414 households was below the national average.
----------------------------------------------------------------

Yahoo goes after Google
PC calling that's affordable (or free!)*
Enjoy free worldwide PC-to-PC calling and voicemail, plus call regular phones from your computer for as low as 1¢/min.** The sound quality is great!
More info
Get a phone number for your PC
Receive calls on your PC wherever you and your computer go. You also get free voicemail and access to fun ringtones.
More info
IM on your mobile phone
Take Yahoo! Messenger to go on your mobile phone. Stay connected with friends even when you're away from the PC.
More info
----------------------------------------------------------------

******Announcement*************************************
2nd Annual Global Debt Collection Summit
NEW YORK, -- Strategic Research Institute and The
Columbia Law List present the 2nd Annual Global Debt Collection Summit, June 7-9 at the Grand Hyatt Buckhead in Atlanta. This year's programs will once again be led by the true leaders of the Collection Industry. A thorough and comprehensive agenda covering the entire spectrum of debt collection issues, presented by prominent sector professionals. Topics to be covered include:
-- Why Collection Professionals Should Join All Associations: The Times They Are A'Changing
-- Collecting Judgements Across State Lines
-- South American Collection Markets: Adventures in Argentina and Venezuela
-- Survival under the New 2006 IRS Guidelines for Collection Matters
-- The Characterization of an Equipment Lease as a Sale can have Significant Impact on the Lessor/Creditor in Bankruptcy Cases
-- Debtor DNA, the Art and Science of What Makes a Highly Collectible Account
-- The Future of Collection Software for Agencies, Attorneys, and Creditors
-- Effective Internet Marketing
-- Health Insurance Recovery/Collections - How to Market, How to Collect
-- Sell Your Service as a Commercial Collection Agency
-- FDCPA Program - The Latest Data
-- The Commercial Collection Industry - How it Has Changed and How it is Still the Same
-- "...and Collect this Too! Enforce Clauses Internationally"
-- Why Look for Board Certified Creditor's Rights Lawyers
This forum is supported and endorsed by the American Lawyers Quarterly; Clearing House Quarterly; Lawyers Referral Directory; The Commercial Bar; The Columbia Law List; The Forwarders List; The General Bar; Wright Holmes Law List
Sponsorship and exhibiting opportunities are available. Current sponsors and exhibitors include:
The American Board of Certification (ABC)
DirectoryNET(R)
Interactive Data, LLC
Lease Enforcement Attorney Network (LEAN)
Unifund
For more information on sponsorship and exhibiting opportunities,
please contact:
Rita Karsadi
Senior Director, Business Development
Phone: 480-634-8986
rkarsadi@srinstitute.com
For Complete Conference Details and *Registration Information:
Log onto: http://www.srinstitute.com/CA322
Contact: info@srinstitute.com
Phone: 800-599-4950 / 212-967-0095
*Please mention keycode DPR001470 when registering.
George Kent
Head, ABS and Capital Markets Group
Strategic Research Institute
Phone: 302-691-6065
E-mail: gkent@srinstitute.com
http://www.srinstitute.com/CA322
***Announcement************************************
---------------------------------------------------------------
### Press Release ###########################

Key Equipment Finance names Clif Gottwals Executive Vice President, North America
SUPERIOR, CO, -- Key Equipment Finance, one of the nation's largest bank-held equipment financing companies, has announced that H. Clifton Gottwals has been named executive vice president, North America, within Key's global vendor services business. In this role Mr. Gottwals will have day-to-day operational responsibility for Key's largest vendor leasing business unit. His office is located at Key Equipment Finance's worldwide headquarters outside Boulder, Colorado.
"Clif's operational experience, global program work and leadership skills provide him with an excellent background to take our North American business to the next level," said Karen L. Larson, president and chief operating officer, Key Equipment Finance, global vendor services.
H.Clifton Gottwals
Mr. Gottwals joined Key Equipment Finance in 2001 as senior vice president of Operations in Key's global vendor services group. During this time he also lead Key Equipment Finance's European organizational redesign team. In 2003 he was named executive vice president, Global Programs and Strategic Planning, where he built a best-in-class global program management team. Prior to joining Key, he held operations positions of increasing responsibility with G.E. Capital Corp., Signet Bank and BancOne Leasing Corporation.
Mr. Gottwals earned his bachelors of science degree in economics from the Washington and Lee University and his masters of science in economics from the London School of Economics.
Key Equipment Finance is an affiliate of KeyCorp (NYSE: KEY) and provides business-to-business equipment financing solutions to businesses of many types and sizes. They focus on four distinct markets:
· businesses of all sizes in the U.S. and Canada (from small business to large corporate);
· equipment manufacturers, distributors and value-added resellers worldwide;
· federal, provincial, state and local governments as well as other public sector organizations; and
· lease advisory services for manufacturers' captive leasing and finance companies.
Headquartered outside Boulder, Colorado, Key Equipment Finance manages a $12.6 billion equipment portfolio with annual originations of approximately $5.7 billion. The company has major management and operations bases in Toronto, Ontario; Albany, New York; Chicago, Illinois; Houston, Texas; London, England; and Sydney, Australia. The company, which operates in 26 countries and employs 1,100 people worldwide, has been in the equipment financing business for more than 30 years. Additional information regarding Key Equipment Finance, its products and services can be obtained online at KEFonline.com.
Cleveland-based KeyCorp is one of the nation's largest bank-based financial services companies, with assets of approximately $93 billion. Key companies provide investment management, retail and commercial banking, consumer finance, and investment banking products and services to individuals and companies throughout the United States and, for certain businesses, internationally.
### Press Release ###########################
--------------------------------------------------------------

News Briefs----
Greenspan says housing boom 'over' but sees stable prices
http://www.usatoday.com/money/economy/housing/2006-05-19-greenspan-usat_x.htm
Boomers bet on property for support
http://www.usatoday.com/money/economy/housing/2006-05-19-boomer-homes-usat_x.htm
Jury indicts N.Y. law firm
Charges allege Milberg Weiss generated millions in attorney fees.
http://www.usatoday.com/money/companies/management/
2006-05-18-law-firm-investigation_x.htm
Microsoft Unveils Pay-As-You-Go Personal Computing Designed for Emerging Market Consumers
http://www.prnewswire.com/cgi-bin/stories.pl?ACCT=104&STORY=
/www/story/05-22-2006/0004365846&EDATE=
Da Vinci Brings in $77 Million-Here are all time weekend box holders
http://boxofficemojo.com/alltime/weekends/
1 in 136 U.S. Residents Behind Bars
http://www.breitbart.com/news/2006/05/21/D8HODD7G0.html
---------------------------------------------------------------


You May have Missed---
Buying on line, how to find codes to save money
ProCouponCode.com
Keycode.com


----------------------------------------------------------------


"Gimme that Wine"
Two Buck Chuck creator ups the ante in wine feud
http://www.sfgate.com/cgi-bin/article.cgi?f=/c/a/2006/05/18/WIGG0ISRON1.DTL&
hw=wine&sn=003&sc=617
OREGON'S EMERGING PINOT-SCAPE
Winemakers define success on their own terms
http://www.sfgate.com/cgi-bin/article.cgi?f=/c/a/2006/05/18/WIG4RIQG9M1.DTL
Wine Prices by vintage
http://www.winezap.com
http://www.wine-searcher.com/
US/International Wine Events
http://www.localwineevents.com/
Winery Atlas
http://www.carterhouse.com/atlas/\
Leasing News Wine & Spirits Page
http://two.leasingnews.org/Recommendations/wnensprts.htm
----------------------------------------------------------------

Calendar Events This Day
Canada Immigration Day
A day to celebrate and discuss immigration and the Canadian policy.
Find Your Soul Mate Day
Put on your best suit, best dress, best smile or sweetest smile. Mr. Right or Miss Right are walking around out there and you don't want them to pass you by.
National Maritime Day
Anniversary of the departure of the first steamship crossing from Atlanta, Georgia to Liverpool, England, "Savannah.'
Sri Lanka: Heroes Day
Celebrating the struggle for international independence from colonial rule in 1971.
United Nations: National Biological Difference Day
Yemen: Independence Day
Celebrates the reunification of Yemen in 1990.
----------------------------------------------------------------

Today's Top Event in History
1967-Premeire of "Mr. Rogers" on TV. "Won't You Be My Neighbor? "Presbyterian minister, Fred Rogers, hosted this long-running PBS children's program Puppets and human characters interacted in the neighborhood of make-believe. Rogers played the voices of many of the puppets and educated young viewers on a variety of important subjects. the last episodes of the program were filmed in 2001. Almost 2,000 episodes were produced over the show's history.
http://www.misterrogers.org/
----------------------------------------------------------------

This Day in American History
1798 -- Canada: Chippewa cede 28,000 acres in Ontario, including present-day site of Toronto, for 101 British pounds.
1802-Martha Washington, our first lady, passes away; quite a remarkable woman who was also "first in our hearts of her country"
http://memory.loc.gov/ammem/today/may22.html
1807 -- Former Vice-President Aaron Burr on trial for "assembling an armed force...to seize the city of New Orleans...and to separate the Western from the Atlantic states."
1843-1,000 men, women, and children climbed aboard their wagons and steered their horses west out of the small town of Elm Grove, Missouri. The train comprised more than 100 wagons with a herd of 5,000 oxen and cattle trailing behind. Dr. Elijah White, a Presbyterian missionary who had made the trip the year before, served as guide. The first section of the Oregon Trail ran through the relatively flat country of the Great Plains. Obstacles were few, though the river crossings could be dangerous for wagons. The danger of Indian attacks was a small but genuine risk. To be on the safe side, the pioneers drew their wagons into a circle at night to create a makeshift stockade. If they feared Indians might raid their livestock-the Plains tribes valued the horses, though generally ignored the oxen-they would drive the animals into the enclosure. Although many neophyte pioneers believed Indians were their greatest threat, they quickly learned that they were more likely to be injured or killed by a host of more mundane causes. Obstacles included accidental discharge of firearms, falling off mules or horses, drowning in river crossings, and disease. After entering the mountains, the trail also became much more difficult, with steep ascents and descents over rocky terrain. The pioneers risked injury from overturned and runaway wagons.
The 1,000-person party that made the journey in 1843, the vast majority of pioneers on the trail survived to reach their destination in the fertile, well-watered land of western Oregon. The migration of 1844 was smaller than that of the previous season, but in 1845 it jumped to nearly 3,000. Thereafter, migration on the Oregon Trail was an annual event, although the practice of traveling in giant convoys of wagons gave way to many smaller bands of one or two-dozen wagons. The trail was heavily traveled until 1884, when the Union Pacific constructed a railway along the route.
1844- Mary Cassatt, only U.S. painter to exhibit with the French Impressionists. She is known for her paintings of women and children because, some say, such subject matter did not challenge any male egos and it was the price she had to pay to be accepted into the French impressionists school. In fact, she liked to paint women and children and it enabled her to expand in an un-crowded field. The natural posing of her subjects is still unsurpassed. She resided in France most of her life and in her late 50s began to have eye problems until forced to stop painting at age 70. Although often described as a "old maid," her diary reveals love affairs - some with women.
http://www.ibiblio.org/wm/paint/auth/cassatt/
http://www.metmuseum.org/explore/cassatt/html/indexl.html
http://www.boston.com/mfa/cassatt/
http://www.artcyclopedia.com/artists/cassatt_mary.html
http://www.nga.gov/collection/gallery/ggcassattptg/ggcassattptg-main1.html
1861-the first Union solider killed in the Civil War was Bailey Thornsberry Brown, Company B, 2 nd West Virginia Volunteer Infantry. He was engaged in obtaining recruits and ambushed by Confederate pickets at Fetterman, near Grafton, WV.
http://www.callwva.com/facts/discover.cfm
1902-One of the world's deepest lakes, Crater Lake was first discovered in 1853. In 1885 William Gladstone Steele saw the lake and made it his personal goal to establish the lake and surrounding areas as a national park. His goal was attained 17 years late.
http://www.crater-lake.com/picture.htm
http://www.nps.gov/crla/
http://www.drizzle.com/~rdpayne/smithbros/
1902- Marie Poland Fish birthday, ichthyologist. At 21 she discovered where eels laid their eggs, a puzzle that for 2,000 years was one of the great mysteries of science. Eels are a staple food source in much of the world and the discovery enabled the enlargement of the crops. In later years she was awarded U.S. Navy's Distinguished Public Service Award for her work in oceanography and as a marine biologist. Her inventions enabled the Navy to distinguish between large schools of fish and enemy submarines with sonar.
http://www.gso.uri.edu/fishsounds/Notice.html
http://www.amazon.com/exec/obidos/ASIN/0801811309/fast-bkasin-20/
002-0667839-4443242
1911 - the temperature at Lewiston, Maine soared to 101 degrees. It was the hottest reading ever recorded in New England during the month of may.
1914-birthday of Herman (Sonny) Blout, better known as "Sun Ra," a pioneering and innovative jazz musician whose avant garde performances mixed elements of theater with his surreal composition and performance style. Ra was born at Birmingham, Al, and died there May 30, 1993.
http://www.alamhof.org/sunra.htm
http://www.furious.com/perfect/sunra.html
1928 –Singer Jackie Cain birthday.
http://www.fantasyjazz.com/catalog/cain_j_cat.html
http://www.jazzvalley.com/musician/jackie.cain
1947-Congress approved the Truman Doctrine in order to contain Communism after World War II. It provided for US aid to Greece and Turkey. A corollary of this doctrine was the Marshall Plan, which began sending aid to war-torn European countries in 1948.
1950-- pop lyricist Bernie Taupin was born in Sleaford, England. Taupin has been closely linked throughout his career with rock star Elton John, and for most of the 1970's the two were a virtual hit factory, putting 23 singles in the Billboard Top 40, including five that made number one. Among the chart-toppers were "Crocodile Rock" and "Bennie and the Jets."
1950---Top Hits
My Foolish Heart - The Gordon Jenkins Orchestra (vocal: Eileen Wilson)
Bewitched - The Bill Snyder Orchestra
If I Knew You Were Comin' I'd've Baked a Cake - Eileen Barton
Birmingham Bounce - Red Foley
1953-Charlie Parker produces begins the recording session that produced some of his unforgettable albums with strings and voices This day he cut "Old Folks, " "If I Love Again," " and "In the Still of the Night." A jazz genius and performer. The background may sound "tinny" due to the recording abilities in those days, but Parker's alto saxophone solo's shine through today with brilliance and his melodies are quite apparent, something questioned in 1953. I listen to this album quite often and have never been bored hearing it again. In fact, it is really a classic, as each time I play it, I swear it is better and I hear something I did not before.
http://www.cmgww.com/music/parker/
http://www.kcpl.lib.mo.us/sc/bio/parker.htm
http://www.amazon.com/exec/obidos/ASIN/B0000046WK/inktomi-musicasin-20/
104-5094193-3483111
1955 – Comedian Jack Benny signed off his last live network radio broadcast after a run of 23 years. Joining Milton Berle and his best friend George Burns, his television shows became as popular as his radio shows, as he brought along with him his announcer Don Wilson; bandleader Phil Harris; Eddie 'Rochester' Anderson; singer Dennis Day; and his wife, Mary Livingstone.
http://www.liketelevision.com/web1/classictv/jbenny/jbenny2.html
1961-the first revolving restaurant was dedicated, The Top of the Needle, located at the 500-foot level of the 500-foot-high steel and glass tower at the Century 21 exposition, Seattle, WA. It contained 260 seats and revolved 360 degrees in an hour. Above the restaurant was an observation deck and above that, a beacon. It was designed by John Graham and Company.
http://www.spaceneedle.com/
Today, there is the SpaceNeedle, privately owned and operated.
1958---Top Hits
All I Have to Do is Dream - The Everly Brothers
Return to Me - Dean Martin
Johnny B. Goode - Chuck Berry
Just Married - Marty Robbins
1958- singer Jerry Lee Lewis announced his marriage to his 14-year-old cousin, Myra, as he arrived in London. The resulting controversy caused Lewis to be booed off stage and forced the cancellation of all but three of the 37 scheduled concerts on his British tour. It would take years for Lewis's career to recover.
1963-Mickey Mantle of the New York Yankees hit a home run off Bill Fisher of the Kansas City Athletics as the Yankees beat the A's, 8-7. Mantle's blast caromed off the rooftop facade at Yankee Stadium and came within a few feet of becoming the only homerun ever hit out of that park.
1965 - The Beatles got their eighth consecutive number one hit as "Ticket to Ride" rode to the top of the singles list. The song topped the charts for one week.
1966- Bruce Springsteen and his band, the Castiles, recorded two songs co-written by Springsteen. The recordings, Springsteen's first, were never released. He and the Castiles did, however, perform several dates at New York's Cafe the following year.
1966---Top Hits
Monday Monday - The Mamas & The Papas
Rainy Day Women #12 & 35 - Bob Dylan
When a Man Loves a Woman - Percy Sledge
Distant Drums - Jim Reeves
1967-Premeire of "Mr. Rogers" on TV. "Won't You Be My Neighbor? "Presbyterian minister, Fred Rogers, hosted this long-running PBS children's program Puppets and human characters interacted in the neighborhood of make-believe. Rogers played the voices of many of the puppets and educated young viewers on a variety of important subjects. the last episodes of the program were filmed in 2001. Almost 2,000 episodes were produced over the show's history.
http://www.misterrogers.org/
1970 - The "Guess Who" from the Winnipeg, Canada area earned a gold record for both the album and single, "American Woman". It would be one of three million-seller awards for the group. Their other hits included, "These Eyes", "Laughing" and "No Sugar Tonight". The group, which dates back to 1963, disbanded in 1975, with several reunions since then.
http://www.canadianbands.com/btopage.html
http://home.golden.net/~flasher/
1972-President Richard Nixon became the first American president to visit Moscow. Four days later on May 26, Nixon and Soviet leader Leonid Brezhnev signed a t5reaty on antiballistic missile systems and an interim agreement on limitation of strategic missiles.
1972 - No. 1 Billboard Pop Hit: "Oh Girl," Chi-Lites.
1974---Top Hits
The Streak - Ray Stevens
Dancing Machine - The Jackson 5
The Entertainer - Marvin Hamlisch
Country Bumpkin - Cal Smith
1977-Janet Tuthrie became the first woman driver to qualify for the Indianapolis 500 with an average speed of more than 188 miles per hour. She lasted only 27 laps in the race, dropping out when her car broke a valve seal.
1982---Top Hits
Ebony and Ivory - Paul McCartney with Stevie Wonder
Don't Talk to Strangers - Rick Springfield
I've Never Been to Me - Charlene
Just to Satisfy You - Waylon & Willie
1985 - "Fortune" Magazine named Sears, Roebuck as the nation's largest retailer for the 21st year in a row.
1985 - No. 1 Billboard Pop Hit: "Everything She Wants," Wham!
1987 - A powerful (f4) tornado obliterated the small southwest Texas community of Saragosa, destroying 85 percent of the structures in the town. The tornado claimed 30 lives and injured 121 others in the town of only 183. The twister hurled trucks and automobiles through adobe and wood-frame homes with some blown over 500 feet. Many of the victims were parents or grandparents of children who died sheltering them from flying debris during a ceremony for head start for four-year-olds.
1990-The Cincinnati reds intentionally walked outfielder Andrew Dawson of the Chicago Cubs a record five times in a 16-inning game. Dawson's five free passes broke the record held by Roger Maris and Garry Templeton. Perhaps Barry Bonds will beat it this year.
1990-Microsoft unveiled Windows 3.0 at gala events in twenty cities around the world, linked by satellite to a theater in New York City. The show featured a speech by Bill Gates, as well as laser lights, videos, and surround sound. Microsoft spent $10 million publicizing the new release in what was generally regarded as the most expensive software introduction to date. While PIK, IMB,Apple and others tried to promote their operating system, even with 12 floppy disks, Microsoft sold three million copies of Windows 3.0 as it was quite "user friendly."
1990---Top Hits
Vogue - Madonna
All I Wanna Do is Make Love to You - Heart
Hold On - Wilson Phillips
Walkin' Away - Clint Black
1992-After almost 30 years as host of the "Tonight" show, Johnny Carson hosted his last show. Carson became host of the late-night talk show, which began as a local New York program on Dumont than was purchased by NBC, and Steve Allen was the first on the network show. October 1,1962, Carson took over from Jack Paar with side kick Ed McMahon and Doc Severinsen, longtime band leader. In a split with the network, David Letterman went to CBS as Jay Leno was chosen to take over the spot.
1992-- Replacing Tom Runnells , Felipe Alou is named as the manager of the Expos. The eventual second-place Montreal club is 17-20 at the time the Colorado native firing.
1993-the first movie was broadcast on the Internet by its director David Blair. It was his cult science-fiction film "Wax: Or the Discovery of Television Among the Bees." Blair uploaded the film in digital video format for viewing world-wide.
http://www.thekitchen.org/MovieCatalog/Titles/Wax.html
http://www.rc3.org/archive/inform/4/9.html
http://www.amazon.com/exec/obidos/ASIN/630303165X/inktomi-videoasin-20/
104-5094193-3483111
http://fusionanomaly.net/waxorthediscoveryoftelevisionamongthebees.html
1996- Garth Brooks celebrated his 60- millionth album sold with a 1960s theme party in Nashville. The Recording Industry Association of America said Brooks was the best-selling country artist of all-time and the second-highest selling artist ever in the US. Only the Beatles had sold more. Third place belongs to Billy Joel, who has not released a new song in a decade.
1997- The hit-making Fleetwood Mac lineup of Mick Fleetwood, John McVie, Christine McVie, Lindsey Buckingham and Stevie Nicks reunited for their first full-fledged public performance in 15 years. The show, on a soundstage at Warner Brothers studio in Burbank, California, was one of two taped for an MTV special and a live album. Nicks stopped the concert - twice - because she forgot the words to "Dreams," Fleetwood Mac's only number-one single.
2001--- For the second time this season, Barry Bonds homers in six consecutive games. His nine homers during this span games establishes a National League mark. Senators' slugger Frank Howard's 1968 feat of hitting 10 homers in six games major league is the major league record.
2003-- Arturo Moreno purchases the World Champion Angels from Walt Disney for $184 million to becoming the third owner in the 43-year history of the franchise. The 56-year-old outdoor advertising tycoon, who is a fourth-generation Mexican-American, is the first Hispanic to have a controlling interest in a major league club.
--------------------------------------------------------------

Spring Poem
John Steinbeck
The Snake
It was almost dark when young Dr. Phillips swung his sack to his shoulder and left the tide pool. He climbed up over the rocks and squashed along the street in his rubber boots. The street lights were on by the time he arrived at his little commercial laboratory on the cannery street of Monterey. It was a tight little building, standing partly on piers over the bay water and partly on the land. On both sides the big corrugated-ion sardine canneries crossed in on it.
Dr. Phillips climbed the wooden steps and opened the door. The white rats in their cages scampered up and down the wire, and the captive cats in their pens mewed for milk. Dr. Phillips turned on the glaring light over the dissection table and dumped his clammy sack on the floor. He waked to the glass cages by the window.
The snakes were bunched, and resting in the corners of the cage, but every head was clear; the dusty eyes seemed to look at nothing, but as the young man leaned over the cage the forked tongues, black on the ends and pink behind, twittered out and waved slowly up and down. Then the snakes recognized the man and pulled in their tongues.
from a collection of short stories.