Senior Secondary Market Officer
Walnut Creek, California
Work with secondary market syndication sources of leasing transactions. Minimum three years leasing experience & knowledge equipment leasing underwriting; to learn more and apply: click here.


Friday May 26, 2006
Headlines---
Two Corrections: Marlin & Kropschot
Classified Ads---Sales
Global Fin. Services/ Broker/Lessor list
Classified Ads---Help Wanted
Pawnee Stock down almost a buck!
Fed releases April sr. loan offr. survey
Selling Up—by Steve Chriest
"Predicting a Salesperson's Success"
Cartoon--Popular Leasing Pres. Horton
ELA Briefs Biz Journalists Lease Acct
France expanding leasing in China
Top 50 Memorial Day Destinations
DocuSign New In-Session Signing
Key Names John A. Evans Exc.VP Asia
News Briefs---
You May have Missed---
Sports Briefs---
"Gimme that Wine"
Calendar Events
Today's Top Event in History
This Day in American History
Baseball Poem
SuDoku Puzzle
######## surrounding the article denotes it is a "press release"

Two Corrections:
#1 Correction: Marlin Stock Purchase
The stock notice reported in Wednesday's edition did not give full disclosure. The SEC notice corrects what we found on the Marlin web site.
We wrote:
Marlin Officers Buy Stock!
Reversing a recent trend of selling smaller shares of stock, Vice-president George D. Pelose purchased 58,500 shares and now owns 72,038.
WRONG!!! .
In an 8-K (SEC's EDGAR System) filing date of 5/25:
"The Amendment (i) changes Mr. Pelose's title to Executive Vice President, (ii) indicates that Mr. Pelose is a member of the Office of the Chairman, (iii) increases Mr. Pelose's base salary to $275,000, and (iv) increases Mr. Pelose's annual target incentive bonus to 70% of his base salary.
"In connection with his promotion to Executive Vice President and his appointment to the Company's Office of the Chairman, and in an effort to incent and retain Mr. Pelose, the Company has awarded Mr. Pelose (i) 33,000 shares of restricted stock that vests over a three-year period (15% in years 1 and 2, and 70% in year 3), and (ii) up to a maximum of 25,500 performance-based restricted stock , the amount of which that vests in three years to be determined by the Company's diluted EPS compounded average growth rate over such three year period."
SEC Filing:
http://leasingnews.org/PDF/MRLN_8-K%205_19_2006.PDF
#2 Correction
Microfinancial hires Bruce Kropschot
"In your summary of stories in today's Leasing News, you printed "MicroFinancial for Sale/B.Kropschot". Nothing could be further from the truth. The news release states that Kropschot Financial Services will serve as MicroFinancial's financial advisor in the search, identification, evaluation and negotiation of equipment leasing and financing acquisition opportunities. Thus, MicroFinancial is seeking to make acquisitions and is not "for sale" as Leasing News suggests.
"As you know, MicroFinancial is a public company, and this erroneous headline may have an effect on its stock price. Thus I request that you please correct the headline in the Leasing News archives and that you issue a correction/clarification in the next issue of Leasing News."
Bruce Kropschot
Kropschot Financial Services
70 Beachside Drive, #101
Vero Beach, FL 32963
(772) 228-9808
(Bruce, I hope the story did have an affect on the stock, as with you involved, it should go up.
(In the abbreviated section, the brief headline was changed "on line" to "Microfinancial hires Bruce Kropschot." The editor made the assumption with Mr. Kropschot in the picture, there was a sale or a purchase intended. He apologizes for the error and promises he will never make any more errors.
(The press release as printed in Leasing News retained the original headline with the sub-headline:
MicroFinancial Incorporated Signs Agreement with Kropschot Financial Services
Agreement Provides the Company with Additional Outside Experience in Order to Identify and Evaluate Leasing and Financing Opportunities
(Here is the original story with the headline from the press release:
http://www.leasingnews.org/archives/May%202006/05-24-06.htm )
Kit Menkin, publisher
----------------------------------------------------------------

Classified Ads---Sales
Sterling Vineyards Building, Calistoga, CA *
Bakersfield, CA
I have an extensive sales and management background in equipment leasing. My work history exhibits my major strength in small ticket equipment leasing.
Email: pangress@msn.com
Boston, MA
Middle market originator, construction/Trucks / Trailers w/ 8 years in territory, looking for company / bank with competitive products
Email: mrichlease@comcast.net
Cedar Rapids, IA
Formally trained in Credit, Collections, & Sales with regional bank. Seeking sales or sales management. Over ten years in SM, vendor and end user.
Email: mjrprime@yahoo.com
Dallas, TX
17 years of experience in vendor sales. Solid book of business. Can hit the sales ground running in Dallas/Ft. Worth. Can Start ASAP
E-mail: whomadewho12@yahoo.com
Denver CO
Experienced Equipment Leasing Broker looking for a in house leasing company. Can bring a book of business with me or develop new territory where needed.
Email: Steven@eagle2.net
Detroit MI
Motivated self-starter w/5 yrs sales exp. IT leasing. Excellent communicator w/strong negotiation/biz dev. skills. Six-sigma certified w/ Fortune 50 company/book of business.
Email: playmakers1@sbcglobal.net
East Central FL
20+ years experience in all areas of leasing; sales, credit, operations, syndication. Currently independent seeking position with direct middle market lender in regional capacity
email: southernleasing@bellsouth.net
Fresno CA
Account Exec/Manager. 7+ years Leasing Sales: underwriting/contract, complex transactions, hi-tech, government, direct & vendor leasing. Captive & syndicator environments. Expert deal closer. Will send resume.
http://64.125.68.91/AL/LeasingNews/Resumes/Peck_david.pdf
Email: dsp559@pacbell.net
Greensboro, NC
Seeking direct & broker sales w/major finance companies in NC or southeast market. Small to mid-ticket range. Stable &family oriented. Will have series 6,63,65 license shortly.
Email: kc1492@aol.com
Kansas City, MO
20 years Senior Sales/Management experience in small ticket/government leasing. Program Management experience, managing 12 Reps. Credit Auth to $50K. Success in soliciting and maintaining accounts.
Email: dhundley1@kc.rr.com
Los Angeles CA
5 years experience structuring off-balance sheet finance solutions on computer and medical equipment. Perform detailed competitive analysis and market research. I uncover leads and sell.
email: barretthawk@hotmail.com
Mission Viejo, CA
Account Sales Executive with 10 years of leasing experience looking for company to bring existing customer base.
Email: makelly21@hotmail.com
Montgomery, AL
Individual with 10 years advertising sales exp. & 7 years insurance sales exp. Wants independent contractor situation in Alabama.Work with leasing company or broker.334-281-5200
E-mail: billmcneal2003@yahoo.com
Nashua, NH
10+ years sales experience small & mid-ticket hi-tech & telecom in a captive and vendor environment. Seeking new sales opportunity in New England.
E-mail: RPepa@aol.com
Newport Beach, CA
Direct sales rep. in the middle market w/22 years experience various types of equipment. Leasing/ financing from medical equip. to mfg. equip.. Strong closer.
E-mail: pauldriscoll1@lycos.com
Midsouth, TX
Lease Veteran-25+ years, heavy Vendor experience looking for new opportunity in MidSouth/SE. Experience in leasing to major accounts in high- tech/computers/Golf/transportation.
Email: LeaseVeteran@sbcglobal.net
North Carolina, Central
7 yrs. equip leasing &finance; specialist in heavy construction equip for 2-top-5-specialty finance/lease companies, NC &VA territories. $10-15MM annual funding. Downsized in 2002, now independent broker with varied customer base.
Email: sunriseleasing@aol.com
Philadelphia , PA
Seeking an open opportunity to advance in the automotive, commercial leasing & finance industry.........
Email: alexe362002@yahoo.com
Philadelphia, PA
25 years in Healthcare and seeking an opportunity to represent a lender for dental/medical funding in the Northeast to Mid-Atlantic states.
email: mitutz@msn.com
Portland, OR
"Exp. In direct sales and sales mgmt.
I love Portland, but decent here jobs are few. Willing to be re-located, would like to work for you.
Email: pthygeson@netscape.net"
Prairie Village, KS
Have substantial deal flow and database of broker referral sources. Generated and closed over $22M LY. Seeking exclusive relationship w/direct founder.
Email: fiergl@aol.com
Saint Louis, MO
25+ years in sales + sale management. Top producer. Will relocate for right opportunity.
email: wwa2@htc.net
San Francisco Bay Area, CA
10+ yrs in middle market leasing. Seek direct lessor only. Transaction size from $500M to $10.0MM. Client base: printing, food, retail, manufacturing.
Email: edm173@sbcglobal.net
San Francisco Bay Area
Currently employed Vendor Program "Hunter", with complex program development experience. Also skilled at program management. Technology to yellow iron assets. Extensive national rolodex.
Email: VdrPgmBizDev@aol.com
San Francisco Bay Area
15+ yrs--mid mkt. $500M to $10.0MM. Seeking role w/ captive or global leasing firm. large book to bring with me! Debt, tax, 1st amendment, etc.
Email: lac4002@yahoo.com
Southern California
Equipment Financing Professional with strong background in Sales, Management, Marketing & Operations. Will consider relocation for Senior Sales or Management position offering dynamic growth opportunity.
Email: natsif@hotmail.com
South Central US
TX, OK, KS & AR Territory.
Equipment finance and leasing professional, 20 years experience. Top producer in middle to upper middle markets. Extensive customer base.
Email: usleasingrep@yahoo.com
For a full listing of all "job wanted" ads, please go to:
http://64.125.68.91/AL/LeasingNews/JobPostings.htm
To place a free "job wanted" ad, please go to:
http://64.125.68.91/AL/LeasingNews/PostingForm.asp
* Founded in 1969, Sterling has been a pioneer producer of fine red Bordeaux wines and the first winery in America to produce a vintage-dated Merlot ('69). The New York Times notes that Sterling Vineyards is "one of the most spectacular wineries in Napa Valley…" A must for visitors to the area, Sterling Vineyards has three different tasting rooms offering one of the best selections of wines in Napa Valley. A Visitors Fee includes aerial tram ride, self-guided tour, and complimentary tasting of the five featured-wines. Other wines available for fee (refundable upon purchase-conditions apply). A "coupon" and other information may be found at:
http://www.silveradotrail.com/sterling.html
or visit the winery direct at:
http://www.sterlingvineyards.com
----------------------------------------------------------------
----------------------------------------------------------------

Global Financial Services joins "Broker/Lessor" list
Third Column: YES - Year Company Started | YELB - Years in equipment Leasing Business
A - City Business License | B- State License | C - Certified Leasing Professional |
D - State(s) sales/use tax license |
E - Named as "lessor" on 50% or more of lease contract signed. |
Name
City, State
Contact
Website
Leasing Association

YCS
YELB


(see above for meaning)

1981
29

$10,000
Average $50,000 to $250,000
To view the entire list, please go here:
http://www.leasingnews.org/Brokers/broker_Lessor.htm
----------------------------------------------------------------

Classified Ads---Help Wanted
Jr. Analyst
Credit Analyst
Sausalito, CA
Banking, financial, leasing experience;
opportunity to grow, work w/seasoned
professional; small office, Excel a must
e-mail: spickens@oxfordfinance.com or
call 415-331-1725

Operations Manager

Operations Manager for growing equipment leasing/broker services co. in Costa Mesa, CA to oversee syndication, docs, & credit functions. Prior leasing experience pref. Salary with benefits. Send resume to: Sarah@Podiumfinancial.com

Senior Secondary Market Officer


Senior Secondary Market Officer
Walnut Creek, California
Work with secondary market syndication sources of leasing transactions. Minimum three years leasing experience & knowledge equipment leasing underwriting; to learn more and apply: click here.


VP-Manager of Equipment Lease Division
----------------------------------------------------------------

Pawnee Stock down almost a buck!
Chesswood Income Fund dba Pawnee Leasing IPO started at $10.00 a share on May 10, 2006, raising $57,781,930 (Canadian) on its first offering.
The stock itself has gone up and down since opening and hovers at the end of Thursday at $9.15 (last bid.)
"I'm not worried about the stock price," President Gary Souverein said. "This is a cross border transaction, an investment in our cash flow and proven performance. We are confident in our ability to be a sound and growing investment vehicle."
Gary H. Souverein (file photograph)
After spending a month in the final preparation, and then spending several weeks on the road making presentations to investors for the IPO, he took a week off, and only recently returned back to work.
"I was away from my family and owed time with them," he explained.
Asked if anything had changed since the company was now publicly owned, he responded:
"It's the same...the same business plan, the same recipe, the same engine that is working, and we continue to polish our service to our broker customers in the start-up and "B" credit markets.
He didn't seem concerned about the stock price; although he believes it will improve as the Canadian market sees them perform.
"My goal is to exceed our investors' expectations. We won't be changing the systems that have brought Pawnee to where we are today. We have the right employee team, the proven procedures, we know our marketplace, and we perform."
The two parties instrumental in the stock offering and procedure told Leasing News they had inquiries of other leasing companies interested in the Canadian public marketplace:
"I have followed the success of Pawnee for over 10 years since I first met founder Rob Day when we were in the same golf foursome at a UAEL Convention. Over the years, I have performed several consulting assignments for Pawnee, and it has been gratifying to see the sound growth that the company has achieved under the leadership of Rob, Sam Leeper and Gary Souverein.
"I was pleased when Pawnee's shareholders asked me to locate a supportive acquirer to help Pawnee reach the next level of its growth plans. I believe that Chesswood Income Fund, with its access to the public equity markets and having the advantage of being a Canadian income trust, is a perfect match for Pawnee. I have been very impressed with Chesswood CEO Barry Shafran and his vision for the future of the company, and I am confident that Chesswood will provide further opportunities for Pawnee employees and the lease brokers that Pawnee supports."
Bruce Kropschot
Kropschot Financial Services
70 Beachside Drive, #101
Vero Beach, FL 32963
(772) 228-9808
"My firm (Swandel and Associates) acted for Cars4U (Chesswood). Our role was to find an acquisition and assist with due diligence. It was a pleasure working with Bruce Kropschot who did a superb job for Pawnee. I have had contact with the people at Pawnee through UAEL and NAELB and knew that this deal would be a strong fit for all parties. The people at Chesswood are a brilliant group that made a very complex transaction easy for the public market to understand.
"Currently I have Canadian clients seeking to acquire U.S. or Canadian Lessors. With the rapid rise in the Canadian dollar we may see a few more cross border transactions in the near future.
Hugh Swandel
President
www.swandelandassociates.com
Direct: 204.477.0703
Cell: 204.996.4844
Fax: 204.453.5044
The original story:
http://www.leasingnews.org/archives/May%202006/05-10-06.htm#pawnee
----------------------------------------------------------------

Fed releases April senior loan officer survey
ABSnet
The Federal Reserve recently released its quarterly Senior Loan Officer Survey. Broadly, the survey reported a net easing in commercial and industrial (C&I) and residential mortgage lending while commercial real estate (CRE) lending standards remained steady. The Fed also noted that net demand at domestic institutions for both C&I and CRE loans were little changed compared to the previous survey, while residential mortgage net demand remained lower.
The survey also reported that in terms of C&I lending to large and middle-market firms, nearly 16% of respondents had eased their standards in the past three months, while 3.5% of participants reported tightening. The net increase of 12% is just slightly higher than January's 11%.
There was also a slight easing in terms. Specifically, 60% — a notably larger net fraction compared to the previous survey — reported trimming spreads of loan rates over their COF for large and middle-market firms. Additionally, almost 40% indicated they reduced the cost of credit lines.
The easing of credit standards and loan terms was largely attributed to more aggressive competition from other banks or non-bank lenders. This was also the primary reason given in the previous survey.
Not counting normal seasonal variation, 65% of the large respondents reported demand over the past three months was about the same, 19% said it was moderately stronger and 16% stated that it was moderately weaker. In the previous survey, 29% saw moderately stronger demand, while 13% of respondents noted demand was moderately weaker. For those reporting strengthening demand, the primary reasons cited were increased customer investment in plant and equipment and rising M&A financing needs. For those citing weaker loan demand, the primary reason given by customers was an increase in internally generated funds.
In terms of inquiries regarding potential business, there was little change in the current survey versus the previous one. The results showed 61% reported the number has stayed about the same, 25% reported a moderate increase, and 14% saw a moderate decline. This compares to 64%, 27% and 9%, respectively, in the last survey.
In the commercial real estate loan category, credit standards held steady over the quarter versus the previous quarter. According to 84% of respondents, standards remained basically unchanged while 9% reported some tightening and 7% some easing. There was a slight increase in demand for CRE loans — 5% on net. In the previous report, the net increase over the period was 3.6%.
In terms of residential mortgage lending, 87% of respondents noted their credit standards were basically unchanged in the past three months, 11% noted some easing while 2% reported some tightening. The previous survey was balanced between those reporting easing and tightening at 8%, for a 0% net. Demand was improved from the previous report with 17% recording it as moderately stronger, compared to 2% previously. The results showed that 39% reported moderately weaker demand and 2% reported substantially weaker demand. This is down from 42% and 4%, respectively, in the January survey. While demand on net remained weaker in the current survey, it was an improvement from the last report.
The results of the report are seen as positive for the mortgage market given that lending demand on net has been steady to lower in C&I and CRE loans while growth is being recorded in deposits and assets. This suggests that banks should continue adding MBS faster than the underlying MBS market is growing, according to analysts at Bear Stearns. — Sally A. Runyan/IFR MortgageData
----------------------------------------------------------------

Predicting a Salesperson's Success
by Steve Chriest
Have you ever rated a candidate for a sales position a "10" on a scale of one to ten? Her interview skills were exceptional. She was articulate and graceful, had all the right answers, offered insights that showed the ability to think creatively about challenges, and seemed eager to get started in her new sales role.
Compared with all other candidates, this person was truly a dream come true. But after only a few months, it became painfully obvious that you made a big hiring mistake. What happened? The problem may with your interviewing process.
According to the International Personnel Management Association, typical hiring methods are ineffective. If you put on a blindfold, and simply pointed to one among a group of candidates lined up against a wall, and hired that person, your hiring method would depend on "chance" for success. If, on the other hand, you're hiring process includes a typical employment interview, your odds of improving over "chance" increase about 1%.
If your hiring process includes a standard personality test, you would again improve your odds over chance by another 1%. If, along with the interview and personality test, you require a candidate to have relevant job experience, your chances of a good hire increase to 5%. If you include a scoreable interview in your hiring process, your odds over chance for a good hire increase to about 7%.
If your company is among a growing number of firms that include validated and objectively administered selection "tests" in their hiring process, you can increase your chances of a good hire by up to 25%. An improvement of 25% over "chance" may not impress you, but the math shows that this is an improvement of 257% over even the best interview processes that lack selection tests!
So, exactly how would a validated and objectively administered selection test help you avoid hiring the candidate you rated a "10" based on your "gut" feeling? Without delving into the specifics, these tests reveal not only aptitude for performance, but a candidate's willingness to perform the duties of the particular sales position. The tests answer the questions: Can the candidate do the job, and is the candidate likely to do the job?
The candidate you rated a "10" may have told a great story, but when it came to performing, she obviously lacked the "will" to do the job. You can use your management and teaching talents to help salespeople improve skill problems, but there is little or nothing you can do to help someone with a "will" problem. Validated and objectively administered selection tests can help you identify skill and will problems, and increase your chances of good hires.
Copyright © 2006 Selling Up TM . All Rights Reserved.
About the author: Steve Chriest is the founder of Selling Up TM (www.selling-up.com), a sales consulting firm specializing in sales improvement for organizations of all types and sizes in a variety of industries. He is also the author of Selling Up , The Proven System for Reaching and Selling Senior Executives. You can reach Steve at schriest@selling-up.com.
----------------------------------------------------------------

Cartoon---Popular Leasing Pres. Bruce Horton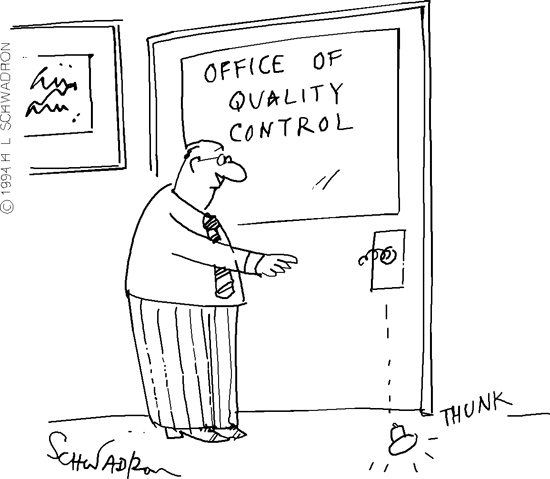 ---------------------------------------------------------------

ELA Briefs Business Journalists on Lease Accounting
ELTnews
On May 22 and 23, ELA President Michael Fleming, accompanied by long-time Accounting Committee member and resource William Bosco, met with business journalists in New York at the Wall Street Journal, The Economist Group (CFO Magazine) and Business Week.
The three briefings and subsequent discussions are a part of ELA's campaign to bring more light than heat to the consideration of financial accounting for leases.
"There have been just so many misleading statements made about lease accounting that many business leaders are getting the impression that lease accounting is broken, is abusive and is no longer GAAP. There is also a very simplified view of how to change lease accounting," according to Fleming.
The briefings used a new published ELA White Paper, "Lease Accounting: Separating Myth from Reality," written by Mr. Bosco.
According to Fleming, the first message ELA wants to get across is that current lease accounting is not broken. Rather, current lease accounting is founded on a rules-based risk and rewards framework that is no longer in favor with FASB. FASB and IASB leaders want to move to a principles-based components framework for leasing in which there are assets and liabilities on the balance sheet.
Fleming and Bosco walked the journalists through the structure of a lease and the motivations for leasing. By illustrating that lease structures, pricing and decisions revolve around four points--OEC, term, desired range for a monthly payment and the booked residual--they demonstrated that operating lease treatment most often results in the market decisions rather than by targetting an 89.9% target.
Fleming told the journalists ELA expects that Accounting Standards for Leasing to be changed over the next three years and that ELA is prepared to work with FASB and IASB on the project.
"Not withstanding the fact that we believe current accounting standards, including healthy disclosures, reflect economic reality, standard setters want to implement a new framework. Our goal is to be sure that the new standards work as well, and reflect economic reality as well as FAS 13 has for 30 years.
The ELA presentation identified how the basis for determining what will be capitalized as assets and liabilities will likely revolve around quantifying "the right to use," that is, what a lessee receives and what it assumes liability for in a lease.
Each briefing included a lively discussion of what constitutes an asset. Bosco observed that FASB will probably depart from its traditional definition of an asset in order to make its desired framework work.
Journalists were amazed at all the options and services that could be included in "the right to use" and why measurement could be difficult.
Fleming and Bosco also stressed the following:
--Lease accounting is currently transparent, but the user must look to income statements and footnotes to fully understand the lessee's practices.
- Disclosures should be the key to new lease accounting standards.
- Synthetic leases have been reduced to an immaterial level because of FIN 46.
- Most off balance sheet leases are actually real estate, primarily retail-related real estate.
ELA plans to continue its briefings and attack myths and inaccurate statements regarding financial accounting for leases as part of its campaign.
The Accounting White Paper:
http://leasingnews.org/PDF/Bill_Bosco.pdf
---------------------------------------------------------------

Société Générale expanding into leasing in China
www.efma.com
The French bank is opening a new subsidiary in Shanghai which will handle its long-term leasing, car fleet management and equipment financing activities. Société Générale is already present on the Chinese market with ALD its car leasing arm and launched its vendor and equipment finance activity (SG Equipment Finance) last March.
The French bank now wants to take advantage of a new law on the financing of capital equipment for companies, which is due to enter into force in 2007. By grouping together these activities, Société Générale intends to reduce the cost of setting up on this large market. The bank is also targeting major international companies setting up production operations in China. For the time being, the idea of company car fleets is a new concept in China, but the growth potential is strong.
---------------------------------------------------------------

Top 50 Memorial Day Destinations
AccountingWEB.com - - The Millennium Park/Loop area of Chicago is the top destination of travelers during the upcoming Memorial Day weekend, according to the fourth annual survey of the 50 most popular Memorial Day Weekend destinations by internet travel service provider priceline.com. Warm weather destinations were also popular. International destinations, other than Canada, however, were not.
The survey is based on the actual booking activity of more than 30,000 requests made by priceline.com customers for the weekend of May 27-29. The survey is believed to be one of the more accurate predictors of Memorial Day travel trends because it is not based on consumer preference polls or votes.
One trend this year is that beach destinations are back in vogue, claiming 15 places on the top 50 list. Unusually cold weather during May 2005 may have kept travelers away from places like Myrtle Beach and Hilton Head last year, but both are back among the top 50 for 2006.
There was also a significant change in the most-requested Memorial Day destination. Las Vegas held the top spot from 2003 to 2005, only to be replaced this year by Chicago. New York was popular again this year, as were San Francisco, San Diego and the Los Angeles area. The Indianapolis Speedway area made its annual appearance at Number 50, despite celebrations marking 90 years of the Indy 500.
Priceline's list of top destinations includes:
Chicago, Millennium Park, Loop area
Las Vegas, Strip vicinity
Chicago, North Michigan Ave. area
New York, Upper Midtown/Central Park South area
New York, Midtown West
New York, Downtown/Soho
New York, Midtown East
Las Vegas, Convention Center area
San Francisco, Union Square East
Washington, D.C., White House area
Montreal
San Francisco, Union Square West
San Diego, Coastal area
Boston, Copley area
Vancouver
San Antonio, Downtown/Riverwalk
Seattle, Downtown
Oahu, Waikiki South
Philadelphia, Downtown
Orlando, Universal Studios/Seaworld area
San Diego, Point Loma/Old Town
Miami, South Beach
Boston, Downtown
Charleston, Mount Pleasant/Isle of Palms
Orange County, Disneyland area
Miami Beach
St. Catharines, Niagara Falls
Orlando, Disney World vicinity
San Diego, Downtown & Harbor Island
Austin, Downtown
Toronto, Markham
Toronto, Downtown
Key West
Hilton Head
Las Vegas, West of Strip
Washington, D.C., Alexandria
Seattle, Lake Union
San Antonio, Medical Center area
Palm Springs, Rancho Mirage/Indian Wells
Jersey City, Meadowlands area
Monterey
London, Bloomsbury/Marble Arch
Maui, Wailea/Makena
Orange County, Costa Mesa/Irvine
San Diego, Del Mar
Myrtle Beach
San Diego, Mission Valley
Los Angeles, Beverly Hills/West Hollywood
San Francisco, Fisherman's Wharf
Indianapolis, Speedway area
-------------------------------------------------------------------------------
Sacramento, California Jazz Jubilee May 26-29
More than 100 bands from the US, Canada and foreign countries perform American traditional jazz music in approximately 40 venues around Sacramento at the world's largest traditional jazz festival.
www.sacjazz.com
---------------------------------------------------------------
### Press Release ###########################

DocuSign Releases New In-Session Signing to Accelerate Online Applications
Customers can visit a Web site, complete and submit forms and sign an application all in a single Web session
SEATTLE, WA -- - DocuSign®, the leading on-demand electronic signature service, today announced the availability of DocuSign In-Session Signing, a new service specifically designed to allow companies to integrate DocuSign directly into their existing web portals and e-commerce offerings.
DocuSign In-Session Signing allows a customer to visit a Web site, complete a form and sign an application all in one visit. The DocuSign On-demand Signing Service ensures proper security, user authentication, and document non-repudiation, and leads the industry in ease of use and flexibility.
Typical uses for in-session electronic signatures include:
Consumer loan applications
Credit card applications
Insurance applications and claims
Mortgage transaction processing
Debt consolidation
Account opening
DocuSign integrates easily into existing software applications
The integration of DocuSign into existing applications can be done quickly and easily because it is offered as an XML/SOAP web service which enables the customer to control all aspects of the document signing process via software.
DocuSign provides the 'missing link' many companies need to enable a complete end-to-end transaction process that requires documents to be signed. Companies are realizing that the ability to quickly and efficiently close sales by leveraging electronic signatures greatly increases customer retention and dramatically increases the sales close rate.
The addition of DocuSign In-Session Signing expands the breadth of the services DocuSign offers. DocuSign also supports the ability for individuals to securely and quickly send any document on their PC for signature to anyone in the world and sign remotely using only a web browser at a fraction of the cost of traditional signing methods.
DocuSign provides immediate ROI
"Many e-commerce customers are only able to execute some of their transactions online, and are forced to turn to a paper process to obtain signatures," said Tom Gonser, VP of Product Strategy at DocuSign. "In typical e-commerce transactions that require signatures, customers have to download and sign documents, or the customer has to physically send documents via overnight express. This decreases close rates, increases errors, and adds cost. Now, with DocuSign In-Session Signing, the entire ecommerce transaction, including signing documents, can happen online, increasing sales close rates, eliminating signing errors, lowering paper costs, and reducing postage fees."
About DocuSign ( www.docusign.com)
DocuSign is the leading and most trusted electronic signature service, offering service to over 750 corporate customers worldwide, and processing millions of transactions per year. DocuSign is widely recognized as having the most flexible and easy to use signature service available anywhere. DocuSign's customers represent industry leading companies in financial services, real estate, CRM, leasing, manufacturing, technology and communications. Named by Gartner, Inc. as a Cool Vendor to watch in 2005, DocuSign is a venture backed, privately held company based in Seattle, Washington.
### Press Release ###########################

Key Equipment Finance Names John A. Evans
Executive Vice President, Asia Pacific Region
SUPERIOR, CO. – – Key Equipment Finance, one of the nation's largest bank-affiliated equipment financing companies and an affiliate of KeyCorp (NYSE: KEY), has named John A. Evans as executive vice president of its Asia Pacific region. In this role, Mr. Evans will be responsible for overseeing operations throughout offices in eight Asia Pacific countries.
John A. Evans
"John has been with our organization for 15 years and has developed broad experience in sales, asset management, operations and finance," said Karen Larson, president and chief operating officer for Key Equipment Finance's global vendor services group. "John's most recent role as integration manager, responsible for combining the newly acquired American Express Business Finance organization into Key's existing operational systems, was both challenging and important to our ongoing business achievements. Its successful completion is a tribute to John's organizational talents and team-building skills."
Mr. Evans joined Key Equipment Finance (then Leasetec Corporation International) as European portfolio manager in the United Kingdom in 1997. He was named vice president, European Commercial Operations, in 2000. He accepted an expatriate assignment in 2002 as senior vice president, Global Finance and Treasury, at Key Equipment Finance's worldwide headquarters just outside Boulder, Colorado. He was appointed senior vice president, Integration and Technology, in 2004. Mr. Evans earned his bachelors of arts degree, with first class honors, from The University of Greenwich in London, England.
Key Equipment Finance is an affiliate of KeyCorp (NYSE: KEY) and provides business-to-business equipment financing solutions to businesses of many types and sizes. They focus on four distinct markets:
· businesses of all sizes in the U.S. and Canada (from small business to large corporate);
· equipment manufacturers, distributors and value-added resellers worldwide;
· federal, provincial, state and local governments as well as other public sector organizations; and
· lease advisory services for manufacturers' captive leasing and finance companies.
Headquartered outside Boulder, Colorado, Key Equipment Finance manages a $12.6 billion equipment portfolio with annual originations of approximately $5.7 billion. The company has major management and operations bases in Toronto, Ontario; Albany, New York; Chicago, Illinois; Houston, Texas; London, England; and Sydney, Australia. The company, which operates in 26 countries and employs 1,100 people worldwide, has been in the equipment financing business for more than 30 years. Additional information regarding Key Equipment Finance, its products and services can be obtained online at KEFonline.com.
Cleveland-based KeyCorp is one of the nation's largest bank-based financial services companies, with assets of approximately $93 billion. Key companies provide investment management, retail and commercial banking, consumer finance, and investment banking products and services to individuals and companies throughout the United States and, for certain businesses, internationally.
### Press Release ###########################
--------------------------------------------------------------

News Briefs----
Rates on 30-year mortgages climb
http://www.chicagotribune.com/business/chi-060525mortgage-rates-story,1,4317689.
story?coll=chi-business-hed
Economic growth lower than expected
http://www.chicagotribune.com/business/chi-060525economy,1,2095912.story?
coll=chi-business-hed
$363M is average pay for top hedge fund managers
http://www.usatoday.com/money/perfi/funds/2006-05-26-hedge-funds-usat_x.htm
Enron Leaders Found Guilty
http://www.washingtonpost.com/wp-dyn/content/article/2006/05/25/
AR2006052500374.html
Defendants Sunk by Their Testimony
http://www.washingtonpost.com/wp-dyn/content/article/2006/05/25/
AR2006052502100.html
INVESTORS WIN $6.6B IN SETTLEMENTS WITH BANKS
http://www.nypost.com/business/66506.htm
Mexico Prez. Fox hails passage of immigration bill
http://www.sacbee.com/content/news/story/14260414p-15074269c.html
Vermont bank to acquire New Hampshire bank
http://www.boston.com/news/local/vermont/articles/2006/05/25/
vermont_bank_to_acquire_new_hampshire_bank/
VONAGE IPO IS A BOMB UNDERWRITERS BURNED
http://www.nypost.com/business/66504.htm
Yahoo, eBay join forces in partnership
http://www.boston.com/business/articles/2006/05/25/
yahoo_ebay_to_join_forces_in_partnership/
Dell to sell PCs installed with Google's software, not Microsoft
http://seattletimes.nwsource.com/html/businesstechnology/
2003018962_webdellgoogle25.html
Florida angler lands what may be record shark 1,280 lbs.
http://www.usatoday.com/news/nation/2006-05-25-shark-record_x.htm
---------------------------------------------------------------


You May have Missed---
Condi Rice: Taylor Hicks' Biggest Fan?
http://www.time.com/time/nation/article/0,8599,1198331,00.html
---------------------------------------------------------------

Sports Briefs----
Bush to wear No. 25 this coming season
http://sports.espn.go.com/nfl/news/story?id=2457823
Raiders say SI story about sale is 'fiction'
http://www.contracostatimes.com/mld/cctimes/sports/football/nfl/oakland_raiders/
14663386.htm?source=rss&channel=cctimes_oakland_raiders
Reese leaves window cracked for McNair return
http://www.nashvillecitypaper.com/index.cfm?section=7&screen=news&news_id=50052
McKenzie insists he's the man
Packers' director of personnel talks to Texans about their GM vacancy
http://www.chron.com/disp/story.mpl/sports/3887264.html
----------------------------------------------------------------


"Gimme that Wine"
California wines beat the French -- again Taste-off proves California wines age best, too
Even after 30 years of aging, state's Cabernets still tops
http://www.sfgate.com/cgi-bin/article.cgi?f=/c/a/2006/05/25/
MNGRBJ1OS530.DTL&type=wine
Flights:
http://www.leasingnews.org/Pages/the_wines.htm
Wine Panel actual scores:
http://leasingnews.org/PDF/Rerun_scores.pdf
France to go 'massive' in China
http://www.decanter.com/news/85464.html
Wine Prices by vintage
http://www.winezap.com
http://www.wine-searcher.com/
US/International Wine Events
http://www.localwineevents.com/
Winery Atlas
http://www.carterhouse.com/atlas/\
Leasing News Wine & Spirits Page
http://two.leasingnews.org/Recommendations/wnensprts.htm
----------------------------------------------------------------

Calendar Events This Day
Australia: Sorry Day
A day to express sorrow for the forced removal of Aboriginal children from their familes.
Cherry Dessert Day
Feast of Saint Augustine of Canterbury
Pope Gregory sent Augustine to convert the pagan English. Augustine became the first archbishop of Canterbury. He died May 26, 605 AD.
Georgia: Independence Day
National Day. Commemorates declaration of independence from Russian in 1918. Was absorbed the Soviet Union in 1922.
Israel: Jerusalem Day (YOM Yerushalayim)
Hebrew Calendar date, lyar 28, 5766. Commemorates the liberation of the old city, June 7, 1967. Began at sundown May 25.
----------------------------------------------------------------

Today's Top Event in History
1895 – famous "America" photographer Dorothea Lange born Hoboken, New Jersey.
http://www.americaslibrary.gov/cgi-bin/page.cgi/aa/writers/lange/power_3
http://xroads.virginia.edu/~UG97/fsa/lang.html
http://www.museumca.org/global/art/collections_dorothea_lange.html
http://www.loc.gov/exhibits/wcf/wcf0013.html
----------------------------------------------------------------

This Day in American History
1649-A ban on Jesuits was enacted by the Puritan Massachusetts colony. Contrary to what is taught in elementary and middle schools, the puritans were quite prejudiced to other religions and did not escape England for persecution, but wanted for the opposite reason, to ensure their own religion above any others. The ban provided that "No Jesuit or ecclesiastical person obayned by the authoritie of the pope shall henceforth come within our jurisdiction" except ting survivors of shipwrecks and trades who " behave themselves inoffensively during their abode here." A second offense was punishable by death.
1771 - A famous Virginia flood occurred as heavy rains in the mountains brought all rivers in the state to record high levels.
1836-The power of the Southern pro-slavery Congress voted the first gag rule when they voted 117 to 68 to ban any consideration of the contentious subject of slavery. The resolution red: "Whereas it is extremely important and desirable that the agitation of this subject should be finally arrest, for the purpose of restoring tranquility to the public mind, your committee respectfully recommend the adoption of the following additional resolution; Resolved that all petitions, memorials, resolutions, propositions, or papers relating in any way, or to any extent whatever, to the subject of slavery, or the abolition of slavery, shall without being either printed or referred, be laid upon the table and that n further action whatever shall be had thereon."
1864-The Territory of Montana was formed by Congress from the Territory of Idaho.
1868- President Andrew Johnson avoids impeachment by 1 vote. When Johnson removed his Secretary of War Edwin M. Stanton over plans for Reconstruction, the opposing party, Republicans, voted to impeach him on February 24 at the House of Representatives. A trial then was brought against him by the US Senate. Both times the vote was 35 for conviction and 19 for acquittal. Because a two-thirds vote was needed to convict, Johnson was judged not guilty. As a side note, on May 21, the Republican National Convention nominated Gen. Ulysses S. Grant for the presidency, and at the same meeting, the convention adopted the name National Republican Party.
1883-Jazz singer Mamie Smith born Cincinnati, OH. Died October 30, 1946
http://www.redhotjazz.com/mamie.html
http://www.oafb.net/once186.html
http://us.imdb.com/name/nm0809197/
1886-Al Jolson birthday, Actor, singer, born Asa Yoelson at St. Petersburg, Russia. Died at San Francisco, CA, Oct 23, 1950. The first performer to sing in a sound movie ( The Jazz Singer).
http://www.britannica.com/eb/article-9043911?source=RSSOTD
http://www.jolson.org/
http://www.hollywoodlegends.com/al-jolson.html
1895 – famous "America" photographer Dorothea Lange born Hoboken, New Jersey.
http://www.americaslibrary.gov/cgi-bin/page.cgi/aa/writers/lange/power_3
http://xroads.virginia.edu/~UG97/fsa/lang.html
http://www.museumca.org/global/art/collections_dorothea_lange.html
http://www.loc.gov/exhibits/wcf/wcf0013.html
1896 -An F5 tornado hit Oakwood, Ortonville, and Thomas, Michigan. 47 people were killed and 100 were injured. Trees were debarked "even to the twigs, as though done by the careful hand of an experienced artisan". Parts of houses were found up to 12 miles away.
1907-Birthday of John Wayne, American motion picture actor, most famous "macho man," born Marion Michael Morrison at Winterset, IA. He died at Los Angeles, CA., June 11,1979. The Orange County airport where he lived in Los Angeles is named after him. " Talk low, talk slow and don't say too much," was his advice on acting.
http://www.imdb.com/name/nm0000078/
http://www.angelfire.com/oh2/writer/johnwayne.html
http://www.seeing-stars.com/StarIndexes/JohnWayne.shtml
http://www.johnwaynebirthplace.org/
1914—Trumpet player Ziggy Elman born. Died June 26, 1980,Los Angeles.
http://www.decadesign.com/scptest/ziggyelman.jpg
http://www.vh1.com/artists/az/elman_ziggy/bio.jhtml
http://us.imdb.com/name/nm0255382/
1916—Composer/author Louis Thomas Hardin, better known as "Moondog," born Marysville, KS
http://www.moondogscorner.de/press/lex4.htm
http://www.vh1.com/artists/az/moondog/bio.jhtml
http://www.moondogscorner.de/biography/index_de.html
http://www.jazzdigger.com/z/Ziggy_Elman_His_Orchestra/1938_39_B000001NSU.htm
1917 - A tornado touched down near Louisiana MO about noon and remained on the ground for a distance of 293 miles, finally lifting seven hours and twenty minutes later in eastern Jennings County, IN. The twister cut a swath of destruction two and a half miles wide through Mattoon, IL. There were 101 persons killed in the tornado, including 53 at Mattoon, and 38 at Charleston IL. Damage from the storm totaled 2.5 million dollars.
1920-Peggy Lee birthday, singer, songwriter and actress Peggy Lee was born Norm Deloris Egstrom at Jamestown, ND. She got her start singing on a Fargo, ND, radio station, and was soon hired by Benny Goodman to sing with his band. Known for her simple, jazzy style as well as her sex appeal, her biggest hits were 1958"s "Fever" and 1969's "Is That All There Is?_---both of which are now considered standards. She is perhaps best remembered for the songs that she co-wrote and performed in Disney's Land and the Tramp." She continued to perform until the 1990's, when poor health forced her to retire. She died January 21, 2002 at Los Angeles, Ca.
http://www.peggylee.com/
http://us.imdb.com/name/nm0498007/
1923---James Arness birthday, born Minneapolis, MN. He was our neighbor and was starring in "Gunsmoke". My father wrote a few of the episodes. Mr. Arness also took my brother Michael and I to University High School for almost two years ( until I learned to drive ). He would pick us up at the bus stop on Sunset Blvd. in his Oldsmobile station wagon. Perhaps at times he would get up to 80 to 100 miles an hour down Sunset Blvd. He would zoom in and out of traffic, laughing, and give us advise on life. My brother told my mother the speed and she told us not to ride with him anymore (we did, as we always beat the bus to school ). If he was late, he would drop off us a few blocks from the high school, but if he was really making time, he would drop us off right in front. He was a very nice man. Right across from where we lived was James Whitmore. He was offered the Gunsmoke role first, but turned it down, recommending Arness, he was at least twice as tall as he was. Whitmore thought Arness was better for the role. In 2006 he is 83 years old.
1937 - Lionel Hampton and his band recorded the classic, "Flying Home", for Decca Records.
http://www.riverwalk.org/profiles/hampton.htm
1938- William Bolcom, American pianist, composer and writer, born Seattle, Washington.
http://sai-national.org/phil/composers/wbolcom.html
1940- The evacuation of 200,000 British and 40,000 French and Belgian soldiers began. The British Force had become trapped by advancing German armies at Dunkirk, the port on the northern coast of France. Sailing on every kind of transport available, including fishing boats and recreational craft, these men were safely across the English Channel by June 2.
1942—Lionel Hampton's big ban, with Illinois Jacquet, records "Flyin' Home," (Decca 18394)
1946---Top Hits
The Gypsy - The Ink Spots
All Through the Day - Perry Como
Laughing on the Outside - The Sammy Kaye Orchestra (vocal: Billy Williams)
New Spanish Two Step - Bob Wills
1949-Singer Hank Williams ,Jr. ("All for the Love of Sunshine," "I Fought the Law"), born Shreveport, LA, May 26, 1949.
http://www.hankjr.com/
http://www.hankwilliams.com/hankbio_1.html
1951-Birthday of Sally Kristen Ride. Dr. Ride, one of the first women in the US astronaut corps and the first American woman in space, was born at Encino, CA. Her flight aboard the space shuttle Challenger was launched from Cape Canaveral, FL., June 18, and landed at Edwards Air Force Base, Ca., June 24, 1983. The six-day flight was termed "nearly a perfect mission."
1954---Top Hits
Wanted - Perry Como
Little Things Mean a Lot - Kitty Kallen
Man Upstairs - Kay Starr
I Really Don't Want to Know - Eddy Arnold
1956-Althea Gibson, tennis champion, wins the French Open, becoming the first Black tennis player to win a major tennis title, 1956. Died September 28, 2003
http://espn.go.com/sportscentury/features/00014035.html
http://www.altheagibson.com/
http://www.altheagibson.com/gallery.html
http://us.imdb.com/name/nm0316836/
1959- In another of Bill Veeck's stunts, 3-feet 7 inch Eddie Gaedel returns to a major league field along with three other midgets. Arriving by helicopter and dressed as Martians, the quartet shake hands with Nellie Fox and Luis Aparicio near second base on Comiskey Park's infield and give them toy ray guns as the PA announcer informs fans the crowd the ETs have arrived to help the somewhat short keystone combo in their struggle with giant earthlings.
1961 - Dave Garroway told the NBC-TV brass that he was ready to retire. "I want to give up the Today show," he said, "to stop talking awhile and start looking, thinking and listening to people." Garroway voiced his trademark, "Peace," with palm facing the camera, for the last time, after 10 years of early morning informing and entertaining.
1962---Top Hits
Stranger on the Shore - Mr. Acker Bilk
I Can't Stop Loving You - Ray Charles
Old Rivers - Walter Brennan
She Thinks I Still Care - George Jones
1964-Lenny Kravitz birthday, Actor, singer, born New York.
http://www.alwaysontherun.net/lenny.htm
1965-The Rolling Stones appear on "Shindig!" along with Jackie De Shannon, Sonny and Cher and Jimmy Rodgers.
1967 -a slow moving nor'easter battered New England with high winds, heavy rain, and record late season snow on this day and into the 26th. Winds 70 to 90 mph in gusts occurred along the coast. Over 7 inches of rain fell at Nantucket, Massachusetts with 6.57 inches falling in 24 hours to set a new 24 hour rainfall record. Severe damage occurred along the coast from very high tides. 24.9 inches of snow fell at Mount Washington, New Hampshire to set a new may snowfall record. 10 inches of snow fell near Keene, New Hampshire and 6 inches was recorded at Dublin, New Hampshire.
1967-- "Sgt. Pepper's Lonely Hearts Club Band", by The Beatles, was released. It took the Fab Four only 12 hours to record their first album, "Please, Please Me". It took them 700 hours to complete "Sgt. Pepper's".
1967--The Charlatans, The Salvation Army Banned, and Blue Cheer at the Avalon Ballroom in San Francisco.
1970---Top Hits
American Woman/No Sugar Tonight - The Guess Who
Turn Back the Hands of Time - Tyrone Davis
Everything is Beautiful - Ray Stevens
My Love - Sonny James
1978 - The first legal casino in the eastern United States opened in Atlantic City, New Jersey.
1978---Top Hits
With a Little Luck - Wings
Too Much, Too Little, Too Late - Johnny Mathis/Deniece Williams
You're the One that I Want - John Travolta & Olivia Newton-John
She Can Put Her Shoes Under My Bed (Anytime) - Johnny Duncan
1984 - Thunderstorms during the late evening and early morning hours produced 6 to 13 inches of rain at Tulsa OK in six hours (8.63 inches at the airport). Flooding claimed fourteen lives and caused 90 million dollars property damage. 4600 cars, 743 houses, and 387 apartments were destroyed or severely damage in the flood.
1986---Top Hits
Greatest Love of All - Whitney Houston
Live to Tell - Madonna
On My Own - Patti LaBelle & Michael McDonald
Tomb of the Unknown Love -Kenny Rogers
1987 -Severe thunderstorms spawned 15 tornadoes in west Texas. In Louisiana, a man in a boat on Lake Bistineau was struck and killed by lightning, while the other 3 people aboard were unharmed. The man reportedly stood up in the boat and asked to be struck by lightning.
1988 - There was "frost on the roses" in the Upper Ohio Valley and the Central Appalachian Mountain Region. Thirteen cities reported record low temperatures for the date, including Youngstown OH with a reading of 30 degrees. Evening thunderstorms in North Dakota produced wind gusts to 75 mph at Jamestown.
1994-Elvis Presley's daughter Lisa Marie marries the self- proclaimed "King Of Pop" Michael Jackson in the Dominican Republic. Presley files for divorce in January of 1996
Stanley Cup Champions This Date
1988 Edmonton Oilers
--------------------------------------------------------------


Baseball Poem
"MIRACLE MAN": An Original Poem
by Holly Russcher
I started thinking up this poem the day after Robin's first game back after his injury. By styling it after "Casey at the Bat" I acknowledged not only one of baseball's best literary works but also the high expectations that Sox-fans had for Robin that night, much like those the Mudville crowd had for their great slugger, Casey.
Casey failed to come through for his team. What you are about to read is a different story....
The night of July 24, at Comiskey Park, some said
A flame would be rekindled that had long lain cold and dead.
Fans hoped to shout when all was done "The White Sox are on track!"--
But so far, they simply whispered "Robin Ventura's coming back."
That left-handed home run hitter with warm smile and matchless heart
Four Gold Gloves he'd won at third base with defense that looked like art
Nearly crippled in a freak mishap on March the twenty-first,
Now back eight days before schedule, flouting all talk of the Worst.
The Texas Rangers would oppose the Sox as Chitown twilight fell;
When the home team's lineup was announced there came a joyous yell.
Behind the plate the ump cried "Play ball!"; the game duly began
With disconcerting fashion: a hit for Texas' leadoff man.
Doug Drabek was a-pitching, gold of hair and steel of eye,
A no-hitter was beyond his scope, but for shutout he would try.
He'd also pitched the night when Robin had been stricken down--
Did that memory now haunt him as he stood upon the mound?
Nothing-nothing was the score when Robin first came to the plate
And received a standing ovation which for a full minute did not abate.
He acknowledged it with a smile and wave, which made the fans go wild;
So glad was he to play again that his face shone like a child's.
"We love you, Robin Ventura! We know you'll make us proud!"
Cried the matriarchs and lasses present in that evening's crowd.
Men, rarely so demonstrative, rose on their feet to say
"Come on, Robin!" But he grounded out, and walked--not limped--away.
In the still-scoreless seventh inning, Rangers hurler Ken Hill tired.
With Frank Thomas on, he walked Albert Belle, and then his luck expired
For Harold Baines, the quiet DH, drove Frank home without a word.
The Sox led, but Robin had grounded out a second time...and third.
Matt Karchner came in next to pitch and gave up a home run.
A worried hush fell on the fans who knew the score'd been tied at one.
Already the eighth inning: did the Sox not have a chance?
Would this night of joy instead be one where Texas got to dance?
Dave Martinez ignored Hill's pitches, and at last he drew a walk.
Ozzie Guillen bunted him to second; announcer Ed Farmer began to talk.
"Durham next, then Ventura, who so far is oh-for-three."
Ray Durham hit into a groundout. What now would the Sox-fans see?
Robin sauntered to his rightful place; this was his last at-bat.
Facing a dreadful situation, in his comeback game at that!
With one swing he could put the Sox ahead if things went well,
But if he was the last out? Such a disgraceful tale to tell!
Hill stood on the mound in silence, wound up and pitched the ball.
What occurred in the next instant was a shock to one and all.
Ed Farmer's voice broke in wonder as these words his lips did yield:
"Hill with the pitch...Ventura lines it, deep left center-field!"
"It's gonna get down, and go to the warning track! Picked on a hop by Rusty Greer--
VENTURA DOUBLES IN MARTINEZ!!!!" And the crowd took up the cheer;
Praise for a valiant hero who'd won hearts across the land.
As Robin left the field in the ninth, he tossed his cap into the stands.
That night in other ballparks spoiled superstars had played,
Ignoring fans and only caring for how much they're paid.
And on the cheeks of their heartbroken fans, tears of loathing burned...
But happy tears flow at Comiskey, for Robin Ventura has returned.
http://www.angelfire.com/mi/BirdWatcher/
--------------------------------------------------------------

SuDoku
The object is to insert the numbers in the boxes to satisfy only one condition: each row, column and 3x3 box must contain the digits 1 through 9 exactly once. What could be simpler?
http://leasingnews.org/Soduku/soduko-main.htm