Monday, May 19, 2008


Jim Lehrer, journalist, anchor, ex-US Marine
("Once a Marine, always a Marine!")
born, Wichita, Kansas, May 19, 1934
Headlines---
Classified Ads---Senior Management
Marlin Confirms "Massive Layoffs"
Cartoon---Marlin HR Department
Top Stories --May 12--May 16
Classified Ads---Help Wanted
Housing Industry latest statistics
Leasing 102 by Mr. Terry Winders, CLP
"Don't count Operating Leases Out"
NAELB Welcomes New Members
Microsoft Live Leverages Hotmail Users
Items below News Briefs
—"What you are missing"
Trinity $572 Million for railcar leasing
Dollar Falls Most Against Euro
Fabian pleads guilty, disputes loss amount
U.N. predicts downturn for world economy
New jobs, houses spur S.F. pop, in 2007
Small businesses & higher fuel prices
News Briefs---
You May have Missed---
California Nuts Brief---
"Gimme that Wine"
Calendar Events
Snapple Real Facts
Today's Top Event in History
This Day in American History
Baseball Poem
SuDoku
Daily Puzzle
GasBuddy
Provence, France-Vacation
News on Line---Internet Newspapers
Corvallis, Oregon
---Leasing News will report on a dramatic drop in leasing industry employment starting in March. Please look for the actual statistics to appear in this Wednesday's edition.
######## surrounding the article denotes it is a "press release"
------------------------------------------------------------------

Classified Ads---Senior Management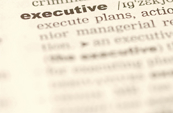 Atlanta, GA
Strong sales and leadership skills; demonstrated with sales training and sales performance. Lead team in both regional and national operations and developed marking programs.
Email: mll1946@comcast.net

Europe
25+ yrs exper. management roles Chase, AT&T Capital, Heller Financial, SFS. Develop biz from "scratch to success". Looking for challenging & pioneering job.
Email: frans@alliedproperty.net
Philadelphia, PA
27 yrs. exp. sales, ops., credit, strategy, P&L mngmet. Most recently created & executed the biz plans for 2 highly successful Bank-owned small ticket leasing subsidiaries.
email: mccarthy2020@comcast.net
For a full listing of all "job wanted" ads, please go to:
http://www.leasingnews.org/Classified/Jwanted/Jwanted.htm
Leasing Recruiters:
http://www.leasingnews.org/Recruits/index.htm
To place a free "job wanted" ad here, please go to:
http://www.leasingnews.org/Classified/Jwanted/Jwanted-post.htm
--------------------------------------------------------------

Marlin Confirms "Massive Layoffs"
by Christopher Menkin

Chairman and CEO Daniel Dyer was asked in the Marlin Business Services telephone conference May 9th what expenses he was referring to would be cut? He answered "staffing."

Dan Dyer
(Photo: Leasing News archives)
"Better Quality, Higher Yield" is what he kept repeating during the telephone conference.
Marlin Business Services filed a SEC report last Friday stating 51 of their employees from different departments were terminated May 13th. Marlin states $485,000 expenses will occur in the second quarter,"… almost all of which is related to severance costs."
They also stated in the SEC filing the company will start saving $2.64 million a year, half of that in 2008, from the terminations. Not mentioned was the affect of the "performance" level of the company, nor the indication that the company sees a continuing downturn in the small ticket leasing business, thus 51 employees were not necessary.
Leasing News was told by those who reported to us "off the record," they were not to talk to Leasing News or they might lose the ability to assume "benefits." Several in higher positions, signed documents as a condition of release, Leasing News was told, regarding confidentiality. The main complaints relayed "off the record" seem to center on not that they were "let go," but how they were told "adios."
One current employee told Leasing News that Chairman and CEO Dan Dyer was "walked around smiling," while this was happening. This person also said they were looking for a job elsewhere due to
the attitude of management.
In the last six months particularly, as well as the last year, the leasing industry has seen companies merge, often the staff let go afterwards ( CIT, CitiCapital, GE Capital, LaSalle, Merrill Capital, as well as many other smaller companies.) The point being is that Marlin Business Services is not alone, except in the manner which it conducts the departures of its employees; and appears not to discriminate in its pattern, such as the "departures " of Michael Bennie, former broker division manager, or even its former president, Gary Shivers.
Marlin Business Service SEC Notice:
"May 13, 2008, the Registrant reduced its staffing by approximately 14%. This action was part of an overall effort to reduce operating costs in light of the Registrant's decision to moderate growth in fiscal 2008.
"Approximately 51 employees were affected as a result of the staff reduction. On May 13, 2008, the Registrant notified the affected employees. The Registrant currently estimates that, in connection with this reduction, it will incur pre-tax costs in fiscal second quarter of approximately $485,000, almost all of which is related to severance costs. The total annualized pre-tax cost savings that are expected to result from this reduction are estimated to be approximately $2.64 million. Although the Registrant believes that its estimates are appropriate and reasonable based on available information, actual results could differ from these estimates."
May 16, 2008 filing date SEC re: 51 employees terminated:
http://leasingnews.org/PDF/MRLN_5_13_08_FORM8-K.pdf
--------------------------------------------------------------

Cartoon---Marlin Human Resource Department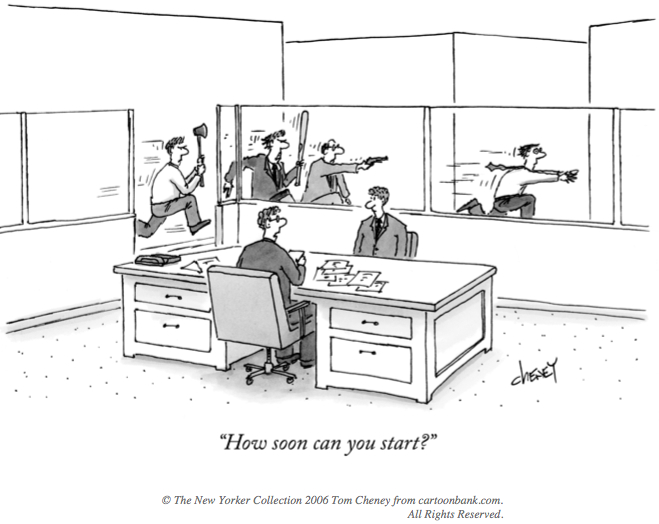 --------------------------------------------------------------

Top Stories --May 12--May 16
Here are the top ten stories most "opened" by readers last week:
(1) Marlin Leasing "Massive" Layoffs?
http://www.leasingnews.org/archives/May%202008/05-14-08.htm#mrlin
(2) Citi beyond Repair
http://www.nypost.com/seven/05132008/business/citi_is_beyond_repair_110684.htm
(3) Leasing 102 by Mr. Terry Winders, CLP
"Purchase Options vs. TRAC"
(4) Bankers Healthcare cuts off all brokers
http://www.leasingnews.org/archives/May%202008/05-16-08.htm#bhg
(5) Leasing Industry Recruiters
http://www.leasingnews.org/archives/May%202008/05-16-08.htm#ads
(6) Alert: NuTrend Toshiba Copier
http://www.leasingnews.org/archives/May%202008/05-12-08.htm#alert
(7) Six Leasing Schools/Franchises
http://www.leasingnews.org/archives/May%202008/05-12-08.htm#school
(8) Leasing Icon Bob Krause to Retire
http://www.leasingnews.org/archives/May%202008/05-14-08.htm#icon
(9) Studebaker-Worthington/Main Street Bank
http://www.leasingnews.org/archives/May%202008/05-14-08.htm#stud
(10) Lease/Loan State License Requirements
http://www.leasingnews.org/archives/May%202008/05-14-08.htm#req
--------------------------------------------------------------

Leasing Industry Help Wanted
Collector

Collector
Lake Success, NY
--Referral Fee Available---
Full Time, entry or jr. level collector, auto and/or equip. collection exp. preferred. ekaye@advantagefunding.us or call Ed Kaye or Eric Coolbaugh: 866.392.1300
516-280-1786 Direct Dial
718-392-5427 FAX resume
Lake Success is the western most village in Nassau County, conveniently located by car from the Long Island Expressway and Grand Central Parkway.

Leasing Sales Representative


"A Top Producers Dream"
Outstanding Back Office Support
High Commissions – Up To 80%
Elite Training Program
Access to many Major Funding Sources with the ability to obtain approvals not available elsewhere
Click Here if you want to achieve more!



Leasing Sales Representative
Long Island, NY
Hiring experienced or new to business sales reps. Transactions in all states / all industries. Send resume to: info@sterlingcap.net or fax 631-414-7571.
About the Company: Sterling Capital Leasing, LLC is a national small ticket/middle market leasing company

--------------------------------------------------------------

Housing Industry latest statistics: Al Schuler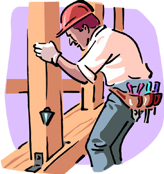 While the construction-housing industry is trying to put the best face they can, the actual rise in April was in the building of apartments.
"The actual figures in the joint release by the US Census Bureau and US Department of Housing and Urban Development found:
"Privately-owned housing completions in April were at a seasonally adjusted annual rate of 1,000,000. This is 16.0 percent (±8.4%)
below the revised March estimate of 1,190,000 and is 34.9 percent (±5.9%) below the revised April 2007 rate of 1,535,000.
Single-family housing completions in April were at a rate of 792,000; this is 13.0 percent (±8.9%) below the March figure of 910,000.
The April rate for units in buildings with five units or more was 181,000. New Residential Construction data for May 2008 will be released."
Al Schuler, US Department of Agriculture is on vacation (his wife told him NOT to take his lap to with them,) wrote this before he left:
"The main problem in my opinion anyway, is the worsening foreclosure problem in the resale market. And, more builders are getting into financial trouble as their inventories remain at historically high levels. New home sales are competing with existing homes too, and many potential buyers for new homes must 1st sell their existing homes.
"Credit markets continue to tighten; lending standards are becoming onerous even for people with good credit histories. As foreclosures increase, the inventory also increases - this puts downward pressure on prices, and that makes it more difficult for people trying to renegotiate their mortgages – that adds to the foreclosure problems – a vicious circle. Somehow, the foreclosure problem must be addressed – and there are a number of potential remedies being bantered about by the Administration, Fed, the financial community, NAHB, and others. The sooner the foreclosure problem is addressed, the sooner the housing downturn will end and return to more normal activity.
"Long term, if we look at the demographics for housing, they are quite positive and the outlook for remodeling is even better. The Harvard Joint Center for Housing
(http://www.jchs.harvard.edu/ ) has some excellent reports on the remodeling (Foundations for future growth in remodeling industry - Report RO-7-1) outlook and long term housing outlook (see Table #17 on page 38 of their report ( Projecting the Underlying Demand for New Housing Units …, by Eric Belsky, et.al., Report WO7-7). These reports can be accessed from this website (http://www.jchs.harvard.edu/publications/publications_by_year.htm). ""
US Census Bureau and US Department of Housing and Urban Development Joint Release:
http://leasingnews.org/PDF/Census_HUD_release.pdf
--------------------------------------------------------------

Leasing 102
by Mr. Terry Winders, CLP
"Don't count Operating Leases Out"
The economic stimulus act of 2008 is an excellent program to leave tax dollars in the hands of American business except than given the lack of profits being created this year many businesses are going to be looking for Lessor's that can use the 50% boost in depreciation and use it to provide them lower rates or payments. This means structured leases will be in vogue because retaining tax benefits make it a lot easier to meet the 90% rule for operating lease classification.
Questions we should ask to create a lease instead of a loan or capital lease begin with establishing a rent stream that follows cash flow, revenue stream or the timing of income. The current methods of GAAP accountings like to straight line expenses or place them at a time that does not match up with reality or revenue. One of the most important requirements of small business today is to get a handle on their margin. This is hard to do if the expenses are on a different time track than the revenue. By creating an operating lease where the lease payments can be expensed according to the time they are paid, and placing the timing of those payments to coincide with revenue, then the true margin is easy to see and allows a customer to do a cost analysis. Sometimes the rate is not as important as knowing how to mark up your product.
Occasionally the addition of new equipment needs a ramp up period until the equipment and the product it creates, or services, is fully productive. This requires us to create payments that will match the anticipated use of the equipment with a step up lease payment program. However, we can only match cash flow with the payment stream, and not the expenses, if we do not create an operating lease for the lessee's book classification. It is the operating lease classification that allows for irregular payments that follow equipment use or productivity. But please remember, that if you create an operating lease for the customer you will most of the time also create a qualified tax lease.
An additional tool of proper structuring besides following revenue is to create floating skip programs to help when an unusual cash storage strikes or creating skips in months when revenue is low. Floating skips are arranged to allow the lessee to skip one payment a year at random to provide a form of payment insurance. Also insurance, maintenance, unexpected down time for repairs or weather can also create needs for floating skips.
Lease payments are easy to allocate between divisions or departments because it is an all encompassing cost. Depreciation, interest, insurance, and maintenance costs become hard to allocate to different areas when they are on different schedules.
Many times companies complete the depreciation schedules for GAAP accounting and then start the next year with no expenses for the equipment only to develop a need to replace the equipment during that year. They would like to have the same expense for each year so it requires the lease to have heaver payments this year that match what next years total expense for the whole year would create. This also requires an operating lease because the rent from the remaining months of the first year will be higher than all of the rest.
Many would say that you cannot create irregular payments for income tax purposes. However the rules are there to stop tax manipulation not preventing irregular payments. If the payments match the use of the equipment and its productivity the IRS agrees with irregular payments. However you must have documentation to prove the anticipated use. Once you begin to review your customers use of the equipment and the financial make up the firm you will be surprised how many things you can offer to help manage and support the operation so the customer can control his business and create a lease that does way more than just provide financing at a comfortable rate. Leasing is a terrific product with many advantages "if" sold correctly.
Mr. Terry Winders, CLP, has been a teacher, consultant, expert witness for the leasing industry for thirty years and can be reached at leaseconsulting@msn.com or 502-327-8666.
He invites your questions and queries.
Previous #102 Columns:
http://www.leasingnews.org/Conscious-Top%20Stories/Leasing_102/Index.htm
--------------------------------------------------------------

NAELB Welcomes New Members and Officers of the Board of Directors

LOUISVILLE, KY – The National Association of Equipment Leasing Brokers (NAELB) is pleased to welcome new members of the board of directors and congratulates the new 2008-2009 officers.
In April 2008 the NAELB ushered in the board presidency of Jack Harvey, President/CEO of Enterprise Financial Solutions. Jack assumed the NAELB reigns from Brian Montgomery, President of Express Funding Solutions.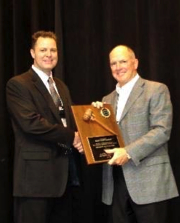 Out-going National Association of Leasing Brokers (NAELB)
President Brian Montgomery (left)
with current President Jack Harvey (right)
(Photo: Courtesy NAELB.org)
The 2008 board elections resulted in the election of Sonia Stoddard of Stoddard & Associates as Vice President, D. Paul Nibarger of Nibarger Associates as Secretary/Treasurer, and Patrick Sponsel of Sharpe Equipment Leasing, Inc. as Director at Large.
The progression of Sonia Stoddard to the Vice President position and the resignation of Glenn Corcoran left two Director at Large positions vacant. The NAELB Board of Directors is pleased to announce the appointments of Rosanne Wilson, President of 1st Independent Leasing, Inc., and Charles (Bud) Callahan, President of National Equipment Leasing, Inc., as Directors at Large.
The 2008-2009 NAELB Board of Directors consists of the following members:
President – Jack Harvey, CLP, Enterprise Financial Solutions, Inc
President-Elect – Spencer Richman, CLP, American Financial Network, Inc.
Vice President – Sonia Stoddard, Stoddard & Associates
Secretary/Treasurer - Paul Nibarger, CLP, Nibarger Associates
Immediate Past President - Brian Montgomery, Express Funding Solutions
Director at Large - Charles (Bud) Callahan, CLP, National Equipment Leasing, Inc.
Director at Large - Patrick Sponsel, Sharpe Equipment Leasing, Inc.
Director at Large - Rosanne Wilson, CLP, 1st Independent Leasing
Legal Counsel - Joseph Bonanno, CLP, NAELB Legal Counsel
Congratulations to all new board members and officers!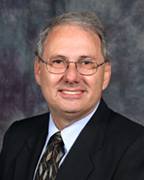 (photo: courtesy NAELB.org)
About Charles (Bud) Callahan
Bud Callahan currently serves as President of National Equipment Leasing, Inc. located in Indianapolis, Indiana. He started his career in the automotive industry in 1968 after serving during the Vietnam War. In 1978 Bud started Ambassador Financial Services which grew into a full service commercial lending company. In October of 1991 Bud sold Ambassador Financial and returned to the car business. Then in 1998 he moved back to the leasing industry and became the Vice President and General Manager of Dellen Financial Corporation. On December 31, 1999 the Dellen Financial Corporation became the National Leasing Company and Bud assumed the president position. He became a Certified Leasing Profession in 2004 and has been an active member in the NAELB serving on the Membership Committee.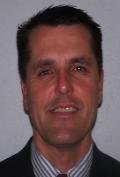 (photo: courtesy NAELB.org)
About Patrick Sponsel
Patrick Sponsel currently serves as Vice President of Sharpe Equipment Leasing, Inc. located in Glendale, Arizona. He graduated from Western Illinois University with a Bachelor's degree in business in 1983 and has been a broker since 1990. Patrick was previously the regional sales manager with AT&T Capital (Eaton Financial) from 1986-1990 and Alpha Lease Corp. in Denver, Colorado from 1984-1986. He is a founder and active board member of the Arizona Equipment Leasing Association. He is also active with the Rio Vista Little League and the Peoria Diamond Club. Patrick has been married for 22 years and has three children. His interests include youth baseball and volleyball, fundraising, skiing, movies, humor, writing, and the pursuit of happiness.
2008-2009 NAELB Board of Directors
About the National Association of Equipment Leasing Brokers
The NAELB is an organization formed to promote the interests of equipment leasing brokers through education, advocacy, improved communication with funders and programs designed to enhance the professionalism and profitability of brokers, funders and others engaged in the business of equipment lease financing. For more information about NAELB, please visit www.naelb.org.
--------------------------------------------------------------

Microsoft Live Leverages Hotmail Users
by Vincent Vizzaccaro
www.netapplications.com

Net Applications Global Internet Usage Market Share shows Google continuing its search engine dominance. While Microsoft Live doesn't have much of the search market, there is a huge base of Hotmail users. So, apparently, Microsoft decided to leverage the Hotmail base to drive traffic to Live.
As a Hotmail user, I was recently 'forced' to change my login location, and suddenly I've got Live as my Hotmail portal. After an initial slight frustration in having to change my bookmark, I started to explore Live a bit. Here's a quick review:
Hotmail and Messenger: Integrated into Live now.
Calendar: In Beta, but looks like a nice implementation. Strongly advise Microsoft to provide a sync capability with all recent versions of Outlook.
Contacts: Not fancy, but quick and easy. Again - it needs to sync with Outlook (not just an import function).
Spaces: This is Live's social networking with photo sharing, blogging and group event management. Spaces has a simple and elegant design, but Microsoft will have to work some magic with Myspace, Facebook and/or LinkedIn to seed their user base.
SkyDrive: An online file storage and sharing application with 5G of space. SkyDrive serves an excellent function, especially if you've ever tried to email a large file that exceeds your email provider's size limitations. Again, Microsoft should incorporate file syncing with multiple devices for a single or multiple users.
Microsoft is getting there. I have several computers and handheld devices, and need to access my calendar, email, contacts and files from any of them or as a guest computer user while traveling. It would be great to have all of that sycronized and secure online, and accessable from anywhere.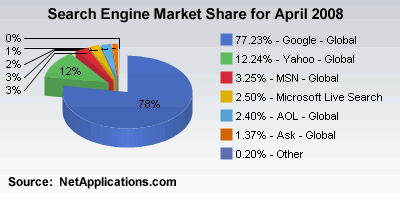 Live Search currently has 2.5% of the Search Engine market share. Let's see if Microsoft's efforts to drive Hotmail users to Live pays off in additional Search share in the coming months.
For these and other Global Market Share Statistics, go to marketshare.hitslink.com.
Interested in an even deeper level of MarketShare Global Usage Statistics? Send a note with your name, company, phone number and email address to sales@netapplications.com.
--------------------------------------------------------------

Items below News Briefs—"What you are missing"
One of the most popular is "You May have Missed."
Sometimes they are serious stories, but most often "intriguing" ones like last Friday's new Mercedes-Benz model: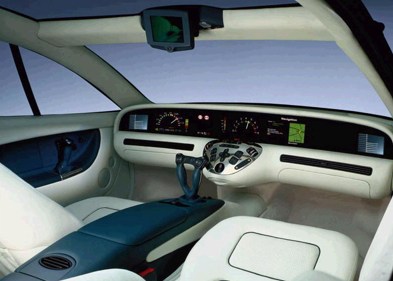 The full link with larger photographs: http://www.leasingnews.org/Pages/MB_SCL6000.htm
Here is a vehicle with no steering wheel, you drive it with a joystick. No pedals either. Can you drive with a joystick? Your kids and grandkids probably can. The influence of video games in our lives has really arrived, wouldn't ya say?
Scary thought that now a 7 year old could steal your car and probably drive it better than you.
No, the photo's are not a fake. No steering wheel, you drive it with a joystick. No pedals either. Can you drive with a joystick? Your kids and grandkids probably can. The influence of video games in our lives has really arrived, wouldn't ya say?
No, the photo's are not a fake. But neither is the Mercedes SCL600 in production. It was displayed at the Paris Motor Show in 1996 during the reign of DaimlerChrysler. But maybe one day as it has reality with those who play games on the computer all the time.

It amazes me that we continue to get e-mails about "a site that gives the best gas prices in an area." Leasing News has been running this feature since November 26, 2007. For those who use their vehicle a lot, this is a valuable site with other information regarding just the lowest price of gas when you need it.
POEMS:
This is seasonal. It started out over five years ago when a reader, I think he was a GE vice-president, who thanked us for running a Lawrence Ferlinghetti baseball poem in "This Day in History."
To print he published poems, we not only had to purchase books, search the internet, but get permission to print them from the publishers and poets, themselves.
It led to an off season of "American football poems." There are many soccer "British Football" poems, and this was as hard as finding the season for "Basketball Poems." Thank goodness for the others seasons:
http://www.leasingnews.org/Poetry-Baseball.htm
http://www.leasingnews.org/Poetry-Football.htm
http://www.leasingnews.org/Poetry-Basketball.htm
http://www.leasingnews.org/Spring_poems/index.htm
http://www.leasingnews.org/Winter_poems/index.htm
Calendar Events:
This is an offshoot of "This Day in American History." The difficulty thing is to include them in this feature, let alone let them appear in an annual calendar. It can't be done easily as most holiday's
appear the first Monday, Wednesday, last Friday of the month, etc.
They do not repeat themselves on the same calendar date each year. Many of the calendars on line are incorrect, so this feature is done new each issue, and researched from other sources who are often having the event on the wrong day; sometimes even the wrong month. Originally the idea was to correct the dates that were incorrect on internet calendars.
Snapple Real Facts:
This name should be changed as most of the Snapple "Real Facts"
have been recorded in Leasing News. I counted 34 that were incorrect. They weren't real. Being a trivia buff, I started to include other trivia that are "real facts" you may not find anywhere else.
Today's Top Event in History.
This was started because a reader said "This Day in American History was getting too long."
This Day in American History is up-dated each year the date of the issue. The original feature started over twelve years ago, with many of the facts originally from books, not the internet, all put together by the editor. It has grown simply because each year new events in American Leasing history are added.
http://www.leasingnews.org/American_History/default.htm
Several readers have noticed when I am on vacation without my lap top because "Gimme that Wine" does not appear. The Puzzle and SuDoku are links to other sites, changed daily by them.
Provence, France—Vacation
This is a site in progress, several months behind.
When complete, it will all go together. Please stay tuned.
Kit Menkin, editor
---------------------------------------------------------------
### Press Release ###########################

Trinity $572 Million for railcar leasing
DALLAS -- Trinity Industries, Inc. announced that its new wholly-owned subsidiary, Trinity Rail Leasing VI LLC ("TRL VI"), issued $572.2 million of promissory notes (the "Notes") secured by a portfolio of railcars, operating leases thereon, and certain cash reserves. The Notes are non-recourse to Trinity Industries, Inc. and the proceeds are being used to repay a portion of Trinity's warehouse facility and to finance unencumbered railcars on Trinity's balance sheet. The interest rate on the Notes was fixed through interest rate hedges.
"We are pleased to complete this financing, especially in light of the current credit markets," said William A. McWhirter, Trinity's Senior Vice President and CFO. "TRL VI provides us with the capital to continue the growth of our railcar lease fleet. Our proven ability to finance railcar leases in the capital markets allows us to continue to serve our customers' leasing needs."
Trinity Industries, Inc., headquartered in Dallas, Texas, is a multi-industry company that owns a variety of market-leading businesses which provide products and services to the industrial, energy, transportation, and construction sectors. Trinity reports its financial results in five principal business segments: the Rail Group, the Railcar Leasing and Management Services Group, the Inland Barge Group, the Construction Products Group, and the Energy Equipment Group. For more information,
visit: www.trin.net.
Source: Trinity Industries, Inc.
CONTACT: Investors, James Perry, Vice President, Finance and Treasurer
of Trinity Industries, Inc., +1-214-589-8412
### Press Release ###########################
--------------------------------------------------------------

News Briefs----
Dollar Falls Most Against Euro in Seven Weeks on Sentiment, Oil
http://www.bloomberg.com/apps/news?pid=20601087&sid=aStrypsZY6js&refer=home
Fabian pleads guilty, disputes amount of loss
http://www.mddailyrecord.com/article.cfm?id=5420&type=UTTM
U.N. predicts downturn for world economy
http://www.signonsandiego.com/news/business/20080517-9999-1b17bizbrfs.html
New jobs, houses spur S.F. population in 2007
http://www.sfgate.com/cgi-bin/article.cgi?f=/c/a/2008/05/15/BA2110LPHB.DTL&hw=san+
francisco+population&sn=003&sc=731
Small businesses work to adjust to higher fuel prices
http://www.stltoday.com/stltoday/business/stories.nsf/story/
E799D827E91A96E58625744C0006CE79?OpenDocument
----------------------------------------------------------------


You May have Missed---
On 'Idol,' good singers make for a dull season
http://apnews.myway.com/article/20080518/D90O7IFG0.html
----------------------------------------------------------------


California Nuts Briefs---
S.F. Bay To Breakers Race Winners Announced
http://cbs5.com/local/bay.to.breakers.2.726877.html
----------------------------------------------------------------


"Gimme that Wine"
Robert Mondavi, Napa Wine Champion, Dies at 94
by Frank J. Prial
http://www.nytimes.com/2008/05/17/business/17mondavi.html?ref=dining
Toast of the Valley: Carneros fest
http://www.napavalleyregister.com/articles/2008/05/16/wine/
doc482d13c5a2b5e964760982.txt
Keeping it low-key in Healdsburg
http://www.sfgate.com/cgi-bin/article.cgi?f=/c/a/2008/05/16/WIOG10KVTQ.
DTL&hw=wine&sn=005&sc=465
Grape Recovery: Northwest N.C. vineyards hope this season will make up for losses from '07 freeze
http://www2.journalnow.com/content/2008/may/16/grape-recovery-northwest-nc-
vineyards-hope-this-se/
Korbel "Champagne" family feud
http://www1.pressdemocrat.com/article/20080518/NEWS/805180302/1033/
NEWS&template=kart
Wine Prices by vintage
http://www.winezap.com
http://www.wine-searcher.com/
US/International Wine Events
http://www.localwineevents.com/
Winery Atlas
http://www.carterhouse.com/atlas
Leasing News Wine & Spirits Page
http://two.leasingnews.org/Recommendations/wnensprts.htm
The London International Vintners Exchange (Liv-ex) is an electronic exchange for fine wine.
http://www.liv-ex.com/
----------------------------------------------------------------

Calendar Events This Day
Boy's Club and Girls Club Day
http://holidayinsights.com/moreholidays/May/boysclubday.htm
Buddha Purnima
http://en.wikipedia.org/wiki/Buddha_Purnima
Canada: Victoria Day
Commemorates the birth of Queen Victoria May 24, 1919. Observed annually on the Monday proceeding May 25.
National Devil's Food Cake Day
Saint feast Days
http://www.catholic.org/saints/f_day/may.php
----------------------------------------------------------------

The phrase "sleep tight" originated when mattresses were set upon ropes woven through the bed frame. To remedy sagging ropes, one would use a bed key to tighten the rope.
----------------------------------------------------------------

Today's Top Event in History
1864 –One of the fiercest battles of the Civil War that engaged both General Grant and General Lee against each other occurred in series of battles known as Spotsylvania Campaign. On May 19, a Confederate attempt to turn the Union right flank at Harris Farm was beaten back with severe casualties. Union generals Sedgwick (VI Corps commander) and Rice were killed. Confederate generals Johnson and Steuart were captured, Daniel and Perrin mortally wounded. The Union troops were strong with 100,000 compared to the 52,000 Confederates. In the war, 18,000 Union troops would be killed to 12,000 Confederates, and while General Grant withdrew, the series of battles were considered "inconclusive as General Grant continued his offense." The facts are the South was losing men and supplies in these battles, many wounded, and the North was well supplied with reinforcements, many immigrants anxious for the pay, food, and acceptance to their new land.
http://www.cr.nps.gov/hps/abpp/battles/va048.htm
[headlines]
----------------------------------------------------------------

This Day in American History
1643-The United Colonies of England was formed. Development of the coastal towns of Boston, Salem, Dorchester, and Charleston in Massachusetts Bay Colony along dwarfed the Plymouth settlement. There were an estimated 20,000 inhabitants in the London Company's Bay Colony alone. The chance to be "free" of government control, escape religious persecution, the chance to own your own land, the adventure and opportunities began to bring thousands to what was called in those days, "The New World."
1749--- George II grants charter to Ohio Company to settle Ohio Valley
(see second part:
http://www.answers.com/topic/ohio-company
1790-The famous "dark day" of New England lore occurred. Heavy smoke from forest fires west of New England dimmed the sunlight, so that the noon sky was nearly as dark as night. Chickens went to roost and many persons were fearful of divine wrath. Candles were lit and many fearful persons believed that doomsday had arrived. At New Haven, CT, Colonel Abraham Davenport opposed adjournment of the town council in these words: "I am against adjournment. The day of judgment is either approaching or it is not. IF it is not, there is no cause for an adjournment. If it is, I choose to be found doing my duty. I wish therefore that candles may be brought."
1848- Milly Francis (B. 1802?) Creek Indian woman voted a U.S. congressional medal and a pension of $96 - neither of which she received because she had died of chronic starvation and tuberculosis. The award was made 31 years after she saved a white soldier's life. The American Indian wars changed her life from a prosperous farmer's daughter in Alabama to a half-starved refugee in Florida and then a victim of the Trail of Tears when Native Americans from Florida were moved under the most deplorable conditions to Oklahoma.
1858 -- Charles Hamilton, leader of a paramilitary proslavery band from Georgia, shoots 11 prisoners he had captured during a raid in Kansas.
1862-The Homestead Act was enacted by Congress, "an act to secure homesteads to actual settlers on the public domain," passed by both houses of Congress on May 19, 1862 and approved on May 20, 1862 by President Abraham Lincoln. Under this law, any man or woman of 21 years of public land by living on it for five years, making certain improvements, and paying fees of approximately $18. The first homestead granted under the act was taken by Daniel freeman, a Union soldier, on January 1, 1863, near Beatrice, NE.
1863--- Siege of Vicksburg, investment of city complete. Maj. Gen. Ulysses S. Grant's armies converged on Vicksburg, entrapping a Confederate army under Lt. Gen. John Pemberton. On July 4, Vicksburg surrendered after prolonged siege operations. This was the culmination of one of the most brilliant military campaigns of the war. With the loss of Pemberton's army and this vital stronghold on the Mississippi, the Confederacy was effectively split in half. Grant's successes in the West boosted his reputation, leading ultimately to his appointment as General-in-Chief of the Union armies. Pemberton blamed Jefferson Davis and other generals for not sending reinforcements or back-ups or even supplies, but the real truth was not poor judgment, but there were no supplies or reinforcements and various states were having difficulty sending troops elsewhere as they were both short ammunition, food, and soldiers. Many were not uniformed, and in several Southern states the troops were farmers or woodsman with their own rifle and only one pair of shoes that they did not wear all the time to make them last longer. It was Grant's decision to further cut off supplies as he learned the Southern cities could not withstand the siege approach, plus he could cut them off from shipping supplies that they had received from Europe or their own local lands and manufacturing facilities.
1863---HOWE, ORION P. Medal of Honor
Rank and organization: Musician, Company C, 55th Illinois Infantry. Place and date: At Vicksburg, Miss., 19 May 1863. Entered service at: Woken, Ill. Birth: Portage County, Ohio. Date of issue: 2 3 April 1896. Citation: A drummer boy, 14 years of age, and severely wounded and exposed to a heavy fire from the enemy, he persistently remained upon the field of battle until he had reported to Gen. W. T. Sherman the necessity of supplying cartridges for the use of troops under command of Colonel Malmborg.
1864 –One of the fiercest battles of the Civil War that engaged both General Grant and General Lee against each other occurred in series of battles known as Spotsylvania Campaign. On May 19, a Confederate attempt to turn the Union right flank at Harris Farm was beaten back with severe casualties. Union generals Sedgwick (VI Corps commander) and Rice were killed. Confederate generals Johnson and Steuart were captured, Daniel and Perrin mortally wounded. The Union troops were strong with 100,000 compared to the 52,000 Confederates. In the war, 18,000 Union troops would be killed to 12,000 Confederates, and while General Grant withdrew, the series of battles were considered "inconclusive as General Grant continued his offense." The facts are the South was losing men and supplies in these battles, many wounded, and the North was well supplied with reinforcements, many immigrants anxious for the pay, food, and acceptance to their new land.
http://www.cr.nps.gov/hps/abpp/battles/va048.htm
1866-- "When You and I Were Young, Maggie," which became one of the most popular ballads in North America, was published in Indianapolis, Indiana by James A. Butterfield. The song was based on a poem written by G.W. Johnson in Hamilton, Ontario about 1864 as a tribute to his wife. Johnson was a schoolteacher who later taught at the University of Toronto. The most popular recorded version of the song was made in 1905 by Frank Stanley and Corrine Morgan for the Victor label.
1881-Birthday of Edith Nourse Rogers, elected U.S. Representative from Massachusetts in 1925 and served in Congress longer than any other woman. The first woman to have her name attached to a piece of major legislation, sponsored bill to create women's army auxiliary corps with equal pay on a scale similar to that of the regular army men.
1891-- Rice Institute, which became Rice University, is chartered
1892 --Charles Brady King invents pneumatic hammer, founder of the King Motor Company; his car driven on Detroit's streets four months before Ford.
http://clubs.hemmings.com/clubsites/kingmotorcar/king.html
http://www.detroithistorical.org/collections/vewebsite/exhibit1/e10018a.htm
1892-Birthday of bassist Pops Foster born McCall, La.
1898--The first postcard privately printed and mailed was authorized. The regulation allowed the use of private mailing cards of the same form, quality, and weight as postal cards printed by the government. It cost one cent to mail a postcard, which became a very popular means of communication, especially as a souvenir of where you had traveled.
1915-Connecticut passed a law, making the first licensed dental hygienists. The first examination for dental hygienists was given by the State Board in June, 1918, since no hygienist applied for a license prior to that date.
1919-Birthday of the great tenor saxophone player Georgie Auld, born Toronto Canada. Played with Berigan, Shaw, Goodman, and lead his own band, too.
Died January 8, 1990 Palm Springs, CA
http://www.swingmusic.net/Auld_Georgie.html
http://www.317x.com/albums/a/georgieauld/card.html
http://www.parabrisas.com/d_auldg.html
1921—The first Immigration quota was enacted by Congress, which limited immigration to 3 percent of the number of foreign-born persons of any given nationality in the United Sates as shown in the 1910 census. Not more than 20 percent of any country's quota was permitted to arrive in one month, in addition to this national law.
1930-Lorraine Hansberry birthday, the first black playwright to have a play on Broadway. Her parents had fought against restricted housing in Chicago and won a Supreme Court victory (Hansberry v. Lee - 1940; the NAACP's most celebrated housing suit) but they moved to Mexico before the judgment. The family had integrated a white neighborhood and while the father went to Washington (and incidentally out of harm's way), her mother kept the family in the Chicago home that was attacked by angry whites. She studied painting in Chicago and Mexico before moving to New York City in 1950. She participated in, and wrote for a number of progressive movements. In 1959, the landmark A Raisin in the Sun - produced, directed, and performed by blacks - became the first Broadway play ever mounted by a black woman on Broadway. She tragically died of cancer at age 34. Her mother worked as a hairdresser, cashier, and schoolteacher. Her husband wrote a book and a play based on her unpublished writings and drawings. It is entitled To Be Young, Gifted, and Black.
1925-Birthday of Malcolm Little, black nationalist and civil rights activist, born Malcolm Little at Omaha, NE; better known as Malcolm X. While serving a prison term he resolved to transform his life. On his release in 1952, he changed his name to Malcolm X and worked for the Nation of Islam, until he was suspended by Black Muslim leader Elijah Muhammad, Dec. 4, 1963. Malcolm X later made the pilgrimage to Mecca and became an orthodox Muslim. He was assassinated as he spoke to a meeting at the Audubon Ballroom at New York, NY, Feb 21, 1965. As a young newsman, I interviewed Malcolm X on several occasions, twice "one-to-one." He reminded me very much of John F. Kennedy, except he could scare you. When Malcolm X came into the room, you knew he was there. As part of the press corps, you would wait and you knew when he entered the room as his "presence" was that strong.
http://www.who2.com/malcolmx.html (autobiography is excellent reading)
http://www.cmgww.com/historic/malcolm/
1928-The first Frog-Jumping jubilee was held at Angles Camp, Calaveras County, CA. in commemoration of Mark Twain's famous story, "The Celebrated Jumping Frog of Calaveras County." Fifty-one frogs were entered in the contest. "The Prize of San Joaquin," a frog owned by Louis R. Fisher of Stockton, CA, was the winner with a jump of 3 feet, 4 inches.
1933 --For the first time in major league history, brothers on opposite teams homer in the same game. Red Sox catcher Rick Ferrell takes his brother Wes deep, but the Indians' rightly returns the favor as he homers in the third on a pitch called by his sibling.
1936- Margaret Mitchell's epic novel of the Civil War South was published on this date. It would be awarded the Pulitzer Prize and National Book Award as best novel of 1936. It has been a bestseller since publication, and 40 countries have published translations.
1939-Birthday of Astronaut Francis Scobee. He was the commander of the ill-fated space shuttle Challenger. The 46-year old pilot Francis R. Scobee had been in the astronaut program since 1978 and had been pilot of the Challenger in 1984. Born at Cle Elum, WA, Scobee perished with all other on board when the Challenger explored on Jan 28, 1986.
1942-Mrs. W. Driver became the first golfer of either sex to get two holes-in-one in the same round. She aced the third hole and the eight hole at Balgowlah Golf Club, Australia.
1943- Canadian composer and synthesizer musician John Mills-Cockell was born in Toronto. He was one of the first musicians in Canada to use the Arp and Moog synthesizers in concert. Mills-Cockell performed from 1969 to 1972 with the Toronto rock bands Kensington Market and Syrinx, and with the Vancouver group Hydro-Electric Streetcar. After 1972, he concentrated on composing and recording, making only occasional live appearances.
1945-Birthday of musician Pete Townshend, "The Who," London, England.
The Who were one of the most widely respected rock groups of the 1960's and '70s, apparently winding up their career with a farewell tour in 1982. But there were to be a couple of reunions, including a world tour in 1989.
Formed in 1963, they had only one personnel change in their entire career. Kenny Jones replaced original drummer Keith Moon, who died of a sedative overdose in 1978. The other two members of the Who were vocalist Roger Daltry and guitarist John Entwistle. Pete Townshend was the group's main songwriter, responsible for such early hits as "My Generation" and "I Can See For Miles." The Who later expanded their songs into the rock operas "Tommy" and "Quadrophenia."
1948-Birthday of saxophonist and bandleader Tom Scott.
1951 - The 2nd Infantry Division, with attached French and Dutch battalions, fought their way out of a Chinese trap in the mountains of central Korea, inflicting heavy losses on the enemy. The 38th Field Artillery Battalion fired 12,000 rounds in a 24-hour period in support of the division.
1952- disco singer Grace Jones was born in Spanishtown, Jamaica. At first mainly a cult artist popular in homosexual dance clubs, she gained wider popularity beginning with her 1980 album "Warm Leatherette."
http://www.trouserpress.com/entry.php?a=grace_jones
http://www.emory.edu/ENGLISH/Bahri/GraceJones.html
1952- Joey Ramone, leader of the punk rock group the Ramones, was born in New York City. The Ramones had a great influence on the punk movement, beginning with their 1976 album, "Ramones." It contained such songs as "Beat on the Brat" and "Now I Want to Sniff Some Glue."
1955 - Lake Mayola, Minnesota received 11.28 inches of rain over a 24 hour period, to establish the state record for 24 hour rainfall.
1955---Top Hits
Cherry Pink and Apple Blossom White - Perez Prado
Unchained Melody - Les Baxter
A Blossom Fell - Nat King Cole
In the Jailhouse Now - Webb Pierce
1958 - Bobby Darin's single, "Splish Splash", was released as the first eight-track master recording pressed to a plastic 45 RPM disc at Atlantic Records. Darin is said to have written the song in 12 minutes.
1958 - The United States and Canada formally established the North American Air Defense Command.
1960 – Disc jockey Alan Freed was charged with accepting payola - money for playing records. Freed, the deejay who did the most to spread rock 'n' roll, who is alleged to have also coined the description of this music, was a broken man by the time he came to trial in December 1962. He pleaded guilty to accepting bribes and received a suspended sentence and a $300 fine. Freed, facing new charges of tax evasion, died in January 1965 at the age of 42.
1962 - Stan Musial of the St. Louis Cardinals got his 3,431st hit, setting a new National League record.
1962 - An all-time May record was set when the temperature climbed to 99 degrees at Central Park in New York City.
1963---Top Hits
If You Wanna Be Happy - Jimmy Soul
Surfin' USA - The Beatles
Foolish Little Girl - The Shirelles
Lonesome 7-7203 - Hawkshaw Hawkins
1964 - The State Department disclosed that 40 hidden microphones had been found in the U.S. Embassy in Moscow.
1965 - Roger Miller received a gold record for the hit, "King of the Road". The song was Miller's biggest hit record. It got to number four (3/20/65) on the pop charts and stayed on for 12 weeks. It was a number one country music hit (3/27/65) as well. Miller, a country singer, humorist, guitarist and composer from Forth Worth, TX and raised in Oklahoma, went to Nashville, TN in the mid-'50s to begin a songwriting career. He wrote songs and played drums for Faron Young in 1962, then won what was an unprecedented, six Grammy Awards in 1965, had his own TV show in 1966; wrote "Little Green Apples", a huge hit for O.C. Smith and had five tunes in the top ten in 1968. To top it off, he composed the music for the Tony Award-winning Broadway musical, "Big River" in 1985. He died October 10, 1992.
http://www.rogermiller.com/
http://www.nashvillesongwritersfoundation.com/fame/millerr.html
1965 - No. 1 Billboard Pop Hit: "Ticket to Ride," The Beatles. It is the first Beatles single to feature Paul McCartney on lead guitar.
1968 ---20th Emmy Awards: Get Smart, Mission Impossible & Barbara Bain
http://www.infoplease.com/ipa/A0151536.html
1968 - Piano stylist and vocalist Bobby Short gained national attention as he presented a concert with Mabel Mercer at New York's Town Hall. He had been the featured artist at the intimate Hotel Carlisle for years. He died April, 2005.
1971--- "Godspell" first opened at the Cherry Lane Theater in New York City. The musical by Stephen Schwartz is based on the New Testament Gospel of Matthew, and is still produced by secular and religious theater groups today.
1971---Top Hits
Joy to the World - Three Dog Night
Never Can Say Goodbye - The Jackson 5
Brown Sugar - The Rolling Stones
I Won't Mention It Again - Ray Price
1973 - Secretariat won the second jewel of horse racing's Triple Crown by capturing the Preakness Stakes in Baltimore, Maryland. The famed horse later went on to win the Belmont Stakes in New York to earn the Triple Crown with jockey Ron Turcotte as the rider.
1973 - Stevie Wonder moved to the number one position on the "Billboard" pop music chart with "You are the Sunshine of My Life". It was the third number one song for Wonder, following earlier successes with "Fingertips - Pt 2" (8/10/63) and "Superstition" (1/27/73). He would have seven more number one hits between 1973 and 1987: "You Haven't Done Nothin'", "I Wish", "Sir Duke", "Ebony & Ivory" (with Paul McCartney), "I Just Called to Say I Love You", "Part-Time Lover" and "That's What Friends are For".
1975--- 27th Emmy Awards: Mary Tyler Moore Show, Robert Blake & Jean Marsh
http://www.infoplease.com/ipa/A0151554.html
1976 -- Poet Gwendolyn Brooks becomes the first black woman inducted into the US National Institute of Arts & Letters.
1979---Top Hits.
Reunited - Peaches & Herb
Hot Stuff - Donna Summer
In the Navy - Village People
If I Said You Had a Beautiful Body Would You Hold It Against Me - Bellamy Brothers
1979-- After a bitter six-week strike, the major league umpires return to work. During the work stoppage, the men in blue were replaced by amateur arbiters.
1987 -thunderstorms in Texas produced 13 inches of rain northwest of Lavernia. The heavy rain, along with golf ball-size hail, destroyed 80 percent of the crops in the area. Strong winds also toppled many trees throughout the region.
1987---Top Hits
With or Without You - U2
The Lady in Red - Chris DeBurgh
Heat of the Night - Bryan Adams
To Know Him is to Love Him - Dolly Parton, Linda Ronstadt, Emmylou Harris
1992 - Two doctors who performed an autopsy on John F. Kennedy confirmed the U.S. president died from two bullets fired from above and behind.
1992 --Vice President Dan Quayle sites Murphy Brown as a poor example of family values
http://www.forerunner.com/forerunner/X0406_Quayles_Murphy_Brown.html
1995-- Emmy's 22nd Daytime Award presentation - Susan Lucci loses for 15th time, Kelsey Grammer, Helen Hunt, Andre Braugher (Homicide: Life on the Street
http://www.infoplease.com/ipa/A0764344.html
1998-The World Golf Village, an ambitious 6,300 acre development supported by every major golf organization in the world and located in St. Augustine, FL, opened to the public. The complex includes three championship golf courses, a luxury hotel, vacation villas, retail stores, a convention center, a Mayo Clinic medical facility and the World Golf Hall of Fame with more than 70 exhibits arranged in on "18-hole" layout.
1998 ---For the second time this season and fourth time in his career Mark McGwire hits three homers in a game. 'Big Mac' becomes the 12th player to hit two three-homer games in a season as he smacks three two-run round trippers against the Phillies.
1999 - Following months of media hype, promotional gimmicks, and thousands of ardent fans camping out in front of theaters to buy tickets, George Lucas's much-anticipated Star Wars: Episode I - The Phantom Menace opened in theaters across the U.S. The film starred Liam Neeson, Ewan McGregor, and Natalie Portman.
2002-- Cubs' first baseman Fred McGriff's two-run homer at Miller Park ties Ellis Burks' record of homering in 40 different major league parks. The 'Crime Dog's' eighth inning blast knots the score 3-3 in an eventual 4-3, 11-inning victory over the Brewers snapping Chicago's nine-game losing streak.
2004-- Brad Thompson breaks a 97-year-old minor league record set in 1907 by Irvin Wilhelm by hurling 57 consecutive scoreless innings. The 22-year old St. Cardinals farmhand, playing in the Southern League for Tennessee Smokies, falls just two innings short of Orel Hershiser's professional mark of 59 established in 1988.
2004 --Yankee spokesman Jason Zillo announces Cracker Jacks, which has been baseball's most famous snack for over a 100 years, will not be sold at Yankee Stadium and will be replaced by a product known as Crunch 'n Munch. The change is being made, according to Yankees' officials, because Crunch 'n Munch tastes better, but may have been really prompted by Frito-Lays decision to make only bags and not boxes.
2004 --Atlanta Breaking his own record set two weeks ago, Julio Franco becomes the oldest player to hit a pinch-hit home run. The Braves' first baseman is 45 years, 269 days old when he accomplishes the feat.
Stanley Cup Champions This Date
1974 Philadelphia Flyers
1984 Edmonton Oilers
--------------------------------------------------------------

Baseball Poem
We used to flip the stars
and nothing but the best would fly, our
cardboard favorites
reaching for the wall,
with no "leaners" counting.
While coming down
to the last snap of the wrist
we stretched our arms
across the fallen players
knowing that the winner takes all.
Today, my son would never waste his time
or afford to lose
any rookies or stars on a
suicide game across the asphalt. His
pampered cards will never get dinged or
scratched because now the winner keeps
all.
Written by Robert L. Harrison, published
in "Green Fields and White Lines,
"Baseball Poems,
published by McFarland & Company
--------------------------------------------------------------

SuDoku
The object is to insert the numbers in the boxes to satisfy only one condition: each row, column and 3x3 box must contain the digits 1 through 9 exactly once. What could be simpler?
http://leasingnews.org/Soduku/soduko-main.htm
--------------------------------------------------------------

Daily Puzzle
How to play:
http://www.setgame.com/set/puzzle_frame.htm
Refresh for current date:
http://www.setgame.com/set/puzzle_frame.htm
--------------------------------------------------------------


http://www.gasbuddy.com/
http://www.gasbuddy.com/GB_Map_Gas_Prices.aspx
http://www.gasbuddy.com/GB_Mobile_Instructions.aspx
--------------------------------------------------------------

Provence, France-Vacation
http://le-monastier.site.voila.fr/
--------------------------------------------------------------

News on Line---Internet Newspapers
Corvallis, Oregon
--------------------------------