"A Top Producers Dream"
Outstanding Back Office Support
High Commissions – Up To 80%
Elite Training Program
Access to many Major Funding Sources with the ability to obtain approvals not available elsewhere
Click Here if you want to achieve more!


Wednesday, May 21, 2008

Congratulations to Kristi Yamaguchi and her professional partner Mark Ballas, winners of "Dancing to the Stars." She is the second woman to win — actress Kelly Monaco won in Season 1 — and the second Olympian to win Dancing gold: Speed skater Apolo Ohno won in Season 4.
Headlines---
Paul Raynault of CFI Financial passes away
Classified Ads---Asset Management
CIT to cut 1,000 jobs
April: Major Drop in Leasing Employment
Bruce Kropschot, Jim Billings, Hugh Swandel
All join the Alta Group
Classified Ads---Help Wanted
Look Out CIT, here comes Rick Wolfert!
Sales Make it Happen By Linda P. Kester
Managing and Motivating Your Sales Force
Airbus, Boeing delays pushing up lease rentals
Boeing provides first look inside 787
Home prices not finished falling,Fannie CEO says
News Briefs---
You May have Missed---
California Nuts Brief---
Sports Briefs---
"Gimme that Wine"
Calendar Events
Snapple Real Facts
Today's Top Event in History
This Day in American History
Baseball Poem
SuDoku
Daily Puzzle
GasBuddy
Provence, France-Vacation
News on Line---Internet Newspapers
Bridgeport, Connecticut
######## surrounding the article denotes it is a "press release"
-------------------------------------------------------------------

Paul Raynault of CFI Financial passes away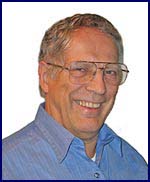 (photo:www.cfifinancial.com)
66 years old Paul Raynault died in a hospital in New York City on Monday of unknown causes. He entered the leasing business in 1971. He was chairman of CFI Financial Services in Hackensack,
New Jersey.
A dear friend of Tom Martin for 44 years, president of CIF Financial Services, who was seriously shaken at the news of the departure, could not make any eulogy at this time.
Biography from the CFI web site;
"Mr. Raynault has extensive experience modeling new lease structures. His development of the operating leveraged lease and the operating wrap lease for personal equipment expanded the use of structures brought to CFI. He built a model to forecast the residual values of computers, which CFI used both for its own portfolio and sold to others. He has invented new lease structures to create tax benefits. Prior to joining CFI, he was in Strategic Planning at IBM. Mr. Raynault has undergraduate degrees in math and physics from McGill University and an MA in statistics from Princeton University."
http://www.cfifinancial.com/
--------------------------------------------------------------

Classified Ads---Asset Management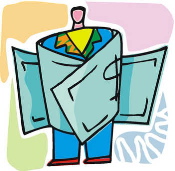 Massachusetts, MA
Started in credit and collections 30 years ago with a private agency. My skills are negotiating with Attorney's, Insurance Companies & Large & small companies.
cityofpa@earthlink.net | Resume
New York, NY
10+ years in equipment leasing/secured lending. Skilled in management & training, documentation, policy and procedure development & implementation, portfolio reporting. Strong work ethic.
Email: dln1031@nyc.rr.com
Seattle, WA
20 years combined experience in Asset Management and Collections. History of successfully maximizing the residual position through superior negotiation skills
and remarketing.
Email: gcsprings@comcast.net
United States
Multi- talented individual looking to relocate back to mainland. Over 20 years of experience in Asset Management, Venture Leasing, Operations and
Senior Management Positions.
RESUME | Email: dan@ggpglobal.com

For a full listing of all "job wanted" ads, please go to:
http://www.leasingnews.org/Classified/Jwanted/Jwanted.htm
Leasing Recruiters:
http://www.leasingnews.org/Recruits/index.htm
To place a free "job wanted" ad here, please go to:
http://www.leasingnews.org/Classified/Jwanted/Jwanted-post.htm
--------------------------------------------------------------

CIT to cut 1,000 jobs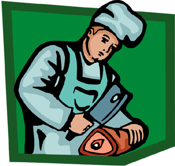 Chief Executive Officer Jeffrey Peek made a presentation at the Lehman Brothers 11th Annual Financial Services Conference in London yesterday, saying CIT would be cutting 1,000 more jobs, reducing operating expenses by $100 million. He also said they may raise as much as $12 billion more through asset sales and financing.
The web site at one time stated the company had 7,500 employees. From the beginning of their troubles with subprime mortgage loans and student loans, the closing down of divisions, it appears over 1,000 jobs have already been eliminated, perhaps some by retirement or positions when people have moved elsewhere and not replaced.
CIT last summer attempted to sell its $9.5 billion subprime portfolio, but wound up moving on $4.5 billion that are backed up by $6 billion in mortgages to Freddie Mac. CIT is still responsible for $1.8 billion, plus holds the rest of the mortgages on its balance sheet; the ones it could not sell.
On April 17, Peek announced a $252 million first quarter loss. At the time, to stay liquid he announced, CIT had agreed to sell $4.6 billion of asset-based loan commitments and $770 million worth of aircraft, and that it was exploring the possibility of shedding its $4 billion rail-leasing business.
Ironically, the same day of his announced about the fourth quarter in a row the company has lost money, CIT filed with the SEC that Walter J. Owens, President, CIT Corporate Finance received 106,292 restricted shares.
Peek, now 61, joined CIT after losing a power struggle in 2001 at Merrill Lynch, where he had been in the running to be president. Since he became CIT's CEO in 2004, the stock has fallen from when
he started at $44.23 to $11.63 yesterday.
Is Jeffrey Peak the man to run CIT
http://biz.yahoo.com/nytimes/080505/1194771330246.html?.v=19
--------------------------------------------------------------

April: Major Drop in Leasing Employment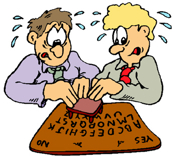 Blog available on this story:
http://www.zrgroup.com/blog/viewBlogs.php?user_id=4
ZRG, an finance/leasing executive search firm with 10 offices worldwide, the most recent in Shanghai, China, has been compiling an index for the U.S. leasing industry hiring for over a year. Their research department has been analyzing employment data in equipment leasing with the goal of a quarterly report for their clients.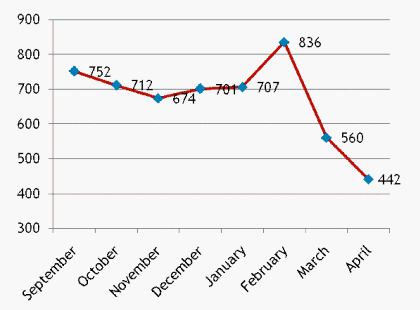 The ZRG Executive Hiring Index shows "… a sharp decrease in overall hiring opportunities across the equipment finance and leasing industry, dropping from an average level of 700 for the first quarter to below 450 for April, 2008. This comes on the eve of a 33% decrease in March. "
"March peaks suggests optimistic January outlook for growth which was tempered by the unprecedented events of Q1 2008 in the financial services area. Firms have clearly slowed new hiring. The average index over the preceding four month period was 729 before the decline to 442 in April, showing a 48% drop from the peak in February. "
------index address

Kenneth Vancini, managing partner
"The goal was to paint an accurate picture of human capital needs in equipment leasing in the United States, " Kenneth Vancini, managing partner of ZRG, said. "The idea is to focus on real data. We plan to issue this report each quarter."
He points out the index tends to lag actual intended hiring by 60 to 90 days since participants' hiring plans and executive postings lead current hiring climates. He notes the data sources include hiring data that comes directly from several top equipment finance and leasing companies, over 20 different National Job Boards and several leasing industry specific job sites.
The sample group includes banks, captives and independents. These data points are weighted by relevance of senior level significance against overall hiring indicators in the industry.
The ZRG reports noted there were slower overall executive hiring compared to similar periods in 2007 and 2006.
"We are seeing a shift in general senior leadership roles to operationally oriented roles including chief operating officers and vice-presidents of asset management and collections, "Vancini said. " Syndications roles are also showing an increase.
"We are focusing less on growing top line originations and more on repayment and ROE issues."
He notes, "Solid independents with syndication funding strategies, and diversified capital sources seem eager to take advantage of the market challenges to build scale.
"We see a clear divide in today's market between those treading water and those trying to take advantage of the market conditions and growth, " he said. "We are also seeing private equity backed specialty finance businesses reassess leadership and make the tough decisions to bring in new leaders to help navigate these unchartered waters."
Vancini notes while there is still hiring occurring, it is becoming more selective than it ever was.
With less headcount to work with, quality hiring decisions are more important than ever.
ZRG plans to have an international hiring index by the fourth quarter of this year.
To blog about this subject go to :
http://www.zrgroup.com/blog/viewBlogs.php?user_id=4
ZRG Index Report:
http://leasingnews.org/PDF/ZRG_hiring_drop.pdf
--------------------------------------------------------------

Bruce Kropschot, Jim Billings, Hugh Swandel
All join the Alta Group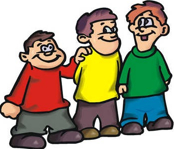 In a surprise announcement, Kropschot Financial Services, a leader in the executive recruiting business has joined the Alta Group, a world wide "think tank" and group of finance and leasing specialists in the world.
The Alta Group is a global consultancy serving equipment leasing and finance companies, investment professionals, manufacturers, banks and government organizations. Founded in 1992, The Alta Group supports clients in North America; Latin America; Western, Central and Eastern Europe; Australia; and China.
Bruce Kropschot, a member of the Leasing News Advisory Board, said he will be keeping the name Kropschot Financial Services, and also become a principal of the Alta Group.
He said he was not retiring, or even slowing down.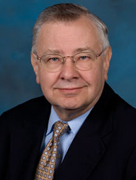 Bruce Kropschot
(photo: Leasing News archives)
"Alta's respected global connections and various specialized capabilities will be valuable," said Kropschot, who noted that their combined strengths will make them attractive as advisors to non U.S. organizations that are exploring North American opportunities for expansion.
"There are more and more companies looking for acquisition opportunities, especially as a means to enter new markets," Kropschot said. "This is a good time to buy, given many quality firms are struggling to secure funding today.
" It's also a good time to sell, assuming a firm is the right fit for an acquirer, because there are a very limited number of successful independent leasing companies available."
Also joining the Alta Group are: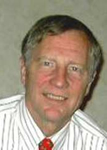 (photo: Kroprschot.com)
Kropschot Financial Services Executive Vice President James R. Billings, who is based in Millersville, Maryland.


(photo: Kroprschot.com)
Kropschot Financial Services Vice President Hugh Swandel, who is based in Winnipeg, Manitoba and serves the Canadian M&A market.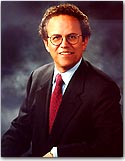 John Deane, managing principle of the Alta Group
(photo: the Alta Group)
"We are very pleased that Bruce Kropschot is joining our firm, as well as Jim Billings and Hugh Swandel" said John C. Deane, managing principal of The Alta Group. "There is great potential for significant growth in our mergers and acquisitions consulting business, and their experience and expertise in this area are unmatched.
"The three new additions to the Alta Group will strengthen our ability to provide buyers and sellers of businesses with the best and most focused counsel available."
For more information, http://www.thealtagroup.com or
http://www.kropschot.com
Bruce Kropschot Leasing News Advisory Biography:
http://www.leasingnews.org/Advisory%20Board/Bruce_Kropschot.htm
James R. Billing's biography:
http://leasingnews.org/PDF/jbillings.pdf
Hugh Swandel's biography:
http://leasingnews.org/PDF/hswandel.pdf
--------------------------------------------------------------
Please send Leasing News to a colleague. Subscriptions are free.
If there is breaking news in the leasing industry, Leasing News
will have it first, the inside story, not just a press release with
its "spin" on the event.
--------------------------------------------------------------

Leasing Industry Help Wanted
Collector

Collector
Lake Success, NY
--Referral Fee Available---
Full Time, entry or jr. level collector, auto and/or equip. collection exp. preferred. ekaye@advantagefunding.us or call Ed Kaye or Eric Coolbaugh: 866.392.1300
516-280-1786 Direct Dial
718-392-5427 FAX resume
Lake Success is the western most village in Nassau County, conveniently located by car from the Long Island Expressway and Grand Central Parkway.

Leasing Sales Representative


"A Top Producers Dream"
Outstanding Back Office Support
High Commissions – Up To 80%
Elite Training Program
Access to many Major Funding Sources with the ability to obtain approvals not available elsewhere
Click Here if you want to achieve more!


[headlines]
--------------------------------------------------------------


Look Out CIT, here comes Rick Wolfert with $1.7 billion in equity to enter the small ticket-middle market finance/leasing marketplace. He also comes with other top senior executives, more to be announced, with a plan and perfect timing.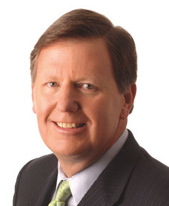 Rick Wolfert
Frederick (Rick) Wolfert was named by CIT Chairman Jeffrey Peek as Vice Chairman, Commercial Finance, effective September 13, 2004.
He was to be responsible "... for the management of CIT's Capital Finance, Equipment Finance, Business Credit and Commercial Services business units, which provide lending, leasing, and advisory services for the transportation, construction, retail, manufacturing, energy, media and communications, and healthcare industries."
To the rest of the industry, he was best known for "integrating" Heller Financial into GE's acquisition of Heller. He was president, chief operating officer, and member of the Board of Directors of Heller Financial, Inc. and chairman, president and CEO of KeyCorp Leasing and KeyBank USA. Mr. Wolfert served as Chairman of the Equipment Finance and Leasing Association in 2001. He was also named as "One of the 100 Most Powerful People in Healthcare" by Modern Healthcare magazine in 2002 and 2003.
Leasing News reported in April, 2007 rumors that Wolfert was forced to resign. He did not confirm nor deny the rumor:
"Kit--
The last three years at CIT has been terrific and we've made great progress positioning the company for growth and success in the future. As I depart CIT, I look forward to embarking on a new direction and pursuing activities in and outside the business world that have been on my screen for some time.
"Stay tuned...more to follow."
Best,
Rick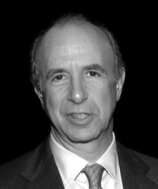 Jeffrey Greenberg, now Chairman, Tygris Financial Group
(Photo: Leasing News Archives)
November 7, 2007, Jeffrey Greenberg, the Managing Principal of Aquiline, announced Wolfert was joining the firm: "As we look to expand our investments in financial services, we believe now is an opportune time to be evaluating investment opportunities in this dynamic and underserved sector.
"I am very excited to join Aquiline Capital Partners to develop an ambitious strategic plan to take advantage of attractive opportunities emerging in the commercial and specialty finance sectors," Wolfert
said at the time. "The firm has quickly built a reputation for making smart, well-timed investments that will yield strong returns for its investors. I am delighted to be joining this talented and experienced team."
The announcement came yesterday that Aquiline Capital Partners has joined with investors New Mountain Capital and TPG Capital to launch Tygris Commercial Finance Group.
It was also announced: "Tygris has entered into an agreement to acquire US Express Leasing, Inc., an equipment finance company headquartered in Parsippany, NJ, from DLJ Merchant Banking Partners in an all-stock transaction. Tygris has also entered into an agreement to acquire substantially all of the assets and business of MarCap LLC, a middle market healthcare equipment finance company headquartered in Chicago."
The key in the announcement were the senior executives of the new company:
-- Steven F. Kluger, EVP, Capital Markets and Corporate Strategy, formerly has over 26 years experience in global investments, banking, capital markets, finance, risk, operations, and asset/liability management. Most recently, Mr. Kluger was President and Chief Executive Officer of GE Capital Markets Services, Inc. (CMS) and an officer of the General Electric Company (GE).
-- Stuart A. Armstrong, President of Corporate Finance, formerly President and CEO of Black Diamond Commercial Finance L.L.C. and Senior Managing Director and Head of Corporate Lending's vertical industry financing groups at GE Commercial Finance; Mr. Armstrong spent 12.5 years at GE Commercial Finance where he was a Senior Managing Director and the leader of Corporate Lending's vertical financing groups. The largest business units that Mr. Armstrong led included the National Restructuring, Retail and Metals groups.
-- Laird M. Boulden, President of Asset Finance (based in Chicago),
formerly President and CEO of RBS Asset Finance, Inc. and President and co-founder of the Commercial Equipment Finance Group for Heller Financial Inc.; He is a longtime member of the Equipment Leasing and Finance Association, previously serving as its vice chairman and was a long-term member of the ELFA's board of directors and executive committee.
-- Tim J. Eichenlaub, EVP, Chief Risk Officer, formerly Senior Managing Director and Group Head for CIT's Sponsor Finance business; He was a Managing Director at GE Capital's Merchant Banking Group and Commercial and Industrial Finance business and Executive Vice President and Head of Capital Markets of Heller Financial's Corporate Finance Group.
-- T. Doug Hollowell, EVP, General Counsel and Head of Depository
Strategy, formerly Executive Director at Morgan Stanley Corporate Treasury and General Counsel at Merrill Lynch Capital. He also was Chief Operating Officer of Morgan Stanley Bank, a $35 billion Utah industrial bank, and Morgan Stanley Trust, a $4.5 billion Federal savings bank.
Board of Directors:

Jeffrey W. Greenberg, Chairman Aquiline Capital Partners LLC
Frederick E. "Rick" Wolfert, Tygris Commercial Finance Group, Inc.
Sandra S. Wijnberg, Aquiline Capital Partners LLC
Matt Grayson, Aquiline Capital Partners LLC
Richard P. Schifter, TPG Capital
Marshall Haines, TPG Capital
Alok Singh, New Mountain Capital
Douglas F. Londal, New Mountain Capital
Hartley Rogers, Hamilton Lane
H. Eugene Lockhart Diamond, Castle Holdings LLC
Tygris has three commercial finance businesses: middle market corporate finance, middle market equipment leasing and asset finance, and small ticket leasing. Tygris has offices in Chicago, Stamford, CT and Parsippany, NJ. For more information please visit http://www.TygrisCFG.com.
The name "Tygris" perhaps is the phonetic spelling for the Tigris. Tigris is a river running from the mountains in eastern Turkey which flows over almost 1,200 miles southeast through Iraq to the Euphrates River. It was a major transportation route in ancient times. At press time, Leasing News had not heard back regarding the origination of the name "Tygris."
Complete Press Release:
http://leasingnews.org/PDF/Tygris.pdf
Leasing News article on Rick Wolfert:
http://www.leasingnews.org/archives/March%202007/03-16-07.htm#bill
--------------------------------------------------------------

Sales Make it Happen
Managing and Motivating Your Sales Force
By Linda P. Kester
Are these complaints familiar? " Our credit department or funding source is too tight. " Our rates are too high! "Each leasing company I work with has some salespeople who inevitably make those statements. When I look at the volume numbers of the rep's who are complaining they are usually at the bottom of the companies' productivity ranking. The rep's in the top 20% are either on the phone
or out in the field. They're too busy to complain, sometimes even too busy to appeal a marginal deal. What can we do about the complainers? Bring them into the top 20%.
When I was a sales manager, the best rep I had on my team could not do a cash flow schedule on her HP-17b, and she was not the most experienced. In fact, she was kind of "unpolished" I wasn't concerned about that; I knew she could be fine-tuned in the areas where she needed improvement. So why was she my best rep? She wasn't afraid to go out there, to call on lessees and vendors and sell them. I wish I had twenty reps like her.
In my experience in leasing there are only two reasons why a sales rep fails to succeed: lack of integrity and lack of activity. If you find out about an integrity problem cut your losses ASAP. If your reps have an activity problem, like complainers in the above example, it's usually a result of a lack of confidence. If they don't feel comfortable with their skills and leasing knowledge, they will be uncomfortable prospecting.
Top reps have three things going for them knowledge, skills, and motivation. On going training on selling skills and the leasing industry will help your reps gain confidence. To have these confident reps enter the top 20% of your sales force you have to help them. focus on the future. Your goal as a sales manager is to instill in your reps the hope, anticipation, and determination that can make selling so exciting. Many of your reps know what they should do, but they never do it. The reason is that they're lacking the drive that only compelling future can provide.
Good performance starts with clear goals. People begin a task by deciding where they want to go. When you hire a new rep you have to give him goals for even the first month of his employment. He needs this so that he can measure
himself against your expectations. I'm amazed when I ask a rep what his volume goals is for the month and he doesn't know. People often complain about a lack of time when the lack of direction is the real problem.
Your reps need to know on a daily basis how many applications they have to get in order to achieve their volume goal. It's a simple formula. Say their goal is $400,000 a month. If their average transaction size is $12,000, and they have an approval rate of 70%, and 80% of what is approved gets booked, then they need 60 applications to get to their goals. If you have an average of twenty business days in the month then this breaks down into three apps per day.
Then you can figure out how many prospect calls it takes to get one application. Just have your reps keep a tic sheet of how many calls they've made and how many applications they've received in one day. After one week you can get a feel for a new rep, of how many prospects calls he has to make before he gets an application. You and your reps both need to know on a daily basis if your reps are moving toward their goals. It's a very simple technique, and many contact management software programs make the process easier.
Once you've figured out your reps goals, then you have to discover what motivates them. What motivates people? Recognition, money and material goods, career advancement opportunities, pride in achievement, an opportunity to give service to others, relationships with co-workers, competition with others. Here are some techniques for creating a motivating environment in your company.
Work as a team. The best people in the business are team players and coaches. If a struggling rep has the support and guidance from senior employees and they feel that they are contributing to a larger cause, they may in turn work harder.
Post your monthly volume goal on the wall. The sales team should be able to see its goals at a glance and know what's expected of them individually, and as unit. Also, keep track of every application you receive on a daily basis. This way you know if you're on track.
Recognition Area . Make the physical environment a place where people want to come to work, where they can get positive messages and where they can see their goals set out before them. Use wall space as a gallery for reminders of rep's achievement and to post testimonial letters from satisfied customers.
Follow the rules of positive reinforcement. Behavior that gets rewards gets repeated. If you want someone to behave in a certain way (make more prospect calls, get more orders, etc.), then you must reward them for that behavior.
The secret to success is to drop the negatives and excuses. Get going with a goal directed program, adopt a policy of team work, believe in hard work plus positive thinking, and you will have a successful sales force.
(This was written by Linda Kester and appeared in Leasing News in June, 2000.)
Linda Kester motivates, educates and empowers leasing sales reps to obtain top performance and increase volume. She provides enthusiastic and practical ideas for success. For more tips visit www.lindakester.com

----------------------------------------------------------------
News Briefs----
Airbus, Boeing delivery delays pushing up lease rentals
http://www.livemint.com/2008/05/20000802/Airbus-Boeing-delivery-delays.html
Boeing provides first look inside 787
http://seattletimes.nwsource.com/html/boeingaerospace/2004425713_dreamliner20.html
Home prices not finished falling, Fannie CEO says
http://www.usatoday.com/money/economy/housing/2008-05-20-fannie-mae-outlook_N.htm
Housing slump knocks Home Depot profit down 66%; Target down, too
http://www.usatoday.com/money/companies/earnings/2008-05-20-home-depot_N.htm
Honda: New, affordable hybrid coming in 2009
http://www.ajc.com/business/content/business/stories/2008/05/20/japanhonda_0520.html
Nordstrom rolling out buy online, pickup in store
http://seattletimes.nwsource.com/html/businesstechnology/2004427084_nordstrom21.html
---Winner is crowned on 'Dancing with the Stars'
http://www.accessatlanta.com/entertainment/content/shared-gen/ap/TV/
TV_Dancing_With_the_Stars.html
Archuleta's effective, Cook's original in 'American Idol' finale
http://www.usatoday.com/life/television/news/2008-05-20-idol-recap_N.htm
----------------------------------------------------------------


You May have Missed---
Times Are Tough, Except in the Repo Business
http://www.nytimes.com/2008/05/20/business/20repo.html?_r=1&hp&oref=slogin
---------------------------------------------------------------

Sports Briefs----
Falcons sign QB early for $72 million
http://www.ajc.com/news/content/sports/falcons/stories/2008/05/20/ryanburst_0521.html
----------------------------------------------------------------


California Nuts Briefs---
Interview with Arnold Schwarzenegger
http://www.sfgate.com/cgi-bin/blogs/bronstein/detail?blogid=47&entry_id=26595
----------------------------------------------------------------


"Gimme that Wine"
Wine Spectator on the passing of Robert Mondavi
http://www.winespectator.com/Wine/Features/0,1197,3817,00.html
Good Wine Reading With Mellow Aftertaste---Eric Asimov
http://events.nytimes.com/2008/05/21/dining/reviews/21pour.html?ref=dining
Trading down on wine
http://www1.pressdemocrat.com/article/20080518/NEWS/805180360/1036/BUSINESS01
Wine guru Parker says he's happy with a $20 bottle
http://africa.reuters.com/wire/news/usnT667.html
Wine Prices by vintage
http://www.winezap.com
http://www.wine-searcher.com/
US/International Wine Events
http://www.localwineevents.com/
Winery Atlas
http://www.carterhouse.com/atlas
Leasing News Wine & Spirits Page
http://two.leasingnews.org/Recommendations/wnensprts.htm
The London International Vintners Exchange (Liv-ex) is an electronic exchange for fine wine.
http://www.liv-ex.com/
----------------------------------------------------------------

Calendar Events This Day
Chile: Battle of Iquique Day
Commemorates a naval battle in 1879, part of the War of the Pacific with Peru and Bolivia
"I Need a Patch for that" Day
They have patches for nicotine and they have patches for heart patients.
National Memo Day
http://holidayinsights.com/moreholidays/May/memoday.htm
National Strawberries and Cream Day
National Wait Staff Day
A day for restaurant managers and patrons to recognize and to express their appreciation for the many fine and dedicated waitresses and waiters.
Turn Beauty Inside Out Today
www.thbio.org
Saint feast Days
http://www.catholic.org/saints/f_day/may.php
----------------------------------------------------------------

Nobody is buried in Grant's tomb. President & Mrs. Grant are entombed there. A body is buried only when it is placed in the ground and covered with dirt.
----------------------------------------------------------------

Today's Top Event in History
1904-birthday of great singer/pianist Thomas"Fats" Waller, New York City, NY. Perhaps the first jazzman I listened to as a young man as my father collected his vinyl records, and often played his jazz organ playing. More than 40 years after his death, he remains one of the most popular of all jazz musicians, admired even by those who say they don't like jazz. Many of his tunes, such as "Honeysuckle Rose," "Ain't Misbehavin' " and "Blue Turning Grey Over You," are considered popular music standards. Waller's commercial success and international fame did not begin until 1934, although he began recording 12 years earlier. It was in '34 that he formed the first of the "Fats Waller and His Rhythm" bands. The five-piece group provided the setting for Waller's lighthearted and often humorous vocals, which by then overshadowed his piano playing.
Fats Waller died of natural causes on December 15th, 1943 while traveling aboard the Sante Fe Express train.
http://www.redhotjazz.com/fats.html
http://www.downbeat.com/artists/window.asp?aid=195&aname=Fats+Waller
http://us.imdb.com/Name?Waller,+Fats
[headlines]
----------------------------------------------------------------

This Day in American History
1506 --Christopher Columbus dies, a rich man, believing he has found the islands of India. His wealth came from slaves and the new
crop Tobacco.
1542 - On the banks of the Mississippi River in present-day Louisiana, Spanish conquistador Hernando de Soto dies, ending a three-year journey for gold that took him halfway across what is now the United States. In order that Indians would not learn of his death, and thus disprove de Soto's claims of divinity, his men buried his body in the Mississippi River. In late May 1539, de Soto landed on the west coast of Florida with 600 troops, servants, and staff, 200 horses, and a pack of bloodhounds. From there, the army set about subduing the natives, seizing any valuables they stumbled upon, and preparing the region for eventual Spanish colonization. Traveling through Florida, Georgia, South Carolina, across the Appalachians, and back to Alabama, de Soto failed to find the gold and silver he desired, but he did seize a valuable collection of pearls at Cofitachequi, in present-day Georgia. For the most part, the Indian warriors they encountered were intimidated by the Spanish horsemen and kept their distance. In October 1540, however, the tables were turned when a confederation of Indians attacked the Spaniards at the fortified Indian town of Mabila, near present-day Mobile, Alabama. All the Indians were killed, along with 20 of de Soto's men. Several hundred Spaniards were wounded. In addition, the Indian conscripts they had come to depend on to bear their supplies had all fled with baggage. De Soto could have marched south to reconvene with his ships along the Gulf Coast, but instead he ordered his expedition north-westward in search of America's elusive riches. In May 1541, the army reached and crossed the Mississippi River, probably the first Europeans ever to do so. From there, they traveled through Arkansas and Louisiana, still with few material gains to show for their efforts. Turning back to the Mississippi, de Soto died of a fever on its banks on May 21, 1542. The Spaniards, now under the command of Luis de Moscoso, traveled west again, crossing into north Texas before returning to the Mississippi. With nearly half of the original expedition dead, the Spaniards built rafts and traveled down the river to the sea, and then made their way down the Texas coast to New Spain, finally reaching Veracruz, Mexico, in late 1543.
1620 -- Present-day Martha's Vineyard is first sighted by Captain Bartholomew Gosnold.
http://en.wikipedia.org/wiki/Bartholomew_Gosnold
http://www.bbc.co.uk/suffolk/content/articles/2005/11/10/gosnold_results_feature.shtml
1796-birthday of attorney and statesman Reverdy Johnson was born in Annapolis, Maryland. Johnson Although he personally opposed slavery, Johnson represented the slave-owning defendant in the 1857 Dred Scott case in which the U.S. Supreme Court decided that slaves could not be citizens of the United States. The court's decision increased antislavery sentiment in the North and fed the antagonism that sparked the Civil War. He was a key moderate during the days of reconstruction and deserves a strong place in history than he has received.
http://memory.loc.gov/ammem/today/may21.html
1819-Victoria Day, Canada commemorates the birth of Queen Victoria, May 24, 1891
1819-imported bicycles made their first appearance in New York City. The Common Council met on August 19 and passed a law "to prevent the use of velocipedes in public places and on the sidewalks of the City of New York." In their early years, bicycles were called velocipedes, curricles, or swift walkers.
1832- Baltimore, MD, the Democratic conventional was held under the name Republican Party. Delegates from 21 states and DC nominated Andrew Jackson for president and Martin Van Buren for vice-president. The party was officially the "Democratic-Republican Party, "and remained so until 1840. The Whig and the Whip parties eventually became the Republican Party, but not as we know it today. The Republican Party then was more "liberal" and the "National Democratic Party" was considered the "conservative wing."
1833-Black students enroll in classes at Oberlin College, Ohio
http://www.oberlin.edu/~welcome/history.html
1860 - A swarm of tornadoes occurred in the Ohio Valley. Tornadoes struck the cities of Louisville, KY, Cincinnati, OH, Chillicothe, OH, and Marietta, OH, causing a million dollars damage.
1863 -- The siege of the Confederate Port Hudson, Louisiana, begins.
1867-Birthday of Frances Theresa Densmore, the foremost authority on the songs and music of the Amerinds (Native Americans) and a ranking authority on Indian culture.
An American ethnomusicologist, she collected nearly 2,500 recording of the songs of more than 30 Native American Indian tribes. She continued making recordings as well as taking photographs and notes until almost 88.
http://news.minnesota.publicradio.org/features/199702/01_smiths_densmore/docs/1early.shtml
http://dactyl.som.ohio-state.edu/Densmore/Densmore.html
1881- Let's set the record straight and get away from the public relations story. The first meeting of what was to become the American Red Cross happened at the home of Adolphius Simeon Solomons in Washington, D.C., where he and Clara Barton founded the American Association of the Red Cross, as part of an international humanitarian movement to provide help to victims of war and natural disasters. It was thought the organization would have a better chance of growth with a woman as president, which Mr. Solomon made an official motion. It was made part of the International Red Cross on March 16, 1882 (started in Switzerland, 1864).
1881-the United Sates Lawn Tennis Association was formed at the Fifth Avenue Hotel, New York City, by 34 clubs. It formulated the rules of play, standardized the height of the net and the size of the ball, and ruled on such matters as the service line and the size of the court. The first president was Robert Shaw Oliver of the Albany Tennis Club. In 1975, the name was changed to the United States Tennis Association.
1878-birthday of Glenn Hammond Curtis, American inventor and aviator, born at Hammondsport, NY. The aviation pioneer died at Buffalo, NY, July 23, 1930.
1895 - The temperature at Norwalk, OH, dipped to 19 degrees to set a state record for the month of May.
1888-Birthday of May Aufdeheide, an almost forgotten U.S. composer of ragtime, one of the few women in the field. Her best known works were "Dusty Rag" and "Richmond Rag," both published in 1908.
http://www.grainger.de/music/composers/aufderheide.html
1896 - The mercury soared to 124 degrees at Salton, CA, to establish a U.S. record for May.
1901- Connecticut passed the first speeding driver's law, "the speed of all motor vehicles should not exceed 12 miles per hour on country highways and eight miles per hour on highways within city limits."
1904-birthday of great singer/pianist Thomas"Fats" Waller, New York City, NY. Perhaps the first jazzman I listened to as a young man as my father collected his vinyl records, and often played his jazz organ playing. More than 40 years after his death, he remains one of the most popular of all jazz musicians, admired even by those who say they don't like jazz. Many of his tunes, such as "Honeysuckle Rose," "Ain't Misbehavin' " and "Blue Turning Grey Over You," are considered popular music standards. Waller's commercial success and international fame did not begin until 1934, although he began recording 12 years earlier. It was in '34 that he formed the first of the "Fats Waller and His Rhythm" bands. The five-piece group provided the setting for Waller's lighthearted and often humorous vocals, which by then overshadowed his piano playing.
Fats Waller died of natural causes on December 15th, 1943 while traveling aboard the Sante Fe Express train.
http://www.redhotjazz.com/fats.html
http://www.downbeat.com/artists/window.asp?aid=195&aname=Fats+Waller
http://us.imdb.com/Name?Waller,+Fats
1909- Massachusetts approved the first credit union, sponsored by Pierre Jay, the first bank commissioner of the state.
1912-Monty Franklin Pierce Stratton, baseball player born at Celeste, TX. Stratton's five-year career in the major leagues was ended when his leg was amputated after he accidentally shot himself in a hunting accident. Jimmy Stewart played Stratton in a very successful moving based roughly on his life. Died at Greenville, TX, Sept 29, 1982. http://www.pricegrabber.com/search_videos2.php/form_movieid=1044072/ut=0cea001161ce67c0
1916-Clocks go forward for the first Daylight Saving Day, originally sold to the public as a wartime emergency measure to conserve evening use of electricity.
1917-birthday of Raymond Burr, stage, film and TV actor best known for the role of Perry Mason in the series of the same name (my late father Lawrence Menkin was the story editor, and also wrote many of the episodes.) Burr was born at New Westminster, British Columbia, and died at his winery near Healdsburg, CA, September 12, 1993. http://www.raymondburrvineyards.com/
1921-birthday of arranger/songwriter, trumpet player Henry Glover, Hot Springs, AR
jazz
1929-birthday of drummer Lawrence Marable, Los Angeles, Ca.
1927 - Charles A. Lindbergh arrived to a hero's welcome in Paris, in his spindly monoplane, "The Spirit of St. Louis" (the famous plane is now displayed in the Smithsonian Institute in Washington, DC). Lindbergh's flight marked the first time that a person had flown across the Atlantic Ocean. The event got more press coverage than any other single even in history to that time. In American newspapers alone, it was estimated that some 27,000 columns of words were used to describe Lindbergh's epic journey. A depiction of that famous flight was portrayed by one of America's great motion picture actors, Jimmy Stewart, in the film, "The Spirit of St. Louis". Upon his return to American soil, Lucky Lindy was given another hero's welcome.
1927- Bill Holman Birthday
http://www.spaceagepop.com/holman.htm
1932-birthday of bandleader Bob Florence, and one of my high school idols, as saw his band many times locally and patterned my 21 piece dance band after his, Los Angeles, Ca.
http://www.spaceagepop.com/florence.htm
http://www.vh1.com/artists/az/florence_bob/bio.jhtml
1936- E.I. du Point de Nemours, Wilmington, DE, began production of Lucite, or polymethyl methacrylate, " a plastic that is low in moisture absorption, highly nonconducting, and crystal clear, and that possesses the interesting property of bending light rays as the pass through. In 1938, the produced Teflon, but did not start commercial production until 1954.
1940-Will Bradley (Wilbur Schwichtenberg) cuts "Beat Me Daddy, Eight to the Bar," (Columbia 35530)
http://www.vh1.com/artists/az/bradley_will/bio.jhtml
http://www.amazon.com/exec/obidos/external-search/104-5094193-3483111?tag=drjohn
holleman&keyword=will+bradley&mode=music
1941-birtthday of singer Ronald Isley (The Isley Brothers), Cincinnati, OH. The group first hit the charts in 1959 with "Shout," which has since become a rhythm-and-blues standard recorded by such artists as Lulu, Tom Petty and the Blues Brothers. The Isleys were still on the charts in the early 1980's. Their 1981 album "Grand Slam" earned a gold record.
1941-Claude Thornhill Band records their theme, "Snowfall."
1942-Freddie Slack with Ella Mae Morse records " Cow Cow Boogie," Los Angeles.
1945 - Lauren Bacall and Humphrey Bogart were married. Legend has it that the couple fell in love in 1943 during making of the film, "To Have and Have Not". Theirs would become one of Hollywood's most enduring marriages
1949---Top Hits
Riders in the Sky - Vaughn Monroe
Again - Gordon Jenkins
Forever and Ever - The Russ Morgan Orchestra (vocal: The Skylarks)
Lovesick Blues - Hank Williams
1951-RODRIGUEZ, JOSEPH C. Medal of Honor
Rank and organization: Sergeant (then Pfc.), U.S. Army, Company F, 17th Infantry Regiment, 7th Infantry Division. Place and date: Near Munye-ri, Korea, 21 May 1951. Entered service at: California. Born: 14 November 1928, San Bernardino, Calif. G.O. No.: 22, 5 February 1952. Citation: Sgt. Rodriguez, distinguished himself by conspicuous gallantry and intrepidity at the risk of his life above and beyond the call of duty in action against an armed enemy of the United Nations. Sgt. Rodriguez, an assistant squad leader of the 2d Platoon, was participating in an attack against a fanatical hostile force occupying well-fortified positions on rugged commanding terrain, when his squad's advance was halted within approximately 60 yards by a withering barrage of automatic weapons and small-arms fire from 5 emplacements directly to the front and right and left flanks, together with grenades which the enemy rolled down the hill toward the advancing troops. Fully aware of the odds against him, Sgt. Rodriguez leaped to his feet, dashed 60 yards up the fire-swept slope, and, after lobbing grenades into the first foxhole with deadly accuracy, ran around the left flank, silenced an automatic weapon with 2 grenades and continued his whirlwind assault to the top of the peak, wiping out 2 more foxholes and then, reaching the right flank, he tossed grenades into the remaining emplacement, destroying the gun and annihilating its crew. Sgt. Rodriguez' intrepid actions exacted a toll of 15 enemy dead and, as a result of his incredible display of valor, the defense of the opposition was broken, and the enemy routed, and the strategic strongpoint secured. His unflinching courage under fire and inspirational devotion to duty reflect highest credit on himself and uphold the honored traditions of the military service.
1955 - Chuck Berry went into a recording session for Chess, performing a restyled version of "Ida Red". What came out of that hot session was Ida Red's new name and Chuck Berry's first hit, "Maybellene". "Maybellene" topped the R & B charts at #1, and the pop charts at #5. And Beethoven rolled over... http://www.chuckberry.com/
1957- Reaffirming their decision to bar females from the Fenway Park's male-only press box, Boston baseball writers deny a seat to Doris O'Donnell, a feature writer following the Indians.
1957---Top Hits
All Shook Up - Elvis Presley
School Day - Chuck Berry
Love Letters in the Sand - Pat Boone
A White Sport Coat (And a Pink Carnation) - Marty Robbins
1959 - Ethel Merman played the lead role in the musical, "Gypsy", which opened at the Broadway Theatre in New York City. The popular show ran for 702 performances. It was based on the memoirs of Gypsy Rose Lee, the famous burlesque queen.
1960-Teen idol Fabian is on the West Coast filming "High Times" with Bing Crosby and "Go North" with John Wayne.
1961-"Every Beat of My Heart" enters the Hot 100 in two versions. One is on the Fury label by Gladys Knight and the other by the Pips on the Vee Jay label. They are not the same recording but are rendered by the same act, victims of a contract dispute. The Vee Jay single will be more successful, rising to #6 on the pop chart and Number One R&B. Both groups will eventually sign to Motown's soul label.
1961 Governor Patterson, a militant segregationist, with open support from the Klu Klux Klan when he ran for governor, declares martial law in Montgomery, Alabama.
http://www.time.com/time/magazine/printout/0,8816,826978,00.html
http://www.archives.state.al.us/govs_list/g_patter.html
1961 - No. 1 Billboard Pop Hit: ``Mother-in-Law,'' Ernie K-Doe.
1963-Little Stevie Wonder who turned 13, just eight days ago, records his second album. "The Twelve Year- Old genius," live at a Detroit ballroom. One tune off the album, "Fingertips, Part Two," will become Wonder's first hit, topping both the R&B and the pop charts.
1964-Birthday of American composer Lansing McLoskey, born Mountain View, CA.
1965---Top Hits
Ticket to Ride - The Beatles
Help Me, Rhonda - The Beach Boys
Back in My Arms Again - The Supremes
Girl on the Billboard - Del Reeves
1966-British singer Dusty Springfield's "You Don't Have to Say You Love Me" enters the Hot 100, where in 13 weeks, it becomes her biggest hit, reaching #4.
1968 -Police in helicopters drop tear gas on a University of California campus rally in Berkeley. I was there, covering for KFRC and
UPI Radio; it was the Oakland Police under Chief Ed Toothman.
1969-Henry "Hank" Aaron of the Atlanta Braves was lifted for a pinch hitter for the first time in his career. Mike Lum batted for Aaron in the seventh inning of a game against the New York Mets after Aaron had come to the plate, 9,015 times. Lum doubled, and the Braves won, 15-3.
1970 -- The U.S. National Guard mobilizes to quell disturbances at Ohio State University as students remain upset over the killing of their classmates.
http://www.spectacle.org/595/kent.html
http://may4.org/?q=node/41
1973 - The sensual "Pillow Talk", by Sylvia (Sylvia Vanderpool), earned a gold record. The artist first recorded with Hot Lips Page for Columbia Records back in 1950 and was known as Little Sylvia. She was half of the singing duo Mickey & Sylvia, who recorded "Love is Strange" in 1957. "Pillow Talk" was her only major solo hit and made it to number three on the pop music charts.
1973---Top Hits
You are the Sunshine of My Life - Stevie Wonder
Little Willy - The Sweet
Frankenstein - The Edgar Winter Group
What's Your Mama's Name - Tanya Tucker
1974- One year after his firing from Columbia Records, Clive Davis is hired by Bell Records as a consultant.
1976- Aerosmith receives a gold LP for "Rocks." The album will eventually go to #3 on the album chart.
1979--An all-straight jury convicts former San Francisco city supervisor Dan White of the lightest charge possible in the assassination of S.F. city supervisor Harvey Milk and mayor George Moscone. White's defense argued that White was depressed because of over consumption of junk food, the so-called "Twinkie defense." Thousands march on city hall in response, provoking a police riot.
Dan White never returned to politics and committed suicide by carbon monoxide in his car garage. Diane Feinstein as head of the Board of Supervisor became mayor, later was elected to the US Senate.
1980-- Ensign Jean Marie Butler became the first woman to graduate from a U.S. service academy, the Coast Guard Academy.
1980 - The temperature at Williston ND reached 102 degrees to set a record for May, and the next day the mercury hit 106 degrees.
1981---Top Hits
Bette Davis Eyes - Kim Carnes
Just the Two of Us - Grover Washington, Jr. Bill Withers
Being with You - Smokey Robinson
I Loved 'Em Every One - T.G. Sheppard
1985 - Marvin Gaye's last album was released. "Dream of a Lifetime" featured songs that critics considered too offensive, such as the controversial, pop version of "The Lord's Prayer". Three of the songs from the album were completed after Gaye's death. Marvin Gaye was inducted into the Rock and Roll Hall of Fame in 1987. http://www.rollingstone.com/
http://www.marvin.org.uk/
1985-Septuplets were born in Orange CA, to Patti Frustaci, a 30-year-old schoolteacher. It was the largest multiple birth in the history of the Untied Sates. One child was stillborn and three more died within a month. Two boys and one girl survived. At the age of 2, the surviving infants -- Richard, Patricia and Stephen -- were found to have cerebral palsy. A year later, more bad news. The children also were diagnosed as mentally retarded. Sam and Patti Frustaci -- who already had a healthy son named Joseph but wanted more children -- sued the fertility clinic and the physician that treated the wife with Pergonal, the same drug used by Bobbi McCaughey Frustaci and her husband later filed a malpractice suit against her doctors and the infertility clinic where she had been treated. They won a $2.7 million settlement on behalf of the surviving septuplets, now 12 years old. Little has been heard from the Frustacis since then, but apparently there have been changes. Late last week, CNN spoke with Sam Frustaci, who said he still lives in Southern California with all the children. All are okay, he said, but Patti Frustaci now lives elsewhere. He did not elaborate. http://www.cnn.com/US/9711/20/septuplets.frustaci/
1986- With a few gaps, millions of Americans held hands from Battery Park in New York City to Long Beach, CA, a distance of 4,150 as a fund-raising event sponsored by a consortium of charities and corporations.
1987 - Severe thunderstorms, developing along a sharp cold front crossing the central U.S., produced 60 mph winds and golf ball size hail at Sedalia, MO, and drenched Hagerstown, IN, with six inches of rain in one hour. Temperatures soared into the 90s ahead of the cold front. Paducah, KY, hit 94 degrees for the second day in a row. Light snow blanketed Montana, with three inches reported at Butte.
1988 - Severe thunderstorms swept across southern Louisiana during the morning hours spawning six tornadoes, and producing wind gusts to 88 mph at Jennings. Thunderstorms also produced five inches of rain in two hours at Lake Charles, causing local flooding.
1989---Top Hits
Forever You're Girl - Paula Abdul
Real Love - Jody Watley
Soldier of Love - Donny Osmond
If I Had You – Alabama
1990 - Thunderstorms produced severe weather across the southeastern U.S. for the second day in a row. Severe thunderstorms spawned five tornadoes, including one which injured a person at Richmond KY. There were eighty-seven reports of large hail or damaging winds, with hail three inches in diameter reported at Austin TX. Thunderstorms produced up to five inches of rain in Macon County GA, and heavy rains left nearly eight feet of water over roads near Stepstone KY.
1995- the Recording Industry Association of America reported that Bruce Springsteen's 1984 album "Born in the USA" had sold more than 15- million copies. That tied it with Boston's self-titled album as the number-three all-time best-selling album. Only Michael Jackson's "Thriller" - at 24 million - and Fleetwood Mac's "Rumours" - at 17 million - had sold more.
2000- Major League Baseball has its first six grand-slam day less than one year after establishing the mark with 5. Angel Garret Anderson, Giant J.T. Snow, Phillie Brian Hunter, A's Jason Giambi and Dodgers Adrian Beltre and Shawn Green all contributed to the record. The NL also set a record with four of the six base-loaded homers.
2005--- Before their inter-league game with the Athletics, the Giants pay homage Juan Marichal by dedicating a 9-foot bronze statue outside SBC Park The 'Dominican Dandy', who hurled for San Francisco from 1960-1973, joins Willie Mays and Willie McCovey as former player to have statues made in their honor.
Stanley Cup Champions This Date
1979 Montreal Canadiens
1981 New York Islanders
--------------------------------------------------------------

Baseball Poem
T
his poem by Robert L. Harrison depicts one of the best teams of all times. The 1927 Yankees or "Murderer's Row" were legendary and this poem pays tribute to those magnificent Yanks.
1927 Yankees
by Robert L. Harrison ©
Published: New York Baseball Poems (1999)
Gather 'round you fans of baseball
you lovers of season past,
let me take you back to the greatest team
that ever played on grass.
Guided by Miller Huggins
known as "murderer's row,"
never was such a string of pearls
so feared this side of Hell.
Greedy was this awesome bunch
with Ruth and Gehrig leading the punch,
and Hoyt and Moore on the mound
shooting all the batters down.
Gasping crowds assemble
like sinners in a tent,
watching all the other teams
trying to repent.
God blessed those boys of summer
those pin-striped renegades,
with a winning passion
while others saw only the haze.
Gathering in the rosebuds
by playing excellent ball,
called the "five o'clock lightning"
taking the pennant in the fall.
Gone were any pretenders to the throne
no on stood wherever these Yankees roamed,
twenty-five men made up this team
and all had a year better than their dreams.
1927 Yankees by Robert L. Harrison ©
Fast Facts
Murderer's Row was anchored by Babe Ruth, who hit sixty home runs and batted .356; and Lou Gehrig, who had forty-seven home runs and batted .373.
The team won one-hundred ten games and the other members included: Earle Combs, who hit .356 and led the league in hits, singles and triples; Tony Lazzeri, who hit eighteen home runs and batted .309; and Bob Meusel who hit .337.
This poem is a Baseball Almanac exclusive and appears here with expression written permission from the author.
Mr. Harrison also gave Leasing News permission to reprint the poem. Editor
--------------------------------------------------------------

SuDoku
The object is to insert the numbers in the boxes to satisfy only one condition: each row, column and 3x3 box must contain the digits 1 through 9 exactly once. What could be simpler?
http://leasingnews.org/Soduku/soduko-main.htm
--------------------------------------------------------------

Daily Puzzle
How to play:
http://www.setgame.com/set/puzzle_frame.htm
Refresh for current date:
http://www.setgame.com/set/puzzle_frame.htm
--------------------------------------------------------------


http://www.gasbuddy.com/
http://www.gasbuddy.com/GB_Map_Gas_Prices.aspx
http://www.gasbuddy.com/GB_Mobile_Instructions.aspx
--------------------------------------------------------------

Provence, France-Vacation
http://le-monastier.site.voila.fr/
--------------------------------------------------------------

News on Line---Internet Newspapers
Bridgeport, Connecticut
--------------------------------