Bulletin Board Complaint
Liberty Capital, LLC, Aliso Viejo, California

March 28, 2012 Christopher Marques as owner of Marques Countertops, Slidell, Louisiana, signed a proposal with Liberty Capital, LLC, 27068 La Paz Road, #181, Aliso Viejo, California 92656 for $730,100 for CNC marble cutting equipment in a 60 month terms with specific payments which required an upfront payment of $30,644.00 and was signed by Nathan Olsen, Customer Advocate, Liberty Capital, LLC.
The second paragraph of the proposal stated, "The upfront payment check you Mail to Liberty Capital will serve along with this signed proposal as your commitment to use Liberty Capital exclusively for the leasing of this equipment and will be treated as an origination fee for arranging the financing of your equipment. This proposal expires on 3/30/2011 (bold marking added by Leasing News. editor). If we do not receive the signed proposal and check for the upfront payment amount listed above by the expiration date, payments and terms may vary."
(1)
April 3, 2012 Christopher Marques sent in a check for $7,700.
There are many emails back and forth as well as text messages, that Mr. Marques sent copies of both.
What transpires is an alleged approval for $95,000 with first and last, and a request for the $23,000 to complete the original proposal. To produce the $23,000, reportedly Nathan Olsen suggests existing equipment be leased through a vendor friend (Note above, part of an origination fee).
May 8, 2012 from Christopher Marques:
" Nathan,
"I have chosen not to move forward with Liberty Capital due to the nature of the 'working capital' deal that you have procured. I do not believe that it is lawful to sell me my own equipment through a friend of yours to "refinance" the already owned piece. It was always portrayed to me that you were using my existing equipment as collateral. Only at the very end of the conversation was I informed of your intentions.
"Please return the deposit of 7700.00 to me for the original deal for 'new equipment.' I understand that this deal is separate from the working capital portion, but I am now uncomfortable working with your company knowing that your dealings are not always forthcoming."
Chris Marques
May 24, 2012 Leasing News contacted Mr. Olsen, requesting the $7700 be returned on two points: (1) the original May 28, 2012 proposal was not was not completed as only $7700 was provided, as well as (2) Mr. Marques is requesting the fee not be returned as no lease was provided for the dollar amount and terms as per the proposal signed by Mr. Marques."
Mr. Olsen responded:
"Not sure I can agree with you on either point though I respect your opinion Kit, always a pleasure to hear from you."
Nathan
Nathan Olsen was involved in a Bulletin Board Complaint with iFinancial Group dated August, 22, 2011 as the originating party to the lease that was sent to iFinancial.

Who is Nathan Olsen at Liberty Capital:

Olsen identifies himself in LinkedIn as a "commercial loan officer," Liberty Capital, April, 1998 to present (the incorporation shows Liberty Capital was formed 5/30/2010---see below); prior regional operations, Santa Barbara, Wells Fargo Bank, April, 1994-July, 1998 and a college graduate in economics, financing, and accounting at the University of California, Santa Barbara (1994-1998). (Leasing News was unable to obtain information from Wells Fargo Human Resource Department or the UC Santa Barbara Alumni Division). http://www.linkedin.com/profile/view?id=84661423&locale=en_US&trk=tyah2 )
Liberty Capital, LCC is not listed as a California Finance Lender; another reason the $7,700 should be return.
There was no comment regarding the following information sent to Mr. Olsen: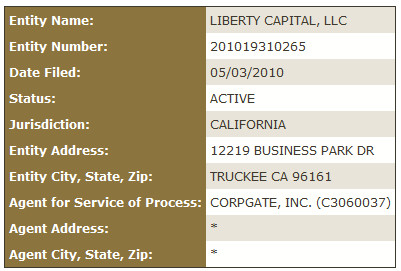 Liberty Capital, LLC was incorporated 5/03/2010 in Truckee, California with Darrell Olsen. He also owns Darrel Olsen Insurance which is located at the same address where Liberty Capital LLC is listed in the Corp. Database. Here is the insurance listing and phone number:
http://www.insuranceproviders.com/agents/olsen-darrel-olsen-insurance-truckee
It also appears Nathan Olsen had a company called Green Turtle Corp. which was "Suspended" and perhaps why he does not have a Finance Lender's License in California nor the corporation in his name.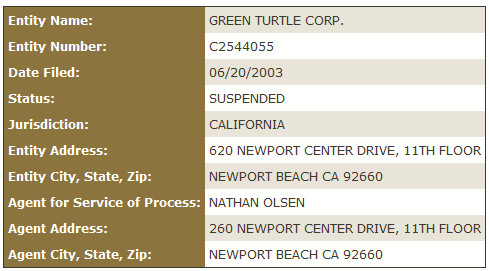 Suspended or Forfeited: The business entity's powers, rights and privileges were suspended or forfeited in California 1) by the Franchise Tax Board for failure to file a return and/or failure to pay taxes, penalties, or interest; and/or 2) by the Secretary of State for failure to file the required Statement of Information and, if applicable, the required Statement by Common Interest Development Association. Information regarding the type of suspension can be obtained by ordering a status report. For information on ordering a status report, refer to Information Requests.

Liberty Capital Marques Countertops Proposal
http://leasingnews.org/PDF/LibertyCapitalMarquesCountertopsProposal.pdf
iFinancial Bulletin Board Complaint
http://leasingnews.org/archives/Aug2011/8_22.htm#ifinancial
John Kenny Receivables Management

• End of Lease Negotiations & Enforcement • Fraud Investigations
• Credit Investigations • Asset Searches
• Skip-tracing • Third-party Commercial Collections

john@jkrmdirect.com | ph 315-866-1167| www.jkrmdirect.com
(Leasing News provides this ad as a trade for investigations
and background information provided by John Kenny)
[headlines]
--------------------------------------------------------------


Classified Ads---Sales Manager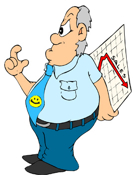 (These ads are "free" to those seeking employment or looking
to improve their position)
Fort Myers, Florida
Very experienced and strong skills with both Captive and Specialty Sales Management. Over 25 years , will relocate and travel---successful and team player.
e-mail: tlinspections@gmail.com
Free Posting for those seeking employment in Leasing:
http://www.leasingnews.org/Classified/Jwanted/Jwanted-post.htm
All "free" categories "job wanted" ads:http://www.leasingnews.org/Classified/Jwanted/Jwanted.htm
[headlines]
--------------------------------------------------------------
My Visit to Facebook, Menlo Park, California
By Christopher Menkin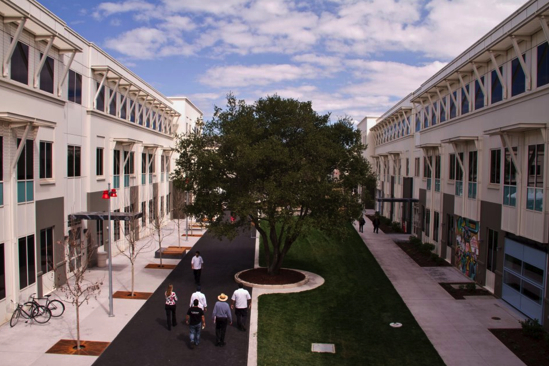 (Photo: Facebook Campus)

You take the Willow Street exit off Highway 101 right on the freeway at the border between Santa Clara County and San Mateo County. You meander through East Palo Alto, some old time places, until Menlo Park where there are more modern stores and appearances--drive straight until the road ends at the Bayshore.
To readers not familiar with the San Francisco Peninsula, it is 31 miles south from where my best friend's eldest son lives in San Francisco, around 45 minutes, including the walk to the Facebook shuttle that picks up employees in his area. The shuttle is a modern bus that has Wi-Fi and other amenities.
I was surprised to learn Facebook prefers you not to work at home, so the trip to work in the morning is getting ready, he says. He really looks forward to the commute. He even likes to come in early, work out at the gym, take a shower, and be ready to go all day with a lot of energy.
The Menlo Park Facebook Facility was formerly Sun Microsystems, their major site on the San Francisco Peninsula; ironically not far from the headquarters of Oracle, who purchased the company. The layout reminds me of a college campus with many bicycles around for employees to ride as the promenade is very long, at least six or seven football fields, maybe longer, well planted with trees and open space. There are murals, paintings, and it really looks like a fun place to work.
Everyone dresses as if they are at home, meaning no ties, no white shirts, and looking very young (which most are). Don't get me wrong, they are clean cut, attractive, but to a guy who wore a suit with tie to work for almost 30 years, it sure is a definite change.
Esprit de corps was very high, actually people laughing and smiling, enjoying each company as they were walking to where they wanted to go. All for free: a Mexican place (burritos/tacos), a BBQ joint (ribs, pulled pork, chicken, pizza by the slice, and a place that changes menus such as having), a Japanese food or super healthy menus. All the drinks are free.
They have dry cleaners available, as well as a dentist. Gyms, as well as treadmills with a workstation on top so you could run or walk and work at the same time.
Not all the buildings are occupied, according to the Facebook Menlo Park Campus web site. Facebook has publically purchased surrounding land and as the statistics show the long term goals are 9,400 people at this location. They are seeking to get permits from the Menlo Park City Council and become the jewel of the city.
He works in the real estate department and they are involved in leases, purchasing, designing, planning, and facilities all over the world. I don't know what he does there, as he says he prefers to keep all information private. They all look very busy, and I even met a department head who was over 30 years of age. He took his father, my best friend since 1963 when we met at KFRC radio in San Francisco, on a tour and out for lunch (we had Mexican. Fresh home made chips, too.)
Security is very strong. It was funny to get the badges as the monitors of the "sign in line" show Apple, HP, and Dell labels. Now that is public relations, nothing overlooked. I also think the security men walk in pairs, and were the only ones wearing sports type jacket. All the Silicon Valley companies are very security conscious. You definitely are safe working here!
I can't tell you how much I was impressed with the "vibes" of the young people and the enjoyment they exhibit working here. It seems not only the money, the stock options, the free food, transportation, but the general sense of being part of Facebook.
I view Facebook as a worldwide television network (they have no real competition in this concept that have the number of members and ease of use, larger than CBS, NBC, and ABC combined). I think the social media has value for personal contacts, photo's, information to friends and relatives who you don't see very often or would like to see more often, as well as products for sale, promotions of events, activities. With all the other extras, it competes for not only other internet time, but radio, TV, and cable television. For businesses, you also don't have to pay to advertise, meaning you can construct your own page and build up your own following---or you can pay to advertise or promote, too. You win ether way.
Netlingo.com says "Primarily, social media depends on interactions between people as the discussion and integration of words builds shared-meaning, using technology as a conduit. Among overall online users, reading others' comments on a Web site and reading blogs are the most popular social media activities."
There seems to be generations divide between, as noted in:
Doing Business with Different Generations
http://leasingnews.org/archives/May2012/5_18.htm#generations

From what I could see at the Menlo Park Facebook campus, there are more things to come this year and several years to follow as this team is working creatively together and most important, looking very forward to going to work at Facebook each day.

Top Leasing/Finance Vendor Funders
The "Monitor Daily" in their May/June 2012 "Vendor Finance Issue" internet digital edition report:

Vendor/Dealer New Business Activity
(in millions--numbers rounded off)
$11,402 De Lage Landen Financial Services
$3,608 Banc of America Leasing
$2,982 Wells Fargo Equipment Finance
$2,577 CIT Group
$1,819 Key Equipment Finance
$1,588 U.S. Bank Finance
$1,088 PNC Equipment Finance
$691 Bank of the West
$661 TCF EF/Winthrop Resources
$525 GreatAmerican Leasing
$472 Societe Generale EF USA
$218 Marlin Leasing
$173 BMO Harris Equipment Finance
$170 Med One Capital
$170 Co-active Partners
$135 TD Equipment Finance
$133 Stearns Bank
$122 LEAF Commercial Credit
$119 People's Capital & Leasing
$111 Direct Capital
$75 Susquehanna Commercial Finance
$69 Western Equipment Finance
$65 Lease Corporation of America
$49 Somerset Capital Group
$49 Eastern Funding
While many on the list seemed to be in same category, there were some shifts. The greatest CIT Group going from ($9,733 in 2007 to $2,577 in 2011 with the vice versa of De Lage Landen going from $7,114 in 2007 to 11, 402 in 2011.

The good news is 2011 year-end totals are very close to the 2007 top total of $30,476: $29,074 for 2011.

[headlines]
--------------------------------------------------------------

Banks Continuing to Lend and also Improve Net income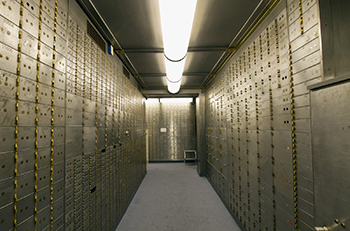 Despite the negative news that this political season is bringing to the news media, this is the 11th consecutive quarter that commercial banks and savings institutions have registered a year-over-year increase, according to the Federal Deposit Insurance Corporation. All you seem to read is news that banks aren't lending. The actual numbers prove otherwsie.
The latest shows $25.3 billion in the first quarter of 2012, a $6.6 billion improvement from the $28.8 billion in the same quarter last year.
More than two-thirds of all institutions (67.5 percent) reported improvements in their quarterly net income from a year ago. Also, the share of institutions reporting net losses for the quarter fell to 10.3 percent from 15.7 percent a year earlier. The average return on assets (ROA), a basic yardstick of profitability, rose to 1.02 percent from 0.86 percent a year ago.
Lower provisions for loan losses and higher noninterest income were responsible for most of the year-over-year improvement in earnings. First-quarter loss provisions totaled $14.3 billion, almost one-third less than the $20.9 billion that insured institutions set aside for losses in the first quarter of 2011. Net operating revenue (net interest income plus total noninterest income) totaled $169.6 billion, an increase of $5 billion (3.1 percent) from a year earlier, as gains from loan sales rose by $2.3 billion. Realized gains on investment securities and other assets were $2 billion higher than in the first quarter of 2011.
The number of "problem" institutions fell for the fourth quarter in a row. The number of "problem" institutions declined from 813 to 772. This is the smallest number of "problem" banks since year-end 2009. Total assets of "problem" institutions declined from $319 billion to $292 billion. Sixteen insured institutions failed during the first quarter. This is the smallest number of failures in a quarter since the fourth quarter of 2008, when there were 12.
The Deposit Insurance Fund (DIF) balance continued to increase. The DIF balance — the net worth of the fund — rose to $15.3 billion at March 31 from $11.8 billion at the end of 2011. Assessment revenue and fewer bank failures continued to drive growth in the fund balance. The contingent loss reserve, which covers the costs of expected failures, fell from $6.5 billion to $5.3 billion during the quarter. Estimated insured deposits grew 0.7 percent in the first quarter.
"In summary, indicators of financial strength and asset quality continued to improve in the first quarter, but the process of recovery is clearly still ongoing," Acting Chairman Gruenberg said. He added, "The improved financial condition of the industry has not yet translated into sustained loan growth. We will continue to watch this indicator closely."
Complete Quarterly Banking Profile:
http://www2.fdic.gov/qbp/?source=govdelivery
Why Choose Advanced Property Tax Compliance?


Dedicated to the leasing industry
click here to learn more.

Hear What Our Clients say about us
click here

Gary DiLillo, President 440.871.0555 or gary@avptc.com
[headlines]
--------------------------------------------------------------
Career Crossroad
—"Copier Salesman wants to get into leasing"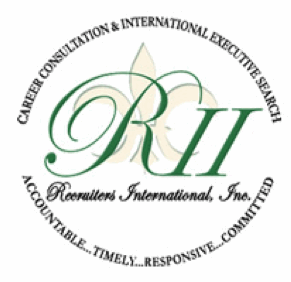 Question: I am interested in getting into the equipment leasing industry. I do not have prior industry experience, but a lot of experience in the copier industry in a sales capacity. How should I approach getting into leasing?
Answer: RII truly specializes in this industry (Equipment Leasing/Finance) and our Clients require that our Candidates have experience IN the industry. On the operational side, companies are open to Candidates that have been out of the industry (off/on) or from the commercial banking / finance world.
On the business development side, companies are ONLY interested in Candidates that are currently in the industry (or recently); 99.8% require deals and/or vendor relationships to bring.
However, since you are currently with a company in the Copier Industry, your best bet would be to approach a CAPTIVE copier company. All the manors such as HP, Canon, Konica Minolta, Epson, Dell, Lexmark, and you probably know many more have leasing department. Go on line to the HR and see if they have a position open in leasing. Your expertise in this asset class would make your background desirable to this type of organization.
However, be aware the captive niche also went through restructuring / changes over the last 3 years so there will not be an abundant amount of "openings".
When approaching of course emphasize your expertise in the copier industry and your successes.
Good luck, if you need assistance we are here to serve you, I have some further ideas! Do not hesitate to call us!
---
Readers, please note: we have openings for senior equipment leasing industry accountants, as well as leasing sales reps/teams/portfolios through the country. Our clients have excellent reputations.
Emily Fitzpatrick
Sr. Recruiter
Recruiters International, Inc.
Phone: 954-885-9241
Cell: 954-612-0567
emily@riirecruit.com
Career Crossroads Previous Columns
http://www.leasingnews.org/Conscious-Top%20Stories/crossroad.html
[headlines]
--------------------------------------------------------------
Classified Ads---Help Wanted
Leasing News Help Wanted Ad Pricing
Help Wanted Web Ad New Programs
Classified Ad Section
(rotates chronological above headlines and
also appears in Classified Ad section.) *
21 days in a row:
$595 four lines (a space is a line)
($40 each additional line or space)
Design work is free. Logo is free as well as company description not to exceed the number of lines of the ad.
Also free: click to a click to a web site or a full description of the position.
Ads are placed in the "Help Wanted' section by category, alphabetical, with the ad with the most lines first in the group. They appear on the web site and in each news edition at the top in a rotation basis per issue.
* Help Wanted" ads appear in each issue on a chronological basis above the top headline as a courtesy. This position is not available as a paid position, but is generally on a rotation basis. At the same time, the ad continues in the classified help wanted section in the news edition and web site, so in effect appears twice.
Leasing News reserves the right to refuse advertising, particularly to a company that has appeared in the complaint bulletin board
[headlines]
--------------------------------------------------------------

Leasing 102
by Mr. Terry Winders, CLP
"Mid-year Marketing Shift"
Well, how is your marketing plan for 2012 working out?
Are you meeting your guidelines?
Did you hit your first quarter goals?
Now that we are half way through the second quarter, how are you fairing?
Some I talk to are actually ahead of their marketing or business plan this year--- and some are not. To those that are ahead, I recommend a review of the booked business to determine where you success is coming from and then revise your next six month plan to consolidate and get your arms around those markets. That may mean that you will have to turn away from some markets that are providing you business. When times are good many vendors will send business to a larger group of lessors to make sure the turnaround time on decisions does not hurt, and they also have the chance to resubmit to other lessors to fund poorer credits. So look at your credit approval to book ratio, not just how many applications you received. Then backwards, look at the applications received that were turned down, and its ratio per vendor.
If you have an overflow of business, you should determine your best sources and make sure they have priority in your back office. One of the difficulties coming out of a poor marketing season into a good one is you unpreparedness to handle the back office with any great sense of urgency. Therefore if your best sources do not get priority you may lose them over time to a more aggressive competitor. Management is as necessary in good times as in bad, perhaps even more necessary in poorer times.
I like consistency, but have you ever notice going into a restaurant early and not many customers and the waiters stand around talking, making the service poor? When they are busy, the waiters are really with it, and service is much better. Look at your operation and yourself in the same manner.
You should review the new markets you have booked and make a determination if it is one you want to expand into or one that you may wish to downplay. I have always suggested increased commissions in markets you want to hold on to and reduced commissions in markets not in your plan. The time to review and consolidate is when a fair amount of business is coming in. Some lessors will just hire more help and expand expenses to handle the increased business only to find when business falls off, things will get very tight very fast. If you focus on your chosen markets and improve your service you have a better chance to remain strong in both good times and bad.
If business is slow then you need to revisit your marketing or business plan and refocus on different markets. Try and find business that leads a recovery instead of those who follow it. As an example recreation follows and transportation. Take out your book on manufactures and distributors in your area and look for those who would appear to be those who can be leaders with products that are needed to support a recovery. I would also look for sales personnel that come with markets that you would like to penetrate instead of just looking for good sales people. They may cost more but they become productive much faster. They understand the equipment and the customers, and you will be surprised how quickly they pick up on using leasing to help their vendors and clients improve their business with excellent lease performance.
It appears that the indicators are beginning to show activity so now is the time to get out there and look for business. Plus it looks like the accounting changes are still a ways off, so there are still reasons to lease that we have be have been selling ever since 1986.
Mr. Terry Winders, CLP, has been a teacher, consultant, expert witness for the leasing industry for thirty-five years and can be reached at leaseconsulting@msn.com or 502-649-0448
He invites your questions and queries.
Previous #102 Columns:
http://www.leasingnews.org/Conscious-Top%20Stories/Leasing_102/Index.htm
Mr. Terry Winders available as Expert Witness. 35 years as a professional instructor to the top equipment leasing and finance companies in the United States, author of several books, including DVD's, as well as weekly columnist to Leasing News. He also performs audits of leasing companies as an expert on documentation, and has acted as an expert witness on leasing for litigation in legal and tax disputes, including before the IRS. He also has taught the senior bank examiners, how to review a bank leasing department, for the Federal Reserve in Washington D.C. and has trained the examiners for the FDIC on how to prepare a lease portfolio for sale.
Mr. Winders received his Master of Business Administration and his Bachelor of Science degrees from the College of Notre Dame.
502.649.0488/Leaseconsulting@msn.com
(This ad is a "trade" for the writing of this column. Opinions
contained in the column are those of Mr. Terry Winders, CLP)
[headlines]
--------------------------------------------------------------
Top Stories May 22--May 24
Here are the top ten sorties opened by readers:
(1) Ten Most Expensive Cars Driven by Top Leasing Execs
http://leasingnews.org/archives/May2012/5_24.htm#cars
(2) Correction: Evergreen Legal in all 50 states
http://leasingnews.org/archives/May2012/5_22.htm#correction
(3) May 24, 2000 Archive---"damnbroker"
http://leasingnews.org/archives/May2012/5_24.htm#archive
(4) New Broker Division Opened by Forum Financial
http://leasingnews.org/archives/May2012/5_22.htm#forum
(5) Vendor Vartanian Makes Lease Fleece Plea Agreement
http://leasingnews.org/archives/May2012/5_22.htm#vendor
(6) Leasing 102 by Mr. Terry Winders, CLP
The Uniform Commercial Code (UCC) and Drafting a Lease
http://leasingnews.org/archives/May2012/5_22.htm#ucc
(7) New Hires---Promotions
http://leasingnews.org/archives/May2012/5_24.htm#hires
(8) NAELB New Officers/Congratulations/Farewells
http://leasingnews.org/archives/May2012/5_22.htm#naelb
(9) Southern California Leasing, Inc. joins
Companies who notify lessee in advance of lease expiration
and require their discounter to also notify lessee in advance
http://leasingnews.org/archives/May2012/5_24.htm#expiration
(Tie)(10) CLP Foundation Announces New Executive Director
http://leasingnews.org/archives/May2012/5_24.htm#clp
(Tie) (10) Leasing Association 2012 Conferences--Up-date
http://leasingnews.org/archives/May2012/5_24.htm#conference
((Please Click on Bulletin Board to learn more information))
(Leasing News provides this ad "gratis" as a means
to help support the growth of Lease Police)
[headlines]
--------------------------------------------------------------

Google Visits De Lage Landen Financial Services
To find out how De Lage Landen Financial Services is leading the field, Leasing News searched Google and found in their traveling vehicle photo section they had sent a team to their offices in Wayne, Pennsylvania:

Send Leasing News to a colleague.
Ask them to subscribe. We are Free!!
[headlines]
--------------------------------------------------------------

German Shorthaired Pointer
Menlo Park, California Adopt-a-Dog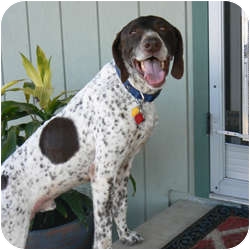 Bennett
ID#: 4156205
Breed: German Shorthaired Pointer
Color: Unknown
Age: Adult
Size: Med. 26-60 lbs (12-27 kg)
Sex: Male
"I am already neutered, housetrained, purebred, up to date with shots, good with kids, good with dogs, and good with cats."
Bennet's Story...
"Bennet's an 8-year-old male GSP who found himself in the slammer, we mean shelter. He's now safe in a foster home and is in good health. Whew! At about 50 lbs. he's on the smaller side which is nice. There are so many great things to say about Bennet. He loves people and is great with kids. He's living with four, the youngest being 6. Bennet loves to play and has plenty of energy. He loves to play fetch and will carry a stuffed toy around in his mouth. This wonderful chap is housebroken and hasn't chewed on or gotten into anything he shouldn't. Cats are a fun chase game for Bennet, but he hasn't tried to hurt the cat he's living with. He likes to be with his people and would do best in a home where someone is around much of the time. Right now he's living with three other dogs and gets along well with two of the three. The female who is in charge of the pack and Bennet don't really see eye to eye. We think he'd be best with a more submissive doggie housemate. He ignores the horses and goats and the neighbor's geese, turkeys and chickens."

Rescue Group: NorCal German Shorthaired Pointer Rescue
Pet ID #: 4156205
Phone: (408) 402-2092
Let 'em know you saw "Bennet" on Adopt-a-Pet.com!
E-mail: adopt@norcalgsprescue.org
Website: http://www.NorCalGSPrescue.org
Address: PO Box 933
Menlo Park, CA 94026


Adopt-a-Pet by Leasing Co. State/City
http://www.leasingnews.org/Conscious-Top%20Stories/Adopt_Pet.htm

Adopt a Pet
http://www.adoptapet.com/
[headlines]
--------------------------------------------------------------
Open Positions at Leasing Funders/Various Locations

(Most of the listing have "open positions." While you may find ones that do not, check back later, as they may have added an opening.)

Advantage Funding
http://www.advantagefund.com/employment.htm
AIG
http://www.aigcorporate.com/addresources/globalcareers.html
Altec
https://careers.altec.com/psc/P90HALT_APP/APPLICANT/HRMS/
c/HRS_HRAM.HRS_CE.GBL?nocrumbs=yes&
Alter Moneta
http://www.altermoneta.com/careers/opportunities.html
Atlas Copco
http://www.atlascopco.com/us/careers/openjobs/
Balboa Capital
http://www.balboacapital.com/about_us/careers.aspx
Bank of America
http://careers.bankofamerica.com/overview/overview.asp
Bank of Ozarks
https://bankozarks.applicantharbor.com/jobmainlist.php?a=m
Bank of the West
https://www.bankofthewest.com/about-us/careers/job-search.html
(type in state, and keyword leasing or category)
CIT Job Openings
http://sj.tbe.taleo.net/SJ1/ats/careers/jobSearch.jsp?org=CIT&cws=1
CSI Leasing
http://www.csileasing.com/ViewJobPostings.aspx
Data Sales
http://www.datasales.com/open_jobs.html
De Lage Landen Financial
https://tbe.taleo.net/NA4/ats/careers/jobSearch.jsp?org=DELAGELANDEN&cws=1
Direct Capital
http://tbe.taleo.net/NA2/ats/careers/jobSearch.jsp?org=DIRECTCAPITAL&cws=1
Farm Credit
http://www.farmcreditnetwork.com/careers/opportunities
Financial Pacific
http://www.finpac.com/careers.aspx
Fifth-Third Bank
https://cvg53.cvgs.net/Main/careerportal/JobAgent.cfm
GE Capital
www.ge.com/careers
GreatAmerica Leasing
http://jobs.greatamerica.com/
Hillcrest Bank
https://www.hillcrestbank.com/Careers.aspx
Home Savings Bank
http://www.home-savings-bank.com/careers.php
Huntington Bank
https://www.huntington.com/us/HNB3400.htm

Key Bank
Click here

Marlin Business Services
Key (not available at this time)
https://www.marlinleasing.com/Careers/joblisting.html?location=all
Madi$on Capital
http://www.madisoncapital.com/employment.php?expandable=3&subexpandable=5
Meridian Bank
https://www.meridianbank.com/careers.html
Microfinancial/Timepayment
http://www.hirebridge.com/jobseeker2/Searchjobresults.asp?cid=5224
Northern California Farm Credit (office listings)
http://www.norcalfc.com/locations.html
People's United Bank
https://www3.ultirecruit.com/PEO1003/JobBoard/ListJobs.aspx
PL Capital
http://www.plcapital.com/careers.asp
Prime Alliance Bank
http://www.primealliancebank.com/home/careers
Regions Bank
https://regions.taleo.net/careersection/2/jobsearch.ftl
Republic Financial
http://tbe.taleo.net/NA8/ats/careers/jobSearch.jsp?org=REPUBLICFINANCIAL&cws=1
Sterling Bank
https://www.synovus.apply2jobs.com/ProfExt/index.cfm?fuseaction=m
External.showSearchInterface

TCF Bank
https://tcfbank.taleo.net/careersection/corporate/jobsearch.ftl?lang=en
TD Bank
https://tderec.ijob.com/recruit/servlet/com.lawson.ijob.util.Login
US Bank
(type position in blank space and/or state)
http://www.usbank.com/cgi_w/cfm/careers/careers.cfm
Wells Fargo
https://employment.wellsfargo.com/psp/PSEA/APPLICANT_NW/HRMS/c/HRS_HRAM.HRS_CE.GBL
Zions Bank
https://zionsbancorp.taleo.net/careersection/zfnbexternal/jobsearch.ftl?lang=en
Leasing News invites other employers to list their "open positions." The listing is free.
[headlines]
----------------------------------------------------------------
This Day in History
-------------------------------------------------------------

SuDoku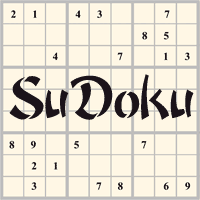 The object is to insert the numbers in the boxes to satisfy only one condition: each row, column and 3x3 box must contain the digits 1 through 9 exactly once. What could be simpler?
http://leasingnews.org/Soduku/soduko-main.htm
--------------------------------------------------------------

Daily Puzzle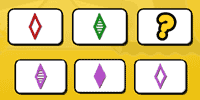 How to play:
http://www.setgame.com/set/puzzle_frame.htm
Refresh for current date:
http://www.setgame.com/set/puzzle_frame.htm
--------------------------------------------------------------


http://www.gasbuddy.com/
http://www.gasbuddy.com/GB_Map_Gas_Prices.aspx
http://www.gasbuddy.com/GB_Mobile_Instructions.aspx
--------------------------------------------------------------

Weather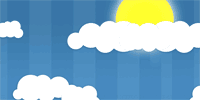 See USA map, click to specific area, no commercials
--------------------------------------------------------------

Traffic Live---
Real Time Traffic Information
You can save up to 20 different routes and check them out with one click,
or type in a new route to learn the traffic live
--------------------------------