EXTRA - EXTRA
Regular Edition follows this News
====================== Press release =====================


Allied Schwartz Arrest $87 million Fraud
United States Attorney's Office District of New Jersey Contact: (973) 645-2700

Founder and President of Allied Health Care Services Inc. Arrested, Charged with $87 Million Fraud Millions in Loans Based on Phony Medical Equipment Lease Agreements

NEWARK, NJ-The founder and president of Allied Health Care Services Inc., an Orange, N.J., durable medical equipment corporation, was charged in a criminal complaint unsealed today with fraudulently obtaining more than $87 million from banks based on phony lease agreements, U.S. Attorney Paul J. Fishman announced.

Charles K. Schwartz, 56, of Sparta, N.J., was arrested this morning by special agents of the FBI at Allied's offices in Orange. The defendant is scheduled to appear this afternoon before U.S. Magistrate Judge Madeline Cox Arleo in Newark federal court.

According to the complaint filed in this case, from at least 2002 through July 2010, Schwartz obtained more than $87 million in loans through Allied by telling banks that the money would be used to lease valuable medical equipment. In reality, the purported medical equipment supplier did not provide Schwartz and Allied with any equipment during that time. Instead, Schwartz and the "supplier" created phony invoices that appeared to reflect legitimate transactions.

As part of the scheme, Schwartz approached various financial institutions and informed them that Allied needed to lease particular medical equipment. Using the phony invoices from the "supplier," Schwartz convinced the financial institutions to enter into leasing arrangements. According to these arrangements, the financial institutions purchased the medical equipment-which they immediately leased to Schwartz and Allied-and sent payment for the medical equipment to the purported supplier. The "supplier" then sent the money received from the financial institutions (minus his 3 to 5 percent payment) to an entity created by Schwartz to facilitate the fraud.

Schwartz used the money, among other things, to repay earlier bank loans that were a part of the scheme. By August 2010, several financial institutions from which Schwartz had obtained loans filed lawsuits against Schwartz and Allied-claiming he owed them at least $20 million.

Schwartz and the medical equipment "supplier" undertook efforts throughout the scheme to evade questioning from bank examiners who sought at various times to inspect the non-existent medical equipment, which technically belonged to the financial institutions. At one point during an August 2010 conversation between Schwartz and the purported supplier, Schwartz commented that the financial institutions had fallen "hook, line, and sinker" for the false explanation they had given to bank examiners who asked why the purported supplier used his home address on certain invoices.

"Schwartz allegedly tried to capitalize on the public's real need for lifesaving medical equipment by convincing financial institutions to lend him money for equipment that didn't actually exist," U.S. Attorney Fishman stated. "This case is yet another example of our office's commitment to investigating and prosecuting health care and financial institution fraud."

"The financial losses in this case are staggering," said Michael B. Ward, special agent in charge of the FBI's Newark Division. "Based upon the amount and extent of alleged fraud with which Schwartz is accused, it appears he was determined to steal as much money as he could, as fast as he could. I commend the special agents and prosecutors who worked so diligently to bring this matter to justice."

The criminal complaint charges Schwartz with one count of mail fraud. If convicted, he faces a maximum potential penalty of 20 years in prison and a fine of $250,000, or twice the gross gain or loss from the offense.

U.S. Attorney Fishman credited special agents of the FBI, under the direction of Special Agent in Charge Michael B. Ward, for the investigation. He added that the investigation is continuing.

The government is represented by Assistant U.S. Attorneys Jacob T. Elberg and Joseph Mack of the U.S. Attorney's Office Health Care and Government Fraud Unit in Newark. The charge and allegations contained in the complaint are merely accusations, and the defendant is considered innocent unless and until proven guilty.

DOW JONES NEWSWIRES

The Federal Bureau of Investigation arrested the founder and president of a New Jersey durable medical-equipment company for allegedly getting more than $87 million from banks based on phony lease agreements. Charles K. Schwartz, 56, of Sparta, N.J., is scheduled to appear in federal court Thursday afternoon. He is alleged to have obtained the money from at least 2002 through this past July, telling lenders the money would be used to lease medical equipment from a medical-equipment provider. But federal prosecutors allege that company wasn't providing any equipment to Allied Health Care Services Inc., Schwartz's company, during the time in question.

Prosecutors also contend the money obtained from the banks was used to pay down Allied's bank loans, after the supposed supplier received 3% to 5% of the bank financing. A number of banks have sued Schwartz and his company, saying they were owed at least $20 million. Michael B. Ward, special agent in charge of the FBI's Newark, N.J., division. "Based upon the amount and extent of alleged fraud with which Schwartz is accused, it appears he was determined to steal as much money as he could." If convicted of the single count of mail fraud currently pending against him, Schwartz faces up to 20 years in prison and a fine of $250,000, or twice the gross gain or loss from the offense.

Schwartz's attorney wasn't immediately available for comment.


Creditors are meeting in New Jersey to speed up the Bankruptcy 7 hearing today. Story plus previous articles: http://leasingnews.org/archives/Aug2010/8_30.htm#judge

Territory Managers
Originate FMV leases for IT/Communication equipment.
10+ years direct origination required.
For more info, click here

Wednesday, September 1, 2010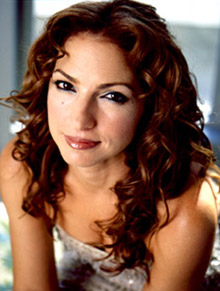 Headlines---
Editorial
Bring Back the Investment Tax Credit
Classified Ads---Legal
FDIC Consent Order to Main Street Bank
Broker Referral Exchange
by Rosanne Wilson, CLP
New Hires---Promotions
Classified Ads---Help Wanted
Letters---We get Email!
Take Friday Off
by Mark Cenedella
Fernando's View: Labor Day Special
Tim Cetto partners w/Mintaka Financial
2010 Edition of CLP Handbook Release
Columbus, Ohio--Adopt-a-Dog
News Briefs---
Hurricane forces evacuations East Coast
FDIC: Bank Profits up, bad loans down
Golfer's swing sparks 25-acre CA blaze
You May have Missed---
California Nuts Brief---
"Gimme that Wine"
This Day in American History
Baseball Poem
SuDoku
Daily Puzzle
GasBuddy
Weather, USA or specific area
Traffic Live----

######## surrounding the article denotes it is a "press release" and was not written by Leasing News nor information verified, but from the source noted. When an article is signed by the writer, it is considered a "by line." It reflects the opinion and research of the writer. It is considered "bias" as it is the writer's viewpoint.

[headlines]
--------------------------------------------------------------


Incorporated May 21,2000

---

Editorial

Lawrence C. Menkin, Publisher
*
Christopher Menkin, Executive Editor

Chairman, Advisory Board

Bob Teichman, CLP

Teichman Financial Training, Sausalito, CA.

Advisory Board

Edward Castagna

Nassau Asset Management, Westbury, NY.

Steve Crane, CLP

Bank of the West, Walnut Creek, CA.

Endeavor Financial Services, Costa Mesa , CA

Phil Dushey

Global Financial Services, Manhattan, NY.

Ken Greene, Esq.

Universal City / Kentfield, California

Shawn D. Halladay

The Alta Group, Salt Lake City, UT

Robert S. Kieve

Empire Bradcasting, San Jose, CA.

Bruce Kropschot

Kropschot Financial Services, The Villages, FL.

Bruce Lurie

Douglas-Guardian Services Corp., Houson, TX.

Andrew Lea, M.A.

Point Richmond, Calif.

Allan Levine

Madison Capital, LLC., Owings Mills, MD

Don Myerson

BSB Leasing, Colorado,Hawaii

Armon L. Mills, CPA

San Diego Business Journal, San Diego, CA.

Dan Pulcrano

Metro Newspapers, San Jose, California

Ginny Young

former Brava Capital, Orange, CA.

Rosanne Wilson, CLP

1st Independent Leasing, Beaverton, OR.
Editorial
Bring Back the Investment Tax Credit
Instead of spending all the energy and political favors in attempts to influence the pending changes in FASB rules regarding leasing, a positive approach would be to advocate bringing back the investment tax credit (ITC) for equipment purchases, as well as for hiring new employees.
As Terry Winders, CLP, wrote in Monday's Leasing News:
"The real problem with changing their minds comes from the international nature of the changes and the fact that most countries involved in leasing will now all be using the same accounting rules. That means that any changes in this proposal must have international backing and there does not seem to be any movement in that direction."
To get the economy going again, moving forward, the ITC is an incentive for small business to get back into the game. It was the alleged abuse of the ITC that brought its downfall, but now with all debt being exposed on a balance sheet, it should be different picture.
The FASB changes will bring transparency as well as opportunity. It can be very positive the leasing industry in the long run.
Incentives are needed that produce growth with modern, innovative equipment to make US industry more productive and competitive, plus will help introduce new innovative software and equipment. It has always been Yankee ingenuity that built this country, not cheaper labor.
If we can get small business buying again, most will finance or lease it! Many may also try "operating leases," where the Equipment Finance and Leasing Foundation says only 9% did the previous year, mostly large leases. Maybe it will be more "operating leases" for both middle and small marketplace. More turnover of equipment and software, too.
Getting back to this FASB change scare, as an investor in a company or a creditor wanting to grant credit, don't you want to see all debt. It is one of the main things that go the mortgage industry in trouble, transparency that leads to greed and credit approvals due to the manner of what was the real debt! The new changes may indeed benefit small business and the entire business community, including banks and leasing companies and investors.

ABOUT the ITC

One of the most important of the aspects is that it applies to American made equipment. While bonus depreciation has its value, it does not promote American manufacturing or its products, including software.
The Investment Tax Credit has ranged from 5% to 7% to 10% of the equipment or software cost off income tax. It will help create more real "operating leases" as well as more write-off for business.
The ITC was enacted as RA62 by then President John F. Kennedy, who was advocating the credit to stimulate capital formation. He believed higher levels of capital formation would raise productivity, keep people employed, and alleviate a serious balance of payments problem at the time in 1962.
Congress agreed "to encourage modernization and expansion of the Nation's productive facilities and thereby improve the economic potential of the country, with resultant increase in job opportunities and betterment of our competitive position in the world economy" [U.S. Congress, Senate, Committee on Finance, 1962, p. 11]. In 1966, President Johnson moved for its removal to combat inflation. ITC and accelerated depreciation on real property were temporarily suspended from October 10, 1966 to December 31, 1967. Inflation appeared again and the ITC was abolished from 1969-1971.
The revenue act of 1971 was to stimulate the economy as there was high unemployment, inflation, and little growth. In 1975 unemployment was quite high. The Tax Reduction Act of 1975 increased ITC from 7% to 10% for qualified property acquired before January 1, 1977. Once again, Congress believed that the increase in the tax credit would create more jobs, increase productivity, reduce inflation, and improve the U.S. balance of payments [U.S. Congress, House, Committee on Ways and Means, 1975, pp. 7-111.
Under President Ronald Reagan (1981–1989) came the Accelerated Cost Recovery System (ACRS) in 1981. The debates were on about useful life and depreciation. Other changes were made.
The Tax Reform Act of 1986 The Tax Reform Act of 1986 (TRA86) abolished the ITC. Then came more "tweaking" to ACRS and MACRS and instead of the tax laws becoming more simple, they became quite complex, and the removal of many items were not tax increases, but deductions eliminating as everyone was fearful of raising taxes. In reality, it was raising taxes by eliminating deductions.
Ranking Senator Russell Long summed it all up in the famous line "Don't tax you, don't tax me. Tax that fellow behind the tree."
Also while we are it, let's bring back the tax incentive for business to take a client out to lunch. So what, if it is abused once and a while. The restaurant trade will love you. And while you are at it, let consumers deduct interest rates on credit cards. Remember when we had that ability, but it was taken away!!!
The credit card companies have a right to interest for their risk, and certainly we all wait the best rate we can get, but more importantly, let us write off the credit card interest.
More important, Congress should get small business wanting to acquire modern equipment, as well as new employees to help serve and produce. It certainly would help the finance and leasing industry.
[headlines]
--------------------------------------------------------------

Classified Ads---Legal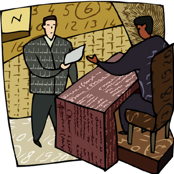 Seasoned finance attorney w/broad experience incl. vendor programs, lease doc., syndication & securitization; in-house or private, NYC, LI or willing to relocate rdusch@att.net
Resume
San Diego , CA
Experienced in-house corporate, equipment leasing and financial services attorney seeks position as managing or transactional counsel. Willing to relocate.
Cell Phone: 760-533-4058;
Email: sandidq@msn.com
Resume

For a full listing of all "job wanted" ads, please go to:
http://www.leasingnews.org/Classified/Jwanted/Jwanted.htm

Other e-Mail Posting Sites:
http://www.leasingnews.org/Classified/Posting_sites.htm
[headlines]
--------------------------------------------------------------

FDIC Consent Order to Main Street Bank


Thomas J. Depping
(Leasing News Archives)
The FDIC issued a Consent Order to Main Street Bank, Kingwood, Texas "...with the STIPULATION, the bank consented, without admitting or denying any charges of unsafe or unsound banking practices or violation of law or regulation, relating to management effectiveness, loan and lease review rating."
Perhaps the strongest consent is the replacement of Thomas Depping as CEO, as the bank is given 90 days to find:
"A Chief Executive Officer with a demonstrated ability in managing a bank of comparable size
and with experience in upgrading a low quality loan and lease portfolio.
a. Implement the provisions of this order
b. Act to restore the Bank to a safe and sound condition; and
c. Act as the "principal executive officer" of the Bank under Texas Financial Code 33.103
and 33.106"
Leasing News reported May 24, 2010 "The latest FDIC report for Main Street Bank, Kingwood, Texas confirms the reduction in employees, from the closing of the leasing department entrance primarily into healthcare and the letting go of Executive-Vice President, Bob Fisher, CLP.
"It may not include the Studebaker-Worthington division. Employees went from 104 full-time employees March 31, 2009 to 81 full-time employees March 31, 2010, a loss of 23.
" It was not a "few" salesmen as Main Street Bank Chairman and CEO Thomas J. Depping, founder of Sierra Cities, originally told Leasing News." He also said in a subsequent interview the president Mike Hoffman "retired" and later confessed Bob Fisher was one of the people let go.
"What the auditors saw that they didn't like could be:
"From 3/31/09 to 3/31/10 FDIC filings:
Volatile liabilities: $39.2 million to $75.3 million
(June 30, 2010: $72.8 million)
Insider Loans: $39.2 million to $41.8 million
(June 30, 2010: 0)
Restructured loans and leases: zero to $6 million
(June 30, 2010: $6.1 million)

"But more than likely:
"Long Term Assets (5+ years: $69 million to $139 million
(June 30, 2010: $133.3 million)
Average asset: year-to-date: $310 million to $445 million
(June 30, 2010: $448.9 million)
Total Risk Capital: $284 million to $379 million."
(Total Risk weighted assets, June 30, 2010: $356.9 million)
The June 30, 2010 FDIC filing shows 80 full time employees and a tier 1 of 12.04%. The bank had a $593,000 loss June 30,2009 but a profit of $2.6 million June 30, 2010 with non-current loans with non-current loans at $1.9 million compared to the previous year of $1.4, charge offs $2.2 million ($2.1 in commercial loans and $1.4 million in lease receivables)) compared to $1.7 million last period (lease receivables: $1.39 million. Cash was almost up $60 million from the previous period to $455.6 million. (note: cash from other institutions went from $23.1 million June 30, 2009 to $86 million June 30, 2010)
The FDIC consent agreement has stipulation such as coming up with a strategic plan within 60 days with details about asset management, quality, and a full list of requirements to be reviewed by the board and the commissioner as well as not increase any category more than 5% in the next three month period, requiring a 12% Tier 1 "after allowance for loans and lease losses," capital ratio more than 14% by March 31, 2011, with an increased capital plan to be implemented. This is a brief synopsis of the 25 page consent order which appears below:
FDIC Consent Order:
http://www.fdic.gov/bank/individual/enforcement/2010-07-28.pdf
Leasing News pdf:
http://leasingnews.org/PDF/fdic_mainstreet.pdf

Copy of June 30, 2010 2nd Quarter available here
(Type in: Main Street Bank, Kingwood, Texas):
http://www2.fdic.gov/idasp/main.asp
Current Previous Stories:
http://www.leasingnews.org/Conscious-Top%20Stories/mainstreet_bank.html

[headlines]
--------------------------------------------------------------

Broker Referral Exchange
by Rosanne Wilson, CLP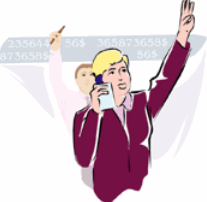 A group of us who belong to the National Association of Equipment Leasing Broker Association have started a "Referral Exchange." It is an effort to help our broker community survive. There are many of our brokers, especially the seasoned ones, who have specialty funders or community banks they use. These programs are generally in certain geographic areas of the country, but not always. We call these specialty funders "pocket lenders".

I for example, have 2 pocket lenders that I use. One is a Regional Lessor that does deals in 50 states and the other is a community bank that does deals in 13 states. They are not members of NAELB, but I have been using them for years. Their unique programs include a looser credit window and they also do customers who are only 3 years in business as opposed to 5 yrs in business like everyone else wants. They will take credit scores down to 660 instead of the usual 700.
So with the Broker Referral program, I can post a short profile of my pocket funder(s), but the name of the funder is redacted. It will appear on our special web page created for the Referral program and the person to contact is Rosanne@1stindependentleasing.com. So a broker who is looking for a funder on a certain type of transaction can see the profile of what my pocket lenders do and if the deal fits the parameters, they can submit their deal to me and we split the commission.
There is a document that we call the Memorandum of Understanding which is basically a Non-Circumvent agreement that both brokers have to abide by it. If another broker brings me a deal and I get it approved, I can never solicit their lessee or vendor. Likewise the originating broker can never go direct to my funder.
It is easy to submit. The Broker Referral Program is right on our Home Page (www.naelb.org) over on the right. Keep in mind this is NOT an NAELB sanctioned program, but is being offered up as another service we are bringing to our brokers. It is the brainchild of several board members who helped put this together. It is going to really help others get more deals done.

Rosanne Wilson, CLP
1st Independent Leasing, Inc.
3800 SW Cedar Hills Blvd., Suite 165
Beaverton, OR 97005
(800) 926-0851 or Fax: (503) 626-1631
"It's the Lease We Can Do"
www.1stindependentleasing.com

Sample "Broker Referral:"
http://leasingnews.org/PDF/Broker_Referral_Program.pdf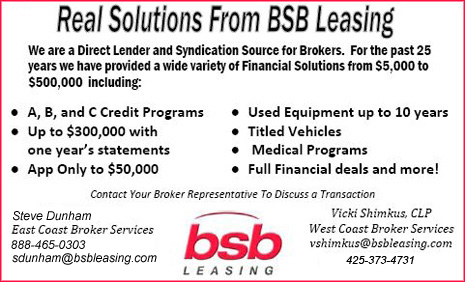 [headlines]
--------------------------------------------------------------

New Hires---Promotions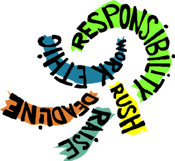 Brian Barber promoted to the position of senior vice president, sales, LeasePlan USA, Alpharetta, Georgia, global leader in vehicle leasing and fleet management solutions. For the last four years he has served as four years as national vice president, client services with an overall client activation satisfaction rating of nearly 97%. Previously he was with US Fleet Leasing, CitiCapital Fleet and CitiCapital Relocation Inc. He has a bachelor's degree, Business Management University of Missouri at Kansas City.
http://www.zoominfo.com/people/Barber_Brian_94675809.aspx

Mark Brewer was named chief credit officer for Key Equipment Finance, Superior, Colorado, lease advisory and syndications group. Previously he was a managing partner at Union Creek Partners in Atlanta, Georgia. Prior he was Vice President - Business Development at Prudential Capital Group, Vice President at GMAC Commercial Finance, Vice President at Fremont General Corporation, Vice President at FINOVA Capital Corporation, Principal/Consultant at Brewer & Associates. He graduated from Lindenwood University.
http://www.linkedin.com/in/marksbrewer

Edward B. Connolly appointed senior business training manager for Key Equipment Finance, Superior, Colorado. He previously was a lead performance consultant and lead instructional designer for Qwest Communications. Prior he was a training and development manager for TCF Financial, which followed positions as a training consultant for Drake Beam Morin and manager of experiential training and development for Hands On Resources LLC.
Connolly is a faculty member of the University of Colorado at Boulder, where he has instructed the "Leadership for the 21st Century" course. He has a bachelor's degree in environmental management from the University of Rhode Island and a master's degree in organizational leadership from Regis University.
Thomas N. Doughty has joined Key Equipment Finance, Superior, Colorado as director of major markets team. He most recently worked as a consultant advising Fortune 500 companies on vehicle, aircraft and construction equipment financing. Previously, he was a director of loan sales for The Debt EXCHANGE, which followed 18 years at CitiGroup/CitiCapital, where he was senior vice president, sales. Before that, he held various positions at General Equipment Leasing Company and Borg Warner Acceptance Corp. Doughty has a bachelor's degree in accounting and an MBA from Ball State University.


Paul Hackett joined U.S. Bank Equipment Finance, Portland, Oregon, as account manager for its technology finance group, responsible for financing solutions to middle market clients in the Northeast. He previously served as financial account manager with Hewlett-Packard Financial Services. Prior, he spent nine years as vice president with ORIX Financial Services, before this as a leasing account executive with OCAI. He holds a B.S. in Management from Manhattan College in Riverdale, New York. He is a 7x Ironman triathlon finisher (IM Lake Placid 5x, IM Wisconsin & IM Canada '05)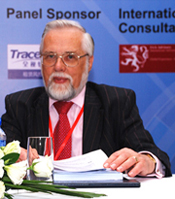 Alan Leesmith has been appointed as a Director with responsibility for International Business for IAA-Advisory. He joins from The Alta Group which is a Business partner of IAA-Advisory and where Alan has been a Principal of the European region. Alan started his leasing career in vendor leasing as the Finance Director of a UK leasing company. Following various mergers he progressed to Group Treasurer and then Managing Director of what became the UK's leading independent leasing company. He led the company to a full listing on the London Stock Exchange, undertook the UK's first AAA rated small ticket securitization and raised some of the largest syndicated facilities of their kind in the London market.
Having held over 60 directorships over his career, including President of a US company, Chairman of an Australian company and Deputy Chairman of a European group of leasing companies he is experienced in quoted company and M&A transactions.
Alan is Chairman of an Australian company which arranges and administers insurance programs for finance companies and equipment providers. He has been travelling to Australia and the Far East in this capacity since before the turn of the century and as a result has established extensive connections in those regions. Subsequently Alan joined The Alta Group in 2003. Alan is also the Secretary of The Forum of Manufacturer's Sales Finance Companies Limited which is a Trade Association administered jointly by IAA-Advisory and The Alta Group. He is a Fellow of the Institute of Chartered Accountants in England & Wales and a Fellow of the Association of Corporate Treasurers.
Derek Soper, Chairman of IAA-Advisory, said "We are delighted to have Alan on Board as part of the new Team. His depth of experience, success in his chosen markets and his extensive network in the industry fits in exactly with what we believe is the basis for success in a changing market."
Tamara McCourt was hired as Director of Operations for Five Points Capital, San Diego, California. She was the Western Region Credit Manager at Pentech Financial Services where she and her team had responsibility for all accounts west of the Great Lakes. Prior to Pentech, she spent almost four-years as Credit Manager for Pinnacle Business Finance Tamara started her career in the leasing industry in 1992 where she worked a variety of positions from credit, sales support, administration, documentation, and sales for Cascade Leasing Company and The Money Source. Tamara has also been an entrepreneur, owing her own company, The Virtual Credit Manager, which provided a variety of business services to small business owners.
Greg Wells, Five Point Capital's recently named CEO and President stated, "We're delighted to bring Tamara aboard. Her experience, skills and rich background in credit and with the leasing industry in general, will help ensure we are well positioned now and in the future to be a trusted, efficient and valued resource for our clients as well as to our funding partners". Additionally Wells stated "Tamara's experience in building credit models, underwriting larger lease transactions and vendor experience will add significant expertise and experience to our company and to our team members as we take steps to enter these markets".
Tamara earned her Certified Leasing Professional (CLP) designation in 2004 and has served as a proctor in administrating the CLP exam for the past year and is a member of the CLP education committee.
Additionally Tamara received her Certified Credit Executive certification in 2001 from the National Association of Credit Management and went on to graduate from the NACM's Graduate School of Credit & Financial Management at Dartmouth in 2005. She also has a B.S. degree in Business Management from the University of Phoenix.

Greg Michels was hired by Huntington Bank, Columbus, Ohio as a syndications officer for the equipment finance division. He previously was with Texas Capital Bank, N.A., where he was vice president in charge of new business development. Prior he was vice-president, New Business Development at AIG Commercial Equipment Finance, vice-president, New Business Development at Transamerica Equipment Financial Services Corp/, Director of Asset Management LDI Corporation, VP Finance / Controller, Consolidated Industrial Truck Supply, Senior Operations Auditor Brush Wellman, Inc., Senior Accountant, Ernst & Young. He is a non-active CPA in Ohio.
http://www.linkedin.com/in/gfmichels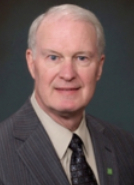 James R. Newman appointed a senior underwriter at TD Equipment Finance in Vienna, Virginia; a subsidiary of TD Bank, N.A. Prior he worked in credit management positions at Virginia Commerce Bank, LaSalle National Leasing, GE Capital, BancNew England Leasing and Citicorp Industrial Credit. After graduating from DePauw with a degree in business administration, Newman went on to earn master's degrees from Johns Hopkins University and Northern Illinois University.
Jonathan Rupprecht joins Commonwealth Capital Corp, Clearwater, Florida/Chadds Ford, Pennsylvania as Regional Vice President and Business Development Manager, Major Accounts Group. He will be based in Colorado.

Keith Smith has been promoted to Senior Vice President/Division Manager of Sterling National Bank, New York City, Equipment Finance Division. His promotion coincides with the retirement of Andrew Corsi. Before joining Sterling, Smith was Director of Sales for Siemens Financial Services, Inc. Prior to Siemens, Director of Sales, Siemens Financial Service at Siemens National Relationship Manager at Citigroup / CitiCapital, Director of Credit at Siemens AVP, Senior Credit Officer at Lakeland Bank Senior Credit Officer at Copelco-Citicapital Credit Manager at Orix Credit Alliance. Education: The College of Saint Rose, Don Bosco Prep.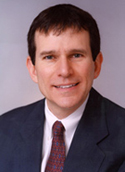 David S. Wiener joins the Alta Group, Reno, Nevada as Associate. Based in the greater Baltimore, MD, he has expertise in transaction and portfolio pricing, and negotiation execution. He has personally structured and closed more than $2 billion in volume from more than 700 transactions, in addition to managing and collaborating with capital markets staff to collectively close more than $50 billion in portfolios and transactions. He has created full capital markets syndications capabilities for three top-ten vendor leasing organizations in the U.S.
He previously was Group Head, Capital Markets & Structured Finance at LEAF Financial Corporation, Senior Vice President at GE Capital Markets, Director, Corporate Planning at Tokai Financial Services, Vice President at MNC / Maryland National Leasing Corporation, Loan Officer at Maryland National Bank. Loyola College in Maryland, Wake Forest University.
http://www.linkedin.com/in/wienerdavid
(This ad is a "trade" for the writing of this column. Opinions
contained in the column are those of Mr. Terry Winders, CLP)

[headlines]
--------------------------------------------------------------

Leasing Industry Help Wanted

Chicago, Illinois
Senior Exec. w/10 yrs discounting quality leases with Investment
Grade and Fortune 1000 credits. Must consider re-locating to Illinois, working with an independent entrepreneurial community bank.
Richard A. Burns, SVP, 312-850-1405 rburns@febank.com

Second decade of business, providing sales incentives that require a
commitment and passion for driving sales success.
www.fivepointcapital.com


Looking for experienced vendor reps. across the country.
A book of business is a plus... Our value proposition
is unmatched in the industry.
contact: mscritchfield@homecoastcapital.com

Sales Account Executives: Jacksonville, FL/Philadelphia, PA. Small ticket funder with broad funding and exceptional vendor service capabilities. E-mail resume to: garyshivers@navitaslease.com
Navitas Lease Finance Corp is an innovator in the Small Ticket Leasing Industry. We offer solutions to small-to-medium-sized businesses looking to acquire and finance equipment.

We offer great funding capacity, strong, experienced back office, keeping established vendor relationships happy. Looking for a home and have 5 years experience, contact: Jeff Rudin (818) 843-8686 x14.
About the company: Quail Equipment Leasing 17 years in business with the ability to develop specialized programs for vendors and unique industries: $10K to $24MM.



Territory Managers
Originate FMV leases for IT/Communication equipment.
10+ years direct origination required.
For more info, click here
Please see our Job Wanted section for possible new employees.
[headlines]
--------------------------------------------------------------

Letters---We get Email!

(mostly chronological)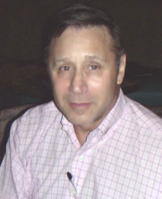 "Great job with Allied."
Allan Levine,
Chief Operating Officer
alevine@madisoncapital.com
MADI$ON CAPITAL
Equipment and Vehicle Lease Financing Solutions
9D Gwynns Mill Court
Owings Mills, MD 21117

Allied Chooses BK Attorney

"Schwartz's move of bringing his choice of an attorney into the proceedings is a mild attempt of "white-washing" the bankruptcy but in a way his acknowledgement helps everyone get to the real issues with a minimum of legal costs.
"The court and the attorneys for the creditors apparently felt that the credentials of SLFN could meet the definition of the law and did not block this motion but they certainly will be on guard. This is a "two-edged sword" for this law firm as they must maintain a fiduciary posture. Mistake not, that a bifurcation has taken place and I'm sure that Schwartz and everyone else was made aware of it. The story line is that he did all of this for his young wife who loves the horse life. He won't be the first or last of men to get in trouble this way but nevertheless he will be responsible for any prior action which was in violation of the law. This is no way close to a "face that launched a thousand ships" scenario.
"At some time down the line, SLFN may have to inform him that they are now an adversary and he best get a personal attorney. Attorney-Client Privilege could take a beating here. That will be the day he realizes that he created a monster and the company he once owned is against him. However, it still could go his way if the creditors' attorneys are not aggressive and diligent, but only time will tell."

Regards,
Bernie Boettingheimer CLP
President
Lease Police, Inc.
972-361-8111
214-549-3426-cell
www.leasepolice.com

(If the law firm in its role as trustee engages in a "conflict of interest," they certainly may be censured and the attorneys involved could lose their license to practice. But as you state, there are many heavyweight attorneys with much experience and I bet they will do the best representation they are able to provide. Editor)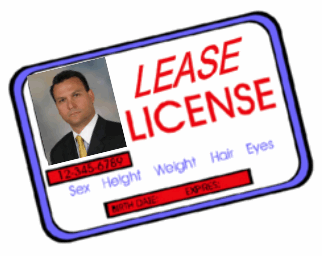 (photo on license in story about North Carolina license)
Kit – Very cute - I'm fielding a good ribbing from several leasing friends about my picture. Well deserved. It's funny!
Edward Castagna
ECastagna@nasset.com
"Please note that Len Ludwig is not a principle in Vencore Solutions, LLC at the present time and has not been for the last year. Please quit writing this in your reports since it is not accurate."

Larry Oxman
Asset Management Specialists, Inc.
Portland, Oregon
(From IFC Credit story as at one time Len Ludwig was president:
http://leasingnews.org/archives/Aug2010/8_13.htm#ifc_later )
Oliver-Allen Group Closing Larkspur, California

"On my way to work today I was thinking about all the people across the US that was in the Equipment Financing industry and out of a job.
"I want to do something. I can not help the world but can help our industry. I was thinking of a data bank of names that we could keep.
"I have office staff that could help. I just feel that we as the lucky ones that still have a job should help our own industry.
"I was even thinking that NEFA or NALEB should start a so call employee bank, but now that they are so corporate they can not make a move with out a board meeting, as we bounce back there are going to be companies starting up again and need to find people. I just feel like I can help. Any ideas?

"You have readers; I have idea's sounds like a good marriage to me!"
Barbara Griffith
President
Southern California Leasing, Inc
180 E. Main Street #204
Tustin, Ca 92780
Phone: 714-573-9804
Email: bgriffith@socalleasing.com
Website: socalleasing.com

(Many such sites already exist as well as the free Leasing News classified section:
http://www.leasingnews.org/Classified/Jwanted/Jwanted.htm
Leasing News also repeats several times a month as well is on our classified ad web site a list of all those sites for those in the financial industry who are seeking employment; many are free. Editor)
e-Mail Posting Sites:
http://www.leasingnews.org/Classified/Posting_sites.htm
Evergreen/Winter Green Lease Clause

"Today you state –
"An 'Evergreen Clause,' legal in 47 states, requires a mandatory 90 day notice to return the equipment or the evergreen clause goes into effect. Often it can be an automatic twelve month payments. This is standard on large operating leases that have a true 'fair market value," but has been abused by many in the small ticket marketplace, even on $1.00 purchase options or 10%."
I have been in leasing for over 40 years and every lease I have ever originated or bought was FMV, and most were operating leases. Our average deal size used to be from $1 to $10 million. I rarely saw a 12 month automatic extension for failure to give the 90 day notice. Almost all operating leases in this size range have a rolling 90 day termination notice. This allows for delays in installing replacement equipment. Part of the reason for this is that larger deals are done in larger companies who have competent staff to negotiate the leases. Another reason is that this rolling notice is standard in middle market leases of the size I described above. The lessors who write these leases usually have the capability to remarket the equipment.
Regards,
Tom Martin
CFI Financial Services, Inc.
One University Plaza
Hackensack, NJ07601
201-489-2600
201-489-2680fax
www.cfifinancial.com

(As stated in the article as well as your email, the problem is the small ticket abuse. Not opposed to these clauses except making it mandatory that lessees be so notified. Editor)
Evergreen/Winter Green Lease Clauses
"I would like to respond to Bob Robichaud of Commerce National Bank commentary with regard to ever famous but wrong 'Evergreen Clause'.
Bob, I have been against this for over 20 years ! I too worked for a bank that was a discount lender and it was a requirement that the assignment document included any and all end of lease options. This way the originator cannot collect any monies at the end of the lease term. You have the right to demand that the originator agree to this in their assignment. If they don't like it they can go somewhere else.
Or, even better, if you accept their paper, require them to remove this clause from the Lease document. This will alleviate any dispute between you as the assignee and the lessee. Keep in mind, you are buying the paper and have the legal right to not accept this verbiage in the Lease document.

"I agree that this is very underhanded and greedy."
Regards,
Susan M. Adamatis
Vice President / Credit
National Machine Tool Financial Corporation
Elk Grove Village, Illinois
800-669-7527 ext 1255
susana@netlease.com


((Please Click on Bulletin Board to learn more information))
(Leasing News provides this ad "gratis" as a means
to help support the growth of Lease Police)

[headlines]
--------------------------------------------------------------

Take Friday Off
by Mark Cenedella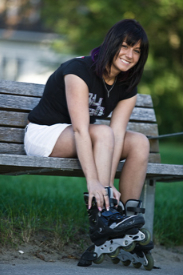 (reprinted from Monday's edition of "Finance Ladder," top employee recruitment newsletter, written by its founder and president Marc Cenedella)
It's the last Monday of August — "the dog days" of summer are coming to an end, and the new recruiting season will pick up after Labor Day. There's a rhythm to recruiting over the course of the year, and the peaks of activity are "New Year" and "Back-to-School".

After summer vacations wind down, companies begin to gear up: executives are back in the office, it's easier to schedule interviews, and the headcount required for 2011 is starting to loom on the "to do" lists of the HR department.
So next week I'm going to tell you how to get ramped up for the new season.
This week? I'm going to tell you to relax. Specifically, I'm going to ask you to take Friday off from your job hunt.
It's one of those truisms that looking for a job is a job in itself. And like any work that you do, you need to take a break in order to be refreshed, have your batteries charged, and to have the energy and drive to succeed.
As Americans, we tend to not take a balanced approach to work and life. "The business of America is business" as one president put up. We take our BlackBerries to the beach, check our email at midnight, and we do working lunches all the time. It's a pretty strenuous lifestyle.
But this week, I want you to get out of that rut. I want you to get recharged and refreshed for September. And I want you to relax.
So on Friday, please, take some time to do just that. Duck out of the office early, don't focus on the job search, don't put the finishing touches on your resume, and, yes, take a break from your activity here on The Ladders (although we'll be here for you all day — just in case).
Take a break and go do something that you love. Whether it's hitting the links, or going with the girls to see "Eat Pray Love", or just taking a run in the hills. Get out of the office and get into a good state of mind before the long weekend.
So, please, take Friday off from the job search, and make it a day to get on to a different path.
We'll be here when you get back, and we'll make it a great September... together.
OK, Readers, have a great week, er... I mean, four days, in your job search!
Marc Cenedella
marc@financeladder.com
[headlines]
--------------------------------------------------------------

Fernando's View: Labor Day Special
By Fernando F. Croce

With the Labor Day weekend just around the corner, take some time to relax from work and hit Netflix for these hilarious, often harrowing, and always inspiring cinematic odes to anyone who had to endure a hard day at the office.
Modern Times (Charles Chaplin, 1936): What better figure to celebrate work than Chaplin's legendary Little Tramp? In the comic genius' last silent film, Chaplin's unforgettable character is a harried factory worker who's driven crazy by the many machines controlling his life. A magnet for trouble, the Little Tramp goes from one scrape to another as he's mistaken for a street agitator, foils a jail break, goes through a variety of jobs, and falls for a poor, orphaned girl (Paulette Goddard). Defying contemporary Hollywood's conventions, Chaplin uses sound effects instead of voices to create a remarkable fusion of balletic humor and Depression-era desperation. The scene in which the Little Tramp plays guinea pig for a berserk feeding machine is just one of the film's classic comic highlights.
Office Space (Mike Judge, 1999): The workplace has often been subject to satire, though rarely with as much hilarious venom as in this wicked tale of cubicle stress and liberation. Peter (Ron Livingston) is a low-wattage software engineer whose job includes endless commutes, dreary co-workers, and arrogant bosses. His life takes a sudden turn when, as the result of a visit to a hypnotherapist, Peter enters a state of serene mischief that allows him to embrace his inner rebel. Asking himself "why not," he starts arriving late at work, paying less attention to his projects, and leaving early to visit his girlfriend (Jennifer Aniston). That his new attitude somehow makes him more valuable to the company is one of the many unpredictable touches in director Mike Judge's sharp cult comedy.
Norma Rae (Martin Ritt, 1979): Sally Field won her first Oscar for her strong performance in this acclaimed tale of underdog grit. Field plays Norma Rae, a tough Alabama woman who works under harsh conditions at a local textile mill. The pay is low, the shifts are long, and the machines are dangerous, yet she works diligently and without question. It's only when she meets a union leader from New York (Ron Lieberman) that she starts to demand better conditions for her and her fellow workers. Unfortunately, her struggle also brings her trouble with her friends and family, including her husband (Beau Bridges). Director Martin Ritt, a veteran of social-conscience pictures like "Hud," brings a vividly detailed sense of people and environment, along with excellent performances, to this inspiring drama.
Clerks (Kevin Smith, 1994): Writer-director Kevin Smith kicked off his distinctive take on the world with this gritty low-budget cult comedy. Taking place over one hectic Saturday in New Jersey, it follows Dante (Brian O'Halloran), who's called in on his day off to manage a small convenience store and has to deal with a laundry list of problems. There's a girlfriend who's all too ready to reveal awkward bits about her past, goofy customers, and even a friend's funeral elsewhere in the city. By his side through thick and thin is Randall (Jeff Anderson), the slacker who runs the video store next door and drops in to help Dante make it through the day. Not for the easily offended, it's a rudely funny look into the nine-to-five grind of work.
The Devil Wears Prada (David Frankel, 2006): Working at a fashion magazine may sound like every young woman's dream job, but this fluffy box-office hit shows a different side of that dream. Based on the best-selling tell-all book, the film tells the fairy-tale story of Andrea (Anne Hathaway), a naïve young New Yorker who scores the much-desired task of assisting the legendary Miranda Priestly (Meryl Streep), the city's most ruthless magazine editor. Will Andrea be able to keep up with her very demanding boss, or will the world of fashion come between her and her friends and boyfriend? Taking a page from the glamorous old comedies of Audrey Hepburn, David Frankel directs a terrific cast (which also includes Stanley Tucci and Emily Blunt) in a frothy, enjoyable portrait of high-maintenance office work.
[headlines]
--------------------------------------------------------------

### Press Release ############################

Tim Cetto of Full Circle, LLC, partners with Mintaka Financial LLC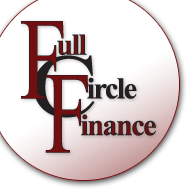 Gig Harbor WA, Mintaka Financial LLC, announces Full Circle, LLC, of Wenatchee, WA, has invested in Mintaka Financial LLC, joining with four other independent commercial finance firms as an equity stakeholder and service outlet for this small business specialty finance company.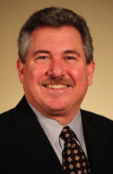 David T. Schaefer, founder and President of Mintaka Financial
"Mintaka is enthusiastic about working with Full Circle Finance, continuing to grow our small business credit service network across the country," said David T. Schaefer, founder and President of Mintaka Financial. "Tim Cetto and his team at Full Circle are exceptional at working with small business owners to find the best credit solutions for their business" said David T. Schaefer, founder and President of Mintaka Financial.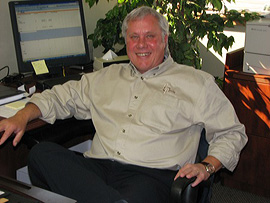 Tim Cetto, President, Full Circle
"Full Circle Finance believes that small business lending is a relationship business, based on more than just a credit score," said Tim Cetto, president of Full Circle. "The Mintaka program reflects this point of view and substantially enhances our ability to serve the credit needs of our small business clients, enabling them to grow and provide more jobs in their communities"
Full Circle, LLC was established in Wenatchee, Washington in 2009 by Tim Cetto, who has enjoyed over 30 years of success, providing small businesses with financing solutions. Full Circle distinguishes itself by taking the time to understand their clients' business needs and long-term goals before choosing the best solution from a variety of credit options, including equipment loans and leases, working capital loans, accounts receivable financing and credit card advances. More information about Full Circle can be found at www.fullcirclellc.us.
Mintaka Financial LLC, located in Gig Harbor WA, was established in December 2004, as a commercial finance company specializing in serving the needs of small businesses across the United States. Mintaka provides equipment leases and loans, originated through a limited group of independent small business finance companies that share ownership in Mintaka. These companies are specialists in small business credit service, selected to participate in the Mintaka program based on their experience and reputation in the industry, and their dedication to building long term relationships with their small business clients. To learn more about Mintaka, please call 888-705-8778, ext. 1097.
#### Press Release #############################

***********Announcement*********************************
2010 Edition of CLP Handbook Release Oct. 1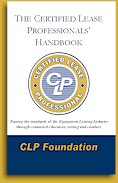 The CLP Foundation announces the 2010 Edition of the CLP Handbook has been sent to the publisher and will be available for purchase at www.clpfoundation.org beginning October 1st.

The new edition includes updated chapters on History, Classification and Terminology, Sales and Marketing, Law and Documentation, Collections, Asset Management and Lease Pricing as well as new chapters on Insurance, Agriculture and Advanced Lease Pricing.
Handbooks purchased in the last 12 months are immediately eligible for upgrade to the 2010 Edition for $9.99 plus shipping. Prior copies are eligible for the "Handbook Trade Up Program". List price for the December 29, 2009 was $59.95.
The CLP Certification Program is the standard of excellence in the equipment leasing and finance sectors in the United States and across the globe. To learn more visit: www.clpfoundation.org
CONTACT: Cindy Spurdle (610) 687-0213 cindy@clpfoundation.org

Institute for Leasing Professionals - September 14th and 15th - Bellevue, Washington presented by the National Equipment Finance Association and hosted by Great American Insurance

$395 per person for 2 full days of instruction
Attendees will receive a $20 voucher for use toward the CLP Handbook or application for CLP Certification.
************Announcement********************************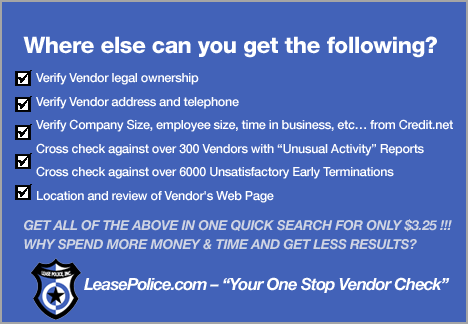 [headlines]
--------------------------------------------------------------

Columbus, Ohio ---Adopt a Dog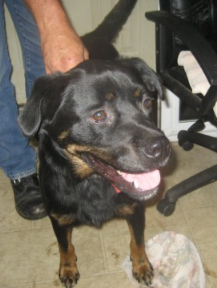 Chance

Breed: Rott/Beagle Mix
* Sex: Female
* Age: 11 months
"This is Chance. She is a very sweet and loving 11 month old Rottweiler/beagle mix. She is housebroken and gets along well with other dogs. Please contact Mike for more information at 937-497-7387 or 937-622-0679 for more information."

Contact:
http://adoptpetrescue.org/contactus.php
http://adoptpetrescue.org/about_us.php


Adopt-a-Pet by Leasing Co. State/City
http://www.leasingnews.org/Conscious-Top%20Stories/Adopt_Pet.htm

Adopt a Pet
http://www.adoptapet.com/


[headlines]
---------------------------------------------------------------



News Briefs ---

Hurricane Earl forces evacuations along East Coast
http://www.usatoday.com/weather/storms/hurricanes/2010-08-31-hurricane-earl_N.htm
FDIC: Profits up, bad loans down in 2nd quarter at banks
http://www.usatoday.com/money/industries/banking/2010-08-31-bank-profit_N.htm
Golfer's swing sparks 25-acre California blaze
http://sports.yahoo.com/golf/blog/devil_ball_golf/post/Golfer-s-swing-sparks-25-acre-California-blaze?urn=golf-266447



You May have Missed---
Wealthy lawmakers' fortunes grow, despite bad economy
http://content.usatoday.com/communities/onpolitics/post/2010/08/wealth-congress-recession/1


California Nuts Briefs---

California Budget plans fall short
http://blogs.sacbee.com/capitolalertlatest/2010/08/budget-plans-fall-short.html


"Gimme that Wine"

Freeing Muscadet from a Pigeonhole
http://events.nytimes.com/2010/09/01/dining/reviews/01wine.html?ref=dining
Sonoma Valley Wine Auction coming this weekend
http://www.pressdemocrat.com/article/20100831/LIFESTYLE/100839927/1309
Highest-Priced Wines Grow Fastest
http://www.winesandvines.com/template.cfm?section=news&content=78005&htitle=Highest-Priced%20Wines%20Grow%20Fastest

Seeking to Define Natural Wine
http://palatepress.com/2010/08/seeking-to-define-natural-wine/
Free Mobile Wine Program
http://leasingnews.org/archives/Feb2010/2_26.htm#mobile
Wine Prices by vintage
http://www.winezap.com
http://www.wine-searcher.com/
US/International Wine Events
http://www.localwineevents.com/
Winery Atlas
http://www.carterhouse.com/atlas/\
Leasing News Wine & Spirits Page
http://two.leasingnews.org/Recommendations/wnensprts.htm
[headlines]
----------------------------------------------------------------
This Day in American History
1676 - Nathaniel Bacon led an uprising against English Governor William Berkeley at Jamestown, Virginia, resulting in the settlement being burned to the ground. Bacon's Rebellion came in response to the governor's repeated refusal to defend the colonists against the Indians.
1772-- Mission San Luis Obispo de Tolosa forms in California, the fifth mission established by Father Junipero Serra.
http://www.missionsanluisobispo.org/history.html
1773--Phillis Wheatley's Poems on Various Subjects, Religious and Moral was published in London England. Wheatley's collection was the first volume of poetry by an African-American poet to be published. Often called the "Black Prodigy," she was approximately twenty-one at the time. http://memory.loc.gov/ammem/today/sep01.html
1791-Birthday of Lydia Sigourney, U.S. writer of more than 67 books and a thousand articles. Recognized as one of the most popular writers of her day, much of her work was concerned with the womanly morals of the day. Before her marriage she ran a school in Hartford, Connecticut, only writing seriously after her husband's business crumbled. Known as the "Sweet Singer from Hartford," her poems were much sought after by many national publications making her one of the most popular poets of her day.
1807-Aaron Burr was acquitted of treasons by a circuit court in Richmond, VA., on the grounds that he was not present when an overt act was committed. Pres. Thomas Jefferson, having been warned of Burr's activities with respect to annexation of Spanish territory, had issued a warning on November 27, 1806, to all citizens forbidding any expedition against Spanish territory. Burr had been arrested in Alabama on February 19 and indicted on June 24 on charges of treason.
1819- Revolutionizing farming, the first plow with interchangeable parts was patented by John Jethro Wood of Poplar Ridge, NY. His plow substituted cast iron for the wooden moldboard, landside, and standard.
1836--- A wagon train of Presbyterian missionaries, led by pioneer missionary Dr. Marcus Whitman, reached the site of modern Walla Walla, WA. Whitman's wife Narcissa became the first white woman to cross the North American continent. In 1847, both Marcus and Narcissa Whitman and 12 others were killed by Indians in what became known as the Whitman Massacre.
http://www.historylink.org/essays/output.cfm?file_id=5191
1836--Reconstruction begins on Synagogue of Rabbi Judah Hasid in Jerusalem.
http://www.testimony-magazine.org/back/jun2002/benson2.pdf
http://www.jafi.org.il/education/100/concepts/aliyah2.html
1849-A California convention called by the territory governor, Gen. Bennett Riley, met in Monterey. The convention created a state government without waiting for congressional Acton. On October 20, the delegates adopted a constitution. On November 13 the constitution was ratified by California voters, and a governor and legislative representatives were chosen. Slavery was prohibited.
1849-Birthday of Elizabeth Harrison, American educator who founded the influential Chicago Kindergarten College in Chicago. She also helped in founding the forerunner of the National Congress of Parents and Teachers.
1859 - The Pullman sleeping car, built by George Pullman's company, Chicago, Illinois, with help from Ben Field, was put into service on the Chicago and Alton Railroad between Bloomington and Chicago. It was "Old No. 9". It was a reconstructed day coach, little more than half the length of present coaches. Except for the wheels and axles, it was constructed almost entirely of wood. The roof was flat and low. The seats were adamantine. Two small wood burning stoves furnished heat. The illumination was furnished by candles. There was a small lavatory at each end. The drinking faucet supplied water to a non-enclosed washbasin. There were 10 upper and 10 lower berths with mattresses and blankets, but no sheets. The upper berth was suspended about halfway between the floor and ceiling at night, and by day, was drawn up to the ceiling by pulleys
1852-Gold dust to the amount of $29,195,965 was shipped East from
San Francisco so far this year. The gold rush was in its heights.
1863--- RR & ferry connection between SF & Oakland inaugurated
1864 - The Charlottetown Conference began on Prince Edward Island, representing the first steps toward Canadian confederation.
1864 - In the American Civil War, the Confederates under Gen. John Hood abandoned the city of Atlanta. It was occupied by Gen. Sherman the next day. Controversy exists today about who started the fires. According to local historians, it was the Confederates on their way out of town not wanting to leave supplies and food stuff for the conquering Union Army. However, it should be noted that when Sherman left a town, he did the same thing, burning it so new occupiers could not take advantage of what was left behind. He did this in his march to the Mississippi River particularly. It was General Grant's aim to cut off the supplies to the Confederates from Europe from ships on the East Coast and barges going up the Mississippi River. Atlanta was also the terminal for the Western and Atlantic Railroad, a vita city to the South. (lower half of: http://memory.loc.gov/ammem/today/sep01.html )
1866-Birthday of James John "Gentleman Jim" Corbett, boxer born at San Francisco, CA. Corbett boxed 61 rounds against Peter Jackson on May 21,1891, to no decision, but the fight got him a match with heavyweight champion John L. Sullivan. This fist, on September 7,1892, was the first governed by the Marquis of Queensbury Rules and the first in which the fighters used gloves. Corbett decisioned Sullivan in 21 rounds, using the jab, the punch he invented. Died at Baysie, NY, Feb. 18, 1933.
1867-Robert T Freeman was the first Black to graduate from Harvard Dental School. Inexplicably, this honor is sometimes erroneously attributed to Dr. George F. Grant, also an African American dentist and Harvard graduate, who in 1899 designed and patented the first golf tee. http://www.rtfds.org/welcome.html
1872-The first nurse to receive formal training was Linda Ann Judson Richards, first in a class of five to register as a student nurse at Training School of the New England Hospital for Women and Children, Roxbury, MA. The school offered a one year program in medical, surgical and obstetric nursing. After graduation, Richards served as night superintendent at Bellevue Hospital, New York City, and as superintendent of the Training School of the Massachusetts General Hospital, Boston, MA. The first trained nurse who was African-American was Mary Eliza Mahoney, who graduated in 1979 form the same program.
1875 -- Edgar Rice Burroughs born, Chicago, Il., well-known author, land developer of Tarzana, California, and mayor of California Beach, California. During World War II Burroughs served at the age of 66 as a war correspondent in the South Pacific. He died of a heart ailment on March 19, in 1950. http://www.edgarriceburroughs.com/
1878-Emma Nutt reportedly began her professional career in Boston, Massachusetts becoming the first woman telephone operator and continued working as a telephone operator for some 33 years. Previously all operators had been men.
1887 - A patent was file for by Emile Berliner for his invention, the lateral-cut, flat-disk gramophone; better known as the record player. Emile got the patent, but the glory went to Thomas Edison for making his American invention work.
1894 - A forest fire driven by high winds burned down the town of Hinkley, MN, killing 418 persons.
1895-the first municipal subway was the Tremont Street Subway, Boston, MA, begun on March 28,1895 and opened for traffic this day. The subway was built by the City of Boston at a cost of $4,369,000 and leased to the Boston Elevated Railway at an annual rent of 4.5 percent of construction cost. This was also the first time that a subway was built with a shallow tunnel instead of a deep tunnel.
1897 - Hailstone drifts six feet deep were reported in Washington County, IA.
1904-Birthday of Johnny Mack Brown, football player and well-known cowboy actor born at Dothan, AL. Brown played at the University of Alabama and starred on Coach Wallace Wade's undefeated 1925 team that defeated Washington in the 1926 rose bowl, 20-19. Brown took a screen test and acted in several dramatic films before appearing in the first of more than 300 westerns, many played on early television in the 1950's (no residuals.) He died at Woodland Hills, CA. November 14, 1974.
1906 - -- In the longest game in American League history, the Philadelphia Athletics, of the American League, saw pitcher Jack Coombs go 24 innings. The Athletics would defeat the Boston Red Sox. 4-1. Both starters go the distance as A's hurler Jack Coombs bests Boston's Joe Harris.
1908--Birthday of Este, Lauder, American entrepreneur. In 1946 she founded the huge beauty and cosmetic company that bears her name and expanded her enterprises with such products as Clinique allergy-tested cosmetics and Aramis men's products. By the early 1970s, the company had evolved into a one-hundred million dollar enterprise with all the stock held by the family.
1914-Bloomington, MI is deluged with 9.78 inches of rain in 24 hours to establish a state record.
1916-Congress passed "an act to prevent interstate commerce in the products of child labor," basically become the first federal child labor law, effective this day. On June 3, 1918, it was declared unconstitutional by the Supreme Court as an invasion of states' rights.
1922-the first daily news program began broadcasting on station WBAY, New York City.
1923-Birthday of Rocky Marciano, boxer born Rocco Francis Marchegiano at Brocton, MA. Marciano used superb conditioning to fashion an impressive record that propelled him to a fight with Jersey Joe Walcott for the heavyweight title on September 23, 1952. Marciano knocked Walcott out, and in 1956 he retired as the only undefeated heavyweight champion. Died in a plane crash at Newton, IA, August 31, 1969.
1925-Benjamin D. Chamberlin of Washington, DC received a patent to make glass light bulbs by machine, " an apparatus for gathering glass and the treatment thereof on blowpipes." Electric light bulbs previously were hand blown. The first frosted electric light bulb for commercial distribution was invented by Marin Pipke of Incandescent Lamp Department of the General Electric Company at Nela Park, OH. He received a patent on October 16, 1928. The first sodium vapor light were installed on June 13,2933 on the Balltown Road, near Schenectady, NY by the General Electric Company and the New York Power and Light Company. The lamps were monochromatic and glowed in one color, giving 2.5 times the light output of incandescent lamps of the same wattage. The lamp wattage was about 80 to 90 watts and the light output about 4,000 lumens. The first successfully developed fluorescent lamp was made by Arthur Compton at the General Electric Company in Schenectady, NY, in 1934.
1929--Birthday of Ila Fox was licensed as Iowa's first woman pilot. To finance her flying lessons, she dressed in a snappy rendition of the classic aviator costume of boots, trousers and leather jacket to promote the Curtis Flying Service.
1932-- NYC Mayor James J. "Gentleman Jimmy" Walker resigns (graft charges). The subject of a state investigation of charges of corruption, he resigned on September 1, 1932 before the hearings closed. At the same time, he was causing a scandal over his affair with actress Betty Compton. Walker left for Europe, divorced his wife and married Compton. The couple lived abroad until 1935, when they returned to New York. In 1940, Mayor Fiorello La Guardia, whom Walker had defeated in 1928, named him as arbitrator for the garment industry and "Gentleman Jimmy" became a popular figure on the lecture circuit. Bob hoped played Walker in a 1957 movie, "Beau James."
http://www.imdb.com/title/tt0050175/
http://www.bartleby.com/65/wa/Walker-J.html
1925-alto sax player Art Pepper, born Gardena, CA.
http://www.vh1.com/artists/az/pepper_art/bio.jhtml
http://home.ica.net/~blooms/
1933 -- Songster Conway Twitty, born as Harold Jenkins, Friars Point, Mississippi.
http://www.cmt.com/artists/az/twitty_conway/bio.jhtml
1939 -Germany invaded Poland with 1.8 million troops, beginning World War II. The invasion took place one week after the governments of Germany and the Soviet Union signed a secret pact of non-aggression. Two days after the invasion, England and France declared war on Germany. Australia, New Zealand an South Africa soon following with their own declarations. Poland overwhelmed by German air and land power, was in German and Soviet hands before the month concluded.
1939 -- Comedian Lily Tomlin birthday, born Detroit Michigan. Funny that Emma Nutt became the first female telephone operator this day in 1978. She was the telephone operator "Ernestine" in "Laugh In."
1941-The first city parking garage was designed by Hassel T. Hicks and opened this day in Welch, WV. It accommodated 232 cars and showed a profit the first year.
1942 - A federal judge in Sacramento, California, upheld the wartime detention of Japanese-Americans as well as Japanese nationals.
1944 - The movie Arsenic and Old Lace, starring Cary Grant, opened in New York.
1945 - The United States received official word of Japan's formal surrender that ended World War II. In Japan, it was actually September 2nd.
1947 - Barry Gibb of the Bee Gees is born in Douglas, Isle of Man, U.K.
1948 - For the Love of Mary, a musical-comedy starring Deanna Durbin and Edmond O'Brien, opened in U.S. theaters. Uncomfortable with the fame that came from her popular films, this was Durbin's last film. Durbin, known as "Winnipeg's Sweetheart", her first screen kiss made international headlines. Wanting to "live a normal life," Durbin secluded herself in France. For over 35 years she has resisted every approach from film companies. Her husband, a film director, told journalists, "The late Mario Lanza pleaded with her for years to make a film with him. But she will never go back to that life." Durbin has not granted an interviewed since 1949.
1949 - On NBC-TV "Martin Kane, Private Eye" debuted. Airing on Thursday nights, the show starred William Gargan. "Martin Kane" was a cool, wisecracking mover and shaker who worked closely with the police. He was headquartered at Happy McMann's tobacco shop.
1951--Top Hits
Because of You - Tony Bennett
Come on-a My House - Rosemary Clooney
Shangai - Doris Day
Always Late (With Your Kisses) - Lefty Frizzell
1951-HENRY, FREDERICK F.
Rank and organization: First Lieutenant, U.S. Army, Company F, 38th Infantry Regiment. Place and date: Vicinity of Am-Dong, Korea, 1 September 1950. Entered service at: Clinton, Okla. Birth: Vian, Okla. G.O. No.: 8, 16 February 1951. Citation: 1st Lt. Henry, Company F, distinguished himself by conspicuous gallantry and intrepidity above and beyond the call of duty in action. His platoon was holding a strategic ridge near the town when they were attacked by a superior enemy force, supported by heavy mortar and artillery fire. Seeing his platoon disorganized by this fanatical assault, he left his foxhole and moving along the line ordered his men to stay in place and keep firing. Encouraged by this heroic action the platoon reformed a defensive line and rained devastating fire on the enemy, checking its advance. Enemy fire had knocked out all communications and 1st Lt. Henry was unable to determine whether or not the main line of resistance was altered to this heavy attack. On his own initiative, although severely wounded, he decided to hold his position as long as possible and ordered the wounded evacuated and their weapons and ammunition brought to him. Establishing an l-man defensive position, he ordered the platoon's withdrawal and despite his wound and with complete disregard for himself remained behind to cover the movement. When last seen he was single-handedly firing all available weapons so effectively that he caused an estimated 50 enemy casualties. His ammunition was soon expended and his position overrun, but this intrepid action saved the platoon and halted the enemy's advance until the main line of resistance was prepared to throw back the attack. 1st Lt. Henry's outstanding gallantry and noble self-sacrifice above and beyond the call of duty reflect the highest honor on him and are in keeping with the esteemed traditions of the U.S. Army.
1951-STORY, LUTHER H. Medal of Honor
Rank and organization Private First Class, U.S. Army, Company A, 9th Infantry Regiment, 2d Infantry Division. Place and date: Near Agok, Korea, 1 September 1950. Entered service at: Georgia. Born: 20 July 1931, Buena Vista, Ga. G.O. No.: 70, 2 August 1951. Citation: Pfc. Story distinguished himself by conspicuous gallantry and intrepidity above and beyond the call of duty in action. A savage daylight attack by elements of 3 enemy divisions penetrated the thinly held lines of the 9th Infantry. Company A beat off several banzai attacks but was bypassed and in danger of being cut off and surrounded. Pfc. Story, a weapons squad leader, was heavily engaged in stopping the early attacks and had just moved his squad to a position overlooking the Naktong River when he observed a large group of the enemy crossing the river to attack Company A. Seizing a machine gun from his wounded gunner he placed deadly fire on the hostile column killing or wounding an estimated 100 enemy soldiers. Facing certain encirclement the company commander ordered a withdrawal. During the move Pfc. Story noticed the approach of an enemy truck loaded with troops and towing an ammunition trailer. Alerting his comrades to take cover he fearlessly stood in the middle of the road, throwing grenades into the truck. Out of grenades he crawled to his squad, gathered up additional grenades and again attacked the vehicle. During the withdrawal the company was attacked by such superior numbers that it was forced to deploy in a rice field. Pfc. Story was wounded in this action, but, disregarding his wounds, rallied the men about him and repelled the attack. Realizing that his wounds would hamper his comrades he refused to retire to the next position but remained to cover the company's withdrawal. When last seen he was firing every weapon available and fighting off another hostile assault. Private Story's extraordinary heroism, aggressive leadership, and supreme devotion to duty reflect the highest credit upon himself and were in keeping with the esteemed traditions of the military service.
1952-SMITH, DAVID M. Medal of Honor
Rank and organization: Private First Class, U.S. Army, Company E, 9th Infantry Regiment, 2d Infantry Division. Place and date: Near Yongsan, Korea, 1 September 1950. Entered service at: Livingston, Ky. Born: 10 November 1926, Livingston, Ky. G.O. No.: 78, 21 August 1952. Citation: Pfc. Smith distinguished himself by conspicuous gallantry and outstanding courage above and beyond the call of duty in action. Pfc. Smith was a gunner in the mortar section of Company E, emplaced in rugged mountainous terrain and under attack by a numerically superior hostile force. Bitter fighting ensued and the enemy overran forward elements, infiltrated the perimeter, and rendered friendly positions untenable. The mortar section was ordered to withdraw, but the enemy had encircled and closed in on the position. Observing a grenade lobbed at his emplacement, Pfc. Smith shouted a warning to his comrades and, fully aware of the odds against him, flung himself upon it and smothered the explosion with his body. Although mortally wounded in this display of valor, his intrepid act saved 5 men from death or serious injury. Pfc. Smith's inspirational conduct and supreme sacrifice reflect lasting glory on himself and are in keeping with the noble traditions of the infantry of the U.S. Army.
1952-Television's longest running daytime variety show as hosted by Art Linkletter. This blend of talk and audience participation started on radio. In 1968 the show was renamed the "Linkletter Show" and moved from the afternoon to a morning slot. The series was well known for its daily interview with four schoolchildren. Later Art Linkletter had a separate show, "Kids say the 'darnest" things."
1955-temperature at Los Angeles, CA reached 110 degrees, the hottest on record for that city
1955-Alan Freed's First Anniversary Rock 'n Roll Party kicks off at the Paramount Theater in Brooklyn, New York. Among those appearing on the bill are Chuck Berry, Tony Bennett, The Nutmegs, The Rhythmettes, The Cardinals and The Four Voices.
1955 - Herman Wouk's novel, Marjorie Morningstar, was published in New York by Doubleday.
1956 -- Elvis Presley shares his success with his family by purchasing his mother a pink Cadillac.
http://www.caddydaddy.com/songs.htm
1957 -- Singer Gloria Estefan born Havana, Cuba.
http://www.liceocubano.com/Spn/Estefan/Estefan_Bio.asp
http://www.gloriaestefan.com/
1959--Top Hits
Sea of Love - Phil Phillips
Sleep Walk - Santo & Johnny
I'm Gonna Get Married - Lloyd Price
The Three Bells - The Browns
1962-Tommy Roe had his first number one hit when "Sheila" reached the top of the US Pop chart. The record was a re-recorded version of a song that was first released in 1960 when Roe was part of a group called The Satins. Roe's recording success would continue until 1971, during which time he had five more Top 10 hits.
1967-Guitarist Boz Scaggs joins the San Francisco based Steve Miller Band. Scaggs stays with the group through two albums ("Children of the Future" and "Sailor") before heading out on a solo career in 1969.
1967--Top Hits
Ode to Billie Joe - Bobbie Gentry
Pleasant Valley Sunday - The Monkees
Baby I Love You - Aretha Franklin
I'll Never Find Another You - Sonny James
1968-JONES, WILLIAM A., III Medal of Honor
Rank and organization: Colonel, U.S. Air Force, 602d Special Operations Squadron, Nakon Phanom Royal Thai Air Force Base, Thailand. Place and date: Near Dong Hoi, North Vietnam, 1 September 1968. Entered service at: Charlottesville, Va. Born: 31 May 1922, Norfolk, Va. Citation: For conspicuous gallantry and intrepidity in action at the risk of his life above and beyond the call of duty. Col. Jones distinguished himself as the pilot of an A-1H Skyraider aircraft near Dong Hoi, North Vietnam. On that day, as the on-scene commander in the attempted rescue of a downed U.S. pilot, Col. Jones' aircraft was repeatedly hit by heavy and accurate antiaircraft fire. On one of his low passes, Col. Jones felt an explosion beneath his aircraft and his cockpit rapidly filled with smoke. With complete disregard of the possibility that his aircraft might still be burning, he unhesitatingly continued his search for the downed pilot. On this pass, he sighted the survivor and a multiple-barrel gun position firing at him from near the top of a karst formation. He could not attack the gun position on that pass for fear he would endanger the downed pilot. Leaving himself exposed to the gun position, Col. Jones attacked the position with cannon and rocket fire on 2 successive passes. On his second pass, the aircraft was hit with multiple rounds of automatic weapons fire. One round impacted the Yankee Extraction System rocket mounted directly behind the headrest, igniting the rocket. His aircraft was observed to burst into flames in the center fuselage section, with flames engulfing the cockpit area. He pulled the extraction handle, jettisoning the canopy. The influx of fresh air made the fire burn with greater intensity for a few moments, but since the rocket motor had already burned, the extraction system did not pull Col. Jones from the aircraft. Despite searing pains from severe burns sustained on his arms, hands, neck, shoulders, and face, Col. Jones pulled his aircraft into a climb and attempted to transmit the location of the downed pilot and the enemy gun position to the other aircraft in the area. His calls were blocked by other aircraft transmissions repeatedly directing him to bail out and within seconds his transmitters were disabled and he could receive only on 1 channel. Completely disregarding his injuries, he elected to fly his crippled aircraft back to his base and pass on essential information for the rescue rather than bail out. Col. Jones successfully landed his heavily damaged aircraft and passed the information to a debriefing officer while on the operating table. As a result of his heroic actions and complete disregard for his personal safety, the downed pilot was rescued later in the day. Col. Jones' profound concern for his fellow man at the risk of his life, above and beyond the call of duty, are in keeping with the highest traditions of the U.S. Air Force and reflect great credit upon himself and the Armed Forces of his country.
1969—Birthday of "Chicken Boy," saved from destruction May 4, 1984. Chicken Boy is a 22 foot statue of a boy with a chicken's head, holding a bucket of chicken. Formerly the mascot for the restaurant for which he is named, he was rescued from destruction when the restaurant went out of business by Future Studio of Los Angeles, a graphic design studio. Chicken Boy has since become a pop culture Icon in Southern California ( some call him the Statute of Liberty of Los Angeles.) www.chickenboy.com
1970 – The U.S. Senate rejects the McGovern-Hatfield amendment by a vote of 55-39. This legislation, proposed by Senators George McGovern of South Dakota and Mark Hatfield of Oregon, would have set a deadline of December 31, 1971, for complete withdrawal of American troops from South Vietnam.
1971 - It was a Major League Baseball first when Pittsburgh Pirates manager, Danny Murtaugh, gave his lineup card to the umpire containing the names of nine black baseball players. The Pirates then became the first major league team to start an all-black team; the lineup included infielders Al Oliver (1b), Rennie Stennet (2b), Jackie Hernandez (ss) Dave Cash (3b) and outfielders Willie Stargell (lf), Gene Clines (cf), Roberto Clemente (rf) with Dock Ellis (p) and Manny Sanguillen (c) making up the battery.
1972 - For "Back Stabbers," the O'Jays earned a gold record. The song was the group from Canton, Ohio first hit. The O'Jays would have nine more hits on the pop and R&B charts over the years, five of which earned gold records: "Love Train", "I Love Music", "Use ta Be My Girl", "For the Love of Money" and "Put Your Hands Together".
1972 - Robert "Bobby" Fischer, United States chess player, defeated Soviet player Boris Spassky in Reykjavik, Iceland, becoming the United States' first player to officially win the World Chess Championship. Fisher's strange demands during tournaments, off-the-wall antics, and unexplained forfeiture of his world title brought him an uncharacteristic notoriety than most chess champions.
1973 - Braulio Baeza, horse-racing jockey, won two races at New York's Belmont Park. Baeza then got on a plane and flew to Liberty Bell race track in Philadelphia, Pennsylvania where he rode Determined King to a win in the Kindergarten Stakes.
1973-Bob Dylan's soundtrack to the film, "Pat Garrett and Billy The Kid" enters the LP charts. It includes "Knockin' On Heaven's Door."
1975--Top Hits
Get Down Tonight - K.C. & The Sunshine Band
How Sweet It Is (To Be Loved by You) - James Taylor
At Seventeen - Janis Ian
Rhinestone Cowboy - Glen Campbell
1975 - It was the final broadcast of "Monday Night Baseball" on NBC-TV when Montreal's Expos beat the Philadelphia Phillies 6-5. In 1976, ABC-TV picked up the games.
1977 - Bobby C. Wilks became the first African American in the Coast Guard to reach the rank of captain. He was also the first African American Coast Guard aviator (Coast Guard aviator No. 735). He later became the first African American to command a Coast Guard air station. He accumulated over 6,000 flight hours in 18 different types of aircraft. He was also the project officer for the Sikorsky HH-3 helicopter when they were first delivered in the 1960s.
1977 - Blondie singer Debbie Harry signed a recording deal with Chrysalis Records who bought the group's private stock label for $500,000. Blondie is often not thought of as a band, but rather just Debbie Harry, the former Playboy Bunny.
1979 - The United States unmanned spacecraft Pioneer II, launched in 1973, transmitted data to earth after coming within 12,560 miles of Saturn's clouds.
1979 --LA Court orders Clayton Moore to stop wearing Lone Ranger mask. There were no TV residuals in the early days, so Moore took to entertaining birthday parties as the Long Ranger and making appearances wearing the Long Ranger mask.The Wrather Corp., which owned "The Lone Ranger" television series and the rights to the character, obtained a court order to stop Moore from appearing in public dressed as "The Lone Ranger," specifically prohibiting him from wearing the ranger's signature mask. The Wrather Corp. intended to produce a new "Lone Ranger" film, and didn't want fans to be confused. Instead, fans were incensed about the treatment of Moore, and circulated petitions to allow him to wear the mask again. Moore continued to make appearances, however, wearing wrap-around sunglasses instead. When the film, "The Legend of the Lone Ranger" (1981), starring Klinton Spilsbury, was released, it was a huge critical and commercial failure. The Wrather Corp. gave in to public pressure in 1984, and allowed Moore to wear the mask again. When Moore died in 1999, the company arranged for the saddle Moore used as "The Lone Ranger" to be displayed at his memorial service.
http://www.cemeteryguide.com/moore.html
http://www.imdb.com/name/nm0138194/
1979 - A home in Centerville TN was hit by lightning and totally destroyed. It marked the third time that the house had been hit by lightning since being built in 1970.
1983--Top Hits
Every Breath You Take - The Police
Sweet Dreams (Are Made of This) - Eurythmics
Maniac - Michael Sembello
You're Gonna Ruin My Bad Reputation - Ronnie McDowell
1984-Tina Turner's "What's Love Got To Do With It" peaks at #1 on the pop chart.
1985 - A joint United States-French expedition located the wreck of the Titanic roughly 560 miles off the coast of Newfoundland. The "unsinkable" ocean-liner sunk in 1912 after hitting an iceberg. Twelve years after the wreck's location, the movie Titanic went on to break box office records.
1985 - No. 1 Billboard Pop Hit: "St. Elmo's Fire (Man in Motion)," John Parr. The week this song from the film "St. Elmo's Fire" hits No. 1 marks the first time that songs from motion pictures hold the top three positions on the Billboard Hot 100. Huey Lewis' "The Power of Love" from the film "Back to the Future" is No. 2 and Tina Turner's "We Don't Need Another Hero" from "Mad Max Beyond Thunderdome" is in the third slot.
1986 - At his annual telethon on Labor Day weekend, Jerry Lewis raised a record $34 million for Muscular Dystrophy.
1987 - Cool Canadian air invaded the Midwest. Six cities reported record low temperatures for the date, including Indianapolis IN with a reading of 44 degrees. Hot weather continued in the northwestern U.S. Five cities reported record high temperatures for the date, including Hanover WA, where the mercury soared to 106 degrees.
1989-The air bag requirement by the federal government took effect: all newly manufactured cars were required to have air bags installed on the driver's side.
1989-Chris Evert defeated Patricia Tarabini, 6-2, 5-4, in an early round of the US Open tennis tournament. The factory made Evert, playing in her final US Open, the first 100-match winner in the 108 years of US national tennis championship competition.
1991--Top Hits
(Everything I Do) I Do It for You - Bryan Adams
Fading Like a Flower (Every Time You Leave) - Roxette
Wind of Change - Scorpions
You Know Me Better Than That - George Strait
1995 - Jazz trumpeter and vocalist Louis Armstrong is honored on a U.S. postage stamp. The sale is kicked off with a jazz festival in New Orleans featuring Wynton Marsalis, Al Hirt, Doc Cheatham and other jazz stars.
1997 - In France, the prosecutor's office said the driver of the car in which Princess Diana was killed, was over the legal alcohol limit.
1998 - Vietnam released 5,000 prisoners, including political dissidents, on National Day.
1998 - The film Titanic was released on video, amidst much media attention. Millions of tapes were distributed, and many stores across the nation were opened at midnight for the anticipated crowds wanting to purchase the tape.
1998-David Bowie opens his on-line internet service provider business, Bowienet. The service offers basic internet services and exclusive Bowie news and releases.
2001-- Cubs slugger Sammy Sosa hits the longest home run in Turner Field history as his 53rd of the season travels 471 feet to straight away center. The historic homer comes in the first inning off four-time Cy Young Award winner Greg Maddux. Questions linger today, was it a cork center bat?
2005 --The first bus loads of Hurricane Katrina refugees, formerly housed at the SuperDome in New Orleans, begin to arrive early this morning at Houston's Astrodome. The former home of the Astros, will afford the displaced an opportunity to escape the unhealthy horrendous conditions of their former shelter by supplying air conditioning, cots, food and showers for eventual 25,000 people who expected from Louisiana.
2005- Fats Domino, 77 years old, was rescued from the flooding in New Orleans caused by Hurricane Katrina. He had earlier told his agent that he planned to remain in his home despite the order to evacuate.
2005 - Veteran performer Olivia Newton-releases a studio album specifically for sale as part of a Hallmark program in support of breast cancer awareness month. "Stronger Than Before" is to be available Sept. 1-Oct. 31 exclusively through Hallmark Gold Crown stores. The CD retails for $9.95 with two dollars from each sale benefiting the Susan G. Komen Breast Cancer Foundation.
[headlines]
--------------------------------------------------------------


Baseball Poem
WHY BASEBALL WALTZES WITH LETTERS
by Tim Peeler
A Faulkner sentence is an extra inning game,
Simply and finally playing through its Will and exhaustion.
Third Base Coach signals are ee cummings poems-
Gimmicky, sure, but meaningful in their color
When you break the code.
The prisons play contests of Bukowski prose,
Where a stolen base may be a literal image
And everybody gambles nothing.
Weird killers load the bases at a
Stephen King Little League field, the sequel,
A grand slam promise at the bank.
Although Poe would never sit through nine,
His words are a dark season in the cellar,
A team leaving town and the death of a Beautiful groupie.
Finally, Wolfe who wrote slugfest
Double-headers played to million-footed
Throngs, then flickered like so many other
Stars never meant for extra innings.
--- with the permission of the author, from his
book of baseball poetry:
"Waiting for Godot's First Pitch"
More Poems from Baseball
available from Amazon
or direct
from the publisher at: www.mcfarlandpub.com
--------------------------------------------------------------

SuDoku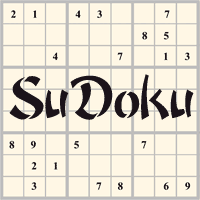 The object is to insert the numbers in the boxes to satisfy only one condition: each row, column and 3x3 box must contain the digits 1 through 9 exactly once. What could be simpler?
http://leasingnews.org/Soduku/soduko-main.htm
--------------------------------------------------------------

Daily Puzzle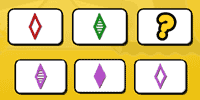 How to play:
http://www.setgame.com/set/puzzle_frame.htm
Refresh for current date:
http://www.setgame.com/set/puzzle_frame.htm
--------------------------------------------------------------


http://www.gasbuddy.com/
http://www.gasbuddy.com/GB_Map_Gas_Prices.aspx
http://www.gasbuddy.com/GB_Mobile_Instructions.aspx
--------------------------------------------------------------

Weather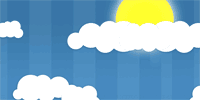 See USA map, click to specific area, no commercials
--------------------------------------------------------------

Traffic Live---
Real Time Traffic Information
You can save up to 20 different routes and check them out with one click,
or type in a new route to learn the traffic live
--------------------------------