Top Sales Producers Wanted
Established Company

We offer great funding capacity, strong, experienced back office, keeping established vendor relationships happy. Looking for a home and have 5 years experience, contact: Jeff Rudin (818) 843-8686 x14.
About the company: Quail Equipment Leasing 17 years in business with the ability to develop specialized programs for vendors and unique industries: $10K to $24MM.



Wednesday, September 17, 2010

Today's Equipment Leasing Headlines
Second Alert-AMC Funding Group, Charlotte, NC
Classified Ads---Controller
New ACORD Certificate for the Leasing/Finance Industry
New Hires---Promotions
Classified Ads---Help Wanted
Signs emerge that total bank branches could dwindle
By Kevin Dobbs and Maria Tor
Leasing Association Conference Up-date
Cartoon---The Donalds'
From the desk of Michael J. Witt, Esq.---
Know the Difference between Late Fees and Late-Payment Interest
Top Leasing Attorneys
Ten Leasing/Finance Association Meet re: FASB Proposal
IDS Launches New Web Training Program
Charlotte, North Carolina---Adopt a Dog
The Town/Easy A/Looking for Eric
Ondine /The Secret in Their Eyes
Fernando Croce Movie/DVD Reviews
Dash back in the U.S.A.
News Briefs---
Storm rattles even jaded New Yorkers
Valerie Jester sells home in North Palm Beach
National Leasing credited for growth of Western Bank
Ellen Sas removed as pres./CEO of Seattle Bank
Mortgage Rates near Low/Lending Soft
Miami Herald to cut 49 positions
Large Collection Firm Owes $63 Million; Files BK
Broker/Funder/Industry Lists | Features (collection)
Top Ten Stories Chosen by Readers | Top Stories last six months


You May have Missed---
"Gimme that Wine"
This Day in American History
Baseball Poem
SuDoku
Daily Puzzle
GasBuddy
Weather, USA or specific area
Traffic Live----

######## surrounding the article denotes it is a "press release" and was not written by Leasing News nor information verified, but from the source noted. When an article is signed by the writer, it is considered a "by line." It reflects the opinion and research of the writer. It is considered "bias" as it is the writer's viewpoint.

[headlines]
--------------------------------------------------------------

Second Alert-AMC Funding Group, Charlotte, NC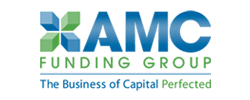 From a Vendor:
"My customer signed a lease with them for aprox $28,000.00. They were referred by a broker that was recommended by my Equipment Manufacturer's web site. They have taken his listing off after I told them what happened. AMC sent me a check for the full amount. I waited several days for it to clear and wired my Distributor what I owed them. Then their check bounced leaving me in the hole $24,000.00 with my bank. I am suing them for the bad check. I guess I must have searched the web before you wrote this article because I didn't find it until today."
(name with held)
First AMC Alert:
http://leasingnews.org/archives/Aug2010/8_18.htm#alert_amc
((Please Click on Bulletin Board to learn more information))
(Leasing News provides this ad "gratis" as a means
to help support the growth of Lease Police)

[headlines]
--------------------------------------------------------------

Classified Ads---Controller
Chicago, IL
experienced in lease accounting, operations, management, and Sarbanes-Oxley. Seeking position with equipment lessor. Would consider contract assignments or relocating.
Email: leasecontroller@comcast.net

Southeastern, MI
Controller & Management experience w/ equip lessors &broker. MBA, CPA w/ extensive accounting, management, securitization experience with public and private companies. Willing to relocate.
Email: Leasebusiness@aol.com
Acton, MA
Strong experience in lease accounting, operations, & systems.
Implemented lease plus, Great Plains, networks.
Excellent financial reporting and analysis skills. Looking for new opportunity.
LinkedIn
alexanderzlenz@gmail.com| Resume
Southern CA
20 years exp. as hands-on leasing CFO, managing accounting, treasury, FP&A, including securitizations, Great Plains/FRx, budgets, risk management. MBA. Also available as interim Controller/CFO, consultant.
Email: leasecfo@gmail.com
Free Posting for those seeking employment in Leasing:
http://www.leasingnews.org/Classified/Jwanted/Jwanted-post.htm
All "free" categories "job wanted" ads:
http://www.leasingnews.org/Classified/Jwanted/Jwanted.htm
[headlines]
--------------------------------------------------------------

New ACORD Certificate for the Leasing/Finance Industry

"ACORD, the insurance industry standards setting organization, has just released a new 'Certificate of Vehicle and Equipment Insurance' that all lessors and lenders should now request from their customers and their agents when documenting evidence of insurance on any leased or financed equipment or vehicle," said Steve Dinkelaker, President of American Lease Insurance Agency Corporation (ALI), Sunderland, Massachusetts. "Called the ACORD 23, the new Certificate combines for the first time on one certificate information about both property and liability insurance coverage for any leased or financed equipment or vehicle."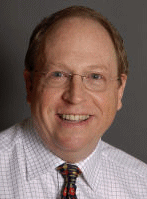 "For the past few decades, lessors often had to track down several insurance certificates before they could confirm the existence of sufficient coverage," Dinkelaker told Leasing News. Dinkelaker participated actively in a three year working group effort to revamp ACORD certificates, and served as sponsor for a customized certificate that could be used to document evidence of insurance with leasing and financing of any equipment or vehicle transactions.
"When in full use by the tens of thousands of insurance agents around the US, the ACORD 23 will dramatically simplify verification of coverage on any leased and financed equipment or vehicle for lessors, lenders and their servicing partners. Lessors or financers of equipment or vehicles who rely on ACORD Certificates to document evidence of coverage should revise their lease and finance agreements to request that evidence now be sent to them using 'ACORD 23 or its equivalent.'"
BOTH PROPERTY AND LIABILITY INFORMATION ON ONE FORM
- The New ACORD 23, unlike the present ACORD 24 (property coverage only) or ACORD 25 (liability coverage only), provides proof of both property and liability coverage, showing the leasing company as 'lender's loss payee' (with respect to property) and 'additional insured' (with respect to liability). This enables both lenders and lessors (and their servicers) to obtain proof of ALL required insurance on one form.
USED FOR BOTH EQUIPMENT OR VEHICLES
- The ACORD 23 form allows agents for borrowers/lessees to provide proof of insurance on either equipment or a titled vehicle. The form provides a clear and defined space for description of either equipment or a vehicle, and distinguishes between the property and liability insurance information/requirements for both asset types.
ACTUAL PROOF VS. SIMPLY A "REQUEST"
- The New ACORD 23 uniquely provides a space for the agent completing the form to select one of two options:
Option 1 - additional interest (i.e. equipment leasing company) has been added to the policy as confirmed by the insurer.

Option 2 - a request has been made to the insurer to add the additional interest to the policy
If option 1 is checked, lessors and lenders can generally rely on the coverage as in force for their interest in the equipment or vehicle. If option 2 is selected, then the interest of the lender/lessor may not yet be protected and an additional request will need to be made by the lessor/lender or their servicer before coverage can be relied on. This is a significant enhancement to the previous ACORD forms (24 and 25), which made no distinction between "requested" and "confirmed" insurance information.
"With the new ACORD 23, leasing/finance companies and their servicers will have a single, simple form to use to ascertain whether ALL necessary insurance coverage (both property and liability) is present and in effect to fulfill contractual requirements and protect their financial interest," Dinkelaker says. "Equipment leasing and financing companies will be better served in all future requests of their customers to ask for proof of insurance using the ACORD 23."
Steve Dinkelaker, President
American Lease Insurance
654 Amherst Rd.
Sunderland, MA 01375
888-521-6568 x.245
413-687-2578
steve@aliac.net
(Go to http://www.aliac.net/pdf/acord_23.pdf to view the actual ACORD 23 Certificate available to all agent or insurer members of ACORD.)
Video on the new ACORD 23 (approx. 5 minutes): http://media.acord.org/services/player/bcpid75589116001?bclid=65696234001&bctid=589186291001
[headlines]
--------------------------------------------------------------

New Hires---Promotions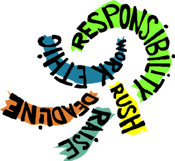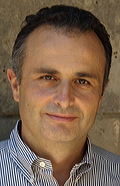 Christos Kytzidis appointed lender finance director at Key Equipment Finance, Superior, Colorado for the company's lease advisory and syndications group. Previously he was senior vice president, corporate banking, for PNC Financial Services/National City Bank; vice president, corporate banking, for First Union Securities/CoreStates Financial. Vice President of Marketing at Hempstead & Co. Associate, Price-Waterhouse, CoreStates Financial. Temple University - James E. Beasley School of Law. Villanova University
http://www.linkedin.com/pub/chris-kytzidis/6/584/6a2

Robert Levitsky was promoted to the position of vice president of credit and risk management for CoActiv Capital Partners, Horsham, Pennsylvania, a Marubeni Group Company. He will lead the Credit Team and oversee underwriting processes. Prior he was the vice president of Risk Management, Credit and Operations at Siemens Financial Services, Inc. Prior to that, he held the position of vice president at Fleet Capital Leasing, and The CIT Group/Equipment Financing, Inc. http://www.linkedin.com/pub/bob-levitsky/13/b43/994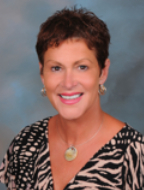 Shelly Maxwell has joined First Financial Bank, Cincinnati, Ohio as vice president and senior sales executive of the equipment finance group, covering Ohio, Indiana, Kentucky and Michigan. She is a resident of Villa Hills, is a graduate of Xavier University. She currently serves as a member of the Greater Cincinnati Convention and Visitors Bureau and the United Way Leadership Committee. She also spends time volunteering for the American Cancer Society and the Marvin Lewis Community Fund.
Jason Norton was hired as Five Point Capital, San Diego, California as its new Director of Marketing. He recently served as Vice President, Head of Marketing Optimization, for HSBC Bank North America. Prior was the Marketing Director for ForwardLine Financial, led Direct Marketing for Countrywide Bank, and was a Management Consultant at Accenture. He holds a MBA with a marketing specialization from Creighton University and a BA in Accounting, Business Administration, and Economics from Graceland College in Iowa.
http://www.linkedin.com/pub/jason-norton/3/978/2a8

Robert A. Zmudka has been appointed vice president and executive director, North American sales for GATX, Chicago, Illinois. He joined GATX in 1989 and has served in a variety of commercial and asset management positions, most recently as vice president for Midwest regional sales, where he led GATX growth in the biofuels market. Mr. Zmudka received his Bachelor of Science degree from Illinois State University in 1989 and his Masters of Business Administration from Dominican University in 1992.



[headlines]
--------------------------------------------------------------

Leasing Industry Help Wanted

Chicago, Illinois
Senior Exec. w/10 yrs discounting quality leases with Investment
Grade and Fortune 1000 credits. Must consider re-locating to Illinois, working with an independent entrepreneurial community bank.
Richard A. Burns, SVP, 312-850-1405 rburns@febank.com

We offer great funding capacity, strong, experienced back office, keeping established vendor relationships happy. Looking for a home and have 5 years experience, contact: Jeff Rudin (818) 843-8686 x14.
About the company: Quail Equipment Leasing 17 years in business with the ability to develop specialized programs for vendors and unique industries: $10K to $24MM.


Please see our Job Wanted section for possible new employees.

[headlines]
--------------------------------------------------------------


Signs emerge that total bank branches could dwindle
By Kevin Dobbs and Maria Tor
(Reprinted with permission from SNL Financial)
For all the promise of the Internet, and for all the hype surrounding online banking services over the past decade, the old-fashioned retail bank branch did not, as predicted by some, fade into obscurity.
Indeed, the total number of U.S. bank branches actually grew over the past decade, as customers overall tended to straddle the use of online and branch banking.
But in the wake of the financial crisis and the recession that followed, banks are keenly focused on stringent efficiency and cost control targets, and industry observers say many banks are closely examining branch closings as a way to meet these goals. At the same time, customers' collective move toward doing more of their banking online, while perhaps slower than Internet enthusiasts had initially forecast, continues to gather momentum.
The early result: The total number of active branches in the United States, as of this month, fell to 98,533 from 99,161 at June 30, 2008, according to SNL data.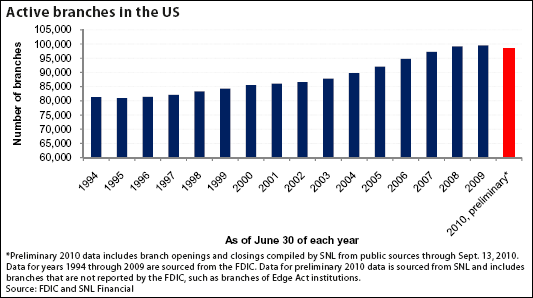 Sterne Agee & Leach Inc. analyst Matthew Kelley told SNL that banks of all stripes are constantly studying cost-control measures, and, for many, this includes taking a hard look at whether to close branches or at least scale back construction plans for future buildings.
"I think you'll definitely see more right-sizing in terms of branch closings," Kelley said. "Banks in general are certainly looking at their overall expense structures with revenue so crimped these days."
There is, Kelley said, "almost certainly more to come."
In some cases, he said, this is being imposed by regulators on struggling banks. In many other cases, it is the result of big banks making major acquisitions over the past couple years. After those deals, the banks have to look at shuttering some acquired branches that are either too close to others or that are underperformers. Big banks are also simply looking at ways to curb costs.
Last year, for instance, Bank of America Corp. said it would gradually scale back its total branch count as part of an effort to rein in fixed costs and to maximize the use of each branch that it operates. In fact, the nation's four megabanks — BofA, JPMorgan Chase & Co., Wells Fargo & Co. and Citigroup Inc. — all either leveled off or scaled back their branch totals in 2009.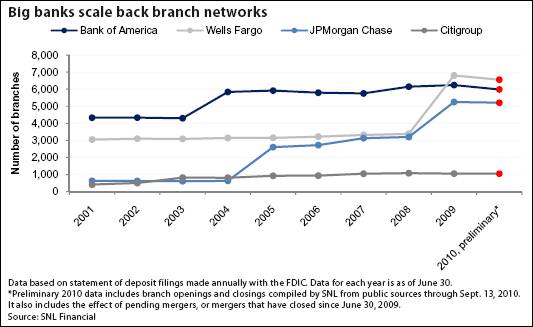 Bert Ely, president of bank consultancy Ely & Co., agreed with Kelly's assessment, saying, "Banks are having to cut expenses, obviously, as a result of recession."
He told SNL that regulatory changes such as new limits on overdraft fees also are cutting into banks' earnings.
"You pull the revenue away, and banks have to make up for it by cutting expenses, and one of the ways to do that is by closing branches," Ely said. He said banks are looking first to close "marginal" branches, those that draw limited foot traffic or that are relatively close to higher performing outlets.
Many of these branches get sold, but the buyers often end up closing some of these and, "in effect, are just buying the customers," Ely said.
"And I don't think that process has run its course," he said.
Over the 12 months ended June 30, 2009, there were 2,521 branch openings in the United States, down from 3,853 a year earlier and 4,140 in 2007, the peak of the past decade, according to SNL data.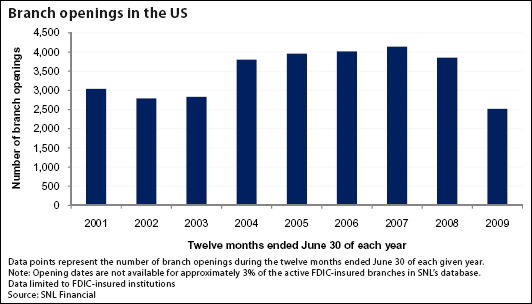 At the same time, Ely said, increasingly more consumers, particularly those from younger generations, are handling the bulk of their banking online. Ely said the trend could accelerate as these younger people age and account for a larger share of total bank customers and as technology continues to improve and make online banking more appealing to future generations.
"As more and more stuff gets done online, a lot less gets done in the branch, and that's not a trend that shows signs of going away," Ely said.
PNC Chairman and CEO James Rohr, speaking Sept. 14 at the Barclays Capital 2010 Global Financial Services Conference in New York, said customers increasingly are doing their business online, from managing their accounts to paying bills. This is forcing banks to shift more of their focus to online services and products, he said.

"The trends are driving a new industry model," Rohr said.
Ely emphasized that branches are hardly headed for extinction. They still are an important "billboard of sorts" for banks, he said, as well as vital links to a certain percentage of customers who prefer to do the bulk of their business in person.
Moreover, online banking is not without its flaws. JPMorgan Chase customers, for example, were denied Web access to their accounts for much of this week due to technical troubles.
Ely also pointed out that, as banks close or sell branches in some markets, they may also open them in other areas. But, over the long term, branch contraction is likely inevitable, with outright closings bound to increase and openings to decrease.

"All of these forces together portend more branch shrinkage in coming years," Ely said.

John Kenny
Receivables Management
est. 1997

johnkenny2@verizon.net

p 315-866-1167
f 315-876-9629
c 315-717-1302
[headlines]
--------------------------------------------------------------

Leasing Association 2010 Conferences

---
September 24-25
2010 NAELB Eastern Regional Meeting
Renaissance Atlanta Airport Concourse Hotel
One Hartsfield Centre Parkway
Atlanta, Georgia

By phone - Contact (888) 391-8724 or
(404) 209-9999 and please identify yourself
as an NAELB Eastern Regional Meeting attendee

Brochure (PDF)

Registration (PDF)
---
October 15-17
NEFA Funding Symposium Fall 2010
The Ritz-Carlton, Buckhead
Atlanta, Georgia

Agenda:
http://www.nefa.affiniscape.com/displaycommon.cfm?an=1&subarticlenbr=91

Registration Information:
https://m360.nefassociation.org/event.aspx?eventID=17619

---
October 24-26
ELFA 49th Annual Convention
Boca Raton Resort & Club
Boca Raton, Florida
Click here for registration

To download brochure, click here (long download)


---
November 3-5
Association of Government Leasing & Finance
Loews Ventana Canyon
Tucson, Arizona
Conference Agenda at this date:
http://www.aglf.org/tell/august_07.html
General Information:
http://www.aglf.org/fall2010.html#reg
registration:
http://secure.aglf.org/core/events/events.aspx
---
November 12-13, 2010
NAELB Western Regional Meeting
Hilton Orange County / Costa Mesa
3050 Bristol Street
Costa Mesa, California
To make hotel reservations by phone - Contact (714) 540-7000 or (714) 438-4923
and please identify yourself as an NAELB Western Regional Meeting attendee
-------------------------------------------------------------------
To view Leasing Association Events-Meetings Open to All, please click here.

[headlines]
--------------------------------------------------------------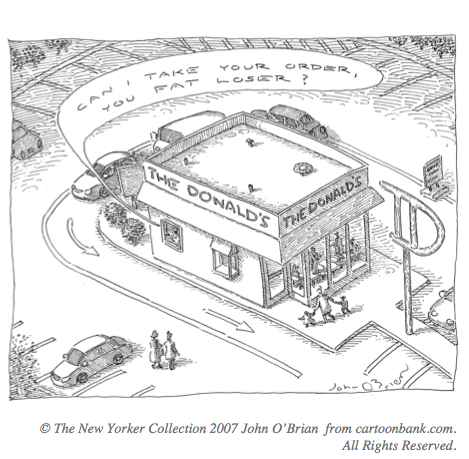 [headlines]
--------------------------------------------------------------

Know the Difference between Late Fees and Late-Payment Interest
A late fee is, or at least should be, a one-time "flat" charge that is intended to allow the lessor to recoup some or all of her internal expenses relating to the collection of late payments. It should not be called, or treated as, a "penalty" because contract law, generally, does not permit one party to charge the other party a penalty for the other's non-performance. The non-breaching party can only charge for her losses.
The industry has seen a few class actions in recent years attacking late-fee provisions as being allegedly excessive. One of these lessors successfully defended the action, settling out early for a small "nuisance" amount, by setting forth detailed evidence of its internal collection overhead and showing that the company was actually spending more to collect late payments than it was receiving in late fees. Any good risk management plan would have the lessor run through that kind of financial analysis every few years and be prepared to justify its late-fee provision by showing cold, hard costs.
It may be best to include a percentage as well as a "standard late" fee and spell out what it is for in administrative expense.
Late-fee provisions are governed by the law of liquidated damages. "Liquidated damages" simply means a damages amount that is pre-determined by the parties at the time the contract is entered into because actual damages, if and when the time comes, would be too difficult to calculate with precision. Late fees are a perfect example. If a lease did not provide for a pre-determined (or "liquidated") late-fee amount or percentage but instead stated simply that the lessor has the right to charge the lessee for its actual collection costs, it would be extremely difficult, if not impossible, to calculate with exactitude. For example, the lessor would have to keep detailed track of individual telephone and postage expenses, collection-employee labor costs, collection infrastructure expenses, etc. Therefore the law permits the lessor to charge a pre-determined flat fee.
A late-payment interest provision, by contrast, is not viewed by the law as a means of recouping internal collection expenses, but only as a tool for compensating the lessor for the lost time-value of the money that is paid late. A lease (including dollar-buyouts and other "nominal" leases, which are considered loans or time-sales, and not true leases, under the law) is not an interest-bearing instrument. The periodic payments are priced to bring the lessor a pre-determined return of some or all of its investment (depending on the residual), and if installments are paid late, there is no "running interest" and therefore the lessor will not receive its bargained-for return. This is why the law allows for late-payment interest in addition to late fees.
A late-payment interest provision, by contrast, is not viewed by the law as a means of recouping internal collection expenses, but only as a tool for compensating the lessor for the lost time-value of the money that is paid late. A lease (including dollar-buyouts and other "nominal" leases, which are considered loans or time-sales, and not true leases, under the law) is not an interest-bearing instrument. The periodic payments are priced to bring the lessor a pre-determined return of some or all of its investment (depending on the residual), and if installments are paid late, there is no "running interest" and therefore the lessor will not receive its bargained-for return. This is why the law allows for late-payment interest in addition to late fees.
Michael Witt was Managing Counsel at Wells Fargo & Co and Senior Vice President and General Counsel of Advanta Leasing Corporation. He is now in private practice in Iowa.
witt-law@live.com
Michael J. Witt Law Offices
4342 Oakwood Lane
2nd Floor
West Des Moines, IA 50265
Tel: (515) 868-1067
Web: http://www.witt-law.com
Previous Columns:
http://www.leasingnews.org/Conscious-Top%20Stories/witt_desk.html

(This ad is a "trade" for the writing of this column. Opinions
contained in the column are those of Mr. Michael Witt, Esq.)
[headlines]
--------------------------------------------------------------

Top Leasing Attorneys
Client Looking For A Leasing Attorney
Birmingham, Alabama
The lawyers of Marks & Weinberg, P.C. have over 30 years experience in dealing with virtually every type of equipment financing and are recognized throughout the industry for prompt, practical solutions and exemplary service. They offer cost-conscious, effective lease enforcement and good counsel.
Email: Barry@leaselawyer.com
Website: www.leaselawyers.com
California, National: city: Riverside
Ellen Stern - get results, reasonable pricing; numerous industry contacts, nearly 30 yrs exp.in SoCal, 20 yrs equip.: CFL license specialist, documentation, work-outs, litigated collections, recoveries; deal-maker.
Email: leaselaw@msn.com


Kenneth C. Greene
California & Nevada
Hamrick & Evans, LLP, Universal City , LA; San Francisco Bay
Area, No.Calif. & Nevada. Call for free consultation (828)763-5292 or (415) 806-2254,
kgreene@hamricklaw.com

Connecticut, Southern New England:
EVANS, FELDMAN & BOYER, LLC Collections, litigation, documentation, portfolio sales and financing, bankruptcy. We represent many of the national and local leasing companies doing business in this state. Past chairman EAEL legal committee. Competitive rates.
email: rcfeldman@snet.net
Los Angeles, Southern CA
Seasoned attorney representing secured creditors in auto finance and truck/equipment lease industry. Bankruptcy and State Court litigation. Vincent V. Frounjian (818) 990-0605 or email: vvf@pacbell.net.

Encino, California: Statewide "ELFA"
Hemar, Rousso & Heald, LLP 30 yr excellent reputation Lessor representation commercial litigation, debt collection, and bankruptcy.
Call Stephen E. Jenkins Esq (818) 501-3800

Los Angeles, Statewide: CA. "ELFA" Aggressive creditors rights law firm specializing in equipment leasing handling collection matters on a contingency, fixed fee or hourly cbasis. email:RGarwacki@prodigy.net


Los Angeles -statewide: CA "ELFA"
Practice limited to collections, bankruptcy and problem accounts resolution. Decades of experience. 10-lawyer firm dedicated to serving you. Call Ronald Cohn, Esq. (818)591-2121 or email. Email: rrcohn@aol.com

Long Beach, CA
Wagner & Zielinski, successfully representing lessees/ lessors. Not a member of any leasing organization, therefore not beholden to special interests. Richard Wagner
(562) 216-2952 www.wzlawyers.com

Long Beach CA.
Paul Bent -- 30 years experience in all forms of equipment leasing, secured lending, and asset based transactions, from analysis and deal structuring to contract negotiations to closing to private dispute resolution. (562) 426-1000
www.paulbent.com

Law Firm - Service, Dallas, TX. "ELFA"
Mayer regularly practices in leasing, secured financing, project development and finance and corporate finance.
email: dmayer@pattonboggs.com
Website: www.pattonboggs.com

National: Coston & Rademacher: Business attorneys serving the lease-finance industry since 1980. Transactional, documentation, corporate/finance, workouts, litigation, bankruptcy, portfolio management. Chicago-based national practice. Jim Coston, CLP (Members: ELFA, NEFA).
email: Jcoston@costonlaw.com
Website:www.costonlaw.com

St. Louis County , MO. - statewide:
Schultz & Associates LLP., collections, negotiation, and litigation. Also register and pursue recovery on foreign judgments. Contingency and reasonable hourly rates.
Ronald J. Eisenberg, Esq. (636) 537-4645 x108
reisenberg@sl-lawyers.com
www.sl-lawyers.com
NJ,De,Pa: Specializing in leased equipment/secured transactions. Collections, replevins/workouts reasonable rates. Sergio Scuteri/Capehart & Scratchard, PA sscuteri@capehart.com / www.capehart.com
Thousand Oaks, California:
Statewide coverage Spiwak & Iezza, LLP 20+ years experience,Representing Lessors banks in both State/ Federal Courts/ all aspects of commercial leasing litigation.
Nick Iezza 805-777-1175
niezza@spiwakandiezza.com
Westport, CT: We represent finance companies, banks, lessors, etc., in replevins/seizures, collections and bankruptcy matters in Connecticut and New York. Flat fee, contingency and hourly rates.
Email: rchinitz@replevinlawyer.com
[headlines]
--------------------------------------------------------------

#### Press Release ##############################

Leasing and Finance Associations Meet To
Develop Response to Lease Accounting Proposal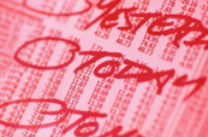 WASHINGTON, D.C., Ten leasing and finance associations participated in an international conference call to discuss the proposals for changes to lease accounting rules that have been issued by the International Accounting Standards Board (IASB) and the Financial Accounting Standards Board (FASB).
Associations from Europe, the United States, Canada, Japan, China and Australia participated in the call.
Key areas discussed at the meeting included:
• The need for the proposed new rules to be simplified and to be changed to better reflect the economics of lease transactions for both lessees and lessors.
• The need to encourage companies that use leasing, and users of their accounts, to consider and respond to the IASB's and FASB's proposals

• Research supported by the associations to help inform those responding to the proposals.
• International meetings being held to discuss the proposals, including at the Leaseurope Annual Convention in Hamburg, Germany, on Sept. 30 and Oct. 1, and the Equipment Leasing and Finance Association's Annual Convention in Boca Raton, Florida, from Oct. 24 to 26.
Participants agreed to share with each other their analysis of the proposals. A further call will be held in late November.
1. Associations participating in the call were: American Automotive Leasing Association, Australian Equipment Leasing Association, British Vehicle Rental and Leasing Association, Canadian Finance & Leasing Association, China Leasing Business Association, Equipment Leasing and Finance Association (USA), Finance & Leasing Association, Japan Leasing Association, Leaseurope, Truck Rental and Leasing Association (USA).
2. The convener of the call was David Powell of the Canadian Finance & Leasing Association
3. International meetings and conference calls among leasing associations to discuss lease accounting have been held periodically over the last 12 years.
4. The IASB and FASB issued the Exposure Draft, Leases, for public comment on Aug. 17. The consultation period closes on Dec. 15.
### Press Release ############################
International Decision Systems® Launches New Web Training Program
IDS Customers Gain a Convenient Way to Acquire Product Knowledge

Minneapolis, MN -- International Decision Systems, the leading provider of asset finance software, today announced the launch of its new web training program designed to ensure its customers receive world-class product education services.

This new strategic training initiative is designed to enable IDS customers to efficiently train one individual or teams of people at the same time simply by visiting the Learning Portal at https://learning.idsgrp.com. From the IDS Learning Portal, customers can easily register and pay online for the specific types of training their users need most. Multiple participants can leverage IDS expertise and learn how to best use their company's IDS solutions all from the convenience of their office chairs. If more training is required at a later date, it is only a few mouse-clicks away. This cost-effective option gives IDS customers an opportunity to infuse knowledge into their organizations quickly so they can ignite productivity and ROI gains.
The program begins with a web training pilot series for InfoTrieve™ running throughout the fourth quarter of 2010 with special introductory pricing. The company plans to offer additional web training options in 2011.
"IDS is committed to ensuring a level of customer education that matches the excellence of our asset finance software," said Denise Patrick-Johnson, Training Manager at IDS. "We know that as our customer base and product line expands, it stands to reason that our customer training services must grow too. This new online training avenue allows us to take advantage of the latest technology available in the market, and gives our customers a jumpstart in learning about IDS solutions so they can run their businesses."
To register your organization for training sessions, visit https://learning.idsgrp.com <https://learning.idsgrp.com> . For more information about IDS' finance origination and portfolio management solutions, visit www.idsgrp.com <http://www.idsgrp.com> .
About IDS:
IDS is the leading provider of software and solutions for the equipment finance market. For over 30 years, the company has offered integrated solutions from origination through disposition and asset management, supported by an ongoing research and development effort unrivaled in the market space. Customers include approximately 50% of the largest leasing companies in the United States, and an increasing number of the largest global players. In addition to offering powerful, flexible software, IDS provides the industry experience and expertise to assure successful, complete solutions. Headquartered in Minneapolis, MN, the company also has offices in the United Kingdom, India, Singapore and Australia. For additional information, visit www.idsgrp.com <http://www.idsgrp.com> .
International Decision Systems®, InfoLease®, Rapport®, and ProFinia® are registered trademarks of International Decision Systems, Inc.
#### Press Release #############################
(This ad is a "trade" for the writing of this column. Opinions
contained in the column are those of Mr. Terry Winders, CLP)


[headlines]
--------------------------------------------------------------

Charlotte, North Carolina ---Adopt a Dog

Allie
1 Year old Female
"August 10, 2010... Allie is doing well in her foster home. She is quickly gaining some much needed weight. Allie loves playing with her foster fur sister, Cascey. Allie does make funny, loud, growl like sounds when she plays.... the sound was a little intimidating for Cascey at first but she soon realized that Allie was playing with her! Now they have a great time together! Allie's foster family has discovered that she does not like cats and will go after them.... so Miss Allie will be moved to a new foster home soon! Allie is a very sweet girl and overall is doing great. If you are looking for a great boxer girl (and you have no cats!) then please consider Allie!
"July 29, 2010... Aliie continues to do well in her foster home. She is getting along great with her playmate, Cascey. Allie is eating 3 times a day to help her gain some weight and is already looking better. Allie is doing well with housetraining - it's been 2 days since she has had an accident in the house. She's not fond of her crate but it's getting better each day.
"July 23, 2010... Allie went to the vet today. She weighs just 29 lbs!! And, she is heartworm positive. CBR will get her treated for her heartworms once she has gained some weight and the vets feel she is healthy enough to undergo treatment.
"July 22, 2010... Allie is new to rescue. She was just picked up from the shelter today. She is VERY thin and tiny for an adult boxer. She enjoyed a bath and having her nails clipped. When she was done, all she wanted to do was play with the other dogs! She is about 1 year old. More to come as we get to know her!"
http://cbr.homestead.com/Allie2010.html
Application:
http://cbr.homestead.com/adoptionapplication1.html
Carolina Boxer Rescue
http://cbr.homestead.com/
(910) 799-5638

Adopt-a-Pet by Leasing Co. State/City
http://www.leasingnews.org/Conscious-Top%20Stories/Adopt_Pet.htm

Adopt a Pet
http://www.adoptapet.com/


[headlines]
--------------------------------------------------------------

Fernando's View
By Fernando F. Croce

The taut "The Town" and the breezy "Easy A" provide moviegoers with a yin-yang double-bill of action and comedy, while DVD viewers can catch up with three choice sleepers ("Looking for Eric," "Ondine," "The Secret in Their Eyes").
The Town (Warner Bros.): Following an acclaimed directorial debut with "Gone, Baby, Gone," Ben Affleck steps behind the camera once more for this action-packed drama. Set in Charlestown, a crime-filled Boston neighborhood, it tells the story of the unlikely romantic bond that develops between Doug (Affleck), the sensitive leader of an outlaw gang, and Claire (Rebecca Hall), the bank manager who had been taken hostage during one of their hold-ups. Doug dreams of a better life away from robberies, but, as the FBI draws nearer and nearer, will he stick to the woman he loves or to his longtime crime partner (Jeremy Renner)? Full of adrenaline-pumping chases and strong performances by Jon Hamm, Peter Postlethwaite and Chris Cooper, the movie provides a sturdy way to bring the summer season to an end.
Easy A (Screen Gems): Nathaniel Hawthorne's classic novel "The Scarlet Letter" gets a breezy update in this lightly enjoyable comedy set in the world of high-school beauties, nerds and jocks. Olive (Emma Stone, from "Superbad") is a dedicated student whose conventional attitudes leave her virtually invisible with the cool crowd in her Southern California high-school. It isn't until a rumor about her libidinous abandon starts being circulated in the halls that she's noticed and, like Hawthorne's Hester Prynne, is metaphorically branded with a bad-girl mark. Unlike her literary counterpart, however, the sharp Olive figures out a way to use her new infamy for her own benefit. Directed by Will Gluck with an eye for fast wisecracks and the comic talents of the vibrant Stone, the film is a sweet and tart surprise.

Taking a lead from Ben Affleck's strong sense of location in this week's "The Town," hit your Netflix queue for more memorable hits also set in Boston. There's the underrated "The Friends of Eddie Coyle" (1973), with a great Robert Mitchum performance; the widely popular "Good Will Hunting" (1997), also starring Affleck; Clint Eastwood's harrowing "Mystic River" (2003); and "The Departed" (2006), which finally nabbed Martin Scorsese a Best Picture Oscar.
Out on video:
Looking for Eric (IFC Films): Better known for his serious, politically engaged studies of downtrodden characters, acclaimed British filmmaker Ken Loach lightens up in this surprisingly lighthearted, enjoyable comedy-drama. Taking place in working-class Manchester, it portrays the misadventures of Eric Bishop (Steve Evets), a middle-aged mail carrier whose many troubles include a troubled marriage and a couple of lazy stepsons. Taking stock of his life, he finds inspiration in his hero, soccer legend Eric Cantoner, who coaches him in hilarious, magic-realist interludes. Will the footballer's advice help Eric win back the love of his life? Mixing gentle whimsy with an often rough-hewn realism, the film is a warm and human look at one man's attempts to find love in a frequently grim world.
Ondine (Magnolia Pictures): Following a stylish venture in New York City with "The Brave One," acclaimed Irish director Neil Jordan ("The Crying Game") returns to his homeland with this lyrical, often enchanting fairy tale. Colin Farrell plays Syracuse, a fisherman who one day finds a beautiful young woman (Alicja Bachleda) caught in his nets. With the help of his vivacious daughter (Alison Barry), Syracuse takes her in and calls her Ondine, believing that she's the legendary mermaid from the tales he grew up listening to. The two fall passionately in love, but can their union survive as reality intrudes into the realm of myth? A movie that somehow manages to blend fantasy with grit, Jordan's romance is both magical and endearing.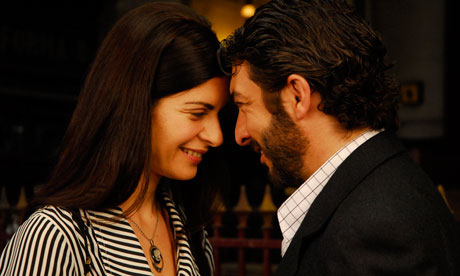 The Secret in Their Eyes (Sony Pictures Classics): One of this year's surprise Oscar upsets, this Argentinean drama beat out more high-profile films and took home the Best Foreign Language Film trophy. It tells the story of Benjamin (Ricardo Darin), a judge who, after his retirement, decides to write a novel about the crime case that has haunted him for decades. The book gradually turns into a private investigation that involves the woman he's long been secretly in love with, a vengeful husband, and even a criminal who may or may not be the murderer. Mixing past and present and fact and fiction, director Juan Jose Campanella offers a blend of suspense and history lessons that may remind viewers of another Oscar-winner, "The Lives of Others." With subtitles.

[headlines]
--------------------------------------------------------------

Dash back in the U.S.A.

(2005 photo—Dash center, knelling down)

My son Dash, who has been to Iraq five times, combat pin, as part of Special Operations, is back from Southeast Asia. He was gone over six months.
I spoke to him by telephone late Thursday night. He has a great attitude and is looking to touring on his motorcycle, getting on his boat before the weather turns, and will be going on a new assignment, but will get time off for Christmas.
Kit Menkin, editor
[headlines]
---------------------------------------------------------------




News Briefs ---

Storm rattles even jaded New Yorkers
http://www.latimes.com/news/nationworld/nation/la-na-0917-nyc-storm-20100917,0,4008021.story

Valerie Jester sells home in North Palm Beach
http://southflorida.blockshopper.com/news/story/1300097358-Equipment_lease_co_president_dentist_sell_in_North_Palm_Beach

National Leasing credited for growth of Western Bank
http://www.winnipegfreepress.com/business/western-bank-profit-up-62-102047338.html
Ellen Sas removed as pres./CEO of Seattle Bank
http://seattle.bizjournals.com/seattle/blog/2010/09/seattle_banks_former
_ceo_surprised_by_ouster.html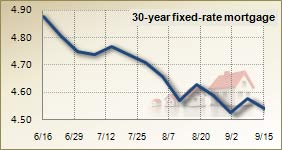 Mortgage Rates near Low/Lending Soft
http://www.bankrate.com/finance/mortgages/rates-fall-near-record-low.aspx

Miami Herald to cut 49 positions
http://www.upi.com/Business_News/2010/09/16/Miami-Herald-to-cut-49-positions/UPI-36721284659497/

Large Collection Firm Owes $63 Million; Files for Bankruptcy Protection
http://www.collectionscreditrisk.com/news/large-collection-firm-owes-files-for-bankruptcy-protection-3003277-1.html


You May have Missed---

Look Out! Microsoft's IE9 off limits/Works solely on Windows 7
http://www.computerworld.com/s/article/9186098/Microsoft_s_IE9_off_limits_to_most_Windows_PCs


"Gimme that Wine"

Wine family matriarch Kathleen Fetzer dies in Ukiah
http://www.pressdemocrat.com/article/20100915/ARTICLES/100919716/1033
Staglin event raises $2.5 million for mental health research
http://napavalleyregister.com/news/local/article_fa635c6c-c154-11df-8534-001cc4c002e0.html
Napa County Harvest Report: Grapes slowly getting ripe
http://sthelenastar.com/articles/2010/09/16/business/local/doc4c918cf73c35e406062886.txt
Wine Harvest Twitter around U.S.
http://www.winebusiness.com/twitter/harvest/


Free Mobile Wine Program
http://leasingnews.org/archives/Feb2010/2_26.htm#mobile
Wine Prices by vintage
http://www.winezap.com
http://www.wine-searcher.com/
US/International Wine Events
http://www.localwineevents.com/
Winery Atlas
http://www.carterhouse.com/atlas/\
Leasing News Wine & Spirits Page
http://two.leasingnews.org/Recommendations/wnensprts.htm

[headlines]
----------------------------------------------------------------
This Day in American History
1630- City of Boston forms Across the Charles River, William Blackstone, a former clergyman, was living an isolated existence as a trapper on the Shawmut Peninsula - the original land mass of Boston. Word came to him from Indian friends of the difficulties his fellow countrymen were having. He sent a message to John Winthrop advising him that the Trimountain hills on his side of the river were far more suitable for settlement. Winthrop, who had been at college with Blackstone (as unbelievable as that sounds), went to see him and it was this meeting in 1630 that really marked the foundation of the city of Boston. Within the next few weeks several small wooden houses were built by the migrants and at the suggestion of Thomas Dudley it was decided that the new settlement be called Boston after its English namesake. Remember, the Puritans did not want a break with England, just to create an example of what could be if England followed their example. Hence, they'd fashion their Boston in their own image, so to speak. Over the next few years many more Lincolnshire migrants arrived. Indeed, a memorial stone in St.Botolph's Church commemorates the five Boston men who became Governors of Massachusetts, those being Thomas Dudley, Richard Bellingham, Francis Bernard, John Leverett and Simon Bradstreet.
1656-Massachusetts enacted severe laws against Quakers. (At the time, government and religion were intricately interwoven; the line between blasphemy and treason was virtually nonexistent; and non-sacramental Quakerism gave the impression that the denomination was anti-government.)
1717- The first synod of the Presbyterian Church in America met in Philadelphia.
1730-Birthday of Baron Frederich Von Steuben, Prussian-born general who volunteered to serve in the American Revolution. His strategy and help in training troops dramatically change the tide of the Revolutionary War. He died at Remsen, NY, Nov 28, 1794.
1776- Presidio of San Francisco forms as a Spanish fort
http://www.nps.gov/prsf/
http://www.zpub.com/sf/history/sfh2.html
1778- The US signed a treaty with the Delaware Nation, the first treaty with Native American tribes, agreed upon at Fort Pitt ( not Pittsburgh ).
1787- delegations from 12 states (Rhode Island did not send a delegate) at the Constitutional Convention at Philadelphia, PA, voted unanimously to approve the proposed document and adopt the US Constitution.. Thirty-nine of the 42 delegates present signed it and the Convention adjourned, after drafting a letter of transmittal to the Congress. One of the main proponents was Article 6, Section 3: 'No religious tests shall ever be required as a qualification to any office or public trust under the United States.' The proposed constitution stipulated that it would take effect when ratified by nine states. This day is a legal holiday in Florida. It was stated that it would become binding on all 13 colonies when ratified by nine states. This took place on June 21, 1788, when the legislature of New Hampshire approved ratification by a 57-47 vote. The Constitution was declared to be in effect on March 4, 1789
http://memory.loc.gov/ammem/today/sep17.html
1850-In San Francisco, the Fourth Great Fire destroyed 150 buildings in the area bounded by Dupont, Montgomery, Washington and Pacific streets. Loss set at $500,000. The fire broke out in the Philadelphia House on the north side of Jackson between Grant and Kearny. The San Francisco, Empire and Protection fire companies fought the blaze but had no water.
1859-Joshua A. Norton, who lost his money in an attempt to corner the rice market, today declares himself Norton I, Emperor of the United States and Protector of Mexico. San Francisco. At the pre-emptory request of a large majority of the citizens of these United States, I Joshua Norton, formerly of Algoa Bay, Cape of Good Hope, and now for the last nine years and ten months past of San Francisco, California, declare and proclaim myself the Emperor of These United States. Joshua A. Norton.
1861-American Missionary Association school establish in Fortress Monroe, VA
aiming to bring about full and equal privileges of citizenship to the black population of the United States during the latter half of the 19th century, leading into the 20th century. The Association did so under the doctrine that to deny these rights would serve to subvert the teachings of Jesus, thus those who attempted to deny these rights performed sins against God and man. Formed as a means of protest against other missionaries during the mid-19th century, the AMA promoted political activity and encouraged a strong anti-slavery sentiment among its missions.
http://www.lib.umd.edu/MICROFORMS/american_missionary_assn.html
1862- this date has been called America's bloodiest day in recognition of the high casualties suffered in the Civil War battle between General Robert E. Lee's Confederate forces and General George McClellan's Union army. Estimates vary, but more than 25,000 Union and Confederate soldiers were killed or wounded in this battle on the banks of the Potomac River at Maryland. This had started as a plan to take Harper's Ferry, move into the North, perhaps capture Washington, DC, or at worse, a propaganda victory for those who were against continuing the
war against the Confederates. The plan was discovered on September 12, and General McClellan moved quickly and decisively to change the course of history.
http://memory.loc.gov/ammem/today/sep17.html
http://www.nps.gov/anti/battle.htm
http://www.nps.gov/anti/casualty.htm
1862 - Sgt. William McKinley and a single volunteer drove a wagon of hot coffee and warm food through Confederate fire at Antietam to the men of the 23rd Ohio regiment. Col. Rutherford B. Hayes promoted him to lieutenant for his bravery and initiative.
1868-Hampton Institute founded at Hampton, Va.; coeducational; founded 1868, chartered 1870 as a normal and agricultural school; known as Hampton Institute 1930-84. Founded by Samuel Chapman Armstrong, it was among the first black colleges and also pioneered in Native American education. Hampton's library is noted for its Peabody Collection on African-American history and culture.
1868-Early in the morning, a large band of Cheyenne and Sioux stage a surprise attack on Major George A. Forsyth and a volunteer force of 50 frontiersmen in Colorado. Retreating to a small sandbar in the Arikaree River that thereafter became known as Beecher's Island, Forsyth and his men succeeded in repulsing three massed Indian charges. Thanks to the rapid fire capability of their seven-shot Spencer rifles, Forsyth's volunteers were able to kill or wound many of the Indian attackers, including the war chief Roman Nose. But as evening came and the fighting temporarily halted, Forsyth found he had 22 men either dead or wounded, and he estimated the survivors were surrounded by a force of 600 Indians. The whites faced certain annihilation unless they could somehow bring help. Two men- Jack Stilwell and Pierre Trudeau-volunteered to attempt a daring escape through the Indian lines and silently melted into the night.
The battle raged for five more days. Forsyth's effective fighting force was reduced to ten men before the Indians finally withdrew, perhaps reasoning that they had inflicted enough damage. Miles from help and lacking wagons and horses, Forsyth knew that many of his wounded would soon be dead if they didn't get help. Fortunately, on September 25, the 10th Cavalry-one of the Army's two African-American units nicknamed the "Buffalo Soldiers"- came riding to their rescue with a field ambulance and medical supplies. Miraculously, Stilwell and Trudeau had managed to make it through the Sioux and Cheyenne and bring help. Thanks to their bravery and the timely arrival of the Buffalo Soldiers, the lives of many men were saved.
http://www.buffalosoldiers.net/
1872-Phillip W. Pratt of Abington, MA was granted a patent for a sprinkler system. The system operated by means of a valve to which cords and fuses melted, the valve opened, releasing a stream of water. In 1874, Henry S. Parmelee of New Haven refined the sprinkler head with perforations, containing a valve that was held closed against water pressure by a heavy spring made of low fusing material.
1895-Birthday of drummer and bandleader William McKinney, Cynthiana, KY
1883 – Poet William Carlos Williams born Rutherford, New Jersey.
http://www.english.uiuc.edu/maps/poets/s_z/williams/bio.htm
1902-Birthday of trombone player Louis "Big-Eye" Nelson, New Orleans, LA.
http://shop.store.yahoo.com/jukejoint/bcd-173.html
http://www.jazzcrusade.com/JCCD/JC3026.html
http://www.jazzcrusade.com/JCCD/JC3059.html
1912 -- Casey Stengel of the Dodgers makes an impressive major league debut against the Pirates. The likable Brooklyn outfielder from Kansas City collects four hits, drives in two runs and swipes a pair of stolen bases.
1920- the American Professional Football Association was formed in Canton, OH.
1923- birthday Hiram King "Hank" Williams, country and western singer, born at Georgia, AL. He achieved his first major hit with "Lovesick Blues," which brought him a contract with the Grand Ole Opry. His string of hits included "Cold, Cold Heart," "Honky Tonk Blues," "Jambalaya," "Your Cheatin' Heart," "Take These Chains From My HearV' and "I'll Never Get Out of This World Alive," which was released prior to his death Jan 1,1953, at Oak Hill, VA.
1923 Pianist Ralph Sharon Birthday
http://www.yamaha.com/musiced/allaccess/summer2K1/36sharon.htm
1925-Brithday of organ player Jack Brother McDuff, Champaign, IL
1927-Birthday of sax player Sam Butera, New Orleans, LA
1927-Birthday of Pro Football Hall of Fame quarterback and place-kicker George Frederick Blanda, born Youngwood, PA.
1928 -- Hurricane hits Lake Okeechobee, Florida drowning 1,800-2500.
1931--Birthday of 1931, Anne Bancroft, much honored U.S. stage and film actor. She won the 1960 Tony (ANTA) award for originating the Annie Sullivan role in The Miracle Worker and won the Academy Award when she reprised the role on film. In 1987 she won the top British film award for her beautifully understated role in 84 Charing Cross Road. Other awards: 1958 Tony for best supporting actress for Two for the Seasons; AA nominations for The Pumpkin Eater (1964) which won the Cannes International Film festival prize, The Graduate (1967), and The Turning Point (1977).
1931 - RCA Victor began demonstrating a very early version of the long-playing (LP), 33-1/3 RPM phonograph record. It would be another 17 years before RCA rival Columbia would begin mass production of the LP.
1932 - Concord NH was drenched with 5.97 inches of rain in 24 hours to establish a record for that location (16th- 17th).
1934- birthday of Maureen "little Mo" Catherine Connolly Bringer, tennis player born at Sand Diego, CA. She became the second-youngest woman to win the US National championship at Forest Hills, NY. She repeated in 1952 and won the Wimbledon, too. In 1953, she became the first woman to win the Grand Slam, taking the US, French, Australian and Wimbledon championships. After winning a second and straight French title and a third straight Wimbledon, she suffered a crushed leg in a horseback riding accident and never competed again. Died at Dallas, TX, June 21, 1969 at age 35 from cancer.
1935 -- Hippie bus driver, psychedelician, author Ken Kesey birthday.
At a Veterans Administration hospital in Menlo Park, California, Kesey was paid volunteer experimental subject, taking mind-altering drugs & reporting their effects. His experiences as an aide at a psychiatric hospital & LSD sessions served as background for One Flew Over Cuckoo's Nest, which was set in a mental hospital. The book reveals the dehumanizing effects of the social conformity of the 1950s, & gained huge critical & commercial success. Kesey formed the 'Merrie Pranksters', bought an old school bus, & toured America & Mexico with his friends. Their weird exploits were later chronicled in Tom Wolfe's The Electric Kool-Aid Acid Test (1973).
http://www.gradesaver.com/ClassicNotes/Authors/about_ken_kesey.html
http://www.lib.virginia.edu/speccol/exhibits/sixties/kesey.html
1937-Birthday of baseball legend Orlando Cepeda.
http://www.latinosportslegends.com/cepeda.htm
1937-Artie Shaw Band records "Nightmare."
1941-- In front of only 3,585 fans in St. Louis, twenty-year old Stan Musial makes his major league debut against Boston going 2-for-4 with 2 RBIs. 'Stan the Man' will collect a total of 3,630 hits during his 22-year Hall of Fame career, 1815 hits at home and 1815 on the road.
1944--CLARK, FRANCIS J. Medal of Honor
Rank and organization: Technical Sergeant, U.S. Army, Company K, 109th Infantry, 28th Infantry Division. Place and date: Near Kalborn, Luxembourg, 12 September 1944; near Sevenig, Germany, 17 September 1944. Entered service at: Salem, N.Y. Birth: Whitehall, N.Y. G.O. No.: 77, 10 September 1945. Citation: He fought gallantly in Luxembourg and Germany. On 12 September 1944, Company K began fording the Our River near Kalborn, Luxembourg, to take high ground on the opposite bank. Covered by early morning fog, the 3d Platoon, in which T/Sgt. Clark was squad leader, successfully negotiated the crossing; but when the 2d Platoon reached the shore, withering automatic and small-arms fire ripped into it, eliminating the platoon leader and platoon sergeant and pinning down the troops in the open. From his comparatively safe position, T/Sgt. Clark crawled alone across a field through a hail of bullets to the stricken troops. He led the platoon to safety and then unhesitatingly returned into the fire-swept area to rescue a wounded soldier, carrying him to the American line while hostile gunners tried to cut him down. Later, he led his squad and men of the 2d Platoon in dangerous sorties against strong enemy positions to weaken them by lightning-like jabs. He assaulted an enemy machinegun with hand grenades, killing 2 Germans. He roamed the front and flanks, dashing toward hostile weapons, killing and wounding an undetermined number of the enemy, scattering German patrols and, eventually, forcing the withdrawal of a full company of Germans heavily armed with automatic weapons. On 17 September, near Sevenig, Germany, he advanced alone against an enemy machinegun, killed the gunner and forced the assistant to flee. The Germans counterattacked, and heavy casualties were suffered by Company K. Seeing that 2 platoons lacked leadership, T/Sgt. Clark took over their command and moved among the men to give encouragement. Although wounded on the morning of 18 September, he refused to be evacuated and took up a position in a pillbox when night came. Emerging at daybreak, he killed a German soldier setting up a machinegun not more than 5 yards away. When he located another enemy gun, he moved up unobserved and killed 2 Germans with rifle fire. Later that day he voluntarily braved small-arms fire to take food and water to members of an isolated platoon. T/Sgt. Clark's actions in assuming command when leadership was desperately needed, in launching attacks and beating off counterattacks, in aiding his stranded comrades, and in fearlessly facing powerful enemy fire, were strikingly heroic examples and put fighting heart into the hard-pressed men of Company K.
1945-Birthday of basketball coach and player Philip D. "Phil" Jackson, Deer Lodge, MT.
1946- Woody Herman's First Herd records "Sidewalks of Cuba"
1950--*PILILAAU, HERBERT K. Medal of Honor
Rank and organization: Private First Class, U.S. Army, Company C, 23d Infantry Regiment, 2nd Infantry Division. Place and date: Near Pia-ri, Korea, 17 September 1951. Entered service at: Oahu, T.H. Born: 10 October 1928, Waianae, Oahu, T.H. G.O. No.: 58, 18 June 1952. Citation: Pfc. Pililaau, a member of Company C, distinguished himself by conspicuous gallantry and outstanding courage above and beyond the call of duty in action against the enemy. The enemy sent wave after wave of fanatical troops against his platoon which held a key terrain feature on "Heartbreak Ridge." Valiantly defending its position, the unit repulsed each attack until ammunition became practically exhausted and it was ordered to withdraw to a new position. Voluntarily remaining behind to cover the withdrawal, Pfc. Pililaau fired his automatic weapon into the ranks of the assailants, threw all his grenades and, with ammunition exhausted, closed with the foe in hand-to-hand combat, courageously fighting with his trench knife and bare fists until finally overcome and mortally wounded. When the position was subsequently retaken, more than 40 enemy dead were counted in the area he had so valiantly defended. His heroic devotion to duty, indomitable fighting spirit, and gallant self-sacrifice reflect the highest credit upon himself, the infantry, and the U.S. Army.
1951---Top Hits
Because of You - Tony Bennett
The Loveliest Night of the Year - Mario Lanza
Sweet Violets - Dinah Shore
Always Late (With Your Kisses) - Lefty Frizzell
1952 - Frank Sinatra sang at his final session with Mitch Miller and Columbia Records.
1953 - Ernie Banks became the first black baseball player to wear a Chicago Cubs uniform. Banks was also quick to say, "Let's play two!" Banks was the Cubs' outstanding shortstop from 1954 to 1960. In 1961 he was moved to left field, then to first base, where he spent the rest of his career. In 1969, Ernie Banks was voted the Cub's best player ever by Chicago fans. 'Mr. Cub' retired in 1971.
1954 - Rocky Marciano retained possession of the world heavyweight boxing title. He knocked out Ezzard Charles in the eighth round of their championship bout.
1955--Actor James Dean made a public information film for TV, urging teenagers to drive safely. At the end of the month he would be killed in a high speed car crash.
1955 - "The Perry Como Show" moved to Saturday nights on NBC-TV. Soon, U.S.A. audiences would "Sing along with me ... I'm on my way to the stars..." with the incomparable Mr. C. Como's hour-long variety show replaced his three-times-per-week, 15-minute show, which had been on the air since 1948. The new version of "The Perry Como Show" soon became Saturday's highest-rated TV program, beating CBS competitor Jackie Gleason.
http://www.classicthemes.com/50sTVThemes/themePages/
perryComoShow2.html
1957- "Sugarfoot" premiered on TV. My father wrote many of these
episodes. It was one of three ABC westerns produced by Warner Brothers in the late 50's. The show alternated with "Cheyenne" and "Bronco." Will Hutchins starred as Tom (Sugarfoot) Brewster, an Easterner with designs on becoming a lawyer in the Wild West. All three shows later aired under the "Cheyenne" appellation in 1960.
http://home.att.net/~dadmug/sugarfoot.html
1959---Top Hits
Sleep Walk - Santo Johnny
I'm Gonna Get Married - Lloyd Price
('Til) I Kissed You - The Everly Brothers
The Three Bells - The Browns
1961 - A new team debuted in the National Football League: the Minnesota Vikings. The Vikings defeated the Chicago Bears by a score of 37-13 in the team's first game.
1961- "Car 54 Where are You?" premiers on TV
http://mywebpages.comcast.net/csmiths/index.html
http://mywebpages.comcast.net/csmiths/showfacts.html
1963- "The Fugitive" premiers. A nail-biting adventure series on ABC. Dr. Richard Kimble (David Janssen) was wrongly convicted and sentenced to death for his wife's murder, but escaped from his captors in a train wreck. This popular program aired for four years detailing Kimble's search for the one-armed man (Bill Raisch) who had killed his wife, Helen (Diane Brewster). In the meantime, Kimble himself was being pursued by Lieutenant Philip Gerard (Barry Morse). The final episode aired Aug 29,1967, and featured Kimble extracting a confession from the one-armed man as they struggled from the heights of a water tower in a deserted amusement park. That single episode was the highest-rated show ever broadcast until 1976. The TV series generated a hit movie in 1993 with Harrison Ford as Kimble and Oscar-winner Tommy Lee Jones as Gerard.
http://www.unchance.net/Fugitive/
1964- "Bewitched" premiered on TV. This sitcom centered around blonde-haired witch Samantha Stephens (Elizabeth Montgomery). Although she promises not to use her witchcraft in her daily life, Samantha finds herself twitching her nose in many situations. Her husband, Darrin Stephens, was played by Dick York and Dick Sargent, and her daughter, Tabitha Stephens, was played by Erin and Diane Murphy. My stupid daughter named by first girl grandchild: Tabitha, after
the baby TV witch. The last episode aired July 1,1972. Other cast members included Agnes Moorhead, David White, Alice Ghosttey, Bernard Fox and Paul Lynde.
http://us.imdb.com/title/tt0057733/
1965 – "Hogan's Heroes" premiered on television. It was a comedy, took place in a World War II Nazi POW camp. For six years the prisoners, under the lead of Colonel Robert Hogan (played by former KNX, Los Angeles, radio air personality, Bob Crane), managed to outwit the incompetent and inept Nazi Colonel Wilhelm Klink (played very competently by Werner Klemperer [2-time Emmy-Award winner for his role]) and Nazi Sgt. Shultz (played quite deftly by John Banner) " I know noth—ING.".
http://www.hogansheroesfanclub.com/
http://www.tvtome.com/HogansHeroes/
1966- "Mission: Impossible" premiered. This action-adventure espionage series was produced by Bruce Geller, appearing on CBS for seven years. The premise of the show was simple: each week the IMF (Impossible Missions Force) leader would receive instructions on a super-secret mission to be carried out by the crew. Steven Hill played the first IMF leader, Dan Briggs. He was replaced by Peter Graves who played Jim Phelps. The crew included: Martin Landau as Rollin Hand, master of disguise, Barbara Bain, real-life wife of Landau, as Cinnamon Carter, Greg Morris as Barney Collier, technical expert, Peter Lupus as Willy Armitage, tough guy, Leonard Nimoy as Hand's replacement, Paris, Lesley Ann Warren as Dana Lambert, Sam Elliott as Doug, Lynda Day George as Lisa Casey and Barbara Anderson as Mimi Davis. The show was remade for ABC in 1988; it lasted two seasons. The latest incarnation of "Mission: Impossible" was on the silver screen in 1996, starring Tom Cruise.
http://www.tvtome.com/tvtome/servlet/ShowMainServlet/showid-577
http://www.geocities.com/rickstvshows/missionimp66.html
1966-The Beatles' "Yellow Submarine" peaks at #2 on the chart, while The Beach Boys' "Wouldn't It Be Nice" peaks at #8 and The Hollies' "Bus Stop" peaks at #5.
1967---Top Hits
Ode to Billie Joe - Bobbie Gentry
Reflections - Diana Ross & The Supremes
Come Back When You Grow Up - Bobby Vee
My Elusive Dreams - David Houston
1967- The Doors perform "Light My Fire" and "People are Strange" on the "Ed Sullivan Show." Prior to the show, Sullivan asked Jim Morrison to change or omit the line "Girl, we couldn't get much higher" in "Light My Fire." Morrison sang it anyway.
1968--Diana Ross records "Love Child" without the other two Supremes, Florence Ballard and Mary Wilson.
1969-Tiny Tim announces his engagement to Victoria May Budinger. 40 million viewers would watch him tie the knot with 17-year-old Miss Vicki on The Tonight Show on December 17, 1969. The union produced a daughter named Tulip, but ended when Vicki filed for a divorce on March 6, 1972 and was granted in 1977.
1970- the first African-American to win the Miss America Pageant was Cheryle Adrenne Brown of Jamaica, Queens, New York City, a sophomore at Luther College in Decorah, IA, who represented Iowa in the contest in Atlantic City.
1972- "M*A*S*H" premieres. This popular CBS series was based on the 1970 Robert Altman movie and a book by Richard Hooker. Set during the Korean War, the show aired for 11 years (lasting longer than the war). It followed the lives of doctors and nurses on the war front with both humor and pathos. The cast included: Alan Alda as Captain Benjamin Franklin "Hawkeye" Pierce, Wayne Rogers as Captain John ~Trapper John" McIntyre, McLean Stevenson as Lieutenant Colonel Henry Blake, Loretta Swit as Major Margaret "Hot Lips" Houlihan, Larry Linville as Major Frank Burns, Gary Burghoff as Corporal Walter "Radar' O'Reilly, William Christopher as Father Francis Mulcahy, Jamie Farr as Corporal Max Klinger, Harry Morgan as Colonel Sherman Potter and Mike Farrell as Captain B.J. Hunnicut. The show won numerous awards during its run. Its final episode, "Goodbye, Farewell and Amen" was the highest-rated program of all time, topping the "Who Shot J.R.?" revelation on "Dallas." See also: ~M*A*S*H: The Final Episode: Anniversary" (Feb 28). The show generated two spin-offs: "Trapper John, MD" and "After M*A*S*H.
http://www.imdb.com/title/tt0068098/
http://www.faqs.org/faqs/tv/mash/guide/
1975---Top Hits
Rhinestone Cowboy - Glen Campbell
At Seventeen - Janis Ian
Fame - David Bowie
Feelins' - Conway Twitty & Loretta Lynne
1980- Bette Midler's "Divine Madness," a film of a 1979 concert in Pasadena, CA, premieres in Los Angeles.
1983 - Vanessa Williams, Miss New York, was crowned Miss America. Williams was the first black woman in the 62-year history of the Miss America Pageant to win the coveted title. Williams relinquished her crown during her reign when nude pictures of her were published in "Penthouse" magazine. She went on to enjoy popularity as a singer ("Dreamin'", "Save the Best for Last") and an actress ("Candyman", "Another You", "Under the Gun").
1983 - Slugger Carl Yastrzemski of the Boston Red Sox broke Hank Aaron's major-league record for games played. 'Yaz' played in his 3,299th game.
1983---Top Hits
Maniac - Michael Sembello
Tell Her About It - Billy Joel
The Safety Dance - Men Without Hats
Night Games - Charley Pride
1984 - The largest group of immigrants to become naturalized citizens of the U.S., 9,706 people, was sworn in by Vice-President George Bush in Miami, FL.
1984 - Oil heir Gordon P. Getty, with a fortune of $4.1 billion dollars, was named the richest person in the U.S. There were a dozen billionaires in the U.S. at the time.
1986- "Head of the Class." This ABC sitcom was the antithesis of "Welcome Back, Kotter." It ran for five years, depicting the travails and triumphs of brainy students in the Individual Honors Program (IHP) of New York's Fillmore High School. One episode in 1988 was the first American prime-time program filmed entirely in the Soviet Union. Howard Hesseman starred as part-time actor and substitute teacher Charlie Moore (a man more adept at teaching life's lessons than history). The cast also featured William G. Schilling as Principal Samuels, Jeannetta Arnette as Assistant Principal Bernadette Meara, Leslie Bega as Maria, Dan Frischman as Arvid, Robin Givens as Darlene, Khrystyne Haje as Simone, Jory Husain as Jawarharlal, Tony O'Dell as Alan, Brian Robbins as Eric, Kimberly Russell as Sarah, Dan Schneider as Dennis, Tannis Vallely as Janice, Rain Pryor as T.J., Michael DeLorenzo as Alex~ Lara Piper as Viki, De'voreaux White as Aristotle and Jonathan Ke Quan as Jasper. After Hesseman left the show in 1990, Scottish comedian Billy Connolly took over the class. The series ended with the graduation of all the characters, June 25,1991.
http://www.tvtome.com/tvtome/servlet/ShowMainServlet/showid-1346
http://us.imdb.com/title/tt0090444/
1988 - Early in the morning a tornado hit Kelly Air Force Base in San Antonio, TX, injuring three persons and causing twenty-eight million dollars damage. A second tornado on the northwest side of San Antonio caused six million dollars damage, and a third tornado in Bexar County killed one person and injured another. Thunderstorms associated with Hurricane Gilbert spawned a total of forty-seven tornadoes in a two day period, with forty of those tornadoes in central and south central Texas.
1989 - Hurricane Hugo hit the Virgin Islands, producing wind gusts to 97 mph at Saint Croix. Hurricane Hugo passed directly over the island of Saint Croix causing complete devastation and essentially cutting off the island from communications. A storm surge of five to seven feet occurred at Saint Croix. The only rain gauge left operating, at Caneel Bay, indicated 9.40 inches in 24 hours. Hurricane Hugo claimed the lives of three persons at Saint Croix, and caused more than 500 million dollars damage. A ship, Nightcap, in the harbor of Culebra, measured wind gusts as high as 170 mph. A cold front brought high winds to the Great Basin and the Rocky Mountain Region, and thunderstorms along the cold front produced wind gusts to 66 mph at Yellowstone Park WY.
1991- "Home Improvement" premiered. This comedy centered around the Taylors. Tim Taylor, played by Tim Allen, was a TV host on the popular fix-it show "Tool Time." Jill, played by Patricia Richardson, was a housewife and mother going back to school to get a degree in psychology. The couple's three sons were played by Zachery Ty Bryan, Jonathan Taylor Thomas and Taran Noah Smith. Other cast members included Richard Kern, Earl Hindman, Debbe Dunning and Pamela Anderson. The last episode aired May 25,1999.
http://www.tvtome.com/tvtome/servlet/ShowMainServlet/showid-635
1986 - The New York Mets clinched their first divisional title since 1973 by defeating the Chicago Cubs 4-2. The Mets later won the World Series as well.
1991---Top Hits
The Promise of a New Day - Paula Abdul
I Adore Mi Amor - Color Me Badd
Motownphilly - Boys II Men
Leap of Faith - Lionel Cartwright
1993- Los Angeles police began an investigation into child abuse allegations against Michael Jackson. The investigation began after the son of a Beverly Hills dentist told his therapist that Jackson sexually abused him. Jackson's security consultant claimed the allegations followed a failed attempt to blackmail the singer for 20 million dollars. Although no criminal charges were laid, lawyers for the 13 year-old filed a civil suit a month later claiming damages for sexual battery, seduction and other allegations. The suit was settled out of court in January 1994. Reports said Jackson paid anywhere from $5 to $24-million. During the initial uproar over the investigation, Jackson cancelled or postponed several dates on his "Dangerous" world tour, citing illness or exhaustion. He later called off the rest of the tour, saying he would undergo treatment for an addiction to pain killers. Jackson said he began taking the drugs after his scalp was burned while filming a Pepsi commercial several years earlier, and the stress over the sex abuse allegations made the addiction worse. He subsequently married several women, and I believe claimed to have fathered two children.
1993- Texas Ranger superstar Nolan Ryan strikes out Angel catcher Greg Myers for his 5,714th and final career strikeout.
1994 - "II", by Boyz II Men, debuted at number one on the "Billboard" U.S. album chart. Cuts on the LP: "Thank You", "All Around the World", "U Know", "Vibin'", "I Sit Away", "Jezzebel", "Khalil [Interlude]", "Trying Times", "I'll Make Love to You", "On Bended Knee", "50 Candles", "Water Runs Dry", "Yesterday". "II" was #I for IV weeks.
1997- the old Canadian National train station in Liverpool, Nova Scotia was reopened as the Hank Snow Country Music Centre. Ill health prevented the 83-year-old Snow from attending the ceremony in his hometown. He had moved to Nashville in the 1950s. Snow donated two vintage cars and one of his famous rhinestone suits to the centre.
1988 - Early in the morning a tornado hit Kelly Air Force Base in San Antonio, TX, injuring three persons and causing twenty-eight million dollars damage. A second tornado on the northwest side of San Antonio caused six million dollars damage, and a third tornado in Bexar County killed one person and injured another. Thunderstorms associated with Hurricane Gilbert spawned a total of forty-seven tornadoes in a two day period, with forty of those tornadoes in central and south central Texas.
1989 - Hurricane Hugo hit the Virgin Islands, producing wind gusts to 97 mph at Saint Croix. Hurricane Hugo passed directly over the island of Saint Croix causing complete devastation and essentially cutting off the island from communications. A storm surge of five to seven feet occurred at Saint Croix. The only rain gauge left operating, at Caneel Bay, indicated 9.40 inches in 24 hours. Hurricane Hugo claimed the lives of three persons at Saint Croix, and caused more than 500 million dollars damage. A ship, Nightcap, in the harbor of Culebra, measured wind gusts as high as 170 mph. A cold front brought high winds to the Great Basin and the Rocky Mountain Region, and thunderstorms along the cold front produced wind gusts to 66 mph at Yellowstone Park WY.
2006-- For the first time in thirty years, the Red Sox sweep a doubleheader from their arch rivals, the Yankees. Boston hadn't beaten the Bronx Bombers twice in one day since July 31, 1976, and Independence Day of 1973 was the last time they did it as the visiting team.
2007-- Marc Ecko, who made millions from his brand of clothing, announces on the Today Show, he is giving the public the opportunity to vote on the fate of Barry Bonds' record-breaking home run ball. The 35-year old fashion designer, who paid $752,467 for the ball at an online auction, has set up a website, www.vote756.com, which gives the fans the option of voting to (1) send the ball directly to Cooperstown, (2) branding it with an asterisk before sending it to the Hall of Fame or (3) putting the ball on a rocket ship and launching it into outer space.
(Number 2 is the winner.)
2008-- Derek Jeter becomes the all-time hits leader at Yankee Stadium, which will be demolished at the end of the season. The team's shortstop and captain, surpasses Lou Gehrig's record with a first-inning single in a 6-2 loss to the White Sox bringing his total to 1,270 at the 85-year-old ballpark.
[headlines]
--------------------------------------------------------------
Baseball Poem

THERE WAS A BALL GAME SOMEWHERE
by Tim Peeler
Before video parlors, PCs and
Nintendo, on our ragged bicycles
We scrambled to one house or the other—
Hefners, Peelers, then the Swansons who moved
In the neighborhood, sometimes the Coffeys
From church, or the Swansons' friends from their church -
For the really big affairs with full teams,
Baseball games with football scores. Out in the heat
Most of the day, just breaking for lunchtime—
Easy pitches and little guys taking
Big cuts, ghost runners and no catcher, weird
Rules like ground rule doubles for balls driven
Into the short cow pasture fence in left
Or how to play a pop fly that rolled off
The eight-sided parsonage roof or smacked
The huge oak trees in center field or the
Maple in right-center.
Barefoot sometimes, always in shorts only,
Crew cuts and popsicle stains on our mouths—
Before Play Station and VCRs there
Was a baseball game somewhere in dust and
Sweltering heat, a game to be played by
Our rules only.
--- with the permission of the author, from his
book of baseball poetry:
"Waiting for Godot's First Pitch"
More Poems from Baseball
available from Amazon or direct from the publisher at: www.mcfarlandpub.com
--------------------------------------------------------------

SuDoku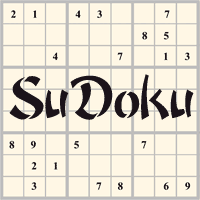 The object is to insert the numbers in the boxes to satisfy only one condition: each row, column and 3x3 box must contain the digits 1 through 9 exactly once. What could be simpler?
http://leasingnews.org/Soduku/soduko-main.htm
--------------------------------------------------------------

Daily Puzzle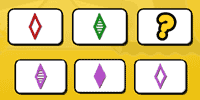 How to play:
http://www.setgame.com/set/puzzle_frame.htm
Refresh for current date:
http://www.setgame.com/set/puzzle_frame.htm
--------------------------------------------------------------


http://www.gasbuddy.com/
http://www.gasbuddy.com/GB_Map_Gas_Prices.aspx
http://www.gasbuddy.com/GB_Mobile_Instructions.aspx
--------------------------------------------------------------

Weather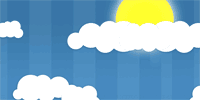 See USA map, click to specific area, no commercials
--------------------------------------------------------------

Traffic Live---
Real Time Traffic Information
You can save up to 20 different routes and check them out with one click,
or type in a new route to learn the traffic live
--------------------------------