LAST CALL


Chicago, Illinois
Senior Exec. w/10 yrs discounting quality leases with Investment
Grade and Fortune 1000 credits. Must consider re-locating to Illinois, working with an independent entrepreneurial community bank.
Richard A. Burns, SVP, 312-850-1405 rburns@febank.com

Wednesday, September 22, 2010

Today's Equipment Leasing Headlines
Russ Hindin Passes Away
Classified Ads---Sales
Leasing Companies Report "Uncertainty" to ELFF
Sales makes it Happen---by Kit Menkin
Leasing has not lost its Sizzle
Top 10 Best Small Cities for Business and Career
Classified ads---Help Wanted
Placard---My Cat
Banner Ads
August Housing Numbers Positive
CapitalSource Prof. Practice Lending Team
Classified ads—Finance/Human Resources
Woodland Hills, California--Adopt a Dog
Back Office Companies
News Briefs---
Feds Leave Rates Untouched
Fed lays groundwork for possible further stimulus
Gold Resumes Uptrend Following FOMC Statement
Tech Spending to Jump Next Year
David Hasselhoff bumped from "Dancing with the Stars"
Broker/Funder/Industry Lists | Features (collection)
Top Ten Stories Chosen by Readers | Top Stories last six months


You May have Missed---
Sports Briefs---
California Nuts
"Gimme that Wine"
This Day in American History
Baseball Poem
SuDoku
Daily Puzzle
GasBuddy
Weather, USA or specific area
Traffic Live----

######## surrounding the article denotes it is a "press release" and was not written by Leasing News nor information verified, but from the source noted. When an article is signed by the writer, it is considered a "by line." It reflects the opinion and research of the writer. It is considered "bias" as it is the writer's viewpoint.

John Kenny
Receivables Management
est. 1997

johnkenny2@verizon.net

p 315-866-1167
f 315-876-9629
c 315-717-1302
[headlines]
--------------------------------------------------------------

Russ Hindin Passes Away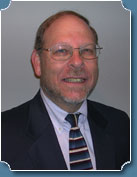 (Photo: Company Web Site)

Russell Hindin, managing partner, in charge of the Los Angeles office of Hindin/Owen/Engelke LLC, Woodland Hills, California passed away at age 64 due to prostrate cancer. According to the company biography, Russ became a commercial banker upon graduation from the University of Southern California in 1969 with a BS in International Finance, Economics. He had management positions with Union Bank and then with the leasing affiliates of Crocker National Bank, Bank of California, and the Chemical Bank. He entered the investment banking field in 1976 and in 1979 co-founded Hindin/Owen/Engelke.
He was well known in the industry, specializing in assisting middle market companies ($2 million to $200 million in annual sales) obtaining financing after the bank has already said "no".
His partner Jack Engel managed the Chicago Office out of Naperville, Illinois.
Clients: http://www.hoefinance.com/clients.htm
According to the Los Angeles Times Obituary: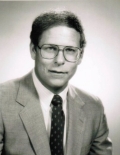 (Photo: LA Times)
Hindin, Russell
March 11, 1946 - September 4, 2010
Russell Hindin of Woodland Hills CA passed away September 4, 2010. Russell was the loving father of Trevor and Devin and brother to Harris. Russell was a successful businessman, avid tennis player, devoted father and proud pet owner of Gary and Prince Hindin. No services are to be held in honor of his wishes.
http://www.legacy.com/obituaries/latimes/obituary.aspx?n=russell-hindin&pid=145423312

[headlines]
--------------------------------------------------------------

Classified Ads---Sales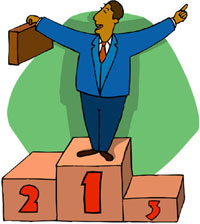 Cherry Hill, NJ
College grad seeking entry level sales position for equipment leasing and financing in small to mid-size ticket markets. Have 6 months experience in the industry and self-motivated. Contact Matt at 609-280-2178 or
email at mkuzan@gmail.com

California
Aggressive, competitive self-starter with vendor/direct equipment
leasing and asset-based lending experience. Success in business banking sales and financial planning.
Email: dsp559@hotmail.com | Resume
South Central, FL
Years of exp in mid-ticket niched leasing. Not currently in leasing. Seek entry or other position with direct lender. David34983@att.net
Garfield, NJ


15 years experience small to large ticket sales exp. All types of equipment industries. Vendor & direct. Self motivated. Work with leasing company or broker.
Tony Lio tonylio@optonline.net
Minneapolis, MN
16 years leasing experience from micro to large ticket market, variety of equipment. Most recently calling on vendor telecom dealers in Upper Midwest.
golfadm@yahoo.com
Montgomery, AL
Individual with 10 years advertising sales exp. & 7 years insurance sales exp. Wants independent contractor situation in Alabama.
Work with leasing company or broker. 334-590-5133
E-mail: billmcneal2003@yahoo.com
Orange County, CA
20+ years in leasing sales & sales management.
Have estab. existing remote office with Lessee /Vender following.
Looking for a partnership w/funding source.
shermbp@gmail.com
Philadelphia Metro Area - 30 Years experience Healthcare sales/ management- 3 years experience newly create "small-ticket" healthcare division. Good success - Mitch Utz 215-460-4483
Email: mitutz@msn.com
Philadelphia, Pa
16 years small to large ticket sales exp., variety equip. w/vendor & direct. Top performer, building new and existing territories.
Email at phillylease@hotmail.com
Pittsburgh , PA
Aggressive self starter looking for leasing position w/10 plus yrs sales exp., plus banking experience 814-227-4592
mwiser500@hotmail.com
Pittsburgh, PA
Over 25 years of leasing experience including Captive, Dealer, Broker, and Third Party. Multiple equipment types. Seeking a Territory or National Sales position.
vsiegel2@aol.com
San Francisco Bay Area:
Business Development "Hunter" with transferable book of business in multiple segments: commercial construction, technology, fitness, etc. Years of managerial experience: can also be a "player/coach".
E-mail: VdrPgmBizDev@aol.com
Texas/Oklahoma
15 year lease vet looking for plact to take business.great references. all major equipment types. open to compensation. please contact if interested.
E-mail: bankingdallas@yahoo.com
Free Posting for those seeking employment in Leasing:
http://www.leasingnews.org/Classified/Jwanted/Jwanted-post.htm
All "free" categories "job wanted" ads:
http://www.leasingnews.org/Classified/Jwanted/Jwanted.htm
[headlines]
--------------------------------------------------------------

Leasing Companies Report "Uncertainty" to ELFF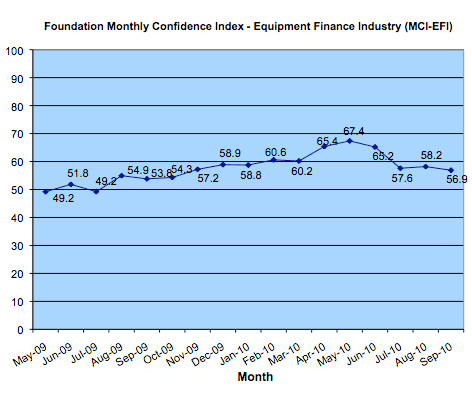 The Equipment Leasing & Finance Foundation (ELFF) September 2010 Monthly Confidence Index indicated less confidence and more "uncertainty." Certainly this is true with independent brokers looking for sources, captive lessors trying to "sell" more product, and funders looking for "top quality" papers. It seems only the subprime leasing market is active.
The pessimism came from all segments, according to the ELFF report:

Bank, Middle Market
Tom Jaschik, BB&T Equipment Finance
"The future is clouded by the economic, political and regulatory uncertainties in the U.S. In addition, the potential impact of proposed lease accounting changes may lead to diminished demand for lease financing, particularly within the large corporate market."

Independent, Middle Market
George Booth, Black Rock Capital LLC
"Things remain unchanged with the primary issue: liquidity. Regardless of the rhetoric from Washington, banks remain on the sidelines and will continue to do so until the regulators loosen up."
Independent, Small Ticket
Tony Golobic, GreatAmerica Leasing Corporation
"I think the industry will become smaller, with fewer and larger participants. Current developments, such as Basel II and new FASB accounting will negatively impact the industry."
ELFF quoted survey respondent Rob Stowers, of Altec Capital: "I think the industry is facing the largest, significant events of uncertainty within the last 30 years. Considering the lack of demand created by economic conditions, the uncertainty of funding sources, federal banking regulations and the pending FASB/ISB changes, as an industry we face a decade of unprecedented uncertainty."
ELFF noted Mr. Stower's concerns, and those of the industry "are further demonstrated in the September Monthly Confidence Index for the Equipment Finance Industry, at its lowest level since the October 2009 MCI of 54.3."
Full Report:
http://www.leasefoundation.org/IndRsrcs/MCI/0910.htm
Forecast Issues:
http://www.leasefoundation.org/Periodicals/Forecast/

[headlines]
--------------------------------------------------------------

Sales makes it Happen---Kit Menkin
Leasing has not lost its Sizzle

All this negativity and talk about the coming FASB changes is making Norman Vincent Peale turn over in his grave. The pending FASB Rules will be good for economy, and for leasing, too. It will bring more transparency to investors, creditors, and honesty. It will give decision makers and credit grantors more information, including those who investment in stock or a new company. The talk reminds me of the Y2K2 bug that if not corrected it would ruin the entire computer industry: the world will stop, satellites will launch missiles, clocks will stop. What a bunch of hype!
The majority of leases written in 2009 were capital leases, over 91%, according to the Equipment Leasing and Finance Foundation. This is not going to diminish.
Perhaps with a real operating lease more companies will be able to move more equipment with real operating leases where the equipment is returned at the end of the term or "re-leased" back or to others. There may be a boom, in fact, for ATEL Capital, Icon Capital, P&L Capital, as many others in this marketplace. It will not be a bust.
It may be a boom for these companies.
Leasing is not consumer financing. The rate is not in the contract. The rate is what every good salesperson knows how to get around as the top ten reasons to lease have not, nor will they change very much as a top salesman knows how to close a deal with them. Banks buying portfolios or lending lines of credit are not based on tax consequences.
The main target on why a business should lease will not change.
"It is the use of equipment, not ownership."
Leasing still has the sizzle in moving a piece of equipment from the showroom floor to the business location:
1. Saves Cash - no money "down".
2. Usually longer term available, resulting in, lower monthly payment.
3. Fast and convenient - less hassle for long term "borrowing".
4. Doesn't affect bank lines of credit for accounts receivable/working capital/Inventory.
5. Provides cost-cutting or profit making equipment to be installed immediately.
6. May increase the firm's ability to acquire funds.
7. Doesn't dilute ownership by requiring new investors or raising capital.
8. Establishes a new line of credit for future growth
9. Improves bottom line due to less cash outlay
10. Improves credit ratings for suppliers/customers
And you can't beat leasing for vehicle financing!!!

As the economy continues to recover, although not as fast as we all want it to expand, it will create more competition and therefore more leasing companies, more funding sources, and more sales.
In Darwin's Theory of Evolution, it is the fittest who survive.

Previous Sales Makes It Happen Columns:
http://www.leasingnews.org/Legacy/index.html


[headlines]
--------------------------------------------------------------

Leasing Industry Help Wanted

Chicago, Illinois
Senior Exec. w/10 yrs discounting quality leases with Investment
Grade and Fortune 1000 credits. Must consider re-locating to Illinois, working with an independent entrepreneurial community bank.
Richard A. Burns, SVP, 312-850-1405 rburns@febank.com

We offer great funding capacity, strong, experienced back office, keeping established vendor relationships happy. Looking for a home and have 5 years experience, contact: Jeff Rudin (818) 843-8686 x14.
About the company: Quail Equipment Leasing 17 years in business with the ability to develop specialized programs for vendors and unique industries: $10K to $24MM.


Please see our Job Wanted section for possible new employees.

[headlines]
--------------------------------------------------------------

Top 10 Best Small Cities for Business and Career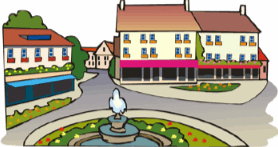 1. Sioux Falls, SD
2. Iowa City, IA
3. Manhattan, KS
4. Bismarck, ND
5. Logan, UT
6. Auburn, AL
7. Bend, OR
8. Columbia, MO
9. Fargo, ND
10. Morgantown, WV
Story:
http://realestate.yahoo.com/promo/americas-best-small-cities-for-business-and-careers
(This ad is a "trade" for the writing of this column. Opinions
contained in the column are those of Mr. Terry Winders, CLP)
[headlines]
--------------------------------------------------------------

[headlines]
--------------------------------------------------------------

The editor tries to place banner ads where they will be read by those the advertisers want to reach, rather than placed at random. News stories that will have an "ill" effect are avoided as best as possible. Often it is the position of the banner ad that attracts more response. This is at the sole discretion of the editor.
Banner ads may appear under the headlines at the choice of the editor, but are not guaranteed. An attempt is made to share them on a rotation basis with other banner advertisers.

We reserve the right to refuse any advertising.
Ad design: no charge.

Click to another page or web site: no charge.

(Cannot be a "help wanted" ad for employment, must advertise company, service or product)


Pricing Information

Price

Ad Size

Pixels Size

Term

$595.00

6.5" W X 1.5" H

468W X 180H

21 days

$695.00

6.5" W X 2.5" H

468W X 180H

21 days

$895.00

6.5" W X 4" H

468W X 288H

21 days

$995.00

6.5" W x 5"H

468W X 360H

21 days
Email: Kitmenkin@leasingnews.org

[headlines]
--------------------------------------------------------------

August Housing Numbers Positive
Al Schuler, Economist
USDA Forest Service
(Economist right on for eight years)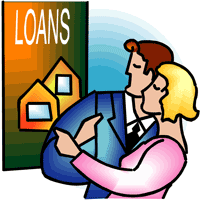 The August housing numbers were positive for a change with total starts up 10.5% to 598,000 (SAAR), driven by the 32% increase in multi family activity. Single family activity was up a more modest 4.3% to 438,000 (SAAR). Permits also reflected the divergence with multi family permits up 32% while single-family was down 1.2%.
Regionally, the Northeast was the only region showing weakness ( -24%), while the MidWest South and West were up 21.7%, 7%, and 34% respectively.
Single Family Starts got a bit of a bump from the tax credit, but now, they are heading back to an anemic 400,000 annual rate, with many foreclosed homes still on the marketplace and multi-family residences becoming more popular as they are less expensive to purchase or rent.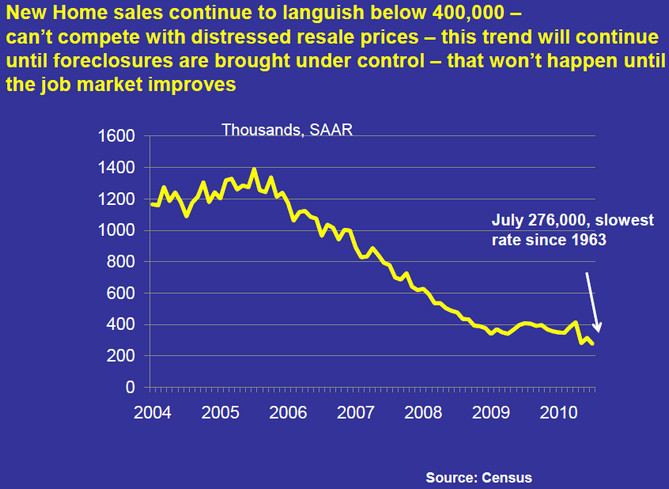 After stripping away inflation (CPI all city index), median price of new single family homes is same today as 1990. And, after the "bump" in price during 2000 — 2005, we're back to "pre bump" days. Bottom lines — using this logic, prices are back to normal. Confirms the old adage that I normally, prices generally track inflation. Between 1963 — 2010, real prices are up 100%, but this is only about 2% real increase per year (simple average).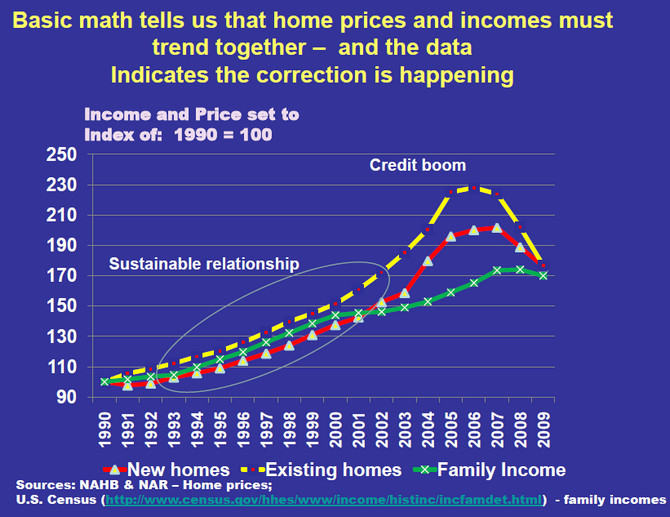 The bad news - the economy is showing only weak responses to the various government stimulus programs - - despite an official end to the recession, we have 25,000,000 people either officially unemployed, discouraged and no longer looking, or are working part time, but would prefer full time employment. (one can only imagine the emotional heartache that goes with these numbers)
Problems remain for the economy as more analysts revise down their GDP estimates for the remainder of the year. People are saving more as they pay down debts. This decreases demand for goods and services. Employment is further impacted by financial problems at the state level — they are cutting back on programs and employment. And, the federal government will eventually have to put its house in order — i.e., spend less and tax more to balance the budget. And, there is a demographic drag on consumption as baby boomers retire.
The corundum here is that the one sector with money to spend/invest and the wherewithal to create jobs - — private companies — are not spending. Most are flush with cash - - but, they're not spending because they are unsure of the future direction of the economy (including future responses/initiatives by the federal government). The consensus opinion is that the country lacks confidence — I agree and that means we need a clearer direction from our elected officials. A direction that inspires confidence to date, that is sadly lacking from both parties. Without a significant improvement in the job market, we're going to continue to see a lethargic housing market. Mortgage delinquencies and repossessions will probably continue to worsen for awhile longer.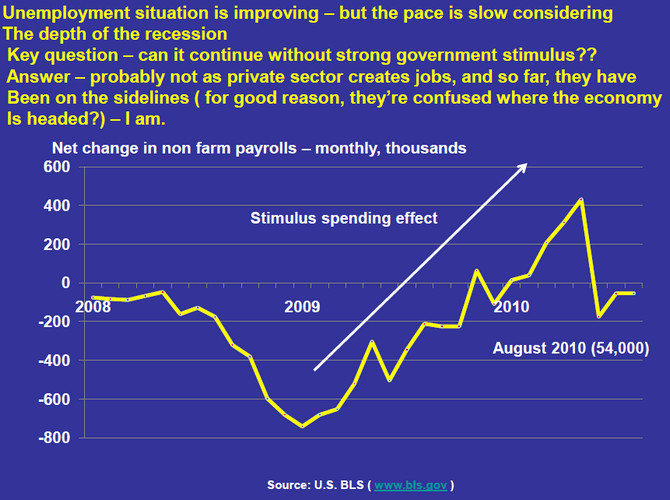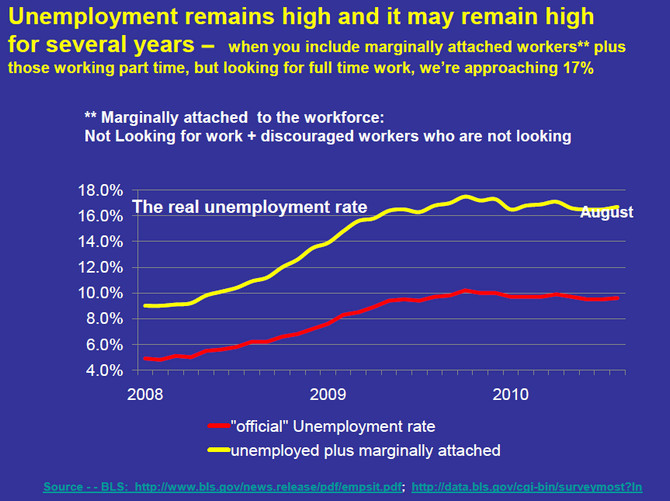 Long term considerations - -

1. We invest too much in things that don't do much for our competitive position - consumption - and invest too little in things that would enhance our competitive position research, education, infrastructure, health care,
2. Harvard's latest long term housing outlook is promising, but it is based primarily on demographics (including immigration). It's a promising look to the future of housing demand, but it won't happen (my opinion) unless we address item #1 above.
[headlines]
--------------------------------------------------------------

### Press Release ############################

CapitalSource Launches Professional Practice Lending Team



Chevy Chase, MD. – CapitalSource Inc. (NYSE:CSE) announces that it has hired a highly accomplished team of professionals to form a lending group specializing in financing dental, optometric, ophthalmic and veterinary practices nationwide. The ten-person team includes regional managers with an average of 15 years of experience in the professional practice finance industry and will focus on conventional practice acquisition financing, partnership buy-ins, and refinance programs.
CapitalSource's historic strength in a broad range of specialty lending businesses such as healthcare, security, technology, and lender finance has been meaningfully bolstered in the past year with the addition of several new lending platforms, including equipment finance, SBA lending and multi-family. The addition of a professional lending practice further positions the Company for continued loan growth momentum. CapitalSource closed $441 million in new funded loans during the second quarter and boosted its projected range for quarterly loan originations to $300 million-$400 million for the balance of 2010.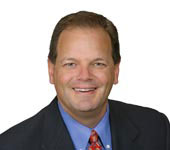 James J. Pieczynski, Co-CEO and Board Member
"We are extremely pleased to add this group of highly skilled and experienced professionals to our well-established and credit-minded national franchise at CapitalSource," said CapitalSource Co-CEO James J. Pieczynski. "The formation of a professional practice lending team complements our focus on specialized niche areas of lending with teams that know their industries well and have deep contacts, which are critical to their sustained success."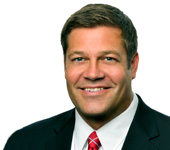 Daniel Croft, Director, East Coast
Daniel Croft, who will lead the Professional Practice Lending team, was formerly at GE Capital Healthcare Financial Services where he was responsible for originating practice finance transactions for healthcare related businesses throughout the U.S. "My colleagues and I are excited about the opportunity to join the CapitalSource national lending franchise," said Croft. "We are a national sales and credit team with deep expertise and we look forward to contributing to the diversification and growth of the Company."
For more information about CapitalSource's Professional Practice Lending group, visit www.capitalsource.com/ppl.
About CapitalSource
James J. Pieczynsk biography:
http://www.capitalsource.com/about_us/leadership/bio/32
Daniel Croft biography:
http://www.capitalsource.com/about_us/lending_team/bio/171
CapitalSource Inc. (NYSE: CSE) is a commercial lender that provides financial products to middle market businesses and offers depository products and services in southern and central California through its wholly owned subsidiary CapitalSource Bank. As of June 30, 2010, CapitalSource had total assets of $10.7 billion and $4.6 billion in deposits. The Company is headquartered in Chevy Chase, MD. Visit www.capitalsource.com for more information.
#### Press Release #############################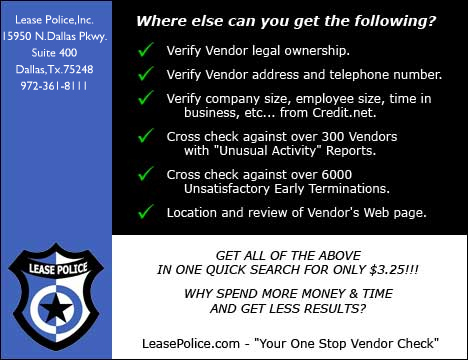 [headlines]
--------------------------------------------------------------

Classified ads—Finance/Human Resources



Finance: Chicago, IL
Experienced in big ticket origination, syndication, valuation and workout.
Twenty five years, MBA, CPA,

JD, LLM (Tax), structuring specialist. Inbound and outbound transactions. Email:pal108381@comcast.net
Transaction Summary | The Lechner Group
Website: www.tlgattorneycpa.com


Finance: Naperville, IL
Your guide to the right questions and answers in finance. Expert in capital raising, GAAP, acquisitions, lease economics. CPA. MBA.
E-mail: m.willow@ameritech.net
Finance: Charlotte, NC
15 Years of Equipment Leasing Experience and Recruiting with Business Aviation niche. Visit us at www.turningpointgrp.com
E-mail: info@turningpointgrp.com
Human Resource Consultant: New York, NY
Employee Relations, Recruiting, Benefits, employee customer surveys, plus payroll administration "ON-LINE" services-- AND IN PERSON at your location Please visit: www.adviceonhr.com
Information System: North Detroit, MI
INFOLEASE EXPERT - 18 years experience. Since being downsized in 2002, working as a consultant for several leasing companies.
Seeking consulting projects nationwide.
email: darwint@prodigy.net
Finance: New York, NY
"Think Outside the Bank". Barrett Capital is a merchant banking and consulting firm, specializing in asset based financing: equipment, vehicles, receivables and real estate.

Email: bkorn@barrettcapital.com
Web: www.barrettcapital.com

All "Outsourcing" Classified ads (advertisers are both requested and responsible to keep their free ads up to date:
http://www.leasingnews.org/Classified/Outsourcing/Outsourcing.htm

How to Post a free "Outsourcing" classified ad:
http://www.leasingnews.org/Classified/Outsourcing/Outsourcing-post.htm
[headlines]
--------------------------------------------------------------

Woodland Hills, California ---Adopt a Dog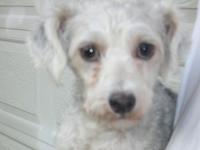 Pepper
Male Poodle/Terrier
Approx 1 Yr Old
"He is so little and just begging for love. He was rescued from a yard where his guardians lived in filthy conditions. He was purchased from a pet store and left to breed in a yard so the pups could be sold for a profit by greedy backyard breeders. Pepper needs an adult ONLY home where he can be the center of attention. At first meeting appears to be very shy and a little scared, but warms up to people quickly and will soon be sitting in your lap and giving kisses. Pepper loves to play ball and although not well socialized with other animals, appears to want to play with his friends in foster care. He likes cats too!!!! Adoption Fee: $300"

RESCUE ME INCORPORATED
Attention: Joy and Craig Nadel
P.O. Box 385
Woodland Hills, CA 91365-0385
818-999-2400

Joy and Craig Nadel
President/Founder
rescuemeincorporated@yahoo.com
http://rescuemeinc.cfsites.org/custom.php?pageid=7533

Adopt-a-Pet by Leasing Co. State/City
http://www.leasingnews.org/Conscious-Top%20Stories/Adopt_Pet.htm

Adopt a Pet
http://www.adoptapet.com/
[headlines]
--------------------------------------------------------------

Back Office Companies
Rank

Company Name
Year Founded




Web site

Employees

CEO

Additional Services Offered

Yearly Volume

Region

Major Clients

App Entry, credit scoring, Documentation, remittance processing, sales and property tax services, UCC, Titling, Collections, Cust Servic lease and loan accounting

Contact us for client list

Document preparation, UCC Filing, Titling, Insurance Tracking, Customer Service, Collections, AR, AP, Sales & Property Tax Management, General Ledger Tracking, and Reporting.

Contact us for client list


3

Documentation, remittance processing, sales and property tax services, lease and loan accounting, default management

Contact us for client list

Bank of the West Equipment Finance - Managed Services Group
1989 founded as Trinity
(2002 purchased by Bank of the West)
Eric Gross
Director - Managed Services Group
Eric.Gross@bank
ofthewest.com
Bank of the West
401 Southwest Fifth Ave
Portland, OR 97204
Office (503) 225-1607
Fax (503) 225-1751
Mobile (503) 840-5165
bankofthewest.com


Complete Primary & Backup Servicing solutions for independent Lessors and captive finance companies.

N/A

United States

Providing 3rd party servicing since 1989

35

Bill Allen

Third Party Back-Office Servicing
Origination Servicing
Data Conversions & Systems Consulting
ASP Lease Administration & Origination
Back-up Servicing

N/A

US / Australia

Third Party Servicing and ASP Clients include 6 Fortune 500 Companies. Other clients are bank lessors, captive finance companies and independent lessors

25

David T. Schaefer, President

Lease & Loan invoicing, payment processing, sales & property tax reporting, collections, workouts, repossessions & remarketing as well as credit underwriting, portfolio valuation, credit/loss analysis and due diligence procedures

N/A

United States

Contact us for client list

7

19

Mark Caplan, Chairman

Property tax administration; vehicle titling; vehicle acquisition; vehicle disposition; billing & collections, UCC filings; insurance tracking


N/A

National

Contact Us

8

12-15




(ASP) lease management software hosting, portfolio servicing, project management, consulting

N/A

International

Major manufacturing captive finance organizations, regional bank leasing company, specialty finance organization. 3,500-5,00 contracts managed.

9

10

Malcolm Tennant

IT Consulting,
Implementations, Migrations,
Data Conversions,
Custom Reporting,
Oursourced System Support


N/A

National

Confidentiality Agreements

10

10

Gary A. DiLillo

Property Tax Complience

N/A

National

Haws Consulting Group

1982

1901 So. Bascom Ave. Suite 1050

Campbell, CA 95008

Office: 408.369.7272

Cell: 408.375.1223

Fax: 408.369.7270

www.ptax.com

(

i

)

10

Raymond V Haws, CEO
Lance A. Hulsey, VP

Property Tax Services

N/A

N/A

8

Barry Corn

N/A

10-20M

National

Financial Institutions; not permitted to disclose names

Lease Broker Assistant, LLC
2009
dee@leasebrokerassistant.com
voice 407.964.1232
fax 386.845.0235
Skype ID LeaseBrokerAssistant
Yahoo ID Lease BrokerAssistant
Twitter -twitter.com/leaseassistant

www.leasebrokerassistant.com

3

Support for independent Lease Brokers, Lessors and Captive Leasing Companies; Credit and Documentation processing, Marketing Assistance; Out of Office phone and fax support

N/A

National

call us for client references

N/A

Certified Public Accountants and Portfolio Management Services

N/A

N/A

N/A

N/A

Matt Mcfarland

Property Tax Administration, Sales and Use Tax Administration, and Property Tax Consulting

N/A

N/A

N/A
(a) Barrett offers proactive lease management/administration of commercial/consumer vehicles and lease/finance portfolios, covering insurance, titles, registrations, sales/property taxes, tickets, collections, repossessions, vehicle transportation and dispositions. Since 1975.

---
(b) Group 88 is a business partner of McCue Systems Inc, maker of LeasePak. With over 20 years supporting major firms in the leasing industry, Group 88 provides data conversions, system implementations, custom software development and outsourced system support.

---
(c) JDR Solutions, LLC., based in Indianapolis, Indiana provides back office lease/loan administration services and hosting of related accounting and portfolio management software.
Under a preferred partnership arrangement with International Decision Systems (IDS), JDR Solutions offers its "Managed Service" solutions utilizing the robust capabilities od Infolease and related software applications. JDR will soon offer IDS's next generation software, Profinia, in a hosted environment.
For more information about JDR Solutions, visit www.jdrsol.com or call.
---
(d) We also offer specialized programs for banks which want to start their own leasing operations and for vendors who want to find financing or act as lessor for their customers. We also act as a broker for end users looking for commercial equipment financing.
Sincerely,
Sharon Litwin
Vice President
Phoenix Leasing Portfolio Services, Inc.
2401 Kerner Boulevard
San Rafael, CA. 94901
(800) 227-2626 ext. 4637
slitwin@phxa.com
---
(e) ECS Financial Services, Inc. is one of only a few CPA firms in the United States that specializes in providing portfolio management, accounting, tax and management advisory services to the equipment leasing industry. ECS Financial provides lease management services including accounts receivable billing and collections, preparation of monthly lease income and residual schedules, book and tax depreciation tracking, as well as guidance and a variety of useful management reports to assist management in making sound financial decisions. ECS Financial offers accounting and financial statement compilation, review and audit services, as well as multiple state sales tax preparation, federal and state income tax return preparation, and personal property tax preparation and tracking. Our lease management team of accountants and tax specialists are experienced in providing quality professional service in the management of lease portfolios, and their efforts are enhanced by the state of the art, industry-specific software we utilize.
ECS Financial serves clients throughout the United States .
The name has changed, but the quality service remains the same!
_______________________
Nancy A. Geary, CPA, CLP
Partner
ECS Financial Services, Inc.
Certified Public Accountants and Portfolio Management Services
ngeary@ecsfinancial.com
847-291-1333 phone
847-291-1190 fax
www.ecsfinancial.com
---
(f) PFSC is the largest independent commercial lease and loan-servicing company is the U.S. and is headquartered in Portland , Oregon . PFSC provides primary/master servicing, backup/successor servicing, and consulting for lease and loan portfolios. It currently manages over $14.0 billion in assets. More information can be found at www.pfsc.com.
---
(g) Advanced Property Tax Compliance provides "best in class" personal property tax compliance services at cost effective fees. Our staff has over 70 years of experience working with leased assets. We do complete compliance process and can tailor our service to each Lessor's unique needs. The billing files we create interface with all lease management and accounting software. We offer our clients full disclosure, more accessibility to information, and greater on-line functionality than any other service firm in the industry. Each client has a secure FTP site where they have access to everything we do for them in the compliance of personal property taxes. Our Web Portal allows our client's customer service departments to get up-to-the-minute tax data for buyouts, terminations, or tax bill copies and detail tax reports to support collections.

Major Clients include; LaSalle System Leasing, Evans National Leasing, Wells Fargo Capital Finance, California First Leasing, Dakota Financial, Merrimak Capital, Pawnee Leasing, Highland Capital, Telerent Leasing, Main Street National Bank, Presidio Technology Capital, Matsco Financial Services, Siemens Diagnostics Finance, Altec Capital, Alabama Banker's Bank, Vision Financial, VenCore Solutions, and Volvo Financial Services.
For more information about Advanced Property Tax Compliance, visit www.avptc.com or call:
Gary A. DiLillo
President
Advanced Property Tax Compliance
5755 Granger Road, Suite 600
Independence, OH 44131
gary@avptc.com
Phone: (216) 658-5618
Fax: (216) 661-5594
Cell: (440) 724-0701
---
(h) U.S. Bank Portfolio Services provides third party solutions and back-up/successor servicing. Third party clients are able to focus on core competencies and avoid the expenses of creating a back office environment by outsourcing their servicing platform. U.S. Bank Portfolio Services adds security and protection as a back-up service provider with the ability to convert any portfolio in seamless manner through advanced preparation.
---
(i) Haws Consulting Group - "We have been in business since 1982 and provide property tax consulting and outsourcing services to a variety of different types of companies. We have a strong leasing background and have provided property tax management services to leasing companies for over 20 years." For more information please see our Brochure and Case Study.
---
(j) Broker Resource Solutions (BRS) offers document processing support services to the equipment lease broker community. Our clients are able to focus on their core business - selling and building their client list - while we handle all of the tedious details associated with putting together a perfect funding package.
Broker's who work with us have on-demand access to a highly experienced, qualified staff on an "as-needed" basis. Since we are happy to work either on a single transaction or under contract, our clients are freed from the high overhead associated with finding, hiring and training processing employees.
We work on our client's behalf to coordinate with the lessee, vendor, insurance agent(s), funding source and any other parties necessary in order to develop and submit funding packages that are complete and fund quickly. Our extensive experience on the funding side of the business allows us to identify and resolve potential issues that can delay funding and result in lost deals. We invite you to explore our website at www.brsworks.com and contact us if you have any questions or would like more information on how to get started.
Vickie Rocco
Chief Executive Office
Broker Resource Solutions, LLC
Email: Vickie@brsworks.com
(913) 314-9038
---
(k) Madison Capital was created in 1997 as a result of the merger of two companies: Harbor Equipment Leasing which began in 1983, and Fox-Valley Vehicle Leasing which began in 1974. Madison Capital has over 60 years of combined experience in commercial vehicle and equipment financing. Madison is a direct funding source for most types of equipment and commercial vehicles. In addition, Madison offers loan portfolio servicing capabilities, concentrating on firms looking to outsource their billing and collection functions. For more information on Madison Capital please visit www.madisoncapital.com
Madison Capital's portfolio services include any or all of the following:

Billing and Collections
Insurance Tracking
Tax Filings for loan/lease transactions serviced
Customer Service and Support
Credit Underwriting
Vehicle Fleet Administration and Titling Services

In today's challenging business climate there are multiple benefits of outsourcing an equipment, vehicle, or receivable program. Some benefits include customer retention, revenue enhancement, and operating efficiencies. Madison Capital's extensive lease/loan management expertise can create an effective portfolio management plan that improves your bottom line and allows you to focus on your core competency.
[headlines]
---------------------------------------------------------------



News Briefs ---


Feds Leave Rates Untouched
http://www.bankrate.com/finance/federal-reserve/fed-leaves-rates-untouched.aspx
Fed lays groundwork for possible further stimulus
http://www.chicagotribune.com/business/sc-biz-0922-fed-economy-20100921,0,700136.story
Gold Resumes Uptrend Following FOMC Statement
http://www.kitco.com/reports/KitcoNews20100921ASNFOMChtml.html

Tech Spending to Jump Next Year
http://www.cfo.com/article.cfm/14524691/c_14525414

David Hasselhoff bumped from "Dancing with the Stars"
http://voices.washingtonpost.com/tvblog/2010/09/david-hasselhoff-bumped-from-d.html?hpid=artslot


You May have Missed---

Oracle Growth Plans Worry Rivals and Customers
http://www.nytimes.com/2010/09/22/technology/22oracle.html?_r=1&ref=business

Sports Briefs----
Eagles name Michael Vick starting QB, bench Kevin Kolb
http://content.usatoday.com/communities/thehuddle/post/2010/09/eagles-name-michael-vick-starting-qb-bench-kevin-kolb/1?loc=interstitialskip


California Nuts Briefs---
Meg Whitman would 'probably' veto global-warming law if she were California governor today
http://www.contracostatimes.com/top-stories/ci_16136539?nclick_check=1


"Gimme that Wine"

Vintners/Growers Show Optimism
http://www.northbaybusinessjournal.com/25120/vintners-growers-show-some-optimism/
Best of times for wine consumers, survey finds
http://news.ucdavis.edu/search/news_detail.lasso?id=9621
Bordeaux 2010 small but perfectly formed, vintners say
http://www.decanter.com/news/wine-news/500275/bordeaux-2010-small-but-perfectly-formed-vintners-say
Wineries add attractions for one-stop sipping
http://www.mercurynews.com/business/ci_16127747?nclick_check=1
Wine: 'Cheap is chic,' at least for now
http://www.pressdemocrat.com/article/20100921/BUSINESS/100929890/1036?Title=Wine-Cheap-is-chic-at-least-for-now#
Zagat results: Gary Danko most popular restaurant in SF Bay Area
http://insidescoopsf.sfgate.com/michaelbauer/2010/09/21/zagat-results-gary-danko-most-popular-restaurant/


Free Mobile Wine Program
http://leasingnews.org/archives/Feb2010/2_26.htm#mobile
Wine Prices by vintage
http://www.winezap.com
http://www.wine-searcher.com/
US/International Wine Events
http://www.localwineevents.com/
Winery Atlas
http://www.carterhouse.com/atlas/\
Leasing News Wine & Spirits Page
http://two.leasingnews.org/Recommendations/wnensprts.htm

[headlines]
----------------------------------------------------------------
This Day in American History
1554 - Spanish explorer Francisco Vásquez, his health badly deteriorated from injuries and the toll of his strenuous travels, dies. He never found the fabled cities of gold that he had sought for decades. A quarter-century earlier Coronado had explored much of the southwestern United States, leading his force of 300 Spaniards and 800 Indians northward from Mexico in search of the Seven Cities of Cíbola that were rumored to have walls made of gold and treasure houses filled with priceless gems. Arriving in the region that today straddles the border between New Mexico and Arizona, Coronado did actually find Cíbola. But after winning a brief battle against the native defenders, Coronado discovered he had conquered only a modest Zuni village built with walls of adobe mud, not gold. While he never found the golden cities he sought, Coronado did succeed in giving the Spanish and the rest of the world their first fairly accurate understanding of the inhabitants and geography of the southern half of the present United States.
1711 - The Tuscarora Indian War began with a massacre of settlers in North Carolina, following white encroachment that included the enslaving of Indian children.
1734-The Moravian settlement in America began with the arrival of George Boehnischt in Pennsylvania. The following year, a group of Moravians led by Augustus Gottlieb Spangenberg came to Georgia for the purpose of converting Native Americans. Their first church was built in 1735 in Savannah, GA, where General James Edward Oglethorpe had given 600 acres of land for a colony. Bishop David Nitschmann arrived from Germany in 1736 and ordained Anton Sieffert, as pastor, the first ordination by a Protestant bishop in America. The group soon relocated to Pennsylvania and built a settlement in Bethlehem, PA, in 1741. Spangenberg became the Oravians' first American bishop in 1744. Moravians are followers of Jan Hus, the 15 th -century Bohemian religious reformer, and call themselves, the Church of the Bretheren, Or Unitas Fratrum.
http://www.moravianjamaica.org/about_us.htm
http://www.everydaycounselor.com/archives/sh/shistory.htm
http://www.redeemermoravian.org/vision.htm
1777-Tacy's Richardson's Ride: Courageous 23-year-old Tacy Richardson (Jan 1, 1754-June 18, 1807) rode her favorite horse, "Fearnaught," several perilous miles from the family farm at Montgomery County, PA to the James Vaux mansion to warn General George Washington of the approach of British troops led by General William Howe. As it turned out, the British crossing of the Schuylkill at Gordon's Ford was a feint to deceive Washington who indeed hastily withdrew to Pottstown, clearing the way for General Howe to spend that night in the quarters Washington had occupied only a few hours earlier.
1776 – Captain Nathan Hale of Connecticut was executed by the British in New York City for spying. Before he was hanged he said,
"I only regret that I have but one life to lose for my country."
http://memory.loc.gov/ammem/today/sep22.html
1789-The U.S. Created the Office of Postmaster General, following the Departments of State, War and Treasury.
1862-Emancipation Proclamation---One of the most important presidential proclamations of American history is that of Sept 22, 1862, in which Abraham Lincoln, by executive proclamation, freed the slaves in the rebelling states. "That on . . . [Jan 1, 1863] . . . all persons held as slaves within any state or designated part of a state, the people whereof shall then be in rebellion against the United States, shall be then, thenceforward, and forever, free. . . ." The "13th Amendment officially declared the abolition of slavery in all states.
( lower half of: http://memory.loc.gov/ammem/today/sep22.html )
1903- Italy Marchiony applied for his patent for his new mold which was filled with Ice Cream and is credited with inventing the Ice Cream Cone. He immigrated from Italy in the late 1800's and went into business in New York City with a pushcart dispensing lemon ice. Success soon led to a small fleet of pushcarts, and the inventive Marchiony was inspired to develop a cone, first made of paper, later of pastry, to hold the ices and then vanilla and chocolate ice cream.
1922- with the passage of the Cable Act, women who married foreign citizens kept their US citizenship. Up to that point, American-born women automatically lost their US citizenship if they married a foreign man. At no time in the history of the United State could men have lost their citizenship.
1927-Still talked about today as the "long count", the world championship boxing match between Jack Dempsey and Gene Tunney at Soldier Field, Chicago, IL. It was the largest fight purse in the history of boxing at the time, nearly $1 million dollars. Nearly half the population of the US is believed to have listened to the radio broadcast of this fight. In the seventh round of the 10-round fifth, Tunney was knocked down. Following the rules, Referee Dave Barry interrupted the count when Dempsey failed to go to the farthest corner. The count was resumed and Tunney got to his feet at the count of nine. Stopwatch records of those present claimed the total elapsed time from the beginning of the count until Tunney got to his feet at 12-15 seconds. Tunney, awarded seven of the 10 rounds, won the fifth and claimed the world championship. Dempsey's appeal was denied and he never fought again. Tunney retired the following year after one more (successful) fight.
1937 - On the Brunswick label, Red Norvo and his orchestra recorded the "Russian Lullaby". Later Norvo would do a more famous work with a recording including singer Dinah Shore.
1938 - A great hurricane smashed into Long Island and bisected New England causing a massive forest blowdown and widespread flooding. Winds gusted to 186 mph at Blue Hill MA, and a storm surge of nearly thirty feet caused extensive flooding along the coast of Rhode Island. The hurricane killed 600 persons and caused 500 million dollars damage. The hurricane, which lasted twelve days, destroyed 275 million trees. Hardest hit were Massachusetts, Connecticut, Rhode Island and Long Island NY. The "Long Island Express" produced gargantuan waves with its 150 mph winds, waves which smashed against the New England shore with such force that earthquake-recording machines on the Pacific coast clearly showed the shock of each wave.
1954 - The temperature at Deeth, NV, soared from a morning low of 12 degrees to a high of 87 degrees, a record daily warm-up for the state.
1955 - The film, "To Hell and Back," starring World War II hero Audie Murphy, premiered in New York on this date.
http://www.rottentomatoes.com/m/to_hell_and_back/cast_crew.php
1956---Top Hits
Canadian Sunset - Hugo Winterhalter & Eddie Heywood
Whatever Will Be Will Be (Que Sera Sera) - Doris Day
Be-Bop-a-Lula - Gene Vincent & His Blue Caps
Don't Be Cruel/Hound Dog - Elvis Presley
1957- Duke Snider hits his 40th home run tying him with Ralph Kiner for having five consecutive 40+ homer seasons in the National League.
http://www.baseballhalloffame.org/hofers_and_honorees/hofer_bios/snider_duke.htm
http://www.thebaseballpage.com/past/pp/sniderduke/
1957-"Maverick" premiered on television. ( yes, my father Lawrence Menkin wrote several of these episodes as well as other Western television shows ).
This popular western, which has since been remade into a popular movie, starred James Garner as Bret Maverick, a clever man who preferred card playing to fighting. A second Maverick was introduced when production was behind schedule--Jack Kelly played his brother Bart. Garner and Kelly played most episodes separately, and when Garner left in 1961, Kelly was in almost all the episodes. Other performers included Roger Moore, Robert Colbert and Diane Brewster. This western distinguished itself by its light touch and parody of other westerns.
http://www.tvtome.com/tvtome/servlet/ShowMainServlet/showid-1020
http://www.amazon.com/exec/obidos/tg/browse/-/871682/103-0205572-2897419
1960 - Joan Jett is born in Philadelphia. Her first solo hit, "I Love Rock 'N Roll" sells more than one million records and stays at No. 1 on Billboard's Hot 100 singles chart for seven weeks.
1961-The first judge of a federal district court who was African-American was Judge James Benton Parsons, who was sworn in at Chicago, Il, as U. S. district judge for the Northern District of Illinois.
1961-Hurricane Esther performed a 350 mile complete circle south of Cape Cod, MA from the 21st to the 25th, then passed over Cape Cod and Maine. Its energy was spent mainly over the cool Atlantic but heavy rains resulted in widespread local flooding in Maine
1964 - Robert Vaughn starred as Napoleon Solo when "The Man From U.N.C.L.E." debuted on NBC-TV this night. Solo's trusty side-kick in this James Bond spoof was Illya Kuryakin, played by David McCallum. The show was a hit for 3½ seasons.
http://www.manfromuncle.org/
http://www.tvtome.com/tvtome/servlet/ShowMainServlet/
showid-3323/The_Man_From_UNCLE/
1964---Top Hits
The House of the Rising Sun - The Animals
Bread and Butter - The Newbeats
Oh, Pretty Woman - Roy Orbison
I Guess I'm Crazy - Jim Reeves
1964 - The lights lowered, the curtain rose and Zero Mostel stepped into the spotlight as the fiddler played. "Tra-a--a-dition," he sang, as he began the first of 3,242 performances and "Fiddler on the Roof" opened on Broadway at the Imperial Theater.. It became the first musical to run for more than 3,000 performances, based on stories by the Yiddish writer Sholem Aleichem ( pen name of Sholem Yakov Rabinowitz). Zero Mostel took the part of Tevye. It was presented by Harold Prince, with choreography of Jerome Robbins, music by Jerry Bock, lyrics by Sheldon Hamick and book by Joseph Stein.
1965- San Francisco rock group, the Great Society with singer Grace Slick, makes its stage debut at the Coffee Gallery in North Beach, California.
1965 - The Supremes make studio recording of "I Hear a Symphony." The song tops Billboard's Hot 100 for two weeks in November.
1967- The Beatles appear on the cover of Time Magazine.
1967 - No. 1 Billboard Pop Hit: "The Letter," The Box Tops. The Arbors took the song to No. 20 in 1969 and Joe Cocker hit No. 7 with it in 1970.
1968- The Twins' Cesar Tovar is the second major leaguer to play one inning at each position. In 1965, A's Bert Campaneris became the first.
1971 - Captain Ernest Medina is acquitted of all charges relating to the My Lai massacre of March 1968. His unit, Charlie Company, 1st Battalion, 20th Infantry, 11th Infantry Brigade (Light) of the 23rd (Americal) Division, was charged with the murder of over 200 Vietnamese civilians, including women and children, at My Lai 4, a cluster of hamlets that made up Son My village in Son Tinh District in Quang Ngai Province in the coastal lowlands of I Corps Tactical Zone. Medina had been charged with murder, manslaughter, and assault. All charges were dropped when the military judge at the Medina's court martial made an error in instructing the jury. After the charges were dropped, Medina subsequently resigned from the service. There were 13 others charged with various crimes in conjunction with the My Lai massacre, but only one, Lt. William Calley, was found guilty. Calley was sentenced to life imprisonment for the murder of 22 civilians, but his sentence was reduced first to 20 years, then 10 years, and he was ultimately paroled by President Nixon in November 1974, after having served about one-third of his sentence.
1972---Top Hits
Black & White - Three Dog Night
Baby Don't Get Hooked on Me - Mac Davis
Saturday in the Park - Chicago
When the Snow is on the Roses - Sonny James
1973 - Henry Kissinger took the oath as U.S. Secretary of State. This was the first time a naturalized citizen had held this office. Only in America...
1975 - No. 1 Billboard Pop Hit: "I'm Sorry," John Denver.
1976—"Charlie's Angels" Premiere. This extremely popular show of the '70s featured three attractive women, usually scantily-dressed, solving crimes. Sabrina Duncan (Kate Jackson), Jill Munroe (Farrah Fawcett-Majors) and Kelly Garrett (Jaclyn Smith) signed on with detective agency Charles Townsend Associates. Their boss was never seen, only heard (the voice of John Forsythe); messages were communicated to the women by his associate John Bosley (David Doyle). During the course of the series, Cheryl Ladd replaced Fawcett, Shelley Hack and Tanya Roberts succeeded Kate Jackson.
http://www.tvtome.com/CharliesAngels/
http://www.charliesangels.com/
1980---Top Hits
Upside Down - Diana Ross
All Out of Love - Air Supply
Another One Bites the Dust - Queen
Lookin' for Love - Johnny Lee
1982—"Family Ties" premiers on TV. This popular 80s sitcom was set at Columbus, OH and focused on the Keaton family: Ex-hippies Elyse (Meredith Baxter-Birney), an architect, and Steven (Michael Gross), a station manager of the local public TV station; Alex (Michael J. Fox), their smart, conservative and financially-driven son; Mallory (Justine Bateman), their materialistic, ditzy daughter and Jennifer (Tina Yothers), their tomboy youngest daughter. Later in the series Elyse gave birth to Andrew. Marc Price played Irwin "Skippy" Handleman, the nerdy next-door neighbor who adored the Keatons, and Mallory in particular.
http://www.valdefierro.com/ties2.jpg
http://www.tvtome.com/FamilyTies/
http://www.familyties-tv.com/bios.htm
http://www.twiztv.com/scripts/pilots/familytiespilot.htm
1983 - Forty-one cities reported record cold temperatures during the morning. Houston, TX, hit 50 degrees, and Williston ND plunged to 19 degrees.
1985 - The poor of America's Heartland ... the financially troubled farmers of Middle America ... got help from their friends in the music biz. Singing stars Willie Nelson, Neil Young and John Cougar Mellencamp held a benefit concert to raise funds. The stars came out and so did the money. The "Farm Aid" concert raised ten million dollars.
1987 - Tropical Storm Emily, which formed in the Carribean the previous afternoon, caused considerable damage to the banana industry of Saint Vincent in the Windward Islands. Unseasonably hot weather continued in Florida and the western U.S. Redding CA and Red Bluff CA, with record highs of 108 degrees, tied for honors as the hot spot in the nation.
1988---Top Hits
Sweet Child o' Mine - Guns N' Roses
Simply Irresistible - Robert Palmer
Don't Worry Be Happy - Bobby McFerrin
Joe Knows How to Live - Eddy Raven
1989 - Called by some critics "Body Watch", the California-beach-based lifeguard show "Baywatch" debuted on NBC. It first appeared on April 23 as a two hour movie. Although the series had a healthy viewership, the network canceled the show after one season. Baywatch star, David Hasselhoff, took an unusual step, and investing a great deal of his own money, revived the show and offered it for syndication. He had researched the audience, and believed there was a loyal enough following to make his investment pay off. Hasselhoff proved to be right, and within a few years, Baywatch became the most-watched television show in the world, with huge audiences in England and China. It was estimated to have a collective viewership of 1 billion.
http://www.baywatch.com/
http://www.iol.ie/~wayneh/baywatch/history/index.htm
1989 - Hurricane Hugo quickly lost strength over South Carolina, but still was a tropical storm as it crossed into North Carolina, just west of Charlotte, at about 7 AM. Winds around Charlotte reached 69 mph, with gusts to 99 mph. Eighty percent of the power was knocked out to Charlotte and Mecklenburg County. Property damage in North Carolina was 210 million dollars, and damage to crops was 97 million dollars. The strongest storm surge occurred along the southern coast shortly after midnight, reaching nine feet above sea level at ocean Isle and Sunset Beach. Hugo killed one person and injured fifteen others in North Carolina. Strong northwesterly winds ushered unseasonably cold air into the north central U.S., in time for the official start of autumn, at 8:20 PM (CDT). Squalls produced light snow in northern Wisconsin. Winds in Wisconsin gusted to 52 mph at Rhinelander.
1992- Bruce Springsteen breaks the rules and plays an electric set for MTV's "Unplugged" show. The episode is renamed, "MTV Plugged."
1993- The Rockies complete their inaugural season with a major league home attendance record of 4,483,350 fans.
1994-"Friends" premiered. This NBC comedy brought together six single friends and the issues in their personal lives, ranging from their jobs to their love lives. Cast included Courteney Cox Arquette, Lisa Kudrok Jnneifer Aniston, Mathew Perry, David Schwimmer and Matt Le Blanc.
http://www.nbc.com/Friends/index.html
http://www2.warnerbros.com/friendstv/index.html
1995 - Time Warner and Turner Broadcasting System agree to a $7.5 million merger.
1997 - The Atlanta Braves won an unprecedented sixth straight division title. The record eclipsed the old mark of five straight set by the New York Yankees (1949-1953) and the Oakland A's (1971-1975). The Braves failed to reach the World Series, however, for the first time since 1993.
1998 -The Blue Jays' Jose Canseco hits his 45th and 46th home runs setting a new career high.
1998- With AL-leading HR #s 54 and 55, Mariner Ken Griffey Jr. joins Babe Ruth and Lou Gehrig as the only players to drive in 140 or more runs in three consecutive seasons.
2002 -In last game ever played at Cinergy Field, the Phillies complete a three-game sweep defeating the Reds ,4-3, in front of many of the team's former superstars except for the banished Pete Rose. The all-time hit leader, however, is not forgotten as Tom Browning, paints Rose's uniform number 14 on the pitcher's mound after the game with red spray paint and, as home plate is dug up and to be delivered next door to Great American Ball Park, the crowd begins to chant, "Pete, Pete".
2002 - Sting receives an Emmy for the A&E documentary, "Sting in Tuscany: All This Time." He dedicates his award to his "dear late friend Timothy White."
2003-- For only the third time in major league history, a Korean pitcher and a Japanese pitcher oppose one another as Expos' hurler Tomo Ohka faces Jae Weong Seo as starters at Shea Stadium. Both Pacific Rim right-handers throw well but neither gets the decision as Montreal beats the Mets on misplayed fly balls in the ninth, 4-2.
2003--- With Atlanta beating the Marlins, 8-0, Greg Maddux becomes the first pitcher ever to have won at least 15 games in 16 consecutive seasons. The Braves' righty had shared the accomplishment with Cy Young.
2005-- An American Society of Microbiology's study of the number people of who wash their hands after using a public rest room reports 83 percent of patrons take advantage of the available soap and water. Of the 6,300 bathroom users monitored, the worst hygiene was found at Turner Field where only37 percent of men left the bathroom without washing, and 16 percent of the woman did during an Atlanta Braves game.
[headlines]
--------------------------------------------------------------
Baseball Poem


Stolen Butter
Chooga-Chooga-Chooga-Chooga-Chooga-Chooga
Shiny steel tracks and dusty coal stacks
The line of the 9:30 train,
Bound for the great big town,
Pounds and pounds
On the flat farm ground,
Traveling all around
From the wet Northwest,
Home of farm boys and cold rain,
To the educated East
And then right back again.
In the dining car,
Full of fur and fun and overweight nuns,
Our set scene unfolds over the tea:
The waiter turns left and right
And then who does he see?
The ghost of a boy with a bullet in his belly
Now that's a tummy-ache!
Ladies and Gentlemen,
Here's one for the books!
Let's guess this boy's destination
By his height and looks:
Tall and tan of skin,
More of a man than a boy
And with a smile women surely do enjoy.
He's got brown eyes and strength to spare
Look at those white teeth and chestnut hair!
He's got calluses on his young hands
And he's steady where he stands
But he's no worker, I wager,
But a promising young athlete!
Where do you go, boy,
With your bag full of baseball bats and toys?
To see Orleans, with the swamps and toads?
"No."
To visit the Colossus shining at Rhodes?
"No."
To see hot and hilly San Francisco
Or maybe the ruin and rubble in Rome?
"No." 7
Well!
Where is it, then,
that you want to go, Roy from Idaho?
"I'm going to the great big city of Chicago,
Where I'm going to lay the fans down low-
I'm a baseball player and the best there ever was
And no one can slam that ball like I does."
Oh! He's a baseball player
And a home-run hitter, at that!
Well, he's quite the coming thing,
No one sit where he's sat,
He might come right back
And hit you with his bat!
Let's have a show, then, boy,
Let's see how good you really are!
"I'm the best there ever was
And I'm going to be a star.
I'd like to give you a show,
I really, really would
But I got this bullet in my gut
And I wouldn't be no good."
"But tell you what,
I'll practice swinging
Like I was in the gym
And you can ooh and aah
At where I pretend to hit 'em."
The blue eyed woman sits in the corner,
And reads of pumps and Percival
But he's heard it all,
No cups or castles or fishing affairs-
Look past his lips,
Worlds you will find there.
"There's one!
And there's one!
That's a homer, right there!"
---Anonymous—poem not signed.
--------------------------------------------------------------

SuDoku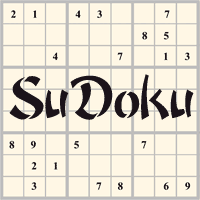 The object is to insert the numbers in the boxes to satisfy only one condition: each row, column and 3x3 box must contain the digits 1 through 9 exactly once. What could be simpler?
http://leasingnews.org/Soduku/soduko-main.htm
--------------------------------------------------------------

Daily Puzzle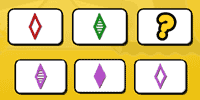 How to play:
http://www.setgame.com/set/puzzle_frame.htm
Refresh for current date:
http://www.setgame.com/set/puzzle_frame.htm
--------------------------------------------------------------


http://www.gasbuddy.com/
http://www.gasbuddy.com/GB_Map_Gas_Prices.aspx
http://www.gasbuddy.com/GB_Mobile_Instructions.aspx
--------------------------------------------------------------

Weather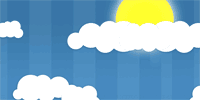 See USA map, click to specific area, no commercials
--------------------------------------------------------------

Traffic Live---
Real Time Traffic Information
You can save up to 20 different routes and check them out with one click,
or type in a new route to learn the traffic live
--------------------------------