Friday, September 21, 2018
Today's Equipment Leasing Headlines
Leasing News Exclusive:
Is the Disclosure Too Complicated?
State Senator Steven Glazer
Position on CA SB 1235 (Part 3 of 3)
By Leasing News Legal Editor Tom McCurnin
New Hires/Promotions in the Leasing Business
and Related Industries
Leasing Industry Ads---Help Wanted
Centra Funding/4 Hour Funding
Equipment Finance Industry Confidence Changes Direction
ELFF Reports September at 65.5 compared to August 60.7
The Most Stolen Vehicles in America – Chart
By Niall McCarthy Statista.com
Fleet Financing Resources Joins Marlin Business Solutions
Originated $75 Million in 2017
Alta's Hugh Swandel to Lead Session at CFLA Conference,
"The Future of Money" Is This Year's Theme
Mandy/Hal/You Were Never Really Here
Let the Sunshine In/Cold Water
Film/Digital Reviews by Leasing News Fernando Croce
German Shepherd
Sacramento, California Adopt-a-Dog
57th Annual ELFA Conference Oct. 14 - 16
Online Registration Expires Friday, September 28th
News Briefs---
Gov. Brown Should Veto California Small Business Lending Bill
Shouts Head of Commercial Finance Association D. Michael Monk
Merchant Cash Advance Targeted as Ponzi Scheme
SEC and U.S. Attorneys Office Investing Alleged Fraud
ASPCA Files Lawsuit Against Pet Leasing Company
for Deceiving with Predatory Financing Arrangements
An Analysis of the New Sale and Leaseback Guidance
detailed discussion and analysis of the sale and leaseback provisions
Small Ticket Equipment Finance and Leasing
Investment Opportunities into Dynamic Market
10 Page Report by Colonnade Advisors
Broker/Funder/Industry Lists | Features (wrilter's columns)
Top Ten Stories Chosen by Readers | Top Stories last six months
www.leasingcomplaints.com (Be Careful of Doing Business)
www.evergreenleasingnews.org
Leasing News Icon for Android Mobile Device
You May have Missed---
Poem
Sports Brief----
California Nuts Brief---
"Gimme that Wine"
This Day in History
SuDoku
Daily Puzzle
GasBuddy
Weather, USA or specific area
Traffic Live----
######## surrounding the article denotes it is a "press release," it was not written by Leasing News nor has the information been verified. The source noted. When an article is signed by the writer,
it is considered a "byline." It reflects the opinion and research of the writer.


Please send a colleague and ask them to subscribe. We are free
Email kitmenkin@leasingnews.org and in subject line: subscribe


[headlines]
--------------------------------------------------------------
Leasing News Exclusive:
Is the Disclosure Too Complicated?
State Senator Steven Glazer
Position on CA SB 1235 (Part 3 of 3)
By Tom McCurnin
Leasing News Legal Editor
The bill to require full disclosure of interest rates is awaiting Governor Jerry Brown's signature. It was reviewed to be recorded and sent to his office late last week. It seems unlikely he will not sign it as it passed the State Assembly 72-3 and in the Senate 28-6 .It then will be up to the California Department of Business Oversight to set up the formula and procedure by January 1, 2019.
What If Disclosure is Too Complicated?
Leasing News asked Senator Glazer that in some cases providing a single number would be too complicated for the lender. In response, he stated that it was his intention that the calculation includes only those costs which are unavoidable by the borrower. Furthermore, where the costs could vary over the course of the financing, the disclosure will be based on the best estimates available at the time an offer is made and a deal is closed. The legislation directs the Department of Business Oversight (DBO) to provide guidance to providers of financing on exactly what to disclose and how to calculate it, and in the case of an estimate, what level of accuracy will be required. No lender will have to disclose terms unless the department can tell them exactly how they need to do it.
In short, the Department of Business Oversight assured him that the disclosure requirements in the bill were practical and that they had the expertise and the resources to enforce them.
Are Two Disclosures Necessary?
Leasing News asked Senator Glazer how the disclosure would be implemented in cases where offers or lease quotes are given, and the ultimately lease document has the operative interest rate embedded in it. Our concern was whether that would involve a two-step disclosure process. In response to that question, the Senator stated that it was his intention that disclosure would be done before final papers are drawn up, because otherwise the customer would not know what they are getting into. Indeed, the purpose of the bill is to allow borrowers to comparison shop using these disclosures, so having only disclosure when the papers are signed does not satisfy that goal. However, it will ultimately be up to the DBO to determine the steps. If borrowers complain that providers of financing are not providing disclosures at the time an offer is made, the DBO has the means to investigate and take action against any provider who is violating the law.
Will Brokers Have to Disclose if the Deal is Funded by a Bank?
Leasing News was also concerned about brokers and how their obligation to disclose would be impacted if the lease was ultimately funded by a bank, an exempt entity. Senator Glazer addressed these concerns by stating that the bill requires providers of financing to disclose. If the broker is a subsidiary of the bank, it would be exempt. If not, then the broker would have to provide interest rate disclosures, even if the funds ultimately come from an entity that is exempt.
How Will the DBO Implement the Statute?
It was interesting to learn that the DBO assisted in the drafting, feels perfectly capable of interpreting the statute and, if necessary, enforcing it. Many of the questions and criticisms of the bill stemmed from some ambiguity in the statute. He addressed those concerns by stating that the DBO has looked at every provision and is perfectly capable of interpreting it. Therefore, I would expect rules to be promulgated by the DBO to address the concerns of equipment lessors and merchant cash advance lenders.
What are the takeaways from this interview and SB 1235?
▪ First, I Was Surprised at the DBO's Involvement in the Bill. According to Senator Glazer the California Department of Business Oversight reviewed every sentence of the Bill and has signed on to interpreting and enforcing it. This is actually a great relief that the DBO will enact new regulations to clarify any ambiguities in the Bill.
▪ Second, Brokers Will Have to Comply. This is great news, because some brokers supply inaccurate and misleading interest quotes dressed up in the term "lease factor." That number is often misunderstood as the operative interest rate. Therefore, many of the bad brokers will not want to disclose interest rates and may just cease brokering leases in California.
▪ Third, Only Banks and Their Subsidiaries Will Not Have to Disclose. Although I thought that conclusion was obvious, Senator Glazer confirmed my understanding.
The bottom line to this question and answer series and the bill is this—Regulation Z was enacted in 1968 because many lenders did not provide accurate information for loans. The same condition exists today, due mainly to the high interest internet loans to commercial borrowers. If Regulation Z made sense in 1968, SB 1235 makes sense today. The bill will allow commercial borrowers to shop credit, which is good for small businesses'
I was shocked that the bill passed with overwhelming support from even the most conservative senators and representatives. If ELFA and the MCA lobbied against the bill, they didn't do a very good job.
Finally, all is not lost because the California Department of Business Oversight will enact clarifying regulations which will smooth over any ambiguities.
Questions by Tom McCurnin/Answers by Senator Glazer
http://www.leasingnews.org/PDF/Q&AwithSenGlazer.pdf
McCurnin Part I:
http://leasingnews.org/archives/Sep2018/09_17.htm#state
McCurnin Part 2:
http://leasingnews.org/archives/Sep2018/09_19.htm#opposition
Final Bill that Passed:
http://leginfo.legislature.ca.gov/faces/billCompareClient.xhtml?bill_id=201720180SB1235
Tom McCurnin is a partner at Barton, Klugman & Oetting in Los Angeles, California.
Tom McCurnin
Barton, Klugman & Oetting
350 South Grand Ave.
Suite 2200
Los Angeles, CA 90071
Direct Phone: (213) 617-6129
Cell (213) 268-8291
Email: tmccurnin@bkolaw.com
Visit our web site at www.bkolaw.com
Previous Tom McCurnin Articles:
http://www.leasingnews.org
Previous Tom McCurnin Articles:
http://www.leasingnews.org/Conscious-Top%20Stories/leasing_cases.html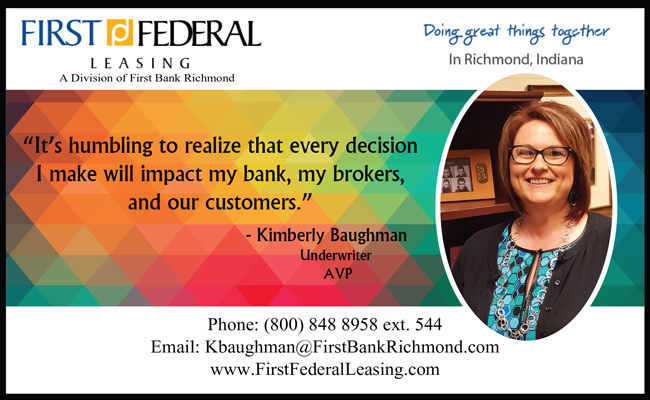 [headlines]
--------------------------------------------------------------
New Hires/Promotions in the Leasing Business
and Related Industries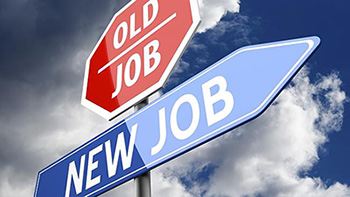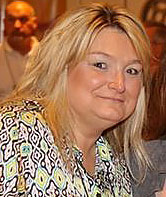 Laura Carini, CLFP, was promoted to SVP Operations, Financial Pacific Leasing, Federal Way, Washington. She joined the firm January, 2010 as AVP, Business Development; promoted February, 2012, VP, Business Development. Certified Leasing and Finance Professional. Education: Western Washington University. BA. Counseling Psychology (1981 - 1985). https://www.linkedin.com/in/laura-carini-40b37a62/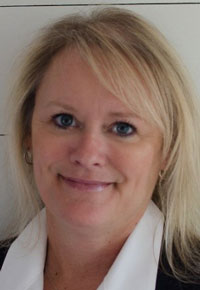 Leslie Conway was hired as Senior Business Development Manager, Neumann Finance Company, Burlington, New Jersey. She is located in the Greater Chicago Area. She remains a Tax Preparer for Butler Accounting and Tax (2009 - President). Previously, she was Business Development Manager, Marlin Business Services Corp. (June, 2015 - September, 2018); Regional Manager, Advantage Leasing Corporation (2005 - June, 2015); Sales Representative, Coronet Funding (2001 - 2003); Sales Representative, Vanguard Financial/Old Kent Leasing (November, 1988 - June, 1999). Community: Volunteer: Citizens Advisory Committee Member, Kaneland School District (August, 201 - August, 2011). Education: College of DuPage. Business.
https://www.linkedin.com/in/leslie-conway-85aa714/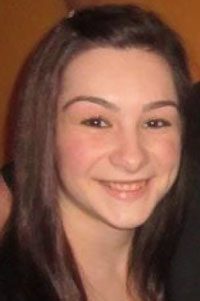 Nicole (Jodouin) Cuncic was promoted to Jr. Funding Analyst, Equirex Leasing Corp., Oakville, Ontario, Canada. She joined the firm June, 2014, as Customer Service Coordinator; promoted November, 2015, Documentation and Credit Coordinator. Previously, she was Assistant Manager, Coach (September, 2013 - June, 2014); Key Holder, True Religion Brand Jeans (May, 2013 - August, 2013); Sales Associate, La Senza (October, 2006 - February, 2013). Education: ICS Canada. Medical Terminology, Certificate, Medical Terminology (2014 - 2015). Charles Sturt University, Bachelor of Education (B.Ed.), Primary/Junior (2010 - 2011). McMaster University, Bachelor of Arts (BA), Sociology (2007 - 2010). Cardinal Newman.
https://www.linkedin.com/in/nicole-cuncic-99442267/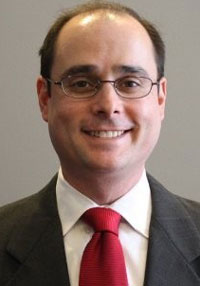 Greg Einhorn was promoted to President and COO, Group Financial Services, Sea Girt, New Jersey. He joined the firm September, 1995, and his previous position was Director of Sales Marketing. Education: University of Colorado, Boulder. Bachelor of Science, Political Science and Government (2015 -2019).
https://www.linkedin.com/in/greg-einhorn-24526381/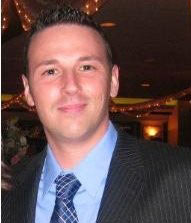 Gary Gilmore was hired as Director of Vendor Sales, Neumann Finance Company, Burlington, New Jersey. Previously, he was Assistant Vice President, Regional Commercial Sales & Service, Business Development Group (May, 2016 - September, 2018); Regional Manager, Marlin Leasing Corp. (January, 2006 - November, 2011). Education: Walden University, Bachelor of Business Administration (B.B.A.). https://www.linkedin.com/in/gary-gilmore-b337396b/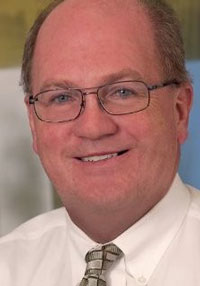 Bill Heston was hired as Vice President, CIT Capital Equipment Finance, New York City, New York. He is located in North Wales, Pennsylvania. Previously, he was Senior Vice President, @ Lease Funds, LLC (May, 2018 - September, 2018); Country Manage, FF Canada Leasing, Inc. He expanded his role here to include VP of First Financial Corporate Services (November, 2013 - February, 2018); Vice President, First Financial Corporate Services (January, 2010 - February, 2018). Vice President CitiCapital, Relationship Manager (May, 1990 - January, 2008). Education: Widener University. BS. Business Management/Economics (1970 - 1982). Neshaminy High School (1976 - 1978).
https://www.linkedin.com/in/bill-heston-3aa86131/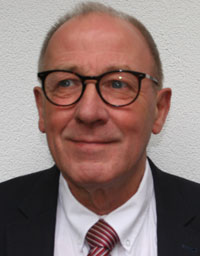 Frans Jansen has been hired as Senior Consultant, Invigors EMEA LLC, the European arm of the Alta Group, Reno, Nevada. He is located in Utrecht, Netherlands. He remains as an independent Business Owner, Leasing Services, Allied Leasing BV. (est. 1988). He previously was with Doosan Infracore as Vice President, Doosan Financial Solutions EMEA (October, 2009 - December, 2017); He continued as Independent Business Owner from June, 2006 - October, 2009); Managing Director, Siemens Lease BV (September, 2005 - June, 2006); acting as Interim Senior Manager/Consultant, Siemens Financial (March, 2002 - September, 2005); Director, Business Development, Europe. Heller Global Vendor Finance (part of Heller Financial, Inc.) (April, 1999 - March, 2002); Director European Vendor Program, AT&T Capital (October, 1996 - November, 1997): Management Consultant, BNP Finance (April, 1988 - October, 1991); Managing Director, Chase NCB Lease (January, 1987 - March, 1988). Languages: Dutch, English, French, German. Education: Institute Sociale Wetenschappen (Institute of Social Science). Post graduate study in economics (1975 - 1979). https://www.linkedin.com/in/fransjansen/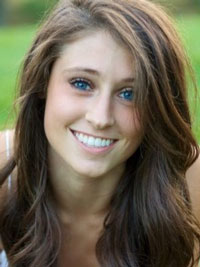 Sierra Koehler was promoted to Vice President, Federal Sales, Key Government Finance, Superior, Colorado. She is located in the Washington, DC Metro Area. She joined the June, 2016, as Leasing Sales Associate; promoted March, 2017, Associate, Federal Sales. Previously, she was Venture Capital Analyst Intern, Invest Nebraska Corporation (August, 2015 - May, 2016); Strategic Communications Intern, Communications Strategy Group (May, 2015 - August, 2015); Marketing and Social Media Intern, Chelsea Boulder (May, 2015 - August, 2015); Small Business Consultant Analyst, Nebraska Business Development Center (December, 2013 - December, 2014); International Analyst Intern, Portland SA (July, 2014 - August, 2014); International Trade Intern, TradeChile (May, 2014 - July, 2014); Business 101 instructor Assistant, University of Nebraska, Lincoln (August, 2013 - November, 2013). Education: University of Nebraska, Lincoln. Bachelor's Degree, Finance & Economics (2012 - 2016).
https://www.linkedin.com/in/sierrakoehler/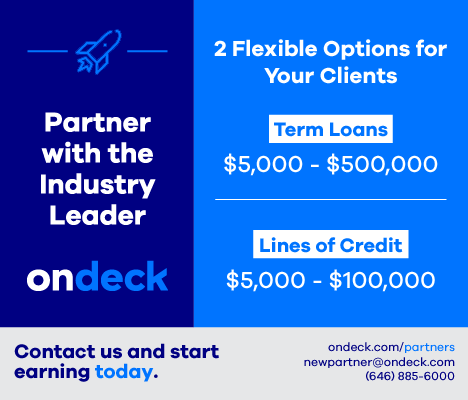 [headlines]
--------------------------------------------------------------
[headlines]
--------------------------------------------------------------
Equipment Finance Industry Confidence Changes Direction
ELFF Reports September at 65.5 compared to August 60.7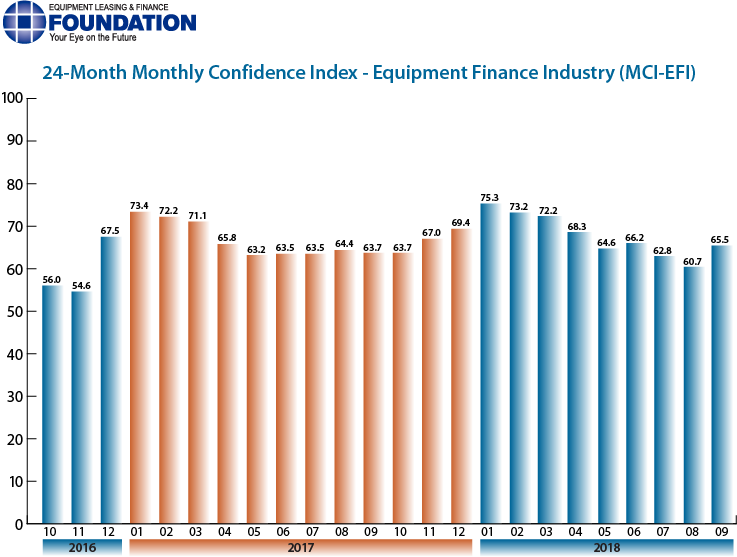 The Equipment Leasing & Finance Foundation (the Foundation) releases the September 2018 Monthly Confidence Index for the Equipment Finance Industry. Overall, confidence in the equipment finance market rose in September to 65.5, up from the August index of 60.7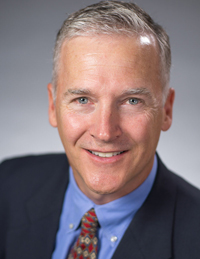 Quentin Cote, CLFP, President, Mintaka Financial, LLC. reported, "I'm optimistic about overall economic activity. The trade wars don't seem to be curbing small business capital purchases."

James Cress, Vice President and General Manager, Stryker Flex Financial, said," am optimistic because tax reform and deregulation are stimulating the economy. Rising rates, lease accounting rules and tariffs concern me."

David Normandin, CLFP, Managing Director, Commercial Finance Group, Hanmi Bank, said, "The summer of 2018 has been brisk with activity and funded volume has been strong. Continued economic confidence and indicators lead me to believe that this will continue in the short term, thus I am optimistic about the remainder of 2018 and the start of 2019."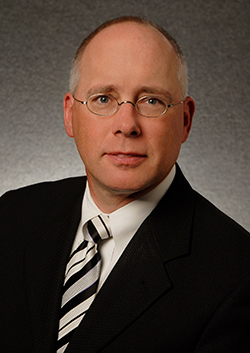 Michael Romanowski, President, Farm Credit Leasing Services Corporation, commented, ""I am optimistic because tax reform and deregulation are stimulating the economy. Rising rates, lease accounting rules and tariffs concern me."
Survey Demographics
Market Segment
Bank 66.6%
Captive 11%
Financial Services 0%
Independent 18.53%
Other 3%
Based on Transaction Size of New Business Volume
Large-Ticket (New Business Volume Avg. Transaction Size Over $5 Million) 18.5%
Middle-Ticket (New Business Volume Avg. Transaction Size of $250,000 – $5 Million) 52%
Small-Ticket (New Business Volume Avg. Transaction Size of $25,000 – $249,999) 30%
Micro-Ticket (New Business Volume Avg. Transaction Less Than $25,000) 0.00%
Organization Size
Under $50 Million 7.4%
$50 Million – $250 Million 11%
$250 Million – $1 Billion 22%
Over $1 Billion 59%
Full Report:
https://www.leasefoundation.org/industry-resources/monthly-confidence-index/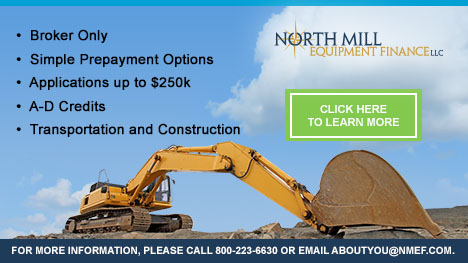 [headlines]
--------------------------------------------------------------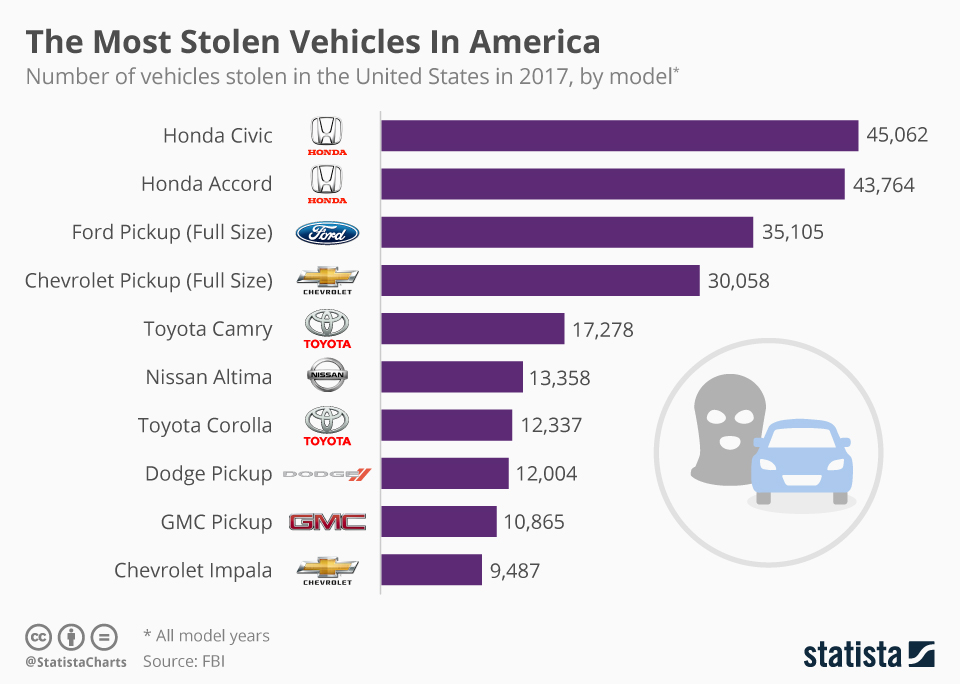 Earlier this week, the National Insurance Crime Bureau (NICB) released its annual Hot Wheels report which details the 10 most stolen vehicle models in the United States. Technology has reduced car theft over the past decade but it is experiencing something of a mini resurgence, primarily due to complacency from drivers. Thousands of cars are stolen across the U.S. every year because owners leave their keys or fobs inside their vehicles, inviting theft.

In 2017, like in previous years, Honda has the undesirable reputation as the most-targeted car manufacturer. Last year, the Honda Civic was the most stolen vehicle with 45,000 thefts, ahead of the Honda Accord with just over 43,700. Even though the figures look like grim news for Honda drivers, owners of newer models do not need to be as worried. The bulk of Hondas stolen in 2017 were older models with the most targeted Civics being 1998 models and the most stolen Accords dating from 1997.
By Niall McCarthy Statista.com
https://www.statista.com/chart/6551/the-10-most-stolen-cars-in-america/

[headlines]
--------------------------------------------------------------
##### Press Release ############################
Fleet Financing Resources Joins Marlin Business Solutions
Originated $75 Million in 2017

Riverside, California – Fleet Financing Resources (FFR) announces it has been acquired by Marlin Business Services Corp., a New Jersey-based publicly traded bank holding company (NASDAQ:MRLN) that provides nationwide capital solutions to businesses.
Fleet Financing Resources, one of the nation's top specialty lenders with a solid foundation rooted in transportation equipment financing, will be integrated into Marlin as the cornerstone of the newly-formed Commercial Vehicle Group. Headed by FFR President and CEO, Dave Reynolds, the entire FFR team will transition to make up the Marlin Commercial Vehicle Group which will serve to significantly bolster direct origination capabilities.
(The Alta Group initiated this transaction and served as exclusive financial advisor to FFR. The Alta consultants responsible for this transaction were Jim Jackson and Bruce Kropschot. Editor).



Jeffrey Hilzinger, Marlin's President and CEO, declared, "The acquisition of FFR, which originated more than $75 million in 2017, fits well within our vocational strategy for the transportation market by focusing on the financing of transportation equipment used by businesses."
"Overall, this acquisition allows us to significantly accelerate our growth in the commercial vehicle and titled transportation markets with a proven and successful team that has significant expertise in these markets."
Fleet Financing Resources President and CEO, Dave Reynolds, said," "On behalf of the team at FFR, we are very pleased to now be part of Marlin. This transaction is extremely positive for both our employees and our customers by providing a great opportunity to continue to build on our track-record of success. As part of Marlin, we believe there is a tremendous opportunity to better support our customers while significantly accelerating Marlin's growth in the commercial vehicle and titled transportation markets. The integration will supercharge existing capabilities in the context of the larger Marlin platform backstopped by the stability of a bank. This enables us to better serve our fleet customer by offering financing/leasing packages with maximum flexibility and lending capacity."

About Fleet Financing Resources
Fleet Financing Resources, LLC is a California-based commercial lender having served over 4,300 fleet operator customers nationwide. With a proven 16 years of successful business history, FFR has originated over $650 million since inception. FFR specializes in the leasing and financing of both new and used titled transportation equipment —commercial vehicle fleets.
About Marlin
Marlin is a nationwide provider of capital solutions to small businesses with a mission of helping small businesses fulfill their American dream. Our products and services are offered directly to small businesses and through financing programs with independent equipment dealers and other intermediaries. Marlin Business Services Corp.is publicly traded (NASDAQ:MRLN). For more information about Marlin, visit www.marlinfinance.com or call toll free at (888) 479-9111.
### Press Release ############################
[headlines]
--------------------------------------------------------------
### Press Release ############################
Alta's Hugh Swandel to Lead Session at CFLA Conference
"The Future of Money" Is This Year's Theme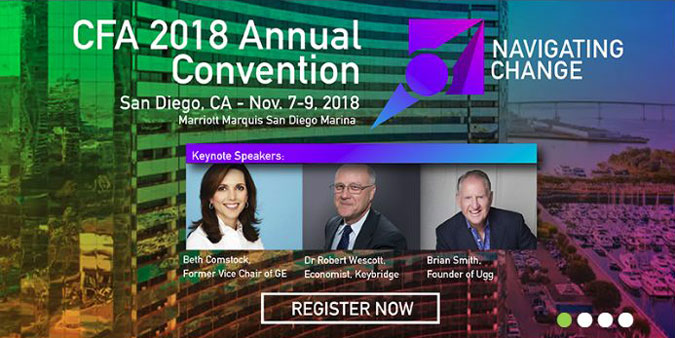 GLENBROOK, NV, —Hugh Swandel, Senior Managing Director of The Alta Group in Canada, will be presenting in Montreal, QC, at the Canadian Finance & Leasing Association (CFLA) conference in a workshop session titled, "Measuring the Industry" on Sept. 26 at 2 p.m. Others in this session are Roger Mitchell, head of Financial Institutions Strategy & Innovation at Equifax Canada Co.; William Phelan, president and co-founder of PayNet; and Robin Somerville, director of the Centre for Spatial Economics.

Hugh Swandel, Senior Managing Director, The Alta Group, Canada, said, "Our industry is changing dramatically and the data being presented in this session can give members a greater understanding of opportunity and risk," said Swandel. Attendees will learn about shifts in market share, credit performance, the size of the vehicle and equipment markets. Additionally, those attending will gain economic insights concerning where projected growth can be turned into business opportunity."
Earlier on the same day, Lori Frasier, senior vice president of strategy and performance management at Key Equipment Finance and Angela Armstrong, president of Prime Capital Group, will lead a conversation on Women in Asset Finance.
Setting the tone for the event's theme will be J.F. Perrault, a Scotiabank economist, and Futurist Jim Carroll, who talks about the ultimate disruption—"the end of money as we know it." Other speakers will discuss banking and finance in the "Information Age," and in another session a think tank executive will present results from a research report on Canada's asset-finance leasing sector.
The Sept. 25-27 agenda also includes topics of leadership, transformation, innovation and fraud prevention. There is a political-media session featuring the Rt. Hon Brian Mulroney, Canada's 18th prime minister in a "fireside" chat with Huw Williams, president of Impact Public Affairs.
Swandel is on the board of the CFLA, an association based in Toronto, with over 200 members ranging from large multinationals to national and regional domestic companies.
The full agenda at http://members.cfla-acfl.ca/conference2018
About The Alta Group
The Alta Group is the leading global consultancy dedicated exclusively to the business of equipment leasing and asset finance. Since 1992, Alta has represented equipment leasing and finance companies, financial institutions, manufacturers and service providers, offering management consulting and expertise in global market entry, vendor and captive finance, professional development, legal services, asset management, mergers and acquisitions, and digital business transformations. For information on the group's services in the United States and Canada, Latin America, Europe, the Middle East and Africa, China, and Asia Pacific, visit http://www.thealtagroup.com and follow on Twitter @thealtagroupllc.
http://leasingnews.org/Ads/Completed/leasepolice52018.html
#### Press Release #############################
[headlines]
--------------------------------------------------------------
Fernando's View
By Fernando F. Croce
A delirious thriller ("Mandy") and an engaging documentary ("Hal") come to the box-office, while DVD releases offer atmospheric drama ("You Were Never Really Here"), a breezy charmer ("Let the Sunshine In"), and an acclaimed director's early gem ("Cold Water").
In theaters: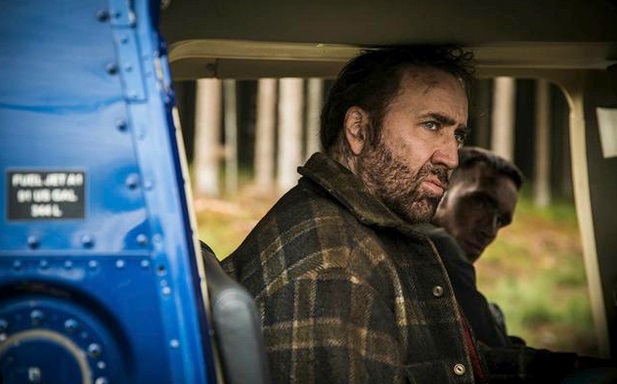 Mandy (RLJE Films): Nicolas Cage gives his most electrifying performance in years in this dark, no-holds-barred revenge tale, set in 1983. Cage plays Red, whose dream life with beloved wife Mandy (Andrea Riseborough) gives way to a nightmare when their home is invaded by savage killers led by a sadistic cult leader named Jeremiah (Linus Roach). Things turn more and more surreal as Red's mind spirals into vengeful obsession, launching him on a wild mission that threatens to consume his very soul. Director Panos Cosmatos creates a stylishly savage trip through its protagonist's unmoored psyche that's sure to fascinate some and repel others. While its expressionistic violence is certainly not for everyone, the film achieves undeniable pulp intensity thanks to Cage's unabashed blurring of delirious, visceral emotions.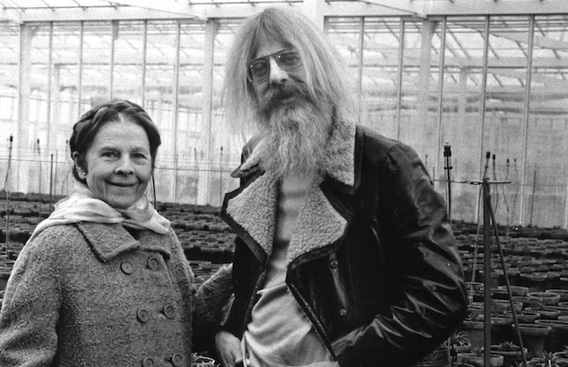 Hal (Oscilloscope): Though vital to shaping what would later be known as the freewheeling New Hollywood of the 1970s, director Hal Ashby never got as famous as such colleagues as Robert Altman or Martin Scorsese. Amy Scott's engaging documentary aims to change that, employing a wide variety of interviews and anecdotes to shed light on this expansive, underrated figure. Much of the film plays as a reminder of the wide-ranging subjects and moods of Ashby's oeuvre, from the sharp satire of "The Landlord" and the salty edge of "The Last Detail" to the raw anger of "Coming Home" and the strange serenity of "Being There." Charting his career from his early days as an editor with interviews from Jane Fonda, Jeff Bridges and Rosanna Arquette, Scott's film is an affectionate remembrance.

Nextflix: The mind behind beloved hits on screen, stage and TV, Neil Simon (1927-2018) left a vast and influential comic legacy. So check out Netflix for some of his most famous works, which include "The Odd Couple" (1968), "The Sunshine Boys" (1975), "The Goodbye Girl" (1977), and "Biloxi Blues" (1988).
On DVD: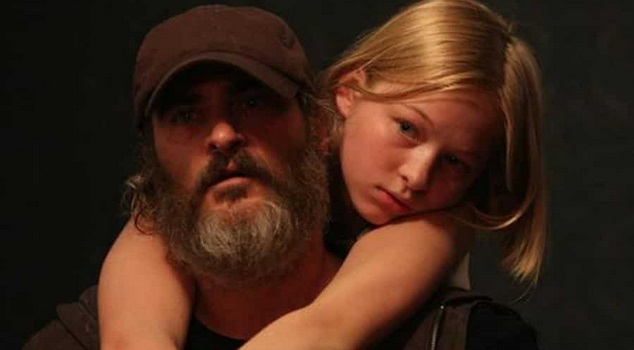 You Were Never Really Here(Amazon Studios): Beauty and brutality are boldly blurred in this strikingly drama from Scottish director Lynne Ramsay ("We Need to Talk About Kevin"). In a fierce, award-winning performance, Joaquin Phoenix stars as Joe, an ex-government agent who deals with combat fatigue while hiring himself out to rescue girls caught in sex-trafficking rings. His newest assignment turns out to be his deadliest, as he's paid by a politician to save a young woman called Nina (Ekaterina Samsonov) from a secret brothel. What Joe soon realizes is that his corrupt client wants him dead after finishing the job, and he finds himself with Nina on the run from deadly henchmen. Creating an atmosphere of tangible dread, Ramsay offers an immersive thriller that seems to bleed from its protagonist's dangerous psyche.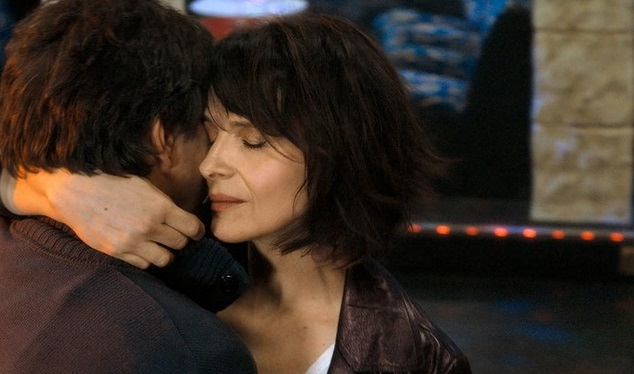 Let the Sunshine In (Sunshine Selects): A brilliant filmmaker known for her fierce intensity, French director Claire Denis ("White Material") lightens up with this luminous comedy, which provides a marvelous vehicle for Juliette Binoche. Binoche stars as Isabelle, a Parisian painter who, on the search for love, goes through a colorful gallery of potential boyfriends. Among them is a married banker (Xavier Beauvois), an actor (Nicolas Duvauchelle) and an artist (Alex Descas), all of whom showcase problems with commitment. Can Isabelle finally find the right connection, or is the search itself her ultimate destination? Infusing a standard romantic formula with wit, warmth and cinematic invention, Denis creates a portrait of a vivacious woman figuring out her own heart. Anchored by Binoche's performance, this is a lovely, breezy treat. With subtitles.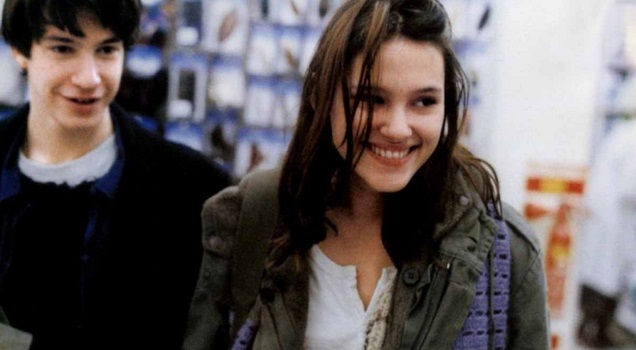 Cold Water (Criterion): One of the most acclaimed modern directors, French filmmaker Olivier Assayas ("Personal Shopper") had an early success with this poignant 1994 drama, set in the 1970s. The plot centers on Gilles (Cyprien Fouquet) and Christine (Virginie Ledoyen), teenagers whose unstable homes lead them into an intense romance. At first separated, the two decide to run away together and find a place of their own, beginning with an abandoned house in the countryside where a wild, all-night party unfolds. The moment of freedom soon passes, however, and the characters find themselves again on the road, searching further into the unknown. With a remarkable rock soundtrack, Assayas' film beautifully showcases his gift for ephemeral emotion, serving a portrait of youthfulness in all its passion and melancholy. With subtitles.
[headlines]
--------------------------------------------------------------
German Shepherd
Sacramento, California Adopt-a-Dog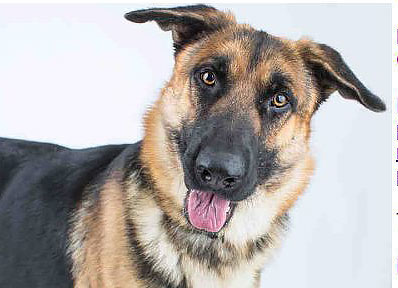 Pedro
ID #A556109
My name is Pedro and I am a neutered male, brown and black German Shepherd Dog.
I am currently in foster care. If you are interested in meeting me, please contact the K9 foster and rescue team at foster-rescue@cityofsacramento.org. Please remember to leave a phone number and the animal ID number. The shelter staff thinks I am about 3 years old. I have been at the shelter since Jun 28, 2018.
Shelter Staff made the following comments about this animal:
Hi! My name is Pedro, I am a little shy at first, but once I warm up to you, we will be pals for life! I love to play and dip my head in the water. I love to be where you are, and I could use some help with my table manners... I walk calmly on a leash, and I am very curious about things.
Pedro Relaxing
https://youtu.be/X5EvJRkNi5g
Pedro Enjoying his frozen treat
https://youtu.be/re5fs682X6w
For more information about Pedro, call:
City of Sacramento Animal Care Services at (916) 808-7387
Ask for information about animal ID number A556109

Adopt a Pet
http://www.adoptapet.com/
[headlines]
--------------------------------------------------------------
57th Annual ELFA Conference Oct. 14 - 16
Online Registration Expires Friday, September 28th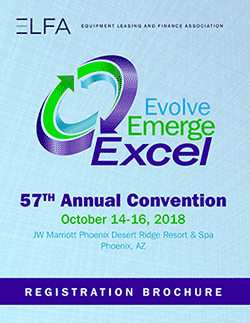 The 57th ELFA Annual Convention, Oct. 14-16 at the JW Marriott Phoenix Desert Ridge in Phoenix, Arizona, is closer than you think. Don't miss your peer selected breakout sessions on Monday, Oct. 15 and Tuesday, Oct. 16.
Note: Convention Hotel Sold Out
List of Recommended Hotels:
https://tinyurl.com/ELFAHotelLink
Schedule:
https://apps.elfaonline.org/events/2018/AC/sched.cfm
To view this year's breakout sessions and register before September 27th, go to
http://www.elfaonline.org/events/2018/AC/
As the largest annual gathering of equipment leasing and finance professionals, it's your best opportunity to see longtime colleagues, meet new ones, gather important information for your business and just have fun!
Full Brochure (16 pages)
https://www.elfaonline.org/cvweb_elfa/cgi-bin/documentdll.dll/view?DOCUMENTNUM=2067


[headlines]
--------------------------------------------------------------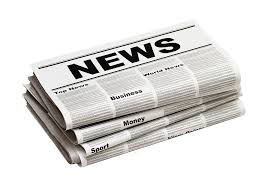 News Briefs----
Gov. Brown Should Veto California Small Business Lending Bill
Shouts Head of Commercial Finance Association D. Michael Monk
https://www.americanbanker.com/opinion/gov-brown-should-veto-californias-small-business-lending-bill
Merchant Cash Advance Targeted as Ponzi Scheme
SEC and U.S. Attorneys Office Investing Alleged Fraud
https://www.investorlawyers.net/blog/1st-global-capital-targeted-by-sec-and-u-s-attorneys-office-in-investigation-concerning-alleged-fraud/
ASPCA Files Lawsuit Against Pet Leasing Company
for Deceiving with Predatory Financing Arrangements
https://www.news-journal.com/ap/national/aspca-files-lawsuit-against-new-jersey-pet-store-and-pet/article_ced7cf6c-4743-522c-9b7b-c278104c09ed.html
An Analysis of the New Sale and Leaseback Guidance
detailed discussion and analysis of the sale and leaseback provisions
https://www.cpajournal.com/2018/09/19/an-analysis-of-the-new-sale-and-leaseback-guidance/
Small Ticket Equipment Finance and Leasing
Investment Opportunities into Dynamic Market
10 Page Report by Colonnade Advisors
http://leasingnews.org/PDF/small-ticket-equipment-finance2018.pdf

[headlines]
--------------------------------------------------------------


You May Have Missed---
Home Equity Gets a Boost Across the U.S.
less willing to use home equity loans/equity lines of credit
https://dsnews.com/daily-dose/09-20-2018/home-equity-gets-a-boost-nationally
[headlines]
--------------------------------------------------------------
Baseball Poem
Anthem
by
William (Sugar) Wallace
Catfish, Mudcat, Ducky, Coot.
The Babe, The Barber, The Blade, The Brat.
Windy, Dummy, Gabby, Hoot.
Big Train, Big Six, Big Ed, Fat.
Greasy, Sandy, Muddy, Rocky.
Bunions, Twinkletoes, Footsie, The Hat.
Fuzzy, Dizzy, Buddy, Cocky.
The Bull, The Stork, The Weasle, The Cat.
Schoolboy, Sheriff,
Rajah, Duke,
General, Major,
Spaceman, Spook.
The Georgia Peach, The Fordham Flash,
The Flying Dutchman. Cot.
The People's Cherce, The Blazer. Crash.
The Staten Island Scot.
Skeeter, Scooter,
Pepper, Duster,
Ebba, Bama, Boomer, Buster.
The Little Professor, The Iron Horse. Cap.
Iron Man, Iron Mike, Iron Hands. Hutch.
Jap, The Mad Russian, Irish, Swede. Nap.
Germany, Frenchy, Big Serb, Dutch,
Turk. Tuck, Tug, Twig.
Spider, Birdy, Rabbit, Pig.
Fat Jack, Black Jack, Zeke, Zack. Bloop.
Peanuts, Candy, Chewing Gum, Pop.
Chicken, Cracker, Hot Potato, Soup.
Ding, Bingo.
Hippity-Hopp.
Three-Finger, No-Neck, The Knuck, The Lip.
Casey, Gavvy, Pumpsie, Zim.
Flit, Bad Henry. Fat Freddie, Flip.
Jolly Cholly, Sunny Jim.
Shag, Schnozz,
King Kong, Klu.
Boog, Buzz,
Boots, Bump, Boo.
King Carl, The Count. The Rope, The Whip.
Wee Willie, Wild Bill, Gloomy Gus. Cy.
Bobo, Bombo, Bozo. Skip.
Coco, Kiki, Yo-yo. Pie.
Dinty, Dooley,
Tuffy, Snuffy,
Stubby, Dazzy,
Daffy, Duffy.
Baby Doll, Angel Sleeves, Pep, Sliding Billy,
Buttercup, Bollicky, Boileryard, Juice.
Colby Jack, Dauntless Dave, Cheese,
Gentle Willie,
Trolley Line, Wagon Tongue, Rough,
What's the Use.
Ee-yah,
Poosh 'Em Up,
Skoonj, Slats, Ski.
Ding Dong,
Ding-a-Ling,
Dim Dom, Dee.
Famous Amos. Rosy, Rusty.
Handsome Ransom. Home Run, Huck.
Rapid Robert. Cactus, Dusty.
Rowdy Richard. Hot Rod, Truck.
Jo-Jo, Jumping Joe,
Little Looie,
Muggsy, Moe.
Old Folks, Old Pard, Oom Paul. Yaz.
Cowboy, Indian Bob, Chief, Ozark Ike.
Rawhide, Reindeer Bill. Motormouth. Maz.
Pistol Pete, Jungle Jim, Wahoo Sam. Spike.
The Mad Hungarian.
Mickey, Minnie.
Kitten, Bunny.
Big Dan, Moose.
Jumbo, Pee Wee; Chubby, Skinny.
Little Poison.
Crow, Hawk, Goose.
Marvelous Marv.
Oisk, Oats, Tookie.
Vinegar Bend.
Suds, Hooks, Hug.
Hammerin' Hank.
Cooch, Cod, Cookie.
Harry the Horse.
Speed, Stretch, Slug.
The Splendid Splinter. Pruschka. Sparky.
Chico, Choo Choo, Cha-Cha, Chub.
Dr. Strangeglove. Deacon. Arky.
Abba Dabba. Supersub.
Bubbles, Dimples, Cuddles, Pinky.
Poison Ivy, Vulture, Stinky.
Jigger, Jabbo
Jolting Joe
Blue Moon
Boom Boom
Bubba
Bo
[headlines]
--------------------------------------------------------------

Sports Briefs---
Tiger Woods surges into lead at Tour Championship
https://nypost.com/2018/09/20/tiger-woods-surges-into-lead-at-tour-championship/
49ers get Foster back from suspension in time for Chiefs
https://www.yahoo.com/sports/49ers-foster-back-suspension-time-chiefs-213253506--nfl.html
Could Colin Kaepernick join the Raiders?
His attorney is dropping hints
https://www.eastbaytimes.com/2018/09/20/did-colin-kaepernicks-attorney-just-say-the-raiders-might-be-interested/
Packers QB Aaron Rodgers not practicing today
http://www.theredzone.org/Blog-Description/EntryId/72369/Packers-QB-Aaron-Rodgers-not-practicing-today
[headlines]
--------------------------------------------------------------


California Nuts Briefs---

Cupertino approves $4 billion Vallco development south of Apple Park
https://www.sfgate.com/business/article/Cupertino-approves-Vallco-development-south-of-13243335.php
No delay to school start times after Jerry Brown vetoes California bill
https://www.sacbee.com/news/politics-government/capitol-alert/article218752300.html
California becomes first state to bar restaurants
from automatically handing out plastic straws
https://abc7.com/society/ca-becomes-first-state-to-bar-restaurants-from-handing-out-plastic-straws/4296284/
[headlines]
--------------------------------------------------------------



"Gimme that Wine"

http://www.youtube.com/watch?v=EJnQoi8DSE8
Large Wineries Are Rejecting Smoke Exposed Lake
and Mendocino County Grapes
https://www.winebusiness.com/news/?go=getArticle&dataid=203607
2017 Oregon Vineyard and Winery Report Released
https://www.winebusiness.com/news/?go=getArticle&dataid=203566
Napa is Luring French Winemakers to Leave the Old World
https://robbreport.com/food-drink/wine/napa-luring-french-winemakers-leave-old-world-eg18-2816781/
The women who turned Virginia into wine country
https://pilotonline.com/vagrowler/columns/vine/article_df19f38e-b82d-11e8-a0c6-632c6ee121e4.html
Winemakers rejoice over 2018 harvest,
mostly uneventful with the cooler weather
https://www.pressdemocrat.com/business/8753548-181/winemakers-rejoice-over-2018-harvest
Tasting Room Encounters Gone Horribly Wrong
https://daily.sevenfifty.com/tasting-room-encounters-gone-horribly-wrong/
Wine Prices by vintage
http://www.winezap.com
http://www.wine-searcher.com/
US/International Wine Events
http://www.localwineevents.com/
Leasing News Wine & Spirits Page
http://two.leasingnews.org/Recommendations/wnensprts.htm

[headlines]
----------------------------------------------------------------
This Day in History
1596 - Spain named Juan de Oñate governor of the colony of New Mexico. In 1595, he was granted a request by King Philip II to colonize the northern frontier of the Viceroyalty of New Spain. His stated objective was to spread Roman Catholicism by establishing new missions in Nuevo México. His real quest was to discover treasure and sent out small parties to look for gold and silver. He began the expedition in 1598 with 700 people, fording the Rio Grande (Río del Norte) near present day El Paso in late April. On April 30, 1598, he claimed all of the territory across the river crossing to the north for the Spanish Empire. That summer, his party continued up the middle Rio Grande Valley to present day northern New Mexico, where he encamped among the Pueblo Indians. Gaspar Pérez de Villagrá, a captain of the expedition, chronicled Oñate's conquest of New Mexico's indigenous peoples in his epic "Historia de la Nueva México" in 1610. Oñate demanded that the indigenous population pledge loyalty to Spain and the Pope, an edict enforced by Spanish soldiers. As subjects of Spain, the indigenous population was required to pay taxes and tribute to the Spanish crown. In 1599, the Acoma refused to deliver the required "food tax" to the Spanish. An altercation ensued, and the Acoma killed 13 Spaniards, including Oñate's nephew. Oñate ordered that the village be destroyed. There were only about 200 Acoma survivors out of a population of nearly 2,000. Indian men of fighting age were sentenced to foot amputation, followed by 20 years of servitude. Others were sentenced to the amputation of their hands. Children were sent to Mexico to be raised by missionaries, but some scholars believe they were eventually sold on the slave market. Years later, Oñate was tried in Mexico City and convicted on a dozen charges, including using excessive force against the Acoma. He was banished from New Mexico for the rest of his life and was exiled from Mexico City for five years. He lived the rest of his life in Spain.
http://www.pbs.org/pov/lastconquistador/background.php
http://memory.loc.gov/ammem/today/sep21.html
1673 - James Needham returned to Virginia after exploring the land to the west, which would become Tennessee.
1677 - John and Nicolaas van der Heyden patented the fire extinguisher
1776 - Nathan Hale was arrested in NYC by the British for spying for American rebels. He was hanged the next day after uttering the words by which he is remembered to this day, "I only regret that I have but one life to lose for my country." He was 21.
1776 – New York City was burned down in the Great Fire five days after British took over.
1780 - General Benedict Arnold, American commander of West Point, met with British spy Major John André to hand over plans of the important Hudson River fort to the enemy. Unhappy with how General George Washington treated him and in need of money, Arnold planned to "sell" West Point for 20,000 pounds--a move that would enable the British to cut New England off from the rest of the rebellious colonies. Arnold's treason was exposed when André was captured by American militiamen who found the incriminating plans in his stocking. Arnold received a timely warning and was able to escape to a British ship, but André was hanged as a spy on October 2, 1780. Condemned for his Revolutionary War actions by both Americans and British, Arnold lived until 1801.
1782 – Philadelphia printer Robert Aitken petitioned Congress to authorize him to print the complete Bible in English. It was entitled "the Holy Bible, containing the Old and New Testaments—newly translated out of the original tongues;" and with the former translations diligently compared and revised. The frontispiece noted that it was "printed and sold by R. Aitken, at Pope's Head, Three doors above the Coffee House in Market Street, Philadelphia, PA, 1782." It was a duodecimo of 353 pages without pagination. Philadelphia, PA, in 1782
1784 - The first daily newspaper begins in Pennsylvania, "Pennsylvania Packet and Daily Advertiser."
(Lower half of: http://memory.loc.gov/ammem/today/sep21.html )
1814 - Black troops cited for bravery in Battle of New Orleans.
On each page of history
America sees my face
On each page of history
We leave a shining trace
On each page of history, My race! My race! My race!
---Langston Hughes
http://lsm.crt.state.la.us/cabildo/cab6.htm
1814 – Francis Scott Key's "Defence of Ft. McHenry" was first published as a poem; later named the "Star-Spangled Banner."
1858 - Birthday of Annie Sturges Daniel (1858-1944) in NYC. Pioneering U.S. physician who developed the "out-practice" service in New York City, the system of physicians going to the homes of the poor, usually the tenements of the lower east side. She particularly fought the household sweat shops where the poor - mostly women and children - were forced to use their limited living space to produce clothing. However, because she was one of the foremost authorities on tenement living, she did not try to eliminate home sweat shops because the income was vital to the families. Instead, she lobbied various city and state committees to regulate the conditions and force a raise in the wages for the work. One of her most effective methods was to publicize the working conditions under which the clothing was manufactured and to warn consumers of the threat of disease being carried in the clothing.
1884 - Birthday of Hugh I. "Shorty" Ray (1884-1956) at Highland Park, IL. Pro football Hall of Fame official was the NFL Supervisor of Officials from 1938-1952. He wrote the high school rule book that became the basis for all football rule books. He raised the quality of officiating games, conducting seminars and requiring officials to take written exams. Inducted into the Pro Football Hall of Fame in 1966.
1894 - A heavy chicken house, sixteen by sixteen feet in area, was picked up by a tornado and wedged between two trees. The hens were found the next day sitting on their eggs in the chicken house, with no windows broken, as though nothing had happened.
1897 – "Yes, Virginia, there is a Santa Claus" editorial was published in the New York Sun.
1903 – Preston Tucker (1903-56) was born in Capac, MI. He is most remembered for his 1948 Tucker Sedan (known as the "Tucker '48" and initially nicknamed the "Tucker Torpedo"), an automobile which introduced many features that have since become widely used in modern cars. Production of the Tucker '48 was shut down amidst scandal and controversial accusations of stock fraud on March 3, 1949. Many believe this was a behind-the-scenes machination orchestrated by the other automobile manufacturers to eliminate innovative competition.
1903 - Pitching for the third time in four games, Christy Mathewson kept the Giants in 2nd place by beating the Cubs, 8-3. It was his 30th win of the year.
1910 – In a minor league game at Atlanta, Mobile and Atlanta broke the "world's time record" for a 9-inning game, completing the match in 32 minutes. Mobile won, 2-1. Both teams run in after each inning, hitters usually swing at the first pitch, though there is one walk and four stolen bases in the game.
1912 - Birthday of Chuck Jones (1912-2002), born at Spokane, WA. Chuck Jones worked as a child extra in Hollywood in the 1920s. After attending art school, he landed a job washing animation cells for famed Disney animator Ub Iwerks. He learned the craft, and, by 1962, he headed his own unit at Warner Bros. Animation. He created the characters Road Runner and Wile E. Coyote, Marvin the Martian and Pepe le Pew. He worked on the development of Bugs Bunny, Elmer Fudd, Daffy Duck and Porky Pig, and also produced, directed and wrote the screenplay for the animated 1966 television classic "Dr. Seuss How the Grinch Stole Christmas." He won several Academy awards for his work and his cartoon "What's Opera, Doc" is in the National Film Registry.
1914 - Bassist Slam Stewart (1914-87) was born Leroy Eliot Stewart, Englewood, NJ
1918 - Bassist Tommy Potter (1918-88) born Philadelphia.
1919 - The Cubs beat the Braves, 3-0, in 58 minutes. It took the Brooklyn Robins 55 minutes to beat the Reds, 3-1 as Slim Sallee threw 65 pitches, topping Christy Mathewson's 69-pitch complete game. One week later, the Giants ended the season by beating the Phillies, 6-1, in a record 51 minutes.
1921 - Birthday of drummer Chico Hamilton (1921-2013) in LA.
http://music.barnesandnoble.com/search/artistbio.asp
?userId=&mscssid=&pCount=
& sRefer=&sourceid=&ctr=70348
1922 - President Warren G Harding signed a joint resolution of approval to establish a Jewish homeland in Palestine.
1931 - In the depths of the Depression, Americans had lost their faith in the nation's banking system. Despite President Hoover's various attempts to rekindle confidence, including temporary halts on debts and reparations, the nation remained wary. On September 21, 1931, that feeling of insecurity grew more pronounced with the announcement that Great Britain had decided to abandon the gold standard. Most people assumed that the United States would follow suit and pull out of the precious metal. Since gold was the standard bank reserve, the public also assumed that any money they had in the banks would be at risk. A mini-panic ensued as people rushed to withdraw their savings and stockpile any available gold. By the end of October, 1931, 827 banks had been forced to shut down. The public's suspicions, meanwhile, proved to be a bit premature, as the government did not give up the gold standard until 1933.
1931 – Larry Hagman (1931-2012) was born in Ft. Worth, TX. Hagman was the son of actress Mary Martin, who played "Peter Pan" on Broadway. After six seasons as Maj. Anthony Nelson in the hit series, "I Dream of Jeannie" (1965-70), he was cast as the heavy in "Dallas" (1978-91) as oil tycoon J.R. Ewing.
1934 – Singer/composer/musician/poet Leonard Cohen (d. 2016) born Montreal, Canada.
http://www.leonardcohen.com/
www.leonardcohenfiles.com/
http://members.aol.com/megan2c2b/
http://www.webheights.net/dearheather/songs.html
1934 - The Deans shut out the Dodgers. After Dizzy 3-hit them in a 13-0 victory, allowing no hits until the 8th, brother Paul threw a no-hitter, 3-0. Diz said: "If'n Paul had told me he was gonna pitch a no-hitter, I'da throwed one, too."
1938 - A great hurricane smashed into Long Island and bisected New England, causing a massive forest blow down and widespread flooding. Winds gusted to 186 mph at Blue Hill, MA, and a storm surge of nearly thirty feet caused extensive flooding along the coast of Rhode Island. The hurricane killed 600 persons and caused $500 million damage. The hurricane, which lasted twelve days, destroyed 275 million trees. Hardest hit were Massachusetts, Connecticut, Rhode Island and Long Island, NY. The "Long Island Express" produced gargantuan waves with its 150 mph winds, waves which smashed against the New England shore with such force that earthquake-recording machines on the Pacific coast clearly showed the shock of each wave.
1942 – The B-29 Superfortress bomber that would later carry the atomic bombs to Nagasaki and Hiroshima made its maiden flight from Boeing Field, Seattle.
1944 - TOWLE, JOHN R., Medal of Honor.
Rank and organization: Private, U.S. Army, Company C, 504th Parachute Infantry, 82d Airborne Division. Place and date: Near Oosterhout, Holland, 21 September 1944. Entered service at: Cleveland, Ohio. Birth: Cleveland, Ohio. G.O. No.: 18, 15 March 1945. Citation. For conspicuous gallantry and intrepidity at the risk of life above and beyond the call of duty on 21 September 1944, near Oosterhout, Holland. The rifle company in which Pvt. Towle served as rocket launcher gunner was occupying a defensive position in the west sector of the recently established Nijmegen bridgehead when a strong enemy force of approximately 100 infantry supported by 2 tanks and a half-track formed for a counterattack. With full knowledge of the disastrous consequences resulting not only to his company but to the entire bridgehead by an enemy breakthrough, Pvt. Towle immediately and without orders left his foxhole and moved 200 yards in the face of Intense small-arms fire to a position on an exposed dike roadbed. From this precarious position Pvt. Towle fired his rocket launcher at and hit both tanks to his immediate front. Armored skirting on both tanks prevented penetration by the projectiles, but both vehicles withdrew slightly damaged. Still under intense fire and fully exposed to the enemy, Pvt. Towle then engaged a nearby house which 9 Germans had entered and were using as a strongpoint and with 1 round killed all 9. Hurriedly replenishing his supply of ammunition, Pvt. Towle, motivated only by his high conception of duty which called for the destruction of the enemy at any cost, then rushed approximately 125 yards through grazing enemy fire to an exposed position from which he could engage the enemy half-track with his rocket launcher. While in a kneeling position preparatory to firing on the enemy vehicle, Pvt. Towle was mortally wounded by a mortar shell. By his heroic tenacity, at the price of his life, Pvt. Towle saved the lives of many of his comrades and was directly instrumental in breaking up the enemy counterattack.
1945 – Film and TV producer Jerry Bruckheimer was born in Detroit. His best known television series are "CSI: Crime Scene Investigation," "CSI," "CSI: Miami," "CSI: NY," "Without a Trace," "Cold Case," and the U.S. version of "The Amazing Race." At one point, three of his TV series ranked among the top 10 in the U.S. ratings—a unique feat in television. Some of his best-known films include "Beverly Hills Cop," "Flashdance," "Top Gun," "The Rock," "Con Air," "Armageddon," Pearl Harbor," "Pirates of the Caribbean," and the "National Treasure" franchise.
1947 – Top Hits
"Peg o' My Heart" – The Harmonicats
"That's My Desire" – The Sammy Kaye Orchestra (vocal: Don Cornell)
"I Wonder Who's Kissing Her Now" – Perry Como
"Smoke! Smoke! Smoke! (That Cigarette)" – Tex Williams
1947 – Birthday of author Stephen King, born Portland, ME. Author of horror, supernatural fiction, suspense, science fiction and fantasy, his books have sold more than 350 million copies, many of which have been adapted into feature films, miniseries, television series, and comic books. King has published 58 novels, including seven under the pen name Richard Bachman, and six non-fiction books. He has written around 200 short stories, most of which have been published in book collections.
1948 – "Texaco Star Theater" premiered. I remember around six years old watching this, and laughing at Milton Berle in women's clothing, the group of us sitting around the television on the block, marveling at this invention.
1949 – Wesley Anthony Brown (1927-2012) of Washington, DC, became the first African-American Naval Academy Graduate when he received his commission as ensign.
1950 – Comedian/Actor Bill Murray born Evanston, IL.
1955 – Top Hits
"The Yellow Rose of Texas" – Mitch Miller
"Maybellene" – Chuck Berry
"Love is a Many-Splendored Thing" – The Four Aces
"I Don't Care" – Webb Pierce
1955 – The Platters' first million seller, "Only You," enters the pop charts at #24. Composed by Buck Ram, the original title is Only You (and You Alone). The song held strong in the number 1 position on the U.S. R&B charts for seven weeks and hit number five on the Billboard Hot 100 chart. It remained there for 30 weeks and became the first record to sell more than a million copies in France.
1955 – Boxing fans all over the world held their collective breaths as Archie Moore, the light heavyweight champion, knocked the heavyweight champion, Rocky Marciano, to the floor on this night. But the champ got up ... just as he had done in every fight before this ... and went on to defeat Moore. Rocky Marciano was the only world champion at any weight to have won every fight of his professional career (1947 to 1956). 43 of his 49 fights were won either by KO's or because the fight had to be stopped.
1956 - 1B Moose Skowron had 5 hits, but the Yankees stranded a record 20 base runners in losing to the Red Sox at Fenway, 13-9. Mickey Mantle, on his way to the Triple Crown, sent a 480-foot home run into the center field bleachers that landed a foot from the top. His 3 hits raised his average to .352, 4 points behind Ted Williams.
1957 – "Perry Mason" premiered on television. Raymond Burr will forever be associated with the character of Perry Mason, a highly skilled criminal lawyer who won the great majority of his cases. Episodes followed a similar format: the action took place in the first half, with the killer's identity unknown, and the courtroom drama took place in the latter half. My father, Lawrence Menkin, was the story editor for several years and wrote several of the episodes. Mason was particularly adept at eliciting confessions from the guilty parties. Regulars and semi-regulars included Barbara Hale as Mason's secretary Della Street, William Hopper as Mason's PI, Paul Drake, William Talman as prosecutor Hamilton Burger, and Ray Collins as police Lt. Tragg (who when he got old, moved slowly, so Talman and Burr liked to pinch his butt, even on camera, to get him moving, and the crew sometimes would laugh too much and they would have to shoot the scene over, I remember my father telling me). Following the series' end, with the last telecast on Jan 27, 1974, a number of successful "Perry Mason" TV movies aired and the show remains popular in reruns.
1961 – The U.S. Army's 5th Special Forces Group (Airborne), 1st Special Forces, is activated at Fort Bragg, North Carolina. The Special Forces were formed to organize and train guerrilla bands behind enemy lines. President John F. Kennedy, a strong believer in the potential of the Special Forces in counterinsurgency operations, visited the Special Warfare Center at Fort Bragg to review the program and authorized the Special Forces to wear the headgear that became their symbol, the Green Beret.
1961 – No. 1 Billboard Pop Hit: "Take Good Care of My Baby,'' Bobby Vee. The song was written by Gerry Goffin and Carole King.
1962 – A song called "Silver Threads and Golden Needles" by The Springfields became the first British record to crack the US Top 20. The vocal group was made up of Tim Field, Tom Springfield and his sister Dusty, who would go on to have her own solo hits like "I Only Want To Be With You."
1963 – Top Hits
"Blue Velvet" – Bobby Vinton
"Heat Wave" – Martha & The Vandellas
"Sally, Go 'Round the Roses" – The Jaynetts
"Abilene" – George Hamilton IV
1963 – "Sugar Shack" by Jimmy Gilmer & the Fireballs enters the Hot 100. It says there for 15 weeks and climbs to Number One for five weeks starting on October 12. It receives a gold record on November 29.
1963 – Yogi Berra hit the 358th HR of his career, his last.
1965 – The Jefferson Airplane opens for Lightnin' Hopkins at the Matrix on Fillmore St. in San Francisco. Norm Mayell backed Hopkins on drums.
He patted him on the back no sooner Mr. Charlie had stooped over
He said, mi'mi mi'mi Mr. Charlie
Mr. Charlie straightened up and looked at him & say
Boy you tryin' to tell me Charlie
He say, Now if you can't talk it then sing it
& he say
oooooooohhhh mister Charlie
your rollin mill is burnin down
— Lightnin Hopkins, Once in the Country
1966 - *LAUFFER, BILLY LANE, Medal of Honor
Rank and organization: Private First Class, U.S. Army, Company C, 2d Battalion, 5th Cavalry, 1st Air Cavalry Division. Place and date: Near Bon Son in Binh Dinh province, Republic of Vietnam, 21 September 1966. Entered service at: phoenix, Ariz. Born: 20 October 1945, Murray, Ky. Citation: For conspicuous gallantry and intrepidity in action at the risk of his life above and beyond the call of duty. Pfc. Lauffer's squad, a part of Company C, was suddenly struck at close range by intense machine gun crossfire from 2 concealed bunkers astride the squad's route. Pfc. Lauffer, the second man in the column, saw the lead man fall and noted that the remainder of the squad was unable to move. Two comrades, previously wounded and being carried on litters, were Lying helpless in the beaten zone of the enemy fire. Reacting instinctively, Pfc. Lauffer quickly engaged both bunkers with fire from his rifle, but when the other squad members attempted to maneuver under his covering fire, the enemy fusillade increased in volume and thwarted every attempt to move. Seeing this and his wounded comrades helpless in the open, Pfc. Lauffer rose to his feet and charged the enemy machine gun positions, firing his weapon and drawing the enemy's attention. Keeping the enemy confused and off balance, his 1-man assault provided the crucial moments for the wounded point man to crawl to a covered position, the squad to move the exposed litter patients to safety, and his comrades to gain more advantageous positions. Pfc. Lauffer was fatally wounded during his selfless act of courage and devotion to his fellow soldiers. His gallantry at the cost of his life served as an inspiration to his comrades and saved the lives of an untold number of his companions. His actions are in keeping with the highest traditions of military service and reflect great credit upon himself, his unit, and the U.S. Army.
1968 – It was rare that a Country tune could top the Billboard Pop chart, but Jeannie C. Riley's "Harper Valley P.T.A." did just that. The record sold over 1,750,000 copies in the first two weeks after its release. Although she never cracked the top 50 on the Pop chart again, Riley went on to have several big Country hits.
1968 – Jimi Hendrix's "All Along the Watchtower" is released in the US where will become his only Top 40 hit single, topping out at number 20.
1968 – Rapper Trugoy the Dove of De La Soul is born David Jude Jolicoeur in Brooklyn.
1970 – The first "Monday Night Football" premiered. Following the complete merger of the American Football League and the National Football League, ABC joined CBS and NBC in televising weekly games. The show originally began as an experiment but soon became an institution. Announcers Howard Cosell, Keith Jackson and Don Meredith called the first game, a 31-21 victory by the Cleveland Browns over the New York Jets.
http://espn.go.com/abcsports/mnf/s/alltimehistory.html
1971 - Top Hits
"Go Away Little Girl" - Donny Osmond
"Spanish Harlem" - Aretha Franklin
"Ain't No Sunshine" - Bill Withers
"The Year That Clayton Delaney Died" - Tom T. Hall
1972 - No. 1 Billboard Pop Hit: "Baby Don't Get Hooked on Me,'' Mac Davis.
1974 - Canada's Bachman-Turner Overdrive release "You Ain't Seen Nothin' Yet," which will become their third US Top 30 entry and their only number one.
1974 - The Rolling Stones' "It's Only Rock & Roll (But I Like It)" peaks at #16 on the chart.
1974 - At 300 pounds, he didn't look like a Rock star, but Barry White scored his first US number one and second of five top ten singles with "Can't Get Enough Of Your Love, Babe." It made #8 in the UK
1976 - The Bee Gees' 20th album, "Children of the World," goes gold. It contains two of their latest hits "You Should Be Dancing" (Number One two weeks ago) and "Love So Right" (which will make it to #3 in two months.)
1979 - Top Hits
"My Sharona" - The Knack
"After the Love Has Gone" - Earth, Wind & Fire
"The Devil Went Down to Georgia" - The Charlie Daniels Band
"You're My Jamaica" - Charley Pride
1981 - Sandra Day O'Connor was confirmed by the United States Senate in a 99-0 vote, and she became the first female Justice of the United States Supreme Court.
1982 - National Football League (NFL) players began a 57-day strike. It was their first regular-season walkout.
1983 - Billy Joel's "Tell Her About It" hits #1 on the singles chart.
1985 - Michael Spinks won the heavyweight championship by taking a unanimous 15-round decision over Larry Holmes in Las Vegas. Spinks held the title until June 27, 1988 when he was knocked out by Mike Tyson in the first round.
1986 - The New York Jets and Miami Dolphins combined for a record 884 passing yards and scored 96 between them, including 13 touchdowns and a pair of field goals. Quarterback Ken O'Brien completed four touchdown passes to wide receiver Wesley Walker, including the game-winner in overtime. Dan Marino of the Dolphins threw for 6 TDs. The final score: New York 51, Miami 45.
1987 - Tropical Storm Emily, which formed in the Caribbean the previous afternoon, caused considerable damage to the banana industry of Saint Vincent in the Windward Islands. Unseasonably hot weather continued in Florida and the western U.S. Redding, CA and Red Bluff, CA, with record highs of 108 degrees, tied for honors as the hot spot in the nation.
1987 - Top Hits
"I Just Can't Stop Loving You" - Michael Jackson with Siedah Garrett
"Didn't We Almost Have It All" - Whitney Houston
"Here I Go Again" - Whitesnake
"This Crazy Love" - The Oak Ridge Boys
1989 - Hurricane Hugo slammed into the South Carolina coast about 11 PM, making landfall near Sullivans Island. Hurricane Hugo was directly responsible for thirteen deaths, and indirectly responsible for twenty-two others. A total of 420 persons were injured in the hurricane, and damage was estimated at $8 billion, including $2 billion to crops. Sustained winds reached 85 mph at Folly Beach, SC, with wind gusts as high was 138 mph. Wind gusts reached 98 mph at Charleston, and 109 mph at Shaw AFB. The biggest storm surge occurred in the McClellanville and Bulls Bay area of Charleston County, with a storm surge of 20.2 feet reported at Seewee Bay. Shrimp boats were found one half mile inland at McClellanville.
1989 - General Colin Powell is confirmed by the U.S. Senate as Chairman of the Joint Chiefs of Staff.
1991 - Stevie Nicks' greatest hits LP, "Timespace" enters the chart and Rush's "Roll the Bones" enters the LP chart.
1993 - "NYPD Blue" Premiers on TV. This gritty New York City police drama has had a large and changing cast. The star of today's "CSI Miami", David Caruso, was the first to leave to begin a movie career that did not happen. The central characters were partners Detective Bobby Simone (who later died), played by Jimmy Smits, and Detective Any Sipowicz, played by Dennis Franz. Other cast members have included Kim Delaney as Detective Diane Russell, James McDaniel as Lieutenant Arthur Francy, Gordon Clapp as Detective Gregory Medavoy, Rick Schroder as Detective Danny Sorenson, Nicholas Turturro as Detective James Martinez, Mark Paul Gosselaar as Detective John Clark and Esai Morales as Lieutenant Tony Rodriquez.
http://www.tvtome.com/NYPDBlue/
http://rotteneggs.com/r/show/se/2047332.html
http://www.imdb.com/title/tt0106079/
1996 - The audience at the Grand Ole Opry witness a historic moment when 23-year-old Hank Williams III, son of Hank Williams Jr. and grandson of country music legend Hank Williams makes his Opry debut. Hank III wears a black western shirt trimmed with green fringe that belonged to his grandfather. His set includes "Moanin' the Blues," a 1950 chart-topper for Hank Sr., and "Lovesick Blues," the same song his granddad performed for his Opry debut in June 1949.
1996 - John F. Kennedy Jr. married Carolyn Bessette in a secret ceremony on Cumberland Island, GA. They both perished on July 16, 1999 with her sister in a small plane piloted by Kennedy off the Atlantic Coast near Martha's Vineyard.
2001 - The Mets donate their day's pay, which totals approximately $500,000, from tonight's game with the Braves at Shea Stadium to a rescue fund for the families of the firefighters and policemen killed in the World Trade Center terrorist attacks. The contest is the first professional baseball game played in New York since the tragedy. Uplifting ceremonies before and during the game, which include singers Diana Ross, Marc Anthony, Lisa Minnelli and bagpipers, pay tribute to victims of the tragedy. Mike Piazza's eighth inning home run gives the Mets a 3-2 dramatic victory over the Braves.
2001 – "America: A Tribute to Heroes," a commercial-free, live TV program was broadcast on all of the major US TV networks to raise money following the September 11th terrorist attacks. The show featured performances by Bruce Springsteen "My City in Ruins," Tom Petty "I Won't Back Down," Paul Simon "Bridge Over Troubled Water," Billy Joel "New York State of Mind," U2 "Walk On," Celine Dion "God Bless America," and Willie Nelson "America The Beautiful." Accepting pledges over the telephone were Robin Williams, Meg Ryan, Danny DeVito, Sally Field, Jack Nicholson, Goldie Hawn, Cuba Gooding Jr., Kurt Russell, Adam Sandler, Jim Carrey, Whoopi Goldberg and many more. The broadcast and soundtrack album helped raise over $128 million for the victims and their families.
2005 – Hurricane Rita became the third most intense hurricane (dropped to 4th on October 19, 2005).
2008 – The last regular season game at the original Yankee Stadium. "The Ole Ballpark" opened in 1923 and was renovated in 1976. It was home to 26 World Series Championships. The Yanks defeated Baltimore, 7-3. Andy Pettitte earned his 14th win of the season, while Mariano Rivera closed out the game with a perfect 9th inning. They moved to the new Stadium across the street and promptly won #27 in 2009.
2011 - Google's new social network service, Google+, is released to the general public.
2014 - NASA Mars probe MAVEN is on track to enter the planet's orbit after a 10-month journey; the probe will collect data for a year on the upper Martian atmosphere to potentially answer questions about climate change on the planet.
-------------------------------------------------------------

SuDoku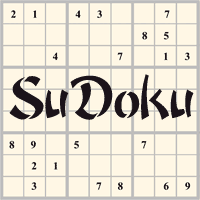 The object is to insert the numbers in the boxes to satisfy only one condition: each row, column and 3x3 box must contain the digits 1 through 9 exactly once. What could be simpler?
http://leasingnews.org/Soduku/soduko-main.htm
--------------------------------------------------------------

Daily Puzzle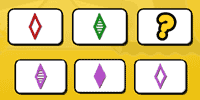 How to play:
http://www.setgame.com/set/puzzle_frame.htm
Refresh for current date:
http://www.setgame.com/set/puzzle_frame.htm
--------------------------------------------------------------


http://www.gasbuddy.com/
http://www.gasbuddy.com/GB_Map_Gas_Prices.aspx
http://www.gasbuddy.com/GB_Mobile_Instructions.aspx
--------------------------------------------------------------

Weather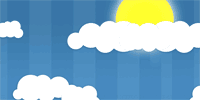 See USA map, click to specific area, no commercials
--------------------------------------------------------------

Traffic Live---
Real Time Traffic Information
You can save up to 20 different routes and check them out with one click,
or type in a new route to learn the traffic live
--------------------------------