Office Administrator
Deerfield, Illinois
Proficient in Microsoft Office, 2 years admin. minimum report directly to Director of Operations. To learn more, please click here.

Wednesday, September 6, 2006
Headlines---
Classified Ads---Sales
East Coast Leasing to cease operations
Solid Portfolio Quality for July, But...
Credit Manager's Index for August Mixed
Classified Ads---Help Wanted
Sales Makes it Happen-by Kit Menkin
"Ten Advantages in Leasing"
Placard---Cashflow is King
Boom in box leasing ahead of peak season
Cartoon---Music on Hold
Don't let Congress get a hold of this book!
Book Review--by Kit Menkin
News Briefs---
You May have Missed---
Sports Briefs---
California Nuts Briefs--
"Gimme that Wine"
Calendar Events
Snapple Real Facts
Today's Top Event in History
This Day in American History
Baseball Poem
######## surrounding the article denotes it is a "press release"

September 8-9th
Western Regional Meeting
LEARN, SHARE & EARN!
Commitment Fees: When are they are earned and when they are not is always a hot topic for discussion. Have you heard you're missing the boat because you don't collect commitment fees? Many folks collect commitment fees to get a deal off the street. Do you? Should you? When the deal doesn't get approved or doesn't fund, the fun really starts!! See what your fellow brokers have to say about this hot topic. Do you face competition from banks, captives, or large lessors? Of course you do! That's why you'll find an abundance of expertise and advice on Competing with Banks, Captives, and Large Lessors at the upcoming NAELB Western Regional Meeting. Every broker competes with these folks and they all do it in different ways. Learn directly from those in the trenches, who have already faced a situation you may be in now! You'll get back to the office Monday with a new "slingshot" to compete with the "big guys."
Don't forget to vote for the 10 roundtables you want to learn about!
Register for the NAELB Western Regional Meeting now at www.naelb.org
to join us in sunny California September 8-9!
Non-member companies who join NAELB at this meeting will receive $50 attendee fee credit toward their 2007 membership dues and are entilted to memberhsip privileges for the balance
of 2006.
There are over 30 "Round Table Discussion Topics"
and attendees vote for the 10 discussion topics they would like to have on the agenda for the Western Regional.
Registration form: http://www.naelb.org/associations/2004/files/2006%20NAELB%20Western%20Reg%20Form.pdf
-------------------------------------------------------------------------------

Classified Ads---Sales
Boudreaux Cellars, Icicle Canyon, Leavenworth, WA *
Roux Newsom, Field Specialist
Sales: Bakersfield, CA
I have an extensive sales and management background in equipment leasing. My work history exhibits my major strength in small ticket equipment leasing.
Email: pangress@msn.com
Sales: Boston, MA
Middle market originator, construction/Trucks /
Trailers w/ 8 years in territory, looking for company / bank with competitive products
Email: mrichlease@comcast.net

Sales: Cedar Rapids, IA
Formally trained in Credit, Collections, & Sales with regional bank. Seeking sales or sales management.
Over ten years

in SM, vendor and end user.
Email: mjrprime@yahoo.com
Sales: Compenhagen, Denmark
10 years of experience as VP Europe, Middle East and Africa for a US based Equipment Leasing Company. $500,000 plus w/ excellent connections European shipping lines/ maritime financing. Click here .
Sales: Dallas, TX
17 years of experience in vendor sales. Solid book of business. Can hit the sales ground running in Dallas/Ft. Worth. Can Start ASAP
E-mail: whomadewho12@yahoo.com
Sales: Denver CO
Experienced Equipment Leasing Broker looking for a in house leasing company. Can bring a book of business with me or develop new territory where needed.
Email: Steven@eagle2.net
Sales: Detroit MI
Motivated self-starter w/5 yrs sales exp. IT leasing. Excellent communicator w/strong negotiation/biz dev. skills. Six-sigma certified w/ Fortune 50 company/book of business.
Email: playmakers1@sbcglobal.net
Sales: East Central F L
20+ years experience in all areas of leasing; sales, credit, operations, syndication. Currently independent seeking position with direct middle market lender in regional capacity
email: southernleasing@bellsouth.net
Sales: Fresno CA
Account Exec/Manager. 7+ years Leasing Sales: underwriting/contract, complex transactions, hi-tech, government, direct & vendor leasing. Captive & syndicator environments. Expert deal closer. Will send resume.
Email: dsp559@pacbell.net
Resume
Sales: Greensboro, NC
Seeking direct & broker sales w/major finance companies in NC or southeast market. Small to mid-ticket range. Stable &family oriented. Will have series 6,63,65 license shortly.
Email: kc1492@aol.com
Sales: Kansas City, MO
20 years Senior Sales/Management experience in small ticket/government leasing. Program Management experience, managing 12
Reps. Credit Auth to $50K. Success in soliciting and maintaining accounts.
Email: dhundley1@kc.rr.com
Sales: Los Angeles CA
5 years experience structuring off-balance sheet finance solutions on computer and medical equipment. Perform detailed competitive analysis and market research. I uncover leads and sell.
email: barretthawk@hotmail.com
Sales: Midsouth, TX
Lease Veteran-25+ years, heavy Vendor experience looking for new
opportunity in MidSouth/SE. Experience in leasing to major accounts in
high- tech/computers/Golf/transportation.
Email: LeaseVeteran@sbcglobal.net
Sales: Mission Viejo, CA
Account Sales Executive with 10 years of leasing experience looking for company to bring existing customer base.
Email: makelly21@hotmail.com
Sales: Montgomery, AL
Individual with 10 years advertising sales exp. & 7 years insurance sales exp. Wants independent contractor situation in Alabama.
Work with leasing company or broker.
334-281-5200
E-mail: billmcneal2003@yahoo.com
Sales: Nashua, NH
10+ years sales experience small & mid-ticket hi-tech & telecom in a captive and vendor environment. Seeking new sales opportunity in New England.
E-mail: RPepa@aol.com
Sales: Newport Beach, CA
Direct sales rep. in the middle market w/22 years experience various types of equipment. Leasing/ financing from medical equip. to
mfg. equip.. Strong closer.
E-mail: pauldriscoll1@lycos.com
Sales: North Carolina, Central
7 yrs.equip leasing &finance; specialist in heavy construction equip for 2-top-5-specialty finance/lease companies, NC &VA territories. $10-15MM annual funding. Downsized in 2002, now independent broker with varied customer base.
Email: sunriseleasing@aol.com
Sales: Philadelphia, PA
Seeking an open opportunity to advance in the automotive, commercial leasing & finance industry.........
Email: alexe362002@yahoo.com
Sales: Philadelphia, PA
25 years in Healthcare and seeking an opportunity to represent a lender for dental/medical funding in the Northeast to
Mid-Atlantic states.
email: mitutz@msn.com
Sales: Portland, OR.
"Exp. In direct sales and sales mgmt.
I love Portland, but decent here jobs are few. Willing to be re-located, would like to work for you.
Email: pthygeson@netscape.net "

Sales :

Prairie Village, KS
Have substantial deal flow and database of broker referral sources. Generated and closed over $22M LY. Seeking exclusive relationship w/direct founder.
Email: fiergl@aol.com
Sales: Saint Louis, MO
25+ years in sales + sale management. Top producer. Will relocate for right opportunity.
email: wwa2@htc.net

Sales:

San Francisco Bay Area, CA
10+ yrs in middle market leasing. Seek direct lessor only. Transaction size from $500M to $10.0MM. Client base: printing, food, retail, manufacturing.
Email: edm173@sbcglobal.net
Sales: San Francisco Bay Area, CA
Currently employed Vendor Program "Hunter", with complex program development experience. Also skilled at program management. Technology to yellow iron assets.
Extensive national rolodex.
Email: VdrPgmBizDev@aol.com

Sales:

San Francisco Bay Area, CA
15+ yrs--mid mkt. $500M to $10.0MM. Seeking role w/ captive or global leasing firm. large book to bring with me! Debt, tax, 1st amendment, etc.
Email: lac4002@yahoo.com
Sales: San Francisco Bay Area, CA
20 plus years experience in small ticket and middle market, mostly vendor driven business; specialist in manufacturing, hi-tech & medical. Excellent analytical and marketing skills.
Email: deals_2_do@yahoo.com
Sales: Southern California
Equipment Financing Professional with strong background in Sales, Management, Marketing & Operations. Will consider relocation for Senior Sales or Management position offering dynamic growth opportunity.
Email: natsif@hotmail.com
Sales: South Central US
TX, OK, KS & AR Territory.
Equipment finance and leasing professional, 20 years experience. Top producer in middle to upper middle markets. Extensive customer base.
Email: usleasingrep@yahoo.com
For a full listing of all "job wanted" ads, please go to:
http://216.66.242.252/AL/LeasingNews/JobPostings.htm
To place a free "job wanted" ad, please go to:
http://216.66.242.252/AL/LeasingNews/PostingForm.asp
* http://www.boudreauxcellars.com/wines.htm
400 wineries and nine federally recognized American Viticultural Areas (AVAs) in the state.
---------------------------------------------------------------

East Coast Leasing to cease operations
www.bizjournal.com
The Business Journal of the Greater Triad Area
East Coast Leasing Inc., a trucking company with 79 Triad employees, is shutting down, according to a Worker Adjustment and Retraining Notification Act notice filed Friday with the Greensboro mayor's office in North Carolina.
The company, which is a contract carrier for the U.S. Postal Service, plans to cease operations and sell its physical assets, according to the WARN act.
East Coast's number of locations outside the Triad was not immediately available, and General Manager John Donnelly could not be reached for comment. The notice did say no other sites would eliminate more than 50 jobs.
In June, East Coast Leasing, which is located on Edwardia Drive in Greensboro, had 135 Triad employees. That number included 120 drivers, making it the area's 15th largest freight-hauling firm, according to Business Journal research.
The WARN notice said the company now has 79 employees, including 60 drivers, 10 office and administrative workers and nine mechanics.
East Coast Leasing will begin closing its operations on Nov. 1, with all operations ended by November 14.
---------------------------------------------------------------

Solid Portfolio Quality for July, But...
Overall volume for the period declined when compared to June originations, which spiked to their highest levels of the year. July business activity totaled $5.7 billion for new commercial equipment leases and loans.
The Equipment Leasing Association /1 (ELA) Monthly Leasing Index (MLI-25) of equipment leasing and finance activity for July releases today showing portfolio quality strengthened with charge-offs as a percentage of net lease receivables at their lowest levels of the year.
Charge-offs for July are .33 percent, down from .59 percent in the prior month. The MLI-25 is a monthly survey of commercial equipment lease and loan activity and performance as reported by 25 ELA member equipment finance companies.
Receivables over 90 days remained at 1.0 percent.
July's credit approval ratios remained relatively flat when compared to June.
Total headcount rose, to 11,028 the seventh consecutive rise in employment for the MLI-25 companies.
"Leasing and finance companies enjoyed strong performance in July, particularly with respect to credit quality," said ELA President Kenneth E. Bentsen, Jr.
Bentsen, "The numbers seem to suggest that equipment demand is solid, as are the balance sheets of businesses acquiring this equipment."
The participant companies in the MLI-25 represent a broad cross section of the equipment finance sector including small ticket, middle market, large ticket, bank, captive and independent leasing and finance companies. Because the same companies participate in the survey each month, the MLI-25 provides a consistent trend analysis of current industry activity.
The ELA provides a variety of studies, reports, and market analyses covering the $220 billion equipment finance sector. To access this and other industry information, visit the ELA website at http://www.elaonline.com/Research/ or contact Bill Choi, bchoi@elamail.com
ELA MLI-25 Participants:
ADP Credit Corporation
Amsouth Leasing Corporation
Bank of America Leasing
Bank of the West
Canon Financial Services
Caterpillar Financial Services Corporation
CIT
De Lage Landen Financial Services
First American Equipment Finance
GreatAmerica Leasing Corporation
Hitachi Credit America
HP Financial Services
Irwin Financial
John Deere Credit Corporation
Key Equipment Finance
LaSalle National Leasing Corporation
Marlin Leasing Corporation
National City Commercial Corp.
RBS Asset Finance
Siemens Financial Services
US Bancorp Leasing & Financial
US Express Leasing
Verizon Capital Corp/Verizon Credit
Volvo Financial Services
Wells Fargo Equipment Finance
----------------------------------------------------------------

Credit Manager's Index For August Mixed
"While the manufacturing, services and combined indexes were all above the 50 mark, indicating economic expansion, both the manufacturing and combined indexes fell from last month's levels," the National Association of Credit Manager's reported. "All three of the indexes experienced sharp drops in the sales and amount of credit extended components. Drops in these top-line oriented measures bode poorly for continued growth, and confirm other softening macroeconomic indicators such as a weak job market, sluggish retail sales, an easing of inflation, and a housing market that until recently had been widely described as 'cooling'" and might now be better characterized as frigid."
"The manufacturing sector index dropped 1.2% in August on a seasonally adjusted basis, as five of the 10 components fell. A 7.7 % drop in sales led the fall, along with deterioration in the amount of credit extended, accounts placed for collections, and dollar amounts beyond terms."
"The services sector index rose by 0.5% in August on a seasonally adjusted basis. Despite the increase, the services sector experienced significant erosion in two of the same components as the manufacturing sector; sales fell 2.3% and the amount of credit extended fell 4.4%. The sales component in the service sector has fallen in six of the past eight months."
The National Association of Credit Management (NACM), headquartered in Columbia, Maryland supports more than 25,000 business credit and financial professionals worldwide with premier industry services, tools and information. NACM and its network of Affiliated Associations are the leading resource for credit and financial management information and education, delivering products and services, which improve the management of business credit and accounts receivable.
----------------------------------------------------------------

Classified Ads---Help Wanted
Marketing Specialist


ELD Marketing Specialist
Walnut Creek, CA
Serve as a liaison between the leasing department and several hundred brokers . Requires a BA/BS; 3+ years of leasing and contract experience; Click here for detailed description & resume submission info.


Office Administrator

Office Administrator
Deerfield, Illinois
Proficient in Microsoft Office, 2 years admin. minimum report directly to Director of Operations. To learn more, please click here.

Sales


3 Regional Sales Opportunities
NY/NJ; Dallas & Atlanta/Nashville
Manage existing accounts and develop relationships. Min. Req. 3 years equip. leasing sales or strong leasing operations experience. For more information, click here:

----------------------------------------------------------------

Sales Make it Happen
Ten Advantages in Leasing
by Christopher Menkin
It's not who owns the equipment, but the use of the equipment that makes the profit.
Ten Advantages in Leasing:
1. Saves Cash - no money "down".
2. Usually longer term available, resulting in, lower monthly payment.
3. Fast and convenient - less hassle for long term "borrowing".
4. Tax benefits , such as faster write-off; more rapid amortization than possible with "depreciation".
5. Provides cost-cutting or profit making equipment to be installed immediately.
6. Pays for equipment out of before-tax savings rather than after-tax profits.
7. Leverage - leaves normal lines of bank credit undisturbed.
8. Avoids alternate corporate minimum tax.
9. May increase the firm's ability to acquire funds, plus does not dilute ownership.
10. Creates or maintains working capital for inventory, accounts receivable, other expenses.
National Business Institute reports a recent survey indicates the Top Five Reasons for Choosing Leasing :
1 . *41%----Cash flow---capital outlay.
2 . *18%----Rapid technological changes cause product obsolescence.
3 . *10%----Financial requirements are not as stringent.
4 . *10%----Leasing companies are more accommodating than banks.
5 . *08%----Tax implications.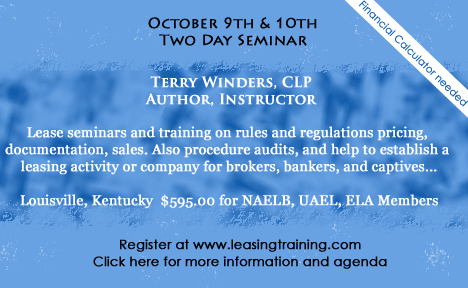 ----------------------------------------------------------------

Placard---Cashflow is King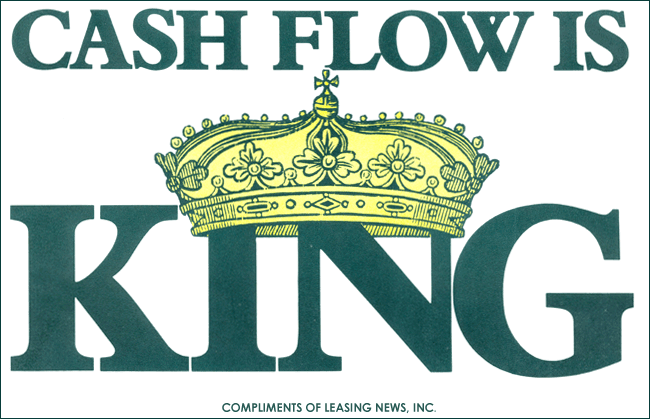 ----------------------------------------------------------------

Boom in box leasing ahead of peak season
By Patrick Burnson,
San Francisco
cargonewsasia.com
Container leasing companies are sounding a bullish call now that the peak shipping season is on the horizon. And for a good reason. "For the past few years, we have experienced unprecedented growth on the transpacific route,'' said Dennis Bohm, US West Coast marketing manager for Florens Container Services, the third largest container lessor in the world, with an estimated fleet of 1.2 million TEUs under its management. "We have not only experienced solid growth in container leasing but we also continue to enjoy very high equipment utilisation rates, presently exceeding 90 percent.''
According to Bohm, this is due to a number of important factors:
*The traditional "peak shipping'' season continues the trend to be spread out through the year, keeping container demand constant and stable. This has softened the old trade seasonal "peaks and valleys'' that would result in periodic container surpluses in major ports.
* Growth in the transpacific trades from Asia to North and South America continues at five to six percent per annum, adding to new container demand
* Rising steel prices and other factors have driven up the prices for new containers. This has lead many carriers to look to the leasing market for their equipment requirements rather than purchase.
* An on-going trend for new leases to be written for longer terms. This has also contributed to higher utilisation rates.
* Increased all-water services from Asia to the US East Coast and Gulf has tempered congestion at West Coast ports and reduced container surpluses at inland intermodal hubs. This has also contributed to better utilisation rates.
"We are now projecting growth to continue with solid performance through 2007-2008,'' said Bohm. "In 2009, some predict a softening effect in the market due to possible over-capacity but that should only be a temporary slowdown."
Other issues that could temper growth, said analysts, would be any new or unforeseen spikes in fuel costs or if the US market heads into recession in 2007 or 2008.
Florens provides a wide variety of marine container equipment for use by the shipping industry. "Our customers represent practically every container shipping line in the world, with whom we continue to gain market share every year as our fleet expansion continues, said Bohm. That expansion may be even more far-flung, however, if shippers opt for more creative distribution strategies. Having been burned in the past by labour disruptions and port congestion on the US West Coast, analysts predict that boxes from Asia will arrive at their destination via alternate routes in the coming years.
Both Canada and Mexico are wooing shipping lines away from the States with promises of more terminal space and quicker intermodal turnaround. The Port of Prince Rupert, for example, is competing aggressively with Seattle and Tacoma by building facilities to accommodate surging inbound calls from Asia. Maher Terminals, the largest terminal operator in the Port of New York/New Jersey, has been charged with completing the project by the end of the year.
At the same time, Hutchinson Whampoa is building a new container facility in Port of Lazaro Cardenas, which is competing with southern California gateways for Asian goods. The port is served by the Kansas City Southern Railroad with links to the US midwest.
A P Moller-Maersk, meanwhile, is building a mega terminal at the East Coast port of Norfolk, Virginia. Norfolk, too, has an extensive rail and surface road network serving the midwest. According to analysts, the shipping giant is banking on a wider Panama Canal in future years to expand its all-water deployment and become less dependent on US West Coast access.
Panama's President Martin Torrijos and the Calument Council of Panama approved the proposal to expand the canal in June, sending it to the National Assembly. The assembly unanimously approved the proposal in July mandating a national referendum to be held on October 22. Pending approval by Panamanian voters, the expansion would double the waterway's capacity and allow more traffic by creating a new lane and the construction of a new set of locks. The project is expected to take 10 years.
At the same time, scores of US "niche'' ports on the East Coast and US Gulf are also planning facility expansions to handle expected increases in Asian traffic.
----------------------------------------------------------------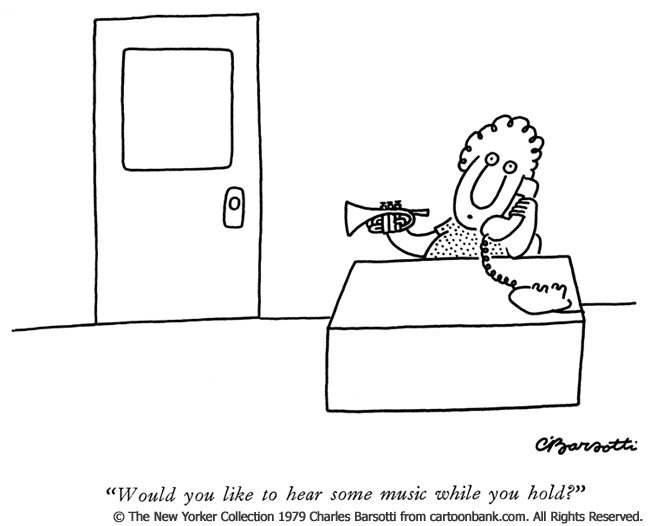 ----------------------------------------------------------------

Don't let Congress get a hold of this book!
by Kit Menkin
Please keep this url address a secret: http://leasing.bz/
Seriously, I hope U.S. Senator Chuck Grassley (R-Iowa) and his staff do not get a hold of this book, or anyone else in Congress order this book. Nor should the FASB board and its staff obtain a copy. As you see on the cover of the book, over the door is the sign, "Enter at your own risk." There certainly is a lot for Congress to learn from this lease accounting exposé.
From page 59:
"History has shown that companies are capable of showing paper profits because of bookkeeping tricks. Although it requires intelligence to beat the system, it also requires the power to do so.
"For hundreds of years. corporate accounting had an 'anything goes' policy. There were no rules, only GAAP. Corporate management hired accountants to serve their needs, not the public. That meant that, in practice, the primary function of accounting was to make management look good."
"The Future of Equipment Leasing" is paperback, 94 pages
with a double space between paragraph. It sells for $25. Discounts are available for multiple copies or with the purchase his last best seller, "Selling Leasing in a Tough Economy."
On page 26:
"From my perspective, the SEC does not like FASB 13 in it current format. In a recent report, the SEC argued that standard setters should rewrite lease accounting standards; estimating that they allow publicly traded companies to keep $1.26 trillion (undiscounted) in future cash obligations off their balance sheets."
Jeffrey Taylor, CLP, states in the introduction he has trained 20,000 in 25 years, first starting with Sudhir Amembal ( who's students turned teacher and have gone into business for themselves are numerous---Jeff was one of his brightest students, Sudhir has said.) And yes, if you do a browser search on FASB 13, Executive Caliber - Global Lease Training appears in the top ten; in fact the top five in most of them. One thing about Jeff, he is blunt, tells the truth straight out, and he doesn't pull any punches. His "tell it like it is" has alienated many people (I certainly understand that.) He also has many students and friends, some he could call in the middle of the night and they would be right there for him. I am one of them.
1987 as "The Leasing Coach"
"The Future of Equipment Leasing," on page 91 concludes, before the Epilogue: "Therefore, if you work for a large public leasing company and want to sell equipment leasing over the next 5-10 years, you may want to consider becoming a broker or start your own private leasing company."
Getting to CLP Taylor's last page summation is not dull reading. The premise is how the demise of Enron and recent other corporate failures have affected the leasing industry and financial accounting.
By the way, I personally like the double spacing between paragraphs.
It makes it easy to read, and for an older guy like myself, I certainly appreciate the size of type and layout of the book.
It makes it easy to find things, to re-read paragraphs, and also helped a great deal in writing this review.
Page 16:
"For fifty years, no one paid attention to the huge profits earned by the largest leasing companies and banks. Enron would bring to light the underlying problems of the convoluted accounting and tax rules that allowed leasing companies to ear ROI's in excess of 18% per year on a consistent basis."
"September 8, 2005, the Equipment Leasing Association met with the Securities & Exchange Commission, in pointing out the $600-$700 billion one third of the annual global market, "They also said that 77% of their member's volume was in the form of direct finance leases and conditional sales, which most experts acknowledge as alternatively forms of loans. Only 9% were classified as true operating leases."
No wonder the association with the highest leasing company employee count wants to change its name to the Equipment Leasing and Finance Association
(also matches the Equipment Leasing and Finance Foundation.)
"So, the question that I have to ask is:
"If only 9% of ELA volume is in the form of true operating leases, does that mean that major leasing companies can no longer afford to take residual risk, the core concept of an operating lease?"
page 82:
"Prior to Enron, companies removed assets and liabilities from their balance sheets with ease and without transparency through transactions that obscured economic reality as follows:
Equipment Leasing---using FASB 13, a company could acquire an asset with long-term debt without reporting the asset and the liability on their balance sheet.
Not Receivable---using FASB 77, a company could sell a product on an installment basis, sell the receivable to a third party and record an immediate gain on sale.
Securitization-using FASB 140, a company could transfer assets to a company they created, record the gain and remove the assets from the balance sheet.
Unconsolidated Entities---using FIN 46, a company could transfer assets and liabilities to a subsidiary, guarantee performance and still escape consolidation.
"If Enron had not happened, who knows when off-balance sheet financing would have caught the eyes of Congress and the public? Would it have scripted its own demise?"
Page 38-40:
By the mid-19th century, accountants flourished in Britain. The Cooper brothers, whose name lives on in Price Waterhouse Coopers, ran a Dickensian operation where screeching supervisors lorded over miserable clerks toiling long hours for scant pay. The industry followed European investments to the New World, and in 1887, 31 accountants formed the predecessor to the American Institute of Certified Public Accountants (AICPA). A decade later, they created a standardized test, bestowing on a man named Frank Broaker the honor of becoming the first CPA.
In the early 1930s, after the financial scandals of the '20s and the corporate failures of the Great Depression, the industry sought to establish consistency, transparency and trust in the profession. In 1922, AICPA banned its members from advertising, saying it did not dignify the profession and forbid its members from poaching each other's clients.
The profession got its own governing board and a manual called "Generally Accepted Accounting Principles" (GAAP) and won the responsibility for auditing public companies.
Accountants had become moral guardians -- an image reinforced in the public's imagination in the 1930s, when the Academy of Motion Picture Arts and Sciences retained Price Waterhouse to count ballots.
In lieu of the hard sell, accountants networked at the country club and sat on the boards of non-profit organizations and chambers of commerce.
In the 1970s, amid questions about some companies' accounting procedures, the federal government set up FASB to oversee accountants. However, it soon also removed many of the restrictions that had prevented big firms from competing with each other. At the same time, the Federal Trade Commission (FTC), concerned about anticompetitive practices, pushed the AICPA to allow accountants to advertise.
In 1979, after four years of real-world training at Citibank, I joined Peat Marwick Mitchell, an International Big 8 accounting firm in San Francisco, as a management systems consultant. Banks and financial institutions entrusted me to design, develop and implement their proprietary lease accounting and tax systems.
It was my job to understand FASB's guidelines, educate clients and incorporate their ideas in computerized financial systems. Whenever possible, I would implement strategies that would boost income in the short-term and defer expenses and taxes as long as possible.
I admired FASB and wanted to become one of them.
Every chance I had, I would attend leasing conferences and listen to the top accounting and tax professional minds in the world. Whenever I met a FASB member, I would stand muted, not knowing what to say. I put them on pedestals and looked upon them as if they were Supreme Court Justices.
My software designs made millions for companies and they richly rewarded me for my efforts. Never did I complain about the long hours. I enjoyed every moment and appreciated the people I worked with.
Nonetheless, as the years went by, I began to question the changing landscape.
Business became cutthroat, rules more complex, and scandals more frequent. As the 1980s dawned, globalization and deregulation brought new challenges. To raise huge amounts of money, companies turned increasingly away from traditional bank loans and toward more complex, and often riskier, forms of financing.
Companies' desire to produce rosier results for an ever larger and more cynical shareholding public compelled accountants to find ways to put the best possible spin on clients' financial reports. In the 90s, partners' pay, largely determined by hourly billing rates, fell way behind that of accountants' investment-banking brethren. In addition, CPA firms wanted a larger piece of the profits.
In order to survive and live "the good life" accountants morphed from watchdogs to lapdogs. Long before Andersen's document-shredding became headline news, accountants, the pinstriped paragons of rectitude and respectability, found themselves coming under pressure from many directions to alter their centuries-old practices as their milieu changed. Over the past two decades, innovations in computer technology rendered many of the old-fashioned auditor's functions obsolete, prodding accountants to find other ways to bring in revenue.
In 2000, according to the Public Accounting Report, the Big Five accounting firms - Price Waterhouse Coopers, Deloitte & Touche, Ernst & Young, Arthur Andersen and KPMG - collected $26.1 billion in fees from their clients.
The report goes on to state that non-traditional consulting services generated most of the revenue. In fact, Arthur Andersen booked $27 million in non-audit fees and $25 million in audit fees for servicing Enron the year before they both met their fates.
pages 20-22:
In the mid 90s, during the Internet Boom, the worldwide equipment leasing industry was creating more than $500 billion in new leases each year.
To capitalize on this trend, the equipment leasing industry invented numerous products to satisfy the insatiable demand of corporate chieftains. Most existing leases were plain vanilla- passé, single scoop, and traditional. Corporations and governmental agencies wanted more scoops, exciting flavors and more exotica. Therefore, the leasing industry delivered:
. Cross-Border Double Dips - Lessor and lessee claim tax ownership in their respective countries thus getting a 2 for 1 on tax depreciation
. First Amendment/Stretch Leases - Lessee agrees to lease for a stated term and at the end of the term has to renew or buy the equipment
. Full Service Leases - Lessee pays rent plus additional funds to receive maintenance, insurance, tax servicing, installation/de-installation support and extended warranties
. Leveraged Leases - Lessor borrows money to finance the transaction using the lessee's credit. By treating the debt as non-recourse to the lessor, the lessor achieves off-balance sheet treatment on the funds borrowed.
. LILOs - Acronym for lease-in lease-out. Used by U.S. companies to gain accelerated depreciation from overseas assets. Foreign owner sells his equipment to a U.S. company and then leases it back. The new U.S. owner claims a tax deduction for ownership on assets held overseas.
. Prepaid Residual Leases - Lessor charges lessees above the prepayment of the residual at the end of the lease term
. Replacement Leases - Requires a lessee to find another lessee to take over a lease in order for the lessee to not violate the 75% economic life test found in FASB 13.
. Securitization of Leases - A Special Purpose Entity
(SPE) purchases equipment leasing receivables from a lessor with the proceeds from a bond offering backed by the receivables themselves. The SPE then uses the money received from the leases to repay the bond investors and pockets the difference. Since much of the credit risk is offloaded with the assets, the liabilities are taken off the lessor's balance sheet.
. Synthetic Leases - Disguised loans written as leases.
Lessee finds a buyer at the end of the lease term while guaranteeing any residual shortfall.
. Tax-Deferred Leases - lessor provides substantial 'rent holidays' to the lessee in the early months yet claims tax depreciation for equipment in service
. Tax-Exempt Leases - a financing transaction in which the lessee is a state, city or county
(municipal entity).
Interest income is not included in the lessor's gross income for federal tax purposes; and debt is not created for state law purposes.
. TRAC Leases - terminal rental adjustment clause.
Lessee guarantees shortfall of the residual, which cannot be determined up front.
. Venture Lease - lessor takes warrants in the lessee's company in lieu of rent
. Wrap Leases - Lessor enters into a sale-leaseback with a qualified investor in order to pass the tax depreciation to the investor, resulting in two simultaneous leases - one with the investor and one with the original lessee
When I look back on the 'designer years', I see many variations on a theme; lessor keeps tax benefits and designs ways to get lessees to keep their financing off-balance sheet.
Banks, such as Citicorp and BankAmerica, and captive finance companies, such as HP, IBM and John Deere all participated in providing off-balance sheet financing to their clients.
Unfortunately, the marketplace slowly eroded their profits and many leasing companies sold financing at below market rates to protect their manufacturing profits.
As a result, Independent leasing companies who solely provided financing, lost the most and went out of business.
Pages 88, 89:
When hundreds of S&Ls and banks failed in the 80s and 90s, the institutions (including their buildings, branches and equipment) were taken over by a newly created federal agency called the Resolution Trust Corp.
The RTC then held the world's biggest property auction and, over eight years, sold off billions in assets ranging from land and buildings to airplanes, horses, yachts, antique cars and art collections.
This brings us full circle to today's saga of Enron, the biggest corporate bankruptcy in U.S. history, and the country's piecemeal efforts to deregulate the nation's energy industry.
The off-balance sheet genie is out of the bottle, and for the time being there is no easy way to put it back in. With FASB revising rules for consolidating SPEs and disclosing offbalance-sheet activities, structured finance is in the spotlight.
Even if regulators don't curb the activities, investor clamor is likely to keep it there.
The activities conducted through SPEs in the asset-backed securities market may indeed be very different from what Enron did, but they raise the same issues of disclosure and hidden risk. Given that more than a trillion dollars of assets were taken off corporate balance sheets last year and put into SPEs, the issue may extend beyond comparisons to Enron.
The subjects of greatest concern are the commercial banks.
They use SPEs to securitize their own assets, and sponsor asset-backed commercial-paper conduits, which purchase and securitize assets from third parties. New accounting rules will put more assets onto the balance sheet thus requiring more capital to meet regulatory reserve requirements.
Changes are going to take time. We cannot afford to recreate the S&L scandal. The SEC is seeking help from the accounting industry to simplify the rules that may be partly to blame for the corporate scandals of recent years.
The SEC, working with the PCAOB and FASB, is undergoing a major national effort to make accounting less complex. The accounting scandals that our nation and the world have now mostly weathered were made possible by the sheer complexity of the rules.
Page 90-91:
My predictions for public leasing companies are as follows:
Small Ticket - will abandon true leases and all residual risk and support direct finance leases and loans to consumers. Captive companies including IBM, HP, John Deere, J & J will dominate. All transactions will be credit scored and audited for compliance.
Middle Market - will lean towards direct finance leases and loans, yet create true operating leases in which they feel they can make money in re-leasing used equipment. They will abandon consumers and focus on business markets. They will use brokers to acquire business and jettison full-time sales people.
Large Ticket - They will continue to leave the U.S. and find a home in Europe and Asia where the tax laws are more equitable and capital is abundant...
Given the overbearing rules and regulations governing fair market value, disclosures and present value computations required by FASB, and the increasing reduction in tax benefits to those who invest, it is no wonder to see leasing volume decline in the U.S. and head overseas.
If the FASB gets their way, all public leasing companies and lessees will have to report all material long-term leases on the balance sheet using a rights and obligations approach based on fair value estimates derived principally from analytical models.
While the SEC focuses on taking down large public leasing companies, a new leasing marketplace has started to emerge as evidenced by the growing number of local private lessors and brokers.
I believe there is a future for equipment leasing in the U.S. It will not, however, be defined by Congress, FASB or the SEC. The new leasing marketplace will focus on local service and dedicate its mission to providing financial solutions to small and medium businesses.
Therefore, if you work for a large public leasing company and want to sell equipment leasing over the next 5-10 years, you may want to consider becoming a broker or start your own private leasing company.
Book review--- "Selling Leasing in a Tough Economy"
http://www.leasingnews.org/Conscious-Top%20Stories/Selling_Economy.htm
Book review--- "A Gentleman Drunk" by Jeff Taylor
http://www.leasingnews.org/archives/August_2004/8-06-2004.htm#gent
Jeff Taylor's book order form:
---------------------------------------------------------------

News Briefs---
Intel to cut 10,500 jobs
http://www.siliconvalley.com/mld/siliconvalley/15445524.htm
Hispanic Financiers Find Their Niche
http://www.hispanicbusiness.com/news/newsbyid.asp?id=4567
Growth Slows in Housing Market
http://www.washingtonpost.com/wp-dyn/content/article/2006/09/05/
AR2006090500466.html
List of Growth Slow Down in Housing Market
http://www.usatoday.com/money/economy/housing/
2006-09-05-home-prices-q2-ofheo_x.htm
William C. Ford Steps Down as Auto Firm's CEO
http://www.washingtonpost.com/wp-dyn/content/article/2006/09/05/
AR2006090500812.html
Google Expands Online News Index
http://www.nytimes.com/aponline/us/AP-Google-News-Archive.html
Yet Another Newspaper Aimed at Capitol Hill
http://www.washingtonpost.com/wp-dyn/content/article/2006/09/05/
AR2006090501376.html
Silicon Valley to go Wireless
http://www.nytimes.com/2006/09/06/technology/06wireless.html?_r=1&ref=
business&oref=sloginReceive Free Wi-Fi
http://sfgate.com/cgi-bin/article.cgi?f=/c/a/2006/09/06/WIFI.TMP
---------------------------------------------------------------


You May have Missed---
Employment Qualification: Must have a good credit history
http://www.boston.com/business/personalfinance/articles/2006/09/05/
qualification_must_have_a_good_credit_history/
---------------------------------------------------------------

Sports Briefs----
Football fan loyalty ( by attendance of games )
http://www.bizjournals.com/specials/pages/34.html
http://www.bizjournals.com/specials/pages/35.html
----------------------------------------------------------------


California Nuts Briefs---
Schwarzenegger affirms veto of universal health care measure
http://www.sacbee.com/content/politics/story/14318012p-15237866c.html
Measure pitting Kendall-Jackson against Korbel goes to governor
http://www1.pressdemocrat.com/apps/pbcs.dll/article?AID=/20060902/
NEWS/609020304/1033/NEWS01
----------------------------------------------------------------


"Gimme that Wine"
Sonoma wines win best in state
http://www.sonomanews.com/articles/2006/09/05/430/update01.txt
Wine Prices by vintage
http://www.winezap.com
http://www.wine-searcher.com/
US/International Wine Events
http://www.localwineevents.com/
Winery Atlas
http://www.carterhouse.com/atlas/\
Leasing News Wine & Spirits Page
http://two.leasingnews.org/Recommendations/wnensprts.htm
The London International Vintners Exchange (Liv-ex)
is an electronic exchange for fine wine.
----------------------------------------------------------------

Calendar Events This Day
Do it! Day (aka Fight Procrastination Day)
Pakistan: Defense of Pakistan
National Holiday. Commemorates the Indo-Pakistan War of 1965.
Swaziland: Independence Day. Anniversary
National holiday. Commemorates attainment of independence from Britain in 1968. Also called Somhlolo Day in honor of the great 19th -century Swazi leader.
----------------------------------------------------------------

Eleven of the fifty U.S. states are named after an actual person.
Delaware - Thomas West, 3rd Baron De La Warr
District of Columbia - Christopher Columbus
Georgia - King George I of Great Britain
Louisiana - King Louis XIV of France
Maryland - Henrietta Maria de Bourbon, wife of Charles I
New York - the then Duke of York, who later became King James II of England
North Carolina - King Charles I of England
Pennsylvania - William Penn
South Carolina - King Charles I of England
Virginia - Queen Elizabeth I of England, the "Virgin Queen"
Washington - George Washington
West Virginia - Queen Elizabeth I of England, the "Virgin Queen"
----------------------------------------------------------------

Today's Top Event in History
1860-Birthday of Jane Addams, American worker for peace, social welfare, rights of women, co-winner of Nobel Prize, 1931. Born at Cedarville, IL, she died May 21, 1935 at Chicago, IL. She and her life partner Ellen Gates Starr founded Hull House in Chicago, Illinois. The networking that Hull House enabled changed the social conscience of the United States - and taught women they could accomplish just about anything, plus helped many disadvantage people gain a better life. Jane Adams is studied in high school history today, perhaps one of the most influential women in American history If you are in Chicago, a visit to Hull House is recommended.
----------------------------------------------------------------

This Day in American History
1620--- Pilgrims set sail from Plymouth England to the New World
http://www.internet-at-work.com/hos_mcgrane/holidays/becky.html
http://www.plimoth.org/Education/piltriv.htm
1667--a "Dreadful hurricane" hit Virginia with 12 inches of rain. It overturned houses, stripped the fields of crops and pushed tides 12 feet above normal
1757- Birthday of French general and aristocrat, Marquis de Lafayette, whose full name was Marie-Joseph-Paul-Yves-Roch-Gilbert du Motier, came to America to assist in the revolutionary cause and volunteered to serve without compensation. He was awarded a major-generalship and began a lasting friendship with the Amer­ican commander-in-chief, George Washington. After an alliance was signed with France, he returned to his native country and persuaded Louis XVI to send a 6,000-man force to assist the Americans. On his return, he was given command of an army at Virginia and was instrumental in forcing the surrender of Lord Cornwallis at Yorktown, leading to the end of the war and Amer­ican independence. He was hailed as "The Hero of Two Worlds" and was appointed a brigadier general on his return to France in 1782. He became a leader of the liberal aristocrats during the early days of the French revolution, presenting to the National Assembly his draft of "A Declaration of the Rights of Man and of the Citizen." As the commander of the newly formed national guard of Paris, he rescued Louis XVI and Marie-Antoinette from a crowd that stormed Versailles Oct 6, 1789-Returning them to Paris where they became hostages of the revolution. His popu­larity waned after his guards opened fire on angry demonstrators demanding abdication of the king in 1791. He fled to Austria with the overthrow of the monarchy in 1792, returning when Napoleon Bonaparte came to power. Born at Chavaniac, he died at Paris, May 20, 1834.
1800-Birthday of Catharine Beecher, born at East Hampton, NY, in addition to teaching herself mathematics, philosophy and Latin, Beecher had been formally educated in art and music. An early advocate for equal education for women, she founded the Hartford Female Seminary, which was widely recognized for its advanced curriculum. She was also instrumental in the founding of women's colleges in Iowa, Illinois and Wisconsin. Beecher died May 12,1878 at Elmira, NY.
1819- Thomas Blanchard of Middlebury, CT obtained a patent for a machine for fashioning irregular forms and called it a "profile lathe, a machine for manufacturing gun stocks." the lathe did the work of 13 operators and made possible a great reduction in woodworking prices.
1837-- Known today as Oberlin College, the Oberlin Collegiate Institute of Ohio formally opened its doors to women as four women joined 30 men for college educations.
1860-Birthday of Jane Addams, American worker for peace, social welfare, rights of women, co-winner of Nobel Prize, 1931. Born at Cedarville, IL, she died May 21, 1935 at Chicago, IL. She and her life partner Ellen Gates Starr founded Hull House in Chicago, Illinois. The networking that Hull House enabled changed the social conscience of the United States - and taught women they could accomplish just about anything, plus helped many disadvantage people gain a better life. Jane Adams is studied in high school history today, perhaps one of the most influential women in American history
1862 Stonewall Jackson occupies Fredrick, Maryland
http://www.mdenvirothon.00server.com/countyfacts.htm
http://www.nps.gov/hafe/jackson.htm
http://www.nps.gov/hafe/maps/surround.htm
http://www.bbonline.com/md/middletown.html
http://www.civilwar-va.com/maryland/fred-wash.html
1862-Did Barbara Fritchie wave the Union flag at "Stonewall"
Jackson and dare her to shoot her but not the flag or was it
John Greenleaf Whittier poem?
http://www.women.eb.com/women/pri/Q00175.html
http://www2.froggernet.com/captain/fritchie.htm
http://www.awod.com/gallery/probono/cwchas/wagner.html
1866-The first delegate to a national political convention who was an African-America was Frederick Douglass (1) of Rochester, NY, who attended the National Loyalists' Loyal Union Convention at Philadelphia, PA.
1869-One of the worst coal mine disaster; 110 men and boys perished in Avondale, PA. A fire broke out in the mineshaft, cutting off the miners' escape route and their own source of air. the trapped miners tried to keep toxic fumes out of the tunnel by building a wall of boxes, barrels, and their own clothing, but the effort was hopeless. This was the conditions in the mines until after the turn of the century and unionization.
1869-The first westbound train arrives in San Francisco.
1876 -Southern Pacific railroad line from Los Angeles to San Francisco completed
http://www.linecamp.com/museums/americanwest/western_clubs/
southern_pacific_railroad/southern_pacific_railroad.html
1877-Birthday of legendary New Orleans trumpet player Buddy Bolden ***
http://www.redhotjazz.com/buddy.html
http://www.redhotjazz.com/buddyinfo.html
http://www.pbs.org/jazz/biography/artist_id_bolden_buddy.htm
http://www.nathanielturner.com/buddybolden2.htm
1881-The famous "Yellow Day" in the northeast caused by Michigan forest fires where 20 villages were burned and 500 killed. The smoke filtered out most of the light and left a brassy tinge on everything
1892- John Froelich of Froelich,IA, shipped out one of his first gasoline tractors to Landford, SD, where it was employed from September 24 to November 16 in threasing. It had a Van Duzen vertical single-cylinder gasoline engine mounted on wooden beams to operate a J.I. Case threshing machine. In 1893, Froelich formed the Waterloo Gasoline Traction Engine Company, Waterloo, IA, which was lager acquired by the John Deere Plow Company.
1899-Carnation processes its first can of evaporated milk, Kent, WA.
http://www.historylink.org/output.CFM?file_ID=1608
1901-For the third time in the nation's history a president was assassinated. President William McKinley was visiting the Pan-American Exposition in Buffalo, NY. While greeting visitors he was shot twice in the abdomen by a young anarchist, Leon Czolgosz, who was carrying a concealed pistol in a handkerchief. For a few days McKinley seemed to be recovering, but he took a turn for the worse and died on September 14 at 2:15am. McKinley, 58, was succeeded by Vice-President Theodore Roosevelt, who became the 26 th president of the United States. Roosevelt took the presidential oath in the same house in Buffalo where the boy of McKinley awaited transportation to Canton, Ohio, for burial. Roosevelt was not quite 43 years old and so was the youngest person to hold the office of president. Conservative Republicans, who had been happy with McKinley, were appalled. As governor of New York, Roosevelt had shown liberal tendencies. He had gained the vice president nomination in 1900 partly because republican leaders sought to keep him in a harmless post.
(lower half of:. http://memory.loc.gov/ammem/today/sep06.html)
1905-Birthday of singer Chippie Hill, Charleston, SC.
1909-Topeka, KS is drenched with 8.08 inches of rain in 24 hours to establish an all-time record for that city
1912-Birthday of Vincent Paul DiMaggio, baseball player born at Martinez, CA. The oldest of the three major league DiMaggio brothers, played ten years in the National League. Died at North Hollywood, CA. October 3, 1966.
1925-Birthday of guitarist Eddie Duran, San Francisco, CA.
1937-Benny Goodman bad records " Sugar Foot Stomp."
1938 The movie "Boys Town" was first released by MGM studios. Starring Spencer Tracy, the award-winning film depicted the founding of the famous vocational institution in Nebraska in 1917 by parish priest Father Edward J. Flanagan, 31.
1952---"Wish You Were Here" by Eddie Fisher topped the charts and stayed there for a week
1954-Integraton begins in Washington, DC, and Baltimore, MD.
1955- "Wyatt Earp" premiered on television starring Hugh O'Brien. My father Lawrence Menkin wrote several episodes.
1956---Top Hits
Hound Dog/Don't Be Cruel - Elvis Presley
Canadian Sunset - Hugo Winterhalter & Eddie Heywood
Tonight You Belong to Me - Patience & Prudence
I Walk the Line - Johnny Cash
1957 - No. 1 Billboard Pop Hit: "Diana," Paul Anka.
1958 - Actor Steve McQueen starred on the CBS-TV series, "Wanted: Dead or Alive". McQueen played bounty hunter Josh Randall. Randall was a man of few words but sure knew how to use his .30-.40 sawed-off carbine on the bad guys. My late father Lawrence Menkin wrote many of the episodes.
1958 - Georgia Gibbs sang "The Hula-Hoop Song" on "The Ed Sullivan Show". It was the first national exposure for the Hula-Hoop craze. Many people recorded the song to capitalize on the fad, including Teresa Brewer and Betty Johnson. Like sometimes happens with fads, these songs didn't become very popular. The Hula-Hoop craze lasted a bit longer...
1959 - The first Barbie Doll was sold by Mattel Toy Corporation. The original Barbie, along with her pals, Ken and Skipper, are now collectors items, although new versions are continually being produced.
1961 - Bob Dylan gave one of his first performances at the Gaslight Cafe in Greenwich Village. The Gaslight was originally a 'basket house', where performers were paid from the contents of a basket that had been passed around.
1964---Top Hits
The House of the Rising Sun - The Animals
Because - The Dave Clark Five
Bread and Butter - The Newbeats
I Guess I'm Crazy - Jim Reeves
1969 - Singer, songwriter David Bowie debuted on U.K. charts with "Space Oddity". You remember, "Ground Control to Major Tom, Ground Control to Major Tom ... Check ignition and may God's love be with you, Three, Two, One, Liftoff..." "Space Oddity" peaked at #5 in the U.K. The song's release was timed for the U.S. moon landing, but didn't make the U.S. charts until its re-release in 1973 (it reached #15).
1969-Bob Dylan's "Lay Lady Lay" peaks at #7 on the pop singles chart.
1971 - No. 1 Billboard Pop Hit: "Go Away Little Girl," Donny Osmond. Steve Lawrence hit No. 1 with the song in 1963, making this the first song in the rock era to be a No. 1 hit for two people.
1972 - Rick DeMont lost the gold medal he received in a 400-meter swimming event because a banned drug was found in his system during routine drug testing.
1972---Top Hits
Alone Again (Naturally) - Gilbert O'Sullivan
Long Cool Woman (In a Black Dress) - The Hollies
I'm Still in Love with You - Al Green
Woman (Sensuous Woman) - Don Gibson
1973 - Avenging the loss of his gold medal one year earlier, swimmer Rick DeMont captured the 400-meter freestyle event with a world record time of 3:58.18 ... without drugs.
1975 - Glen Campbell hit #1 on the "Billboard" pop music chart with "Rhinestone Cowboy". It had reached the top position on the country chart on August 23rd.
1975-Chris Evert won the first of her six US Open women's singles titles by defeating Evonne Goolagong, 5-7, 6-4, 6-2.
1976 - Dean Martin and Jerry Lewis were reunited by Frank Sinatra -- after 20 years of going their separate ways. The former comedy team warmly met each other again during a surprise visit by Martin to Lewis's annual "Labor Day Telethon" for Muscular Dystrophy.
1976- Los Angeles Dodgers catcher Steve Yeager, waiting in the on deck circle, was seriously injured when he was struck in the neck by a shattered bat. The injury caused Yeager to introduce a new piece of baseball equipment, the neck protector, a flag attached to his catcher's mask.
1976-Fleetwood Mac tops the U.S. LP chart for the first time with "Fleetwood Mac."
1980 - Miss Oklahoma, Susan Powell, was crowned Miss America in Atlantic City, NJ. It was the first time in 25 years that Bert Parks had not served as master of ceremonies for the show. He had been dismissed because the pageant committee considered him to be too old. Former TV "Tarzan", Ron Ely, was chosen to host the festivities.
1980- "Upside Down" by Diana Ross topped the charts and stayed there for 4 weeks.
1980---Top Hits
Upside Down - Diana Ross
Emotional Rescue - The Rolling Stones
All Out of Love - Air Supply
Lookin' for Love - Johnny Lee
1980-Paul Simon's "One Trick Pony" enters the album charts, as does The Cars' "Panorama," The Allman Brothers' "Reach For The Sky" and Eddie Money's "Playing For Keeps."
1982 - No. 1 Billboard Pop Hit: "Hard to Say I'm Sorry," Chicago.
1986 - Bananarama hit the top spot on the pop music charts with "Venus". The tune had also been a number one hit for the Dutch group, The Shocking Blue (2/07/70).
1985- Michael Jackson buys ATV Music (every Beatle songs) for $47« million
http://www.mjcafe.net/the%20legend%20speeches%20&%20faq/b4.htm
1986-- Barbra Streisand's first live concert in 20 years. Taped on Sept. 6, 1986, before 500 invited guests at her California home, the concert was called "Barbra Streisand: One Voice" and aired on HBO on Dec. 27, 1986 to enormous acclaim.
http://www.sing365.com/music/lyric.nsf/singerUnid/
BF2922C921C98836482568670012BA4C
1988---Top Hits
Monkey - George Michael
Sweet Child o' Mine - Guns N' Roses
Simply Irresistible - Robert Palmer
I Couldn't Leave You if I Tried - Rodney Crowell
1988- the Hispanic population of the US increased 34% since the 1980 census, the Census Bureau reported. There were now approximately 19,400,000 people of Hispanic background, and they represented 8.1% of the total population. More than half of them lived in California and Texas. The 2000 Census showed California had over 41% population Hispanic.
1995-Cal Ripken, Jr. of the Baltimore Orioles played in his 2,131 st consecutive game, thus breaking Lou Gehrig's mark. Ripken hit a home run as the O's defeated the California Angeles, 4-2.
1996- Eddie Murray of the Baltimore Orioles hit the 500 th home run of his career, joining Willie Mays and Henry Aaron as the only ballplayers to retire with at lest 500 homes and 30,000 hits. Murray homered in the 7 th inning against Felipe Lira of the Detroit Tigers. The orioles lost the game, 5-4, in 12 innings
1997 - The Westminster Abbey funeral for Diana, Princess of Wales, was an extraordinary event, marked by numerous poignant moments: The people sobbing and throwing flowers at the funeral cortege winding through the streets of London. Her sons, walking behind her casket with their heads bowed. And Diana's brother, who during his funeral oration took aim at the media, who he said made the princess "the most hunted person of the modern age." Elton John sang a rewritten version of "Candle in the Wind" to "England's rose". The song was originally a tribute to film legend Marilyn Monroe, whose own tragic life, like Diana's, ended at the age of just 36.
****
thought I heard Buddy Bolden say,
Dirty, nasty stinky butt, take it away,
Dirty, nasty stinky butt, take it away,
And let Mister Bolden play . . .
Jelly Roll Morton
*** http://www.geocities.com/BourbonStreet/5135/Bolden.html
(1) http://www.frederickdouglass.org/
--------------------------------------------------------------


Baseball Poem
whiskey moon
frank says the full moon
is for whiskey,
spits tobacco to punctuate
his short sentences,
hours sipping, replaying
his career in slow motion,
oiling the first baseman's mitt,
then spreading it carefully
to catch the milky light,
frank says it softens the leather,
I say it embalms the memory.
from Tim Peeler, from his book
"Touching All the Bases." He has given us permission
to reproduce them.
These come from a soft cover 128 pages
with index published by www.mcfarlandpub.com
( they take two weeks to send, but you are helping
He is a unique American poet.
He lives in Hickory, North Carolina.
--------------------------------------------------------------

SuDoku
The object is to insert the numbers in the boxes to satisfy only one condition: each row, column and 3x3 box must contain the digits 1 through 9 exactly once. What could be simpler?
http://leasingnews.org/Soduku/soduko-main.htm