Tuesday, April 15, 2003
Headlines---
Pictures from the Past---1994-Tom Quilling
Classified Ads---Sales---"Don't Give Up!"
ELA Captive and Vendor Leasing Conference
-Fred St. Laurent
Cartoon---Mr. Merrilees at the IRS
Up-grade "Free Trial Version" Expires Today
Deloitte: FI to Move $356B of IT Offshore
Experian/PredictiveMetrics Small Biz Lease Score
Merrill Goes After GE with LEAF Now
Globaltech/American Lease Insurance
Comdisco Final Redemption Secured Notes
Decisions Systems Rapport 3.2 Credit App./Contract Origination Software
GATX Tech James Diskin/Garry Foster New Reg. Sales Managers
This Border ##### Denotes Press Release (Not Written By Leasing News)
--------------------------------------------------------------------------------------------
Pictures from the Past---1994—Tom Quilling
http://two.leasingnews.org/imanges_uael_wael/quilling,tom.jpg
"I worked for Decision Systems, Inc. for 18 years. I retired from this company at the end of 2001. My responsibility at DSI was selling the InfoLease and InfoAnalysis software solutions to the equipment leasing industry.
"In January of 2002, I joined John Otto at Heritage Pacific Leasing and opened a branch office in Minneapolis."
tquilling@heritage-pacific.com
----------------------------------------------------------------------------
Classified Ads---Sales---"Don't Give Up!"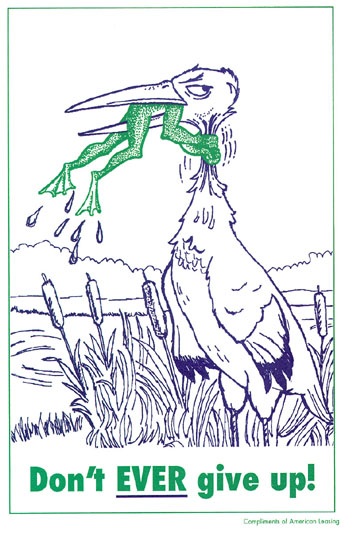 Sales: Atlanta, GA. Extensive experience, knowledge and success in the leasing industry covering several markets. Currently have a profitable book of business. Excellent sales skills and 19BII proficiency. email: flowageman@aol.com
Sales: Atlanta, GA. Consistent top performer, results oriented with outstanding sourcing, structuring and negotiation skills. Direct& vendor development sales. Mid-market and above - Customers throughout Southeast. email:w.t.dent@comcast.net
Sales:Austin,Texas 24yrs exp.in equip leasing sales, vendor/direct, leasing high-tech to rolling stock. HP12C/17B. Small-Mid Ticket. Seeking Texas territory which can be covered from Austin home-base. email:GeorgeMinchew@sbcglobal.net
Sales: Dallas, TX
Director, Business Development for international financial institutions. Global vendor programs with minimum sustainable volume of $24M annually. CFO and Treasury contacts with major technology and energy corporations.Email:tkorpolinski@ev1.net
Sales: Detroit, MI. 16-year lease veteran looking for opportunity in the Detroit area. Ability to bring on new accounts and manage existing base. Up to 60% travel acceptable. email:ebonbri@aol.com
Sales: Houston, TX. Experienced 20 years vendor development,direct sales and marketing with great presentation and closing skills. email: rwm217@yahoo.com
Sales: Louisville, KY I have been in leasing/financing of construction, machine tool, and mfg equipment for 20+ years. Traveled KY, IN, OH and TN.
Email:kyle90@msn.com
Sales: Mission Viejo, CA
Account Sales Executive with 10 years of leasing experience looking for company to bring existing customer base.
Email:makelly21@hotmail.com
Sales: Orange County, CA.
Skilled deal-closer at above-average rates. Entrepreneurial. Accomplished lease-structurer specializing in transportation. Exp. in direct/ captive & syndicator environments servicing vendors, brokers, & end-users. email:originator@sbcglobal.net
Sales: Orange County, CA. 20 yrs. in leasing. Skilled,persistant marketing rep. Great closer on deals from $100K to $5MM. Looking for middle market company.
email: pauldriscoll1@lycos.com
Sales: Philadelphia , PA Seeking an open opportunity to advance in the automotive, commercial leasing & finance industry......... email: alexe362002@yahoo.com
Sales: Prairie Village, KS Have substantial deal flow and database of broker referral sources. Generated and closed over $22M LY. Seeking exclusive relationship w/direct founder. email:fiergl@aol.com
Sales: St Lucie, FL
Sales, credit, doc. exp.w/top communications skills. Exp. large territory management from home office. Various industries; golf equipment, construction, ff&e, computer related, and others. Sales achiever. Email:David34983@aol.com
Sales: San Francisco Bay Area, CA
10+ yrs in middle market leasing. Seek direct lessor only. Transaction size from $500M to $10.0MM. Client base: printing, food, retail, hvy manufacturing. Email:edm173@sbcglobal.net
Sales:Scottsdale, AZ.
19+ years in middle-market-leasing. Concentrations in Medical/Manufacturing/IT& General in multiple geographic territories. Well versed in direct calling& closing efforts to C- Level& subordinate management. email:bill_peter@msn.com
Sales: Tampa, FL. 27 years experience. Very adept in bank lease programs and direct sales in MM/LT. Looking to re-enter the industry. Will relocate to Texas. Hungry. email: cwilliams@triit.com
70 ads at:
http://65.209.205.32/LeasingNews/JobPostings.htm
We help people find jobs!!!! Don't Give Up!
---free posting----
http://65.209.205.32/LeasingNews/PostingForm.asp
_________________________________________________________
ELA Captive and Vendor Leasing Conference -Fred St. Laurent
" I am actually at the ELA Captive and Vendor Leasing conference in St Augustine Florida. It was a last minute invitation and I accepted a job with Ben Sillins on the way down.
" I am writing something for you tonight and will email it to you in the morning. The conference was a huge success. Best attendance ever (130) and everyone I
spoke with told me that not only was this conference fun, but packed full of information; all had a great time. ELA really knows how to put these conferences together.
.
" About my job change:
"My non compete with MRI Melbourne expired last month. I have honored the letter of my agreement and now my intention has been to return to the leasing
clients I was servicing. Bradbury and Williamson had no desire to head in that direction. In joining Ben Sillins, the Blass Group, and MRI company again, I join
3 other leasing desks and become a part of an effective team. I am very excited about it."
Fred St. Laurent
--------------------------------------------------------------------------------------------
Cartoon---Mr. Merrilees at the IRS
http://two.leasingnews.org/cartoons/IRS1.jpg
__________________________________________________
Up-grade "Free Trial Version" Expires Today
The first "wave" of those who tried the 45 "free trial" expires today.
Two separate e-mails have been sent. If you are among them and
want to subscribe, please contact maria@leasingnews.org
The next "wave" will be in 15 days
The version is exactly like the website, but sent by e-mail to you.
Click on the headlines to go to the stories or the tool bar to go
to specific sections such as The List or Cartoons or Archives of
previous stories.
There are two versions, one is free and the other $49.95 per year
(also helps support our attorney bills.) A 30 day "free trial"
is available on one time basis.
http://www.leasingnews.org/addme-mailing-list.htm
--------------------------------------------------------------------------------------------
T-Bill Rates Rise
WASHINGTON (AP) The auction yesterday on interest rates on short-term Treasury securities rose with the three-month bill the highest since March 3, when the bills sold for 1.175 percent
The Treasury Department sold $15 billion in three-month bills at a discount rate of 1.165 percent, up from 1.135 percent last week. An additional $15 billion was sold in six-month bills at a rate of 1.175 percent, up from 1.135 percent.
The six-month rate was the highest since Feb. 18, when the bills sold for 1.180 percent.
The new discount rates understate the actual return to investors 1.186 percent for three-month bills with a $10,000 bill selling for $9,970.60 and 1.202 percent for a six-month bill selling for $9,940.60.
In a separate report, the Federal Reserve stated the average yield for one-year constant maturity Treasury bills, the most popular index for making changes in adjustable rate mortgages, rose to 1.25 percent last week from 1.19 percent the previous week.
--------------------------------------------------------------------------------------------
Deloitte Predicts Financial Institutions to Move $356 Billion of IT Offshore
Bank Bulletin Report
In a new study of the world's 100 largest financial institutions, Deloitte Research estimates that over the next five years financial institutions will move roughly $356 billion of their operations and nearly two million employees offshore as they continue to seek ways to reduce costs.
By sending work to low-cost IT centers in countries like India (who Deloitte estimates is the nation expected to benefit most from the off-shore
outsourcing) the research company estimates that financial institutions can reduce costs by as much as $1.4 billion each by 2008. The shift to offshore operations is currently underway, according to the report, with 30 percent of the participants reporting an existing offshore outsourcing relationship. That figure is expected to reach 75 percent in the next two years.
This does not include telephone collection, customer service, or solicitation calls
being moved to "English speaking" regions such as found in India, the Philippines,
#### Press Release ##########################################
Experian and PredictiveMetrics Introduce Small Business Lease Decision Score
New Score Helps Commercial Leasing Companies Determine
Creditworthiness of Small-Business Prospects
COSTA MESA, Calif.,-- Experian(R), a global business solutions company, and PredictiveMetrics, a leading business-to- business statistical model development company, today announced the launch of the Small Business Lease Decision Score. This innovative product helps commercial leasing company executives more precisely determine the creditworthiness of their small-business prospects by calculating blended risk scores based on both the credit history of a business and the consumer credit files of up to two of the business's owners.
The Small Business Lease Decision Score helps users predict the likelihood of an applicant incurring 90+ days delinquency or charge-offs within 18 to 24 months of underwriting when the potential risk may be the greatest. Greater accuracy is assured because this new decision tool was developed using actual leasing performance on small-ticket leasing transactions predominantly under $100,000, combined with Experian's commercial and consumer credit databases containing a number of proven predictors of future risk. The new tool is also ideal for scoring smaller businesses that may not have sufficient commercial data. Scores are provided on easy-to-read, single-page reports, which are accessible through the Internet, CPU or batch processing.
"In today's turbulent economic times, lessors must see the whole picture of a company's financial health in order to make more informed decisions," said Roger Lisabeth, vice president and general manager of Experian's Business Information Solutions credit services group. "This new score is both powerful and convenient. It offers access to multiple files, adding more precision to the score, and it is available with a single inquiry to Experian."
Lisabeth said that commercial lessors using the Small Business Lease Decision Score will improve the credit quality of their portfolios based on their own needs, market strategy and risk tolerance level by making more informed decisions during the lease origination process and when conducting account management reviews. The new score joins a suite of scoring tools, including Commercial Lease Decision Score, which enables commercial leasing companies to determine the acceptable decision criteria and customize the decision based on their own needs, market strategy and risk tolerance level.
"This versatile score offers lessors the beneficial capability to score across the customer life cycle, from targeting and acquiring new business, through managing portfolios for maximum profitability," said Michael Banasiak, president of PredictiveMetrics.
About Experian
Experian(R) provides strategic support to organizations around the world. It helps its clients target, acquire, manage and develop profitable customer relationships. It does this by combining its advanced decision support and outsourcing services with information on consumers, businesses, motor vehicles and property. Experian works with more than 40,000 clients across diverse industries, including financial services, telecommunications, health care, insurance, retail and catalog, automotive, manufacturing, leisure, utilities, property, e-commerce and government. Millions of consumers rely on Experian's consumer credit services to meet their financial management needs. Experian is a subsidiary of GUS plc and has headquarters in Nottingham, UK, and Costa Mesa, Calif. It has a 175-year history and unbroken sales growth over the past 22 years. Its 13,000 people support clients in more than 60 countries. Annual sales exceed $1.5 billion.
For more information, visit the company's Web site at www.experian.com .
About PredictiveMetrics
PredictiveMetrics, which was formally known as Predictive Business Decision Systems, Inc. (PBDS) continuously helps its customers increase their profit margins by providing custom and industry specific credit, portfolio management, collection and recovery knowledge-based decision tools. Leveraging advanced methodologies and statistics to application, accounts receivable, and collection data, as well as credit bureau, financial statement, and marketing data allows companies to turn probabilities into profits. Armed with an analytical staff comprised of statisticians and econometricians who have extensive experience in developing predictive scoring solutions for a variety of applications, products, types of financing, and industries allied with your business experience, PredictiveMetrics provides the most accurate and predictive decision tools in the market today! Established in 1995, PredictiveMetrics is headquartered in Tinton Falls, NJ.
For more information, visit the company's Web site at www.predictivemetrics.com .
For further information please contact: Susan Henson, Public Relations, Experian, +1-714-830-5129, susan.henson@experian.com
#### Press Release ##########################################
Resource America's LEAF Financial Corporation Enters into a Multi-Year Agreement with Merrill Lynch
PHILADELPHIA----Resource America Inc. (NASDAQ:REXI) announces that LEAF Financial Corp., a wholly-owned subsidiary, has entered into an agreement whereby LEAF will originate as well as service leases relating to a diversified portfolio of business essential equipment on behalf of Merrill Lynch.
The leases will be sourced through LEAF's direct and indirect sales platform focused on vendors and manufacturers of the equipment. This flow agreement has a multi-year term and the ability to be extended.
Crit DeMent, Chairman of LEAF, notes that "this alliance with Merrill Lynch enables LEAF to focus our resources on establishing high quality, high volume vendor programs. By teaming up with this first class institution we also will be able to offer a broader spectrum of lease products."
"This program with LEAF Financial Corp. further enhances our origination capabilities and our overall asset backed securitization presence in the equipment leasing sector", comments Michael Blum, Managing Director and Head of Merrill Lynch's Global Asset Based Finance Group. "By combining LEAF management's 18 years of experience in originating and underwriting high quality, small ticket equipment leases with the secured financing, principal investment and asset backed securitization capabilities provided by our structured finance platform, we create efficient access to capital for a broad base of business customers."
Resource America Inc. is a proprietary asset management company that uses industry specific expertise to generate and administer investment opportunities for its own account and for outside investors in energy, real estate and financial services. LEAF currently originates and manages leases on behalf of several public investment limited partnerships.
Statements made in this release may include forward-looking statements, which involve substantial risks and uncertainties. The Company's actual results, performance or achievements could differ materially from those expressed or implied in this release.
CONTACT:
Resource America, Inc., Philadelphia
Pamela Schreiber, 215/546-5005
facsimile: 215/546-5388
###### Press Release #####################################
GLOBALTECH PORTFOLIO SERVICES ANNOUNCES STRATEGIC PARTNERSHIP WITH AMERICAN LEASE INSURANCE.
ATLANTA, GA - Small-ticket lessors whose portfolios are serviced by
GlobalTech Portfolio Services (GlobalTech) now benefit from a fully
automated insurance program provided by American Lease Insurance (ALI).
Says Alan Zeppenfeld, GlobalTech vice president, "The American Lease
Insurance program is an excellent complement to the services we already
provide. Now, lessors can rely on us for total portfolio services -
including insurance coverage and tracking - and know that they are getting
the highest quality and greatest value."
Under experienced management, GlobalTech employs the latest technology to
provide loan and lease servicing, including origination, document
preparation, funding, asset tracking and administration, invoicing, payment
processing, and customer service.
The ALI program, integrated with McCue Systems' LeasePak software
utilized by GlobalTech, provides comprehensive property and liability coverage on portfolios of equipment costing under $250,000, and tracks insurance coverage during the terms of the leases for lessees who choose to use their own insurance.
The program requires no premium advances from lessors. By providing lessees
real value - superior protection and faster replacement at lower premiums,
ALI has achieved the highest acceptance rates in the industry. This success
translates into higher fee income for lessors. Sums up Zeppenfeld, "They
are the best in the business, which is why we choose to offer American
Lease Insurance to our customers."
American Lease Insurance was founded in 2000 by Steve Dinkelaker, a
licensed insurance agent and broker who has been active in the equipment
leasing industry since the mid 1980s. He created, implemented, and managed
lease insurance programs for almost all of the major small-ticket leasing
companies. ALI, located in Shelburne Falls, Massachusetts, one hour north
of Hartford, Connecticut, is a member of the Equipment Leasing Association,
the Eastern Association of Equipment Lessors, the United Association of
Equipment Leasing, and the National Association of Equipment Leasing
Brokers.
GlobalTech Portfolio Services is a division of GlobalTech Financial, which
was established in 2000 by Carolyn Byrd, a 23-year veteran of the Coca-Cola
Company. GlobalTech Financial is the exclusive processor of business loans
and leases granted by the Coca-Cola Financial Corporation, as well as other
financial institutions, credit corporations and private label financing
programs. GlobalTech Portfolio Services currently services over $1 billion
in assets.
-
ALAN ZEPPENFELD 678-816-2216
STEVE DINKELAKER 888-521-6568 x 245
#### Press Release ###########################################
Comdisco to Make Final Redemption on Its 11% Subordinated Secured Notes
ROSEMONT, Ill.----Comdisco Holding Company, Inc. (OTC:CDCO) announced today the final redemption on its 11% Subordinated Secured Notes due 2005. As of today, the total outstanding principal amount of the Subordinated Secured Notes is $85 million. Comdisco previously redeemed $65 million, $200 million, $100 million, $50 million, $75 million and $75 million principal amounts of the 11% Subordinated Secured Notes on November 14, 2002, December 23, 2002, January 9, 2003, February 10, 2003, March 3, 2003 and April 2, 2003, respectively.
The remaining $85 million principal amount of Subordinated Secured Notes will be redeemed at a price equal to 100% of their principal amount plus accrued and unpaid interest to the redemption date. The redemption will occur on April 28, 2003.
Wells Fargo Bank will serve as the paying agent for this redemption. A notice of the redemption containing information required by the terms of the indenture governing the Subordinated Secured Notes will be mailed to holders. This notice will contain details of the place and manner of surrender in order for holders to receive the redemption payment.
About Comdisco
The purpose of reorganized Comdisco is to sell, collect or otherwise reduce to money the remaining assets of the corporation in an orderly manner. Rosemont, IL-based Comdisco (www.comdisco.com) provided equipment leasing and technology services to help its customers maximize technology functionality and predictability, while freeing them from the complexity of managing their technology. Through its former Ventures division, Comdisco provided equipment leasing and other financing and services to venture capital backed companies.
CONTACT:
Comdisco
Mary Moster, 847/518-5147
or
Paying Agent:
Wells Fargo Bank, 800/344-5128
SOURCE: Comdisco
### Press Release #############################################
International Decisions Systems Introduces Rapport 3.2
Credit Application/Contract Origination Software
MINNEAPOLIS, Minn., USA, ­ International Decision Systems
Inc. (IDS) announced today the availability of Rapport 3.2, the latest
upgrade of IDS¹ automated credit application and contract origination
software that is accessible to anyone around the world via a Web browser.
Rapport allows lessors to streamline their front-end credit
decisioning-through-booking processes by using customizable screens and
workflows. Rapport also seamlessly integrates data into InfoLease, the
world¹s premier lease portfolio and asset management system. Information is
entered once, with seamless integration into other systems ­ eliminating
redundant data entry and providing an integrated platform for application,
pricing, credit, documentation and vendor/partner management.
Rapport 3.2 Highlights
* Upfront Cash ­ Allows lessors to apply cash to an application before
contract booking.
* Document Attachments ­ Allows users to affix documents, such as Word or
Excel files, to applications. Examples include tax statements, credit
documents or letters from banks with liens on prospective customers.
* Equipment-Based Pricing ­ Provides for set up of equipment-specific rate
structures. This allows lessors to calculate online payment quotes, then use
those figures to submit from within their credit application.
* Flexible Worklists ­ Lets users customize Web screens that correspond to
their own optimal workflow processes.
³Rapport is for lessors who require a high degree of flexibility and
workflow automation in their businesses,² summarizes IDS Vice President of
Sales and Marketing John Hillman. ³It streamlines their front-end processes;
and provides exceptional workflow and worklist functionality, reporting and
document generation capabilities. The bottom line, Rapport enhances the
competitive position of every lessor who adopts it.²
For more information about Rapport 3.2 or to schedule a demonstration, call
IDS Marketing Director Deb Marshall at 612-851-3438.
About International Decision Systems
International Decision Systems (IDS) is the global leader in developing
lease/loan accounting and portfolio management software and services. With
offices in the United Kingdom; Minneapolis, MN; Sydney, Australia and
Singapore, IDS offers the largest and most experienced global consulting,
implementation and technical support teams in the leasing industry.
InfoLease, the world¹s premier lease/loan portfolio and asset management
system, comprises the foundation of IDS¹ product line. With a web-enabled
front-end and more than 70 custom add-on solutions, InfoLease is the most
adaptable and scalable lease/loan technology available in today¹s
marketplace.
IDS¹ parent company, IDS Group plc, is publicly traded on the London Stock
Exchange (IDGL). For additional information about International Decision
Systems and IDS Group plc, visit www.idsgrp.com <http://www.idsgrp.com/> .
IDS and InfoLease are registered trademarks of International Decision
Systems.
### Press Release ##############################################
GATX TECHNOLOGY APPOINTS JAMES DISKIN AND GARRY FOSTER AS REGIONAL SALES MANAGERS IN WESTERN REGION
TAMPA, - GATX Technology recently announced the appointment of Mr. James J. Diskin as Regional Sales Manager for Illinois and Mr. Garry Q. Foster as Regional Sales Manager for Arkansas, Louisiana and Texas. With these appointments, GATX Technology continues its initiative to expand its national coverage by strategically placing seasoned professionals in key markets throughout the Midwest and Southwest.
Mr. Diskin and Mr. Foster will be working closely with mid-to large-size corporations to develop cost effective solutions for managing their technology assets.
GATX Technology Managing Director of Sales Paul J. Haire said, "The addition of Jim Diskin and Garry Foster in these markets further demonstrates our commitment to be the leading independent IT lessor in North America, providing value-added lease financing and full lifecycle management services."
Mr. Diskin has over ten years of IT leasing and sales experience and most recently was a Communications Portfolio Manager for Comdisco Inc. Mr. Foster, who was previously a District Sales Manager for Forsythe Solutions in Dallas, has more than ten years of IT leasing and sales experience.
COMPANY DESCRIPTION
GATX Technology is a unit of GATX Financial Corporation, a wholly owned subsidiary of GATX Corporation (NYSE: GMT). GATX is a specialized finance and leasing company combining asset knowledge and services, structuring expertise, partnering and risk capital to serve customers and partners worldwide. In addition to information technology leasing, GATX specializes in railcar and locomotive leasing, and aircraft operating leasing.
Analysts/Investors:
Robert C. Lyons
GATX Corporation
(312)621-6633
#### Press Release #############################################
----------------------------------------------------------------------------------------
News Briefs---
Strong Bank Profits
http://www.washingtonpost.com/wp-dyn/articles/A26784-2003Apr14.html
Fleet profits down, but progress on bad loans http://www.boston.com/dailynews/104/economy/Fleet_profits_down_but_progres:.shtml
American Airline vote outcome will decide the fate of many St. Louis workers
http://stltoday.com/stltoday/business/stories.nsf/Business/0EA21BE22AE625B686256
D09001080AA?OpenDocument&Headline=American+vote+outcome+will+
decide+the+fate+of+many+St.+Louis+workers
U.S. housing market cooling – Fannie Mae CEO
http://www.signonsandiego.com/news/business/20030414-0638-financial-fanniemae-ceo.html
Silicon Valley can't shake nagging malaise
http://www.bayarea.com/mld/mercurynews/business/5630639.htm
Americans See Clear Victory in Iraq, Poll Finds http://www.nytimes.com/2003/04/15/national/15POLL.html?ex=1050984000&en=
db870179b7dfb872&ei=5062&partner=GOOGLE
IBM earnings rise 16 percent
http://www.boston.com/dailynews/105/economy/IBM_earnings_rise_16_percent_:.shtml
Fitch Ratings: U.S. Default Volume Down 75% in Q1-2003 vs. Q1-2002
http://www.fitchratings.com/corporate/events/press_releases_detail.cfm?pr_id=85116
Sports Briefs---
In End, a Sense of Loss
Jordan Has 21, But Wizards Retire Early : Knicks 93, Wizards 79
http://www.washingtonpost.com/wp-dyn/articles/A26199-2003Apr14.html
Seau Headed to Miami for a Visit
http://customwire.ap.org/dynamic/stories/F/FBN_DOLPHINS_SEAU?SITE=FLPAP
&SECTION=HOME&TEMPLATE=DEFAULT
Star WR Rogers, Cox both had diluted urine, Masks tests?
http://espn.go.com/chrismortensen/s/2003/0414/1539039.html
Trial begins in $1 billion Raiders dispute with Oakland
http://www.bayarea.com/mld/mercurynews/5633097.htm
One tiny hole ruins Woods' day as Canadian Wins All
http://www.bayarea.com/mld/mercurynews/sports/columnists/skip_bayless/5629448.htm
Williams's Job Change Was the Correct Decision
http://www.nytimes.com/2003/04/15/sports/ncaabasketball/15rhoden.html
---------------------------------------------------------------------------
American History Highlights This Date
April 15,1894 Bessie Smith
http://www.blueflamecafe.com/index.html
http://bluesnet.hub.org/readings/bessie.html
Not only is this day "income tax day" for full payment and estimated income tax, but it is the start of NATIONAL CREDIT EDUCATION WEEK
A week during which members of the American Collectors Association, Inc put on seminars, contests and other events to educate youth about the importance of financial responsibility and maintaining a good credit rating. Annually, the third week in April.: www.collector.com.
It is also Patriot's Day in Massachusetts and Maine, commemorating the Battles of Lexington and Concord, 1775. As a historical side note, it has been said
that Americans didn't like paying taxes without representation. But it turned out they just didn't like paying taxes, period. This may be considered a perfectly natural and healthy instinct. But it went unappreciated by the army, which suffered greatly because of it. Often soldier not only had no pay, but little food, only breakfast, very little supplies, and corruption was rampant Norman Gelb in his book, "Less than Glory," recounts in shocking detail innumerable instances of greed an corruption, including the sale to the army of rotten meat, tattered clothing, shoes that fell apart, half-empty flour barrels, and defective gunpowder. Professor Robert Shalhope writes that farmers "demanded usurious prices for their crops," and that merchants "engaged in a lucrative trade with the enemy." "Public officials and governmental contractors," he says, " indulged in widespread corruption." So when some wag says he wishes we were back in the good old days, tell him he doesn't know what he is talking about. History if full of commercial and governmental abuses. What was the American Revolution about?
http://www.nv.cc.va.us/home/nvsageh/Hist121/Part2/AmRevBackground.htm
(Gelb's viewpoint at the end is perhaps the most "reasonable.")
1741-birthday of Charles Willson Peale, American portrait painter (best known for his many portraits of colonial and American Revolutionary War figures) was born at Queen Anne County, MD. His children Raphael, Rembrandt, Titian and Sarah were also artists. Died at Philadelphia, PA, Feb 22, 1827. http://www.artcyclopedia.com/artists/peale_charles_willson.html
1783-Pride in the Continental Army is surely defensible. Through seven long years of war—the longest war the United States ever fought until Vietnam---the army under Washington remained true to the cause. But the spirit of sacrifice even among army men wasn't universal. Desertions became so common that some scheduled attacks had to be canceled for lack of men to fight them; Gelb tells of a general in the South who discovered in the midst of a major assault that the seven thousand troops under his command had dwindled to only three thousand, resulting in a disastrous rout. It's estimated that up to a third of the soldiers in the Revolutionary army deserted. Some left to return home to their families or to join their state militias, but probably most got tired of the war or were scared of dying.
This day is most memorable as it beings the peace with Great Britain. ( until 1812). http://memory.loc.gov/ammem/today/apr15.html
1817-the Erie Canal was authorized. When completed and open for traffic on October 26, 1825, this 360 mile wide canal connecting the waters of Lake Erie at Buffalo with the waters of the Hudson River at Albany, New York became a major transportation hub for the growth of the area.
1817-Thomas Hopkins Gallaudet and Laurent Clerc founded the first US public school for the deaf, Connecticut Asylum for the Education and Instruction of Deaf and Dumb Persons (now the American School for the Deaf), at Hartford, CT.
1843-birthday of Henry James, novelist and critic, born at New York, NY. Among his best-known works are The Portrait of a Lady, Washington Square and The Ambassadors. James died Feb 28, 1916, at London, England. http://classiclit.about.com/msub-hjames.htm
1850-birthday of John Longyear, American capitalist, landowner, philanthropist, one-time mayor of Marquette, MI. Disapproving of a railway route through Marquette, he caused his home, a stone castle-like showplace, to be torn down in 1903 and moved, stone by stone and stick by stick, in more than 190 freight cars and re-erected at Brookline, MA. Born at Lansing, MI, he died May 28, 1922.
1865 - Abraham Lincoln, 16th President of the United States of America, died at 7:22 a.m. Lincoln had been shot in the back of the head the previous evening while attending a performance of "Our American Cousin" at Ford's Theatre in Washington, D.C. The assassin, John Wilkes Booth, escaped, only to be hunted down and shot to death. Lincoln was carried to a boarding house across the street from the theatre. He never regained consciousness. The was Booth second attempt, but a change in Theater plans a month earlier thwarted his attempt. Vice-president Andrew Johnson was sworn in as 17th president of the United States. He completed Lincoln's term and changed the course of "reconstruction." Five days earlier, General Lee had surrendered at the Appomattox Court house, virtually ending the war. It would be eleven days later that General Joseph E. Johnson surrendered the Confederate Army of Tennessee to General Sherman near Durham Station, NC, and a few weeks later, on May 10th, Jefferson Davis was captured at Irwinville, GA, by a contingent of General James H. Wilson's cavalry, led by
Lt. Col. Benjamin Pritchard.
1869-birthday of Thomas Hart Bent, an artist whose work was indicative of the American style of painting known as Regionalism. His works of life in the Midwest and South were not always flattering to their subjects, but his style became known as a truly American style of painting. He was born at Neosho, MO, and died at Kansas City, MO, Jan 19, 197
1898-birthday of trumpet player Theodore "Wingie" Carpenter, St. Louis, MO
1912- the unsinkable luxury liner Titanic on its maiden voyage from Southampton, England, to New York, NY, struck an iceberg just before midnight Apr 14, and sank at 2:27 AM, Apr 15. The Titanic had 2,224 persons aboard. Of these, more than 1,500 were lost. About 700 people were rescued from the icy waters off Newfoundland by the liner Carpathia, which reached the scene about two hours after the Titanic went down. It is reported a ship closer did not come to
the rescue due to "illegalities" aboard. Many movies and documentaries about the monumental disaster have been filmed over the years. However, none had the exacting data gleaned by scientists from the 1986 expedition aboard "Atlantis II". Dr. Robert Ballard headed a crew and a robot named Jason in a descent to the deck of the "Titanic" aboard "Alvin", a submersible craft. They returned with information and photos that challenged and verified stories from the past. After years of studying the facts, the 1997 Academy Award-winning film, "Titanic", recreated the ship to the tiniest detail including the design on the elegant china. Although the film's love story is fictitious, the true tragedy of the Titanic can now be seen by the world some eight decades later.
1917 - Hans Conried (actor: My Friend Irma, Bus Stop, Oh! God: Book 2, Tut & Tuttle, The Monster that Challenged the World; host: Fractured Flickers TV Series and other great cartoons. He was a frequent guest on the Jack Paar Tonight Show. A great influence on the humor of "This Day in History" written by the editor of Leasing News; died Jan 5, 1982.
1920-birthday of Hilda Simms, American stage and film actress, born Hilda Moses at Minneapolis, MN. She joined the American Negro Theater at Harlem, NY, in 1943 and was given the title role in Anna Lucasta. When the production moved to Broadway in 1944, it became the first all-black production to be performed on Broadway without a racial theme. Simms was the creative arts director of New York State's human rights division, through which she was instrumental in bringing discrimination against black actors to public attention during the 1960s. She died at Buffalo, NY, Feb 6, 1994.
1922-birthday of Harold Washington, Illinois legislator and Mayor of Chicago (1983-87). Born at Chicago, IL, and died there Nov 25, 1987. Harold Washington was one of the first African Americans to head a major US city. He was instrumental in tearing down Chicago's famed Democratic machine, a holdover from the many decades of domination by the Richard J. Daley administration.
1923 - Insulin became available for general use on this day. It was first discovered in 1922. Today, insulin is used daily in the treatment of diabetes. It is extracted from the pancreas of sheep, oxen and by other means, including systemization in the laboratory. Insulin, a natural and vital hormone for carbohydrate metabolism in the body, is manufactured by the pancreas. An overabundance of insulin causes insulin shock and leads to a variety of symptoms, including coma.
1923 - Dr. Lee DeForest's Phonofilm, the first sound-on-sound film, motion picture, was demonstrated for a by-invitation-only audience at the Rivoli Theatre in New York City. The guests saw "The Gavotte", a man and woman dancing to old-time music and "The Serenade", four musicians who played on wind, percussion and string instruments.
1927 - Serge Koussevitsky directed the Boston Symphony in the first performance of Frederick Converse's symphony, "Flivver Ten Million", a salute to the 'Tin Lizzie' automobile.
1940 - Willie (William Henry) Davis (baseball: LA Dodgers [World Series: 1963, 1965, 1966/all-star: 1971, 1973], Montreal Expos, SL Cardinals, Texas Rangers, SD Padres, California Angels)
1942 - Walt Hazzard (basketball: 1964 Olympic Gold Medallist: U.S. team; LA Lakers, Seattle Supersonics, Atlanta Hawks, Buffalo Braves, Golden State Warriors; UCLA coach)
1943—birthday of singer Sam "Mighty" McClain, Monroe, LA
1945--Lionel Hampton big band, along with gust trumpet player Dizzy Gillespie, play Carnegie Hall, New York City.1947-Jacking Robinson became the first black American to play in the major leagues in the 20th century when he made his debut for the Brooklyn Dodgers against the Boston Braves. Robinson went 0-for 3 but scored the deciding run as the Dodgers prevailed 5-3.
1950-"Buck Rogers" appears on TV. At first a radio show, "Buck Rogers" premiered on ABC with Kem Dibbs. Buck was an average American who woke up from a cave behind Niagara Falls to find himself in the year 2430. The show featured Lou Prentis as Lieutenant Wilma Deering; Harry Sothern as Dr. Huer and Harry Kingston as Black Barney Wade. Buck was later played by Robert Pastene.
1952-Franklin National Bank, Franklin Square, NY issued the first bank credit card. Purchases were charged to the bank, which made the payments and then billed the card holders. The service was extended to its branches. The first bank credit card to gain national acceptance was the BankAmericard ( later called Visa) issued by the Bank of America, San Francisco, in 1959. There was no membership fee or service charge. Full-scale services were offered to cardholders and merchants. Mastercard, originally called Master Charge, was founded by a consortium of 77 western banks led by the Wells Fargo
bank.
1953--Top Hits
I Believe - Frankie Laine
Doggie in the Window - Patti Page
Till I Waltz Again with You - Teresa Brewer
Your Cheatin' Heart - Hank Williams
1955- The first franchised McDonald's was opened at Des Plaines, IL., by Ray Kroc, who had gotten the idea from a hamburger joint at San Bernardino, CA, run by the McDonald brothers. On opening day a hamburger was 15 cents. The Big Mac was introduced in 1968 for 49 cents; the Quarter Pounder in 1971 for 53 cents. There are more than 25,000 McDonald's in 115 countries.
1956 - General Motors announced that the first, free piston automobile had been developed.
1958-major league baseball came to California as the San Francisco Giants, transplanted from New York, The Bronx, to be exact, opened the season against the Los Angeles Dodgers, formerly of Brooklyn, at San Francisco's Seals Stadium. The Giants shut out their rivals, 8-0.
1969---Top Hits
Aquarius/Let the Sun Shine In - The 5th Dimension
You've Made Me So Very Happy - Blood, Sweat & Tears
Galveston - Glen Campbell
Woman of the World (Leave My World Alone) - Loretta Lynn
1971 - George C. Scott refused the Oscar for his Best Actor performance in "Patton" at the 43rd Annual Academy Awards ceremony at LA's Dorothy Chandler Pavilion. He had previously told reporters that he did not want the honor, saying (after the votes had been cast and tallied), "It is degrading to have actors in competition with each other." Scott called the Oscar ceremony, "a two-hour meat parade, a public display with contrived suspense for economic reasons." Others who did accept the golden statuette as recognition for their works that evening include: Glenda Jackson, Best Actress ("Women in Love"); Helen Hayes, Best Supporting Actress ("Airport"); John Mills, Best Supporting Actor ("Ryan's Daughter"); Fred Karlin (music), Robb Royer and James Griffin (lyrics), Best Music/Song, "For All We Know" from "Lovers and Other Strangers"; and Franklin J. Schaffner, Best Director ("Patton") ... "Patton" (Frank McCarthy, producer) also received the Best Picture honors. Other notable flicks from 1970 (some Oscar winners, some not): "Five Easy Pieces", "Love Story", "MASH", "Tora! Tora! Tora!", "Diary of a Mad Housewife". http://www.infoplease.com/ipa/A0149177.html
1973 - The richest women's golf tournament held (to that day) was won by Mickey Wright. She won the $25,000 first prize in the Colgate-Dinah Shore Golf Classic in Palm Springs, CA.
1977--Top Hits
Dancing Queen - Abba
Don't Give Up on Us - David Soul
Don't Leave Me This Way - Thelma Houston
Lucille - Kenny Rogers
1985 - 'Marvelous' Marvin Hagler helped Thomas the 'Hit Man' Hearn go nighty-night a littler earlier than expected, with a third round knockout to retain the world middleweight boxing title. Some have called the fight, "the greatest three rounds in boxing history."
1985--Top Hits
We are the World - USA for Africa
Crazy for You - Madonna
Nightshift - Commodores
Honor Bound - Earl Thomas Conley
1990-" In Living Color" premiered on TV. Fox's sketch comedy series was modeled after "Saturday Night Live." The show was created by Keenen Ivory Wayans. Between skits, the Fly Girls would entertain the studio audience with hip dances (actress Rosie Perez choreographed the dances before breaking into movies). The show featured Wayans, his brothers Damon, Marlon and Shawn, his sister Kim, Tommy Davidson, David Alan Grier, T'Keyah "Crystal" Keymáh, Kelly Coffield, Kim Coles and Jim Carrey before he was Ace Ventura. Some of the most popular recurring characters were Homey, the embittered clown, the flammable Fire Marshall Bill and the effeminate movie critics of "Men on Film."
1997-in ceremonies marking the 50th anniversary of the debut of Jackie Robinson in the major leagues, Bud Selig, chairman of baseball's Executive Committee, announced that Robinson's uniform number 42 would be retired by all major league teams. Players then wearing 42 were allowed to continue to do so, but no team would ever assign 42 again.
1998-The New York Yankees and the New York Mets each played a home game at Shea Stadium, with the Yankees defeating the Anaheim Angeles, 3-2, in the afternoon, and the Mets beating the Chicago Cubs, 2-1, at night. This unique doubleheader was occasioned by a structural accident at Yankee Stadium. a
500- pound steal beam fell from the upper deck on April 14, forcing New York City to close the park temporarily for inspection and repairs. The Yankees returned to their own home on April 25 beating the Detroit Tigers, 8-4.
1999- Astronomers from San Francisco State University working at an observatory n Arizona announced the discovery of the first multi-planet system ever found orbiting around a star other than our own. Three planets orbit the star Upsilon Andromedae, which can be seen with the naked eye. This suggests that the Milky Way probably teems with similar planetary systems.
Stanley Cup Champions This Date
1937 Detroit Red Wings
1952 Detroit Red Wings
E-Mail Removal Form: \http://65.209.205.32/LeasingNews/removalform.asp