About the company: Located on the water in
beautiful Newport Beach, California.The environment is positive.

Growing vendor based equipment leasing company
Learn our value proposition
2 Years Sales or Related Exp.
College Degree Preferred
You will work with people
that you can trust and respect
Click here to learn more


Wednesday, August 6, 2008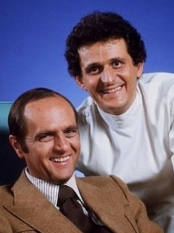 (Photo date: 1974 "Bob Newhart Show, The" Bob Newhart, Peter Bonerz 1974 CBS Photo by Gene Trindl - © 1978 Gene Trindl - Image courtesy MPTV.net)
Peter Bonerz, actor, director, born Portsmouth, NH, Aug 6, 1938. He tried his own show as Orthodontist Jerry Robinson, has made many appearances on TV shows such as "Friends," "Murphy Brown," but he is perhaps best known as the orthodontist friend of Bob Newhart.
Headlines---
Letter from Gary Shivers
Classified Ads---Legal/Attorneys for Hire
Marlin still a "Wrong Way Corrigan" company
Marlin Sues Direct Capital et. al.
Classified Ads---Help Wanted
Amembal-Rafter's WLN is on line
Sales makes it Happen---By Charlie Lester
"The Receptionist"
RCC, related to LEAF, 2nd Q Results
Is Auto Leasing Really Dead?
Western Alliance names Brown Prez. Leasing
Latin American Equipment Leasing Industry
HSBC Bank Canada to acquire HSBC Financial
Depositors can protect up to $50 million
Job Growth Not Only Factor in Reducing Poverty
Analysts: Mortgage defaults to accelerate
U.S. Farmland Values Reach Record
In a dilemma, Fed stands pat on rates
Nearly 300K powerless as storms hit Midwest
News Briefs---
Paris Hilton for President
You May have Missed---
California Nuts Brief---
Sports Briefs---
"Gimme that Wine"
Calendar Events
Snapple Real Facts
Today's Top Event in History
This Day in American History
Baseball Poem
SuDoku
Daily Puzzle
GasBuddy
Weather, USA or specific area
Traffic Live----
News on Line---Internet Newspapers
Maui, Hawaii
######## surrounding the article denotes it is a "press release"
------------------------------------------------------------------------------

Letter from Gary Shivers
"Former president and director of Marlin Leasing, co-founding the company in 1997.
1986 to 1997, Gary served in a number of positions, most recently as senior vice president and general manager of the equipment leasing division for Advanta Business Services, where he was involved in strategic planning, sales and marketing, credit and collections and asset management."
http://www.thealtagroup.com/conference/bio-shivers.htm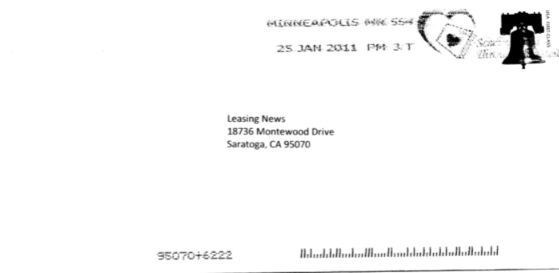 Dear Kit,

Thank you for your kind words in your recent article. Although I did not intend to make any announcements about my future at this point, I figure that it is better to fill the information void to the best of my ability. The non-compete restriction in my separation agreement with Marlin expired August 1, 2008. I do have other ongoing restrictions; I cannot hire any person that was an employee of Marlin on my separation date, or is currently an employee, until February 1, 2009. I also have common law type restrictions on confidential and proprietary information. Other than these, I am free to compete in whatever business I choose.

The past eighteen months have been an incredible experience for my wife (known to many people in the industry as Laura Blessing, now Laura Shivers) and I. We kept ourselves very busy travelling and pursuing activities that we had long dreamed of, but never had the time for. Yet, one day you wake up and realize that there is too much that can be accomplished at the prime of one's life. So we have spent many hours planning the next phase of our professional lives.

We plan on starting a company in Jacksonville, Florida, where we relocated to after my separation from Marlin. We spent a great deal of time planning a new approach to small business finance that we believe will be highly successful. The strategy differs with that of the past and is built upon what we think are the new realities of the market. We plan on creating a unique environment that will attract talented people from many different backgrounds and allow for long term management control of the company.

As to my past employer, Marlin, I wish them the best of luck. I had a great run while I was there, and I deeply miss the many friends that I worked with for so many years.

Thank you for your interest in me and I will keep you updated.
Gary R. Shivers
Shivers is Back:
http://www.leasingnews.org/archives/August%202008/08-04-08.htm#back
--------------------------------------------------------------

Classified Ads---Legal/Attorneys for Hire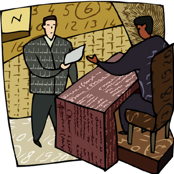 San Diego, CA
Experienced in-house corporate, equipment leasing and financial services attorney seeks position as managing or transactional counsel. Willing to relocate.
Cell Phone: 760-533-4058;
Email: sandidq@msn.com
Birmingham, Alabama
The lawyers of Marks & Weinberg, P.C. have over 30 years experience in dealing with virtually every type of equipment financing and are recognized throughout the industry for prompt, practical solutions and exemplary service. They offer cost-conscious, effective lease enforcement and good counsel.
Email: Barry@leaselawyer.com
Website: www.leaselawyers.com
California, National: city: Riverside
Ellen Stern - get results, reasonable pricing; numerous industry contacts, nearly 30 yrs exp.in SoCal, 20 yrs equip.: CFL license specialist, documentation, work-outs, litigated collections, recoveries; deal-maker.
Email: leaselaw@msn.com | UAEL


Kenneth C. Greene
California & Nevada
Hamrick & Evans, LLP, Universal City , LA; San Francisco Bay
Area, No.Calif. & Nevada. Call for free consultation (828)763-5292 or (415) 806-2254,
kgreene@hamricklaw.com

Connecticut, Southern New England: EVANS, FELDMAN & BOYER, LLC Collections, litigation, documentation, portfolio sales and financing, bankruptcy. We represent many of the national and local leasing companies doing business in this state. Past chairman EAEL legal committee. Competitive rates.
email: rcfeldman@snet.net EAEL
Law Firm - Service, Dallas, TX. ELA
Mayer regularly practices in leasing, secured financing, project development and finance and corporate finance.
email: dmayer@pattonboggs.com
Website: www.pattonboggs.com
Los Angeles, Statewide: CA. "ELA" Aggressive creditors rights law firm specializing in equipment leasing handling collection matters on a contingency, fixed fee or hourly basis. email:RGarwacki@prodigy.net

Los Angeles -statewide: CA "ELA "
Practice limited to collections, bankruptcy and problem accounts resolution. Decades of experience. 10-lawyer firm dedicated to serving you. Call Ronald Cohn, Esq. (818)591-2121 or email. Email: rrcohn@aol.com


Long Beach, CA
Wagner & Zielinski, successfully representing lessees/ lessors. Not a member of any leasing organization, therefore not beholden to special interests. Richard Wagner
(562) 216-2952 www.wzlawyers.com

Long Beach CA.
Paul Bent -- 30 years experience in all forms of equipment leasing, secured lending, and asset based transactions, from analysis and deal structuring to contract negotiations to closing to private dispute resolution. (562) 426-1000
www.paulbent.com

National: Coston & Rademacher: Business attorneys serving the lease-finance industry since 1980. Transactional, documentation, corporate/finance, workouts, litigation, bankruptcy, portfolio management. Chicago-based national practice. Jim Coston, CLP (Members: UAEL, ELA, MAEL).
email: Jcoston@costonlaw.com
Website:www.costonlaw.com

St. Louis County , MO. - statewide:
Schultz & Associates LLP., collections, negotiation, and litigation. Also register and pursue recovery on foreign judgments. Contingency and reasonable hourly rates.
Ronald J. Eisenberg, Esq. (636) 537-4645 x108
reisenberg@sl-lawyers.com
www.sl-lawyers.com

Westport, CT: We represent finance companies, banks, lessors, etc., in replevins/seizures, collections and bankruptcy matters in Connecticut and New York. Flat fee, contingency and hourly rates.
Email: rchinitz@replevinlawyer.com
For a full listing of all "job wanted" ads, please go to:
http://www.leasingnews.org/Classified/Jwanted/Jwanted.htm
Leasing Recruiters:
http://www.leasingnews.org/Recruits/index.htm
To place a free "job wanted" ad here, please go to:
http://www.leasingnews.org/Classified/Jwanted/Jwanted-post.htm
--------------------------------------------------------------

Marlin still a "Wrong Way Corrigan" company
by Christopher Menkin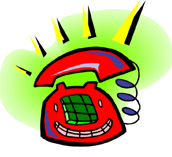 In its telephone conference call yesterday, Marlin Business Services' (mrln) Dan Dyer, CE0, George Perose, Exec. VP, and Lynne Wilson CFO, all attributed the two-third down second quarter 2007 compared to 2008 as a result of "the economy." It was $1.7 million compared to $5.178 million.
In fact, their net income has been on a down curve as their stock
has been, too (net income in millions):
$5,027
$5,178
$5,028
$3,053
$1,359
$1,700
In the telephone conference call they told stock broker analysts that leasing companies were experience difficult times, banks were getting out of leasing, mentioning Irwin Business Finance.
They did not mention the cause primarily being banks with subprime difficulties or that State Bancorp sale of Studebaker-Worthington was to Main Street Bank in Texas or Mechanics Bank in California getting into leasing or Bob Robichaud, CLP, or Steve Tidland, CLP, setting up a leasing program for Commerce National Bank in Southern California or Dean R. Ceglia, new VP at Comerica Bank Business Leasing Division in San Jose, Northern California.
They also didn't report about such companies as SC Equipment reporting how good business is, or the Equipment Leasing and Finance Association MLFI-25 survey (Marlin is also one of the 26):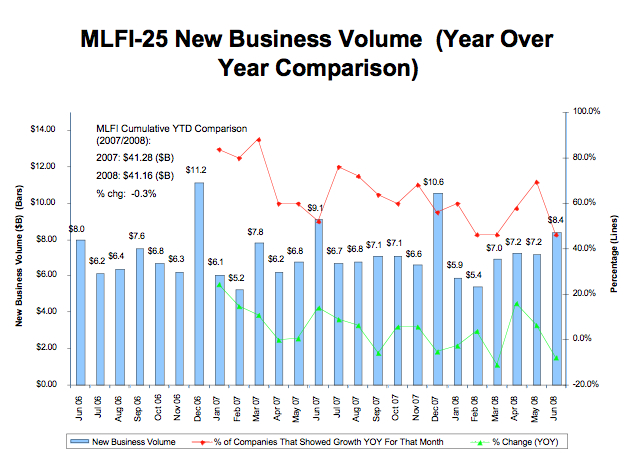 In their six month SEC filing, Marlin states:
"Our principal competitors in the highly fragmented and competitive small-ticket equipment leasing market are smaller finance companies and local and regional banks. Other providers of equipment lease financing include Key Corp, De Lage, Landen Financial, GE Commercial Equipment Finance and Wells Fargo Bank, National Association."
Their leasing divisions were doing quite well, it was reported.
The telephone conference call also did not mention the various law suits they have which include Direct Capital and previous employees.
Leasing News attempted to ask these questions, but was not called upon. Many were asked more than two questions, the limit for the first time, and second round questions were also taken.
This is what was revealed in the conference not in the SEC filing:
CFO Lynne Wilson reported "B Corp" (sic) loans were down and it appeared Marlin was backing away from this product, although not explained.
There were questions regarding the $47 million was drawn from their industrial bank in Utah with $20.25 more million perhaps available by the end of the year, giving them a lower cost of funds.
Several of the delinquency rates were up, stock broker analysts noted, particularly the 60 day plus to 3.2% and the credit loss available was increased in anticipation. They evidently did read the financial statements, but it is my personally experience, few bankers actually understand leasing financial statements with their phantom income, walking up residuals, and the various yearly changes that affect the numbers. Some wags call it a "house of mirrors." I say that's why the accountants who specialize in this field get the big bucks. I won't say any more as my mentor told me never "bad mouth" an accountant or a credit officer.
It is interesting to compare the six quarter 2008 to 2007 the
interest expense and the fee income.
Interest $44,823
Fee income: $11,159
Income: $55,982
Int. Exp. $19,606
Interest $49,588
Fee Income:$10,801
Income: $54,389
Int. Exp. $10,801
As interesting, what is the fee income?
"The increase in fee income was primarily due to higher administrative and late fees that grew by $2.6 million to $14.0 million for the year ended December 31, 2007 compared to $11.4 million for the year ended December 31."
December 31, 2007 SEC filing
There were 8,423 leases signed the first six months. Even at $150
each for "doc fees," this is $1.26 million with the remainder "late
charge" fees? That's almost $10 million in profit from late fees,
if that is the answer. And yes, fee income is up for the first six
months, too.
As a matter of fact, every other number but income is up in the
first six months:
Equipment Volume (in thousands of dollars)
$102,652
$97,260
$86,167
$87,670
$70,550
$97,260 compared to $86,167 equipment volume
Average Monthly Sources
1,337
1,279
1,180
1,186
1,091
1,279 up
Number of Leases:
8,639
8,423
7,609
7,615
8,423 six month up
Approval Percentages
62%
58%
60%
56%
50%
58% up (60 a year ago)
Net income (in thousands)
$5,027
$5,178
$5,028
$3,053
$1,359
$1,700 compared to 5,178 (Down 2/3rds)
--going up--
Salaries and Benefits Expense (thousands of dollars)
$5,716
$5,113
$5,257
$5,243
$5,870
$6,344 salaries and benefits
Total personnel end of quarter
311
324
331
357
354
303
Sales Personnel
96
97
105
118
108
97
The six month SEC filing was on line after the telephone conference.
Average transaction was $10,000, down from $10,300.
Equipment Category Percentage
Copiers 20.20 %
Commercial & Industrial 9.43 %
Computers 7.34 %
Telecommunications equipment 6.99 %
Security systems 6.43 %
Restaurant equipment 5.09 %
Closed Circuit TV security systems 4.72 %
Medical 4.64 %
Computer software 4.40 %
Automotive (no titled vehicles) 3.95 %
Water filtration systems 2.77 %
Cash registers 2.51 %
Office Furniture 2.30 %
All others (none more than 2.0%) 19.23 %
• we had leases outstanding with end user customers located in all 50 states and the District of Columbia,
State Percentage
California 14.36 %
Florida 9.26 %
New York 7.60 %
Texas 7.14 %
New Jersey 5.64 %
Georgia 4.19 %
Pennsylvania 3.95 %
North Carolina 3.29 %
Massachusetts 3.19 %
Illinois 3.00 %
Ohio 2.97 %
All others (none more than 2.5%) 35.41 %
Leasing News has made many attempts to ask questions by telephone, email and conference call. Leasing News welcomes any response from Marlin Business Services and its officers.
Six Month SEC filing:
http://leasingnews.org/PDF/Marlin_8-4-08.pdf
Full 10K Filing, HTML (40 pages, but fast download):
http://leasingnews.org/PDF/Marlin_10-Q_6-30-08.pdf
--------------------------------------------------------------

Marlin Sues Direct Capital et. al.
by Christopher Menkin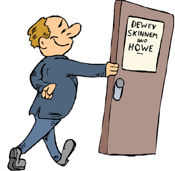 Not mentioned in the Marlin Business Service telephone conference, nor in the SEC filings are the various law suits.
There is a general statement in the SEC filings, however:
"We are party to various legal proceedings, which include claims and litigation arising in the ordinary course of business. In the opinion of management, these actions will not have a material adverse effect on our business, financial condition or results of operations."
Being a "party," is attorney speak for those that you also initiate.
In this first instance, Marlin Business Service is suing Direct Capital Corporation, Portsmouth, New Hampshire along with Harry D. McEnroe, Christian Caruso, George Wade, Darren Anthony, all
ex-employees of Marlin. You guessed it, they allegedly stole secrets and brought them to Direct Capital, a well-funded, successful, aggressive, innovative company, who needs the Marlin so-called
secrets like they need another hole in their head. Chris Boom is laughing as he gets another chance to champion his company.
Marlin picked on the wrong guy.
In the original filing, "Marlin seeks injunctive relief and an award of monetary damages against Defendants who, through their concerted efforts, misappropriated the proprietary business model, documents, and business knowledge Marlin spent years developing and perfecting. by unlawfully accessing and using systems, processes and information developed by Marlin to further the business of direct Capital, Defendants engaged in unfair competition which allowed Direct Capital to avoid the expense and time required to invest in and develop its own business independently."
The court records are long, but the gist of the matter is stated above.
Direct Capital denies the charges. A hearing is set for September 2, 2008 at the US District Court, the United States Courthouse in Camden, New Jersey.
Copies of the complaint, the proceedings and other documents follow this story to give further details to readers.
42 Page, 2.19mb download Marlin filing (explains case):
http://leasingnews.org/PDF/Marlin_v_DirectCapital.pdf
Response and hearing notice:
http://leasingnews.org/PDF/Marlin_v_DirectCapital2.pdf
Leasing News is attempting to confirm a Marlin Business Service suit, or pending suit, against the officers and Latitude Equipment Leasing, Marlton, New Jersey. None of the parties will confirm
or deny.
August 17, 2007 Marlin filed with the SEC:
"The Company today announced the dismissal of two of its sales managers. They were terminated for actions inconsistent with their duties to the Company. An investigation of this matter is ongoing."
This was the result of the termination of Mike Bennie, who along with ex-Marlin Gary Kester, started Latitude Equipment Leasing, and later attracted Marlin co-founder Bill Waddell. During this time, Dominic Janney allegedly felt he was next after Mike Bennie, the former vice-president of the leasing broker division, who was fired April 2007. Both Janney and Mancini reportedly thought they would be next and allegedly started working on a business plan to start a small ticket leasing company on their own. Bennie started working on an investor plan right away instead of looking for employment elsewhere. He told Leasing News then he did not want to work for a large leasing company again such as Marlin or Advanta. The rumor that Janney, Mancini, and Gallo would join Bennie in a separate company was not true. Reportedly three employees were caught with a prospectus to start another company. In letting them go, in reportedly two separate meetings, all the employees were called in and told that Vice-President Dominic Janney, Tom Mancini, and Joe Gallo were let go because they were recruiting Marlin employees for a new leasing company, according to five highly reliable sources.
It appears the same approach with Direct Capital is happening with Latitude, although some call it a grudge. Any information to confirm or deny this please send to kitmenkin@leasingnews.org,
"on" or "off the record."
More on Bennie and Latitude:
http://www.leasingnews.org/Conscious-Top%20Stories/More_on_Bennie.htm
http://www.leasingnews.org/Conscious-Top%20Stories/Kester&Bennie.htm
--------------------------------------------------------------

Leasing Industry Help Wanted
National Account Manager

Arizona * California * Illinois * Minnesota

TOP PERFORMERS ONLY
SINCE 1995
National Account Manager
60% commission. APP only to $ 250,000. No industry/geo restrictions. Tremendous flexibility/freedom: your home office or our regional offices. BJohnson@Alliancecap.com


Vendor Sales Specialists


VENDOR SALES SPECIALISTS
LEASING SALES PROFESSIONALS
Like selling vendor programs and large transactions?
Enjoy international financing programs?
Prefer the advantages of a commission only environment with the security of health and welfare benefits?
CLICK HERE to find out how to have fun again.

About the company: Located on the water in
beautiful Newport Beach, California.The environment is positive.

Growing vendor based equipment leasing company
Learn our value proposition
2 Years Sales or Related Exp.
College Degree Preferred
You will work with people
that you can trust and respect
Click here to learn more


Please see our Job Wanted section for possible new employees.
--------------------------------------------------------------

Amembal-Rafter's WLN is on line

Readers do not have to register to visit the web site: www.worldleasingnews.com
(not affiliated with www.leasingnews.org)

The registration is only if you want bi-weekly emails and the digital magazine, as well as magazine information.
"The news will be updated daily. Twice a week subscribers will also receive e-mail updates with highlights and direct links to the online content. At the end of each month, WLN will publish a downloadable/printable digital magazine with the month's editorial content and send it to its subscribers. Committed to revolutionizing how the industry gets news and information, WLN will offer the world of leasing though narrative, audio-visual interviews, webinars and blogs. "
Lisa Rafter for more information (215) 765-2646;
lisarafter@worldleasingnews.com


Sudhir Amembal
Co-Publisher
(Photo: WLN)
"Over the past 30 + years since I began teaching leasing, I have mostly dispensed knowledge in the classroom and through a host of leasing publications. Though I plan on continuing to teach and write, I began to feel that this type of dissemination is simply not enough in the Internet age!
"Thus, several months ago, I felt the need to search for a joint venture partner who would work shoulder to shoulder with me to launch an online magazine that is timely relevant and useful.
"It was an incredible coincidence that the same thoughts and plans were going through the mind of Lisa Rafter at the same time! We had known each other for 20 plus years and as we shared our thoughts, plans and dreams we decided to partner this new venture, World Leasing News.
"Our objective is to have the widest and deepest reach of any leasing periodical in the world. We will accomplish this through timely and meaningful content brought to you online, through e-mail blasts and a monthly digital magazine.
"Lisa and I are proud to launch World Leasing News and we hope you will find it to be an essential part of your everyday professional life."


Lisa Rafter
Co-publisher
(Photo: WLN)
"I have had the privilege of publishing in the equipment leasing industry for over 20 years. Over the years, I've learned the value of timely news and information for industry professionals. The Internet has made this available every day!
"However, while equipment leasing news is made available every day through a variety of websites, you have to wait and check your mail for feature articles and in-depth information. And in the age of the Internet, that's a long time!
"So when Sudhir Amembal and I sat down and began creating the ultimate equipment leasing website, we knew a 24/7 online industry magazine would be revolutionary. And it is. You will find updates every day of news, featured articles, executive interviews, blogs and more. It will transform the way you access everything you need.
"Enjoy World Leasing News for everything it has to offer. We know it will make a difference!"
"World Leasing News is a separate entity and not affiliated with Leasing News "
--------------------------------------------------------------

Last week's Wednesday the column "Sales Makes it Happen" was by Charlie Lester, who the day before celebrated his 36th wedding anniversary (part of the column.) Charlie sent us a recent photo of he and Barbara that Leasing News would like to share with you: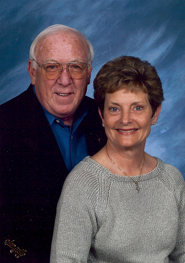 Sales Make it Happen --- by Charlie Lester
"The Receptionist"

Everyone is important. Sometimes the person you might think as having the most common, low paying job might be the key to the success of your company.

Here is one from semi-retired Charlie Lester, from LPI Financial, formerly Lease Pro, among others; a dean in our industry, Leasing

News Advisory Board emeritus:

"As part of my initial training with IBM in 1966, I was assigned for a month as an AA to Tom Watson, Sr., the founder of IBM. When we traveled to IBM Branch Offices in the Eastern Region, Mr. Watson would always spend 10-15 minutes with the receptionist before seeing anyone else, including the Branch Manager.

"First of all, he preached that the receptionist was the most important person in the branch. She was the first contact and voice that IBM customers encountered. She set the image for the entire branch. In addition, he believed the receptionist was tuned into branch attitude and spirit. He used the receptionist as a barometer, not as a spy.

"He also had AA's, like me, keep lists of branch receptionists and when there was a receptionist change in a branch, we would alert him and he would call and introduce himself to the new receptionist. Since the receptionist leaving the position had normally been promoted, he would also call her and congratulate her on the promotion.

"Mr. Watson had a profound influence on me since I married the receptionist in the Roanoke, Virginia branch where I started as a salesman. We have been happily married for 36 years; yesterday

(July 29th ) was our anniversary and we are still going strong. I guess Mr. Watson was right."

Sales Makes it Happen articles:
http://www.leasingnews.org/Legacy/index.html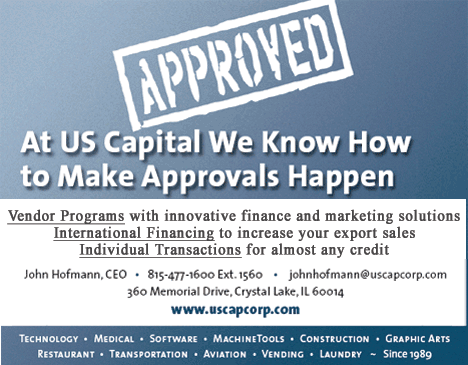 --------------------------------------------------------------

RCC, related to LEAF, 2nd Q Results
REIT taxable income, a non-GAAP measure, for the three and six months ended June 30, 2008 was $9.4 million and $21.5 million as compared to $10.5million d $20.2 million, a decrease of $1.1 million (10%) and an increase of $1.3 million (6%), respectively. RCC announced a dividend distribution of $0.41 per common share for the quarter ended June 30, 2008, unchanged from the quarters ended March 31, 2008 and June 30, 2007.
Jonathan Cohen, CEO and President of RCC, commented, "With the exception of one loan which defaulted in the first quarter of 2008 that we fully reserved for this quarter, the credit quality of our loan portfolio appears to be stable in the current credit environment. We have increased our general reserves but feel confident that our portfolio quality is intact. Although our prepayments this quarter were virtually non-existent, we expect that prepayments will increase, based upon our conversations with several of our borrowers. As these prepayments occur, we will be able to continue to reinvest at very attractive spreads thereby increasing portfolio income and realizing exit fees. We also worked hard to eliminate all but $880,000 of short term recourse liabilities."
Full Financial Statement Here:
http://phx.corporate-ir.net/phoenix.zhtml?c=192004&p=irol-newsArticle&ID=1183254&highlight=
---------------------------------------------------------------
### Press Release ###########################

Is Auto Leasing Really Dead?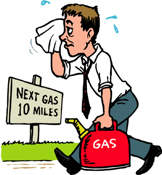 Alexandria, VA, - The National Vehicle Leasing Association (NVLA) today announced its synopsis of the current condition of the auto leasing industry.
According to the experts at the National Vehicle Leasing Association, leasing is not dead. In fact, there is an opportunity to capitalize on the gap in the market that exists now that some major banks and the Big Three auto manufacturers have retreated from leasing.
Headlines in every major publication heralded this news, amongst other dismal economic data. The front page of the Wall Street Journal read "Chrysler Retreats on Leases." Interestingly, the subhead line said "Move Could Dent Sales Further." This raises an interesting point, one that the manufacturers are hoping won't play out the way the NVLA believes it will. This stems from the simple fact that not everyone will want to sign up for a 72-month purchase finance in order to make their monthly payments affordable.
Where does that leave the independent vehicle lessor? Where do opportunities lie? And where are the pitfalls lurking? Residual values and underwriting are the vehicle leasing industry's Achilles' heel. Leasing is absolutely not dead. And, now more than ever, there is a growing need for the independent vehicle lessor. Here's why:
- Foreign captives, banks and credit unions are ready to take up the slack.
- Independent leasing companies can provide financing options to dealers, especially domestic dealers who now really need a viable option for their customers.
- Trade cycles now, more than ever, need to be shortened for dealers to survive, and leasing is the only proven mechanism to achieve this.
- Leasing is inherently good for the consumer, affording them more options and less financial risk than ownership, especially when compared to a long-term finance agreement.
- Who really wants to keep a car for six years? A three-year commitment with an option to purchase is more desirable for most car purchasers.
- Pre-owned leasing, a staple of most independent leasing companies, is set to hit the big leagues, offering lessors better protection with lower residuals and lessees with the lower monthly payments they need.
Without independent vehicle lessors to fill this gap, how will domestic car dealers be affected by the recent moves in the marketplace?
- A lack of leasing options will send some customers to imports.
- Dealers will be forced to extend terms and trade cycles to reach saleable payments.
- Floor plan costs will rise.
- Increased trade cycles will further erode new car sales.
Without independent vehicle lessors, how will consumers be affected?
- Consumers that inevitably want to trade out after the lease will have negative equity.
Fewer financing options equal less competition and higher costs to the consumer.
With the announced exit of a few major players from the leasing business in the past month, including captives as well as larger bank players such as Wells Fargo and Chase, funding will once again be at the forefront of our business challenges. Tight credit markets will not serve this industry well. However, discipline and sound business practices will allow those employing them to succeed, even in difficult times.
The NVLA has a host of dedicated funders that seek to do business with NVLA members, as these funders know that NVLA membership signifies a commitment to this industry, and to business excellence as a whole.
About the National Vehicle Leasing Association (NVLA) www.NVLA.org
NVLA provides educational opportunities, promotes responsible legislation and communicates with members regarding developments and trends in vehicle leasing. NVLA promotes the independent leasing industry while encouraging the highest ethical and professional standards.
-Tarry E. Shebesta, OCLC (Ohio Certified Lease Consultant)
President, LeaseCompare.com
Immediate Past President, National Vehicle Leasing Association (NVLA)
Tarry@LeaseCompare.com / 800.223.4882 ext. 11
### Press Release ###########################

Western Alliance Bancorporation names Brown president of
Equipment Finance/Leasing Division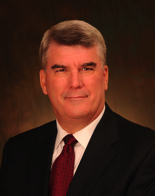 PHOENIX – Western Alliance Bancorporation President and CEO Robert Sarver announced this week that Michael Brown has joined the company as president and CEO of its affiliate Western Alliance Leasing.
"Western Alliance is pleased to have Mike Brown as a member of our team and leading our equipment finance/leasing group," said Sarver. "He (Brown) is well respected in the leasing industry and brings a wealth of equipment financing knowledge to our clients. With his expertise and leadership, we plan to continue to grow our leasing division and provide valuable partnerships to our business clients in Arizona, California and Nevada."
Brown joins Western Alliance after serving as executive vice president/Group Head of CIT Group, Equipment Finance the past three years. Prior to that, he spent 13 years at Wells Fargo where he managed regional leasing and equipment financing over a 12-state territory. With 25 years of equipment finance and leasing experience, Brown is a respected and familiar face in the banking and equipment financing industry.
As an active member of the equipment financing industry, Brown currently serves as a board member of the Equipment Leasing and Finance Foundation and is currently serving on the Governmental Affairs and Membership Committees. He also received a B.S. in Business Administration from Kansas State University.
Brown and his team are located at the East Gateway Centre in Phoenix, Ariz., along with its affiliate Alliance Bank of Arizona. The WAL Leasing phone number is 602.797.3606.
Western Alliance Leasing is an affiliate of Western Alliance Bancorporation serving customers in Arizona, California and Nevada. Specializing in equipment financing, Western Alliance Leasing is dedicated in providing a relationship-based approach to product delivery, superior customer service, local representation and responsiveness with judicious and focused risk management.
Western Alliance Bancorporation is the parent company of Western Alliance Leasing, Alliance Bank of Arizona, Bank of Nevada, First Independent Bank of Nevada, Torrey Pines Bank, Alta Alliance Bank, Miller/Russell & Associates, Shine Investment Advisory Services, Premier Trust, and PartnersFirst. These dynamic organizations provide a broad array of banking, leasing, trust, investment, and mortgage services to clients. Additional information can be accessed on the company's website,
www.westernalliancebancorp.com.
### Press Release ###########################

Latin American Equipment Leasing Industry
Expanding at 'Extraordinary' Pace
The Alta Group's LAR 100 Report Notes Positive Impact on Economy, Exceptional Growth in Brazil, Venezuela, Costa Rica

FORT LAUDERDALE, FL.,– Latin America's equipment leasing industry is producing "extraordinary" growth, especially in Brazil, according to a new report by The Alta Group - Latin American Region (LAR). This is a good sign for the Latin American economy, as equipment leasing gains correlate with increased capital investment and the expansion of wealth.
However, the report does caution that Brazil's heady growth is likely to slow in 2008-2009 due to a number of factors, including the large number of motor vehicle leases that are currently among its portfolios.
The annual Alta LAR 100 report, now in its fourth year, is the only study that ranks the top equipment leasing companies operating in Latin America and estimates the size and growth of leasing industries by country. The 2007 report, just released, shows that Latin America's equipment leasing industry increased by 81 percent in U.S. dollars and 71 percent when adjusted for currency volatility, far beyond its Gross Domestic Product (GDP) growth rate of 5.6 percent.
Brazil's equipment leasing industry, which represents close to 60 percent of the total leasing portfolios in Latin America, outpaced all other countries and expanded by nearly 105 percent.
"The phenomenal growth in Brazil is particularly interesting," said Rafael Castillo-Triana, managing principal of Alta's Latin American Region and co-author of the report. "One reason for Brazil's success is the sound regulation of its leasing industry. We expect more growth in the future but predict the rate will slow starting in 2008 and 2009. A large percentage of Brazil's leasing portfolios are concentrated in motor vehicles, and that market seems to be reaching its saturation point. High prices, especially high oil prices, may also have an impact."
"Longer term, Brazil should do fine because it has a well developed agricultural industry and the potential to increase leased assets for agricultural equipment, construction equipment for infrastructure projects, and technology."
Other countries experiencing growth beyond the regional average included:
Venezuela – Up 72 percent in 2007. Castillo-Triana attributes this to the country's high liquidity. "Despite its political reputation, the financial system in Venezuela is moving along very well," he said.
Costa Rica –Up nearly 95 percent in 2007. Castillo-Triana believes Costa Rica is starting to see the benefits of the Central American Free Trade Agreement (CAFTA) and notes that large enterprises like Scotiabank have been expanding lease portfolios there
The report will also be among the topics covered at two upcoming conferences: The First Latin American Legal Forum on Equipment Leasing Aug. 21-22, and Alta's annual Latin American Leasing Conference held each fall.
Report:
http://leasingnews.org/PDF/Latin_American_Leasing_Growth.pdf
The report will also be among the topics covered at two upcoming conferences: The First Latin American Legal Forum on Equipment Leasing Aug. 21-22, and Alta's annual Latin American Leasing Conference held each fall.

About The Alta Group
The Alta Group is a global consultancy serving equipment leasing and finance companies, investment professionals, manufacturers, banks, and government organizations. Founded in 1992, Alta provides counsel and implementation for change, growth, and best practices to clients in North America; Latin America; Western, Central and Eastern Europe; Australia; and China. For more information, please visit http://www.thealtagroup.com.

Media Contacts:
Rafael Castillo-Triana
Managing Principal, Alta LAR
(954) 389-7943
rafael.castillo@thealtagrouplar.com

Ricardo Muñoz-Medina
Principal, Alta LAR
(305) 931 2748
ricardo.munoz@thealtagrouplar.com
### Press Release ###########################
--------------------------------------------------------------

News Briefs----
HSBC Bank Canada to acquire HSBC Financial
http://www.investmentexecutive.com/client/en/News/DetailNews.asp?id=45582&
IdSection=149&cat=149&BImageCI=1
Depositors can protect up to $50 million
http://www.dallasnews.com/sharedcontent/dws/bus/columnists/pyip/stories/
DN-moneytalk_04bus.ART.State.Edition1.4d82365.html
Job Growth Not Only Factor in Reducing Poverty in Large Metro Areas
http://www.newswise.com/articles/view/543208/?sc=dwhn
Analysts: Mortgage defaults to accelerate, peak in a couple of years
http://www.dallasnews.com/sharedcontent/dws/dn/latestnews/stories/
080308dnnatmortgage.10c3dd93.html
U.S. Farmland Values Reach Record on High Crop Prices
http://www.bloomberg.com/apps/news?pid=20601087&sid=a2FmZilSagA0&refer=worldwide
In a dilemma, Fed stands pat on rates
http://www.bankrate.com/brm/news/fed/main-Aug052008-a1.asp
Nearly 300K powerless as storms hit Midwest
http://www.usatoday.com/weather/storms/2008-08-05-midwest-storms_N.
htm?loc=interstitialskip
Whole Foods profit drops 30%, drastically lowers outlook
http://www.usatoday.com/money/companies/earnings/2008-08-05-whole-foods_N.htm
Weyerhaeuser cutting 1,500 corporate jobs, posts third consecutive quarterly loss
http://seattletimes.nwsource.com/html/businesstechnology/2008092515_webweyco05.html

Morgan Freeman "Doing Well" Postsurgery
http://www.eonline.com/uberblog/marc_malkin/b22177_morgan_freeman_
doing_well_postsurgery.html
---------------------------------------------------------------


You May have Missed--
Paris Hilton for President
http://www.funnyordie.com/videos/64ad536a6d
(This ad is a "trade" for the writing of this column. Opinions
contained in the column are those of Mr. Terry Winders, CLP)
---------------------------------------------------------------

Sports Briefs----
Wounds won't heal with Favre and the Packers
http://sports.yahoo.com/nfl/news?slug=ap-packers-favre&prov=ap&type=lgns
49ers vs. Raiders in Napa, play Friday opposite Olympic opening
http://www.pressdemocrat.com/apps/pbcs.dll/gallery?Avis=SR&Dato=20080804&Kategori
=NEWS&Lopenr=262163387&Ref=PH&show=galleries&template=multimedia
----------------------------------------------------------------


California Nuts Briefs---
State budget stalemate continues
http://www.sfgate.com/cgi-bin/article.cgi?f=/c/a/2008/08/05/BA1O125MC5.DTL
----------------------------------------------------------------


"Gimme that Wine"
Crisp, Refreshing and Greek --Eric Asimov
http://events.nytimes.com/2008/08/06/dining/reviews/06wine.html?ref=dining
Greeks aim to improve their wines
http://www.canada.com/victoriatimescolonist/news/story.html?id=5c703106-
b640-4ecd-a26d-d1e42392c69b
10 best new Australian wineries
http://www.news.com.au/heraldsun/story/0,21985,24124758-2862,00.html
Missouri Winemakers Head Back to Classroom
http://www.winesandvines.com/template.cfm?section=news&content=57473
Gary Vaynerchuk: The wine world's new superstar
http://www.belfasttelegraph.co.uk/lifestyle/food-and-drink/gary-vaynerchuk-the-
wine-worlds-new-superstar-13929934.html
Wine Prices by vintage
http://www.winezap.com
http://www.wine-searcher.com/
US/International Wine Events
http://www.localwineevents.com/
Winery Atlas
http://www.carterhouse.com/atlas
Leasing News Wine & Spirits Page
http://two.leasingnews.org/Recommendations/wnensprts.htm
The London International Vintners Exchange (Liv-ex) is an electronic exchange for fine wine.
http://www.liv-ex.com/
----------------------------------------------------------------

Calendar Events This Day
Bolivia: Independence Day
National holiday. Gained freedom from Spain in 1825. Names after Simon Bolivar
Hiroshima Day
Memorial observances in many places for victims of the first atomic bombing of a populated place, which occurred at Hiroshima, Japan, in 1945, when an American B-29 bomber dropped an atomic bomb over the center of the city. More than 205,000 civilians died either immediately in the explosion or subsequently of radiation.
National Fresh Breath Day.
www.goldesmile.com
National Fried Chicken Day
Wiggle Your Toes Day
http://holidayinsights.com/moreholidays/August/wiggleyourtoes.htm
http://homeschooling.about.com/od/freeprintables/ss/surveyprint_2.htm
Saint feast Days
http://www.catholic.org/saints/f_day/aug.php
----------------------------------------------------------------

At Jack Russell Stadium in Clearwater, Florida, on June 26, 1985, organist Wilbur Snapp played "Three Blind Mice" following a call by umpire Kevin O'Connor. The umpire was not amused, and saw to it that Mr. Snapp was ejected from the game.
----------------------------------------------------------------

Today's Top Event in History
1925-Birthday of Bill Haley, rock 'n' roll's first teen idol, born in Highland Park, Michigan. Haley, with his group, the Saddlemen, at first played country-and-western, but in 1952 he dropped the cowboy image and changed the band's name to the Comets. Haley began recording cover versions of R'n'B hits, and in 1953, his "Crazy Man Crazy" became the first rock 'n' roll record to make the Billboard pop chart. Bill Haley and the Comets' biggest success came in 1955 when "Rock Around the Clock" rose to number one. Haley was the most popular rock 'n' roll idol until Elvis Presley came along, but by 1958 his career was basically over. He continued to work as a nostalgia act, mainly in Britain and Europe. Haley died on February 9th, 1981 in his hometown of Harlingen, Texas.
http://www.rockabillyhall.com/BillHaley.html
[headlines]
----------------------------------------------------------------

This Day in American History
1727- The first Roman Catholic convent in America is occupied by the Ursaline nuns in New Orleans. The convent/school is still occupied today although rebuilt several times and much enlarged.
1774- English religious leader Ann Lee (1736-1784) and a small band of followers first arrived in America. Her sect called itself the United Society of Believers in Christ's Second Coming, but to the rest of the world her followers came to be known as the "Shakers."
http://www.cr.nps.gov/nr/travel/pwwmh/ny16.htm
1777-Birthday of Mary Brant, a Mohawk, had nine children with the British superintendent of Indian Affairs. She managed his household and was his hostess for almost 25 years until his death in 1774. She then retired to upper New York state and was a loyalist during the American revolution. She supplied intelligence and ammunition for the British in the battle of Oriskany, August 6, 1777. Brant and her brother who was a warrior leader of the Iroquois were instrumental in aligning the entire Iroquois nation on the side of the British in the American revolution. Following the defeat of the British, she joined other refugees in Kingston, Ontario. Several hundred thousand loyalists left, many going back to Great Britain, others to Canada.
1787: the Constitutional Convention engaged in the "Great Debate" over the draft constitution, during which it determined that Congress should have the right to regulate foreign trade and interstate commerce, established a four-year term of office for the president and appointed a five-man committee to prepare a final draft of the Constitution.
1801- The Great Religious Revival of the American West began at a Presbyterian camp meeting in Cane Ridge, Kentucky.
http://www.sendrevival.com/history/caneridge/old_cane_ridge_meeting_house.htm
http://www.uky.edu/KentuckyAtlas/ky-cane-ridge.html
1815-With the end of the Napoleonic wars in Europe, and laws about bringing "slaves" into the United States as "free labor," immigration to the U.S. increased to new levels as work was to be had. Between 1815 and 1860, 5,000,000 persons came to the U.S. Over half of the immigrants came from the British Isles, mostly from Ireland. The next largest contingent arrived from Germany, 1,500,000, not counting German-speaking French citizens from Alsace and Lorraine. More than half the German immigrants settled in the upper Mississippi and Ohio river valleys. They brought new techniques and craftsmanship. For instance, Ohio glassware was a superior type of glassware manufactured from 1815 to 1850. The designation "Ohio" was generally applied both to the blown and molded glass produced in the Ohio River Valley region. Three of the leading manufacturers of this glassware were located in Mantua, Kent, and Zanesville, all cities of Ohio. The designation "Ohio" was also used to identify glass factories in the neighboring regions of West Virginia and western Pennsylvania.
1821- Birthday of Edward H. Plumptre, Anglican theologian. He served on the Old Testament committee for the 1881 English Revised Version of the Bible. Today, he is better remembered as author of the hymn, "Rejoice, Ye Pure in Heart."
1829-Birthday of Marie Elizabeth Zakrzewski - pioneer U.S. doctor. She graduated from a school for midwives without incident but when she was appointed chief midwife and professor, male opposition forced her resignation. On arriving in the U.S., she met Elizabeth Blackwell who helped her enter Western Reserve medical school for regular medical training. She assisted the Blackwell sisters in the New York Infirmary and ran the institution while Elizabeth was in England. She served as physician and professor at the New England Female Medical College in Boston but left because the founder saw women's position in medicine limited to midwifery. She founded the New England Hospital for Women and Children in 1862 and served in various capacities there until 1899.
In addition to her pioneering medical work, she developed lunchrooms for the working poor women and aid for poor Jews. Her New England Hospital was the first one to trained nurses and offer social services.
1862 -- CSA ironclad "Arkansas" is badly damaged in Union battle.
( actual accounts: http://www.missouridivision-scv.org/mounits/cssark.htm )
1864-The Rebels evacuate Fort Powell, Mobile Bay. attack Yesterday we wrote about the Battle of Mobile Bay, Alabama starting. It actually lasted until August 23. David G. Farragut, commanded a fleet of fourteen wooden ships and four ironclads. running through a minefield and past Confederate forts Gains, Morgan, and Powell, Farragut's fleet defeated a Confederate flotilla, including the Confederate ironclad Tennessee, and took one of the South's last major ports. The city of Mobile was taken in 1865.
1870- White conservatives suppressed black vote and captured the Tennessee legislature. A reform movement was afoot and states started outright restricting blacks from voting, others made poll tax and literacy tests a requirement. The Southern states voting as a block made deals for a new president in an electoral contest, by tenure gained control of committees as senator were voted by the state legislators in this century, and while the North beat the South in the Civil War, the South now controlled bills, committees, and legislation and would dominate for almost a century to follow.
1890 - Denton 'Cy' Young pitched his first major-league baseball game on this day. He led the Cleveland Spiders past the Chicago White Sox. Young went on to enjoy a great baseball career, winning a total of 511 games (95 more than second place Walter Johnson) ... averaging more than 23 victories over 22 seasons, playing for Cleveland, St. Louis, and Boston (where he played in the first World Series, and won). The Cy Young Award was established in 1956, when the Baseball Writer's Association of America bestowed the honor on the best pitcher in major-league baseball for that year. The award has been presented every year since. In fact, from 1967 on, two Cy Young awards have been presented annually to the best pitcher in each major league.
http://memory.loc.gov/ammem/today/aug06.html
1905-Birthday of Clara Bow - U.S. film actor. CB was called the "'It' girl" as she portrayed the carefree flapper in early Hollywood films. She starred in more than 30 films including the classic Wings but her strong Brooklyn accent prevented her from making it in talking pictures. Her various sex scandals also lost fan support but it was her voice that ended her movie career. She won a beauty contest while still in high school that sent her to Hollywood. A good biography is J. Morella's The 'It' Girl: the Incredible Story of Clara Bow (1976).
http://www.clarabow.net/
http://www.gildasattic.com/clarabow.html
http://www.csse.monash.edu.au/~pringle/silent/ssotm/Jan96/
http://www.seeing-stars.com/ImagePages/ClaraBowGravePhoto.shtml
1906-Birthday of trombone player Vic Dickenson, Xenia, OH, Died November 16,1984.
http://www.harlem.org/oldsite/people/dickenson.html
http://www.harlem.org/people/dickenson.html
1911- Film and television pioneer and comedian Lucille Ball born at Butte, MT. In addition to her many other film and television credits, Lucille Ball always will be remembered for her role in the 1950s CBS sitcom I Love Lucy. As Lucy Riccardo, the wife of band leader Ricky Riccardo (her real-life husband, Desi Arnaz), her comedic style became a trademark of early television comedy. She was instrumental in many pioneering innovations in TV production. Desilu Productions, the company founded by Ball and Arnaz, insisted on filming in Hollywood instead of New York. This move is largely credited with creating a shift in TV production to the west coast. In addition, theirs was the first TV show to use 35mm film to increase the clarity of the final image, the first to use three cameras instead of one and the first to be filmed in front of a live audience. On Apr 1,1958, the final episode was broadcast, but I Love Lucy now is seen worldwide in syndication. Ball continued her involvement both before and behind the camera, appearing in three additional sitcoms. She became the first woman to head a major motion picture and TV studio when she purchased Arnazs share of Desilu Productions. Ball and Arnaz were divorced in 1960; she later married Gary Morton. She died Apr 26, 1989, at Los Angeles, CA.
http://www.classicmoviemusicals.com/ball.htm
1918-Birthday of jazz promoter/sponsor Norman Granz , Los Angeles, CA.
http://www.artistdirect.com/music/artist/card/0,,407567,00.html
1918 - Unusually hot weather began to overspread the Atlantic Coast States, from the Carolinas to southern New England. The temp- erature soared to an all-time record high of 106 degrees at Washington D.C., and Cumberland and Keedysville hit 109 degrees to establish a state record for Maryland. Temperatures were above normal east of the Rockies that month, with readings much above normal in the Lower Missouri Valley. Omaha NE reached 110 degrees.
1921—Jazz flautist Buddy Collette birthday.
http://www.vh1.com/artists/az/collette_buddy/bio.jhtml
("Swinging Shepard's" is a great album ).
1925-Birthday of Bill Haley, rock 'n' roll's first teen idol, born in Highland Park, Michigan. Haley, with his group, the Saddlemen, at first played country-and-western, but in 1952 he dropped the cowboy image and changed the band's name to the Comets. Haley began recording cover versions of R'n'B hits, and in 1953, his "Crazy Man Crazy" became the first rock 'n' roll record to make the Billboard pop chart. Bill Haley and the Comets' biggest success came in 1955 when "Rock Around the Clock" rose to number one. Haley was the most popular rock 'n' roll idol until Elvis Presley came along, but by 1958 his career was basically over. He continued to work as a nostalgia act, mainly in Britain and Europe. Haley died on February 9th, 1981 in his hometown of Harlingen, Texas.
http://www.rockabillyhall.com/BillHaley.html
1927-Birthday of Canadian composer Dolores Claman, born in Vancouver. She and her husband, Richard Morris, became one of the country's most successful jingle-writing teams in the mid-1960's. Claman and Morris have also written several stage musicals and film scores, the theme for CBC's "Hockey Night in Canada" and the score for the film "A Place to Stand," made for the Ontario pavilion at Expo 67. The film won an Oscar.
http://www.hockeytheme.com/FrameRHistory.htm
1929-Birthday of Janice Lee York Romary - U.S. Olympic fencer (1952-1968) who in 1968 became the first woman to be the U.S. flag bearer in the opening ceremonies of the Olympics (Mexico City).
1930-Birthday of singer Abbey Lincoln, Chicago, IL.
http://www.amazon.com/exec/obidos/ASIN/B000000Y4A/perpetualstarlig/
002-1654770-2338401
1930- Mysterious disappearance at age 41, Joseph Force Crater, justice of the New York State Supreme Court. Never seen or heard from after disappearance on this date. Declared legally dead in 1939. "Where is Judge Crater" signs appeared everywhere in the thirties.
http://home.eznet.net/~dminor/TM980613.html
1932-Birthday of singer and actress Della Reese.
http://allmusic.com/cg/amg.dll?p=amg&sql=B63320roac489
1937-Maxine Sullivan records "Loch Lomond," NYC ( Voc 3169).
http://www.harlem.org/people/sullivan.html
1945-Memorial observances in many places for victims of the first atomic bombing of a populated place, which occurred at Hiroshima, Japan in 1945,( it was August 5 in the United States ) when an American B-29 bomber, "Enola Gay," dropped an atomic bomb over the center of the city. The pilot was Colonel Paul Warfield Tibbets, Jr. of Miami, FL., and the bombardier was Major Thomas W. Ferebee of Mocksville, NC. More than 205,000 civilians died either immediately in the explosion or subsequently of radiation. If you had been reading history in America in the preceding months, it would have given you a sense of the time and in order to save lives, the atomic bomb was dropped.
1946-Birthday of American composer Brian Holmes, Washington, DC.Brian Holmes usually composes for voice or chorus
1948 - Seventeen-year-old Bob Mathias won the decathlon competition at the Olympic Games being held in London, England.
1949---Top Hits
Some Enchanted Evening - Perry Como
Again - Gordon Jenkins
Riders in the Sky - Vaughn Monroe
I'm Throwing Rice (At the Girl that I Love) - Eddy Arnold
1950---THOMPSON, WILLIAM. Mendal of Honor
Rank and organization: Private First Class, U.S. Army, 24th Company M, 24th Infantry Regiment, 25th Infantry Division. Place and date: Near Haman, Korea, 6 August 1950. Entered service at: Bronx, N.Y. Birth: New York, N.Y. G.O. No.: 63, 2 August 1951. Citation: Pfc. Thompson, distinguished himself by conspicuous gallantry and intrepidity above and beyond the call of duty in action against the enemy. While his platoon was reorganizing under cover of darkness, fanatical enemy forces in overwhelming strength launched a surprise attack on the unit. Pfc. Thompson set up his machine gun in the path of the onslaught and swept the enemy with withering fire, pinning them down momentarily thus permitting the remainder of his platoon to withdraw to a more tenable position. Although hit repeatedly by grenade fragments and small-arms fire, he resisted all efforts of his comrades to induce him to withdraw, steadfastly remained at his machine gun and continued to deliver deadly, accurate fire until mortally wounded by an enemy grenade. Pfc. Thompson's dauntless courage and gallant self-sacrifice reflect the highest credit on himself and uphold the esteemed traditions of military service.
1952-- At the age of 46, Satchel Paige becomes the oldest pitcher major league history to hurl a complete-game shutout as he beats the Tigers in 12 innings, 1-0. This record will last until Phil Nieikro blanks the Blue Jays, 8-0 to wins his 300th career victory in 1985.
1955- "Baby, Let's Play House" became Elvis Presley's first national chart single, reaching number 10 on Billboard's country chart.
1956-Birthday of soprano sax player Kenny G, whose full name is Kenny Gorelick.
1957---Top Hits
Love Letters in the Sand - Pat Boone
Tammy - Debbie Reynolds
Diana - Paul Anka
(Let Me Be Your) Teddy Bear - Elvis Presley
1957- 16 year-old John Lennon and his group the Quarrymen recorded "Baby Let's Play House" and "Puttin' on the Style" at a church social in Liverpool. The recording, made on the day Lennon met 14 year-old Paul McCartney, sold at a London auction in September 1994 for the equivalent of $156,000 Canadian.
1959 - A bucket survey showed that thunderstorms dropped 16.70 inches of rain on parts of Decatur County IA. The total was accepted as Iowa's 24 hour rainfall record.
1960-Chubby Checker performs "The Twist" on American TV for the first time on "American Bandstand.
1963- the New York Mets hired several rock 'n' roll acts, including Chubby Checker and Dee Dee Sharp, to perform before a game with the Pittsburgh Pirates.
1965-The Voting Rights Act of 1965 signed into law by President Lyndon Johnson, designed to thwart attempts to discriminate against minorities at the polls. The act suspended literacy and other disqualifying tests, authorized appointment of federal voting examiners and provided for judicial relief on the federal level to bar discriminatory poll taxes. Congress voted to extend the Act in 1975, 1984, and 1991.
1965- Marty Balin and Paul Kantner formed a folk-rock group that evolved into the Jefferson Airplane, the premier San Francisco psychedelic band of the late '60s. The Airplane made its debut the following month at a Haight-Ashbury club, and was signed to RCA later in the year. "The Jefferson Airplane Takes Off," their first album, was awarded a gold record in 1966.
http://www.jeffersonairplane.com/
1965---Top Hits
(I Can't Get No) Satisfaction - The Rolling Stones
I'm Henry VIII, I Am - Herman's Hermits
What's New Pussycat? - Tom Jones
The First Thing Ev'ry Morning (And the Last Thing Ev'ry Night) - Jimmy Dean
1967 - Dean Chance of the Minnesota Twins pitched five innings of perfect baseball, leading his team to victory over the Boston Red Sox. Chance was only the third player to pitch a shortened, perfect game.
1972 -Hitting his 660th and 661st career homers, Hank Aaron breaks Yankee legend Babe Ruth's record for most home runs with one team. Hammerin' Hank's' second homer of the day is a 10th inning blast which enables the Braves to beat the Reds, 4-3
1973- Roberto Clemente becomes the first Latin-born player to be inducted into the Hall of Fame.
1973---Top Hits
The Morning After - Maureen McGovern
Live and Let Die - Wings
Diamond Girl - Seals & Crofts
Lord, Mr. Ford - Jerry Reed
1973 - No. 1 Billboard Pop Hit: ``The Morning After,'' Maureen McGovern. The song is the theme to the film ``The Poseidon Adventure.''
1979- The Cars don't pay attention to the sophomore jinx predictions and go two-for-two: "Candy-O" is their second straight album to go platinum.
1980-Birthday of American composer Matthew Logan, born Jacksonville,
http://www.myspace.com/matthewloganmusic
http://www.musicbymatthewlogan.com/
1981 - Golfing legend Lee Trevino was disqualified from the PGA Championship in Duluth, GA when the 'Super Mex' had his scorecard signed by Tom Weiskopf instead of himself.
http://www.golfeurope.com/almanac/players/trevino.htm
1981-After a seven-week strike that cut the heart out of the regular baseball season, major league players approved a plan for a split season with the post-strike games to constitute the second half. The New York Yankees, Oakland Athletics, Philadelphia Phillies and Los Angeles Dodgers were declared first-half champions, automatically qualify for special divisional playoffs.
1981- Stevie Nicks' "Bella Donna" LP is released
1981---Top Hits
Jessie's Girl - Rick Springfield
Theme from "Greatest American Hero" (Believe It or Not) - Joey Scarbury
I Don't Need You - Kenny Rogers
Dixie on My Mind - Hank Williams, Jr.
1984- The Jacksons' "Victory" tour opened in Kansas City. The eight-story stage, designed by brother Michael, obscured the view from one-fourth of Arrowhead Stadium's 60,000 seats. Despite complaints about the $30 ticket prices, "Victory" proved to be the then-largest concert tour ever. The Jacksons played 55 dates in 23 cities, selling about 2.3 million tickets. Each brother raked in about $5 million . The promoter, Chuck Sullivan, lost $20 million because he agreed to pay all costs of the lavish production.
1984- The Cars release their video for "Drive." Actor Timothy Hutton directed it. 1984 - No. 1 Billboard Pop Hit: ``Ghostbusters,'' Ray Parker Jr. Huey Lewis sues Parker, saying the Academy Award-nominated song sounds too much like his ``I Want a New Drug.''
1986 - Timothy Dalton became the fourth actor to be named "Bond ... James Bond." Dalton, 38, and his studio, United Artists, ended months of speculation as to who would star as Agent 007 in the 15th James Bond film. The character of Bond was created by writer Ian Fleming. Other stars to play the role of the suave, debonair and deadly double agent include: Roger Moore, Sean Connery and George Lazenby, with Pierce Brosnan as the James Bond for the 1990s.
1988 -Cub reliever Goose Gossage becomes the second player in major league history to record 300 career saves as he retires one batter in a 7-4 victory over the Phillies.
1988- Jose Canseco became the 11th player in major league history to hit 30 homers and steal 30 bases in a
season. The A's outfielder, with 31 homers, joins the 30-30 club stealing second base with one out in the ninth inning for his 30th as Oakland beat the Mariners, 5-4.
1988 - Severe thunderstorms produced large hail and damaging winds in Pennsylvania and New York State. A cold front crossing the northwestern U.S. produced wind gusts to 66 mph at Livingston MT.
1989 -Boston Red Sox retire Carl Yastrezemski's #8.
1989---Top Hits
Batdance - Prince
On Our Own - Bobby Brown
So Alive - Love & Rockets
Why'd You Come in Here Lookin' like That - Dolly Parton
1996- Daniel Goldin, administrator of the National Aeronautics and Space Administration announced scientific evidence that there was life on Mars. The discovery was made by Dr. Roberta Score and a team of American scientists. Using electron microscopes, they examined a 4.5 billion year old Martian meteorite that struck Antarctica 13,000 years ago and found fossils of what appeared to be a "primitive form of microscopic life."
1996- The soundtrack to the film "She's The One," starring Edward Burns and Jennifer Aniston, is released. The album is record by Tom Petty and the Heartbreakers and features the single, "Walls
1999 - "The Sixth Sense" opened with Bruce Willis starring as a child psychologist and Haley Joel Osment, who plays an 8-year-old who is visited by ghosts. As of July 24, 2001, it had rung up $293,501,675 at the box office.
I didn't realize Willis was a ghost. When you see it a second time, it gives a different perspective to the movie.
2001- The Hall of Fame Veterans Committee comprised of five former players, five media members and five former executives, which was established in 1953, is to be replaced by a 90-member group made up of the members of the Hall of Fame (61), the recipients of the J.G. Taylor Spink award for writers (13), the Ford C. Frick award for broadcasters (13) and current Veterans Committee members (3). The new committee will be able elect players only once every two years and executives, umpires and managers only once every four years.
2002 -- Protecting the Giants' 11-10 lead over the Cubs, 32-year old reliever Robb Nen becomes the 16th and youngest closer to record the 300th save of his career.
--------------------------------------------------------------

Baseball Poem

Love of the Game
by David Michael Chambers
Crack of the bat
Love of the game
This is a picture
That needs no frame
From the pitcher's stance
High atop of the mound
To the cheer of the crowd
What a terrific sound
The ball flies high
Up into the air
When it comes down
Will it be fowl or fair?
The outfielder runs hard
Attempting to catch the ball
But into fowl territory
Alas does it fall
Once again
The pitcher comes set
Letting go with a fastball
His fastest yet
The batter then swings
With all his mustered might
Hoping to hit the ball
Clean out of sight
Clearing that outfield fence
Is what he longs to see!
Trotting around the bags
Crossing that plate with glee
A pop the batter does hear
As the ball shoots into the glove like a spike
Followed by the umpire's ringing up
The batter's third and final strike
On his way to the dugout
Smiling without shame
With a heart that's full of love
For this Baseball game
--------------------------------------------------------------

SuDoku
The object is to insert the numbers in the boxes to satisfy only one condition: each row, column and 3x3 box must contain the digits 1 through 9 exactly once. What could be simpler?
http://leasingnews.org/Soduku/soduko-main.htm
--------------------------------------------------------------

Daily Puzzle
How to play:
http://www.setgame.com/set/puzzle_frame.htm
Refresh for current date:
http://www.setgame.com/set/puzzle_frame.htm
--------------------------------------------------------------


http://www.gasbuddy.com/
http://www.gasbuddy.com/GB_Map_Gas_Prices.aspx
http://www.gasbuddy.com/GB_Mobile_Instructions.aspx
--------------------------------------------------------------

Weather
See USA map, click to specific area, no commercials
--------------------------------------------------------------

Traffic Live---
Real Time Traffic Information
You can save up to 20 different routes and check them out
with one click, or type in a new route to learn the traffic live.
--------------------------------------------------------------

News on Line---Internet Newspapers
Maui, Hawaii
*Other on line newspapers:
http://www.leasingnews.org/Newspapers.htm
--------------------------------