Cartoons by
Sidney Harris
Copyright © 2006 by Sidney Harris. No reproduction other than for personal enjoyment without written permission . SHarris777@aol.com
Sidney Harris's cartoons have appeared in Discover, American Scientist, The New Yorker, Natural History Magazine, and Playboy.
"For over twenty-five years, Sidney Harris has been recognized as the leading cartoonist specializing in the world of modern science and technology. Whether he is poking gentle fun at Einstein or theoretical mathematicians, his drawings are entertaining, clever, and always right on target for his chosen subjects." editorial review, Amazon.com
He has several books available direct; along with originals that may be framed, prints for sale,and you may view many of his cartoons at: http://www.sciencecartoonsplus.com/
A traveling exhibit of 65-70 Sidney Harris cartoons on science has been touring museums in the U.S. and Canada since 1984, and has also appeared in several corporate headquarters.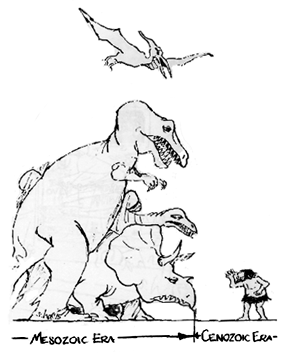 These are "thumbnail" versions. To view the full cartroon, click on it, and it will show you the full version. Should you wish to save it, this is the version you want to obtain the address
to see the full size.
"That's were we differ. You'd eat cat food, but I wouldn't touch dog food."

"All this --- the house, the grounds, the lake -- instills a feeling of wonder in me. I wonder how I managed to pay for it all."

"...and it's 2, 3, 4 strikes your out"
" I have to talk to that boy"

"Righ Brain Dominance"
"Left Brain Dominance"

"I agree money can't buy happiness, but we may be able to lease it."

"A white cat! That Good Luck"
"It doesn't work that way."

Thumbnail - image 8

"I meow, therefore I am."

"Chatting with teller" "No Chatting"

"I believe it's time we stopped relying so heavily on instinct."

Thumbnail - image 11

"I'd love to get a different job, but all I know is being a dung beetle."

"If you have 5 dogs, 3 will be asleep."

"Buy a Dog"

"Didn't you do ANYTHING besides work on that farm."

"Chatting with teller," "No chatting"

"I will now announce the name od the graduates, in order of the starting salaries offered to them."

"...And, as you go out into the world, I predict that you will, gradually and imperceptible, forget all you ever learned at this university."

As smart as he was, Albert Einstain could not figure out how to handle those tricky bounces at third base.

"I know you've struck out the first twenty-six batters, Fernando, but the computer says we have to take you out."

"Here is the ground rule: don't tell me what I should have done."

"I'm getting on the train." "I'm on the train." "I'm getting off the train."

"Attempting to understand the market: Marrill Lynch, Pierce, Fenner & Freud."

"Add more soap to the water"

"Help supprt Santa Off Season."

"It's a miracle the way he keeps his desk so clean."

"I'm not the best man-I'm his lawyer." "I'm not the maid of honor - I'm her lawyer."

"Tonight's weather report contains some alarming material. Viewer discretion advised."

"Aggressive Businessmen's Lane."

"I don't give advice. I'm only up here because it's safer."