Monday, August 13, 2018
Today's Equipment Leasing Headlines
Post Here a Free Ad for Seeking a New Career
100 Words Reach the Banking, Finance, Leasing Industries
Pictures from the Past - 1991
Balboa Capital Holiday Party
Top Stories
August 7 - August 9
Brokers Can Breathe Easier CA 3207 Appears Diluted
Now in "Suspense"
California Senate Bill SB 1235
Active, Looks Like May Pass
New York Bill to License Internet Lenders
In Suspense--Looks Like "Dead"
Find a new job today
Help Wanted
Sales Makes it Happen by Steve Chriest
Financial Statements
Add me to mailing list
Subscription is Free
Americans' Favorite Domestic Destinations
By Martin Armstrong, statista.com
ECN Capital Reports Adjusted Net Income
of $13.4 Million versus Previous 3 month $4.9 Million
James Webster to Lead New SBFA Broker Council
In Creation of Business Financing Industry Guidelines
Labrador Retriever Mix
Denver, Colorado Adopt-a-Dog
National Equipment Finance Association
2017 Funding Symposium 10/03/2018
News Briefs---
Survey Indicates That Senior Loan Officers
Have Eased Standards
China says U.S. farmers may never regain
market share lost in trade war
FinTechs Worry Calif. SB 1235 Bill May Distort
Small-Business Lending with New Finance Metric
Smaller Banks Facing Hurdles to Stay Afloat in State
Customer loss, consolidation are threats to many

Broker/Funder/Industry Lists | Features (wrilter's columns)
Top Ten Stories Chosen by Readers | Top Stories last six months
www.leasingcomplaints.com (Be Careful of Doing Business)
www.evergreenleasingnews.org
Leasing News Icon for Android Mobile Device
You May have Missed---
Poem
Sports Brief----
California Nuts Brief---
"Gimme that Wine"
This Day in History
SuDoku
Daily Puzzle
GasBuddy
Weather, USA or specific area
Traffic Live----
######## surrounding the article denotes it is a "press release," it was not written by Leasing News nor has the information been verified. The source noted. When an article is signed by the writer,
it is considered a "byline." It reflects the opinion and research of the writer.



Please send a colleague and ask them to subscribe. We are free
Email kitmenkin@leasingnews.org and in subject line: subscribe


[headlines]
--------------------------------------------------------------

Post Here a Free Ad for Seeking a New Career
100 Words Reach the Banking, Finance, Leasing Industries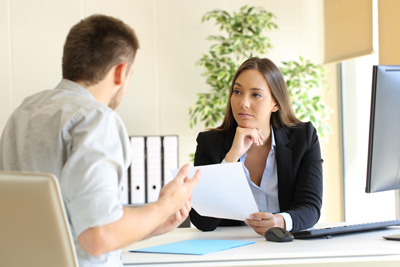 Categories to post:
http://www.leasingnews.org/Classified/Jwanted/Jwanted.htm
Please send email to kitmenkin@leasingnews.org to post your ad.
For Employers for Paid Advertising
http://www.leasingnews.org/Classified/Banner/help_wanted.htm

[headlines]
--------------------------------------------------------------
Pictures from the Past - 1991
Balboa Capital Holiday Party
"Kit, Here is the next to last old photo that I have.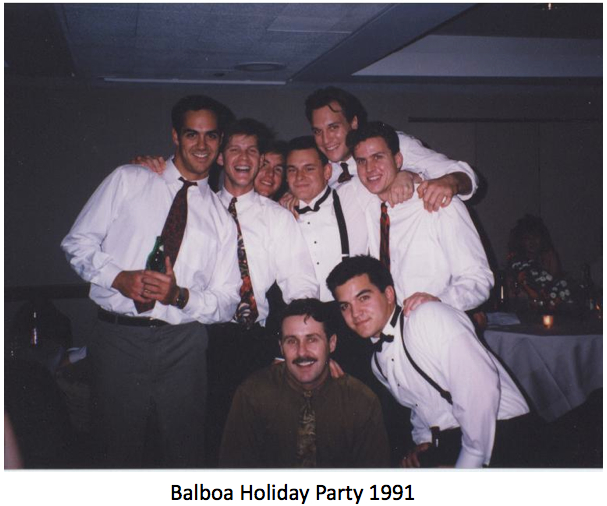 1991 -- Top row Left to Right – David Lean, Greg Miller, Shawn Giffin, Richard McNiven, Greg Reever, Dan Bassett Bottom – Mark McQuitty, Steve Blokdyk
"I found another one with Pat Byrne from the office gift exchange in 1992 (just before I left with 4 sales reps to start my own company – which I eventually sold to Rick Wilbur). We left the company after Pat said the company could not afford Christmas bonuses like the years past, so he got everyone sweatshirts with the new Balboa Capital logo – changed from Balboa Funding Group). The next month they lowered the sales reps' commission, Shawn bought a new Porsche, Pat got a new BMW and started taking helicopter flying lessons! Needless to say, the sales reps were angry and they talked me into starting our own company.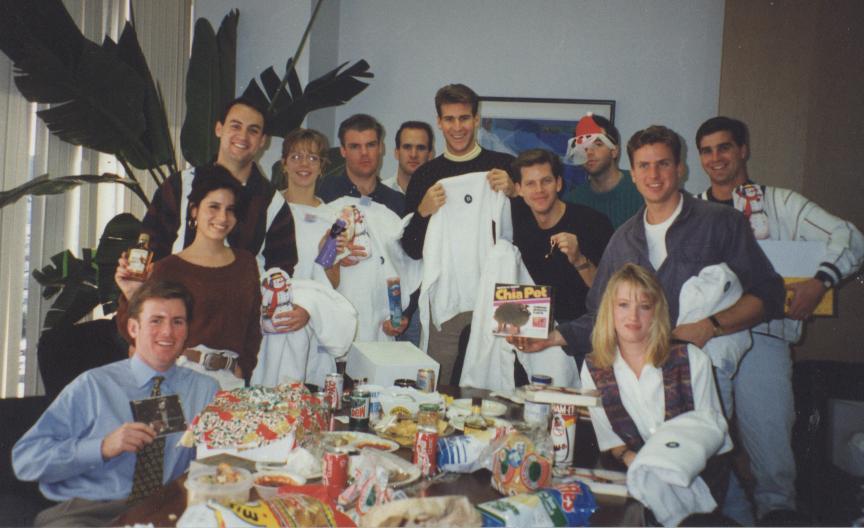 L to R -- Pat "evergreen" Byrne, Andy Saik, Eric Evans, Scott Hamburg, Darren Gardner (Alliance Capital), me, Dan Bassett and Bob Skibinski.

"We did some amazing things as a bunch of 20+ year olds…there are a lot of companies in the business that spun off from Amplicon and Balboa. I think the dazzle of easy money sometimes clouds your business ethics when you are younger…and when you are greedy."
(Note: Balboa Capital has broken CapitalWerks record of most complaints received by Leasing News. Ironically, there were over 50 complaints for CapitalWerks. Not like Balboa, where many wound up in court. None of CapitalWerks ever appeared in the Bulletin Board as all were "settled." Raeder was not easy, would push you against the wall, but in the end, the lessee and lessor were satisfied with the resolution. Many times he told me he did not want his sources to see the complaints in Leasing News. Editor).
[headlines]
--------------------------------------------------------------
Top Stories
August 7 - August 9
(1) Balboa Capital Gets Sued Quarterly Interim Rent
in California Class Action Lawsuit
By Tom McCurnin, Leasing News Legal Edition
http://leasingnews.org/archives/Aug2018/08_09.htm#balboa
(2) North Mill Equipment Finance Acquired
By Leading Specialty Finance Investor
http://leasingnews.org/archives/Aug2018/08_09.htm#north
(3) Global Financial & Leasing Services, LLC
Joins Funder, Looking for Broker, Story Credit Lists
http://leasingnews.org/archives/Aug2018/08_07.htm#global
(4) New Hires/Promotions in the Leasing Business
and Related Industries
http://leasingnews.org/archives/Aug2018/08_09.htm#hires
(5) Wells Fargo's 401(k) Win Is Good News for Banks,
Bad News for Savers
http://leasingnews.org/archives/Aug2018/08_07.htm#wf
(6) Why I Became a CLFP
Bree Johnson
http://leasingnews.org/archives/Aug2018/08_07.htm#clfp
(7) Treasury, IRS issue proposed regulations on new
100 percent depreciation deduction
http://leasingnews.org/archives/Aug2018/08_09.htm#treasury
(8) Vacations Americans Get a Raw Deal - Chart
By Niall McCarthy, Statista.com
http://leasingnews.org/archives/Aug2018/08_09.htm#chart
(9) 'Too Little Too Late': Bankruptcy Booms Among Older Americans
https://www.nytimes.com/2018/08/05/business/bankruptcy-older-americans.html
(10) OnDeck Reports Record Profit in 2Q,
Eyes Second Bank Partnership
https://www.americanbanker.com/news/ondeck-reports-record-profit-in-2q-eyes-second-bank-partnership
[headlines]
--------------------------------------------------------------
Brokers Can Breathe Easier CA 3207 Appears Diluted
Now in "Suspense"

AB-3207 California Financing Law was placed in the "suspense file" and to be reviewed by both houses' appropriations committees.
As last amended, dilutes the relationship to "performing" and not "negotiating" and giving the borrower a statement they are being compensated by the lender (the amount is not required, it appears). (1)
Originally, "The bill seeks to expand the definition of a broker or lead to include anyone who receives compensation during the course of a referral or lead for conveying confidential information, participating in an loan negotiation between a finance lender and a prospective borrower, or charging any fees to a prospective borrower or applicant for any services related to an application for a loan from a finance lender."
This involves a referral fee or commission, which is to be in writing to the borrower as part of the transaction.
"(1) The referral by the unlicensed person leads to the consummation of a commercial loan, as defined in Section 22502, between the licensee and the prospective borrower referred by the unlicensed person.
(2) The commercial loan contract provides for an annual percentage rate that does not exceed 36 percent.
(3) Before approving the commercial loan, the licensee does both of the following:
(A) Obtains documentation from the prospective borrower documenting the borrower's commercial status. Examples of acceptable forms of documentation include, but are not limited to, a seller's permit, business license, articles of incorporation, income tax returns showing business income, or bank account statements showing business income."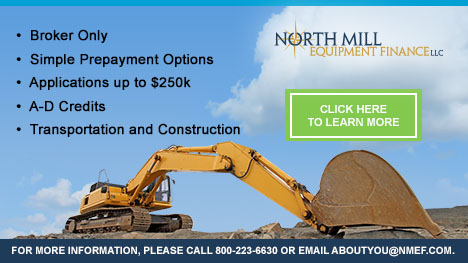 [headlines]
--------------------------------------------------------------
California Senate Bill SB 1235
Active, Looks Like May Pass

Readers have asked to be informed regarding SB 1235. It is to be read for the Assembly for the third time today, August 13, 2018.
For a review, SB 1235 is a California bill which will require some commercial lenders to disclose interest rates in some commercial loans. The disclosure will be consistent with Regulation Z in consumer transactions. Most banks disclose the APR even in commercial transactions.
The Bill in its present form:
▪ Requires disclosure for all commercial loans over $5,000. This was increased from $2,500.
▪ Commercial leasing transactions are exempt. Under the Uniform Commercial Code, this means a true lease. So if the lender is doing 10% purchase option transactions, the lender must still disclose
▪ Loans secured by real estate are exempt.
▪ Prepayment Fees must now be disclosed.
▪ The provision relative to loans disguised as "merchant cash advances" remains in effect.
▪ Banks and open ended credit programs (similar to credit lines) are also exempt
▪ Lenders which makes 5 or less loans per year would also be exempt.
▪ Transactions over $500,000 are exempt.
Bill as Amended
https://leginfo.legislature.ca.gov/faces/billCompareClient.xhtml?bill_id=201720180SB1235

Bill as Passed by Assembly Bank and Finance Committee
http://leasingnews.org/PDF/assembly_banking2018.pdf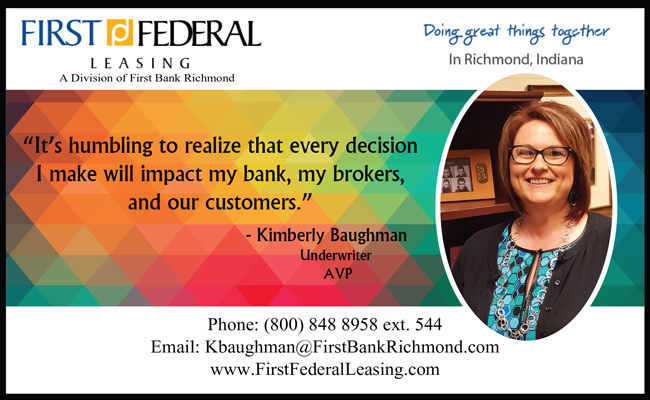 [headlines]
--------------------------------------------------------------
New York Bill to License Internet Lenders
In Suspense--Looks Like "Dead"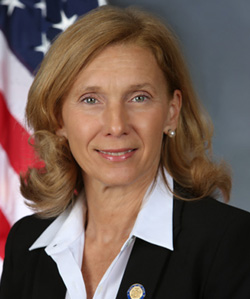 Introduced by Senator Elaine Phillips (R-Long Island, District 7), SB 8340, the proposed internet lending charter would apply to companies making consumer loans of $25,000 or less and commercial loans of $50,000 or less. If enacted, a company that obtains an internet lending charter would be subject to examination and supervision by the Department of Financial Services and would be required to maintain a minimum capital requirement of at least $250,000, an amount that is five times higher than similar brick-and-mortar licensed lenders operating in New York. (1) Hasn't moved from Senate committee since May 2, 2018.


[headlines]
--------------------------------------------------------------
Help Wanted
[headlines]
--------------------------------------------------------------
Sales Makes it Happen
by Steve Chriest
Financial Statements
As a sales professional, there is at least one sure-fire way to increase your value to your company and to any organization – learn to read and understand financial statements.
An outsider might think that surely everyone in the equipment finance business would know all about financial statements, but that doesn't seem to be true. I am told, in fact, that a great many salespeople in the finance industry don't know much, if anything, about financial statements.
I think most managers would agree that many equipment finance salespeople don't need to become experts in reading financial statements. Unless a salesperson is coincidentally involved in structuring transactions that requires expertise in financial analysis, it may not be necessary to become an expert in analyzing financials. Conversely, understanding the basics of financial statements can't hurt professionally, and can help salespeople personally and professionally.
In keeping with my perspective that people change behaviors only when they perceive something beneficial in it for them to do so, here is my short list of the benefits to leasing salespeople of learning to read and understand financial statements:
The ability to read and understand financial statements will make you appear smarter.
You will build credibility in your organization with your managers, credit analysts and senior managers.
You will build credibility with your customers as you demonstrate through analysis that you truly understand their business.
You will save yourself gobs of time as you learn to reject deals that you know will waste the time of credit analysts and will lead to frustration for everyone.
You will gain confidence and independence when making personal investment decisions.
From a selfish perspective, assisting credit analysts with an educated point of view on a deal, or saving them time by discarding deals that don't meet the prescribed credit approval parameters, will naturally position you in the eyes of the credit analysts as a professional who cares about their time and workload. Don't be surprised when most analysts are willing to listen to you when you want to present a deal that doesn't quite fit the credit box, but may deserve consideration based on other criteria.
Finally, achieving some level of expertise in understanding financial statements can actually be fun. When you understand that all businesses, sooner or later, suffer from commoditization and become white elephants, that "profit" isn't the end-game of business, but is instead the ultimate cost of staying in business. Without profits, and real free cash flow, a company is unable to continue the investments it must make to stay competitive. When you reach this point, you begin to look at a company's financials with a different perspective. You may even come up with an idea no one else has thought of for keeping a business profitable or helping a business out of trouble. You then can not only perhaps help the customer financially with a lease or loan, but become a valuable advisor and make a good business friend.
If you are truly looking for a way to become a more valuable resource to your company, and to your customers, learn about financial statements. There are more resources than ever to help you learn--- on line programs as well as books and webinars available---and you will profit professionally and personally!

Steve Chriest is the CEO of Open Advance and author of "Selling to the E-Suite, The Proven System for Reaching and Selling Senior Executives and Business Acumen 101." He recently re-named his company from Selling-Up. He produces video and radio blogs, as well as continuing as a columnist for Leasing News since 2005.
www.openadvance.com/contact/
925-263-2702
www.openadvance.com/
Sales Makes it Happen articles:
http://www.leasingnews.org/Legacy/index.html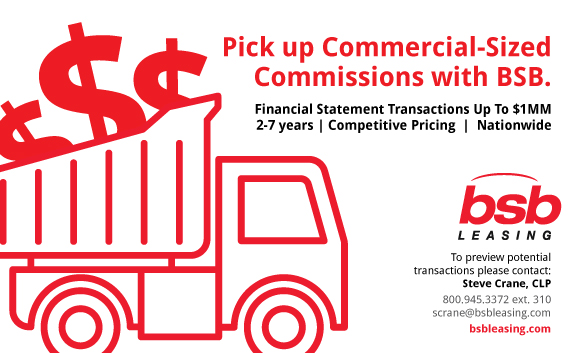 [headlines]
--------------------------------------------------------------
Add me to mailing list
Subscription is Free

Any comments or suggestions are appreciated. Any news leads or tips are also appreciated. We will keep all "leads" in the strictest of confidence.
To subscribe: email kitmenkin@leasingnews.org
Thank you,
Leasing News Editorial
[headlines]
--------------------------------------------------------------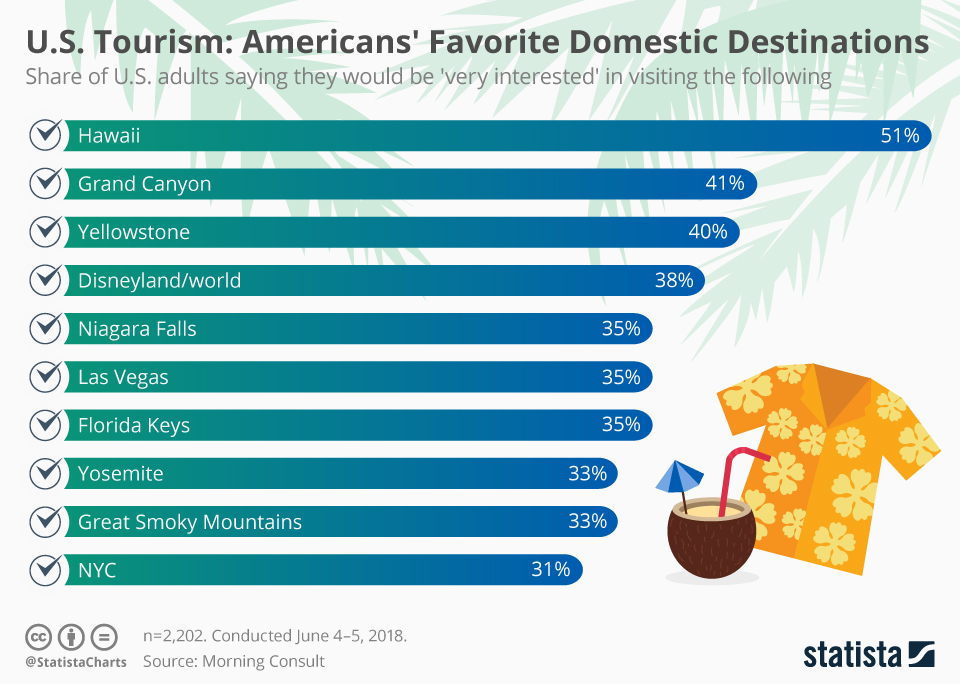 58 percent of U.S. citizens don't have a passport. While this may baffle some, one only needs to look at the list of potential destinations within the country's borders to understand why having one may not actually be such a high priority for those planning a vacation.
There sure are a lot of incredible things to see, and as this new poll from Morning Consult shows, of all of the domestic vacation destinations, Hawaii is of interest to the largest share of people. Making up the top three are the iconic Grand Canyon and the beautiful Yellowstone National Park.
By Martin Armstrong, statista.com
https://www.statista.com/chart/14396/americans-favorite-domestic-destinations/
[headlines]
--------------------------------------------------------------
##### Press Release ############################
ECN Capital Reports Adjusted Net Income
of $13.4 Million versus Previous 3 month $4.9 Million

Toronto, Canada – ECN Capital Corp. (TSX: ECN) ("ECN Capital" or the "Company") reported financial results for the three-month period ending June 30, 2018. Readers should note that as of January 1, 2018, the Company changed its presentation and functional currency from Canadian dollars to U.S. dollars.
For the three-month period ending June 30, 2018, ECN Capital reported Adjusted Net Income applicable to common shareholders of $13.4 million or $0.04 per share (basic) versus $4.9 million or $0.01 per share (basic) for the previous three-month period ending March 31, 2018 and $8.0 million or $0.02 per share (basic) for the same period last year.
Book Value per Common Share as at June 30, 2018 was $3.63 versus $3.58 as at the end of the previous three-month period and $3.63 for the same period last year.
Originations for the three-month period ending June 30, 2018 were $505.2 million versus $349.2 million in the previous three-month period and $32.4 million for the same period last year.
Total Earning Assets Managed and Advised as at June 30, 2018 were $28.1 billion, versus $3.2 billion as at March 31, 2018.
EBITDA, net of provision for credit losses, for the three-month period ending June 30, 2018 was $36.6 million versus $24.7 million for the previous three-month period and $40.5 million for the same period last year.
Operating Expenses for the three-month period ending June 30, 2018 were $25.0 million versus $21.3 million reported for the previous three-month period ending March 31, 2018 and $8.3 million for the same period last year.
Net Income for the three-month period ending June 30, 2018 was $2.6 million versus $3.3 million for the previous three-month period and $11.8 million for the same period last year.
"This quarter begins to demonstrate the earnings power of ECN as a business services provider to US banks and credit unions", said Steven Hudson, CEO of ECN Capital Corp. "Service Finance and Triad both had exceptional quarters and we are thrilled to have closed on our strategic investment in the Kessler Group."
Dividends Declared
The Company's Board of Directors has authorized and declared a quarterly dividend of $0.01 per outstanding common share of ECN Capital for the third quarter of 2018. The dividend will be paid on October 15, 2018 to shareholders of record at the close of business on September 28, 2018. These dividends are designated to be eligible dividends for purposes of section 89(1) of the Income Tax Act (Canada).
The Company's Board of Directors declared the following dividends on ECN Capital's preferred shares:
A quarterly dividend of $0.40625 per outstanding Cumulative 5-Year Rate Reset Preferred Share, Series A (TSX: ECN.PR.A) payable on October 1, 2018 to shareholders of record on the close of business on September 17, 2018. These dividends are designated to be eligible dividends for purposes of section 89(1) of the Income Tax Act (Canada).
A quarterly dividend of $0.390625 per outstanding Cumulative 5-Year Rate Reset Preferred Share, Series C (TSX: ECN.PR.C) payable on October 1, 2018 to shareholders of record on the close of business on September 17, 2018. These dividends are designated to be eligible dividends for purposes of section 89(1) of the Income Tax Act (Canada).
### Press Release ############################


[headlines]
--------------------------------------------------------------
### Press Release ############################
James Webster to Lead New SBFA Broker Council
In Creation of Business Financing Industry Guidelines

BOHEMIA, N.Y., The Small Business Finance Association (SBFA) selected James Webster, CEO and co-founder of National Business Capital to head the organization's new SBFA Broker Council as co-chairman. James will lead the Broker Council in their mission to protect the interests of small business owners nationwide by setting high quality and ethical standards for business financing practices.
The SBFA's decision to elect James stemmed from his noted implementation of transparency, accountability and empathy in the way that he cares for his small business customers, and the high ethical standards he holds his company to throughout all business operations. These core values are what the SBFA aims to standardize in the business financing industry with new policies created by James and the Broker Council.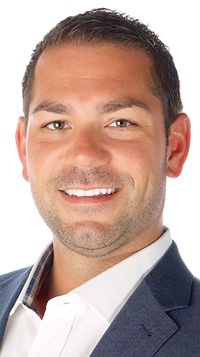 James Webster, Co-Chairman of the SBFA Broker Council and Co-Founder of National Business Capital, said, "In every industry there's good, and there's bad. Working together with the SBFA Broker Council, our mission is to set higher-level industry standards and practices for brokers to protect and ensure the best interest of small business owners."
Together with the Washington-based SBFA Broker Council, James will bring this cause to the national stage, where they will educate and collaborate with policymakers to ensure that only the most experienced and trustworthy loan originators are able to provide their services to small business owners. "We need brokers who believe in best practices to enter the national conversation about small business alternative finance," said James, "and show policymakers how we serve small business customers."
About National Business Capital
NBC is a nationwide leader in business financing, dedicated to innovating the way entrepreneurs grow by providing the newest, fastest and most convenient funding options on the market for small business owners. Founded in 2007 amid the financial crisis, James Webster and Joseph Camberato founded National Business Capital to provide small business loans and business lines of credit to main street businesses that needed capital grow and survive when banks denied them funding.
They have since provided over $1 billion in financing for small business owners across the nation through the global marketplace, and continue to revolutionize the alternative business financing space with a focus on human intelligence, innovation, and compassion.
Directors of Small Business Finance Association
http://leasingnews.org/archives/May2018/05_15.htm#alt
#### Press Release #############################


[headlines]
--------------------------------------------------------------
Labrador Retriever Mix
Denver, Colorado Adopt-a-Dog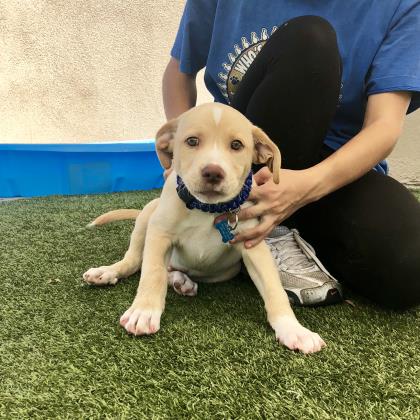 Lightning
ID# 39223143
Male
Age: 2 months
Color: Yellow
Neutered
Declawed: No
Housetrained: Unknown
Site: MaxFund Dog Shelter
Location: Intake
Intake Date: 8/12/2018
Stage: Available

"Hello! I'm a cute and chubby, 2 month old Lab mix that was born at the MaxFund and raised in a foster home. I've been taken care of really well and I'm now ready to find my forever home!
"I'm one of the biggest pups in the litter and will grow up to be a big boy! Even though I may be a chunky dude I am full of energy! I looove to play tug of war! You do have to be able to train me as well! I might just play tug of war with your charger while you're not looking! Will you have enough time for me? Teach me right from wrong and to potty on my training pads? Are you going to love me forever? I know I'm ready to give you all of MY love!
"Make sure you see me soon!"
MaxFund Dog Shelter
1005 Galapago Street
Denver, Colorado 80204-3942
Phone: 303-595-4917
Shelter Hours
Closed on Tuesdays
Mon, Wed, Thur & Fri:
10:00 - 5:00
Saturday:
11:00 - 5:00
Sunday:
12:00 - 5:00
Adoption Process & Fees
https://maxfund.org/Adoption-Process-and-Fees
Adopt a Pet
http://www.adoptapet.com/

[headlines]
--------------------------------------------------------------
National Equipment Finance Association
2017 Funding Symposium 10/03/2017 to 10/05/2018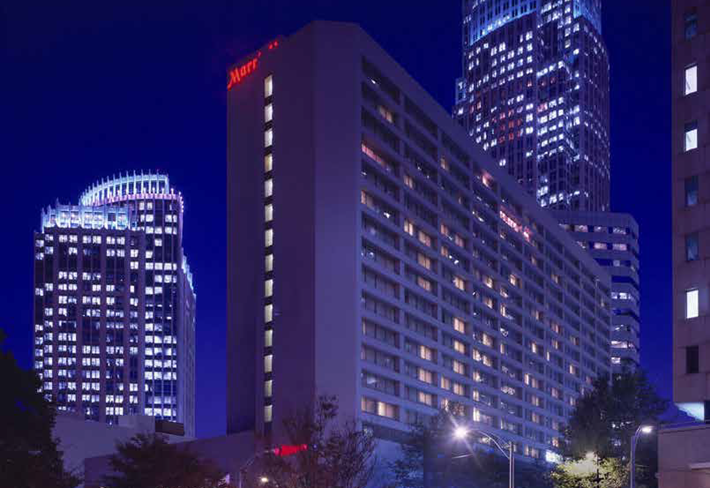 Charlotte Marriot City Center
100 W. Trade Street
Charlotte, North Carolina 28202
Funding Sources Exhibiting:
36th Street Capital Partners LLC
4 Hour Funding
Advantage Funding
American Lease Insurance
AMUR Equipment Finance
Ascentium Capital LLC
Baystone Government Finance
Beneficial Equipment Finance Corp
Boston Financial & Equity Corp
Bryn Mawr Funding
C.H. Brown Co., LLC
Channel Partners Capital
CLFP Foundation
Copernicus
Dakota Financial, LLC
Dedicated Funding, LLC
ECS Financial Services, Inc.
Financial Pacific Leasing, Inc.
FirstLease, Inc.
Fleet Evaluator
Great American Insurance
Hanmi Bank
Infogroup
instaCOVER, LLC
LEAF Commercial Capital
Leasepath
LTi Technology Solutions
Marlin Business Bank
Monitor
Navitas Credit Corp
NEFA Newsline
Neumann Finance
North Mill Equipment Finance, LLC
Orange Commercial Credit
Orion First Financial, LLC
Pawnee Leasing Corporation
Providence Equipment Finance, dba of Providence Bank & Trust
Quality Leasing Co., Inc.
Quiktrak, Inc.
RapidAdvance
Tamarack
TradeRiver USA, Inc.
Unisearch, Inc.
VFI Corporate Finance
215 Registered for Funding Symposium to date
https://www.nefassociation.org/events/RSVPlist.aspx?id=995092
Register:
https://www.nefassociation.org/events/register.aspx?id=995092&itemid=0c076a01-2ff3-438a-91b1-17e781e15f1f
[headlines]
--------------------------------------------------------------
News Briefs----

Survey Indicates That Senior Loan Officers
Have Eased Standards
https://debanked.com/2018/08/survey-indicates-that-senior-loan-officers-have-eased-standards/
China says U.S. farmers may never regain
market share lost in trade war
https://www.politico.com/story/2018/08/11/farmers-china-soy-bean-market-share-734773
FinTechs Worry Calif. SB 1235 Bill May Distort
Small-Business Lending with New Finance Metric
https://www.bna.com/fintechs-worry-calif-n73014481593/
Smaller Banks Facing Hurdles to Stay Afloat in State
Customer loss, consolidation are threats to many
https://www.arkansasonline.com/news/2018/aug/12/smaller-banks-facing-hurdles-to-stay-af/
[headlines]
--------------------------------------------------------------


You May Have Missed---
Mapped: The 22 Cities with
the Most $1 Million Homes in the U.S.
http://www.visualcapitalist.com/map-22-cities-1-million-homes/
[headlines]
--------------------------------------------------------------
Catcher Sings the Blues
From the book
by Paul B. Janeczko, Carole Katchen (Illustrator)
Crouching low, I sing the blues
The aches are now a part of me
Blocking home, I sing the blues
0, the aches are now a part of me
Bruises, bumps, and scrapes
Have worn me down, can't you see?
My knees sing the blues
They sing 'em when I stoop and bend
My knees sing the blues
0, they sing 'em when I stoop and bend
They crunch, crackle, pop
The hurtful noises never end.
My fingers sing the blues
When I grip a ball or make a fist
0, my fingers sing the blues
When I grip a ball or make a fist
The knuckles moan and cry
By fire every one is kissed
Crouching low, I sing the blues
The aches are now a part of me
Blocking home, I sing the blues
0, these aches are now a part of me
Too many bruises, bumps, and scrapes
I'm nothing like I used to be.
No, nothing like I used to be
[headlines]
--------------------------------------------------------------

Sports Briefs---
49ers RB McKinnon to have MRI after knee injury in practice
https://www.sfchronicle.com/49ers/article/49ers-RB-McKinnon-to-have-MRI-after-knee-injury-13150439.php?src=hp_totn
[headlines]
--------------------------------------------------------------


California Nuts Briefs---

Ranch Fire now largest in California history at 282,479 acres
https://www.sfgate.com/california-wildfires/article/Crews-fight-to-build-containment-of-wildfires-13150154.php
'The Oakland we knew is not going to remain:'
Massive building boom tears through city
https://www.eastbaytimes.com/2018/08/12/the-oakland-we-knew-is-not-going-to-remain-massive-building-boom-overhauls-the-city/
San Francisco penthouse fetches eye-popping
$4,509 per square foot price ($15 Million Price)
https://www.sfgate.com/realestate/article/181-Fremont-penthouse-sale-sets-new-SF-record-13142975.php
Automated license plate technology leads
to stolen vehicle recovery in Auburn
https://www.sacbee.com/latest-news/article216550580.html
57-year-old S.F. retailer Gump's could close by end of year
https://www.sfchronicle.com/business/article/157-year-old-S-F-retailer-Gump-s-could-close-13144900.php
[headlines]
--------------------------------------------------------------



"Gimme that Wine"

http://www.youtube.com/watch?v=EJnQoi8DSE8
Rodney Strong wins Gold, Best in Show
https://www.winesandvines.com/news/article/201878/Rodney-Strong-wins-Gold-Best-in-Show
Bumper Wine Grape Crop in Texas
https://www.winesandvines.com/news/article/201972/Bumper-Wine-Grape-Crop-in-Texas
Wine Prices by vintage
http://www.winezap.com
http://www.wine-searcher.com/
US/International Wine Events
http://www.localwineevents.com/
Leasing News Wine & Spirits Page
http://two.leasingnews.org/Recommendations/wnensprts.htm

[headlines]
----------------------------------------------------------------
This Day in History
1521 - After a three-month siege, the Aztec capital of Tenochtitlan (today Mexico City) was conquered by Hernando Cortes and Spanish troops. With a population between 150,000 and 300,000, Tenochtitlan was set up so it would sustain its inhabitants while still protecting the local ecosystem. The Spanish conquest caused a human and ecological disaster of epic proportions.
1587 - Manteo, chief of the Hatteras, was baptized into the Christian faith as a member of the Church of England, becoming the first Native American to become a Protestant. He was invested by Sir Walter Raleigh with the power of Lord of Roanoke and of Dasamonguepeuk. There were earlier baptisms of Native Americans by Roman Catholic priests in Florida.
1608 – John Smith's story, "A True Relation of Virginia," of the first days of Jamestown colony wwas submitted for publication. Smith's books and maps were important in encouraging and supporting English colonization of the New World.
1650 - Of all the Indians the English colonists encountered in the colonies, none were more powerful or better organized than the Iroquois. The five tribes - Mohawk, Oneida, Onondaga, Cayuga, and Seneca - were concentrated in New York in that order between the Hudson River and the Genesee River to the west. Their league, possibly organized as early as 1570, numbered no more than 25,000 persons by about 1650, but it dominated others in all directions. Their particular enemies were the Hurons to the north, who with their French allies dominated the fur trade. In 1649, the Iroquois won a resounding victory over the Hurons; in 1651, they nearly wiped out the Neutral National along the northern shore of Lake Erie; and in 1656, they defeated and dispersed the Eries. They continued to increase their power and became allies of the English after the Dutch lost New Netherlands. As a result, the Iroquois were a serious problem for the patriot forces during the American Revolution. The estimated colonial population was 51,700.
http://www.sixnations.org/
http://www.meigsmagnet.org/~ramadanr/aboutthelonghouse.html
1680 - War started when the Spanish were expelled from Santa Fe, New Mexico, by Indians under Chief Pope.
1689 - The legend of the naming of Nix Mate's Island in Massachusetts Bay originated. Captain Nix anchored his boat off the nameless island one night. Screams were heard by the inhabitants of Boston and investigators found the captain murdered. His mate was accused, tried, and sentenced to hang. As a final statement, the mate said that the island would wash away as proof of his innocence. By the beginning of the nineteenth century, a good portion of Nix Mate's Island had disappeared.
1722 - Governor Alexander Spotswood of Virginia signed a treaty with the League of Six Nations, an Iroquois confederation that included the Tuscarora tribe. The Indians agreed not to cross the Potomac River or Blue Ridge Mountains.
1744 - A new Indian treaty signed with the Iroquois League of Lancaster PA, ceded to England the territory of the Ohio River Valley north of the Ohio River
1784 - The United States Legislature met for the final time in Annapolis, Maryland. It moved a few more times, from Philadelphia, PA to New York City and, finally, to its permanent seat of government in Washington, DC.
1818 - Birthday of Lucy Stone (d. 1893), American women's rights pioneer, born near West Brookfield, MA. Lucy Stone dedicated her life to the abolition of slavery and the emancipation of women. Although she graduated from Oberlin College, she had to finance her education by teaching for nine years because her father did not favor college education for women. An eloquent speaker for her cause, she headed the list of 89 men and women who signed the call to the first national Women's Rights Convention, held at Worcester, MA in October, 1850. On May 1, 1855, she married Henry Blackwell. She and her husband aided in the founding of the American Suffrage Association, taking part in numerous referendum campaigns to win suffrage amendments to state constitutions.
http://www.oberlin.edu/~EOG/OYTT-images/LucyStone.html
1831 - A blue sun, possibly a solar eclipse, was widely observed in the southern states. The phenomenon was believed to have pre-staged Nat Turner's slave uprising. Turner believed it to be a sign from God. Eight days later, he and 70 other slaves kill approximately 55 whites in Southampton County, VA.
1860 - Lucy Stone (d. 1926) was born at Drake County, OH. She developed an eye as a markswoman early as a child, becoming so proficient that she was able to pay off the mortgage on her family farm by selling the game she killed. A few years after defeating vaudeville marksman Frank Butler in a shooting match, she married him and they toured as a team until joining Buffalo Bill's Wild West Show in 1885. She was one of the star attractions for 17 years.
http://www2.lhric.org/pocantico/womenenc/oakley.html
http://www.ormiston.com/annieoakley/index.shtml
1876 – US and Hawaii ratify a reciprocity treaty.
[Wiki: Jun 23, 1889]1889 - William Gray of Hartford, CT, received a patent on a "coin-controlled apparatus for telephones." The first pay telephone was installed in the lobby of the Hartford Bank in 1889 under the supervision of Ellis Benjamin Baker, superintendent of the Southern New England Telephone Company. In 1891, Gray, with Amos Whitney and Francis Pratt, incorporated the Gray Telephone Pay Station Company and installed the telephone in stores on a leasing basis. The company rented out the pay phones for 25 percent of the take. Ten percent of the take went to the place of business, and 65 percent went to the telephone company.
1892 - First issue of the Baltimore Afro-American newspaper, by John H. Murphy, Sr., who was born into slavery and served in the Civil War in the United States Colored Troops, reaching the rank of sergeant (NCO). Murphy merged his church publication, The Sunday School Helper, with two other church publications, The Ledger and The Afro-American. With The Afro-American, Murphy promoted unity in the black community of Baltimore, as well as combating racial discrimination in the city and working for children's education. "He crusaded for racial justice while exposing racism in education, jobs, housing, and public accommodations. In 1913, he was elected president of the National Negro Press Association."
http://www.pbs.org/blackpress/news_bios/afroamerican.html
1895 – Bert Lahr, the Cowardly Lion in "The Wizard of Oz", was born Irving Lahrheim (d. 1997) in New York City. Beyond "Oz", Lahr was very well known for work in burlesque, vaudeville, and on Broadway.
1898 – U.S. forces under George Dewey capture Manila in The Philippines during Spanish-American War.
1898 - Regis Toomey (d. 1991), born in Pittsburgh. Actor, "Burke's Law," "Petticoat Junction."
1899 - Alfred Hitchcock (d. 1980) birthday in London. Film director and master of suspense. Hitchcock's career as a filmmaker dates back to the silent film era when he made "The Lodger" in 1926, based on the tale of Jack the Ripper. American audiences were introduced to the Hitchcock style in 1935 with "The Thirty-Nine Steps" and "The Lady Vanishes" in 1938, after which he went to Hol­lywood. There he produced a string of classics including "Rebecca," "Suspicion," "Notorious," "Rear Window," "To Catch a Thief," "The Birds," "Psycho" and "Frenzy." In addition, he ventured into television with his series "Alfred Hitchcock Presents."
http://nextdch.mty.itesm.mx/~plopezg/Kaplan/Hitchcock.html
1906 - The all black infantrymen of the U.S. Army's 25th Infantry Regiment are accused of killing a white bartender and wounding a white police officer in Brownsville, TX, despite exculpatory evidence; all are later dishonorably discharged.
1912 - Birthday of the best golfers ever, Ben Hogan (d. 1997), at Dublin, TX. His nine career professional major championships tie him with Gary Player for fourth all-time, trailing only Jack Nicklaus (18), Tiger Woods (14) and Walter Hagan (11). He is one of only five golfers to have won all four major championships currently open to professionals (the Masters, The Open (despite only playing once), the US Open, and the PGA. The other four are Nicklaus, Woods, Player, and Gene Sarazen.
1912 - Birthday of trombonist Big Chief Russell Moore (d. 1983), Komatke, AZ
1914 – Carl Wickman launches a bus service with Andy (Bus Andy) Anderson and C.A.A. (Arvid) Heed, by transporting iron ore miners from Hibbing to Alice (known for its saloons) at 15 cents a ride. In 1915, Wickman joined forces with Ralph Bogan, who was running a similar service from Hibbing to Duluth. The name of the new organization was the Mesaba Transportation Company, and it made $8,000 in profit in its first year. By the ealry 1920s, through a series of acquisitions, Wickman had the first interstate bus line in the US that he later named Greyhound.
1918 - Women enlist in the US Marine Corps for the first time. Opha Mae Johnson is the first woman to enlist.
1919 - Pianist George Shearing (d. 2011) birthday, London, England.
http://www.telarc.com/biography/bios.asp?aid=98&gsku=3561
1919 - Birthday of Rex Humbard, was born Alpha Rex Emmanuel Humbard (d. 2007), Little Rock, AR. Pioneer radio and television evangelist. In 1958, Humbard established the Cathedral of Tomorrow in Akron, Ohio, from which he afterward based his television ministry.
http://www.bible.ca/tongues-encyclopedia-pentecostal-preachers.htm
1919 - At Saratoga, New York, the previously undefeated racehorse, Man o' War, was defeated by Upset. Legend had it this turn of events so upset Man o' War, he never lost a race again. After winning 1,300 races he went on to sire 379 foals, for a $5,000 stud fee.
1921 - Birthday of pianist/songwriter Jimmy McCracklin (d. 2012), Helena, AR.
http://www.bluesworld.com/BRMcCracklin.html
1922 - African-American Frederick Douglass' home in Washington, DC is declared a national shrine.
http://newdeal.feri.org/library/ae40.htm
1923 – US Steel Corp implements the 8-hour work day.
1924 - "The Prisoner's Song" by Vernon Dalhart became the first country record to sell one million copies. The album included the songs "The Prisoner's Song," "Molly Darling," "Death of Floyd Collins" and "New River Train," which helped Dalhart outsell all others of his era by about 75 million records. In 1981, he became a Country Music Hall of Famer.
1925 - Birthday of trumpet player Benny Bailey (d. 2005), at Cleveland, Ohio.
http://www.esdonk.nl/jazz/benny_baily.htm
1926 – Although he is not American, he has had major impact on American history. Cuban dictator Fidel Castro (d. 2016) was born in Mayari, Oriente, Cuba. Wiki: "Castro is a controversial and divisive world figure, lauded by his supporters as a champion of socialism, anti-imperialism, humanitarianism, and environmentalism, but viewed by his critics as a dictator who has overseen multiple human rights abuses, an exodus of more than one million Cubans, and the impoverishment of the country's economy. Through his actions and his writings, he has significantly influenced the politics of various individuals and groups across the world."
1927 - Birthday of guitarist Joe Puma (d. 2000), New York City.
http://www.anyswinggoes.com/news/newsdesk.cgi?a=78&t=template.html
http://www.classicjazzguitar.com/artists/artists_page.jsp?artist=24
1929 – Pat Harrington (d. 2016) birthday in NYC. Comedian, actor: "One Day at a Time" and "The Danny Thomas Show".
1930 – Birthday of Don Ho (d. 2007), Kakaako, HI.
http://www.allmusic.com/cg/amg.dll?p=amg&sql=Bqau36j4h71q0
http://www.donho.com/
1930 – Birthday of one of the best nicknames in sports. Wilmer "Vinegar Bend" Mizell (d. 1999) was born in Vinegar Bend, AL. In a nine-season career with the Cardinals, Pirates and Mets, Mizell was 90-88 with a 3.85 ERA in 268 games. After his career, he represented North Carolina's 5th District in Congress.
1932 – Yankees' pitcher Red Ruffing homers for the only run in his 1-0, 10 inning victory.
1934 - Cartoonist Al Capp began his famous comic strip, "Li'l Abner." In those early days, the cartoon strip was carried in eight newspapers. Eventually, it would be in more than 500, and would be the basis for a Broadway play and a Hollywood movie, too.
http://www.lil-abner.com/cappbio.html
1935 - The first roller derby competition took place in Chicago, staged by promoter Leo Seltzer.
1938 - Blues legend Robert Johnson, who was reported to have "made a deal with the Devil" in order to execute his amazing guitar technique, plays his last gig at a dance approximately 15 miles from Greenwood, MS, and is supposedly poisoned by either the club's owner or a jealous girlfriend, who places strychnine in an open bottle of whiskey. When offered the bottle, fellow bluesman Sonny Boy Williamson knocks it out of his hand, admonishing him against ever drinking from an open container at a public event, but Johnson drinks from the next open bottle anyway. He would die three days later.
1939 – The Yankees established a Major League record for the largest margin of victory in a shutout. They beat the Philadelphia A's 21-0.
1942 – Walt Disney's fifth full-length animated film, "Bambi," was released to theaters.
1942 - Soviet Premier Joseph Stalin wrote both to England's Prime Minister Winston Churchill and American President Franklin D. Roosevelt, appealing for them to help in the war in Europe against Germany. Not trusting the dictator and wanting to protect the oil in Northern Africa, they invaded there first, and whatever relationship they had began to unravel even before it started.
http://memory.loc.gov/ammem/today/aug13.html
1947 – Birthday of Gretchen Corbett, Camp Sherman, OR. Jim Rockford's beleaguered attorney Beth in "The Rockford Files," one of my favorite TV shows.
1948 - Rookie pitcher Satchel Paige of the Cleveland Indians tossed his first complete game in the Major Leagues. During the game, he allowed the Chicago White Sox only five hits, winning the game, 5-0. The rookie pitcher was 42 years old.
1950 – Mildred "Babe" Didrickson Zaharias wins LPGA World Golf Championship.
1951 – Birthday of singer Dan Fogelberg (d. 2007) in Peoria, IL. His best-selling hit "Longer" in 1980 was flowed a year later by "The Leader of the Band."
1951 - Everyone who shows up with a musical instrument is admitted free to Ebbets Field. Two thousand fans take advantage of the Musical Depreciation Night promotion including a man who brings a piano.
1952 - The original version of "Hound Dog" was recorded by Willie Mae (Big Mama) Thornton. It was the first hit for the song-writing team of Jerry Leiber and Mike Stoller. Musician-composer Johnny Otis ("Willie and the Hand Jive") said he helped Leiber and Stoller with the writing of "Hound Dog". All was fine as long as Big Mama Thornton was doin' the singing (Otis was her producer), but as soon as the Elvis version started bringing in the bucks, Otis was cut out of the picture. Otis went to court but lost the suit. He was a popular Los Angeles disc jockey as well as band leader, playing at the San Jose Fairmont, while painting, which got to be so popular, he moved to Santa Rosa where he devoted his full energy toward painting until his death in 2012.
1952 - KILMER, JOHN E., Medal of Honor.
Rank and organization: Hospital Corpsman, U.S. Navy, attached to duty as a medical corpsman with a Marine rifle company in the 1st Marine Division. Place and date: Korea, 13 August 1952. Entered service at: Houston, Tex. Born: 15 August 1930, Highland Park, Ill. Citation: For conspicuous gallantry and intrepidity at the risk of his life above and beyond the call of duty in action against enemy aggressor forces. With his company engaged in defending a vitally important hill position well forward of the main line of resistance during an assault by large concentrations of hostile troops, HC Kilmer repeatedly braved intense enemy mortar, artillery, and sniper fire to move from 1 position to another, administering aid to the wounded and expediting their evacuation. Painfully wounded himself when struck by mortar fragments while moving to the aid of a casualty, he persisted in his efforts and inched his way to the side of the stricken marine through a hail of enemy shells falling around him. Undaunted by the devastating hostile fire, he skillfully administered first aid to his comrade and, as another mounting barrage of enemy fire shattered the immediate area, unhesitatingly shielded the wounded man with his body. Mortally wounded by flying shrapnel while carrying out this heroic action, HC Kilmer, by his great personal valor and gallant spirit of self-sacrifice in saving the life of a comrade, served to inspire all who observed him. His unyielding devotion to duty in the face of heavy odds reflects the highest credit upon himself and enhances the finest traditions of the U.S. Naval Service. He gallantly gave his life for another.
1956 - Top Hits
"My Prayer" - The Platters (one of my old time favorites)
"Hound Dog/Don't Be Cruel" - Elvis Presley
"Whatever Will Be Will Be (Que Sera Sera)" - Doris Day
"I Walk the Line" - Johnny Cash
1958 – Cleveland Indians' slugging right fielder Rocky Colavito makes his mound debut, pitching three hitless innings as the Indians lose 3-2 to the Detroit Tigers.
1959 - Bobby Darin signs his first movie contract, a million-dollar, six-year, six-picture deal with Paramount Studios. He would go on to secure a nomination for Best Supporting Actor in 1962.
1961 – Construction of the Berlin Wall begins in East Germany.
1962 – Two Americans, David Healy and Leonard Oeth, skyjack a charter plane heading to Miami, Florida, and force its pilot to fly to Cuba. Apparently unwelcome, they were later returned to the United States and jailed. Over the next few years, skyjacking became relatively common in America. But, in 1968, the trend absolutely exploded: There were at least 10 plane hijackings to Cuba in a six-month period between February and August. The first attempted skyjacking to Cuba took place on August 3, 1961, when Leon Bearden and his 17-year-old son Cody boarded a Continental jet in Phoenix, Arizona, carrying 65 passengers. Leon had a long criminal record and was looking for a fresh start in Cuba. The pilot of the airliner, Bryon Richards, had–remarkably enough–been the victim of the first recorded hijacking of a plane back in 1931. As someone with experience in the matter, Richards calmly convinced Bearden that they would need to land in El Paso, Texas, to have enough fuel to fly to Cuba. With the FBI waiting at the airport when they touched down, Bearden was persuaded to allow 61 passengers to leave the plane during the refueling. As the plane was moving down the runway to take off for Cuba, several agents disabled its tires and engine with machine gunfire. When an FBI agent boarded the plane, Bearden became enraged and threatened to shoot the remaining hostages. However, one of the hostages managed to knock Bearden out with a well-placed punch, and young Cody was glad to surrender. Leon Bearden received a life sentence, but his son only remained in a juvenile facility until he was 21. The strangest skyjacking occurred in 1969, when Anthony Raymond forced an Eastern jet to Cuba by drunkenly waving a pocketknife in front of the stewardess. When he sobered up in Cuba, he almost immediately sought to come back to the United States. He blamed a credit card company for giving him a card that would enable him to get drunk and buy the airline ticket in the first place. The judge rejected his novel defense and sentenced him to 15 years in prison, but wondered why the flight crew had agreed to take orders from Raymond, who was too inebriated to even stand up while he was hijacking the flight.
1963 - At Milwaukee County Stadium, Warren Spahn hurls a complete game for the Milwaukee Braves, beating Los Angeles, 4-3. During the game, the crafty southpaw whiffs five Dodgers to establish the all-time strikeout record for left-handers with 2,382.
1963 - The Four Seasons sue their struggling first label, Vee Jay, for non-payment of royalties and move to Mercury/Philips Records. This would be the first of a long line of incidents that would doom the label.
1964 - Top Hits
"A Hard Day's Night" - The Beatles
"Everybody Loves Somebody" - Dean Martin
"Where Did Our Love Go" - The Supremes
"Dang Me" - Roger Miller
1964 - The Kinks score their first hit as "You Really Got Me," written by Ray Davies on his mother's piano, enters the British charts.
1965 - The Jefferson Airplane makes it stage debut at the Matrix Club in San Francisco. Before the year is out, they'll become the first San Francisco rock group to sign a major recording contract.
1965 - The Beatles' "Help!" single is released.
1966 - The Supremes' "You Can't Hurry Love" is released.
1966 - "Summer in the City" by The Lovin' Spoonful hit the top of the Billboard singles chart. The song started out as a poem written by John Sebastian's brother, Mark, before the band changed some words and then set it to music.
1967 - A planned Joan Baez concert at Washington DC's Constitution Hall is canceled after the Daughters of the American Revolution protest her recent anti-war remarks concerning Vietnam.
1969 - In a 6-4 defeat to the Reds, Bobby Bonds, Barry's dad, becomes the fourth player in Major League history steal at least 30 bases and hit at least thirty home runs in the same season. The other members of the 30/30 club include Ken Williams (1922 Browns), Willie Mays (1956 & 1957 Giants) and Hank Aaron (1963 Braves).
1969 - Oriole Jim Palmer hurls a no-hitter against the A's, the 8-0 victory gives Baltimore a comfortable 14 and a half game lead in the first American League East Division race ever. 1969 was the first year of MLB's re-alignment into East and West Divisions of the American and National Leagues.
1972 – Temporary Commissioner Bowie Kuhn is unanimously elected to a 7-year term as Commissioner of Major League Baseball.
1972 - Top Hits
"Alone Again (Naturally)" - Gilbert O'Sullivan
"Brandy (You're a Fine Girl)" - Looking Glass
"(If Loving You is Wrong) I Don't Want to Be Right" - Luther Ingram
"Bless Your Heart" - Freddie Hart & The Heartbeats
1975 - Marking his first real appearance on the national radar, Bruce Springsteen and the E Street Band perform the first of five sold-out shows at New York's Bottom Line.
1977 – Randy Bachman leaves Bachman-Turner-Overdrive and the band disbands.
1979 - Outfielder Lou Brock of the St. Louis Cardinals got the 3,000th hit of his career, becoming the 14th Major Leaguer to do so, an infield single against Dennis Lamp and the Chicago Cubs. Brock finished his career that season with 3,023 hits.
1979 - Cheap Trick has the biggest hit of their career, "I Want You to Want Me." The tune was originally on their second L.P., "In Color," which came out in 1977. However the song took off when it was included on the "Live at Budokan" album. The record goes gold on this date.
1980 - The afternoon high at New York City was just 89 degrees. But there were fifteen days of 90 degree heat during the month, their hottest August of record
1980 - Top Hits
"Magic" - Olivia Newton-John
"Take Your Time (Do It Right)" - The S.O.S. Band
"Sailing" - Christopher Cross
"Stand by Me" - Mickey Gilley
1981 – Last "The Waltons" broadcast on CBS.
1986 - United States Football League standout Herschel Walker signed to play with the Dallas Cowboys of the National Football League. Walker's contract paid an estimated $5 million over five years. He had been playing for the New Jersey Generals before the USFL went out of business.
1987 - The Cubs retire Hall of Famer Billy Williams' uniform number (26) — if you didn't know it, I am a big fan of the Chicago Cubs—the Dodgers were my number one when they were in Brooklyn, but today, it is only the Cubs!!!
1988 - Boston Red Sox win AL record 24 straight home games.
1988 - Top Hits
"Roll with It" - Steve Winwood
"Hands to Heaven" - Breathe
"Make Me Lose Control" - Eric Carmen
"Don't Close Your Eyes" - Keith Whitley
1988 - A dozen cities in the northeastern U.S. reported record high temperatures for the date. Lansing, MI reported a record 35 days of 90 degree weather for the year, Detroit, MI reported a record 37 days of 90 degree heat for the year, and Williamsport, PA reported a record 38 days of 90 degree weather for the year
1993 - U.S. Court of Appeals rules Congress must save all E-Mails. It apparently said nothing about other government agencies.
1996 – Microsoft launches Internet Explorer 3.0.
2003 - After missing nearly three months with a groin injury, Mike Piazza makes a dramatic return to the New York lineup as he homers and drives in five runs on Italian Night at Shea Stadium. The backstop's 3-for-5 performance, including a home run in the third inning, RBI single in the fourth and a two-run single in the seventh, contributes to the Mets 9-2 victory over the Giants.
2007 - Fats Domino is honored as an "American Music Legend" by the Recording Industry Association of America.
2011 - The Ames Straw Poll for the 2012 Presidential election candidates is taken; Michele Bachmann is the winner. She dropped out in January 2012 after finishing in sixth place in the Iowa caucuses. On May 29, 2013, Bachmann announced that she would not seek re-election to her Congressional seat in 2014.
-------------------------------------------------------------

SuDoku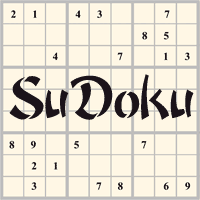 The object is to insert the numbers in the boxes to satisfy only one condition: each row, column and 3x3 box must contain the digits 1 through 9 exactly once. What could be simpler?
http://leasingnews.org/Soduku/soduko-main.htm
--------------------------------------------------------------

Daily Puzzle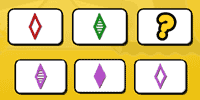 How to play:
http://www.setgame.com/set/puzzle_frame.htm
Refresh for current date:
http://www.setgame.com/set/puzzle_frame.htm
--------------------------------------------------------------


http://www.gasbuddy.com/
http://www.gasbuddy.com/GB_Map_Gas_Prices.aspx
http://www.gasbuddy.com/GB_Mobile_Instructions.aspx
--------------------------------------------------------------

Weather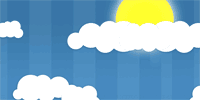 See USA map, click to specific area, no commercials
--------------------------------------------------------------

Traffic Live---
Real Time Traffic Information
You can save up to 20 different routes and check them out with one click,
or type in a new route to learn the traffic live
--------------------------------