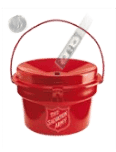 CLICK IMAGE TO MAKE AN
ONLINE DONATION
SAN FRANCISCO---In the winter of 1891, Salvation Army Captain Joe McFee put a crab pot on the San Francisco docks and asked citizens to "keep the pot boiling" by making donations so he could feed the needy at Christmastime.These days, we all know this "crab pot" to be The Salvation Army Christmas Kettle
Thursday, December 2, 2004
This week is a holiday edition version. There will be limited news reporting.
Each day we will salute a professional non-profit equipment leasing
association. To learn more about them, we
invite you to visit their web site.
Equipment Leasing Association
Equipment Leasing Association of America
4301 N. Fairfax Drive,
Suite 550 ,
Arlington , VA 22203-1627
PH: 703/527-8655
FX: 703/527-2649
The largest, and perhaps the most politically influential leasing association, backed by all segments of the leasing industry, is the Equipment Leasing Association . Their dues reflect a professional, well-run and managed association with the most meetings, the best equipment leasing website on line, legislative advocates in Washington , D.C. , also available to many states, top rated conferences, and is very sophisticated. It also has the largest number of members. There is something for every segment of the leasing industry and many benefits to growing leasing companies and leasing company executives.
It should be noted that the ELA conference attendance has always been
"outstanding", their legislative involvement is not paralleled in our industry,
and their web site, with its full and always current information, is the best leasing
industry web site, no competition. If you have not visited it, you should:
www.elaonline.org
Membership information can be requested on their website, as well – simply click on "Membership Info" at the top left of the home page. There are membership categories for all types of firms involved in the industry, with leasing company dues beginning at $2,200. This membership is essential for any company that is serious about succeeding in the leasing industry – the "Members-Only" section of the website alone is more than worth the cost of dues. For any membership questions not answered on the website, contact:
Don Ethier
Director of Member Marketing
dethier@elamail.com
telephone number:
703.516.8383