Monday, January 11, 2010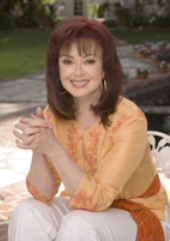 Singer/Song Writer Diana Ellen Judd (better known as Naomi) born January 11, 1946 Ashland, Kentucky with her daughter Wynonna became part of the singing "The Judds."
http://www.naomijudd.com/bio.php

Headlines---
Classified Ads---Senior Management
Leasing 102 by Mr. Terry Winders, CLP
Part III: Starting a leasing Company and New Markets
FBI Investigating Equipment Acquisition Resources
Sheldon Player and his brokers
by Christopher Menkin
Bank Beat---Banks in Washington State in Trouble
by Christopher Menkin
Top Stories-January 4-8
Alexa Report Leasing Web Sites
EquipmentReady Introduces On-line Auction Website
Tax Return Preparer Faces Federal Prison
Little Rock, Arkansas---Adopt-a-Dog
News Briefs---
Winmark Leasing posts $872,100 loss, revenues down
Leasing Algerie: new Algerian Leasing Company
6.5 quake rocks Humboldt County
Contrarian Investor Sees Economic Crash in China
You May have Missed---
Sports Briefs
California Nuts
Today's Top Event in History
This Day in American History
Football Poem
SuDoku
Daily Puzzle
GasBuddy
Weather, USA or specific area
Traffic Live----


######## surrounding the article denotes it is a "press release"
--------------------------------------------------------------

[headlines]

--------------------------------------------------------------

--------------------------------------------------------------

[headlines]
--------------------------------------------------------------

--------------------------------------------------------------

[headlines]
--------------------------------------------------------------

Top Stories-January 4-8


Here are the top ten stories opened by readers:
(1) Leasing 102 by Mr. Terry Winders, CLP
Part II- Starting a Leasing Company
http://leasingnews.org/archives/Jan2010/1_05.htm#starting

(2) 2009 Leasing News Person of the Year
Ralph Petta
http://leasingnews.org/archives/Jan2010/1_05.htm#poy
(3) Peacock golf club files for bankruptcy
http://www.marinij.com/sanrafael/ci_14128967
(4) Personal Bankruptcy Filings Rising Fast
http://online.wsj.com/article/SB126263231055415303.html?mod=WSJ_hpp_MIDDLTopStories
(5) Cartoon - If you don't have an attorney...
http://leasingnews.org/archives/Jan2010/1_08.htm#cartoon
(6) (Tie)
ELFA and Evergreen/Winter Green Clauses
by Christopher Menkin
http://leasingnews.org/archives/Jan2010/1_08.htm#elfa
(6) (Tie)
Ralph Petta, 2009 Leasing News Person of the Year
http://leasingnews.org/archives/Jan2010/1_08.htm#poy
(7) North Hollywood Man Gets 4 Years plus
http://leasingnews.org/archives/Jan2010/1_08.htm#hollywood

(8) TEQlease Hires Runnalls Lead Finance Team
http://leasingnews.org/archives/Jan2010/1_08.htm#teq
(9) View from the Top---by Steve Chriest
The Role of the Sales Team in Risk Management
http://leasingnews.org/archives/Jan2010/1_08.htm#risk
(10) The List---November/December
http://leasingnews.org/archives/Jan2010/1_05.htm#list_1109

[headlines]
--------------------------------------------------------------

[headlines]
--------------------------------------------------------------

[headlines]
--------------------------------------------------------------
[headlines]
--------------------------------------------------------------


News Briefs----
[headlines]
---------------------------------------------------------------




You May have Missed---
---------------------------------------------------------------



Sports Briefs
[headlines]
----------------------------------------------------------------


California Nuts Briefs---
Schwarzenegger's ambitious jobs plan faces uphill battle
http://www.sacbee.com/topstories/story/2450800.html

----------------------------------------------------------------

Today's Top Event in History
[headlines]
----------------------------------------------------------------

This Day in American History
1755- Alexander Hamilton, American statesman, an author of The Federalist papers, first secretary of the treasury, born at British West Indies. Engaged in a duel with Aaron Burr the morning of July 11, 1804, at Weehawken, NJ. Mortally wounded there and died July 12,1804.
http://odur.let.rug.nl/~usa/B/hamilton/hamilxx.htm
1770- Rhubarb was shipped by Benjamin Franklin from London, England to John Bartram in Philadelphia, Pa. Rhubarb pie was a favorite in the United Colonies.
1775 - Francis Salvador, the first Jew to be elected in the Americas, takes his seat on the South Carolina Provincial Congress. In June 1776, Salvador, a Patriot, became known as the "Southern Paul Revere" when he warned Charleston, South Carolina, of the approaching British naval fleet. Thanks to Salvador's intelligence information, Fort Sullivan in Charleston harbor was able to prepare for the British attack, and the half-completed fort successfully repelled an attack by a British fleet under Sir Peter Parker. On August 1 of the same year, while leading a militia group under the general command of Major Wilkinson, Salvador and his men were ambushed by a group of Cherokees and Loyalists near present-day Seneca, South Carolina. Salvador was wounded and then scalped by the Cherokees. He was the first recorded Jewish soldier killed in the American War for Independence.
1791--- In Philadelphia, Episcopal Bishop William White, 43, founded the First Day Society. It became the forerunner of the American Missionary Fellowship, chartered in 1817 and headquartered today in Villanova, PA.
1795-Birthday of Barbara Heinemann or Heynemann, French-born U.S. spiritual leader of the Community of True Inspiration who supported Christian Metz in his moves from Europe to Iowa and organizing the network of the seven communities known as the Amana Society. As spiritual leader she held the society together after Metz's death.
1801-Birthday of Caroline Matilda Stansbury Kirkland, a New Yorker who after her marriage lived as a frontier wife and authored A New Home - Who'll Follow? (1839). She wrote in a realistic style life that set a new standard for fiction. Her style was continued by her son Joseph Kirkland in his novels. She succeeded her husband as editor of a Unitarian weekly and later edited what became Sartain's Union Magazine. She was prominent in New York City literary circles.
1813--First pineapples planted in Hawaii, brought from Spain.
http://www.royalty.nu/America/Hawaii.html
http://www.hort.purdue.edu/newcrop/morton/pineapple.html
1815- Birthday of John A. MacDonald, Canadian statesman, first prime minister of Canada. Born at Glasgow, Scotland, he died June 6,1891, at Ottawa. His birth anniversary is observed in Canada.
1839- birthday of Eugenio Maria Hostos, Puerto Rican patriot, scholar and author of more than 50 books. Born at Rio Canas, Puerto Rico, he died at Santo Domingo, Dominican Republic, Aug 11, 1903. The anniversary of his birth is observed as a public holiday in Puerto Rico.
1842- birthday of William James, American psychologist and philosopher of distinguished family that included his brother, novelist Henry James. "There is no worse lie," he wrote in Varieties of Religious Experience (1902), "than a truth misunderstood by those who hear it." Born at New York City, he died at Chocorua, NH, Aug 26, 1910.
1848---The Town Council attempted to ban gambling in San Francisco.
1861 - Alabama seceded from the Union and joined the Confederacy.
1870-Birthday of Alice (Caldwell) Hegan Rice, American novelist and short-story writer best known for her 1901 novel Mrs. Wiggs of the Cabbage Patch which has been translated into dozens of languages, made into plays and movies.
1878 - In New York, Alexander Campbell made the first delivery of milk in glass bottles. Until then, milk had been ladled from a container by the milkman, into the customer's own container.
1885- Birthday of Alice Paul, Women's rights leader and founder of the National Woman's Party in: advocate of an equal rights amendment to the US Constitution. Born at Moorestown, NJ, she died there July 10,1977.
http://memory.loc.gov/cgi-bin/query/D?amtoday:1:./temp/~ammem_4bjr
1892-- Paul Gauguin marries a 13-year-old Tahitian girl
1897-Birthday of M.H. Cannon of Utah became the first woman state senator in America.
1902 - "Popular Mechanics" magazine was first published. Initially, it had only five paying subscribers, and a few hundred readers who paid a nickel to buy it at newsstands. In September, 1903, the magazine became a monthly.
1904- Pianist/composer Pinetop Smith born Orion, AL. One of my favorites, I have all his records, best known for "Pinetop's Boogie Woogie."
1907-- The Church of God, headquartered today in Cleveland, Tennessee, and with roots going back to 1886, officially adopted its current name
1910- Canadian singer and saxophonist Art Hallman was born in Kitchener, Ontario. One of Canada's most popular tenors in the 1940's, Hallman was featured vocalist from 1939 to 1944 with Mart Kenney and his Western Gentlemen. He formed the Art Hallman Orchestra in 1945, and the band appeared in top hotels and dance halls in Toronto, as well as on CBC radio and station CFRB. Hallman's theme song was "Just a Moment More With You."
1913-, Hudson Sedan, manufactured by the Hudson Motor Car Company, Detroit, MI, was shown at the 13 th National Automobile Show. It was the first sedan car with all accessories as standard equipment.
1918 - A tremendous blizzard completely immobilized the Midwest, stopping mail service for two weeks. The vast storm then moved through the Great Lakes Region and the Ohio Valley. Winds reached 60 mph at Toledo OH, and the temperature plunged from 28 above to 15 below zero during passage of the cold front.
1922 - A 14-year-old-boy, Canadian Leonard Thompson, became the first person to have his diabetes successfully treated with insulin.
1923—drummer Osie Johnson birthday.
http://www.harlem.org/people/johnson.html#
1924-- Louisiana blues singer Slim Harpo was born in West Baton Rouge. Heavily-influenced by Chicago boogie singer Jimmy Reed, Harpo scored on the pop charts in 1966 with "Baby, Scratch My Back." As well, he had a number-one rhythm-and-blues record in 1961 with "Rainin' in My Heart." Slim Harpo died in 1970.
1927-- '50s pop singer Gisele MacKenzie, born Winnipeg.CA.
1928 - Paul Whiteman recorded "Ol' Man River" on Victor Records. Bing Crosby sang as the featured vocalist on the song from the Broadway musical, "Showboat".
1935 - Amelia Earhart Putnam became the first person to make a solo flight from Hawaii to California. Three years earlier, she became the first woman to make a solo flight across the Atlantic Ocean.
1935- Ronnie Hawkins, a pioneer of rock 'n' roll in Canada, was born in Huntsville, Arkansas.
Hawkins has been a father figure to many of Canada's leading rock musicians, and the graduates of his bands include the groups Crowbar and The Band, as well as Dom Troiano, King Biscuit Boy and David Clayton-Thomas. (Rompin') Ronnie Hawkins began touring the Ontario night club circuit in 1958 with his band the Hawks. In 1959, he scored on the US charts with "Mary Lou" and "40 Days."
Hawkins has remained in Canada since then, leaving his Ontario base only occasionally, as he did in 1976 to appear at The Band's farewell concert in San Francisco.
1938 - The first woman bank president, Frances Moulton, assumed her duties in Limerick, Maine.
1939- First Metronome all-Star session (Berigan, James, Goodman) records " Blue Lou," "The Blues." Victor. These Metronome Jazz Magazine masters are fascinating to listen to as they are basically all star jam sessions.
1939- actor-singer Sal Mineo was born in New York City. Better known for his acting than his singing, he did manage a top-ten record in 1957, "Start Movin'." On February 12th, 1975, Mineo was found murdered in Los Angeles.
1939- Marlene Dietrich, "Falling In Love Again"
1942- Saxophonist Clarence "Big Man" Clemmons born Norfolk, VA; with Bruce Springsteen and the E Street Band
1942 -23ºF (-31ºC), Kingston RI (state record)
1943- Singer Jim Croce was born in Philadelphia. His narrative songs, such as "Bad Bad Leroy Brown" and "You Don't Mess Around With Jim," were extremely popular in the early '70s. Like Otis Redding, Croce's greatest popularity came after his death. And like Redding, Croce was killed in a plane crash - in 1973.
1944 - Franz Kettner, a private in the German army and a prisoner of war at Camp Hearne in Texas, is killed by a Nazi kangaroo court. Internment camps for German prisoners of war were dominated by Nazi enforcers, who killed as many as 150 of their fellow prisoners during World War II.
1944-HOWARD, JAMES H. (Air Mission) Medal of Honor
Rank and organization: Lieutenant Colonel, U.S. Army Air Corps. Place and date: Over Oschersleben, Germany, 11 January 1944. Entered service at: St. Louis, Mo. Birth: Canton, China. G.O. No.: 45, 5 June 1944. Citation: For conspicuous gallantry and intrepidity above and beyond the call of duty in action with the enemy near Oschersleben, Germany, on 11 January 1944. On that day Col. Howard was the leader of a group of P51 aircraft providing support for a heavy bomber formation on a long-range mission deep in enemy territory. As Col. Howard's group met the bombers in the target area the bomber force was attacked by numerous enemy fighters. Col. Howard, with his group, and at once engaged the enemy and himself destroyed a German ME. 110. As a result of this attack Col. Howard lost contact with his group, and at once returned to the level of the bomber formation. He then saw that the bombers were being heavily attacked by enemy airplanes and that no other friendly fighters were at hand. While Col. Howard could have waited to attempt to assemble his group before engaging the enemy, he chose instead to attack single-handed a formation of more than 30 German airplanes. With utter disregard for his own safety he immediately pressed home determined attacks for some 30 minutes, during which time he destroyed 3 enemy airplanes and probably destroyed and damaged others. Toward the end of this engagement 3 of his guns went out of action and his fuel supply was becoming dangerously low. Despite these handicaps and the almost insuperable odds against him, Col. Howard continued his aggressive action in an attempt to protect the bombers from the numerous fighters. His skill, courage, and intrepidity on this occasion set an example of heroism which will be an inspiration to the U.S. Armed Forces.
1945- Birthday of singer Naomi Judd.
1947---Top Hits
For Sentimental Reasons - Nat King Cole
Ole Buttermilk Sky - The Kay Kyser Orchestra (vocal: Mike Douglas & The Campus Kids)
The Old Lamplighter - The Sammy Kaye Orchestra (vocal: Billy Williams)
Divorce Me C.O.D. - Merle Travis
1948- future country superstar Loretta Lynn married Oliver (Mooney) Lynn. She was not quite 14 years old.
1949- Lee Konitz's cuts first record "Progression" on Prestige.
1953-Birthday of rock singer Pat Benatar.
1955---Top Hits
Mr. Sandman - The Chordettes
The Naughty Lady of Shady Lane - The Ames Brothers
Hearts of Stone - The Fontane Sisters
Loose Talk - Carl Smith
1956- Elvis Presley began his first recording session in Nashville. Among the songs recorded were "Heartbreak Hotel" and "I Was the One," which became Presley's first single for RCA Victor. Artists-and-repertoire chief Steve Sholes had bought his contract from Sun Records in Memphis for 35- thousand dollars. The record became the first of Elvis's more than 50 million-sellers.
1956 - No. 1 Billboard Pop Hit: "Memories Are Made of This," Dean Martin.
1957: In one of the biggest scandals to ever hit rock music, Jerry Lee Lewis marries his 14-year-old cousin Myra Gale Brown, daughter of his cousin Jim. Lewis' first marriage is still valid; the divorce wouldn't be finalized for six months. Reports are that Myra still believes in Santa Claus. When the story breaks a few weeks later, Lewis' career would be seriously damaged.
1958- The Coasters, "Charlie Brown"
1958 - On CBS-TV's "Seahunt," Lloyd Bridges starred as Mike Nelson, an ex-Navy frogman turned underwater trouble shooter. The show spent four years on the network. The underwater sequences were shot in Silver Springs, Florida. The out-of- water sequences were filmed at Marineland of the Pacific.
My father Lawrence Menkin wrote several of the episodes.
1958-- "Great Balls of Fire" by Jerry Lee Lewis became the number-one song in the US. Later in the year, many radio stations began banning his records because of his marriage to his 13-year-old cousin.
1960: Aretha Franklin makes her stage debut at New York's Village Vanguard.
1961-- The Marvelettes' "Please Mr. Postman" hits #1
1963---Top Hits
Telstar - The Tornadoes
Go Away Little Girl - Steve Lawrence
Hotel Happiness - Brook Benton
Ruby Ann - Marty Robbins
1963 - On Sunset Boulevard in California, Whiskey-A-Go-Go opened. Bright lights and mini-skirt clad dancers in cages were the main features of the United State's first discotheque. . In the next decade and beyond, the Whiskey will be a popular meeting place for the record industry and a good place to be seen if you want to get into the industry. The Doors, among others, got their start there.
1963- Tracy Caulkins, American swimmer, winner of more titles than any other amateur athlete. TC won 48 national titles, three Olympic gold medals (1984), set 66 world or U.S. records, and is a member of the International Swimming Hall of Fame (1990).
1964 --U.S. Surgeon General Luther Terry issued the first government report saying that smoking may be hazardous to one's health.
1964- The famed Whisky a Go-Go nightclub opened on Hollywood's Sunset Boulevard. The combination discotheque and concert venue quickly became the favored hangout for LA's hip set. It was famed for its go-go girls who both danced and acted as dj's, and for its house band, led by Johnny Rivers. The club also spotlighted the hottest acts from the US and Britain, among them the Byrds, Jimi Hendrix, the Who and Led Zeppelin.
1964 - "Ring of Fire" by Johnny Cash becomes the first country album to top the U.S. pop album chart.
1964—Famed singer Sam Cooke is shot and killed under mysterious circumstances at the Hacienda Hotel in Los Angeles, CA. The married singer picked up a young woman at a party, who claimed Cooke attempted to rape her. When she ran away, according to her testimony, Cooke followed and assaulted the hotel manager, demanding to know the girl's whereabouts. The manager shot Cooke three times.
1965-- Ray Charles' "Crying Time" enters the pop charts
1966-British Invasion band Herman's Hermits receive a gold record for the album "The Best of Herman's Hermits."
1968- The Rolling Stones film their legendary Rolling Stones' Rock and Roll Circus television special at Wembley television studios in Middlesex, England, featuring performances by John Lennon, Eric Clapton, the Who, Jethro Tull, Marianne Faithful -- and yes, circus people, all filmed in a circus tent. The show is never aired and only sees the light of day in 1996, supposedly because the Stones thought the Who upstaged them with their performance.
1969--FRITZ, HAROLD A. Medal of Honor
Rank and organization: Captain, U.S. Army, Troop A, 1st Squadron, 11th Armored Cavalry Regiment. Place and date: Binh Long Province, Republic of Vietnam, 11 January 1969. Entered service at: Milwaukee, Wis. Born: 21 February 1944, Chicago, 111. Citation: For conspicuous gallantry and intrepidity in action at the risk of his life above and beyond the call of duty. Capt. (then 1st Lt.) Fritz, Armor, U.S. Army, distinguished himself while serving as a platoon leader with Troop A, near Quan Loi. Capt. Fritz was leading his 7-vehicle armored column along Highway 13 to meet and escort a truck convoy when the column suddenly came under intense crossfire from a reinforced enemy company deployed in ambush positions. In the initial attack, Capt. Fritz' vehicle was hit and he was seriously wounded. Realizing that his platoon was completely surrounded vastly outnumbered, and in danger of being overrun, Capt. Fritz leaped to the top of his burning vehicle and directed the positioning of his remaining vehicles and men. With complete disregard for his wounds and safety, he ran from vehicle to vehicle in complete view of the enemy gunners in order to reposition his men, to improve the defenses, to assist the wounded, to distribute ammunition, to direct fire, and to provide encouragement to his men. When a strong enemy force assaulted the position and attempted to overrun the platoon, Capt. Fritz manned a machine gun and through his exemplary action inspired his men to deliver intense and deadly fire which broke the assault and routed the attackers. Moments later a second enemy force advanced to within 2 meters of the position and threatened to overwhelm the defenders. Capt. Fritz, armed only with a pistol and bayonet, led a small group of his men in a fierce and daring charge which routed the attackers and inflicted heavy casualties. When a relief force arrived, Capt. Fritz saw that it was not deploying effectively against the enemy positions, and he moved through the heavy enemy fire to direct its deployment against the hostile positions. This deployment forced the enemy to abandon the ambush site and withdraw. Despite his wounds, Capt. Fritz returned to his position, assisted his men, and refused medical attention until all of his wounded comrades had been treated and evacuated. The extraordinary courage and selflessness displayed by Capt. Fritz, at the repeated risk of his own life above and beyond the call of duty, were in keeping with the highest traditions of the U.S. Army and reflect the greatest credit upon himself, his unit, and the Armed Forces.
1970-- The Kansas City Chiefs defeated the Minnesota Vikings, 23-7, to win Super Bowl IV. the Chiefs, 14—point underdogs, evened the AFL's Super Bowl record at 2-2 with their triumph. Kansas City was led by quarterback Len Dawson, named the game's Most Valuable Player.
1970 - Billy Casper became the second golfer in history to top the $1-million mark in career earnings; thanks to winning the Los Angeles Open golf tournament.
1971---Top Hits
My Sweet Lord/Isn't It a Pity - George Harrison
Knock Three Times - Dawn
Black Magic Woman - Santana
Rose Garden - Lynn Anderson
1972 - Downslope winds hit the eastern slopes of the Rockies in northern Colorado and southeastern Wyoming. Boulder CO reported wind gusts to 143 mph and twenty-five million dollars property damage.
1973-- The American League changed its playing rules to allow for the use of a designated hitter, one player to bat for the pitcher throughout the game without being required to play in the field. the rule was intended to boost offensive production and to allow better starting pitchers to remain in the game longer.
1974-country storyteller Tom. T. Hall topped the country singles charts with "I Love." His other number-one songs that year included "That Song is Driving Me Crazy" and "Country Is."
1976-- US female Figure Skating championship won by Dorothy Hamill.
1976-- Al Stewart's "Year of the Cat" enters the pop charts
1977- AT & T approves dual listings in phone books for wife and husband without extra charge, ending a three-year battle by feminists.
1979---Top Hits
Too Much Heaven - Bee Gees
My Life - Billy Joel
Sharing the Night Together - Dr. Hook
Tulsa Time - Don Williams
1980- composer John Williams succeeded the late Arthur Fiedler as the conductor of the Boston Pops.
1984-the album "Thriller" by Michael Jackson became the all-time bestselling LP. "Thriller," with ten-million copies sold, surpassed the previous best-seller, the soundtrack from "Saturday Night Fever." "Thriller" eventually sold more than 40 million copies. Also on January 11th, 1984, Michael Jackson was nominated for 12 Grammy Awards.
1986-- L. Douglas Wilder was sworn in as lieutenant governor of Virginia. He was the first black elected to statewide office in the South since Reconstruction. He later served as governor.
1987- Madonna's video about a pregnant teenager, "Papa Don't Preach," won the top award on the first World Music Video Awards. The three-hour program was co-produced by Canada's MuchMusic Network and Europe's Sky Channel. It was telecast live via satellite to five continents.
1987---Top Hits
Walk Like an Egyptian - Bangles
Notorious - Duran Duran
Shake You Down - Gregory Abbott
Give Me Wings - Michael Johnson
1987 -- Denver quarterback John Elway engineers "The Drive." Trailing Cleveland 20-13 with 5:32 remaining in the AFC championship game, Elway marches the Broncos 98 yards on 15 plays to force overtime, then moves Denver 60 yards on nine plays on their first possession of overtime to set up Rich Karlis' game-winning 33-yard field goal in the Broncos' 23-20 victory.
http://images.nfl.com/history/images/0111.jpg
1987 - A storm in the northeastern U.S. buried the mountains of central Vermont with up to 26 inches of snow, and snowfall totals in Maine ranged up to 27 inches at Telos Lake. Winds gusted to 45 mph at Newark NJ and Albany NY.
1988 - Snow and high winds in Utah resulted in a fifty car pile-up along Interstate 15. Winds in Wyoming gusted to 115 mph at Rendezvous Peak.
1992-Paul Simon becomes the first international star to perform in South Africa following the end of the UN cultural boycott. He began a concert tour in Johannesburg.
1992--- US female Figure Skating championship won by Kristi Yamaguchi
1998 --NFC Championship Green Bay Packers beat San Francisco 49'ers 23-10
1998-- AFC Championship Denver Broncos beat Pitt Steelers 24-21
1998-- US female Figure Skating championship won by Michelle Kwan
1998--- US male Figure Skating championship won by Todd Eldredge
1999-- NASA declared 1998 the warmest year on record. Global surface temperatures increased by 0.34 of a degree Fahrenheit. The average temperature of 58.496 degrees Fahrenheit eclipsed the previous record set in 1995. The 1998 warmth was associated partly with a strong El Niño, a periodic warming of the Pacific Ocean.
1999-At the American Music Awards, Billy Joel is given the Special Award of Merit for his "inspired songwriting skills" and "exciting showmanship." Also at the show, Blondie (with four of the original members: Debbie Harry, Chris Stein, Jimmy Destri, and Clem Burke) perform on stage with rapper Coolio singing the band's "No Exit."
Super Bowl Champions this Date
1970--- Kansas City Chiefs
--------------------------------------------------------------

Football Poem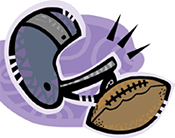 I am the Master of my Fate

Often read before a football game:

Willian Ernest Henley (1875) .
Out of the night that covers me,
Black as a Pit from pole to pole,
I thank whatever gods may be
For my unconquerable soul.
In the fell clutch of circumstance
I have not winced nor cried aloud,
Under the bludgeoning of chance
My head is bloody, but unbowed.
Beyond this place of wrath and tears
Looms but the horror of the shade,
And yet the menace of the years
Finds, and shall find me, unafraid.
It matters not how straight the gate,
How charged with punishments the scroll,
I am the master of my fate:
I am the Captain of my soul.
--------------------------------------------------------------

SuDoku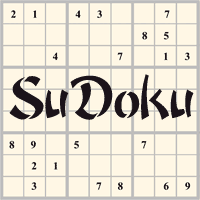 The object is to insert the numbers in the boxes to satisfy only one condition: each row, column and 3x3 box must contain the digits 1 through 9 exactly once. What could be simpler?
http://leasingnews.org/Soduku/soduko-main.htm
--------------------------------------------------------------

Daily Puzzle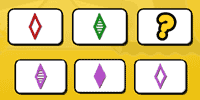 How to play:
http://www.setgame.com/set/puzzle_frame.htm
Refresh for current date:
http://www.setgame.com/set/puzzle_frame.htm
--------------------------------------------------------------


http://www.gasbuddy.com/
http://www.gasbuddy.com/GB_Map_Gas_Prices.aspx
http://www.gasbuddy.com/GB_Mobile_Instructions.aspx
--------------------------------------------------------------

Weather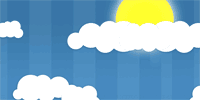 See USA map, click to specific area, no commercials
--------------------------------------------------------------

Traffic Live---
Real Time Traffic Information
You can save up to 20 different routes and check them out with one click,
or type in a new route to learn the traffic live
--------------------------------