Channel Partners Capital was formed in 2009 by a group of leasing professionals to work exclusively in the equipment finance market helping brokers/lessors gain access to working capital solutions for their customers. As a direct lender we provide small business loans that range in size from $10,000 to $250,000.

• Inc. Magazine 500/5000 fastest growing private companies for 4 consecutive years
• 100 Best Companies to Work for in Minnesota by Minnesota Business Magazine


BE A PART OF OUR GROWING TEAM

National Sales Representative
This position will be responsible for volume growth through existing and new third party relationships (TPRs). The NSR is the primary contact with TPRs actively managing customer contact, expectations, new product/program development and the sales pipeline. Nationwide scope with travel required from 25-50% of time.
More

Inside Sales Representative
This position is responsible for volume growth through existing and new third party relationships (TPRs). The ISR, supports assigned TPRs actively managing customer contact, expectations, new product/program development and the sales pipeline.
More

Please email cover letter and resume to: careers@channelpartnersllc.com
Wednesday, July 20, 2016


Today's Equipment Leasing Headlines

Archives: July 20, 2011 Eric Gross
Promoted to Senior Vice President, Bank of the West
Webcast Today, July 20, 1pm, EDT
Looking Ahead to the Second Half of 2015
Attention CLF Funders! Quinton Berry Not Doing Deals in California
He also Reports Appealing California DBO Cease & Desist Order
Leasing Industry Ads---Help Wanted
Sales/Senior Credit Analyst/Inside Sales Manager
Mid-Year Highlights --- ELFA President/CEO Ralph Petta
Opportunities to Help You
Sales Make it Happen by Scott Wheeler, CLFP
Learning from Millennials
Leasing Portals
(Business to Business including Finance/Leasing)
New Business Volume Grew 12.4% in 2015
ELFA Survey of Equipment Finance Activity
Buzz Larsen Receives Jay Terry Lifetime Achievement Award
at the AGLF Annual Conference
Amembal & Halladay Announces Three Leasing Seminars
in Singapore in November
German Shepherd
Beaverton, Oregon Adopt-a-Dog
Leasing News Classified Ads
Licensed Investigators
News Briefs---
Dallas-based Comerica Bank to cut 9 percent
of workforce in cost-saving move
EMC shareholders approve $60B sale to Dell
"now only needs approval from Chinese regulator"
It's Not a Housing Bubble, It's Just Expensive
Low Inventory of Houses in 29 Cities Driving Prices Up
KBW and Nasdaq launch fintech index
49 FinTech Companies
Santander doubles investment in fintech fund to US$200m
Based in London, England
Broker/Funder/Industry Lists | Features (writer's columns)
Top Ten Stories Chosen by Readers | Top Stories last six months
www.leasingcomplaints.com (Be Careful of Doing Business)
www.evergreenleasingnews.org
Leasing News Icon for Android Mobile Device
You May have Missed---
SparkPeople--Live Healthier and Longer
Winter Poem
Sports Briefs---
California Nuts Brief---
"Gimme that Wine"
This Day in American History
SuDoku
Daily Puzzle
GasBuddy
Weather, USA or specific area
Traffic Live----
######## surrounding the article denotes it is a "press release" and was not written by Leasing News nor information verified, but from the source noted. When an article is signed by the writer, it is considered a "by line." It reflects the opinion and research of the writer.




[headlines]
--------------------------------------------------------------
Archives: July 20, 2011 Eric Gross
Promoted to Senior Vice President, Bank of the West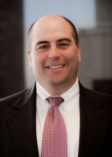 Long time leasing expert Eric Gross was promoted to Senior Vice-President for Bank of the West. He leads the business line out of Portland, Oregon with the bank that provides third-party servicing solutions to commercial finance and leasing companies.
Eric joined the bank in 2007. Prior he was Director of Sales and Marketing for Portfolio Financial Servicing Company (PFSC) from 2002-2008, Vice-President, ORIX (1992-2002), Senior Vice President-Director, Morgan Premium Finance, 1998-2001. He has a BA in Economics from Washington State University, College of Business and Economics, Pi Kappa Alpha. He is a resident of Beaverton.
https://www.linkedin.com/in/eric-gross-9192649
TODAY


Eric Gross
Senior Vice President
Director Managed Services
at Bank of the West, Portland, Oregon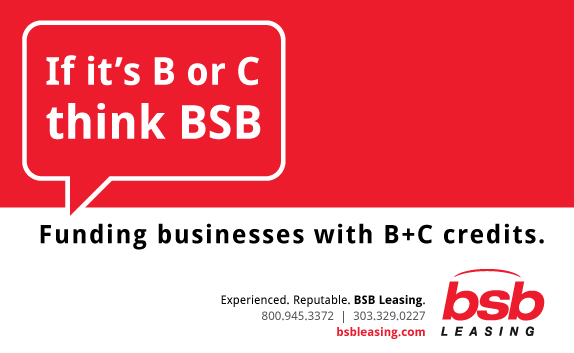 [headlines]
--------------------------------------------------------------
***** Announcement *************************************
Webcast Today, July 20, 1 p.m., EDT
Looking Ahead to the Second Half of 2015

Register Now: Equipment Leasing & Finance Foundation's Q3 Economic Update Webcast, Wednesday, July 20 @1 pm EDT
The Equipment Leasing & Finance Foundation will host a one-hour webcast TODAY, July 20 at 1 p.m. EDT on the findings from the Q3 - 2016 Economic Outlook report.
Foundation research partners from Keybridge will present the highlights from the Outlook report and tools from the Foundation's recently released Applied Economics Handbook to help equipment finance executives leverage data and make better business decisions.
To register, email Foundation@LeaseFoundation.org.
For more information go to www.leasefoundation.org/research/EO/.
The Applied Economic Handbook is available in the Foundation's Online Library at http://www.store.leasefoundation.org/cgi-bin/msascartdll.dll/ProductInfo?productcd=AppEco2016
****Announcement**********************************


[headlines]
--------------------------------------------------------------
Attention CLF Funders! Quinton Berry Not Doing Deals in California
He also Reports Appealing California DBO Cease & Desist Order
by Tom McCurnin, Leasing News Legal Editor, and Kit Menkin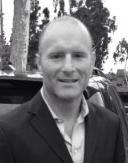 Quinton Berry, Pioneer Capital, Irvine, California, in an email to Leasing News (1), says he is appealing the "Cease and Desist" order from the California Department of Business Oversight. He states he is not doing business in California with a CFL funder, except "... mostly all of our deals will be funded through banks, subsidiaries of banks, venture debt lenders, and non-CFL lenders that Pioneer is then exempt."
He does not make reference to term loan proposals with entities Pioneer worked on for California entities in 2014 & 2015. The DBO is saying that this type of lending (and/or brokering) requires Pioneer to have a CFL lender's and or broker's license.
He claimed to Leasing News that many of the charges were withdrawn and that he is appealing the C&D. Leasing News learned that the March C&D is final as of the writing of this article and could not confirm any appeal. There was a prior withdrawal of certain unspecified claims, but the allegations of deception and a lack of license remain in play.
http://www.dbo.ca.gov/ENF/List/B/Berry,%20Quinton.asp

The DBO held that Pioneer has not been issued a license by the Commissioner authorizing it to engage in the business of a finance lender and/or broker under the California Finance Lenders Law.
The DBO further held that Pioneer's statements with respect to the terms and conditions of borrowers' loans were false, misleading, or deceptive, and omitted material information necessary relative to having a "loan committee" and pocketing deposits. Pioneer is not exempt from the licensing requirements of California Financial Code section 22100.
Mr. Berry claimed to Leasing News that as an unlicensed broker, he can assign leases to banks, and enjoy the bank's exemption. This is incorrect, because banks may be exempt, but the unlicensed broker is not exempt. He has violated the law by acting as a broker under the Code Sections 22100 which requires all California brokers acting as a broker to be licensed.
Mr. Berry also stated that he uses a "venture debt lender" as a de facto investor on leases and thus is not required to be licensed. Leasing News has confirmed that companies which issue investments may be selling securities, which requires obtaining a DBO license. The applicable section is the DBO, Securities Regulation Division: http://www.dbo.ca.gov/About_DBO/Securities_regulation_division.asp
Mr. Berry further states in his email:
"I am uncertain why you would question Pioneer's operations when the majority of its business is equipment leasing (which happens out of the state of CA). If licensing is not obtained, then Pioneer will not transact certain financings with CA entities that fall under the final D&R issued by the DBO."
As previously reported in Leasing News, this is incorrect in that there are other states that require a license, such as Nevada and Alaska, as well as taking licenses for taking advance rentals or advance payments. Usury laws would also apply in many states on capital leases and loans. (2).
Finally, Mr. Berry claimed that by assigning leases to a non-CFL lender, he is not acting as a broker. Leasing News has determined that any entity brokering leases (whether or not to a licensed lender) is in fact a broker and must be licensed.
Bottom Line: Any broker in California, or brokers doing business in California, should be licensed. There are severe repercussions for not being licensed.
(1) Email from Quinton Berry, Pioneer Capital, Irvine, California:
http://www.leasingnews.org/PDF/QuintonBerryeMail2016.pdf
(2) State Regulations
http://leasingnews.org/archives/Feb2015/2_04.htm#regulations
Usury Laws
http://leasingnews.org/archives/Sep2014/9_22.htm#sample
(3) More on Quinton P. Berry re: DOB Cease & Desist
http://leasingnews.org/archives/Jul2016/07_18.htm#more


Unlicensed Broker Subject to Cease & Desist Order
by State of California by Tom McCurnin, Leasing News Editor
http://leasingnews.org/archives/Jul2016/07_18.htm#un
Send Leasing News to a Colleague and ask them to Subscribe.
We are Free! Send kitmenkin@leasingnews.org
Put "subscribe" in subject line!
[headlines]
--------------------------------------------------------------
Leasing Industry Ads---Help Wanted
Positions Available for the Right Person


Channel Partners Capital was formed in 2009 by a group of leasing professionals to work exclusively in the equipment finance market helping brokers/lessors gain access to working capital solutions for their customers. As a direct lender we provide small business loans that range in size from $10,000 to $250,000.

• Inc. Magazine 500/5000 fastest growing private companies for 4 consecutive years
• 100 Best Companies to Work for in Minnesota by Minnesota Business Magazine


BE A PART OF OUR GROWING TEAM

National Sales Representative
This position will be responsible for volume growth through existing and new third party relationships (TPRs). The NSR is the primary contact with TPRs actively managing customer contact, expectations, new product/program development and the sales pipeline. Nationwide scope with travel required from 25-50% of time.
More

Inside Sales Representative
This position is responsible for volume growth through existing and new third party relationships (TPRs). The ISR, supports assigned TPRs actively managing customer contact, expectations, new product/program development and the sales pipeline.
More

Please email cover letter and resume to: careers@channelpartnersllc.com

Senior Credit Analyst

- Minimum 5 years of small ticket/high volume equipment finance underwriting experience preferred
- Relocation benefits available for the right candidate
- For a complete job description, please click here

Senior Credit Analyst - Transportation

- Minimum 5 years of small ticket/high volume equipment finance underwriting experience preferred
- Relocation benefits available for the right candidate
- For a complete job description, please click here
www.pawneeleasing.com
Established in 1982, Pawnee Leasing Corporation located in Fort Collins, CO specializes in commercial equipment leasing and financing up to $150,000 to smaller, closely-held business enterprises. Pawnee Leasing is a U.S. subsidiary of Chesswood Group Limited, a publicly-held specialty financial services company based in Toronto, Canada (TSX:CHW).

Nationwide Sales Positions Available
Medical, Commercial and Industrial
Transportation, FF&E, Technology

Superior pricing - Superior Buying window
- Superior back office - Superior stability
For more info click here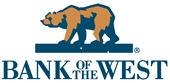 Inside Sales Manager
San Francisco
We are currently seeking qualified talent to be primarily responsible for overseeing the Inside Sales Department within the Vendor business group of the Equipment Finance Division, while developing and improving policies and procedures to properly support high production volume.
For more information
click here
[headlines]
--------------------------------------------------------------
Dear ELFA Member:

ELFA is here for you. As your go-to industry association, we're all about providing opportunities to help you succeed. As we head into the second half of 2016, we're happy to share the following highlights and resources to help you get the most value from your membership.
STATE OF THE INDUSTRY
Our Monthly Leasing and Finance Index continues to show slow growth and portfolio quality moving off historic lows. We will continue to monitor and deliver the latest industry data to you.

LEASE ACCOUNTING
Get tips and guidance for helping your staff and your customers prepare for the new lease accounting rules. Don't miss the Lease and Finance Accountants Conference, Sept.12-14 in Baltimore.
PREPARE FOR THE FUTURE
Position your company for success at the ELFA Annual Convention, Oct. 23-25 in Palm Desert, CA. Submit your session proposal by July 1 and register by Aug. 1 for the best rate!
ADVOCACY IN ACTION
At Capitol Connections last month, a record 125 ELFA members met with 180 Senate and House offices and two executive branch agencies. Invite your member of Congress to visit your office.
NEXT GENERATION
Have you presented the Guest Lecture Program? It's a great way to build awareness of equipment finance and attract new talent to the industry. Check out presenter tools and more!
COMING SOON
Watch for the 2016 Survey of Equipment Finance Activity report, to be released this summer. We'll also be offering a web seminar for members on the report's key findings.
WELCOME NEW MEMBERS
We welcome the following companies that have joined or re-joined ELFA this year. If you'd like to recommend a company for membership, please emailmembership@elfaonline.org:

Capex Financial Company, Inc.
City National Capital Finance
CNH Industrial Capital
Codix LLC
Dorsey & Whitney LLP
ENGS Commercial Finance Co.
First Equilease for Equipment and Transportation Co.
First Utah Bank
Flagstar Bank
Frohman & Associates LLC
GrowthFunding Equipment Finance, a Division of People's Intermountain Bank
ITRenew
Keysight Technologies, Inc.
LD Capital Small Business Finance, LLC
McKinley Scientific, LLC
Medical Imaging Solutions USA
Mobilitie, LLC
MVB Bank, Inc.
Navitas Lease Corp.
OnDeck Capital, Inc.
Origa Renting Private Ltd
Pacifica Capital
Riemer & Braunstein LLP
RSH Aviation, Inc.
Stinson Leonard Street LLP
Tracker Leasing, LLC
Universal Equipment Leasing Company, LLC
VenSource Capital LLC
Wright Law Group, PLLC
Thank you for your membership and for your participation in our association. Please don't hesitate to contact us at ELFA headquarters if you have any questions or you'd like to get involved.

Sincerely,




Ralph Petta
ELFA President & CEO

P.S. Nominations for the 2016 Business Council Steering Committees are due July 27.Learn more.
[headlines]
--------------------------------------------------------------
Sales Make it Happen by Scott Wheeler, CLFP
Learning from Millennials
Millennials in the commercial equipment and leasing industry are leading by example. There is much to be learned by professionals in their 20's and 30's, especially aggressive originators. Given the proper training, direction, and confidence building, many of these younger professionals are outperforming their older competitors. Many of the millennials who are active in the commercial equipment leasing and finance industry are high achievers. The best millennials:
Are not afraid of technology and use it effectively - veterans in the industry need to pay attention.
Require immediate results - their impatience, properly channeled, can produce exceptional results.
Are less averse to change - they embrace new challenges with enthusiasm.
Are upwardly mobile - they want a strong career path toward success.
The sky is the limit for high achieving millennials who are willing to learn the industry inside and out. Many experienced veterans in our industry are looking toward retirement. Therefore, the industry is full of opportunities for a diverse group of men and women willing take the reins and lead.
If you are a millennial in the industry and willing to craft your own success, tremendous opportunity awaits you. Learn more about the industry, the players, the leaders, the products, and the process. Become an industry leader by example.
Wheeler Business Consulting studies new trends in the commercial equipment leasing industry. We are currently researching thriving millennials in the industry. We encourage all millennials involved in the industry to participate in our survey by clicking below. Please feel free to forward this email to millennials in the industry.
Thriving Millennials Survey
https://www.surveymonkey.com/r/RQ2YXPS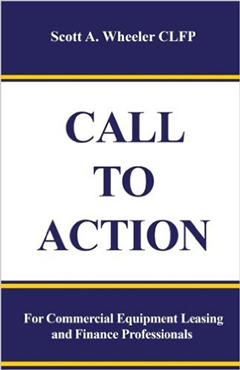 Available Here:
https://www.createspace.com/5355516


Scott A. Wheeler, CLFP
Wheeler Business Consulting
1314 Marquis Ct.
Fallston, Maryland 21047
Phone: 410 877 0428
Fax: 410 877 8161
Email: scott@wheelerbusinessconsulting.com
Web: www.wheelerbusinessconsulting.com

Sales Makes it Happen articles:
http://www.leasingnews.org/Legacy/index.html
[headlines]
--------------------------------------------------------------
Leasing Portals
(Business to Business including Finance/Leasing)

Perhaps the earliest such portals date to when Netscape came on line. Today Google, Yahoo, Opera, Bing, and others provide these searches for free. Portals led those seeking leasing and loans direct to sources. Only one appears active on the Internet today.
http://www.businessfinance.com/
The website states "Search over 4,000 sources of Business Finance and get your free matched list in seconds"
http://www.businessfinance.com/aboutus.asp#axzz3bqWFvQI2
The main page touts small business loans:
Small Business Loans 2,105 sources
Equipment Finance 317 sources
Working Capital 192 sources
Plus
Equity Investments 1,121 sources
Commercial Finance 178 sources
Commercial Mortgages 232 sources
[headlines]
--------------------------------------------------------------
### Press Release ##############################
New Business Volume Grew 12.4% in 2015
ELFA Survey of Equipment Finance Activity

Web seminar on Aug. 17 will highlight findings from report
Washington, D.C. — New business volume grew 12.4% in the equipment finance industry in 2015, according to the 2016 Survey of Equipment Finance Activity (SEFA) released today by the Equipment Leasing and Finance Association (ELFA). The rise in new business volume marked the sixth consecutive year that businesses increased their spending on capital equipment. The SEFA report covers key statistical, financial and operations information for the $1 trillion equipment finance industry, based on a comprehensive survey of 116 ELFA member companies. The report is available at www.elfaonline.org/SEFA. ELFA will host a web seminar on the SEFA findings on Aug. 17 at noon ETC.
ELFA also released a companion report to the 2016 SEFA called the 2016 Small-Ticket Survey of Equipment Finance Activity. The report, which focuses on small-ticket and micro-ticket equipment transactions among the SEFA respondents, found that new business volume in the small-ticket space grew by just 0.4% in 2015.
"The equipment finance industry saw positive growth overall in 2015, as reported in the 2016 Survey of Equipment Finance Activity," said ELFA President and CEO Ralph Petta. "More recent data collected in the first two quarters of 2016 suggests the equipment finance industry is entering a period of slower growth as business confidence and global markets appear increasingly volatile. We are pleased to make this data available to provide comprehensive performance metrics for equipment leasing and finance companies."
Survey highlights:
Key findings for 2015 as reported in the 2016 SEFA include:
Overall new business volume grew 12.4%.

By organization type: Independents saw a 59.9% increase in new business volume, while banks saw an 11.6% increase and captives saw a 3.3% increase.
By market segment: New business volume grew 2.8% in the small-ticket segment, while middle-ticket grew 12.4% and large-ticket climbed 33.9%.
From an asset perspective, the top-five most-financed equipment types were transportation, IT and related technology services, construction, agricultural and medical equipment. The top five end-user industries representing the largest share of new business volume were services, industrial and manufacturing, agriculture, transportation and wholesale/retail.
Cost of funds climbed 17 basis points, due at least in part to the increase in the Federal Reserve discount rate in late 2015. This was the Fed's first increase since 2007, and it translated into increased downward pressure on pre-tax spreads.
Assets under management climbed 10% in 2015, while return on assets declined slightly to 1.5%.
Net income increased 1.2%. Return on average equity decreased slightly but remained strong at 16.1%.
Overall, delinquencies remained steady, with less than 2% of receivables over 31 days past due. Net full-year losses or charge offs increased slightly but remained at 0.2% of average receivables.
Credit Approvals decreased slightly while the percentage of approved applications that were booked and funded edged up.
Employment levels grew moderately by 6.8%, with headcount in sales and marketing functions increasing at a similar level. As expected, there was a significant increase in headcount associated with compliance.
PricewaterhouseCoopers LLP administered the 2016 SEFA. The results were compiled from surveys sent to 375 eligible ELFA member companies in the first quarter of 2016. A total of 116 companies submitted 2015 U.S. domestic lease and loan data.
Web Seminar: ELFA will host a web seminar on Aug. 17 at noon EDT to report the survey results. See details at www.elfaonline.org/SEFA.
About ELFA
The Equipment Leasing and Finance Association (ELFA) is the trade association that represents companies in the $1 trillion equipment finance sector, which includes financial services companies and manufacturers engaged in financing capital goods. ELFA members are the driving force behind the growth in the commercial equipment finance market and contribute to capital formation in the U.S. and abroad. Its 580 members include independent and captive leasing and finance companies, banks, financial services corporations, broker/packagers and investment banks, as well as manufacturers and service providers.
[headlines]
--------------------------------------------------------------
##### Press Release ############################
Buzz Larsen Award Jay Terry Lifetime Achievement Award
at the AGLF Annual Conference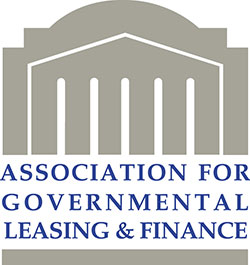 Mt Royal, NJ – The Association for Governmental Leasing & Finance presented Buzz Larsen of Chapman and Cutler, LLP the 2016 Jay Terry Lifetime Achievement Award at the AGLF Annual Conference in Charlotte, North Carolina.
Buzz is a managing partner in the Chicago office of Chapman and Cutler, LLP. Buzz's contributions to public finance span 40+ years, including participating in AGLF for over 30 years. As one of the pioneers and leaders of the municipal leasing industry, Buzz spearheaded one of the first lease tender option programs ("LeaseTOPS") in the early 1990s, known as BusTOPS. The success of this program created various avenues for the leasing industry that expanded well into the 2000s.
Buzz has contributed significantly to AGLF. He served on AGLF's Board of Directors form 1999-2005 and has been extensively involved with AGLF conference, including chairing and planning of conferences and sharing legal developments and practical perspectives with the market.
In gratitude for his years of dedication, service, leadership and guidance to the municipal leasing industry, AGLF is honored to recognize Buzz Larsen with the 2016 Jay Terry Lifetime Achievement Award.
---
The Association for Governmental Leasing & Finance is a nonprofit association whose membership is comprised of companies actively engaged in governmental and non-profit leasing and finance. AGLF was founded in 1981 to provide an educational forum and industry oversight among issuers, leasing companies, investment banking firms, banks, and third-party lease brokers who participate in the lease-purchase financing of real and personal property to state and local governments. Law firms, municipal bond insurers and rating agencies complement the membership, as do equipment vendors.

(Leasing News provides this ad as a trade for appraisals and equipment valuations provided by Ed Castagna)
[headlines]
--------------------------------------------------------------
### Press Release ############################
Amembal & Halladay Announces Three Leasing Seminars
in Singapore in November
Amembal & Halladay is pleased to announce the following seminar schedule:
November 15–16: Operating Leases – Maximizing Benefits, Minimizing Risks
Instructor: Sudhir Amembal
November 17: Residual Setting and Asset Management– A Case Study Approach
Instructor: Shawn Halladay
November 18: Lease Pricing– How to Profitably Meet Customer Needs
Instructor: Shawn Halladay

Amembal & Halladay, formed in 1978, was the first entity to serve the global equipment leasing industry and is the world's premier service provider to its many leasing industries and companies. Amembal & Halladay has trained over 75,000 leasing professionals in 80- plus countries and has authored 16 industry bestsellers. It also has provided consultancy services to over 20 governments as well as numerous well-known, blue chip leasing companies around the globe.
http://amembalandhalladay.com/
#### Press Release #############################
[headlines]
--------------------------------------------------------------
German Shepherd
Beaverton, Oregon Adopt-a-Dog


Dano
Male
House Trained
Neutered
Current on Vaccinations
Coat Length: Medium
"Dano and his sister/friend Bella are two beautiful two year old German Shepherd Dogs whose owner recently committed suicide. They are very sweet, affectionate dogs but they are very nervous and have had a lot of adjustment in their lives in a very short amount of time. In their foster home, they were very nervous about being left alone by their foster person at first, but are settling in better now. These two are definitely house dogs! They are not farm dogs. They have not had a lot of experience on leash, but are very nervous about being outside or away from their person. Most important they cannot be separated from one another. They are very bonded and have had so much trauma in their lives, they don't need any more...
These two will be great companions for an adult household. No small children because they will be too nervous around them, and we don't know how they are with cats, so we're going to say no cats, either.
"Adoption Process: We are not first come first served. Indigo Rescue focuses on finding good matches between dogs and families to ensure lifelong adoptions. We deliver all dogs to their new homes. All of our dogs are in foster homes. We have a few of our dogs available for meets at the Tanasbourne Petco on Thursdays from 4-7pm and at PetSmart on 185th every other Sunday from noon until 3pm. Or, if you're interested in a particular dog, you can send an e-mail with answers to the questions below via the purple Contact this Organization button at the upper right of the pet's description. Just copy and paste the questions into your email to respond. If the dog seems compatible with your situation we'll set up a time for you to meet the dog.
"Indigo Rescue only adopts to homes within 30 miles of Portland because our volunteers deliver all of our dogs to their adoptive homes. We work very hard to create a family of our Indigo Rescue adopters because we want to be close enough to help in case there are any problems. We want everyone to be happy and successful!
"Adoption Fees: $200 for larger adult dogs, $250 for small adult dogs and puppies of any size.
"Thank you for your interest in adopting and saving a life."
Check List:
https://www.petfinder.com/pet-adoption/dog-adoption/pet-adoption-checklist/
Indigo Rescue
503-626-7222
PO Box 554
Beaverton, OR 97005
heather@indigorescue.org
Adopt a Pet
http://www.adoptapet.com/
[headlines]
--------------------------------------------------------------
Leasing News Classified Ads
Licensed Investigator
Irvine, CA - Consulting and Investigations Operation Lease Fleece Case Agent, 20 year FBI fraud/white collar crime investigator,
10 year USMC Officer-pilot.
Calif. Private Investigator License #29005
Email: PaulBonin@cox.net
Mobile: 949-713-9601

Los Angeles - Licensed Private Investigators, specializing Collateral Recovery Field Investigation for the Lending industry since 1998 - Our clients include Banks, Credit Unions, Automotive and Equipment Lenders.
JohnHarmonPI@aol.com

Midwest
Collections, Investigations & Asset
Tierra Investigations & Consultants, LLC. Commercial collections, repossessions, bankruptcy fraud, theft & conversion claims.
605-647-1700
Fax 605-647-0534
troy@tierrainv.com
[headlines]
--------------------------------------------------------------

News Briefs---
Dallas-based Comerica Bank to cut 9 percent
of workforce in cost-saving move
http://www.dallasnews.com/business/headlines/20160719-dallas-based-comerica-bank-to-cut-9-percent-of-workforce-in-cost-saving-move.ece
EMC shareholders approve $60B sale to Dell
"now only needs approval from Chinese regulator"
http://www.bizjournals.com/austin/news/2016/07/19/emc-shareholders-approve-60b-sale-to-dell.html
It's Not a Housing Bubble, It's Just Expensive
Low Inventory of Houses in 29 Cities Driving Prices UP
http://www.bloomberg.com/news/articles/2016-07-18/it-s-not-a-housing-bubble-it-s-just-expensive
KBW and Nasdaq launch fintech index
49 FinTech Companies
https://www.finextra.com/pressarticle/65321/kbw-and-nasdaq-launch-fintech-index
Santander doubles investment in fintech fund to US$200m
Based in London, England
http://www.reuters.com/article/santander-fintech-idUSL8N1A52DQ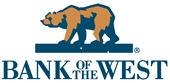 Inside Sales Manager
San Francisco
We are currently seeking qualified talent to be primarily responsible for overseeing the Inside Sales Department within the Vendor business group of the Equipment Finance Division, while developing and improving policies and procedures to properly support high production volume.
For more information
click here

[headlines]
--------------------------------------------------------------


--You May Have Missed It
New Sensors on Packages Can Detect Spoiled Foods
http://www.newswise.com/articles/view/657512/?sc=sphn

[headlines]
--------------------------------------------------------------
SparkPeople--Live Healthier and Longer

Herbs and Spices to ''Spark'' Your Food
Add Flavor Without Adding Calories
http://www.sparkpeople.com/resource/
nutrition_articles.asp?id=297&page=2
[headlines]
--------------------------------------------------------------
Baseball Poem
Rainbow Slugger
by Tim Peeler
The people that "love" you
Whip your butt raw,
Drop you head first
Into a locked-closet weekend.
You will grow up
To play mailbox baseball,
You will apply the geometry of your schooling,
See the flat plane,
The simple dimension of your swing,
A hand flies at the face of your dream,
Your home plate points toward hell,
The extended angles climb
Toward the misty heights of a rainbow.
The rainbow on the side of a mailbox
Explodes in chips of pastel paint
As you connect so perfectly,
A cannon blast against a siren
Against the black hide of the night.
(with permission of the author from his book:
"Touching All the Bases"
Poems from Baseball available from Amazon or direct from the publisher at: www.mcfarlandpub.com

[headlines]
--------------------------------------------------------------
Sports Briefs----
DeBartolo would have picked Walsh as Hall presenter
http://www.mercurynews.com/49ers/ci_30144698/debartolo-would-have-picked-walsh-hall-presenter
It was Stephen Ross who introduced Donald Trump
to the ill-fated USFL
http://www.crainsdetroit.com/article/20160714/BLOG003/160719892/it-was-stephen-ross-who-introduced-donald-trump-to-the-ill-fated-usfl

(Leasing News provides this ad "gratis" as a means
to help support the growth of Lease Police)
[headlines]
--------------------------------------------------------------


California Nuts Briefs---
Former Mayor Santa Clara Dies, Brought 49ers to Town
http://www.mercurynews.com/obituaries/ci_30141035/former-santa-clara-mayor-eddie-souza-dies
Google, Facebook and Apple draw hordes of tech tourists
http://www.mercurynews.com/business/ci_30046793/google-facebook-and-apple-draw-hordes-tech-tourists
[headlines]
--------------------------------------------------------------



"Gimme that Wine"

http://www.youtube.com/watch?v=EJnQoi8DSE8


Robert Mondavi Winery Turns 50
http://www.winebusiness.com/news/?go=getArticle&dataid=171740
Winemakers May be Able to Select Cork
According to its Phenolic Content
https://www.thedrinksbusiness.com/2016/07/winemakers-may-be-able-to-select-cork-according-to-its-phenolic-content/
State of California Vineyards Conditions good as wine grapes ripen
but labor supply is a major concern
http://www.winesandvines.com/template.cfm?section=news&content=171656
Napa's Quintessential Wines Rises To Become A Million-Case Player
http://www.shankennewsdaily.com/index.php/2016/07/18/15615/napas-quintessential-wines-rises-become-million-case-player/
Free Mobile Wine Program
http://leasingnews.org/archives/Feb2010/2_26.htm#mobile
Wine Prices by vintage
http://www.winezap.com
http://www.wine-searcher.com/
US/International Wine Events
http://www.localwineevents.com/
Leasing News Wine & Spirits Page
http://two.leasingnews.org/Recommendations/wnensprts.htm

[headlines]
----------------------------------------------------------------
This Day in American History
1591 - Anne Marbury was baptized in Alford, England. America's first female religious leader, she was the daughter of an outspoken clergyman silenced for criticizing the Church of England. Better educated than most men of the day, she spent her youth immersed in her father's library. At twenty-one, Anne Marbury married Will Hutchinson and began bearing the first of their fifteen children. She became an adherent of the preaching and teachings of John Cotton, a Puritan minister who left England for America.
http://memory.loc.gov/ammem/today/jul20.html
1848 - The Seneca Falls Convention convened for a second day. On the previous day, convention organizer Elizabeth Cady Stanton had read the "Declaration of Sentiments and Grievances." In the process of reviewing a list of attached resolutions, a group united across the boundaries of gender and race to demand women's right to vote in the United States.
(second part of: http://memory.loc.gov/ammem/today/jul20.html )
1858 - Approximately 1,500 baseball fans were charged 50 cents each to watch a baseball game between the New York All-Stars and a Brooklyn team at Fashion Race Course on Long Island. This is the first record of a "commercial" game of baseball as admission was charged for the first time. In a prelude to the next century, New York beat Brooklyn 22-18.
1861 – The Congress of the Confederate States of America held its first session, in Richmond, VA.
1864 – During the Battle of Peachtree Creek near Atlanta, Confederate forces under Gen. John Bell Hood unsuccessfully attacked Union forces under Gen. William Tecumseh Sherman.
1874 - General George Custer and the first official exploring expedition enters Black Hills with 110 wagons and 1,000 men, in direct violation of a treaty of 1868 that barred whites from sacred hills. He was out to make a name for himself in history.
1901 - Henry Emmett "Heinie" Manush (1901-1971) was born in Tuscumbia, AL. Manush spent 17 seasons in the Majors, playing for the Tigers, Browns, Senators, Red Sox, Dodgers and Pirates to a career .330 batting average. He won the AL batting title in 1926. Manush was elected to the Baseball Hall of Fame in 1964.
1903 – Ford Motor Company shipped its first car.
1911 – Frank Schulte hit for the cycle to help the Cubs top the Phillies, 4-3. He ends the year as the first player ever to top the 20 mark in doubles, triples, homers, and stolen bases. Only Willie Mays in 1957 matched him in the 20th century; the feat will be matched twice in 2007, by Curtis Granderson and Jimmie Rollins.
1920 – Elliot Richardson (1920-99) was born in Boston. A member of the cabinets of Presidents Nixon and Ford, and as Attorney General, he was a prominent figure in the Watergate scandal. Rather than obey President Nixon's order to fire special prosecutor Archibald Cox, he resigned in what has become known as the Saturday Night Massacre.
1922 - Alto/tenor sax player/arranger Ernie Wilkins (1922-99) was born in St. Louis, MO. Perhaps best known for his Count Basie arrangements.
http://www.harlem.org/people/wilkins.html.
http://elvispelvis.com/erniewilkins.htm
1930 - The temperature at Washington, D.C. soared to an all-time record of 106 degrees. The next day, Millsboro reached 110 degrees to set a record for the state of Delaware. July, 1930 was one of the hottest and driest summers in the U.S., particularly in the Missouri Valley where severe drought conditions developed. Toward the end of the month, state records were set for Kentucky with 114 degrees, and Mississippi with 115 degrees.
1932 – In the Nation's Capital, police fired tear gas on World War I veterans, part of the Bonus Expeditionary Force, who attempt to march to the White House.
1934 - 118ø F (48ø C), Keokuk, Iowa (state record)
1934 – In Minneapolis, police fired upon striking truck drivers during the Minneapolis Teamsters Strike of 1934, killing two and wounding sixty-seven.
1934 - In Seattle, police fired tear gas on and club 2,000 striking longshoremen. The Governor of Portland, OR called out the National Guard to break a strike on the Portland docks.
1938 - The Justice Department filed suit in New York against the motion picture industry charging violations of the Sherman Antitrust Act in regards to the studio system. The case would eventually result in a break-up of the industry in 1948.
1938 – Natalie Wood (1938-81) was born Natalie Zacharenko in San Francisco. Her screen roles include "Miracle on 34th Street," "Splendor in the Grass," "Rebel Without a Cause," and "West Side Story." After first working in films as a child, Wood became a successful Hollywood star as a young adult, receiving three Academy Award nominations before she was 25 years old. Wood drowned near Santa Catalina at the time her last film, "Brainstorm" (1983), was in production with co-star Christopher Walken. Her death was declared an accident for 31 years; in 2012 after a new investigation, the cause was reclassified as "undetermined."
1939 - Birthday of Judy Chicago, born Judith Sylvia Cohen, in Chicago. An artist who encourages women to do what she did, assimilate female imagery into their art work, she established educational programs for women, was one of the founders of the Los Angeles Feminist Studio Workshop which, among other things, opened the Woman's Building, and creator of a number of exciting woman-related images and sculptures.
http://www.indiana.edu/~scsweb/jchicago/chicago_cu2.jpg
http://www.judychicago.com/
http://www.npr.org/programs/atc/features/2002/oct/chicago/
1940 - The first pop music record charts for single songs were published by the music grade newspaper "Billboard." The first Number One song was Tommy Dorsey's "I'll Never Smile Again," sung by Frank Sinatra.
1940 – California's first freeway opened, the Arroyo Seco Parkway. Formerly known as the Pasadena Freeway, it connects LA and Pasadena alongside the Arroyo Seco seasonal river. It became a part of new alignment of US Route 66. A groundbreaking ceremony in South Pasadena on March 22, 1938 commenced construction and generally progressed from Pasadena southwest. The road remains largely as it was on opening day and it now carries the designation State Route 110. In 2010, as part of plans to revitalize its scenic value and improve safety, Caltrans renamed the roadway back to its original name
1944 - President Franklin D. Roosevelt was nominated for an unprecedented 4th term at the Democratic convention. Harry S. Truman of Missouri was nominated for Vice-President. At the end of June, the Republican National Convention nominated Thomas E. Dewey, Governor of New York for the presidency and Gov. John W. Bricker of Ohio for the vice-presidency.
1944 - The Browns' Nels Potter became the first pitcher suspended for throwing spitballs. He was banned for 10 days for allegedly "putting an illegal substance on the ball." Potter will return and win 19 games for St. Louis.
1945 - Top Hits
"Dream" - The Pied Pipers
"The More I See You" - Dick Haymes
"Sentimental Journey" - The Les Brown Orchestra (vocal: Doris Day)
"Stars and Stripes on Iwo Jima" - Bob Wills
1946 - 13 year old Petula Clark made her first appearance on British TV
1947 - Carlos Santana was born Autlan de Navarro, Jalisco, Mexico
1947 – Hank Thompson played 2B while Willard Brown played CF for the St. Louis Browns against the Red Sox. It was the first time that two black players appeared in the same major league lineup.
1948 - An unprecedented 10-game suspension and $500 fine of an umpire, the veteran Bill McGowan, was announced by AL President Will Harridge following a confrontation in the Senators-Indians game. Tired of Senators pitcher Ray Scarborough continually complaining about strike calls, McGowan threw a ball-and-strike indicator at him and ejected Washington manager Joe Kuhel and several coaches.
1950 - LIBBY, GEORGE D., Medal of Honor
Rank and organization: Sergeant, U.S. Army, Company C, 3d Engineer Combat Battalion, 24th Infantry Division. Place and date: Near Taejon, Korea, 20 July 1950. Entered service at: Waterbury, Conn. Birth: Bridgton, Maine. G.O. No.: 62, 2 August 1951. Citation: Sgt. Libby distinguished himself by conspicuous gallantry and intrepidity above and beyond the call of duty in action. While breaking through an enemy encirclement, the vehicle in which he was riding approached an enemy roadblock and encountered devastating fire which disabled the truck, killing or wounding all the passengers except Sgt. Libby. Taking cover in a ditch Sgt. Libby engaged the enemy and despite the heavy fire crossed the road twice to administer aid to his wounded comrades. He then hailed a passing M-5 artillery tractor and helped the wounded aboard. The enemy directed intense small-arms fire at the driver, and Sgt. Libby, realizing that no one else could operate the vehicle, placed himself between the driver and the enemy thereby shielding him while he returned the fire. During this action he received several wounds in the arms and body. Continuing through the town the tractor made frequent stops and Sgt. Libby helped more wounded aboard. Refusing first aid, he continued to shield the driver and return the fire of the enemy when another roadblock was encountered. Sgt. Libby received additional wounds but held his position until he lost consciousness. Sgt. Libby's sustained, heroic actions enabled his comrades to reach friendly lines. His dauntless courage and gallant self-sacrifice reflect the highest credit upon himself and uphold the esteemed traditions of the U.S. Army.
1950 - The "Arthur Murray Party" premiered on television. This ballroom dancing show appeared on all four networks (ABC, Dumont, CBS and NBC) and was hosted by Kathryn Murray, wife of famed dance school founder Arthur Murray. "Arthur Murray taught me to dance in a hurry." He is the uncle of our good friend Bob Teichman (Murray dropped his middle name as Teichman did not rhyme with very many things.)
1951 - In a move that will aid their pennant drive, the New York Giants put OF Bobby Thomson at 3B to replace the slumping and injured Hank Thompson. Thomson, who lost his CF job to the rookie Willie Mays, will hit .357 for the rest of the season.
1953 - Top Hits
"Song from Moulin Rouge" - The Percy Faith Orchestra
"April in Portugal" - The Les Baxter Orchestra
"I'm Walking Behind You" - Eddie Fisher
"It's Been So Long" - Webb Pierce
1954 - Elvis Presley performed on what was probably the smallest stage of his career when he appeared on the back of a flatbed truck outside a Memphis drugstore for its grand opening. Elvis was then a member of The Blue Moon Boys trio with Bill Black and Scotty Moore, who took their name from a song they had recorded just two weeks previously, "Blue Moon of Kentucky".
1958 - During the first game of a doubleheader, Tiger Jim Bunning no-hits the Red Sox, 3-0. The future Hall of Famer will become the first modern pitcher to toss a no-hitter in both leagues when throws a perfect against the Mets in 1964.
1960 – The Polaris missile was successfully launched from a submarine, the USS George Washington, for the first time.
1961 - Top Hits
"Tossin' and Turnin'" - Bobby Lewis
"The Boll Weevil Song" - Brook Benton
"Yellow Bird" - Arthur Lyman Group
"Heartbreak U.S.A." - Kitty Wells
1963 - Lesley Gore released "Judy's Turn To Cry," the follow up to her number one hit, "It's My Party." The record was a continuation of the original story and it too became a Top 5 hit in the US.
1965 - Bob Dylan's "Like a Rolling Stone" is released by Columbia records. The disc turns out to be his biggest hit ever climbing to number two on the U.S. pop chart and number four in the U.K.
1965 - Kama Sutra Records releases the Lovin' Spoonful's first record, "Do You Believe in Magic." It will reach #9 on the pop chart.
1965 - Yankee pitcher Mel Stottlemyre hits an inside the park grand slam against the Red Sox en route to a 6-3 victory. It was the first inside the park grand slam since 1910.
1967 - The City and County of San Francisco put up $200,000 to create a free medical clinic. Dr. Frederick Meyers (d. 1998 at 80) helped found the Haight-Ashbury Free Medical Clinic
1968 - One thousand mentally challenged athletes competed in the first Special Olympics at Soldier Field, Chicago. Today, more than one million athletes from 156 countries compete at the local, national and international level.
1968 - Iron Butterfly's album, "In-a-Gadda-da-Vida", debuted on the United States pop charts. It featured its now-famous 17-minute title track, which in turn contained one of the longest drum solos in the history of rock music.
1968 - Cream's "Wheels of Fire" LP enters the chart. It hits #1 and features the single "White Room."
1968 - Hugh Masakela's instrumental rendition of "Grazing in the Grass" reached the top of the Billboard Hot 100. A year later, The Friends of Distinction would take a vocal version of the song to number 3.
1969 - Top Hits
"In the Year 2525" - Zager and Evans
"Spinning Wheel" - Blood, Sweat and Tears
"Good Morning Starshine" - Oliver
"I Love You More Today" - Conway Twitty
1969 - American astronaut Neil Armstrong, nearly 240,000 miles from Earth, spoke these words to millions listening at home: "That's one small step for a man, one giant leap for mankind." A moment later, he stepped of the lunar module Eagle, becoming the first human to walk on the surface of the moon. That first step was taken with Armstrong's left foot.
1973 - Knuckleballer Wilbur Wood of the Chicago White Sox pitched both games of a doubleheader against the New York Yankees. No pitcher has done this since, but Wood lost both games.
1975 - Steve Van Zandt performs for the first time in concert as a member of Bruce Springsteen's E Street Band in Providence, Rhode Island.
1976 – Henry Aaron hit the final HR, #755, of his career, off Dick Drago of the California Angels.
1977 – The CIA releases documents under the Freedom of Information Act revealing it had engaged in mind control experiments.
1977 - Top Hits
"Da Doo Ron Ron" - Shaun Cassidy
"Looks like We Made It" - Barry Manilow
"I Just Want to Be Your Everything" - Andy Gibb
"It was Almost like a Song" - Ronnie Milsap
1978 - Steve Martin's novelty tune "King Tut" became a Top Ten hit in the US. Some of the musicians on the track were members of The Nitty Gritty Dirt Band.
1984 - Ty Cobb's record was broken by baseball great Hank Aaron when Aaron appeared in game number 3,034 of his career. At age 40, Aaron, was already playing in his 20th Major League season.
1985 - Treasure hunters began removing $400 million in coins and silver ingots from the ocean floor in the biggest underwater treasure hunt in history. The money came from the Spanish galleon, "Nuestra Senora de Atocha," which sunk in 1622, 40 miles off the coast of Key West, Florida.
1985 - Sting's solo debut, "The Dream of the Blue Turtles" enters the album charts. The LP features the hits, "If You Love Somebody Set Them Free" and "Fortress Around Your Heart."
1985 - Top Hits
"A View to a Kill" - Duran Duran
"Raspberry Beret" - Prince and The Revolution
"Every time You Go Away" - Paul Young
"Dixie Road" - Lee Greenwood
1986 - The temperature at Charleston, SC, hit 104 degrees for the second day in a row to tie their all-time record high.
1987 - Yankee first baseman Don Mattingly ties a Major League mark as he is credited with 22 putouts in one game, matching Hal Chase's feat of 1906.
1988 - The Democratic National Convention nominated Gov. Michael S. Dukakis of Massachusetts for president and Sen. Lloyd M. Bensten, Jr., of Texas for Vice-President.
1988 - The temperature at Redding, CA, soared to an all-time record high of 118 degrees. Showers and thunderstorms produced much needed rains from New England to southern Texas. Salem, IN was deluged with 7.2 inches of rain resulting in flash flooding.
1989 - Showers and thunderstorms in the Middle Atlantic Coast Region soaked Wilmington, DE with 2.28 inches of rain, pushing their total for the period May through July past the previous record of 22.43 inches. Heavy rain over that three-month period virtually wiped out a 16.82-inch deficit which had been building since drought conditions began in 1985. Thunderstorms in central Indiana deluged Lebanon with 6.50 inches of rain in twelve hours, and thunderstorms over Florida produced wind gusts to 84 mph at Flagler Beach.
1991 - Tom Petty and The Heartbreakers' "Into The Great Wide Open" LP enters the chart.
1994 – OJ Simpson offered a reward of $500,000 for evidence of ex-wife's killer. At last word, he has not paid himself.
1995 - The Regents of the University of California vote to end all affirmative action in the UC system by 1997.
1997 - The fully restored USS Constitution (a.k.a. Old Ironsides) celebrated its 200th birthday by setting sail for the first time in 116 years.
2000 - The leaders of Salt Lake City's bid to win the 2002 Winter Olympics are indicted by a federal grand jury for bribery, fraud, and racketeering
2012 - A gunman opened fire at a movie theater in Aurora, CO, as it is showing "The Dark Knight Rises," killing 12 and injuring 70 others.
-------------------------------------------------------------

SuDoku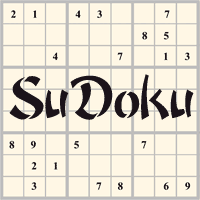 The object is to insert the numbers in the boxes to satisfy only one condition: each row, column and 3x3 box must contain the digits 1 through 9 exactly once. What could be simpler?
http://leasingnews.org/Soduku/soduko-main.htm
--------------------------------------------------------------

Daily Puzzle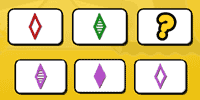 How to play:
http://www.setgame.com/set/puzzle_frame.htm
Refresh for current date:
http://www.setgame.com/set/puzzle_frame.htm
--------------------------------------------------------------


http://www.gasbuddy.com/
http://www.gasbuddy.com/GB_Map_Gas_Prices.aspx
http://www.gasbuddy.com/GB_Mobile_Instructions.aspx
--------------------------------------------------------------

Weather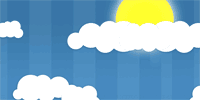 See USA map, click to specific area, no commercials
--------------------------------------------------------------

Traffic Live---
Real Time Traffic Information
You can save up to 20 different routes and check them out with one click,
or type in a new route to learn the traffic live
--------------------------------