SALES: Seeking energetic, self motivated sales pro, nationwide opportunities, equipment/ transportation leasing and financing (buses, livery, limousines, ambulances, paratransit, funeral vehicles). Direct experience helpful/ not required. We are willing to train the right person. Moderate travel /extensive phone work required. Highest commissions paid in the industry. Fax or email resume to 718-392-5427 or dcoolbaugh@advantagefunding.us

About the Company: Advantage Funding is a leading commercial and consumer vehicle and equipment financing and leasing company, Long Island City, NY.
Monday, June 6, 2005
Headlines---
Classified Ads---Sales
Summit National Files Chapter 11 Bankruptcy
Classified Ads--- Help Wanted
Thomas Williams to Present at Lessors Showcase
Leasing Association Conferences---Fall
Rosanne Wilson elected to NAELB Board
News Briefs---
"Gimme that Wine"
Top Event in History
This Day in American History
Baseball Poem-- Robert L. Harrison
######## surrounding the article denotes it is a "press release"
----------------------------------------------------------------

Classified Ads---Sales
Sales: Bakersfield, CA.
I have an extensive sales and management background in equipment leasing. My work history exhibits my major strength in small ticket equipment leasing.
Email: pangress@msn.com

Sales: Boston, MA.
Middle market originator, construction/Trucks / Trailers w/ 8 years in territory, looking for company / bank with competitive products
Email: mrichlease@comcast.net
Sales: Boston, MA.
Vendor Program Specialist. Relationship seller with major end users in Northeast as well. Top references
email: gymqunhrh1@aol.com



Sales: Cedar Rapids, IA.
Formally trained in Credit, Collections, & Sales with regional bank. Seeking sales or sales management.
Over ten years

in SM, vendor and end user.
Email: mjrprime@yahoo.com
Sales: Central, NC.
7 yrs.equip leasing &finance; specialist in heavy construction equip for 2-top-5-specialty finance/lease companies, NC &VA territories. $10-15MM annual funding. Downsized in 2002, now independent broker with varied customer base. Email: sunriseleasing@aol.com
Sales: Chicago, IL. 12+ yrs multinational/national sales & business development. Seeking role with captive lessor or global leasing company. Will relo right opportunity. Experience structuring complex transactions.
Email: leasingismylife@yahoo.com
Sales: Denver CO.
Experienced Equipment Leasing Broker looking for a in house leasing company. Can bring a book of business with me or develop new territory where needed.
Email: Steven@eagle2.net
Sales: Detroit Mi
5 yrs sales experience in IT small ticket leasing/Greenbelt Certified with Fortune 100 company/strong communication and negotiation skills/book of business available. scottpoko@comcast.net
Sales: East Central Florida
20+ years experience in all areas of leasing; sales, credit, operations, syndication. Currently independent seeking position with direct middle market lender in regional capacity
email: southernleasing@bellsouth.net
Sales: Fresno CA.
Account Exec/Manager. 7+ years Leasing Sales: underwriting/contract, complex transactions, hi-tech, government, direct & vendor leasing. Captive & syndicator environments. Expert deal closer. Will send resume.
Email: dsp559@pacbell.net
Resume

Sales: Grand Rapids, MI.
17 years sales/ sales management in Britain specializing in operating leasing/ Asset Management within middle ticket market. Credit/

documentation skills. Previous sales experience in Michigan.
email: pauldear1@comcast.net
Resume
Sales: Greensboro, N.C. Seeking direct & broker sales w/major finance companies in NC or southeast market. Small to mid-ticket range. Stable &family oriented. Will have series 6,63,65 license shortly.
Email: kc1492@aol.com
Sales: Kansas City, MO.
15+ years in finance/leasing industry, extensive knowledge in sales and management. Specializing in construction, transportation and machine tool industries. Will re-locate for right opportunity.
Email: Financerep@aol.com
Sales: Kansas City, MO.
20 years Senior Sales/Management experience in small ticket/government leasing. Program Management experience, managing 12 Reps. Credit Auth to $50K. Success in soliciting and maintaining accounts.
Email: dhundley1@kc.rr.com
Sales: Los Angeles, CA.
12+years Leasing sales, underwriting/contract exper. including hi-tech, govt, direct & vendor leasing. Seeking role w/institution or captive. Exper. w/ complex transactions, including securities. Possible relocation.
Email: rahlease04@hotmail.com
Sales: Los Angeles CA.
5 years experience structuring off-balance sheet finance solutions on computer and medical equipment. Perform detailed competitive analysis and market research. I uncover leads and sell.
email: barretthawk@hotmail.com
Sales: Louisville, KY
27 years veteran of the construction, machine tool, manufacturing and transportation market. Located in Louisville , KY willing to transfer for the right company. Looking for full time employment with base and benefits.
Email: jim_jrd@msn.com
Resume | Cover letter
Sales: Mission Viejo, CA
Account Sales Executive with 10 years of leasing experience looking for company to bring existing customer base.
Email: makelly21@hotmail.com
Sales: Montgomery, AL.
Individual with 10 years advertising sales exp. & 7 years insurance sales exp. Wants independent contractor situation in Alabama.
Work with leasing company or broker.334-281-5200 E-mail: billmcneal2003@yahoo.com
Sales: Nashua, NH.
10+ years sales experience small & mid-ticket hi-tech & telecom in a captive and vendor environment. Seeking new sales opportunity in New England.
E-mail: RPepa@aol.com
Sales: Orange County, CA.
Skilled deal-closer at above-average rates. Entrepreneurial. Accomplished lease-structurer specializing in transportation. Exp. in direct/captive & syndicator environments servicing vendors, brokers, & end-users.
Email: originator@sbcglobal.net
Sales: Philadelphia , PA Seeking an open opportunity to advance in the automotive, commercial leasing & finance industry.........
Email: alexe362002@yahoo.com
Sales: Portland, OR.
"Exp. In direct sales and sales mgmt.
I love Portland, but decent here jobs are few. Willing to be re-located, would like to work for you.
Email: pthygeson@netscape.net "
Sales: Prairie Village, KS Have substantial deal flow and database of broker referral sources. Generated and closed over $22M LY. Seeking exclusive relationship w/direct founder.
Email: fiergl@aol.com
Sales: San Bernardino, CA.
Account executive w/4 years exp. in small ticket &lower end middle market lease transactions, Outstanding ACT database compiled of over 500 vendors. Seeking a career driven position w/a reputable lessor
Email: moneytoloan@hotmail.com
Sales: San Francisco Bay Area, CA
10+ yrs in middle market leasing. Seek direct lessor only. Transaction size from $500M to $10.0MM. Client base: printing, food, retail, manufacturing.
Email: edm173@sbcglobal.net
Sales: SF Bay Area, CA.
15+ yrs--mid mkt. $500M to $10.0MM. Seeking role w/ captive or global leasing firm. large book to bring with me! Debt, tax, 1st amendment, etc.
Email: lac4002@yahoo.com
Sales: San Francisco, CA.
Business Development "Hunter" with 20 years experience, 5 ½ in development of CONTRACTUALLY BASED VENDOR PROGRAMS primarily in high tech. Can bring rolodex, not programs.
E-mail: BizDev7@aol.com

Sales: Seattle / Tacoma, WA.Award-winning commercial equipment leasing pro. Canadian-American knowledge. This pro can sell like few others and is a relationship-builder. Grab me before I sell against you.
Email: greenawayslove@aol.com

Sales: Southern California
Equipment Financing Professional with strong background in Sales, Management, Marketing & Operations. Will consider relocation for Senior Sales or Management position offering dynamic growth opportunity.
Email: natsif@hotmail.com
Sales: South Central U.S.
TX, OK, KS & AR Territory.
Equipment finance and leasing professional, 20 years experience. Top producer in middle to upper middle markets. Extensive customer base.
Email: usleasingrep@yahoo.com
All classified ads located here:
http://216.66.242.252/AL/LeasingNews/JobPostings.htm
----------------------------------------------------------------

Summit National Files Chapter 11 Bankruptcy
by Christopher Menkin
April 21, 2005, Summit National, an early leader of leasing equipment software, filed bankruptcy in the Eastern Division of the Northern District of Illinois United States Bankruptcy Court. Signed by President Kenneth E. Duffy, Jr., a list of the top 20 creditors were made, with an estimated note that it may be as high as 49. The estimated assets of Summit were noted at between $10 million to $50 million and its estimated debts from $1 million to $10 million. The assets most likely consist of its proprietary software. A document in the filings claims the company does not have more than $100 cash. It also claims the cause of the bankruptcy was a debt owed to the widow of the previous owner and founder of the company.
Competing succesfully as a lease accounting software vendor demands quality products, flexibility, and a company that understands the special needs of the leasing industry. Summint National, Inc. products and services are designed to accomodate all types of leasing and finance companies in both the equipment and vehicle leasing industries.
Summit has been providing lease accounting software solutions for nearly 20 years and is in the singular position of offering five unique back-end systems; a front-end application processor and credit management system; as well as, customized ASP and Outsourcing services, Disaster Recovery, Upgrades & Conversions, Lease Portfolio, Auditing, Customization, and Training. Whether you are a large corporation, a bank, or small leasing company, Summit has a solution for you!
Chapter 11 is typically used for business bankruptcies and restructuring. It allows businesses to reorganize themselves, giving them an opportunity to restructure debt and get out from under certain burdensome leases and contracts. Typically a business is allowed to continue to operate while it is in Chapter 11, although it does so under the supervision of the Bankruptcy Court and its appointees. The schedule set for motion to dismiss has been reset for June 22, 2005 at 2:00pm before Honorable Jacqueline Cox, United Sates Bankruptcy Judge, in the courtroom usually occupied by her at 291 South Dearborn Street, Chicago, Illinois.
Leasing News attempted to reach Mr. Duffy by telephone.
All e-mail was returned as being undeliverable.
In submitting a description of the operation and company for the Leasing News Leasing Software List
http://www.leasingnews.org/elease/software.htm )
the company was described:
"Summit National, Inc. maintains offices in Chicago, IL, Norcross, GA, Toronto, CAN, London, ENG, and representation in Sydney and Melbourne Australia to serve over 350 domestic and international clients/users.
"Summit's 350+ client/user base includes 18 of the Monitor 100. Summit also provides software and services for leading small and mid-range banks, leasing companies, and other captives.
"The 26 eLeasing software providers listed in your report provide different products for different needs. As such, the 26 vendors could be placed in separate and distinct categories. Of the 26, Summit would put itself in the same category with 3 or 4 of the 26 vendors listed. The others offer different services that are not in direct competition with Summit National, Inc. products and services. Summit's systems are designed to manage lease applications and lease portfolios for its client base."
The company was one of the serious bidders for Decision Systems International, although some in the know, called their anonymous (at the time) bidding the spoiler for Capital Stream's serious take over bid. Ultimately, the price became so high, only the original investor was left ( some say holding the bag, meaning he had to put more money in to chase about "bad money," the critics said. Certainly there were management changes and new life brought into the company in its fight against the mighty Oracle for survival in the big league arena.
In the last two years, there were signs of cash flow problems as the company lost at least one lawsuit, and then seemed not to respond to customers. They called Leasing News to ask what happened.
Leasing News received this response:
"Thanks for your emails. Our site was being updated. I'd be happy to
respond to the "name withheld" inquiry if you'd like to pass it along...
Or, feel free to pass along my direct email to the "name withheld"
contact...

"Thanks,"

Ken Duffy, Jr.
Summit National, Inc.
"Flattered and surprised that anybody is watching leasing software websites these days. We moved to a new facility in November 2003 and our phones had to be changed at that time even though we only moved two miles. The new numbers are on our website which is undergoing some more changes and updates. We were down yesterday as we transitioned to a new email host. As you know SNI was the pioneer leader in website development for leasing. In fact we built and hosted the first UAEL (United Association of Equipment Leasing ) website at no charge, plus supplied free e-mail addresses to all members who requested it.
"At one time we hosted more than 200 websites for both leasing companies and general business customers. We even hosted a hot dog stand site. We no longer host our own mail nor any of the websites but it sure was fun being on the ground floor.
"Can't say much about IDS except that the venture guys that bought them have made yet another round of management changes so maybe we and Cap Stream were lucky we got outbid. Hope all is well with you. Bears/Niners on Halloween. Now that IS frightening! "
"Regards,"
Ken Duffy, Sr.
http://www.summitnational.com/
Interesting is the 20 largest Unsecured claims in the bankruptcy include NDSI, $35,000; Healthcare Information Systems, $35,000;
McDonnell boehnen, $25,000; David M. Ward, $20,000; Chris Brennan, $20,000; English, McCaughan, O'Brien, $15,000, and Karm, Winnand & Patterson, $10,000.
Interesting in the documents of public record is a "Motion to Dismiss" case. It claims the reason for the filing of the Summit bankruptcy. It also brings to record the assets of the company, seems to lead this should be a chapter 7, and also brings the timeline in the company to an "only in the leasing business" story. Please read the document and then the coda at the end, as this can only be shared as it is now "public knowledge:"
This is dated May 25, 2005 submitted by DaimlerChrysler Services
North America:
"Nancy J. Fox, fka Nancy J. McDougal, individually and as Special Administrator of the Estate of Bruce W. McDougal...and Daimler Chrysler Services America, LLC, f/k/a Mercedes Benz Credit Corporation...state as follows:
"1. The Court should dismiss this case because Summit has nothing to reorganize and simply seeks to use the court to further litigation strategy.
"2. Summit is a defunct leasing corporation with no office and no employees other than its principal, Ken Duffy (and possibly, his son.)
"3. Its only assets are $100 in cash, alleged rights in software that Debtor contends are worth "many millions of dollars," and a lawsuit against DamierChrysler.
"4. Summit's only significant creditor (other than Duffy family members) is Mrs. Fox, who holds a security interest in all of the Debtor's assets, including the software and the litigation, to secure her sale of the assets of her deceased husband's business to Summit.
"5. Summit has no business associated with the software. Rather, the software is only a vehicle for bringing the lawsuit against DaimlerChrysler and has resulted in a counterclaims by DaimlerChrysler for extortion.
"6. Ken Duffy, Sr. is the president and the majority shareholder of Summit. For a short period of time prior to Bruce McDougal's death, Ken Duffy, Sr. worked at Summit National Group,Inc. ("Old Summit").
"7. Mr. McDougal died, and in, 1997, Summit purchased Old Summit's assets from Mr. McDougal's widow, Nancy J. McDougal, now known as Nancy fox.
"8. Although Duffy is the majority shareholder of Summit, he paid none of his own cash to finance the purchase of Old Summit's assets. Instead he borrowed $50,000 from his best friend (whom he has never repaid) and gave Ms. Fox a corporate promissory note in the amount of $675,000. The note was secured by an all-assets security interest in Summit's assets, owned and after-acquired.
"9. Summit has paid only part of the interest due on the Note. Not a penny of principal has been paid on this Note. Summit is in default of its obligation to Mrs. Fox and owes Ms. Fox more than one million dollars.
"10. Over the years, Ms. Fox has inquired many times about payment of the debt. In 1999, following an inquiry regarding payment, Ms. Fox was met with personal attacks on herself and her husband. Summit has not made any payment since April, 2002.
"11. Notably, until the last two years, Summit was not without funds as it paid lavish salaries to Duffy, Sr., and his son Duffy, Jr. Despite the fact that the Duffys were receiving lavish salaries, Summit ignored its obligation to pay Ms. Fox.
"12. Finally, Ms. Fox gave Notice of Deposition and scheduled and advertised a public sale of Summit's assets on April 22, 2006. Daimler Chrysler ahs agreed to bid at the sale. Having failed to induce Ms. Fox to postpone the sale, Summit filed this bankruptcy petition on April 21, 2005 in bad faith for the sole purpose of hindering or delaying Ms. Fox from selling her collateral.
"13. Summit fails directly within the criteria established by this Court for bad-faith filing of a bankruptcy petition. As demonstrated in the Brief in Support of Motion to Dismiss Case filed herewith, Summit cannot establish that it has a legitimate reorganizational objective because it has no real need for business-reorganization bankruptcy relief, and this Court should dismiss Summit's bankruptcy petition."
Coda: The company was started by CPA Bruce W. McDougal and the original officers were composed of Gary A. Grabowski, who did the programming, and Gaylan B. Luke. McDougal also had started an internet provider and web site service in 1994, ahead of his time, and his software was a leader in its time, although all in DOS.
It was common knowledge that the person he brought to the many leasing conferences was not his wife, although his good friends knew he was happily married and had a family in Fresno, California, but offices in Chicago and traveled often. What we did not know until he died suddenly and tragically of cancer, the woman he traveled with also was his wife. Ken Duffy, who had recently joined the company, was acting sales manager, and in the startling news and claims, he became the CEO. The difficulty was bring the original software from DOS to Microsoft Windows to meet Y2K requirements for the year 2000.
In addition, the small to middle-sized ticket leasing business isn't what it used to be.
----------------------------------------------------------------

Classified Ads--- Help Wanted
Sales / Sales Support
SALES: Seeking energetic, self motivated sales pro, nationwide opportunities, equipment/ transportation leasing and financing (buses, livery, limousines, ambulances, paratransit, funeral vehicles). Direct experience helpful/ not required. We are willing to train the right person. Moderate travel /extensive phone work required. Highest commissions paid in the industry. Fax or email resume to 718-392-5427 or dcoolbaugh@advantagefunding.us

About the Company: Advantage Funding is a leading commercial and consumer vehicle and equipment financing and leasing company, Long Island City, NY.
SFBI Recruiters
Need:
- Sales Support Specialist in NE Atlanta.
- Small Ticket Leasing Specialist with "deals on desk" North East.
- Small Ticket Leasing Specialists A+B Paper any equipment type nationally.
Contact: Fred St Laurent, Managing Director
Email: Fred@sfbirecruiter.com
----------------------------------------------------------------
****announcement*****************************

Thomas Williams, President and CEO, eLease
To Participate in Lessors Network Annual Showcase
J Thomas Williams
President and CEO
The Lessors Network is pleased to announce J. Thomas Williams, President and CEO of eLease, has been scheduled to participate in the Lessors Network Annual Showcase on August 24-25 from the Ritz-Carlton, Buckhead hotel in Atlanta, GA.
Roundtable: eLeasing - Where Are We?
J. Thomas Williams | President and CEO | eLease
This roundtable discussion will outline the benefits and challenges organizations have experienced deploying electronic leasing solutions including the legislative and technology landscape in today's market. What do lessors need to know about technology, market awareness and acceptance of the Internet? Real world examples will illustrate what steps to take when enabling end-to-end processing within your organization.
J Thomas Williams, has been the entrepreneurial force behind every company he has been involved in. A graduate of the Peddie School Mr. Williams received his Bachelor of Arts from Boston University in 1994 in Economics. Mr. Williams has consulted for Ernst & Young's "Ernie" Project and started two additional companies Cold Fusion Sports (Fusion.com), an online e-tailer, which was sold to Action Sports in Minnesota in 2000 and LeaseExchange which was recognized at RedHerring's Top 10 Technology Companies To Watch in 2000.
In 2001 Mr. Williams's first company Paragon Capital acquired the domain eLease.com from Idealabs and LeaseExchange's software. eLease is recognized as one of the most dynamic and responsive companies in the industry today. Mr. Williams is passionate about small business and helping people become self employed.
eLease
Founded 1995, Paragon Capital began as a traditional leasing company focused on the high tech industry. Born of a desire to provide a faster, more comprehensive cost effective solution for businesses equipment leasing needs, eLease is a combination of the most powerful leasing brand, the best-of-breed leasing technology of LeaseExchange, and the industry experience of Paragon Capital. eLease's web interface empowers corporations of all sizes to increase the efficiency of their business with instant approvals, documentation and administration using a common Internet browser interface. eLease's application suite provides unprecedented sharing of information and services between leasing parties increasing the time to funding.
eLease's online application enables customers and vendors to dynamically enter an application, receive an instant approval and manage documents online completing the leasing process in minutes instead of weeks. Created on a commitment to speed and service, eLease's technology constantly innovates the leasing process using technology to evolve and improve the services available to businesses in need of equipment finance.
To find out more about the conference and to register, please go to:
http://www.lessors.com/Events-2005/Fall/register.html
**** Announcement*****************************
-----------------------------------------------------------------

Leasing Association Conferences—Fall, 2005


Eastern Association of Equipment Lessors
September 19th, Teaneck, New Jersey

------------------------------------------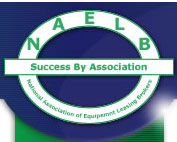 National Assocation of Equiment Leasing Brokers
joins with Eastern Association of Equipment
Lessors for Fall Expo 2005
September 19th, Teaneck, New Jersey

-----------------------------------------

United Association of Equipment Leasing
September 22-25, Lake Tahoe, California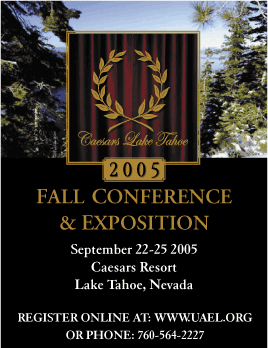 for more information, please go here:

-----------------------------------------

Equipment Leasing Association
October 23-24
44th Annual Convention
Boca Raton Resort & Club
Boca Raton, Florida
---------------------------------------


Association of Government Leasing & Finance
November 9, 2005
Dana Point, California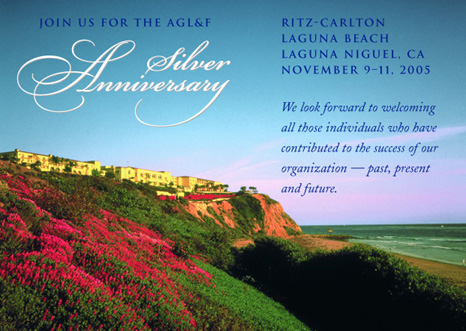 -----------------------------------------------------------------
#### Press Release #####################

Rosanne Wilson elected to NAELB Board
LOUISVILLE, KY: Rosanne Wilson, President of 1st Independent Leasing, Inc., in Beaverton, OR., was elected to the Board of the National Association of Equipment Leasing Brokers (NAELB) as the Secretary-Treasurer at the group's 2005 Annual Conference. Rosanne has been active in the equipment leasing industry since 1975.
NAELB is an organization formed in 1989 to promote the interests of equipment leasing brokers through education, advocacy, improved communication with funders and programs designed to upgrade the professionalism and profitability of brokers, funders and others engaged in the business of equipment lease financing. For more information,
visit www.naelb.org .
Rosanne Wilson, CLP
1st Independent Leasing, Inc.
3800 SW Cedar Hills Blvd., Suite 165
Beaverton, OR 97005
(800) 926-0851 or Fax: (503) 626-1631
"It's the Lease We Can Do"
### Press Release #####################
----------------------------------------------------------------

News Briefs---
Richest Are Leaving Even the Rich Far Behind
http://www.nytimes.com/2005/06/05/national/class/
HYPER-FINAL.html?incamp=article_popular_1
Tony Award Winners
http://www.nytimes.com/2005/06/06/theater/theaterspecial/
06tony.html?hp
http://www.nytimes.com/2005/06/05/theater/theaterspecial/
05win-shows.html
----------------------------------------------------------------

"Gimme that Wine"
A New York state of wine
http://www.azcentral.com/home/wine/articles/0603nywine03.html
ENVIRONMENT IN FOCUS
Shafer's green acres
One of Napa Valley's premier wineries shows that sustainable farming can enhance already superb wines
http://sfgate.com/cgi-bin/article.cgi?f=/c/a/2005/06/02/WIGF7CVGFO1.DTL
----------------------------------------------------------------

Today's Top Event in History
1944- In the early-morning hours Allied forces landed in Normandy on the north coast of France. In an operation that took months of planning, a fleet of 2,727 ships of every description converged from British ports from Wales to the North Sea. Operation Overlord involved 2,000,000 tons of war materials, including more than 50,000 tanks, armored cars, jeeps, trucks and half-tracks. The US alone sent 1,700,000 fighting men. The Germans believed the invasion would not take place under the adverse weather conditions of this early June day, especially with their number one General George S. Patton employed elsewhere. But as the sun came up the village of Saint Mèere Eglise was liberated by American parachutists, and by nightfall the landing of 155,000 Allies attested to the success of D-Day. The long-awaited second front had at last materialized.
General Patton joined the war with his tank brigade, pushing toward the Rhine River before the other generals told him he couldn't do that.
http://memory.loc.gov/ammem/today/jun06.html
----------------------------------------------------------------

This Day in American History
1755- Birthday of Nathan Hale. The American Patriot was caught behind lines gathering troop movements by General William Howe, who ordered him to be hung in the morning, as he was a spy. His alleged last words have become a symbol of American Patriotism: "I only regret that I have but one life to lose for my country." They were attributed to a news story printed in the 19 th century, and were not heard by contemporaries of his time, nor commented upon. A 1777 newspaper article reported Hale as saying that ``if he had ten thousand lives, he would lay them all down, if called to it, in defense of his injured, bleeding country.'' Four years later another newspaper story quoted Hale's last words as: ``. . . my only regret is, that I have not more lives than one to offer in its service.'' Hull's 1848 memoirs give us the pithier version we know today: ``I only regret that I have but one life to lose for my country.'' According to Captain Frederick Mackenzie, a British officer who witnessed Hale's death, he may have been young and courageous, but he never said these words. According to Mackenzie's diary, he wrote that Hale's last words were: " It is the duty of every good officer to obey any orders given him by his commander-in-chief" James A. Barnes," Myths of the Bryan Campaign," Mississippi Valley Historical Review (1947). Also see:
http://www.lihistory.com/4/hs413a.htm
1756-birthday of American painter John Turnbull, Lebanon, Conn.
lower half of: http://memory.loc.gov/ammem/today/jun06.html
1831- "People of Color" Convention held for the first time.
1862-Confederate gunboats engaged a Union flotilla near Memphis, TN. As crowds of spectators watched from the riverbanks, the outgunned Confederates were defeated. The city of Memphis surrendered shortly before noon of that day, effectively opening up the Mississippi region. . The war would rage on as the Union Army through shear source of "numbers of soldiers" would prevail.
http://www.cr.nps.gov/hps/abpp/battles/tn004.htm
http://www.americancivilwar.com/statepic/tn/tn004.html
1872- Susan B. Anthony tests the rights of women and black males to vote under the 14th and 15th amendment, registering and voting in Rochester, New York. She would be arrested, tired, and sentenced to pay a fine. She refused. The judge backed down, fearing she would take this to the Supreme Court for appeal, but nevertheless, the votes were all disqualified and both women and blacks would not be allowed to vote in this century.
1877--Meta Vaux Warrick Fuller - Afro- American sculptor. After success in Paris, she faced race and sex prejudice on her return to the U.S. In 1913 she began using Afro-Americans as models and for the next 50 years she produced major pieces that are part of the permanent collections at a number of museums and universities.
Died March 18, 1968.
http://dsc.gc.cuny.edu/part/part6/articles/swilli.html
http://www.indiana.edu/~jah/teaching/2003_03/article.shtml
http://www.askart.com/artist/F/meta_vaux_warrick_fuller.asp?ID=80614
1889 -- Great Fire in Seattle, Washington destroys 25 downtown blocks.
1892-birthday of bandleader Ted Lewis, Circleville,OH
http://www.redhotjazz.com/tedlewis.html
1899-birthday of pianist William "Fats" Jefferson, Waco, TX
1889-- Bryn Mawr College awarded the first graduate fellowship to a woman in the history of the United States. It went to Emily Greene Balch (B. 01-08- 1867) for "prosecuting sociological studies." Balch went on to win the Nobel Peace Prize in 1946.
1902—Birthday of band leader Jimmy Lunceford
http://www.pbs.org/jazz/biography/artist_id_lunceford_jimmie.htm
http://www.amazon.com/exec/obidos/search-handle-form/
104-3603723-3237564
1904 -- Helen McCloy (1904-1993) American mystery writer, first woman to serve as president of Mystery Writers of America. In 1953 she received Edgar for her criticism.
http://www.kirjasto.sci.fi/hmccloy.htm
1918-Casey Stengel returned to Ebbets Field for the first time since being traded from the Brooklyn Dodgers to the Pittsburgh Pirates over the winter. Stengel celebrated the occasion by striding to the plate for his first at-bat, calling time, doffing his cap and letting a live bird fly out. Fans broke into laughter. He was giving them the bird.
1925-birthday of trombonist Al Grey, Aldie, VA, died March 24,2000
http://www.jazzcanadiana.on.ca/_GREY.htm
http://www.trombone.org/articles/library/algrey-tribute.asp
1930-Dillard University charged in New Orleans, LA
http://www.dillard.edu/
1931-birthday of guitarist Grant Green, St. Louis, Mo.
http://website.lineone.net/~johnharris/grant_green.htm
http://members.tripod.com/vermontreview/CD%20Reviews/gamut.htm
1933-Richard M. Hollingshead, Jr. opened America's first drive-in movie theater in Camden, NJ. At the height of their popularity in 1958, there were more than 4,000 drive-ins across America. In the 1990s, fewer than 600 remained opened.
1934- President Franklin D. Roosevelt signed the Securities Exchange Act that established the SEC. Wall Street had operated almost unfettered since the end of the eighteenth century. However, the stock market crash of 1929 necessitated regulation of the exchanges. The Securities and Exchange Commission is composed of five members appointed by the president of the US.
1939-- Singer Gary (US) Bonds, whose real name is Gary Anderson, was born in Jacksonville, Florida. Bonds had a string of energetic dance records in the early 1960's, the biggest of which was "Quarter to Three," which reached number one in 1961. Bonds' career was revived in 1981 by Bruce Springsteen. "The Boss" wrote "This Little Girl of Mine," which became Gary (US) Bonds' first hit in nearly 20 years. Bonds' comeback album, "Dedication," also made the charts.
1942-Congress on Racial Equality founded.
http://www.core-online.org/
1942-birthday of Marian Wright Edelman, activist and found of the Children's Defense Fund.
http://cdfweb.vwh.net/mwe.html
http://bss.sfsu.edu/edelman/aboutmwe.htm
1944- In the early-morning hours Allied forces landed in Normandy on the north coast of France. In an operation that took months of planning, a fleet of 2,727 ships of every description converged from British ports from Wales to the North Sea. Operation Overlord involved 2,000,000 tons of war materials, including more than 50,000 tanks, armored cars, jeeps, trucks and half-tracks. The US alone sent 1,700,000 fighting men. The Germans believed the invasion would not take place under the adverse weather conditions of this early June day, especially with their number one General George S. Patton employed elsewhere. But as the sun came up the village of Saint Mèere Eglise was liberated by American parachutists, and by nightfall the landing of 155,000 Allies attested to the success of D-Day. The long-awaited second front had at last materialized.
General Patton joined the war with his tank brigade, pushing toward the Rhine River before the other generals told him he couldn't do that.
http://memory.loc.gov/ammem/today/jun06.html
1944-birthday of pianist Monty Alexander, Kingston, Jamaica
http://www.montyalexander.com
1946 –Birthday of Janet Lennon Culver City CA, singer (Lennon Sisters)
http://www.singers.com/jazz/vintage/lennonsisters.html
http://www.dead-or-alive.org/dead.nsf/lnames-nf/Lennon+Janet
1946-The Basketball Association of America was founded at a New York meeting of hockey team owners and arena managers interested in having their buildings used on open dates. The BAA played three seasons (1946-47, 1947-48, 1948-49), after which it merged with the National Basketball League, founded in 1937, to form the National Basketball Association. Three original BAA teams remain: The Boston Celtics, The Golden State Warriors (originally the Philadelphia Warriors) and the New York Knicks.
1949---Top Hits
Riders in the Sky - Vaughn Monroe
Again - Doris Day
Some Enchanted Evening - Perry Como
Lovesick Blues - Hank Williams
1955--- Bill Haley & Comets, "Rock Around the Clock" hits #1
1956 - Gogi Grant (born Audrey Brown) reached the top spot on the "Billboard" singles chart for the first and only time in her career. Her hit, "The Wayward Wind", stayed at the top of the top-tune tabulation for eight weeks and on the music charts for 22 weeks. It was her second record release. The first, in October, 1955, was "Suddenly There's a Valley" which climbed to number nine.
http://www.gpproductions.com/acts/grant.html
http://art.staviator.com/G/Gogi_Grant.html
1956--Gene Vincent's recording of "Be Bop A Lula" was released. The song was co-written by Vincent and (Sheriff) Tex Davis, a deejay at a Norfolk, Virginia radio station. "Be Bop a Lula" was a hit on both sides of the Atlantic, selling a million copies. Vincent never was able to match the success of his initial hit. He died in 1971 of a seizure brought on by a bleeding ulcer.
1957---Top Hits
Love Letters in the Sand - Pat Boone
A Teenager's Romance/I'm Walkin' - Ricky Nelson
A White Sport Coat (And a Pink Carnation) - Marty Robbins
Four Walls - Jim Reeves
1960-- Tony Williams of the Platters left the group for a solo career. Williams was the lead singer on the Platters' big hits in the '50s - "Only You," "The Great Pretender" and "Smoke Gets in Your Eyes," among others. In the 1970's, Williams and Buck Ram, manager of the Platters, battled in court over who had the right to use the group's name. Ram won the case, but both later toured with groups billed as the Platters.
1960-- Roy Orbison's "Only the Lonely" was released. It would reach number two on the Billboard Hot 100 and inspire Bruce Springsteen to write "Born to Run."
1965---Top Hits
Help Me, Rhonda - The Beach Boys
Wooly Bully - Sam The Sham and The Pharoahs
Crying in the Chapel - Elvis Presley
What's He Doing in My World - Eddy Arnold
1966-civil rights activist Stokely Carmichael launches "Black Power" Movement. Died Nov 15,1998.
http://www.blackhistory.eb.com/micro/727/78.html
1966 -- Author Truman Capote holds famous "Black & White Ball" — widely regarded as most glittering bas of the decade.
1973---Top Hits
My Love - Paul McCartney & Wings
Daniel - Elton John
Pillow Talk - Sylvia
Satin Sheets - Jeanne Pruett
1968-New York Senator Robert Francis Kennedy dies after being shot while campaigning for president. There are many who believe this was a conspiracy, and there are many sites on the internet making all kinds of noise, but history is full of loners who manage to assassinate famous people, including American presidents.
1986-Manager Steve Boros of the San Diego Padres was ejected before the first pitch of a game with the Atlanta Braves when he attempted to give umpire Charlie Williams a videotape of a disputed play in the previous night's game, a 4-2 Braves victory.
1971 – Ed Sullivan said goodbye. He reportedly lived in my home time of Port Chester, New York, married to a Jewish lady who reportedly rule the roost at home. As a newspaper columnist, he was very popular and it was told a mention in his column was very important for your career. When his variety shows appeared on television, with him as the host, due to his fame as a columnist, he was able to attract the top stars that were originally afraid of the medium. He also brought in new talent and had a real circus from Polish dancing bears, a little mouse named Topo Gigio, and "discovered" Elvis Presley, The Beatles, The Dave Clark Five, the comedy of Jackie Mason, John Byner, Rich Little, Allen King, Richard Pryor and so many more, as "The Ed Sullivan Show" left CBS-TV. Gladys Knight and The Pips and singer Jerry Vale appeared on the final show. "The Ed Sullivan Show" had been a showcase for more than 20 years for artists who ranged from Ethel Merman to Ella Fitzgerald, from Steve and Eydie to the Beatles. "The Ed Sullivan Show" was the longest running variety show on TV .
1973 - Barry White was awarded a gold record for "I'm Gonna Love You Just a Little More Baby". It was his first hit and his first of five number one million-sellers. White began recording in 1960. He formed the group, Love Unlimited, in 1969 and married one of the group's singers, Glodean James. He also formed the 40-piece Love Unlimited Orchestra which had the number-one hit, "Love's Theme" in 1973.
http://members.rott.chello.nl/p.klein6/bwindex.htm
1978 - Proposition 13 passed in California. Voters joined Senator Howard Jarvis in cutting property taxes by 57 percent. This was seen as the birth of a taxpayer's revolt against high taxes and excessive government spending. It also spelled the end of the higher education system in California, and brought the secondary schools from number one to number thirty and lower in score testing today.
1978-"20/20" premiered on TV. An hourly news magazine developed by ABC to compete with CBS's "Sixty Minutes". Its original hosts, Harold Hayes and Robert Hughes, were cut after the first show and replaced by Hugh Downs.
Barbara Walters became co-anchor in 1984. the show consisted of investigative and background reports. Contributors to the show have included Tom Jarriel, Sylvia Chase, Gerald Rivera, Thomas Hoving, John Stossel, Lynn Sher and Stone Phillips.
1981---Top Hits
Bette Davis Eyes - Kim Carnes
Being with You - Smokey Robinson
Stars on 45 medley - Stars on 45
Friends - Razzy Bailey
1989---Top Hits
Rock On - Michael Damian
Soldier of Love - Donny Osmond
Wind Beneath My Wings - Bette Midler
Where Did I Go Wrong - Steve Wariner
1998 - "The Boy is Mine", by Brandy and Monica, zoomed to number 1 on the "Billboard" pop chart. It ruled the Hot 100 roost for 13 weeks -- putting it in the top ten of longest-running #1 singles in the modern rock era.
2000-- Thanks to the Angels' video crew playing a clip from the 1994 movie "Ace Ventura, Pet Detective" on the JumboTron, the Rally Monkey is born. With the words "Rally Monkey" superimposed over a monkey jumping up and down in the Jim Carrey movie, the crowd goes wild as Anaheim scores two runs in the bottom of the ninth to beat the Giants, 6-5.
http://imagesource.allposters.com:80/images/pic/PHOTOFILE/
AADT038~Anaheim-Angels-Rally-Monkey--Photofile.jpg
2003-- Insisting the corked bat, designed to put on home run displays during batting practice, was accidentally used in the Devil Rays' game, Cubs' slugger Sammy Sosa is suspended for eight games by major League baseball. Bob Watson, baseball's vice president of on-field operations, agreed the Chicago's outfielder use of an illegal bat was an "isolated incident," but one that still deserved a penalty.
NBA Finals Champions This Date
1976 Boston Celtics
--------------------------------------------------

Baseball Poem
2050: The End
The earth may end
by fire and wind
and we may all go insane,
but please Lord
not when the Mets
are winning a ball game.
Written by Robert L. Harrison
"Green Fields and White Lines,"
Baseball Poems published
by McFarland and Company