Senior Secondary Market Officer
Walnut Creek, California
Work with secondary market syndication sources of leasing transactions. Minimum three years leasing experience & knowledge equipment leasing underwriting; to learn more and apply: click here.


Wednesday, May 10, 2006
Root Canal Appreciation Day
(see other calendar events )
Headlines---
Classified ads-- Sales Manager
Mesa Capital/ "Broker/Lessor" List
Fed to Raise Rates Today
Pawnee Becomes Chesswood Income Fund
John McCue to stay at McCue Systems
Classified Ads—Help Wanted
ELA sends Wake up Call to FASB
How to Check eMail at Public Computer
Sales Makes it Happen-Linda P. Kester
"Continuous Partial Attention"
Marlin Leasing Form 10-Q 1st Q 2006
Print Newspapers Losing Subscribers
Frankel/Boland Join the Alta Group
G.A.Smith/ Marshall & Ilsley CFO
Michael Baresich CIT Ch.Info.Off
Martine A. Lewis VP Provident Bank
News Briefs---
You May have Missed---
Sports Briefs---
"Gimme that Wine"
Calendar Events
Today's Top Event in History
This Day in American History
Baseball Poem
######## surrounding the article denotes it is a "press release"
---------------------------------------------------------

Classified ads-- Sales Manager
V. Sattiui Winery, St. Helena, Napa Valley
--- photograph by Nanci Kerby *
Atlanta , GA
30 years in transportation Finance with strong management/ sales background. Represented company on national & region markets. Started two successful operations- produce profits and growth.
Email: pml@mindspring.com
Chicago , IL
Successful sales manager has 15 years experience with captives and independents. Expertise in re-energizing existing sales teams and territories, also building teams from scratch. True Team Leader looking for new challenge.
email: Murph5553@aol.com
Chicago , IL
Senior sales manager seeks Chicago based sales management role with growing, creative, customer focused lessor. Extensive experience/documented results in all aspects of information technology leasing.
Email: belanger@dataflo.net
Geneva , IL
Leasing leader seeking sales manager, senior sales/business development, marketing or strategic planning opportunity. Twenty plus years in the business. Looking for a new challenge.
E-mail: edok@sbcglobal.net
Marlton , NJ
25 years exper. Promoted to sales manager after attaining highest percentage of quota for 2 years. Increased business by 50% over two years as sales manager.
Email: Sjgaul@aol.com
New York , NY
I have over 25 years owning an independent leasing company that specialized in truck leasing. Tow trucks, Limos, ambulances, tractors, etc..
Email: rfleisher@rsrcapital.com
Pennsauken , NJ
17 Years Leasing in all capacities from CSR and Collections to National Sales Management and Vice President Vendor Development. Exceptional People Skills. Many industry references.
email: cherfurth1@aol.com
Portland , OR
18+ yrs w/bank leasing company. Supervised 14- 20 sales people. Willing to relocate for the proper position.
Email: pthygeson@netscape.net
For a full listing of all "job wanted" ads, please go to:
http://64.125.68.91/AL/LeasingNews/JobPostings.htm
To place a free "job wanted" ad, please go to:
http://64.125.68.91/AL/LeasingNews/PostingForm.asp
Nanci Kerby 707/ 253.7594
---------------------------------------------------------------

Mesa Capital added to "Broker/Lessor" List
Third Column: YES - Year Company Started | YELB - Years in equipment Leasing Business
A - City Business License | B- State License | C - Certified Leasing Professional |
D - State(s) sales/use tax license |
E - Named as "lessor" on 50% or more of lease contract signed. |
Rank

Name
City, State
Contact
Website
Leasing Association

YCS
YELB


(see above for meaning)

# of Empl.

Geographic Area

Minimum
Dollar
Amount

Service Organization

D

118.

1996
10

1

New York, New Jersey & Connecticut

$5,000

New Rochelle Chamber of Commerce
To view the full "Broker/Lessor" List, please go here:
http://www.leasingnews.org/Brokers/broker_Lessor.htm
---------------------------------------------------------------

Fed to Raise Rates Today
by Christopher Menkin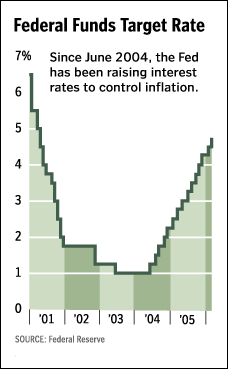 All the business sections of newspapers, on and off the internet, are predicting the Federal Reserve to raise interest rates today. Most believe it will be the last by the central bank until at least August.
Gold futures have risen 36 percent so far this year, yesterday jumping 3 percent, to $708.3 per troy ounce, and platinum rose 3.4 percent, to $1,235.50 per ounce. Prices for crude oil, which metals prices are said to track, for June delivery rose $1.03, or 1.5 percent, to $70.80 a barrel on the New York Mercantile Exchange.
This, and other factors, such as the price of oil driving prices up, along with the still growing construction and housing market have the feds ready for one more jump. Generally things start to slow down the end of June and last that way until the second week of September.
You can bet for sure all the funders will be passing on their new cost of money and not waiting for the next increase to change their "buy rates." In fact, it will not be surprising if they increase it more than their new actual cost of funds, as T bills will certainly continue up, whether the Fed sits until August or even September.
More importantly, the funders are also companies with employees who receive wages, health benefits, and also need software up-dates, hardware up-dates and also experience all the other increase in costs all business receive with little tax incentives from the government to hire untrained employees or develop new programs.
The so-called experts believe, at this time, the Fed rate will be steady under the new federal chairman Ben S. Bernanke.
It is difficult to read the "rookie," but his way with the press has caught him in "off the cuff" comments at cocktail parties showing up on the front page, and others making Drudge Reports.
Uncertainly alone is a contributor to price increases.
---------------------------------------------------------------

Pawnee Becomes Chesswood Income Fund
by Christopher Menkin
If all goes well with the legal work, the 24 year old Pawnee Leasing, Fort Collins , Colorado , will be issuing their IPO in Canada as "Chesswood Income Fund". The Toronto Stock Exchange has approved Chesswood Income Fund for listing, contingent upon the closing of the offering on May 10 . Investors in the United States will only see a limited opportunity in this unique offering, perhaps the first of its kind in the equipment leasing industry. Then Pawnee Leasing Corporation president Gary H. Souverein has been conducting a "dog and pony show" to Canadian investors for this day. At worst, it could be delayed until tomorrow, Thursday.
Gary H. Souverein
The actual date is a legal one, indicating when Pawnee is acquired by, and constitutes over 90% of the pro forma earnings of, Chesswood Income Fund. In conjunction with the acquisition of Pawnee, Chesswood is having its IPO in Canada and will be listed on the Toronto Stock Exchange. The company will keep its United States trade style name.
"Chesswood Income Fund (the "Fund") - An application has been granted for the original listing in the Industrial category of 8,861,249 trust units (the "Units") of the Fund of which 7,081,848 Units will be issued and outstanding, and 1,842,401 Units will be reserved for issuance upon completion of a public offering (the "Offering").
"Listing of the Units will become effective at 5:01 p.m. on Tuesday, May 9, 2006 in anticipation of the Offering closing on Wednesday, May 10, 2006. The Units, other than those which have not been distributed to the public, will be posted for trading at the opening on Wednesday, May 10, 2006.
"Additional information on the Units may be found in the final prospectus dated May 2, 2006, (the "Prospectus"), which is available at www.SEDAR.com. Capitalized terms not otherwise defined are as defined in the final Prospectus.
"Stock Symbol: "CHW.UN"
CUSIP: 16549P 20 7
Trading Currency: CDN
"Designated Market Maker: TBA
"Other Markets: None
"Head Office Address:
4077 Chesswood Drive
Toronto , Ontario
M3J 2R8
"Email Address: lstevenson@chesswoodfund.com
"Website: http://www.chesswoodfund.com/
"Head Office Telephone Number: (416) 386-3099"
Toronto Stock Exchange *
Pawnee Leasing Corporation was established in 1982. The company and its staff are both very well respected and well-known small-ticket funding source specializing in start-up business and less traditional credits up to $30,000. Today they have 45 employees and work primarily with brokers who have been in business for only a year
(many are well established for over twenty-five years.) Their rates are high and terms tough, but they have a growing niche in the marketplace as their success has indicated. They know what they are doing.
Leasing News has written about Pawnee and Cars4u and in an exclusive interview with Souverein, where he explained the procedure. After the issuance of stock, he will be willing to engage in an exclusive interview for Leasing News readers again.
Bruce Kropschot of Kropschot Financial made the introduction to Cars4u and guided the company through the acquisition discussions and negotiations along the route to the IPO stage. Cars4u is a public Canadian company that leases and sells automobiles and is also being acquired by Chesswood.
Bruce Kropschot, while a member of the Leasing News Advisory Board thought it best not to make any comment until after the IPO is introduced. He did comment that he has other income funds in Canada that are looking for equipment leasing acquisitions in the United States .
How this worked, as explained by Gary Souverein initially was similar to a reverse merger: a conversion by Cars4u, a much smaller company than the 46 employee Pawnee, into an income trust simultaneous with the acquisition of Pawnee. Such an entity is similar to a real estate trust in the United States : an income trust in Canada has no corporate income tax.
Souverein believes the Pawnee IPO will be similar to the successful one by Marlin Business Leasing with 315 employees and does leases up to $185,000 with very low lease rates, as they are both in the small ticket leasing business, with Pawnee in their niche, meaning start-ups, story credits, unusual equipment, and not just making credit decisions based of Faire-Isaac scores. They are also very popular in the equipment leasing broker community despite their very high lease rates.
October, 2005 interview:
http://www.leasingnews.org/Conscious-Top%20Stories/Gary_Souverein.htm
Bruce Kropschot
Kropschot Financial Services
70 Beachside Drive, #101
Vero Beach , FL 32963
(772) 228-9808
* Toronto Stock Exchange:
Investors Relations:
Tina Gladstone Environics Communications Inc.,
Tel: (416) 969-2752,
tgladstone@environicspr.com
Chief Financial Officer and Corporate Secretary: Lisa Stevenson
Incorporation: The Fund is an unincorporated, open-ended, limited purpose trust established under the laws of Ontario pursuant to a Declaration of Trust dated February 16, 2006, amended and restated on May 2, 2006.
Fiscal Year End: December 31
Nature of Business: The Fund was created to indirectly acquire, (i) all of the shares of Pawnee Leasing Corporation ("Pawnee"), a Colorado company and (ii) all of the shares of cars4U Ltd ("cars4U") pursuant to a plan of arrangement.
Pawnee is a leasing company that leases micro and small-ticket business equipment fundamental to the core operations of its lessees' businesses. Pawnee provides equipment lease financing to small businesses in the start-up and segment of the U.S. equipment leasing market through its network of over 550 independent brokers operating in the lower 48 states of the United States
cars4U is a TSX listed company engaged in the business of leasing automobiles and selling, servicing and leasing Acura brand automobiles in the Province of Ontario through its subsidiaries, Lease-Win Limited and Sherway Fine Cars Limited.
Transfer Agent & Registrar: Equity Transfer Services Inc. at is principal office in Toronto .
Distributions: The Fund intends to make monthly cash distributions of its distributable cash to Unitholders of record on the last business day of each month to the extent determined prudent by the Fund Trustees. The initial cash distribution for the period from the Closing to May 31, 2006 is expected to be paid on or before June 15, 2006 and is estimated to be $0.0649 per Unit. Subsequent regular distributions in the estimated amount of $0.0958 per Unit are anticipated to be paid on the 15th day of each month thereafter (or the next following business day if the 15th is not a business day) commencing July 17, 2006. Distribution payments by the Fund are not mandatory or guaranteed and the board of Fund Trustees may amend or repeal its distribution policy at its discretion.
Public Offering: Pursuant to the terms of the Prospectus, 5,778,193 Units at a price of $10.00 per Unit, are being offered to the public by TD Securities Inc, Canaccord Capital Corporation, Blackmont Capital Inc., Wellington West Capital Markets Inc., Desjardins Securities Inc., Genuity Capital Markets G.P.
---------------------------------------------------------------
### Press Release ###########################

John McCue to stay at McCue Systems
by Christopher Menkin
John McCue
McCue Systems Inc., Burlingame, California, the "granddaddy" of the equipment leasing software companies founded in 1973 by John McCue, has been purchased for approximately $8.5 million by NetSol Technologies, Inc. (NASDAQ:NTWK), a US-based developer of proprietary software applications and provider of information technology (IT) services, headquartered in Calabasas, California. Payment will consist of 50 percent cash with the balance paid through the issuance of Netsol's common stock carrying Rule 144 restrictions.
Najeeb Ghauri, Chairman of the Board of Directors of NetSol Technologies Inc, told Leasing News his ten-year-old company has 515 employees worldwide. He met McCue Systems founder John McCue through the Equipment Leasing Association, they became friends, and February 24th entered into an agreement for shared services that grew into an opportunity for both companies to expand.
Najeeb Ghauri
"This is an expansion into our international niche, and fits our core company beautifully," Ghauri explained. "And John McCue will remain as head of the wholly-owned subsidiary. He is invaluable as its president and for his involvement in the industry." Also, McCue Systems' 66 employees will remain, as will the company's Burlingame office. "We didn't buy the company to downsize it," Ghauri added.
NetSol has reported six consecutive quarters of revenue growth and profitability, with net revenue of $9 million for the first six months of fiscal 2006, an 88 percent increase over the comparable period. Management has provided revenue guidance of $19 million to $20 million for fiscal 2006 ending June 30, 2006. McCue Systems reported revenue of approximately $5.6 million with net profit of approximately $655,000 for fiscal 2005 ended December 31, 2005.
"We don't want to be as big or even another Oracle," NetSol Chairman Ghauri said. "Our product development and technology expertise will be greatly enhanced by McCue's mature delivery and U.S. support infrastructure. Now NetSol is positioned to compete with larger, less niche-focused software providers such as Oracle and SAP. We believe this agreement is the first aggressive step toward considerable growth in the U.S. marketplace."
The terms of the transaction will be disclosed in the Company's Form 8-K filed with the Securities and Exchange Commission. Maxim Group, LLC, a full service investment banking firm headquartered in New York City , provided acquisition negotiation and advisory services
From a NetSol Press Release:
### Press Release ####################
About McCue Systems
With over 30 years of experience in developing business solutions for the equipment and vehicle leasing industry, McCue Systems Inc. is the leading provider of lease/loan portfolio management software for banks, leasing companies and manufacturers. Its flagship product, LeasePak, simplifies lease/loan administration and asset management by accurately tracking leases, loans and equipment from origination through end-of-term and disposition.
McCue Systems leads the leasing technology industry in the development of Web-enabled and Web-based tools to deliver superior customer service, reduce operating costs, streamline the lease management lifecycle, and support collaboration with origination channel and asset partners. Alone in the industry, McCue Systems offers a Web-based front-end system that integrates fully with the system's back-office database architecture.
By harnessing the most advanced technologies, McCue Systems can offer the right operating platform for almost any enterprise. LeasePak can be configured to run on HP-UX, SUN/Solaris or Linux, as well as for Oracle and Sybase users. And for unmatched scalability, McCue Systems offers the LeasePak Bronze, Silver and Gold Editions for systems and portfolios of virtually all sizes and complexities. McCue Systems' solutions set the industry standard for reliability, providing the equipment and vehicle leasing infrastructure at leading Fortune 500 banks and manufacturers, as well as for the industry's leading independent lessors, including Cisco, Hyundai, JP Morgan/Chase, ORIX, and Volkswagen Credit.
The leasing experts at McCue Systems work closely with lessors to put the company's leasing expertise to work to streamline lease operations and enhance customer retention at every stage of the lease lifecycle.
For more information, visit www.mccue.com .
About NetSol Technologies, Inc.
NetSol Technologies is an end-to-end solution provider for the lease and finance industry. Headquartered in Calabasas, CA, NetSol Technologies, Inc. operates on a global basis with locations in the U.S. , Europe, East Asia and Asia Pacific. NetSol helps its clients identify, evaluate and implement technology solutions to meet their most critical business challenges and maximize their bottom line. By utilizing its worldwide resources, NetSol delivers high-quality, cost-effective IT services ranging from consulting and application development to systems integration and outsourcing. NetSol's commitment to quality is demonstrated by its achievement of both ISO 9001 and SEI (Software Engineering Institute) CMM (Capability Maturity Model) Level 4 assessment.
For more information, visit NetSol Technologies' web site at www.netsoltek.com.
### Press Release ###########################
--------------------------------------------------------------

Classified Ads—Help Wanted


Senior Secondary Market Officer
Walnut Creek, California
Work with secondary market syndication sources of leasing transactions. Minimum three years leasing experience & knowledge equipment leasing underwriting; to learn more and apply: click here.


----------------------------------------------------------------

ELA sends Wake up Call to FASB on Leasing
The Equipment Leasing Association (ELA) believes that "...the reasoning behind the calls for revisions since 1995 to the Financial Accounting Standards Board (FASB) is based on misunderstandings of the adequacy of FAS 13, the lease accounting financial reporting standard that has had an unblemished record of use for 30 years.
" In an effort to clarify and give voice to the equipment leasing industry's position on lease accounting," ELA has produced a white paper, "Lease Accounting: Separating Myth from Reality Are the lease accounting rules as bad as they say?"
Bill Bosco
Author, and member of the ELA Financial Accounting Committee.
The largest and most legislative influential leasing association believes paper written by Mr. Bosco on its behalf "... provides a thorough examination of the myths critics assert as supporting evidence that U.S. lease accounting rules are insufficient or need revising.
"It also contains analysis and commentary that dispel the myths and misinformation and provide a realistic view of the rules' effectiveness."
The Bill Bosco's "accounting white paper:"
http://leasingnews.org/PDF/Bill_Bosco.pdf
----------------------------------------------------------------

How to Check your eMail from a Public Computer
If you check your email from a public computer, like at a hotel, business office, coffee shop or mall kiosk be sure to say "no" if it asks you if you want to save the password using auto-complete. To be safe use the secure log in that is offered at Mail2Web.
Also be sure to close all browser windows when you are done checking your email. That way, someone can hit the back button and gain access to your email.
This is a very easy program to use. It may be slow, at times, but the other advantage is the e-mail you get also stays on your server, so when you get home or to your office, you will have the e-mail at your own computer.
And this is "free"
----------------------------------------------------------------

Sales Make it Happen
Continuous Partial Attention
by Linda P. Kester
I'd like to dedicate this article to Michael Granieri who passed away May 19, 2004. Michael was the first person to write in and defend me when Leasing News ran the headline Linda Kester Pro or Con. It took a lot of courage for my competitor to put his name on the line and stick up for me. Michael, I'm forever grateful.
Continuous Partial Attention
At a recent sales training seminar a rep had his laptop open while I was presenting. His manager told him, in front of everybody, to shut it. He responded that he was taking notes. The manager said he didn't care and to still shut it.
Was the rep taking notes?
Or was he looking at the status of his NCAA pool?
I don't know.
What I do know is that while the other reps weren't being as blatant about it, there were times when they didn't give me their undivided attention. Now, don't get me wrong, there were some reps hanging on my every word-I'm not boring! But adults are so used to pretending that they are paying attention, when they aren't, that they are good at it. If anyone walked into the room they would think that each participant was extremely focused on the material, but if what I'm saying is hitting home then I'm causing them to think about that prospect they need to follow-up with.
The bottom line is most sales reps, like most vendors you call on, are preoccupied.
There was an interesting article in Newsweek recently that labeled this new phenomenon, Continuous Partial Attention (CPA). It's multiple work distractions such as e-mail, instant messaging, web surfing, text messaging, and cell phones. I find it happening more and more in my seminars. Reps have their Blackberry's on and laptops open in front of them. I am competing for their attention.
But I have to confess, I have a certain fondness for CPA. People with Blackberry's and mobile phone headsets that look like something out of Star Trek seem more interesting than the rest of us. (As long as they are not rude.) I like gadgets and I like to play and banter with my friends. It's hard to just sit here and type this article when I want to toggle back to my e-mail and see if any of my friends have sent something funny. Even before Blackberry's and cell phones most adults only gave continuous partial attention.
We're good at it.
Think of how many meetings you've been in, and you were so bored! You were barely paying attention. I'm sure you looked as if you were paying attention, but your mind was somewhere else.
We can multi task, that's one of the reasons we do it. And let's be honest, some work activities are so brainless that we can easily do two things at once.
In leasing sales we're constantly multi-tasking. Conveying approval status, documentation, funding, and customer service. We always have many different files in front of us. Each with a different objective.
Since it's inevitable that people will practice CPA, I think we should take the label of Continuous Partial Attention and see it in a positive way. Especially with prospecting.
If I could get semi-successful sales reps to give CPA to their top 20 prospects they would become even more successful.
If I could get struggling reps to give CPA to qualified vendors and then identify their top prospects and keep in touch with them on a continuous partial basis, consistent continuous partial basis, they would stop struggling.
Now you could argue "Linda, to become truly successful you must learn to focus your efforts." That's true. If I could get each and every rep to completely focus their efforts, the leasing industry would be unstoppable. But that's not what happens. A struggling rep is so happy to finally get an application that they put all their effort into convincing the credit department to approve their one deal. They happily take their focus off prospecting.
The semi successful rep is busy servicing his vendors and lessees, so he puts off prospecting entirely. He gets caught up in the urgent nature of this business and pays no attention to the important but seemingly not so urgent task of prospecting.
Let's make a manifesto to practice CPA on prospecting. This means that no matter how caught up in credit and documentation problems that we take some time every day to give CPA to our top prospects. Put prospecting into your routine of phone calls, text messaging, and e-mailing.
Your prospects are practicing CPA too. Make it a game! Give them your CPA and see if you can break their CPA so they give you're their UDA (Undivided Attention).
By the way, I asked my husband to edit this article for me. His response was "Only if I can do it while watching TV." I can always count on his CPA.
Linda Kester helps leasing companies attract more vendors. To read more articles or purchase her leasing sales tips CD visit.

----------------------------------------------------------------

Marlin Leasing Form 10-Q 1 st Quarter 2006
Here is the very successful Marlin Business Services Corporation Security Exchange Commission 10-Q filing for their first quarter, 2006; full report, all details:
http://leasingnews.org/PDF/Marlin_06-Q1.pdf
----------------------------------------------------------------

Print Newspapers Losing Subscribers
Circulation dropped at seven of the 10 largest dailies and at three of four papers overall. Newspaper Web sites had 8 percent more users in the first quarter, a separate survey showed, illustrating a shift in readers and advertisers from print to digital formats.
Daily circulation for 770 U.S. newspapers fell 2.6 percent from a year earlier to 45.4 million, the Newspaper Association of America said in a statement yesterday, citing preliminary figures by the Audit Bureau of Circulations.
The largest percentage decline among the top 10 newspapers was at Tribune Co.'s Los Angeles Times. Circulation fell 5.4 percent to 851,800, though less than the 6.5 percent drop a year earlier.
The Boston Globe's weekday circulation slid 8.5 percent, to 397,288.
Boston Herald Sunday circulation fell 18.4 percent to 122,712, while the Globe's Sunday circulation fell 10.2 percent to 604,068.
Circulation at the San Francisco Chronicle, which is not in the top 10, fell 15.6 percent to 398,200.
The Chicago Tribune was one of three top 10 newspapers to show a circulation increase, rising 0.9 percent to 579,079.
---------------------------------------------------------------
### Press Release ###########################

Two Industry Veterans Join the Alta Group,
Expanding U.S. Division of International Consultancy

LAKE TAHOE, NV, -The Alta Group, the leading global provider of specialized consulting and education services in equipment leasing and finance, announced this spring that two industry veterans have joined the U.S. division of Alta as principals. They are Alan N. Frankel and Joseph N. Boland-- both well known worldwide for the depth and scope of their experience and knowledge.
Alan M. Frankel
Frankel was president of Lighthouse Capital Corporation, a consulting firm specializing in healthcare leasing, and previously he headed Copelco Leasing Corporation which was a wholly-owned subsidiary of the public company, Copelco Financial Services Group (CFSG), where he also held the title of senior vice president of CFSG. He was one of the three original officers of Copelco and subsequently led American Business Leasing from its inception.
John N. Boland
Boland was chief credit officer of IBM Corporation where he was responsible for optimizing credit risk positions for financing, services and mainline sales organizations in more than 80 countries. Before his employment with IBM, he spent a decade with Swiss Bank Corporation (now UBS) as the senior executive in the U.S. corporate banking division.
Both have spent several decades in equipment finance and leasing. Boland has experience in banking as well and has been recognized as a leader in developing credit infrastructure, systems and policies. He is also a noted international specialist who has worked with many multinationals seeking prudent expansion and improved financial performance.
Frankel is well known both in the leasing and healthcare industries. He has served on the board of directors of the Equipment Leasing Association (ELA) and is an advanced member of the Healthcare Financial Management Association. He also has written extensively for the industry on the state of the U.S. healthcare market as it intersects with global leasing markets.
About The Alta Group
The Alta Group, established in 1992, provides a broad array of strategic consulting, advisory and M&A services, dispute resolution, education and training programs for companies in the global equipment leasing and asset finance industries. Its clients include manufacturers, banks, and independent lessors of various sizes. The Alta team is made up of more than 35 international professionals committed to the asset finance industry, including former CEOs, company founders and industry thought leaders. They collaborate and share their in-depth knowledge and insights with today's business leaders who face a range of challenges, both old and new. The firm has built a reputation on creative thinking, trust and professionalism. The Alta Group supports clients in North America; Latin America; Western, Central and Eastern Europe , Australia and China . For more information, visit www.thealtagroup.com
### Press Release ###########################

Gregory A. Smith to Join Marshall & Ilsley Corporation as Chief Financial Officer
MILWAUKEE, -- Marshall & Ilsley Corporation (NYSE: MI - News) announced that Gregory A. Smith, 42, will join M&I as Senior Vice President and Chief Financial Officer, in June. Mr. Smith has worked in investment banking since 1990, most recently as a Managing Director, specializing in midwest financial institutions for Credit Suisse in Chicago .
"Greg has been advising M&I on a variety of matters since 1990, including matters related to the debt and capital structure of the organization. He has also assisted in the evaluation of several corporate strategies. In this role, he has had the opportunity to work closely with both M&I's and Metavante's senior management teams," said Dennis Kuester, Chairman and CEO, Marshall & Ilsley Corporation. "In addition, he brings a deep background in finance, critical to his role as CFO."
Mr. Smith earned a bachelor's degree in economics and graduated with cum laude honors from Princeton University and earned an MBA from the University of Chicago , Graduate School of Business.
Marshall & Ilsley Corporation (NYSE: MI - News) is a diversified financial services corporation headquartered in Milwaukee , Wis. , with $52 billion in assets. Founded in 1847, M&I Marshall & Ilsley Bank is the largest Wisconsin- based bank. M&I Bank has 196 offices throughout the state, in addition to 42 locations throughout Arizona; 15 offices on Florida's west coast; 11 offices in Kansas; six offices in Missouri; three offices in Oklahoma; 14 offices in metropolitan Minneapolis/St. Paul, Minn.; and locations in Duluth, Minn.; and Las Vegas, Nev. M&I's Southwest Bank affiliate has eight offices in the St. Louis area and one office in Belleville, Ill. M&I's Missouri State Bank affiliate has seven offices in the St. Louis area. Metavante Corporation, Marshall & Ilsley Corporation's wholly owned technology subsidiary, provides virtually all of the technology an organization needs to offer financial services. M&I also provides trust and investment management, equipment leasing, mortgage banking, asset-based lending, financial planning, investments, and insurance services from offices throughout the country and on the Internet ( http://www.mibank.com or http://www.micorp.com ). M&I's customer-based approach, internal growth, and strategic acquisitions have made M&I a nationally recognized leader in the financial services industry.
Source: Marshall & Ilsley Corporation
http://www.newscom.com/db/PRN/prnphotos/docs/053/940.thm
### Press Release ###########################

CIT Names Michael Baresich Chief Information Officer
NEW YORK , -- CIT Group Inc. (NYSE: CIT), a leading provider of commercial and consumer finance solutions, announced the appointment of Michael Baresich as Executive Vice President and Chief Information Officer (CIO). In this role he will be responsible for the Systems and Technology Services organization worldwide, and will lead more than 400 employees.
"Technology is an important enabler of our global growth strategy and we are excited that Michael has joined CIT," said Joseph M. Leone, Vice Chairman and Chief Financial Officer of CIT. "He brings more than 30 years of experience in information technology to CIT having held senior management positions at other major financial services companies. Michael and his team will continue to develop IT solutions that will assist CIT in providing customized financing solutions to our 900,000 worldwide clients."
Mr. Baresich joins CIT from Citigroup Asset Management (CAM) where he was Managing Director and Global Chief Information Officer. In this role he provided IT solutions in areas such as investment accounting, data management, performance measurement, and Web-based customer solutions.
Prior to joining CAM , he was CEO and co-founder of CoKinetic Systems
Corporation, providing software products and services to enterprise clients, which developed Internet-based software products for major clients in the financial services and airline industries. Before founding CoKinetic in 2001, he was a Managing Director and Global Head of Information Technology, Operations, and E-Commerce for Deutsche Bank's Asset Management division. Prior to the acquisition of Bankers Trust by Deutsche Bank in 1999, Mr. Baresich spent more than 15 years in a number of senior line management positions at Merrill Lynch and Bankers Trust including Global Head of IT and Operations for Bankers Trust Private Bank, General Manager of Bankers Trust A.G. (Switzerland), and Head of Private Bank Investment Advisory and Wealth Planning. He earned a B.A. from Binghamton University , an M.A. from the University of Florida , and an M.B.A. from the Wharton School of the University of Pennsylvania .
About CIT
CIT Group Inc. (NYSE: CIT), a leading commercial and consumer finance company, provides clients with financing and leasing products and advisory services. Founded in 1908, CIT has over $65 billion in assets under management and possesses the financial resources, industry expertise and product knowledge to serve the needs of clients across approximately 30 industries worldwide. CIT, a Fortune 500 company and a member of the S&P 500 Index, holds leading positions in vendor financing, factoring, equipment and transportation financing, Small Business Administration loans, and asset-based lending. With its Global Headquarters in New York City , CIT has approximately 6,600 employees in locations throughout North America, Europe, Latin America, and the Pacific Rim . For more information,
visit http://www.cit.com.
### Press Release ###########################

Provident Bank Promotes Martine A. Lewis to VP
Baltimore , — Provident Bank announces the promotion of Martine A. Lewis to Vice President of Asset Management within its Court Square Corporation Division. She will work out of the Bank's Court Square Leasing Corporation a subsidiary of Provident Bank office in Malvern , PA.
In her new role, Lewis will be the responsible for tracking end of lease terminations, re-selling, re-marketing returns of assets and coordination all sale transactions of the off lease equipment. With more than 18 years of experience, she will help to enhance Provident's existing asset programs.
Lewis joined Provident in 2000 as a Collections and Asset Manager. Through the years, Lewis has been promoted to Assistant Vice President of Collections and Assets, as well as Vice President of Asset Management. Prior to joining Provident, Lewis was a Collections Manger for Tokai Financial Services in Berwyn , PA. She also was a Customer Service Representative and Operations Manger for American Business Leasing in Bala Cynwd , PA.
"I look forward to the opportunity to organize and create the Asset Department to work in a more efficient manner. I also am very excited about increasing our sales on the return of assets," said Lewis.
Born in Sao Paulo , Brazil , she now makes her home in Pennsylvania .
Provident Bankshares Corporation is the holding company for Provident Bank, the second largest independent commercial bank headquartered in Maryland . With $6.4 billion in assets, Provident serves individuals and businesses in the key urban areas of Baltimore , Washington and Richmond through a network of 153 offices in Maryland , Virginia , and southern York County , PA. Provident Bank also offers related financial services through wholly owned subsidiaries. Securities brokerage, investment management and related insurance services are available through Provident Investment Center and leases through Court Square Leasing and Provident Lease Corp. Visit Provident on the web at www.provbank.com.
### Press Release ###########################
--------------------------------------------------------------

News Briefs----
Home Depot to acquire Utah Industrial Bank: EnerBank
http://www.ajc.com/business/content/business/stories/0510depotbank.html
Displaced Atlanta Area Autoworkers to Put a New Economic Model to the Test
http://www.washingtonpost.com/wp-dyn/content/article/2006/05/09/AR2006050901569.html
AOL to Cut 1,300 Workers in U.S.
Call Centers Bear Brunt of Reduction
http://www.washingtonpost.com/wp-dyn/content/article/2006/05/09/AR2006050901644.html
Fannie Mae Finds More Errors
Mortgage Giant Again Delays Quarterly Earnings Report
http://www.washingtonpost.com/wp-dyn/content/article/2006/05/09/AR2006050900461.html
Need to keep house payments low? Try a 50-year mortgage
http://www.usatoday.com/money/perfi/housing/2006-05-09-long-mortgage-usat_x.htm
Cisco's Revenue Surpasses Forecast, but Earnings Slip
http://www.nytimes.com/2006/05/10/technology/10cisco.html?_r=1&oref=slogin
Dell shares in spotlight after cut in outlook
http://www.signonsandiego.com/news/business/20060509-1404-dell-outlook.html
Silicon Graphics files for bankruptcy
http://www.siliconvalley.com/mld/siliconvalley/14536332.htm
American Idol: All Shook Up (Bets are Kat gets booted off)
http://www.accessatlanta.com/blogs/content/shared-blogs/accessatlanta/idol/
entries/2006/05/09/512_all_shook_u.html
---------------------------------------------------------------


You May have Missed---
Job offer? Think before you leap
http://www.dallasnews.com/sharedcontent/dws/bus/stories/
DN-perfi.inside_08bus.State.Edition1.c828fdc.html
---------------------------------------------------------------

Sports Briefs----
Strong stuff: Mavs get even, 113-91
http://www.dallasnews.com/sharedcontent/dws/dn/latestnews/stories/
051006dnspomavspagelede.27c23d51.html
Bonds remains at 713
http://www.chicagotribune.com/news/local/cs-060509cubsgamer,1,7963192.
story?coll=chi-news-hed
Bonds produces "Ruthian" emotions
http://www.contracostatimes.com/mld/cctimes/14535016.htm
The Brothers Prado Are Separated Only by Success
http://www.nytimes.com/2006/05/10/sports/othersports/10racing.html
----------------------------------------------------------------


"Gimme that Wine"
- About 90 percent of U.S. wine comes from California , according to the Wine Market Council. If California were a separate country, it would be the world's fourth-leading wine-producing nation, behind France , Italy and Spain .
• Illinois has nearly 60 wineries and about 300 grape growers, according to the Illinois Grape Growers and Vintners Association.
•
Going to Bat for a Much-Maligned Grape: Merlot—Eric Asimov
http://www.nytimes.com/2006/05/10/dining/10pour.html
Plumpjack winery gets OK for Mt. Howell wine site
http://www.naparegister.com/articles/2006/05/09/news/local/iq_3419250.txt
Pichon-Lalande in sale talks
http://www.decanter.com/news/84468.html
Chateau Guiraud to be sold
http://www.decanter.com/news/84414.html
Once-flat beer sales are beginning to bubble back in the United States
http://www.canada.com/saskatoonstarphoenix/news/business/story.html?id=
caf31c6a-b035-4bdc-b05d-29084b09cfb9&k=66556
Windsor Wine storage includes collectors and party area
http://www.northbaybusinessjournal.com/apps/pbcs.dll/article?AID=/20060508/
BUSINESSJOURNAL/60505005/1219
Boutique vintners savor success, push wine as `fun'
http://www.chicagotribune.com/news/nationworld/chi-0605080118may08
,1,7819438.story?coll=chi-newsnationworld-hed
Wine Prices by vintage
http://www.winezap.com
http://www.wine-searcher.com/
US/International Wine Events
http://www.localwineevents.com/
Winery Atlas
http://www.carterhouse.com/atlas/\
Leasing News Wine & Spirits Page
http://two.leasingnews.org/Recommendations/wnensprts.htm
----------------------------------------------------------------

Calendar Events This Day
Blood Pressure Day
Clean Up Your Room Day
Donate a Day's Wages to Charity Day
All working people are asked to donate the money they make on May 10, 2006, to charity. If unable to afford the donation, they are then asked to take the day off of work and donate their time to charity.
Micronesia , Federated States of: Constitution Day
Proclamation of the Federated States of Micronesia in 1979. National Holiday .
National School Nurse Day
Established to foster a better understanding of the role of school nurses in the educational setting.
www.nasn.org
National Third Shift Workers Day
To show appreciation for and to honor those often-forgotten workers who tool through the night to keep countless companies and businesses running smoothly. Annually, the second Wednesday in May.
Root Canal Appreciation Day
A special day whose goal is to reverse common negative misconceptions of a routine dental procedure. The root canal, which has evolved into a simple, painless procedure (they say), should be held in high esteem for the millions of teeth it saves---42 million American teeth this year alone. This day will provide dentists around the country with an opportunity to plan concurrent public educational events. Ceremonies can include performing a root canal filling at various locations around the country. Madison , WI , will serve as the national headquarters for Root Canal Appreciation Day. www.The SmileExperts.com
Singapore : Vesak Day
Public holiday. Monks commemorate their Lord Buddha's entry into Nirvana by changing holy sutras and freeing captive birds.
Trust your Intuition Day
today is the day we pay homage to the wonderful gift of sixth sense, "gut" feelings or that still small voice that is sometimes the holy clue we have to go on in this ever-changing world.
----------------------------------------------------------------

Today's Top Event in History
1775- The first Revolutionary War military action occurred when Ethan Allen and 83 men who called themselves the Green Mountain Boys crossed Lake Champlain from Vermont in scows, entered Fort Ticonderoga, NY, through the south gate, and swarmed into the barracks while the soldiers were asleep. Allen demanded the surrender of the fort " in the name of the great Jehovah and the Continental Congress. " the fort, commanded by Capital William Delaplace and Lieutenant Jocelyn Feltham, was captured with 78 guns, 6 mortars, 3 howitzers, thousands of cannot balls, 30,000 flits, and other supplies. Historians consider him one of the most improbable heroes in American History. " . He secretly negotiated with the British during the Revolution to take Vermont out of the war in exchange for a huge tract of virgin forest. And in the 1770's, with the help of roving bans of mounted Green Mountain Boys, he launched a campaign of terror to prevent New York from taking possession of land he claimed as his own in an area dispute between New York and New Hampshire. Before he was through, he burned down several homes, destroyed a few mills, and set up a kangaroo court in which he condemned colonial officers to punishment by whipping. " Robert Shalhope, "The Roots of Democracy." "Allen swindle land out of his neighbors in Vermont, and cavorted with the British during the Revolution; when he was captured he not only refused to try to escape but he prevented others from doing so, at one point stopping the capture of a privateer from taking over a lightly defended British ship."
http://www.virtualvermont.com/history/eallen.html
----------------------------------------------------------------

This Day in American History
1643-The first attempt for colonial government was the United Colonies of New England, organized in Boston, MA, by the colonies of Connecticut, Massachusetts, New Haven, and Plymouth as " a firm and perpetual league of friendship and amity for offense and defence, mutual advice and succor, upon all occasions, both for preserving and propgating the truth and liberties of the gospel and for their own mutual safety and welfare. " A board of eight commissioners, two for each colony, formed the "consociation." Issues could be referred to the general courts for appeal, if not approved by six votes. John Winthrop of Massachusetts was the first president. Massachusetts , the largest colony, gradually withdrew because it did not have proportional representation.
1748-- [O.S.] Slave-ship Captain John Newton, 22, was converted to a saving Christian faith. Newton later became an Anglican clergyman, and (as the author of "Amazing Grace") a greatly respected hymnwriter as well.
http://www.flash.net/~gaylon/jnewton.htm
http://www.noteworthyministries.com/agstory.htm
1775- The first Revolutionary War military action occurred when Ethan Allen and 83 men who called themselves the Green Mountain Boys crossed Lake Champlain from Vermont in scows, entered Fort Ticonderoga, NY, through the south gate, and swarmed into the barracks while the soldiers were asleep. Allen demanded the surrender of the fort " in the name of the great Jehovah and the Continental Congress. " the fort, commanded by Capital William Delaplace and Lieutenant Jocelyn Feltham, was captured with 78 guns, 6 mortars, 3 howitzers, thousands of cannot balls, 30,000 flits, and other supplies. Historians consider him one of the most improbable heroes in American History. " . He secretly negotiated with the British during the Revolution to take Vermont out of the war in exchange for a huge tract of virgin forest. And in the 1770's, with the help of roving bans of mounted Green Mountain Boys, he launched a campaign of terror to prevent New York from taking possession of land he claimed as his own in an area dispute between New York and New Hampshire. Before he was through, he burned down several homes, destroyed a few mills, and set up a kangaroo court in which he condemned colonial officers to punishment by whipping. " Robert Shalhope, "The Roots of Democracy." "Allen swindle land out of his neighbors in Vermont, and cavorted with the British during the Revolution; when he was captured he not only refused to try to escape but he prevented others from doing so, at one point stopping the capture of a privateer from taking over a lightly defended British ship."
http://www.virtualvermont.com/history/eallen.html
1779-birthday of George Ross, signer of the Declaration of Independence. Born at New Castle , DE , he died July 14, 1779, at Philadelphia .
http://www.georgeross.net/
1849-the theater was very popular, particularly Shakespeare plays. A riot erupted outside the Astor Place Opera House at New York , NY , where the British actor William Charles Macready was performing. Led by the American actor Edwin Forrest, angry crowds revolted against dress requirements for admission and against Macready's public statements on the vulgarity of American life. The cause of the dispute was basically between two Shakespearean actors, one American, one British, who were then performing in rival productions of "Macbeth.." The city had become caught up in the dispute, dividing along class lines, the rich favoring the British actor's production, the laborers favoring the American's. To followers of the American, it seemed that nothing less than democracy itself was at stake. On May 8, Macready's performance of Macbeth was stopped by Forrest's followers. Two days later, a mob led by Ned Buntline shattered the windows of the theater during a performance. Troops were summoned and they were ordered to fire, killing 22 and wounding 26. ,injuring over 150, plus 86 arrests were made
( Source: Richard Shenkman, author of Legends, Lies & Cherished Myths of American History ).
http://www.mcny.org/astorriot.htm
1863 -- Confederate General "Stonewall" Jackson dies of wounds inflicted accidentally eight days ago by his own troops.
1865- Jefferson Davis was captured at Irwinville , Ga. , by a contingent of Gen. James H. Wilson's calvary, led by Lt. Col. Benjamin Pritchard. There was a contingent of soldiers and general who wanted to hang him, including the U.S. Congress, but General U. S. Grant put the care of Jefferson Davis under a personally chosen cadre of troops.
http://memory.loc.gov/ammem/today/may10.html
1869-To meet the contract, a golden spike was driven by Leland Stanford, president of the Central Pacific, to celebrate the linkage of the Union Pacific and Central Pacific railways. Long called the final link in the ocean-to-ocean railroad, this event cannot be accurately described as completing the transcontinental railroad, but it did complete continuous rail tracks between Omaha and Sacramento . The actual completion was not until August 15.
http://memory.loc.gov/ammem/today/may10.html
1872- Victoria Claftin Woodhull became the first woman nominated for president by the National Radical Reformers at Apollo Hall , New York . Frederick Douglass was the vice-presidential candidate. One of her campaign themes was " free sex." By the way, Douglass was the first African-American vice-presidential candidate. In 1888, he became the first African American candidate for president at the Republican Convention, that eventually choose Benjamin Harrison. Douglass was later appointed U.S. Minister to Haiti . The closest any woman has come to the top seat of the nation since Victoria Woodhull was Geraldine A. Ferraro who was on the Democratic party slate as the Vice-Presidential candidate in 1984.
1899-birthday of Fred Astaire, actor, dancer and choreographer, born at Omaha , NE. Astaire began dancing with his sister Adele and in the mid-1930s began dancing with Ginger Rogers. His resume said," Can't act. Slightly bald. Can dance a little. "Despite this, Astaine starred in more than 40 films including Holiday Inn, The Gay Divorcee, Silk Stockings and Easter Parade. Died at Los Angles, June 22, 1987.
http://themave.com/Astaire/
1905 -an f5 tornado 1/2 mile wide ripped through Snyder , Oklahoma . 87 people were killed. Many people thought the approaching tornado was a hailstorm and did not take shelter.
1907--Bandleader Walter "Pee Wee" Hunt birthday, best known for his big hit " 12 th Street Rag."
http://www.centrohd.com/biogra/h2/pee_wee_hunt_b.htm
http://seniormusicians.homestead.com/PeeWee.html
1919-Sir Barton, ridden by Johnny Loftus, won the Kentucky Derby by five lengths. Leading wire-to-wire, he went on to become the first horse to win the Triple Crown ( The Derby, The Preakness Stakes and the Belmont Stakes.)
1924--J. Edgar Hoover appointed head of the FBI. His information on the top politicians kept him in power.
http://members.tripod.com/~american_almanac/hoover.htm
http://www.spartacus.schoolnet.co.uk/USAhooverE.htm
1928-- the legendary country music group, the Carter Family, recorded "Wildwood Flower." This is the song most associated with the Carter Family, largely because of the guitar playing of Mother Maybelle Carter. "Wildwood Flower" is still in the repertoire of practically every country guitarist.
1932 -- Author William Faulkner makes his first trip to Hollywood to write for MGM.
http://www.mcsr.olemiss.edu/~egjbp/faulkner/faulkner.html
1935-- '50s rock 'n' roll singer Larry Williams was born in New Orleans . He had several hits in 1957 and '58 with frantic novelty numbers such as "Short Fat Fannie," "Bony Moronie" and "Dizzy Miss Lizzy." "Miss Lizzy" was later recorded by the Beatles. Larry Williams committed suicide in January 1980.
1940-Lionel Hampton , with the Nat King Cole Trio, records, " Central Ave. ," "Breakdown," "Jack the Bellboy."
1945-Les Brown Band records, " Leap Frog," Columbia .
http://www.bandsofrenown.com/
1946--Singer Donovan Phillip Leitch, better known as Donovan, is born Glasgow , Scotland .
http://home.cogeco.ca/~mansion1/solodonovan.html
1954---Top Hits
Wanted - Perry Como
Young at Heart - Frank Sinatra
Little Things Mean a Lot - Kitty Kallen
Slowly - Webb Pierce
1960- U2 vocalist Bono, whose real name is Paul Hewson, was born. U2 was formed in Dublin , Ireland in 1976, and by 1987 was acknowledged as the top rock band in the world. Their hit albums include "The Unforgettable Fire," "The Joshua Tree" and "Rattle and Hum." "Rattle and Hum" was also the title of U2's 1988 concert film.
http://www.atu2.com/band/bono/
1962---Top Hits
Soldier Boy - The Shirelles
Mashed Potato Time - Dee Dee Sharp
Stranger on the Shore - Mr. Acker Bilk
Charlie's Shoes - Billy Walker
1963-- the Rolling Stones began their first recording session in London with producer Andrew Loog Oldham. Their first single, a cover of Chuck Berry's song "Come On," was released a month later.
1966 - morning lows of 21 degrees at Bloomington-Normal , Illinois and Aurora , Illinois established a state record for the month of May. Snow flurries were reported At Kansas City, Missouri and Chicago , Illinois .
1967 Braves' outfielder Hank Aaron hits an inside-the-park homer off Phillie hurler Jim Bunning. It will be 'Hammerin' Hank's' only home run which doesn't clear the fence out of his record setting 755 round-trippers.
1968-Peace talks open in Paris with Averell Harriman representing the U.S. and Xan Thuy representing North Vietnam . Talks soon deadlock over the North Vietnamese demand for an end to all U.S. bombing of North Vietnam . More than 2,000 American soldiers die in combat in May, the highest monthly loss of the war.
1969-The American Football League and the National Football League announced that plans for their merger and integration into one league with two conferences of 13 teams each were complete. Three NFL teams, the Baltimore Colts, the Cleveland Browns and the Pittsburgh Steelers, agreed to join the American Football Conference as part of the deal.
1986 - Navy Lt. Commander Donnie Cochran became the first black pilot to fly with the celebrated Blue Angels precision aerial demonstration team
http://www.raaheroes.com/military/navy/cochran.htm
1970---Top Hits
American Woman/No Sugar Tonight - The Guess Who
Vehicle - The Ides of March
Love or Let Me Be Lonely - The Friends of Distinction
The Pool Shark - Dave Dudley
1970-Hoyt Wilheim of the Atlanta Braves became the first major league pitcher to appear in 1,000 games when he was called in form the bullpen in a game against tithe St. Louis Cardinals. Wilhem gave up three runs, and the Braves lost, 6-5.
1977- an unprecedented spring snowstorm hit Southern New England and New York .
1978---Top Hits
Night Fever - Bee Gees
If I Can't Have You - Yvonne Elliman
The Closer I Get to You - Roberta Flack with Donny Hathaway
It's All Wrong, But It's All Right - Dolly Parton
1986---Top Hits
West End Girls - Pet Shop Boys
Greatest Love of All - Whitney Houston
Why Can't This Be Love - Van Halen
Grandpa (Tell Me 'bout the Good Old Days) - The Judds
1990- a spring snowstorm produced heavy snow in Upper Michigan and Eastern Wisconsin . Marquette , Michigan recorded 22.4 inches of snow to set not only a new single storm snowfall record for may but also a new monthly record for snowfall in may.
1991 -severe thunderstorms blasted Western Texas and Nebraska . 15 tornadoes were reported in West Texas . 3 miles northwest of Lazbuddie, a complex of 5 tornadoes touched down within 10 minutes of one another. This consisted of the main funnel (rated f2) and 4 'satellite' tornadoes that rotated around the main vortex at a distance of about 1/4 mile. Hail 6 inches in diameter broke many windshields and did extensive damage to roofs in Pyote , Texas . 5 inch hailstones descended from a supercell thunderstorm near Crawford , Nebraska .
1994- Barbra Streisand opened her first concert tour in 28 years with a show in New York . The tour was inspired by the warm reception she received at two New Year's concerts in Las Vegas .
1999 - In a 12-4 rout of the Mariners, Boston's shortstop Nomar Garciaparra hits two grand slams as well as a two-run homer becoming the first American League player to drive in 10 runs in a game since 1975.
2005 - Country superstar Faith Hill's new single "Mississippi Girl," becomes available as a free, timed-out download beginning via radio station Web sites across the country.
Stanley Cup Champions This Date
1970 Boston Bruins
1973 Montreal Canadiens
--------------------------------------------------------------


Baseball Poem
Listening to the Ballgame
Here, in what one poet called
The realm of decline, among
Momentary days, I stretch out
On the couch, close my eyes,
And listen as the game gathers
Its dimensions of clarity
And grace. An east wind
Billows through the curtains.
The light of Saturday afternoon
Spills into the room, shining
On the round leaves of the ivy.
What is time to me? The surf
Of voices drifts against my ear
And is sea enough, and memory.
Just this morning a red bird
Fluttered against my window
Like a battered heart trying
To get back home. Now my wife
Sings in the kitchen, slicing
Red berries into a bowl.
The child she carries is red
And translucent with blood
As the sun inside my eyelids,
And the day arcs above us all:
Cloudless, cornflower blue.
A high sky, the players call it,
Where spheres fall from light.
So much of what we love takes
Place beyond us, I ' m grateful
For each of these returning
Curves, for the calculus
By which Clemente drifts back
Toward the right-field wall
And the ivy flashes like flakes
Of bronze in old Forbes Field.
I don ' t know what that bird
Meant to tell me, or whether
I'll ever stop comparing
The loss of a ball park to
The fall of Troy . Or how long
My momentary days will continue
To fill with such splendid ease.
I think about the nine round
Stations we pass through, out
Of that only paradise, into
The realm of decline. Of how
There are moments in which
The world, which never promised
A thing, returns instead
Enough to curve us into song.
Written by Robert Gibb, published in
"100 Contemporary Baseball Poems,"
edited by Brooke Horvath and Tim Wales,
published by the Southern Illinois University Press