Wednesday May 24, 2006
Headlines---
New Feature: SuDoku puzzles
Classified Ads---Operations
T-bills rates fall
North Shore Leasing & Funding/List
Bank of Walnut Creek Leasing Sold
Bruce Horton still prez Popular Leasing
Van Etten to help turn things around---
"FRAUD...It's Back": Web Seminar
Classified Ads---Help Wanted
"Top Swing"--- Golf Club Leasing
Cartoon--"We might win that trial today."
Sales makes it Happen
"The B-Shield" ---by Linda P. Kester
Microfinancial hires Bruce Kropschot
Key Equipment Fin. Scott Sullivan Sr.VP
Greystone enters Internet Fray
Leasing Group 43rd Financial Institution
Stephenson,Hawes,Cottler,Fowler/at CIT
NetSol Technologies expands into China
Tiffany Pratt Joins Leaseinspection.com
News Briefs---
You May have Missed---
California Nuts Brief----
"Gimme that Wine"
Calendar Events
Today's Top Event in History
This Day in American History
Baseball Poem
SuDoku Puzzle
######## surrounding the article denotes it is a "press release"
----------------------------------------------------------------

New Feature: SuDoku puzzles
At the end of each issue, a new SuDoku puzzle will be posted.
This is an experiment. Readers may play the game on line, or print for a latter time, plus choose the "level" they would like.
The idea was that often leasing is numbers, and perhaps readers might enjoy SuDoku.
editor
----------------------------------------------------------------

Classified Ads---Operations
| | | |
| --- | --- | --- |
| | | |
| | | |
Stag's Leap Wine Cellars Three Estate Vineyards, Napa, California
http://www.stagsleapwinecellars.com/vineyards.htm
Orange County, CA
Operations/Credit Manager with 15 Years Experience, Middle & Large Ticket, initiated policies for Patriot Act and Sarbanes Oxley, Team Motivator.
E-mail: equiplender@aol.com
East Windsor, NJ
Skilled Manager in credit, collections, training, documentation, policy and procedure, lease and finance operations. Get results and keep the customer coming back.
Email: rgmorrill@comcast.net
Resume
New York, NY
10+ years in equipment leasing/secured lending. Skilled in management & training, documentation, policy and procedure development & implementation, portfolio reporting. Strong work ethic.
Email: dln1031@nyc.rr.com
Wayne, NJ
20+ heavily experienced collection/recovery VP looking to improve someone's bottom line. Proven, verifiable track record. Knowledge of all types of portfolio. Will relocate
Email: cmate@nac.net
For a full listing of all "job wanted" ads, please go to:
http://64.125.68.91/AL/LeasingNews/JobPostings.htm
To place a free "job wanted" ad, please go to:
http://64.125.68.91/AL/LeasingNews/PostingForm.asp
----------------------------------------------------------------

T-bills rates fall
The interest rates on short-term Treasury bills fell to the lowest levels in three weeks.
The Treasury Department auctioned $15 billion in three-month bills at a discount rate of 4.705 percent, down from 4.740 percent last week. Another $14 billion in six-month bills was auctioned at a discount rate of 4.810 percent, down from 4.820 percent.
The three-month rate was the lowest since an average of 4.685 percent on May 1. The six-month rate was the lowest since 4.780 percent on May 1.
The discount rates reflect that the bills sell for less than face value. For a $10,000 bill, the three-month price was $9,881.07 while a six-month bill sold for $9,755.49.
Separately, the Federal Reserve reported that the average yield for one-year Treasury bills, a popular index for making changes in adjustable-rate mortgages, fell to 4.98 percent last week from 5.01 percent the previous week.
----------------------------------------------------------------

North Shore Leasing & Funding joins
"Broker/Lessor" List
Third Column: YES - Year Company Started | YELB - Years in equipment Leasing Business
A - City Business License | B- State License | C - Certified Leasing Professional |
D - State(s) sales/use tax license |
E - Named as "lessor" on 50% or more of lease contract signed. |
Name
City, State
Contact
Website
Leasing Association

YCS
YELB


(see above for meaning)

1993
20+

$5,000, average transaction $35,000
For full list, please go here:
http://www.leasingnews.org/Brokers/broker_Lessor.htm
----------------------------------------------------------------

Bank of Walnut Creek Leasing Sold
This greeted employees on Monday morning, May 22:
"Subject: Exciting News about BWC
"Good morning, BWCers!
I am pleased to announce that, on May 20, 2006, the Board of Directors of BWC Financial Corp. signed a definitive agreement whereby Bank of Walnut Creek will merge with First Republic Bank, a bank with $9.6 billion in assets, long recognized for their friendly, personalized, old-fashioned banking service.
The union of these Banks, who share similar philosophies and similar goals, will provide employees and clients with new opportunities, convenience and benefits. As with BWC, one of First Republic's strategic values is "having fun." You may have heard radio commercials featuring their tag line: "It's a privilege to serve you" – a statement that mirrors our motto – "Our priority is people."
The merger will give our clients access to First Republic's wealth management and private banking services, along with a continued commitment to exceptional service. First Republic offers free ATMs worldwide, including rebates of others' access fees.
First Republic, with headquarters in San Francisco, has offices in 10 major metropolitan areas. Bank of Walnut Creek offices are a strategic fit for FRB and represent an opportunity for them to grow private banking and wealth management in this market. There is no duplication in office locations.
BWC Financial Corp.'s majority interest in BWC Mortgage Services has been sold to its president Scott Simonich. The company will continue to be headquartered in San Ramon.
The merger is expected to be completed in the fourth quarter of 2006, subject to regulatory approval, other customary conditions and approval by BWC shareholders, with final transition taking place early in 2007. Tom Mantor will stay on as East Bay Regional Managing Director.
After the completion of the merger, I'll stay on for six months, and then I'll be spending more time with my grandchildren. It has been my privilege, honor and joy to work with you over the past 25 years. I thank each of you for the important contributions you have made to the success of Bank of Walnut Creek.
"To celebrate this exciting happening and to give us an opportunity to meet the management of FRB, we will host a reception and dinner on Wednesday, May 24th at the Walnut Creek Marriott. The reception will begin at 5:30 p.m., followed by a buffet dinner.
Please join us for this important event."
Leasing News was able to reach Paul Knowlton, president of Bank of Walnut Creek Leasing. He is on the board of directors of the United Association of Equipment Leasing and the Fall Conference Chair. Knowlton told us, "You know as much as I know about it."
Perhaps he will find out tonight at the meeting of all employees, but maybe not. It is like what happened to Ira Romoff, in fact, a few times, the last time he gets ICB Leasing going and Sovereign Bank buys the bank and merges it into their leasing program; he retires, again.
Republic Bank in San Francisco is more a "retail" bank, active in the mortgage and SBA programs. Bay Area residents know the bank for its ATM ads: no extra ATM/foreign exchange fees when you use your ATM card overseas.
Knowlton may be available. His e-mail address is public:
knowlton@bowc.com
Here is the announcement on the Republic Bank web site:
http://leasingnews.org/PDF/FRBPresentation.pdf
----------------------------------------------------------------

Bruce Horton still president of Popular Leasing
Van Etten to help turn things around----
by Christopher Menkin
Jourdan Saegusa, is now "Manager Acquisitions and Syndications," and according to a February, 2006, press release, is "... reporting to Fred Van Etten, head of commercial sales." Popular Leasing is actively looking to buy leasing portfolio's, they report, plus stepping up other direct marketing sales.
Van Etten left Silvermark Capital, a division of Sterling Bank in Houston, Texas, now reportedly out of the equipment leasing field, to turn things around at Popular Leasing.
Van Etten was the top man at First Sierra/Sierra Cities:" co-founder, executive vice president and chief marketing officer for First Sierra Financial," his on line biography states. He was fired by Tom Depping (who fired many directors, perhaps all, except for his personal accountant, so that is no big onus.) In fact, Van Etten got a pretty generous settlement from American Express, who purchased the company in 2001, and the lawsuit closed all files to the public (there were several such lawsuits, as previous board of directors signed covenants not to talk about.)
"Freddy," as he is affectionately called, is considered one of the best marketing men in the business, in fact, when he was told to fire Mark McQuitty as sales manager of First Sierra, McQuitty wrote a letter back saying that Tom Depping should step down and Van Etten become president.
One of the first things that happened was new hires, new directions, including a move into the small ticket medical industry. He would not return Leasing News calls or e-mails, letting him know we were writing a story about his company and the NorVergence leases.
Juan Carlos Cruz, Vice President, Public Relations and Media, Banco Popular North America, said he was aware from Van Etten that Leasing News was writing an article about Popular Leasing purchase of NorVergence "Equipment Rental Contracts (ERA.), but he would have no comment on that subject for us. When asked if a photograph of President Bruce Horton was not available, he said they did not have one.
Horton is the man who agreed to the $30 million figure in a "master plan" for NorVergence Leasing. He did it with the real brains behind the group, chief operation manager Alexander Wolf, and of course, Bob Fine, the bank PR man, former president of the Eastern Association of Equipment Lessors. Horton most likely paid for the dinner, in many ways, too.
The letter comes from the Jefferson County, Texas case of Party Props, Inc., plaintiff vs. Popular Leasing USA, Inc. Defendant. There will be many more of such suits being filed, including old issues of "floating forum," usury, and new issues of "hold backs," "agency," and perhaps "fraud" coming home to roost. One of the aspects here is how much a "partner" NorVergence was with Popular Leasing.
In the January 19, 2005 deposition of Dan Kinealy, the vice-president of risk management, mentioned in the above letter as having dinner with Mr. Horton, Mr. Wolf and Mr. Fine, dances around in the deposition on how much the NorVergence portfolio is worth and the actual amount of leases. He appears to respond to the "best of his ability," but those in the leasing industry know the questions that were not asked, but should have been:
11 Q. What is the current value of the
12 NorVergence portfolio for Popular Leasing?
13 A. On a net basis, our entire portfolio is
14 approximately 24 million dollars.
15 Q. You said "net basis," what does that
16 mean?
17 Principal obligation, if you will
18 Q. That's the sum of the remaining payments
19 due?
20. No. No, that is not.
21. Q. Okay.
22. A. The sum of the remaining payments due
23 would be approximately 29 million to 30
24 million dollars.
25. Q. Does the 24 million represent money
1. actually paid by Popular Leasing to NorVergence?
2. A. in approximation of that, yes. It is
3 the remaining principal balance, plus any earned
4 interest that would have been realized on those
5 balances.
6 Q. Of that 24 million, approximately what
7 percentage was in default?
8 A. Approximately 17 million dollars of it.
9 Q. Of the accounts in default, how many has
10 Popular initiated litigation?
11 A. Approximately 500 accounts.
12 Q. Is that 500 total, or that remain
13 active at this point.
14 A. The 500 is just the number of
15 accounts out of the total accounts in that default
16 category against which litigation has been
17 initiated.
The actual question of holdbacks or "repayments" as in the "mast plan" agreed in the funding of lease contracts submitted was not asked. How many leases were purchased back, or pending, or what reserves or "hold backs" were kept, was not asked.
The aspect of commission for NorVergence was covered:
1 Q. Is this a template? You fill in some
2 information and it calculates the rest?
3 A. Yes. So when this says Total Equipment
4 Cost, if this were a direct origination lease, this
5 would be exactly what we are paying for the
6 equipment. In the case of assigned contracts or
7 contracts associated with a portfolio acquisition,
8 it would be the amount that we are paing for the
9 purchase of this contract or the portfolio
10 contracts.
11. Q. What is the Commission number?
12. A. That's an amount that would be paid to
13 one of the parties in the transaction, typically to
14 a vendor or a vendor representative.
15 Q. In this case NorVergence?
16 A. That's correct.
April 27,2006 Arizona Attorney General Terry Goddard issued a press release, announcing "a settlement with Popular Leaisng USA, Inc. that could result in more than $200,000 in debt forgiveness to nine Arizona customers still being required to make payments on a telecommunication device that is worthless."
The case in point shows prices on "eBay" show a $500 offer, while in many NorVergence lease court cases, it appears NorVergence paid $1500 for the Matrix or Adtran box, according to many of the invoices found in lease folders.
While the contracts showed one or two cards, the Party Prop. "Equipment Rental Agreement" has below "Equipment Model & Description: "Matrix (2 cards.) The Popular Leasing contracts show had varying degrees of "cost to lessor," but only one or two Matrix cards.
Kinealy in this deposition states he was aware "software" was part of the package, thus the reason for the various prices of the lease contract. The fact not brought up was why it was not included in the description of the Equipment Rental Agreement" of "Party Prop" (nor has Leasing News seen it in any ERA contract, and I can testify we have seen hundreds via the attorney general suits, many depositions and other material, which is public information. editor)
It was noted in the Arizona press release that Assistant Attorney General Vincent Rabago handled the case, and that " Popular Leasing denies any wrongdoing. Affected customers will be contacted directly by Popular Leasing with 30 days with details about their individual settlement amounts and given information about how to particpate in the settlement. Affected customers will then have 35 days to decide whether to participate."
There is talk about a multi-state settlement and the adverse publicity, plus many local attorneys now asking "better questions." While the leasing company attorneys appear to laugh off Randy Brook of the Federal Trade Commission and point to "hell or high water" provisions, the officers of the corporation who authorize the bills, they are not laughing at the growing costs from becoming defendants.
Ronald J. Eisenberg, Esq.,Schultz & Little L.L.P.,Chesterfield, Missouri, in the news regarding several motions that made leasing news media publications originally had approximately 45 NorVergence lease "defendants." He is now down to two.
Half of his clients, he says the cases were dismissed, and the other half, he said, "settled...You take a suit for perhaps $20,000, and the cost is going to be $10,000 to $15,000 to go to court, with perhaps the victor getting the other attorney fees...and it could even be more expensive, time consuming, on your nerves, and when you get down to a settlement offer of $5,000, for instance, often it is a good business decision to take it, and get this all behind you."
Eisenberg was one of the first "defense" attorneys to notice the phenomena of the description on the "ERA", while the leasing company operations department processed hundreds, it appears no one brought it up during the funding of the contracts. If they did, it was not disclosed by the officers in any of the depositions.
"I'm attaching a MATRIX product description sheet you might find of interest, "he told Leasing News." Upon review of 17 boxes of documents Popular Leasing made available to me, I observed several documents similar to the one attached and compared like documents. As expected, I found vastly differing monthly payment terms for similar equipment."
MATRIX product description sheet
http://leasingnews.org/PDF/Popular_Leasing_Matrix_sheet.pdf
"Your readers might be interested in knowing that upon my comparison of the Equipment Rental Agreements attached to Popular Leasing's petitions with the copies of the 'ERAs' provided by me to my clients, I consistently noticed that someone (not my clients) had tinkered with the 'ERAs' by adding language to the 'ERAs' without my clients' permission. In some cases, the company name, which was blank when my client signed the ERA, magically appeared on the ERA proffered by Popular as 'a true and accurate copy of the Equipment Rental Agreement. '
"In many cases, handwritten descriptions, such as "2001 3 Cards" emerged in the middle of the first page of the 'ERAs.' Popular Leasing, in response to our discovery requests that probed the issue, indicated it had insufficient information or knowledge regarding my requests to respond on the merits.
"I also filed affirmative defenses and counterclaims for spoliation of evidence based on the unauthorized changes made to the 'ERAs' and had intended to move for summary judgment on that ground, but it appears all of my cases will soon be settled or dismissed and the court will not get to address this issue.
"I hope another attorney will pick up where I left off, because I believe this would have made a compelling argument."
Several attorneys in Southern California, representing six companies that Popular Leasing had sued in Missouri, brought actions against Popular in various counties, seeking damages and declaratory relief to invalidate the ERAs. One of the attorneys, Gregg A. Rapoport of LEE & ROSENBERGER, a Prof. Corp., in Pasadena, California, turned the tables on Popular Leasing by orchestrating a consolidation of the six cases into one that is now set for trial in October in Orange County,. The case caption is Suh et al. v. Popular Leasing, Case No. 04CC10197.
"Popular is fighting our request to depose their corporate representatives and says it is going to bring a motion for a protective order, but still has not done so," Mr. Rapoport told Leasing News. "Popular wants a stay of the litigation until the anticipated A.G. settlement comes and goes. "
Popular Bank has filed applications to open in Mexico, and is also coming to California, as noted on their web site:
" ---California Branch Opening!
We are pleased to announce the opening of our newest in-store Wal-Mart branch in Beaumont on March 22nd, 2006! We are excited to have another new location to serve your financial needs. Thank you for choosing Banco Popular."
http://www.popularleasing.com/us/personal/us-per-home-en.jsp
Copy of Party Prop. filings, partial deposition, other evidence presented:
http://leasingnews.org/PDF/BeaumontMSJ.pdf
Who is Alex Wolf?
http://www.leasingnews.org/Conscious-Top%20Stories/Novergence_46.htm
"Established in 1996, Popular Leasing is the 38th largest bank-owned leasing company in the U.S. and is recognized by the St. Louis RCGA as a "Top 50 Business". The company offers small- to large-ticket equipment leasing services to medical and commercial markets throughout the U.S., Canada, Puerto Rico and the U.S.V.I. Headquartered in Ballwin, Missouri, Popular Leasing has a network of twelve sales offices in ten states. It is part of Popular, Inc.; a publicly owned diversified financial services company. Popular, Inc. is ranked among the 40 largest bank holding companies in the United States. With assets in excess of $45 billion in assets, is a complete financial services provider with operations in Puerto Rico, the United States, the Caribbean and Latin America. "
http://www.popularleasing.com/pr/about/whoweare/abu-who-corp-en.jsp
----------------------------------------------------------------

**** Announcement*************************************
FRAUD...It's Back: The Cost of Leasing Equipment or the
Penalty for NOT doing your Homework
An ELA Web Seminar
Tuesday, June 20, 2006
2:30 - 4:00 pm EDT
http://www.elaonline.com/events/krm.cfm
You are invited, you and your staff, to participate in an informative, web-based seminar scheduled for Tuesday, June 20, 2006 that explores recent frauds and scams plaguing the industry and what you can do to detect and avoid them.
Leasing companies have lost a great deal of money due to fraudulent schemes. These schemes can be perpetrated by vendors, end users, insiders in leasing companies or a combination of all of the above. An experienced panel of inside and outside counsel will discuss recent frauds and scams, including the All Serve Systems case. Panelists will consider the anti-fraud tools and resources available, and the steps to take to mitigate losses from fraud. The panel will emphasize what set of facts and circumstances may warrant additional attention to a deal, and other suggestions to aid you in detecting fraud. Get answers to these and other questions:
• What new schemes and new technologies are being used to defraud leasing companies?
• What are the "red flags" of fraud?
• What can you do when you think you have detected a fraud?
• What actions can be taken when you believe your company may be subject to a fraud?
Time of Web Seminar (depending upon your time zone):
2:30 pm - 4:00 p.m. Eastern
1:30 pm. - 3:00 p.m. Central
12:30 p.m. - 2:00 p.m. Mountain
11:30 am - 1:00 pm Pacific
Panelists:
Michael A. Leichtling, Partner
TROUTMAN SANDERS LLP
Peter E. Ochroch, Assoc. General Counsel
DE LAGE LANDEN FINANCIAL SERVICES
Richard H. Weiner
Managing Partner
ARONSOHN, WEINER & SALERNO PC
Intended Audience
This program is designed for business executives, credit and sales personnel and all individuals involved in documenting and negotiating lease transactions. Most companies will want to include a multi-person team in this web seminar who represent these disciplines.
Registration and General Information
FFor complete registration information, please go here:
http://www.elaonline.com/events/krm.cfm
The tuition fee includes the seminar materials, one toll-free connection to the live web seminar and your personal name and password to log on to the internet. You will be able to follow the presentation, ask questions and participate in polling questions directly from your computer. You pay one fee and you can ask as many people to listen in on your one connection, via speakerphone, as you wish.
Can't Make the Web Seminar, but want the Audio CD and Materials?
If you can't attend the web seminar, you may still purchase the audio CD and seminar materials. For complete details, go here
http://www.elaonline.com/events/krm.cfm
and click on the "Recording" icon.
Web seminar services are provided by KRM Information Services, Inc. You may contact customer service at 715-833-5426 or 800-775-7654 to register for this event.
****Announcement************************************
----------------------------------------------------------------

Classified Ads---Help Wanted
Jr. Analyst
Credit Analyst
Sausalito, CA
Banking, financial, leasing experience;
opportunity to grow, work w/seasoned
professional; small office, Excel a must
e-mail: spickens@oxfordfinance.com or
call 415-331-1725

Operations Manager

Operations Manager for growing equipment leasing/broker services co. in Costa Mesa, CA to oversee syndication, docs, & credit functions. Prior leasing experience pref. Salary with benefits. Send resume to: Sarah@Podiumfinancial.com

Senior Secondary Market Officer


Senior Secondary Market Officer
Walnut Creek, California
Work with secondary market syndication sources of leasing transactions. Minimum three years leasing experience & knowledge equipment leasing underwriting; to learn more and apply: click here.


VP-Manager of Equipment Lease Division
----------------------------------------------------------------

Normally we don't allow advertisements, but this falls in the category of "news."
Damian Novak came up with the idea for an online golf club leasing business when he realized he was trading his clubs in every year for new ones.
TopSwing Leasing is now 2 years old and has about 250 sets of clubs out on leases.
Novak says TopSwing will soon close on a $10 million line of credit that it can tap to expand its golf club and game business.
"When the (golf) Web site was first launched we underestimated demand" for clubs, Novak said.
He says the real profit comes from when the clubs are either bought by the customer at the end of the lease, or returned and then resold to the secondary market such as second hand sports stores.
http://www.topswingleasing.com/
----------------------------------------------------------------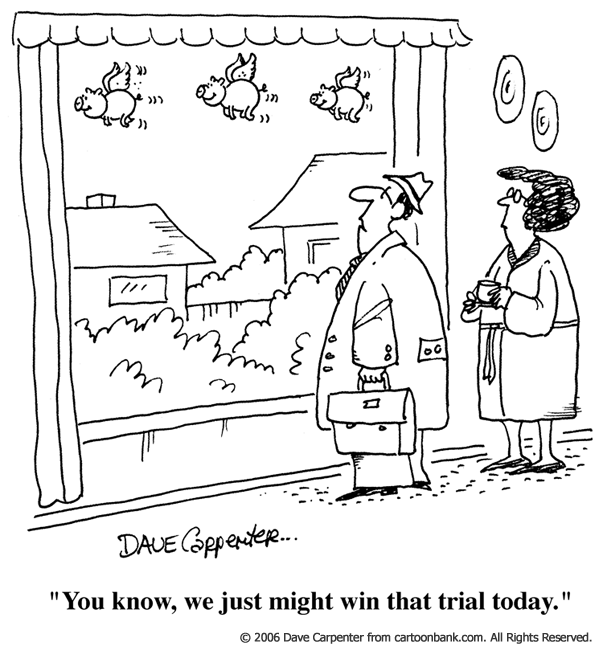 ---------------------------------------------------------------

Sales Make it Happen
The B-Shield
by Linda P. Kester
I flew to L.A. recently, connecting through Vegas, to train a terrific leasing company. On the third leg of the trip my plane was late arriving. I got off the plane in Vegas, looked at the monitor and it said that my flight to Philly had DEPARTED.
It was a red-eye, and the thought of spending the night in Vegas, almost made me cry. But being an optimist I thought "I have to see for myself. Maybe there is a chance." Of course my gate was in terminal B, I landed in terminal A. Purposefully I strode to the gate, passing US Airways customer service kiosk, noticing the long line. I thought "I'll be back there, but I just have to check." Get to the gate---I can see the plane! The gate agent is coming out the door, breathlessly I beg: "Is there a chance?!" He looks at me kindly and says "if they haven't locked the door…we're going to have to run." He sprints ahead down the jet way, the flight attendant is closing the door. Flight Attendant stops looks up and makes a face like you gotta be kidding me . I make a face like please , he just turns and barks out "tell the captain there's one more". I'm so relieved. I thank the gate agent wanting to kiss him---but I hold back.
Now I'm on the plane and the passengers have all settled in, moved around, making room for themselves to stretch out and sleep for the night. As I walk down the aisle there are only middle seats open---and no one wants me to sit next to them.
I walk to the back of the plane and finally have to sit down, because we are ready to push back. I take a deep breath and decide to sit in the last row in front of the lavatory – non-reclining, wouldn't you know. The guy sitting in the window seat just looks up at me. He doesn't even want to move his knee off of the middle seat. I can feel the guy on the aisle seat thinking sarcastically "great. " But as luck would have it the guy on the aisle moves to sit in the adjoining row with a companion. Yea! I'm on! I'm going home! And I'm sitting on the aisle, with no one in the middle!
I have standard procedure as a woman traveling alone. I immediately take my work and my i-Pod out of my backpack. Nod a friendly hello to whoever I'm next to, but make it very clear that I'm not interested in talking. I had done this on the three prior flights with much success. I didn't talk to anyone; I listened to my favorite music and was very happy to read. However, when I moved over to the aisle seat and immediately reached for my i-Pod, I very uncharacteristically said out loud "I can't believe I made this flight". The guy who didn't want to move his knee said " Feeling a little giddy ?" And it did capture how I was feeling. I was somewhat dizzy with my heart pounding. So, the woman who prides herself in getting work done on a plane (me) had a nice conversation with a fellow passenger.
While thinking back on that experience I realized the only reason that genuine contact was made was because my B - (rhymes-with-"witch") shield was down.
What is a B-shield ? It's what automatically deploys when my friend Kristi and I are out at a bar and some guy uses a lame line like "You two are so beautiful, my friends and I were wondering if you'd want to join us." The B-Shield is up! We respond with "no, that's ok; we don't see each other very often." Why does the B-Shield come up? You know why! That guy wants to get… something.
It's the same exact thing when you call on a vendor. (You knew there was a sales point coming, thanks for bearing with me!) Most sales people can't just simply strike up a conversation with a prospect. They think robotically "I'm selling…I must control the process…I have to get, get, get from this call." The person on the phone senses this immediately. They put up their guard or B-Shield if you will. The sales rep's hidden agenda and the vendor's reaction immediately destroy the trust-building process of communication.
Most reps don't consider the possibility that there can be flexibility in how they communicate and build a relationship. They need to concentrate on ways to get their personality through the phone, breaking the vendors' pre-occupation, and swap overconfidence for humility.
If you use your natural language abilities, not some lame script, to break their preoccupation, you'll find the vendor communicating with you in a natural way. You will have disengaged their
B-shield !
The bottom line is to build a dialogue, ask good questions (there is an entire list of good questions on my web site) and enjoy the process of establishing a new relationship.
So, that's how to disengage the B-Shield with a vendor. If you want tips to disengage the B-shield at a bar, I'll give you my friend Kristi's email address. She'll hook you up!
Linda Kester helps leasing companies get more volume. If you liked this article, you can get just the "tip" (the nugget of sales information without Linda's flight story) and 364 more tips her new book, 365 Marketing Tips for Equipment Leasing. The book should be out by the end of the year. Past articles can be found at www.lindakester.com.

---------------------------------------------------------------

### Press Release ###########################

MicroFinancial Incorporated Signs Agreement with Kropschot Financial Services
Agreement Provides the Company with Additional Outside Experience in Order to Identify and Evaluate Leasing and Financing Opportunities
WOBURN, Mass.---MicroFinancial Incorporated (AMEX:MFI - News) a financial intermediary specializing in vendor based leasing and finance programs for transactions in the $500 to $15,000 range, today announced the signing of an agreement with Kropschot Financial Services (KFS), a leading lease advisory firm founded in 1986 by Mr. Bruce Kropschot. KFS will serve as MicroFinancial's financial advisor in the search, identification, evaluation and negotiation of equipment leasing and financing acquisition opportunities.
Richard Latour, President and Chief Executive Officer said, "We are pleased to be aligned with KFS. KFS has represented both buyers and sellers in over 150 equipment leasing and financing businesses and numerous portfolios over the past 20 years, with the majority of the business focused on small ticket leasing companies. We believe being aligned with such a strong and experienced partner will facilitate the acquisition of new clients seeking leasing opportunities with MicroFinancial."
About MicroFinancial
MicroFinancial Inc. (AMEX: MFI - News), headquartered in Woburn, MA, is a financial intermediary specializing in leasing and financing for products in the $500 to $15,000 range. The Company has been in operation since 1986.
About Kropschot Financial Services
Kropschot Financial Services, located in Vero Beach, FL, is the leading provider of merger and acquisition advisory services for equipment leasing and specialty finance companies with over 150 acquisitions arranged.
Contact:
Microfinancial
Richard F. Latour, 781-994-4800
OR
Kropschot Financial Services
Bruce Kropschot, 772-228-9808
### Press Release ###########################

Key Equipment Finance names Scott Sullivan Senior Vice President
Global Program Management & Strategic Planning
SUPERIOR, CO. – Key Equipment Finance, one of the nation's largest bank-affiliated equipment financing companies and an affiliate of KeyCorp (NYSE: KEY), has named Scott Sullivan as senior vice president of global program management and strategic planning within Key's global vendor services group. Through its global vendor services group, Key Equipment Finance builds strategic alliances with capital and technology equipment manufacturers, distributors and resellers who want to offer lease-based financing programs to their business customers around the world. Mr. Sullivan will relocate with his family from Houston, Texas, to Key Equipment Finance's worldwide headquarters outside Boulder, Colorado.
"As the leader of our Office Products and IT segments, Scott has had excellent results," said Karen Larson, president and chief operating officer for Key Equipment Finance's global vendor services group. "He has proven leadership skills that will be a strong asset as he takes on this international position. Scott will broaden his knowledge of other markets as he travels within North America, Europe and Asia Pacific ensuring that Key's current and new global vendor programs are optimized."
Prior to this announcement, Mr. Sullivan was senior vice president of sales for Key's express leasing services group where he lead the Office Products and Information Technology divisions. The express leasing services group is a recognized leader in delivering streamlined equipment financing solutions (focusing on acquisitions of less than $250,000) to point-of-sale equipment leasing and financing to manufacturers, dealers and resellers. Sullivan had joined American Express Business Finance in 2002 and was responsible for launching the Office Products division in addition to establishing their Houston sales call center. Key Equipment Finance acquired the American Express division in 2004. Sullivan also spent eight years at G.E. Capital's Vendor Financial Services group where he held various roles including national sales manager for its Office Imaging division. Sullivan earned his bachelors of science degree in marketing from Drake University.
Key Equipment Finance is an affiliate of KeyCorp (NYSE: KEY) and provides business-to-business equipment financing solutions to businesses of many types and sizes. They focus on four distinct markets:
· businesses of all sizes in the U.S. and Canada (from small business to large corporate);
· equipment manufacturers, distributors and value-added resellers worldwide;
· federal, provincial, state and local governments as well as other public sector organizations; and
· lease advisory services for manufacturers' captive leasing and finance companies.
Headquartered outside Boulder, Colorado, Key Equipment Finance manages a $12.6 billion equipment portfolio with annual originations of approximately $5.7 billion. The company has major management and operations bases in Toronto, Ontario; Albany, New York; Chicago, Illinois; Houston, Texas; London, England; and Sydney, Australia. The company, which operates in 26 countries and employs 1,100 people worldwide, has been in the equipment financing business for more than 30 years. Additional information regarding Key Equipment Finance, its products and services can be obtained online at KEFonline.com.
Cleveland-based KeyCorp is one of the nation's largest bank-based financial services companies, with assets of approximately $93 billion. Key companies provide investment management, retail and commercial banking, consumer finance, and investment banking products and services to individuals and companies throughout the United States and, for certain businesses, internationally.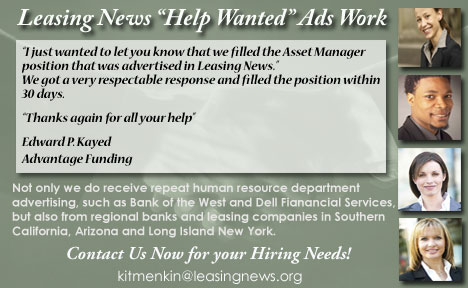 ### Press Release ###########################

Greystone Equipment Finance Corporation Launches New Website
BOSTON----Greystone Equipment Finance Corporation (Greystone EFC), an affiliate of Greystone & Co., Inc., a full service commercial finance company providing small ticket equipment leasing, announces the inception of the company and the launch of its website, www.greystoneefc.com. Headquartered in Boston, Massachusetts, the company was created in November 2005.
Offering 100% lease financing to B and C rated small and mid-size businesses throughout the United States, Greystone EFC funds revenue producing equipment with an acquisition cost ranging from $15,000 to $150,000 and repayment terms up to 60 months. Equipment types include manufacturing, communications and audio/visual, industrial, medical, office, restaurant, scientific/environmental, security and titled commercial vehicles.
Greystone EFC originates business through multiple channels including brokers, banks, equipment vendors and private label programs. No minimum volume commitments are required.
Greystone EFC offers web-based application processing, same-day credit approval and rapid turnaround on documentation. Clients may tailor the term and frequency of payments to suit their company's unique cash flow requirements.
"Collectively, our team has over 70 years in the equipment leasing industry. Through the years we've come to understand the importance of top-flight service" says Don Synborski, President. "Customer service is a key driver to our success and we have developed a team of experienced professionals that will quickly and accurately communicate our credit decisions and documentation criteria to our customer base of brokers, banks and vendors."
The company's website - .www.greystoneefc.com - went live in May 2006. In addition to outlining the business' services and capabilities in detail, the website also features a payment calculator and an online application for brokers.
About Greystone & Co., Inc.
Greystone & Co., Inc. together with its affiliates is a private investment and real estate organization with expertise in a range of loan products, servicing, trading, securitization and transaction structuring.
Contact:
Greystone & Co., Inc
Jennifer Sullivan, 212-649-9779
jsullivan@greyco.com
or
Greystone Equipment Finance Corporation
Don Synborski, 617-654-2775
DSynborski@GreystoneEFC.com
### Press Release ###########################

Leasing Group 43rd Financial Institution.
Less than a year after its launch, Civic Bank & Trust is rolling out new products and watching its numbers climb.
The one-branch commercial bank has been offering remote deposit services to its clients for free since the beginning of the year. And as of June 1, Civic Bank will be offering leasing services through an exclusive relationship with Louisville, Ky.-based The Leasing Group.
Randy Austin, president and CEO of Civic Bank, calls the remote deposit launch "the bank's branching plan." The bank has one location at West End and 18th avenues and has no intention of creating a large retail presence.
Remote deposit involves scanning an image of a check and then transmitting it to a bank via the Internet. The Check Clearing in the 21st Century Act, better known as Check 21, legalized this process in October 2004.
Civic Bank provides the equipment, software, training and secured Internet access through its core check processor, Brookfield, Wis.-based FiServ.
Austin says the bank is able to go without charging for the service because it's not paying to build brick-and-mortar locations. "Our overhead costs are a lot lower than our peer groups'," he says.
Mark Trogdon, senior vice president and chief loan officer, says almost 20 clients have signed on for the remote deposit set-up. So far in May, almost 70 percent of the weekly deposits have been made using the check-imaging technology.
At the beginning of June, Civic Bank will begin underwriting lease agreements for businesses wanting to lease vehicles or equipment. The Leasing Group will manage the leases and be responsible for disposing of the assets at the end of the leasing periods.
Bob Callander, president of The Leasing Group, says Civic Bank is the 43rd financial institution to become part of its community bank network. He says large banks typically have their own in-house leasing division.
"The small banks find that they don't want to have that kind of overhead," Callander says, adding that Civic Bank customers won't notice the difference. "They will work with their Civic Bank lender. We're in the background."
As the products are rolling out, the bank's financial statements continue to look up. Assets in the last quarter increased 15 percent from $22.6 million at the end of 2005. And deposits grew 36 percent from $8 million at the end of the year.
The bank still hasn't turned a profit, although losses continue to decrease. Austin says he expects to break even by September or October of this year, in line with original projections.
### Press Release ###########################

Stephenson, Hawes, Cottler ,Fowler Key Senior CIT Hires
NEW YORK, -- CIT Group Inc. (NYSE: CIT),
a leading provider of commercial and consumer finance solutions, announced the appointments of Randal Stephenson as head of its Middle Market Mergers & Acquisitions Group and R. Thomas Hawes, James Cotter and Larkin Fowler as directors. Stephenson, Hawes, Cotter and Fowler will work with CIT's clients and customers to deliver transaction ideas and to execute merger, acquisition, divestiture and other advisory mandates; and especially to generate deal flow for CIT's private equity clients. Mr. Stephenson will report to Gregg Smith, senior managing director, Investment Banking Services.
"We are extremely pleased to welcome these seasoned investment bankers to CIT," said Rick Wolfert, CIT's vice chairman of Commercial Finance. "CIT has served the middle market for nearly 100 years. Our M&A Advisory offering represents a natural next step in delivering a more complete suite of investment banking services to our core middle market financing customers and the private equity community. These bankers are well-known in the middle market and throughout the private equity sponsor community. Randal has led M&A advisory teams in this space with great success for more than a decade. He, along with Tom, Jim and Larkin, is a critical addition to CIT and will contribute greatly to our growth."
Randal Stephenson
Stephenson joins CIT from Jefferies & Company where he served as managing director in its M&A Group and coordinated its exclusive sales & divestitures practice. He co-founded Jefferies' dedicated M&A Group upon joining the firm in 2002.
Prior to Jefferies, Stephenson was head of the New York office for Merrill Lynch's Middle Market M&A Group. Before Merrill, he was a member of the Wolfensohn & Co. M&A advisory boutique and its successor companies, Bankers Trust and Deutsche Bank. He received his BA in economics from the University of Michigan, an MBA from Harvard Business School and a JD from Boston College Law School. He is admitted to practice law in New York and Massachusetts.
Thomas Hawes
Hawes joins CIT from Centre Capital Advisors. He was previously an executive director in the Mergers & Acquisitions Group of UBS Investment Bank. Prior to joining UBS he was a director in PaineWebber's Mergers & Acquisitions Group. He received his undergraduate degree from Baylor University and an MBA from the Wharton School of the University of Pennsylvania.
James Cotter
Cotter joins CIT from Jefferies & Company where he was a senior vice president in the Mergers & Acquisitions Group. Previously he was a vice president with the Mergers & Acquisitions Group of JPMorgan Chase and CEO of a distressed publicly held automotive technology company that he restructured. He received his BA in philosophy from Tulane and an MBA from Cornell Business School.
Larkin Fowler
Fowler joins CIT from Jefferies & Company where he was a senior vice president in the Mergers & Acquisitions Group. Previously he served in the M&A groups of JPMorgan Chase, Furman Selz LLC, and Paine Webber. He received his BS in business administration and accounting from Washington & Lee University and an MBA from the University of Michigan.
About CIT
CIT Group Inc. (NYSE: CIT), a leading commercial and consumer finance company, provides clients with financing and leasing products and advisory services. Founded in 1908, CIT has more than $65 billion in assets under management and possesses the financial resources, industry expertise and product knowledge to serve the needs of clients across approximately 30 industries worldwide. CIT, a Fortune 500 company and a member of the S&P 500 Index, holds leading positions in vendor financing, factoring, equipment and transportation financing, Small Business Administration loans, and asset-based lending. With its global headquarters in New York City, CIT has approximately 6,600 employees in locations throughout North America, Europe, Latin America, and the Pacific Rim. For more information,
visit http://www.cit.com.
### Press Release ###########################

NetSol Technologies, Inc. Continues to Focus on Emerging Markets
CALABASAS, CA – – NetSol Technologies, Inc. (NASDAQ:NTWK), a developer of proprietary software applications and provider of information technology (IT) services, today announced that it has appointed Kerry Propper to the company's Advisory Board. Mr. Propper will assist the company in further expanding its business development strategy in China and other emerging markets.
Propper is the Chairman of Chardan Capital Markets, LLC, with offices in New York City and Beijing, China. In addition to his chairmanship with Chardan, Propper is the Chief Financial Officer and Director of Chardan North China Acquisition Corporation and Chief Executive Officer of Chardan South China Acquisition Corporation. Both companies are pursuing the acquisition of operating companies in mainland China. Propper is also on the board of directors of Origin Agritech (NASDAQ:SEED), a leading hybrid corn and rice seed company in China.
"We will seek Kerry's assistance with NetSol's introduction into the business community as we pursue our growth strategy in China and other emerging markets, and in particular the introduction of NetSol management to China's fast growing capital markets," commented NetSol Chairman Najeeb U. Ghauri.
About NetSol Technologies, Inc.
NetSol Technologies is an end-to-end solution provider for the lease and finance industry. Headquartered in Calabasas, CA., NetSol Technologies, Inc. operates on a global basis with locations in the U.S., Europe, East Asia and Asia Pacific. NetSol helps its clients identify, evaluate and implement technology solutions to meet their most critical business challenges and maximize their bottom line. By utilizing its worldwide resources, NetSol delivers high-quality, cost-effective IT services ranging from consulting and application development to systems integration and outsourcing. NetSol's commitment to quality is demonstrated by its achievement of both ISO 9001 and SEI (Software Engineering Institute) CMM (Capability Maturity Model) Level 4 assessment. For more information, visit NetSol Technologies' web site at www.netsoltek.com.
### Press Release ###########################

Tiffany Pratt Joins Leaseinspection.com
LeaseInspection.com, an up-and-coming national inspection company announced today the hiring of Tiffany Pratt.
Ms. Pratt was recruited to perform quality assurance reviews on completed inspection reports. "We're delighted to welcome Tiffany to LeaseInspection.com, commented Lance Black, CEO of the company. The accuracy of these reports is critical to our customers and the reason we are in business".
As a Quality Assurance specialist, Ms. Pratt will examine and scrutinize completed inspection reports before they are delivered to customers. Her previous work experience has prepared her for this important role as she has been responsible for generating and reviewing various online reports.
When asked about carrying out this assignment for LeaseInspection.com, Tiffany replied "This is a perfect fit for me and I couldn't be more excited to join such a young and dynamic organization. I look forward to continuing to build this company by providing the highest level of quality assurance for our customers".
About LeaseInspection.com
LeaseInspection.com is the technology leader to the equipment leasing industry and others requiring inspection services. While competing services are built upon older technology – ten years plus in some cases – LeaseInspection.com has pioneered the use of state-of-the-art technological advances to automate the process of requesting, reviewing, conducting, and reporting inspections. A "Form Follows Function" approach to software and processes encourages intuitive user interfaces, develops more sophisticated inspectors; promotes meticulous inspections, with greater accuracy; real-time status updates; and fast turn-around.
### Press Release ###########################
--------------------------------------------------------------

News Briefs----
Wal-Mart 'can't back out' of industrial bank plan
http://www.ajc.com/business/content/business/stories/0523bizwalmart.html
Study Finds 'Extensive' Fraud at Fannie Mae
http://www.washingtonpost.com/wp-dyn/content/article/2006/05/23/AR2006052300184.html
Consumer Confidence Sinks to a 2006 Low
http://www.washingtonpost.com/wp-dyn/content/article/2006/05/23/AR2006052301155.html
McClatchy Sells Two Philadelphia Newspapers to Local Group of Investors for $562 Million
http://biz.yahoo.com/ap/060523/mcclatchy_philadelphia_newspapers.html?.v=6
Charles Gibson Moves To Evening Newscast at ABC-TV
http://www.washingtonpost.com/wp-dyn/content/article/2006/05/23/AR2006052300522.html
Microsoft releases beta versions of three key products
http://seattletimes.nwsource.com/html/businesstechnology/2003013701_webwinhec23.html
STANFORD
Longtime donor gives whopping $100 million
Reclusive developer has long reputation as sports booster
http://www.sfgate.com/cgi-bin/article.cgi?f=/c/a/2006/05/24/STANFORD.TMP
It's McPheever Versus Hicks' on 'Idol
http://www.breitbart.com/news/2006/05/23/D8HPSQCO1.html
---------------------------------------------------------------


You May have Missed---
Google to sell video ads on other Web sites
http://www.siliconvalley.com/mld/siliconvalley/14647403.htm
----------------------------------------------------------------


California News Briefs---
Gov. Arnold Schwarzenegger's approval rating hovering just where it's been for the past three months: at 36-61.
http://www.surveyusa.com/client/PollReport.aspx?g=b31d272e-84cd-4d62-a9b1-b8ea2863ecfc
----------------------------------------------------------------


"Gimme that Wine"
How Much 2004 Is in a 2004?—Frank J. Prail, NY Times
http://www.nytimes.com/2006/05/24/dining/24vint.html?_r=1&oref=slogin
Hanzell Vineyards—A Winery of Respect
http://www.sonomasun.com/2006/May/18/Epicure-Gray-051806.html
Mendocino County Growers and Vintners Vote in Favor of Wine and Grape Commission
http://www.winebusiness.com/news/DailyNewsArticle.cfm?dataid=43113
Cold Weather May Hurt Local New York Grape Crops
http://www.weny.com/News-Local.asp?ARTICLE3864=3879647
Insect threatens vines again in Napa Valley
http://www.naparegister.com/articles/2006/05/23/news/local/iq_3443797.txt
Wine Prices by vintage
http://www.winezap.com
http://www.wine-searcher.com/
US/International Wine Events
http://www.localwineevents.com/
Winery Atlas
http://www.carterhouse.com/atlas/\
Leasing News Wine & Spirits Page
http://two.leasingnews.org/Recommendations/wnensprts.htm
----------------------------------------------------------------

Calendar Events This Day
Belize: Commonwealth Day
Public Holiday
Brother's Day
Celebration of brotherhood for biological brothers, fraternity brothers, brothers bonded by union affiliation or lifetime experience.
Bulgaria: Culture Day
National holiday festively celebrated by schoolchildren, students, people of science and art.
International Tiara Day
A day when all women embrace and celebrate their powers of leadership in their own lives. Real or virtual tiara-wearing is optional. www. seasonsolsuccess.com
----------------------------------------------------------------

Today's Top Event in History
1883- Nearly 14 years in construction, the $16 million Brooklyn Bridge over the East River opened. Designed by John A. Roebling, the steel suspension bridge has a span of 1,595 feet. http://www.endex.com/gf/buildings/bbridge/bbridgefacts.htm
----------------------------------------------------------------

This Day in American History
1816-birthday of Emanuel Leutze, obscure itinerant painter, born at Wurttemberg, Germany, came to the US when he was nine years old, began painting by age 15. Painted some of the most famous of American scenes, such as "Washington Crossing the Delaware, " Washington Rallying the Troops at Monmouth" and Columbus Before the Queen." Died July 18,1868, at Washington, DC. Painting all by his imagination. "Washington did indeed cross the Delaware, but not in the dramatic and elegant style depicted in Emanuel Leutze's famous painting, "as stated in Richard Shenkman's "Legends, Lies & Cherished Myths of American History." "Washington probably wasn't standing, or course; that would have been, as one writer plainly put it, "stupid." And Washington probably wasn't quite as impassive as Leutze portrays him(One is reminded of all those pictures which show Washington quietly atop his horse with bullets whirring speedily round him. As one critic commented, at times, his horse seems more active than the general himself.) Furthermore, the American flag probably wasn't flying; while the flay was in existence at this time, it hadn't been yet adopted by Congress ( and there were many versions ),. Finally, Washington's boat probably wasn't filled to capacity; there wouldn't have been any need for crowding. Boats there were aplenty; it was men who were in short supply." Historian Ann Hawks Hutton contends that Leutze, a German, painted the picture primarily to stir up Germans. Leutze, she says, hoped that bye celebrating the American Revolution, he could help bring about revolution in Germany, where he painted the picture. He had returned to Germany where he painted many of these pictures where the conservative governments had recently crushed the Revolution of 1848.
http://www.art-prints-and-posters.com/Emanuel-Leutze.html
http://www.nmaa.si.edu/nmaa/images/text/artist_l/leute01x.html
http://www.honors.uiuc.edu/eng255/gallery/romanticism/leutze.html
1749--birthday of James Peale, American portrait and miniature painter
( painted portraits of George and Martha Washington and General Sir Thomas Shirley)
Died May 24,1831, Philadelphia, PA.
http://www.npg.si.edu/exh/gw/
http://www.butlerart.com/pc_book/pages/attribut.htm
1844-The first US Telegraph line was formally opened between Baltimore, Maryland and Washington, D.C. Samuel F.B. Morse sent the first officially telegraphed words "What hath God wrought?" from the Capitol Building to Baltimore. Earlier messages had been sent along the historic line during testing, and one sent May 1, contained the news that Henry Clay had been nominated as president by the Whig party, from a meeting in Baltimore. The message reached Washington one hour prior to a train carrying the same news.
http://memory.loc.gov/ammem/today/may24.html
1862-the Union Army made use of the new communication device call the telegraphy. The first use was in the Peninsula campaign, when a wire several miles long extended from the headquarters of General George Brinton McClellan near Williamsport, VA, to an advance guard at Mechancsville, VA, commanded by General George Stoneman, chief of cavalry in the Army of the Potomac. McClellan was an idiot and had no idea what he was doing and the telegraph seemed to confuse the cavalry even more, who were used to moving quickly, responding to events, but laying down wire and waiting for instructions due to the reliance on this telegraph invention, cost many Union lives. The cavalry once mobile, waited to hear orders from McClellan, who was out to lunch.
http://www.bufordsboys.com/StonemanBiography.htm
http://www.ngeorgia.com/history/atlcamp.html
1869-the first exploration of the Grand Canyon of the Colorado by a white man was made by Major John Wesley Power, above the head of the Colorado River, emerging on August 29 with five of the nine men who had started with him. The Grand Canyon had been observed by Spanish explorers in 1540 and described by the Sitgreaves expedition in 1851.
1883- nearly 14 years in construction, the $16 million Brooklyn Bridge over the East River opened. Designed by John A. Roebling, the steel suspension bridge has a span of 1,595 feet.
http://www.endex.com/gf/buildings/bbridge/bbridgefacts.htm
1889—the Johnstown Flood, actually occurring on May 31 st , but this week the Johnstown Flood Museum, Johnston,PA recreates the catastrophe in which 2,209 people died, tens of thousands were left homeless and a prospering city was left a wasteland. The Johnstown Flood" documentary, winner of Best Documentary Short Subject in 1898, will be shown hourly.
www.jaha.org
http://www.photolib.noaa.gov/historic/nws/johnstown.html
1893-The anti-Saloon League was founded by Howard H. Russell at Oberlin, OH. Efforts in that state were so successful that the Anti-Saloon League of America was organized in 1895. The League's permanent home become Otterbein College at Westerville,OH, in 1909. The ban on alcohol products, called the Prohibition Era, actually worked. There were less deaths by alcohol recorded at hospitals, less drunk drivers, and statistic record a major decline in drinking.
The crime empires of Al Capone and others in this era were established before prohibition. Incidentally, there were many country clubs and night clubs who had a large legal supply, as the law was against production and did not apply to what was already purchased and stored.
1918-The Croix de Guerre was award to African-American in the American Army, Private Henry Johnson, 369 th Infantry, 93 rd Division, with the following citation: "Being on double sentry duty at night, was attacked by twelve Germans. He shot one and seriously wounded two others with his bayonet. Even though he had been three times sounded at the beginning of the action by revolver bullets and grenades, he went to the assistance of his wounded comrade, who was about to be carried off by the enemy, and continued the combat until the put the Germans to flight. It was a splendid example of courage and energy."
1928-In a game between the Philadelphia Athletics and the New York Yankees, 13 future members of the Baseball Hall of Fame took the field. Ty Cobb, Tris Speaker, Mickey Cochrane, Al Simmons, Eddie Collins Lefty Grove and Jimmie Foxx played for the Athletics. Earle Combs, Leo Durocher, Babe Ruth, Lou Gehrig, Tony Lazzeri and Waite Hoyt played for the Yankees. In addition, the two managers: Connie Mack and Miller Huggins, are also Hall of Famers.
1930-- Babe Ruth homers in both games of a doubleheader, giving him 9 in one week.
1933 -- Jimmie Rodgers, knowing he only has a few days left to live, records 12 of the 24 songs for his last album. "Tea for Texass, Tea for Thelma, Tea for Ice-Tea, gonna be the death of me..."— Jimmie Rodgers (1897 - 1933)
http://www.jimmierodgers.com/
http://www.southernmusic.net/jimmierodgers.htm
http://www.eyeneer.com/America/Genre/Folk.bluegrass/Profiles/Rodgers/
1933-- Michael White birthday (Jazz violinist, often plays with John Handy, my late father's favorite modern jazz group, who he met when they were both teaching at San Francisco State College).
1933 -- Jimmie Rodgers, knowing he only has a few days left to live, records 12 of the 24 songs for his last album.
"Tea for Texass, Tea for Thelma, Tea for Ice-Tea, gonna be the death of me..."
— Jimmie Rodgers (1897 - 1933)
http://www.jimmierodgers.com/
http://www.southernmusic.net/jimmierodgers.htm
1935- the Cincinnati Reds defeated the Philadelphia Phillies by a score of 2—1, as more than 20,000 fans enjoyed the first night baseball game in the major leagues. The game was played at Crosley Field, Cincinnati, OH. By the way, the game was to have been previously held the night before, but rain cancelled the event.
1938—birthday of singer Prince Buster, Kinston, Jamaica
http://www.georgwa.demon.co.uk/prince_buster.htm
1941 – birthday of Bob Dylan (Robert Allen Zimmerman) , born Duluth, MN. (Grammy Award-winning singer, songwriter: Gotta Serve Somebody [1980]; Like a Rolling Stone, Lay Lady Lay, Positively 4th Street, Rainy Day Women #12 & 35, Hurricane [Part 1]; actor: Pat Garrett & Billy The Kid, Renaldo and Clara [w/Joan Baez]; inducted into Rock and Roll Hall of Fame [1988]; received Grammy's Lifetime Achievement Award [1991]; 1991 Golden Globe and Academy Award for song "Things Have Changed" from 2000 film "Wonder Boys")
http://www.bobdylan.com
1944 - Patti LaBelle (Patricia Holt) is born in Philadelphia. She sings with Patti LaBelle & the Blue Belles (later shortened to LaBelle), which has the No. 1 hit "Lady Marmalade." The singer's solo career takes off in the 1980s and she has a No. 1 duet, "On My Own," in 1986 with Michael MacDonald.
1944---Top Hits
Long Ago and Far Away - Helen Forrest & Dick Haymes
San Fernando Valley - Bing Crosby
I'll Get By - The Harry James Orchestra (vocal: Dick Haymes)
Straighten Up and Fly Right - King Cole Trio
1945- Food-O-Mat was installed in the Grand Union Company store in Carlstadt, NF. It was invented by Lansing Peter Shield. The patented merchandise display fixture operated on a gravity-fee, rear-load principle. Stockmen working behind the unit placed cans, jars, and packages on inclined runways with the labels upright The items reached the shopper with the brand name uppermost. As the customer picked out an item, another slid in place by gravity.
1950 - 'Sweetwater' (Nat) Clifton's contract was purchased by the New York Knicks. Sweetwater played for the Harlem Globetrotters. He was the first African-American player in the NBA.
1952---Top Hits
Kiss of Fire - Georgia Gibbs
Blue Tango - The Leroy Anderson Orchestra
Be Anything - Eddy Howard
The Wild Side of Life - Hank Thompson
1953 - A previously unknown actor, Rod Steiger, starred in "Marty" on the "Goodyear Playhouse". Paddy Chayefsky wrote the original TV play and then adapted it for the Oscar-winning film
http://us.imdb.com/Bio?Steiger,+Rod
1955 - Rosanne Cash is born, the daughter of Johnny Cash and Vivian Liberto. Among her numerous No. 1 country singles are "My Baby Thinks He's a Train" and "Blue Moon with Heartache."
1960---Top Hits
Cathy's Clown - The Everly Brothers
Good Timin' - Jimmy Jones
Cradle of Love - Johnny Preston
Please Help Me, I'm Falling - Hank Locklin
1962- Aurora 7 Mercury Space Capsule. With this launch Scott Carpenter became the second American to orbit Earth, circling it three times.
1964-The Beatles' 3rd appearance on Ed Sullivan
1964 - No. 1 Billboard Pop Hit: "Love Me Do," The Beatles.
1966- Leontyne Price, world renowned opera singer, opens Metropolitan
http://www.afrovoices.com/price.html
http://www.triadntr.net/~rdavis/price.htm
Opera Season
http://www1.opera.it/English/Cantanti/Price.html
1968---Top Hits
Tighten Up - Archie Bell & The Drells
Mrs. Robinson - Simon & Garfunkel
A Beautiful Morning - The Rascals
I Wanna Live - Glen Campbell
1968 -- Charlie Musselwhite & Dan Hicks & his Hot Licks appear at the Straight Theatre in San Francisco.
1969 - The Beatles hit number one with "Get Back". The song was at the top for over five weeks.
http://web.ukonline.co.uk/rickenbacker/beatleg/Let%20It%20be%20Disaster.htm
http://website.lineone.net/~johnpaulgeorgeringo/book6.htm
1969 -- Haight-Ashbury Festival in the Golden Gate Park Panhandle, San Francisco.
1970-New Musical Express reports the Beatles' "Let it Be" has set a new record for intial U.S. sales, with 3.7 million advance orders. The album goes gold within days of its release.
1972-the method of determining won-lost percentage changed in the NFL. Tie games, previously not counted in the standings, were made equal to a half-game won and a half-game lost.
1974 – The last "Dean Martin " TV show as broadcast. It lasted nine years with little or no rehearsal time with its star, who ironically said he was looking forward to not working so hard and going back to Las Vegas, the town that he loved. He returned to television, hosting Celebrity Roasts.
http://www.deanmartin.net/index/rightframe/09tva/09tva.html
http://www.robertsenslerpresents.com/
1975-For the second show in a row, the Beach Boys, on tour with Chicago, literally have the place jumping. The second level at the Oakland Coliseum is noticeable shaking in footage taken by a local news crew; the concert the day before at Anaheim Stadium caused the mezzanine to vibrate as much as eighteen inches.
1975 - No. 1 Billboard Pop Hit: "Shining Star," Earth, Wind & Fire.
1976---Top Hits
Silly Love Songs - Wings
Love Hangover - Diana Ross
Fooled Around and Fell in Love - Elvin Bishop
After All the Good is Gone - Conway Twitty
1981-Bobby Unser finished first in the Indianapolis 500, but after the race was over, the stewards penalized him one lap for passing cars illegally under the yellow caution flag. The penalty vaulted Mario Andretti into first place, but Unser, and Roger Penske, owner of Unser's car, appealed the stewards' decision to the United States auto Club. Four months later, USAC ruled that Unser was guilty but that the punishment was too severe. The lap penalty was replaced by a $40,000 fine, and Unser recovered the championship.
1982-A benefit concert for the Vietnam Veterans Project is held in San Francisco's Moscone Center, where the Jefferson Starship, Grateful Dead, Boz Scaggs and Country Joe McDonald appear. They raise about $175,000.
1984---Top Hits
Hello - Lionel Richie
Let's Hear It for the Boy - Deniece Williams
Time After Time - Cyndi Lauper
To All the Girls I've Loved Before - Julio Iglesias & Willie Nelson
1984 - No. 1 Billboard Pop Hit: "Let's Hear It for the Boy," Deniece Williams. The song is featured in the film "Footloose." Williams is a member of Stevie Wonder's backup group, Wonderlove, from 1972-75.
1986 – The Montreal Canadiens defeated the Calgary Flames, 4-3, to win the Stanley Cup, four games to one. For the Canadiens, it was their 23 rd title, putting them one major-league championship ahead of the New York Yankees and their 22 world Series titles. Montreal won another Stanley Cup in 1993.
1986 - Whitney Houston's "Greatest Love of All" climbed to the top and stayed there for three weeks.
http://www.whitney-houston.com/
1988 - Thunderstorms produced severe weather in the southeastern U.S. Thunderstorm winds gusted to 88 mph at Columbia, NC. Baseball size hail was reported near Tifton GA.
1990 - Severe thunderstorms spawned two dozen tornadoes from Montana to Oklahoma. Four tornadoes carved a 109-mile path across central Kansas. The third of the four tornadoes blew 88 cars of an 125-car train off the track, stacking them three to four cars high in some cases, and the fourth tornado caused 3.9 million dollars damage. The third tornado injured six persons who were trying to escape in vehicles. A woman was "sucked out" of a truck and said that at one time she was "airborne, trying to run but my feet wouldn't touch the ground". She also saw a live deer "flying through the air"
1994---Top Hits
I Swear- All-4-One
I'll Remember (From "With Honors")- Madonna
The Sign- Ace Of Base
The Most Beautiful Girl In The World-The Artist
1994- In a game against Milwaukee, Cal Ripken hits his 300th career home run.
1998 - The first Native American Music Awards take place at the Fox Theater at the Foxwoods Resort Casino in Mashantucket, Conn. The show is hosted by Wayne Newton, and presenters include Joe Walsh, Bruce Cockburn, Richie Havens and John Trudell. Lifetime achievement awards go to Robbie Robertson and Frederick Whiteface.
1998 - In an official ceremony backstage prior to Van Halen's show at the CoreStates Spectrum, Philadelphia mayor Ed Rendell proclaims May 24th Van Halen Day in Philadelphia. Each member of the band is given a personalized replica of the Liberty Bell.
1999---Top Hits
Livin La Vida Loca- Ricky Martin
No Scrubs- TLC
Kiss Me- Sixpence None The Richer
Fortunate- Maxwell
2000- Shawn Estes pitches a seven-hitter and becomes the first Giants pitcher in 51 years (Monte Kennedy-1949) to hit a grand slam en route to handing the Expos their worst defeat in franchise history, 18-0. The San Bernardino native just misses joining Tony Cloninger as the only major league pitcher to hit two slams in a game.
2000- Mark McGwire becomes the fastest player to hit 20 home runs in one season reaching the mark in 35 games, six less than Mickey Mantle (1956) and his own record (1998).
2000- Sixteen Dodgers' players and three coaches are suspended by the commissioner's office for going into the stands during the Wrigley Field scuffle with fans on May 16. The suspensions totaling 60 games for players and 24 games for coaches is the harshest penalty ever handed down by major league baseball.
2001 -Cincinnati is shut out as Cubs' starter Jon Lieber one-hits the Reds, 3-0. The span of 208 of games without being blanked establishes a new National League record with the 1931-33 Yankees (308) and the 1978-79 Milwaukee Brewers (212) being the only teams with longer streaks.
Stanley Cup Champions This Date
1980 New York Islanders
1986 Montreal Canadiens
1990 Edmonton Oilers
--------------------------------------------------------------


Baseball Poem
# 1
by Brendan Awerbach
Baseball is a game, It has a Hall of Fame.
In Cooperstown, it's there, Getting in is so rare.
Baseball! Doubleday is the father of the game we know,
Or is it really so.
Playing in the late 1800's,
In front of crowds that were smaller then a hundred.
Baseball started in a very small way,
People needed to know how to play.
By the 1920's after the Black Sox scandal,
Baseball was changing and people started to get the handle.
The Yankees of the 30's and 40's started to create quite a sensation,
as baseball fever gripped the eastern part of the nation.
Ruth, Gehrig, Cobb, Johnson and Young all became the names of the day,
They would be the first to be in the Hall of Fame in a great way.
Baseball from the late 30's to the mid 40's took a back seat to the war,
but in the late 40's and 50's came back with roar.
A new generation of players were around,
Led by Feller, DiMaggio, Williams and Snyder, the stars seemed to abound.
The 60's and 70's gave us more greats,
Koufax, Yastremski, Mays, Aaron, Mantle and Maris,
Baseball was known and played from the US to Paris.
As we entered the 80' and 90's, more stars came around,
Griffey, Ripken, Mcquire, Jackson, Ryan and Smoltz , all are
the players that will astound.
The Hall of Fame is where all the greats are enshrined,
To hear their stories and tales can take a lotta time.
To understand baseball is not very tough,
And if you love the game, you can never get enough.
--------------------------------------------------------------

SuDoku
The object is to insert the numbers in the boxes to satisfy only one condition: each row, column and 3x3 box must contain the digits 1 through 9 exactly once. What could be simpler?
http://leasingnews.org/Soduku/soduko-main.htm