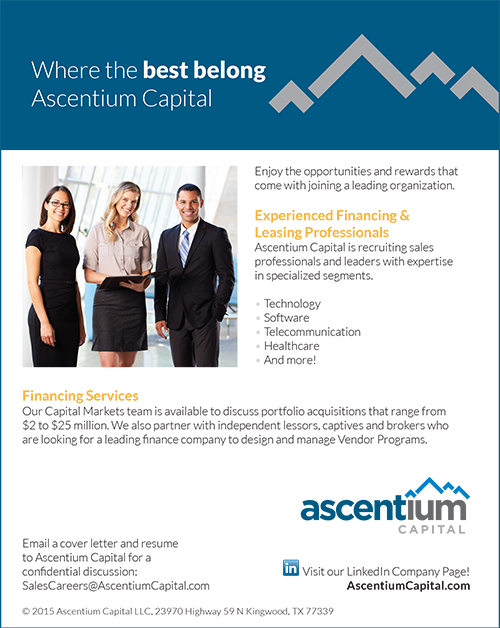 Monday, May 15, 2015
Today's Equipment Leasing Headlines
Three New Bulletin Board Complaints
US Business Funding, Newport Beach, California
Position Wanted---Credit
Top Ten Stories May 11 - May 15
(Most Often Opened by Readers)
Business Loans/Cash Advance Increase
by Christopher Menkin
Conserve Cash, Lease or Finance No Cash Down
"How a Salesman Should Make a Career Presentation"
Career Crossroad---By Emily Fitzpatrick/RII
Leasing Industry Ads---Help Wanted
Verhelle Founds Harvard Partners, LLC
Second Circuit Sinks JP Morgan Chase $1.5 Billion
Over Mistaken Termination of UCC
by Tom McCurnin, Leasing News Legal Editor
Leasing 102 by Mr. Terry Winders, CLFP
Limited Use Property
Take the Ralph Mango Baseball Challenge
Terrier Mix
San Francisco, California Adopt-a-Dog
Classified Ads---Employment Web Sites
News Briefs---
Billionaires Aren't Buying Enough Private Jets
Consumer Reports: Happiness is a 3-year lease
Congress should support Ex-Im Bank
Millennials on Track To Becoming Largest Home Buying Group
Way of life withers in California's parched citrus belt
Fake Diplomas, Real Cash: Pakistani Company Axact Reaps Millions
Broker/Funder/Industry Lists | Features (writer's columns)
Top Ten Stories Chosen by Readers | Top Stories last six months
www.leasingcomplaints.com (Be Careful of Doing Business)
www.evergreenleasingnews.org
Leasing News Icon for Android Mobile Device
You May have Missed---
SparkPeople--Live Healthier and Longer
Poem
Sports Briefs---
California Nuts Brief---
"Gimme that Wine"
This Day in American History
SuDoku
Daily Puzzle
GasBuddy
Weather, USA or specific area
Traffic Live----
######## surrounding the article denotes it is a "press release" and was not written by Leasing News nor information verified, but from the source noted. When an article is signed by the writer, it is considered a "by line." It reflects the opinion and research of the writer.


---
Please send to a colleague and ask them to subscribe to Leasing News.
Just write: Subscribe in subject line, email: kitmenkin@leasingnews.org



[headlines]
--------------------------------------------------------------
Leasing News received three more complaints
1) Doug Betterall, Yakima, Washington, a trucker, he is very angry. He says US Business Funding has not returned over $6,000;
2) Sam Shah, Motel Six Owner, Morristown, Tennessee, claims he is owed more than $6,000:
3) "I am Patrick Henry of Southern Ammunition Company (Loris, South Carolina) and I was contacted by US Business Funding offering equipment lease funding several months ago. They asked me for a $5,095.83 deposit (Feb. 24, 2015) and later I was called and told that they had my funding and they needed another $1,877.67 (April 8, 2015). Since that time, two of the people I was dealing with have left the company and they stopped answering their phone. Can you help me?"
Let's start with Mr. Patrick Henry III. Contacted the founder Peter Ribeiro by email with the above paragraph and attachments below to learn why US Business Funding has not returned his money when the transaction did not go through as presented.
Tetra Financial Group Application April 1, 2015
(private information deleted)
http://www.leasingnews.org/PDF/TetraFinancialGroupApplication.pdf
February 11, 2015 Contract
http://www.leasingnews.org/PDF/February112015Contract.pdf
Signed portion of contract
http://www.leasingnews.org/PDF/Signedportioncontract.pdf
Feb 24, 2015 check
http://www.leasingnews.org/PDF/Feb242015check.pdf
April 8, 2015 check
http://www.leasingnews.org/PDF/April8,2015check.pdf
Mr. Ribeiro's Response:
"I'm not going to play your games! I have all the info on these clients and they all backed out of the deals. Some even sign lease cancellation forms. It's up to you to post there [sic] story. All the banks already know how you operate and they all know how I operate. I will not reply any further."
Previous Complaint:
US Business Funding, Newport Beach, California
http://leasingnews.org/archives/Mar2015/3_02_xx.htm#bbc
Mr. Ribeiro Responds:
http://leasingnews.org/archives/Mar2015/3_23.htm#responds
Correction: US Business Funding
http://leasingnews.org/archives/Mar2015/3_25.htm#correction
[headlines]
--------------------------------------------------------------
Position Wanted---Credit
Each Week Leasing News is pleased, as a service to its readership, to offer completely free ads placed by candidates for jobs in the industry. These ads also can be accessed directly on the website at:
http://www.leasingnews.org/Classified/Jwanted/Jwanted.htm
Each ad is limited to (100) words and ads repeat for up to 6 months unless the candidate tells us to stop. Your submissions should be received here by the end of each week.
Please encourage friends and colleagues to take advantage of this service, including recent graduates and others interested in leasing and related careers.
Will relocate for the right opportunity and can work remotely. I have (25+) years in making credit decisions, as well as helping sales team and third party originators close more transactions via understanding their applicant's financial abilities. I can create alternative or additional opportunities (and income) by knowing which type of loan is best for the borrower
aaacorrespondent@gmail.com

Orlando, Florida
As a Commercial Credit Analyst/Underwriter, I have evaluated transactions from sole proprietorships to listed companies, across a broad spectrum of industries, embracing a multitude of asset types. Sound understanding of balance sheet, income statement and cash flow dynamics which impact credit decisions. Strong appreciation for credit/asset risk.
rpsteiner21@aol.com


407 430-3917
[headlines]
--------------------------------------------------------------
Top Ten Stories May 11 - May 15
(Most Often Opened by Readers)
(1) Archives---May 13, 2009
Mike Rizzo let go at US Bank Manifest
http://leasingnews.org/archives/May2015/5_13.htm#archives
(2) Seventh Circuit Rescues Wells Fargo Leasing
By Tom McCurnin, Leasing News Legal Editor
http://leasingnews.org/archives/May2015/5_11.htm#seventh
(3) Leasing 102 by Mr. Terry Winders, CLFP
http://leasingnews.org/archives/May2015/5_11.htm#finance_lease
(4) Archives--May 11, 2007 Women in Leasing
http://leasingnews.org/archives/May2015/5_11.htm#archives
(5) Macquarie Group Acquires Advantage Funding
by Christopher Menkin
http://leasingnews.org/archives/May2015/5_15.htm#macquire
(6) Financial Pacific Leasing Digitizes
End-to-End Transaction Lifecycle with DocuSign & eOriginal
http://leasingnews.org/archives/May2015/5_13.htm#finpac
(7) New Hires---Promotions in the Leasing Industry
http://leasingnews.org/archives/May2015/5_15.htm#hires
(8) Bad Mortgage/Construction Loans Take Bank Down
They Even Tried to File a Restraining Order to Halt the FDIC!
by Christopher Menkin
http://leasingnews.org/archives/May2015/5_11.htm#bad
(9) Subject: Need a corporation 3-7 years old? Reaction
http://leasingnews.org/archives/May2015/5_15.htm#reaction
(10) Funders Looking for New Broker Business Updated
http://leasingnews.org/archives/May2015/5_13.htm#looking
[headlines]
--------------------------------------------------------------
Business Loans/Cash Advance Increase
by Christopher Menkin

Only 2.4 million traditional bank loans were originated to businesses with $1 million or less in revenue in 2013, down 54% from 2007, according to Business Insider. SNL Financial revealed banks have been turning down one of every four business loans presented from small business owners (less than 500 employees, is considered a small business). The number of turn downs for less than 100 employees is five turned down for every one accepted.
In 2015, Business loans and cash advance from non-banks is a very fast growing market with many small companies growing in this field with larger firms expanding. Perhaps in California, and elsewhere, the potential of non-licensed companies and individuals receiving a referral fee will overcome local laws, particularly regarding usury.
Rates up to 36% seem not to be as important as the fast approval and
availability of the cash and have been overtaking the longer process
of leasing (although many companies are now turning to digital processing, including accepting digital signature and not imposing site inspections or having insurance certificates in hand; some handle money ACH or don't require a first and last.)
Unlike commercial lenders, merchant advance companies do not offer loans. They are not licensed. Instead, they offer a variety of non-loan financing options, which include cash advance, purchase order finance, accounts receivable finance, or a combination of these. Generally speaking, business arrangements between advance companies and the firms they fund involve the following: The advance company advances a certain amount of money to a business. In return, the business agrees to remit a certain percentage of its future revenue (typically sales receipts) to the advance company until the advance is paid back. Some merchant advance firms purchase future revenue at a discount; others purchase future sales revenue on a dollar for dollar basis, but charge the business a fee for the transaction. Some contracts require that money be repaid on a daily basis; others require different repayment schedules. There is considerable variety in the ways in which advance transactions are set up; the one thing that remains constant is their being structured to avoid California lending laws.
PayPal, which just split from the eBay alliance, is strongly advancing in the working capital market, following the success of Square Capital (note: neither has a California Lender's License, nor do many of the business loan companies who do business in the state, or pay a fee to a third party originator in the state). According to Business Insider, "They are now offering loans and advances to their small-business clients and charging a fixed fee for the capital advance. It's a way to develop a new revenue stream and help their merchants grow (which in turn, means more money from credit card transaction fees).
"They are now offering loans and advances to their small-business clients and charging a fixed fee for the capital advance. It's a way to develop a new revenue stream and help their merchants grow (which in turn, means more money from credit card transaction fees."
When SB 197 becomes law in California, look for an increase in business loans to businesses with under 500 employees. (1)
BI Intelligence offers a 14 day free trial, that starts with their report on how these digital-lending program works, and how banks now participate in the fundings of these companies: "Digital Age:"
https://intelligence.businessinsider.com/welcome

SB 197 as Amended on CA Senate Floor for vote:http://www.leginfo.ca.gov/pub/15-16/bill/sen/sb_0151-0200/sb_197_cfa_20150513_165656_sen_floor.html
[headlines]
--------------------------------------------------------------
Conserve Cash, Lease or Finance No Cash Down

Dan Geller, Ph.D.
"We can no longer assume that if people have more money they will spend more" says Dr. Dan Geller, the developer of the Money Anxiety Index and the author of the book Money Anxiety, "we must also consider the soft side of economics represented by consumers' financial uncertainty and anxiety."
Dr. Dan Geller is a behavioral finance scientist, who pioneered the research on the link between consumers' financial fear, their instinctive or analytical decisions and the economy.
Despite trillions of dollars in QE money and near zero Fed funds interest rate for over 6 years, the economy is not yet back to where it was pre-recession, he reports. "Yet, the amount of money sitting in banks and credit unions accounts is at an all-time high - $12 trillion.
"The cautionary level of consumer spending is evident in the Money Anxiety Index, which measures the level of consumer financial uncertainty and anxiety. On the eve of the Great Recession, in November of 2007, the Money Anxiety Index stood at 58.6 compared to 64.6 in May of this year. Despite a time period of over 7 years, the level of financial anxiety is not yet back to where it was pre-recession. The slow and gradual improvement in the level of consumer financial confidence points to the growing role emotions, such as financial uncertainty and anxiety, have in economic recoveries."
http://moneyanxiety.com/about.html
[headlines]
--------------------------------------------------------------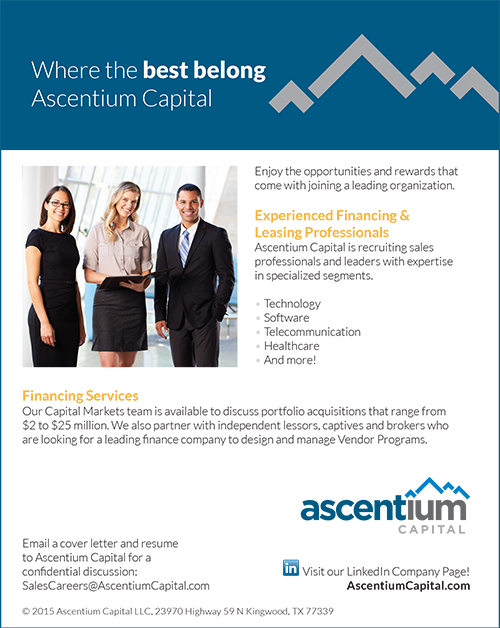 Leasing News Reaches Your Audience!
The idea is to attract an applicant to learn more, either to click to a full description on your web site or to a full job description attachment (free, no charge). The ad also can advertise the abilities of your company.
The ad will appear at the top of Leasing News edition as well as on the web site, which section also is reproduced in the news edition. Your ad is also in the section of News Briefs, often the second most read area of the news edition. The above the masthead is also shared on a rotational basis with the other employment ads. Your ad often appears twice in each news edition.
You can have a brief ad which clicks to a full description and/or email address.
Cost
Logo on top is free, as well as the web address and information about the address at the bottom. Lines are $595 for the first four and $40 for each additional line or space. The ad will appear for 21 days. For returning advertisers during the year, Leasing News offers 30 days and a reduced rate.
Contact: kitmenkin@leasingnews.org
Leasing News reserve the right to refuse advertising,
particularly to a company that has appeared in the complaint bulletin board or evergreen abuse list.
[headlines]
--------------------------------------------------------------
"How a Salesman Should Make a Career Presentation"
Career Crossroad---By Emily Fitzpatrick/RII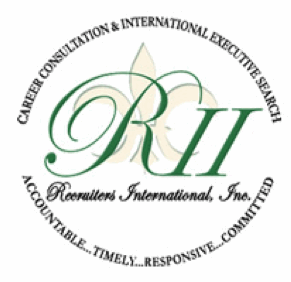 Q: As a Sales Professional, how can I validate my success to a potential employer?

A: A Sales Professional can prove his or her success by providing tangibles = production numbers, pipeline reports, yearly reviews and W-2's. Seems easy enough, however, many times I will speak to a Sales Candidate and they have not kept their pipeline reports from previous employers. As a Sales Professional, it is expected that you maintain documentation of your pipeline (sales) reports for the balance of your career - Keeping a tangible record of accomplishment (production success) is vital. If you have not kept documentation of your previous success (you want to demonstrate a 5-year history)*:
Provide W-2's: typically, W-2's are a direct reflection of your success (commission)
Provide Client Reference letters / recommendations: if you have not gathered these throughout your career, you will have to reach out to your clients and request
Provide employer reviews: typically larger companies will provide formal yearly reviews if not, request a "sit down" with your manager / VP e.g. "I would like to go over my targets to see if I have exceeded your expectations"
References: previous supervisors who can provide confirmation of your sales / production success
Make sure moving forward in your career you keep the above in addition to pipeline reports.
* Many professionals had a downturn in production around the recession period – you should include these years however you can include years prior (For example, example 2005 – 2008 you can provide average, e.g. "during 2005-2008 averaged $... per annum")
Emily Fitzpatrick
Sr. Recruiter
Recruiters International, Inc.
Phone: 954-885-9241
Cell: 954-612-0567
emily@riirecruit.com
Invite me to Connect on LinkedIn
www.linkedin.com/pub/emily-fitzpatrick/4/671/76
Also follow us on Twitter #RIIINFO
Career Crossroads Previous Columns
http://www.leasingnews.org/Conscious-Top%20Stories/crossroad.html
[headlines]
--------------------------------------------------------------
Verhelle Founds Harvard Partners, LLC

Tony Cracchiolo, Rick Remiker, Bill Verhelle, Gary Gasper
at Phoenix Park Hotel, May 14, ELFA Capital Connection. *
(Facebook)
Bill Verhelle founds Harvard Partners, LLC, Naples, Florida. He previously served as the CEO of First American Commercial Bancorp, Inc. d/b/a First American Equipment Finance.
http://www.harvardpartnersllc.com/
*
Tony Cracchiolo
President, Vendor Finance
U.S. Bank
Rick Remiker
Senior Executive
Director, Commercial Banking
Huntington National Bank
(2013 Chairman, ELFA)
William Verhelle
2008 Chairman, ELFA
2015 Vice-Chairman, ELFF
Gary Gasper
Tax and Policy Lobbyist
Washington Council
Ernst & Young
(Does a lot of work with ELFA)



(Leasing News provides this ad as a trade for appraisals and equipment valuations provided by Ed Castagna)


[headlines]
--------------------------------------------------------------
Second Circuit Sinks JP Morgan Chase $1.5 Billion
Over Mistaken Termination of UCC
by Tom McCurnin
Leasing News Legal Editor
Law Firm's Mistakenly Filed Termination Statement of JP Morgan's Billion Dollar Loan With Consent of JP Morgan Was Deemed Authorized. Case Underscores Necessity of Attention to Details.
In re Motors Liquidation Co. 777 F.3d 100 (2d Cir. 2015).
*101 Eric B. Fisher (Barry N. Seidel, Katie L. Weinstein, Jeffrey Rhodes, on the brief), Dickstein Shapiro LLP, New York, N.Y., for Plaintiff–Appellant.
Motors Liquidation Company.
John M. Callagy (Nicholas J. Panarella, Martin A. Krolewski, on the brief), Kelley Drye & Warren LLP, New York, N.Y., for Defendant–Appellee.
JP Morgan Chase Bank, N.A.
Here's an awful case where a secured party delegated the filing of a $300 million dollar termination statement to its law firm, the law firm delegated that to a partner, the partner delegated that to an associate, and the associate delegated that to a paralegal. Sadly, the law firm terminated the wrong statement. It was supposed to terminate a $300 million dollar secured loan, and instead terminated a $1.5 billion dollar secured loan, ostensibly with the knowledge of the secured creditor. It's an unfortunate result, but underscores that the Uniform Commercial Code is a detail-oriented process and that sloppy legal work will not be countenanced by the Second Circuit Court of Appeals. The facts follow.
General Motors had two credit facilities with JP Morgan Chase (acting as lead creditor for a group of lenders), a smaller synthetic lease $300 million dollar secured loan, and a large term loan for $1.5 billion. General Motors desired to pay off the smaller loan, and did so, but retained the law firm of Mayer Brown to prepare the UCC Termination Statement. The firm delegated the matter to a partner, the partner delegated the matter to an associate, and the associate had a paralegal prepare a UCC search. The paralegal's search reflected both loans.
When the law firm prepared the UCC Termination Statements, it prepared a UCC–3 termination statement to terminate the Main Term Loan UCC–1 as well as those related to the Synthetic Lease. The lawyer sent the proposed Termination Statements to JP Morgan's counsel, Simpson Thacher & Bartlett and to General Motors and JP Morgan Chase. No one noticed that the security interest for both loan facilities was being terminated. It was filed.
General Motors filed Bankruptcy, and the trustee claimed that the assets subject to the term loan were unencumbered. Litigation was commenced in Bankruptcy Court and the Court held that although the law firm intended to file what they filed, they were not authorized by JP Morgan to file what they filed. Since UCC Termination Statements have to be authorized, the trustee lost and the secured creditor won. The trustee appealed. It's unclear how the trustee got to skip the District Court (the usual chain of command for bankruptcy appeals or a Bankruptcy Appellate Panel). In any event the Second Circuit heard the matter this year.
On appeal, the Second Circuit held that "authorization" merely means that the party who filed the termination statement intended that act, and does not require client authorization. Consequently, the law firm's mistaken termination of the larger term loan security interest was effective. The trustee won, the secured creditors lost.
In a terse, three page opinion, the Second Circuit relied upon direction from the Delaware Supreme Court that answered the question, and held that "actual authority ... is created by a principal's manifestation to an agent that, as reasonably understood by the agent, expresses the principal's assent that the agent takes action on the principal's behalf." Thus, the law firm had authority to file the termination statements.
The Court noted that when the proposed documents were sent to JP Morgan's counsel, a Simpson Thacher attorney responded simply as follows: "Nice job on the documents."
Thus, in a mistaken stroke of a pen, JP Morgan lost $1.5 billion dollars. I have mixed feelings about the outcome and while I think it is a shame that the secured creditor lost out on this one, the decision does underscore that the lawyers to whom these matters are delegated have to be responsible for their actions. At least in that context, this decision is correct.
What are the lessons here for secured lenders?
First, bigger does not always mean better. Granted these firms are some of the country's largest and best. That said three people at one firm and at least one at another approved the mistaken termination statement. Perhaps bigger isn't better.
Second, the UCC is a legal area which involves attention to detail, and perhaps it is necessary to slow down and go through documents thoroughly and ask questions. This is not an arena in which speed is a desirable skill set.
Third, there was direct evidence that the actual clients at General Motors and JP Morgan Chase probably knew about the mistaken Termination Statement. While I realize that clients will want to delegate these matters to counsel, this issue wasn't too complex to be spotted by an in house lawyer, paralegal, or credit officer.
The bottom line to this decision is that when filing UCC documents, great care and attention to detail must be observed. The courts will not bail out the secured creditor to rescue it from its mistakes or the mistakes of its counsel.
General Motors Case
http://www.leasingnews.org/PDF/GeneralMotorsCase52015.pdf

Tom McCurnin is a partner at Barton, Klugman & Oetting
in Los Angeles, California.
Tom McCurnin
Barton, Klugman & Oetting
350 South Grand Ave.
Suite 2200
Los Angeles, CA 90071
Direct Phone: (213) 617-6129
Cell (213) 268-8291
Email: tmccurnin@bkolaw.com
Visit our web site at www.bkolaw.com
Previous Tom McCurnin Articles:
http://www.leasingnews.org
Previous Tom McCurnin Articles:
http://www.leasingnews.org/Conscious-Top%20Stories/leasing_cases.html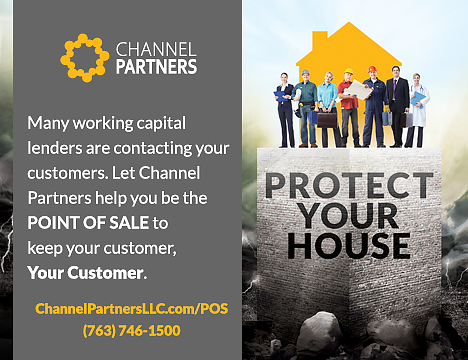 [headlines]
--------------------------------------------------------------
(Terry retired January 1, 2015. To honor him and his many years of writing for readers of Leasing News, is repeating several of his columns that are still meaningful today. Here is May 18, 2010.)
Limited Use Property
(One of the reasons for the popularity of "Capital Leases" as well as "Equipment Finance Agreements" is the equipment itself and its qualifications for lease deduction requirements. Here Terry stresses "know the equipment to be financed or leased." Editor)

The most desirable equipment to lease is something that has a long useful life and maintains its value because it has a wide market. The least desirable is equipment with a short life and a questionable value because of a narrow market. I state this because it seems that it should be common knowledge or at least logical. However, as I review lease portfolios to review their quality and performance, I constantly find equipment very poorly described and no review what so ever. Just because equipment is large, expense and good looking does not make it good to lease.
If the credit is great, we tend not to do our job correctly and review the equipment. This could be a problem if we are about to lease limited use property. The IRS will reject capital recovery benefits if it is found the equipment has limited use or could only be used by the lessee. If the equipment is special order or made to complement or become an attachment on another piece of equipment without being of value otherwise, then they will only award capital recovery benefits to the lessee. Remember the IRS guidelines are based on "use", not ownership. So, if no one else could make use of the equipment, then the only one allowed to take depreciation is the lessee. You also break the 80% use rule for legal and the 75% use rule for GAAP.
Residual value exists only when the ability to remarket off lease equipment is greater than the cost to sell it. A guide book may define the estimated future value of equipment, but it rarely defines how hard it is to sell or where to sell it. One of the things you should know before leasing equipment is where can I dump this thing if everything goes wrong? Try and keep records of every secondary market seller you contact so as time goes by you will build up a list of people that will supply you with information on what the risks are in out of the way markets. You must also consider storage, insurance, advertising, commissions and the time value of the money you have invested in the equipment until it is sold.
It is hard to know what industries will be up and which will be down when your lease terminates but the biggest risk today is how quickly the equipment becomes outdated. This all sounds like a reason not to take residuals but that is not true. It is a warning on the troubles you can encounter for not investigating the equipment you want to lease with the same interensity with which you investigated credit. Remember our industry starts with the word "equipment".
Some questions to ask the vendor to ease your mind are: How many have you sold this year? Are spare parts readily available? Is it current technology, or new technology (which means is it new to the marketplace or has it been around awhile)? How much installation is there? And do you remarket the off lease or used equipment?
If a vendor does not remarket there equipment in a used condition, then ask who does and contact them about the ease of remarketing the equipment. If there is not a market for the used equipment or a very limited one, then you may have limited use equipment on your hands which requires a non-tax leased and non-legal lease plus better than average credit!
Previous #102 Columns:
http://www.leasingnews.org/Conscious-Top%20Stories/Leasing_102/Index.htm


(Leasing News provides this ad as a trade for investigative
reporting provided by John Kenny)

[headlines]
--------------------------------------------------------------
Take the Ralph Mango Baseball Challenge
Leasing News Associate Editor Ralph Mango challenges readers to identify the baseball players in the following poem, published Monday, May 11, 2015. The first person with the most baseball players matches to the nicknames will receive a $25 Email Starbuck Gift Card.
Rule #1, no "Google" or other browsers…Please try matching from memory.
Rule #1A, Really, no cheating!!
Rule #2: In the event of a tie, earliest date of entry will determine the winner.
Some of these nicknames are associated with more than one player. All that is required is one of the players who played with that nickname. The match of the player and the nickname must be identifiable from a reliable source as determined by Da Judge.
Contest ends on Memorial Day, May 25, and the winner will be announced by June 10. Judge will be Ralph Mango.
Send your guesses to: kitmenkin@leasingnews.org
Baseball Poem
Anthem
by
William (Sugar) Wallace
Catfish, Mudcat, Ducky, Coot.
The Babe, The Barber, The Blade, The Brat.
Windy, Dummy, Gabby, Hoot.
Big Train, Big Six, Big Ed, Fat.

Greasy, Sandy, Muddy, Rocky.
Bunions, Twinkletoes, Footsie, The Hat.
Fuzzy, Dizzy, Buddy, Cocky.
The Bull, The Stork, The Weasle, The Cat.
Schoolboy, Sheriff,
Rajah, Duke,
General, Major,
Spaceman, Spook.

The Georgia Peach, The Fordham Flash,
The Flying Dutchman. Cot.
The People's Cherce, The Blazer. Crash.
The Staten Island Scot.
Skeeter, Scooter,
Pepper, Duster,
Ebba, Bama, Boomer, Buster.

The Little Professor, The Iron Horse. Cap.
Iron Man, Iron Mike, Iron Hands. Hutch.
Jap, The Mad Russian, Irish, Swede. Nap.
Germany, Frenchy, Big Serb, Dutch,
Turk. Tuck, Tug, Twig.
Spider, Birdy, Rabbit, Pig.

Fat Jack, Black Jack, Zeke, Zack. Bloop.
Peanuts, Candy, Chewing Gum, Pop.
Chicken, Cracker, Hot Potato, Soup.
Ding, Bingo.
Hippity-Hopp.

Three-Finger, No-Neck, The Knuck, The Lip.
Casey, Gavvy, Pumpsie, Zim.
Flit, Bad Henry. Fat Freddie, Flip.
Jolly Cholly, Sunny Jim.
Shag, Schnozz,
King Kong, Klu.
Boog, Buzz,
Boots, Bump, Boo.

King Carl, The Count. The Rope, The Whip.
Wee Willie, Wild Bill, Gloomy Gus. Cy.
Bobo, Bombo, Bozo. Skip.
Coco, Kiki, Yo-yo. Pie.
Dinty, Dooley,
Tuffy, Snuffy,
Stubby, Dazzy,
Daffy, Duffy.

Baby Doll, Angel Sleeves, Pep, Sliding Billy,
Buttercup, Bollicky, Boileryard, Juice.
Colby Jack, Dauntless Dave, Cheese,
Gentle Willie,
Trolley Line, Wagon Tongue, Rough,
What's the Use.

Ee-yah,
Poosh 'Em Up,
Skoonj, Slats, Ski.
Ding Dong,
Ding-a-Ling,
Dim Dom, Dee.

Famous Amos. Rosy, Rusty.
Handsome Ransom. Home Run, Huck.
Rapid Robert. Cactus, Dusty.
Rowdy Richard. Hot Rod, Truck.
Jo-Jo, Jumping Joe,
Little Looie,
Muggsy, Moe.

Old Folks, Old Pard, Oom Paul. Yaz.
Cowboy, Indian Bob, Chief, Ozark Ike.
Rawhide, Reindeer Bill. Motormouth. Maz.
Pistol Pete, Jungle Jim, Wahoo Sam. Spike.
The Mad Hungarian.
Mickey, Minnie.
Kitten, Bunny.
Big Dan, Moose.
Jumbo, Pee Wee; Chubby, Skinny.
Little Poison.
Crow, Hawk, Goose.
Marvelous Marv.
Oisk, Oats, Tookie.
Vinegar Bend.
Suds, Hooks, Hug.
Hammerin' Hank.
Cooch, Cod, Cookie.
Harry the Horse.
Speed, Stretch, Slug.

The Splendid Splinter. Pruschka. Sparky.
Chico, Choo Choo, Cha-Cha, Chub.
Dr. Strangeglove. Deacon. Arky.
Abba Dabba. Supersub.
Bubbles, Dimples, Cuddles, Pinky.
Poison Ivy, Vulture, Stinky.
Jigger, Jabbo
Jolting Joe
Blue Moon
Boom Boom
Bubba
Bo
[headlines]
--------------------------------------------------------------
Terrier Mix
San Francisco, California Adopt a Dog
Willy
ID: 27768852
Age: 1Y 6M
Weight: 11lbs.
Gender: Male
Breed: Terrier Mix
Activity Level: High
"Willy is a bright, playful boy. He is sweet and energetic. A variety of daily physical and mental exercises will be necessary to keep him happy and healthy. Attending a training class will be a great way for him to bond with his new adopters."
San Francisco SPCA
250 Florida Street
San Francisco, CA 94103
415-522-3500
Mon-Fri: 1 - 7pm
Sat-Sun: 10am - 6pm
Closed on major holidays
(Free Parking)
Considering Adoption:
https://www.sfspca.org/adoptions/how-adopt
Adopt a Pet
http://www.adoptapet.com/
[headlines]
--------------------------------------------------------------
Classified Ads---Employment Web Sites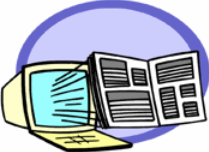 Here is a list of top internet job web sites, several specializing in financial, money, and leasing, too.
www.adams-inc.com
www.affinitysearch.com
www.bajobs.com
www.careerbank.com
www.careerbuilder.com
www.careerpath.com
www.careerjet.com
www.craigslist.org
www.eApplicants.com
www.ejobapplications.com
www.employmentcrossing.com
www.FinanceLadder.com
http://www.findhow.com/
us.gigajob.com
www.hotjobs.com
www.Hound.com
http://jobapplicationdb.com/
www.jobapplicationguide.com
www.indeed.com
www.jobs.net
www.jobs-applications.com
www.jobssearchengine.net
www.jobsearchusa.org
www.JobSpin.net
www.jobsinthemoney.com
www.ladders.com
www.leasingworld.co.uk
www.lessors.com
www.LinkUp.com
www.MarketingJobs.com
www.monitordaily.com
www.monster.com
www.monstertrak.monster.com/
www.Postonce.com
www.RecruiterConnection.com
www.resumeblaster.com
www.snagajob.com/part-time-jobs/
http://thejobfind.info/submit/
www.topjobapplications.com/
www.toplanguagejobs.com
www.vault.com
www.vetjobs.com
www.worktree.com
www.ziprecruiter.com
[headlines]
--------------------------------------------------------------

News Briefs----
Billionaires Aren't Buying Enough Private Jets
http://www.bloombergview.com/articles/2015-05-14/billionaires-aren-t-spending-enough-on-private-jets
Consumer Reports: Happiness is a 3-year lease
http://www.richmond.com/business/personal-finance/article_4c3552a4-bb8b-58c2-94fa-973284c9e66d.html
Congress should support Ex-Im Bank
http://www.indystar.com/story/opinion/readers/2015/05/16/congress-support-ex-bank/27468611/
Millennials on Track To Becoming Largest Home Buying Group
http://www.prweb.com/releases/2015/05/prweb12728893.htm
Way of life withers in California's parched citrus belt
http://www.sacbee.com/news/state/california/water-and-drought/article21185496.html
Fake Diplomas, Real Cash:
Pakistani Company Axact Reaps Millions
http://www.nytimes.com/2015/05/18/world/asia/fake-diplomas-real-cash-pakistani-company-axact-reaps-millions-columbiana-barkley.html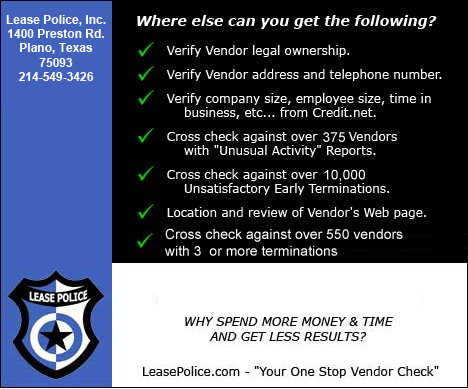 (Leasing News provides this ad "gratis" as a means
to help support the growth of Lease Police)


[headlines]
--------------------------------------------------------------




--You May Have Missed It
The Plot Against Trains
http://www.newyorker.com/news/daily-comment/the-plot-against-trains


[headlines]
--------------------------------------------------------------

SparkPeople--Live Healthier and Longer

Stand Up for a Healthier You
http://www.sparkpeople.com/blog/blog.asp?
post=stand_up_for_a_healthier_you
[headlines]
--------------------------------------------------------------
A Ballad of Baseball Burdens
by Franklin P. Adams
The burden of hard hitting. Slug away
Like Honus Wagner or like Tyrus Cobb.
Else fandom shouteth: "Who said you could play?
Back to the jasper league, you minor slob!"
Swat, hit, connect, line out, goet on the job.
Else you shall feel the brunt of fandom's ire
Biff, bang it, clout it, hit it on the knob –
This is the end of every fan's desire.
The burden of good pitching. Curved or straight.
Or in or out, or haply up or down,
To puzzle him that standeth by the plate,
To lessen, so to speak, his bat-renown:
Like Christy Mathewson or Miner Brown,
So pitch that every man can but admire
And offer you the freedom of the town –
This is the end of every fan's desire.
The burden of loud cheering. O the sounds!
The tumult and the shouting from the throats
Of forty thousand at the Polo Grounds
Sitting, ay, standing sans their hats and coats.
A mighty cheer that possibly denotes
That Cub or Pirate fat is in the fire;
Or, as H. James would say, We've got their goats –
This is the end of every fan's desire.
The burden of a pennant. O the hope,
The tenuous hope, the hope that's half a fear,
The lengthy season and the boundless dope,
And the bromidic, "Wait until next year."
O dread disgrace of trailing in the rear,
O Piece of Bunting, flying high and higher
That next October it shall flutter here:
This is the end of every fan's desire.

[headlines]
--------------------------------------------------------------
Sports Briefs----
Rockets crush Clips in Game 7 to reach conference finals for 1st time since '97
http://scores.espn.go.com/nba/recap?gameId=400793867
Warriors named favorite to win NBA title
http://espn.go.com/chalk/story/_/id/12905346/golden-state-warriors-installed-favorites-claim-nba-championship
[headlines]
--------------------------------------------------------------


California Nuts Briefs---

San Francisco Bay to Breakers Images
http://www.sfgate.com/bayarea/article/They-re-off-The-annual-Bay-to-bedlam-gets-6269001.php


[headlines]
--------------------------------------------------------------


"Gimme that Wine"

http://www.youtube.com/watch?v=EJnQoi8DSE8

Oh, Canada: U.S., California wine exports to northern
neighbor set records
http://www.bizjournals.com/sanfrancisco/blog/2015/05/canada-u-s-california-wine-exports-sonoma-napa.html
Silver Oak Becomes First North American Winery
To Own American Oak Barrel Cooperage
http://www.prnewswire.com/news-releases/silver-oak-becomes-first-north-american-winery-to-own-american-oak-barrel-cooperage-300083684.html
Free Mobile Wine Program
http://leasingnews.org/archives/Feb2010/2_26.htm#mobile
Wine Prices by vintage
http://www.winezap.com
http://www.wine-searcher.com/
US/International Wine Events
http://www.localwineevents.com/
Leasing News Wine & Spirits Page
http://two.leasingnews.org/Recommendations/wnensprts.htm

[headlines]
----------------------------------------------------------------
This Day in American History
1631 - The General Court of the Massachusetts Bay Colony decreed that 'no man shall be admitted to the body politic but such as are members of some of the churches within the limits' of the colony. (Separation of church and state was an unthinkable concept in early American colonialism. In contrast to what is taught in schools, most were not escaping for religious freedoms, but were missionaries with strong prejudices against other religious groups except for their own.) Separately, John Winthrop was elected the first Governor of the Massachusetts Bay Colony
1652 - Rhode Island enacted a slavery emancipation law: "No blacken mankind or white... (maybe) forced by covenant bond or otherwise to serve any man or his assignees longer than ten years, or until they come to be 24 years of age, if they be taken in under 15, from the time of their coming within the Liberties of the Colonies, and at the end of termed of ten years... (are to be set) free, as is the manner with the English servants. And that man that will not let them goe free, or shall sell them elsewhere, to that end that they may be enslaved to others for a long time, he or they shall forfeit to the Colonie forty pounds."
1766 - The Church of the United Brethren in Christ was organized in Lancaster, PA, under the leadership of Martin Boehm, 41, and Philip William Otterbein, 39. (It became a branch of the Evangelical United Brethren in 1946.)
1798 - The first Secretary of the U.S. Navy was appointed. He was Benjamin Stoddert.
http://www.mariner.org/usnavy/05/05d.htm
1822 – One of America's first photographers, Matthew Brady (1822-1896), was born in Warren County, NY. He studied under inventor Samuel F.B. Morse, who pioneered the daguerreotype technique in America. Brady opened his own studio in New York in 1844, and photographed Andrew Jackson and John Quincy Adams, among other celebrities. When the Civil War started, his use of a mobile studio and darkroom enabled vivid battlefield photographs that brought home the reality of war to the public. Thousands of war scenes were captured, as well as portraits of generals and politicians on both sides of the conflict, though most of these were taken by his assistants, rather than by Brady himself.
1827 - Josiah Warren (1798–1874) opens his first Time Store in Cincinnati, Ohio — the first commercial cooperative. He was an American reformer and anarchist. An early follower of Robert Owen, he soon rejected Owen's political socialism, advocating instead anarchy based on "the sovereignty of the individual." Warren founded several "equity" or "time" stores, with the idea of exchanging goods for an equivalent amount of labor and on the principle that cost should be the limit of price. He also established three utopian colonies: the most successful was Modern Times (1851–c.1860), Long Island, N.Y. (now Brentwood). The most important of his publications was True Civilization (1863, 5th ed. 1875).
http://faculty.evansville.edu/ck6/bstud/warren.html
See "The Lemonade Ocean & Modern Times" by Hakim Bey,
http://www.evolutionzone.com/kulturezone/bey/lemonade.ocean.
and.modern.times.html
http://www.blancmange.net/tmh/articles/manifesto.shtml
http://www.blackcrayon.com/people/warren/
1830 - Edwin Budding of England signed an agreement for the manufacture of his invention, the lawn mower.
1836 - Cynthia Ann Parker (1825-71), a blue-eyed blonde Caucasian woman, was captured by the Comanche at age nine. When U.S. soldiers found her four years later in a Comanche camp where she was living under the name "Prelock," she refused to return. She said she was happy living as a Comanche. In 1860, she and her infant daughter were captured in a U.S. army raid and were forcibly detained. She was sent to Parker's father. The infant died soon after capture and Prelock died in 1871, according to legend, by starving herself to death longing to go back to the Comanche way of life. Her eldest son, Quanah, became chief of the Kwahadi tribe which held out against the white man. Some called him the most ferocious Indian who ever lived. In 1875, he suddenly brought his people in and settled near the Wichita Mountains in Oklahoma and saw to it that Comanche children went to school and were educated.
1849 - Sailing ship "Grey Eagle" arrived in San Francisco with 34 passengers from the East in 113 days, a record at that time.
1852 - Massachusetts rules all school-age children must attend school
1860 - Republican Party nominates Abraham Lincoln for president over William H. Seward who would become his Secretary of State.
06 November 1860, Lincoln defeated his opponents with only 40% of the popular vote, becoming the first Republican to win the presidency. The announcement of his victory signaled the secession of the Southern states, which since the beginning of the year, had been publicly threatening secession if the Republicans gained the White House. By the time of Lincoln's inauguration on 04 March 1861, seven states had seceded and the Confederate States of America had been formally established with Jefferson Davis as its elected president. One month later, the American Civil War began when Confederate forces under General P. G. T. Beauregard opened fire on Union-held Fort Sumter in South Carolina.
1861 - Battle of Sewall's Point, VA is the first Union offensive against the South.
1863 - A new sport became available to Americans with the introduction of roller skating by James L. Plimpton. Plimpton invented the four-wheel skate, which worked on rubber pads, thus permitting skaters to change direction by shifting their weight to one side or the other without lift the wheels of the skate off the ground. Roller skating became fashionable in New York City and soon spread to other cities. In Newport, RI, the Roller Skating Association leased the Atlantic House and turned its dining room and plaza into a skating rink. In Chicago, the Casino could accommodate 3000 spectators and 1000 skaters. In San Francisco, a rink advertised 5000 pairs of skates available for rent.
1863 - Union General Ulysses S. Grant surrounds Vicksburg, the last Confederate stronghold on the Mississippi River, in one of the most brilliant campaigns of the war. On May 16, Grant fought the Confederates under John C. Pemberton at Champion's Hill and defeated them decisively. He then attacked again at the Big Black River the next day, and Pemberton fled into Vicksburg with Grant following close behind. The trap was now complete and Pemberton was stuck in Vicksburg, although his forces would hold out until July 4. In the three weeks since Grant crossed the Mississippi in the campaign to capture Vicksburg, Grant's men marched 180 miles and won five battles. They took nearly 100 Confederate artillery pieces and nearly 6,000 prisoners, all with relatively light losses.
1864 - The fighting at Spotsylvania in Virginia, reaches its peak at the Bloody Angle.
1872 - Bertrand Russell (1872-1970) was born in Trelleck, Wales. Philosopher, mathematician and social critic, one of the most widely read philosophers of this century. Awarded Nobel Prize for Literature, 1950. Outspoken pacifist, imprisoned during World War I. Abandoned pacifism during World War II, but was a leading figure in the antinuclear movement. Imprisoned in 1961 for taking part in a demonstration in Whitehall. A pioneer of logical positivism. I took a course from him at UCLA and have read most of his books.
http://www.mcmaster.ca/russdocs/russell.htm
http://www.kirjasto.sci.fi/brussell.htm
http://www.sci.fi/~phinnweb/links/philosophy.html
1883 - An F4 tornado tracked 20 miles through Kenosha and Racine Counties in Wisconsin. 8 people were killed and 85 were injured. The tornado made a spectacular exit as a multiple vortex waterspout over Lake Michigan and was described as: "whirling columns of air seemed like great wreaths of smoke, bearing with them spiral columns of water...a half dozen could be seen at a time, then all would disappear and new ones would reform".
1896 – In Plessy v. Ferguson, the Supreme Court ruled separate-but-equal facilities constitutional on intrastate railroads. For fifty years, the Plessy v. Ferguson decision upheld the principle of racial segregation. Across the country, laws mandated separate accommodations on busses and trains, and in hotels, theaters, and schools. The premise was separate, but "equal." When I first went to New Orleans in 1958, the facilities were not equal, but certainly separate. As I traveled in other parts of the South, Blacks would walk on one side of the main street, and whites on the other. Restaurants were "white only." Rest rooms were "white only." Even the French Quarter was quite segregated with "white only" jazz clubs, and further down you would find "black" or "Cajun," which was even "rougher." Drinks were much cheaper, the food simple, but delicious. We were musicians, so we never experienced any difficulty as often the two of us would be the only whites in the club. We had our own mouthpieces, as it was the tradition then, as I believe now, if you play someone else's instrument, you used your own mouthpiece. I had both a clarinet and alto sax; Warren had his trumpet mouthpiece which he carries still today when we have gone to places where he would be invited to play.
http://memory.loc.gov/ammem/today/may18.html
1897 – New York Giant 1B Bill Joyce set the MLB record of 4 triples in 1 game.
1897 – "Dracula", a novel by Irish author Bram Stoker, was published.
1897 - Film director, producer and writer, Frank Capra (1897–1991), was born in Sicily. Capra became one of America's most influential directors during the 1930s, winning three Oscars as Best Director. Among his leading films was "It Happened One Night" (1934), which became the first film to win all five top Oscars, including Best Picture. Other leading films in his prime included "You Can't Take It With You" (1938) and "Mr. Smith Goes To Washington" (1939). During World War II, Capra served in the Army Signal Corps and produced propaganda films, such as the "Why We Fight" series. After World War II, Capra's career declined as his later films like "It's a Wonderful Life" (1946) were critically derided as being "simplistic" or "overly idealistic". In succeeding decades, however, his films have been favorably reassessed. Outside of directing, Capra was active in the film industry, engaging in various political and social issues. He served as President of the Academy of Motion Pictures Arts and Sciences, worked alongside the Screenwriters Guild, and was head of the Directors guild of America.
1900 - Birthday of author Laura Z. Hobson (1900-86) in New York City. She wrote revolutionary novels about social injustices. "Gentleman's Agreement" dealt with anti-Semitism, "Tenth Month," on unwed motherhood, "Consenting Adult," on homosexuality.
1901 - Birthday of Jeanette Macdonald (1901-65) in Philadelphia. She was a very popular U.S. singer-actor best known today for her singing over the ruins of "San Francisco" (1936), duets with Canadian Mounties, and teaming with Nelson Eddy from 1936-42. She was also an accomplished Broadway and film actor and a fine comedic player. She was one of the top money grossers of her era.
1902 - An F4 tornado struck the town of Goliad, Texas, killing 114 people. No U.S. tornado disaster of similar magnitude has ever occurred further south than this event.
1902 - Birthday of Meredith Wilson (1902-84), composer and lyricist ("The Music Man"), in Mason City, IA.
http://www.sfmuseum.org/hist/willson.html
1910 – The Earth passed through the tail of Halley's Comet.
1911 - Blues Shouter Joseph Vernon "Big Joe" Turner (1911-85) was born Kansas, City, MO. He was one of the forefathers of rock 'n' roll. His 1950's recordings of such songs as "Shake, Rattle and Roll," "Honey Hush" and "Flip, Flop and Fly" are rock 'n' roll classics. But Turner had been singing for more than 20 years when these songs were recorded. In the 1930's, he teamed with boogie-woogie pianist Pete Johnson. Their appearance at John Hammond's famed "Spirituals to Swing" concert in 1938 helped spark the boogie-woogie craze of the time. In 1951, Turner began recording rhythm-and-blues for Atlantic Records. Many of his songs were rock 'n roll hits when recorded by white artists. Bill Haley turned "Shake, Rattle and Roll" into a million-seller in 1954 and Pat Boone had a pop hit with Turner's "Chains of Love" in 1956. In the '60s, Big Joe Turner turned to jazz singing, continuing to perform and record until his death on November 24th, 1985.
1912 - Perry Como's (1912-2001) birthday in Canonsburg, Pennsylvania, born Pierino Ronald Como. A self-described admirer of Bing Crosby, Como copied Crosby's singing style and relaxed approach. He was a barber whose first record, "Goodbye Sue," was a hit in 1943. And so was "And I Love You So," recorded more than 30 years later. His other successes have included "Till the End of Time," "Temptation" and "It's Impossible." On television, Perry Como was the host of "The Chesterfield Supper Club," "The Perry Como Show" and "The Kraft Music Hall." He was perhaps the most popular singer on television in the 1950's.
1917 - Selective Service Act was passed by Congress allowing conscription for military duty.
1917 – The First units of the American Expeditionary Force, commanded by General John J. Pershing, were ordered to France.
1922 - Trombonist Kai Winding (1922-83) was born Aarhus, Denmark. His best-known recording is "More", the theme from the movie "Mondo Cane".
1927 - Grauman's Chinese Theater on Hollywood Boulevard was opened, the first of the Fox chain of movie theaters. The lavish 2,200 seat theater cost $1 million to build. Its first film was shown on this date, Cecil B. DeMille's "King of Kings", at the high price of $2.00 per seat. It was later renamed Mann's Chinese Theater.
1927 - Bath, Michigan School Disaster. Andrew Kehoe, seeking revenge against the community for taxes imposed on his farm to pay for a new school, set off a TNT bomb in the school, killing 43 people, including 39 grade-school children. After the explosion, Kehoe killed his wife, then drove his truck back, loaded with dynamite & nails, to the school, and set it off, killing himself and the school superintendent.
1931 - Bix Biederbecke joins Casa Loma Band for a date at Metropolitan Hotel, Boston.
1933 - President Franklin Roosevelt signs the Tennessee Valley Authority Act. TVA is federally-owned corporation created by congressional charter to provide navigation, flood control, electricity generation, fertilizer manufacturing, and economic development in the Tennessee Valley, a region deeply affected by the Great Depression. The enterprise was a result of the efforts of Senator George Norris of Nebraska. TVA was envisioned not only as a provider, but also as a regional economic development agency that would use federal experts and electricity to rapidly modernize the region's economy and society. TVA's service area covers most of Tennessee, portions of Alabama, Mississippi, and Kentucky, and small slices of Georgia, North Carolina, and Virginia. It was the first large regional planning agency of the federal government and remains the largest.
1933 – The first Major League All-Star Game was announced for July 6 at Comiskey Park, to be played as part of the Chicago World's Fair.
1934 – The Academy Award was first called Oscar in print, by Sidney Skolsky.
1934 - Congress approved the Lindbergh Act, making kidnapping a capital offense
1942 - Birthday of Rodney Dillard in Salem, Missouri. He is one of the electric bluegrass group, the Dillards. Formed in 1962, the Dillards left their home state for Hollywood where they played a hillbilly band on TV's "Andy Griffith Show." Their albums contained songs by folk and rock composers such as Bob Dylan, and their use of electric instruments helped pave the way for such country-rock groups as the Byrds and the Eagles.
1942 – New York City ended night baseball games for the duration of the war.
1944 - The Allies Captured Monte Cassino (you may remember the movie). There had been five Allied attempts to take the German position at The Benedictine Abbey at Monte Cassino. Although the abbey had been reduced to rubble, it served as a bunker for the Germans and they could relay all activity in the area to airplanes and execute giant cannon attacks. In the spring of 1944, Marshal Alphonese Pierre Juin devised an operation that crossed the mountainous regions behind the fortress-like structure, using Moroccan troops of the French Expeditionary Force. Specially trained for mountain operations, they climbed 4,850 feet to locate a pass. On May 15, 1944, they attached the Germans from behind. On May 18, Polish troops attached to this force and took Monte Cassino.
1945 - On Okinawa, the US 6th Marine Division, part of US 3rd Amphibious Corps, captures most of the Sugar Loaf Hill, as well as parts of the Half Moon and the Horseshoe positions that overlook it, after several days of bitter fighting. The US 1st Marine Division continues to battle for the Wana River valley and Wana Ridge but fails to eliminate Japanese resistance, even with flame-throwers and tanks in support. Meanwhile, the US 77th and 96th Divisions, parts of US 24th Corps, attack Japanese positions on Flat Peak without success.
1945 - No. 1 Billboard Pop Hit: "My Dreams Are Getting Better All the Time," Les Brown Orchestra/Doris Day.
1946 - Top Hits
All Through the Day - Perry Como
The Gypsy - The Ink Spots
Shoo Fly Pie - The Stan Kenton Orchestra (vocal: June Christy)
New Spanish Two Step - Bob Wills
1947 – The Philadelphia A's catcher Buddy Rosar caught his 147th game without an error, Major League record at the time that has since been broken several times.
1950 – Phillies 3B Tommy Glaviano made errors on 3 consecutive grounders
1951 – The United Nations moved into its headquarters in NYC.
1952 - US / Canada: Which Side Are You on? Paul Robeson, in dramatic defiance of government's ban on his leaving US soil, standing on a flatbed truck parked one foot inside the US border at the Peace Arch, in Blaine, Washington, speaks and sings to a crowd of 40,000 Canadians & Americans gathered on both sides of the border.
(My father Lawrence Menkin was a recipient of the Paul Robeson Award for producing and writing "Harlem Detective" in the early 1950's for WOR-TV)
http://www.bayarearobeson.org/Chronology_7.htm
1952 - Country singer George Strait was born in Pearsall, Texas. Strait's traditional country sound, influenced by Bob Wills, Merle Haggard, George Jones and Hank Williams, began to find favor at the beginning of the 1980's. His rise to popularity was due at least in part to a reaction against the slicker "urban cowboy" sound. Strait is now one of the biggest country stars, with such number-one hits as "Love without End, Amen," "Does Fort Worth Ever Cross Your Mind," "All My Ex's Live in Texas" and "I've Come to Expect It from You." His 1985 "Greatest Hits" album spent more than five years on the charts.
1953 - Air Force Lieutenant Colonel George I. Ruddell, 51st Fighter-Interceptor Wing, became the 31st ace of the war after making his fifth MiG kill in an F-86 Sabre called "MiG Mad Mavis."
1953 - The first woman to fly faster than the speed of sound, Jacqueline Cochran, piloted an F-86 Sabrejet over California at an average speed of 652.337 MPH.
1953 - Robbie Bachman, drummer for Bachman-Turner Overdrive, was born in Winnipeg. The Canadian rock band, which also included Robbie's brothers Randy and Tim on guitars, was internationally popular in the 1970's with such hits as "Blue Collar," "Let It Ride," "Takin' Care of Business" and "You Ain't Seen Nothing Yet," a 1974 million-seller. At its peak, BTO won many polls and honors in the US, as well as seven Juno Awards.
1954 - Top Hits
"Wanted" - Perry Como
"Little Things Mean a Lot" - Kitty Kallen
"If You Love Me (Really Love Me)" - Kay Starr
"I Really Don't Want to Know" - Eddy Arnold
1955 - No. 1 Billboard Pop Hit: "Cherry Pink and Apple Blossom White," Perez Prado.
1955 – Just short of a foot of rain fell at Lake Maloya, New Mexico, the state record.
1956 – On the way to the Triple Crown and MVP, Mickey Mantle hit HRs from both sides of plate for record 3rd time. He did so a total of 10 times in his career, a record when he retired that has been surpassed since by several hitters.
1957 - The Chicago White Sox and the Baltimore Orioles played a 1-1 tie, a game called precisely at 10:20pm so that the White Sox could catch a train out of Baltimore. The Orioles' Dick Williams hit a home run on the game's last pitch to tie the game and avoid defeat. The game was replayed from the beginning at a later date, and Baltimore won.
1959 - Wilbert Harrison's recording of Leiber and Stoller's "Kansas City" rose to the top of the Billboard singles chart. Cover versions by Hank Ballard and The Midnighters, Rocky Olson, Rockin' Ronald & The Rebels, and Little Richard all appeared in March of 1959, but the Harrison version was by far the most popular. Further success for Harrison would have to wait until 1970 when "Let's Work Together" made it to number 32 in the US.
1960 - Salt Lake City, Utah received an inch of snow. It marked their latest measurable snowfall of record.
1960 - No. 1 Billboard Pop Hit: "Cathy's Clown," The Everly Brothers.
1962 - Top Hits
"Soldier Boy" - The Shirelles
"Stranger on the Shore"- Mr. Acker Bilk
"She Cried" - Jay & The Americans
"She Thinks I Still Care" - George Jones
1963 - At the first annual Monterey Folk Festival, Bob Dylan joins Joan Baez onstage to duet on his antiwar song "With God on Our Side."
1963 - Jackie DeShannon makes her television debut, singing "Rock-A-Bye Your Baby" and "Just in Time" on CBS' Jackie Gleason Show.
1963 - The Beatles begin their third tour of 1963 at the Adelphi Cinema in Buckinghamshire, England, opening for Roy Orbison; within a few days, thanks to growing "Beatlemania," they will be headlining.
1963 - Lesley Gore's "It's My Party" enters Billboard's Top 40, where it will reach #1.
1963 - After hitting #22 the previous year with "Twistin' Matilda", Jimmy Soul reached #1 on the Billboard chart with "If You Wanna Be Happy". It would prove to be his final entry as the follow-up "Treat 'Em Tough" flopped completely, after which Jimmy entered the US Army.
1964 – The Supreme Court ruled it unconstitutional to deprive naturalized citizens of citizenship if they returned to their home country for more than 3 years
1965 - Outer Space: Gene Roddenberry suggests 16 names -- including Kirk -- for Star Trek Captain. It will never fly, say some. And small hand-held devices that you can talk into as if you are on a telephone anywhere, who would believe it? In the "Next Generation", they were on the shirt that you could turn on with a touch or vocal command or attach to your ear. Unheard of at the time; common today.
1966 - PH Phactor Jug Band opened at 40 Cedar Alley near Polk and Geary in San Francisco. Does anyone else remember Cedar Alley?
1966 - *STEWART, JIMMY G., Medal of Honor
Rank and organization: Staff Sergeant, U.S. Army, Company B, 2d Battalion, 12th Cavalry, 1st Cavalry Division (Airmobile). Place and date: Republic of Vietnam, 18 May 1966. Entered service at: Ashland, Ky. Born: 25 December 1942, West Columbia, W. Va. Citation: For conspicuous gallantry and intrepidity in action at the risk of his life above and beyond the call of duty. Early in the morning a reinforced North Vietnamese company attacked Company B, which was manning a defensive perimeter in Vietnam. The surprise onslaught wounded 5 members of a 6-man squad caught in the direct path of the enemy's thrust. S/Sgt. Stewart became a lone defender of vital terrain--virtually 1 man against a hostile platoon. Refusing to take advantage of a lull in the firing which would have permitted him to withdraw, S/Sgt. Stewart elected to hold his ground to protect his fallen comrades and prevent an enemy penetration of the company perimeter. As the full force of the platoon-sized man attack struck his lone position, he fought like a man possessed; emptying magazine after magazine at the determined, on-charging enemy. The enemy drove almost to his position and hurled grenades, but S/Sgt. Stewart decimated them by retrieving and throwing the grenades back. Exhausting his ammunition, he crawled under intense fire to his wounded team members and collected ammunition that they were unable to use. Far past the normal point of exhaustion, he held his position for 4 harrowing hours and through 3 assaults, annihilating the enemy as they approached and before they could get a foothold. As a result of his defense, the company position held until the arrival of a reinforcing platoon which counterattacked the enemy, now occupying foxholes to the left of S/Sgt. Stewart's position. After the counterattack, his body was found in a shallow enemy hole where he had advanced in order to add his fire to that of the counterattacking platoon. Eight enemy dead were found around his immediate position, with evidence that 15 others had been dragged away. The wounded that he gave his life to protect, were recovered and evacuated. S/Sgt. Stewart's indomitable courage, in the face of overwhelming odds, stands as a tribute to himself and an inspiration to all men of his unit. His actions were in the highest traditions of the U.S. Army and the Armed Forces of his country.
1967 - GRANDSTAFF, BRUCE ALAN, Medal of Honor
Rank and organization: Platoon Sergeant, U.S. Army, Company B, 1st Battalion, 8th Infantry. Place and date: Pleiku Province, Republic of Vietnam, 18 May 1967. Entered service at: Spokane, Wash. Born: 2 June 1934, Spokane, Wash. Citation: For conspicuous gallantry and intrepidity in action at the risk of his life above and beyond the call of duty. P/Sgt. Grandstaff distinguished himself while leading the Weapons Platoon, Company B, on a reconnaissance mission near the Cambodian border. His platoon was advancing through intermittent enemy contact when it was struck by heavy small arms and automatic weapons fire from 3 sides. As he established a defensive perimeter, P/Sgt. Grandstaff noted that several of his men had been struck down. He raced 30 meters through the intense fire to aid them but could only save 1. Denied freedom to maneuver his unit by the intensity of the enemy onslaught, he adjusted artillery to within 45 meters of his position. When helicopter gunships arrived, he crawled outside the defensive position to mark the location with smoke grenades. Realizing his first marker was probably ineffective, he crawled to another location and threw his last smoke grenade but the smoke did not penetrate the jungle foliage. Seriously wounded in the leg during this effort he returned to his radio and, refusing medical aid, adjusted the artillery even closer as the enemy advanced on his position. Recognizing the need for additional firepower, he again braved the enemy fusillade, crawled to the edge of his position and fired several magazines of tracer ammunition through the jungle canopy. He succeeded in designating the location to the gunships but this action again drew the enemy fire and he was wounded in the other leg. Now enduring intense pain and bleeding profusely, he crawled to within 10 meters of an enemy machine gun which had caused many casualties among his men. He destroyed the position with hand grenades but received additional wounds. Rallying his remaining men to withstand the enemy assaults, he realized his position was being overrun and asked for artillery directly on his location. He fought until mortally wounded by an enemy rocket. Although every man in the platoon was a casualty, survivors attest to the indomitable spirit and exceptional courage of this outstanding combat leader who inspired his men to fight courageously against overwhelming odds and cost the enemy heavy casualties. P/Sgt. Grandstaff's selfless gallantry, above and beyond the call of duty, is in the highest traditions of the U.S. Army and reflects great credit upon himself and the Armed Forces of his country.
1967 - Tennessee Governor Ellington approved the repeal of the Butler Act or "Monkey Law", upheld in the 1925 Scopes Trial
1968 - A tornado outbreak occurred across Illinois, Missouri, Indiana, Ohio, Iowa, and Arkansas. Charles City, Iowa was devastated by a tornado rated F5 with 13 people killed and 30 million dollars damage done. An F4 tornado tracked through Jackson, Craighead, and Mississippi Counties in Arkansas, killing 35 people and injuring 361. 164 homes in Jonesboro were destroyed.
1968 - Electric Flag played the Late Show at the famed San Francisco Carousel Ballroom.
(To listen) http://concerts.wolfgangsvault.com/dt/electric-flag-concert/49934-2140.html
1968 - Al Kalie hit his 307th HR, surpassing Hank Greenberg for the Detroit Tiger team HR record.
1968 - Frank Howard tied the AL record with a HR in his 6th consecutive game; his 10 home runs are the most in 6 games.
1969 – Apollo 10 began their orbit to circle the moon ten times.
1969 – The Klamath tribe wins $4.1 million for loss of Oregon lands during fraudulent government surveys in 1880s.
1969 – Birthday of pop singer Martika, whose real name is Marta Marrera. Her "Toy Soldiers" was a number-one record in 1989.
1969 – No. 1 Billboard Pop Hit: "Get Back," The Beatles.
1970 – Top Hits
"American Woman/No Sugar Tonight" – The Guess Who
"Vehicle" – The Ides of March
"Cecilia" – Simon & Garfunkel
"My Love" – Sonny James
1974 – "The Streak" started a 3-week run at number one on the "Billboard" pop music chart. The novelty tune by Ray Stevens was about people running nekkid where they shouldn't be nekkid, like, in public. It was the second number one hit for the comedian who made numerous appearances on Andy Williams' TV show in the late 1960s, as well as his own show in the summer of 1970. His first number one hit, just prior to "The Streak", was "Everything is Beautiful". Both songs won gold records, as did his comedic "Gitarzan", a top ten hit in 1969. Stevens has been the top novelty recording artist of the past three decades.
1978 – Top Hits
"If I Can't Have You" – Yvonne Elliman
"The Closer I Get to You" – Roberta Flack with Donny Hathaway
"With a Little Luck" – Wings
"It's All Wrong, But It's All Right" – Dolly Parton
1978 – "The Buddy Holly Story", a film starring Gary Busey as Holly, has its world premiere in Dallas. The movie will be a critical and commercial success.
1980 – 9,677-foot Mt. St. Helens, quiet for 93 years, blew its top. The volcanic blast was five hundred times more powerful than the atomic bomb that leveled Hiroshima. Steam and ash erupted more than eleven miles into the sky and darkened skies in a 160-mile radius. Forest fires erupted around the volcano and burned out of control. The eruption, and those that followed, left some sixty dead and caused damage amounting to nearly three billion dollars.
http://vulcan.wr.usgs.gov/Imgs/Gif/Pictograms/may18_sequence.gif
1982 - Unification Church founder Reverend Sun Myung Moon convicted of tax evasion.
1983 - Dr. Sally Ride, 32-year-old with a Ph.D. in physics and pilot's license, becomes the first U.S. woman astronaut in space as a mission specialist aboard space shuttle Challenger, 20 years and two days after the first Russian woman went into space. It would be another 15 years before an American woman became a co-pilot of a U.S. space vessel. It took until 1995 - 32 years later - for American Lt. Col. Eileen Collins to touch the controls of an American spacecraft as co-pilot on a space mission. In 1998, she was named a space mission pilot and is scheduled to lift off her spacecraft in late 1999.
1985 - Patricia Kimbrell, the first woman admitted to the ranks of the United States Jaycees, was installed as president of the Dallas chapter.
1985 - The Scottish Rock band Simple Minds make their breakthrough in North America when "Don't You (Forget About Me)" tops the Billboard singles chart. The song was written specifically for the film "The Breakfast Club" and was only the second tune recorded by the group that they did not write.
1986 - A remake of "Stagecoach," starring Johnny Cash, Willie Nelson, Kris Kristofferson, Waylon Jennings and John Schneider aired on network television. The production apparently was far from smooth, with Nelson walking off the set at one point. The stars all criticized the movie in a "TV Guide" article, with one aide to Cash describing it as being filmed with "a Concorde cast and a crop-duster crew."
1986 - Top Hits
"Greatest Love of All" - Whitney Houston
"Why Can't This Be Love" - Van Halen
"What Have You Done for Me Lately" - Janet Jackson
"Ain't Misbehavin'" - Hank Williams, Jr.
1987 - Thunderstorms in Kansas, developing along a cold front, spawned tornadoes at Emporia and Toledo, produced wind gusts to 65 mph at Fort Scott, and produced golf ball size hail in the Kansas City area. Unseasonably hot weather prevailed ahead of the cold front. Pomona, NJ reported a record high of 93 degrees, and Altus, OK, hit 100 degrees.
1988 - A's Dave Stewart breaks a major league record committing his twelfth balk of the season.
1990 - Thunderstorms produced severe weather in the central U.S. spawning sixteen tornadoes, including a dozen in Nebraska. Thunderstorms also produced hail four inches in diameter at Perryton, TX, wind gusts to 84 mph at Ellis, KS, and high winds which caused nearly two million dollars damage at Sutherland, NE. Thunderstorms deluged Sioux City, IA with up to eight inches of rain, resulting in a record flood crest on Perry Creek and at least 4.5 million dollars damage.
1991 - Gertrude Belle Elion, co-recipient of the 1988 Nobel Prize in Medicine, became the first woman inducted as a member of the National Inventors Hall of Fame. Elion's researched to the development of leukemia-fighting drugs and immunosuppressant Imuran, which is used in kidney transplants.
1994 - Michael Jackson and Lisa Marie Presley were married in a private ceremony at a judge's home in the Dominican Republic. First word of the marriage came two months later from the judge himself in an interview published in a Dominican newspaper. The Jackson camp denied the story for several weeks. The marriage came after Jackson reached an out-of-court settlement with a teenager who accused the singer of seducing him. Jackson denied the allegations. Presley filed for divorce in January, 1996.
1995 - Severe thunderstorms spawned 86 tornadoes over the Mississippi and Ohio Valleys, resulting in 4 deaths and 161 injuries. 5 of the tornadoes were rated F4.
1997 - Tiger Woods wins Byron Nelson Golf Classic
1998 - The CBS season finale of TV sitcom "Murphy Brown" aired, with the title character, played by Emmy-winner Candice Bergen, giving birth to an illegitimate son. Vice President Dan Quayle publicly lambasted the comedy, saying that the program "glorified" single-parenthood, and that it made a mockery of families with fathers. He went on to comment that "Murphy Brown" lacked the judgment to be a proper role model for young women, and that her actions were immoral. Despite the national unpopularity of his criticisms, Quayle did not back down from his stand against the popular show, providing fodder for many stand-up comics.
http://www.eonline.com/News/Items/0,1,3019,00.html
1999 - The Backstreet Boys release their highly anticipated third album, "Millennium." The album goes on to become the best-selling album of the year.
2000 - Mark McGwire passes Mickey Mantle into eighth place on the all-time home run career list with 539, although The Mick did not have any "help". 'Big Mac' goes deep three times as the Cardinals beat the Phillies, 7-2.
2004 - At the age of 40, southpaw Randy Johnson becomes the oldest pitcher to ever throw a perfect game as the Diamondbacks beat the Braves, 2-0. The 'Big Unit' joins Cy Young, Jim Bunning, Hideo Nomo and Nolan Ryan as the only hurlers to throw no-hitters in both leagues and creates the longest time span between no-no's, having first accomplishing the feat against the Tigers in June of 1990.
2005 - A second photo from the Hubble Space telescope confirmed that Pluto has two additional moons.
Stanley Cup Champions
1971 - Montreal Canadiens
-------------------------------------------------------------

SuDoku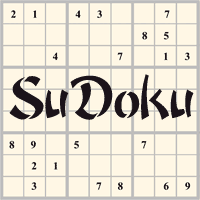 The object is to insert the numbers in the boxes to satisfy only one condition: each row, column and 3x3 box must contain the digits 1 through 9 exactly once. What could be simpler?
http://leasingnews.org/Soduku/soduko-main.htm
--------------------------------------------------------------

Daily Puzzle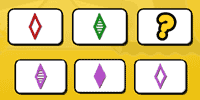 How to play:
http://www.setgame.com/set/puzzle_frame.htm
Refresh for current date:
http://www.setgame.com/set/puzzle_frame.htm
--------------------------------------------------------------


http://www.gasbuddy.com/
http://www.gasbuddy.com/GB_Map_Gas_Prices.aspx
http://www.gasbuddy.com/GB_Mobile_Instructions.aspx
--------------------------------------------------------------

Weather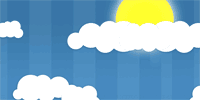 See USA map, click to specific area, no commercials
--------------------------------------------------------------

Traffic Live---
Real Time Traffic Information
You can save up to 20 different routes and check them out with one click,
or type in a new route to learn the traffic live
--------------------------------