Monday, September 20, 2010

Today's Equipment Leasing Headlines
Is Rudy Trebels a member of ELFA?
Classified Ads---Credit/Legal/Operations
Recruiters Int. joins "Leasing Recruiters" List
Leasing 102 by Mr. Terry Winders, CLP
"Early Outs" Policy Important
Bank Beat---Why they closed down six More Banks
Classified Ads---Help Wanted
First Federal Financial Services is "in business"
Leasing Companies Out of Broker/Discounting Business
Funder/Superbroker Looking for New Broker Business
Broker Referral Exchange
Cartoon---Dog's View
Top Stories---September 15--17
Classified ads—Asset Management
Louisville, Kentucky---Adopt-a-Dog
News Briefs---
Five for FASB: Golden Appointed to Board
500 Franchise Leaders Gathered in Washington Senate Bill
Saab Showcases New Lease of Life
Broker/Funder/Industry Lists | Features (collection)
Top Ten Stories Chosen by Readers | Top Stories last six months


You May have Missed---
Sports Briefs---
California Nuts
"Gimme that Wine"
This Day in American History
Baseball Poem
SuDoku
Daily Puzzle
GasBuddy
Weather, USA or specific area
Traffic Live----

######## surrounding the article denotes it is a "press release" and was not written by Leasing News nor information verified, but from the source noted. When an article is signed by the writer, it is considered a "by line." It reflects the opinion and research of the writer. It is considered "bias" as it is the writer's viewpoint.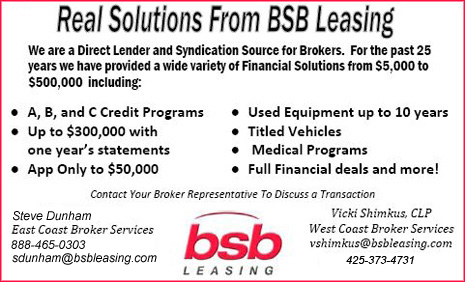 [headlines]
--------------------------------------------------------------

Is Rudy Trebels a member of ELFA?





Now you say, "Why is this important?"
"Why is Leasing News writing about this?"
Here is the culture of leasing with a public person whose company is in bankruptcy, being sued businesswise and personally by several banks, individuals, vendors not paid, brokers not paid, disputes over residuals, security deposits spent and not held, action by the Federal Trade Commission, not counting a record number of Leasing News Bulletin Board Complaints.
Yes, here is an industry that says it can regulate itself and has high ethics and ideals.
Originally Rudy Trebels, now president of Equipment Leasing Group of America, Illinois, past president of IFC Credit Corporation, Illinois, now in bankruptcy, had claimed he was a Certified Leasing Professional in his LinkedIn account, as well as a member of various leasing associations.
This has been cleared up (not a CLP in "good standing"*) as well as not a member of the National Association of Equipment Leasing Brokers or National Equipment Finance Association, except for the claim to be a member of the Equipment Leasing and Finance Association (ELFA):
"Member of ELFA and past member of NAELB, UAEL (served as Board Member)."
http://www.linkedin.com/in/rtrebels

Leasing News did not find his company or his name in the ELFA membership directory. An email sent last Wednesday to Ralph Petta, COO of ELFA and Leasing News Person of the Year for 2009 to verify this was not returned, nor an email sent on Friday to William G. Sutton, President, ELFA with cc: Ralph Petta.
Here is a partial list that LinkedIn has made available of the 287 connections:
Brian Bjella
Alexander Cronfield
Joseph Wold
Nancy Fragus
Ted Reynolds
Tom Herlihy
Ted Pierce
Rhonda Nicole Polk
Tammy Negelein
Dave Sendlak
Jarrod Foster
Don Zaretsky
Omar Diaz
Ted Brownrigg
Ron Gonzales
Ross Stites
Mark Montgomery
Paul Knowlton
Mohammed Ahsan
Marvin Lesman, C.C.E.
Ronald Lear
Haney Sweda
Tony Sherwin
Marci L. Slagle, CLP
Jim Padden
Stephen Lahti
Don Polfliet
Kevin Kepp
Randy Haug
Patrick Sponsel
John Sexton
Kim McQuinn
Jim Brady
Kennedy J. Gilbertson
Irwin Wittlin
Linda Kester
'Larry LaChance'
George A. Parker
Doug Houlahan
* CLPs in Good Standing
http://www.clpfoundation.org/members/members.php

Trebels public profile on Linkedin.com:
http://leasingnews.org/items/TrebelsLinkedIn.jpg

The Saga of Rudy Trebels Claiming a CLP--update
http://www.leasingnews.org/Conscious-Top%20Stories/trebels.html

Ralph Petta, Leasing News Person of the Year 2009
http://leasingnews.org/archives/Jan2010/1_05.htm#poy
Recognition by Mr. Petta and readers:
http://www.leasingnews.org/archives/Jan2010/1_08.htm#poy

[headlines]
--------------------------------------------------------------

Classified Ads---Credit/Legal/Operations
East Coast
30 yrs. exp UK, mainly middle ticket last 11 yrs credit officer, seeking
position in NY, CT, NJ, Available immediately for interviews carrsculling@gmail.com

Seasoned finance attorney w/broad experience incl. vendor programs, lease doc., syndication & securitization; in-house or private, NYC, LI or willing to relocate rdusch@att.net
Resume
San Diego , CA
Experienced in-house corporate, equipment leasing and financial services attorney seeks position as managing or transactional counsel. Willing to relocate.
Cell Phone: 760-533-4058;
Email: sandidq@msn.com
Resume


N. Phoenix, Arizona
Kathleen Gibbons-Erler. Eleven years experience in all office operations, including but not limited to lease processing. Excellent follow up skills. References on Linkedin.com.
kgibbons-erler@cox.net
Resume

Acton, MA
Strong experience in lease accounting, operations, & systems.
Implemented lease plus, Great Plains, networks.
Excellent financial reporting and analysis skills. Looking for new opportunity.
LinkedIn
alexanderzlenz@gmail.com| Resume
Free Posting for those seeking employment in Leasing:
http://www.leasingnews.org/Classified/Jwanted/Jwanted-post.htm
All "free" categories "job wanted" ads:
http://www.leasingnews.org/Classified/Jwanted/Jwanted.htm
[headlines]
--------------------------------------------------------------

Recruiters International joins "Leasing Recruiters" List

Name
City, State
Contact
Website
Leasing Association

YCS
YELB
(see above for meaning)

Explanation: Boutique Executive Search Firm Specializing in the Finance & Equipment Leasing Industries.

Our goal is to build long term relationships with our Clients & Candidates, keeping both sides abreast of current and future changes that effect supply & demand of Top Talent. Excellent References & Testimonials
Leasing Recruiters List:
http://www.leasingnews.org/Recruits/index.htm
[headlines]
--------------------------------------------------------------

Leasing 102
by Mr. Terry Winders, CLP
"Early Outs" Policy Important

It is hard enough to get customers to lease today, so I recommend you have a policy on how your company is going to handle a lessee's request for an early out of a unit in a lease. It also may help your salesman sell your program over the competition.

It is not uncommon for leases to combine more than one unit of equipment and then over the term of the lease to learn the Lessee wishes to terminate only one unit. This may be to upgrade or the unit may be obsolete or even destroyed. Whatever the reason, in order to accomplish an early out on a unit, a number of factors need to be determined. To begin with, if it is a bargain option lease instead of a true lease, then you only have to take the percentage of the original cost that represents the units cost and apply that same percentage to a standard payoff (plus the correct portion of the purchase option, if any) and then create an addendum document that references the remaining equipment list as the current lease.
The real problem comes in the accounting department because they have to adjust the accruals. Some software programs make these adjustments easily and some require a lot of work not making your accountants very happy. Therefore you should check with them prior to arranging for the acceptance of the early out funds. Some lessor's inform the lessee that the whole lease needs to be rewritten with new terms and penalties. This is not actually correct, even using the non-cancelable clause as an excuse.
An early termination of a true lease is much harder because there is a tax effect caused by the difference between the balance needed to satisfy the book balance and the income tax on the difference between the un-depreciated MACRS and the book balance. That means part of the funds received pay down the balance and part is used to pay taxes upon the next tax return. Now the non-cancelable clause does play a part in collecting the correct amount of funds to accomplish the early termination. This assumes the unit is being returned under the return conditions. If the unit is being purchased by the lessee or his insurance carrier then the purchase option upon termination will require some computations to determine a correct selling price and it will affect the size of the additional income tax on top of the book balance.
In addition, some lessor's forget to lump equipment into a lease that have the same MACRS depreciation schedules. If three year and five or seven year assets are leased on the same single lease then the problem of early outs is magnified because of the changes in the income tax computations. It is far wiser to keep like term equipment together or create a master lease with many schedules. Most of the modern lease software accounting programs have the ability to combine many schedules on the invoice so the bill is easily handled.
This problem is also more prevalent in used equipment leases. Used equipment will break down more often and should be on separate schedules.
The non-cancelable clause is there to give power to the Lessor to protect early terminations and to allow for proper amounts to make lessor's whole. However, on some occasions, Lessors take advantage of the clause and use it to demand the remaining payments.
Mr. Terry Winders, CLP, has been a teacher, consultant, expert witness for the leasing industry for thirty years and can be reached at leaseconsulting@msn.com or 502-649-0448
He invites your questions and queries.
Previous #102 Columns:
http://www.leasingnews.org/Conscious-Top%20Stories/Leasing_102/Index.htm
(This ad is a "trade" for the writing of this column. Opinions
contained in the column are those of Mr. Terry Winders, CLP)

[headlines]
--------------------------------------------------------------

Leasing Industry Help Wanted

Chicago, Illinois
Senior Exec. w/10 yrs discounting quality leases with Investment
Grade and Fortune 1000 credits. Must consider re-locating to Illinois, working with an independent entrepreneurial community bank.
Richard A. Burns, SVP, 312-850-1405 rburns@febank.com

We offer great funding capacity, strong, experienced back office, keeping established vendor relationships happy. Looking for a home and have 5 years experience, contact: Jeff Rudin (818) 843-8686 x14.
About the company: Quail Equipment Leasing 17 years in business with the ability to develop specialized programs for vendors and unique industries: $10K to $24MM.


Please see our Job Wanted section for possible new employees.

[headlines]
--------------------------------------------------------------

Bank Beat---Why they closed down six More Banks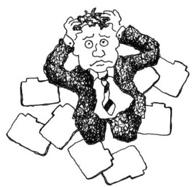 Two Phoenix, Arizona Real Estate Investments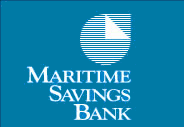 The 125th FDIC-insured institution to fail in the nation this year, and the first in Wisconsin, Maritime Savings Bank, West Allis was closed with North Shore Bank, FSB, Brookfield, Wisconsin. The bank had nine branches and had gone from 89 full time employees June 30, 2009 to 66 full time employees. It was founded January 1, 1912.
Maritime had eight branches in the Milwaukee area and one branch in the Phoenix, Arizona area, which was seriously caught in the real estate downtown. Most of the non-current loans were reportedly in real estate. Many of the banks were originally regional but extended themselves in other areas such as Arizona and Nevada, for instance, hoping to cash in on the rapid real estate growth.
The Office of Thrift Supervision had issued a warning to the bank November 3, 2009 that it was "Significantly Undercapitalized, then on March 20, 2010 a "Prompt Corrective Action Directive" with capital restoration by " Merger, Acquisition, or Sale" and other requirements to be made prior to June 30, 2010.
Net equity dropped almost two/thirds, going from $29.6 million in June 30, 2009 to $9.4 million June 30, 2010; non-current loans $35.3 million with the bank losing $3.4 million June 30, 2009 and losing $2.9 million June 30, 2010, after a charge off of $1.75 million in commercial and industrial loans, $402,000 in real estate loans. Tier 1 risk-based capital ratio 3.24%.
As of June 30, 2010, Maritime Savings Bank had approximately $350.5 million in total assets and $248.1 million in total deposits.
The FDIC estimates that the cost to the Deposit Insurance Fund (DIF) will be $83.6 million
http://www.fdic.gov/news/news/press/2010/pr10210.html



The night they drove old Dixie down happened last week as the fourteenth bank to fail this year in Georgia was The Peoples Bank, Winder, which was closed with Community & Southern Bank, Carrollton, Georgia, acquired the banking operations, including all the deposits. The Peoples Bank had total assets of $447.2 million and total deposits of $398.2 million. It had 15 branches with 146 full time employees.
Winder is a city in Barrow County, Georgia, United States. The population was 10,201 at the 2000 census.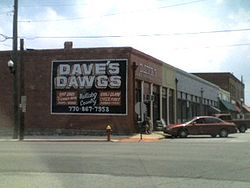 Downtown Winder
(Photo: Wikipedia)
The bank was founded in 1926 by a group of local business leaders and survived the Great Depression, which reportedly claimed four rival Barrow County lenders. It also got into Arizona real estate problems.
AJC.com (The Atlanta Journal-Constitution) reports: "Peoples Bank was a sleepy rural lender for much of its history. But Atlanta's rapid suburban push and the housing boom helped the bank nearly quadruple in size to $520.7 million in assets by the end of 2008."
"In addition to its bet on local real estate, Peoples Bank was the lead lender on Merrill Ranch, a $100 million, 5,600-acre development in the Arizona desert outside Phoenix. The loan, which was too big for Peoples Bank alone, was marketed by Silverton Bank to more than 60 other community banks, including many from Georgia.
"Spearheaded by Atlanta Developer W. Harrison Merrill, Merrill Ranch collapsed when the housing market went under, and the land was sold off in two large chunks for $36 million, resulting in heavy losses for the banks."
http://www.ajc.com/business/trio-of-georgia-banks-616022.html
The net equity had dropped from $29.7 million to $6.7 million with $19.5 million in non-current loans. The bank had lost $8.1 million the previous period, and $11.4 million June 30, 2010, following charge offs of $2.7 million in property secured by nonfarm nonresidential property, $2.6 million in construction and land development, and almost $1 million in property secured by 1-4 family residential properties. Tier 1 risk-based capital ratio 1.71%
Community & Southern Bank will pay the FDIC a premium of 1.0 percent to acquire all of the deposits of the Bank of Ellijay and First Commerce Community Bank. They also will pay the FDIC a premium of 1.25 percent to acquire all of the deposits of The Peoples Bank. Besides assuming all the deposits from the three Georgia institutions, Community & Southern Bank will purchase virtually all the failed banks' assets.
The FDIC estimates that the cost to the Deposit Insurance Fund (DIF) for The Peoples Bank will be $98.9 million. Not the Tier 1 for the three Georgia Banks: .066%, 1.71% and 1.8%. For the three banks that Community & Southern Bank purchased the total loss for the FDIC will be $225.5 million.

http://www.fdic.gov/news/news/press/2010/pr10208.html

The Bank of Ellijay, Ellijay, Georgia, and Bank of Canton, Canton, Georgia, (a division of Bank of Ellijay were closed with Community & Southern Bank, Carrollton, Georgia, acquired the banking operations, including all the deposits. The bank had 27 full time employees.
Located 80 miles north of Atlanta and 65 miles south of Chattanooga, it is considered the Apple Capital of Georgia and growth area for wineries, which brought tourism to the area. It is reported there was a gold rush in 1842 and visitors can still find gold nuggets in the streams. Expansion was to vacation homes and condo rentals and the bank got caught in the dramatic downturn, creating one of the worst Tier 1's of recent bank failures: 0.66%.
Vacation rentals:
http://www.vrbo.com/vacation-rentals/usa/georgia/northwest-high-country/ellijay

As of June 30, 2010, Bank of Ellijay had total assets of $168.8 million and total deposits of $160.7 million. Its net equity had dropped considerably, from $12.8 million June 30, 2009 to $945,000 June 30, 2010, as well as non-current loans in June 30, 2009 at $6.4 million to $38.4 million. The bank last $2.6 million the previous period and $7.1 million June 30, 2010.
The FDIC estimates that the cost to the Deposit Insurance Fund (DIF) for Bank of Ellijay will be $55.2 million.
http://www.fdic.gov/news/news/press/2010/pr10208.htm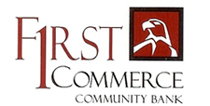 The two branches of First Commerce Community Bank, Douglasville, Georgia, were closed with Community & Southern Bank, Carrollton, Georgia, acquired the banking operations, including all the deposits. As many other banks that failed, the problem again was construction and land development.
First Commerce Community Bank had total assets of $248.2 as of June 30, 2010. Employee count had dropped from 34 full time employees to 28 full time employees on June 10, 2010. In the same time period, net equity in the bank went from $22.6 million to $3.9 million with $35.1 million in non-current loans. The bank had lost $1.6 million the year before and in June 30, 2010 it has lost almost $11.3 million, following a charge of $5 million in land construction and development. Tier 1 risk-based capital ratio 1.80%.
The FDIC estimates that the cost to the Deposit Insurance Fund (DIF) for First Commerce Community Bank will be $71.4 million.
http://www.fdic.gov/news/news/press/2010/pr10208.html


Bramble Savings Bank, Milford, Ohio, was closed with Foundation Bank, Cincinnati, Ohio, to assume all of the deposits. Located at 954 State Route 28 the bank had 10 full time employees. The Bank had not turned a profit since 2006.
Milford was developing into a suburb of nearby Cincinnati; many of its residents work in the city of Cincinnati or its other suburbs. The bank tried to expand as did the city, but also ran into land development and construction problems.

In August, Bramble had announced a plan to convert from a mutual form of ownership in which depositors control it, to stock ownership. There were no takers as June 30, 2010 figures were released showing bank equity had dropped from $2.8 million June 30,2009 to $468,000 June 30, 2010, which non-current loans increased from $1.3 million to $3 million the same time period, with a loss of $688,000 June 30, 2009 and a loss of $1.2 million June 30, 2010. Tier 1 risk-based capital ratio 1.21%.
As of June 30, 2010, Bramble Savings Bank had approximately $47.5 million in total assets and $41.6 million in total deposits.
The FDIC estimates that the cost to the Deposit Insurance Fund (DIF) will be $14.6 million.
http://www.fdic.gov/news/news/press/2010/pr10209.html


The nine year old ISN Bank, Cherry Hill, New Jersey was closed with New Century Bank (doing business as Customers Bank), Phoenixville, Pennsylvania, to assume all of the deposits. Customers Bank will have 16 branch locations after completing this deal and their recently announced acquisition of Berkshire Bank. Again, land construction and development was their downfall.
The sole branch of ISN Bank was located on 457 Haddonfield Road, Liberty View Building. The bank had dropped from 15 full time employees to 10; June 30, 2010 with net equity going from $4 million to $1.5 million, with $19.9 million in non-current loans, a lost of $836,000 in June 30, 2010 to a loss of $1.4 million following almost $2.6 million charge off in construction and land development and $1.4 million in loans secured by nonfarm nonresidential property. Tier 1 risk-based capital ratio 2.26%.
As of June 30, 2010, ISN Bank had approximately $81.6 million in total assets and $79.7 million in total deposits.
The FDIC and New Century Bank entered into a loss-share transaction on approximately $64.8 million of ISN Bank's assets.
The FDIC estimates that the cost to the Deposit Insurance Fund (DIF) will be approximately $23.9 million.
http://www.fdic.gov/news/news/press/2010/pr10207.html

List of Bank Failures:
http://www.fdic.gov/bank/individual/failed/banklist.html
Bank Beat:
http://www.leasingnews.org/Conscious-Top%20Stories/Bank_Beat.htm
John Kenny
Receivables Management
est. 1997

johnkenny2@verizon.net

p 315-866-1167
f 315-876-9629
c 315-717-1302
[headlines]
--------------------------------------------------------------

First Federal Financial Services is "in business"

Contrary to rumors, First Federal Financial Services, Inc., Menomonee Falls, Wisconsin is in business, according to its president:
"First Federal has not closed the doors. We are not accepting broker business."
"Thank-you."

Doug Braunreiter

(The web site still states seeking broker business, but most likely will be up-dated soon: http://www.firstfederalfinancial.com/new_site/index.php )

[headlines]
--------------------------------------------------------------

Leasing Companies Out of Broker/Discounting Business

These are companies who are either out of business who worked with independent equipment leasing brokers or no longer are doing business with independent equipment brokers within the last year. This is not a list of companies who do not do business with independent equipment brokers.

To learn a brief reason why the company is on the list, please click to:
http://www.leasingnews.org/list_alpha_new.htm

To find the stories about this company, please go to our archives, perhaps do a search "sort by
date:" http://www.leasingnews.org/archives.htm

Advantage Business Capital, Lake Oswego, Oregon
AEL Financial, Buffalo Grove, Illinois
*(No longer taking new broker business)
Alliance Financial, Syracuse, New York
Balboa Capital, Irvine, Ca
Bankers Healthcare Group, Weston, FL.
C and J Leasing Corp, Des Moines, Iowa
Carlton Financial Corporation, Wayzata, Minnesota
Chesterfield Financial, Chesterfield, Missouri
Churchill Group/Churchill Leasing, Jericho, NY
CIT Group (limited)
Columbia Bank Leasing, Tacoma, WA
Concord Financial Services, Long Beach, California
Court Square, Malvern, Pennsylvania
Creative Capital Leasing Group, LLC, San Diego, CA
Direct Capital, Portsmouth, New Hampshire
Diversified Financial Service, Omaha, NE
Dolsen Leasing, Bellevue/Yakima, Washington
Equipment Finance Partners, a division of Altec, Birmingham, Alabama
Evans National Leasing, Inc., Hamburg, NY
Enterprise Funding, Grand Rapids, Michigan
Excel Financial Leasing, Lubbock Texas
First Corp.(IFC subsidiary), Morton Grove, Illinois
First Federal Financial Services, Inc., Menomonee Falls, Wisconsin
First Republic Bank, San Francisco, CA
Frontier Capital, Teaneck New Jersey
GCR Capital, Safety Harbor, Florida
GE Capital, Conn (limited)
Global Funding LLC., Clearwater, FL
Greystone, Burlington, MA
Heritage Pacific Leasing, Fresno, CA
Hillcrest Bank Leasing, Overland Park, KS
Huntington Equipment Finance, Vendor Finance Group, Bellevue, Washington
IFC Credit Corp., Morton Grove, Illinois
Irwin Financial (Irwin Union Bank), Columbus, Indiana
Irwin Union Bank, F.S.B. (Louisville, Kentucky)
Lakeland Bank, Montville, NJ
LaSalle Systems Leasing
Leaf Specialty Finance, Columbia, South Carolina
LEAF Third Party Funding, Santa Barbara, Ca.
Lombard, part of Royal Bank of Scotland, worldwide
Marlin Business Services, Mount Laurel, NJ (accepting no new brokers,
they may have opened for a select fee, but no more at this time, they say.)
Marquette Business Credit Inc., Minneapolis, Minnesota
M&T Credit (Bank)
MericapCredit, Lisle, Illinois
Merrill Lynch Financial
Midwest Leasing Group, Livonia, Minnesota
National City, Cleveland, Ohio
Navigator (Pentech subsidiary) San Diego, California
OFC Capital, Roswell, Georgia
Old National Bank, Evansville, Illinois
Pentech Financial, Campbell, CA
PFF Bancorp, Inc, Pomona, CA
Pinnacle Business Finance, Fife, Washington
Pioneer Capital Corporation, Addison, Texas
PredictiFund, a subsidiary of Capital Access Network, Inc
Popular Finance, St. Louis, Missouri
Radiance-Capital, Tacoma, WA
Rational Technology Solutions, Rolling Meadows, IL
Sandy Springs, Olney, MD
Sovereign Bank, Melville, New York
Specialty Funding, Albuquerque, NM
Sun Trust Equipment Finance & Leasing, Baltimore, Maryland
SunBridge Capital, Mission, Kansas
Suncoast Equipment Funding Corp., Tampa, Florida
TechLease, Morgan Hill, California
Textron Financial
Triad Leasing & Financial, Inc., Boise, Idaho
Union Capital Partners, Midvale, Utah
US Bank, Manifest Funding, Marshall, Minnesota
(new requirement: large yearly funding)
US Bank, Middle-Market, Portland, Oregon
Velocity Financial Group, Rosemont, Illinois
VenCore, Portland, Oregon
Vision Capital,San Diego, California
Wachovia Bank Leasing
Washington Mutual Financial
Western Bank, Devils Lake, ND
Westover Financial, Inc., Santa Ana, California
[headlines]
--------------------------------------------------------------

These companies are funders or super brokers seeking independent leasing broker business. The list does not include "brokers," "lessors", or "packagers."
Funder/Superbroker Looking for New Broker Business
Send company name, contact/email or telephone number as well as a URL to attach or description to
kitmenkin@leasingnews.org
There is no advertising fee or charge for a listing. They are "free."Leasing News makes no endorsement of any of the companies listed, except they have qualified to be on this specific list.
Leasing News reserves the right to not list a company who does not meet these qualifications.
We encourage companies who are listed to contact us for any change or addition they would like to make. Adding further information as an "attachment" or clarification of what they have to offer would be helpful to readers are very much encouraged.
Alphabetical list - click on company name to view more details
ABCO Leasing, Inc.
Advantage Funding
Affiliated Investment Group, Inc.
Agility Solutions
Allegiant Partners Incorporated
American Leasefund, Inc.
Bank of the West
Bankers Capital
Barrett Capital Corporation
Black Rock Capital
Blackstone Capital Partners, L.P.
Boston Financial & Equity Corp.

BSB Leasing, Inc.
Calfund, LLC
Chesapeake Industrial Leasing Co., Inc.
Cobra Capital LLC
Dakota Financial
Dumac Leasing
Financial Pacific Leasing
Forum Financial Services, Inc.
Gonor Funding
Lease Corporation of America
Leasing Solutions, LLC
LPI Healthcare Financial Services, Inc.


Mar Vista Financial
National Machine Tool Financial Corporation
P&L Capital Corporation
Pawnee Leasing Corporation
Standard Professional Services, LLC
Summit Leasing, Inc.
Quail Capital Corp
TEAM Funding Solutions
Vision Financial Group, Inc.

Leasing Associations: All non-profit leasing associations are abbreviated. To see the full name and learn more about the association, please click here.
BBB - Better Business Report | CBB - Leasing News Complaint Bulletin Board
| CNI - Current News Information
A -Accepts Broker Business | B -Requires Broker be Licensed | C -Sub-Broker Program
| D -"Private label Program" | E - Also "in house" salesmen

N/R (not reported)
* (no response---these listing do not come from the company directly, but from our research from many sources. It is our policy not to put anything in this section without confirmation.)




Affiliated Investment Group, Inc. is the proud continuation of over 20 years of serving the broker community. We are a balance sheet, cash flow, credit lender. The primary question on every transaction is "what is the likelihood of being paid back". Our motto is "any equipment, for any Lessee, anywhere in the country". Also known as "The Flexible Funding Source" as we look at a deal with the philosophy of "what's right" about it "how can we make it work". We have significant sources of funds from A to B credits.
Broker Qualify - Yes
ABCO Leasing, Inc. (Seattle, WA) exclusively serves the broker community and has been in business since 1974. Since we retain all transactions in our own portfolio, we require full financial packages. We are best at deals that do not quite fit an "A Funder" due to a lack of flexibility or some type of an arbitrary matrix requirement. ABCO is an industry generalist that prides itself on being creative when structuring new business and in providing high quality service levels. Broker and deal contact: Brad Christensen, Broker Relations Manager, 971/204-0236 bradc@abcoleasing.net
* Allegiant Partners
has expanded their maximum transaction size from $250,000 to $500,000 for the 5 western states of California, Oregon, Washington, Nevada and Arizona.
In addition to increasing the transaction size Allegiant is offering more competitve rates for these A- and B+ transactions. Broker Qualify - For Broker qualification please
click here.

Allegiant.pdf
Bankers Capital " We will do ANY Type of Equipment, in ANY industry, in ANY state. We especially like 6-figure transactions with full financial packages no matter how good or bad they look. We look to structure the story C&D credits with any kind of additional collateral that makes sense. It could be with 2nd or 3rd mortgages on residential or commercial Real Estate, additional equipment, cash value life insurance, security deposits, vendor agreements. We look for any way to make the deal work instead of looking for any way to decline the deal." Broker Qualify - Please contact Larry LaChance
Barrett Capital Corporation: Broker Qualify - Please Call
Black Rock Capital (Ireland) Limited and Black Rock Capital (UK) Limited provide the same services for small to middle market corporations in the European Economic Community and the United Kingdom.
Boston Financial & Equity Corporation, most of our leases are venture capital backed startups and turnarounds. We require full financial disclosures, CPA and internal statements, no tax returns. We do not required additional collateral, no PG's or RE needed. Do not send deals with large tax liens, especially if they are payroll taxes. Broker Qualify - A deal in hand and a full package
BSB Leasing, Inc is a direct funding source. In addition we offer an experienced Syndication Desk that can place transactions that fall outside of credit, equipment, geographic or dollar amount appetite.
Calfund, LLC finances 18 wheelers and some trailers for owner operators with substandard credit.
Cobra Capital, LLC. Comments: Our registered trademark "Making impossible possible" is our central marketing tagline for both strong and weak credits. I have developed a 10 year history, (from Cobra and my prior company GALCO), with specialty, non-conforming transactions (story credits) and have a solid reputation for candidly responding to our originators and lessees and working diligently to mitigate deal risk rather than making excuses to turn deals down. Our originators prefer our underwriting approach to non-conforming transactions since unlike most non-conforming funders, we prefer to mitigate risk versus jacking our return. Both Originators and Lessee's prefer our candid approach as we are also frequently asked to advise lessee's and lessors on the best way to structure their bank loans and raise capital due to our 25+ year banking and accounting backgrounds as my partner and I are both former bankers and CPA's.
Cheasapeake Industrial Leasing Co.,Inc
Bank owned funder/super broker. We fund A and B-plus credits through our network of community banks. We are a cash flow and credit lender. Most of our programs are full financial packages with competitive rates. Contact Taylor Brazzon @ 410-661-5000 x125
taylor@cilc.com
Dumac Leasing--Our prime prospect, has integrity, the ability to submit one to five leases for consideration per month, good financial analysis skills, good packaging abilities and can appreciate a funding source that looks at one deal at a time. Poor rating at BBB is a major hurdle. We are an A Credit lender and cash flow is critical. We use tax returns for info to compute cash flow.
Financial Pacific Leasing
has been in business since 1975, and supports a nationwide network of Third Party Originators. We specialize in small ticket ($5,000 - $50,000) "B" and "C" credits. We are a strong and stable company committed to the Third Party channel. A relationship with Financial Pacific can enhance your vendor/origination relationships by broadening your credit window. To Qualify - Please Call or see "Prospective Third Party Originators" section on
www.finpac.com
.
Forum Financial Services, Inc., prefer venture capital backed start-ups and middle market to large corporate turnaround companies including companies in bankruptcy and post bankruptcy. Our absolute minimum sales for an established business with financial problems are $10.0 million. (this does not include venture capital backed start-ups). Broker Qualify - Please visit our website at www.forumleasing.com or call 972-690-9444 ext. 225
Gonor Funding specializes in hard to fund leases with D credit. Collateral based with good rates and commission program. Broker Qualify - Please Call
Lease Corporation of America in business over 20 years has been funding selected brokers since 2001. We currently fund brokered transactions from $10,000 t0 $75,000 at LCA Bank and have placement capability up to $1MM. We have a very strong service platform designed to process a large volume of small ticket transactions. We are particularly interested in developing special funding programs for flow business and SBA loans in excess of $400,000.
LPI-HC specializes in working Capital Loans / Equipment Financing for new and established medical professionals with our target market being dentists, medical doctors, veterinarians and physical therapists. We also offer any type of Medical Practice Refinancing for established medical professionals that want to consolidate all their practice debts and improve their cash flow position. "We have the financial solutions to help start and grow a practice with repayment programs designed for medical professionals to manage their money."
Broker Qualify - Please Call
Kurt Hess
770-579-2900 ext. 1100
Address:
2260 Rushmore Dr .
Suite B-3
Marietta , GA 30062
National Machine Tools---Specializing in Machine Tools only for transactions up to $750k. National has been in the Machine Tool Finance business since 1986 and has a leasing proficient staff to accommodate the most challenging transaction. F ull financial disclosure required. We can provide structured financing for the story marginal credits. May require personal guarantees and/or down payments depending on the credit. Any size business accepted. For more information please contact Chris Chiappetta or Robert Lang at 800-669-7527.
Pawnee Leasing CorporationPawnee Leasing Corporation; Some times we go higher than $30,000, but our marketplace is from $1,000 to $30,000. We don't have a "Sub Broker Program per se but accept re-brokered deals with disclosure. Broker Qualify - One year time in business
P&L Capital: 24-36 month leases on name brand desktops, laptops, and monitor.
Quail Capital offers App Only program up to $100K- nationwide. We also have a special California Only "A" credit program with very competitive rate under "California Express Program".
On the commercial side, Quail Capital specializes in mid market to large structured and complex transactions. Mohammed Ahsan began his days at Westinghouse Credit (then Atlantic Financial, Mitsubishi Bank, Bank of California and First Sierra) as a funder. He has been in the leasing industry for 29 years. His partner Jeff Rudin has over 29 years leasing experience.
In addition to the equipment leasing, Quail Capital is also involved in Asset Based Lending, Franchise Financing, Acquisition Finance, Sale- Lease Back- Working Capital and facilitate the SBA program.
Broker Qualifying- please call.
Standard Professional Services. LLC is a non-cookie cutter funder who does not credit score.
Summit Leasing consider ourselves to be primarily "B" credit lenders, working almost exclusively through brokers. Broker Qualify - Contact us
TEAM Funding Solutions is a structured lender for brand new businesses or for older companies with previous credit problems. We do not credit score. The secret to producing an approval for C-Credits starts with interviewing your customer." Broker Qualify -
Business Reports: Companies listed may make any netiquette comment about their company or reports or other information in the footnote section of their listing. Leasing News recommends readers also view the footnote as well as the section itself or searching reports on the business.
It also should be noted that if a BBB report listing is found by a reader, as there may not have been one when this was last up-dated, please send the link to maria@leasingnews.org so Leasing News may up-date this section.
Leasing Associations: All non-profit leasing associations are abbreviated. To see the full name and learn more about the association, please click here.
BBB - Better Business Report | CBB - Leasing News Complaint Bulletin Board
| CNI - Current News Information
A -Accepts Broker Business | B -Requires Broker be Licensed | C -Sub-Broker Program
| D -"Private label Program" | E - Also "in house" salesmen
[headlines]
--------------------------------------------------------------

Broker Referral Exchange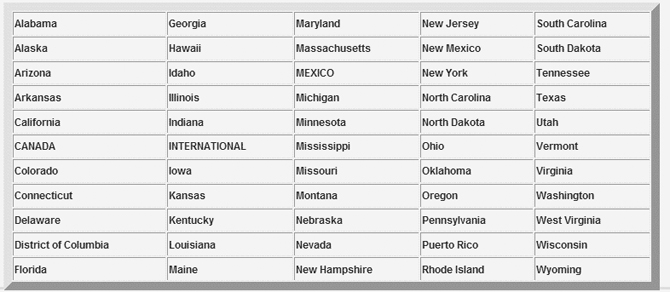 The Broker Referral Exchange is carried on the National Association of Equipment Leasing Brokers (NAELB) web page as a courtesy to its members, and is not sponsored by them. To utilize the Exchange you need to be a member, as well as abide by the code of ethics of the association.
On this page you will find a geographical listing of NAELB brokers who have indicated that they have discovered special funding sources, perhaps not known to others or available to others. These brokers may be able to help other NAELB brokers secure funding. They may charge a fee for their services. The advantage, and purpose, is to help both new and experienced brokers with transactions as they have specific sources they believe would have a better chance of approval as they are not "cookie cutters." Also what in reality comes with experience is knowing who takes what and why and placing them in these sources that they have cultivated.
It is only available to NAELB members and they do not plan to open to non-members.
There is a disclaimer on the website:
This webpage is here for the use of NAELB members to help each other fund transactions. The NAELB does not guarantee the accuracy of the information provided to us about the funding sources. We are merely providing an organized, easy way to use the resources of our members. It is up to you to choose who you do business with as the NAELB makes no representations about the business practices of the member listings.
Member Benefits:
http://www.naelb.org/displaycommon.cfm?an=1&subarticlenbr=125
Website: NAELB.org
[headlines]
--------------------------------------------------------------

Top Stories---September 15--17
Here are the top ten stories opened by readers:
(1) Second Alert-AMC Funding Group, Charlotte, NC
http://leasingnews.org/archives/Sep2010/9_17.htm#alert_amc
(2) New Complaint Bulletin Board Policy
http://leasingnews.org/archives/Sep2010/9_15.htm#policy
(3) Schwartz Gets Out on $2 Million Bail
http://leasingnews.org/archives/Sep2010/9_15.htm#bail
(4) Leasing 102 by Mr. Terry Winders, CLP
Why Non-Cancelable Leases
http://leasingnews.org/archives/Sep2010/9_15.htm#non_cancelable
(5) Bank of the West Equip. Fin./IDS work together
http://leasingnews.org/archives/Sep2010/9_15.htm#bow
(6) Large Collection Firm Owes $63 Million; Files BK
http://www.collectionscreditrisk.com/news/large-collection-firm-owes-files-for-bankruptcy-protection-3003277-1.html
(7) Valerie Jester sells home in North Palm Beach
http://southflorida.blockshopper.com/news/story/1300097358-Equipment_lease_co_president_dentist_sell_in_North_Palm_Beach
(8) New ACORD Certificate for the Leasing/Finance Industry
http://leasingnews.org/archives/Sep2010/9_17.htm#acord
(9) New Hires---Promotions
http://leasingnews.org/archives/Sep2010/9_17.htm#hires
(10) Top Leasing Attorneys
http://leasingnews.org/archives/Sep2010/9_17.htm#attorneys
[headlines]
--------------------------------------------------------------

Classified ads—Asset Management

Asset Management: Atlanta, GA
premier provide accounts receivable management functions from 3rd Party contingency collections to Portfolio Purchasing. Contact George Elliott, National Account Manager. 678-694-9063,
www.westassetmanagement.com


Asset Management: Boston, MA
Nationwide appraisals, remarketing, audits, inspections and more! Over 15-years industry experience and dedicated to deliver personal, prompt, professional services.
Call Chris @ 508-785-1277. Email:chris@dovermanagementgroup.com


Asset Management: Minneapolis, MN
NetSentric provides services to leasing companies: Inspection, Appraisals, Auditing, Warehousing, Repossession, Asset Management, Repairs, Remarketing and Field Service for Electronics and Computing Technology.
Email: jcahill@netsentricinc.com


Asset Management: Monroe, NC
Recover a greater return on your investment. We specialize in the woodworking, pallet, sawmill and forestry industries. Carolinamachinerysales.com/ Melinda Meier (704)288-1904 x103
Asset Management: Nationwide
BUYER/LENDER BEWARE. Don't sign anything until Collateral Verifications Inc. goes onsite, knocks on the door and gets the facts.
http://www.i-collateral.com
Email: mark@i-collateral.com

Nationwide
Seasoned and fair priced workforce is at your service for all lease collections, repossessions, and asset liquidations, appraisals. Call Nassau Asset Management 800-462-7728 dcastagna@nasset.com


Asset Management: NorthWest Sequent provides collateral recovery, remarketing, and storage services to lenders with assets located in the greater Pacific Northwest. Professional services at reasonable pricing. Contact rossr@sequentam.com

Asset Management: Orange City, FL
We help Lessors Liquidate un-wanted Assets valued at $750,000+. It's an effective method of Liquidating Assets such as Jets, Planes, Helicopters, Freighters, etc.
Eric R. Sanders
Tel 386-789-9441
www.ValuedAssetSales.com
www.The-RandolphCapital.com
EQPMNTLEASING@aol.com
Asset Storage/Re-Marketing: Ohio & surrounding states. Providing no cost warehousing, condition reports, digital photos and remarketing of off-lease forklifts & industrial equipment. NAFTA wide dealer network. Email to GCochran@OhioLift.com
Asset Management: Oxnard-Hollywood Beach, CA
20 Years Exp. w/Equity Analysis/Placement- Residual Forecasting Methodologies Computer Equipment Assets. Portfolio Mgr. Two Major Leasing Companies/Strong Analyst Background w/Leading Info Services Firm.
E-mail: GregoryMLorenz@aol.com
Asset Management:
South East US- AllState Asset Management
Recovery, remarketing, inspections. 25 years experience, dedicated to deliver, prompt, professional services.
Call Brian @ 704-671-2376. brian.buchanan@allstateassetmgmt.com

Asset Management:

Global
Specializing in Semiconductor and Electronic Test Equipment collateral. Lender services include Consignment Sales, Remarketing, Portfolio Purchases, Inspections, De-installation, Repairs and Warehousing.
www.testequipmentconnection.com
mnovello@testequipmentconnection.com
All "Outsourcing" Classified ads (advertisers are both requested and responsible to keep their free ads up to date:
http://www.leasingnews.org/Classified/Outsourcing/Outsourcing.htm
How to Post a free "Outsourcing" classified ad:
http://www.leasingnews.org/Classified/Outsourcing/Outsourcing-post.htm


[headlines]
--------------------------------------------------------------

Louisville, Kentucky ---Adopt a Dog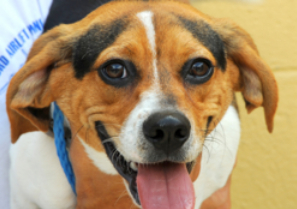 Barnaby
A402652
Medium • Young • Male
Neutered • Up-to-date with routine shots
"Barnaby is 9 months old and does well with other dogs. He is a wiggly, happy dog who relishes every chance he gets to meet new friends and explore new places. Beagles love to use their nose and really love to be able to go for walks every day to sniff till their heart's content. Beagles also love company, so Barnaby would probably be happiest if he had another dog to play with. Barnaby is so happy to get some attention, he can hardly sit still. He has to do a little salsa dance or run a few laps in the yard before he can focus properly. What a cute guy! If you would like to call/e-mail/visit us to ask about this dog, it is very helpful if you have the ID number (A402652) handy. Thanks!!
Metro Animal Services
Louisville, KY
502-574-5511
petfinder@louisvilleky.gov
www.louisvilleky.gov
Other Available Pets:
http://www.petfinder.com/pet-search?shelterid=KY102


Adopt-a-Pet by Leasing Co. State/City
http://www.leasingnews.org/Conscious-Top%20Stories/Adopt_Pet.htm

Adopt a Pet
http://www.adoptapet.com/


[headlines]
---------------------------------------------------------------



News Briefs ---


Five for FASB: Golden Appointed to Board
http://www.cfo.com/article.cfm/14525020/c_14524808
500 Franchise Leaders Gathered in Washington Senate Bill
http://www.franchise.org/Franchise-News-Detail.aspx?id=51916
Saab Showcases New Lease of Life
http://www.contracthireandleasing.com/car-leasing-news/index.php/2010/09/18/saab-showcases-its-new-lease-of-life/


You May have Missed---

Frozen Bread Now at Restaurants
http://www.boston.com/business/articles/2010/09/18/ restaurants_become_frozen_bread_converts_in_tight_economy/

Sports Briefs----
Colts Rout Rout Giants 34-18
http://www.indystar.com/article/20100919/SPORTS03/100919019/Colts-rout-Giants-38-14?odyssey=tab

Cowboys and Vikings: From Super Bowl contenders to 0-2 and uh-oh
http://mobile.latimes.com/wap/news/text.jsp?sid=294&nid=22322440&cid=16695&scid=-1&ith=0&title=Sports
http://www.dallasnews.com/sharedcontent/dws/spt/stories/092010dnspotaylor.10d6d613b.html

Michael Vick Shines in Eagles' 35-32 Win vs. Lions
http://www.nytimes.com/aponline/2010/09/20/sports/AP-FBN-Eagles-Lions.html?_r=1&hp

Washington Redskins' effort in overtime goes to waste as Houston Texans roar back for 30-27 victory
http://www.washingtonpost.com/wp-dyn/content/article/2010/09/19/AR2010091904039.html?hpid=artslot

Bears make statement, loud and clear
http://www.chicagotribune.com/sports/football/bears/chi-100919-haugh-bears-cowboys,0,6928755.column

Backup quarterback Bruce Gradkowski helps Oakland Raiders rally past St. Louis Rams
http://www.contracostatimes.com/sports/ci_16120406

Slide show: Raiders rally to beat Rams 16-14
http://www.contracostatimes.com/news/ci_16118977?nclick_check=1


California Nuts Briefs---
Can Whitman Transition to a Fish Bowl?
http://www.sacbee.com/2010/09/19/3038160/stuart-leavenworth-can-whitman.html

Oakland Councilwoman Victim of Purse Snatching
http://www.sacbee.com/2010/09/19/3041160/oakland-councilwoman-is-victim.html


"Gimme that Wine"

California Harvest Just a Big Guess
http://napavalleyregister.com/lifestyles/food-and-cooking/wine/columnists/dan-berger/article_138ba2cc-c20d-11df-8ca9-001cc4c03286.html

Harvest Twitt
http://www.winebusiness.com/twitter/harvest/

Head of Becnel Family Vineyards killed in ranch accident
http://www.pressdemocrat.com/article/20100918/ARTICLES/100919518/1350?Title=Head-of-Becnel-Family-Vineyards-killed-in-truck-accident

Three great boxed wines – yes, tasty 3-liter wines in a box exist
http://www.wineloverspage.com/eason/box0910.phtml
Free Mobile Wine Program
http://leasingnews.org/archives/Feb2010/2_26.htm#mobile
Wine Prices by vintage
http://www.winezap.com
http://www.wine-searcher.com/
US/International Wine Events
http://www.localwineevents.com/
Winery Atlas
http://www.carterhouse.com/atlas/\
Leasing News Wine & Spirits Page
http://two.leasingnews.org/Recommendations/wnensprts.htm

[headlines]
----------------------------------------------------------------
This Day in American History
1519 - Magellan started the first successful circumnavigation of the world.
1565 -Spaniards capture Fort Caroline, Florida and massacre the French.
1777- Paoli massacre; American troops surprised in midnight raid while they slept by overwhelming British troops.
http://www.bbc.co.uk/dna/h2g2/A482410
http://www.sar.org/history/paoli.htm
http://buckconner.tripod.com/
http://www.ushistory.org/march/phila/paoli_1.htm
1797- US frigate Constitution (Old Ironsides) launched in Boston
1830 -First National Black convention meets .Philadelphia, Pa.
1845-the Adirondack Tornado traveled on a 275 mile long track starting as a waterspout over Lake Ontario and then traveling as a tornado through New York State to exit as a waterspout again on Lake Champlain. The tree fall in the forest is still discernible
1850-Washington, DC—one of the provisions of the Compromise Act of 1850 abolished the slave trade in the country's capital.
http://memory.loc.gov/ammem/today/sep20.html
1854-Otis opens his factory to produce freight elevators.
(Bottom half of: http://memory.loc.gov/ammem/today/sep20.html )
1845-The Adirondack Tornado traveled on a 275 mile long track starting as a waterspout over Lake Ontario and then traveling as a tornado through New York State to exit as a waterspout again on Lake Champlain. The tree fall in the forest is still discernible
1863-After disastrous moves by Union General William Starke Rosecrans, a career officer, Confederate forces appeared to be carrying the third day at the Battle of Chickamauga in Tennessee. With Rosecrans in flight to Chattanooga, Union General Henry Thomas and his men held their position and repeatedly turned back a series of Southern attacks until being reinforced. Thomas's actions saved the Union forces from a complete rout and earned him the nickname, " Rock of Chickamauga." Rosecrans was relieved of his command.
http://ngeorgia.com/history/chicka.html
http://www.militaryhistoryonline.com/civilwar/chickamauga/
http://www.southernbattlefieldtours.com/
http://www.jatruck.com/stonewall/chickamauga.html
http://www.wright.edu/~martin.maner/morton.html
1873-To avoid Financial Panic, it was announced the Stock Market would close for ten days. For the first time in its history, the New York Stock Exchange was forced to close because of a banking crisis. Although the worst of the panic and crisis was over within a week, the psychological effect on businessmen, investors and the nation at large was more lasting during.
1878- Birthday of Upton Sinclair, American novelist and politician born at Baltimore, MD. He worked for political and social reforms, and his best-known novel, "The Jungle," prompted one of the nation's first pure food laws. Died at Bound Brook, NJ, Nov 25, 1968.
1881 - Chester A. Arthur was sworn in as the 21st president of the United States, succeeding James A. Garfield, who had been assassinated.
1884- The Equal Rights Party was formed at San Francisco, CA. Its candidate for president, nominated in convention, was Mrs. Belva Lockwood. The vice presidential candidate was Marietta Stow.
1885-Birthday of composer/singer/piano player Ferdinand "Jelly Roll" Morton. He claimed to have "invented" jazz music. Many historians say he was not bragging when he made the claim.
"If you want my fricassee, you're going to have to chase me down, If you want my jelly roll, you're going to have to treat me better Here's a nickel, send the boy down for another bucket of beer."
http://www.redhotjazz.com/jellyroll.html
http://www.jazzradio.org/jelly.htm
http://lcweb.loc.gov/exhibits/treasures/tri007.html
http://atj.8k.com/noartist/atjmorton.html
http://www.duke.edu/~nbp/jellylife.html
http://www.redhotjazz.com/redhot.html
1879- US President U.S. Grant comes to SF for elaborate extended visit.
1909-A strong hurricane made landfall in southeastern Louisiana. A 15 foot storm surge flooded the Timbalier Bay area. 350 people perished
1916- Anniversary of first meeting of National Research Council, at New York, NY. Formed at request of President Woodrow Wilson for".., encouraging the investigation of natural phenomena. .. "for American business and national security.
1920- Trumpeter Joe Guy born.
1926 - A hurricane which hit Miami, FL, on the 18th, pounded Pensacola with wind gusts to 152 mph. Winds raged in excess of 100 mph for four hours, and above 75 mph for 20 hours.
1934-Birthday of Sophia Loren, Italian-American actor of great earthy beauty and outstanding acting ability. She won Academy Award for her work in Women (1961) and was nominated for her work in Marriage Italian Style (1964). She got her start in Italian movies as a sex-kitten, developed into a strong actor, and aged into a role model. In 1991, she was awarded an honorary Oscar for her outstanding career. Her Italian comedies, especially Yesterday, Today, and Tomorrow (1963) show her great versatility.
1940- Claude Thornhill Band cuts first records in Hollywood, 1940. Gil Evans joins him next year, and some plays in his band included Charlie Parker, Miles Davis, Lee Konitz, Gerry Mulligan, and many other post bop modernists.
1944--POPE, EVERETT PARKER Medal of Honor
Rank and organization: Captain, U.S. Marine Corps, Company C, 1st Battalion, 1st Marines, 1st Marine Division. Place and date: Peleliu Island, Palau group, 19-20 September 1944. Entered service at: Massachusetts. Born: 16 July 1919, Milton, Mass. Citation: For conspicuous gallantry and intrepidity at the risk of his life above and beyond the call of duty while serving as commanding officer of Company C, 1st Battalion, 1st Marines, 1st Marine Division, during action against enemy Japanese forces on Peleliu Island, Palau group, on 19-20 September 1944. Subjected to pointblank cannon fire which caused heavy casualties and badly disorganized his company while assaulting a steep coral hill, Capt. Pope rallied his men and gallantly led them to the summit in the face of machinegun, mortar, and sniper fire. Forced by widespread hostile attack to deploy the remnants of his company thinly in order to hold the ground won, and with his machineguns out of order and insufficient water and ammunition, he remained on the exposed hill with 12 men and 1 wounded officer determined to hold through the night. Attacked continuously with grenades, machineguns, and rifles from 3 sides, he and his valiant men fiercely beat back or destroyed the enemy, resorting to hand-to-hand combat as the supply of ammunition dwindled, and still maintaining his lines with his 8 remaining riflemen when daylight brought more deadly fire and he was ordered to withdraw. His valiant leadership against devastating odds while protecting the units below from heavy Japanese attack reflects the highest credit upon Capt. Pope and the U.S. Naval Service.
1945 -- Rocket scientist Von Braun arrives in the U.S.A. under the auspices of "Operation Paperclip" — a program that was supposed to exclude Nazis, but in fact became a cover for "rehabilitating" them. His dossier was rewritten so he didn't appear to have been an ardent Nazi. See the NASA site for the sanitized Werner.
http://liftoff.msfc.nasa.gov/academy/history/VonBraun/VonBraun.html
Operation Paperclip case file
http://www.wikipedia.org/wiki/Operation_Paperclip
http://members.austarmetro.com.au/~hubbca/operation_paperclip.htm
1946---Top Hits
To Each His Own - Eddy Howard
Five Minutes More - Frank Sinatra
Surrender - Perry Como
Wine, Women and Song - Al Dexter
1948 - The Four Freshmen, one of the most popular singing groups of the 1950s, got their first gig in Fort Wayne, Indiana. They went on to major success with Capitol Records. Hits included "It's a Blue World", "Charmaine" and "Love is Just Around the Corner".
1950-COMMISKEY, HENRY A., SR. Medal of Honor
Rank and organization: First Lieutenant (then 2d Lt.), U.S. Marine Corps, Company C, 1st Battalion, 1st Marines, 1st Marine Division (Rein.). Place and date: Near Yongdungp'o, Korea, 20 September 1950. Entered service at: Hattiesburg, Miss. Birth: 10 January 1927, Hattiesburg, Miss. Citation: For conspicuous gallantry and intrepidity at the risk of his life above and beyond the call of duty while serving as a platoon leader in Company C, in action against enemy aggressor forces. Directed to attack hostile forces well dug in on Hill 85, 1st Lt. Commiskey, spearheaded the assault, charging up the steep slopes on the run. Coolly disregarding the heavy enemy machine gun and small arms fire, he plunged on well forward of the rest of his platoon and was the first man to reach the crest of the objective. Armed only with a pistol, he jumped into a hostile machine gun emplacement occupied by 5 enemy troops and quickly disposed of 4 of the soldiers with his automatic pistol. Grappling with the fifth, 1st Lt. Commiskey knocked him to the ground and held him until he could obtain a weapon from another member of his platoon and killed the last of the enemy gun crew. Continuing his bold assault, he moved to the next emplacement, killed 2 more of the enemy and then led his platoon toward the rear nose of the hill to rout the remainder of the hostile troops and destroy them as they fled from their positions. His valiant leadership and courageous fighting spirit served to inspire the men of his company to heroic endeavor in seizing the objective and reflect the highest credit upon 1st Lt. Commiskey and the U.S. Naval Service.
1950-MONEGAN, WALTER C., JR. Medal of Honor
Rank and organization: Private First Class, U.S. Marine Corps, Company F, 2d Battalion, 1st Marines, 1st Marine Division (Rein.). Place and date: Near Sosa-ri, Korea, 17 and 20 September 1950. Entered service at: Seattle, Wash. Born: 25 December 1930, Melrose, Mass. Citation: For conspicuous gallantry and intrepidity at the risk of his life above and beyond the call of duty while serving as a rocket gunner attached to Company F, and in action against enemy aggressor forces. Dug in on a hill overlooking the main Seoul highway when 6 enemy tanks threatened to break through the battalion position during a predawn attack on 17 September, Pfc. Monegan promptly moved forward with his bazooka, under heavy hostile automatic weapons fire and engaged the lead tank at a range of less than 50 yards. After scoring a direct hit and killing the sole surviving tank man with his carbine as he came through the escape hatch, he boldly fired 2 more rounds of ammunition at the oncoming tanks, disorganizing the attack and enabling our tank crews to continue blasting with their 90-mm guns. With his own and an adjacent company's position threatened by annihilation when an overwhelming enemy tank-infantry force bypassed the area and proceeded toward the battalion command post during the early morning of September 20, he seized his rocket launcher and, in total darkness, charged down the slope of the hill where the tanks had broken through. Quick to act when an illuminating shell lit the area, he scored a direct hit on one of the tanks as hostile rifle and automatic-weapons fire raked the area at close range. Again exposing himself, he fired another round to destroy a second tank and, as the rear tank turned to retreat, stood upright to fire and was fatally struck down by hostile machine gun fire when another illuminating shell silhouetted him against the sky. Pfc. Monegan's daring initiative, gallant fighting spirit and courageous devotion to duty were contributing factors in the success of his company in repelling the enemy, and his self-sacrificing efforts throughout sustain and enhance the highest traditions of the U.S. Naval Service. He gallantly gave his life for his country.
1953- "The Loretta Young Show, "NBC half-hour dramatic anthology series (initially titled "Letter to Loretta") hosted by and frequently starring Oscar-winning actress Loretta Young. At the beginning of each episode Young would swirl through a door in a spectacular gown. Young garnered two Emmys during the show's eight-year run. In 1972 it was reported that Young had been awarded $559,000 in a suit against NBC for syndicating reruns of the show without her permission. Young did not want them shown because her clothes and hairstyles in the shows were long out of date by the 70s.
http://www.museum.tv/archives/etv/L/htmlL/lorettayoung/lorettayoung.htm
1954---Top Hits
Sh-Boom - The Crew Cuts
Skokiaan - The Four Lads
The High and the Mighty - Les Baxter
I Don't Hurt Anymore - Hank Snow
1954- First FORTRAN computer program run.
1955- "The Phil Silvers Show" premiered. This popular half-hour sitcom starred Phil Silvers as Sergeant Ernie Bilko, a scheming but good-natured con man whose schemes rarely worked out. Guest stars included Fred Gwynne, Margaret Hamilton, Dick Van Dyke and Alan Alda in his first major TV role. The character of Sergeant Bilko was featured in a movie of the same title in the mid-90s.
http://www.classictvhits.com/shows/philsilvers/
http://www.museum.tv/archives/etv/P/htmlP/philsilvers/philsilvers.htm
http://www.timvp.com/bilko.html
1957- "The Thin Man, " the famous crime-solving duo of Nick and Nora was brought to TV after appearing in a novel by Dashiell Hammett ( whom my son was named after ) and a film series. This half-hour crime series featured Peter Lawford as Nick Charles, a former private eye who still engaged in it for fun, and Phyllis Kirk as his wife and partner Nora. Jack Albertson played Lieutenant Harry Evans, and their pet dog Asta was played by Asta.
http://www.tvtome.com/tvtome/servlet/ShowMainServlet/showid-4845
http://www.imdb.com/title/tt0050067/
1957-" M Squad" premiere on television. My father Lawrence Menkin wrote many episodes. This half-hour crime series had a catchy theme song composed by Count Basie and Lee Marvin ( who lived down the street from us ) as Lieutenant Frank Ballinger, a Chicago cop assigned to a unit that investigates murders (the M Squad). Paul Newlan played his supervisor Captain Grey. In one episode, "The Teacher" (1959), Burt Reynolds played one of his first major roles.
http://www.tvtome.com/tvtome/servlet/ShowMainServlet/showid-10833/
http://us.imdb.com/title/tt0050035/
http://www.classicthemes.com/50sTVThemes/themePages/mSquad.html
http://www.robertsvideos.com/browse.php3?alpha=M&PHPSESSID=
903bb0eba588af838544f84de9843928
1959-- Losing to the Dodgers, 8-2, the San Francisco Giants play their last game at Seals Stadium. The transplanted New York team, which compiled an 86-68 in their two-year stay in the former PCL park, will move to the newly constructed Candlestick Park next season.
1961 - In a 13-inning contest, Sandy Koufax goes the distance beating the Cubs, 3-2, in the last regular season game to be played at the LA Memorial Coliseum, which was originally built for the 1932 Olympics. The Dodgers are leaving the only home they have known since moving from Brooklyn four seasons ago to play in a brand new stadium in Chavez Ravine, located a few miles from downtown Los Angeles.
1961- Roger Maris hits home run # 59 & barely misses # 60 in game 154 of the season. Yanks clinch pennant #26.
1962---Top Hits
Sheila - Tommy Roe
Ramblin' Rose - Nat King Cole
Green Onions - Booker T. & The MG's
Devil Woman - Marty Robbins
1965-PIERCE, LARRY S. Medal of Honor
Rank and organization: Sergeant, U.S. Army, Headquarters and Headquarters Company, 1st Battalion (Airborne), 503d Infantry, 173d Airborne Brigade. Place and date: Near Ben Cat, Republic of Vietnam, 20 September 1965. Entered service at: Fresno, Calif. Born: 6 July 1941, Wewoka, Okla. G.O. No.: 7, 24 February 1966. Citation: For conspicuous gallantry and intrepidity at the risk of life above and beyond the call of duty. Sgt. Pierce was serving as squad leader in a reconnaissance platoon when his patrol was ambushed by hostile forces. Through his inspiring leadership and personal courage, the squad succeeded in eliminating an enemy machinegun and routing the opposing force. While pursuing the fleeing enemy, the squad came upon a dirt road and, as the main body of his men entered the road, Sgt. Pierce discovered an antipersonnel mine emplaced in the road bed. Realizing that the mine could destroy the majority of his squad, Sgt. Pierce saved the lives of his men at the sacrifice of his life by throwing himself directly onto the mine as it exploded. Through his indomitable courage, complete disregard for his safety, and profound concern for his fellow soldiers, he averted loss of life and injury to the members of his squad. Sgt. Pierce's extraordinary heroism, at the cost of his life, is in the highest traditions of the U.S. Army and reflect great credit upon himself and the Armed Forces of his country.
1967-Hurricane Beulah struck south Texas with gusts to 136 mph near Brownsville. The storm was a slow mover and Pettus, TX had 27.38 inches. The hurricane also spawned 115 tornadoes in south Texas, the greatest ever for a hurricane. 13 people perished and damage was set at $200 million
1968-Mickey Mantle of the New York Yankees hit the final home run of his career against Jim Longborg of the Boston Red Sox. Mantle finished with 536 homes.
http://www.baseballhalloffame.org/hofers_and_honorees/plaques/mantle_mickey.htm
http://www.mickeymantle.org/index2.html
http://www.themick.com/
1969 - "Sugar, Sugar", by the Archies, hit number one in "Billboard". The Archies sat at the top of the hit heap for four weeks.. The pop group never actually existed, as it was based on the popular comic strip. Two studio singers did all the vocals. Sugar, Sugar sold over 3 million copies, and according to Billboard, was the top-selling single for the year.
1970---Top Hits
Ain't No Mountain High Enough - Diana Ross
Lookin' Out My Back Door/Long as I Can See the Light - Creedence Clearwater Revival
Patches - Clarence Carter
For the Good Times - Ray Price
1973- Billie Jean King defeated Bobby Riggs in the nationally televised "Battle of the Sexes" tennis match in three straight sets.
1975-Bruce Springsteen's "Born To Run" single is released.
1975-David Bowie's "Fame" hits #1 on the singles chart and stays there for two weeks, while Bad Company's "Feel Like Making Love" peaks at #10 on the chart.
1976 -Playboy releases Jimmy Carter's interview that he lusts for women.
1976-The Captain and Tennille musical variety show premiered on ABC TV.
1977- "Lou Grant" premiered . This hour-long dramatic series was a spin-off of "The Mary Tyler Moore Show." Ed Asner reprised his role as newspaper editor Lou Grant, now a city editor for the Los Angeles Tribune. The show tackled many serious issues, including child abuse, gun control and the plight of Vietnamese refugees. The cast included Mason Adams, Nancy Marchand, Jack Bannon, Robert Walden, Daryl Anderson, Rebecca Balding, Linda Kelsey, Allen Williams and EmHio Delgado. This series was an unusual spin-off because it was the first time a character left a sitcom to headline a drama.
http://www.cinerhama.com/tvpage/seventies/lougrant1.html
http://www.museum.tv/archives/etv/L/htmlL/lougrant/lougrant.htm
1978---Top Hits
Boogie Oogie Oogie - A Taste of Honey
Three Times a Lady - Commodores
Hot Blooded - Foreigner
I've Always Been Crazy - Waylon Jennings
1978-The Who's "Who Are You" LP goes gold.
1980-Billy Joel's "Don't Ask Me Why" peaks at #19 on the singles chart while Peter Gabriel's "Games Without Frontiers" peaks at #48, The Kinks' "Lola" re-enters the chart and peaks at #81; Bob Seger's "You'll Accomp'ny Me" peaks at #14 and Pete Townshend's "Let My Love Open The Door" peaks at #9
1982-Joan Jett and the Blackhearts' "I Love Rock and Roll" is certified platinum. The hit is the title track from Jett's second album with the Blackhearts.
1983 - The temperature at West Yellowstone MT plunged to six degrees below zero, while the temperature at San Francisco CA soared to 94 degrees.
1984- Four days of heavy rains come to an end in extreme south Texas. Port Isabel recorded a total of 21.27 inches while Brownsville, TX had 15.19 inches. Brownsville International Airport was closed for 4 days due to extensive flooding. Total damage $30 million
1984-"The Cosby Show" Premiers on Television. The Emmy Award-winning comedy set in New York City revolved around the members of the Huxtable family. Father Dr. Heathcliff Huxtable was played by Bill Cosby, his wife Clair, an attorney, was played by Phylicia Rashan. Their four daughters were played by Sabrina Le Beauf(Sondra), Lisa Bonet ( Denise) Tempest Bledsoe( Vanessa) and Keshia Knight Pulliam (Rudy)(. Malcolm-Jamar Warner played son Teheo. By the end of the series in 1992.The two oldest daughters had finished college and were married. "A Different World" was a spin-o0ff set at historical-black Hillman College where Denise was a student.
http://us.imdb.com/title/tt0086687/
http://www.tvland.com/nickatnite/cosby_show/
http://www.museum.tv/ETV/C/htmlC/cosbyshowt/cosbyshowt.htm
1985-Tom Petty and the Heartbreaker's "Southern Accents" LP is certified platinum.
1986 - The number one pop hit in the U.S. was "Stuck With You", by Huey Lewis & The News. The song, from the multi-platinum album "Fore!", was stuck at #1 for three weeks.
1986---Top Hits
Stuck with You - Huey Lewis & The News
Dancing on the Ceiling - Lionel Richie
Friends and Lovers - Gloria Loring & Carl Anderson
Got My Heart Set on You - John Conlee
1988 -Red Sox Wade Boggs becomes first player in this century to get 200 hits in six consecutive years.
1989 - Hugo jilted Iris. Hurricane Hugo churned toward the South Atlantic Coast, gradually regaining strength along the way. Tropical Storm Iris got too close to Hugo, and began to weaken. A cold front brought strong and gusty winds to the Great Basin and the Southern Plateau Region, with wind gusts to 44 mph reported at Kingman AZ.
1994---Top Hits
I ll Make Love To You- Boyz II Men
Stay (I Missed You) (From "Reality Bites")- Lisa Loeb
Endless Love- Luther Vandross
When Can I See You-Babyface
1995 - AT&T announced that it would be splitting into three companies: today's AT&T (communication services); Lucent Technologies (systems and technology communications products); and NCR Corp. (computer business).
1996 - The hit comedy film, The First Wives Club, starring Goldie Hawn, Bette Midler, Diane Keaton, Dame Maggie Smith, and Sarah Jessica Parker, opened in United States theaters.
1998- Cal Ripken's streak ends at 2,632 consecutive games as he does not appear in the lineup for the first time since May 29,1982.
1999---Top Hits
Unpretty- TLC
She s All I Ever Had- Ricky Martin
Bailamos- Enrique Iglesias
Genie In A Bottle- Christina Aguilera
2001 - President Bush addresses joint session of Congress in response to 9/11 attacks, proposing a new Office of Homeland Security.
2003- When Marcus Giles sends Brad Penny's 3-2 pitch into the stands, the Braves tie the National League record by having six players to hit at least 20 home runs in season. Along with the Atlana's second baseman , Javy Lopez, Gary Sheffield, Andruw Jones, Chipper Jones and Vinny Castilla equals the mark established by Eddie Mathews (32), Hank Aaron (32), Joe Torre (27), Felipe Alou (23) Mack Jones (31) and Gene Oliver (21) of the 1965 Milwaukee Braves.
2003---Top Hits
Shake Ya Tailfeather- Nelly, P. Diddy & Murphy Lee
Baby Boy- Beyonce Featuring Sean Paul
Right Thurr- Chingy
Disturbing Tha Peace | 77995 | Capitol
Get Low- Lil Jon & The East Side Boyz Featuring Ying Yang Twins
2008- After a moving ceremony celebrating the history of the 85-year old ballpark, New York beat the Orioles in the last game ever to be played at Yankee Stadium, 7-3. Julia Ruth Stevens, the Babe's daughter, throws out the ceremonial first pitch with Bronx Bomber's backstop Jose Molina hitting the last home run in the 'House Ruth Built'.
[headlines]
--------------------------------------------------------------
Baseball Poem


Barry Bonds Hits his 700th Home Run
By Kit Menkin
(Our neighbors are season ticket holders for the San Francisco Giants and invited us to this game to sit with them. Sue snapped a picture of Bonds just as his bat hit the ball. She took an entire set of pictures of the event. To mark the occasion, I wrote the poem about the 700th Home Run.)
He swaggered to the plate,
like Elvis Presley going on stage
Joe Louis entering the ring,
Taking care of business
The fans knew he would hit 700---
They stood as the Giants were leading
in the first inning
But the Pitcher hit Bonds in the chest
He shrugged it off,
like Elvis Presley going on stage,
Walking to first base,
Knowing he would score a run.
The field was more lit up than Las Vegas,
Bright, surreal, as if this was a movie set,
The players moving in slow motion
as the pitcher tried to take control.
The third inning the fans stood up again,
This time the ball came in for a strike,
as the pitcher had the guts with a fast ball,
It happened so fast.
Bonds swung in stride,
Moving in this baseball ballet,
Knowing the ball was his,
Taking care of business.
He ran the bases,
Went back to the dug out,
as the crowd went wild,
699 was changed to 700,
a new "legend" sign was revealed.
He did not come out again,
until the new inning
Walking to the right field,
next to the new "legend" banner.
He threw the ball several times
to the coach on the side line,
As the crowd continued to roar,
camera flash lights from the stadium.
He popped out the next time,
almost as if he swung too soon.
His run to first was fast than slow
as he watched the ball tell him no.
He came up to bat one more time,
Determined, seemingly angry,
Ready to make up for the last time,
It wasn't a swagger.
Don't treat me this way,
I'm going to hit it far,
Two strikes and he swung so hard,
if he had connected,
It would have gone to Treasure Island,
The swing had so much power,
You could feel it in the stands.
Afterwards he was happy,
His team won Four to One;
on Saturday he hit 701
Taking care of business.
--------------------------------------------------------------

SuDoku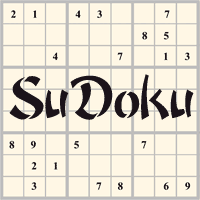 The object is to insert the numbers in the boxes to satisfy only one condition: each row, column and 3x3 box must contain the digits 1 through 9 exactly once. What could be simpler?
http://leasingnews.org/Soduku/soduko-main.htm
--------------------------------------------------------------

Daily Puzzle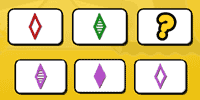 How to play:
http://www.setgame.com/set/puzzle_frame.htm
Refresh for current date:
http://www.setgame.com/set/puzzle_frame.htm
--------------------------------------------------------------


http://www.gasbuddy.com/
http://www.gasbuddy.com/GB_Map_Gas_Prices.aspx
http://www.gasbuddy.com/GB_Mobile_Instructions.aspx
--------------------------------------------------------------

Weather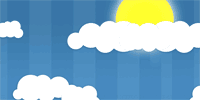 See USA map, click to specific area, no commercials
--------------------------------------------------------------

Traffic Live---
Real Time Traffic Information
You can save up to 20 different routes and check them out with one click,
or type in a new route to learn the traffic live
--------------------------------