Friday, May 25, 2018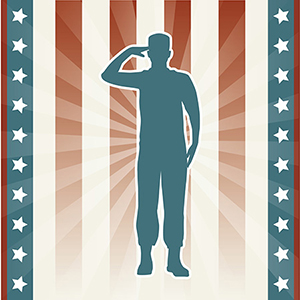 Today's Equipment Leasing Headlines
Federal Reserve Releases Report--Small Employer Firms
Most Frequently Applied for loans and lines of Credit
New Hires/Promotions in the Leasing Business
and Related Industries
Leasing Industry Ads---Help Wanted
Positions Available
ELFA Business Index for April, Inch Ahead of 1st Quarter,
But Down 13% from March, 2018
April Used Truck Prices Stronger Than Expected
By Jack Roberts, Truckinfo.com
Who Would Be Hit Hardest by a U.S. Tariff on Cars?
By Felix Richter, Statista.com
Where the U.S. Gets its Steel
By Martin Armstrong, Statistica.com
Live Oak Bank Announces New Lending
Segment for Franchise Restaurants
The Best Years of Our Lives/Men in War
MASH/The Deer Hunter/
Memorial Day Edition by Leasing News' Fernando Croce
German Shepherd Dog
New Rochelle, New York Adopt a Dog
Lending Tree Reports Credit Ratings to Them are Improving
Here's Why:
News Briefs---
Auto defaults fall below 1% for first time this year
Consumer Borrowing is expanding as economy continues to grow
Mortgage interest rates 2018: Rates hit 7-year high,
slow home sales
Bankshot Get ready for some big bank deals
By Paul Davis, American Banker
Lease accounting standards: are multinationals sitting
on a 'leaseberg' of huge proportions?
Deutsche Bank reportedly set to lay off 10,000 workers
10 percent of its workforce, through next year
Irish developer walks away from plan to build
20,000 homes on South Works site
'Mustang Means Freedom':
Why Ford Is Saving an American Icon
Commerce Dept. Initiates Inquiry That Could Lead to Tariffs
on Foreign Cars: "imports have eroded our domestic auto industry"
Broker/Funder/Industry Lists | Features (wrilter's columns)
Top Ten Stories Chosen by Readers | Top Stories last six months
www.leasingcomplaints.com (Be Careful of Doing Business)
www.evergreenleasingnews.org
Leasing News Icon for Android Mobile Device
You May have Missed---
Poem
Sports Brief----
California Nuts Brief---
"Gimme that Wine"
This Day in History
SuDoku
Daily Puzzle
GasBuddy
Weather, USA or specific area
Traffic Live----
######## surrounding the article denotes it is a "press release," it was not written by Leasing News nor has the information been verified. The source noted. When an article is signed by the writer,
it is considered a "byline." It reflects the opinion and research of the writer.
Please send a colleague and ask them to subscribe. We are free
Email kitmenkin@leasingnews.org and in subject line: subscribe



[headlines]
--------------------------------------------------------------
Federal Reserve Releases Report--Small Employer Firms
Most Frequently Applied for loans and lines of Credit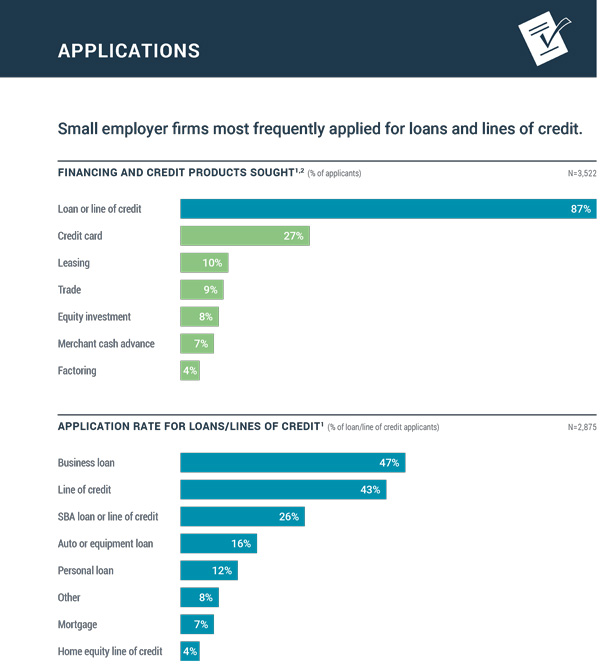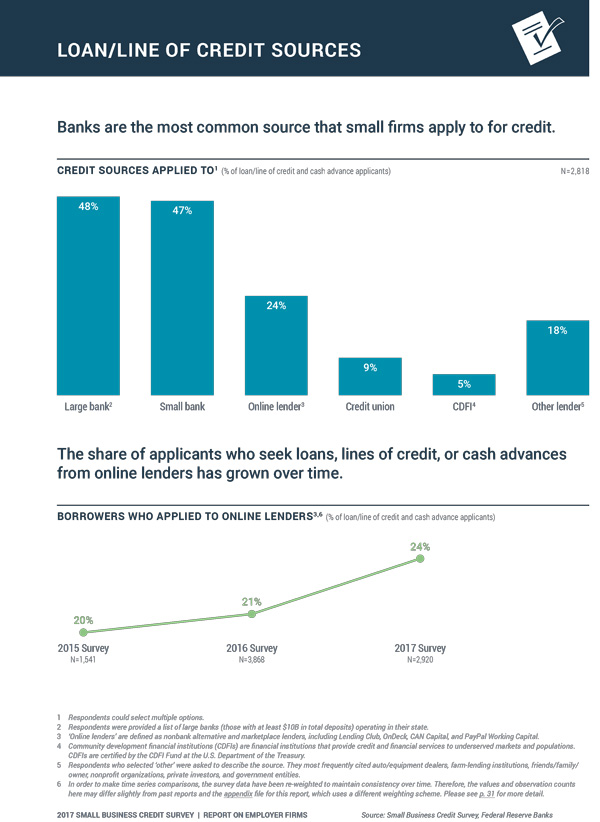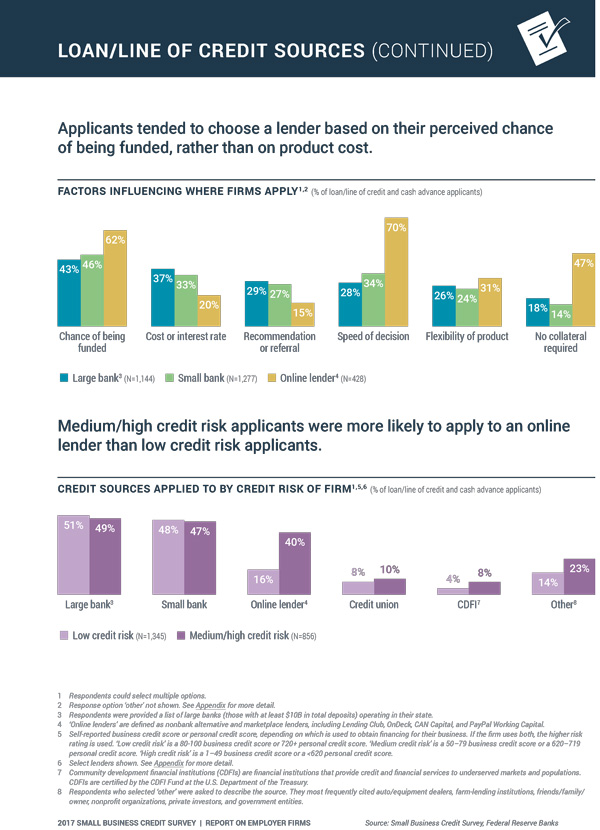 Full Federal Reserve Small Business Credit Survey (42 pages)
https://www.fedsmallbusiness.org/medialibrary/fedsmallbusiness/files/2018/sbcs-employer-firms-report.pdf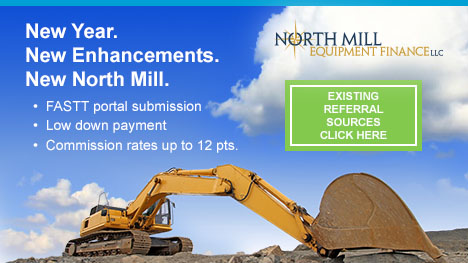 [headlines]
--------------------------------------------------------------
New Hires/Promotions in the Leasing Business
and Related Industries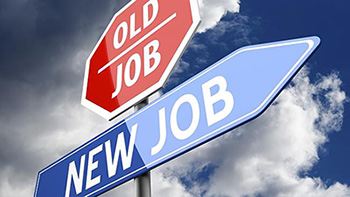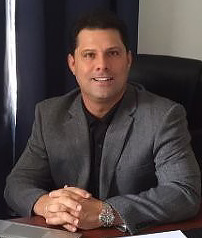 Anthony Salam was hired at First National Capital, Foothill Ranch, California, to head up their East Coast Office in Cleveland, Ohio. Previously, he was Managing Partner, Lexant Capital Corp. (January, 2018 - May, 2018); Senior Managing Director, Co-Founder, Iron City Capital Funding (May, 2016 - January, 2018); President, Managing Director, Patriot Equipment Finance, where he is one of the co-founders. (January, 2015 - April, 2016): Senior Vice President, CG Commercial Finance (July 2014 –December 2014); Regional V.P. Ohio Operations, First National Capital (January 2005 – July 2011); Regional Sales Manager, Tokia Bank (1994 – 1996). Education: Cornell University Financial Management Certification (2014 – 2014); Ashington University, Executive MBA Studies, Strategic Market Management (2003 – 2004). Concordia College, Bachelor of Business Administration (B.B.A.). Northern Michigan University, Business Administration and Management, General. St. Edward High School, College Preparatory.
https://www.linkedin.com/in/anthony-j-salm-b523ab7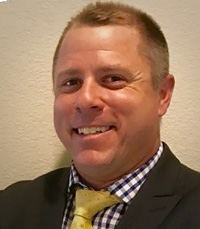 Travis Popcock was hired as SVP, Business Development Manager, ENGS Commercial Capital, LLC, a division of Engs Commercial Finance, Lisle, Illinois. He is located in the Greater Denver Area. Previously, he was at LSQ, starting July, 2008, as Vice President, Business Development; promoted January, 2015, Senior Vice President, Regional Executive, Sales Leader; promoted February, 2017, Senior Vice President, Partnership Director. Prior, he was Vice President, IronStone Bank (February, 2007 P May, 2008); Branch Manager, US Bank (February, 2003 - January, 2007). Education: Metropolitan State College of Denver. BS, Finance. https://www.linkedin.com/in/travispocock/
Nelly Sanchez was hired by First Foundation Bank, Oakland, California, as a Loan Operations Assistant in the Equipment Finance Department. She is located at the bank branch in Irvine, California. "While servicing the equipment finance and leasing needs of the bank's customers and prospects, the primary growth engine for this department is through third party originations." Sanchez was most recently a loan processor within the real estate industry. Previously, she held positions in the home mortgage and home-owners association lending.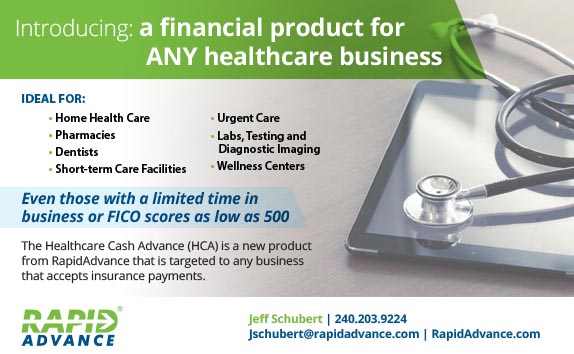 [headlines]
--------------------------------------------------------------
Leasing Industry Ads---Help Wanted
Now's the Time to Apply



[headlines]
--------------------------------------------------------------
ELFA Business Index for April, Inch Ahead of 1st Quarter,
But Down 13% from March, 2018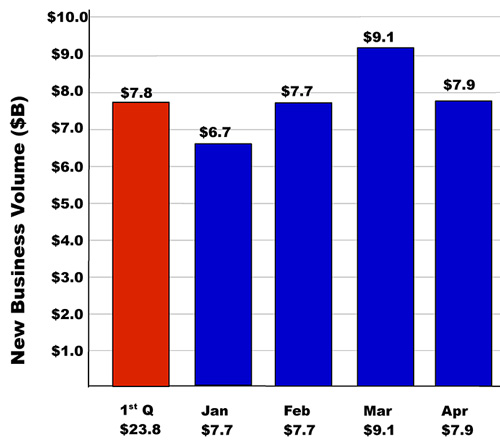 (Chart: Leasing News)
The Equipment Leasing and Finance Association's (ELFA) Monthly Leasing and Finance Index (MLFI-25) reports April was up $7.9 billion, up 9% compared to 2017 but down 13% to March, 2018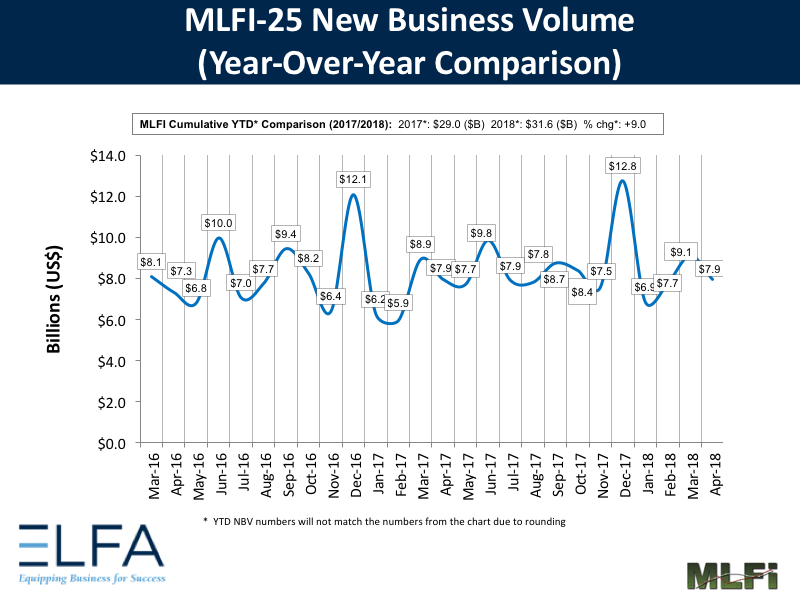 click to make larger
Receivables over 30 days were 2.40 percent, up from 1.70 percent the previous month and up from 1.30 percent the same period in 2017.
Charge-offs were 0.30 percent, down from 0.51 percent the previous month, and down from 0.38 percent in the year-earlier period.
Credit approvals totaled 76.2 percent in April, up from 75.2 percent in March.
Total headcount for equipment finance companies was up 0.7 percent year over year. During 2017, headcount was elevated due to acquisition activity at an MLFI reporting company.
Separately, the Equipment Leasing & Finance Foundation's Monthly Confidence Index (MCI-EFI) in May is 64.6, down from the April index of 68.3.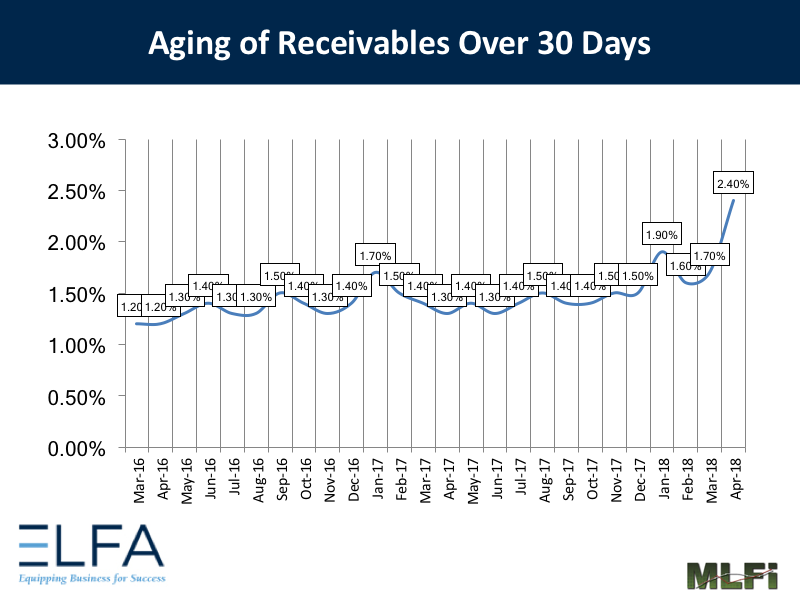 click to make larger

[headlines]
--------------------------------------------------------------
April Used Truck Prices Stronger Than Expected
By Jack Roberts, Truckinfo.com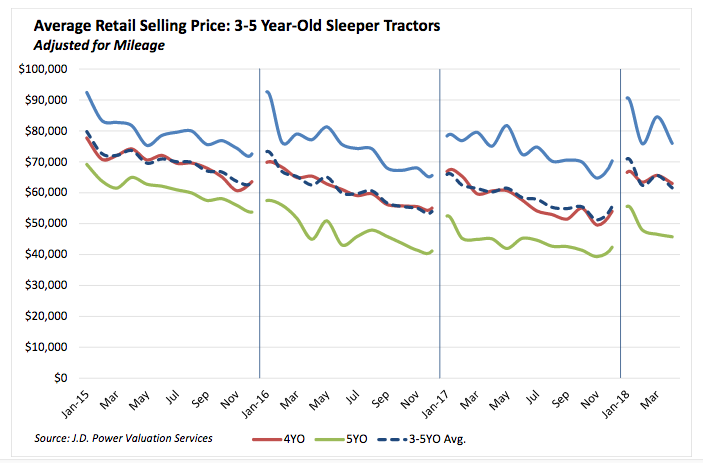 A lower-than-expected volume of trade-ins has allowed used Class 8 truck values to remain strong, while medium-duty segments are mixed, according to the J.D. Power & Associates survey of the used truck market in April.

According to the report:
2015 model year Class 8 sleeper trucks sold for an average of $45,500, netting $4,750 (11.7%) more money than in March.
2014 model year Class 8 sleeper trucks sold for an average of $34,000, netting $1,250 (3.5%) less money than in March.
2013 model year Class 8 sleeper trucks sold for an average of $33,250, netting $1,750 (5.6%) more money than in March.
2012 model year Class 8 sleeper trucks sold for an average of $26,500, netting $500 (1.9%) less money than in March.
2011 model year Class 8 sleeper trucks sold for an average of $25,500, netting $4,750 (22.9%) more money than in March.
Medium-duty used truck numbers bounced back somewhat after a flat February. Medium-duty segments were mixed in March, with cabovers recovering from a weak February and conventionals flat to downwards.
Class 3-4 cabovers sold for an average of $16,486 in March, up $2,292 (16.1%) higher than in February.
Class 4 conventional truck trucks lost ground for the second month in a row, averaging $18,921 in March, $1,369 lower than in February.
Class 6 conventional trucks sold for an average of $19,945, $112 lower (0.6%) than in February.
Looking ahead, J.D. Power expects the supply of used trucks to increase noticeably as the second quarter unfolds, but also that demand has imporved in recent months, which will keep depreciation at around the 2% level by year's end.
[headlines]
--------------------------------------------------------------
Who Would Be Hit Hardest by a U.S. Tariff on Cars?
By Felix Richter, Statista.com
By Felix Richter, Statista.com
https://www.statista.com/chart/13248/us-import-partners-for-cars/
[headlines]
--------------------------------------------------------------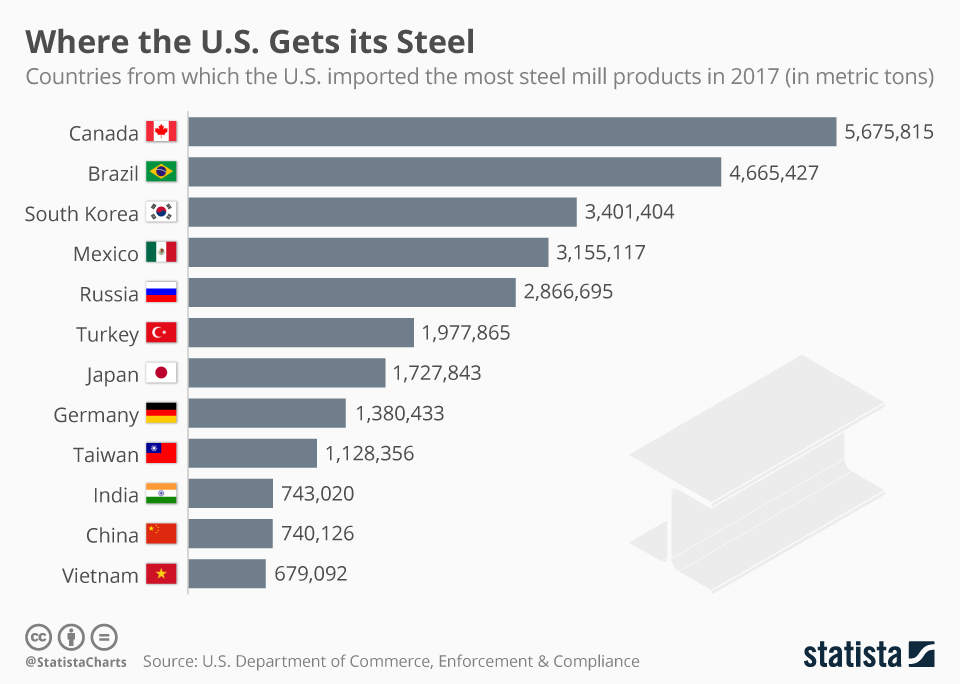 While China is often accused of damaging the US economy by flooding the market with cheap steel, they were actually only the 11th largest import country last year. In actual fact, the countries which will be hit the hardest by these new tariffs are in some cases key allies of the United States. Canada, for example, was the most important steel partner in 2017 with a total of 5.7 million metric tons flowing across the border.
By Martin Armstrong, Statistica.com
https://www.statista.com/chart/13107/where-the-us-gets-its-steel/

[headlines]
--------------------------------------------------------------
##### Press Release ############################
Live Oak Bank Announces New Lending
Segment for Franchise Restaurants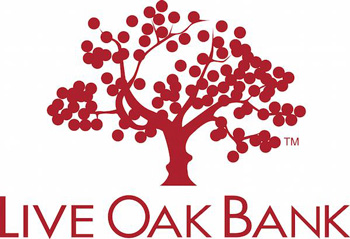 WILMINGTON, N.C., -- Live Oak Bank announced it has officially launched a new lending division focused on financing for the franchise restaurant industry. The vertical marks Live Oak's 18th industry specific lending division and will include all franchise businesses from quick service and fast-casual to full-service dining.
Live Oak Bank assembled an experienced team to provide flexible lending solutions to current and prospective business owners within a variety of deal structures. The team has extensive lending and industry experience and knows how to value franchise restaurant businesses.
Led by general manager Lew Woodbury, the team includes senior loan officers Sims Richardson and Brian Faulk. Jeff Brock, a 25-year veteran of the banking and investment industry and managing partner at Hargett Hunter Capital Management, will provide guidance as the team's industry expert.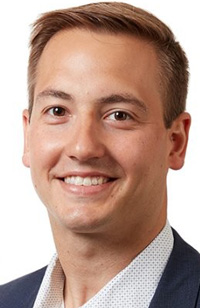 Jason Lumpkin, General Manager of Emerging Markets at Live Oak Bank, said, "The franchise restaurant industry is one of the fastest growing in the U.S. and our team has the extensive knowledge owners need to grow their business," said. "Live Oak is dedicated to helping customers meet their goals and provide ongoing recommendations along the way."
As one of the nation's top lenders for the SBA and USDA loan programs, Live Oak offers clients across the country financing options that meet their unique business needs. The franchise restaurant team is equipped to provide customers with loans that support business acquisition, expansion and working capital.
To learn more about Live Oak Bank and its services for franchise restaurants, visit www.liveoakbank.com/restaurants.
About Live Oak Bank
Live Oak Bank, a subsidiary of Live Oak Bancshares, Inc. (Nasdaq: LOB), is a digitally focused, FDIC-insured bank serving customers across the country. Live Oak brings efficiency and excellence to the banking process, without branches, by using a focused approach to technology and innovation. To learn more, visit www.liveoakbank.com.
### Press Release ############################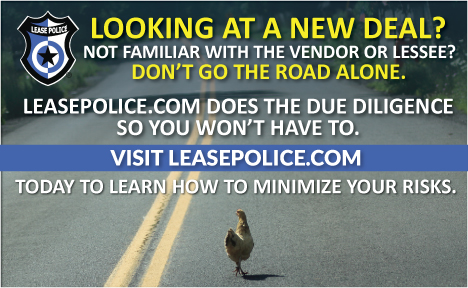 [headlines]
--------------------------------------------------------------
Fernando's View: Special Memorial Day Edition
By Fernando Croce
For this upcoming Memorial Day weekend, check out these patriotic classics from Netflix for a cinematic celebration of the courage and resolve of the men and women protecting country and freedom.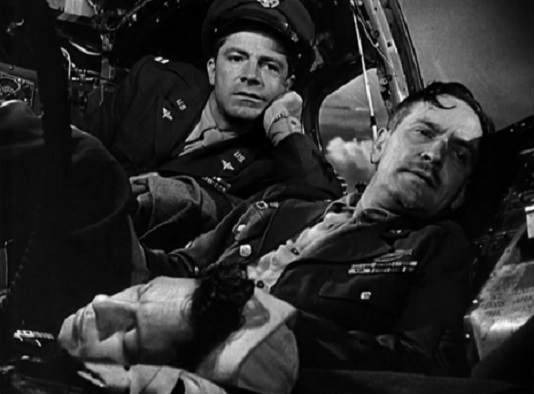 The Best Years of Our Lives (William Wyler, 1946): With WWII over, Hollywood felt the need to turn its sights back home to reassure the civilians the as well as the returning veterans. This Oscar-winning drama looks with great skill and sensitivity at the re-adjustment of a trio of military men as they reenter society. Al (Fredric March) has a devoted wife (Myrna Loy) and a good business, but finds the economic climate at odds with recognition of his fellow war vets' efforts. Fred (Dana Andrews) struggles to deal with a rocky marriage and battlefield memories, while Homer (real-life paratrooper Harold Russell, who won a Best Supporting Actor Oscar) faces emotional and physical challenges. William Wyler directs a superb cast in this stirring portrait of a nation's postwar pain and healing.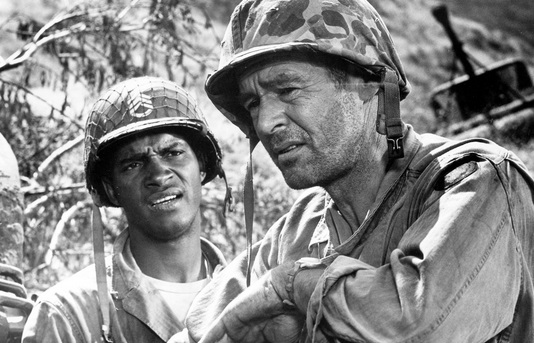 Men in War (Anthony Mann, 1957): Best known to cinephiles for his intense Westerrns, director Anthony Mann also brought a superbly neurotic edge to noir thrillers or, as in this 1957 gem, the war film. Set during the Korean War, it follows the dangerous trajectory of Lt. Benson (Robert Ryan), whose platoon was cut off from the rest of the U.S. forces. Lost and besieged by snipers, Benson finds support from Sgt. Montana (Aldo Ray), who's assigned to protect a shell-shocked colonel (Robert Keith). As they make their way to a heavily guarded hill, the men fight as they wait for reinforcements. Mann always displayed a brilliant sense for expressive landscapes, and here he uses the battered Korean terrain to reflect the gnarled psyches of the men struggling to stay alive. A hard-edged, underrated battlefield worth discovering.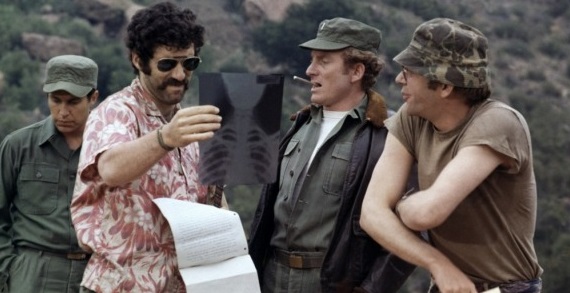 MASH (Robert Altman, 1970): For an irreverent take on men and women in uniform, there's no topping this 1970 comedy from perennial iconoclast Robert Altman. Taking place during the Korean War but clearly pointing toward Vietnam, the story catalogs the shenanigans in a madcap military medical unit, in particular surgeons Hawkeye Pierce (Donald Sutherland) and Trapper John McIntyre (Elliott Gould). Clashing with authorities as soon as they arrive at the camp, they delight in practical jokes that drive crazy such establishment figures as Major Burns (Robert Duvall) and Major "Hot Lips" (Sally Kellerman). Combining a preference for dry martinis with a distaste for bureaucracy nonsense, the characters find release in a no-holds-barred football game. With pitch-black, censors-defying humor, Altman creates a classic of laughter in the face of tragedy.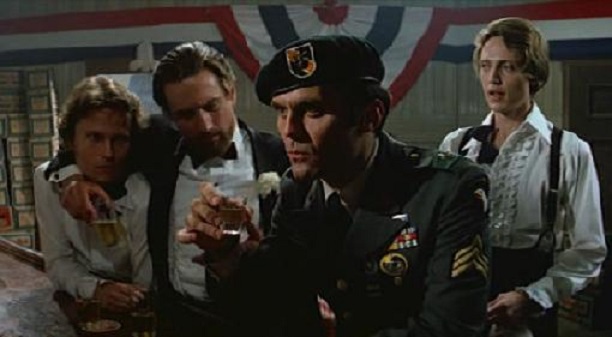 The Deer Hunter (Michael Cimino, 1978): Few visions of people before and after the war can match this overwhelming American epic from director Michael Cimino, which scored Best Picture at the Oscars. Set in a small, working-class Pennsylvania town, it details the lives of a group of friends, with special focus on Michael (Robert De Niro), Nick (Best Supporting Actor Christopher Walken), and Steven (John Savage). Things take a hellish turn when they go to Vietnam, where they're forever affected by the horrors they encounter. Michael returns home and tries to get back to normal, while Nick stays behind with a dangerous new obsession. Can he rescue his friend before it's too late? With a magnificent blend of the sweeping and the intimate, Cimino's film lingers as an unforgettable mosaic of violence and passion.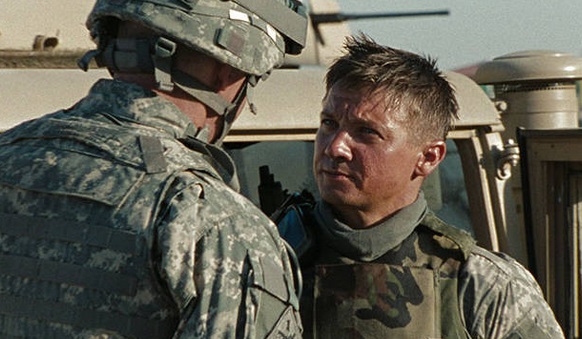 The Hurt Locker (Kathryn Bigelow, 2009): A marvel at dissecting masculine action with a sharp eye, director Kathryn Bigelow is in top form with this intense, beautifully crafted chronicle of a group of bomb-defusing specialists in war-torn Baghdad. Creating an intimate and suspenseful atmosphere, it follows cocky Staff Sergeant James (a breakout performance by Jeremy Renner), by-the-book Sergeant Sanborn (Anthony Mackie) and impressionable Specialist Eldridge (Brian Geraghty) as they make their way through a hostile terrain filled with bombs, snipers, and mercenaries. Stuck in a land where they're always one step away from an explosion, can they stay in one piece until they can go home? Focusing more on character and suspense than on political ideology, Bigelow offers a taut, Oscar-winning portrait of adrenaline and grace under pressure.

[headlines]
--------------------------------------------------------------
German Shepherd Dog
New Rochelle, New York Adopt a Dog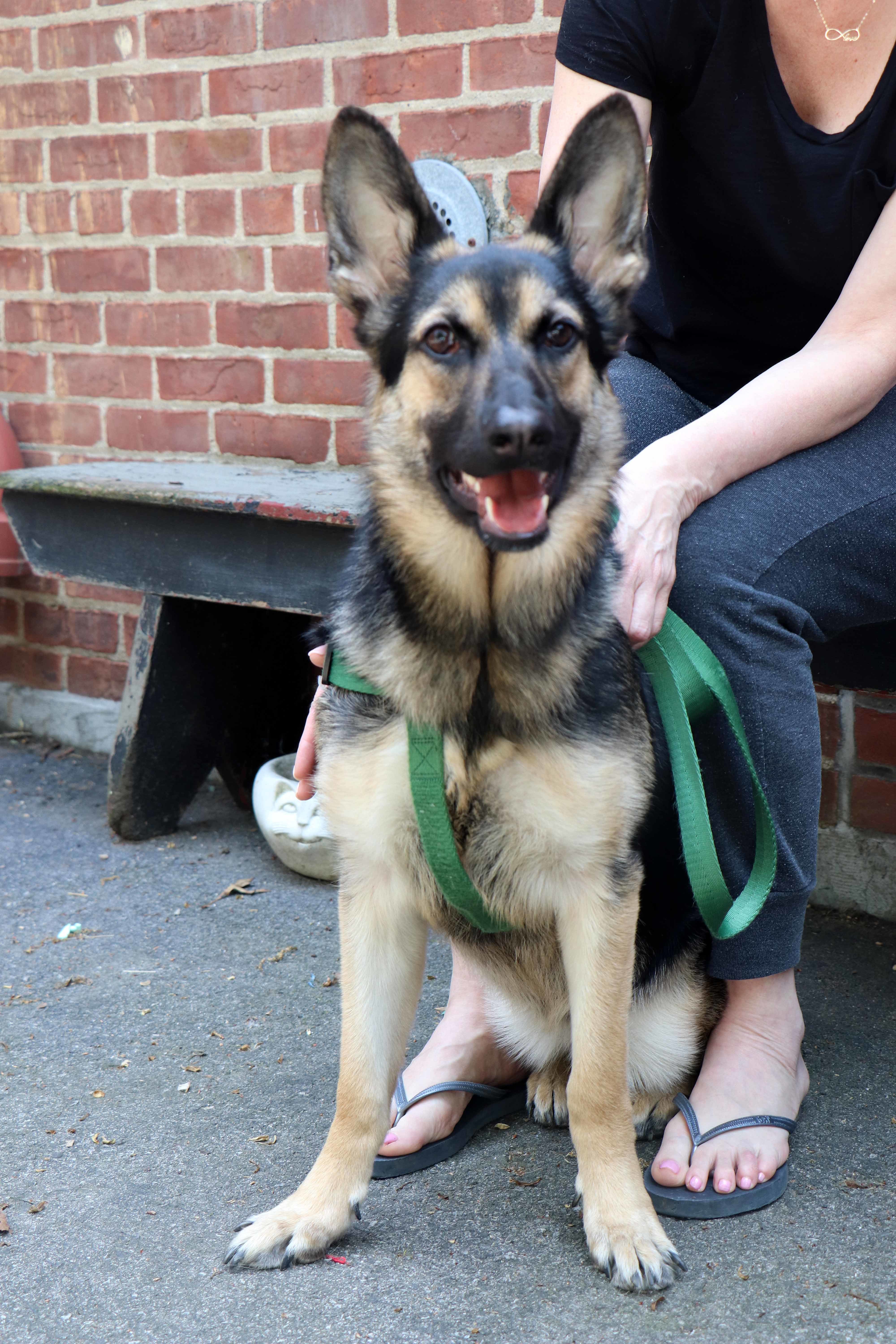 ZZ
Female
Large
Black,Brown/Chocolate
Medium Coat Length
Housetrained
Vaccinations up to date, spayed
Good in home with children
Courtesy Listing This dog is NOT at the shelter.
***Jordan is an 11 month old (Female) pure breed German Shepherd. Jordan is a happy puppy that loves to play and go for walks outside. She loves to fetch balls and make you proud of her. She gets along very well with children and other animals. She is not aggressive. She has a sweet and easy demeanor. She does not bark all day long (only when the doorbell rings) to keep you alert. Jordan loves long naps on her doggy bed. She loves her toys and chewing bones.
Jordan is spayed and all of her vaccines are current and up to date.
We are moving and they do not allow pets. If you are interested in meeting Jordan to possibly adopt her. Please call Christine at 347-992-9218 or you can email me at Sharkypug1@outlook.com.***
Adopt a Pet
http://www.adoptapet.com/
[headlines]
--------------------------------------------------------------
Lending Tree Reports Credit Ratings to Them are Improving
Here's Why:
Lending Tree, among others, are reporting they are finding credit scores improving. The reality is that an expected 5.5 million credit scores are expected to change, according to the three major credit bureaus. On April 16, 2018, Experian, Equifax and TransUnion, started to exclude tax liens from their credit reports.
Last year, they started to remove all civil judgments data (unpaid money as a result of a lawsuit) as well as tax lien data
(unpaid taxes). The Consumer Financial Protection Bureau (CFPB) found that when public records for judgments or liens were removed from credit files, credit scores were impacted as follows:
1. 75% remained in the same credit score band
2. 17% moved to a higher credit score band
3. 6% moves to a credit score band of prime or above
4. 66% stayed subprime or deep subprime
Lending Tree issued a press release with numbers showing the increase in the credit scores. Here is their press release with the increases:
https://www.prnewswire.com/news-releases/lendingtree-study-finds-more-than-half-of-my-lendingtree-users-improved-credit-scores-in-majority-of-50-metros-analyzed-300651906.html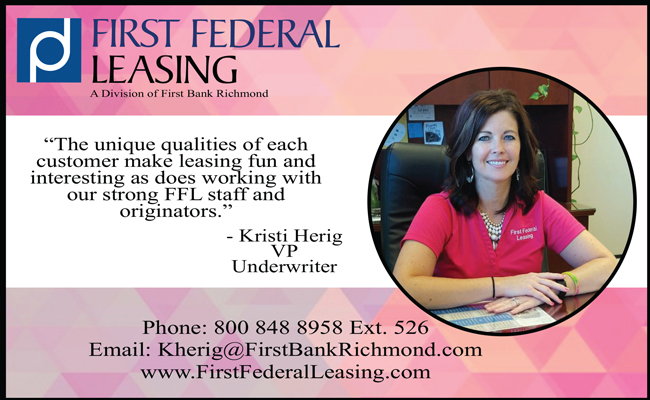 [headlines]
--------------------------------------------------------------
News Briefs----

Auto defaults fall below 1% for first time this year
Consumer Borrowing is expanding as economy continues to grow
https://www.autoremarketing.com/subprime/april-auto-defaults-drop-back-below-1-percent
Mortgage interest rates 2018: Rates hit 7-year high,
slow home sales
https://www.usatoday.com/story/money/2018/05/24/mortgage-interest-rates-2018-7-year-high-home-sales/641263002/
Bankshot Get ready for some big bank deals
By Paul Davis, American Banker
https://www.americanbanker.com/opinion/get-ready-for-some-big-bank-deals
Lease accounting standards: are multinationals sitting
on a 'leaseberg' of huge proportions?
https://www.accountancyage.com/2018/05/22/lease-accounting-standards-are-multinationals-sitting-on-a-leaseberg-of-huge-proportions/
Deutsche Bank reportedly set to lay off 10,000 workers
10 percent of its workforce, through next year
https://nypost.com/2018/05/23/deutsche-bank-reportedly-set-to-lay-off-10000-workers/
Irish developer walks away from plan to build
20,000 homes on South Works site
http://www.chicagotribune.com/business/columnists/ori/ct-biz-south-works-deal-ends-ryan-ori-20180524-story.html
'Mustang Means Freedom':
Why Ford Is Saving an American Icon
https://www.nytimes.com/2018/05/24/business/ford-mustang-american-icon.html
Commerce Dept. Initiates Inquiry That Could Lead to Tariffs
on Foreign Cars: "imports have eroded our domestic auto industry"
https://www.nytimes.com/2018/05/23/business/trump-tariffs-foreign-autos.html
[headlines]
--------------------------------------------------------------

You May Have Missed---
Collection Profession Leaders Weigh in
on Key Risks Facing Credit Execs
https://www.credittoday.net/public/Collection-Profession-Leaders-Weigh-in-on-Key-Risks-Facing-Credit-Execs.cfm
[headlines]
--------------------------------------------------------------
Baseball
Voices of the Game"
By J. Kyle


You see fans holding their radios here and over there,
Intently watching the game, yet listening with care.
Some think us strange that we bring our transistorized friend, then they sit too close, and try to listen in.
So many, many voices of baseball present and past,
A very select few can make you feel that home run blast.
The team in the booth at times is the best,
The fans can hope for along with the rest.
Some of these voices have now faded away,
Going, going, gone to their final play.
The restless nights they talked us to sleep,
Just waiting for someone to take one deep.
Harry was the greatest Cub there ever could be,
There will never be another like him at ol' Wrigley.
Vin Scully still bleeds that Dodger blue,
While Scooter will always be a Yankee too.
Nuxhall and Brennaman are my favorite radio men,
They have been a duo since way back when.
I was a boy when I first heard that familiar winning call,
"This one belongs to the Reds" now has its own place in the Hall.
So the next time you search for the game on TV,
Turn the volume way down, grab a radio, and you will soon see.
The voices of the game do much more than that old screen,
They bring you the nation's game in a fashion unseen
(also recommended for Football games, too.)
[headlines]
--------------------------------------------------------------

Sports Briefs---
N.F.L. Teams Will Be Fined for Players' Anthem Kneeling
players will be allowed to stay in the locker room if they choose
https://www.nytimes.com/2018/05/23/sports/nfl-anthem-kneeling.html
49ers' Jed York abstains from NFL's anthem vote
http://www.sacbee.com/sports/nfl/san-francisco-49ers/article211754324.html
Raiders' Mark Davis confirms he abstained from anthem vote
Owner will not comment on decision until after he's spoken to players
https://www.eastbaytimes.com/2018/05/24/raiders-mark-davis-confirms-he-abstained-from-anthem-vote/
Steve Kerr calls NFL's anthem stance 'idiotic'
http://www.pressdemocrat.com/sports/8362805-181/steve-kerr-calls-nfls-anthem
NFL owners get what they deserve when President Trump rips players
https://www.usatoday.com/story/sports/columnist/nancy-armour/2018/05/24/nfl-owners-get-when-president-donald-trump-rips-players-national-anthem/640420002/
Broncos LB on Trump comments: 'Disgusting'
http://www.theredzone.org/Blog-Description/EntryId/70249/Broncos-LB-on-Trump-comments---Disgusting-
[headlines]
--------------------------------------------------------------


California Nuts Briefs---

Apple in the crosshairs? Cupertino ponders higher taxes on employers
https://www.mercurynews.com/2018/05/22/tech-titans-face-jolt-tax-headcount-cupertino-mountain-view-apple-google/
Google village in downtown San Jose would
connect local neighborhoods, company vows
https://www.mercurynews.com/2018/05/23/google-village-in-downtown-san-jose-would-connect-local-neighborhoods-company-vows/
Here's what an $8 million Bay Area restaurant looks like
https://www.sfchronicle.com/news/article/Here-s-what-an-8-million-Bay-Area-restaurant-12925622.php
Construction labor shortage ripples through San Francisco
North Bay economy, says builder
http://www.northbaybusinessjournal.com/northbay/sonomacounty/8330680-181/sonoma-construction-labor-shortage-training
In bid to save abalone,
Sonoma Coast divers plan huge purple urchin harvest
http://www.pressdemocrat.com/news/8330791-181/in-bid-to-save-abalone
[headlines]
--------------------------------------------------------------



"Gimme that Wine"

http://www.youtube.com/watch?v=EJnQoi8DSE8
An Interview With Gallo's Chief of Premium Wine
https://www.winesandvines.com/news/article/199232/An-Interview-with-Gallos-VP-of-Premium-Wine
Wineries Expand the Reach of Tasting Rooms
https://www.winesandvines.com/news/article/199293/Wineries-Expand-the-Reach-of-Tasting-Rooms
Pahlmeyer Winery has released a new Jayson by
Pahlmeyer Sauvignon Blanc
https://www.winebusiness.com/newReleases/?go=getArticle&dataid=199323
Wine Prices by vintage
http://www.winezap.com
http://www.wine-searcher.com/
US/International Wine Events
http://www.localwineevents.com/
Leasing News Wine & Spirits Page
http://two.leasingnews.org/Recommendations/wnensprts.htm

[headlines]
----------------------------------------------------------------
This Day in History
1607 - The first battle between English colonists and Native Americans took place in Jamestown, Virginia. One hundred and five colonists were able to repulse an attack by two hundred Native American Warriors.
1647 - Achsah Young of Massachusetts was hanged as a witch. According to historians, Margaret Jones of Charlestown, MA was the first accused of being a witch, but was not executed until 1648 by drowning.
1721 - The first fire insurance agent is said to have been John Copson of High Street, Philadelphia ,PA, who inserted an advertisement in the American Weekly Mercury announcing that he would open an office for insurance on "vessels, goods and merchandise."
1738 - A treaty between Pennsylvania and Maryland ended the Conojocular War with settlement of a boundary dispute and exchange of prisoners. Hostilities erupted in 1730 with a series of violent incidents prompted by disputes over property rights and law enforcement, and escalated through the first half of the decade, culminating in the deployment of military forces by Maryland in 1736 and by Pennsylvania in 1737. The armed phase of the conflict ended in May, 1738 with the intervention of King George II, who compelled the negotiation of a cease-fire. A final settlement was not achieved until 1767 when the Mason-Dixon Line was recognized as the permanent boundary between the two colonies. Maryland's claim was the 40th parallel which put its border north of Philadelphia.
1787 - Four years after the United States won its independence from England, 55 state delegates, including George Washington, James Madison, and Benjamin Franklin, convene in Philadelphia to compose a new U.S. constitution. In February, 1788, a compromise was reached under which Massachusetts and other states would agree to ratify the document with the assurance that amendments would be immediately proposed. The Constitution was thus narrowly ratified in Massachusetts, followed by Maryland and South Carolina. On June 21, 1788, New Hampshire became the ninth state to ratify the document, and it was subsequently agreed that government under the U.S. Constitution would begin on March 4, 1789. On September 25, 1789, the first Congress of the United States adopted 12 amendments to the U.S. Constitution--the Bill of Rights--and sent them to the states for ratification. Ten of these amendments were ratified in 1791. In November, 1789, North Carolina became the 12th state to ratify the U.S. Constitution. Rhode Island, which opposed federal control of currency and was critical of compromise on the issue of slavery, resisted ratifying the Constitution until the U.S. government threatened to sever commercial relations with the state. On May 29, 1790, Rhode Island voted by two votes to ratify the document and the last of the original 13 colonies joined the United States. Today the U.S. Constitution is the oldest written constitution in operation in the world.
1790 - The first copyright law was enacted by Congress "for the encouragement of learning by securing the copies of maps, charts and books to the authors and proprietors of such copies during the times therein mentioned." Protection was extended over a 14-year period, renewal rights being granted only if the author was still alive.
1793 - The first Catholic priest ordained in the United States as Father Stephen Theodore Badin, by Bishop John Carroll in Baltimore, MD. He was appointed to the mission of Kentucky and held his first mass there on the first Sunday of Advent, 1793, in the house of Ennis McCarthy in Lexington, KY. In British colonial America, there were few English-speaking Catholics outside of Maryland, which was established in 1634 as a haven for Roman Catholics persecuted in England. One hundred years later, John Carroll was born in Baltimore into a prominent Catholic family. As secondary Catholic education was forbidden by the British colonial authorities, Carroll traveled to Europe, where he was ordained in 1769. Returning to America, he aided the Patriot cause during the Revolutionary War, and, in 1790, was chosen by the Vatican to become the first bishop of the US Catholic Church.
Carroll supported the separation between church and state, and advocated an autonomous US clergy that would elect its own bishops and carry out its own training. In his early years as bishop, he endorsed the use of English in the liturgy, and, in 1793, presided over the first ordination of a Catholic priest on US soil. Although the US Catholic Church grew substantially under Carroll's leadership, it was the mass immigration of Catholics from Ireland, Germany, Italy, Poland, and the Balkans during the nineteenth and twentieth centuries that made Catholicism a major force in US religious life.
1803 - Ralph Waldo Emerson (d. 1882) birthday, American author and philosopher, at Boston, MA. It was Emerson who wrote (in his essay "Self-Reliance," 1841), "A foolish consistency is the hobgoblin of little minds, adored by little statesmen and philosophers and divines. With consistency a great soul has simply nothing to do."
http://memory.loc.gov/ammem/today/may25.html
1829 - The first letter written on a "typographer," the first typewriter, was sent by John P. Sheldon, editor of the Michigan Gazette, Detroit, MI, to Martin Van Buren, secretary of state. The first practical typewriter was invented in 1867 by Christopher Latham Sholes, who coined the word "type-writer." It was first manufactured in 1873. The typewriter ribbon was patented on September 14, 1886 by George K. Anderson of Memphis, TN.
1844 - The gas engine was invented by Stuart Perry of New York City, who received a patent for it. He invented both air-and-water-cooled types and used turpentine gases as fuel.
1844 - The first news dispatch by telegram was sent from Washington, DC, to the offices of the Baltimore Patriot. The message read: "One o'clock. There has just been made a motion in the House to go into committee on the whole on the Oregon question. Rejected. Ayes 79-Nays 86." The Democratic platform was nationalistic, calling for the annexation of Texas and control of the entire Oregon Territory, then shared with England.
1847 - John Alexander Dowie (d. 1907) was born at Edinburgh, Scotland. Evangelist and claimant of the title "Elijah the Restorer," he established the Christian Catholic Church at Zion, IL, where some 5,000 followers created a unique community without pharmacies, physicians, theaters or dance halls and where smoking, drinking and the eating of pork were prohibited. Dowie's ostentatiously expensive personal lifestyle and his unsuccessful attempt to convert New York City were partially responsible for the falling away of his followers. He was expelled from the church in 1906.
1849 - Birthday of pianist Thomas Green Bethune (d. 1908), known as "Blind Tom," Harris County, GA. He was the first black artist known to have performed at the White House. He played the piano for President James Buchanan in 1859. Accounts from the period made it clear he was a phenomenal prodigy, an idiot savant, who was said to have played like Mozart, Beethoven or Gottschalk.
http://www.twainquotes.com/archangels.html
http://docsouth.unc.edu/neh/bethune/bethune.html
http://www.whitehousehistory.org/06/subs/06_b07.html
1861 - John Merryman was arrested at his home in Cockeysville, MD by Union troops and was confined in Fort McHenry. Prior to the Civil War, Merryman was a 3rd lieutenant in the Baltimore County Troops. By 1861, he was a 1st lieutenant in the Baltimore County Horse Guards. Following the Pratt Street Riot in Baltimore, the Maryland legislature voted against secession. However, concerned about further unrest from pro-Southern elements, they voted to keep the railways closed so Union troops could not travel through Maryland on the way to the South. While carrying out this policy, Governor Hicks ordered Merryman to aid in the destruction of several bridges north of Baltimore. While confined, Merryman petitioned for a writ of habeas corpus, which was granted by Chief Justice of the Supreme Court Roger B. Taney, himself a Marylander, but the writ was disobeyed by General George Cadwalader, the arresting officer, under orders from President Lincoln, even though Taney cited Cadwalader for contempt. Taney declared Lincoln's suspension of habeas corpus unconstitutional.
1862 - First Battle of Winchester VA (there were three). Confederate General Thomas "Stonewall" Jackson notches a victory on his brilliant campaign in the Shenandoah Valley. Jackson, with 17,000 soldiers under his command, was sent to the Shenandoah to relieve pressure on the Confederate troops near Richmond, who were facing the growing force of George McClellan on the James Peninsula. In early May, Jackson struck John C. Fremont's force at McDowell, in western Virginia. After driving Fremont out of the area, Jackson turned his attention to an army under the command of Nathaniel Banks, situated at the north end of the Shenandoah Valley. With only 10,000 troops, Banks had the unenviable task of holding off the fast-moving Jackson. On 25 May, Jackson found Banks outside of Winchester. He attacked the Union force but was initially repulsed. The Confederates then struck each Union flank, and this time the Yankee line broke. A confused retreat ensued through the town of Winchester, and even some residents fired on the departing Yankees. Banks fled the Shenandoah into Maryland, and Jackson continued his rampage. The Union lost 62 killed, 243 wounded, and over 1700 captured or missing, while Jackson's men lost 68 killed and 329 wounded. The numbers from Jackson's 1862 valley campaign are stunning. His men marched 550 km in a month; occupied 60,000 Yankee soldiers, preventing them from applying pressure on Richmond; won four battles against three armies; and inflicted twice as many casualties as they suffered. Jackson's record cemented his reputation as one of the greatest generals of all time.
http://www2.cr.nps.gov/abpp/battles/va104.htm
1864 - Battle of New Hope Church, GA. Joseph E. Johnston tried to halt Sherman's advance on Atlanta at the Hell Hole.
http://www2.cr.nps.gov/abpp/battles/ga010.htm
1865 - An ordnance depot exploded in Mobile, AL and killed 300. The explosion occurred just after the end of the War, during the occupation of the city by victorious Federal troops. On the heels of the explosion came fires, which burned until the entire northern part of Mobile lay in smoking ruins. A huge hole where the warehouse once stood remained for many years, a reminder of the disaster. The exact cause of the magazine explosion was never determined. Some northern newspapers tried to pin the blame on an imagined gang of unreconstructed Confederate officers. Most people, though, accepted that it was the result of simple carelessness on the part of workers handling wheelbarrows full of live ammunition.
1878 - Bill "Bojangles" Robinson (d. 1949) was born in Richmond, VA. The grandson of a slave, Robinson is considered one of the greatest tap dancers. He is best known for a routine in which he tap-danced up and down a staircase. He appeared in several films with Shirley Temple and taught Gene Kelly, Sammy Davis, Jr., Gregory Hines, and others.
http://www.tapdance.org/tap/people/bojangle.htm
http://www.streetswing.com/histmai2/d2bojan1.htm
(lower half of: http://memory.loc.gov/ammem/today/may25.html )
1895 - The first golf book was "Golf in America, " a practical manual by James Parish Lee, published by Dodd, Mead and Company, New York City. In consisted of 194 pages and a front's piece.
1898 - James Joseph "Gene" Tunney (d. 1978) was born in New York City. Heavyweight boxing champion, business executive. The famous "long count" occurred in the seventh round of the Jack Dempsey-Gene Tunney world championship fight, Sept 22, 1927, at Soldier Field, Chicago, IL. Of his 70 fights, he lost one.
1898 - The first military expeditionary force to be sent beyond the Western Hemisphere sailed from San Francisco, California, on the Australia, City of Pekin, and City of Sydney, bound for Manila, Philippines, a distance of 6,220 miles. The expeditionary force consisted of 115 officers and 2,386 enlisted men commanded by General Wesley Merritt. They arrived off Manila on June 3 and landed on July 1. Admiral George Dewey and General Merritt demanded the surrender of Manila on August 7. The city complied on August 13.
1908 - American poet Theodore Roethke (d. 1963) was born Saginaw, MI.
http://www.poets.org/poets/poets.cfm?prmID=13
http://www.english.uiuc.edu/maps/poets/m_r/roethke/chronology.htm
http://www.pbs.org/wnet/ihas/poet/roethke.html
1917 - Clarinetist/tenor sax player Jimmy Hamilton (d. 1994) was born in Dillon, SC. Perhaps best known for playing with Duke Ellington from 1943-68, he had a gorgeous, pure clarinet tone, while his tenor sax sound was rougher and funkier. He also was an arranger, and one of his was "In a Mellow Tone." Early in his career, Hamilton performed in bands led by Lucky Millinder, Jimmy Mundy, Teddy Wilson, and Eddie Haywood.
http://users.bestweb.net/~msnyder/clarinet/hamilton.htm
http://www.tcjs.org/Musicians/JimmyHamilton.html
http://www.vh1.com/artists/az/hamilton_jimmy/bio.jhtml
1922 - After being thrown out at second base trying to stretch a single, Babe Ruth threw dirt in the face of umpire George Hildebrand and then went after a fan. Ruth was ejected, and eventually fined $500 and suspended one game by AL president Ban Johnson.
1925 - Birthday of Jeanne Crain (d. 2003), Barstow, CA. Film actor nominated for an Academy Award for her work in "Pinky" (1949), the story of a black girl who passes for white.
1925 – John T. Scopes was indicted for teaching Darwin's theory of evolution in Tennessee.
1926 - Jazz trumpeter Miles Davis (d. 1991) was born at Alton, IL. He was influenced by the be-bop music style of Charlie Parker and Dizzy Gillespie and ended up leaving the Julliard School of Music to join Parker's quintet in 1945 at the age of 19. He experimented with different styles throughout his career, exploring new voicings in jazz with arranger Gil Evans. I met him several times, one of them in the Men's room at a night club (Mocombo on Sunset Strip, 1960) in Hollywood. He was followed shortly thereafter by two white men in business suits, who asked me if I had seen him come in. I told them I had not. After they left, I opened the door, seeing them gone, informed Mr. Davis, whose bathroom door opened and he was rolling down his sleeve. He thanked me and left as quickly as he had entered. I saw a performance of his again, and I swear he gave me a "high five" in the crowd. His "Kinda Blue" Album is one of his classics, but I think the albums with Gil Evans as arranger and conductor are perhaps his best, although early recordings with Charlie Parker perhaps remain one of my favorites. You can hear in his albums his growth in style.
1926 - Trombonist Milt Bernhart (d. 2004) was born Valparaiso, Ind.
1928 - Birthday of Mary Wells Lawrence, Youngstown, OH. Founded highly successful Wells, Rich, and Green advertising agency. Lawrence was the first female CEO of a company listed on the NYSE.
1929 - Beverly Sills (d. 2007) birthday, born Belle Miriam Silverman in Brooklyn. Premier coloratura soprano with the New York City Opera for 25 years, she became its director 1979-89, and, in 1994, was named director of Lincoln Center. Sills sang in more than 50 different operas and was a highly respected musician. Although always seen as a very upbeat woman - her nickname is Bubbles - her life was filled with tragedy. Meredith (Muffy), her first born child was almost deaf, never heard her sing and has multiple sclerosis and Peter is severely mentally disabled.
1935 - Jesse Owens sets six world records in less than an hour in Ann Arbor, Michigan.
1935 - George Herman Ruth could barely run and could no longer hit like he used to, but occasionally the Babe could still put on a show with his bat. On May 25th, Ruth, playing for the Boston Braves, hit three home runs before a crowd of only 10,000 at Pittsburgh's Forbes Field. His last home run of the day—his 714th in regular season play—proved to be Babe's last major league home run as well as his last big-league hit and the first in Forbes Field's history to clear its right field roof.
1935 – Birthday of W. P. Kinsella in Edmonton, Alberta, author most famous for "Shoeless Joe" (1982), the book that was made into the movie "Field of Dreams." He has written several books involving baseball, and also several involving Native North Americans. The book was mildly controversial in that it used a living person, the reclusive author, J.D. Salinger, as one of its main characters. Kinsella, who had never met him, created a wholly imagined character (aside from his being a recluse) based on the author of "The Catcher in the Rye," a book that had great meaning to him when he was a young man.
1936 - The Remington Rand strike of 1936–37 was a strike by the American Federation of Labor (AFL) against the Remington Rand Company. The strike began in May, 1936 and ended in April, 1937, although the strike settlement would not be fully implemented until mid-1940. In March, 1934, the AFL began organizing skilled workers at two typewriter companies, Underwood and Remington Rand. The employees organized the District Council of Office Equipment Workers, a federal union affiliated with the AFL. Six plants were organized New York, Connecticut and Ohio. James Rand, Jr., president of Remington Rand, refused to bargain with the union. On May 8, 1934, 6,500 workers struck to force the company to recognize the union and sign a collective bargaining agreement. On June 18, 1936, the firm recognized the union and signed a contract which provided wage increases and established a grievance procedure. Remington Rand, however, continued a policy of harassment and obstruction toward the union. It often violated the contract in small ways (forcing the union to file time-consuming and costly grievances), harassed union leaders, and generally contested the union at every turn. Worker anger had built high by May, 1936, when the company spread rumors that its plants were being bought by an unknown firm that would no longer recognize the union. Remington Rand then announced it had purchased a typewriter plant in nearby Elmira, NY and might close the Tonawanda and Syracuse facilities. The union demanded information on possible plant closures, which the company refused. The union then threatened a strike. In retaliation, the company distributed its own strike ballots and claimed that it alone could speak for workers. Outraged union officials seized and destroyed the company's ballots, interrupted and broke up meetings at which ballots were handed out, and harassed and physically intimidated managers trying to conduct balloting. The Joint Board quickly held its own strike vote. More than 75% of the union's members voted to strike. Union officials asked the company to submit the dispute to a federal mediator, but the company refused to do so. Instead, Remington Rand fired the presidents of the local unions in Tonawanda and Syracuse along with fifteen other union activists. Infuriated workers in Ilion, Syracuse and Tonawanda walked off their jobs on May 25, 1936, followed by Remington Rand workers in Ohio and Connecticut the following day.
1937 - Future Hall of Famer Mickey Cochrane's career ends after being beaned with a 3-1 inside fastball thrown by Yankee hurler Bump Hadley. Near death at first, the Tiger catcher/manager will spend six weeks in the hospital and will return to the team only as its skipper.
1938 - Vernon Presley is sentenced to a three year term at Parchman penal plantation in Mississippi for forging a check. His wife Gladys and son Elvis are forced to live on welfare
1943 - The Trident Conference ends. Roosevelt and Churchill, and their staffs, reach compromises on all of the significant differences. Among the decisions taken is the target date for the invasion of Western Europe (D-Day) -- May 1, 1944. British General Morgan is appointed to prepare plans for the invasion. His is designated Chief of Staff to the Supreme Allied Commander (COSSAC).
1943 - There was a riot at the Mobile, AL shipyard over upgrading 12 black workers.
1944 - Patrols of the US 2nd Corps link up with forces of the US 6th Corps from Anzio near Latina (Pontine Marshes). In its advance, the US 6th Corps captures Cisterna and Cori. The German 10th Army is in danger of being cut off and Army Group C (Kesselring) sends its last reserve, the "Hermann Goring" Division, for reinforcement. The US 5th Army (Clark), however, now puts the weight of its forces into the capture of Rome. Meanwhile, the British 8th Army crosses the Melfa River in strength.
1951 – In the big league debut of the Say Hey Kid, Willie Mays went 0 for 5, but made three good plays in the field. Mays began his career 0 for 12. On his 13th at-bat, he hit a home run over the left field roof of the Polo Grounds off future Hall of Famer Warren Spahn. Mays' average improved steadily throughout the rest of the season. Although his .274 average, 68 RBI and 20 homers (in 121 games) were among the lowest of his career, he still won the 1951 NL Rookie of the Year.
1953 - The first public television station in the United States officially began broadcasting as KUHT from the campus of the University of Houston.
1953 - Top Hits
"Song from Moulin Rouge" - The Percy Faith Orchestra
"I Believe" - Frankie Laine
"April in Portugal" - The Les Baxter Orchestra
"Mexican Joe" - Jim Reeves
1955 - Two tornadoes struck the town of Blackwell, OK, within a few minutes time during the late evening. The tornadoes killed 18 persons and injured more than 500 others. Early the next morning, a tornado virtually obliterated the small community of Udall, KS, killing 80 persons and injuring 270 persons. More than half the persons in the community were killed or injured by the tornado.
1961 - President Kennedy asked the US to work toward putting a man on the moon by the end of the decade. On July 20, 1969, Kennedy's goal was accomplished on the Apollo 11 mission when astronauts Neil Armstrong and Buzz Aldrin landed their Lunar Module and walked on the lunar surface, while Michael Collins remained in lunar orbit in the Command Module (CSM), and all three landed safely on Earth on July 24.
1961 - Top Hits
"Mother-In-Law" - Ernie K-Doe
"Daddy's Home" - Shep & The Limelites
"Travelin' Man" - Ricky Nelson
"Hello Walls" - Faron Young
1962 - The Isley Brothers release "Twist and Shout.''
1962 - The Old Bay Line, the last overnight steamboat service in the United States, went out of business. The Line, from 1840 to 1962, provided service on the Chesapeake Bay, primarily between Baltimore and Norfolk.
1965 - Muhammad Ali knocked out Sonny Liston just one minute into the first round of a controversial rematch for the heavyweight championship in Lewiston, ME. Liston went down from a short right-hand punch that some swore never hit him.
1968 – The Gateway Arch in St. Louis was dedicated.
1968 - The Rolling Stones return to straight rock & roll releasing "Jumpin' Jack Flash," a single later included on several greatest hits collections, but not on a regular release album.
1968 - The 1968 Monterey Pop Festival is canceled because of pressure from the local government and citizenry. In the wake of the cancellation, $52,000 is discovered missing from the previous festival's profits and the festival's bookkeeper, Mrs. Sandra Beebe, can't be located.
1969 - Top Hits
"Get Back" - The Beatles
"Love (Can Make You Happy)" - Mercy
"Oh Happy Day" - The Edwin Hawkins' Singers
"My Life (Throw It Away if I Want To)" - Bill Anderson
1971 - ADAMS, WILLIAM E., Medal of Honor
Rank and organization: Major, U.S. Army, A/227th Assault Helicopter Company, 52d Aviation Battalion, 1st Aviation Brigade. Place and Date: Kontum Province, Republic of Vietnam, 25 May 1971. Entered Service at: Kansas City, Mo. Born: 16 June 1939, Casper, Wyo. Citation: Maj. Adams distinguished himself on 25 May 1971 while serving as a helicopter pilot in Kontum Province in the Republic of Vietnam. On that date, Maj. Adams volunteered to fly a lightly armed helicopter in an attempt to evacuate 3 seriously wounded soldiers from a small fire base which was under attack by a large enemy force. He made the decision with full knowledge that numerous antiaircraft weapons were positioned around the base and that the clear weather would afford the enemy gunners unobstructed view of all routes into the base. As he approached the base, the enemy gunners opened fire with heavy machine guns, rocket-propelled grenades and small arms. Undaunted by the fusillade, he continued his approach determined to accomplish the mission. Displaying tremendous courage under fire, he calmly directed the attacks of supporting gunships while maintaining absolute control of the helicopter he was flying. He landed the aircraft at the fire base despite the ever-increasing enemy fire and calmly waited until the wounded soldiers were placed on board. As his aircraft departed from the fire base, it was struck and seriously damaged by enemy anti-aircraft fire and began descending. Flying with exceptional skill, he immediately regained control of the crippled aircraft and attempted a controlled landing. Despite his valiant efforts, the helicopter exploded, overturned, and plummeted to earth amid the hail of enemy fire. Maj. Adams' conspicuous gallantry, intrepidity, and humanitarian regard for his fellow man were in keeping with the most cherished traditions of the military service and reflected utmost credit on him and the U S. Army.
http://www.mishalov.com/Adams.html
1973 - The first space station launched by the United Sates was Skylab 2, which lifted off from Cape Canaveral, FL. Three astronauts Charles Conrad, J., Joseph Peter Kerwin, and Paul J. Weitz, spent nearly a month in the station conducting long-duration flight tests and other scientific experiments. The mission ended successfully on June 22, when the astronauts returned to earth, leaving Skylab in orbit. It later disintegrated in the earth's upper atmosphere.
1975 - No. 1 Billboard Pop Hit: "Before the Next Teardrop Falls,'' Freddy Fender.
1977 - "Star Wars" released. "May the Force be with you," entered the modern lexicon as a new kind of science fiction film opened at 32 theaters. George Lucas' space epic, starring Mark Hamill as Luke Skywalker, Harrison Ford as Han Solo and Carrie Fisher as Princess Leia, featured stunning special effects and was a smash hit worldwide. It went on to win six Academy Awards out of ten nominations—plus an additional special Academy Award for sound effects. The film was part of a larger sage, and in later years was re-titled "Star Wars—Episode IV: A New Hope" as sequels were released.
1977 - Top Hits
"Sir Duke" - Stevie Wonder
"Couldn't Get It Right" - Climax Blues Band
"I'm Your Boogie Man" - KC & The Sunshine Band
"Luckenbach, Texas (Back to the Basics of Love)" - Waylon Jennings
1979 - An American Airlines DC-10 lost an engine upon takeoff and crashed seconds later, killing all 272 aboard and three people on the ground. This is the worst US air disaster in history.
1979 – Six year-old Etan Patz disappeared from the street just two blocks away from his home in New York City, prompting an international search for the child, and causing the U.S. President Reagan to designate May 25 as National Missing Children's Day (in 1983).
1982 - Pitcher Ferguson Jenkins of the Chicago Cubs recorded the 3,000th strikeout in his Major League career in a 2-1 loss to the San Diego Padres. Jenkins, the seventh pitcher to reach 3,000 strikeouts, wound up his career with 3,192 Ks. night on the all-time list.
1983 - No. 1 Billboard Pop Hit: "Flashdance ... What a Feeling,'' Irene Cara.
1985 - Top Hits
"Everything She Wants" - Wham!
"Everybody Wants to Rule the World" - Tears for Fears
"Axel F" - Harold Faltermeyer
"Radio Heart" - Charly McClain
1987 - Herve Fillon drove Commander Bond to victory in the third race at Yonkers Raceway in New York to become the first harness racing driver to record 10,000 wins.
1994 - The media report that Compaq Computer Corporation had unseated IBM and Apple as the world's leading computer seller. Compaq would retain its lead position throughout the rest of the decade. Compaq's US market share reached 12.4%, beating out Apple's top ranking: Apple's share slipped from 13.5% to 10.4%. Apple's decline in market share would continue, dwindling to 3% by 1997. Today Apple is close to 5% and Compaq has been merged into Hewlett-Packard, the largest seller of computers today.
1998 - Cardinal Mark McGwire becomes the first player in Major League history to hit 25 home runs before June 1. Ken Griffey Jr. is the only other player to hit 24 home runs before the start of the sixth month.
1999 - Nearly 70,000 readers of Country Weekly choose George Strait as favorite entertainer, favorite male artist and favorite video entertainer in voting for the publication's annual Golden Pick Awards. Strait also takes honors for favorite album, favorite song and favorite line dance song.
2000 - Wilson Pickett collects three W.C. Handy Awards during the Blues Foundation's ceremony at the Orpheum Theater in Memphis. The veteran R&B singer's set "It's Harder Now" is named soul/blues album of the year and comeback album of the year, and Pickett takes honors for soul/blues male artist of the year.
2002 - With four homers on Thursday (5/23), one on Friday (5/24) and two more on Saturday (5/25), Shawn Green becomes the first major leaguer to hit seven homers in three games. The Dodger outfielder's nine home runs in a week also breaks a National League record, established by Ralph Kiner with eight and tied by Ted Kluszewski and Nate Colbert.
2002 - Getting his 3,509th K, Diamondback southpaw Randy Johnson passes Walter Johnson to become seventh on the all-time career strikeout list. After fanning Shawn Green in the first to catch the 'Big Train', Dodger outfielder Brian Jordan swings and misses a 2-2 pitch in the second inning to become the 'Big Unit's' historic victim.
2005 - The "country girl" prevails as Carrie Underwood is named the "American Idol" at the conclusion of the Fox show's two-hour fourth season finale at the Kodak Theatre in Hollywood. The 22-year-old Oklahoma native beats out "rocker" Bo Bice, taking in the most votes cast by viewers.
2011 – Mariano Rivera became the first pitcher in Major League history to make 1,000 appearances with one team as the Yanks beat the Blue Jays, 7-3. Rivera is the 15th pitcher in history to reach 1,000 games.
2011 – Oprah Winfrey aired her last show, ending 25 years of "The Oprah Winfrey Show."
2013 – The first walk-off inside-the-park HR in Giants' history was hit by Angel Pagan, giving the Giants a 6-5 win over Colorado.
NBA Champions:
1975 - Golden State Warriors
Stanley Cup Champions:
1978 - Montreal Canadiens
1989 - Calgary Flames
1991 - Pittsburgh Penguins
-------------------------------------------------------------

SuDoku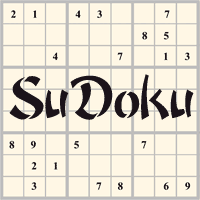 The object is to insert the numbers in the boxes to satisfy only one condition: each row, column and 3x3 box must contain the digits 1 through 9 exactly once. What could be simpler?
http://leasingnews.org/Soduku/soduko-main.htm
--------------------------------------------------------------

Daily Puzzle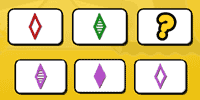 How to play:
http://www.setgame.com/set/puzzle_frame.htm
Refresh for current date:
http://www.setgame.com/set/puzzle_frame.htm
--------------------------------------------------------------


http://www.gasbuddy.com/
http://www.gasbuddy.com/GB_Map_Gas_Prices.aspx
http://www.gasbuddy.com/GB_Mobile_Instructions.aspx
--------------------------------------------------------------

Weather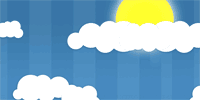 See USA map, click to specific area, no commercials
--------------------------------------------------------------

Traffic Live---
Real Time Traffic Information
You can save up to 20 different routes and check them out with one click,
or type in a new route to learn the traffic live
--------------------------------