Stress Relief---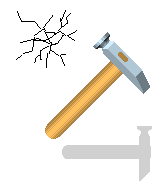 You have two options for this software program:
First option is OPEN the file without saving it. You can see how this works, then decide if you want to "save" and have it as an executable file.
In the open mode, it works, but once you exit, the application is no longer available. You have to install it each time you want to use it.
The second option is to "SAVE "the ".EXE" on to your computer. You will have the application available to use any time, until you decide to delete the program.
http://www.leasingnews.org/EXE/StressRelief.EXE
Note: Hit the Esc to quit the application in either option.