The List---Third Quarter, 2005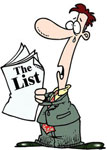 Available on line in either alphabetical or chronological order.
http://www.leasingnews.org/list.htm
Here are the top changes in the leasing industry for the third quarter,
July, August, September, 2005:
September
LeaseForum, Inc . (09/05)-- In 2003 moved offices and changed phone numbers. Susan F. Franklin, CEO, Founder, Managing Partner, said " We recently decided to rebrand the company and launched our new website: http://www.americanriverpartners.com/ (6/05) An on-line leasing company since 1998 with Susan Franklin as CEO. Web site down, inquiries to readers gets no response.
NorVergence, New Jersey ( 9/05) Lessee Gets Stay pending other court actions, sets precedent? (9/05) NorVergence 1450 member Class Action Certified in New Jersey (9/05) Texas win and others regarding venue provision creates lessee war cry: " We are coming for the rest of the LC's now! " (7/05)--Randy Brook of FTC wins 47 million dollars of "uncommitted" signed leases, with claims against the receivables, assets. (6/05) FTC Asks for $181 Million NorVergence default judgment plus to negate other AG settlements for full amount; hearing set for July 18, 2005. We were criticized for calling this a "soap opera," but it truly is, except no love interest. http://www.leasingnews.org/archives/June%202005/6-28-05.htm#norv (6/05) Attorney Green to file Appeal on NorVergence Class Action Denial (6/05) Add Massachusetts to Illinois and Texas dismissing all NorVergence leases because BK receiver failed to appear in court (6/05) Florida AG case thrown out of court, next day, he appeals it. (5/05) $23 million more in settlements (5/05) GE and CIT make settlements in other states. (4/05) Reportedly defaulted leases push Preferred Capital into receivership. Several other leasing companies hit with large portfolio losses. (03/05) Thirteen state AG's jump on Preferred Capital venue issue, little realizing that the company is closed to receivership (02/05) "ERA" contract a joke http://leasingnews.org/PDF/NorVergence_Rental_aggreement.pdf (02/05) Ohio Banks Affected by NorVergence Bankruptcy (2/04) Venue Losses by Lessors local and federal courts (2/04) NorVergence Mess Not Going Away, Perhaps Criminal Action (1/05 NY AG Eliot Spitzer settles two more, now at $13MM (1/05) Peter J. Salzano, CEO file BK 11 (1/05) No disagreements about "leasing companies caving in," as more state AGs (six now) join in litigating leasing companies for settlements with NorVergence Leasing customers. (01/05) Irwin Financial $4 million NorVergence Charge off. (12/04) More Leasing Companies "Caving In" (12/04) Leasing News Editorial: Amicable, Generous Settlement for NorVergence Lessees (12/04) NY Atty. Gen. Gets Another $11 Million Settlement (12/04) Penn. AG Sues NorVergence/Salzano Brother (12/04) Other leasing companies follow GE's lead. (12/04) GE becomes hero, sets pace for other leasing companies. In a surprise move, GE Capital made a settlement with New York Attorney General Eliot Spitzer and his staff regarding 100 approximate leases for the so-called "matrix box" and long distance telephone service from NorVergence, who filed Chapter 7 bankruptcy in July (11/04) 41 Leasing Companies in NorVergence Dilemma (10/04) ELA meets NY Attorney General's staff (10/04) Leasing companies file on lessees, Weir Group has almost 1300 plaintiffs in class action suit, newspapers print poor picture of leasing companies (9/04) Florida attorney general requests leasing companies cease collecting lease payments; three other state AG's follow (8/04) First class action is filed, two others to follow. (7/2004) Campaign to Stop Leasing Company Payments (7/2004) Robert J. Fine Resigns as EAEL President, ran Finance Division, discounting paper to banks and others (7/2004) Telecom Agent Association starts "Legal Co-Op" to breaking third party leasing contracts sold by NorVergence or involved with NorVergence equipment and service. (7/2004) NorVergence files Chapter 7(7/2004) NorVergence files Chapter 11.(7/2004) NorVergence investigated for failing to pay its employees NorVergence (4/2004) "Mr. Arnold comes to NorVergence Capital from HP Financial Services, where he was the Finance Director for North America. At HP Financial Services, he was responsible for all financial functions and was instrumental in integrating the HP and Compaq Financial services portfolios. Mr. Arnold was part of management team that launched Compaq Financial Services in 1997."
Manifest Group (USBancorp) (9/05) President and Chief Executive Officer of U.S. Bancorp Equipment Finance William Purcell leaves to become Chief Operating Officer at Aequitas Capital Management (8/05)U.S. Bancorp Equipment Finance, Inc. has named R. Blair McBeth, Jr. executive vice president and general manager of its Capital Equipment Group. McBeth replaces Greg Mamula, who will be retiring after 14 years with U.S. Bancorp. (8/05) Curt P. Kovash, named new Senior Vice President and General Manager (8/05) Brad Peterson Joins Pentech Financial Services, Inc. Vice President – Navigator Business Programs. The former General Manager - USbancorp Manifest Funding Services, Peterson brings over 15 years of experience in lease sales and management to this strategic position. (3/2004) Brad Peterson New US Bancorp Manifest Sr. V-P & Gen. Mgr. (3/04) Brian Bjella as Senior Vice President and General Manager, resigns to form a Company with Ken Noyes: Grandview Financial, which consists of Quest Resources, headquartered in New Jersey. Bjella will remain in Marshall, Minnesota, where the company will grow, keeping the current staff and operations in New Jersey. This is a 50-50 partnership, according to Brian Bjella, who said, " It has always been a dream of mine, but I never actively pursued anything because I love working for Manifest. The right opportunity never came around until now, and it is one that I need to follow. "I am excited to have the opportunity to grow my own company, "he added, " but it is very difficult for me to leave Manifest - it is a great organization with great people." (4/2002)Troy Molitor resigns as General Manager. He follows Don Polfiet...Chris Canavati. Good men, that Manifest does miss. (3/2001) changes name to U.S. Bancorp - Manifest Funding Services. Manifest Group- (9/1/2000) purchased by US Bancorp Leasing and Financial, "...a win for all the parties involved," Brian Bjella. (11/2000) Donald Polfiet leaves and no one knows where he went. If you know, please tell us.
Key Equipment Finance/American Express/Sierra Cities/Rockford (09/05) closes the former American Express Business Finance business operation in Parsippany. (7/05) Key Equipment Finance, the nation's third-largest bank-held equipment leasing plans to hire an additional 145 Colorado-based employees over the next two years, bringing the headcount to 400 by the year 2007. (12/04) "AMEX turned over control to Key Bank last night and on the way out the door AMEX funded EVERYTHING in the system,.....verbals were not completed on many transactions, nor had delivery of the equipment occurred for many deals as well.....random attempts were made to complete verbals however after a message was left the deal was BOOKED.... "Nice to see Integrity rises to the upper levels of management in this industry!!" (10/04) American Express Business Finance Sold to Key Equipment Finance. (10/04)Former Sierra Cities President Thomas J. Depping reportedly raises $21 million from investors and buys bank in Texas to go back into the equipment leasing business. (9/04) The Gazelle is Back! Registered for the October 27th Equipment Leasing Association Conference in Palm Desert, California: Mr. Thomas J. Depping MAIN STREET INVESTMENT PARTNERS Mr. Robert H. Quinn, Jr. MAIN STREET INVESTMENT PARTNERS (3/2004) 40 Amex Leasing Employees let go in Santa Ana, closing down the office imaging-copier processing center in Santa Ana, CA.---- where the old Rockford use to be in the Xerox building on Third Street. Much of the health operation went back to Parsippany (NJ), and some moved to the old Sierra Cities location in Houston, Texas. The main reason for the closing of the operation here--the building lease was originally to Rockford and it expired. Some HR and marketing amployees will remain in Santa Ana., about ten. All employees were offered jobs in other American Express locations. (11/2002) Lays off salesmen, rumors float they are about to get out of leasing business; Richard Anderson does not return telephone calls to confirm or deny. (09/2001) American Express Business Finance has closed down their broker division. We can submit deals until 10/12/01. All deals must be funded by 12/31/01. Unconfirmed rumors that salesmen are now going after the broker vendor accounts. We are seeking to confirm or deny this. (8/2001) Discovers up to $20 million write-off with RW Leasing portfolio, other portfolio's, alleged stock fraud, Amex declares they are investigating (7/2001) pretax write-down of $826 million that will pummel, second-quarter profits. The company also unveiled plans to cut as many as 5,000 more jobs because of the weak economy. Rumors abound about portfolio performance and major problems in the woodpile/going the way Rockford Industries went. (5/2001) New Name: "American Express Business Finance" (4/2001) Merger complete, Depping resigns as "gazelle" (3/31/2001) American Express completes purchase/merger (3/2001) Sierra Cities-Amex Merger gets green light by authorities (2/2001) offer from American Express for $5.68 per share in cash. We predicted this last week, naming the company and floor price. American Express active in equipment leasing, likes what it sees, and Sierra Cities is the vehicle, not Advanta or others that it has viewed to purchase. (1/2001) VerticalNet Merger falls apart. (1/16/01) Sells Off UK Assets. (7/2000) 2nd quarter loss, see report http://www.leasingnews.org/articles.doc/newsletter3.htm.
National Penn Bancshares, Inc. (Nasdaq: NPBC), the parent company of National Penn Bank, and Nittany Financial Corporation, BOYERTOWN, Pa. and STATE COLLEGE, Pa., (09/05) merge. Nittany to be a separate division; assets in excess of $5 billion and to remain the seventh largest bank holding company headquartered in Pennsylvania (equipment leasing services through National Penn Leasing Company.)
Enterprise Funding Group, LLC, Grand Rapids, Michigan (09/05) acquired by James Investments, LLC. Enterprise Funding Group, founded in 1996, is an equipment finance company that provides lending and leasing services to small and medium sized businesses across the country. Its primary focus is on income-producing capital equipment in the construction, manufacturing, healthcare and selected service industries. James Investments, based in Grand Haven, Michigan, is a privately held venture capital firm.
Brookfield leasing (09/05) John Engelbrecht, chairman/CEO sells 80% of company to a bank holding company in Illinois for $5 million. QCR Holdings (NASDAQ: QCRH - News) is a multi-bank holding company that serves the Quad City; Cedar Rapids, Iowa; and Rockford, Ill., areas. Engelbrecht, who founded the company more than 30 years ago, holds the remaining 20 percent membership interest.
RW Professional, Long Island, NY (09/05) Loses Motion to Suppress Evidence, public defender attorney Elizabeth E. Macedonio now representing Barry Drayer (06/05) Believe it or not, trial again delayed until 10/25/05 for the "interest of justice." Elizabeth E. Macedonio is now the attorney for Barry Drayer, and appears to being a public defender, as the court approves "itemized" expenses (02/05) case postponed to after June, 2005, one source says Barry Drayer has let go the original attorneys and is using his best sales techniques in trying to plea a deal. (12/04) Bank of New York pays $24 million fine in order to avoid criminal indictment for allegedly failing to report suspicious activity at a branch. "Bank of New York eats $24,000,000 for not handling the infamous "E" account properly. Barry will never serve time in jail, but the deep pocket guys will roll to cover their ****." (9/04) Drayer Fires Attorneys, Trial Postponed until March, 2005 (8/04) Trial scheduled for October 14,2004. http://www.leasingnews.org/archives/August_2004/8-09-2004.htm#rw (6/2004) Trial to start October 14 th , 2004 http://www.leasingnews.org/Conscious-Top%20Stories/RW_update7.htm (11/03)Jury to be selected for trial on April 12,2004 (9/03) Defendants on bail, "house confined," with trial to start April 12, 2004. "Status Conference adjourned to 11/14/03 @ 1:30 p.m. before USDJ Spatt. Conference held. Speedy Trial Information on Dfts: Code Type: XT, Start Date: 9/5/03, Stop Date: 4/12/04. Excludable Delay entered on the record. Next Status Conference: 1) Conclude discovery 2) Set motion schedule. Questionnaires two weeks before jury selection on 3/30/04. 3/31/04 counsel to pick up questionnaires. 4/6/04 all counsel to agree on jurors who will return for Jury Selection. Jury Selection 4/12/04 @ 9:00 a.m. Consent to Magistrate Judge selecting jury by dfts and govt. No adjournments of Jury Selection date will be granted. Re: Bradley Simon's Letter dated 9/2/03. Govt. to move documents to another location and keep boxes (2nd set) for the Courthouse." Last file is a letter: "Ms. Besser is currently subject to a 7:00 p.m. curfew as part of her pre-trial supervision and requests that the curfew be lifted on 10/19/03 so she may participate in a gathering in Manhattan." It appears for the defendants to ask to either/or travel from their home or at certain hours, as they are remanded to their residence with electronic monitors on their ankle. "MINUTE ENTRY; before USDJ Spatt on 9/5/03 @ 11:30 a.m., for Criminal Cause for Status Conference as to Dfts Payaddi Shivashankar, Susan Cottrell, Adam Drayer, Roger Drayer, RW Professional Leasing Services Corp., Rochelle Besser, Barry Drayer. Dft RW Professional Leasing Services Corp. present on bail with retained counsel Stuart E. Abrams. Dft Rochelle Besser present on bail with retained counsel Stuart Abrams. Dft Barry Drayer present on bail with retain counsel Stephen L. Cohen. Dft Roger Drayer present on bail with retained counsel Jerald Rosenthal. Dft Adam Drayer present on bail with retained counsel Thomas Marino. Dft Susan Cottrell present on bail with retained counsel Jerald Rosenthal. Dft Payaddi Shivashankar present in custody with CJA counsel Edward Jenks. Govt: Geoffrey Kaiser. Court Reporter: Harry Rapaport. Case called. Status Conference adjourned to 11/14/03 @ 1:30 p.m. before USDJ Spatt. Conference held. Speedy Trial Information on Dfts: Code Type: XT, Start Date: 9/5/03, Stop Date: 4/12/04. Excludable Delay entered on the record. Next Status Conference: 1) Conclude discovery 2) Set motion schedule. Questionnaires two weeks before jury selection on 3/30/04. 3/31/04 counsel to pick up questionnaires. 4/6/04 all counsel to agree on jurors who will return for Jury Selection. Jury Selection 4/12/04 @ 9:00 a.m. Consent to Magistrate Judge selecting jury by dfts and govt. No adjournments of Jury Selection date will be granted. Re: Bradley Simon's Letter dated 9/2/03. Govt to move documents to another location and keep boxes (2nd set) for the Courthouse. Notice of Appearance filed by Jerald Rosenthal for dft #4. (Coleman, Laurie)" (6/2002) 40 FBI agents raided the offices and arrested Barry and Rochelle, Roger and Jennifer Drayer. The investigation found $6.5 Million of fraud. Prosecutors said that the company, the RW Professional Leasing Corporation, concocted elaborate schemes using up to 100 rented mailboxes as far away as California to send phony checks, sham invoices, bogus leases and other false documents to banks in various states. Based on those documents, the banks lent RW millions of dollars to buy equipment and lease it out, prosecutors said. The schemes included multiple loans from different banks for the same medical equipment and loans for equipment that was never bought or leased, prosecutors said. Take the Money and Run:
Part I, http://www.leasingnews.org/Conscious-Top%20Stories/moneyandrun1.htm
Part II, http://www.leasingnews.org/Conscious-Top%20Stories/moneyandrun2.htm
Part III http://www.leasingnews.org/Conscious-Top%20Stories/moneyandrun3.htm
August
Affiliated Corporate Services, Lewisville, Texas (8/05) -Rick Gatelli joins Heritage Leasing of Fresno, California (7/05)-Jim Lahti starts Affiliated Investment Group, Lewisville, Texas (1/2001) Merges with First Commerce Leasing.
Marlin Leasing, Mount Laurel, NJ (08/05) Completes seventh securitization since 1999, this one $340.6 million term asset backed securitization.
Pinnfund/PinnLeasing (08/05) James Hillman, 65, a lawyer now living in Nevada, was the chief money raiser for Carlsbad-based PinnFund, a defunct sub-prime mortgage lender that bilked investors out of millions of dollars. He entered the guilty plea Monday on one count of the 29-count indictment handed up two years ago. (5/05) Tommy A. Larsen, the feisty president of PinnLease, San Diego, who was recently convicted and sent to jail, died suddenly in prison of liver cancer. (8/04) Larsen gets prison term, told to repay investors http://www.leasingnews.org/archives/August_2004/8-03-2004.htm#larsen (12/03) Tommy A. Larsen, president of PinnLease, admitted to scheming to funnel money from bogus equipment leases to himself, among other charges. He pleaded guilty to scheming to obtain funds for PinnFund U.S.A. through fraudulent equipment leases, and laundering kickbacks of those funds to the mortgage lender and himself through sham transactions and false invoices, prosecutors said. Larsen also pleaded guilty to obstruction of justice in connection with his previous attempt to provide false testimony in federal court. The defendant also pleaded guilty to evading taxes with respect to his 1999 and 2000 federal income taxes by charging personal expenditures to PinnFund, by structuring his compensation to avoid payroll taxes, and by hiding the proceeds of illicit activity in offshore financial institutions. Sentencing is set for April 5 before U.S. District Judge Marilyn Huff. (11/03) Jury trial set for 9:00 3/16/04 for Tommy A Larsen, for Kim A. Larsen before Judge Marilyn Huff (2/2003) PinnLeasing President denied bail (2/2003) Four indicted on charges of fraud in the PinnFund case ) (2/2003)Former Pinnfund CEO plea bargain- 10 years in prison 12/2002--A former employee of defunct PinnFund USA, a Carlsbad mortgage lender that imploded in March 2001 when regulators uncovered a $300-million pyramid scheme, pleaded guilty to lying to a federal grand jury. U.S. Attorney Carol Lam said Kimberly Hulihee admitted that she provided false testimony on Nov. 14 to a federal grand jury investigating the removal of files and other materials from a PinnFund subsidiary - PinnLease USA Inc. Hulihee, 38, was the former office manager of PinnLease, and later a company linked to former PinnLease President Tommy Larsen called Aloha Pacific Leasing. Hulihee is the second person to plead guilty to criminal charges in the PinnFund fraud. Former PinnFund chief executive Michael Fanghella also has admitted to myriad federal charges. He is cooperating with authorities and remains behind bars in the Metropolitan Correctional Center in San Diego awaiting sentencing. Larsen faces a pending civil suit related to the PinnFund fraud but no criminal charges, according to court documents. (8/2002) Federal authorities plan to auction expensive wine, jewelry and coins seized from the Ramona house of John D. Garitta, the former PinnFund USA chief financial officer who pleaded guilty last week to securities fraud charges. Merchandise to be sold at the auction includes more than 400 bottles of wine worth an estimated $163,000, $480,000 in jewelry and gems and $19,000 in collectible coins. The auction will be held in Rancho Dominguez in the Los Angeles area. (7/2002) investors in Carlsbad's defunct PinnFund USA sue the PricewaterhouseCoopers Accounting Firm for failing to detect fraud at the Company. (4/2002) the Receiver in the case filed a lawsuit against Tommy Larsen, related companies and a law firm, in bankruptcy court. It's a preference that may climb to $6.7 million. Larsen denies it all, and says, "prove it!" (12/2001 ) a top Executive Officer to turn over $47 deal/judge makes okay as it favors return of investor money. http://www.leasingnews.org/archives/December%202001/12-07-01.htm. (11/2001) Girlfriend to return millions. http://www.leasingnews.org/archives/November%202001/11-01-01.htm. (8/2001) Fanghella pleads not guilty to all charges, remains in jail. (8/2001) A federal grand jury indicted PinnFund USA founder Michael J.Fanghella 20-count indictment; 19 counts in the indictment carry a maximum penalty of 10 years in prison and a $250,000 fine. One count -- filing false financial information with the U.S. Dept of housing and Urban Development -- carries a maximum penalty of 30 years in prison and a $1 million fine. (8/2001) In San Diego Feds file charges for filing false financial statements plus criminal charges for bilking at least 166 investors out of $330 million after Fanghella turns self in. (7/2001 ) Barbados Court Freezes PinnFund Exec's Assets (6/2001) Leasing News considers it a "not guilty" judgment against Tommy Larsen, but Larsen's lawyer basically agreed to comply with the temporary restraining order of March 23 and agreed that Mr. Larsen would give an accounting of any possible gains he received that rightfully belong to PinnFund. Since he gave in to everything the receiver wanted, he was not held in contempt. The records shows that being acquitted or not guilty was not what happened. The judge found he wasn't in contempt because, going forward, he agreed to cooperate fully. (6/2001) Judge Hands Down $109 M Default Judgment in PinnFund Scandal. Bounty Hunters Get the Nod to Go Get 'Em (4/2001) Judge continues freeze of assets. Founder of PinnFund skips bail, judge issues arrest warrant ( 3/2001) PinnFund out of money, closes all offices, including leasing. Newspaper stories say "Millions of dollars are gone." (3/2001) PinnLease USA to Fold 47 Nationwide Offices-- $100 Million Fraud, reads like a tabloid story, perhaps largest fraud in West Coast history.
Centerpoint Financial, Denver, Colorado (08/05) Gordon R. Roberts, the 1993 president of the United Association of Equipment Leasing, was convicted of theft for basically stealing money while he was president of Centerpoint Financial. (6/2002) faxes sent, can't fund deals (6/2002) Reports Centerpoint not funding deals (3/2002)" Not true" says John Otto, chairman of Heritage Leasing, major stockholder of Centerpoint Financial, LLC, and Pentech Financial, Campbell, California. " I am not pulling the plug on Centerpoint. It is true we hit a small bump in the road, but that is taken care of. "The thirty year plus lease veteran with deep pockets confirmed the resignation of Randy Schiel, now former Chief Financial Officer.
July
Healthcare Business Credit Corporation ("HBCC") (7/05) -- a full service healthcare financing company, purchased by CIT. 64 employees and four business development offices located in Atlanta, Dallas, Chicago and Los Angeles; approximately $500 million in assets and $1 billion in loan commitments, HBCC has over 120 customers operating in 40 states
Unicyn Financial, Closter, New Jersey (7/05) the five top salesmen from HBSC join here. Patrick McGahren, President, announces major expansion in the health care segment. Joining Unicyn in the newly formed Dallas, Texas office is Greg Wood. Greg has extensive history within the Dental Financing market and was most recently with GE Capital / HPSC. Unicyn also opened a new Chicago, Illinois office which will be run by Tom Baker and Angela Baker, both formerly with GE Capital / HPSC. Lastly, the firm opened a new Los Angeles, California office which will be run and managed by Michael and Penny Healy
HPSC (GE), Boston Mass (7/05)---Five top salesman leave to help launch major move into medical market by Unicyn Financial of New Jersey (1/04) GE Healthcare Financial Services HPSC Conversion takes place. HPSC, Inc., with headquarters in Boston, MA, is a leading non-bank financial services company engaged primarily in financing licensed healthcare providers throughout the United States. HPSC provides financing, in the form of leases and notes due in installments, to the dental, ophthalmic, chiropractic, optometry, veterinary, podiatry and other medical and healthcare professions. HPSC markets its financing services to healthcare providers in a number of ways, including direct marketing through trade shows, conventions, advertising, cooperative arrangements with equipment vendors, and through its sales staff located in 22 offices throughout the United States. GE Healthcare Financial Services, a unit of GE Commercial Finance, is a premier provider of capital, financial solutions and related services for the global healthcare industry. With $12 billion in assets and nearly 700 employees, GE Healthcare Financial Services offers a full range of financing capabilities from equipment leasing and real estate financing to working capital lending and vendor finance programs.(11/03) reports a 14% decrease in net income for the third quarter ended September 30, 2003 of $1.5 million compared to $1.8 million in restated net income in the same quarter last year (11/03)GE Healthcare Financial Services to Acquire HPSC, Inc.; Transaction Strengthens Medical and Dental Practice Offerings. GE will acquire all of the issued and outstanding common stock of HPSC for $14.50 per share or a total consideration of approximately $72.4 million.
One World Leasing (7/05) Sharon Foglesong appointed president, now 16 members, reports co-op going strong and successful. (8/04) Co-op adds six new members, new exec. dir. gets company going. http://www.leasingnews.org/archives/August_2004/8-06-2004.htm#one (11/03) Down to five members, but seeks new president (2/2003) Loses three members, obtains new CEO. http://www.leasingnews.org/#world
Conrad & Associates, Carlsbad Ca (7/04)--Reader Finds CMC's Hanson and Fisher. Mr. Fisher keeps a condo at the \"Sterling\" on Tierra Verde, Florida (in my neighborhood) and visits here monthly. If anyone would like to look for him, he is very easy to find! He also scammed my father out of 50K so I am happy to help anyone make Ron Fisher held responsible for his debts. "For anyone who wants to find them, Mr. (NOT Dr - he is a fake) Fisher spends a lot of his time at his Gulf front Condo in Florida, 1100 Pinellas Bayway, #H4, St. Petesburg, FL 33715. (02/05) Looks like Bill and TY Hanson, late of CMC have done it again. Complaint received "I think my investment of 50k is no more. Got $500 a month or 12% return for 2004. Got January 05, but none for this month. All phones etc off!!! Sold me a Promissory note." Attempts to find them for a response have all failed. They seem to have disappeared.
CIT / Group (7/05) will cut its work force by about 200 employees in North America, consolidating its units and technology, expecting a second-quarter charge of about $25 million for expenses related to the job cuts. (7/05) announced the sale of the majority of its corporate aircraft portfolio to GE Commercial Finance. (7/03) CIT Elects Jeffrey M. Peek President & COO, Reorganizes Senior Management Structure (8/2002) CIT Execs/Directors take stock Bonuses (7/2002) The 200 Million share offering, led by Goldman Sachs and Lehman Brothers went out at $23 each. Tyco Intl in a bid to ease its heavy debt load, raised $4.6 billion from the sale of its CIT Group, accepting half of what it paid for the finance Company a year ago. (6/2002) Tyco loses 30% of stock value, insider loans and shenanigans by directors embarrassing to all, maybe illegal, too, says SEC, IRS, State Attorney General. (6/2002) CEO Dennis Kozlowski---Delusions of Grandeur: Tyco gets a lot worse, like a dark Opera, CEO resigns, directors taking private loans, and talk is they should all resign (5/2002) Tyco to spin off CIT within 45 days (5/2002) Tyco to pay off $10 billion debt by selling CIT(4/2002)CEO Al Gamper says this is the "quiet period" to employees on line.(3/2002)board member borrows millions, loans to insiders made. (2/2002) Tyco International pledged to accelerate its breakup plan, starting with a spin-off or sale of its Tyco Capital finance arm within 8 to 12 weeks. (2/2002) Participants at the Equipment Leasing Association Annual CEO Forum, Feb. 4-5, expressed doubt that Tyco can successfully spin off it financial unit, CIT, through an IPO. Prez. Kozlowski says $10 billion- paid too much for CIT, analysts say will sell for $7.7 billion to $12 billion. Stockholder suit against company. Says Kozlowski made too much money-finder fee to director Walsh too much. Trouble in River City, however Kozlowski holding it together, but the shares remain 49% below where they started the year. (1/2002) Tyco to Separate Into Four Independent, Publicly Traded Companies. (10/2001) Tyco Makes it Official: CIT Tyco Capital (8/2001) Many opt to move to Tempe, AZ, stay with CIT, become bold, challenge GE and others in the marketplace, morale up, company on the move. (5/2001) CIT Shareholders Approve Proposed Tyco-CIT Acquisition (3/2001) Tyco International Ltd. makes offer for about $9.2 billion in cash and stock in a deal that would allow the manufacturer to finance purchases of its wide array of products. Bermuda Hq, N.H.. operation office. ( 2/2001) Closing Atlanta office and others, "freeze" on new broker business from this office (5/2001) Bruce Nelson, Tempe, Arizona seeking broker business. "We are an asset based lender and provide equipment financing in the following industries: Construction, Transportation, Logging, Material Handling, Corporate Aircraft, Mining, Energy, & Marine