Thursday, December 27, 2018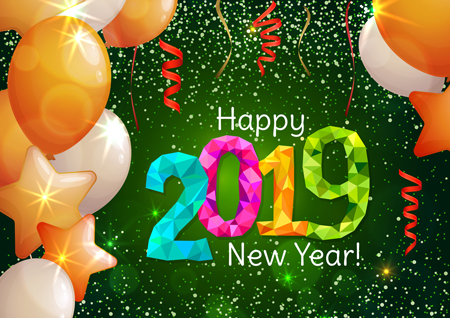 Today's Leasing News Headlines
My Experience with the Salvation Army, plus
List of Those Who Have Contributed to Date to the Kettle
Leasing News Top Stories
December 17 - December 20
New Hires/Promotions in the Leasing Business
and Related Industries
Leasing Industry Ads---Help Wanted
Now Hiring
Business is Up, Despite November ELFA MFLI-25 Report
Down 10% Compared to October, from Larger Corporations
By Christopher Menkin
Secured Lending Confidence Index: Strong Optimism
Results Indicate Continued Positive Trend in New Loan Originations
Everything I Need to Know I Learned from Noah's Ark
Placard
ZRG Partners Secures New Capital
to Accelerate Growth and Expansion
Most Indelible Cinematic Achievements to Look Forward
By Leasing News' Cinema Editor Fernando Croce
Siberian Husky Mix
Irvine, California Adopt a Do
DeBanked Connect – Miami-Alt. Finance
Attendance is Limited - January 24, 2018
News Briefs---
Dow jumps 1,086 points to post its biggest point gain on record
as stocks storm back from worst-ever Christmas Eve
2019 Alternative Finance Predictions
By Todd Stone, deBanked
2018 was a particularly tough year for farmers,
leaving their futures uncertain
Amazon reveals the top-selling items of the season
as it announces record-breaking holiday sales

Broker/Funder/Industry Lists | Features (wrilter's columns)
Top Ten Stories Chosen by Readers | Top Stories last six months
www.leasingcomplaints.com (Be Careful of Doing Business)
www.evergreenleasingnews.org
Leasing News Icon for Android Mobile Device
You May have Missed---
'He gave his life to save others
... He's a good boy': Police mourn K-9 slain on Christmas Eve
Poem
Sports Brief----
California Nuts Brief---
"Gimme that Wine"
This Day in History
SuDoku
Daily Puzzle
GasBuddy
Weather, USA or specific area
Traffic Live----
######## surrounding the article denotes it is a "press release," it was not written by Leasing News nor has the information been verified. The source noted. When an article is signed by the writer, it is considered a "byline." It reflects the opinion and research of the writer.


Please send a colleague and ask them to subscribe. We are free
Email kitmenkin@leasingnews.org and in subject line: subscribe


[headlines]
--------------------------------------------------------------
My Experience with the Salvation Army, plus
List of Those Who Have Contributed to Date to the Kettle
By Kit Menkin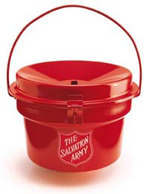 Larry Armstrong $260.50
Brian Carey $50.00
Edward Castagna $100
Theresa Kabot $100
Brice Kropschot $100
Michael Larkin $52.10
Allan Levine $100
Bruce Lurie $100.00
Gerry Oestreich $52.10
Klaus Pache $104
Susan Robert $312
Jeffrey Rudin $250
Dean Rudin $100
Robert Teichman $50
$1731.00
After the US Army, my first job in 1963 was with the United Bay Area Crusade Public Relations Department in San Francisco. I was assigned to do press releases and outdoor events for Youth for Service, primarily Hunters Point teenagers' jobs and school, and the Salvation Army. When I became a newsman, I stayed active in both.
Moving to San Bruno, California, I became the Army's Welfare Secretary. My job was to help people who needed food, couldn't pay PG&E bills, needed a food voucher, had other needs, plus finding places to live after a fire, or those stranded in travel; on call, 24 hours a day.
When I moved to Santa Clara, I continued in the capacity, then joining the San Jose Board, helping to create a Santa Clara County four county board, serving as chairman and building up stores and programs. I became Chairman of the Adult Rehabilitation Board in 1998, running a six-month free rehabilitation program.
I ended my term with the following results:
increasing donations and sales at the thrift stores through increasing automobile donation sales
developing and maintaining www.salvationthrift.com, a website before the national had one
helping to establish the largest retail store we believe on the West Coast
activating a Speaker's Bureau program
implementing many programs along with a great board of advisors, active in the committee system to accomplish our goals.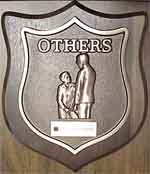 It meant a lot to me to receive the Salvation Army "Others" Award. It was also an honor to receive the San Francisco District Award, "Silver Tambourine" several years ago for the organization of the Santa Clara County Board.

Chairman Ken Kelly, Councilman Linda LaZotte, Kit Menkin,
Captain James Sloan
Menkin Awarded Salvation Army "Emeritus Award"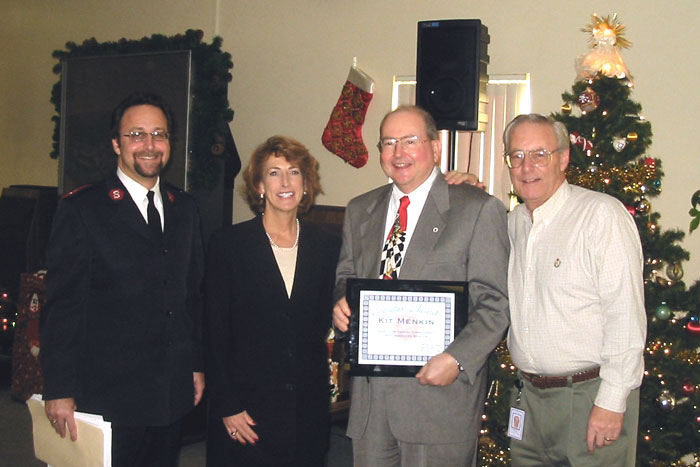 Captain Howard Bennett, Chairman and Santa Clara County Superior Court Judge Mary Jo Levinger, Kit Menkin, Past Chairman Ken Kelly.
This was the first such award in the San Jose four county districts ever given. This was given for forty years of service serving as chairman, president, welfare secretary, and a list of accomplishments was read, as Kit Menkin takes his first sabbatical from the Army.

[headlines]
--------------------------------------------------------------
Leasing News Top Stories
December 17 - December 20
(Stories most opened by readers)
(1) Ninth Circuit Tags Payday Lender for $1.27 Billion
for Confusing "Truth in Lending" Notice
By Tom McCurnin, Leasing News Legal Editor
http://leasingnews.org/archives/Dec2018/12_17.htm#ninth
(2) OnDeck To Enter Equipment Financing Market
Small Business Online Lending Leader Will Offer Equipment Finance
Loans in 2019
http://leasingnews.org/archives/Dec2018/12_20.htm#ondeck
(3) New Hires/Promotions in the Leasing Business
and Related Industries
http://leasingnews.org/archives/Dec2018/12_17.htm#hires
(4) Georgia Lease of Air Conditioning Unit Not Entitled
to Administrative Claim After Assumption
By Tom McCurnin, Leasing News Legal Editor
http://leasingnews.org/archives/Dec2018/12_20.htm#georgia
(5) Madison Capital Executive Reflects on Four Decades in Business
— Looking Back and Forward on a Dynamic Industry
By Susan Carol
http://leasingnews.org/archives/Dec2018/12_20.htm#madison
(6) November 2018 - The List
"The Good, the Bad and the Ugly"
http://leasingnews.org/archives/Dec2018/12_17.htm#nov_list
(7) Fed Raises Interest Rates,
Showing Confidence in Health of Economy
https://www.nytimes.com/2018/12/19/business/fed-interest-rates.html
(8) Most Influential Lawyers
in Equipment Finance and Leasing
http://leasingnews.org/archives/Dec2018/12_17.htm#lawyers
(9) Drop Bad Search Engine Optimization Habits
Improve Your Website Rating
By Alex Vasilakos
http://leasingnews.org/archives/Dec2018/12_17.htm#drop
(10) 2018 CLFP Accomplishment Report
Includes Companies with 3 or More CLFPs
http://leasingnews.org/archives/Dec2018/12_17.htm#clfp

[headlines]
--------------------------------------------------------------
New Hires/Promotions in the Leasing Business
and Related Industries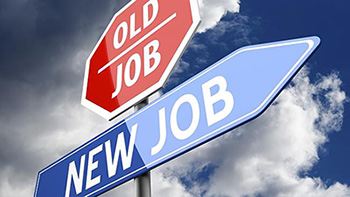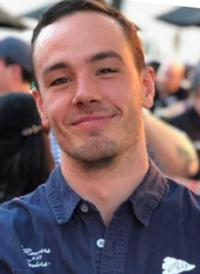 Taylor Anderson was prompted to Manager, Sales Enablement, OnDeck, New York City, New York. He is located in Denver, Colorado. He joined the firm March, 2013 as Loan Advisor; promoted August, 2014, Senior Loan Advisor; promoted, January, 2015, Corporate Trainer. Previously, he was Assistant Director of Community Relations and Advancement, Brantwood Children's Home (October, 2012 - February, 2013); Intern, ATO Records (May, 2012 - August, 2012); Production Assistant, 44 Blue Productions (May, 2012); Intern, WPO Development (December, 2011); Education: Auburn University, Bachelor of Arts (B.A.), Communications (Radio, Television, and Film) (2007 - 2012).
https://www.linkedin.com/in/taylor-anderson-98729653/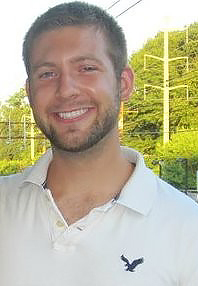 Gregory Evershed was promoted at First America Equipment Finance, Fairpoint, New York, to Assistant Vice President, Product Specialist. He joined the firm December, 2016, as Sales Analyst. Prior, he was Account Executive, New Horizons, Logical Operations (July, 2016 - October, 2016); IT Technician, Heartland Concepts (September, 2011 - February, 2013); Data Warehouse Intern, University of Rochester (June, 2011 - August, 2011); Programmer/Analyst, Innovative Solutions (September, 2010 - March, 2011); Project Controls Intern, (The Pike Company (2009 - 2010). Community Service: Volunteer: Rochester Area Habitat for Humanity (August, 2017). Education: Rochester Institute of Technology, BS, Management Information Systems (2005 - 2010). Minor, Cultural Anthropology. Concentration: Accounting. Fairpoint High School.
https://www.linkedin.com/in/gevershed/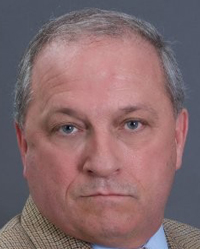 James Grant was hired as Vice President, Portfolio Management, Balboa Capital, Costa Mesa, California. "In this role, Mr. Grant will focus on growing Balboa Capital's working capital loan, and business." Previously, he was Vice President, Quick Bridge Funding (October, 2013 - November, 2018); Vice President, LEAF Commercial Capital (February, 2006 - October,2013); North American Director, CNH Capital (January, 1999 - January, 2001); Director of Legal Operations, American Express Business Finance/Rockford Industries (1994 - 1999); Director of Legal Operations, SEQUA Capital Corporations (January, 1989 - January, 1994); Manager, US Leasing Service Corporation, First Interstate Bank (1985 - 1989); National Collection Manager, Credit Alliance Corporation/Leasing Service Corp. (January, 1984 - January, 1989); Collections/Dealer Supervisor, General Motors Acceptance Corporation (January, 1982 - January 1984). Sergeant, US Army (1977 - 1983).
https://www.linkedin.com/in/jim-grant-35aab049/ https://www.linkedin.com/in/james-grant-54699083/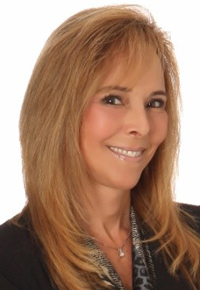 Sue Monfore was hired as Director Strategic Alliances, TimePayment, Burlington, Massachusetts. She is located in the company's Westlake, California office. Previously, she was Vice President, Business Development, First American for almost two years. Prior, she was Access GE Growth Leader, GE Capital, Americas (June, 2014 - July, 2016); Senior Business Development Manager, Marlin Business Services Corp. (May, 2013 - May, 2014); Western Regional Sales Manager, US Bank (February, 2011 - February, 2013). She joined GE Capital, 1991 as Regional Sales Manager, promoted to National Account Manager; promoted to Relationship Manager (2005). Education: Eastern Michigan University, BS, Business. https://www.linkedin.com/in/sue-monfore/


Mark C. McKissick, CLFP, was hired as Vice President, Relationship Management, Wintrust Specialty Finance, Irvine, California. Previously, he was Relationship Manager, Hanmi Bank (October, 2016 - December, 2018). He joined Banc of California July 2013, as Marketing Manager, Commercial Equipment Finance; promoted March, 2014, Director of Small Commercial Lending. Prior, he was at Crossroads Equipment Lease and Finance, starting July, 2012, as Credit Analyst; promoted February, 2013, Inventory Specialist/Remarketing Manager. California Banking Officer, California Bank and Trust (November, 2008 - January, 2012). Education: California State University-Fullerton, Bachelor of Business Administration (BBA), College of Business and Economics, Finance. Activities and Societies: Finance Association. Orange Coast College, Associate's degree, Accounting (1992 - 1995). https://www.linkedin.com/in/markmckissick/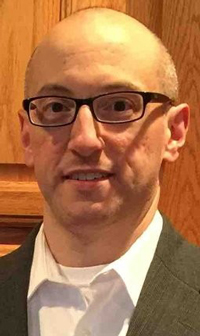 Chris Shaheen was promoted to Vice President, Asset Management, Crestmark Equipment Finance, a Division of Meta Bank, Bloomfield Hills, Michigan. He is located in the Greater Detroit area. He joined the firm October, 2005, as Remarketing Manager; promoted November, 2017, Assistant Vice President, Asset Management. Previously, he was Auditor, Plante Moran (January, 2003 - September, 2005). Education: Western Michigan University, Master of Science (MS), Accounting (1997 - 2002).
https://www.linkedin.com/in/chris-shaheen-59734a116/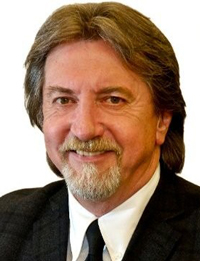 Joe Shelle was hired as Sr. Vice President, Sales and Operations,, Lease Financial, Inc., Vancouver, British Columbia, Canada. Previously, he was senior Manager, Equipment Leasing, British Columbia, Bank of Montreal (march, 2017 - December, 2018); Royal Bank, Senior Manager, Equipment Finance Specialist (November, 2013 - March, 2017 and January, 2012 - November, 2013), Business Development Manager (Alberta & British Columbia); President, Canada West Corporate Finance, Inc. (September, 1991 - June, 2007). Organizations: Member, Alberta Road Building Association. Member, Canadian Finance and Leasing Association. Member ,Canadian Institute of Mining, Metallurgy and Petroleum. Member, Fort McMurray Construction Association. Education: Mount Royal College. Business Administration specializing in Accounting and Marketing. https://www.linkedin.com/in/joeshelle/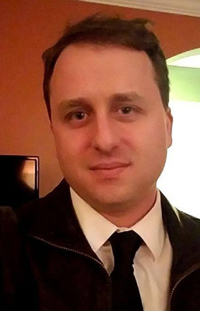 Ben Tishelman was promoted to Manager of Operations, North Mill Equipment Finance, LLC, Norwalk, Connecticut. He joined the firm September, 2009, as Asset Recovery Specialist; promoted January, 2017, Operations Analyst. Previously, he was Bank Counselor & Tennis Instructor, Camp Wekeela for Boys and Girls (June, 2009 - August, 2009); Swimming Instructor/Lifeguard, Gate Hill Day Camp (June, 2008 - August, 2008); Aide for Individuals Requiring Special Assistance Putnam Northern Westchester BOCES (June, 2005 - August, 2007). Education: Manhattanvile College, B.A., History & World Religions (2006 - 2009). Irvington High School. https://www.linkedin.com/in/ben-tishelman-a2692a28/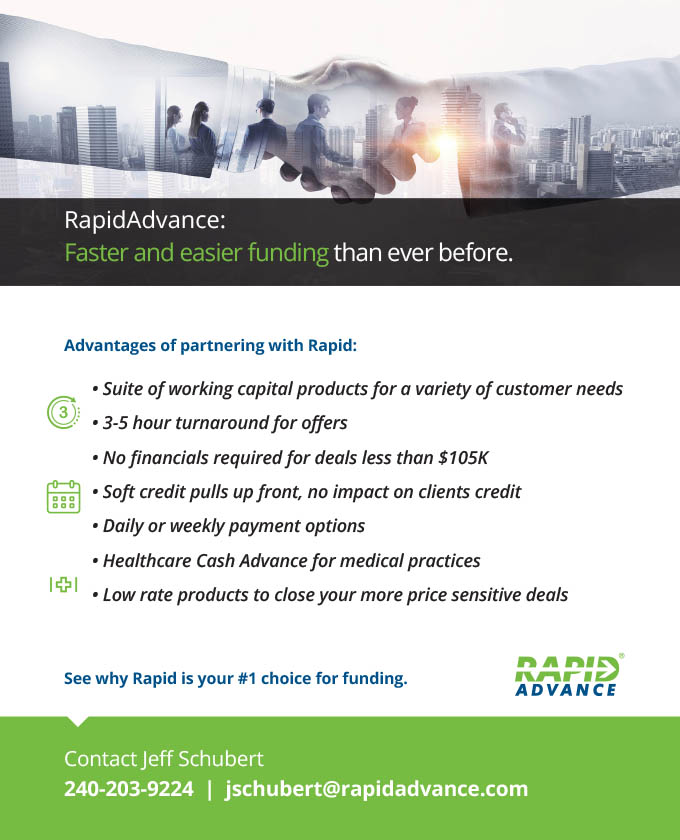 [headlines]
--------------------------------------------------------------
[headlines]
--------------------------------------------------------------
Business is Up, Despite November ELFA MFLI-25 Report
Down 10% Compared to October, from Larger Corporations
By Christopher Menkin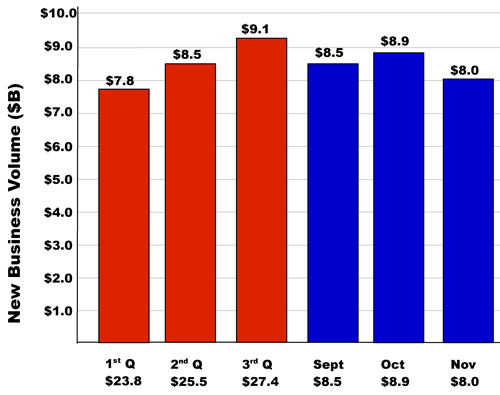 The Equipment Leasing and Finance Association's (ELFA) Monthly Leasing and Finance Index (MLFI-25), which reports economic activity from 25 companies representing a cross section of the $1 trillion equipment finance sector, showed their overall new business volume for November was $8.0 billion, down 10 percent month-to-month from $8.9 billion in October
It should be noted the MLFI-25 Participants are now 34. As important, the overwhelming majority are large companies and banks or bank affiliates.
Bank of America Leasing
Bank of the West
BB&T Bank
BMO Harris Equipment Finance
Canon Financial Services
Caterpillar Financial Services
CIT
Citizens Asset Finance
Dell Financial Services
DLL
Fifth Third Equipment Finance
First American Equipment Finance, a City National Bank Company
Frost Bank
GreatAmerica Financial Services
Hitachi Credit America
HP, Inc.
Huntington Equipment Finance
John Deere Financial
Key Equipment Finance
LEAF Commercial Capital Inc.
M&T Bank
Marlin Leasing
Merchants Bank Equipment Finance
PNC Equipment Finance
SG Equipment Finance
Siemens Financial Services
Stearns Bank
Stonebriar Commercial Finance
TCF Equipment Finance
TD Equipment Finance
TIAA Commercial Finance, Inc.
US Bancorp Equipment Finance
Volvo Financial Services
Wells Fargo Equipment Finance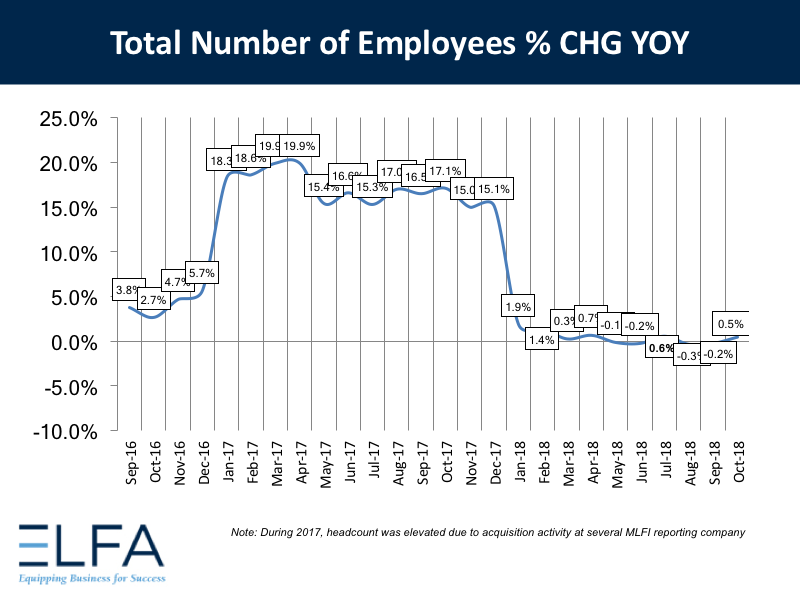 click to make larger
From what alternate finance, finance, and leasing companies report to Leasing News, they are hiring as well as looking for experienced personnel. It is no secret banks and large companies hit by tariff increases, are cutting back. In addition, as large companies turn more to Financial Technology, they are cutting back on operation personnel,
as well as closing banks closing branches.
Alternate Financing is changing the industry and perhaps new FASB rules in effect in 2019 will also change the face of the industry.
Full ELFA MFLI-25 November Report:
https://www.elfaonline.org/news/industry-news/read/2018/12/20/equipment-leasing-and-finance-association-s-survey-of-economic-activity-monthly-leasing-and-finance-index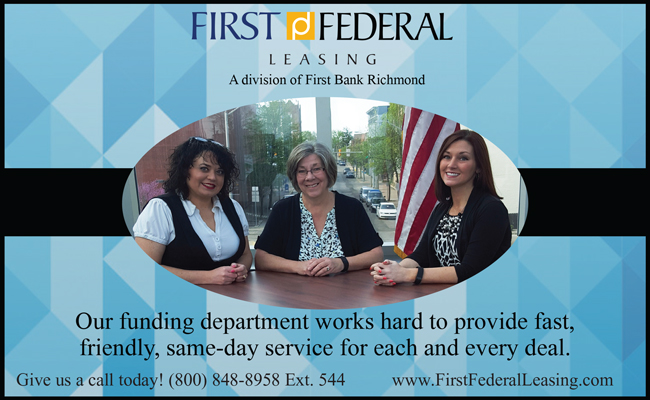 [headlines]
--------------------------------------------------------------
Secured Lending Confidence Index: Strong Optimism
Results Indicate Continued Positive Trend in New Loan Originations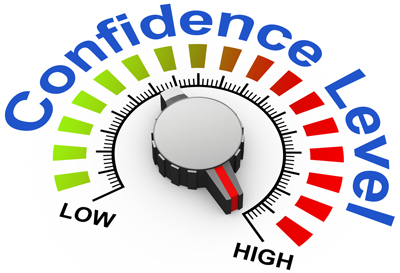 (Note: This was taken before the Government shut down, but may still be accurate)
The Commercial Finance Association Education Foundation released its fourth Secured Lending Confidence Index "SLCI". The Index, initially launched in April 2018, reflects prevailing business conditions and is a broad-based leading indicator of vitality in the U.S. middle market. The SLCI surveys leaders of commercial finance companies who provide secured loans used to finance ongoing operations, expansion and recapitalization of mid-market companies, according to Richard D. Gumbrecht, CEO of the Commercial Finance Association.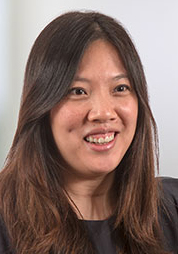 Miin Chen, Chief Financial Officer, Siena Lending Group, said, "The latest Confidence Index reflected strong optimism on the industry and the findings are consistent with what many economists are indicating. The robust pipeline in the entrepreneurial sector could indicate that banks are becoming more conservative."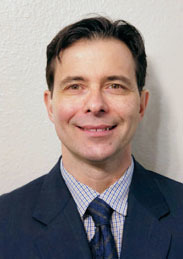 CFA Education Foundation Executive Director, Greg Slowik, remarked, "These outcomes demonstrate that the Confidence Index is a reliable tool in helping our members see around corners and assist them in making appropriate business decisions. As we build the data over time, it will become an increasingly significant tool."
The SCLI measures five dimensions of anticipated activity over the coming three months including overall business conditions, portfolio performance, demand for new business, client utilization and hiring expectations. Respondents indicated the most optimism for new business demand followed by business conditions overall, both positive indicators for the U.S. economy.
The SCLI is conducted quarterly.
About the Commercial Finance Association
Founded in 1944, the Commercial Finance Association is the international trade organization representing the asset-based lending, factoring, trade and supply chain finance industries, with nearly 250 member organizations throughout the U.S., Canada and around the world. CFA provides education, networking opportunities and industry advocacy to the global commercial finance community.
About the CFA Education Foundation
The mission of the CFA Education Foundation is to cultivate education, innovation and charitable works for the betterment of the Commercial Finance community. As a separate entity from the Commercial Finance Association, the CFA Education Foundation is a 501(c)(3) organization that funds crucial initiatives benefiting secured lenders worldwide.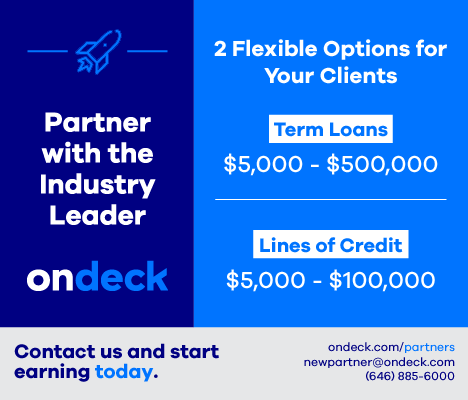 [headlines]
--------------------------------------------------------------
[headlines]
--------------------------------------------------------------
##### Press Release ############################
ZRG Partners Secures New Capital
to Accelerate Growth and Expansion

Rochelle Park, New Jersey, USA - ZRG Partners, one of the fastest growing global executive search firms, announced today that it has completed a recapitalization with RFE Investment Partners, a lower middle market private equity firm with a 38 year history of investing in growth companies. ZRG's current capital partner, Northcreek Mezzanine, is successfully exiting the investment after four years. During this period, ZRG has experienced a compound annual growth rate exceeding 38%.

ZRG CEO Larry Hartmann related, "We are excited about the next chapters of growth for ZRG as we continue our ascent to becoming an even more significant player in the global executive search market and broadening our offering to other areas of human capital services. Our data driven approach and our commitment to delivering seamless services around the globe with our highly collaborative team have been pillars in our growth strategy. We are looking forward to continuing our expansion with an investor that has significant capital to support our proven core growth strategy in tandem with looking at strategic acquisitions to broaden our talent offerings."


Michael Rubel, Managing Director at RFE Investment Partners said, "We believe the human capital services market is ripe for disruption and fresh thinking. We are convinced that ZRG Partners is approaching the market with the right blend of experience, leadership and technology which clearly is resonating with clients who want to acquire top talent globally. We also believe that our firm is uniquely positioned to assist Larry and the ZRG team in expanding ZRG's service offerings and helping fulfill their vision as a significant provider of human capital services through continued hiring, key acquisitions and add-on investments."
New York City based investment bank JEGI represented ZRG Partners in this transaction. Berkowitz, Trager & Trager, LLC provided legal counsel to ZRG. Terms of the transaction were not disclosed.
About ZRG Partners
ZRG Partners is a progressive mid-sized global executive search firm that uses a proven, data-driven approach. For 19 years, clients have trusted ZRG Partners to recruit top talent around the world. ZRG Partners is recognized as one of the fastest growing executive search firms in the world driven by the firm's client focused, results driven approach grounded in technology and innovation. Information on ZRG can be found at www.zrgpartners.com.
About RFE Investment Partners
With more than 35 years of experience successfully investing in growth companies and partnering with strong management teams in the lower middle market, RFE Investment Partners makes investments in businesses with initial enterprise values of $20 million to $100 million. Information on RFE can be found at www.rfeip.com.
About The Jordan, Edmiston Group, Inc. (JEGI)
JEGI, New York, NY is the leading provider of independent investment banking services for media, information, marketing services and related technologies. Since 1987, JEGI has completed nearly 650 high-profile M&A transactions for global and emerging companies; entrepreneurial owners; and private equity and venture capital funds. For more information, visit www.jegi.com.
### Press Release ############################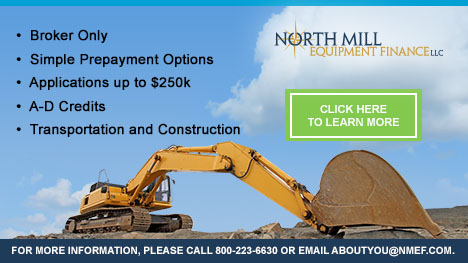 [headlines]
--------------------------------------------------------------
Best of 2018
by Fernando Croce
As the year winds down and we look forward to 2019, it's time to take stock of its most indelible cinematic achievements. So we offer a list, in alphabetical order, to help viewers catch up with the gems they may have missed and the discoveries that do the medium justice.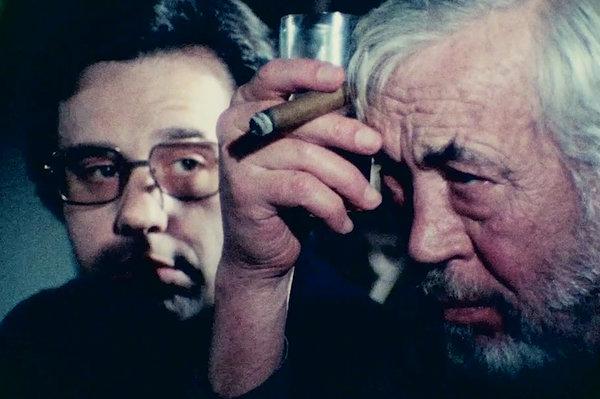 The Day After: Prolific Korean auteur Hong Sang-soo's seriocomic romance is a lovely slice of elegant irony. The setup is a deft menage involving a Seoul publisher Bongwan (Kwon Hae-hyo) who's been struggling since the breakup with his former assistant, and his new secretary. It suggests a sitcom blueprint, yet the ensuing mix-ups, confessions and unexpected returns make for a welter of surprising emotions composed in Hong's deceptively slight style. A melancholy joy.
First Reformed: Writer-director Paul Schrader delivers his finest film yet with this intimate, arresting drama. Ethan Hawke is brilliant asa troubled pastor who runs a small church in upstate New York. Hanging on to his faith to deal with earthly troubles, his life is unsettled by a brush with an anguished environmental activist and his wife. With a masterful sense of cinematic pacing and charged stillness, Schrader offers an unblinking human portrait full ofanger and compassion.
If Beale Street Could Talk: Barry Jenkins' follow-up to the Oscar-winning "Moonlight" is just as heartbreaking, romantic and poetic. Adapting James Baldwin's novel and set in 1970s Harlem, the film explores the passionate but troubled relationship between a young woman and her boyfriend, an artist in trouble with the law. Making gorgeous, sensuous use of cinematic textures, movement, and music, Jenkins creates an aching mood piece that continues to reverberate long after it ends.
Leave No Trace: Writer-director Debra Granik cements her reputation as a specialist in indie grit with this subtle and poignant family drama, set in the Oregon wilderness. The story charts the emotional terrain between a war veteran (Ben Foster) determined to live life on his own terms, andhis teenage daughter (Thomasin McKenzie, in a breakout performance) Though working on a modest canvas, Granik finds graceful and expressive ways to showcase the character's tangled feelings, helped immenselyby the meticulous, naturalisticactingof her actors.
Let the Sunshine In: Fierce French directorClaire Denis lightens up with this luminous comedy, which provides a marvelous vehicle for Juliette Binoche. She playsParisian painter who, on the search for love, goes through a colorful gallery of potential boyfriends. Infusing a standard romantic formula with wit, warmth and cinematic invention, Denis creates a portrait of a vivacious woman figuring out her own heart. Anchored by Binoche's performance, this is a lovely, breezy treat.
Monrovia, Indiana: The great documentarian Frederick Wiseman presents anothermethodical, perceptive portraits of the quotidian rituals of the modest titular midwestern town. Visitingschools,planning councils andveterinarian offices,Wiseman's camera pieces them alltogether into a larger whole, stirringly suggestinga feeling of unspoken loneliness at the heart of the community. Leisurely but always alert and never condescending, the film weaves a poetic quilt out of daily life.
The Other Side of the Wind: The restoration of the final completed film by the legendary Orson Welles is the year's great cinephile event. Made during the 1970s and only now finished, it follows the eventful last day of a veteran Hollywood filmmaker (played to gruff perfection by John Huston). Using a breathtaking mix of cinematic techniques, this posthumous masterpiece showcases a master still teaching his younger peers even three decades after his death.
Shoplifters: Piercing and heartrending, this account of an impoverished family in Tokyo is one of Japanese director Hirozaku Koreeda's finest works. With a characteristic combination of compassion and serenity, his camera outlines the lives of a group of characters who have to resort to shoplifting to live. Finding gentle humor and a fragile sense of community in their hardscrabble existence, the film suggests hope in even the direst situations.
24 Frames: Combining an eye for austere beauty with reflexive play with the medium, the late Iranian auteur Abbas Kiarostami investigates how the cinematic and photographic qualities of his work are combined. Using twenty-four still shots subtly transformed by movement, the film is a multi-layered experiment that questions our perception both as moviegoers and human beings. Though it may sound forbiddingly avant-garde, this is pleasurable and poignant from beginning to end.
Zama: Directing her first feature in a decade, Argentinean director Lucrecia Martel scores with this half-droll, half-unsettling, wholly original historical drama. Based on the acclaimed novel by Antonio di Benedetto and set in 18th-century South America, the it the woozy trajectory of a Spanish officer stuck in a blackly comic bureaucratic nightmare. Mixing arresting camera arrangements with a languid pace, Martel crafts a lush, pointed and inventive indictment of colonialism.
[headlines]
--------------------------------------------------------------
Siberian Husky Mix
Irvine, California Adopt a Dog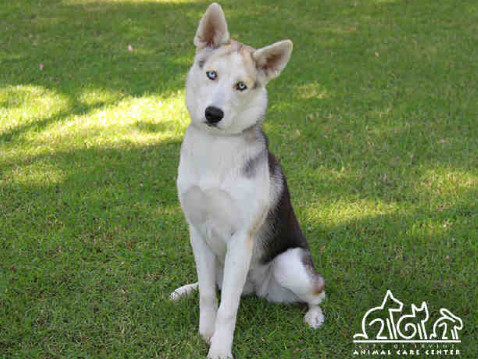 Miley
ID#A115037
Female
2 years, 3 months
Spayed
Tricolor
For more information about this animal, call:
Irvine Animal Care Center at (949) 724-7740
Ask for information about animal ID number A115037
Irvine Animal Care Center
6443 Oak Canyon
Irvine, CA 92618
Phone: 949-724-7740
Adoption Hours
Weekdays: noon-5 p.m.
Weekends: 10 a.m.-4 p.m.
Closed Tuesdays and Holidays
Adoption Fee: $125
Included with Adoption
Spay/neuter
General veterinary examination
Vaccinations and health screenings (Cats--FVRCP, Rabies and FELV/FIV; Dogs--DA2PP, Rabies and Bordetella)
Flea treatment
De-worming
Microchip with lifetime registration
Sample bag of Science Diet (dog or cat) or bag of hay (rabbit)
Free vet check for your new best friend
Adopt a Pet
http://www.adoptapet.com/
[headlines]
--------------------------------------------------------------

Alternate Finance Networking Event
About the deBanked Miami/Get Tickets Before Sold Out
https://www.debankedmiami.com/
[headlines]
--------------------------------------------------------------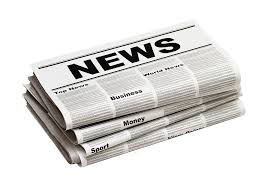 News Briefs----
Stocks storm back
https://markets.businessinsider.com/news/stocks/stock-market-news-stocks-storming-back-after-worst-christmas-eve-2018-12-1027832548
Shutdown to Affect 800,000 Federal Workers
employees are facing being furloughed or working without pay
http://ww2.cfo.com/governance/2018/12/shutdown-to-affect-800000-federal-workers/
2019 Alternative Finance Predictions
By Todd Stone, deBanked
https://debanked.com/2018/12/2019-alternative-finance-predictions/
2018 was a particularly tough year for farmers,
leaving their futures uncertain
https://www.nbcnews.com/news/us-news/2018-was-particularly-tough-year-farmers-leaving-their-futures-uncertain-n951111
Amazon reveals the top-selling items of the season
as it announces record-breaking holiday sales
https://www.businessinsider.com/amazons-top-selling-items-holiday-season-2018-12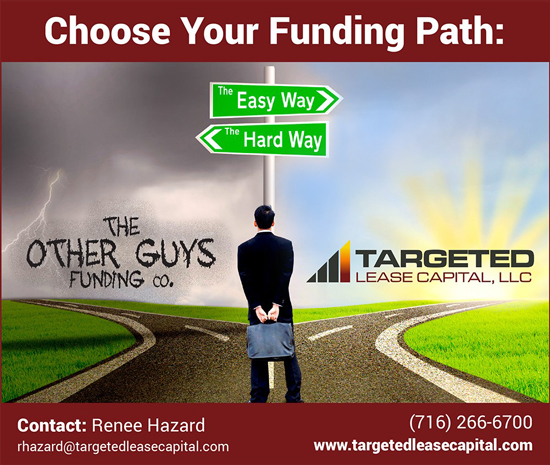 [headlines]
--------------------------------------------------------------


You May Have Missed---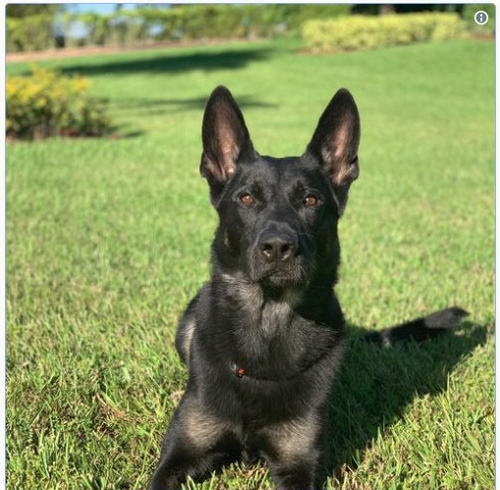 'He gave his life to save others
... He's a good boy': Police mourn K-9 slain on Christmas Eve
https://www.usatoday.com/story/news/nation/2018/12/25/florida-police-mourn-k-9-officer-slain-christmas-eve/2411462002/


[headlines]
--------------------------------------------------------------
Hope Is a Tattered Flag
by Carl Sandburg
Hope is a tattered flag and a dream of time.
Hope is a heart spun word, the rainbow, the shadblow in white
The evening star inviolable over the coal mines,
The shimmer of northern lights across a bitter winter night,
The blue hills beyond the smoke of the steel works,
The birds who go on singing to their mates in peace, war, peace,
The ten-cent crocus bulb blooming in a used-car salesroom,
The horseshoe over the door, the luck piece in the pocket,
The kiss and the comforting laugh and resolve—
Hope is an echo, hope ties itself yonder, yonder.
The spring grass showing itself where least expected,
The rolling fluff of white clouds on a changeable sky,
The broadcast of strings from Japan, bells from Moscow,
Of the voice of the prime minister of Sweden carried
Across the sea in behalf of a world family of nations
And children singing chorals of the Christ child
And Bach being broadcast from Bethlehem, Pennsylvania
And tall skyscrapers practically empty of tenants
And the hands of strong men groping for handholds
And the Salvation Army singing God loves us….
[headlines]
--------------------------------------------------------------

Sports Briefs---

Each NFL Team's Worst Player of the 2018 Regular Season
https://bleacherreport.com/articles/2812185-each-nfl-teams-worst-player-of-the-2018-regular-season#slide0
2019 Pro Bowl rosters: Chargers lead with seven players selected
https://www.usatoday.com/story/sports/nfl/2018/12/18/pro-bowl-rosters-2019-steelers-chiefs-tom-brady-patriots/2357534002/
LeBron James exits blowout of Warriors with groin injury
http://www.espn.com/nba/story/_/id/25613860/lebron-james-los-angeles-lakers-leaves-third-quarter-groin-injury
Tom Brady sounds like he definitely plans to play in 2019
when he'll be 42
https://www.cbssports.com/nfl/news/tom-brady-sounds-like-he-definitely-plans-to-play-in-2019-when-hell-be-42/
[headlines]
--------------------------------------------------------------


California Nuts Briefs---
Silicon Valley worker shortage creates upside-down labor market
https://www.mercurynews.com/2018/12/26/silicon-valleys-worker-shortage-creates-an-upside-down-labor-market/
Teachers in Oakland gearing up for possible strike
https://www.eastbaytimes.com/2018/12/26/teachers-in-oakland-gearing-up-for-possible-strike/
California law in effect Jan. 1 to deter 'mistreatment' of truckers
http://www.landlinemag.com/Story.aspx?StoryID=73516#.XCQhxs17ljU
Judge blocks vacation rental restrictions in South Lake Tahoe
https://www.sacbee.com/news/state/california/article223527285.html

[headlines]
--------------------------------------------------------------



"Gimme that Wine"

http://www.youtube.com/watch?v=EJnQoi8DSE8
Busting terroir myths: The science of soil and wine taste
https://www.decanter.com/magazine/wine-terroir-soil-taste-405096/
Winemaker of the Year
https://www.sfchronicle.com/wine/article/2018-Winemaker-of-the-Year-Ian-Brand-13475931.php
Winemakers to Watch
https://www.sfchronicle.com/wine/article/2018-Winemakers-to-Watch-13475935.php
Napa County's famed Aetna Springs has new owner with resort plans
https://napavalleyregister.com/news/local/napa-county-s-famed-aetna-springs-has-new-owner-with/article_e829c28e-85e6-5293-8e84-20bbe91b3688.html#tracking-source=home-top-story
Top 100 American Wines of 2018 by James Suckling
https://www.jamessuckling.com/wine-tasting-reports/top-100-american-wines-of-2018/
This Drug Could Change Alcohol Addiction Treatment Forever
https://www.thestranger.com/features/2018/12/19/37093776/this-drug-could-change-alcohol-addiction-treatment-forever
Wine Prices by vintage
http://www.winezap.com
http://www.wine-searcher.com/
US/International Wine Events
http://www.localwineevents.com/
Leasing News Wine & Spirits Page
http://two.leasingnews.org/Recommendations/wnensprts.htm
[headlines]
----------------------------------------------------------------
This Day in History

1512 - The Spanish Crown issued the Laws of Burgos, governing the conduct of settlers with regard to native Indians in the New World. They are the first codified set of laws governing the behavior of Spaniards in the Americas, particularly with regard to the indigenous peoples. They forbade the maltreatment of the indigenous people and endorsed their conversion to Catholicism. The laws were created following the conquest and Spanish colonization of the Americas in the West Indies, then extending to Puerto Rico and Jamaica. These laws authorized and legalized the colonial practice of creating Encomiendas, where Indians were grouped together to work under a colonial head of the estate for a salary, and limited the size of these establishments to between 40 and 150 people. They also established a minutely regulated regime of work, pay, provisioning, living quarters, hygiene, and care for the Indians in a reasonably protective and humanitarian spirit. Women more than four months pregnant were exempted from work. The document also prohibited the use of any form of punishment by the encomenderos, reserving it for officials established in each town for the implementation of the laws. It also ordered that the Indians be catechized, outlawed bigamy, and required that the huts and cabins of the Indians be built together with those of the Spanish. It respected, in some ways, the traditional authorities, granting chiefs exemptions from ordinary jobs and granting them various Indians as servants.
1784 - In Baltimore, at its first General Conference held this side of the Atlantic, Francis Asbury, 39, was ordained the first bishop of the Methodist Church in America.
1845 - Journalist John L. O'Sullivan, writing in his newspaper the New York Morning News, argues that the United States had the right to claim the entire Oregon Country "by the right of our manifest destiny."
1846 - The rag-tag army of volunteers known as Doniphan's Thousand, led by Colonel Alexander W. Doniphan, wins a major victory in the war with Mexico with the occupation of El Paso. When war between Mexico and the U.S. erupted in 1846, the men of the 1st Missouri Mounted Volunteers elected Doniphan their colonel and marched south to join General Stephen Kearny's army in New Mexico. Since they were not professional military men, Doniphan's troops cared little for the traditional spit-and-polish of the regular troops and reportedly looked more like tramps than soldiers. Likewise, Doniphan was a casual officer who led more by example than by strict discipline. Nonetheless, Doniphan's Thousand proved to be a surprisingly effective force in the war with Mexico. Doniphan led 500 of his men and a large wagon train of supplies south to join General John E. Wool in his planned invasion of the Mexican state of Chihuahua. Before he had a chance to meet up with Wool's larger force near the city of Chihuahua, Doniphan encountered an army of 1,200 Mexican soldiers about 30 miles north of El Paso, Texas. Although his opponents had twice the number of soldiers, Doniphan led his men to victory and, with the path to El Paso now largely undefended, was able to occupy the city two days later. When nearing the Mexican border, Doniphan learned that General Wool's forces had broken off their invasion of Chihuahua because the army's wheeled vehicles had proved unworkable in the desert landscape. But rather than turn back, Doniphan reassembled his army to its full force of about 1,000 men and proceeded with the invasion unassisted. Once again grossly outnumbered - the Mexican army was four times the size of Doniphan's - the Missouri troops were still able to quickly break through the defensive lines and occupy Chihuahua City. By mid-summer, 1847, Doniphan's victorious army reached the Gulf Coast, where they were picked up by ships and taken to New Orleans for discharge. By then, the focus of the battle had shifted to General Winfield Scott's campaign to take Mexico City. In September of that year, Scott's troops ended the war by successfully occupying Mexico City and, for the first time in U.S. history, an American flag flew over a foreign capital. The Treaty of Guadalupe Hidalgo, signed early in 1848, gave the U.S. the vast western territory stretching from Texas to the Pacific and north to Oregon.
1850 – The first fire department in Hawaii was established.
1864 - The broken and defeated Confederate Army of Tennessee finishes crossing the Tennessee River as General John Bell Hood's force retreats into Mississippi. The last half of 1864 was a disaster for the army. In May, Union General William T. Sherman began his drive on Atlanta from Chattanooga, Tennessee. The Confederate army was commanded then by Joseph Johnston, who responded to Sherman's flanking maneuvers by retreating slightly each time. From May to July, Johnston slowly backed into Atlanta, exchanging territory for time. When the troops reached Atlanta, Confederate President Jefferson Davis replaced Johnston with the offensive-minded Hood. Hood immediately attacked Sherman three times in late July, losing each time. His offensive capabilities spent, Hood endured a month-long siege of Atlanta. In early September, Hood was finally forced to relinquish the city to Sherman. Hood hung around to try cutting into Sherman's supply lines but then retreated into Alabama. In November, Hood tried to draw Sherman from the deep South by moving towards Nashville, Tennessee. In response, Sherman dispatched part of his army back to Tennessee while taking the rest on his devastating march across Georgia, during which the Yankees destroyed nearly everything in their path. Hood moved north and fought two battles that were disastrous for the Confederates. At Franklin on November 30, Confederate attacks on entrenched Union soldiers resulted in ghastly casualties and the loss of six of the army's finest generals. On December 15 and 16, the Confederates were crushed by the Yankees in front of Nashville. The dwindling numbers of participating soldiers tell the sad story of the Rebel army. In May, some 65,000 Confederates faced Sherman in northern Georgia. On September 20, after Atlanta fell, Hood's force numbered 40,403. After crossing the Tennessee River, Hood reported 18,708 officers and enlisted men, a figure that another Confederate general, Pierre Beauregard, thought was significantly inflated. The Confederate Army of Tennessee was no longer a viable fighting force.
1869 - A big post-Christmas storm in New York and Vermont produced record snow totals. 39 inches fell at Montpelier, VT and 30 inches at Burlington, VT. A public emergency was declared in Vermont.
1879 - Birthday of trumpet player Geary "Bunk" Johnson (d. 1949), New Orleans.
http://www.redhotjazz.com/bunk.html
http://user.tninet.se/~rrr043f/forum19.htm
http://www.weijts.scarlet.nl/bj.htm
http://isbn.nu/0876636857/price/2.html
Second day of Kawanzaa, kujichaguilia or self-determination
http://www.officialkwanzaawebsite.org/
1892 - Biddle University (now Johnson C. Smith) defeats Livingstone College, in first intercollegiate football game between historically Black colleges.
1892 - An Atlantic coastal storm produced a record 18.6 inches of snow at Norfolk, VA in 24 hours. The storm also brought snow to northern Florida for the first time in 35 years.
1896 – Birthday of American novelist/essayist, Louis Bromfield (d. 1956), Mansfield, Ohio.
http://www.kirjasto.sci.fi/bromfiel.htm
1899 - American Christian temperance leader Carry Nation, 53, raided and wrecked her first saloon in Medicine Lodge, KA. She went on similar rampages in Wichita and Topeka, and in other cities in Iowa and Illinois as well.
(Lower part of http://memory.loc.gov/ammem/today/dec27.html )
1901 - Marlene Dietrich, the magnetic movie star and singer who was considered an international symbol of glamour, was born Marie Magdalene Dietrich (d. 1992) in Berlin, Germany. Actress and singer who held both German and American citizenship, throughout her unusually long career, which spanned from the 1910s to the 1980s, she maintained popularity by continually reinventing herself. Dietrich was noted for her humanitarian efforts during World War II, housing German and French exiles, providing financial support and even advocating their US citizenship. For her work on improving morale on the front lines during the war, she received several honors from the United States, France, Belgium and Israel. In 1999, the AFI named Dietrich the ninth-greatest female star of the classic Hollywood cinema.
1906 – Birthday of Andreas Feininger (d. 1999), Paris, France. American photographer and writer on photographic technique, noted for his nature and cityscape photographs.
http://pathfinder.com/photo/gallery/arts/life/cap09.htm
http://dizzy.library.arizona.edu/branches/ccp/collection/collection.html )
1907 - Birthday of pianist Eddie Wilcox (d. 1968), Method, NC.
http://search.eb.com/blackhistory/micro/360/57.html
1913 - Charles Moyer, president of the Miners Union, is shot in the back and dragged through the streets of Chicago.
1915 - William Howell Masters (d. 2001) was born in Cleveland, OH. He was an American gynecologist, best known as the senior member of the Masters and Johnson sexuality research team. Along with his wife, Virginia Johnson, he pioneered research into the nature of human sexual response and the diagnosis and treatment of sexual dysfunctions and disorders from 1957 until the 1990s.
1915 - In Ohio, iron and steel workers go on strike for an eight-hour day and higher wages.
1919 - Birthday of Mitchell "Booty" Wood (d. 1987), Dayton, OH. http://www.theiceberg.com/artist/27125/booty_wood/
http://shopping.yahoo.com/shop?d=product&id=1921116848
1919 – On the day following the sale of Babe Ruth to the Yankees, Red Sox owner Harry Frazee said his team will deal any player except Harry Hooper. But Hooper will be sent to the Chicago White Sox after the 1920 season.
1926 - Birthday of Lee Salk (d. 1992), at New York, NY. American child psychologist who became well known for proving the calming effect of a mother's heartbeat on a newborn infant. Salk's warning during the 1970's that women should not abandon full-time childrearing was met with wide opposition, especially from working mothers.
1927 - "Show Boat," one of the most influential works in the history of the American musical theatre, premiered in New York. "Show Boat" was adapted by Jerome Kern from the Edna Ferber novel of life on a Mississippi show boat in the 19th century. "Show Boat" was a new kind of musical -- one in which the musical elements sprang naturally from the storyline and in which the music aided the dialogue and lyrics in projecting the plot. Among the songs in this classic work are "Ol' Man River," "Can't Help Lovin' That Man" and "Why Do I Love You?"
1931 - Winfield Scott "Scotty" Moore III (d. 2016) was born in Gadsden, TN. A guitarist and recording engineer, he is best known for backing Elvis in the first part of his career, between 1954 and the beginning of Elvis' Hollywood years.
1932 - At the height of the Great Depression, thousands turn out for the opening of Radio City Music Hall, a magnificent Art Deco theater in New York City. Radio City Music Hall was designed as a palace for the people, a place of beauty where ordinary people could see high-quality entertainment. Since its 1932 opening, more than 300 million people have gone to Radio City to enjoy movies, stage shows, concerts, and special events. Radio City Music Hall was the brainchild of the billionaire John D. Rockefeller, Jr. who decided to make the theater the cornerstone of the Rockefeller Complex he was building on a formerly derelict neighborhood in midtown Manhattan. The theater was built in partnership with the Radio Corporation of America (RCA) and designed by Donald Deskey. The result was an Art Deco masterpiece of elegance and grace constructed out of a diverse variety of materials, including aluminum, gold foil, marble, permatex, glass, and cork. Geometric ornamentation is found throughout the theater, as is Deskey's central theme of the "Progress of Man." The famous Great Stage, measuring 60 feet wide and 100 feet wide, resembles a setting sun. Its sophisticated system of hydraulic-powered elevators allowed spectacular effects in staging, and many of its original mechanisms are still in use today. Its system of elevators was so advanced that the US Navy incorporated identical hydraulics in constructing World War II aircraft carriers; according to Radio City lore, during the war, government agents guarded the basement to assure the Navy's technological advantage. In its first four decades, Radio City Music Hall alternated as a first-run movie theater and a site for gala stage shows. More than 700 films have premiered at Radio City Music Hall since 1933. In the late 1970s, the theater changed its format and began staging concerts by popular music artists. The Radio City Music Hall Christmas Spectacular, which debuted in 1933, draws more than a million people annually. The show features the high-kicking Rockettes, a precision dance troupe that has been a staple at Radio City since the 1930s. Today, Radio City Music Hall remains the largest indoor theater in the world.
http://memory.loc.gov/ammem/today/dec27.html
1939 - On CBS radio, "The Glenn Miller Show," also known as "Music that Satisfies," began. The bi-weekly, 15-minute, show was sponsored by Chesterfield cigarettes. It aired for nearly three years.
1941 - American Dr. Charles Richard Drew, pioneer of blood plasma research, established the first blood bank in New York City.
1943 - The film "The Song of Bernadette" was released by 20th Century Fox. It told the true story of 14-year-old French Catholic peasant girl Bernadette Soubirous, who experienced 18 visions of the Virgin Mary at Lourdes, France in 1858.
1943 - Mary Martha Corinne Morrison Claiborne Boggs was born in New Orleans. She is best known as Cokie Roberts, journalist and author. She is a reporter for NPR as well as a regular roundtable analyst for the current "This Week With George Stephanopoulos." Roberts also works as a commentator for ABC News, serving as an on-air analyst for the network.
1944 - General George S. Patton's Third Army, spearheaded by the 4th Armored Division, relieves the surrounded city of Bastogne in Belgium.
1945 - World Bank established, first subscribed by 21 countries, whose subscription amounted to $7,173 million. The first loan was made on May 9, 1947, to France, a 30-year loan of $250 million at 3.25% and of $150 at 3 percent.
1946 - For the first time since 1938, the American team won the Davis Cup at a competition held in Melbourne, Australia.
1947 - Woody Herman Band records "Four Brothers," "Early Autumn," Stan Getz becomes a milestone. Name the four brothers in this set in 1947: Zoot Sims, Herbie Steward on tenor, Serge Chaloff (baritone sax). No, Jimmy Giuffre did the arrangement. Herschel Evans? No, he played with Count Basie in the '30's). Not Al Cohn this year (1948). Go here, if you don't know, and listen to the tune: http://www.tuxjunction.net/fourbrothers.htm
1947 - Premiere of "Howdy Dowdy" on TV. The first popular children's show was brought to TV by Bob Smith and was one of the first regular NBC shows to be shown in color. The show was set in the circus town of Doodyville, populated by people and puppets, and often opened with Buffalo Bob asking the kids, "Say, kids, what time is it?" They would then break into the show's theme, "It's Howdy Doody Time." Children sat in the bleachers, "Peanut Gallery," and participated in activities such as songs and stories. Human characters were Buffalo Bob (Bob Smith), the silent clown, Clarabell (Bob Keeshan, Bobby Nicholson and Lew Anderson), storekeeper Corenlius Cobb (Nicholson), Chief Thunderthud (Bill LeCornec), Princess Summerfall Winterspring (Judy Tyler and Linda Marsh), Bison Bill (Ted Brown) and wrestler Ugly Sam (Dayton Allen). Puppet costars included Howdy Doody, Phineas T. Bluster, Dilly Dally, Flub-a-Dub, Captain Scuttlebutt, Double Doody, Galapoochie, Polka Dotty and Heidi Doody. Howdy Doody himself was a freckle-faced boy marionette with 48 freckles, one for each state of the union at the time of his creation (up until January 3, 1959, when Alaska became the 49th state). The "Howdy Doody" show's various marionettes were created and built by puppeteers Velma Wayne Dawson, Scott Brinker (the show's prop man) and Rufus Rose throughout the show's run. The filmed adventures of Gumby were also featured in the final episode, September 24, 1960, that ended when Clarabell broke his long silence to say, "Goodbye, Kids."
1948 - Top Hits
Buttons and Bows - Dinah Shore
On a Slow Boat to China - The Kay Kaiser Orchestra (vocal: Harry Babbitt & Gloria Wood)
My Darlin, My Darling - Jo Stafford
1949 - In Cincinnati, Ohio, the Evangelical Theological Society was organized. A conservative fellowship of North American theologians and Bible scholars, ETS promotes theological discussion and exploration within the context of a firm belief in the truthfulness of the Bible.
1951 - The Crosley car was put into use by the U.S. Postal Service in Cincinnati, Ohio. It was the first right-hand-drive car designed specifically for mail delivery. The Crosley put the driver on the mailbox-side of the car and changed mail delivery forever.
http://www.geocities.com/MotorCity/Downs/1229/
http://home.earthlink.net/~mherman/specs.html#1951
http://www.geocities.com/MotorCity/Downs/1229/super.html
http://www.ggw.org/~cac/SS-Cobras.html

1956 - Top Hits
"A Heart Full of Love" ("For a Handful of Kisses") - Eddy Arnold
"Singing the Blues" - Guy Mitchell
"A Rose and a Baby Ruth" - George Hamilton IV
"Garden of Eden" - Joe Valino
"Singing the Blues" - Marty Robbins
1962 - Gene Chandler's "Duke of Earl" reached number one on the Billboard Hot 100. The record, released only ten days after Chandler signed with Vee-Jay records in Chicago, remained in the top spot for three weeks.
1964 - Top Hits
I Feel Fine - The Beatles
She's a Woman - The Beatles
Goin' Out of My Head - Little Anthony & The Imperials
Once a Day - Connie Smith
1967 - Pink Floyd recorded their first single, "Arnold Layne." The song, about a man who steals garments from clotheslines, was a hit in Britain but not in North America.
1968 - Apollo 8, the first spaceflight to orbit the moon, returned to Earth.
1970 - "Hello Dolly" closed on Broadway after a then-record run of 2,844 performances. The musical, starring Carol Channing, had opened at the St. James Theatre on January 16th, 1964. The title song was a million-selling record for Louis Armstrong, and the musical's producer gave the tune exclusively to Lyndon Johnson for use in his 1964 presidential campaign.
1971 - The "Sonny & Cher Show" begins a four and a half year run on CBS.
1972 - Top Hits
"Me and Mrs. Jones" - Billy Paul
"You Ought to Be with Me" - Al Green
"Clair" - Gilbert O'Sullivan
"Got the All Overs for You" ("All Over Me") - Freddie Hart & The Heartbeats
1973 - "Time in a Bottle," Jim Croce. The song is released as a single after Croce dies in a plane crash.
1975 - The Four Seasons, "December 1963 (Oh, What A Night)" is released.
1975 - For the second time in their career, the Staple Singers hit #1 on the pop music charts with "Let's Do It Again." The song, the theme from the movie soundtrack of the same title, was the group's last hit. On June 3, 1972, "I'll Take You There" was The Staple Singers' first number one hit.
1978 - The most auspicious debut in years in made by the Cars. The Boston-based band's first LP is the first new wave record to gain acceptance on FM-Album Oriented Rock radio, which is still very fond of bands like Boston and Kansas. "The Cars" turns platinum on this date.
1980 - Top Hits
(Just Like) Starting Over - John Lennon
Love on the Rocks - Neil Diamond
Hungry Heart - Bruce Springsteen
That's All That Matters - Mickey Gilley
1981 - US: Supreme Court Justice William Rehnquist — who has, for several months, been taking substantial doses of Placidyl to relieve intense back pain — checks into George Washington Hospital for treatment of side effects, including speech so severely slurred that he was frequently incoherent in court and according to a hospital spokesman, he is,
"hearing things and seeing things that other people did not hear and see."
http://home.earthlink.net/~dare2b/ru.htm
1982 - The worst rainstorm in Louisiana in 100 years came to an end. More than 18 inches fell at Vinton, LA during the 3 days. Flooding was widespread and property damage was estimated at 100-200 million dollars. President Reagan visited the state and declared ten parishes in northeastern Louisiana disaster areas.
1983 - President Reagan takes all responsibility for the lack of security in Beirut that allowed a terrorist on a suicide mission to kill 241 Marines.
1983 - The recession of the early 1980s took a toll on another one of the nation's landmark companies, U.S. Steel. The long-standing industrial heavyweight announced that it would slash its steel-making capacity by roughly 20 percent, as well as take a whopping $1.2 billion pre-tax write-off for the year. The write-off marked the biggest pre-tax charge in the steel industry, as U.S. Steel nudged past Bethlehem Steel, who, earlier that year, had taken a $930 million write-off. Along with this rather ignominious distinction, U.S. Steel's moves also brought a fresh round of lay-offs for 4,600 workers. In all, the plant closings and write-offs impacted 15,400 U.S Steel employees, as 10,800 workers who were previously laid-off had now permanently lost their jobs.
1985 - Naturalist Dian Fossey, who had studied gorillas in the wild, was found hacked to death at a research station in Rwanda. During her time in Rwanda, she actively supported conservation efforts, strongly opposed poaching and tourism in wildlife habitats, and made more people acknowledge sapient gorillas. It has been theorized that her murder was linked to her conservation efforts.
1986 - Van Halen released "Why Can't This Be Love," their first single since Sammy Hagar replaced David Lee Roth as lead singer. It would rise to number three on the Billboard chart.
1987 - Seattle wide receiver Steve Largent catches six passes in a 41-20 loss at Kansas City to become the NFL's all-time leading receiver with 751 receptions.
1987 - A winter storm produced snow and high winds in Wyoming, Colorado and Nebraska. Denver experienced its worst snowstorm since December, 1983 as high winds gusting to 46 mph created near blizzard conditions, whipping the fifteen-inch snow into drifts five feet high, and closing Stapleton Airport. Snowfall totals in the foothills southwest of Denver ranged up to 42 inches, at Intercanyon. Blizzard conditions raged across southeastern Wyoming through the day, stranding 300 holiday travelers in the tiny town of Chugwater. Heavier snowfall totals included 19 inches at La Grange, WY, and 22 inches at Elsmere, NE.
1988 - Top Hits
"Every Rose Has Its Thorn" - Poison
"My Prerogative" - Bobby Brown
"Two Hearts" - Phil Collins
"When You Say Nothing at All" - Keith Whitley
1988 - Severe thunderstorms developing along a cold front in the south central U.S. spawned a dozen tornadoes in Mississippi between early afternoon and sunrise the following day. A tornado at Harperville destroyed five chicken homes killing thousands of chickens. Strong thunderstorm winds gusted to 80 mph at Rolling Fork, MS. Half a dozen cities in the northeastern U.S. reported record low temperatures for the date, including Elkins, WV, with a reading of 13 degrees below zero. Watertown, NY was the cold spot in the nation with a morning low of 37 degrees below zero.
1990 - San Francisco became the first city to adopt regulations regarding video display terminals in the workplace. A new law required workers to perform fifteen minutes of alternate work for every two hours spent at a video terminal. The measure was adopted in response to the vision problems and repetitive motion injuries sustained by thousands of workers in the 1980s. The measure gave companies with fifteen or more employees two years to provide antiglare screens and ergonomically correct furniture, or face a $500 per day fine.
1992 - "The Bodyguard" soundtrack set a single-week record for sales in the U-S with just over one-million copies.
1995 - Canadian singer Celine Dion made British chart history by becoming the first artist in more than 30 years to have both the number-one album and single for five straight weeks. Dion topped the singles chart with "Think Twice" and the album chart with "The Color of My Love." The last time that happened for five consecutive weeks was in 1964 with "I Feel Fine" and "Beatles for Sale."
1995 - Beach Boys Mike Love and Brian Wilson reunited for the first time in 15 years to work on two new songs at Love's home in Lake Tahoe, Nevada. The reconciliation came two months after Love and Wilson settled their long-running legal battle over the songwriting credits on 35 of the group's songs.
1996 - Elton John was made a Commander of the British Empire in a ceremony at Buckingham Palace. He was honored for services to the music industry and charity.
2001 – Fallout from the 9/11 attacks continued as U.S. officials announced that Taliban and al-Qaida prisoners would be held at the U.S. naval base at Guantanamo Bay, Cuba.
2010 - Lawyers for Allen Stanford, a man charged with running a $7 billion Ponzi scheme, sought to postpone his trial for two years. On March 6, 2012, Stanford was convicted on all charges except a single count of wire fraud. He is serving his 110-year sentence. In September, 2014, Stanford appealed his conviction; however, the appeals court rejected the appeal in October, 2015.
2011 – Sears disclosed plans to close over 100 Sears and K-Mart stores in the U.S. It was the 20th-largest retailing company in the US in 2015 and filed for Chapter XI bankruptcy protection on October 15, 2018. On November 23, 2018, Sears Holdings released a list of 505 stores, including 239 Kmart stores and 266 Sears stores, that are for sale in the bankruptcy process while all others are currently holding liquidation sales.
2013 – Former Yankees LF Hideki Matsui announced his retirement at a press conference in NYC. He had hit .304 with 332 home runs as a three-time MVP during his prime in Japan, then added 175 homers, the 2009 World Series MVP award and a .282 average winding down his career in the US.
2013 - California experienced the driest year on record and rain is not expected in the near future. San Francisco had the driest year ever since the Gold Rush began in 1849.
*** (no, Herschel Evans played with Count Basie in the '30's.)
-------------------------------------------------------------

SuDoku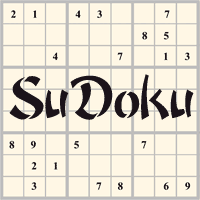 The object is to insert the numbers in the boxes to satisfy only one condition: each row, column and 3x3 box must contain the digits 1 through 9 exactly once. What could be simpler?
http://leasingnews.org/Soduku/soduko-main.htm
--------------------------------------------------------------

Daily Puzzle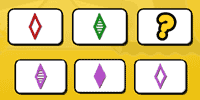 How to play:
http://www.setgame.com/set/puzzle_frame.htm
Refresh for current date:
http://www.setgame.com/set/puzzle_frame.htm
--------------------------------------------------------------


http://www.gasbuddy.com/
http://www.gasbuddy.com/GB_Map_Gas_Prices.aspx
http://www.gasbuddy.com/GB_Mobile_Instructions.aspx
--------------------------------------------------------------

Weather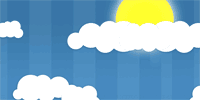 See USA map, click to specific area, no commercials
--------------------------------------------------------------

Traffic Live---
Real Time Traffic Information
You can save up to 20 different routes and check them out with one click,
or type in a new route to learn the traffic live
--------------------------------