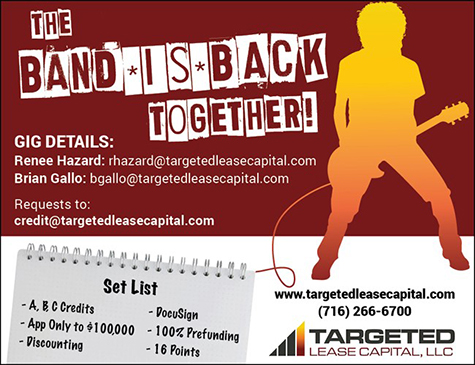 Wednesday, January 3, 2018


Today's Equipment Leasing Headlines

Deborah Monosson
Leasing Person of the Year 2017
President and CEO, Boston Financial & Equity Corp.
Job Wanted – Senior Management
Work Remotely
Top Stories -- December 28
(Opened Most by Readers)
New Hires/Promotions in the Leasing Business
and Related Industries
Worst Responses to Questions in Interviews
Recruiter Hal T. Horowitz Speaks Out
Will 2018 Be a Special Year?
By Sean Murray, Chief Editor/Publisher at deBanked.com
Court Holds Debt Settlement and Bankruptcy
Consultants Liable for Unauthorized Practice of Law
By Tom McCurnin, Leasing News Legal Editor
AuctionTime.com Sells Record-Breaking $46 Million
In Equipment in Its Final Sale of the Year
NACM's CMI Continues Up and Down Trend
"With any bad news there is always good"
Star Wars: The Last Jedi/Molly's Game/
Get Out/Person to Person/Election
Film/Digital Reviews by Leasing News' Fernando Croce
Alaskan Husky
San Clemente, California Adopt-a-Dog
Credit Position Wanted
Seattle, WA – Will Work Remotely
News Briefs---
People are ditching Subway, franchisees expect a wave
of store closures — here's what went wrong
Goldman Takes One-Time $5 Billion Hit From New U.S. Tax Law
mainly stems from taxation of earnings held abroad
China Aircraft Leasing buys 50 Airbus A320neo series
for $5.4 billion -- Mfg. in Mobile, Alabama
Florida's Medical Marijuana Industry Is Losing Its Bank
But Others Are Stepping In
How a Maryland bank is quietly solving
the marijuana industry's cash problem
Apple apologizes for slowing iPhones
cuts price of battery replacement as lawsuits pile up
Peter Thiel's firm owns 'hundreds of millions' in bitcoin
and is Buying More
Broker/Funder/Industry Lists | Features (writer's columns)
Top Ten Stories Chosen by Readers | Top Stories last six months
www.leasingcomplaints.com (Be Careful of Doing Business)
www.evergreenleasingnews.org
Leasing News Icon for Android Mobile Device
You May have Missed---
Poem
Sports Brief----
California Nuts Brief---
"Gimme that Wine"
This Day in History
SuDoku
Daily Puzzle
GasBuddy
Weather, USA or specific area
Traffic Live----
######## surrounding the article denotes it is a "press release" and was not written by Leasing News nor information verified, but from the source noted. When an article is signed by the writer, it is considered a "by line." It reflects the opinion and research of the writer.


Please send a colleague and ask them to subscribe. We are free
Email kitmenkin@leasingnews.org and in subject line: subscribe

[headlines]
--------------------------------------------------------------
Deborah Monosson
Leasing Person of the Year 2017
President and CEO, Boston Financial & Equity Corp.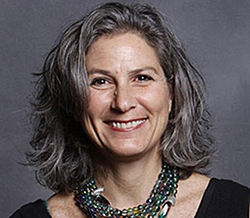 (photo courtesy of Boston Herald)
The recognition is for her past achievements as well as her leadership in promoting women and recognizing women for executive positions in the bank, finance, and leasing industries. Leasing News named her previously as one of the top 25 most influential women in the leasing business. She is a role model for women in executive positions, active on the Boards at the Equipment Leasing and Finance Association, Equipment Leasing and Finance Foundation, first female Chairperson of the Commercial Finance Association, also attending and participating in many other associations ; serving on many committees, very active and outspoken. She also finds time to operate a very successful company.
"She joined her father's company in 1989 after a stint with what she describes as a poorly run software company that competed against Lotus Development Corp. and its 1-2-3 spreadsheet program.
"The small commission checks at Boston Financial & Equity didn't deter Monosson, though. She learned how to network with venture capitalists to build her company's portfolio of clients. And in 2000, she took over the business her late father started in the late 1960s."
https://www.bizjournals.com/boston/stories/2009/05/11/story5.html?b=1242014400%255E1825253
She is active as a volunteer for Domestic Violence programs, Dress for Success Boston, Volunteer Executive, Skidmore College.
She has an MBA, Marketing & Finance, Boston University, School of Management. Graduated from Skidmore College, BS, Business.



[headlines]
--------------------------------------------------------------
Job Wanted – Senior Management
Work Remotely
Each Week Leasing News is pleased, as a service to its readership, to offer completely free ads placed by candidates for jobs in the industry. These ads also can be accessed directly on the website at:
http://www.leasingnews.org/Classified/Jwanted/Jwanted.htm
Each ad is limited to (100) words and ads repeat for up to 6 months unless the candidate tells us to stop. Your submissions should be received here by the end of each week.
Senior Management
Offering support in Europe to US based financial institutions and captives
>30 years of international experience
Remote Advisory/Consultancy/Interim/Project Management services
Huge network in the financial industry
Fluent in Dutch, English, French, German
frans.jansen@leasingservices.nl
[headlines]
--------------------------------------------------------------
Top Stories -- December 28
(Opened Most by Readers)
(1) Chairman and CEO LEAF Commercial Capital
House up for Sale in Pennsylvania
http://leasingnews.org/archives/Dec2017/12_28.htm#chairman
(2) Section 179 Increases to $1 Million Retroactive to 9/27/2017
Bonus Depreciation Extended through 2027
http://leasingnews.org/archives/Dec2017/12_28.htm#section
(3) $50 Million Ponzi Scheme in San Jose, California
Pleads Guilty to One Mail Fraud Count
http://leasingnews.org/archives/Dec2017/12_28.htm#ponzi
(4) New Hires/Promotions in the Leasing Business
and Related Industries
http://leasingnews.org/archives/Dec2017/12_28.htm#hires
(5) Employers, Are You Counting Candles
on Employees Birthday Cakes?
http://leasingnews.org/archives/Dec2017/12_28.htm#employers
(6) Corporations Potential Tax Cuts Under New Tax Laws
Partial Listing
http://leasingnews.org/archives/Dec2017/12_28.htm#cuts
(7) Financing Options for New & Existing Cannabis Businesses
Cannabisnow.com
https://cannabisnow.com/financing-options-new-existing-cannabis-businesses/
[headlines]
--------------------------------------------------------------
New Hires/Promotions in the Leasing Business
and Related Industries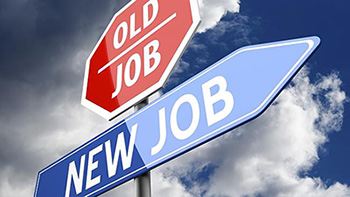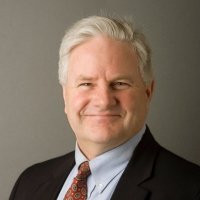 Thomas Coveney was hired as Regional Vice President, Blue Street Capital, Huntington Beach, California. He is located in the Greater Boston Area. He will "lead new business and account management initiatives in the Northeast, including New York, New Jersey and New England. Additionally, Coveney and the Blue Street team will identify new technology vendor relationships and grow and expand its current vendor partnerships throughout the Northeast." Previously, he was Managing Director, Monroe Credit Advisors (November, 2009 - January, 2018); Vice President, New Business Development, CoActive Capital/Marubeni Corporation (August, 2008 - November, 2009); Vice President, De Lage Landen Financial Services (1999 - 2008); Vice President, New Business Development, Bank of Boston Leasing (August, 1993 - August, 1999); Senior Account Executive, IBM Corporation (1980 - 1989). Education: College of the Holy Cross, AB, Political Science and Government (1976 - 1980). Xaverian Brothers High School. Doctorate, Political Science and Government (1976); Xaverian Brothers High School. General, Business/Managerial Economics (1973 -1976). https://www.linkedin.com/in/thomas-coveney-82b47724/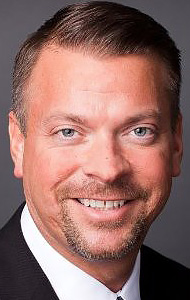 Kristopher E. Dunlap formed his own company Urban Warrior.Fit, LLC, Milwaukie, Oregon. Previously, he was Vice President, Regional Sales Manager, Sumitomo Mitsui Finance and Leasing Co., Ltd. (December, 2014 - December, 2017). He joined GE Capital, January, 2012, Program Management, Lease Sales Representative; promoted August, 2012, VP, National Account Manager (Western Region). Prior, he was Senior Program Director, Evanta (December, 2009 - December, 2011); Account Executive, De Lage Landen (January, 2008 - December, 2009). He joined Citigroup, 2002, as Collections Administration Officer, VP; promoted January, 2006, Business Development Manager, VP. Assistant Vice President, CitiCapital (Citigroup) fka Copelco Capital (January, 1999 - January, 2002); Reserve Police Sergeant, Portland Police Bureau (January, 1994 - January, 2002); Operations Supervisor, nations Credit (Bank of America) (January, 1996 - January, 1998); Sergeant E-F, U.S. Army National Guard Military Police (January, 1990 - January, 1998). Volunteer: Children's Cancer Association (January, 1997 - December, 1999). Vice Chair, March of Dimes (Dallas County) (January, 2003 - January, 2006); Vice Chair, United Way of America (Dallas County) (January, 2003 - January, 2006). Education: George Fox University, Bachelor of Arts, Management and Organizational Leadership (1999 - 2001); Portland Community College, Associates, Psychology (1990 -1999). Beaverton High School.https://www.linkedin.com/in/kristopherernestdunlap/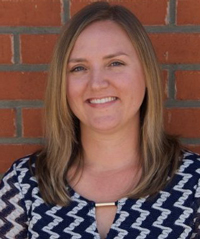 Cindy Early was promoted to Chief Operations Officer, Quail Financial Solutions (Quail Capital), Bellingham, Washington Area. She joined the firm March, 2008 and worked her way up the ladder. Previously, she was Lease Administrator, Columbia Bank (September, 2004 - May, 2006); Member Service Representative, North Coast Credit Union (September, 2002 - August, 2004) Education: Pacific Lutheran University, BA, Humanities/Greek (1996 - 2000). Activities and Societies: Undergraduate Fellowship. Summa cum Laude.
https://www.linkedin.com/in/cindy-early-9b4a121b/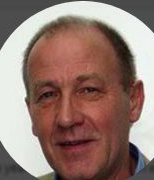 Frans Jansen has returned as Independent Business Owner, Leasing Services, a trading name of Allied Leasing, B.V., est. 1988, Utrecht Area, Netherlands. Previously, he was Vice President, Doosan Financial Solutions EMEA, Doosan Infracore (October, 2009 - December, 2007); Managing Director, Leasing Services (June, 2006 - October, 2009); Managing Director, Siemens Lease B.V. (September, 2005 - June, 2006); Senior Management Consultant/Interim Manager, Siemens Financial Services (March, 2002 - September, 2005); Director Business Development, Europe, Heller Global Vendor Finance (part of Heller Financial, Inc.) (April, 1999 - March, 2002); Director, European Vendor Programs, AT&T Capital (October, 1996 - November, 1998); Management Consultant, BNP Finance (April, 1988 - October, 1991); Managing Director, Chase NCB Lease (January, 1987 - March 1988); General Manager, Svenska Finance (September, 1985 - January, 1987); Finance Director, Econocom (known as ECS when I worked there) (August, 1984 - September, 185); Marketing Manager, Amstel Lease. Education: Instituut Sociale Wetenschappen (Institute of Social Science) Post Graduate Study in economics (1975 - 1979).
https://www.linkedin.com/in/fransjansen/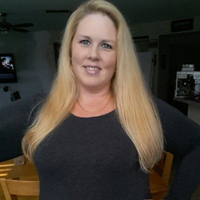 Jamie Mathews was hired as Senior Financial Solutions Specialist, CIT. She is located in Orange Park, Florida. Previously, she was Collector, Diversified Consultants, Inc., (July, 2017-November, 2017); Customer Service Manager, CIT (June, 2005 - April, 2016).
https://www.linkedin.com/in/jamie-mathews-10863bb2/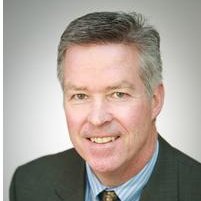 Michael McGinley was hired as Vice President of Litigation and Recovery, PNC, Horsham, Pennsylvania. Previously, he was Vice-President of Collections, Univest Bank and Trust Company (January, 2010 - January, 2018); VP, Equipment Leasing, First National Bank of Chester County (December, 2008 - December, 2009); Sr. VP, Accounting Services, Marlin Business Services (January, 2002 - November, 2008). Volunteer, Habit for Humanity (October, 2011 - Present). Education: Widener University, MBA, Finance, 3.45 GPA (1979 - 1983). Activities and Societies: Pi Gamma Delta Fraternity University of PA Rugby Club.
https://www.linkedin.com/in/mikemcgin27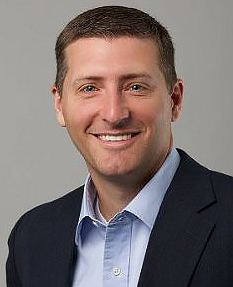 Michael Mehosky was hired as Senior vice President, Sales, People's United Bank, Burlington, Vermont. He is located in Bridgeport, Connecticut. Previously he was at Siemens Financial Services, starting July 2013, as Vice President, Capital Markets; promoted October, 2016, Sales Manager & Head of Capital Markets; Senior Vice President, Intermediary Funding, GE Capital (March, 2012 - July, 2013); Relationship Manger, M&T Bank (March, 2009 - February, 2012); Vice President, GE Capital (May, 2005 - December, 2008); Assistant Vice President, MBNA (February, 1995 - April, 2005). Education: West Virginia University, Secondary Education, History & Economics (1991 - 1994). Activities and Societies: Member of Phi Sigma Kappa Fraternity. North East High School (1988 - 1990).
https://www.linkedin.com/in/michael-mehosky-0727854a/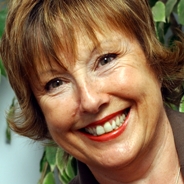 Carol Roberts was hired as Director and Chair at the Leasing Foundation, Leeds, United Kingdom. Previously, she was Managing Director, Bibby Leasing Limited (January, 2004 - December, 2017); Director, Leeds Group PLc (September, 2004 - October, 2005); Managing Director/Structured Leader, GE Capital (June, 1988 - January, 2000). Honor & Qes: European CEO of the Year, The Leasing Foundation. https://www.linkedin.com/in/carol-roberts-58392212/


[headlines]
--------------------------------------------------------------
Worst Responses to Questions in Interviews
Recruiter Hal T. Horowitz Speaks Out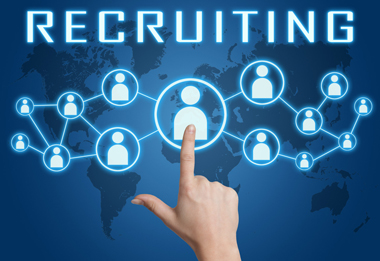 (Hal says these are true responses from clients and recruiters,
several recent, he notes. Editor)
I was prompted by a recent item I read on lame excuses for missing work to think back over some of the worst of the worst responses to questions I asked when vetting candidates, obtaining job searches or debriefing interviews. Caveat:These are not meant as good examples.
Vetting a candidate: As it applies to your job, where do you see yourself as being weak?
Response: My worst weakness is that I often think I can do more so I take on more. As a result, I've missed deadlines, caused reports to get out late, I even got someone fired once, because I blamed a major delay on her.
Debriefing a candidate following an interview for a credit manager: How did you like the company? Think you can work for them?
I think I could accomplish a lot there. I even told [the hiring manager] that his department looked like it needs new software, and that he has some weak people in some key positions that should be replaced. When he asked me which ones, I said, him, for one.
Debriefing a hiring manager trying to hire a leasing rep: First question, what did you think of him?
I told him we can't use him. If I want to put someone who swears like a f*****g sailor in front of our customers, I'd do the job myself.
Attempting to find out why a candidate missed an interview without notifying me or the company.
I locked my keys and phone in the car.
Asking why a chief credit officer let my candidate sit in an empty conference room for an hour and then left the office without saying anything.
I forgot, but it doesn't matter. If he wants the job, he'll come back for the interview. If he doesn't want it, find us someone else. We don't need someone who's going to complain and create a negative environment.
Trying to assess a candidate's need for coaching: You've had seven interviews this year, so why do you think you haven't been invited back for any second rounds?
I think most employers discriminate against people who lie on their résumés.
Hiring manager interviewing a candidate: Do you have any questions?
Yes. (Pulls out and unfolds a sheet of paper, then reads non-stop.) Why do you like working for this company? What is the one thing you want me to accomplish the most? How can I make your job easier? And where do we go from here?
And finally.
This time debriefing a candidate who interviewed for a position as a portfolio manager for a bank: What was your first impression?
I don't think it's the right position for me. The second guy I met said the company is overly micromanaged and more than that, he said there were some things going on there that hadn't gotten out yet.
Follow up question: Like what?
Well he wasn't specific, but he said the bank is probably going to be under an order by the end of the year and be a takeover target if it expects to survive.
You may laugh at the absurdity of these responses, but let me tell you, they're real, and there are more that are as equally inane or worse. Ask any recruiter.
Like lenders and financers, we have our own horror stories, and like you, at those moments, we're not laughing. We're cringing and probably using some colorful language of our own.
We've fired candidates and clients because there are people out there who just don't get it. But most of you looking for jobs or trying to fill slots for your firms do get it. You are dedicated to your trade, your industry and your search, and you have the technical skills to do your job. A major difference between you and them is in how you communicate that to others.
Here's my 9 cents worth: Candidates, from the moment you pull into your interviewer's parking lot until you pull out you need to be at the top of your game.
Hiring managers, if you don't have the skills to engage a candidate, or the confidence that your company has something to offer, step out of the hiring loop.
Happy 2018, everyone.
Hal T. Horowitz
Financial Pro Solutions
Executive recruitment serving financial professionals
Career coaching & professional résumé writing services & interview preparation
Phone: 818-347-FINA (347-3462)
Cell: 818-730-0645
Email: halh@finapros.com
Website: www.finapros.com
Twitter: @finapros
Recruiter Hal T. Horwitz Speaks Out
http://www.leasingnews.org/Conscious-Top%20Stories/recuiter_hh.htm
[headlines]
--------------------------------------------------------------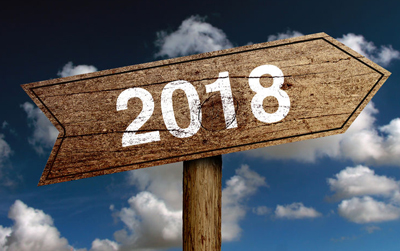 2018 is going to be different, in a good way. That's word on the street in the alternative finance industry, many of whom have told me that it's just something they feel.
I feel it too. The S&P 500 is at an all-time high, Bitcoin is up more than 1,400% for the year, lenders are lending in full force, and on top of it all, Donald Trump is president. The world is changing and from a one thousand foot view, it's an exciting time for finance.
2018 will welcome Broker Fair, the inaugural conference for MCA and business loan brokers.
2018 will transform alternative finance into just finance. For example, a mailer I received from PayPal advertising a small business loan up to $500,000 in as quick as 1 business day, included a letter signed by a top manager of Swift Capital. PayPal acquired Swift in 2017. Yesterday's alternative loan is simply today's loan. The one-day small business loan is becoming normalized and being offered by widely recognized financial companies.
Ripple surpassed Ethereum this morning to become the 2nd largest cryptocurrency by market cap. Cryptocurrency, once the domain of Bitcoin-obsessed internet anarchists, is quickly being adopted by the world's largest banks.
It's one thing to just talk about innovations in finance and another to realize that you now rely on those innovations. My company got a loan from Square, I got insurance through CoverWallet, I have funds in Lending Club, Prosper, Bitcoin, Ethereum, and Bitcoin Cash. Coinbase is the new etrade. MCA and online business loans are the new community banks. Payments can be made instantly and cost effectively.
2018 will be special because the world that we predicted would come, has come. That means it will be time to think about what will come even next. Online lending has come, instant payments have come, and cryptocurrency is fast approaching. What will be the cool edgy hip thing in the '20s that we may once again refer to as alternative? Mull that one over for a bit and consider that in the next decade the sexy FinTech companies of the 20-teens will be stodgy financial institutions in the 2020s. This decade's innovation will become part of the boring normal manner in which finance is transacted.
That's a fact.
Enjoy 2018. I know I will.
Happy New Year,
– Sean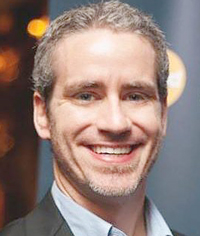 [headlines]
--------------------------------------------------------------
Court Holds Debt Settlement and Bankruptcy
Consultants Liable for Unauthorized Practice of Law
By Tom McCurnin
Leasing News Legal Editor
Once Debt Adjustment Groups Get In the Picture, Collection Becomes Complicated. This Case May Provide Equipment Lessors with Some Relief
Farinash v. UpRight Law, LLC (In re Elrod), 2017 Bankr. LEXIS 3911 (E.D. Tenn 2017).
Most back end officers of equipment lessors know this scenario well. The lessor has a customer which is in default and possibly heading toward litigation. After demand, but before litigation is ensued, the collections department receives a letter from a debt adjustment company. The debt adjustment company has signed a contract with the customer and is now negotiating for pennies on the dollars.
Some of these outfits actually defend the customer in court, hiring local lawyers to drive the litigation costs up, while holding out the olive branch of a cheap settlement. Other groups write posturing letters threatening bankruptcy.
What can a creditor do? A Tennessee bankruptcy court may provide some ammunition for the equipment lessor by holding that these outfits engage in the unauthorized practice of law. While not a perfect case, it does provide some insight into the bottom feeding industry. The facts follow.
Barry Elrod contacted "UpRight Law" via telephone relative to a foreclosure on his Tennessee home. The foreclosure was four months away. The borrower spoke with a Mr. Smith, a "Senior Consultant" with UpRight Law, who advised him of his rights and generally sold the borrower one of the great legal commodities—fear. All communications were apparently tape-recorded.
UpRight Law collected a fee in the sum of $2,060 and discussed future fees of $1,250. Mr. Smith promised to assign the matter to "some local attorneys." Smith advised the borrower of his rights to get a repossessed automobile back. Ultimately, an attorney was assigned to represent the borrower but backed out. Another lawyer took the case on but it was filed very close to the foreclosure deadline.
At the first meeting of creditors, the borrower testified as to the conversations with UpRight Law and Mr. Smith. The bankruptcy trustee, claiming that Mr. Smith engaged in the unauthorized practice of law, filed an adversary action against UpRight Law and Mr. Smith for unauthorized practice of law and negligence.
The trustee alleged that Mr. Smith: (1) negotiated the fee for the representation of the Elrods; (2) advised the Elrods as to what chapter of the Bankruptcy Code under which they should seek relief; (3) advised the Elrods that they could not regain possession of the Jeep that had been repossessed; (4) advised the Elrods what the amount of their chapter 13 payment would be [Id. at ¶ 12(j)]; (5) advising the Elrods not to pay $1,000 to their mortgage company to stop the pending foreclosure [Id. at ¶ 12(i)]; (6) advising the Elrods that their house was not up for sale [Id.]; and (7) advising the Elrods how long the bankruptcy would stay on their credit report [Id. at ¶ 12(s)].
Smith moved to dismiss.
The Court denied the motion to dismiss, holding that the allegations of the complaint set forth a valid cause of action—e.g., unauthorized practice of law by a non-lawyer. In addition, the alleged statements made constituted legal advice, not merely filling out a form and were inaccurate. Those statements, if actually made, could be negligent.
What are the takeaways here?
• First, Debt Adjustment Firms Engage in the Unauthorized Practice of Law. Unless the borrower is actually speaking with a lawyer licensed to practice in the state where the borrower lives, those communications if in the form of legal advice, are subject to claims of professional negligence and the tort of unauthorized practice of law. Sadly, the cause of action probably belongs to the borrower, not the creditor.
• Second, Creditors May Be Able to Scare the Debt Adjustment Companies Away. When they call, the creditor should confirm that the person is not a lawyer, or if the person is a lawyer, not a lawyer in the state where the customer or the creditor is located. Elevate the call to a senior collection guy at the creditor's office and politely inform the debt adjustment company representative that you believe he is engaging in the unauthorized practice of law and you intend to report him to the office of the attorney general and the state bar. Maybe this will scare him off.
• Third, Advise Your Customer That These Guys Are Bottom Feeders. As set forth in this case, the debt adjustment companies rarely work for the benefit of the customer, and often dispense incorrect legal advice. If the customer wants to negotiate a settlement, elevate the call to an experienced collector and hopefully both sides can compromise and resolve the dispute.
The bottom line to this case is that this debt adjustment company and its consultant just got busted for doing what we've all known has been going on for years—the unauthorized practice of law. While the claim belongs to the customer, not the creditor, perhaps a savvy creditor can use this case to the creditor's advantage and scare these guys off.
Farinash v. UpRight Law (17 pages)
http://leasingnews.org/PDF/FarinashvUpRight2017.pdf
Tom McCurnin is a partner at Barton, Klugman & Oetting
in Los Angeles, California.
Tom McCurnin
Barton, Klugman & Oetting
350 South Grand Ave.
Suite 2200
Los Angeles, CA 90071
Direct Phone: (213) 617-6129
Cell (213) 268-8291
Email: tmccurnin@bkolaw.com
Visit our web site at www.bkolaw.com
Previous Tom McCurnin Articles:
http://www.leasingnews.org
Previous Tom McCurnin Articles:
http://www.leasingnews.org/Conscious-Top%20Stories/leasing_cases.html
[headlines]
--------------------------------------------------------------
##### Press Release ############################
AuctionTime.com Sells Record-Breaking $46 Million
In Equipment in Its Final Sale of the Year

LINCOLN, Neb., -- AuctionTime.com set a new record for gross auction proceeds in its final online only auction for 2017. The sale concluded Thursday, and included over 3,600 assets; items received bids from over 9,800 bidders across all 50 U.S. states and 40 other countries worldwide.
Auctions are held every week on AuctionTime.com, which includes hundreds of thousands of active listings for upcoming auction items from qualified sellers around the world. New auction listings are added constantly, and bidding is easy with free bidder registration, no buyer fees, and no hidden reserves. Auctioneers interested in leveraging the platform can contact AuctionTime directly:
(Leasing News Equipment OnLine Auctions
http://leasingnews.org/Pages/auctions.html )
### Press Release ############################
[headlines]
--------------------------------------------------------------
### Press Release ############################
NACM's CMI Continues Up and Down Trend
"With any bad news there is always good"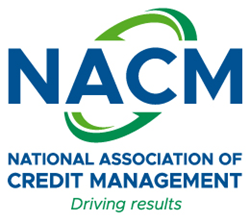 The swing of the pendulum continued in the December Credit Managers' Index (CMI) from NACM, and it is headed in the wrong direction as credit professionals prepare for a final holiday rush. After breaking a more than three-year-long record in November, the December CMI has reversed course with its combined reading of 54.2, down from 56.6 in November.

Chris Kuehl, Ph.D.
NACM Economist
"In November, the sense was that real progress was ahead and many people have been speaking of 2018 with great expectations," said NACM Economist Chris Kuehl, Ph.D. "It may yet work out that way. This month may be written off as an anomaly, but it may also signal that some of those weaknesses that had been warned about are manifesting."
Most of the reversal was within the favorable categories, which saw a large drop off and fell out of the 60s for the first time since last December. The favorable factors index is at 59.4 after a more than six-point drop in December. All favorable factors—sales, new credit applications, dollar collections and amount of credit extended—in the combined and manufacturing and service sectors saw a decline this month. The favorable categories have been near record levels for much of 2017, so even with the large drop, the overall score is comfortably in expansion territory.
With the bad comes the good. The combined index of unfavorable factors stayed in expansion (above 50) for the fifth straight month and increased in December. A reading of more than 50 indicates economic growth, and the opposite is true when the number is under 50. Overall, credit application rejections, accounts placed for collection and bankruptcy filings saw only minor declines this month. Disputes, dollar amount beyond terms and dollar amount of customer deductions all edged closer to the expansion zone.
For a complete breakdown of the manufacturing and service sector data and graphics, view the December 2017 report at http://web.nacm.org/CMI/PDF/CMIcurrent.pdf. CMI archives may also be viewed on NACM's website at http://www.nacm.org/cmi/cmi-archive.html.
ABOUT THE NATIONAL ASSOCIATION OF CREDIT MANAGEMENT
NACM, headquartered in Columbia, MD, supports more than 13,000 business credit and financial professionals worldwide with premier industry services, tools and information. NACM and its network of affiliated associations are the leading resource for credit and financial management information, education, products and services designed to improve the management of business credit and accounts receivable. NACM's collective voice has influenced federal legislative policy results concerning commercial business and trade credit to our nation's policy makers for more than 100 years, and continues to play an active part in legislative issues pertaining to business credit and corporate bankruptcy. NACM's annual Credit Congress & Exposition conference is the largest gathering of credit professionals in the world.
#### Press Release #############################
[headlines]
--------------------------------------------------------------
[headlines]
--------------------------------------------------------------
Alaskan Husky
San Clemente, California Adopt-a-Dog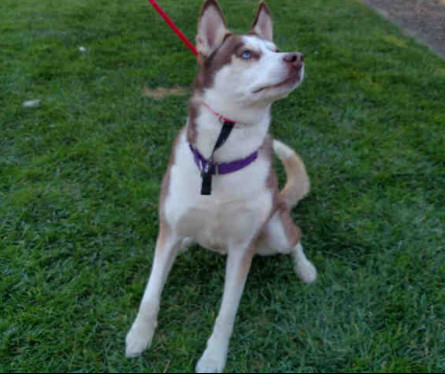 Rochellle
IF#A039199

Female
Two Years Old
Spayed
Young and Playful
Gets along with all family members
Needs exercise or walks
Doesn't Like to be Left along for long periods of time
Happy and Friendly
For more information about this animal, call:
San Clemente - Dana Point Animal Services at (949) 492-1617
Ask for information about animal ID number A039199
San Clemente- Dana Point Animal Services
221 Avenida Fabricante
San Clemente, CA 92672
Phone Number: (949) 492-1617
Fax Number: (949) 366-4765
Adopt a Pet
http://www.adoptapet.com/
[headlines]
--------------------------------------------------------------
Credit Position Wanted
Seattle, WA – Will Work Remotely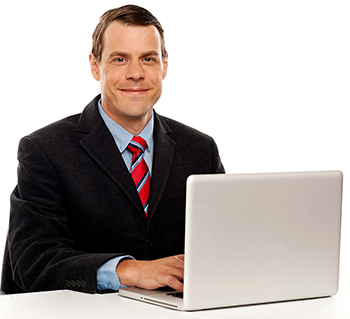 A highly skilled credit expert. Extensive underwriting background in small ticket leasing and commercial banking. Managing equipment finance credit operations, performing daily credit tasks, spreading/analyzing financial statements, preparing monthly reports. Exceptional organizational, analytical, communication skills. I excel at making sound credit decisions in a fast paced environment. murphy9679@frontier.com
[headlines]
--------------------------------------------------------------
News Briefs----


People are ditching Subway, franchisees expect a wave
of store closures — here's what went wrong
http://www.businessinsider.com/subways-closes-stores-spirals-downwards-2017-12
Goldman Takes One-Time $5 Billion Hit From New U.S. Tax Law
mainly stems from taxation of earnings held abroad
https://www.bloomberg.com/news/articles/2017-12-29/goldman-sachs-takes-one-time-5-billion-hit-from-u-s-tax-bill
China Aircraft Leasing buys 50 Airbus A320neo series
for $5.4 billion -- Mfg. in Mobile, Alabama
https://www.reuters.com/article/us-cnaircraft-lease-airbus/china-aircraft-leasing-buys-50-airbus-a320neo-series-for-5-4-billion-idUSKBN1EN02S
Florida's Medical Marijuana Industry Is Losing Its Bank,
But Others Are Stepping In
https://www.forbes.com/sites/monazhang/2017/12/31/floridas-medical-marijuana-industry-is-losing-its-bank-but-others-are-stepping-in/#5ab3cc694470
How a Maryland bank is quietly solving
the marijuana industry's cash problem
https://www.washingtonpost.com/local/md-politics/how-a-maryland-bank-is-quietly-solving-the-marijuana-industrys-cash-problem/2018/01/02/a6317088-e0ec-11e7-bbd0-9dfb2e37492a_story.html?utm_term=.cb2939c23ce4
Apple apologizes for slowing iPhones,
cuts price of battery replacement as lawsuits pile up
https://www.seattletimes.com/business/apple-sorry-for-slowing-iphones-cuts-battery-price-by-50/
Peter Thiel's firm owns 'hundreds of millions' in bitcoin
and is Buying More
https://nypost.com/2018/01/02/peter-thiels-firm-owns-hundreds-of-millions-in-bitcoin/
[headlines]
--------------------------------------------------------------

You May Have Missed---
Here are five breaks you'll miss the most in the tax bill
https://www.cnbc.com/2017/12/19/5-deductions-taxpayers-will-miss-the-most-in-the-tax-bill.html
[headlines]
--------------------------------------------------------------
Chicago Bear Happiness
I ASKED the professors who teach the meaning of life to tell
me what is happiness.
And I went to famous executives who boss the work of
thousands of men.
They all shook their heads and gave me a smile as though
I was trying to fool with them
And then one Sunday morning I wandering out among
grass fields surrounding Dolphin Stadium
And I saw a crowd of Polacks under the trees with
their women and children
and a keg of beer and an
accordion.
They cheered and sang,
watching TV on a portable battery.
Go Bears! They yelled.
And then they lifted the beer mugs high
and yelled again: Go Bears!
As if they would win.
(With apologies to Carl Sandburg.)
[headlines]
--------------------------------------------------------------

Sports Briefs---

Raiders LB NaVorro Bowman on Jon Gruden: 'It's exciting'
http://profootballtalk.nbcsports.com/2018/01/02/navorro-bowman-finds-potential-arrival-of-jon-gruden-exciting/
Marvin Lewis returns as Cincinnati Bengals' head coach
through 2019
https://www.usatoday.com/story/sports/nfl/bengals/2018/01/02/marvin-lewis-returns-cincinnati-bengals-head-coach-16th-season/994038001/
Welcome to the Two Most Fun Weeks on the NFL Calendar
https://www.theringer.com/2018/1/2/16842700/welcome-to-two-most-fun-weeks-on-nfl-calendar
[headlines]
--------------------------------------------------------------


California Nuts Briefs---
Traditional lightbulbs set to vanish Jan. 1 from
California store shelves
http://www.sacbee.com/news/local/environment/article191151149.html#emlnl=Breaking_Newsletter
[headlines]
--------------------------------------------------------------



"Gimme that Wine"

http://www.youtube.com/watch?v=EJnQoi8DSE8
Rosé on rise for the past 30 years
http://www.pressdemocrat.com/lifestyle/7796870-181/berger-ros%C3%A9-on-rise-for
San Francisco Chronicle Wine Competition Public Tasting 2018
February 17, 2018, 12:30 pm - 5:00 pm
http://events.sfgate.com/event/sfcwinecomp2018
Wine Prices by vintage
http://www.winezap.com
http://www.wine-searcher.com/
US/International Wine Events
http://www.localwineevents.com/
Leasing News Wine & Spirits Page
http://two.leasingnews.org/Recommendations/wnensprts.htm

[headlines]
----------------------------------------------------------------
This Day in History
1793- political and social reformer Lucretia Coffin Mott born in Nantucket, Massachusetts
http://memory.loc.gov/ammem/today/today.html
1876- Hill Institute opened in Florence , MA . Originally called the Florence Kindergarten, because it was in the home of its founder, Samuel Lapham Hill, it become known as the Hill House, and then later to the name known today as the first free Kindergarten.
1888- Marvin Stone of Washington , D.C. filed a patent for a drinking straw made out of paraffin-covered paper, replacing natural rye straws. It revolutionized drinking soda pop,not only a drug store fountains, but baseball games, beach, and all outdoor events.
1897- Marion Davies, born at Brooklyn , NY , Marion Cecilia Douras became Marion Davies and made her first appearance on film in 1917. Her romantic and professional involvement with newspaper magnate William Randolph Hearst ensured the type of publicity that would launch her to stardom. Her films included When Knighthood Was in Flower, The Patsy and Show People. She had a mansion on Santa Monica Beach and as kids we would visit. When she was in a good mood, she was friendly and gave us soda. When her house was vacant, it became a place for us to meet as we knew how to enter, plus guards remember us as her friends. Davies died at Hollywood , Sept 23, 1961.
1903- President Theodore Roosevelt signed a bill establishing South Dakota 's Wind Cave , a national park and preserve. It was the first national park established for the preservation of a cave.
1904 Eddie Lang Birthday
http://www.redhotjazz.com/lang.html
1909- Victor Borge ( Borge Rosenblaum) Birthday
1920- Boston Red Sox owner and theatrical producer Harry Frazee sold pitcher-outfielder Babe Ruth to the New York Yankees for $125,000 and a $300,000 loan. Frazee used the loan several years later to produce " No, No, Nanette, a hit musical.
1921- the University of Wisconsin , Madison , WI on station 9XM made the first weather broadcast.Other radio stations copied this popular news.
1930-- The first diesel engine car trip was made by Clessie Lyle Cummins of the Cummins Engine Company, Columbus, IN, with a stock model engine weighing 1,200 pounds, delivering 50 horsepower at 1,000 revolutions per minute with four cylinders of 4.5 b 6 inch bore, installed in a seven-passenger Packard sedan. He left Indianapolis , IN , this day and arrived in new York City on January 6, covering 792 miles at a total fuel cost of $1.38.
1939- Hockey Hall of Fame Left Wing Bobby Hull birthday
1939- Gene Cox, 13, served on the House floor as aide to her father, Representative Eugene Cox (D-GA), on opening day of the 76th Congress. She was paid $4 for three hours of work and there were no objections to her one-day service. More than 30 years later, however, there was much debate when Senator Jacob Javits (R-NY) nominated a female to be a real Senate page.
1949- Metronome All-Stars ( Parker, Gillespie, Ventura , etc. ) cut "Victory Ball, Overtime, and many more, New York City
1957- Hamilton Watch Company, Lancaster , PA introduced to the public the first electric watch. the movement was powered by a small energy cell guaranteed to operate the watch for a year. It had no mainspring and had 35 percent fewer parts than an automatic or self-winding watch.
1959- Alaska , which had been purchased from Russia in 1867, became the 49 th state . The area of Alaska is nearly one-fifth the size of the rest of the United States .
1965- three brothers from one family to serve in the Senate were the three sons of Joseph Patrick Kennedy and Rose Kennedy of Boston , MA . John Fitzgerald Kennedy, senator form Massachusetts , who was sworn in on January 3, 1953; Edward Moore Kennedy, also from Massachusetts , who was sworn in on January 9, 1963; and Robert Francis Kennedy, senator form New York , who was sworn in on January 3, 1965.
1973- a group headed by shipping executive George M. Steinbrenner, III, bought the New York Yankees from CBS for $10 million.
1976- Martha Elizabeth Keys, Democrat of Kansas and Andrew Jacobs, Jr, Democrat of Indiana, were married at Topeka , KS , to become the first congressional representatives to marry each other.
1987- Cleveland quarterback Bernie Kosar passed for 487 yards, an NFL playoff record to date, to lead the Browns to a double-overtime 23-20 victory over the New York Jets in an AFC divisional playoff game. The following week, Cleveland lost the AFC championship game, also in overtime, to the Denver Broncos by the identical score.
1989- " The Aresnio Hall Show" premiered on TV. Arsenio Hall became the first African-American to host a successful syndicated late-night talk show. The show attracted a younger audience than that of Johnny Carson's "The Tonight Show" and effectively limited the impact of CBS's 1989 late-night entry, "The Pat Sajak Show." Hall was successful in booking soul and rap music acts that had rarely been seen on other shows. His was also the show on which presidential candidate Bill Clinton appeared, playing the saxophone in dark glasses. Hall was named by TV Guide (June 1990) as its first "TV Person of the Year."

-------------------------------------------------------------

SuDoku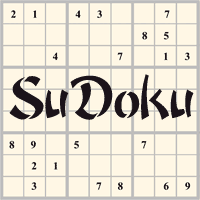 The object is to insert the numbers in the boxes to satisfy only one condition: each row, column and 3x3 box must contain the digits 1 through 9 exactly once. What could be simpler?
http://leasingnews.org/Soduku/soduko-main.htm
--------------------------------------------------------------

Daily Puzzle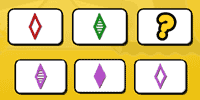 How to play:
http://www.setgame.com/set/puzzle_frame.htm
Refresh for current date:
http://www.setgame.com/set/puzzle_frame.htm
--------------------------------------------------------------


http://www.gasbuddy.com/
http://www.gasbuddy.com/GB_Map_Gas_Prices.aspx
http://www.gasbuddy.com/GB_Mobile_Instructions.aspx
--------------------------------------------------------------

Weather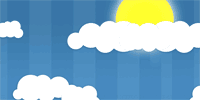 See USA map, click to specific area, no commercials
--------------------------------------------------------------

Traffic Live---
Real Time Traffic Information
You can save up to 20 different routes and check them out with one click,
or type in a new route to learn the traffic live
--------------------------------