Archives July 23, 2007
Parker Brothers get 20 and 11 years in Federal Prison
(Famous Advance Fee Case)
Leasing News had many "run ins" with the late founder of the company, Paul Parker. He started out advertising in USA Today perhaps since the paper started in 1982, offering to train those in his office for $5,000. Former students have said today it is a one person office with an answering service and the manual was a mimeograph. There were never any claims against his company in the Better Business Bureau.
(01/07/2007) Indicted: material misrepresentations to loan applicants to induce them to apply for commercial lease funding. As part of the loan process, the defendants required loan applicants to send advanced lease payments. The defendants, however, failed to deliver the promised funding, and then refused to return the victims' advanced lease payments.
July 23, 2007
Defendants Robert Parker, a/k/a Bob Parker, of Broward County, and Gary N. Parker, of Greenville, Tennessee, were sentenced today after being found guilty by a jury on May 17, 2007 in Miami, Florida on numerous charges involving an international advance fee scheme that included the purported financing and leasing of commercial equipment. Victims from all over the world lost approximately $4,000,000.
The defendants were convicted of all charges which included mail and wire fraud, money laundering and tax evasion. After conviction, the defendants agreed to a $4,000,000 judgment and to the forfeiture of four bank accounts that contained $206,976.20 as well as a residence in Greenville, Tennessee. Today, Chief United States District Judge Federico A. Moreno, sentenced Robert Parker to 135 months' imprisonment followed by three years of supervised release, victim restitution in the amount of $1,824,137 and a special assessment in the amount of $4,400. Chief Judge Moreno, noting Gary N. Parker's prior conviction for the same offense, sentenced him to 240 months' imprisonment followed by three years of supervised release, victim restitution in the amount of $1,824,137 and a special assessment in the amount of $4,400.
According to the Superseding Indictment, the defendants operated Parker Leasing and Finance Service in Fort Lauderdale, Florida. According to the evidence presented at trial, Parker Leasing and Finance Service held itself out as a business engaged in the financing and leasing of commercial equipment, with millions of dollars available for loans. In fact, the defendants enriched themselves by making material misrepresentations to individuals to induce them to apply for commercial lease funding. Ultimately, the defendants failed to deliver on the promised funding and refused to return the victims' advanced lease payments.
The Parkers were also convicted of conspiring to impede the lawful governmental functions of the Internal Revenue Service of the Treasury Department in the collection of federal income taxes. The evidence established that the defendants diverted the proceeds from the advanced fee scam to themselves using various bank accounts and then converted the proceeds to cash in order to conceal the amount of income they received. Defendant Bob Parker was also convicted of evading federal income tax due and owing by him for the years 2000, 2001, 2002, 2003, and 2004.
Mr. Acosta commended the investigative efforts of the Federal Bureau of Investigation, the Internal Revenue Service, and the Broward County Sheriff's Office. The case was prosecuted by Assistant United States Attorney Thomas P. Lanigan and Department of Justice Tax Division Trial Attorney Mitchell Bober and William C. Healy of the Asset Forfeit Division of the United States Attorney's Office.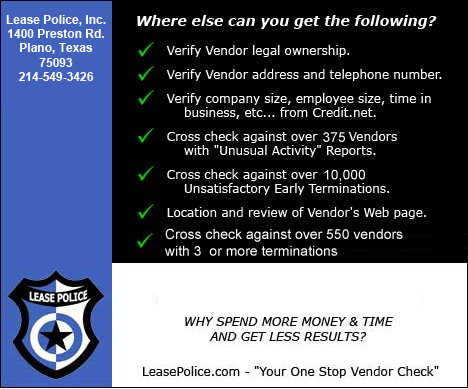 (Leasing News provides this ad "gratis" as a means
to help support the growth of Lease Police)



[headlines]
--------------------------------------------------------------
Classified Ads---Sales

(These ads are "free" to those seeking employment or looking
to improve their position)

California
Aggressive, competitive self-starter with vendor/direct equipment
leasing and asset-based lending experience. Success in business banking sales and financial planning.
Email: dsp559@hotmail.com | Resume


Garfield, NJ
15 years experience small to large ticket sales exp. All types of equipment industries. Vendor & direct. Self motivated. Work with leasing company or broker.
Tony Lio tonylio@optonline.net
Montgomery, AL
Individual with 10 years advertising sales exp. & 7 years insurance sales exp. Wants independent contractor situation in Alabama.
Work with leasing company or broker.

334-590-5133


E-mail: billmcneal2003@yahoo.com
Orange County, CA
20+ yrs. leasing sales/sales mgmt
Established remote office w/Lessee/Vendor following
Request Salary + commission or partnership w/direct funding source.
shermbp@gmail.com
Pittsburgh , PA
Aggressive self starter looking for leasing position w/10 plus yrs sales exp., plus banking experience

814-227-4592


mwiser500@hotmail.com
San Francisco Bay Area:
15 year Vendor Program Agreement HUNTER. Currently employed at major IT manufacturer captive supporting direct and channel sales. Must have base, commission and benefit package.
E-mail: VdrPgmBizDev@aol.com
Texas/Oklahoma
15 year lease vet looking for plact to take business.great references. all major equipment types. open to compensation. please contact if interested.
E-mail: bankingdallas@yahoo.com
Free Posting for those seeking employment in Leasing:
http://www.leasingnews.org/Classified/Jwanted/Jwanted-post.htm
All "free" categories "job wanted" ads:http://www.leasingnews.org/Classified/Jwanted/Jwanted.htm



[headlines]
--------------------------------------------------------------
Career Crossroad
—"It's been 2 weeks since the interview."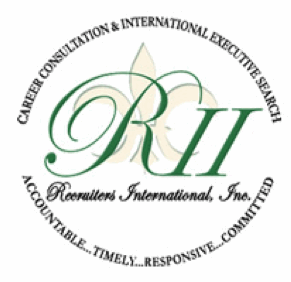 Question:
I applied for position and believe it went very well. The hiring manager has indicated his interest and intends to move to the next step, yet that was 2 weeks ago. How should I handle?
Answer:
There are many factors to consider when there is a delay in the hiring / interviewing process--- including factors that are beyond the hiring manager's control. The best plan of action is to express your interest, but not seem desperate; follow up only one or two times (max). Once via phone, once via email. Just because you didn't get an immediate offer does not mean your are not being considered. But definitely not more than what I have suggested.
In the meantime, continue your career search in case this particular opportunity does not pan out. However, if the other opportunity(s) comes to fruition and you are still interested in the initial opportunity, reach out once again to the hiring manager and advise that you have an offer on the table. You may relay that his/her company/opportunity is your first choice. Set a deadline, for e.g. I must give my answer by end of business Friday and would appreciate that status of the position I applied for – "either way; I appreciated the time we spent together, and if you have gone in a different direction, maybe we can re-connect in the future".
Sometimes hiring managers find it difficult to let a good Candidate down or feel guilty of the time and effort you put into the interview process, so try to make them feel at ease. Most likely, they will reach back out and either advise you of the status of the role or make an offer.

Emily Fitzpatrick
Sr. Recruiter
Recruiters International, Inc.
Phone: 954-885-9241
Cell: 954-612-0567
emily@riirecruit.com
Twitter: @RIIInfo
Invite me to Connect on LinkedIn & Follow RII on LinkedIn
Career Crossroads Previous Columns
http://www.leasingnews.org/Conscious-Top%20Stories/crossroad.html


[headlines]
--------------------------------------------------------------
Leasing News Help Wanted


Dallas-Fort Worth
Seasoned Leasing professional in Dallas-Fort Worth area, experienced in 3rd party generated business. Must be highly ethical, self starter with a good understanding of financials and able to produce immediately and consistently. Generous commissions paid and
benefits after initial trial period.
Please submit resume to ron.mitchell@bancleaseacceptance.com
Contact: Ron Mitchell 214-615-0667 direct
Exp. only, 1 Southeast, 1 West Coast
Looking to Expand Your Career
Base Salary & Commission
resumes to : dmitchem@ifsc.com
www.ifsc.com
Stable, profitable independent lessor, 30 years in business,
Chicago suburbs
For information on placing a help wanted ad, please click here:
http://www.leasingnews.org/Classified/Hwanted/Hwanted-post.htm

Please see our Job Wanted section for possible new employees.
[headlines]
--------------------------------------------------------------
Leasing News Help Wanted Ad Pricing


Take Advantage of this Limited Offer!!!
25% Off regular rate below plus 30 day run
Help Wanted Web Ad New Programs
Classified Ad Section

21 days in a row:
$595 four lines (a space is a line)
($40 each additional line or space)
All you need do is send us the copy or the position description you want to fulfill and we do the rest. We will design the ad with the idea to fit you budget best, as well as recommend a "click to a web page" or seprate full page job description. Lines and spaces determine the price of the "help wanted ad" as the Logo is free as well as company description at the bottom of the ad (not to exceed the number of lines of the ad.) Also free: click to a click to a web site or a full description of the position.

Ads are placed in the "Help Wanted' section by category, alphabetical, with the ad with the most lines first in the group. They appear on the web site and in each news edition at the top, not in flash, but in separate news editions. (The "help wanted" top ad are changed in each news edition in sequence with other "help wanted" ads, mostly in a chronological basis.) The ad always appears in the classified help wanted section in each news edition, plus remains on the web site, even when it appears at the top of the headlines.
Most readers scroll the newsletter, or those directly interested in classified, will click on the headline and go direct to the news edition classified help wanted section, or click on the web site, and go to it at this site.
Leasing News reserves the right to refuse advertising, particularly to a company that has appeared in the complaint bulletin board
[headlines]
--------------------------------------------------------------
Leasing 102
by Mr. Terry Winders, CLP
"Vehicles Section 179 for 2012"

Essentially, Section 179 of the IRS tax code allows businesses to deduct the full purchase price of qualifying equipment and/or software purchased or financed during the tax year. That means that if a company buys (or leases with a bargain purchase option) a piece of qualifying equipment, it can deduct the FULL PURCHASE PRICE from gross income. It's an incentive created by the U.S. government to encourage businesses to buy equipment and invest in themselves.
Several years ago, Section 179 was often referred to as the "SUV Tax Loophole" or the "Hummer Deduction" because many businesses have used this tax code to write-off the purchase of qualifying vehicles at the time (like SUV's and Hummers). But, that particular benefit of Section 179 has been severely reduced in recent years.
Vehicles used in businesses qualify - but certain passenger vehicles have a total depreciation deduction limitation of $11,060, while other vehicles that by their nature are not likely to be used more than a minimal amount for personal purposes qualify for full Section 179 deduction.
Here are the general guidelines for using the Section 179 Deduction for vehicle purchases (full policy statement available at: IRS.gov ).
For passenger vehicles, trucks, and vans (not meeting the guidelines below), that are used more than 50% in a qualified business use, the total deduction for depreciation including both the Section 179 expense deduction as well as Bonus Depreciation is limited to $11,060 for cars and $11,160 for trucks and vans.
Exceptions include the following vehicles:
Ambulance or hearse used specifically in business

Taxis, transport vans, and other vehicles used to specifically transport people or property for hire;

Qualified non-personal use vehicles specifically modified for business (i.e. van without seating behind driver, permanent shelving installed, and exterior painted with company's name)

Limits for SUVs or Crossover Vehicles with GVWR above 6,000lbs

Certain vehicles (with a gross vehicle weight rating above 6,000 lbs but no more than 14,000 lbs) qualify for expensing up to $25,000 if the vehicle is financed and placed in service prior to December 31 and meet other conditions.
Many vehicles that by their nature are not likely to be used for personal purposes qualify for full Section 179 deduction including the following vehicles:
1. Heavy "non-SUV" vehicles with a cargo area at least six feet in interior length (this area must not be easily accessible from the passenger area.) To give an example, many pickups with full-sized cargo beds will qualify (although some "extended cab" pickups may have beds that are too small to qualify).
2. Vehicles that can seat nine-plus passengers behind the driver's seat (i.e.: Hotel / Airport shuttle vans, etc.).
3. Vehicles with: (1) a fully-enclosed driver's compartment / cargo area, (2) no seating at all behind the driver's seat, and (3) no body section protruding more than 30 inches ahead of the leading edge of the windshield. In other words, a classic cargo van.
4. Vehicles can be new or used ("new to you" is the key).
5. The vehicle can be financed with certain leases and loans, or bought outright.
6. The vehicle in question must also be used for business at least 50% of the time - and these depreciation limits are reduced by the corresponding % of personal use if the vehicle is used for business less than 100% of the time.
7. Remember, you can only claim Section 179 in the tax year that the vehicle is "placed in service" - meaning when the vehicle is ready and available - even if you're not using the vehicle. Further, a vehicle first used for personal purposes doesn't qualify in a later year if its purpose changes to business.
Mr. Terry Winders, CLP, has been a teacher, consultant, expert witness for the leasing industry for thirty years and can be reached at leaseconsulting@msn.com or 502-327-8666.
He invites your questions and queries.

Previous #102 Columns:
http://www.leasingnews.org/Conscious-Top%20Stories/Leasing_102/Index.htm
Mr. Terry Winders available as Expert Witness. 35 years as a professional instructor to the top equipment leasing and finance companies in the United States, author of several books, including DVD's, as well as weekly columnist to Leasing News. He also performs audits of leasing companies as an expert on documentation, and has acted as an expert witness on leasing for litigation in legal and tax disputes, including before the IRS. He also has taught the senior bank examiners, how to review a bank leasing department, for the Federal Reserve in Washington D.C. and has trained the examiners for the FDIC on how to prepare a lease portfolio for sale.
Mr. Winders received his Master of Business Administration and his Bachelor of Science degrees from the College of Notre Dame.
502.649.0488/Leaseconsulting@msn.com
(This ad is a "trade" for the writing of this column. Opinions
contained in the column are those of Mr. Terry Winders, CLP)
[headlines]
--------------------------------------------------------------
Top Stories--July 16--July 20
Here are the top ten sorties opened by readers

(1) New Bank Leasing Companies and others, too
by Christopher Menkin
http://leasingnews.org/archives/Jul2012/7_18.htm#new
(2) Shocker! Iowa Broker steals $100M over 20 yrs.
http://www.nypost.com/p/news/business/midwest_madoff_kvoEqLznaYxvKJn7FfYOcN
(3) New Aggregate Funding Process---and it connects!
by Christopher Menkin
http://leasingnews.org/archives/Jul2012/7_20.htm#new
(4) Dahlka & Team Back as Cole Taylor Equipment Finance
http://leasingnews.org/archives/Jul2012/7_16.htm#cole_taylor

(5) 10 Places to Look for Leasing Business
http://leasingnews.org/archives/Jul2012/7_16.htm#ten
(6) Archives July 18, 2000
Fisher-Anderson L.C. Validates CapitalStream.com
http://leasingnews.org/archives/Jul2012/7_18.htm#archives
(7) BSB Leasing Announces New Division
http://leasingnews.org/archives/Jul2012/7_20.htm#bsb
(8) Career Crossroad—
"...forced to state not fit for the position to get my check."
http://leasingnews.org/archives/Jul2012/7_16.htm#crossroad
(9) Equipment Leasing Plan Could Make Lessees Losers
http://www3.cfo.com/article/2012/7/gaap-ifrs_fasb-iasb-lease-accounting-equipment-leases
(10) Selling Up by Steve Chriest
"Predicting a Salesperson's Success"
http://leasingnews.org/archives/Jul2012/7_18.htm#sellin