Archive July 27, 2009
IFC Credit Corporation, Morton Grove, Illinois
filing Chapter 7 officially confirmed.
http://leasingnews.org/PDF/IFC%20BK%20Filing%20short.pdf

Next Day, full story:
http://leasingnews.org/archives/July%202009/07-29-09.htm#IFC_Credit
Bankruptcy is still in process today:
http://www.leasingnews.org/Conscious-Top%20Stories/IFC_stories.htm

• Contract Negotiations • Fraud Investigations
• Credit Investigations • Skip-tracing
• Third-party Commercial Collections
John Kenny
Receivables Management
For flat fee or commissions basis

john@jkrmdirect.com | ph 315-866-1167| www.jkrmdirect.com
(Leasing News provides this ad as a trade for investigations
and background information provided by John Kenny)


[headlines]
--------------------------------------------------------------
Classified Ads---Asset Management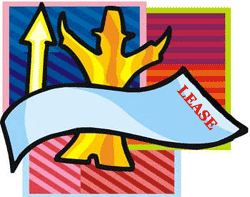 (These ads are "free" to those seeking employment or looking
to improve their position)

Free Posting for those seeking employment in Leasing:
http://www.leasingnews.org/Classified/Jwanted/Jwanted-post.htm
All "free" categories "job wanted" ads:http://www.leasingnews.org/Classified/Jwanted/Jwanted.htm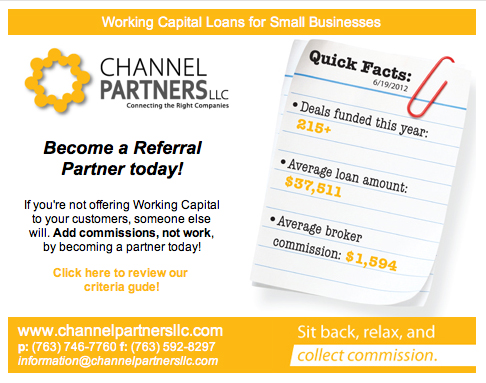 [headlines]
--------------------------------------------------------------
Proposed Changes in Lease Accounting
Lease Project Pain Part of Larger Frustrations
by Shawn Halladay, The Alta Group
The reactions to the recent decisions on lessee expensing would seem to indicate that there are serious issues going on with the Leases Project. It is important to realize that these provisions have been in the proposals since the beginning and, in some ways, reflect a step forward, as the Boards now are recognizing two types of leases (operating and finance). Unfortunately, they chose to make the distinction based on equipment versus real estate, not on the nature of the lessor's business.
Instead, much of this hype is indicative of broader friction between the US and international accounting communities, along with the political issues associated with US adoption of IFRS. For example, dissension between the IASB and the FASB has occurred not only with leases but also in areas such as the impairment phase of the financial instruments project and the joint insurance project. These have been compounded by the lack of an SEC decision to incorporate IFRS into the US financial reporting system, something that IASB Chairman Hans Hoogervorst has deemed "regrettable".
The bottom line is that, from an industry perspective, the recent decisions to front-load lease expenses on equipment leases do not represent a further impediment to leasing beyond what already has been proposed. Now, when those changes actually may be implemented is another matter.
Shawn Halladay, Managing Director
www.thealtagroup.com
801.322.4499 direct
801.322.5454 fax
801.597.6147 mobile
shalladay@thealtagroup.com
About Shawn Halladay
http://thealtagroup.com/north-america/about/shawn-d-halladay

Comprehensive personal property tax outsourcing services
We accept file exports and integrate personal property tax information with all lease management or accounting software. No other firm offers the combination of individual attention, software capabilities expertise, "full disclosure" and web port accessibility to information more than we do.

Click here to learn what our clients say about our service
Gary DiLillo, President 440.871.0555 or gary@avptc.com

[headlines]
--------------------------------------------------------------
June New Lease Business 2nd Quarter $6.8 billion
with all charts!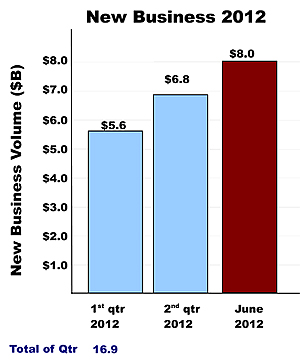 (Chart: Leasing News)
According to the Equipment Leasing and Finance Association's (ELFA) Monthly Leasing and Finance Index (MLFI-25), new business volume rose to $8 billion in June, up 22.5 % from May ($6.2 million) and brought the quarter to $12.38 billion from its survey of 31 members.
MLFI-25 New Business Volume (Year Over Year Comparison)

click to make larger (Chart: ELFA)

Separately, the Equipment Leasing & Finance Foundation's Monthly Confidence Index (MCI-EFI) for July is 51.5, up from the June index of 48.5.

William G. Sutton, CAE,
ELFA President and CEO
"...the volume of equipment financed in June, as illustrated by the MLFI-25, surpasses that of any single month except for year-end December activity since the beginning of the Great Recession in 2008,' Sutton said." We hope that, in spite of the factors adversely affecting economies overseas, our businesses here at home will be able to continue to invest in productive assets."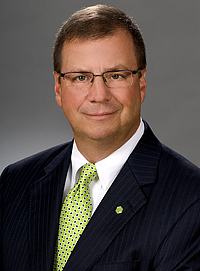 Rick Remiker
President, Huntington Equipment Finance
"The equipment finance industry is currently benefitting from several factors, including increased CapEx financing in many sectors and improved metrics across the credit spectrum, " Remiker commented. " A large part of this positive trend is due to an improving Midwest economy, formerly known as the 'Rust Belt,' and now being referred to as the 'Recovery Belt.' While all of this is good news for the industry, and near-term business trends remain positive, we remain cautious about global economic concerns dampening demand during the second half of the year."
More than likely July will not follow the trend up from June due primarily to July 4th falling on Wednesday, the middle of the week, with many taking a week or more off for vacation. June certainly was good in all aspects, according to the MLFI-25 report, such as continued good credit approvals:

Credit Approval Ratios As % of all Decisions Submitted
(Year Over Year Comparison)


click image to make larger
(Chart: ELFA)

Aging of Receivables dropped slightly
Aging of Receivables:


click to make larger
(Chart: ELFA)
Average Losses (Charge offs) was back to its March level, but nothing serious:

Average Losses (Charge-offs) as a % of net receivables
(Year Over Year Comparison)


click image to make larger (Chart: ELFA)

Even Employment was up:

Total Number of Employees
(Year Over Year Comparison)


click image to make larger (Chart: ELFA)

ELFA MLFI-25 Participants
ADP Credit
BancorpSouth Equipment Finance
Bank of America
Bank of the West
BB&T Bank
BMO Harris Equipment Finance
Canon Financial Services
Caterpillar Financial Services
CIT
De Lage Landen Financial Services
Dell Financial Services
EverBank Commercial Finance
Fifth Third Equipment Finance
First American Equipment Finance,
a City National Bank Company
GreatAmerica
Hitachi Credit America
HP Financial Services
Huntington Equipment Finance
John Deere Financial
Key Equipment Finance
M&T Bank
Marlin Leasing
Merchants Capital
PNC Equipment Finance
RBS Asset Finance
SG Equipment Finance
Siemens Financial Services
Stearns Bank
Suntrust
Susquehanna Commercial Finance
US Bancorp Equipment Finance
Verizon Capital
Volvo Financial Services
Wells Fargo Equipment Finance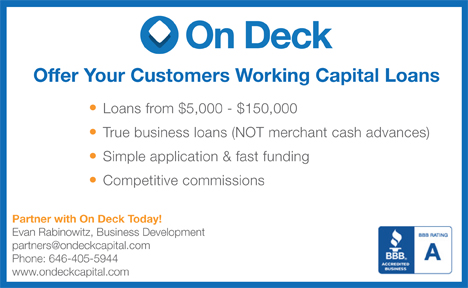 [headlines]
--------------------------------------------------------------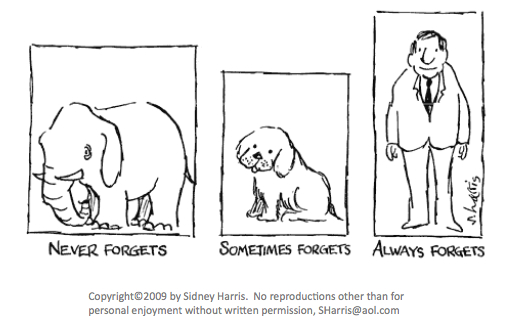 [headlines]
--------------------------------------------------------------
New Hires---Promotions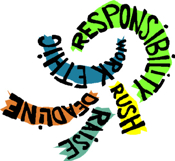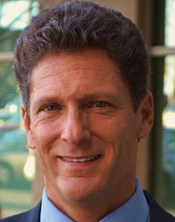 Jerry Ahmed named vice-president-new business development, AIG Commercial Asset Finance, covering the upper Midwest portion of the United States including the Columbus, Chicago and Minneapolis metropolitan areas; based out of Cincinnati, Ohio. Previously he was managing director, Union Partners, LLC (January 2011-presdent), president/CEO, BVI Energy Group/Saint John Capital Group (January, 2009-present), managing director, CIT Group, (November, 2006-January, 2009), senior vice president-portfolio/lease investment group, Royal Bank of Scotland--originally ICS Corporation, acquired by Charter One in 1995) (May, 1995-September, 2006), vice-president/manager asset finance Midwest, Bank One (April, 1993-April, 1995), vice president/manager asset finance, Chase Manhattan Corporation (April, 1988-April, 1993), manager/commercial banking, National City Bank (September, 1984-April, 1988).Case Western Reserve University - Weatherhead School of Management MBA, Banking, Finance (1986 – 1989), John Carroll University BSBA, Finance, Economics (1980 – 1984) Wall Street Journal Outstanding Finance Award
Activities and Societies: Phi Beta Phi, NASA Glenn Internship
http://www.linkedin.com/pub/jerry-ahmed/10/356/546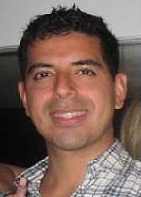 Michael Zevallos appointed Regional Sales Manager for the West Coast for On Deck Capital, working out of Southern California. He joined the company in 2010 as account manager, working out of the greater New York area. "With this promotion, comes the exciting opportunity to partner up with Equipment Lease brokers who feed us business by supplementing their Equipment Lease product with a short term true business loan that we offer. I manage several small to medium sized ticket brokers and it is my goal to partner with as many of them as possible." Previously he was associate at Clocap Search (October, 2009-January, 2011), associate, Reservoir Capital Group (June, 2009-September, 2009), financial analyst, Insight Venture Partners (May, 2007-May, 2009), Associate, KPMG (2005-2007). Tulane University Finance (2001 – 2005) Tulane University - A.B. Freeman School of Business (2001 – 2005).
http://www.linkedin.com/pub/michael-zevallos/16/953/24a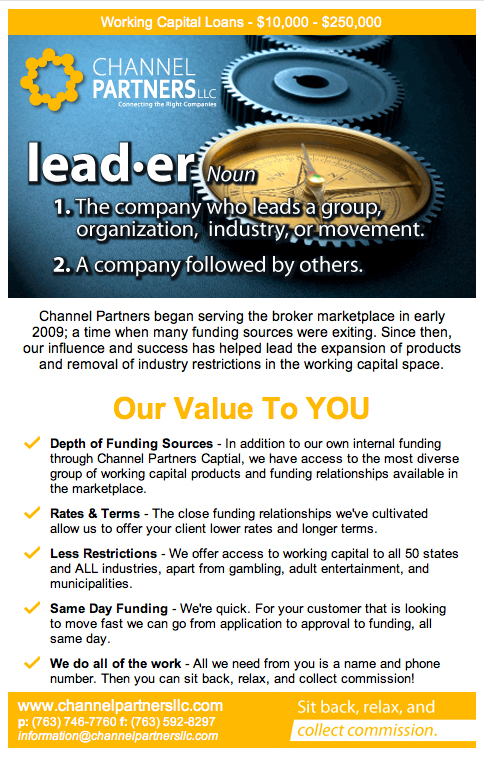 [headlines]
--------------------------------------------------------------
Leasing News Help Wanted


Exp. only, 1 Southeast, 1 West Coast
Looking to Expand Your Career
Base Salary & Commission
resumes to : dmitchem@ifsc.com
www.ifsc.com
Stable, profitable independent lessor, 30 years in business,
Chicago suburbs
For information on placing a help wanted ad, please click here:
http://www.leasingnews.org/Classified/Hwanted/Hwanted-post.htm

Please see our Job Wanted section for possible new employees.
[headlines]
--------------------------------------------------------------
The List" --June--
--- Mergers, Acquisitions & Changes
"The Good, the Bad and the Ugly"—
Ladco Financial Group dba Ladco Leasing, Thousand Oaks, California (06/12) $418,601 in civil penalties, restitution, and cost recovery; also requires that Ladco and Elavon cancel leases, release liens, terminate collection efforts, and provide updated status reports to credit-reporting agencies, for more than 100 impacted lessees. (violated California laws prohibiting unfair competition and misleading advertising; misrepresented the leases as being cancellable and lied about the cost of buying the equipment at the end of the lease, the court found. Clients were also misled about the length of the leases and were tricked into thinking their existing credit-card devices were obsolete.)
Capital One Commercial Leasing, McLean, Virginia (06/12) Dan McKew, former President of SunTrust Leasing, appointed President, Capital One Commercial Lending.
Positron, Westmont, Illinois (06/12) Mfg., also lessor, not going ahead on leases and also returning advance deposits. http://leasingnews.org/archives/Jun2012/6_13.htm#positron
New Leaf Funding Corporation, Maitland, Florida (06/12) Bulletin Board Complaint, not returning $10,000 deposit. http://leasingnews.org/archives/Jun2012/6_06.htm#complaint
Alphabetical
http://www.leasingnews.org/list_alpha_new.htm
Chronological
http://www.leasingnews.org/list_chron_new.htm
[headlines]
--------------------------------------------------------------
Are Telephonic Guaranties Enforceable?
by Tom McCurnin
Barton, Klugman & Oetting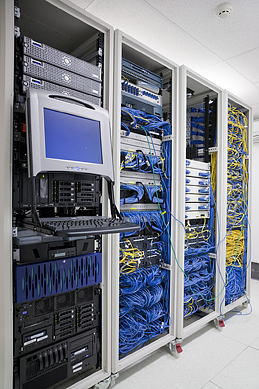 Sam Goldwyn has been credited with one of the great sayings about oral contracts: "An oral contract isn't worth the paper it's written on." Well, certain National banks have business credit card applications which are taken over the phone, including the personal guaranty. So the question becomes, if a creditor takes a personal guaranty over the phone, is that oral guaranty enforceable?
Intuitively, any first year law student knows that oral guaranties are not enforceable, but if the conversation is recorded, does that change matters? Recent case law suggests that such recorded guaranties are enforceable.
In a recent case, which shall go nameless to protect the name of the bank, the Bank filed a routine collection action against a borrower and two the borrower's principals for breach of an oral business credit card agreement and an oral guaranty. Basically, the bank's business model was to take an oral credit card application, and if approved, use an oral credit card agreement and oral guaranty (both tape recorded), followed up by the terms and condition which would be sent by ordinary mail and not signed, but incorporated into the oral agreements.
The guarantor fought back, filing a Cross-Complaint for violations of the Fair Credit Reporting Act, the claim being that oral guaranties are unenforceable and thus, the negative credit reporting was illegal and entitled the guarantor to punitive damages. The matter went to a two week jury trial.
The guarantor argued that the entire conversation had to be tape recorded, not just the operative guaranty agreement and that because oral guaranties are not enforceable, and certainly not this partial one, the dinging of the guarantor's credit score was unlawful under the Fair Credit Reporting Act. Finally, the guarantor argued that the bank simply loaned the business the money, but had little or no contact with the guarantor for almost four years. She assumed the credit card was paid off. In reality, her partner had the card, and was charging away. Account statements went to the guarantor's partner's home address, per the oral agreement.
In response, the Bank argued that the guaranty was an electronic record, the Bank was not required to tape record all the pleasantries between the parties, and as a partner in the business, it was the guarantor's responsibility to know about the credit offered to the business. The Bank also pointed out that the monies were used for business purposes.
The guarantor offered evidence of a so-called "banking expert" who opined that taking such oral guaranties fell below the standard of care for a bank. The fact that at least three statutes authorized an electronic signature, didn't seem to faze this expert.
The guarantor also offered evidence of credit damage which consisted of a theoretical home refinance for $300,000 which would therefore entitle the guarantor to punitive damages under the Fair Credit Reporting Act if the Bank did not properly investigate the guarantor's claim, once the Bank was put on notice.
The Bank, in turn, offered evidence that the Bank investigated the guarantor's claim and played the recording for the guarantor on a phone call, and sent her a CD of the guaranty. She never quite owned up to admitting that it was her voice, claiming that she had forgotten about the incident.
The Bank also argued that under California Evidence Code § 250, the tape recording was a "writing." California is not alone in this interpretation, and similar statutes exist in the context of Federal Law and most States. In addition, California's Electronic Signature Law, Civil Code § 1633.7 also seem to encompass a signature if it is electronic form, as long as the form evidences assent to the transaction. The typical example is, of course, the electronic agreements one signs on the Internet. Various State laws including the Uniform Electronic Transactions Act define an electronic signature as, "an electronic sound, symbol, or process attached to or logically associated with a record and executed or adopted by a person with the intent to sign the record."
In this two week jury trial, the jury was played the tape recording of the guarantor agreeing to personally guaranty the obligation numerous times, and copies were provided to the jury panel which played the tape in the jury room.
In a 9-3 decision, the jury held that the voice on the tape was that of the guarantor and that she did, in fact, guaranty the obligation. Because the debt was a valid debt, the jury did not have address the Fair Debt Collection Practices Act. The unreported Ohio decision provided authority for the trial judge to provide advantageous jury instructions. That case, Wells Fargo Bank v Blough, 2009 WL 2220065 (Ohio Ct. App. 2009) held that such oral guaranties (which had a California choice of law provision), if recorded, are enforceable under California law if the guarantor received an advantage from the underlying loan. .
Although this is a bank case, the changing law of electronic signatures could enhance the admissibility and enforcement of oral equipment leases, oral guaranties, and oral delivery and acceptance certificates. Indeed, under the Uniform Electronic Transactions Act, there is simply no reason why in smaller deals, all the paperwork could be eliminated and the terms either web or telephonically based, so long as a record is maintained of the transaction and terms.
Tom McCurnin
Barton, Klugman & Oetting
350 South Grand Ave. Suite 2200
Los Angeles, CA 90071
Direct Phone: (213) 617-6129
Cell (213) 268-8291
Fax: (213) 625-1832
Email: tmccurnin@bkolaw.com
Visit our web site at www.bkolaw.com
Previous Articles by Tom McCurnin
http://www.leasingnews.org/Conscious-Top%20Stories/leasing_cases.html


[headlines]
--------------------------------------------------------------
Banks, Thrifts lop off 750+ branches in a year
By Tahir Ali and David Hayes, SNL Financial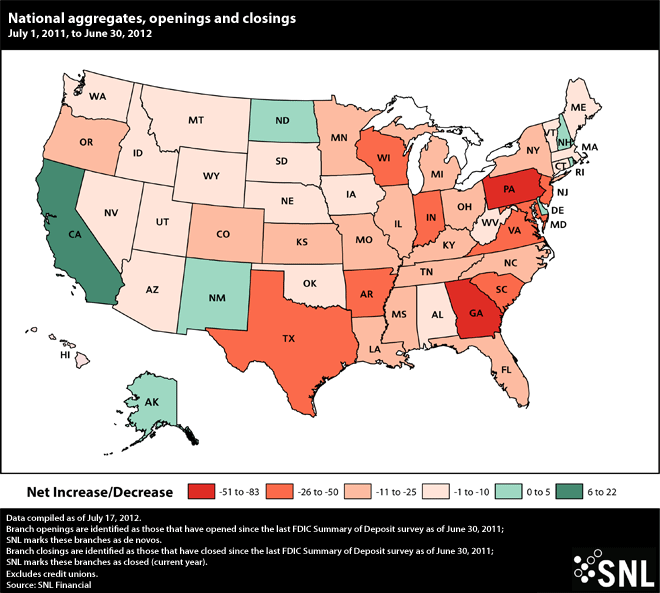 From sea to shining sea, the banking industry shuttered branches in most states over the past year. Only four states — California, Rhode Island, New Mexico and Delaware — tallied net increases in branch counts while 43 states saw more closures than openings. In aggregate, U.S. banks and thrifts closed 767 branches during the year ended June 30, 2012.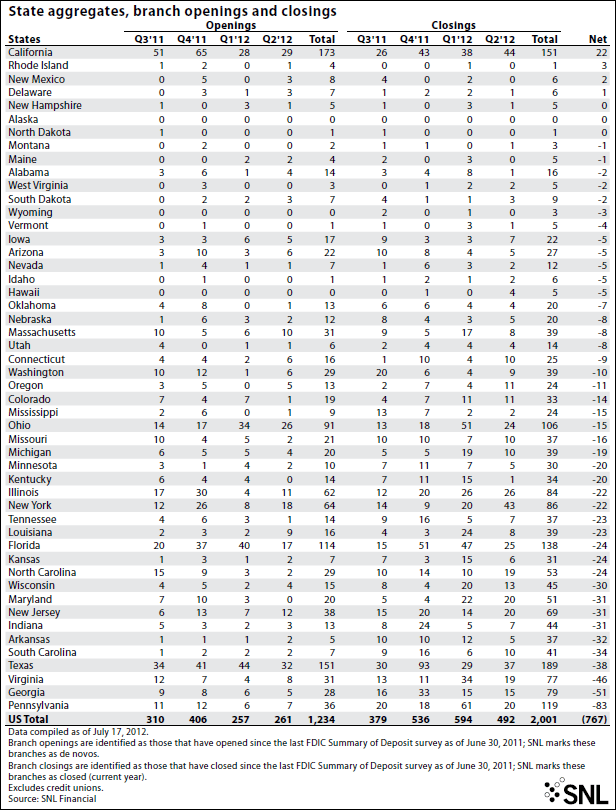 Pennsylvania's 83 net closures led the nation, followed by Georgia's 51 and Virginia's 46. Accordingly, a metropolitan area including the Keystone State led the nation in net closures — the Philadelphia-Camden-Wilmington metro area's 30 net closures were the most of any U.S. metropolitan statistical area.
California metro areas accounted for five of the 10 metro areas with the highest net growth in branches, helping the state post a nation-leading 22 net branch additions. However, Florida's Miami-Fort Lauderdale-Pompano Beach metro area took the No. 1 spot among metro areas, adding 29 net branches.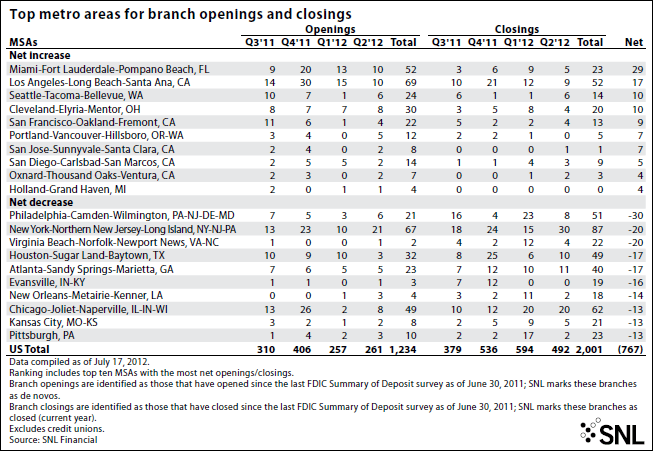 Among banks, JPMorgan Chase & Co. easily outpaced the competition again, adding a net 219 branches in the 12 months ended June 30, 170 more than second-place Killeen, Texas-based First Community Bancshares Inc.
First Community's rapid growth has been fueled by an in-store branch building spree. Its subsidiary, First National Bank Texas is almost entirely devoted to in-store branches, with more than half of its total branches located in Wal-Mart outlets.
No. 3 on the list, Huntington Bancshares Inc. has also made significant investments in expanding its in-store branch footprint helped by agreements with grocery stores like Giant Eagle and Meijer. When asked during the second-quarter earnings conference call about the stigma that in-store branches are best suited to deposit-gathering, CFO Donald Kimble stated that at the 90-day mark from the beginning of a new customer relationship, the bank's cross-sells are "very consistent" with that of a full-service branch.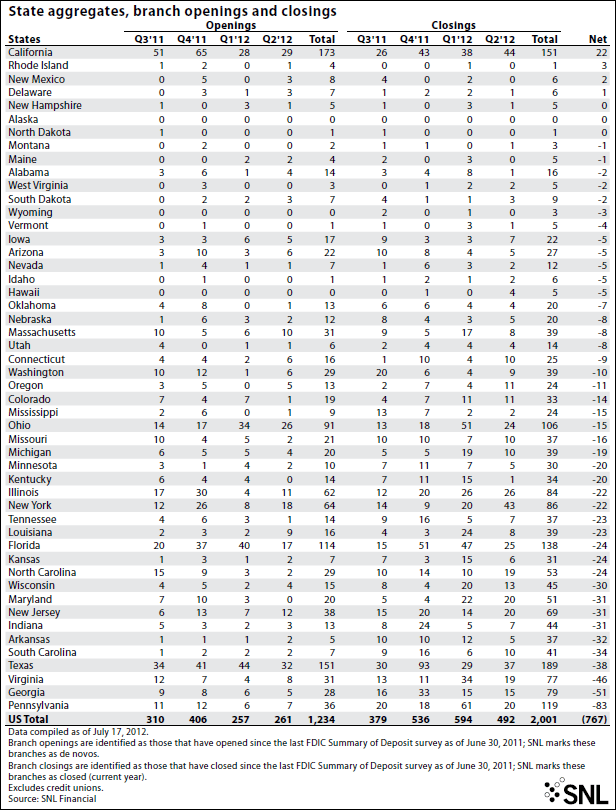 Laredo, Texas-based International Bancshares Corp. posted 67 net closures, the second most of any bank in the U.S. The company closed 55 in-store branches near the end of 2011 after citing the reduced revenue opportunities available after the Durbin amendment's limitation on debit interchange fees.