Today's Leasing News Headlines
Fire in Poipu, Kauai, Don Myerson Family House
BSB Leasing in Hawaii
New Hires/Promotions in the Leasing Business
and Related Industries
Leasing Industry Help Wanted
Credit Analyst with Franchise Experience
Americans' One-Sided Love for European Wines - Chart
Wine Trade Between U.S. & Biggest Wine Exporters in EU
Roger Federer is the King of Athlete Endorsements - Chart
Athletes with Highest Endorsement Income June 1, 2018 - 2019
Mobile Industrial Robots (MiR) Launches MiR Finance
– a "Robot as a Service" (RaaS) Leasing Program
Wintrust Specialty Finance employs 100%
Certified Leasing & Finance Professionals (CLFP)
Barry and Molly Swenson to Receive
Honorary Degree from Santa Clara University
Netflix Recommendations by Fernando Croce
Father's Day Special: The Great Santini, Honkytalk Man
The Pursuit of Happyness/Nebraska/Toni Erdmann
Shepherd (Mixed Breed)
New York City, New York Adopt a Dog
Attorneys Who Specialize in
Banking, Finance, and Leasing
News Briefs---
Federal Spending Tops $3 Trillion Through May
for First Time; Deficit Hits $738 Billion
Wall Street Asks When, Not if,
the Fed Will Cut Interest Rates
7 Charged After Alleged Role In Advance Fee Loan Scheme
More than $2 million from 35 small-business owners
Out-of-trust cases raise concerns of 'bloodbath'
for retailers and auto lessors
Ford Motor Proposed Reagor/Dykes Judgement
three pages
Annual global index rates U.S. 128th most
peaceful nation on earth
Broker/Funder/Industry Lists | Features (wrilter's columns)
Top Ten Stories Chosen by Readers | Top Stories last six months
www.leasingcomplaints.com (Be Careful of Doing Business)
www.evergreenleasingnews.org
Leasing News Icon for Android Mobile Device

You May have Missed---
Poem
Sports Brief----
California Nuts Brief---
"Gimme that Wine"
This Day in History
SuDoku
Daily Puzzle
GasBuddy
Weather, USA or specific area
Traffic Live----
######## surrounding the article denotes it is a "press release," it was not written by Leasing News nor has the information been verified. The source noted. When an article is signed by the writer, it is considered a "byline." It reflects the opinion and research of the writer.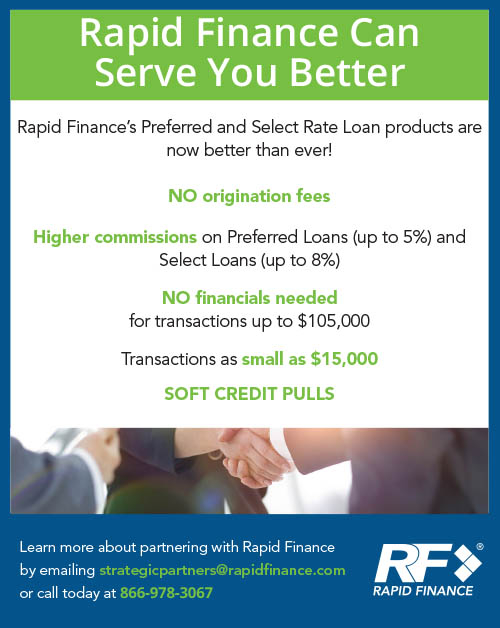 Please send a colleague and ask them to subscribe. We are free
Email kitmenkin@leasingnews.org and in subject line: subscribe


[headlines]
--------------------------------------------------------------
Fire in Poipu, Kauai, Don Myerson Family House
BSB Leasing in Hawaii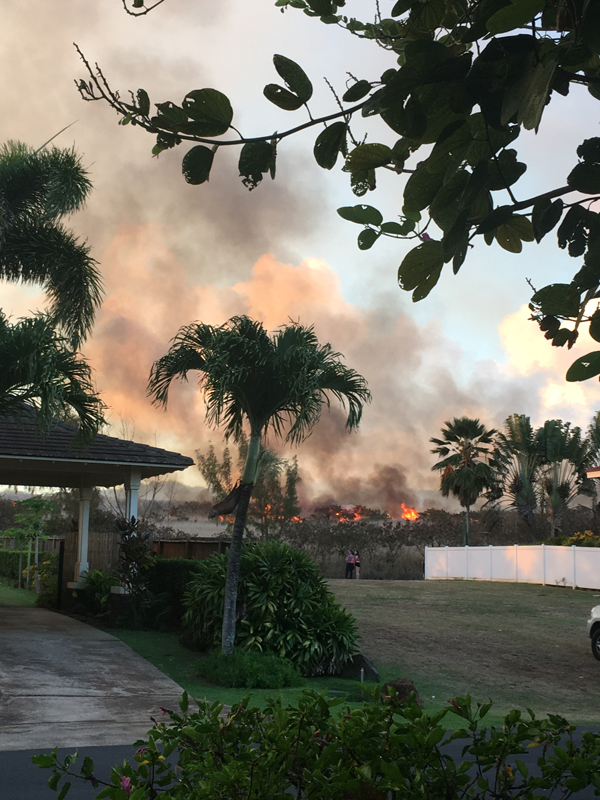 First heard via email from Don Myerson, BSB Leasing, "Brush fire about 200 yards from our house. Just across Poipu Rd."
I have visited him often, staying at the Nearby Grand Hyatt Hotel. He lives six months in Kauai and six months in Colorado. I asked him later how he and his family were doing.
He emailed back, "They did get it contained about 10pm. We had the car packed up and the sprinklers on high. Came right to the edge of Poipu Rd – the road to the Grand Hyatt Hotel."
- Kit Menkin, Editor


[headlines]
--------------------------------------------------------------
New Hires/Promotions in the Leasing Business
and Related Industries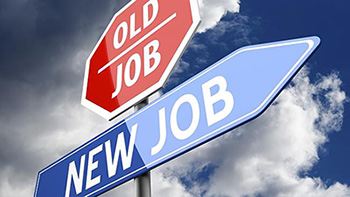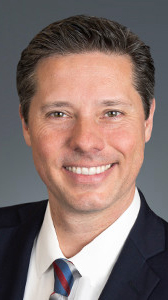 Oliver Althoff was hired as Managing Director, Seabury Capital, New York City, New York. He is located in Darien, Connecticut. Previously, he was Managing Director, Head of Capital Markets and Treasury, Waypoint Leasing (November, 2013 - March, 2019); Director, Transportation Leveraged Lending (Principal Finance) CIT (May, 2006 - November, 2013); Associate/AVP, GE Capital (June, 2004 - May, 2006); New Product Development Manager, Bank of America (February, 2000 - July, 2002); Senior Business Analyst, Management Consulting, Mitchell Madison Group (June, 1998 - December, 2000). Education: The Wharton School, M.B.A., Finance (2002 - 2004). Activities and Societies: Wharton Wildmen Hockey (CF0), Investment Management Club, Wharton International Cultural Show, German Club. Cornell University, MPA, Macro-Economic Policy (1997 - 1998). Activities and Societies: CIPA Forum (TV Production). Cornell University, BA. Economics and Government. (1993 - 1997).
Activities and Societies: Student Assembly Finance Commission Officer, Pi Kappa Phi Fraternity, Cornell Economic Society (President and Treasurer), Student Learning Skills Center (Macro-Econ Tutor), Career Management Officer Mentor.
https://www.linkedin.com/in/oliveralthoff/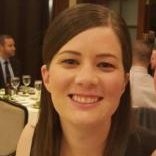 Kelly Andresen was hired as Sales and Operational Support Specialist at Ingram Micro Lease-IT, Cedar Rapids, Iowa. Previously, she was at GreatAmerica Financial Services, hired as Account Support Advisor, January, 2015; promoted Sales Support Specialist, April, 2017); Customer Care Representative, Windstream (September, 2013 - January, 2015); Intake Specialist, CarePro Health Services (August, 2010 - September, 2013). Volunteer: Ambassador, Cedar Valley Humane Society (January, 2015 - Present). Education: University of Iowa, Bachelor of Arts (B.A), Health and Sport Studies. Iowa Central Community College. Associate's Degree, General Studies. Activities and Societies: JCCO Volleyball, Student Senate, Student Ambassador. https://www.linkedin.com/in/kelly-andresen-b53361114/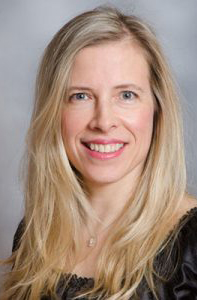 Terry Hatfield was promoted to Executive Vice President as the new Operational Excellence Leader for Hitachi Capital America, Norfolk, Connecticut. She joined the firm April, 2003, as VP and Controller; promoted April, 2008, SVP, Internal Control & Risk Management; promoted January, 2009, Senior Vice President & CFO.
https://www.linkedin.com/in/terry-hatfield-21b26816/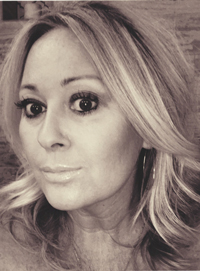 Carrie J. Mayse was hired as Broker Relations Manager, Lenders Access, Costa Mesa, California. Previously, she was Managing Partner, Ardent Financing Corp., (November, 2013 - June, 2019); Business Development Manager, National Funding (March, 2011 - October, 2013); Area Sales Manager, Indymac Bank (September, 2005 - November, 2007); Senior Mortgage Loan Officer, E*Trade Financial (June, 2002 - September, 2004). Education: Chaffey College, General (1989 - 1992). Activities and Societies: Alta Loma, CA. South Coast College (2005 - 2009). https://www.linkedin.com/in/carriemayse/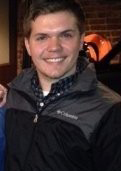 David Myers was hired as President & CEO, First Financial Veterans Leasing, LLC, Grapevine, Texas. Previously, he was Director of Sales, River Capital Finance (August, 2014 - March, 2017); Regional Vice President, First Financial Corporate Services, Inc. (March, 2012 - July, 2014); Regional Vice President, LaSalle Solutions (January, 2010 - May, 2011); National Account Manager, Macquarie Equipment Finance (September, 2005 - March, 2010); Regional Vice President, Fidelity National Financial (2002 - 2005). Education: King University. BA, Finance. (1984 - 1988). Activities and Societies: Tennis, Soccer.
https://www.linkedin.com/in/david-myers-6b183615/


Patrick O'Connor, CLFP, was promoted to Director of Sales and Capital Markets, TimePayment, Burlington, Massachusetts. He joined the firm November, 2018, as Syndications Desk Manager. Previously, he was Director of Business Development, Lease! (June, 2018 - October, 2018); VP of Retirement Planning Services, Life Solutions Group (July, 2014- August, 2015); Financial Advisor, Concord Wealth Management (July, 2013 - July, 2014); Financial Services Professional, New York Life Insurance Company (July, 2009 - July, 2013); Data Entry, Eastern Cooperative Oncology Group (2006 - 2007). Education: Bryant University (2007 - 2009). Activities and Societies: Baseball. Wheaton College (MA). https://www.linkedin.com/in/patrick-o-connor-56ab1817/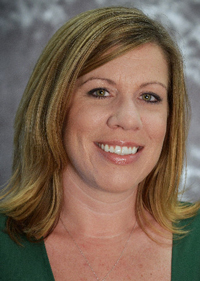 Katie O'Mara was hired as Credit Manager, FirstLease, Horsham, Pennsylvania. Previously, she was Vice President Credit and Collections, Conestoga Equipment Finance Corp,, a wholly-owned subsidiary of Conestoga Bank, acquired by Beneficial Bank, 2016, serving in same position starting 2010; Senior Credit Analyst, Marlin Leasing (March, 2010 - November, 2010); Assistant Credit Manager, Leasing, Court Square Leasing Corporation (December, 2003 - May, 2009); Vendor Services, Patriot Commercial Leasing (October, 2000 - December, 2003); Vendor Support, Court Square Leasing Corporation (July, 1998 - September, 2000); Vendor Support, Keystone Financial Leasing (December, 1994 - July, 1998). Education: University of Phoenix, Finance (2010 - 2013). Vendor Support, Keystone Financial Leasing (December, 1994 - July, 1998). https://www.linkedin.com/in/katieomara/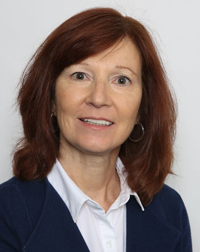 Valerie Pagliaro was hired as Vice President and Chief Financial Officers, Hitachi Capital America, Norfolk, Virginia. Previously, she was Director, The Alta Group (September, 2017 - May, 2019). She joined GE Capital 1991, Financial Analyst, Retail Financial Service; promoted 1993, Financial Planning and Analysis Manager, Vendor Finance; promoted, 1998, Manager Finance/Financial Structuring, Mergers and Acquisitions; promoted 2003, Chef Financial Officer; promoted 2004, Chief Financial Officer, Access Distribution; promoted Chief Financial Officer, GE Financing Solutions (2007 - 2009); promoted, Finance Director, Strategic Pricing, 2009. Volunteer: Treasurer (Board Member), TBICO (2011 - 2017). Board Member, WConnection, Empowering Widows Forward (April, 2019 - Present). Education: Bryant University, Bachelor's Degree, Accounting. Pace University, Master of Business Administration (M.B.A.), Finance. https://www.linkedin.com/in/valerie-pagliaro-4a51b74/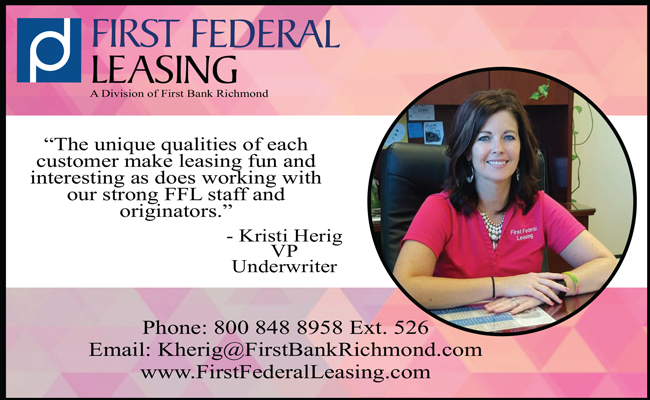 [headlines]
--------------------------------------------------------------
Leasing Industry Help Wanted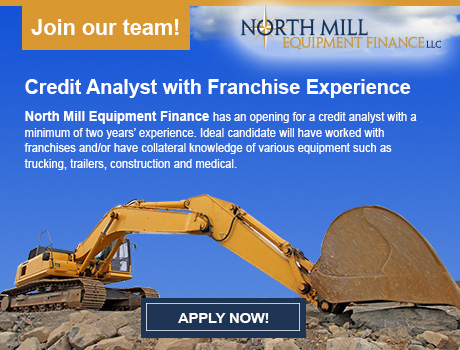 [headlines]
-------------------------------------------------------------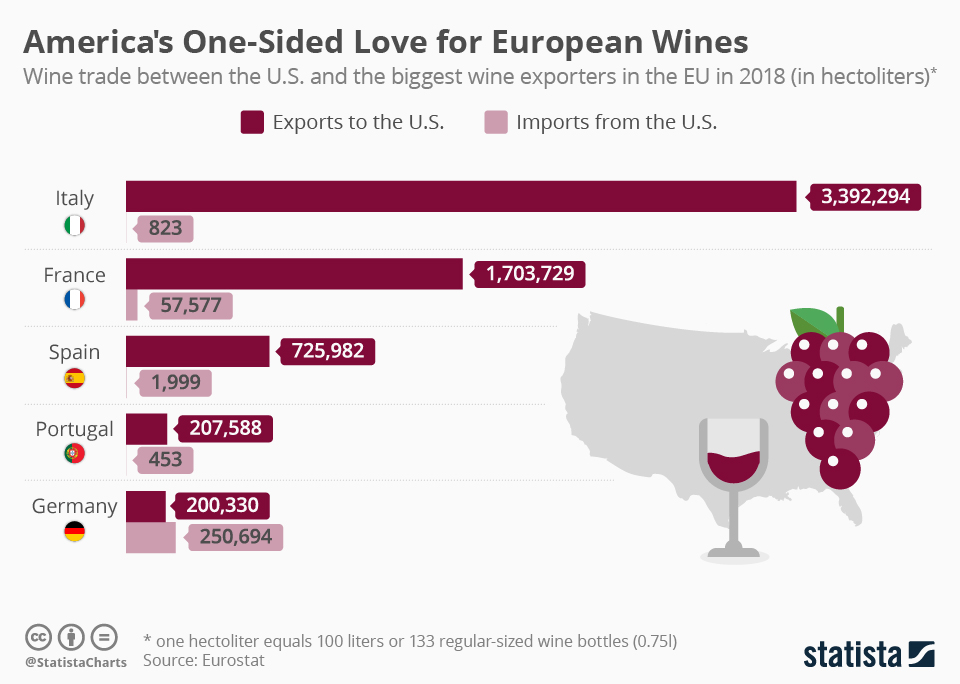 American lovers of fine European wines are bracing for the worst after President Trump said that he plans to do something about the tariffs the EU imposes on American wine. "France charges us a lot for the wine. And yet we charge them very little for French wine," the president told CNBC on Monday, adding that domestic winemakers have complained to him about what they consider unfair treatment by the European Union.
According to the Wine Institute, an industry group representing Californian winemakers, the EU charges $0.11 to $0.29 per 750ml bottle imported from the United States, depending on the alcohol content. The U.S. on the other hand only charges $0.05 cents per bottle of still wine and $0.14 per bottle of sparkling wine brought into the country.
As the following chart shows, it is certainly true that American wines don't sell too well in Europe's traditional wine countries. But knowing how proud Italian, French or Spanish people are of their wines, it is highly doubtful that their lack of interest in California's finest grapes has anything to do with tariffs.
By Felix Richter, Statista.com
https://www.statista.cm/chart/16126/wine-trade-between-the-us-and-europe/
[headlines]
-------------------------------------------------------------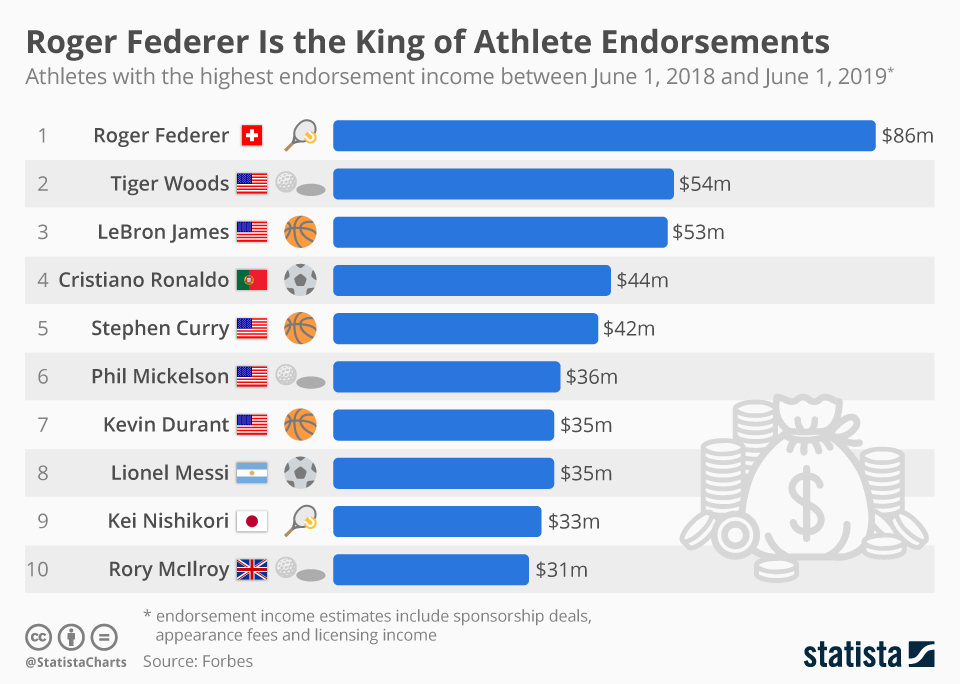 When Roger Federer stepped on the Center Court at Wimbledon for his first round match last year, many spectators had to look twice before realizing it was indeed the Swiss maestro stepping onto the court. It wasn't a new haircut or a beard that threw them off, but Federer's unfamiliar outfit: for the first time in his professional career, the Swiss maestro wasn't dressed in Nike. Instead Federer wore gear made by the Japanese brand Uniqlo, thanks to a deal that reportedly nets him $300 million over the span of 10 years.
A deal of that volume is probably unprecedented for an athlete at Federer's age and stage in his career. However, thanks to his sustained success and his demeanor off and (mostly) on the tennis court, Federer is almost universally beloved, which is probably why Uniqlo (and many other companies) decided to sign him regardless of his age. As the following chart illustrates, no other athlete made more money with endorsement deals over the past year than Federer did. According to Forbes, his partnerships with companies such as Mercedes-Benz, Rolex, Barilla, Wilson, Uniqlo and others netted him $86 million in the 12 months ending June 1, 2019, dwarfing his prize money earnings of $7.4 million over the same period.
By Felix Richter, Statista.com
https://www.statista.com/chart/14571/athlete-endorsement-earnings/


[headlines]
-------------------------------------------------------------
##### Press Release ############################
Mobile Industrial Robots (MiR) Launches MiR Finance
– a "Robot as a Service" (RaaS) Leasing Program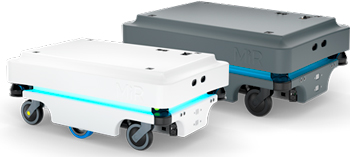 HOLBROOK, N.Y.--New option lowers financial barriers for investing in autonomous mobile robots (AMRs), enables immediate ROI and offers mobile robots at as little as $5.49 per hour
Mobile Industrial Robots, the first mover and market leader in autonomous mobile robots (AMRs), today launched its new mobile robot leasing program. Often referred to as "robots as a service" (RaaS), leasing lets companies of any size—from small start-ups to multinational enterprises—deploy mobile robot solutions with low (or no) upfront costs and low monthly payments. This lowers financial barriers for investing in AMRs and gives customers a near immediate return on investment (ROI).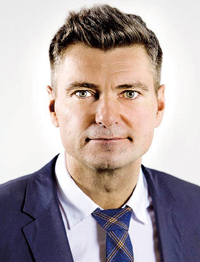 Thomas Visti, CEO, MiR, said, "While sales of our mobile robots continue to thrive, many companies still prefer to lease their logistics equipment rather than make a capital investment upfront.
"Leasing the robots becomes an operational expenditure instead, enabling our customers to quickly get started reaping the benefits AMRs offer as they automate monotonous, repetitive, and often injury-prone manual material transportation."
With MiR Finance, customers get the chance to lease the "full package," including the robots, integration and top modules for the robots. The monthly cost of the leasing depends on the type of robot and the length of the leasing period, but a simple calculation shows that it costs $4.44 per hour (or $711 per month) to lease a MiR100 robot if it runs in one-shift operation. Thereby, MiR Finance becomes an attractive way of investing in mobile robots and start optimizing internal logistics.
Flexible Terms, Maintenance Provided
MiR's distributor network will be working with a third-party company to provide lease programs for the customer. The leasing terms are flexible, with 48 months being a popular option. MiR's distributors will continue to be responsible of first-level support, service and maintenance. In this way, not much will change for the end-customers, that will now have one more option in terms of payment for their robots, while the usual benefits from MiR's global reach and local support will continue.
The RaaS market grows
ABI Research, a market-foresight advisory firm providing strategic guidance on the most compelling transformative technologies, last year estimated that the installed base for RaaS will grow from 4,442 units in 2016 to 1.3 million in 2026. The yearly revenue from RaaS providers is expected to increase from $217 million in 2016 to nearly $34 billion in 2026.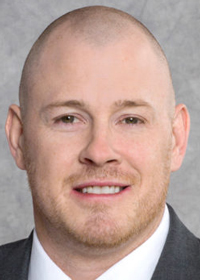 John Santagate, Research Director for Commercial Service Robotics at IDC, said, "The Robot-as-a-Service (RaaS) model of delivering autonomous mobile robots is helping to bring automation in the form of robotics to new markets that might otherwise not be able to make investments in this technology.
"This model allows buyers to reduce the risk of deploying robotics, as the vendors shift from selling robots to selling usage and outcomes. We see this model as a key element in the current and ongoing growth in the market as it brings this technology to buyers and markets that might not otherwise make investments in robotics."
About Mobile Industrial Robots:
Mobile Industrial Robots (MiR) develops and markets the industry's most advanced line of collaborative and safe autonomous mobile robots (AMRs) that quickly, easily and cost-effectively manage internal logistics, freeing employees for higher-value activities. Hundreds of mid-sized through large multinational manufacturers and logistics centers, along with several hospitals around the world, have already installed MiR's innovative robots. MiR has quickly established a global distribution network in more than 40 countries, with regional offices in New York, San Diego, Singapore, Frankfurt, Barcelona and Shanghai. MiR has grown quickly since its founding in 2013, with sales rising by 500% from 2015 to 2016, and 300% from 2016 to 2017 and 160% from 2017 to 2018.
Founded and run by experienced Danish robotics industry professionals, MiR is headquartered in Odense, Denmark, and was recently acquired by Teradyne, the leading supplier of automated test equipment. In 2015, Teradyne also acquired the Danish company Universal Robots. Due to its growth results the last years, Mobile Industrial Robots was awarded EY Entrepreneur of The Year in Denmark in 2018. For more information, visit www.mobile-industrial-robots.com
##### Press Release ############################


[headlines]
-------------------------------------------------------------
Wintrust Specialty Finance employs 100%
Certified Leasing & Finance Professionals (CLFP)

IRVINE, Calif– David Normandin, CLFP, president and CEO of Wintrust Specialty Finance (WSF), is proud to announce that 100% of the WSF team are CLFPs.
Last month Chelsea Wood, CLFP, WSF Funding Manager, and Jodie Masciola, CLFP, WSF Credit Officer, successfully passed their CLFP exams during an Academy for Leasing & Finance Professionals and CLFP Exam hosted in Southern California by WSF. In doing so, the entire WSF team now has the CLFP designation.

David Normandin, CLFP, President and CEO of Wintrust Specialty Finance, said, "Wintrust is committed to having the best and brightest team members in the industry.
"I have been an advocate of the CLFP Foundation for many years, as it sets the standard of excellence in our industry. Successful passing of the CLFP exam has been a goal of the teams that I have led for many years, and I am very proud of the incredible team at WSF and their commitment to excellence, including being a part of an exclusive community of CLFPs. Jodie and Chelsea invested a great deal of time and focus to accomplish this impressive goal. Congratulations!"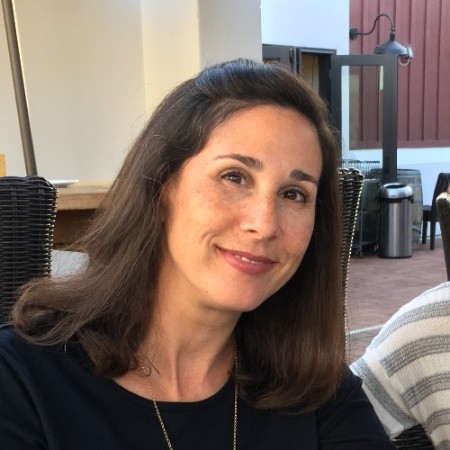 Jodie Masciola, CLFP, WSF Funding Manager said, "I have been involved in the industry for many years and the CLFP designation is the pinnacle of achievement in my professional career."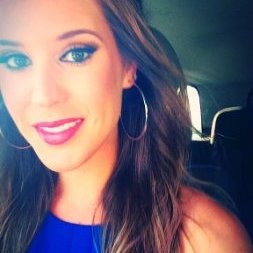 Chelsea Wood, CLFP, WSF Funding Manager, added, "The process of studying and passing the CLFP exam has increased my knowledge and has equipped me to increase my success as a leasing professional."
Wintrust Specialty Finance is a division of Beverly Bank & Trust Company, N.A., a Wintrust Community Bank.
About CLFP
The Certified Lease & Finance Professional (CLFP) designation is the preeminent credential for equipment leasing and finance professionals who have demonstrated competency through testing of knowledge, continuing education and a commitment to their business practices and dedication to the industry. Its 754 active Certified Leasing & Finance Professionals and Associates include professionals from independent and captive leasing and finance companies, banks, financial services corporations, broker/packagers and investment banks, as well as manufacturers and service providers. For more information, please visit www.clfpfoundation.org.
About Wintrust
Wintrust is a financial holding company with assets of approximately $32 billion whose common stock is traded on the Nasdaq Global Select Market. Built on the "HAVE IT ALL" model, Wintrust offers sophisticated technology and resources of a large bank while focusing on providing service-based community banking to each and every customer. Wintrust operates fifteen community bank subsidiaries with over 160 banking locations located in the greater Chicago and southern Wisconsin market areas. Additionally, Wintrust operates various non-bank business units including business units which provide commercial and life insurance premium financing in the United States, a premium finance company operating in Canada, a company providing short-term accounts receivable financing and value-added out-sourced administrative services to the temporary staffing services industry, a business unit engaging primarily in the origination and purchase of residential mortgages for sale into the secondary market throughout the United States, and companies providing wealth management services and qualified intermediary services for tax-deferred exchanges.
### Press Release ############################
[headlines]
-------------------------------------------------------------
### Press Release ############################
Barry and Molly Swenson to Receive
Honorary Degree from Santa Clara University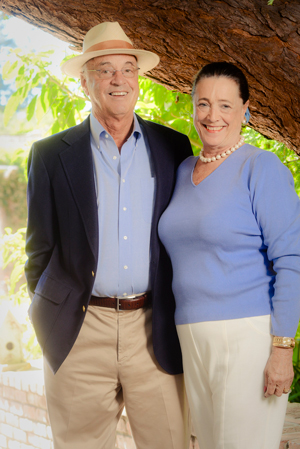 Degree honors their philanthropic work
in the Silicon Valley community
Santa Clara , CA – Santa Clara University recently announced it will confer honorary degrees to Barry and Molly Swenson for their philanthropic work with numerous Silicon Valley organizations over the years. Presented at the undergraduate commencement on Saturday, June 15, at Steven's Stadium, the event will also include a commencement address from actor and activist Martin Sheen.
"The Swensons are renowned for giving back to the community, particularly to organizations that educate and support children. They have generously aided Cristo Rey San Jose Jesuit High School, the Boys & Girls Clubs of Silicon Valley and dozens more," said Michael E. Engh, S.J., president of Santa Clara University. "They have modeled the Jesuit values that Santa Clara teaches its students—to be women and men for others. We are honored to award them the honorary Doctor of Public Service degree."
Barry Swenson is known for building many iconic structures in Silicon Valley, while Molly Swenson helped start the Children's Discovery Museum and build History San Jose, as well as being one of the original signers of the articles of incorporation for what was previously the San Jose Historical Museum Association. Both have long associations with many nonprofit groups and charities throughout the valley.
Mr. Swenson has developed and built more than twenty million square feet of projects in California – from residential high-rises and corporate campuses to medical and industrial complexes. Restoration and revitalization efforts are also a key effort of Mr. Swenson's energy. Lauded by associations and peer groups throughout the golden state, Mr. Swenson is a celebrated captain of industry with countless awards, commendations and a U.S. Patent to his name.
The Swenson's dedication to community causes are visible in education, human services, and the arts; and their pledge to help people on all projects and ventures is legendary.

About SWENSON
For over one hundred years, the Swenson family has been a dynamic partner in building Northern California. Four generations of expertise, along with a proven Design-Develop-Build platform, deliver unparalleled level of creative design, quality developments and efficient construction practices. Throughout the Golden State, the wide range of real estate services by SWENSON is backed by decades of resources, referrals and sound business practices that have made the storied company a respected leader. Learn more at SWENSON.com.
#### Press Release #############################

[headlines]
-------------------------------------------------------------
Fernando's View:
Special Father's Day Edition
By Fernando F. Croce
With Father's Day just around the corner, let every movie buff seize the opportunity to settle down with Dad and a great movie. So check out Netflix for some prime recommendations: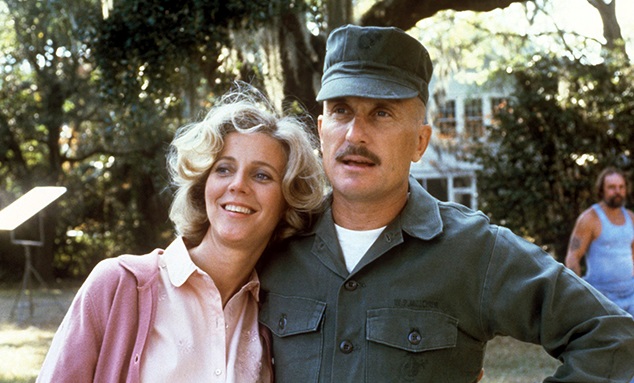 The Great Santini (Lewis John Carlino, 1979): Robert Duvall gives one of his finest performances in this sensitive coming-of-age drama about familial tensions. He stars as Lt. Col. Wilbur Meechum, a Marine pilot nicknamed "Bull" for his flashing temper. With the nation between wars, he moves his family to a small South Carolina town, where he soon starts to lock horns with his son, Ben (Michael O'Keefee). While his wife Lillian (Blythe Danner) has made peace with Wilbur's toughness and drunken spells, Ben finds his ways oppressive, particularly when it comes to helping a troubled friend. Directed with an observant hand by Lewis John Carlino, the film offers a powerful character study of a complex man, a father and husband who seems to feel the need to create his own war.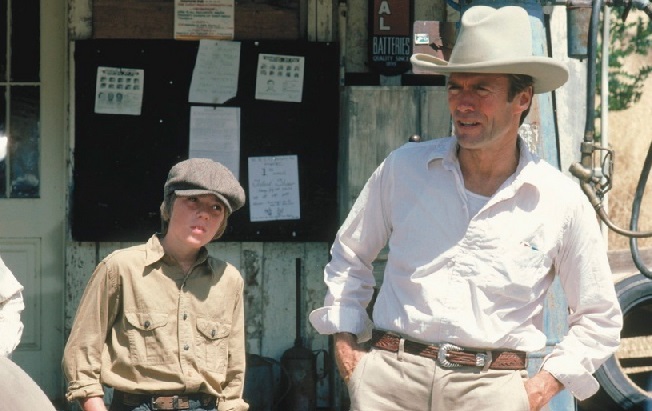 Honkytonk Man (Clint Eastwood, 1982): Between playing vengeful cowboys and trigger-happy lawmen, Clint Eastwood had one of his most tender roles in this flavorful, Depression-set comedy-drama, which he also directed. He plays Red Stovall, an itinerant singer who's determined to enjoy one last journey through the South before fate catches up with him. With his surrogate son Whit (played by Eastwood's real-life son, Kyle) by his side, he gets into a series of picaresque misadventures, bouncing from one saloon to the next. With his tuberculosis worsening, however, Red comes to see the need to pass things on to the younger generation before it's too late. Steering his colorful road movie with a sure and leisurely hand, Eastwood makes sure to keep at its center the poignant bond between the characters.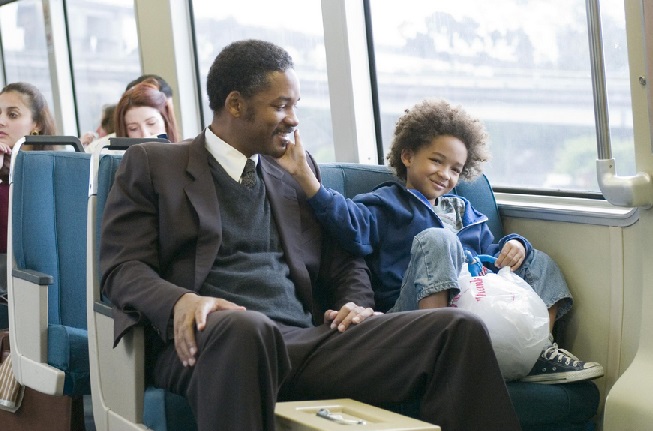 The Pursuit of Happyness (Gabriele Mucino, 2006): A father's determination to make life better for his son is the theme of this fact-based drama, which gives Will Smith one of his most emotional roles. A single parent struggling to make ends meet in San Francisco, Chris Gardner (Smith) is a salesman who finds himself on the streets with his young son (Jayden Smith) when they're evicted from their apartment. A spark of hope comes when he wins an internship with a prestigious company, but, until the tide turns, the two must face a string of challenges that seriously tests their bond. Showing a frustrated and vulnerable side to Smith's smooth megastar persona, Italian director Gabriele Mucino's tale depicts the great strength of family love in the face of desperation.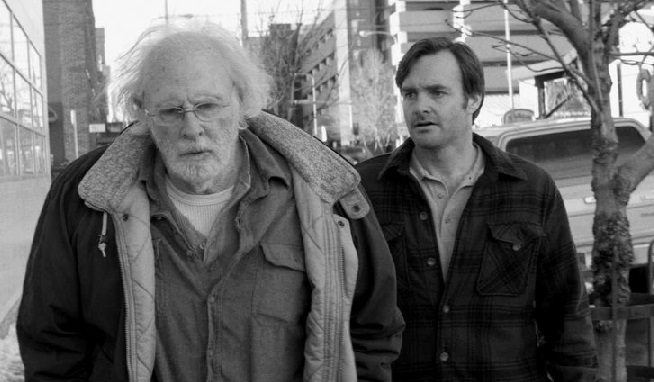 Nebraska (Alexander Payne, 2013): Bittersweet pathos is a specialty of Alexander Payne ("Sideways"), and there's plenty of that in the Oscar-winning director's latest comedy-drama. Veteran character actor Bruce Dern, in an award-winning performance, stars as Woody Grant, an alcoholic patriarch whose drab, senility-approaching existence gets a boost when he scores big at the local lottery. Or so he thinks--his million-dollar prize is really just an ad, but that doesn't mean that the old man can't travel to Nebraska to collect it, with his put-upon son David (Will Forte) in tow. The result is a road trip in which old and new faces turn up, forgotten wounds are opened up and, maybe, a bond is grudgingly forged between the estranged family members. Told with deadpan humor and moments of poignancy, this is a must for fans of Payne's brand of prickly drama.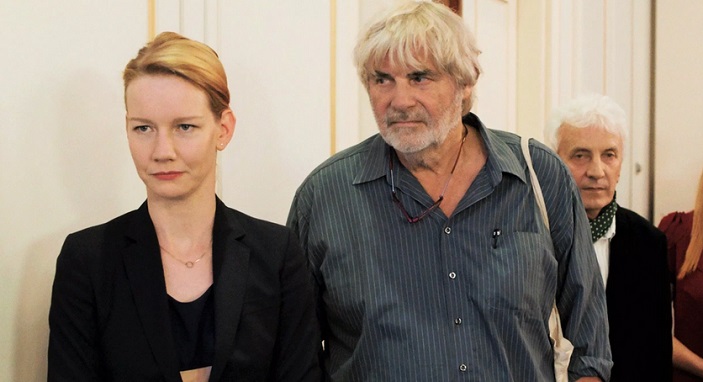 Toni Erdmann (Maren Ade, 2016): Awkward laughter and heartfelt emotion mingle miraculously in this wonderful German comedy from writer-director Maren Ade ("Everyone Else"). Moving unpredictably from one memorable moment to another, the story chronicles the eccentric push-pull between Ines (Sandra Huller), a serious, hardworking businesswoman, and her father Winfred (Peter Simonischek), an aging prankster determined to get her to loosen up and appreciate the absurdity of life. A business trip brings the two together and turns increasingly zany as Winfred begins to appear in disguise as an eccentric millionaire called Toni Erdmann, gleefully unbalancing his daughter's stuffy routines. Featuring hilarious scenes as well as unexpectedly melancholy, Aden's richly poignant film is a life-affirming gift to movie lovers. With subtitles.
[headlines]
--------------------------------------------------------------
Shepherd (Mixed Breed)
New York City, New York Adopt a Dog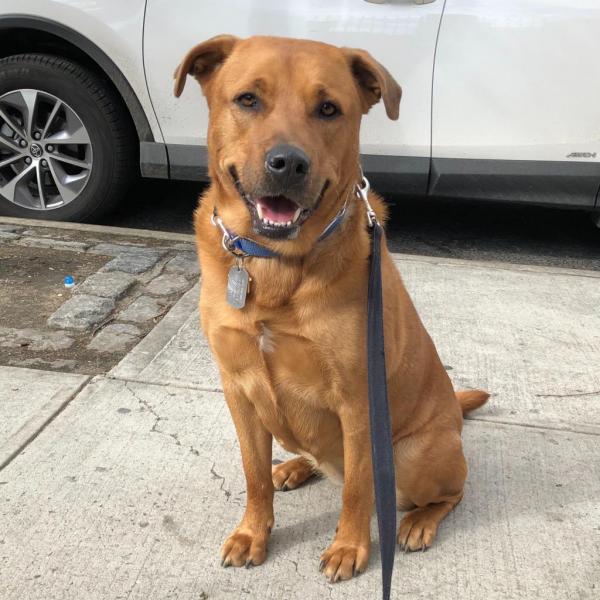 Zelda
MPRN-A-1538
Dog - Shepherd/Mixed Breed (Large)
Sex : Female
Age : 6Y / 1M / 4W
Weight : 70.00 lbs.
Location: Foster Home
Zelda (also known as potato, baked potato, love bug, doofus, hippo) is an amazingly loving dog who is currently in foster care. Zelda absolutely adores humans of all sizes and will give gentle kisses to whatever part of you is closest to her face. Zelda is 100% house trained and crate trained, adores her crate and hangs out there on her own accord with the door open. She is quiet when left alone, not destructive, and is very eager to please.
Zelda loves wrestling with her 60 pound pittie foster sister, and previously enjoyed following her similarly-sized foster brother around in another home. Zelda could eventually live with a small dog, but they usually aren't her jam right off the bat. She does have a smaller senior foster sister right now (15 pounds) who is generally pretty cranky, and when kept separate with a baby gate she leaves her to her old lady self.
Pictures don't do Zelda justice - she is a stunning red color with an absolutely beautiful coat. She's a solid 75 pounds, loves to be a lapdog, and is also happy to be a pillow. Similarly, she is happy to go for long structured walks or be a couch potato (hence the nickname). Zelda's foster mom adores her and is already jealous of whoever gets to be her forever family. Her forever family would ideally have some dog experience due to Zelda's solidly huggable size and occasional suspicion of unknown dogs. Given her heftiness, the good news is that Zelda also doesn't jump up much and is gentle and sweet with children!
Muddy Paws will provide at least one training session to adopters who are near or able to travel to Astoria, Queens. Zelda lived with our trainer for a few weeks and is a staff and volunteer favorite!
Fun fact: We are guessing Zelda is around 5-6 years old, but she has the teeth of a two year old! No stinky breath or dental cleanings anytime soon!
Zelda is a 6 year old large breed mix from Georgia who is 70lbs fully grown. She is up to date on all age appropriate medical care and microchipped.
This dog is available for foster-to-adopt through Muddy Paw
Muddy Paw Rescue
info@muddypawsrescue.org
646-598-7297
*Please note we are able to respond much faster via email*
adoptions@muddypawsrescue.org

We do not have a physical location. All dogs are in foster care. To meet our pups, come to an event OR apply here!
https://docs.google.com/forms/d/e/1FAIpQLSdU1WwtnwQHbDi4J3lrCEa1vOOzmHY-NPobYU2Y25DkrihY7Q/viewform

Adopt a Pet
http://www.adoptapet.com/
[headlines]
--------------------------------------------------------------
Attorneys Who Specialize in
Banking, Finance, and Leasing

Birmingham, Alabama
The lawyers of Marks & Associates, P.C. have over 30 years experience in dealing with virtually every type of equipment financing and are recognized throughout the industry for prompt, practical solutions and exemplary service. They offer cost-conscious, effective lease enforcement and good counsel.
Email: Barry@leaselawyer.com
Website: www.leaselawyers.com


California
Marshall Goldenberg, Esq.
GLASS & GOLDBERG, ALC
22917 Burbank Blvd.
Woodland Hills, CA 91367-4203.
(818) 888-2220
mgoldberg@glassgoldberg.com
www.glassgoldberg.com


Kenneth C. Greene





California
Leasing and Financial consultant, active in several leasing
associations, as well as involved in music and film production in LA. Mention "Leasing News" for a free consultation.
818.575.9095
Skype: 424.235.1658
ken@kengreenelaw.com

Connecticut, Southern New England:
EVANS, FELDMAN & BOYER, LLC Collections, litigation, documentation, portfolio sales and financing, bankruptcy. We represent many of the national and local leasing companies doing business in this state. Past chairman EAEL legal committee. Competitive rates.
email: rcfeldman@snet.net
Los Angeles/Santa Monica
Hemar & Associates, Attorneys at Law
Specialists in legal assistance, including debt collection, equipment recovery, litigation for 35 years. Fluent in Spanish.
Tel: 310-829-1948
email: phemar@hemar.com


David G. Mayer
Partner, Dallas, Texas
Schackelford, Bowen, McKinley & Norton
9201 N. Central Expressway
Fourth Floor
Dallas, Texas 75231
Telephone: (214) 780-1400
http://shackelfordlaw.net/attorneys/david-g-mayer/

Los Angeles, Southern CA
Seasoned attorney representing secured creditors in auto finance and truck/equipment lease industry. Bankruptcy and State Court litigation. Vincent V. Frounjian (818) 990-0605 or email: vvf@pacbell.net.

Encino, California: Statewide "ELFA"
Hemar, Rousso & Heald, LLP 30 yr excellent reputation Lessor representation commercial litigation, debt collection, and bankruptcy.
Call Stephen E. Jenkins Esq (818) 501-3800

Los Angeles, Statewide: CA. "ELFA" Aggressive creditors rights law firm specializing in equipment leasing handling collection matters on a contingency, fixed fee or hourly cbasis. email:RGarwacki@prodigy.net


Los Angeles, Statewide: CA "ELFA"
Practice limited to collections, bankruptcy and problem accounts resolution. Decades of experience. 10-lawyer firm dedicated to serving you. Call Ronald Cohn, Esq. (818)591-2121 or email. Email: rrcohn@aol.com


California & National
Paul Bent – More than 35 years experience in all forms of equipment leasing, secured lending, and asset based transactions. Financial analysis, deal structuring, contract negotiations, documentation, private dispute resolution, expert witness services.
(562) 426-1000
www.paulbent.attorney
pbent@paulbent.attorney

Illinois

Kevin E. Trabaris: Concentrates his practice in the areas of commercial finance, corporate and business transactions. Extensive experience representing banks, financial companies, equipment lessors, insurers and other funding and intermediary entities and borrowers in connection with thousands of business financing matters. He has handled everything from small ticket transactions to billion dollar syndicated loans, real estate financing to asset-based facilities.
Email: ktrabaris@culhanemeadows.com
Telephone: 847-840-4687
www.culhanemeadows.com

Massachusetts

Joseph G. Bonanno, Esq., CLFP. Transactional/Documentation. Past special industry consultant to The World Bank, industry expert witness in litigation, appointed to Governor's Counsel to adopt Articles 2A and 9 in Massachusetts, MA continuing legal education co-instructor, past (5) Term Certified Leasing and Finance Professional Board Member, CLFP review instructor, numerous authored and co-authored published articles and conducting educational seminars. (781) 328-1010; law@jgbesq.com

National: Coston & Rademacher: Business attorneys serving the lease-finance industry since 1980. Transactional, documentation, corporate/finance, workouts, litigation, bankruptcy, portfolio management. Chicago-based national practice. Jim Coston, CLP (Members: ELFA, NEFA).
email: Jcoston@costonlaw.com
Website:www.costonlaw.com

Michael J. Witt, experienced bank, finance, and leasing attorney, also conducts Portfolio Audits. Previously he was Managing Counsel, Wells Fargo & Co. (May, 2003 – September, 2008); Senior Vice President & General Counsel, Advanta Business Services (May, 1988 – June, 1997) Tel: (515) 223-2352 Cell: (515) 868-1067
E-mail: MWitt@Witt-Legal.com
Web: www.witt-legal.com



St. Louis County , MO. - statewide:
Schultz & Associates LLP., collections, negotiation, and litigation. Also register and pursue recovery on foreign judgments. Contingency and reasonable hourly rates.
Ronald J. Eisenberg, Esq.
(636) 537-4645 x108
reisenberg@sl-lawyers.com
www.sl-lawyers.com
NJ, De, Pa: Specializing in leased equipment/secured transactions. Collections, replevins/workouts reasonable rates. Sergio Scuteri/Capehart & Scratchard, PAsscuteri@capehart.com / www.capehart.com
New York and New Jersey

Frank Peretore
Chiesa Shahinian & Giantomasi
West Orange, New Jersey
http://www.csglaw.com/
biographies/frank-peretore
Phone 973-530-2058
fperetore@csglaw.com
Documentation, portfolio purchase & sale, replevin, workouts, litigation, collection, bankruptcy. Aggressive. Over 30 years experience.

Thousand Oaks, California:
Statewide coverage Spiwak & Iezza, LLP 20+ years experience,Representing Lessors banks in both State/ Federal Courts/ all aspects of commercial leasing litigation.
Nick Iezza 805-777-1175
niezza@spiwakandiezza.com
[headlines]
--------------------------------------------------------------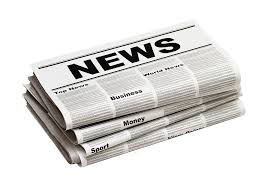 News Briefs----
Federal Spending Tops $3 Trillion Through May
for First Time; Deficit Hits $738 Billion
https://www.cnsnews.com/news/article/terence-p-jeffrey/federal-spending-tops-3-trillion-through-may-first-time-deficit-hits
Wall Street Asks When, Not if,
the Fed Will Cut Interest Rates
https://www.nytimes.com/2019/06/09/business/wall-street-federal-reserve-interest-rates.html
7 Charged After Alleged Role In Advance Fee Loan Scheme
More than $2 million from 35 small-business owners
https://patch.com/new-york/farmingdale/7-charged-after-alleged-role-advance-fee-loan-scheme-scda
Out-of-trust cases raise concerns of 'bloodbath'
for retailers and auto lessors
https://www.autonews.com/dealers/out-trust-cases-raise-concerns-bloodbath-retailers
Ford Motor Proposed Reagor/Dykes Judgement
three pages
https://www.scribd.com/document/412303089/Ford-Motor-Credit-Amended-Proposed-Judgment#from_embed
Annual global index rates U.S. 128th most
peaceful nation on earth
https://www.washingtontimes.com/news/2019/jun/12/annual-global-index-rates-us-128th-most-peaceful-n/


[headlines]
--------------------------------------------------------------


You May Have Missed---
IMO 2020: The Big Shipping Shake-Up
https://www.visualcapitalist.com/imo-2020-the-big-shipping-shake-up/
[headlines]
--------------------------------------------------------------
Life is like a basketball, you dribble your way through the court
As you dribble your way through situations.
Pump faking your shots
As you pretend with your real feelings.
Regardless of missing multiple shots, you must keep shooting, get up when
you fall down, and move on because one day you will make it!!
As the buzzer ticks so does your time on earth, shoot
wisely as if it was your last.
Follow through to score victoriously as you follow
the path that guides you to a successful and happy
life in the future.
To some it is just a game but...
Basketball is LIFE
&
LIFE is basketball
Anonymous
[headlines]
--------------------------------------------------------------

Sports Briefs---

Raptors defeat Warriors to win first title in franchise history
https:/www/.si.com/nba/2019/06/13/raptors-nba-finals-kawhi-leonard-kyle-lowry-warriors
Tiger Woods at the 2019 U.S. Open: Tee time, pairings,
live stream, schedule, wins, news updates
https://www.cbssports.com/golf/news/tiger-woods-at-the-2019-u-s-open-tee-time-pairings-live-stream-schedule-wins-news-updates/
Opinion: There is a 100 percent chance Phil Mickelson
won't win this US Open
https://www.usatoday.com/story/sports/golf/2019/06/12/shackelford-there-is-a-100-percent-chance-phil-mickelson-wont-win-this-us-open/39573977/
[headlines]
--------------------------------------------------------------


California Nuts Briefs---


California passes $215 billion budget
with new spending for families, immigrants and housing
https://www.sacbee.com/news/politics-government/capitol-alert/article231498278.html?
BART board approves budget, nixes upcoming fare increases
https://www.sfchronicle.com/bayarea/article/BART-board-approves-budget-nixes-upcoming-fare-13990097.php?psid=9KuX0
Condos planned near East Bay BART station
https://www.mercurynews.com/2019/06/12/condos-planned-near-san-leandro-bart/

[headlines]
--------------------------------------------------------------



"Gimme that Wine"

http://www.youtube.com/watch?v=EJnQoi8DSE8
The Inexorable Rise of Wine Prices
https://www.wine-searcher.com/m/2019/06/the-inexorable-rise-of-wine-prices
Slowing Sales Force Wineries to Review Market Position
https://www.winebusiness.com/news/?go=getArticle&dataId=215054
Connecticut Consumers Celebrate New Wine Shipping Law
https://www.winebusiness.com/news/?go=getArticle&dataId=215045
Free Wine App
https://www.nataliemaclean.com/mobileapp/

Wine Prices by vintage
http://www.winezap.com
http://www.wine-searcher.com/
US/International Wine Events
http://www.localwineevents.com/
Leasing News Wine & Spirits Page
http://two.leasingnews.org/Recommendations/wnensprts.htm
[headlines]
----------------------------------------------------------------
This Day in History
1642 – The first compulsory education act in the Colonies was passed by Massachusetts.
1775 - The Continental Congress established the army as the first US Military service.
1777 - John Adams introduced the following resolution before the Continental Congress, meeting at Philadelphia: "Resolved, That the flag of the thirteen United States shall be thirteen stripes, alternate red and white, that the union be thirteen stars, white on a blue field, representing a new constellation." (By the way, this is a legal holiday in Pennsylvania). The blue field was to bear 13 stars, one for each state. The tradition that Betsy Ross designed the flag has been almost completely discredited. The flag was originally suggested by Francis Hopkinson, a member of the Continental Navy Board from 1776 to 1778, who is considered by historians to be the father of the Stars and Stripes.
1811 - Birthday of American writer Harriet Beecher Stowe (d. 1896), daughter of the Reverend Lyman Beecher and sister of Henry Ward Beecher, at Litchfield, CT. Author of "Uncle Tom's Cabin," an antislavery novel that provoked a storm of protest and resulted in fame for its author. Two characters in the novel attained such importance that their names became part of the English language—the Negro slave, Uncle Tom, and the villainous slave owner, Simon Legree. The reaction to "Uncle Tom's Cabin" and its profound political impact are without parallel in American literature. It is said that during the Civil War, when Harriet Beecher Stowe was introduced to President Abraham Lincoln, his words to her were, "So you're the little woman who wrote the book that made this great war."
http://digital.library.upenn.edu/women/stowe/StoweHB.html
http://www.bragi.com/classics/s/hbs1811/utomc01.shtml
1820 - Birthday of John Bartlett (d. 1905) at Plymouth, MA. American editor and compiler (Bartlett's "Familiar Quotations," 1855). Though he had little formal education, he created one of the most-used reference works of the English language after being asked continuously for information on quotations while working at the University Book Store in Cambridge, MA. No quotation of his own is among the more than 22,000 listed today, but in the preface to the first edition, he wrote that the object of his work "originally made without any view of publication" was to show "the obligation our language owes to various authors for numerous phrases and familiar quotations which have become household words." The eighteenth edition, which came out in 2012, was edited by poet, critic, and Editor Geoffrey O'Brien, also the editor-in-chief of the Library of America.
http://www.bartleby.com/100/
1834 - My son Dash, who attended diving school in the U.S. Navy could tell you more, but the first practical diving suit was patented by Leonard Norcross of Dixfield, ME, for a "water-dress." It consisted of an airtight rubber garment to which was attached a brass cap or helmet that rested on the shoulders. The cap was connected to an air pump on the boat by means of a rubber hose. The feet were weighted with heavy lead shot.
http://www.divingheritage.com/waybackkern.htm
1834 - Isaac Fisher, Jr. of Springfield, VT, was granted four patents on his invention he called "sandpaper."
1846 - John Frémont launched the Bear Flag Revolution and established the California Republic, an unrecognized breakaway state that, for twenty-five days in 1846, militarily controlled the area to the north of San Francisco Bay. Several American immigrants in Alta California rebelled against the Mexican government. The immigrants had not been allowed to buy or rent land and had been threatened with expulsion from California because they had entered without official permission. Mexican officials were concerned about a coming war with the United States coupled with the growing influx of Americans into California. The rebellion was soon overtaken by the beginning of the Mexican-American War. The name "California Republic" appeared only on the flag the insurgents raised in Sonoma. It indicated their aspiration of forming a republican government for California. The insurgents elected military officers but no civil structure was ever established. The flag featured an image of a California grizzly bear and became known as the Bear flag and the revolt as the Bear Flag Revolt. The current flag of California is a derivative of the Bear flag. William. B. Ide served as President of the Republic of California until July 9. Governor Vallejo was also taken prisoner during the skirmish and was moved to Sutter's Fort.
1848 - The San Francisco "California Star" ceased publication because the staff had rushed to the gold fields.
1850 - Howard Engine Co. No. 13 and Sansome Hook and Ladder Co. No. 3 organized in San Francisco. The Sansome Company carried fifty-foot ladders, the largest in the state. The company also had charge of the powder magazine at its Montgomery St. quarters for use during conflagrations. Third Great Fire destroyed the area between Clay, California and Kearny all the way down to the Bay. 300 more buildings were lost, and the damages were $5,000,000. The fire started in the Sacramento Bakery at the rear of the Merchants Hotel at Clay and Kearny streets.
1863 – The 2d Battle of Winchester was part of the Gettysburg Campaign. As Confederate Lt. Gen. Ewell moved down the Shenandoah Valley toward Pennsylvania, his corps defeated the Union Army garrison, capturing Winchester and numerous Union prisoners. The victory cleared the Valley of Federal troops and opened the door for Lee's second invasion of the North. The capturing of ample supplies justified Lee's conceptual plan to provision his army on the march. The Federal defeat stunned the North and Secretary of War Stanton called for additional militia to be federalized. Shortly afterwards, President Lincoln requested 100,000 volunteers to repel the threatened invasion. The casualty ratio, favoring the South, in this engagement was amazing, the most lopsided for an engagement of this size in the entire war. It's no wonder that Confederate artillerist Maj. Robert Stiles wrote, "This battle of Winchester ... was one of the most perfect pieces of work the Army of Northern Virginia ever did."
1864 - US Congress ruled that Black soldiers must receive equal pay.
http://www.shsu.edu/~his_ncp/AfrAmer.html
http://www.cr.nps.gov/history/online_books/rthg/chap7.htm
1864 - The James River Bridge, the longest (2100 ft.) pontoon bridge ever used in war, was constructed in eight hours by 450 Union engineers. Extending from Windmill Point to Fort Powhatan in Virginia, the structure enabled Grant's forces to cross the James River and to move on Petersburg, a vital communications center south of Richmond. The next three days, at the Battle of Petersburg, Union forces were unable to take the strategic city in the face of what historians call the brilliant strategy by General Robert E. Lee. The actual siege continued until April of the following year: Battle of Five Forks, April 1; evacuation of Richmond and Petersburg, April 2; Union forces occupy Petersburg, April 3; Gen. Lee surrenders to Gen. Grant at Appomattox, April 9; President Lincoln is shot by John Wilkes Booth, April 14.
http://www.civilwar.com/va81.htm
http://www.mdgorman.com/2538.htm
http://www.mdgorman.com/2539.htm
http://www.mdgorman.com/2465.htm
http://wargame.com/images/acw/image25.html
http://www.mdgorman.com/2466.htm
http://www.treasurenet.com/images/civilwar/civil007.html
http://www.flowerdew.org/Prince.html
http://cti.itc.virginia.edu/~ela/letters/dcgdiary2.html
http://www.virginiasheartland.org/recreation.html
http://www.civilwar-va.com/virginia/va-central/1864tour.html
http://www2.cr.nps.gov/abpp/battles/va063.htm
1870 - In what is considered by many historians the greatest baseball game of the 19th century, the Cincinnati Red Stockings, baseball's first all-professional team sees their winning streak stopped at 89 in a wild 11-inning battle with the Atlantic of Brooklyn team, 8 - 7. The game is tied 5 - 5 after nine innings of play, and the Atlantic players are happy to have a draw but Cincinnati Captain Harry Wright insists that the game be played to a decision. The Red Stockings score twice in the 11th inning, but the Atlantic come back with three in their half to win. The game is notable as being the first extra-inning game between professional clubs, and as one of the lowest-scoring games of its day. As is the practice of the day, Atlantic continues to bat after having clinched the game, but no further runs are scored.
1877 - The first African-American West Point graduate was Henry Ossian Flipper, born a slave on March 29, 1856 in Thomasville, GA. He was a cadet from May 20, 1873, to June 14, 1877. He was appointed a second lieutenant in the 10th Cavalry on June 15, 1877, and remained in service until June 30, 1882 when he was dismissed for conduct unbecoming an officer and a gentleman. In December, 1976, the Army reviewed his court-martial charge and changed his discharge record from dishonorable to honorable.
http://lala.essortment.com/henryossianfli_ricp.htm
http://www.rose.net/flipper.htm
http://docsouth.unc.edu/flipper/menu.html
http://www.allenscreations.com/dghof.html
http://www.amazon.com/exec/obidos/ASIN/0803268904/inktomi-bkasin-20
/102-3693736-6012943
1876 – The California Street Cable Car Railroad Co was founded by Leland Stanford. The company's first line opened on California Street in 1878 and is the oldest cable car line still in operation. The company remained independent until 1951, outlasting all the other commercial streetcar and cable car operators in the city. The city purchased and reopened the lines in 1952; the current cable car system is a hybrid made up of the California Street line, and the Hyde Street section of Cal Cable's O'Farrell, Jones & Hyde line, together with other lines already in municipal ownership.
1876 – The first Major Leaguer to hit for the cycle – single, double, triple and homer in a game – was George Hall of the Philadelphia Athletics.
1881 - Ushering in a new era, John McTammany, Jr. of Cambridge, MA, received a patent on a "mechanical musical instrument," he called a "player piano." He constructed a mechanism for automatic playing of organs using narrow sheets of perforated flexible paper that governed the notes to be played." Further patents were applied for all types of piano players, and the first completely automatic was the Angelus, made by the Wilcox and White company, Meriden, CT. in 1897.
1903 - The "Heppner Disaster" occurred in Oregon. A cloudburst in the hills sent a flood down Willow Creek and a twenty-foot wall of water swept away a third of the town in minutes, killing 236 residents and causing $100 million damage.
http://www.rootsweb.com/~ormorrow/HeppnerFlood.htm
1906 - Margaret Bourke-White (d. 1971) was born at New York City. One of the original photojournalists, she developed her personal style while photographing the Krupp Iron Works in Germany and the Soviet Union during the first Five-year Plan. Bourke-White was one of the four original staff photographers for Life magazine in 1936. The first woman attached to the US armed forces during World War II, she covered the Italian campaign, the siege of Moscow and the American soldiers crossing of the Rhine into Germany, and she shocked the world with her photographs of the concentration camps. Bourke-White photographed Mahatma Gandhi and covered the migration of the millions of people after the Indian subcontinent was divided into Hindu India and Muslim Pakistan. She served as a war correspondent during the Korean War. Among her several books the most famous was her collaboration with her second husband, novelist Erskine Caldwell, a study of rural poverty in the American South, called "You Have Seen Their Faces."
http://www.dailycelebrations.com/031401.htm
http://www.artcyclopedia.com/artists/bourke-white_margaret.html
1909 - Burl Ives, American singer and actor, was born Burl Icle Ivanhoe Ives (d. 1995) at Hunt, IL. He helped to reintroduce Anglo-American folk music in the 1940s and 50s. Ives won an Academy Award for his supporting role in "The Big Country" (1958) and he is well known for his role as Big Daddy in both the film and Broadway productions of "Cat on a Hot Tin Roof." His biggest chart success was "Little Bitty Tear" in 1961. Ives also arranged and popularized such folk tunes as "Blue Tail Fly" and "Wayfarin' Stranger."
1910 - Birthday of Jazz Guitarist/Singer/Bandleader Joseph Hilton "Nappy" Lamare (d. 1998), New Orleans.
http://wwwp.musicmatch.com/artist/artist.cgi?ARTISTID=848631&TMP
L=LONG#bio
http://www.themomi.org/museum/roaring20s/1929L-5Nappy.html
http://www.317x.com/albums/b/raybauduc/card.html
http://www.nfo.net/usa/n2.html
1916 - A Presidential Proclamation has made this "Flag Day." In 1996, it was amended to have "National Flag Week" and the president added, "It is a time to honor America." We have the flag flying high here at American Leasing with the San Francisco 49er flag beneath.
1926 - Donald "Big Newk" Newcombe (d. 2019) was born in Madison, NJ. After playing one season with the Newark Eagles in the Negro Leagues, Newcombe signed with the Brooklyn Dodgers. With catcher Roy Campanella, Newcombe played for the first racially integrated baseball team based in the United States in the 20th century, the 1946 Nashua Dodgers of the New England League (Jackie Robinson played that year with the Montreal Royals). Until 2011, Newcombe was the only Major Leaguer to have won the Rookie of the Year, MVP and Cy Young Awards in his career. In 1949, he became the first black pitcher to start a World Series game. In 1951, Newcombe was the first black pitcher to win twenty games in one season. In 1956, the inaugural year of the Cy Young Award, he became the first pitcher to win the National League MVP and the Cy Young in the same season on the strength of 27–7, 139 strikeouts, a 3.06 ERA, five shutouts and 18 complete games in 1956. Newcombe also compiled a career batting average of .271 with 15 home runs and was used as a pinch hitter, a rarity for pitchers.
1929 - Pianist/composer Cy Coleman (d. 2004) born, New York City.
http://www.ascap.com/about/coleman-bio.html
http://www.virtualcity.de/englishtheater/ccoleman.htm
1931 - Saxophonist Junior Walker (d. 1995) was born Autry DeWalt Mixon Jr. in Blytheville, AR. His group, Jr. Walker & the All Stars, were signed to Motown's Soul label in the 1960s and became one of the company's signature acts. Their first and signature hit was "Shotgun," written and composed by Walker and produced by Berry Gordy. "Shotgun" reached No. 4 on the Billboard Hot 100 and No. 1 on the R&B chart in 1965, and was followed by many other hits, such as "(I'm A) Road Runner," "Shake and Fingerpop" and covers of the Motown songs "Come See About Me" and "How Sweet It Is (To Be Loved by You)."
http://www.history-of-rock.com/junior_walker_and_the_all_stars.htm
1934 - Max Baer knocked out Primo Carnera in the 11th round of a fight at Long Island City, NY, to win the heavyweight title. Carnero had won the crown from Jack Sharkey. Baer lost it in his next fight to James Braddock.
1937 - Pennsylvania became the first state in the United States to observe Flag Day as a legal holiday. As noted in the beginning, the only state to legally observe this day as a holiday.
1944 - URBAN, MATT, Medal of Honor
Rank and organization: Lieutenant Colonel (then Captain), 2d Battalion, 60th Infantry Regiment, 9th Infantry Division, World War II. Place and date: Renouf, France, 14 June to 3 September 1944. Entered service at: Fort Bragg, North Carolina, 2 July 1941. Date and place of birth: 25 August 1919, Buffalo, New York. Lieutenant Colonel (then Captain) Matt Urban, l 12-22-2414, United States Army, who distinguished himself by a series of bold, heroic actions, exemplified by singularly outstanding combat leadership, personal bravery, and tenacious devotion to duty, during the period 14 June to 3 September 1944 while assigned to the 2d Battalion, 60th Infantry Regiment, 9th Infantry Division. On 14 June, Captain Urban's company, attacking at Renouf, France, encountered heavy enemy small arms and tank fire. The enemy tanks were unmercifully raking his unit's positions and inflicting heavy casualties. Captain Urban, realizing that his company was in imminent danger of being decimated, armed himself with a bazooka. He worked his way with an ammo carrier through hedgerows, under a continuing barrage of fire, to a point near the tanks. He brazenly exposed himself to the enemy fire and, firing the bazooka, destroyed both tanks. Responding to Captain Urban's action, his company moved forward and routed the enemy. Later that same day, still in the attack near Orglandes, Captain Urban was wounded in the leg by direct fire from a 37mm tank-gun. He refused evacuation and continued to lead his company until they moved into defensive positions for the night. At 0500 hours the next day, still in the attack near Orglandes, Captain Urban, though badly wounded, directed his company in another attack. One hour later he was again wounded. Suffering from two wounds, one serious, he was evacuated to England. In mid-July, while recovering from his wounds, he learned of his unit's severe losses in the hedgerows of Normandy. Realizing his unit's need for battle-tested leaders, he voluntarily left the hospital and hitchhiked his way back to his unit hear St. Lo, France. Arriving at the 2d Battalion Command Post at 1130 hours, 25 July, he found that his unit had jumped-off at 1100 hours in the first attack of Operation Cobra." Still limping from his leg wound, Captain Urban made his way forward to retake command of his company. He found his company held up by strong enemy opposition. Two supporting tanks had been destroyed and another, intact but with no tank commander or gunner, was not moving. He located a lieutenant in charge of the support tanks and directed a plan of attack to eliminate the enemy strong-point. The lieutenant and a sergeant were immediately killed by the heavy enemy fire when they tried to mount the tank. Captain Urban, though physically hampered by his leg wound and knowing quick action had to be taken, dashed through the scathing fire and mounted the tank. With enemy bullets ricocheting from the tank, Captain Urban ordered the tank forward and, completely exposed to the enemy fire, manned the machine gun and placed devastating fire on the enemy. His action, in the face of enemy fire, galvanized the battalion into action and they attacked and destroyed the enemy position. On 2 August, Captain Urban was wounded in the chest by shell fragments and, disregarding the recommendation of the Battalion Surgeon, again refused evacuation. On 6 August, Captain Urban became the commander of the 2d Battalion. On 15 August, he was again wounded but remained with his unit. On 3 September, the 2d Battalion was given the mission of establishing a crossing-point on the Meuse River near Heer, Belgium. The enemy planned to stop the advance of the allied Army by concentrating heavy forces at the Meuse. The 2d Battalion, attacking toward the crossing-point, encountered fierce enemy artillery, small arms and mortar fire which stopped the attack. Captain Urban quickly moved from his command post to the lead position of the battalion. Reorganizing the attacking elements, he personally led a charge toward the enemy's strong-point. As the charge moved across the open terrain, Captain Urban was seriously wounded in the neck. Although unable to talk above a whisper from the paralyzing neck wound, and in danger of losing his life, he refused to be evacuated until the enemy was routed and his battalion had secured the crossing-point on the Meuse River. Captain Urban's personal leadership, limitless bravery, and repeated extraordinary exposure to enemy fire served as an inspiration to his entire battalion. His valorous and intrepid actions reflect the utmost credit on him and uphold the noble traditions of the United States.
1944 - WISE, HOMER L., Medal of Honor
Rank and organization: Staff Sergeant. U.S. Army, Company L, 142d Infantry, 36th Infantry Division. Place and date: Magliano, Italy, 14 June 1944. Entered service al: Baton Rouge, La. Birth: Baton Rouge La. G.O. No.: 90, 8 December 1944. Citation: While his platoon was pinned down by enemy small-arms fire from both flanks, he left his position of comparative safety and assisted in carrying 1 of his men, who had been seriously wounded and who lay in an exposed position, to a point where he could receive medical attention. The advance of the platoon was resumed but was again stopped by enemy frontal fire. A German officer and 2 enlisted men, armed with automatic weapons, threatened the right flank. Fearlessly exposing himself, he moved to a position from which he killed all 3 with his submachine gun. Returning to his squad, he obtained an Ml rifle and several antitank grenades, then took up a position from which he delivered accurate fire on the enemy holding up the advance. As the battalion moved forward it was again stopped by enemy frontal and flanking fire. He procured an automatic rifle and, advancing ahead of his men, neutralized an enemy machinegun with his fire. When the flanking fire became more intense he ran to a nearby tank and exposing himself on the turret, restored a jammed machinegun to operating efficiency and used it so effectively that the enemy fire from an adjacent ridge was materially reduced thus permitting the battalion to occupy its objective.
1946 - Nat "King" Cole Trio recorded "The Christmas Song," NYC. Record promoters like it so much, on August 19th, they recorded it with strings and it became a commercial hit. Written in 1945 by Bob Wells and Mel Torme, according to Tormé, the song was written in forty minutes during a blistering hot summer. In an effort to "stay cool by thinking cool," the most-performed Christmas song was born. "I saw a spiral pad on his (Wells') piano with four lines written in pencil," Tormé recalled. "They started, 'Chestnuts roasting...Jack Frost nipping...Yuletide carols...Folks dressed up like Eskimos.' Bob didn't think he was writing a song lyric. He said he thought if he could immerse himself in winter he could cool off. Forty minutes later that song was written. I wrote all the music and some of the lyrics."
1946 – President Donald Trump was born in Jamaica, Queens, NYC. Trump won the general election on November 8, 2016, in a surprise victory, and became the oldest and wealthiest person to assume the presidency, the first without prior military or government service, and the fifth elected without a plurality of the national popular vote.
1949 - Top Hits
"Riders in the Sky" - Vaughn Monroe
"Again" - Doris Day
"Bali Ha'I" - Perry Como
"One Kiss Too Many" - Eddy Arnold
1950 - American Oil Company announced plans to sponsor the telecast of every Washington Redskins football game during the upcoming season. The Redskins thus became the first pro football team to televise a complete slate of regular-season games.
1951 - Univac, the world's first commercial computer was unveiled, demonstrated, and dedicated in Philadelphia, primarily to help out with the census. The first computer was developed in 1946, ENIAC (Electronic Numeric Integrator and Computer). The name we use today comes from the fact ENIAC was difficult to pronounce and scientists among themselves referred to the machine as a "computer."
1952 - In a 3-1 loss, Boston Braves southpaw Warren Spahn whiffs 18 Cubs in 15 innings, tying Jim Whitney's National League record of 18 strikeouts. On the same day, Braves scout Dewey Griggs signs a Mobile, Alabama youth named Henry Aaron.
1952 - BLEAK, DAVID B., Medal of Honor
Rank and organization: Sergeant, U.S. Army, Medical Company 223d Infantry Regiment, 40th Infantry Division. Place and date: Vicinity of Minari-gol, Korea, 14 June 1952. Entered service at: Shelley, Idaho. Born: 27 February 1932, Idaho Falls, Idaho. G.O. No.: 83, 2 November 1953. Citation: Sgt. Bleak, a member of the medical company, distinguished himself by conspicuous gallantry and indomitable courage above and beyond the call of duty in action against the enemy. As a medical aidman, he volunteered to accompany a reconnaissance patrol committed to engage the enemy and capture a prisoner for interrogation. Forging up the rugged slope of the key terrain, the group was subjected to intense automatic weapons and small arms fire and suffered several casualties. After administering to the wounded, he continued to advance with the patrol. Nearing the military crest of the hill, while attempting to cross the fire-swept area to attend the wounded, he came under hostile fire from a small group of the enemy concealed in a trench. Entering the trench he closed with the enemy, killed 2 with bare hands and a third with his trench knife. Moving from the emplacement, he saw a concussion grenade fall in front of a companion and, quickly shifting his position, shielded the man from the impact of the blast. Later, while ministering to the wounded, he was struck by a hostile bullet but, despite the wound, he undertook to evacuate a wounded comrade. As he moved down the hill with his heavy burden, he was attacked by 2 enemy soldiers with fixed bayonets. Closing with the aggressors, he grabbed them and smacked their heads together, then carried his helpless comrade down the hill to safety. Sgt. Bleak's dauntless courage and intrepid actions reflect utmost credit upon himself and are in keeping with the honored traditions of the military service.
1952 - SPEICHER, CLIFTON T., Medal of Honor
Rank and organization: Corporal, U.S. Army, Company F, 223d Infantry Regiment, 40th Infantry Division. Place and date: Near Minarigol, Korea, 14 June 1952. Entered service at: Gray, Pa. Born: 25 March 1931, Gray, Pa. G.O. No.: 65, 19 August 1953. Citation: Cpl. Speicher distinguished himself by conspicuous gallantry and indomitable courage above and beyond the call of duty in action against the enemy. While participating in an assault to secure a key terrain feature, Cpl. Speicher's squad was pinned down by withering small-arms mortar, and machine gun fire. Although already wounded he left the comparative safety of his position, and made a daring charge against the machine gun emplacement. Within 10 yards of the goal, he was again wounded by small-arms fire but continued on, entered the bunker, killed 2 hostile soldiers with his rifle, a third with his bayonet, and silenced the machine gun. Inspired by this incredible display of valor, the men quickly moved up and completed the mission. Dazed and shaken, he walked to the foot of the hill where he collapsed and died. Cpl. Speicher's consummate sacrifice and unflinching devotion to duty reflect lasting glory upon himself and uphold the noble traditions of the military service
1952 - Birthday of Pat Summitt, born Patricia Sue Head (d. 2016), Clarksville, TN. Accrued 1,098 career wins, the most in NCAA basketball history. She served as the head coach of the University of Tennessee Lady Vols team from 1974 to 2012, before retiring at age 59 because of a diagnosis of early-onset Alzheimer's from which she died in 2016. She won eight NCAA championships (a NCAA women's record when she retired), a number surpassed only by the 10 titles won by UCLA men's coach John Wooden and the 11 titles won by UConn women's coach Geno Auriemma. She was the first NCAA coach, and one of four college coaches overall, with at least 1,000 wins. She was the highest paid coach at the University of Tennessee as 18 of her teams were in the NCAA playoffs and six of her teams, 1987, '89, '91, '96, '97, and '98 won the national titles.
1953 - Elvis Presley graduated from L.C. Humes High School in Memphis, TN. Within three years, the truck driver-turned-singer had his first number-one record with "Heartbreak Hotel."
1954 - The first Civil Defense test was held nationwide, including the continental United States, 10 provinces of Canada, Alaska, Hawaii, Puerto Rico, and the Virgin Islands from 10 to 10:10am, when the all-clear signal was given. There were held periodically and both radio and television were to test the civil defense system periodically during the month for one minute duration.
1954 - President Eisenhower signed a bill into law that places the words "under God" into the United States Pledge of Allegiance.
1956 - No. 1 Billboard Pop Hit: "The Wayward Wind," Gogi Grant.
1957 - Top Hits
"Love Letters in the Sand" - Pat Boone
"A Teenager's Romance/I'm Walkin'" - Ricky Nelson
"Bye Bye Love" - The Everly Brothers
"Four Walls" - Jim Reeves
1958 - Fats Domino releases "I'm Gonna Be a Wheel Someday."
1961 - The temperature in Downtown San Francisco, CA, soared to 106 degrees to establish an all-time record for that location
1963 - Duke Snider, one of the Dodgers' most famous players (I have his autograph from when I was a kid---free, stayed after the game to sign autographs for all the kids) hit his 400th career home run in a game against the Cincinnati Reds, playing for the Mets. Snider became the ninth player in Major League history to reach this career milestone.
http://www.dukesnider.com/
1964 - No. 1 Billboard Pop Hit: "Chapel of Love," The Dixie Cups.
1965 - Top Hits
"Back in My Arms Again" - The Supremes
"Crying in the Chapel" - Elvis Presley
"I Can't Help Myself" - The Four Tops
"What's He Doing in My World" - Eddy Arnold
1965 - Paul McCartney records "Yesterday" by himself, after trying unsuccessfully to fit in the rest of the Beatles. The song would later be recorded by over 3,000 other artists and become the most covered tune in music history. In describing it, Paul has said "I did the tune easily and then the words took about two weeks."
1965 - Sonny and Cher release "I Got You Babe."
1966 – The minor league Miami Marlins and St. Petersburg Cardinals played the longest game in organized baseball history up to that point, needing 29 innings for Miami to prevail, 4 - 3. The game ends after 6 hours and 59 minutes. It remains the longest game ever played without interruption and the longest game in baseball history.
1967 - The Beatles record "All You Need Is Love."
1968 - Rod Stewart becomes a star in the US after the Jeff Beck Group, for which he sings lead, opens at New York's Fillmore East. The 23-year-old Stewart is still so new to the stage that he hides behind a stack of speakers during the first song.
1973 - Top Hits
"My Love" - Paul McCartney & Wings
"Frankenstein" - The Edgar Winter Group
Pillow Talk - Sylvia
"You Always Come Back (To Hurting Me)" - Johnny Rodriguez
1974 - No. 1 Billboard Pop Hit: "Billy, Don't Be a Hero," Bo Donaldson & the Heywoods.
1974 – Nolan Ryan struck out 19 in 13 innings, including Cecil Cooper 6 times as the California Angels beat the Boston Red Sox, 4-3 in 15 innings.
1975 – The singing group America reached the top spot on the Billboard pop music chart with "Sister Golden Hair." The group had previously (March, 1972) taken "A Horse with No Name" to the number one spot. The trio of Dan Peek, Gerry Beckley and Dewey Bunnell, sons of US Air Force personnel stationed in London, England, had received the Best New Artist Grammy in 1972. America recorded a dozen hits that made it to the popular music charts in the 1970s and 1980s. Though number one, "Sister Golden Hair" did not qualify for gold record (million-seller) status.
http://www.biscuitfan.com/america/index.htm
http://www.harvestcomm.net/america/
http://www.danpeek.com/frameset.htm
http://www.rockandrollusa.com/America.htm
http://www.rockandrollusa.com/horsewithnonameamericadewey.htm
http://axisid.com/catsmeow/horse.htm
http://www.biscuitfan.com/america/song/song056.htm
1975 - "Thank God I'm A Country Boy" was recorded live at the Universal Amphitheater in California by John Denver, became the best-selling record in the US. The song was written by John Martin Sommers, a member of Denver's backup band.
1979 - Giant first baseman Willie McCovey hits his 513th round tripper establishing him as the NL all-time left-handed HR leader.
1981 - Top Hits
"Bette Davis Eyes" - Kim Carnes
"Stars on 45 medley" - Stars on 45
"Sukiyaki" - A Taste of Honey
"What are We Doin' in Love" - Dottie West with Kenny Rogers
1987 - Thirty-two cities in the central U.S. reported record high temperatures for the date. The high of 97 degrees at Flint, MI tied their record for June, and the high of 101 at Milwaukee, WI marked their first 100 degree reading in 32 years. Thunderstorms brought much needed rains to South Texas, drenching McAllen with 3.2 inches in one hour. A thunderstorm soaked the town of Uncertain with 2.3 inches of rain in one hour.
1987 - No. 1 Billboard Pop Hit: "Head to Toe," Lisa Lisa & Cult Jam.
1988 - Thirty cities in the eastern U.S. reported record high temperatures for the date
1989 - Top Hits
"Wind Beneath My Wings" - Bette Midler
"I'll Be Loving You" ("Forever") - New Kids on the Block
"Every Little Step" - Bobby Brown
"Better Man" - Clint Black
1990 – The Supreme Court ruled that police checks for drunk drivers are constitutional.
1991 - "Robin Hood: Prince of Thieves" opened, collecting $25.63 million from audiences at 2,369 U.S. theaters. Kevin Costner is Robin of Locksley, Morgan Freeman plays Azeem, Mary Elizabeth Mastrantonio is Marian, Christian Slater stars as Will Scarlett, and Alan Rickman ("Lethal Weapon") played the Sheriff of Nottingham.
1993 - The first Jewish woman to serve on the Supreme Court was Ruth Bader Ginsburg of the U.S. Appeals Court for the District of Columbia, nominated by President William Jefferson Clinton. She filled the seat vacated by Justice Byron White. She was the second woman to serve on the Supreme Court and the first Jewish justice since the resignation of Abe Fortas in 1969.
1994 - The New York Rangers defeated the Vancouver Canucks, 3-2, in Game 7 to win the Stanley Cup for the first time since 1940. The Rangers, led by Mark Messier, Brian Leetch and Mike Richter, ended a long drought that included defeats in the finals in 1950, 1972, and 1979.
1995 - Michael Jackson and wife, Lisa Marie Presley-Jackson, were interviewed by Diane Sawyer on ABC-TV's "PrimeTime Live." Sawyer questioned the couple about how they got to know each other, how Michael proposed, etc. The hour-long interview, at the old MGM set at Sony Pictures, Hollywood, was seen by 60 million U.S. viewers and millions more around the world. Selected snippets from the interview: Do they have sex? "Yes, yes, yes." Prenuptial agreement? "Yes." Regarding accusations of child molestation? "Never ever! I could never harm a child, or anyone. It's not in my heart. It's not who I am. I am not even interested in that!" Would Michael like to be as black as he once was? "I love black."
1996 - San Francisco celebrates its beloved newspaper columnist and a good friend of mine (and many others, too): Herb Caen.
http://www.sfgate.com/cgi-bin/article.cgi?file=/g/a/1996/06/14/ellar960614.DTL
1998 - The Chicago Bulls defeated the Utah Jazz to win their third consecutive NBA championship. This was their second "three-peat." They had accomplished this feat the first time with wins in 1991, 1992 and 1993.
2005 - Behind Chuck Klein (683rd game - 1933) and Lloyd Warner (686th game - 1932), Ichiro Suzuki, in his 696th game, becomes the third fastest big leaguer player to reach the 1000-hit mark. The 31-year old Mariners outfielder also holds the record in Japan for being quickest player to attain 1,000 hits, reaching the milestone in 757 games. Ichiro had 3,089 hits in his Major League career, and combined with the 1,078 hits from his Japanese league days, owns the all-time career hits record in all of professional baseball, having passed Pete Rose in 2016. He retired after the opening of the 2019 season when the Seattle Mariners played their opening series in Japan against the Oakland As.
2017 - A gunman opened fire on a Republican congressional baseball team holding an early-morning practice in Alexandria, VA. Louisiana Representative Steve Scalise was among the five persons wounded in the attack, being shot in the hip. Capitol Police officers at the practice return fire and quickly apprehend the shooter, who is mortally wounded in the exchange. The team was preparing for its annual charity game against members of the Democratic Party scheduled for later in the week.

NBA Champions:
1987 - Los Angeles Lakers
1990 - Detroit Pistons
1992 - Chicago Bulls
1995 - Houston Rockets
1998 - Chicago Bulls

Stanley Cup Champions:
1994 - New York Rangers
-------------------------------------------------------------

SuDoku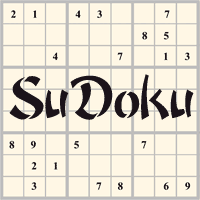 The object is to insert the numbers in the boxes to satisfy only one condition: each row, column and 3x3 box must contain the digits 1 through 9 exactly once. What could be simpler?
http://leasingnews.org/Soduku/soduko-main.htm
--------------------------------------------------------------

Daily Puzzle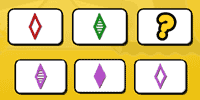 How to play:
http://www.setgame.com/set/puzzle_frame.htm
Refresh for current date:
http://www.setgame.com/set/puzzle_frame.htm
--------------------------------------------------------------


http://www.gasbuddy.com/
http://www.gasbuddy.com/GB_Map_Gas_Prices.aspx
http://www.gasbuddy.com/GB_Mobile_Instructions.aspx
--------------------------------------------------------------

Weather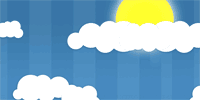 See USA map, click to specific area, no commercials
--------------------------------------------------------------

Traffic Live---
Real Time Traffic Information
You can save up to 20 different routes and check them out with one click,
or type in a new route to learn the traffic live
--------------------------------