Tuesday, May 22, 2012

Today's Equipment Leasing Headlines

Correction: Evergreen Legal in all 50 states
Classified Ads---Legal
Vendor Vartanian Makes Lease Fleece Plea Agreement
Innovative Lease Services, Inc joins
Companies who notify lessee in advance of lease expiration
and require their discounter to also notify lessee in advance
ZRG Partners Global Leasing Employment Up 15%
Community/Regional Banks Getting Stronger
ICBA Celebrates Small Business Week
Leasing 102 by Mr. Terry Winders, CLP
The Uniform Commercial Code (UCC) and Drafting a Lease
New Broker Division Opened by Forum Financial
NAELB New Officers/Congratulations/Farewells
Top Stories May 14--May 18
Career Crossroad—"Use Text on a Job Board"
SCHNAUZER MIN-MIX
Orange, California Adopt-a-Pet
Bank Beat---Insider Loans Take Small Bank Down?
News Briefs---
Houghton Mifflin Harcourt Publishing files for bankruptcy
"What'cha gonna do?"
'Idol' finals: Jessica vs. Phillip
Broker/Funder/Industry Lists | Features (collection)
Top Ten Stories Chosen by Readers | Top Stories last six months

You May have Missed---
SparkPeople--Live Healthier and Longer
Sports Briefs---
Baseball Poem
California Nuts
"Gimme that Wine"
This Day in American History
SuDoku
Daily Puzzle
GasBuddy
Weather, USA or specific area
Traffic Live----
######## surrounding the article denotes it is a "press release" and was not written by Leasing News nor information verified, but from the source noted. When an article is signed by the writer, it is considered a "by line." It reflects the opinion and research of the writer. It is considered "bias" as it is the writer's viewpoint


Please send Leasing News to a colleague and ask them to subscribe.
We are Free!!! and no registration, just email address.
[headlines]
--------------------------------------------------------------

Correction: Evergreen Legal in all 50 states
Edward R. Dietz, Vice President and General Counsel, Marlin Business Services Corp., Mount Laurel, New Jersey, requested we inform readers that Evergreen clauses are legal in all 50 states.

In this article, "Marlin Does Not Disclose Possible Loss of Evergreen Payments,"
(http://seekingalpha.com/article/580711-marlin-does-not-disclose-possible-loss-of-evergreen-payments) it was stated: "Evergreen clauses are illegal in four states, meaning automatic payments cannot continue, especially prevalent in ACH payments."

Leasing News has placed a comment to correct the story that Evergreen clauses are legal in all 50 states in "Seeking Alpha," where the article appeared with the sentence, "Evergreen clauses are illegal in four states, meaning automatic payments cannot continue, especially prevalent in ACH payments."
The shorter story that appeared in Seeking Alpha was edited from the original story which appeared in Leasing News, where it was stated:
"At this time, these states require the lender or lessor to inform the borrower or lessee regarding the termination of the initial lease contract:
"New York
Rhode Island
Texas
Illinois
(In Illinois, Consumer law, but may affect commercial,
especially a proprietorship, partnership or personal guarantee)"
Many leasing companies require the lessee in 46 states to notify the lessor 90 days in advance by certified letter regarding the exercise of the residual, and if not, payments will continue for an additional twelve months. In the four states above, the lessor is to notify the lessee in advance.
Leasing News apologizes for any confusion. The Evergreen clause is legal in 50 states.
Original article:
It's Evergreen Again with Marlin's Profits
by Christopher Menkin
http://leasingnews.org/archives/May2012/5_07.htm#marlin
[headlines]
--------------------------------------------------------------


Classified Ads---Legal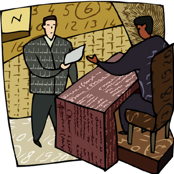 (These ads are "free" to those seeking employment or looking
to improve their position)
San Diego , CA
Experienced in-house corporate, equipment leasing and financial services attorney seeks position as managing or transactional counsel. Willing to relocate.
Cell Phone: 760-533-4058;
Email:marshallrosenberg@gmail.com | Resume
Free Posting for those seeking employment in Leasing:
http://www.leasingnews.org/Classified/Jwanted/Jwanted-post.htm
All "free" categories "job wanted" ads:http://www.leasingnews.org/Classified/Jwanted/Jwanted.htm
[headlines]
--------------------------------------------------------------
Vendor Vartanian Makes Lease Fleece Plea Agreement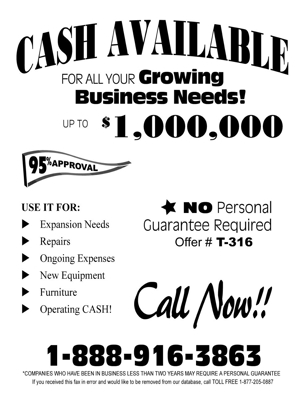 (Copy of Fax Blast, 2001)
In perhaps that last of the Operation Lease Fleece, which began November 7, 2007, ISystems President Chant Vartanian signed a plea agreement with the United States Attorney's Office for the Central District of California, represented by Jennifer L. Waier, Assistant Attorney General, who has been the lead on all the "Fleece" cases.
Sarkus Vartanian, vice-president of ISystems Technology and Solutions, brother of Chant indictment was dismissed without prejudice.
This is the first plea agreement that Leasing News has discovered that spells out "what happened" as well as the penalties that may be involved.
From the Plea Agreement of Chant Vartanian:
"Defendant owned and operated I-Systems Technologies & Solutions ("I-Systems"), a purported equipment vendor, located in Los Angeles, California. Defendant partnered with CapitalWerks ("CapitalWerks") located in Orange County, California (Mark McQuitty, Jim Raeder. Editor)
"Beginning in or around 2001 and continuing until at least 2006, in Orange and Los Angeles Counties, within the Central District of California, and elsewhere, defendant knowingly and with the intent to defraud, devised, executed, and participated in a scheme to defraud funding sources as to material matters, and to obtain money from funding sources by means of materially false and fraudulent pretenses, representations, and promises, and the non-disclosure and concealment of material facts, in connection with a fraudulent equipment lease scheme.
"CapitalWerks advertised working capital loans to small businesses who could not qualify for such loans through financial institutions. CapitalWerks communicated with clients who responded to the advertising, and reiterated that CapitalWerks could obtain working capital loans for them. CapitalWerks told clients that they would get a loan, but would sometimes have to accept some computer equipment with which the clients were free to do with it what they wished.
"Once the clients agreed to CapitalWerks' assistance, CapitalWerks would refer the transactions to defendant at I-Systems. Defendant used false statements and promises to induce funding sources to provide equipment leases to the clients.
"At the direction of defendant, I-Systems caused false and misleading invoices to be submitted to funding sources to make it appear as though the lessees were receiving computer equipment worth a substantial amount of money. These invoices were designed to cause the funding sources into paying for nonexistent and over-valued equipment. I-Systems would, in turn, provide the lessees computers that were worth substantially less than what was represented to the funding source, and in some instances, I-Systems would not provide all the equipment represented in its invoices.
"Based upon the false invoices provided by defendant, the funding sources forwarded funds to I-Systems for the purported equipment leases.
"Rather than using the funds to solely acquire the equipment as promised, defendant took the money received from the funding sources, used a small portion to pay for equipment in some cases, kept a commission for himself, and caused the remainder to be paid to accounts controlled by CapitalWerks who sent the majority of the money to the lessees as a cash loan.
"By devising, executing, and participating in the fraudulent equipment lease scheme, defendant caused funding sources to lose $728,619.
"In furtherance of the above scheme, defendant caused a $53,282.96 payment to be wired from Hudson United Bank in New Jersey to I-Systems located in the Central District of California."
PENALTIES

"5. Defendant understands that the statutory maximum sentence that the Court can impose for a violation of Title 18, United States Code, Section 1343 is: 20 years imprisonment; a fine of $250,000 or twice the gross gain or gross loss resulting from the offense, whichever is greatest; a 3-year period of supervised release; and a mandatory special assessment of $100.
"6. Defendant understands that supervised release is a period of time following imprisonment during which defendant will be subject to various restrictions and requirements. Defendant understands that if defendant violates one or more of the conditions of any supervised release imposed, defendant may be returned to prison for all or part of the term of supervised release authorized by statute for the offense that resulted in the term of supervised release, which could result in defendant serving a total term of imprisonment greater than the statutory maximum stated above.
"7. Defendant understands that, by pleading guilty, defendant may be giving up valuable government benefits and valuable civic rights, such as the right to vote, the right to possess a firearm, the right to hold office, and the right to serve on a jury. Defendant understands that once the court accepts defendant's guilty plea, it will be a federal felony for defendant to possess a firearm or ammunition. Defendant understands that the conviction in this case may also subject defendant to various other collateral consequences, including but not limited to revocation of probation, parole, or supervised release in another case and suspension or revocation of a professional license. Defendant understands that unanticipated collateral consequences will not serve as grounds to withdraw defendant's guilty plea.
"8. Defendant understands that, if defendant is not a United States citizen, the felony conviction in this case may subject defendant to removal, also known as deportation, which may, under some circumstances, be mandatory. The court cannot, and defendant's attorney also may not be able to, advise defendant fully regarding the immigration consequences of the felony conviction in this case. Defendant understands that by entering a guilty plea defendant waives any claim that unexpected immigration consequences may render defendant's guilty plea invalid."

Chant Vartanian Plea Agreement
http://leasingnews.org/PDF/VartanianPleaAgreement_521.pdf
Sarkis Vartanian Dismissal
http://leasingnews.org/PDF/SarkasVartanian_521.pdf
Operation Lease Fleece stories:
http://www.leasingnews.org/Conscious-Top%20Stories/Lease_Fleece.htm
[headlines]
--------------------------------------------------------------

joins
Companies who notify lessee in advance of lease expiration
and require their discounter to also notify lessee in advance
Innovative Lease Services, Inc., Carlsbad, California
"ILS notifies our Lessees regarding any residual, and always in advance of any month-month renewal. We don't evergreen for a longer period but if there is no exercise of purchase option, then the rental reverts to a monthly extension."
Andrew Nere

Companies who notify lessee in advance of lease expiration
and require their discounter to also notify lessee in advance
ABCO Leasing
Advantage Funding
Agility Ventures LLC
Allegiant Partners
American Leasefund, Inc.
Balboa Capital Corp.
BancLease Acceptance Corporation
Bank of Ozarks Leasing
Bankers Capital
Bank of the West, Indirect Equipment Finance
Black Rock Capital
BSB Leasing
Calfund
Capital Technology & Leasing, LLC
Cobra Capital, LLC
Commerce National Bank
Dakota Financial, LLC
Direct Capital
eLease


Financial Pacific Leasing
Five Point Capital, In
Forum Financial Services, Inc.
Gonor Funding
GreatAmerica Leasing
Innovative Lease Services, Inc.
Madison Capital
Manufacturer's Lease Plans, Inc
Marquette Equipment Finance
Mesa Leasing
Maxim Commercial Capital
Mount Pleasant Capital
National Machine Tool Financial Corporation
Navitas Lease Corp.
Northwest Leasing Company
P&L Capital Corporation
Pacifica Capital
Pawnee Leasing Corporation
Standard Professional Services, LLC
TEAM Funding Solutions
Vehicle Lenders Group, LLC
full list
http://www.leasingnews.org/Pages/lease_expiration.html

[headlines]
--------------------------------------------------------------

ZRG Partners Global Leasing Employment Up 15%
The ZRG Partners Global Equipment Leasing and Finance Hiring Index (GELAF) showed an overall increase of 15% in March-April-May period compared to the December-January-February period. ZRG Partners report the numbers would have been higher except for the decline in South America/Mexico, where the job decrease was 19%. Most serious, they note, it appears are the last two periods, showing a 50% decline in Mexico.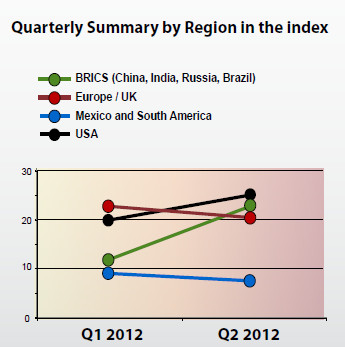 Europe/UK posted a 13% decline this quarter with both France (-38%) and Germany (-15%) showing weaker demand for new hiring in the sector. The UK posted flat numbers.
The USA rebounded from Q1's declining numbers with a 27% increase during this period. There was broad demand to fill many business development / volume generating roles in the region.
China had the biggest increase with 153% jump in hiring activity, followed by Russia's 26% and Brazil's 18%. The hiring appears to be fairly broad based across captive finance organizations as well as global and local banks, all competing for local financing dollars.
As reported by Leasing News, looks like the emphasis is moving away from the European leasing market back to the United States, as well as the largest international companies are active in China, India, and Asia. Reports are mixed in Brazil, but South American Leasing economy and exports are very strong. The ZRG statistics bear out the trend.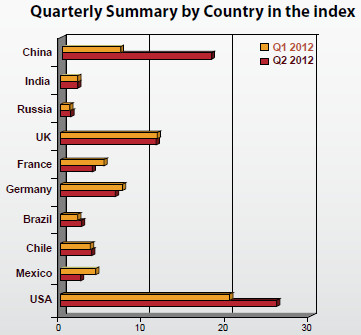 ZRG Partners Global Equipment Leasing and Finance Hiring Index
http://leasingnews.org/PDF/GlobalLeasingHiringIndexMay2012.pdf
[headlines]
--------------------------------------------------------------
Community/Regional Banks Getting Stronger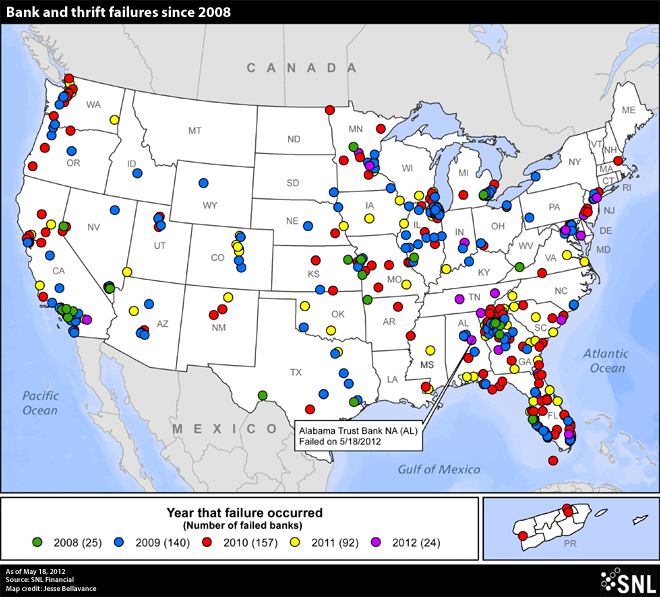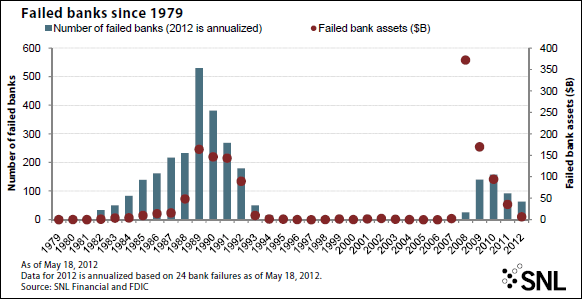 Note less bank failures.
Despite the cries of too much regulations and problems still with the top five banks, just as Bank of America and JP Morgan Case, regional and community banks are back in business, looking for business, and there are less bank failures.
The median cost to the deposit insurance fund at the time of announcement as a percentage of the failed banks' assets was 22% in 2012, with 24 failures. The median cost in 2011 was 23%, the same as in 2010 but lower than the 29% median cost in 2009.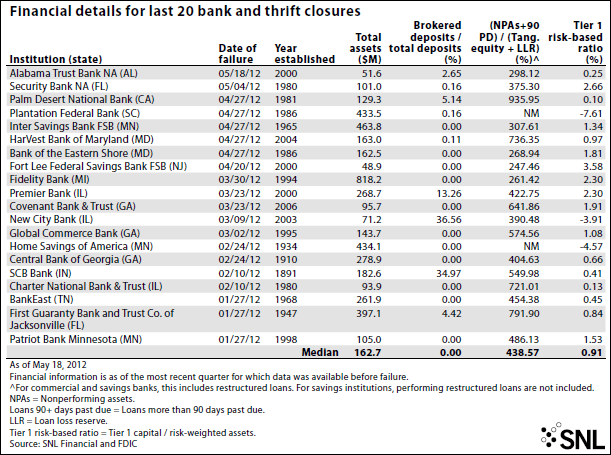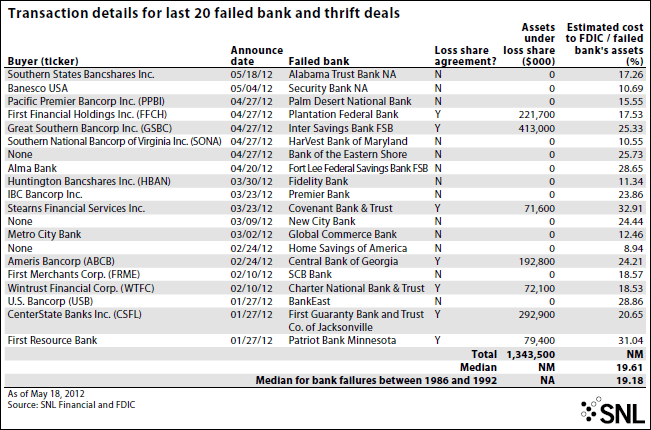 [headlines]
--------------------------------------------------------------
#### Press Release ###########################
ICBA Celebrates Small Business Week
Washington, D.C.—The Independent Community Bankers of America (ICBA), and community banks nationwide are joining the Small Business Administration (SBA) in celebrating National Small Business Week, May 20 through May 26. ICBA, the nation's voice for community banks, is reminding everyone about the critical role community banks serve in supporting local small businesses.
"Small businesses are critical to the economic stability of this country," said Jeff Gerhart, ICBA chairman and chairman, Bank of Newman Grove, Neb., noting that small businesses have accounted for 65 percent of the private sector job creation over the past 15 years. "Not only do community banks support local small businesses through unparalleled lending, they are also local small businesses themselves. This means that community banks understand their local markets better than anyone and also understand the challenges their customers face."
Community banks under $10 billion in assets provide nearly 60 percent of small business loans between $100,000 and $1 million. For their size, community banks are prolific small business lenders—providing a substantial number of small business loans across the country, including SBA loans. By lending to local entrepreneurs and small businesses, community banks help local economies thrive—driving economic growth and prosperity.
Representing more than 24,000 locations nationwide and employing nearly 300,000 Americans, ICBA members hold more than $1.2 trillion in assets, $1 trillion in deposits and nearly $750 billion in loans to consumers, small businesses and the agricultural community.
Gerhart went on to say that small business owners and consumers can find their local community bank by visiting ICBA's Community Bank Locator at www.banklocally.org. "Simply type in your ZIP code and the app will show you all the community banks in your area. You can even download free ICBA locator apps for your iPhone, Android or BlackBerry," he said
#### Press Release #############################



Gary DiLillo, President 440.871.0555 or gary@avptc.com

Comprehensive personal property tax outsourcing services.
Click here to see what our clients say about us.
[headlines]
--------------------------------------------------------------

Leasing 102
by Mr. Terry Winders, CLP
The Uniform Commercial Code (UCC) and Drafting a Lease
The drafting of documents reflecting lease transactions should not be undertaken without a careful analysis and appraisal of the content of Article 2A and Article 9, both govern equipment leases.
Article 9 is for leases that do not qualify for Article 2A.
The provisions of Article 9 of the UCC are applicable to a lease in the nature of a security agreement (lease intended as a security) even though lessor/lessee terminology is employed. At times an attorney may be aware that a particular lease transaction will probably be treated by the courts as a security agreement, but his client desires to use the lease form as an additional selling tool. Care should be taken in drafting such a document because the provisions of Article 9 may be in conflict with some of the customary covenants in a lease, particularly the rights of the parties upon termination and default.
In a secured installment sale, (Article 9) upon disposition of the equipment, the lessee is entitled to any surplus over the secured debt and expenses of repossession, unlike a true lease under Article 2A in which the lessor is entitled to any surplus over the present value of the unpaid rents and expenses of repossession. After payment in full of an installment sale, the lessee has title and continued possession of the equipment; under a true lease the equipment must be returned to the lessor.
There is no provision in Article 2A requiring the filing a UCC1 financing statement because the true lease lessor is recognized as the owner of the equipment. Article 9 requires the filing of a lien (UCC-1), to protect the investment of the lender/lessor, in the State were the lessee filed its business formation papers.
A provision in Article 9 (9-505) allows the filing of a UCC-1 "not" to be used as evidence that the filer thought he had a loan. Therefore most true lessors (Article 2A) understand that the filing of a UCC1 is one of the few ways to make the public aware that the lessee is in possession of equipment that they did not own. Some small ticket lessors prefer to place labels, or stickers, on equipment that could be sold to consumers or people that do not understand how to use the UCC to determine if the equipment has a lien on it.
If in a default occurs and the court determines that the lease fails Article 2A and is therefore an Article 9 transaction, the filing of the UCC1 establishes the lessors lien position in the equipment. Many customers will borrow and pledge all their assets as collateral with the lender filing a blanked lien UCC -1 filing. The court has to determine who is first filed and therefore who has the priority claim.
If a blanket lien has been filed prior to the lease, the lessor has twenty days from the date the lessee takes possession of the equipment to file the lien as a "purchase money" lien filing.
Understanding the requirements of the UCC is critical to a property constructed lease and knowing all the documents required to close a lease is necessary to protect the lessor's investment in the lease. A properly constructed lease is not a loan, but way too many in this industry think it is and make the mistake of trying to handle it that way.
Mr. Terry Winders, CLP, has been a teacher, consultant, expert witness for the leasing industry for thirty-five years and can be reached at leaseconsulting@msn.com or 502-649-0448
He invites your questions and queries.

Previous #102 Columns:
http://www.leasingnews.org/Conscious-Top%20Stories/Leasing_102/Index.htm
Mr. Terry Winders available as Expert Witness. 35 years as a professional instructor to the top equipment leasing and finance companies in the United States, author of several books, including DVD's, as well as weekly columnist to Leasing News. He also performs audits of leasing companies as an expert on documentation, and has acted as an expert witness on leasing for litigation in legal and tax disputes, including before the IRS. He also has taught the senior bank examiners, how to review a bank leasing department, for the Federal Reserve in Washington D.C. and has trained the examiners for the FDIC on how to prepare a lease portfolio for sale.
Mr. Winders received his Master of Business Administration and his Bachelor of Science degrees from the College of Notre Dame.
502.649.0488/Leaseconsulting@msn.com
(This ad is a "trade" for the writing of this column. Opinions
contained in the column are those of Mr. Terry Winders, CLP)

[headlines]
--------------------------------------------------------------

New Broker Division Opened by Forum Financial

Spearheaded by Tim O'Connor and Bryon Tansel, available to a select group of lease brokers, Forum Financial Services, Richardson, Texas, has launched a new leasing division on companies in the North Texas area.
The parent company minimum is $50,000 and goes up to $1.5 million, but average transaction is around $250,000 ($100,000 to $500,000).
DFW Equipment Leasing, www.dfwequipmentleasing.com will target most credit types on equipment with an acquisition cost of $10,000 to $1.0 million.
"As part of offering a comprehensive lease program this new division will have an online 'Application Only' up to $100,000 on most types of equipment," Tim O'Connor said. "DFW Equipment Leasing will provide for a variety of lease structures including $1.00 buyouts and fair market value lease options."
Established in 1996, Forum Leasing is a national equipment leasing company specializing in middle market distressed credits and venture capital backed corporations.
For more information on DFW Equipment Leasing or Forum Leasing please contact Tim O'Connor at 972-690-9444 ext. 225 or tim@forumleasing.com
[headlines]
--------------------------------------------------------------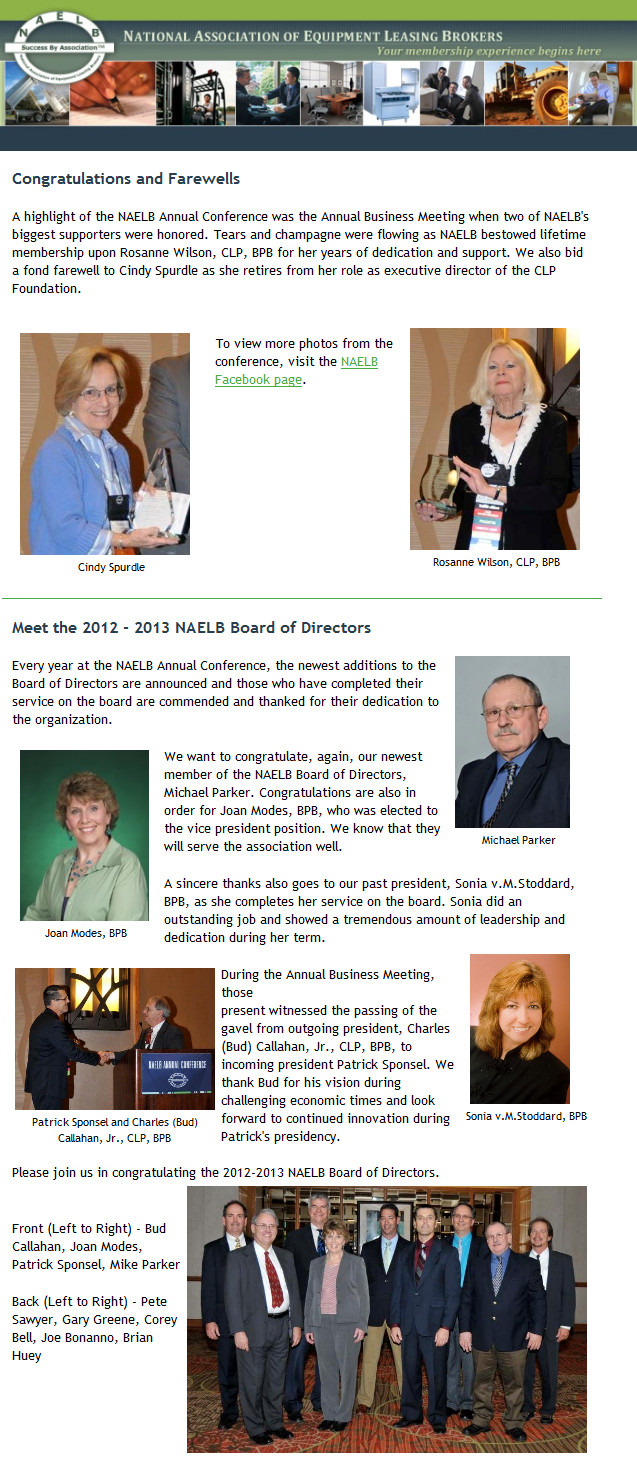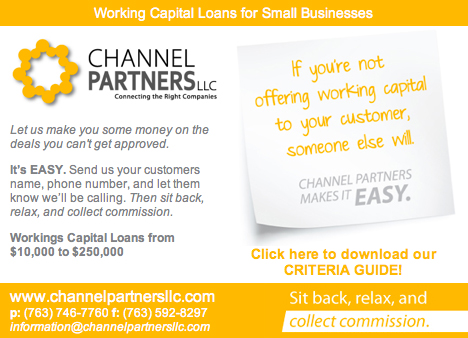 [headlines]
--------------------------------------------------------------
Top Stories May 14--May 18
Here are the top ten sorties opened by readers:

(1) Two Leasing News Articles make Seeking Alpha
Marlin Business Services/Resource America-LEAF
http://leasingnews.org/archives/May2012/5_14.htm#articles
(2) Archive May 16, 2007
Prayers are with Bob Baker, CLP
http://leasingnews.org/archives/May2012/5_16.htm#archives
(3) Founder of Chase Industries Files Bankruptcy
by Christopher Menkin
http://leasingnews.org/archives/May2012/5_14.htm#chase
(4) Hudson Buying His Way Back into Leasing
by Christopher Menkin
http://leasingnews.org/archives/May2012/5_16.htm#hudson
(5) Mark McQuitty Sentencing Operation Lease Fleece
http://leasingnews.org/archives/May2012/5_16.htm#clp

(6) Yes, Virginia, Leasing is Regulated!
by Christopher Menkin
http://leasingnews.org/archives/May2012/5_14.htm#regulated
(7) May 18, 2005 Archive
NAELB Conference
http://leasingnews.org/archives/May2012/5_18.htm#archive
(8) Open Positions at Leasing Funders/Various Locations
http://leasingnews.org/archives/May2012/5_16.htm#open
(9) Fastest Dying Jobs/Fastest Ones Replacing them
http://leasingnews.org/archives/May2012/5_16.htm#jobs
(10) Doing Business with Different Generations
http://leasingnews.org/archives/May2012/5_18.htm#generations
John Kenny Receivables Management
www.jrkrmdirect.com
• End of Lease Negotiations & Enforcement
• Fraud Investigation
• Credit Investigations
• Asset Searches
• Skip-tracing
• Third-party Commercial Collections
The Solution to Your Credit & Accounts Receivable Needs
John Kenny
315-866-1167 | John@jkrmdirect.com
(Leasing News provides this ad as a trade for investigations
and background information provided by John Kenny)
[headlines]
--------------------------------------------------------------
Career Crossroad—"Use Text on a Job Board"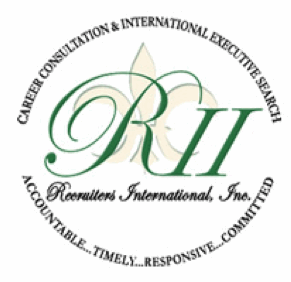 Question: How do you upload a resume to a job board?
Answer: While I do not encourage this form of applying for a position, to me, it is like being blindfolded and throwing a dart against a target on a wall, I do have a recommendation.
If you still want to do this, put your resume in a "text format." If you have written it in Microsoft Word, take it to the notepad (in accessories) and copy and paste. Then save it in the notepad format.
You may need to reformat your resume in text, as you will certainly find out. I recommend printing it and reading it in print to make sure you caught all the changes to be made, as sometimes words can get lost in putting into text format.
On the job board there will be a link to upload the resume. Once uploaded, make sure you read and make sure all pertinent information was correctly uploaded.
Don't forget to close the program, then open it up again to see how it looks on the job board.

No matter what program the potential employer is using, or whatever version of the program, your text resume will be clean and clear to read.
Emily Fitzpatrick
Sr. Recruiter
Recruiters International, Inc.
Phone: 954-885-9241
Fax: 954-499-8802
Cell: 954-612-0567
emily@riirecruit.com
www.riirecruit.com
Twitter: @RIIInfo
Invite me to Connect on LinkedIn & Follow RII on LinkedIn
Career Crossroads Previous Columns
http://www.leasingnews.org/Conscious-Top%20Stories/crossroad.html
Send Leasing News to a colleague.
Ask them to subscribe. We are Free!!
[headlines]
--------------------------------------------------------------

SCHNAUZER MIN-MIX
Orange, California Adopt-a-Pet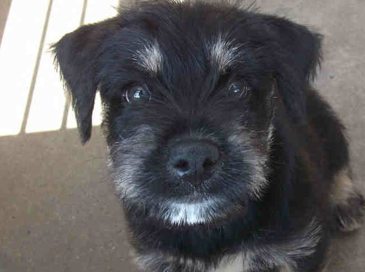 Pet ID: A1174016
Sex: M
Age: 2.5 Months
Color: BLACK - TAN
Breed: SCHNAUZER MIN - MIX
Kennel: 325
OC Animal Care
714-935-6848
561 The City Drive South
Orange, CA 92868
Hours of Operations:
Sunday through Saturday - 10:00 AM to 5:00 PM.
We are open until 7:00 PM on Wednesdays.
Closed Holidays
Shelter and other information
http://egov.ocgov.com/ocgov/Info%20OC/Departments%20&%20Agencies/
OC%20Animal%20Care/Programs%20and%20Services/\
Animal%20Care%20Center%20%28Shelter%29/Animal%20Care%20Center%20%28Shelter%29



Adopt-a-Pet by Leasing Co. State/City
http://www.leasingnews.org/Conscious-Top%20Stories/Adopt_Pet.htm

Adopt a Pet
http://www.adoptapet.com/

[headlines]
--------------------------------------------------------------
[headlines]
----------------------------------------------------------------
This Day in History
-------------------------------------------------------------

SuDoku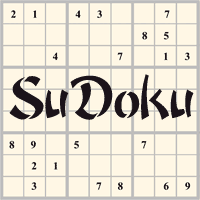 The object is to insert the numbers in the boxes to satisfy only one condition: each row, column and 3x3 box must contain the digits 1 through 9 exactly once. What could be simpler?
http://leasingnews.org/Soduku/soduko-main.htm
--------------------------------------------------------------

Daily Puzzle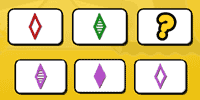 How to play:
http://www.setgame.com/set/puzzle_frame.htm
Refresh for current date:
http://www.setgame.com/set/puzzle_frame.htm
--------------------------------------------------------------


http://www.gasbuddy.com/
http://www.gasbuddy.com/GB_Map_Gas_Prices.aspx
http://www.gasbuddy.com/GB_Mobile_Instructions.aspx
--------------------------------------------------------------

Weather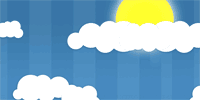 See USA map, click to specific area, no commercials
--------------------------------------------------------------

Traffic Live---
Real Time Traffic Information
You can save up to 20 different routes and check them out with one click,
or type in a new route to learn the traffic live
--------------------------------