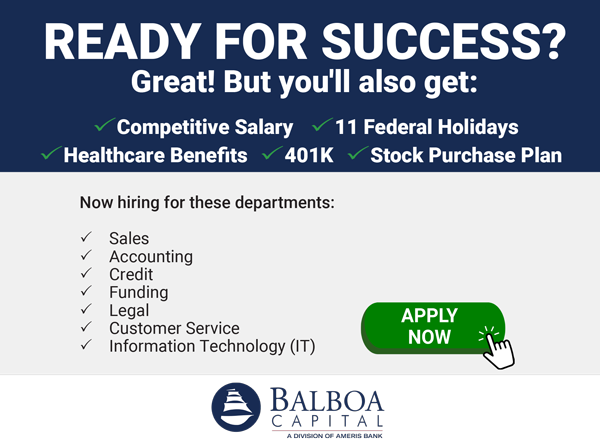 Monday, November 6, 2023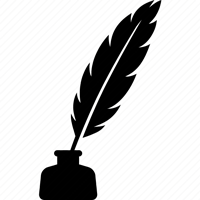 Today's Leasing News Headlines

The Corporate Transparency Act of 2024
  Many in Business Are Not Aware  
By Kenneth C. Greene, Leasing News Emeritus
Iowa Bank Failure Tied to Bad Trucking Loans
By Craig Fuller, CEO and Founder, Freight Waves
CLFP Foundation adds 26 New CLFPs
Including Photos
CLFP Growth by Company Continues
Three or More CLFP's
Help Wanted in the Finance and Leasing Business
Balboa and TopMark Careers Open/Sales
The Role of Culture Fit in Executive Hiring
By Ken Lubin, ZRG Partners, Managing Director
Top Ten Leasing News Read by Readers
Oct 30 - November 3
ZRG Salutes Rose Ryan
Best CPA Firm for Women and Equity Leadership
Shepherd
Norwalk, Connecticut Adopt-a-Dog

News Briefs ---
U.S. Employers Announced 22% Fewer
Job Cuts in October
Actors' Union Says It Receives 'Last,
Best and Final' Offer From Studios

You May Have Missed --
Veterans Day this year is Saturday, Nov 11
The Federal holiday will be Friday. Post Fffice, banks closed,
others may close as well s schools

Broker/Funder/Industry Lists | Features (wrilter's columns)
Top Ten Stories Chosen by Readers | Top Stories last six months
Sales Make It Happen

Sports Briefs
California News
"Gimme that Wine"
This Day in History
SuDoku
Daily Puzzle
GasBuddy
Weather, USA or specific area
Traffic Live----
Wordle
######## surrounding the article denotes it is a press release, it was not written by Leasing News nor has the information been verified, but from the source noted. When an article is signed by the writer, it is considered a byline. It reflects the opinion and research of the writer.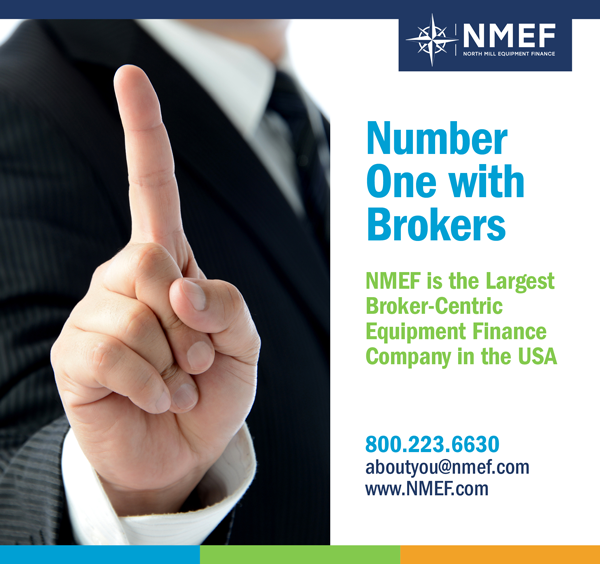 [headlines]
--------------------------------------------------------------
[headlines]
--------------------------------------------------------------
--------------------------------------------------------------
[headlines]
--------------------------------------------------------------
[headlines]
----------------------------------------------------------------
This Day in History
     1528 - Shipwrecked Spanish conquistador Álvar Núñez Cabeza de Vaca was the first known European to set foot in what is now Texas.
    1789 - Pope Pius VI appointed Father John Carroll as the first Catholic bishop in the United States.
    1796 - The first presidential election was held in which more than one candidate declared for the Presidency.  John Adams received 71 electoral votes and was elected President, and Thomas Jefferson received 68 electoral votes and was elected Vice-President. In the elections of 1789 and 1793, George Washington was the only avowed Presidential candidate.
    1804 - The first presidential election was held in which more than one candidate declared for Vice-President. Prior to the adoption of the 12th Amendment to the constitution on September 25, 1804, the candidate for President receiving the highest number of votes became President, and the candidate receiving the second highest number became Vice-President. Thomas Jefferson and George Clinton were the candidates of the Democratic-Republican Party and Charles Cotesworth Pinckney and Rufus King the candidates of the Federalist Party.
    1832 – Joseph Smith III (d. 1914) was born in Kirtland, OH.  He was the first president of the Reorganized Church of Jesus Christ of Latter Day Saints and the son of Joseph Smith, the founder of Mormonism.    
    1850 - Yerba Buena and Angel Islands in San Francisco Bay are reserved for military use.
    1854 - Birthday of conductor/composer John Phillips Sousa (d. 1932), at Washington, DC.  Remembered for stirring marches such as "The Stars and Stripes Forever," "Semper Fidelis," "El Capitan."
    1860 - Former Illinois congressman Abraham Lincoln defeated three other candidates for President, a Republican victory over the divided Democrats. Hannibal Hamlin was elected Vice-President. The electoral vote was Lincoln, 180; John C. Breckinridge, southern Democrat, 72; John Bell, Constitutional Union candidate, 39; Stephen A. Douglas, Democrat, 12. The popular vote was Lincoln 1,866,252; Douglas 1,375,157; Breckinridge, 848,781; Bell, 589,581.
    1861 - Jefferson Davis was elected to a six year term as President of the Confederate States of America.
http://memory.loc.gov/ammem/today/nov06.html
    1861 - Birthday of James Naismith (d. 1939) at Almonte, Ontario, Canada.  Canadian physical educator, physician, chaplain, sports coach and innovator, he invented the sport of basketball in 1891, the year following his immigration to the US. He wrote the original basketball rules, founded the basketball program at the University of Kansas, and lived to see basketball adopted as an Olympic demonstration sport in 1904 and as an official event at the 1936 Summer Olympics in Berlin.  He also saw the birth of both the NIT (1938) and the NCAA's Men's Division I Basketball Championship (1939) The Naismith Memorial Basketball Hall of Fame is named in his honor and he was an inaugural inductee in 1959.
    1865 - CSS Shenandoah is the last Confederate combat unit to surrender after circumnavigating the globe on its cruise that sank or captured 37 vessels.
    1868 - Red Cloud, a chief of the Oglala Sioux, became the first Native American to win territorial concessions from the federal government. After years of leading successful assaults against U.S. forts in the Powder River area of Montana, Red Cloud signed a treat at Fort Laramie. The treaty provided for the abandonment of Forts Reno, Kearny, and C.F. Smith.
    1869 - The first intercollegiate football contest in the world was played at Rutgers Field, New Brunswick, NJ. Captain William Stryker Gummere '70 of Princeton University (later Chief Justice of New Jersey) challenged Captain William James Leggett of Rutgers to a friendly game. Each team consisted of 25 men. The rules were that each goal constituted a game and that six games would decide the match, which lasted one hour. The first team to score six goals was Rutgers, while Princeton scored four.
    1885 – The US Mint at Carson City, NV was ordered closed.
    1887 – Walter Johnson (d. 1946) was born in Humboldt, KS.  Johnson was the dominant pitcher in the American League, for the Washington Senators (1907-27).  Nicknamed "Big Train" for the speed of his fastball, Johnson is the second-winningest pitcher in Major League history with 417, and had a career ERA of 2.17. In the decade of 1910-19, his ERA was 1.59!  For 55 years after his retirement, he was the MLB career strikeout leader with 3,508.  He had twelve 20-win seasons, including ten in a row, and he twice topped thirty wins.  Johnson's record includes 110 shutouts, the most in baseball history. Johnson had a 38–26 record in games decided by a 1–0 score; both his win total and his losses in these games are Major League records. Johnson also lost 65 games because his teams failed to score a run.  On September 4, 5 and 7, 1908, he shut out the New York Highlanders in three consecutive games.  Three times, Johnson won the Triple Crown for pitchers; twice won the AL MVP Award, a feat accomplished since by only two other pitchers, Carl Hubbell and Hal Newhouser.  He was among the Baseball Hall of Fame's charter class in 1939.  Ty Cobb:  "first time I faced him, I watched him take that easy windup. And then something went past me that made me flinch. The thing just hissed with danger. We couldn't touch him. ... every one of us knew we'd met the most powerful arm ever turned loose in a ball park."
    1888 - Benjamin Harrison of Indiana won the presidential election, beating incumbent Grover Cleveland on electoral votes although Cleveland led in the popular vote. Cleveland basically sat at the White House, thinking he had the election in the bag. He came back next term to take the presidency back. Levi P. Morton was elected Vice-President. The electoral vote was Harrison, 233; President Grover Cleveland, the Democratic candidate, 168. The popular vote was Harrison 5,444,337; Cleveland 5,540,050; Clinton B. Fisk, Prohibition candidate, 250,125; Alson J. Streeter, Union Labor candidate, 146,897; Robert H. Cowdrey, United Labor candidate, 2808. In congressional elections, the Republicans kept their 38-37 majority in the Senate and gained 14 seats in the House to take a 166-159 majority.
    1888 - Birthday of John George Taylor Spink (d. 1962), at St. Louis, MO. Sports publisher who inherited management of "The Sporting News" upon the death of his father in 1914. He made the weekly newspaper into the "Bible of Baseball," a trade paper of indispensable value to all those connected with the game. Spink was a baseball insider: his publication not only reported on what had happened, but also advocated what should happen.  The Sporting News endures today as an online publication:   https://www.sportingnews.com.
    1900 - President McKinley was re-elected, beating Democrat William Jennings Bryan. Theodore Roosevelt, Republican of New York, was elected Vice-President. The electoral vote was McKinley, 292; Bryan, 155. The popular vote was McKinley, 7,219,530; Bryan 6,358,071; John G. Woolley of Illinois, Prohibition candidate, 209,166; Eugene V. Debs of Indiana, Social Democratic candidate, 94,768; Wharton Barker of Pennsylvania, middle-of the road Populist, 50,232. In congressional elections, both major parties gained Senate seats from the minor parties, the Republicans taking a 55-31 majority, with four seats held by minor
parties. In the House, the Republicans led 197-151, with nine seats held by minor parties.
    1902 - Birthday of singer Juanita Hall (d. 1968), Keyport, NJ.  She is remembered for her roles in the original stage and screen versions of the Rodgers and Hammerstein musicals "South Pacific" as Bloody Mary - a role that garnered her the Tony award – and "Flower Drum Song" as Auntie Liang.  In 1950, she became the first African-American to win a Tony for Best Supporting Actress for her role in "South Pacific."
http://www.emusic.com/cd/10603/10603205.html
    1903 - Philippe Bunau-Varilla, as Panama's ambassador to the United States, signed the Hay-Bunau-Varilla Treaty. The document granted rights to the United States to build and indefinitely administer the Panama Canal Zone and its defenses. In 1999, the US returned control of the canal to Panama.
    1913 - Birthday of arranger/trumpet player Andy Gibson (d. 1961), born Albert Gibson, Zanesville, OH.
http://www.artistdirect.com/music/artist/bio/0,,435442,00.html?artist=
Andy+Gibson
    1916 - Bandleader Ray Conniff (d. 2002) birthday, born Joseph Raymond Conniff, Attleboro, MA.
    1917 – State of New York adopted a constitutional amendment giving women the right to vote in state elections.
    1921 - Piano player Jimmy Lyon (d. 1984) Birthday, Camden, NJ.  He accompanied singer Mabel Mercer for eight years and was noted as a performer of the music of Cole Porter, Jerome Kern, Richard Rodgers and other composers for the musical theater.
    1926 – Noted motivational sales guru Zig Ziglar was born Hilary Hinton Ziglar (d. 2012), Coffee County, AL.
    1928 - Herbert Hoover was elected President in a landslide Republican victory. Charles Curtis was elected Vice President. The electoral vote was Hoover, 444: Alfred E. Smith, Democratic candidate, 87. The popular vote was Hoover, 21,392,190; Smith, 15,016,443; Normal Thomas, Socialist candidate, 267,835; William Z. Foster, Workers' Party candidate 48,228; Vern L. Reynolds, Prohibition candidate, 20,106; Frank E. Webb, Farmer Labor candidate, 6391. In congressional elections, the Republicans increased their majorities in both houses, leading in the Senate 56-39, with one seat going to a minor party, and controlling the House 267-167, with one seat held by a minor party.
    1928 - Jacob Schick (1877-1937) patented the first electric razor.  He started the Schick Dry Shaver, Inc. razor company.  Schick became a Canadian citizen in 1935 to avoid an investigation by the Joint Congressional Committee on Tax Evasion & Avoidance after he moved most of his wealth to a series of holding companies in the Bahamas.
http://iavbbs.com/gflinn/schick.htm
    1929 - Pianist Francy (Francois) Boland (d.  2005) birthday, Namur, Belgium.  Moving to the US, he began arranging for Basie, Goodman, Herman, and Gillespie and set up an octet with drummer Kenny Clarke before returning to Europe and becoming Kurt Edelhagen's chief arranger.
http://www.jazzinbelgium.org/mus/boland.htm
http://jazzphotography.us/picsites/boland01.htm
http://www.allaboutjazz.com/reviews/r1002_062.htm
http://www.pricegrabber.com/search_getprod.php/masterid=535362401/
ut=0cea047573c75653
    1931 – Director Mike Nichols (d. 2014) was born in Germany.  He directed the 1967 classic "The Graduate" as well as the adaptation of Joseph Heller's novel "Catch-22." He also directed the mini-series "Angels in America" and the films "The Birdcage" and "Who's Afraid of Virginia Woolf?"  His third cousin twice removed is Albert Einstein.
    1934 - The first professional football game in which 10 touchdowns were scored took place at Temple Stadium, Philadelphia, PA, when the Philadelphia Eagles defeated the Cincinnati Reds 64-0. Three touchdowns each were made by Homer "Swede" Hanson and Joseph Carter and one each by Edward Matesic, Edward Storm, Marvin Ellstrom, and Roger "Red" Kirkman.
    1935 - Benny Goodman begins engagement at Congress Hotel, Chicago. Original one-month contract extended six months, ending May 23, 1936.
    1935 - Edwin H. Armstrong (1890-1954) announced his development of FM broadcasting. He has been called "the most prolific and influential inventor in radio history".  He invented the regenerative circuit while he was an undergraduate and patented it in 1914, followed by the super-regenerative circuit in 1922, and the superheterodyne receiver in 1918.
    1936 - Woody Herman's new band first records, Decca.
    1938 – The DiMaggio brothers – Vince, Joe and Dom - played together for the first time, at a charity all-star baseball game.
    1944 – Plutonium was first produced at the Hanford, WA nuclear facility and subsequently used in the Fat Man atomic bomb dropped on Nagasaki, Japan.
    1945 - Ensign Jake C. West in an FR-1 Fireball on the escort aircraft carrier "Wake Island" off San Diego, CA, made the first jet-propelled landing on an aircraft carrier. The Fireball, a Ryan-built Navy fighter plane, was powered by both turbojet and a conventional reciprocating engine, and normally used its reciprocating power plant for takeoff and landing, switching over to the jet as either an exclusive or a supplementary propulsive force once it was in the air. As West was landing, the reciprocating engine power failed, and he landed using jet power.
    1945 - Top Hits
"Till the End of Time" - Perry Como
"I'll Buy that Dream" - The Pied Pipers
"That's for Me" - Dick Haymes
"With Tears in My Eyes" - Wesley Tuttle
    1946 – Birthday of Edward J. DeBartolo, Jr., Youngstown, OH.  Pro Football Hall of Fame, Class of 2016.  Dynamic and creative owner of the San Francisco Forty Niners (1977-1998) who won five Super Bowls in 14 years, a record for owners.  From the early 1980s through the mid-1990s, DeBartolo presided over a team that had the most wins within a decade in football history.  DeBartolo's "family approach" to running the team changed the landscape of the NFL. Under it, "the players were what mattered" and that changed the face of the sport as other teams began to follow the 49ers' model. Today, owners have made their players partners, changing the traditional dynamic. Whenever there is a San Francisco celebration of the Team of the 1980s, despite the roars for Joe Montana, Jerry Rice, Ronnie Lott and the other stalwarts of those teams, the crowd's cheers for Eddie are raucous.  DeBartolo's care for his players extended beyond the field.  When safety Jeff Fuller suffered a spinal cord injury that ended his career, DeBartolo covered his entire medical and rehabilitation costs.  Niner great Dwight Clark contracted ALS, DeBartolo sent Clark to Japan in 2017 to bring back a three-month supply of the drug Radicava before it became available in the United States.  He also moved Clark and his family near his Montana home, where Clark passed away in 2018 after several reunions with former teammates, arranged by DeBartolo.
    1947 - "Meet the Press" premiers on TV. "Meet the Press" holds the distinction of being the oldest program on TV. The show has changed its format little since it began: a well-known guest (usually a politician) is questioned on current, relevant issues by a panel of journalists. The moderators throughout the years have included Martha Rountree, Lawrence E. Spivak, Ned Brooks, Bill Monroe, Marvin Kalb, Chris Wallace, Garrick Utley, Tim Russert, Tom Brokaw, David Gregory, and currently, Chuck Todd.
    1948 - Glenn Frey (d. 2016) of the Eagles was born in Detroit. Frey plays guitar, piano and keyboards and sang lead vocals on many Eagles hits such as "Take It Easy," "Peaceful Easy Feeling," "Tequila Sunrise," "Already Gone," "Lyin' Eyes," "New Kid in Town," and "Heartache Tonight." He has two solo hits that reach No. 2 on Billboard's Hot 100: "The Heat Is On" and "You Belong to the City."
    1948 - No. 1 Billboard Pop Hit: "Buttons and Bows," Dinah Shore.
    1949 - Trumpet player Arturo Sandoval born Havana, Cuba
http://www.panplayers.com/panpage1.htm
http://www.vervemusicgroup.com/artist.aspx?aid=2727
http://www.arturosandoval.com/Biography.asp
    1950 - *REEM, ROBERT DALE, Medal of Honor
Rank and organization: Second Lieutenant, U.S. Marine Corps, Company H, 3d Battalion, 7th Marines, 1st Marine Division (Rein.). Place and date: Vicinity Chinhung-ni, Korea, 6 November 1950. Entered service at: Elizabethtown, Pa. Born: 20 October 1925, Lancaster, Pa. Citation: For conspicuous gallantry and intrepidity at the risk of his life above and beyond the call of duty as a platoon commander in Company H, in action against enemy aggressor forces. Grimly determined to dislodge a group of heavy enemy infantry units occupying well-concealed and strongly fortified positions on commanding ground overlooking unprotected terrain, 2d Lt. Reem moved slowly forward up the side of the ridge with his platoon in the face of a veritable hail of shattering hostile machine gun, grenade, and rifle fire. Three times repulsed by a resolute enemy force in achieving his objective, and pinned down by the continuing fury of hostile fire, he rallied and regrouped the heroic men in his depleted and disorganized platoon in preparation for a fourth attack. Issuing last-minute orders to his noncommissioned officers when an enemy grenade landed in a depression of the rocky ground in which the group was standing, 2d Lt. Reem unhesitatingly chose to sacrifice himself and, springing upon the deadly missile, absorbed the full impact of the explosion in his body, thus protecting others from serious injury and possible death. Stouthearted and indomitable, he readily yielded his own chance of survival that his subordinate leaders might live to carry on the fight against a fanatic enemy. His superb courage, cool decisiveness, and valiant spirit of self-sacrifice in the face of certain death reflect the highest credit upon 2d Lt. Reem and the U.S. Naval Service. He gallantly gave his life for his country.
    1951 - Record snowfalls from the Texas panhandle to the Lower Great Lakes left record totals of 12.5 inches at Saint Louis, MO, and 14.1 inches at Springfield, MO. Other heavier snowfall totals included 20 inches at Nevada, MO, 13.5 inches at Sedan, KS, 13 inches at Decatur, IL, and 10 inches at Alva, OK. In the Saint Louis area, up to 20 inches was reported in Washington County.
    1953 - Top Hits
"Vaya Con Dios" - Les Paul & Mary Ford
"You, You, You" - The Ames Brothers
"Ebb Tide" - The Frank Chacksfield Orchestra
"I Forgot More Than You'll Ever Know" - The Davis Sisters
    1953 - An intense east coast storm dumped 27 inches of snow in the Pennsylvania mountains, 11 inches in Harrisburg, 8 inches in Philadelphia, 4 inches in Washington, D.C. and 3 at Richmond, VA. Winds gusted to 98 mph at Block Island, RI.
    1955 - Maria Owings Shriver birthday, Chicago, IL.  Former broadcast journalist ("Today"), former wife of former Governor of California, Arnold Schwarzenegger, Kennedy niece as she is the daughter of R. Sargent Shriver who married one of the Kennedy sisters.
    1956 - President Eisenhower was re-elected, beating Democrat Adlai E. Stevenson in a landslide. Eisenhower was the first Republican president to win reelection since William McKinley in 1900. Although Eisenhower carried 41 states, the Democrats retained control of both houses of Congress. The electoral vote was 457-74. The popular vote was Eisenhower, 35,387,015: Stevenson, 25,875,408. In congressional elections, the Democrats gained one Senate seat for a 49-47 majority. In the House, they gained one seat for a 233-200 majority.
    1956 - Allied forces took control of the Suez Canal with British and French parachute troops holding the Mediterranean key to the Suez Canal at Port Said.
    1959 - James Darren launched a second career as a singer when "Goodbye Cruel World" entered the Billboard chart, where it would reach #3.
    1961 - Strong Santa Ana winds fanned the flames of the Bel Air/Brentwood fires in southern California, destroying many homes. Burbank reported a relative humidity of three percent.
    1961 - Top Hits
"Big Bad John" - Jimmy Dean
"Fool #1" - Brenda Lee
"This Time" - Troy Shondell
"Walk on By" - Leroy Van Dyke
    1961 - Jimmy Dean's "Big, Bad John" becomes the 100th US number one single of the Rock and Roll era. It would prove to be his only chart topper, although he would have another top ten record with "P.T. 109" the next year. Jimmy wrote the song in an hour and a half, while flying to Nashville for a recording session.
    1962 - The first President with a brother in the Senate was John Fitzgerald Kennedy, whose brother Edward Moore Kennedy was elected to fill his unexpired term as senator from Massachusetts after he was elected President. 
    1965 - The Animals' "It's My Life" is released.
    1965 - Bill Graham, who will become one of rock's most powerful entrepreneurs, produces his first rock concert at the Fillmore Auditorium in San Francisco. The show features the Grateful Dead, Jefferson Airplane and the Charlatans.
    1965 - Cuba and the United States agree to start an airlift for Cubans who wish to live in the United States.
    1967 - "The Phil Donahue Show" premiered on TV. The forerunner of Oprah, Jerry, Montel, etc., this first talk show with audience participation went on the air at Dayton, OH. The first guest interviewed by host Phil Donahue was atheist Madelyn Murray O'Hair. In 1980, the program went national: it moved to Chicago in 1974 and to New York in 1985. In later years, the program was titled, "Donahue." After winning 19 Emmys Awards, the show left daytime TV in 1996. In 2002, he returned to the airways, but in the age of "realism" and "survival," and loyal followings for other popular talk shows, the show flopped. His fans had moved on.
    1968 - Richard Nixon was elected 37th President, defeating Hubert Humphrey.  The Democrats went through a grueling primary campaign. Eugene McCarthy, an early opponent of the war in Vietnam, almost upset President Johnson in the New Hampshire primary. This convinced Johnson not to run for re-election. At that point, Vice President Humphrey announced his candidacy for the nomination. A primary battle followed, with Robert Kennedy pulling into the lead until his assassination, and Humphrey was able to sew up the nomination. He was nominated on the first ballot at a tumultuous convention in Chicago. The rioting and the police actions outside the convention hall dominated the news coverage and did not get the Humphrey campaign off to a good start. Nixon began the campaign as the front runner, with a clear lead. He campaigned against rising crime and claimed he would restore "law and order." Nixon also instituted the Southern policy, taking advantage of Southern voters' resentments at civil rights legislation passed by the Johnson administration.  It successful received support from what had been a solidly democratic south. Toward the end of the campaign as Humphrey became more critical of Johnson's handling of the war, the lead narrowed. It did not narrow enough to stop a Nixon victory however.
    1968 - First day of San Francisco State College strike.  In 1968–69, there was a bitter student and Black Panthers strike at San Francisco State University in order to establish an ethnic studies program. It was a major news event at the time and chapter in the radical history of the US and the Bay Area. The strike was led by the Third World Liberation Front supported by Students for a Democratic Society, the Black Panthers and the countercultural community.  It proposed fifteen "non-negotiable demands," including a Black Studies department chaired by sociologist Nathan Hale independent of the university administration and open admission to all black students to "put an end to racism," and the unconditional, immediate end to the Vietnam War and the university's involvement. It was threatened that if these demands were not immediately and completely satisfied, the entire campus was to be forcibly shut down.  SFSU President S. I. Hayakawa became popular with conservative voters in this period after he pulled the wires out from the loud speakers on a protesters' van at an outdoor rally.  Hayakawa relented on December 6, 1968 and created the first-in-the-nation College of Ethnic Studies.
    1968 – Jerry Yang was born in Taipei, Taiwan.  The Co-Founder and CEO of Yahoo!  He and David Filo created in it 1994 while he was studying at Stanford University.  The original name was "Jerry's Guide to the World Wide Web," later renamed Yahoo!. At its height, it was one of the most popular sites in the United States.  According to third-party web analytics providers, Yahoo! was the highest-read news and media website, with over 7 billion views per month, being the sixth most visited website globally in 2016.  According to news sources, roughly 700 million people visited Yahoo websites every month.  Yahoo itself claimed it attracted "more than half a billion consumers every month in more than 30 languages."  Once the most popular website in the U.S., Yahoo slowly started to decline since the late 2000s, and in 2017, Verizon Communications acquired most of Yahoo's Internet business for $4.48 billion, excluding its stakes in Alibaba Group and Yahoo! Japan which were transferred to Yahoo's successor company, Alibaba.
    1969 - Top Hits
"Suspicious Minds" - Elvis Presley
"Wedding Bell Blues" - The 5th Dimension
"Baby It's You" - Smith
"The Ways to Love a Man" - Tammy Wynette
    1969 – Denny McLain of the Detroit Tigers and Mike Cuellar of the Baltimore Orioles finished dead even for the AL Cy Young Award and share the title. McLain posted a record 24-9 record with 181 strikeouts and a 2.80 ERA, while Cuellar was 23-11, 182, 2.38.
    1971 - The Atomic Energy Commission tested the largest U.S. underground hydrogen bomb, code-named Cannikin, in the Aleutian Islands off Alaska.   
    1972 - Deep Purple's "Machine Head" LP goes gold.
    1973 - Coleman Young elected mayor of Detroit, becoming one of the first of two Black mayors of city with over a million citizens.
http://www.e-portals.org/Young/young.htm
http://www.is.wayne.edu/mnissani/elephant/young.htm
http://www.cnn.com/US/9711/29/young.obit.pm/
    1973 - Thomas Bradley elected mayor of Los Angeles at a time when Blacks represented only 15% of the LA electorate, becoming one of the first two Black mayors of city with over a million citizens. http://www.rootsweb.com/~txrober2/TOMBRADLEY.htm
http://www.sfgate.com/cgi-bin/article.cgi?file=/chronicle/archive/
1998/09/30/MN27383.DTL
    1974 – Mike Marshall of the Dodgers became the first reliever to win a Cy Young Award, taking honors for the National League.  Marshall set Major League records with 106 appearances and 208 innings pitched in these days before the concept of closer.  By comparison, there are many starters today that do not pitch 200 innings.
    1975 - "Good Morning, America" premiered on TV. This ABC morning program, set in a living room, is a mixture of news reports, features and interviews with newsmakers and people of interest. It was the first program to compete with NBC's "Today" show and initially aired as "A.M. America." Hosts have included David Hartman, Nancy Dussault, Sandy Hill, Charles Gibson, Joan Lunden, Lisa McRee, Kevin Newman and Diane Sawyer.
    1976 – Pat Tillman (d. 2004) was born in Fremont, CA.  He left a 4-year NFL career to join the Army Rangers, leaving behind a nearly $4 million contract with the Arizona Cardinals.  He served several tours in combat before he died in the mountains of Afghanistan. At first, the Army reported that Tillman had been killed by enemy fire. Controversy ensued when a month later, on May 28, 2004, the Pentagon notified the Tillman family that he had died as a result of friendly fire; the family and other critics allege that the Defense Department delayed the disclosure for weeks after Tillman's memorial service out of a desire to protect the image of the U.S. armed forces.  Tillman was the first professional football player to be killed in combat since Bob Kalsu, who died in the Vietnam War in 1970. Tillman was posthumously awarded the Silver Star and Purple Heart medals.
    1977 - Top Hits
"You Light Up My Life" - Debby Boone
"Nobody Does It Better" - Carly Simon
"Boogie Nights" - Heatwave
"I'm Just a Country Boy" - Don Williams
    1980 - The Chinese government praised President-elect Ronald Reagan, calling him "moderate" and "pragmatic." China was also pleased with the fact that Ronald Reagan wants to be superior in military strength to the Soviet Union. The People's Republic of China also was happy that Reagan was pushing for a more powerful international image. At the same time, Reagan was recognized by this country for a stronger economy at home.
    1980 - After the death of drummer John Bonham, the remaining members of Led Zeppelin meet on the island of Jersey in the Channel Islands, along with manager Peter Grant, to decide what to do next. All four men agree the band would simply not be the same without Bonham, and decide to split up.   
    1982 - The Oscar-winning song from the movie "An Officer and a Gentleman," "Up Where We Belong" by Joe Cocker and Jennifer Warnes, lead the US hit parade. Although their contrasting styles complimented each other perfectly, the singers had never met each other until the day they recorded the song.
    1984 - Madeline M. Kunin, by a margin of 4,000 votes is elected governor of Vermont. Arlene Violet, a former Roman Catholic nun, becomes the first woman to be elected Attorney General of Rhode Island.
http://www.ed.gov/offices/ODS/kunin.html
http://www.amazon.com/exec/obidos/tg/detail/-/0517178605/qid=1068005260/sr=
1-1/ref=sr_1_1/104-6431180-5019133?v=glance&s=books
    1984 - President Ronald Reagan was re-elected. President Reagan faced no opposition to his re-nomination as the Republican nomination for President. Senator Walter Mondale, Jimmy Carter's Vice President was the front runner throughout the election campaign. His most serious opposition was Senator Gary Hart of Colorado, who ran on a theme of new ideas. A photograph with the married man on a boat named "Monkey Business" with Donna Rice threw him out of the race. On the personal level, Reagan won his debates with Mondale by using humor to successfully parry one of Mondale criticisms- that he was too old, by stating during the debate that he would not use age as issue- he would not criticize Mondale's youth and inexperience. Reagan won the election with an 18-point margin.
    1985 - Top Hits
"Part-Time Lover" - Stevie Wonder
"Miami Vice Theme" - Jan Hammer
"Head over Heels" - Tears For Fears
"Some Fools Never Learn" - Steve Wariner
    1986 - For the fall 1988 season, WOR-TV in Secaucus, New Jersey paid $182,000 per episode of "The Cosby Show." The price was a record for a syndicated show, beating previous marks of $80,000 per show for "Cheers."
    1986 - Seattle wide receiver Steve Largent catches a pass in his 128th straight game, breaking the NFL record for most consecutive games with a reception.
    1986 - Former Navy radioman John A. Walker Jr., was sentenced in Baltimore to life imprisonment. Walker had admitted to being the head of a family spy ring.
    1986 - U.S. intelligence sources confirmed a story run by the Lebanese magazine Ash Shiraa that reported the U.S. had been secretly selling arms to Iran in an effort to secure the release of seven American hostages.
    1986 – President Reagan signed an historic immigration bill that prohibits employers from hiring illegal aliens and offers legal status to many illegal aliens already in the United States. 
    1987 - High winds in the northeastern U.S., turning a recent warm spell into a distant memory, gusted to 63 mph at Rhode Island. Squalls resulting from the high winds produced five inches of snow at Marquette, MI and seven inches at Rome, NY. A storm in the southwestern U.S. brought heavy snow to some of the higher elevations of Arizona, Colorado and Utah.
    1988 - A powerful storm in the northern Great Lakes drops 2 feet of snow along the shore of Lake Superior and 3 feet in the Porcupine Mountains of Upper Michigan. Marquette established a November record with 17.3 inches in 24 hours.
    1989 - Unseasonably warm weather prevailed in the south central and southeastern U.S. Nine cities from Florida to Oklahoma and Texas reported record high temperatures for the date as readings warmed into the 80s. The high of 89 degrees at the Dallas/Fort Worth Airport in Texas equaled their record for November.
    1989 - In the hopes of freeing US hostages held in Iran, the US announced that it would unfreeze $567 million in Iranian assets that had been held since 1979.
    1993 - Meat Loaf had the number one song in the US with "I'd Do Anything for Love (But I Won't Do That)." It was the first we'd heard from him since his giant hit album, "Bat Out Of Hell" in 1977.
    1995 - Art Modell (1925-2012), the owner of the Cleveland Browns, announced plans to move the team to Baltimore.  He purchased the Browns in 1961 for $4 million, investing $250,000 of his own money.  Unlike the Browns' previous owners, Modell immediately took an active role in the management of the team and fired legendary coach Paul Brown on January 9, 1963.  By the 1990s, Modell was disturbed at what he saw as the financial distress of the Browns and the Stadium Corp.  The City of Cleveland's litigation and failure to build a new stadium, as they did for the baseball Indians, motivated Modell to look elsewhere, finding Baltimore in the process.  Recall that Baltimore lost its beloved Colts in the middle of the night when new owner Robert Irsay took them to Indianapolis.  The Browns became the Baltimore Ravens for the 1996 season.  Modell's ownership of the Ravens resulted in continual financial hardships, and the NFL stepped in and directed Modell to sell his franchise. In 2003, Modell sold the Ravens to minority owner, Maryland businessman Steve Bisciotti, still the owner.
    1996 – Michael Jordan scored 50 points in a game for the 29th time in his career.
    2002 - Citing Dusty Baker's reluctance to stay with the organization, an unhappy general manager Brian Sabean announces the Giant skipper of the last 10 years will not be back to manage in San Francisco next season. The NL pennant-winning skipper joins the Chicago Cubs, but after a losing season in 2006, is also let go.  Baker went on to manage the Cincinnati Reds (2008-13). He was then hired to manage the Washington Nationals beginning in 2016. On October 20, 2017, the Nationals announced that Baker would not return as the team's manager in 2018.
    2002 - New U.S.-Iraq resolutions were made. Concern arose about whether or not new negotiations between these two countries would upset Saddam Hussein, which would lead to war.
    2005 - A powerful F3 tornado struck Evansville, IN, taking the lives of 25 people and making it one of the deadliest single tornadoes on record. The tornado stayed on the ground for 41 miles and in places was as wide as 400 yards, causing extensive damage to parts of Evansville, Newburgh, and Boonville.
    2005 - The Four Seasons musical "Jersey Boys" opens on Broadway to rave reviews.  With music by Bob Gaudio, lyrics by Bob Crewe, and the book by Marshall Brickman and Rick Elice, "Jersey Boys" won four 2006 Tony Awards including Best Musical, and the 2009 Laurence Olivier Award for Best New Musical.  The film adaptation in 2014 was produced and directed by Clint Eastwood.
    2011 - In Washington, D.C., thousands protested the proposed Keystone XL pipeline project, which would carry Alberta oil sands crude through six U.S. states to Gulf Coast refineries.
    2012 - President Barack Obama was re-elected, defeating Republican opponent, Governor Mitt Romney.
    2014 – Recognizing shifting viewing trends, particularly among Millennials, CBS is moving to web-based programming by starting a 24-hour news streaming site, offering web access to its network for a monthly fee, and partnering with Sony to provide programs for a web-based TV service.
    2018 - Ilhan Omar (Minnesota) and Rashida Tlaib (Michigan) are the first Muslim women to be elected to the House of Representatives.  Sharice Davids (Kansas) and Debra Haaland (New Mexico) are the first Native American women to be elected to the House and Alexandria Ocasio-Cortez (NY) became the youngest person ever to be elected to the House of Representatives, at age 29.
-------------------------------------------------------------
SuDoku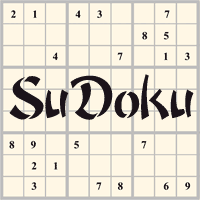 The object is to insert the numbers in the boxes to satisfy only one condition: each row, column and 3x3 box must contain the digits 1 through 9 exactly once. What could be simpler?
--------------------------------------------------------------

Daily Puzzle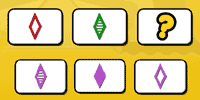 How to play:
http://www.setgame.com/set/puzzle_frame.htm
Refresh for current date:
http://www.setgame.com/set/puzzle_frame.htm
--------------------------------------------------------------


http://www.gasbuddy.com/
http://www.gasbuddy.com/GB_Map_Gas_Prices.aspx
http://www.gasbuddy.com/GB_Mobile_Instructions.aspx
--------------------------------------------------------------

Weather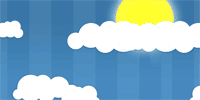 See USA map, click to specific area, no commercials
--------------------------------------------------------------

Traffic Live---
Real Time Traffic Information
You can save up to 20 different routes and check them out with one click,
or type in a new route to learn the traffic live
--------------------------------
Wordle
https://www.powerlanguage.co.uk/wordle/

How to Play
https://www.today.com/popculture/popculture/wordle-know-popular-online-word-game-rcna11056