Friday, August 24, 2012

Today's Equipment Leasing Headlines

Archives August 24, 2005
Royal Links is Not
Classified Ads---Collections
On Deck Secures Nearly $100 Million
in Credit Facility Commitments
New Hires---Promotions
Classified Ads---Help Wanted
CLP Spotlight - Shervin Rashti, CLP
Maxim Commercial Capital, LLC
Lessor of POS machines Snared in Class Action Suit
by Tom McCurnin, Esq.
Small banks continue to flee SEC following JOBS Act
By Harish Mali, SNL Financial
ELFA MLFI-25 Reports New Business Down
(all charts in report)
500 Registered for ELFA October 21 Conference
Attendee/Company List Now Available
1st Annual Operating Lease Conference, Istanbul, Turkey
---In English, simultaneously translated into Turkish
Leasing Schools/Franchisors
Financial and Sales Training
Yellow Labrador Retriever
Minneapolis, Minnesota Adopt-a-Dog
Red Hook Summer/Sparkle
The Pirates! Bank of Misfits/A New Leaf/Pursued
Movie/DVD Reviews by Fernando Croce
Classified Ads---Employment Web Sites
News Briefs
New home sales up 3.6% in July, match two-year high
Mortgages keep rising despite slump fears
'Food deserts' look ripe for Whole Foods stores
Broker/Funder/Industry Lists | Features (collection)
Top Ten Stories Chosen by Readers | Top Stories last six months

You May have Missed---
SparkPeople--Live Healthier and Longer
Sports Briefs---
Baseball Poem
California Nuts Brief---
"Gimme that Wine"
This Day in American History
SuDoku
Daily Puzzle
GasBuddy
Weather, USA or specific area
Traffic Live----

######## surrounding the article denotes it is a "press release" and was not written by Leasing News nor information verified, but from the source noted. When an article is signed by the writer, it is considered a "by line." It reflects the opinion and research of the writer. It is considered "bias" as it is the writer's viewpoint.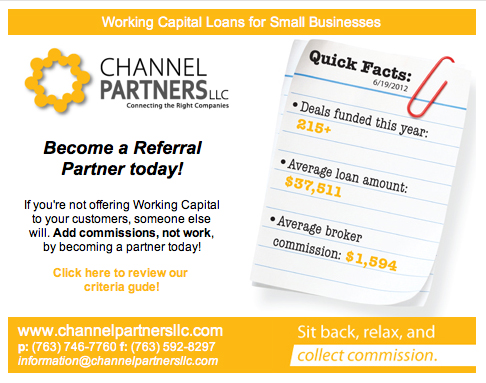 [headlines]
--------------------------------------------------------------
[headlines]
--------------------------------------------------------------
500 Registered for ELFA October 21 Conference
Attendee/Company List Now Available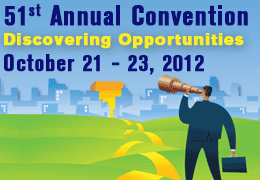 The Equipment Leasing and Finance Association reports 500 have registered to date for the 51st Annual Convention scheduled October 21 to 23 at the JW Marriott Desert Springs in Palm Desert, California.

To see who is attending, please go here:
http://www.elfaonline.org/Events/2012/AC/attnd_2.cfm
"New this year! Photos have been added to the full list of attendees.
"You can add a photo to your ELFA profile easily. Log in to the ELFA website with your username and password, then click on "Account Tools.' Upload a photo by clicking on 'Add/Edit Photo.'
"If you are already registered to attend the annual convention, your photo will appear on the list of attendees. If you plan to register to attend the convention, it is suggested that you upload a photo beforehand."
Complete details at:
http://www.elfaonline.org/events/2012/AC/

Attendees by name/by company
http://www.elfaonline.org/Events/2012/AC/attnd_2.cfm
(Other associations were contacted to learn their registration to date, but not response was received by press deadline. editor)

Why Choose Advanced Property Tax Compliance?


Dedicated to the leasing industry
click here to learn more.

Hear What Our Clients say about us
click here

Gary DiLillo, President 440.871.0555 or gary@avptc.com
[headlines]
--------------------------------------------------------------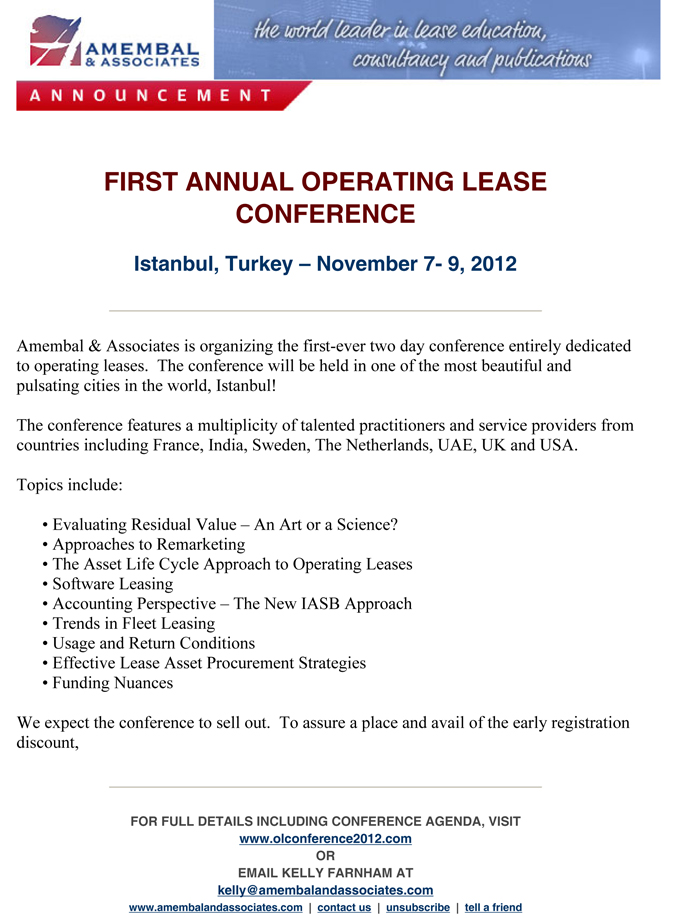 [headlines]
--------------------------------------------------------------
Leasing Schools/Franchisors
(For our "Financial and Sales Training" list, please click here)
(does not include those specifically employed in training or education, but who have a similar program as the following entities:)
------------------------------------------------------------------
Program cost: $19,950.00
In 2003, broker/lessor Global Leasing founder Phil Dushey created a new division to train independent salesmen in all the aspects of finance, including leasing ,accounts receivable financing, business acquisitions, debt restructuring, working and venture capital. His students have found great success and he spends most of his time now developing entrepreneurs, who also utilize his knowledge and sources of funds."
" We are not superbrokers and have never been one. Occasionally we will co-broker a transaction ,but generally we function as a lessor for our own accounts. 2. Our website address for our training is www.globalbrokersystems.com 3 When we train our students we do not have them send transactions through Global. We set them up to deal directly with the lenders. We also require that all lenders who work with our students will automatically approve them to do business with them. Also our current price for the program is $24,950 We also model our training program from the experience we have from being in the business for about 25 years that a broker needs to serve all of the financial needs of their clients ,whether it be equipment leasing ,factoring,acquisitions,SBA Loans or debt restructuring, we do it all."
Philip Dushey
Global Financial Services
17 State Street
New York NY 10004
Email
phil@globaleasing.com
Phone
212-480-4900
Mr. Dushay is also on the Leasing News Advisory Board
http://www.leasingnews.org/Advisory%20Board/Dushay_Phil.htm
----------------------------------------------------------------------------------------------------------
Lease One, Lynnfield, Massachusetts
Program Cost: $19,900.00
Since 1989 Lease One has been providing superior training along with unprecedented ongoing support to our broker network. With offices from coast to coast we proudly exhibit the foremost training experience available. Our one time initial investment will provide you with the training and support for the lifetime of your venture with no on-going fees (Hotel/Airfare/Materials/Leads are all included in this price).
"The Lease One Opportunity is the only turn key business opportunity that allows you to devote the time necessary to building a business, no need to worry about processing or underwriting your deals; we do it for you, forever! Our unique program is the only one that offers free marketing assistance along with a devoted graphics design department to enable you to creatively attract new customers to your business. Call us today or visit our website (www.leaseoneopportunity.com ) to learn more about this exciting opportunity. We are Lease One; It's the Lease we can do!"
Joseph L. Angelo Jr.
Lease One Corp.
220 Broadway, Suite 102
Lynnfield , MA 01940
www.leaseoneopportunity.com
---------------------------------------------------------------
Program Cost: $14,500
The training and support provided will allow individuals to establish their own independent brokering businesses. This program is not a franchise operation and therefore has no future royalty payments due. There is a one time upfront investment. The ongoing business expenses are determined by you.
A five day course taught by Scott Wheeler, CLP. There is no financial requirement or obligation with the application. Upon completing the pre-screening process and being accepted into the program you will be asked to sign an agreement with Wheeler Business Consulting LLC.
With over twenty-six years of leasing experience and an Executive Masters in Business Administration, Scott is an accomplished senior leasing executive with leadership qualities in marketing and operations. His extensive experience will benefit organizations looking to reach a higher level of profitability and corporate development.
Biography: http://wheelerbusinessconsulting.com/bio.html
Link to articles written by Scott Wheeler:
http://wheelerbusinessconsulting.com/recentarticles.html
Contact Information:
Wheeler Business Consulting LLC 1314 Marquis Ct.
Fallston, Maryland 21047
Phone: 410-877-0428
Fax: 410-877-8161
email: scott@wheelerbusinessconsulting.com

Website: www.wheelerbusinessconsulting.com
[headlines]
--------------------------------------------------------------
Financial and Sales Training
(For our "Lease School/Franchisors" list, please click here)
These individuals act as a consultant in 75% or more of their main business, actually training staff or individuals of a leasing company. These are not schools or franchisors, which can be viewed
by clicking here.
Several hold classes, and most will travel to their client's premise.
To qualify for this page, they must be an active member in an equipment leasing association.
Please fax our request form back to 408-317-2066 or you
may e-mail to: kitmenkin@leasingnews.org.
Second Column: YCS - Year Company Started | YELB - Years in equipment Leasing Business
Name
City, State
Contact
Website
Leasing Association

YCS
YELB
(see above for meaning)

Geographic Area

Specialty

1996
18

United States

Motivating, Educating and empowering leasing sales reps to top performance. Practical ideas for success using the telephone and internet.

1989

International

Highly results-driven, informative and enjoyable sales skills training programs that will leave participants empowered for bottom-line success. AMST guarantees a positive return on training time and investment.


2000
20

International

By leveraging people, process and technology, Selling Up guides the next step in revenue generation and elevates sales organizations into appreciating corporate assets.


Teichman Financial Training


Sausalito, California

Bob Teichman, CLP

BoTei@aol.com

415.331.6445

NAELB, NEFA

1998
43

International

"We specialize in the technical side of leasing, offering comprehensive training in packaging, credit, pricing, structuring, financial analysis and operations. Our clients include lessors, lessees, lenders, associations, and government agencies."

2008
26

USA

Provide multiple educational products to individuals and companies engaged in the leasing/financing industry. Encourage & facilitate personal and corporate strategy building to promote efficiencies, increase productivity & future success.

Winders Consulting Co., Inc.


Louisville, KY

Terry Winders, CLP

Leaseconsulting@msn.com

502-649-0448

ELFA, NAELB, NEFA

1991
35

USA

Lease seminars and training on rules & regulations pricing, documentation, sales. Also procedure audits, and help to establish a leasing activity or company for brokers, bankers, and captives.. Expert witness on legal & tax.
(A) Selling Up's Sales Management Operating System™ ( SMOS™) provides companies and business units of all sizes with a proven methodology and unique tools offering a comprehensive, flexible, scalable approach to managing all elements of the organizational sales process.
Send Leasing News to a Colleague. We are free!!!

[headlines]
--------------------------------------------------------------

[headlines]
--------------------------------------------------------------