Thursday, January 6, 2010

Today's Equipment Leasing Headlines
Reaction to Curt Ritter 2010 Leasing Person of the Year
Classified Ads---Collections/Controller
Operation Lease Fleece---2011 Update
by Christopher Menkin
December/November 2010 "The List"
Classified Ads---Help Wanted
Benchmark Financial Bulletin Board Complaint Update
ELFA Continues Lack of Notice Drive: Evergreen Clauses
New Hires---Promotions
True Grit/Tron: Legacy
Fernando Croce Movie/DVD Review
The Social Network/Buried/Raging Bull SE
AXIS Capital receives a majority equity investment
JDR Solutions/Sequent Asset Management Alliance
IDS Appoints Icon Michael Campbell as CEO
Santa Cruz, California Adopt-a-Dog
Kit's Birthday Present
News Briefs---
3rd guilty plea in EFI fraud case
TCF Bank Announces Mobile Banking/Check Enhancements
Furor over BofA's $2.8B mortgage settlement
Motorola gadget to make smartphones like computers
Broker/Funder/Industry Lists | Features (collection)
Top Ten Stories Chosen by Readers | Top Stories last six months
You May Have Missed---
Sports Briefs---
"Gimme that Wine"
This Day in American History
Football Poem
SuDoku
Daily Puzzle
GasBuddy
Weather, USA or specific area
Traffic Live----

######## surrounding the article denotes it is a "press release" and was not written by Leasing News nor information verified, but from the source noted. When an article is signed by the writer, it is considered a "by line." It reflects the opinion and research of the writer. It is considered "bias" as it is the writer's viewpoint.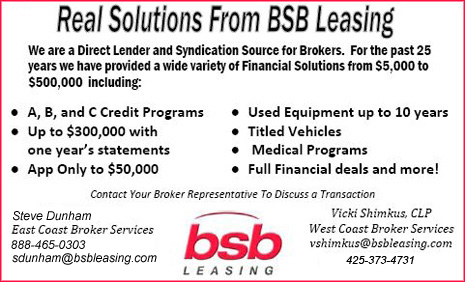 [headlines]
--------------------------------------------------------------
Reaction to Curt Ritter 2010 Leasing Person of the Year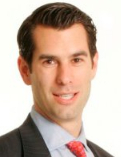 C. Curtis Ritter
CIT Vice President
Director of External and Internal Communications
& Media Relations

First, from Curt Ritter:

" Wow! Don't know what to say – appreciate the recognition."

From: Kyle Gilliam, CLP

"Great choice on naming Curt Ritter as the leasing person of the year. More so than ever, it is very important that the general public have confidence in our financial institutions as our nation continues to rebound from the recession of late.
"His role at CIT gives him that very platform we need as our industry continues to be faced with many challenges in the coming years."

Kyle W. Gilliam, CLP
President
Arvest Equipment Finance
Office: 479-573-1651
1-866-745-1487
www.arvestleasing.com

From Chris Broom:

"He did an admiral job in maintaining transparency and effective communication thru a challenging time period."
Chris Broom
Chairman
Direct Capital
From Ed Castagna:

"CIT is a great example of everything that happened to the leasing business leading up to and including 2010.
"Recognizing the individual who weathered the CIT storm while communicating openly with the Leasing News is an excellent choice. He's the perfect example to others who don't currently open up to Leasing News.
"Bravo!"
Edward Castagna
President
Nassau Asset Management
www.nasset.com
516-345-6301 (direct)
516-297-7775 (cell)
A time and place to present Mr. Ritter with his award has not been chosen.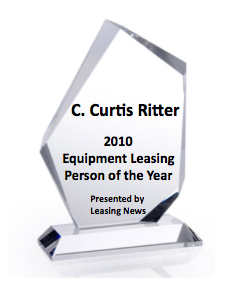 [headlines]
--------------------------------------------------------------

Classified Ads---Collections/Controller
(These ads are "free" to those seeking employment
or looking to improve their position)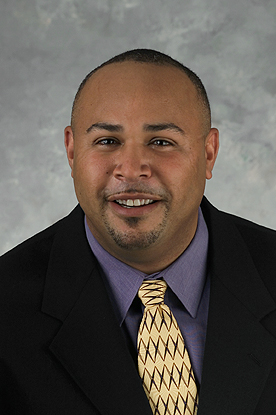 Seattle, WA
16 years experience small-ticket market; collections management, bankruptcy, litigation; strong vendor network; CLP Certification 2000- Pinnacle Capital since 2003, previously Irwin Business Finance, Financial Pacific westongerry@gmail.com
Resume

Chicago, IL
experienced in lease accounting, operations, management, and Sarbanes-Oxley. Seeking position with equipment lessor. Would consider contract assignments or relocating.
Email: leasecontroller@comcast.net

Southeastern, MI
Controller & Management experience w/ equip lessors &broker. MBA, CPA w/ extensive accounting, management, securitization experience with public and private companies. Willing to relocate.
Email: Leasebusiness@aol.com
Acton, MA
Strong experience in lease accounting, operations, & systems.
Implemented lease plus, Great Plains, networks.
Excellent financial reporting and analysis skills. Looking for new opportunity.
LinkedIn
alexanderzlenz@gmail.com| Resume
Southern CA
20 years exp. as hands-on leasing CFO, managing accounting, treasury, FP&A, including securitizations, Great Plains/FRx, budgets, risk management. MBA. Also available as interim Controller/CFO, consultant.
Email: leasecfo@gmail.com
Free Posting for those seeking employment in Leasing:
http://www.leasingnews.org/Classified/Jwanted/Jwanted-post.htm
All "free" categories "job wanted" ads:
http://www.leasingnews.org/Classified/Jwanted/Jwanted.htm


[headlines]
--------------------------------------------------------------

Operation Lease Fleece---2011 Update
by Christopher Menkin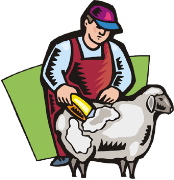 November 27 2007, the FBI investigation dubbed "Operation Lease Fleece" originally indicted over 23 in their roles in a fraud scheme that allegedly caused more than $20 million in losses to several lending institutions that believed they were financing equipment leases. Many were disguised "sale/leasebacks" or leases that exceeded the "soft costs" such as software and installation. Many were on ghost equipment. The indictments are close to 30 now.

In view of recent events such as Allied Health Care Services $83 million, Equipment Acquisition Resource $150 million and Wildwood Industries $200 million, the dollar amounts are small numbers for leasing frauds today.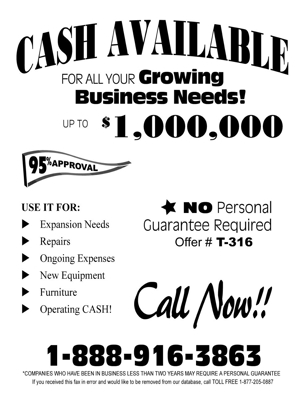 (Copy of fax sent out to prospects)
There have been a few more indictments which appear to strengthen the US Attorney's case against Shant (Chant) Vartanian, president of ISystems Technology and Solutions, 3650 East Olympic Boulevard, Los Angeles, California, and his brother, Sarkus Vartanian, Vice-President, Marketing, as individuals. They are reportedly still in business, as well as working with several Southern California leasing companies. One company allegedly working with the Vartanian brothers is owned by the top salesman for CapitalWerks for five years, now a CLP and National Association of Leasing Broker's Best Practice Broker.
Their Jury Trial was continued to April 5, 2011 at 09:00 AM before Judge Cormac J. Carney. Status Conference continued to 3/28/2011 at 09:30 AM before Judge Cormac J. Carney.
The alleged three ring leaders, who have already plead guilty have sentencing this year, postponed from the last two years as the case was considered "on going."

Mark McQuitty, CapitalWerks, has had his sentenced continued several times and the latest from Pacer has him scheduled for January 10th, 2011, this Monday, at 10:00 AM before Judge Cormac J. Carney. It will not come as a surprise if it is continued to a further date.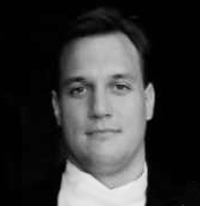 James Reader, CapitalWerks hearing continued to April 11, 2011 at 11:00 AM before Judge Cormac J. Carney.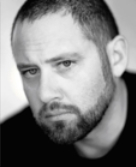 Adam Zuckerman sentencing was continued to July 11, 2011, the furthest date of those who have pled guilty. His story in Leasing News notes the Vartanian's involvement.
http://leasingnews.org/archives/Oct2010/10_12.htm#unpublished
Jennifer L Waier has remained the lead attorney for the US Attorney General's office out of Santa Ana, California. It is the US Attorney policy not to comment on active cases before the court.
For football fans, Hon. Cormac J. Carney, has been the same judge handling the cases for over three years.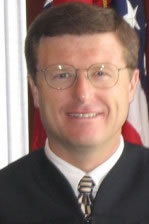 He is perhaps best known as a UCLA Football wide receiver Rose Bowl MVP, who after graduating from UCLA, played one season with the Memphis Showboats of the United States Football League. He reportedly passed up San Francisco 49er overtures so he could attend Harvard Law School on an NCAA Post-Graduate Scholarship. (1)
(1) Hon. Cormac J. Carney: Operation Lease Fleece judge:
http://www.leasingnews.org/archives/June%202008/06-27-08.htm#judge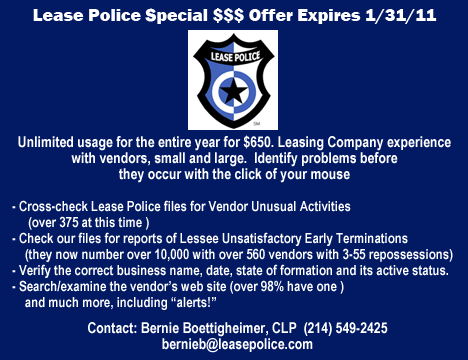 (Leasing News provides this ad "gratis" as a means
to help support the growth of Lease Police)
[headlines]
--------------------------------------------------------------

December/November 2010 "The List"
--- Mergers, Acquisitions & Changes
"The Good, the Bad and the Ugly"-
Icon Capital, New York, NY (12/10) $23 million bid for Equipment Acquisition Resource real estate collateral in Wyoming is only bidder.
http://leasingnews.org/archives/Dec2010/12_30.htm#icon
Equipment Acquisition Resources, Palatine, Illinois (12/10) BK trustee are still seeking $1.785 million from Wynn casinos, $471,000 from the Rio, $236,500 from the Luxor, and $30,000 from Harrah's. There are other casinos, according to court documents, $4.3 million in payments to the Horseshoe Casino in Hammond, Ind., $584,000 in payments to the Ameristar Casino in East Chicago, Ind., and $30,000 to the Palms hotel-casino in Las Vegas.
LEAF Financial, Philadelphia, Pa. (12/10) Puts spin on securitization. Doesn't explain leaf is down to about 15 in staff in Collections and another 5 in Litigation within Jim Grant´ Collections and Litigation department; that's about 1/3 of staff left. (12/10) If "commercial finance is " Leaf, they are showing a -81% decrease in revenues from $9,805M to $1,853M; and a loss of -$2,493M from a gross profit of $4,690M (before G&A expenses) for the same 2009 quarterly period last year. (12/10) 2009 SEC LEAF filings showed 377 employees; February down to 271; reportedly to 113 in July, closes down LEAF Specialty, 80 in Missouri, should be enough indication as to who is left at LEAF Financial in Philadelphia
First Trillion, Columbia, SC (12/10) Dwight Galloway announces deal with his LEAF Specialty Finance staff has fallen apart. The investor was predicating all in acquiring a bank which would add the product of leasing with Dwight Galloway and his group bring small ticket leasing, which was a plus, but evidently outbid.
Sterling Financial, Lancaster, PA (12/10) Former EFA Sr. VP Michael Schlager to plead guilty (12/10) EFI Chief Operating Officer Joseph Braas and EFI Secretary-Treasury Mary Stankiewicz plead guilty. (11/10) Indicts eight and lays out how they did it. http://leasingnews.org/PDF/FactualBasisforthePlea.pdf
http://leasingnews.org/archives/Nov2010/11_22.htm#scam
Marlin Business Services, Mount Laurel, NJ (11/10) "Evergreen" is Marlin's Third Quarter.
http://leasingnews.org/archives/Nov2010/11_10.htm#marlins_3rd
First Premier Capital, Edina, Minnesota (11/10) ordered to pay $5.62 million in a "representation and warranty" case regarding Equipment Acquisition Resources, Palatine, Illinois.
Chronological Up-Dates:
http://www.leasingnews.org/list_chron_new.htm
Alphabetical Order
http://www.leasingnews.org/list_alpha_new.htm
[headlines]
--------------------------------------------------------------

Leasing Industry Help Wanted


Sales Manager – Houston Office
5 years+ equip fin/leasing experience
Player/Coach 3-4 Rep's, Energy Experience+
Must have track record of overachievement

Controller – So California Office
AR, AP,Tax,Fin-Statement Prep/Internal Controls
Treasury Mgmt/Lease Acct and IT knowledge all++

Please submit resume to mcurtis@firstncc.com

FIRST NATIONAL CAPITAL CORPORATION Is the 5th Largest Privately Held Equipment Finance Company In the United Stateswww.firstncc.com

Transportation Focused Company seeks Credit Manager. Knowledge of automated scoring as well as
subjective credit underwriting a must.
Compensation commensurate with experience.
Located in the Inland Empire, please email
wdalton@crlease.com
Please see our Job Wanted section for possible new employees.

[headlines]
--------------------------------------------------------------

Benchmark Financial Groups Bulletin Board Complaint Up-date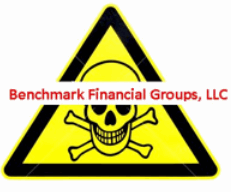 Benchmark First Web Site:
http://www.benchmarkfg.info/

This involves Benchmark Financial Groups, Aliso Viejo, California with a BBB "F" and eight complaints:
"I wanted you to be the first to know that the Orange County California Superior Court issued a judgment today against Benchmark Financial Groups, LLC, Aliso Viejo California in a case brought by Kennon Products, Inc of Sheridan, Wyoming. The court found that Benchmark collected payments on a lease that never existed."

(Kennon's President Ronald Kensey started a web site www.benchmarkleasinglosers.com to compile stories from small businesses who have allegedly been victimized by Benchmark. Based on his company's own experience and the number and severity of complaints by other small businesses, Kensey is calling on the State of Wyoming and the Federal District Attorney to conduct a full fledged criminal investigation of the company so that other small businesses won't fall victim to fraud and abuse).
"I didn't mind traveling from Wyoming to Orange County and I would do it again, only next time I hope it is for a criminal trial.
"Keep in touch."

Ronald J. Kensey, President
Kennon Products, Inc
www.kennonproducts.com
Office 307-674-6498
Cell 307-751-1125

Previous Leasing News Bulletin Board Complaints
Benchmark Financial Groups, LLC, Aliso Viejo, CA
http://leasingnews.org/archives/Dec2010/12_08.htm#bbc_bench
Benchmark Financial Groups, LLC, Aliso Viejo, CA
http://www.leasingnews.org/archives/Apr2010/4_07.htm#bbc_benchmark
Benchmark Financial Groups, LLC, Aliso Viejo, CA
http://leasingnews.org/archives/December%202009/12-29-09.htm#bbc
Benchmark Financial Groups, LLC, Aliso Viejo, CA
http://leasingnews.org/archives/December%202009/12-14-09.htm#benchmark
Benchmark Financial Groups, LLC, Aliso Viejo, CA
http://leasingnews.org/archives/September%202009/09-24-09.htm#Bulletin1
Benchmark Financial Groups, LLC, Aliso Viejo, CA
http://leasingnews.org/archives/September%202009/09-24-09.htm#Bulletin2
Benchmark Financial Groups, LLC, Aliso Viejo, CA
http://www.leasingnews.org/archives/June%202009/06-10-09.htm#BulletinBoard
Benchmark Financial Groups, LLC, Aliso Viejo, CA
http://www.leasingnews.org/archives/April%202009/04-06-09.htm#bbc
[headlines]
--------------------------------------------------------------

ELFA Continues Lack of Notice Drive: Evergreen Clauses



(These companies who report to the ELFA MFI-25 participants (there are 31, but that is what they started with and make comparisons) appear to support not notifying leases about a purchase option, meaning if not paid, they continue the payments. Marlin Leasing does this as noted in their SEC filings. The other companies most likely follow or approve or perhaps at worst, turn the other way, but the fact is they support this unethical practice of extending leasing payments on small leases, not notifying the end of the original lease term, even when they are a $1.00 purchase option, as noted in many Leasing News complaints.
That the Leasing Industry polices itself is ridiculous. It is "whatever we can get away with!"
1- ADP Credit Corporation
2- Bancorp South Equipment Finance
3- Bank of America
4- Bank of the West
5- BB&T
6- Canon Financial Services
7- Caterpillar Financial Services Corporation
8- CIT
9- De Lage Landen Financial Services
10- Dell Financial Service
11- EverBank Commercial Finance
12- Fifth Third Bank
13- First American Equipment Finance
14- GreatAmerica
15- Hitachi Credit America
16- HP Financial Services
17- John Deere Financial
18- Key Equipment Finance
19- M&I Equipment Finance
20- Marlin Leasing Corporation
21- Merchants Capital
22- National City Commercial Corp.
23- RBS Asset Finance
24- Regions Equipment Finance
25- Siemens Financial Services
26- Stearns Bank
27- Susquehanna Commercial Finance, Inc
28- US Bancorp
29- Verizon Capital Corp
30- Volvo Financial Services
31- Wells Fargo Equipment Finance
Christopher Menkin, editor)
from Equipment Leasing and Finance Association Advocacy Center
"Louisiana Automatic Renewal Law Effective January 1, 2011
"Louisiana 2010 Act No. 906 (formerly SB 802 / SB 618) applies to all sales or leases of products or services to a "consumer" (an undefined term which includes commercial transactions) where the contract automatically renews unless the customer cancels, entered into on or after January 1, 2011. Lessors should review exemptions in the law to determine if this new statute is applicable to your transactions; ELFA maintains a members only (login required) list of the State Laws Regulating Automatic Renewal Clauses on the ELFA Advocacy State Issues page.
"Lessors are required to disclose an automatic renewal clause "clearly and conspicuously" in the contract, and provide clear and conspicuous disclosure of cancelation procedures either in the initial contract or upon delivery of the products or services. Unlike the laws passed in New York, Rhode Island, and Wisconsin, the Louisiana law does not require the lessor to give notice to the lessee of an upcoming deadline wherein the contract will be renewed for an additional period if the customer does not exercise one of their end-of-term options.
"ELFA successfully advocated for exemptions that included "leasing companies" in the list of exempt financial institutions in the second exemption in Section D provided below but it was removed on the House Floor due to complaints from farmers regarding short-term rentals from agricultural equipment dealers. Also, some questions about the application of Act 906 exist around the interpretation of the remaining entities in that exemption. ELFA members uncertain about applicability of the exemption language to your company should confer with legal counsel. The exemption language reads as follows:
"D. The provisions of this Section shall not apply to the following:
"(2) Banks, trust companies, savings and loan associations, savings banks, credit unions, finance or credit companies, industrial loan companies, or any other financial institution licensed or organized under the laws of any state or the United States, or any foreign bank maintaining a branch or agency licensed under the laws of the United States, or any subsidiary or affiliate thereof.
"A violation resulting in a termination of the contract or renewal clause, failure to comply with the disclosure requirements will revise the contract "to a thirty (30) day renewal in accordance with the same terms". The law applies only prospectively to contracts entered into on or after January 1, 2011."
http://capwiz.com/elfa/home/LAact906effective

[headlines]
--------------------------------------------------------------

New Hires---Promotions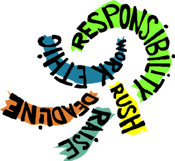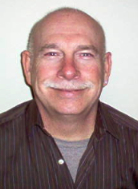 Ray Peabody was promoted to Vice-President at Bank of the West, Managed Services Group, Portland, Oregon. He will continue his current position as IT Program Manager.
With 30 years experience in developing and maintaining business software applications, he joined Bank of the West May, 2007. Previously he spent 11 years as the applications and systems programming manager for Portfolio Financial Servicing Company covering automated payment processing, invoicing, contract booking, collection analysis, securitization reporting, credit bureau reporting and new client data conversions. He worked with company and client management teams to customize software applications to meet specific servicing requirements. Ray received his BA degree in Business from Washington State University in Pullman Washington.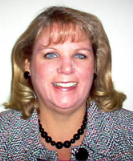 Lynda Wilson was promoted to Vice-President at Bank of the West, Managed Services Group, Portland, Oregon.
She will continue her current position as Operations Manager.
Prior to joining Bank of the West May, 2007, she worked in the leasing industry for 20+ years. Previously she worked for U.S. Bancorp Leasing & Financial and Portfolio Financial Servicing Co. Lynda's primary focus during the last 10 years has been on new client conversion/implementation and on-going day to day operations. Lynda attended Boise State University in Boise, Idaho.


[headlines]
--------------------------------------------------------------

Fernando's View
By Fernando F. Croce
A Jeff Bridges double-feature fills theaters with rousing Western action ("True Grit") and sci-fi thrills ("Tron: Legacy"), while DVD watchers can catch up with critically-acclaimed hits from both the present ("The Social Network") and the past ("Raging Bull").
In Theaters:
True Grit (Warner Bros.): Best known for their mordant crime tales, Oscar-winning filmmakers Ethan and Joel Coen ("No Country for Old Men") play it affectingly straight in this stirring remake of the classic 1969 Western. Playing grizzled, drunken frontier marshal Rooster Cogburn (the role that won John Wayne his only Oscar), Jeff Bridges dons a deceptively bumbling eyepatch in his journey to help Mattie (Hailee Steinfeld, in one of the year's breakout roles), a willful girl looking for revenge after the killing of her father. But will their mission lead to vengeance, or to something deeper and sadder? Wondrously shot and featuring a gallery of memorable performances, this is a sturdy old-fashioned Western, and one of the Coen brothers' finest, most loving achievements.
Tron: Legacy (Walt Disney Motion Pictures): The second half of this week's Jeff Bridges double bill finds the versatile actor returning to his role as Kevin Flynn, the arcade specialist who, in 1982's "Tron," found himself trapped inside a dazzling but dangerous video-game world of his own making. Nearly thirty years later, it's his son Sam (Garrett Hedlund) who's teleported to a universe of gladiatorial grids and motorcycle duels, where a computer version of his father rules with an iron hand and an eye towards our world. Taking full advantage of Disney Studios' most cutting-edge technology, director Joseph Kosinski creates some of the most breathtaking uses of 3-D effects yet. Visually striking and brimming with edge-of-your-seat sequences, it's a prime example of digital eye-candy.

Netflix Tip: With the death of writer-director Blake Edwards (1922-2010), cinema has lost one of its last creators of classical comedy. Pay tribute to this comic master with a visit to Netflix, which has not only his most famous movies ("The Pink Panther," "The Party," "10"), but also many others ("Days of Wine and Roses," "Darling Lili," "Gunn," "Micki & Maude") waiting to be rediscovered.
The Social Network (Columbia Pictures): A tale of irony and human emotion is the last thing one would expect from the director of "Seven" and "Fight Club," yet that's precisely what David Fincher has delivered in this first-rate comedy-drama, easily one of the best films of the year. Based on real-life accounts, it follows the unlikely rise of Mark Zuckerberg (Jesse Eisenberg), who, starting in 2003, would go from wise-guy Harvard grad to an instant celebrity and billionaire with the invention of the Facebook network for fellow bloggers. But will Zuckerberg's chutzpa be enough to keep him ahead of the personal and legal troubles that come with fame and fortune? With fierce style, wit and a razor-sharp young cast, Fincher's film is rich and smart entertainment.
Buried (Lionsgate): What to do when you wake up six feet under the earth? That's the question at the center of this crafty, clever thriller, which uses a very claustrophobic situation as the jumping-off idea for a visceral experience. The story follows Paul Conroy (Ryan Reynolds), a U.S. contractor working in Iraq. In the wake of an insurgent skirmish, he finds himself trapped inside a box buried somewhere in the desert. With only a lighter and a cell phone as his companions, he desperately scramblers to find a way out, and in the process makes astonishing discoveries. Will he make use of them before his oxygen runs out? Director Rodrigo Cortes creates an inventive drama that makes full, suspenseful use of its simple yet disturbing premise, and offers an excellent performance by the underrated Reynolds.
Raging Bull: Special Edition (MGM): Following the 1970s success of "Mean Streets" and "Taxi Driver," director Martin Scorsese cemented his reputation as his generation's most arresting filmmaker with this 1980 masterpiece, which opened the new decade in grand style. It tells the real-life story of Jake LaMotta (Robert De Niro in an Oscar-winning performance), a 1940s boxer whose personal life was even more brutal than his bouts in the ring. Through his stormy relationships with his brother (Joe Pesci) and wife (Cathy Moriarty), the film depicts a man both driven and destroyed by the violence that made him famous with sports fans. Showcasing impeccable period detail, astonishingly visceral camerawork and career-peak performances by all, this is a genuine classic that, difficult as it may often be to watch, should be watched by anyone seriously interested in film.
[headlines]
--------------------------------------------------------------

### Press Release ############################
AXIS Capital Inc receives a majority equity investment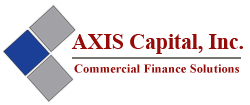 AXIS Capital Inc. ("AXIS" or the "Company"), a leading independent small and mid-ticket equipment leasing and management company, announced today that it has received a majority equity investment from an investor group led by Amur Capital Management LP ("Amur"), an asset management firm specializing in the transport and commercial finance industries. In addition to acquiring an equity position, the Amur led group injected capital into the Company for the origination of new small and middle ticket leases from vendors and customers and the purchase of additional lease portfolios.
Concurrent with the above transaction, AXIS has purchased a $40 million receivable portfolio from another leasing company and has renewed a pre-existing credit facility with WestLB AG.
"We are thrilled to welcome the Amur led group as our new partner. This transaction allows us to significantly increase our commitment to the equipment leasing industry both as a principal and as a third-party manager. We look forward to leveraging our strong capital position and our partners' expertise in order to take advantage of attractive growth opportunities and to enhance our presence in the industry," stated Gordon Glade, President & Chief Executive Officer of AXIS.
Mostafiz ShahMohammed, Founder & Managing Partner of Amur, added "We are excited to partner with AXIS as we believe the Company is well-positioned for further growth given its experienced management team, high quality asset base, excellent customer relationships, and deep industry contacts. This transaction also allows us to further strengthen our relationship with Ingleside Investors and LBCW Holdings, two highly reputable family offices, who are partnering with us in this investment."
ABOUT AXIS
AXIS Capital, Inc., headquartered in Grand Island, NE, with offices in Omaha, NE and on Long Island, NY, is a nationwide provider of commercial finance solutions to both companies and government entities focusing on small to medium ticket transactions. Partnering with equipment manufacturers, vendors and distributors, AXIS Capital, Inc. provides a diverse program of commercial finance solutions in a wide range of industries. In the last 18 months, AXIS has purchased over 15 small and middle ticket equipment lease/loan portfolios from various lessors and banks. AXIS also provides 3rd party servicing for 18 different financial institutions/lessors and is looking to expand its platform in 2011.
ABOUT AMUR
Amur is a New York based investment firm founded in mid 2008 by Mostafiz ShahMohammed and Cecilia Park, former managing directors of UBS Investment Bank, who ran UBS' global transport finance and non-mortgage structured asset finance businesses. Amur specializes in the transport and commercial finance industries.

Gary DiLillo, President 216-658-5618 or gary@avptc.com

To learn more about the benefits of
outsourcing personal property tax, please click here.

[headlines]
--------------------------------------------------------------

#### Press Release #############################
JDR Solutions and Sequent Asset Management Announce
Strategic Alliance

JDR Solutions and Sequent Asset Management have formed a strategic alliance to provide a complete range of portfolio and asset management services to the financial services industry. JDR will provide all portfolio management and servicing functions and Sequent will provide late stage collection, repossession and remarketing. Alan Zeppenfeld has been appointed program manager for the alliance and will be doing business development for both firms.
According to John Schaffner, JDR Solutions CEO, "This alliance will enable JDR to provide full service to our existing customers and expand our market penetration. We are very pleased to have Sequent as our partner".
Ross Reida, Sequent President, commented "Sequent is vey proud to be associated with one of the premier portfolio servicers. The JDR team is excellent to work with and we look forward to joining with them to provide world class servicing to the financial services industry".
JDR Solutions is based in Indianapolis and specializes in delivering customized front-end and back-office lease portfolio administration, consulting and Application Service Provider (ASP) services to lessors, banks, manufacturer captives and other financial institutions. The company provides services to clients in North America, Europe and Asia, including Fortune 500 companies, and is approaching $8 billion in assets under management.
Sequent Asset Management, "The Lenders Advocate", is based in Vancouver, WA and provides collections support, collateral recovery and re-marketing services to banks, credit unions, leasing companies and captive finance companies nationwide. Sequent also performs a wide range of portfolio management functions, equipment appraisals, asset liquidation services, collateral inspection services and appraisals.
Contact:
Alan Zeppenfeld
678.828.8135
Alan.Zeppenfeld@jdrsol.com
[headlines]
--------------------------------------------------------------

#### Press Release #############################

International Decision Systems Appoints Software
Industry Veteran Michael Campbell as CEO



New IDS CEO has extensive entrepreneurial experience and successful background with Fair Isaac & SAP
Minneapolis, MN -- International Decision Systems (IDS), the leading provider of asset finance software, announced today that Michael Campbell will assume the role of Chief Executive Officer, replacing the current Interim CEO, Tom Thomas, with immediate effect.
Mr. Campbell brings over 27 years of software development and technology experience to IDS. His exceptional executive management background includes his most recent role at Fair Isaac, where he was Executive Vice President and Chief Operating Officer. At Fair Isaac he led global sales, strategic partnerships and professional services. His role encompassed the direct management of customer relationships globally and total company revenues. He also played a key role in directing product strategy.
Previously, Mr. Campbell had extraordinary success as an entrepreneur, founding Campbell Software in 1989, the company being twice recognized by Inc. Magazine for company growth. Mr. Campbell led his organization through its acquisition by SAP in 1999. He then assumed senior roles within SAP through to 2001, when he became Sr. Vice President and General Manager of SAP America.
Nicholas E. Somers, the Chairman of the IDS Board and Managing Partner of SV Investment Partners, the private equity owner of IDS, said "Michael Campbell brings tremendous industry knowledge and business acumen to IDS. His experience and background are a perfect fit as we continue to grow IDS and broaden its product offerings to our expanding client base." Mr. Somers continued, "We want to give extended thanks to Tom Thomas for stepping into the role as Interim CEO over the last number of months. His efforts were instrumental in helping us to the point where Michael Campbell can inherit a healthy, vibrant and productive company. We wish Tom the very best for the future."
Mr. Thomas said, "I could not be more pleased to see IDS leadership pass to Michael Campbell. His background, experience and proven track record demonstrate the kind of focus and knowledge that customers and employees will benefit from throughout the coming years."
Mr. Campbell said, "2011 is going to be a great year for IDS. I am deeply impressed with the industry-leading knowledge and expertise within the company. As I look to the future, I couldn't be more optimistic about our opportunities to grow the company and continue to support our customers with the great products they have come to expect from IDS."

About IDS:
IDS is the leading provider of software and solutions for the equipment finance market. For over 30 years, the company has offered integrated solutions from origination through disposition and asset management, supported by an ongoing research and development effort unrivaled in the market space. Customers include approximately 50% of the largest leasing companies in the United States, and an increasing number of the largest global players. In addition to offering powerful, flexible software, IDS provides the industry experience and expertise to assure successful, complete solutions. Headquartered in Minneapolis, MN, the company also has offices in the United Kingdom, India, Singapore and Australia. For additional information, visit www.idsgrp.com.
About SV Investment Partners:
SV Investment is a leading middle market private equity firm which focuses on the business services sectors with a particular emphasis on technology related services. SV plays an active role in the management of its portfolio and works closely with the boards and management teams of its portfolio companies to build value. The firm was founded by Nicholas Somers, its Managing Partner, and is located at 505 Fifth Avenue in New York City. For additional information, visit www.svip.com.
International Decision Systems®, InfoLease®, Rapport®, Rapport360™ and ProFinia® are registered trademarks of International Decision Systems, Inc.
### Press Release ############################
(This ad is a "trade" for the writing of this column. Opinions
contained in the column are those of Mr. Terry Winders, CLP)

[headlines]
--------------------------------------------------------------

Santa Cruz, California---Adopt-a-Dog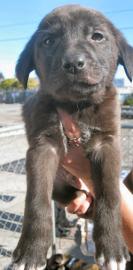 Gatsby
Animal ID: 12169519
Retriever, Labrador/Shepherd
Age: 2 months
Sex: Male
Size: Large
Color: Black/White
Housetrained: Unknown
Adoption Price: $300.00
(includes full package)

Adoption Procedure:
http://www.santacruzspca.org/procedures.html
email:
mandi@santacruzspca.org
sarah@santacruzspca.org
Santa Cruz SPCA
2685 Chanticleer Ave
Santa Cruz, CA
(831) 465-5000
http://www.santacruzspca.org/|


Adopt-a-Pet by Leasing Co. State/City
http://www.leasingnews.org/Conscious-Top%20Stories/Adopt_Pet.htm

Adopt a Pet
http://www.adoptapet.com/\
[headlines]
--------------------------------------------------------------

Kit's Birthday Present
"Would like to thank those who sent me a birthday salutation on January 1st. I guess these business sites really remind you of people's birthdays as never have gotten so many before.
"My present from Sue was a portrait of my dog that I can hang in my office:"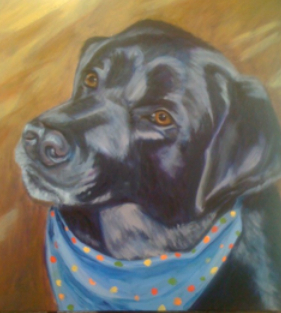 Bode Ace Menkin



News Briefs----
3rd guilty plea in EFI fraud case

TCF Bank Announces Checking Product Enhancements and Introduces Mobile Banking

Furor over BofA's $2.8B mortgage settlement
Motorola gadget to make smartphones like computer



You May have Missed---

Walking Speed Associated with Survival in Older Adults
http://www.newswise.com/articles/view/572105/?sc=dwhn

Sports Briefs----

Titans can't trade Young anytime soon
http://www.tennessean.com/article/20110105/SPORTS01/110105083/
Titans+can+t+trade+Young+anytime+soon

The Huddle
http://content.usatoday.com/communities/thehuddle/index
John Kenny Receivables Management

• End of Lease Negotiations & Enforcement
• Fraud Investigations
• Credit Investigations • Asset Searches
• Skip-tracing • Third-party Commercial Collections

john@jkrmdirect.com | ph 315-866-1167| www.jkrmdirect.com
(Leasing News provides this ad as a trade for investigations
and background information provided by John Kenny)


"Gimme that Wine"

Too Many Sommeliers, Not Enough Training
http://www.zesterdaily.com/zester-soapbox-articles/777-sommelier-training
Fine wine uncorks record gains
http://www.ft.com/cms/s/2/95a1deb8-1823-11e0-88c9-00144feab49a.html#axzz1A7GMcmW4
Financial Squeeze Forces Tank Supplier Sierra Stainless Steel to File for Bankruptcy Petition
http://www.winebusiness.com/news/?go=getArticle&dataid=82400
California Wineries Cope with Cold Snap
http://www.winesandvines.com/template.cfm?section=news&content=82396&
htitle=California%20Wineries%20Cope%20With%20Cold%20Snap
Napa Valley Grape growers report: Quiet time in the vineyards
http://napavalleyregister.com/lifestyles/food-and-cooking/wine/article_17291ba2-148e-11e0-83a8-001cc4c03286.html


Free Mobile Wine Program
http://leasingnews.org/archives/Feb2010/2_26.htm#mobile
Wine Prices by vintage
http://www.winezap.com
US/International Wine Events
http://www.localwineevents.com/
Winery Atlas
http://www.carterhouse.com/atlas/\
Leasing News Wine & Spirits Page
http://two.leasingnews.org/Recommendations/wnensprts.htm

[headlines]
----------------------------------------------------------------
This Day in American History
1782- The first commercial bank in the US, the Bank of North America, was opened at Philadelphia, PA. The bank was the brainchild of Robert Morris. Despite the bank's success, Philadelphia's run as America's leading home of private financial institutions was short-lived. Soon after the Bank of North America opened, the Pennsylvania legislature moved to outlaw private banks in the state, a decision that led scores of prospective bankers to set up shop in the nation's eventual financial center, New York City.
1784-David Landreth established the first organized seed business in Philadelphia, PA. Previously, seeds had been imported from Europe or saved from each crop by individual farmers. The firm incorporate din 1904 as the D. Landreth Seed Company, later became a subsidiary of the Robert Buist company, founded in Philadelphia, in 1828.
1789 - The first national presidential election in the United States was held.
George Washington Virginia No Party 69 85.2%
John Adams Massachusetts No Party 34 42.0%
John Jay New York No Party 9 11.1%
Robert Harrison Maryland No Party 6 7.4%
John Rutledge South Carolina No Party 6 7.4%
Other - - 14 17.3%
Electoral votes not cast - 24 29.6%
Note that prior to the ratification of Amendment XII to the Constitution in 1804, each Elector cast two votes for President (instead of one vote for President and one vote for Vice President). The candidate receiving the most votes became President and the candidate receiving the second most votes became Vice President. George Washington received one vote from each elector (that cast a ballot). The New York legislature failed to appoint its allotted 8 Electors in time. Two Electors from Maryland did not vote. One Elector from Virginia did not vote and one Elector was not chosen because an election district failed to submit returns.
1800- Millard Fillmore birthday, 13th president of the US (July 10, 1850—Mar 3,1853). Fillmore succeeded to the presidency upon the death of Zachary Taylor, but he did not get the hoped-for nomination from his party in 1852. He ran for president in 1856 as candidate of the "Know-Nothing Party," whose platform demanded, among other things, that every government employee (federal, state and local) should be a native-born citizen. Fillmore was born at Summerhill, NY, and died at Buffalo, NY, Mar 8,1874. Now his birthday is often used as an occasion for parties for which there is no other reason.
1806 -- The Cherokee nation cede 7,000 square miles of land in Tennessee and Alabama.
1824- the first boxing arena in America had its first fight between Tom Springs and Jack Langan, the Irish champion. The arena was specifically built for this site and had about 4,000 seats, plus room for 22,000 people to stand. Admission was 10 shillings ( $2.50), half o which went to the fighters. This was a lot of money in its day as average monthly earnings were $8 to $10 a month.
1830- the first passenger board the first commercial transportation of passengers and freight, the Baltimore and Ohio Railroad Company. Tickets were 9 cents each, or three for 25 cents, for a ride from Pratt Street in Baltimore to the Carrolton Viaduct. At first, passengers rode primarily for the novel experience.1891, birthday of Zora Neal Hurston, born in Eatonville, Florida, the first incorporated black town in the United States. The dialects, customs, and folklore of the people of Eatonville and of rural Florida would continue to inform Hurston's work for the rest of her career. http://memory.loc.gov/cgi-bin/query/D?amtoday:1:./temp/~ammem_dZif ::
1861- Florida troops takeover Fort Marion at St Augustine. The Confederates take over many forts, until Union Troops invade Florida, taking back some of the forts, securing ports, to cut off trade with European. http://www.nps.gov/casa/
1862- An advance guard of Confederates was defeated by about 2,000 Federals under Col. Dunning at Blue's Gap in Romney, West Virginia.
http://www.historichampshire.org/rom-cw.htm
http://members.aol.com/DWMellott/7wv.htm
http://www.romneywv.com/
http://www.amazon.com/exec/obidos/ASIN/096282187X/
inktomi-bkasin-20/104-3547695-1517507
1864 -- Mary Kenney O'Sullivan (1864-1943), first American Federation of Labor (AFL) woman organizer, born, Hannibal, Missouri. A skilled bookbinder, she organized the Woman's Bookbinder Union in 1880 & a founder of the National Women's Trade Union League (WTUL) in 1903.
http://womenshistory.about.com/library/bio/
blbio_osullivan_mary_kenney.htm
http://www.spartacus.schoolnet.co.uk/USAWkenney.htm
1865 -- Near present-day San Angleo, 370 Texas militiamen attacked what was assumed to be an encampment of 1400 Comanche's (they were actually peaceful Kickapoo). This engagement, called the Battle of Dove Creek, was one of the last battles in Texas between Anglos & Native Americans. The militia lost 36 men, with 60 wounded; the Indians lost 11, with 61 wounded.
http://www.tsha.utexas.edu/handbook/online/articles/view/DD/btd1.html
1867 -- Emily Balch birthday. Co-founder of Women's International League for Peace & Freedom.
http://www.nobel.se/peace/laureates/1946/balch-bio.html
http://college.antioch.edu/~iabrams/emilygreenebalch.html
1873 - A blizzard raged across the Great Plains. Many pioneers, unprepared for the cold and snow, perished in southwest Minnesota and northwestern Iowa.
1884 - The temperature dipped to one degree below zero at Atlanta, GA. It marked the final day of a severe arctic outbreak in the South and Midwest.
1887 - In April 1884, Thomas Stevens started what would be the first completed worldwide bicycle trip. Stevens and his bike traveled 13,500 miles, to arrive back in San Francisco, California nearly three years later.
1891-Birthday of Novelist, folklorist, dramatist, and anthropologist Zora Neale Hurston , in Eatonville, Florida, the first incorporated black town in the United States.
http://memory.loc.gov/ammem/today/jan07.html
1890-Birthday of African-American W. B. Purvis, inventor, patent holder of the fountain pen.
http://www.blackinventor.com/pages/wbpurvis.html
1886 - a severe cold wave in the southern section of the country brought the worst freeze since 1835 in Florida.
1894 - W.K. L. Dickson was given a patent for motion picture film. The 2 second demonstration was a 47-frame film showing a man sneezing.
http://www.biographcompany.com/dickson/
1896 -- Fannie Farmer publishes her first cookbook
http://womenshistory.about.com/library/bio/blbiofarmerf.htm
1901-Birthday of African-American writer Zora Neale Hurston, born Eatonville, Fla., was an all-black town. Although at the time of her death in 1960, Hurston had published more books than any other black woman in America, she was unable to capture a mainstream audience in her lifetime, and she died poor and alone in a welfare hotel. Today, she is seen as one of the most important black writers in American history. Unfortunately, near the end of her life she worked as a maid and died in poverty. In the 1970s, her work, almost forgotten, was revived by feminist and black-studies scholars, and an anthology, I Love Myself When I Am Laughing...And Then Again When I Am Looking Mean and Impressive, was published in 1979.
http://www-hsc.usc.edu/~gallaher/hurston/hurston.html
http://i.am/zora
http://www.nku.edu/~diesmanj/hurston.html
http://www.csustan.edu/english/reuben/pal/chap9/hurston.html
http://www.hurston-wright.org/
1908—Birthday of trumpet player Henry "Red" Allen
http://www.libertyhall.com/red.html
http://www.redhotjazz.com/red.html
http://www.duke.edu/~ab2/index.html
http://www.amazon.com/exec/obidos/ASIN/0826447449/
inktomi-bkasin-20/107-1403707-5271711
1913- Tucson, AZ set its all time record low temperature with a frigid 0 degrees.
1913- William M. Burton of Chicago, Il., received a patent for the "manufacture of gasoline." He developed the thermal-cracking technique for refining oil. His method of treating the residue of the paraffin group of petroleum by distillation and condensation of the vapors was used by the Standard Oil Company of Indiana, to whom the patent was assigned. Died 1958.
http://www.invent.org/hall_of_fame/24.html
1921-Birthday of Charles Loloma, a major influence on modern Native American art and was famous for changing the look of American Indian Jewelry. A painter, sculptor and potter, he was best known for his jewelry, which broke tradition with previous Indian styles using materials such as coral, fossilized ivory, pearls and diamonds. Loloma was born at Hotevilla on the Hoopi Indian Reservation and died June 9, 1991, at Scottsdale, AZ
http://www.faustgallery.com/loloma.htm
http://www.nativepubs.com/nativepubs/Apps/bios/
0430LolomaCharles.asp?pic=none
1924 - George Gershwin completed the score for his classic Rhapsody in Blue. He was only 26 years old. Gershwin did not have an interest in music until his family bought him a piano when he was twelve. Nine years later he had his first hit, at age 21,"Swanee", with lyrics written by Irving Caesar
1925-Drummer Sam Woodyard born, Elizabeth, NJ.
http://www.drummerworld.com/drummers2/Sam_Woodyard.html
1926 - George Burns and Gracie Allen were married by a Justice of the Peace in Cleveland, Ohio. They had been a comedy team for 4 years prior to getting married, and worked successfully for decades together in radio, film, and television until Allen's fatal heart attack in 1964. 1950 - In Nashville, Tennessee, Ernest Tubb made his first appearance at "The Grand Ole Opry". Ernest also did a daily 15-minute radio program that was very popular in West Texas. In fact, the show was so popular, Tubb bought the radio station that aired the program for years, KGKL in San Angelo, Texas.
1927- the inauguration of the transatlantic commercial telephone service began when Walter Sherman Gifford, president of the American Telephone and Telegraph Company, who was in New York, talked to sir George Evelyn Pemberton Murray, secretary of the British Post Office, who was in London. Thirty-one commercial calls were made the first day. The charge was $75 for a three minute conversation. The first private conversation was made by Adolph Simon Ochs, publisher of the New York Times, to Geoffrey Dawson, editor of the Times of London. The messages were transmitted from Rocky Point, NY.
1927 -- Harlem Globetrotters, basketball team, make their debut. http://www.africana.com/Articles/tt_059.htm
http://www.harlemglobetrotters.com/
1935-Birthday of clarinet player Kenny Davern, Huntington, NY
http://www.riverwalk.org/profiles/davern.htm
http://indigo.ie/~jazzirl/archives/davern.htm
http://users.bestweb.net/~msnyder/clarinet/davern.htm
1931- The nation was mired in the depths of the Great Depression. On January 7, the Committee for Unemployment Relief, formed at President Hoover's command in October 1930, released a report that detailed the depths of the nation's woes. According to the committee, some 4 to 5 million Americans were unemployed. However, the Depression only continued to grow worse, which further swelled the unemployment rolls; by 1932, some 13 million Americans were without jobs. 1934 -Converted major league baseball player Billy Sunday, at age 72, began a two-week revival at Calvary Baptist Church in NY City. (Sunday was an evangelist from 1893 until his death in 1935.
1935 -- Emma Goldman talks to Jewish audiences -- the Temple Emanu-El adult school today, the second meeting arranged by Rabbi Harry Stern, & the women's branch of the Arbeiter Ring on Jan. 12 -- which are well received. anarchist feminist
1938-Birthday of singer, pianist Paul Revere, born Harvard, NE.
1939- The United States Trotting Association, the governing body for the sport of harness horse racing, was founded in Indianapolis, IN, at a meeting called by horseman Roland Harriman. The founding was actually a joining of several regional organizations resulting in uniform rules and regulations This unification spurred the growth of harness racing, now followed by nearly 25 millions fans in North America each year.
1939 -- Tom Mooney, a labor activist wrongly convicted of murder in the San Francisco Preparedness Day bombing in July 1916, is freed after 22 1/2 years in jail on false charges, granted an unconditional pardon by Governor Culbert Olson.
See: Frame-up by Curt Gentry, © 1967, WW Norton, New York; Life of an Anarchist: The Alexander Berkman Reader , ed. Gene Fellner, Four Walls Eight Windows, New York: 1992.
http://www.dartmouth.edu/~library/Library_Bulletin/
Nov1989/LB-N89-VClose2.html
1940- Gene Autry's musical variety show premieres on CBS radio, where it will run for the next 16 years. Autry was born in Tioga, Texas, in 1907, the son of a livestock and horse trader who was also a Baptist minister. The family later moved to Oklahoma. In high school, Autry worked as a railway telegrapher at the local railroad depot, where he spent slow moments strumming his $8 guitar and singing. Passing through the depot one day, a stranger-who turned out to be Will Rogers-suggested that Autry try singing on the radio. Inspired, Autry traveled to New York City to look for a singing job but had no luck. Back home, he began working for a local radio station and found success as "Oklahoma's Yodeling Cowboy." Eventually, Autry and railroad dispatcher Jim Long wrote several country songs, including the world's first gold record, "That Silver-Haired Daddy of Mine." Autry became a regular on Sears Roebuck's National Barn Dance, the forerunner of the Grand Ole Opry. In 1934, producer Nat Levine was looking for a guy who could sing, ride a horse, and act in western movies. Autry wasn't an actor but had already established a loyal radio audience, so Levine put him in numerous B-grade westerns. Playing the lead role in a long-running series of Saturday matinee films, Autry became "America's favorite cowboy." In 1940, his musical variety radio show, Gene Autry's Melody Ranch, debuted and took only one hiatus, when Autry joined the Army Air Corps after taking his oath on the air in 1942 (Roy Rogers took his place on the television show while he was gone). He became America's favorite TV cowboy in 1950 when he debuted The Gene Autry Show, which ran through 1956. In each episode, he and his sidekick, Pat Buttram, rode from town to town, maintaining law and order. From "Back in the Saddle Again" to yuletide mainstays such as "Rudolph the Red nosed Reindeer" and "Frosty the Snowman," Autry's music has etched itself into Americana. The cowboy was also an entrepreneur; he owned hotels, gas stations, and the California Angels baseball team, among other ventures. He also owned a television production company and was proud of discovering "Annie Oakley" star Gail Davis, whom he had featured in dozens of his movies and television program episodes and who had performed in his traveling rodeo. Her appearances spun off into her own series, which Autry's company produced. Autry was inducted into the Country Music Hall of Fame in 1969.
1942- Paul Revere of Paul Revere and the Raiders birthday, born Harvard, Nebraska.
http://www.paulrevereraiders.com/history.html
http://www.history-of-rock.com/paul_revere_and_the_raiders.htm
1944--SPECKER, JOE C. Medal of Honor
Rank and organization: Sergeant, U.S. Army, 48th Engineer Combat Battalion. Place and date: At Mount Porchia, Italy, 7 January 1944. Entered service at: Odessa, Mo. Birth: Odessa, Mo. G.O. No.. 56, 12 July 1944. Citation: For conspicuous gallantry and intrepidity at risk of life, above and beyond the call of duty, in action involving actual conflict. On the night of 7 January 1944, Sgt. Specker, with his company, was advancing up the slope of Mount Porchia, Italy. He was sent forward on reconnaissance and on his return he reported to his company commander the fact that there was an enemy machinegun nest and several well-placed snipers directly in the path and awaiting the company. Sgt. Specker requested and was granted permission to place 1 of his machineguns in a position near the enemy machinegun. Voluntarily and alone he made his way up the mountain with a machinegun and a box of ammunition. He was observed by the enemy as he walked along and was severely wounded by the deadly fire directed at him. Though so seriously wounded that he was unable to walk, he continued to drag himself over the jagged edges of rock and rough terrain until he reached the position at which he desired to set up his machinegun. He set up the gun so well and fired so accurately that the enemy machine-gun nest was silenced and the remainder of the snipers forced to retire, enabling his platoon to obtain their objective. Sgt. Specker was found dead at his gun. His personal bravery, self-sacrifice, and determination were an inspiration to his officers and fellow soldiers.
1945- Anthony Richard ( Tony) Conigliaro, Baseball player born at Revere, MA. Cnigiliaro led the American League in home runs in 1965 and was one of the most beloved Boston Red Sox players of his generation. He was beaned by jack Hamilton on August 18,1967, and after missing all of 1968, made a comeback. Died at Boston, Feb 24, 1990.
1945---SHOUP, CURTIS F Medal of Honor
Rank and organization: Staff Sergeant, U.S. Army, Company I, 346th Infantry, 87th Infantry Division. Place and date: Near Tillet, Belgium, 7 January 1945. Entered service at: Buffalo, N.Y. Birth: Napenoch, N.Y. G.0. No.: 60, 25 July 1945. Citation: On 7 January 1945, near Tillet, Belgium, his company attacked German troops on rising ground. Intense hostile machinegun fire pinned down and threatened to annihilate the American unit in an exposed position where frozen ground made it impossible to dig in for protection. Heavy mortar and artillery fire from enemy batteries was added to the storm of destruction falling on the Americans. Realizing that the machinegun must be silenced at all costs, S/Sgt. Shoup, armed with an automatic rifle, crawled to within 75 yards of the enemy emplacement. He found that his fire was ineffective from this position, and completely disregarding his own safety, stood up and grimly strode ahead into the murderous stream of bullets, firing his low-held weapon as he went. He was hit several times and finally was knocked to the ground. But he struggled to his feet and staggered forward until close enough to hurl a grenade, wiping out the enemy machinegun nest with his dying action. By his heroism, fearless determination, and supreme sacrifice, S/Sgt. Shoup eliminated a hostile weapon which threatened to destroy his company and turned a desperate situation into victory.
1946- Rolling Stone publisher Jann Wenner birthday, born NY, NY.
http://207.171.166.140/name/nm0921048/bio
http://207.171.166.140/name/nm0921048/
1948-Birthday of singer Kenny Loggins, born in Everett, Washington. He wrote the "House at Pooh Corner," a hit for the Nitty Gritty Dirt Band, before teaming with Jim Messina for several albums and the top-10 single "Your Mama Don't Dance" in the 1970's. The duo split in 1976, and Loggins did well on his own with such hit singles as "Footloose," the theme from the 1984 movie, and "Danger Zone" in 1986. 1949-Birthday of singer Tom Waits, Ponoma, CA
http://www.tomwaits.com/
http://www.officialtomwaits.com/
http://www.geocities.com/SoHo/7587/start.html
1950-- Nova Scotia native Hank Snow made his debut on the Grand Ole Opry. Later that year, his recording of "I'm Movin' On" stayed on the Billboard country chart for 44 weeks, selling more than a million copies.
1950-- Gene Autry's "Rudolph, the Red-Nosed Reindeer" hits #1
1951—Top Hits
Tennessee Waltz - Patti Page
The Thing - Phil Harris
Nevertheless - Jack Denny
I Love You a Thousand Ways - Lefty Frizzell
1952 -- Actor Phillip Loeb, blacklisted in 1950 as a possible Communist sympathizer, is fired from highly successful TV comedy "The Goldbergs" because no one would sponsor it otherwise.
http://www.pbs.org/newshour/bb/entertainment/july-dec97/
blacklist_10-24.html
http://www.tvparty.com/vaultgold.html
http://www.woolmancentral.com/famcou.html
http://www.sag.com/blacklist.html
1953-Birthday of Malcolm Young, rhythm guitarist with AC/DC.
1954 - The Duoscopic television receiver debuted, it allowed the viewer to watch two different shows at the same time. It was a very early, very primitive, picture-in-picture, split-screen, tested in New York City and Chicago, Illinois. DuMont Laboratories, owner of the DuMont Television Network produced the set.
1954-- Muddy Waters records "Hoochie Coochie Man"
1955- Metropolitan Opera House, New York City, Marian Anderson, contralto, became the first African-American opera singer when she sang the role of the fortune teller Ulrica in Giuseepe Verdi's "Un Ballo in Maschera."
( lower half of: http://memory.loc.gov/ammem/today/jan07.html )
1956-- Dean Martin's "Memories Are Made of This" hits #1
1957-Birthday of Katie Couric, born Arlington, Virginia. She was co-anchor of "The Today Show" starting in 1991 and in 2007 became CBS News Anchor.
http://members.aol.com/flopez1542/page5.html
http://www.imdb.com/name/nm0183698/
1958 - The Gibson Guitar Company patented the Flying V guitar, favorite instrument of many rock musicians
1958-Danny and the Juniors' Rock 'n' Roll classic "At The Hop" was the number one song in the US. Originally written as "Do the Bop", American Bandstand host Dick Clark advised the group to re-write the lyrics because the dance known as The Bop was on its way out. Clark was right and the Philadelphia quartet's record stayed in the top spot for a month.

1959—Top Hits
The Chipmunk Song - The Chipmunks
Smoke Gets in Your Eyes - The Platters
Problems - The Everly Brothers
City Lights - Ray Price1959- "GE College Bowl" quiz show premieres on NBC TV
http://www.jumptheshark.com/c/collegebowl.htm http://www.classicthemes.com/50sTVThemes/themePages/collegeBowl2.html
1962 -- The Western Division defeats the Eastern Division 47-27 in the first AFL All-Star Game played before 20,973 in San Diego.
http://images.nfl.com/history/images/0107.jpg
1962-- Chubby Checker's "The Twist" hits #1 -- again
1967—Top Hits
I'm a Believer - The Monkees
Snoopy Vs. the Red Baron - The Royal Guardsmen
Tell It Like It Is - Aaron Neville
There Goes My Everything - Jack Greene
1967--The Doors, Sopwith Camel, young Rascal play at the Fillmore Auditorium in San Francisco. This was the first time the L.A. band "The Doors" played at the Fillmore.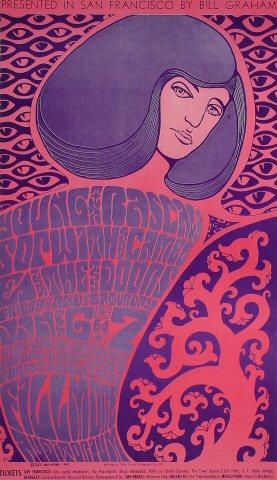 Artist of the poster: Wes Wilson.
1968 - Postage rates in the United States went up by a penny; making the cost to send an ounce of mail six cents.
1971- the temperature at Hawley Lake, AZ dipped to 40 degrees below zero, setting a new record low temperature for the state.
1972- The Los Angeles Lakers defeated the Atlanta Hawks, 134-90, to win their 33rd game in a row, an NBA record.
1972-The NCAA announced that freshmen would be eligible to play varsity football and basketball starting in the fall of 1973.
1973-Carly Simon's "You're So Vain" leads the US hit parade, stirring speculation about exactly who she was singing about. Although suggestions run from actor Warren Beatty to Mick Jagger to James Taylor to Kris Kristofferson, Simon has steadfastly refused to divulge her secret.
1973-The first vote for a woman in the history of the U.S. Electoral College is cast for Theodora Nathan of Oregon, the vice- presidential candidate for the Libertarian party.
1975---Top Hits
Lucy in the Sky with Diamonds - Elton John
You're the First, the Last, My Everything - Barry White
Kung Fu Fighting - Carl Douglas
The Door - George Jones
1978-The soundtrack album of the hit disco movie "Saturday Night Fever," featuring the Bee Gees, the Trammps, Tavares, K.C. & the Sunshine Band, Kool & the Gang, MFSB and others enter the soul album chart. It will peak at Number One for six weeks starting February 18 in its 39 weeks on the chart.
1978--The Bar-Kays' "Let's Have Some Fun" enters the soul charts
1979 - Vietnamese forces, aided by Cambodian insurgents, captured Phnom Penh after a two-week invasion and overthrew the Khmer Rouge regime of Pol Pot.
1979 - In the AFC title game, the Pittsburgh Steelers beat the Houston Oilers 34-5 for a Super Bowl trip and their third AFC championship title. They played in a steady rain at Three Rivers Stadium. In the NFC championship game, the Dallas Cowboys shut out the Los Angeles Rams 28-0. (The Steelers beat the Cowboys 35-31 in Super Bowl XIII Jan 21.)
1980--Led Zeppelin's "In Through the Out Door" is awarded a platinum disc. It's the last album issued before the September 25th death of drummer John Bonham.
1981-The "Eagles Live" album goes platinum. The two-record set will turn out to be the final Eagles album until 1994's comeback LP, "Hell Freezes Over".
1982 - The Islanders' Bryan Trottier had his 10th career hat trick.
1982-"Hooked on Classics," using the extended medley format made popular by "Stars on 45," sets popular classical music to a disco beat. The result: It goes platinum on this date.
1983---Top Hits
Maneater - Daryl Hall & John Oates
The Girl is Mine - Michael Jackson /Paul McCartney
Dirty Laundry - Don Henley
Wild and Blue - John Anderson
1984-The Seattle Seahawks reached the AFC Title game for the first time in their history but were defeated by the Los Angeles Raiders, 30-14.
1988 - It was a bad day for chickens. Heavy snow in Arkansas, with totals ranging up to 16 inches at Heber Springs, claimed the lives of 3.5 million chickens, and snow and ice up to three inches thick claimed the lives of another 1.75 million chickens in north central Texas. Up to 18 inches of snow blanketed Oklahoma, with Oklahoma City reporting a record 12 inches of snow in 24 hours.
1989 - A tornado in southern Illinois obliterated half the community of Allendale, injuring fifty persons and causing more than five million dollars damage, while thunderstorm winds gusting higher than 100 mph caused ten million dollars damage at Franklin KY. Twenty-five cities, from the Gulf coast to Michigan, reported record high temperatures for the date.
1990 - Rain and gale force winds prevailed along the Northern Pacific Coast. Winds at Astoria OR gusted to 65 mph. Unseasonably warm weather prevailed over Florida. Five cities reported record high temperatures for the date, including Miami with a reading of 86 degrees. The hot spot in the nation was West Palm Beach with a high of 87 degrees.
1990 - A rapidly intensifying low pressure system and a vigorous cold front brought heavy rain and high winds to the Pacific Northwest. Two to five inches rains soaked western Washington and western Oregon, and winds gusting above 70 mph caused extensive damage. Wind gusts on Rattlesnake Ridge in Washington State reached 130 mph
1991---Top Hits
Justify My Love - Madonna
High Enough - Damn Yankees
Love Will Never Do (Without You) - Janet Jackson
I've Come to Expect It From You - George Strait
1992 -a rare January thunderstorm rumbled over Sioux Falls, SD. This was the first January thunderstorm recorded in the city since 1939. Meanwhile, thunderstorms produced 6 tornadoes (one F2 and five F1) near Grand Island, NE -- the first tornadoes ever recorded in Nebraska during January.
1993-Michael Jordan scored 35 points to lead the Chicago Bulls to a 130-95 win over the Milwaukee Bucks. The points gave Jordan exactly 20,000 in the 620 th game of his career and made him the second fastest NBA player to reach the mark behind Wilt chamberlain, who did it in 499 games.
1995 - a severe thunderstorm produced a downburst wind gust to 146 mph at Seymour-Johnson AFB in Goldsboro, NC.
1996 - A blizzard paralyzed the Eastern U.S. The storm moved slowly, taking five days to reach New England from the Gulf of Mexico. The National Weather Service called it a storm of "historic proportions" with more than two feet of snow in the Baltimore and Washington, DC area. The mountains of Virginia and West Virginia got up to three feet. More than 100 deaths were blamed on the storm -- the majority from heart attacks. This event was the second in an unrelenting, paralyzing "siege of snowstorms" along the east coast during a ten day period.
1997 - In Los Angeles, California, Heidi Fleiss, known as the "Hollywood Madam", was sentenced to 37 months in prison for cheating on her taxes, laundering call-girl profits, and conspiring to hide her wrongdoing. According to news sources, Fleiss choked back tears, saying, "I'm sorry. I'm a different person now".
[headlines]
--------------------------------------------------------------
American Football Poem
You Must Not Quit
When things go wrong, as they sometimes will,
When the road you're trudging seems all uphill,
When the funds are low and the debts are high,
And you want to smile, but you have to sigh,
When care is pressing you down a bit-
Rest if you must, but don't you quit.
Life is queer with its twists and turns,
As every one of us sometimes learns,
And many a fellow turns about
When he might have won had he stuck it out.
Don't give up though the pace seems slow -
You may succeed with another blow.
Often the goal is nearer than
It seems to a faint and faltering man;
Often the struggler has given up
Whe he might have captured the victor's cup;
And he learned too late when the night came down,
How close he was to the golden crown.
Success is failure turned inside out -
The silver tint in the clouds of doubt,
And you never can tell how close you are,
It might be near when it seems afar;
So stick to the fight when you're hardest hit -
It's when things seem worst that you must not quit.
---annoymous

--------------------------------------------------------------

SuDoku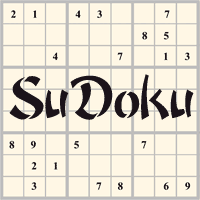 The object is to insert the numbers in the boxes to satisfy only one condition: each row, column and 3x3 box must contain the digits 1 through 9 exactly once. What could be simpler?
http://leasingnews.org/Soduku/soduko-main.htm
--------------------------------------------------------------

Daily Puzzle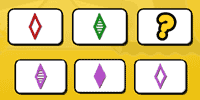 How to play:
http://www.setgame.com/set/puzzle_frame.htm
Refresh for current date:
http://www.setgame.com/set/puzzle_frame.htm
--------------------------------------------------------------


http://www.gasbuddy.com/
http://www.gasbuddy.com/GB_Map_Gas_Prices.aspx
http://www.gasbuddy.com/GB_Mobile_Instructions.aspx
--------------------------------------------------------------

Weather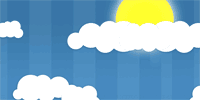 See USA map, click to specific area, no commercials
--------------------------------------------------------------

Traffic Live---
Real Time Traffic Information
You can save up to 20 different routes and check them out with one click,
or type in a new route to learn the traffic live
--------------------------------