Account Executive – Inside Sales
San Francisco, CA
Base salary, a lucrative uncapped commission plan and an environment conducive to your success.
Click here to learn more.
Thursday, November 18, 2010

Today's Equipment Leasing Headlines


Clarification: SL Financial Services Corporation
Classified Ads---Senior Management
November 12-13 NAELB Western Conference
by Bud Callahan, CLP
Taycor Financial Joins "Broker/Lessor" looking for Broker list
Sales Makes it Happen---by Christopher Menkin
Great Opportunity to close some sales in 2010
Classified Ads---Help Wanted
Three New CLP's
Lease Accounting Proposals Response
Story Credit List---up-date
Eight quick questions while job searching?
by Marie J. Duprey
NEFA Fall 2010 Super Regional Expo Report
Westport, Connecticut---Adopt-a-Dog
Due Date/Morning Glory
Fernando Croce Movie/DVD Reviews
Modern Times/Metropolis/The Night of the Hunter
News Briefs---
Fed orders new "stress tests" for banks
FDIC Steps Up Investigations at Failed Lenders
Bernanke: Bond plan could create 700,000 jobs
Bankruptcy Filings Up 11% In 2010
Federal Court Shuts Down International Robocall Operation
India Tech hiring to hit record highs
Bristol Palin's 'DWTS' run fuels conspiracy theories
Broker/Funder/Industry Lists | Features (collection)
Top Ten Stories Chosen by Readers | Top Stories last six months
Automatic Garage Door Opener for your Motorcycle
You May Have Missed---
California Nuts Briefs---
Sports Briefs---
"Gimme that Wine"
This Day in American History
Football Poem
SuDoku
Daily Puzzle
GasBuddy
Weather, USA or specific area
Traffic Live----

######## surrounding the article denotes it is a "press release" and was not written by Leasing News nor information verified, but from the source noted. When an article is signed by the writer, it is considered a "by line." It reflects the opinion and research of the writer. It is considered "bias" as it is the writer's viewpoint.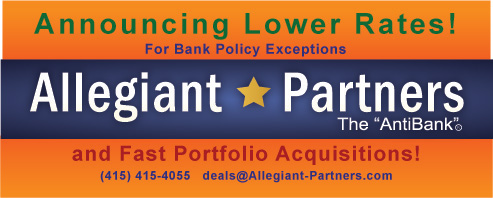 [headlines]
--------------------------------------------------------------

Clarification: SL Financial Services Corporation

SL Financial Services Corporation, Westport, Connecticut, has determined at this time to curtail new business development in the United States, Canada, and Mexico, according to a SL Financial Services Corporation spokesperson.
The Company will continue to fund its obligations, service its customers, and manage its portfolio.
[headlines]
--------------------------------------------------------------

Classified Ads---Senior Management
(These ads are "free" to those seeking employment
or looking to improve their position)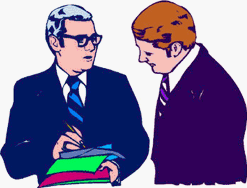 (These ads are "free" to those seeking employment or looking
to improve their position)
Europe
25+ yrs exper. management roles Chase, AT&T Capital, Heller Financial, SFS. Develop biz from "scratch to success". Looking for challenging & pioneering job.
Email: frans@alliedproperty.net
Philadelphia, PA
27 yrs. exp. sales, ops., credit, strategy, P&L mngmet. Most recently created & executed the biz plans for 2 highly successful Bank-owned small ticket leasing subsidiaries.
email: mccarthy2020@comcast.net
Philadelphia Metro Area - 30 Years experience Healthcare sales/ management- 3 years experience newly create "small-ticket" healthcare division.
Good success - Mitch Utz
215-460-4483
Email: mitutz@msn.com


Southern CA
20 years exp. as hands-on leasing CFO, managing accounting, treasury, FP&A, including securitizations, Great Plains/FRx, budgets, risk management. MBA. Also available as interim Controller/CFO, consultant.
Email: leasecfo@gmail.com



Free Posting for those seeking employment in Leasing:
http://www.leasingnews.org/Classified/Jwanted/Jwanted-post.htm
All "free" categories "job wanted" ads:
http://www.leasingnews.org/Classified/Jwanted/Jwanted.htm
[headlines]
--------------------------------------------------------------

November 12-13 NAELB Western Conference
by Bud Callahan, CLP
The National Association of Equipment Leasing Brokers (NAELB) Western Conference took place at the Hilton Hotel/Orange County/Costa Mesa, last Friday and Saturday, November 12-13, 2010. We had in excess of 130 attendees. Most brokers, funders, and our associate members expressed that they were encouraged by the uptick in activity in the market.
The Board of Directors conducted its board meeting in advance of the conference, and has mapped out a positive course for the future. Our new programs such as the broker exchange and our education programs, are having early success.
While many in the industry may have believed that the NAELB was made up of new and inexperienced brokers, a recently completed survey shows that 88% of those surveyed have five or more years experience, with the lion's share carrying over ten years experience.
On Friday night, some funders collectively invited brokers to an Italian feast, after the NAELB welcome reception. While we will all be fighting the scale for a while, it was a great time to have fun together.
Overall, the conference was a good experience, despite the economic downturn and difficulties of the past couple of years. The upbeat, positive attitudes and workshops were great to see.
In the meantime, the NAELB and our committees are working actively to seek out new benefits, services and funding opportunities for our membership.
Sincerely,
Bud Callahan
Bud Callahan, CLP
President
National Equipment Leasing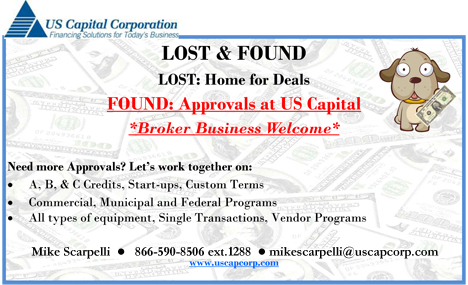 Last Call!
[headlines]
--------------------------------------------------------------

Taycor Financial Joins "Broker/Lessor" looking for Broker list

| | | | | | | | | | | | |
| --- | --- | --- | --- | --- | --- | --- | --- | --- | --- | --- | --- |
| | | | | | | | | | | Y | Y |
A - City Business License | B- State License | C - Certified Leasing Professional | D - State(s) sales/use tax license |E - Named as "lessor" on 50% or more of lease contract signed. | F - Accepts sub-broker business l G -Back Room - has a dedicated back room operation

Full List:
http://www.leasingnews.org/Brokers/brokerlessor_bussiness.html

[headlines]
--------------------------------------------------------------

Sales makes it Happen---by Christopher Menkin
Great Opportunity to close some sales in 2010
The end of 2010 is 45 days from now, a great opportunity to sell more "capital leases." This means with a $1.00 out or nominal purchase option where the transaction allows the lessee to receive the depreciation.
Meaning you take one month as a deposit, start the lease this year, with the next payment whatever program you have to start---a month, two months, three months, or even bi-annual payments, if you have such a program. The debtor is entitled to deduct all the depreciation in the transaction (not exceeding the dollar amount available) for this year.
Most likely your leasing prospect has not utilized all the depreciation he can take this year. If they have, they then can start a depreciation schedule for the last six months of the year.
First, the equipment has to be in place and accepted in 2010.
179 expenses passed through via K-1s from partnerships (1065), S-corps (1120S), or trusts (1041) are limited at the 1040 level to the one maximum amount. A C corp. is able to deduct its own 179 expenses in addition to what is claimed on the 1040s of the owners. (This is one of the many ways in which C corps can save thousands of dollars in taxes over S corps.) The Tax and Credit Act of 2010 has increased the deductions allowed.

The theme here is to get going with only 45 days left to have your lessee take advantage of the depreciation available in a lease.
Tax and Credit Act of 2010 by Terry Winders, CLP
http://leasingnews.org/archives/Sep2010/9_29.htm#credit_act
Sales Makes It Happen Previous Columns:
http://www.leasingnews.org/Legacy/index.html
[headlines]
--------------------------------------------------------------

Leasing Industry Help Wanted

Sales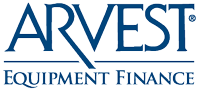 Oklahoma City, Oklahoma
Arvest Equipment Finance is looking to fill the position of Equipment Finance Specialist. Qualified applicants should have (5) plus years of bank leasing experience, a college degree, as well as a proven track record of success in sales. If interested, please go to www.arvest.com and click on careers for a complete and detailed job description. We offer an excellent pay and benefits package along with a company vehicle. EOE/AA

Interviewing Leasing Professionals With Proven Track Record and Established Book of Business.
Envision Provides: 1) Monthly Base Salary 2) Established Funding Sources 3) Fun Working Environment 4) Full Benefits (Health Insurance, 401k)
5) Aggressive Commission Structure.
Resumes To: careers@envisioncapitalgroup.com, Contact: Jeff Edwards (949) 225-1712
Envision Capital Group is dedicated to providing the best in class products and service to our employees, customers, vendors and partners in the small and middle ticket commercial finance industry. With over 50 years of combined experience we have the knowledge, skills, abilities and relationships to help you reach your goals.

Vehicle Lenders Group, LLC is looking for dynamic sales associate. Either work out of one of our offices in Calif. , Dayton, or Oyster Bay, NY or your own office.
Draw w/benefits after three month probation period.
Must have excellent references, honest, self motivated, able to generate $500,000 a month by the end
of 12 months of employment.
Curt Webster, CVLE 516-922-7447 ext 104

Account Executive – Inside Sales
San Francisco, CA
Base salary, a lucrative uncapped commission plan and an environment conducive to your success.
Click here to learn more.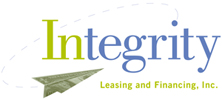 Min 1 year leasing exp., commission only
You should earn $65,000 plus first year,
work from our Boston Office or home office.
Mark Gallagher 781-636-0202 or markg@integrityleasing.com
Integrity Leasing and Financing Inc. started in 1998
and works directly with Vendors and Lessees.


3 years leasing exp., commission only first year or until quota met. You should earn $75,000 first year, work from
home office. Sandra Tieh, HR 512.458.1300 or stieh@onesourcefinancial.com

OneSourceFinancial.com
a OneWorld Business Finance Co-Op Member
Please see our Job Wanted section for possible new employees.

[headlines]
--------------------------------------------------------------

*****Announcement***************************************

Three New CLP's
The Board of Directors of the CLP Foundation would like to extend its congratulations to the Equipment Leasing and Finance Industry's newest Certified Lease Professionals. The letters "CLP" behind their names are a visible recognition of their experience in the industry and their professional achievement in having passed the CLP Exam.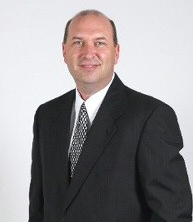 Kyle Gilliam, CLP
President
Arvest Equipment Finance
Fort Smith, AR
Mike Helder, CLP
National Account Manager
First Star Capital
Walnut Creek, CA
Jeff Walters, CLP
Chief Operating Officer
Stillwater Leasing Company, LLC
Billings, MT

The CLP Foundation is the official governing body for the Certified Lease Professional ("CLP") Program. The CLP designation sets the standard for professionalism in the leasing industry. This designation identifies and recognizes individuals within the leasing industry who have demonstrated their competency through continued education, testing and conduct. The letters "CLP" behind their name represent a visible recognition of this professional achievement and status. The CLP Program is the only recognized certification program in the entire world wide equipment leasing and finance industry.
"We invite you to visit our site -- www.clpfoundation.org for detailed information about the CLP Foundation and the CLP Program. For further information about our Mentor Program and Anonymity Program please contact:"

Cynthia W. Spurdle
Executive Director
CLP Foundation
PH: 610/687-0213
FAX: 610/687-4111
E-mail: cindy@clpfoundation.org
www.clpfoundation.org

The latest CLP Handbook is Now Available
(You may purchase even if you are not going to take the CLP
test as it is an excellent resource to learn more about lease finance.)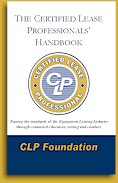 *****Announcement**************************************
[headlines]
--------------------------------------------------------------

Lease Accounting Proposals Response

(Printed with permission of AssetFinance International News)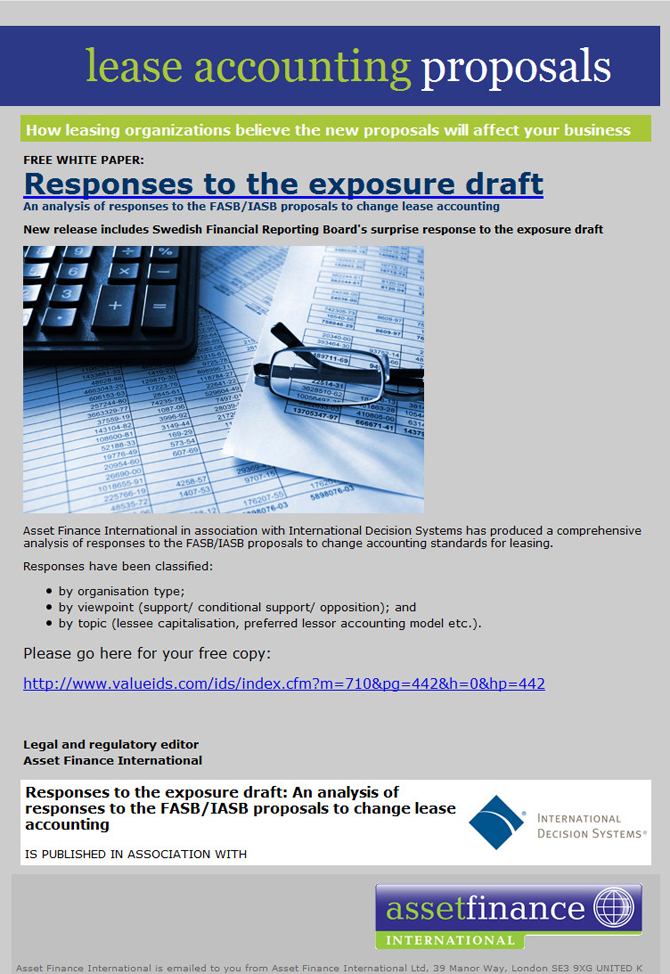 Leaseurope brings together 45 member associations in 32 European countries representing the leasing long term and/or short term automotive rental industries. In 2009, these associations represented more than 1,300 leasing firms and more than 780 short term rental companies.
Free membership to obtain AssetFinance International News
http://www.assetfinanceinternational.com/index.php?
option=com_comprofiler&task=registers&Itemid=1048
[headlines]
--------------------------------------------------------------

Story Credit List---up-date

Only those who have qualified for the Leasing News "Funder List" are here and must have an acceptable Better Business Bureau Rating and no history of complaints at Leasing News. We reserve the right to not list a company who does not meet these qualifications.
These companies specialize in "C" and "D" credits, often new businesses, or businesses where the principal(s) have Beacon score around 600 or previous difficulties; meaning to become comfortable with the credit and financial situation you need to learn the "story" to make a positive decision, often requiring further security, shorter term, or additional guarantors.
Many of these companies may also have programs for "A" and "B" rated companies, but their specialty is not being a "cookie cutter" and often require full financial statements and tax returns as well as a "story about the company, its history, goals, circumstances" to fully understand the full financial picture.

Name
In Business Since
Contact
Website
Leasing Association

Employees

Geo
Area

Dollar
Amount

Business Reports

Financial Pacific Leasing
1975
Terey Jennings CLP,
800-447-7107, tjennings@finpac.com
www.finpac.com
ELFA, NAELB, NEFA (P)

130

Nationwide

$5,000-$50,000

45

Nationwide

$1,000 - $30,000

Does Subprime Leases

20

Nationwide

Vehicles Only

$10,000 - $1,000,000

National Machine Tool Financial Corporation
1986
Chris Chiappetta, Robert Lang, Susan Adamatis
800-669-7527
www.netlease.com (CC)

20

Nationwide

$15,000

 

12

National

$100,000 to $1,500,000

Does Subprime Leases

12

National

$5,000+

TEAM Funding Solutions
1992
Ted Reynolds – Owner and President
Jeff Deskins - Credit Manager
Lynn Smith - Broker
Development Manager
888-457-6700 x115,
App Submittal
Martin Lacayo - Broker Development Manager 888-457-6700 x106,
App Submittal
Mike Wright - Broker Development Manager
888-457-6700 x108,
App Submittal
Stephen Stuesser – CFO
Jessica Green - Marketing and Relationships Manager
888-457-6700 x109, Enrollment
Fax: 512-258-2322
512.692.0500 fax
www.teamfundingsolutions.com
ELFA, NAELB, NEFA (Z)

11

All 50 States

$15K
Minimum

Does Subprime Leases

9

Nationwide, including Alaska & Hawaii

$20,000---$150,000

7

US Canada (F)

$50,000 to $3MM

$250,000 average transaction

Forum Financial Services, Inc.


1996

Tim O'Connor

972-690-9444 ext. 225

tim@forumleasing..com


275 West Campbell Road

Suite 320

Richardson, Texas 75080

Fax: 972-690-9464

www.forumleasing.com

NAELB & NEFA (W)

7


Nationwide

$50,000 to $1.0 million. Our average size transaction is $250,000.
Preferred Range
$100,000 to $500,000

Does Subprime Leases


American Leasefund, Inc.

1999

Tom Davis

tom@alclease.com

800.644.1182 - PH

503.244.0845 - FX

www.americanlf.com

NEFA (Q)

6

Idaho, Montana, Oregon, Washington

$5,000 - $50,000

Does Subprime Leases

6

Nationwide - 50 States

6

Nationwide

$50,000 to $1MM

$250,000 average transaction

5

Most States

$50,000 - $450,000

5

U.S.

$50,000 - $1,000,000
(Master Lease)

Does Subprime Leases

5

U.S.

California

$10,000 - $100,000

Nationwide & some offshore

$10,000 - 250,000

($25,000 - $150,000 desired)

3

USA

$10,000 to $100,000 with an average of $25,000 - $35,000

Does Subprime Leases

Name
In Business Since
Contact
Website
Leasing Association

Employees

Geo
Area

Dollar
Amount

Business Reports
Business Reports: Companies listed may make any netiquette comment about their company or reports or other information in the footnote section of their listing. Leasing News recommends readers also view the footnote as well as the section itself or searching reports on the business.
It also should be noted that if a BBB report listing is found by a reader, as there may not have been one when this was last up-dated, please send the link to kitmenkin@leasingnews.org so Leasing News may up-date this section.
BBB - Better Business Report | CBB - Leasing News Complaint Bulletin Board
| CNI - Current News Information


[headlines]
--------------------------------------------------------------

Eight quick questions while job searching?
by Marie J. Duprey
marie@humanresourcescareer.org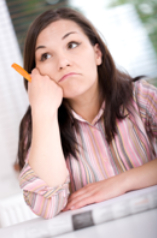 1. Have you ever reached to your 50 warmest contacts to update them on that which you are currently doing?
If not, send a message to your 50 closest friends, family, old clients and ex-colleagues to update them. Usually do not contact them merely to send a "with your resume" asking for job leads, simply update them so they know your position.
2. If I glanced your Linked-In profile, would I know that you're in the market for job opportunities? Would I know what you're looking to do?
3. Do you think you're posting some kind of update on Linked-In at least one time a week? (i.e. so that you are subtly on people's radar.) Otherwise, get into the habit of posting something of worth once weekly. Post status updates which would be valuable for your network, answer a question inside the answers section to demonstrate your expertise or give a valuable comment inside a discussion within one of the groups you're a part of.
4. Do you think you're 'out and about' at least once weekly meeting people in person?
Otherwise, schedule time next week in order to meet with ex-colleagues, clients and friends over coffee - lunch - drinks in order to catch up.
You'll remain on people's radar for potential opportunities, often receive some useful advice, laugh and usually feel much better about yourself than you would sitting in the home looking through project sites all day long.
5. Do you get in touch with a minimum of two of your fellow people looking for work once weekly to share ideas and help each other?
6. Do you have a spreadsheet to follow every single lead, contact or job you're pursued?
If not, setup a fairly easy spreadsheet to assist to track progress and be sure you never neglect to comply with a possible opportunity.
7. Would you religiously and systematically check in almost every contact, lead or loose conversation about an opportunity within twenty four hours? (48 hours at the very latest)
If not, how will you be more organized and disciplined in your follow-up?
8. Can you have permission to have a bad day or a bad week?
Otherwise, go easy on yourself. It's completely normal to be a little 'up and down' emotionally when going through employment search or change process.
Marie J. Duprey writes for the www.humanresourcescareer.org/, a human resources career planning blog. Her mission is to offer free info to help people take charge of their job search, build confidence and advance their careers by connecting job hunters with the best minds in career counseling, resume writing, personal branding and recruiting.
[headlines]
--------------------------------------------------------------

### Press Release ############################
NEFA Fall 2010 Super Regional Expo Report
Atlanta, Ga. — The National Equipment Finance Association (NEFA) welcomed over 80 leasing industry professionals to Teaneck, N.J., Nov. 14-15, for the fall 2010 Super Regional Expo. The conference, which was held at the Marriott Teaneck at Glenpointe, featured concurrent breakout sessions and an exhibit hall focused on the theme of "Positioning for Success."
The event kicked off with an opening networking reception in the exhibit hall. Twenty exhibitors and conference sponsors were on hand to meet with attendees to discuss solutions and forge new business opportunities.
Additional event highlights included the keynote address by David Goldsmith, leadership and management expert and business futurist, who shared with attendees his insights into specific cycles, trends and patterns that have an impact on the equipment finance industry, as well as ways to meet market demands and stay innovative. The breakout sessions placed the spotlight on several relevant topics, including: using the Internet to minimize loss and maximize recovery; best practices in e-mail marketing; alternative funding sources; and social media strategies.
"The Fall 2010 Super Regional Expo Committee was dedicated to providing added value to all attendees with outstanding networking, sharing of best practices and educational opportunities," said Frank Peretore, Esq., Fall 2010 Super Regional Expo chair and founding partner with Peretore & Peretore, P.C.


Frank Peretore, Esq.
Peretore & Peretore, P.C.
"I think we were able to successfully achieve this goal, as evidenced by the solid turnout and positive attendee feedback. We are also extremely grateful to our sponsors, exhibitors and attendees for supporting this regional event."
The NEFA is planning additional educational and networking opportunities in the coming months, including the National Equipment Finance Summit, March 17-19, 2011, in Scottsdale, Ariz. Additional details for these events can be found online at nefassociation.org.

About National Equipment Finance Association
The National Equipment Finance Association (NEFA) is a national association serving small- to mid-size independent equipment finance companies, lessors and syndicators. Formed through the strategic merger of two dynamic organizations, the United Association of Equipment Leasing (UAEL) and the Eastern Association of Equipment Lessors (EAEL), the NEFA is a strong association offering enhanced programs, premium networking opportunities, and greater geographic and industry segment diversity. The mission of the NEFA is to provide a forum for members to pursue personal and professional growth, ethics, advocacy, networking, education and involvement. For more information, visit nefassociation.org or call 404.760.2843.
#### Press Release #############################

[headlines]
--------------------------------------------------------------

Westport, Connecticut---Adopt-a-Dog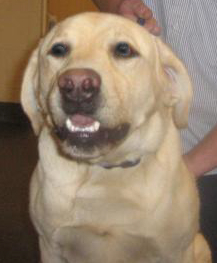 Benji
Animal ID 11836939
Species Dog
Breed Retriever, Labrador/Mix
Age 2 years 6 months
Sex Male
Size Large
Color Yellow
Spayed/Neutered
Declawed No
S ite Westport Branch - CT Humane Society
Location: Westport Shelter

Westport Shelter
455 Post Road East
Westport, CT 06880
203-227-4137
Hours: Monday - Saturday,
9:30 am - 5:30 pm.
Dog adoptions begin at 10:30 am.
Sunday Hours: 11 am - 4 pm
Adoption Procedure and costs:
http://www.cthumane.org/site/PageServer?pagename=adopt_requirements
http://www.cthumane.org/site/PageServer?pagename=adopt_WestportPets


Adopt-a-Pet by Leasing Co. State/City
http://www.leasingnews.org/Conscious-Top%20Stories/Adopt_Pet.htm

Adopt a Pet
http://www.adoptapet.com/\

[headlines]
--------------------------------------------------------------

Fernando's View
By Fernando F. Croce
Laughs, both rude ("Due Date") and romantic ("Morning Glory"), await audiences in theaters this week, while the DVD release of three timeless classics ("Modern Times," "Metropolis," "The Night of the Hunter") make it a choice DVD week for movie buffs.
In theaters: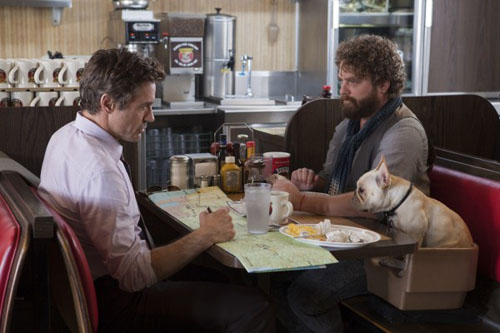 Due Date (Warner Bros.): Director Todd Phillips ("Old School," "The Hangover") continues his run of popular comedies with this agreeable, fast-paced, gag-filled tale featuring one of the screen's most mismatched recent odd couples. The mismatched partners thrown together in the road are Peter (Robert Downey Jr.), a very nervous father-to-be trying to get to Los Angeles to see his newborn child, and Ethan (Zach Galifianakis), a scatterbrained Hollywood hopeful whose slovenly manner is the polar opposite of Peter's every personality trait. The road trip provides the ideal clothespin line on which Phillips hangs a variety of often rude yet oddly lovable jokes, aided immensely by the harmonizing comedy styles of his two talented stars. Fans of "The Hangover" will find plenty of belly laughs.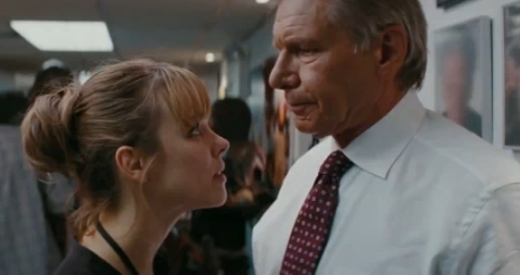 Morning Glory (Paramount Pictures): The mostly waning romantic comedy genre gets a shot of spunky energy with this breezy story of clashing personalities. The heroine is one Becky Fuller (Rachel McAdams), a driven young TV executive struggling to balance her duties at the network with her love life. Her big break seems to be just around the corner as she grabs chance to revitalize a morning news show called "Daybreak." Unfortunately, the rocky, passive-aggressive relationship between the show's two anchors, curmudgeonly veteran Mike Pomeroy (Harrison Ford) and former beauty queen Colleen Peck (Diane Keaton), will make sure that Becky's new job will be anything but a smooth one. Director Roger Mitchell shows off the comic talents he had ten years ago in "Notting Hill" with this zingy charmer.

Netflix tip: "Morning Glory" is just the latest example of an increasingly subgenre, the newspaper screwball comedy. To get a sense of what many modern audiences have been missing, check out Netflix for such glowing battle-of-the-sexes gems as "The Front Page" with Adolphe Menjou and Pat O'Brien, "His Girl Friday" with Cary Grant and Rosalind Russell, and "Broadcast News" with William Hurt and Holly Hunter.
New on DVD: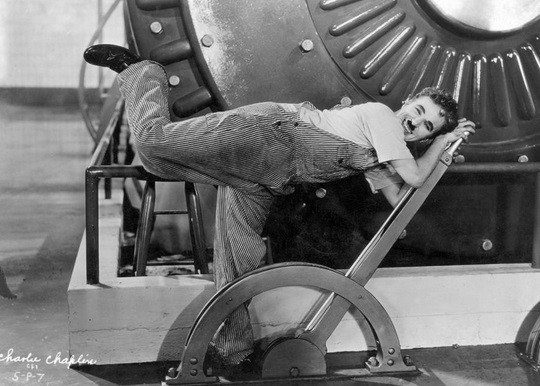 Modern Times (Criterion): What better figure to celebrate work than Chaplin's legendary Little Tramp? In the comic genius' last silent film from 1936, Chaplin's unforgettable character is a harried factory worker who's driven crazy by the many machines controlling his life. A magnet for trouble, the Little Tramp goes from one scrape to another as he's mistaken for a street agitator, foils a jail break, goes through a variety of jobs, and falls for a poor, orphaned girl (Paulette Goddard). Defying contemporary Hollywood's conventions, Chaplin uses sound effects instead of voices to create a remarkable fusion of balletic humor and Depression-era desperation. The scene in which the Little Tramp plays guinea pig for a berserk feeding machine is just one of the film's classic comic highlights.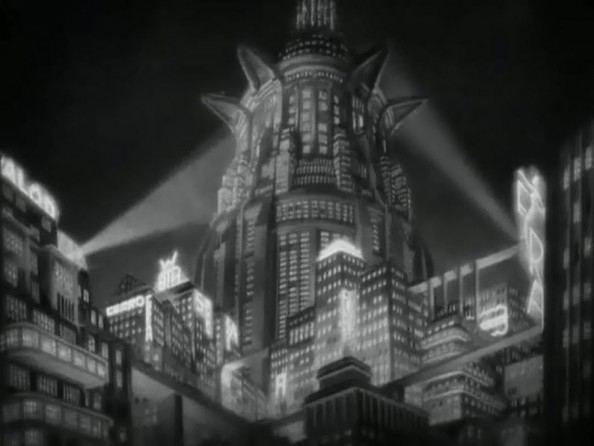 Metropolis (Kino): This 1927 classic is not only the most influential science-fiction feature ever produced, but also a sort of Holy Grail for serious movie lovers. Ever since it first came out, Fritz Lang's peerless vision of a futuristic society torn between palatial surfaces and oppressed masses has been released in several different versions, none of them quite approaching the entirety of the master director's original version. Now Kino is finally releasing the closest integral version yet, featuring superbly restored images, new scenes previously unavailable, and a majestic orchestral score. The deluxe treatment makes it even easier to be awed by Lang's astonishing tale of a mechanized city featuring brave heroes, mad scientists, and robotic temptresses. Watch it, and see where "2001: A Space Odyssey," "Star Wars" and "Blade Runner" came from.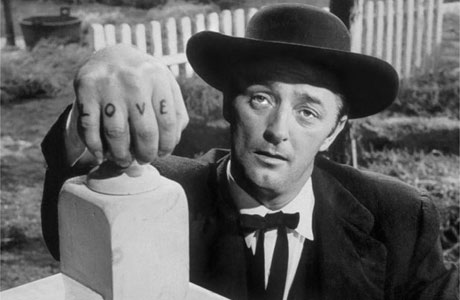 The Night of the Hunter (Criterion): Better known for his indelible performances in such movies as "Mutiny in the Bounty" and "The Hunchback of Notre Dame," Charles Laughton is also famous for directing this unique, dark children's tale from 1955. In one of his greatest performances, Robert Mitchum stars as Harry Powell, a killer who disguises himself as a preacher and marries women for their money. His latest victim, Willa Harper (Shelley Winters), is the wife of a former cellmate who is unwittingly in possession of a stolen fortune. Powell soon has her under his control, but when it comes to convincing Willa's young children, John (Billy Chapin) and Pearl (Sally Jane Bruce). Though this was his only shot at directing, its one-of-a-kind style has forever earned it a spot in history books.
[headlines]
---------------------------------------------------------------

(This ad is a "trade" for the writing of this column. Opinions
contained in the column are those of Mr. Terry Winders, CLP)



News Briefs----
Fed orders new "stress tests" for banks
http://finance.yahoo.com/news/Fed-orders-new-stress-tests-apf-3711398417.html?x=0&sec=topStories&pos=main&asset=&ccode=

FDIC Steps Up Investigations at Failed Lenders
http://online.wsj.com/article/SB1000142405274870362820457
5619000289073686.html?mod=googlenews_wsj

Bond plan could create 700,000 jobs, Bernanke tells senators
http://www.usatoday.com/money/economy/2010-11-17-bernanke-stimulus_N.htm
Bankruptcy Filings Up 11% In 2010
http://www.collectionscreditrisk.com/news/bankruptcy-filings-up-3003998-1.html
Federal Court Shuts Down International Robocall Operation
http://www.collectionscreditrisk.com/news/federal-court-shuts-down-international-robocall-operation-3004024-1.html

India Tech hiring to hit record highs
http://timesofindia.indiatimes.com/business/india-business/Tech-hiring-to-hit-record-highs/articleshow/6933444.cms
Bristol Palin's 'DWTS' run fuels conspiracy theories
http://www.usatoday.com/life/television/news/2010-11-18-DWTS18_ST_N.htm?loc=interstitialskip


You May have Missed---
Automatic Garage Door Opener for your Motorcycle
http://www.youtube.com/watch?v=1C-Bxifv2Pk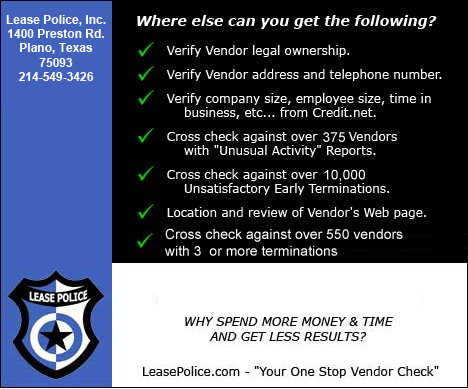 (Leasing News provides this ad "gratis" as a means
to help support the growth of Lease Police)

Sports Briefs----

The numbers don't lie: Donovan McNabb's play is a liability for the Redskins
http://www.washingtonpost.com/wp-dyn/content/article/2010/11/17/AR2010111706293.html?hpid=topnews

Black wins NL Manager of the Year award
http://www.signonsandiego.com/news/2010/nov/17/black-wins-national-league-manager-year-award/


California Nuts Briefs---
Unclaimed Property in California (don't laugh, I found my old leasing company name on the list for a refund!!!)
http://www.sacbee.com/2010/11/14/3181591/personal-finance-california-has.html

Meg Whitman reaches settlement with former housekeeper
http://blogs.sacbee.com/capitolalertlatest/2010/11/from-susan-ferriss-in-san.html


"Gimme that Wine"

Wine Spectator Top 100 Wines 2010
http://www.winespectator.com/display/show?id=44027
Wine for Thanksgiving---by Eric Asimov
http://www.nytimes.com/2010/11/10/dining/10wine.html?_r=1&ref=dining
Cosentino Closes Last Two Wineries
http://www.winesandvines.com/template.cfm?section=news&content=81039&
htitle=Cosentino%20Closes%20Last%20Two%20Wineries
Coppola unveils 'wine wonderland'
http://www.northbaybusinessjournal.com/26866/coppola-unveils-wine-wonderland/


Free Mobile Wine Program
http://leasingnews.org/archives/Feb2010/2_26.htm#mobile
Wine Prices by vintage
http://www.winezap.com
US/International Wine Events
http://www.localwineevents.com/
Winery Atlas
http://www.carterhouse.com/atlas/\
Leasing News Wine & Spirits Page
http://two.leasingnews.org/Recommendations/wnensprts.htm

[headlines]
----------------------------------------------------------------
This Day in American History
1787- Birthday of Sojourner Truth, abolitionist and orator, born up-state New York. Born into slavery as Isabella Baumfree
http://myhero.com/myhero/hero.asp?hero=sojournerTruth
1803- Battle of Vertieres, in which Haitians defeat French. In the battle for independence, a fierce fight took place in the town of Vertieres, where the French army led by Napoleon, was defeated by Haitians. This huge defeat of Napoleon's army led to the end of the war, and to Haiti's eventual march towards independence on 1st January, 45 days later. American Black slaves escape to Haiti for freedom. Southern states introduce legislation for "runaway slaves."
http://www.windowsonhaiti.com/windowsonhaiti/heroes.shtml
1820- American Captain Nathaniel Brown Palmer in the "Hero, a sloop of 44 tons, with a crew of six including the captain and the mate, discover Antarctica. His discovery of the Antarctic peninsula is now called Palmer's Peninsula. The first American to set foot on Antarctica was probably John Davis, a seal hunter, who went ashore at Hughes Bay on February 7m, 1821. Antarctica had already been seen from a distance by the English explorer James Cook and the crew of his ship, The Endeavor, which circumnavigated the continent between 1773 and 1775.
1825- Birthday of Susan Lincoln Tolman Mills, educated at Mount Holyoke College, she used the training methods in a school in Hawaii where she taught with her husband. Back in California, the couple opened a school that became Mills College, again using the Mount Holyoke philosophy as well as several of its teachers. At her husband's death in 1884 she was principal and for a time acting president. She was finally named president (after two male presidents) in 1890. Mills was the first woman's college on the west coast and under her guidance it became one of the major colleges of the nation. In 1991 an effort to convert it to admit men was defeated by the students and it continues to be an all-woman college.
1848- Edward Cleveland Kemble resumed publishing the combined "California Star" and the "Californian" in San Francisco as the "Star and Californian"; both closed when employees quit to rush to the gold fields.
1849- John and Amanda Pelton open first tuition-free public school in San Francisco.
1850- Col. Charles L. Wilson granted concession to build a planked toll road from San Francisco to Mission Dolores.
1857- Birthday of Rose M. Knox, within seven years of taking over the management of the Knox Gelatine Company, developed it into a multi-million-dollar firm. On the first day of her management following her husband's death, she locked the back door and ordered everyone from president to janitor to use the front door. She managed the business for more than 40 years, changed its emphasis to nutrition, and made it a thriving business. Her management style was pro- worker and layoffs were unheard of with a five-day work week with vacations and sick pay. She stepped aside as the company's president only when she reached her 90th birthday, retaining her position as chairperson. She was recognized as one of the nation's outstanding businesswomen.
1861- Poet and abolitionist Julia Ward Howe writes the lyrics for the Battle Hymn of the Republic. She had accompanied her husband, Dr. Samuel Howe, to Fort Griffin, Virginia, to review Union troops defending the capital. The ceremony was cut short when the Federals were forced to give chase to a nearby party of Confederates. Dr. and Mrs. Howe returned to their Washington hotel, but Mrs. Howe awoke in the early morning hours with "long lines" of a poem in her mind. She rose in darkness and wrote six stanzas of The Battle Hymn of the Republic on her husband's stationery based on chapter 63 of the Old Testament's Book of Isaiah. In February 1862, The Atlantic Monthly printed the poem for a $5 payment. Soon troops all over the North were singing the stirring words to the popular tune of John Brown's Body, which had been composed in 1852.
1863- President Lincoln boards a train for Gettysburg, Pennsylvania, to deliver a short speech at the dedication for the cemetery of soldiers killed during the battle there on July 1 to 3, 1863. While he did not know it at time, the battle was the turning point of the Civil War. He also was not aware that the address he was about to give became perhaps the most famous speech in American history. Lincoln had thought about what he wanted to say, but he nearly missed his chance to say it. On November 18, Lincoln's son, Tad, became ill with a fever. Abraham and Mary Lincoln were, sadly, no strangers to juvenile illness: they had already lost two sons. Prone to fits of hysteria, Mary Lincoln panicked when the president prepared to leave for Pennsylvania. Lincoln felt that the opportunity to speak at Gettysburg and present his defense of the war was too important to miss, though. He had a great sense that there was a turning point in the long, deadly war about to be made. He was accompanied by an entourage that included Secretary of State William Seward, Postmaster General Montgomery Blair, Interior Secretary John Usher, Lincoln's personal secretaries John Hay and John Nicolay, several members of the diplomat corps, some foreign visitors, a Marine band, and a military escort. A reporter wrote during one stop, a young girl lifted a bouquet of flowers to his window. Lincoln kissed her and said, "You're a sweet little rose-bud yourself. I hope your life will open into perpetual beauty and goodness." When Lincoln arrived in Gettysburg, he was handed a telegram that lifted his spirits: Tad was feeling much better. Lincoln enjoyed an evening dinner and a serenade by Fifth New York Artillery Band before he retired to finalize his famous Gettysburg Address.
1865- Mark Twain has instant success with his first fictional piece, "The Celebrated Jumping Frog of Calaveras County" (New York Saturday Press).
1883- Charles Ferdinand Dowd, a Connecticut school teacher, and one of the early advocates of uniform time, proposed a time zone plan of the US ( four zones of 15 degrees), which he and others persuaded the railroads to adopt and place in operation. It did not become law until March 19,1918, when Congress passed the Standard Time Act, which authorized the Interstate Commerce Commission to establish time zones. It also established "Daylight Savings Time" to save fuel.
http://memory.loc.gov/ammem/today/nov18.html
1888-The great baseball promoter Albert G. Spalding began his world tour to introduce baseball to the enter world. He, the Chicago White Stockings and a group of all-star players set sail from San Francisco for Honolulu, the first stop on their round-the-world tour.
1888- Birthday of Frances Marion, screenwriter, novelist, director who at her peak earned $17,000 a week as a Hollywood screen writer, writing the original Stella Dallas and winning academy awards for The Big House (1930) and The Champ (1931). In all she wrote more than a hundred film scripts.
1909-Birthday of John Herndon "Johnny" Mercer, American songwriter, singer, radio performer and actor, bon at Savannah, GA. Johnny Mercer wrote lyrics ( and often the music ) for some of the great American popular music from the 1930's through the 1960's, including "Autumn Leaves, " "One for My Baby, " Satin Doll," "On the Atchison, Topeka, and the Santa Fe," "You mush Have Been a Beautiful Baby," "Come Rain or Come Shine," Hooray for Hollywood," "Jeepers Creepers," and countless more. Mercer died June 25, 1976 at Bel Air, CA.
1916- Birthday of the late Jimmy Lyons, born Peking, China; jazz disc jockey, founder of the Monterey Jazz Festival, who I worked with at KFRC in the early 1970's.
http://www.amazon.com/exec/obidos/ASIN/0893950068/inktomi-bkasin-20/
104-6368463-9838304China
1923- Fifty-four inches of snow and sleet blocked the Columbia River Highway in the Dalles, Oregon. Railroads were stopped for days in both Washington and Oregon
1923- Birthday of Alan Shepard, former astronaut and the first American in space (in 1961). Shepard was born at East Derry, NY. He was one of the only 12 Americans who have walked on the moon and was America's only lunar golfer, practicing his drive in space with a six iron. He was awarded the Medal of Honor in 1979. Shepard died near Monterey, CA, July 21, 1998.
1927- Bix Biederbecke cuts first date with Paul Whiteman Orchestra, " Washboard Blues," with Hoagy Carmichael, vocal. Victor.
1928- The comical activity of squeaky-voiced Mickey Mouse first appeared on the screen of Colony Theater at New York City. The film Walt Disney's "Steamboat Willie" was the first animated cartoon talking picture.
1928- Birthday of singer Sheila Jordan, Detroit, MI
http://www.npr.org/programs/btaylor/pastprograms/sheilajordan.html
1932- For the first time, a tie occurred for the Best Actor Academy Award. Wallace Beery and Fredric March were only one vote apart so the Academy of Motion Picture Arts and Sciences ruled it a tie. Both received an Oscar at the Fifth Annual Academy Awards, March for his performance in "Dr. Jekyll and Mr. Hyde" and Beery for his role in "The Champ". March thought it rather funny that the two were honored for "best male performance of the year" when they each had adopted a child that year. "The Champ" also was honored when Frances Marion received the Writing/Original Story Academy Award for the film. There was only one Best Actress Award and it was presented to Helen Hayes for her performance in "The Sin of Madelon Claudet". Host Lionel Barrymore greeted the film industry this night in the Fiesta Room at LA's grand hotel, The Ambassador. The movie, "Grand Hotel" (Metro-Goldwyn-Mayer), earned the top honors as Outstanding Production. It was also a grand night for the film, "Bad Girl". Its director, Frank Borzage, and its writer (adaptation), Edwin Burke, were both presented with Academy Awards. Walt Disney also received two awards: an honorary award for the creation of Mickey Mouse and for the cartoon short subject "Flowers and Trees". Short Subject awards were presented to two other well-known Hollywood talents on this evening. Hal Roach won his prize for the comedy, "The Music Box" and Mack Sennett for the novelty short, "Wrestling Swordfish". Both were first-time Academy Award winners as were Gordon Wiles for Art Direction ("Transatlantic") and Lee Garmes for Cinematography ("Shanghai Express").
http://www.infoplease.com/ipa/A0147959.html
1936-Ella Fitzgerald,18, cuts first disc, " My Last Affair." Decca.
1936 Birthday of Trumpet Player Don Cherry
http://www.wnur.org/jazz/artists/cherry.don/
1939- Artie Shaw, at the peak of success, disbands, splits for Mexico.
1942- Thornton Wilder's play, "The Skin of Our Teeth", opened in New York City. The play was Wilder's sequel to "Our Town". "The Skin of Our Teeth" starred Tallulah Bankhead, Fredric March, Montgomery Clift and E.G. Marshall. One critic wrote, "As of last evening, the theatre was looking up."
1943- Two days after the American raid on the power station in Vermork, Norway, 440 British bombers swooped down on Berlin at night. The raid was not overly successful. Though 131 Berliners were killed, the Royal Air Force struck very few of the industrial areas they intended to hit. Even worse, nine British bombers were shot down, and fifty-three aircrew members killed. One of the victims was Wing Commander John White, who had played a significant role in the successful bombing of Peenemunde.
1946- Birthday of sax player Bennie Wallace, Chattanooga, TN,
http://www.amazon.com/exec/obidos/ASIN/B00000AEC2/avsearch-musicasin-20/
104-6368463-9838304
1949- Jackie Robinson because the first baseball player who was African-American to win the "Most Valuable Player Award" in the major leases as second baseman of the National League's Brooklyn Dodgers, New York City. He won the Kenesaw Mountain Landis Memorial plaque from the Baseball Writers Association. The first African-American player in the American League to win the award was Elston Howard, catcher for the New York Yankees, on November 7, 1963.
1949---Top Hits
That Lucky Old Sun - Frankie Laine
Don't Cry, Joe - The Gordon Jenkins Orchestra (vocal: Betty Brewer)
I Can Dream, Can't I? - The Tommy Dorsey Orchestra (vocal: Jack Leonard)
Slipping Around - Margaret Whiting & Jimmy Wakely
1950- "Harbor Lights" by Sammy Kaye topped the charts and stayed there for 4 weeks.
1950- Marine Corp jet Captain Major John F. Bolt of Sanford, Florida, became a double ace. He led a four-plane Saber flight in an attack on four enemy fighters east of Sinuiju, Korea, on his 37 th mission, and downed his fifth and six MIG-15s. He first qualified as an ace in world War II, when he shot down six Zekers between September 23, 1943 and January 4, 1944, while serving with Boyington's Black Sheep Squadron. John Bolt was the only Marine to become an ace in WWII and Korea. In WWII, he flew with 'The Black Sheep', VMF-214, best known for its CO,
Pappy Boyington
.
http://www.acepilots.com/usmc_bolt.html
1951- The television show "See It Now" premiered, doing unrehearsed interviews, covering relevant and newsworthy stories of its time, including desecration, lung cancer and anti-Communist fervor. One of the most notable shows focused on Senator Joseph McCarthy, leading to McCarthy's appearance on the show which damaged his creditability. The show was hosted by Edward R. Murrow, who also produced it jointly with Fred W. Friendly. Its premiere was the first live commercial coast-to-coast broadcast.
1951- Wanting to stay in California, PCL Los Angeles Angels first baseman Chuck Connors becomes the first player to refuse to participate in the major league draft. The former Cub first baseman and future star of the TV series The Rifleman refusal allows the minor leagues to ask for more money for big league talent.
1955- An early season cold snap finally came to an end. Helena, MT, experienced 138 consecutive hours of subzero temperatures, including a reading of 29 below zero, which surpassed by seven degrees their previous record for the month of November. Missoula MT broke their November record by 12 degrees with a reading of 23 below zero, and Salt Lake City UT smashed their previous November record of zero with a reading of 14 below. Heavy snow in the Great Basin closed Donner Pass CA, and total crop damage from the cold wave amounted to eleven million dollars
1955- Carl Perkins recorded "Blue Suede Shoes" at Sun Studios in Memphis. It became his biggest Pop hit, reaching #2 on the Billboard chart. Elvis Presley's version, which gets more air-play these days, only managed to get to #20.
1956- Birthday of football player Harold Warren Moon, born Los Angeles, CA.
1956- Fats Domino appears on the Ed Sullivan show singing his hit "Blueberry Hill."
1957---Top Hits
Jailhouse Rock - Elvis Presley
You Send Me - Sam Cooke
Little Bitty Pretty One - Thurston Harris
Wake Up Little Susie - The Everly Brothers
1958, DALLAS, Texas (AP) -- Former city councilwoman Laura Miller easily won the hotly contested race for mayor of the nation's ninth largest city Saturday night.
1957- Ricky Nelson records "Stood Up", which will reach #2 early the following year.
1963- Push-button telephones went into service as alternative to rotary-dial phones. touch-tone service was available as an option at an extra charge. this option was only available in two Pennsylvania cities.
1964- J Edgar Hoover describes Martin Luther King as "most notorious liar"
1964- The Supremes appear on "Shindig!" singing "Baby Love" and "Come See About Me." The Righteous Brothers are also on the show and perform "Little Latin Lupe Lu."
1965---Top Hits
Get Off of My Cloud - The Rolling Stones
1-2-3 - Len Barry
You're the One - The Vogues
Hello Vietnam - Johnny Wright
1966- This was the last required meatless Friday for American Roman Catholics, in accordance with a decree made by Pope Paul VI earlier this year.
1967- DAVIS, SAMMY L. Medal of Honor
Rank and organization: Sergeant, U.S. Army, Battery C, 2nd Battalion, 4th Artillery, 9th Infantry Division. Place and date: West of Cai Lay, Republic of Vietnam, 18 November 1967. Entered service at: Indianapolis, Ind. Born: 1 November 1946, Dayton, Ohio. Citation: For conspicuous gallantry and intrepidity in action at the risk of his life and beyond the call of duty. Sgt. Davis (then Pfc.) distinguished himself during the early morning hours while serving as a cannoneer with Battery C, at a remote fire support base. At approximately 0200 hours, the fire support base was under heavy enemy mortar attack. Simultaneously, an estimated reinforced Viet Cong battalion launched a fierce ground assault upon the fire support base. The attacking enemy drove to within 25 meters of the friendly positions. Only a river separated the Viet Cong from the fire support base. Detecting a nearby enemy position, Sgt. Davis seized a machine gun and provided covering fire for his gun crew, as they attempted to bring direct artillery fire on the enemy. Despite his efforts, an enemy recoilless rifle round scored a direct hit upon the artillery piece. The resultant blast hurled the gun crew from their weapon and blew Sgt. Davis into a foxhole. He struggled to his feet and returned to the howitzer, which was burning furiously. Ignoring repeated warnings to seek cover, Sgt. Davis rammed a shell into the gun. Disregarding a withering hail of enemy fire directed against his position, he aimed and fired the howitzer, which rolled backward, knocking Sgt. Davis violently to the ground. Undaunted, he returned to the weapon to fire again when an enemy mortar round exploded within 20 meters of his position, injuring him painfully. Nevertheless, Sgt. Davis loaded the artillery piece, aimed and fired. Again he was knocked down by the recoil. In complete disregard for his safety, Sgt. Davis loaded and fired 3 more shells into the enemy. Disregarding his extensive injuries and his inability to swim, Sgt. Davis picked up an air mattress and struck out across the deep river to rescue 3 wounded comrades on the far side. Upon reaching the 3 wounded men, he stood upright and fired into the dense vegetation to prevent the Viet Cong from advancing. While the most seriously wounded soldier was helped across the river, Sgt. Davis protected the 2 remaining casualties until he could pull them across the river to the fire support base. Though suffering from painful wounds, he refused medical attention, joining another howitzer crew, which fired at the large Viet Cong force until it broke contact and fled. Sgt. Davis' extraordinary heroism, at the risk of his life, is in keeping with the highest traditions of the military service and reflects great credit upon himself and the U.S. Army.
1968- Glen Campbell, a former session musician for Frank Sinatra, Nat "King" Cole and the Beach Boys, receives two gold records - one for "By The Time I Get To Phoenix" and one for "Gentle On My Mind."
1968- The Jimi Hendrix Experience's third album, "Electric Ladyland," earns the group its third gold LP. "Crosstown Traffic," a version of Bob Dylan's "All Along the Watchtower" and "Voodoo Chile" are the two-record set's highlights.
1968- The Spiral Staircase record "More Today than Yesterday", which will reach #12 in the US the following spring.
1973---Top Hits
Keep on Truckin' - Eddie Kendricks
Heartbeat - It's a Lovebeat - The DeFranco Family
Photograph - Ringo Starr
Paper Roses - Marie Osmond
1974- Frank Sinatra emerged from retirement to do a TV special with dancer Gene Kelly. The show was a smash hit and revived Sinatra's career.
1975- John Denver received a gold record for "I'm Sorry".
1978- Congressman Leo J Ryan of Burlingame, California was killed along with four others in his group in Jonestown, Guyana by members of Peoples Temple, followed by ritual mass suicide of 913 members. (I served as his first state assembly administrative assistant and legislative aide in the late 1960's. His personal secretary of many years was murdered in her house during a robbery of the family's coin collection). People's Temple leader Jim Jones led hundreds of his followers in a mass murder-suicide at their agricultural commune in remote northwestern Guyana. The few cult members who refused to take the cyanide-laced fruit-flavored concoction were either forced to do so at gunpoint or shot as they fled. The final death toll was 913, including 276 children. Jim Jones was a charismatic churchman who founded the People's Temple, a Christian sect, in Indianapolis in the 1950s. He preached against racism, and his integrated congregation attracted mostly African Americans. In 1965, he moved the group to northern California, settling in Ukiah and after 1971 in San Francisco. In the 1970s, his church was accused by the press of financial fraud, physical abuse of its members, and mistreatment of children. In response to the mounting criticism, Jones led several hundred of his followers to South America in 1977 and set up a utopian agricultural settlement called Jonestown in the jungle of Guyana. A year later, a group of ex-members convinced U.S. Congressman Leo Ryan, a Democrat of California, to travel to Jonestown and investigate the commune. On November 17, 1978, Ryan arrived in Jonestown with a group of journalists and other observers. At first the visit went well, but the next day, as Ryan's group was about to leave, several People's Church members approached members of the group and asked them for passage out of Guyana. Jones became distressed at the defection of his members, and one of Jones' lieutenants attacked Ryan with a knife. Ryan escaped from the incident unharmed, but Jones then ordered Ryan and his companions ambushed and killed at the airstrip as they attempted to leave. The congressman and four others were murdered as they attempted to board their charter planes. Back in Jonestown, Jones directed his followers in a mass suicide in a clearing in the town. With Jones exhorting the "beauty of dying" over a loudspeaker, hundreds drank a lethal cyanide and Kool-Aid drink. Those who tried to escape were chased down and shot by Jones' lieutenants. Jones died of a gunshot wound in the head, probably self-inflicted. Guyanese troops, alerted by a cult member who escaped, reached Jonestown the next day. Only a dozen or so followers survived, hidden in the jungle. Most of the 913 dead were lying side by side in the clearing where Jones had preached to them for the last time.
http://www.lermanet.com/house/destructive.htm
1979- Paul McCartney releases "Wonderful Christmastime", a tune on which he plays all the instruments himself.
1981---Top Hits
Private Eyes - Daryl Hall & John Oates
Start Me Up - The Rolling Stones
Physical - Olivia Newton-John
My Baby Thinks He's a Train - Rosanne Cash
1986- The Roseland Ballroom reopened in New York City. The 67-year-old home for those wanting to dance cheek to cheek featured America's dean of society music, Lester Lanin. He played for patrons who wanted to cut a rug on the 112-by-55-foot, maple wood dance floor.
1986- For the first time since his departure from his own late-night TV show, Jack Paar was a guest of Johnny Carson on "The Tonight Show". One of TV's great lines came from the show, when Carson quipped (after one of Paar's long, long spiels), "Why is it that I feel I'm guesting on your show?"
1986- Roger Clemens was named the American League's Most Valuable Player. He was the first American League starter to be so named in 15 years. The Boston Red Sox hurler won the honor one week after earning the Cy Young Award1997 - The Arizona Diamondbacks and Tampa Bay Devil Rays begin taking shape with 35 selections apiece in baseball's expansion draft. Both the Diamondbacks and Devil Rays began their baseball lives with sufficient funds to contend quickly.
1986- "Amanda" by Boston topped the charts and stayed there for 2 weeks.
1987- Cub outfielder Andre Dawson (.287, 49, 137) becomes the first player to win the MVP award as a member of a last place club.
1987- After nearly a year of hearings into the Iran-Contra scandal, the joint Congressional investigating committee issues its final report. It concluded that the scandal, involving a complicated plan whereby some of the funds from secret weapons sales to Iran were used to finance the Contra war against the Sandinista government in Nicaragua, was one in which the administration of Ronald Reagan exhibited "secrecy, deception, and disdain for the law." Naming several members of the Reagan administration as having been directly involved in the scheme (including National Security Advisor John Poindexter and deceased CIA Director William Casey), the report stated that Reagan must bear "ultimate responsibility." A number of government officials were charged and convicted of various crimes associated with the scandal.
1988-An Anti-Drug bill of large scope was signed into law by President Ronald Reagan. It called for the death penalty for drug-related murders, a $10,000 fine for the possession of even small amounts of controlled substances and provided for the expansion of treat facilities. A cabinet-level office was established for a drug "czar" to oversee the nation's fight on drugs.
1989---Top Hits
When I See You Smile - Bad English
Blame It on the Rain - Milli Vanilli
Love Shack - The B-52's
Bayou Boys - Eddy Raven
1989- A second surge of arctic air brought record cold to parts of the north central U.S. Eleven cities in the Upper Midwest reported record low temperatures for the date, including Rochester MN with a reading of 4 degrees below zero. Strong winds ushering the arctic air into the north central U.S. produced squalls in the Lower Great Lakes Region. Snowfall totals in northern Ohio ranged up to twenty inches in Ashatabula County and Geauga County
1990- The Righteous Brothers saw their popularity surge when the movie, Ghost, (starring Patrick Swayze and Demi Moore) featured their 1965 hit, "Unchained Melody." Their original version and a re-recorded cut both made it into the US top 20, while three Greatest Hits albums made the Billboard chart.
1990- Art Monk becomes only the third player in NFL history to amass 700 career receptions when he makes four catches against the Saints.
1995- The Rolling Stones become the first act to broadcast a concert on the Internet.
1995- "Goldeneye" the latest James Bond movie, opens, featuring a title song by Tina Turner.
1996- Four hardware makers unveiled hand-held computers at an electronics show on this day in 1996. The computers were all designed to run Microsoft Windows CE, an operating system introduced at the show the previous day. The machines offered remote and wireless connections for checking e-mail and surfing the Web and allowed users to synchronize data with Windows programs. By 1999, the market for hand-held computers had grown to an estimated 5.7 million units, nearly fifty percent greater than 1998 sales, according to the research firm Dataquest. Today they are incorporated into wireless telephones the size of a pack of cigarettes that also include the ability to take pictures.
2008- Joining Cal Ripken Jr. (Orioles - 1983) and Ryan Howard, (Phillies - 2006 ), Dustin Pedroia (.326, 17, 83 ) becomes the third player in major league history to win the Most Valuable Player award a season after being selected as the Rookie of the Year. The scrappy Gold Glove second baseman, the 10th Red Sox player to earn the American League honor, received 16 of the 28 first-place votes to easily outdistance heavy-hitting Twins first baseman Justin Morneau (.300, 23, 129).
2008- Secretary of State Condoleezza Rice introduces Ken Griffey, Jr. as an American Public Diplomacy Envoy, a position in which the future Hall of Famer will represent the "values of the United States, not the government of the United States." The free-agent outfielder, who played for the Reds and White Sox last season, joins Cal Ripken Jr. as a major leaguer serving his country in the U.S. State Department's Bureau of Educational and Cultural Affairs.
[headlines]
--------------------------------------------------------------
American Football Poem
Hey nonny no!
Men are fools that wish to die!
Is't not fine to dance and sing
When the bells of death do ring?
Is't not fine to swim in wine,
And turn upon the toe
And sing hey nonny no,
When the winds blow and the seas flow?
Hey nonny no!
-Anonymous (17th century)-
--------------------------------------------------------------

SuDoku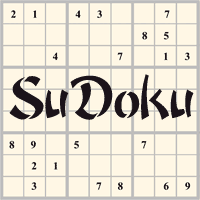 The object is to insert the numbers in the boxes to satisfy only one condition: each row, column and 3x3 box must contain the digits 1 through 9 exactly once. What could be simpler?
http://leasingnews.org/Soduku/soduko-main.htm
--------------------------------------------------------------

Daily Puzzle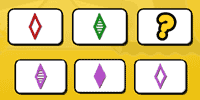 How to play:
http://www.setgame.com/set/puzzle_frame.htm
Refresh for current date:
http://www.setgame.com/set/puzzle_frame.htm
--------------------------------------------------------------


http://www.gasbuddy.com/
http://www.gasbuddy.com/GB_Map_Gas_Prices.aspx
http://www.gasbuddy.com/GB_Mobile_Instructions.aspx
--------------------------------------------------------------

Weather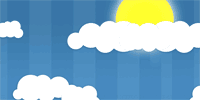 See USA map, click to specific area, no commercials
--------------------------------------------------------------

Traffic Live---
Real Time Traffic Information
You can save up to 20 different routes and check them out with one click,
or type in a new route to learn the traffic live
--------------------------------