[headlines]
--------------------------------------------------------------
Lessor Prevails Against Chutzpa Defense
of Bank Approval of False Financial Statement
by Tom McCurnin, Esq.
Barton, Klugman & Oetting
Los Angeles, California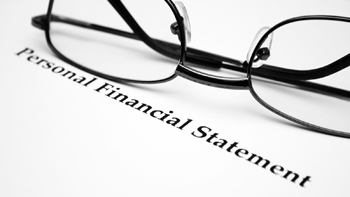 Lessee's Claim of Negligent Lending Falls Upon Unsympathetic
Ninth Circuit Court of Appeals Panel
Occasionally, a Debtor gets so brazen at his attempt at securing credit that there isn't much to say after the Debtor gets caught with his hands in the cookie jar. Sometimes all the Debtor can say is, well, "you shouldn't have put the cookie jar so close to the countertop." That strategy didn't work out for one lessee.
In the case In re Kempf, 2012 WL 603805 (9th Cir. BAP 2012), the Debtor was so anxious for credit to lease a mobile CT scanning machine from Hitachi Capital that he issued a financial statement showing a $4mm net worth, centered mostly in off shore trust assets to which he was a beneficiary. The deal was approved, and Mr. Kempf drove off in his brand new mobile CT scanning machine. There was one little problem—Kempf wasn't a beneficiary to the trust, his wife was, and he lied on his financial statements to the lessor.
The venture wasn't successful, and a mere nine months later Kempf defaulted. Hitachi instituted a State court collection action, discovering that Kempf had no interest in his wife's trust. A State Court judge agreed, and a judgment was obtained in favor of the lessor and against Kempf. Kempf then filed a Chapter 7 Bankruptcy.
In the Bankruptcy, Kempf claimed that Hitachi could not have reasonably relied upon his financial statement because it was obvious he was lying. Indeed, Hitachi obtained a copy of the trust and it clearly reflected that Kempf's wife, not Kempf, was the sole beneficiary. Thus it was argued that the loan officer did minimal due diligence, had never done a deal in a community property State, was unfamiliar with trusts, and did not seek the advice of in house counsel. Kempf even went so far as retaining an expert witness, Thomas Tarter, a well-known banking expert, who routinely opines that banks never do anything right.
The trial court rejected that argument and found Mr. Kempf liable to Hitachi for the guaranty of the lease, and a non-dischargeable judgment was entered for $750,000 plus $120,000 in attorney fees.
On appeal, the same arguments were raised. However, the Court of Appeals had no problem in rejecting the "negligent lending" theories advanced by Kempf. The court stated:
"Lenders do not have to hire detectives before they are found to have reasonably relied upon the debtor's false financial statements. When there is evidence of materially fraudulent statements, little investigation is required for a creditor to have reasonably relied on the debtor's representations. The mere fact that a creditor could have performed a more thorough investigation or could have avoided its loss by independently attempting to verify the information contained in the debtor's financial statement is no defense in a proceeding to except the debt from discharge. Finally, it noted that there was nothing in the record to suggest that Hitachi did not adhere to its normal business practices."
The Bankruptcy Court got it right on this one, avoiding the hyper-technical arguments that somehow the creditor can't take the borrower's statements at face value.
The lessons for the equipment lessor are two-fold.
First, obtain financials and tax returns on the guarantor. The financial statement is the primary document that should be reviewed. The creditor does not have to have a tax degree and dissect the nuances of the tax return, if it is used for verification of income.
Second, as stated in the opinion, the company should have policies in place that guide the underwriter in the credit approval process. Those policies should be enforced with training sessions. Here, the policies of Hitachi were that the financial statement was the primary underwriting document, and the tax return and the trust instrument were not reviewed in their totality and were only glanced at to verify family income. Those policies carried the day.
Tom McCurnin
Barton, Klugman & Oetting
Los Angeles, California
email: tmccurnin@bkolaw.com
Voice: (213) 621-4000
Fax (213) 625-1832
Visit our Web Site at www.bkolaw.com

Court Case:
http://leasingnews.org/PDF/FalseFinancialStatement.pdf
Previous Tom McCurnin Articles:
http://www.leasingnews.org/Conscious-Top%20Stories/leasing_cases.html

[headlines]
--------------------------------------------------------------


Banks Continue Benefit from Improving Credit Quality
by Kevin Dobbs, Andrew Wolcott, Ken McCarthy
SNL Financial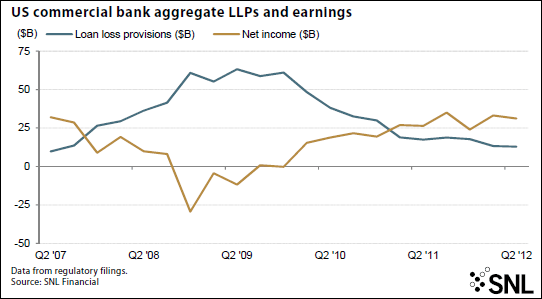 Banks continued to benefit from improving credit quality in the second quarter, lowering provision levels and drawing down reserves.
Each of the nation's five biggest banks — JPMorgan Chase & Co., Bank of America Corp., Citigroup Inc., Wells Fargo & Co. and U.S. Bancorp — reported lower net charge-offs in the latest completed quarter, allowing them to bring down provisions and reserves, an SNL Financial analysis found. Sixteen of the nation's 20 largest banks reported lower net charge-offs. Of those 20 companies, 15 released reserves, and 11 of them lowered provisions.
"We're still seeing positives from working through past credit problems, and as nonperformers decrease, allowances for losses need to come down, too," Matthew Schultheis, an analyst at Boenning & Scattergood Inc., told SNL.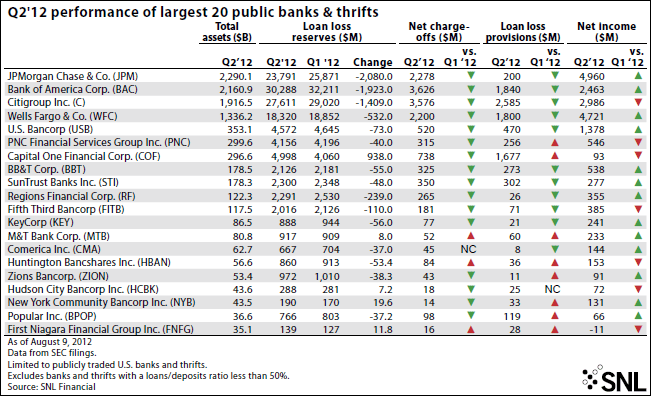 At SunTrust Banks Inc., for example, second-quarter earnings were up 4 cents per share from the previous quarter, in large part because of a $17 million provision decline on lower net charge-offs and continued broad improvement in credit, CFO Aleem Gillani said during a call to discuss the company's latest results.
Year over year, Gillani said, nonperforming loans were down $1.2 billion, or more than 30%.
Gillani echoed many of his colleagues, who provided similar results on the credit front during earnings season.
Economic conditions, while hardly robust, have hovered in positive territory long enough for the banking industry as a whole to see its credit quality picture improve steadily over the past several quarters. The second quarter was no exception.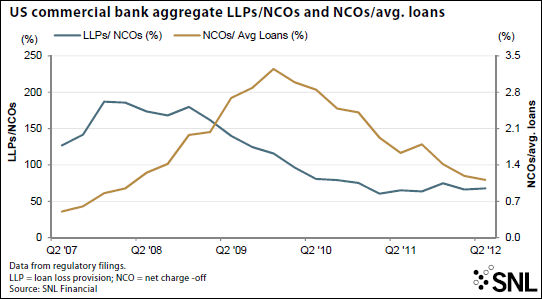 But many bankers say they are nearing an inflection point. They say the pace of reserve releases likely will slow as 2012 wears on, because the bulk of credit improvements have now been realized. Gillani hinted at just that. While expecting SunTrust's asset quality trends to continue to improve, driven by the residential loan portfolio, Gillani said most of the commercial and consumer portfolios "are currently nearing more normal credit metric levels."
At Comerica Inc., for another example, the provision for credit losses decreased $3 million in the second quarter to $19 million, as asset quality improved, and the company released about $26 million in reserves, roughly on par with the release in the first quarter.
Looking out to the remainder of this year, Comerica CFO Karen Parkhill, during a call with analysts to discuss earnings, said to expect credit trends to "remain positive" but credit expenses likely will decline "at a slower pace" as "we approach normal" levels.
Chief Credit Officer John Killian said Comerica's charge-offs and provisions "would be very close in the third and fourth quarter to what they were in the second quarter." And he expects the company's reserve release "to be very much" in the range of the past two quarters "as we go forward for the next couple of quarters."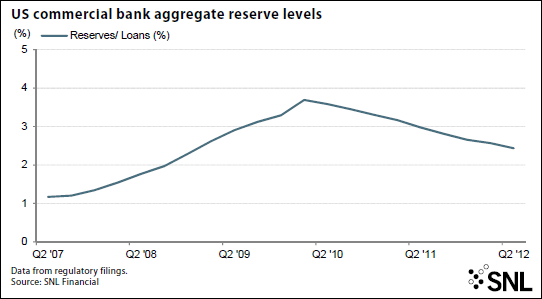 Moreover, assuming the economy does not dip back into recession and banks can produce some loan growth in coming quarters, provisions might need to be padded some as the industry moves into 2013.
Bankers are pushing hard for growth. Many have widely bemoaned intensifying pricing pressure, as lenders compete aggressively in a relatively shallow pool of creditworthy customers.
"We have seen a significant amount of pricing pressure in the Nashville market, particularly on owner-occupied real estate transactions and C&I opportunities," G. Kent Cleaver, president and COO of Avenue Financial Holdings Inc.'s Nashville, Tenn.-based Avenue Bank, told SNL.
"The pressure is being driven by a material increase in our competitors' appetite for loan growth and market share without a corresponding increase in new loan opportunities," Cleaver continued. "Fortunately, most banks in our market have held to prudent quality and structure standards; however, the disproportionate demand [versus] supply in the market has led to some very aggressive pricing decisions on both rate and term."
Among those that are most aggressive, analysts say, there is of course the possibility that they are setting themselves up for future credit headaches and, by extension, higher charge-offs, reserves and provisions.
"But I still think we're a little early to get worried about that in general," Schultheis said. "Even though pricing is a little skewed right now, loan growth is pretty modest, single digits, and that's just not strong enough to get worked up, yet, about provisions expanding."
SNL found, for instance, that among banks and thrifts with less than $10 billion in assets, median loan growth in the second quarter advanced 1.12% over the previous quarter and a mere 0.58% from a year earlier.
"So probably we're going to see a continued move toward normalized credit," Schultheis said, "and then we'll have to see if and when we get more meaningful loan growth."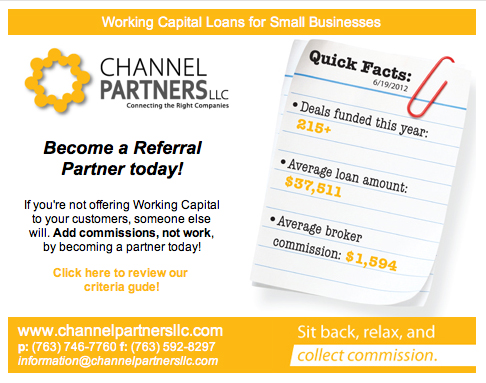 [headlines]
--------------------------------------------------------------

5-year CD Dips Below 1% for the First Time in History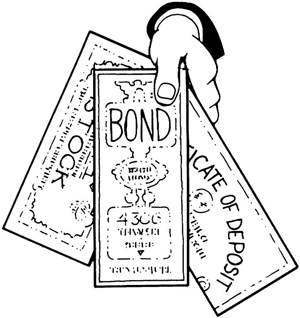 The national average interest rate on the 5-year Certificate of Deposit dropped to 0.99 percent last week, marking the first time in recorded history that the hallmark of the long-term CDs dips below 1 percent, Dan Geller, Ph.D., Executive Vice Presidents at Market Rates Insight, San Anselmo, California.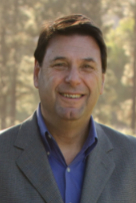 Dan Geller
The 5-year CD, which has always been the hallmark of high returns and stable annuities, has never dipped below 1 percent for as long as interest rate records are available, he reported. In the last decade, the 5-year CD reached its peak in August of 2000, when the national average rate for the 5-year CD stood at 6.25 percent. The highest the 5-year CD rate has ever been was in June of 1981, when rates for this CD were over 20 percent.
Other long-term CD rates are also declining, Geller noted. The 4-year CD also reached a record low of 0.78 percent this week, and the 3-year CD rate now stands at 0.63 percent. In the last decade, both the 4-year CD and the 3-year CD reached their interest rate peak in August of 2000, with an interest rate of 6.13 percent. The national average rate for all CD terms, from 3 months to 5 years, also reached a record low this week, and now stands at 0.46 percent.
"Interest rates are making history, but clearly not in a favorable way," he said. "Unfortunately, the continuing decline in interest on deposits indicates that banks are forced to reduce their interest expense due to the soft lending market. As long as lending remains soft, and loan rates low, we will not see a change of course in deposit rates."
Dan Geller Ph.D.
Executive Vice President
Market Rates Insight, Inc.
415-448-8813 (phone) | 415-259-0701 (fax)
Dan.Geller@MarketRatesInsight.com
John Kenny Receivables Management

• End of Lease Negotiations & Enforcement • Fraud Investigations
• Credit Investigations • Asset Searches
• Skip-tracing • Third-party Commercial Collections

john@jkrmdirect.com | ph 315-866-1167| www.jkrmdirect.com
(Leasing News provides this ad as a trade for investigations
and background information provided by John Kenny)
[headlines]
--------------------------------------------------------------
Franchise to Watch: Bullritos
QSR Magazine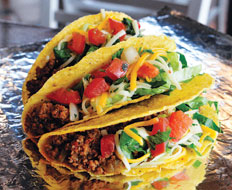 Texas-based brand offers its own take
on the Mexican fast-casual category.

Bullritos is a quick-serve Tex-Mex concept created by Russell Ybarra, owner of two Houston-based full-service chains, Gringo's Mexican Kitchen and Jimmy Changas.
The name was inspired by Ybarra's experience running with the bulls through the streets of Pamplona, Spain. While dining at Bullritos is considerably safer than that annual event, the interactive ordering system and plethora of possible ingredient combinations when creating a burrito make it an adventure in its own right.
When customers walk through the doors at a Bullritos, they grab a red marker and a white bag with menu choices printed on it. They mark their choices, put a name on the bag, and hand it to a Bullritos employee. In less than three minutes, the bag containing the order is handed back to the customer.
When marking the bag, a customer's first decision is burrito, bowl, or tacos. Next comes a meat choice: chicken fajita, beef steak, carne guisada (a beef stew), pulled pork, or ground beef. Rice is available in cilantro lime or traditional Spanish varieties, and bean choices include charro (made with pinto beans), black, or fat-free refried. All bean choices are vegetarian.
Chile con queso or cheddar and Jack are the cheese selections, and the salsa list includes "Arriba!" red salsa, cilantro ranch, fresh pico de gallo, tomatoes, or habanero-tomatillo. Other possible add-ons include guacamole, roasted corn, jalapeños, peppers and onions, sour cream, and lettuce.
"Ordering is a very quick process with the bag," says Mark Collins, Bullritos' senior vice president. "People are not holding up the line trying to decide what they want."
Collins says what sets Bullritos apart from its competition is that "everything is fresh."
"Our taco meat, queso, beans, rice, pico … you name it, we make it fresh," he says. "All of our veggies are fresh daily. We never use guacamole or pico made the day before."
To make the most of the bull theme, the concept's customer loyalty program is called "The Herd," and diners are encouraged to take their order and "run with it."
Bullritos units are located mainly in Texas, with single stores in Georgia, Louisiana, and Arkansas. The company hopes to have around 100 locations in three to five years.
"We started growing in the Houston area, but some of our other growth has simply been in places where franchisees wanted to go," Collins explains. "One franchisee's wife was from Georgia, so they decided to move back there and take Bullritos with them, opening a location there."
For the immediate future, Collins says, Texas and nearby states will continue to be the main target for expansion.
Part of Bullritos' growth has included expanding the menu beyond burritos, tacos, and bowls. The chain recently introduced dinner plates, which are ordered at the counter and not on a bag. Dinner plates include options like Fajitas, Carne Guisada, Quesadillas, Crispy Tacos, Pulled Pork, and Tamales. Plates are served with rice and beans and are available at both lunch and dinner at all locations.
In addition to plates, some Bullritos locations have also rolled out breakfast. The morning menu includes breakfast tacos, burritos, and quesadillas featuring bacon, sausage, eggs, potatoes, and chorizo.
"Breakfast is up to the franchisee," Collins says. "Not all locations are conducive to breakfast, and the franchisee has to want to do it."
Collins says Bullritos partnered with top brands like Tabasco, Coca-Cola, and Seattle's Best Coffee, and will continue to do so. "People are time-conscious, but they still want high quality," he says. "With this economy, fast casual works for families on a budget. You're not tipping a waiter or buying expensive desserts, but you can still get fresh, quality ingredients and top brands."
An average per-person ticket at Bullritos is $9–$11, with dinner being on the higher end of that range because most locations serve beer and margaritas. As for nonalcoholic beverages, Bullritos restaurants all have Coca-Cola Freestyle machines.
From burritos to beverages, it seems to be all about choices and combinations at Bullritos, and that attracts a wide range of customers.
"We serve an eclectic group of people," Collins says. "We cater to families, blue-collar workers, white-collar workers … everyone. The burrito concept as a whole is geared toward the younger generation, but if you come to a Bullritos at lunch, you'll see high school kids who can leave campus, construction workers, and stay-at-home moms. At dinner we see a lot of families."
He says that while some burrito concepts have been criticized for having a cold, industrial environment, Bullritos has a warm atmosphere.
"You can be in and out of Bullritos in a hurry or you can take your time, have a beer, and watch sports or business news on TV," Collins says. "Some locations even offer complimentary soft-serve ice cream to be even more welcoming."

Founder/President: Russell Ybarra
HQ: La Port, Texas
Year Started: 2008
Annual Sales: Undisclosed
Total Units: 18
Franchise Units: 17
www.bullritos.com