Archives February 1, 2001
Steve Geller Says "Goodbye" as Orix Closes Rediscount Center
1990
Front row, from left to right, Cliff Fromm, Bob Salge, Allison Feinstein
Pryor. In the rear, standing, are Steve Geller, Francie Wilbourne and Paul Eidelkind. Dorado Beach Hotel in Puerto Rico. ELA Funding Exhibition in Chicago, April, 1990. At the time the picture was taken, Cliff Fromm was/is with Capital Leasing, Paul Eidelkind was/is with Parimist Funding Corp. and the others, Steve Geller, Bob Salge, Francie Wilbourne and Allison Feinstein (now Pryor) were with ORIX Credit Alliance.

Orix---Steve Geller Confirms the News with His Departure

"Kit: Apparently you hit the name right on the head. Orix has closed down the Rediscount Division, which had been in operation successfully as a separate unit/branch since 1981 and is no longer accepting paper from third party lessors or brokers. Joan and P.K. remain at the company as credit managers in the direct operation. Charlie, Marlee and Lauri (all familiar names to the broker community) are involved in collections. I am considering starting a consulting business to help out any broker, lessor or funder who may need assistance in structuring deals, working out problem accounts or any other lease related matter..."
Today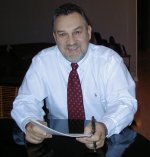 Steve Geller, CLP
755 Route 340
Palisades, New York 10964
Phone: 845.362.6106
Fax: 815.642.0837
Cell: 914.552.0842
sgeller@leasingsolutionsllc.com
http://leasingsolutionsllc.com/
[headlines]
--------------------------------------------------------------


Classified Ads---Senior Management/Syndicator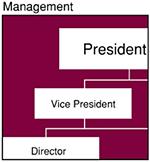 (These ads are "free" to those seeking employment or looking
to improve their position)
Europe
25+ yrs exper. management roles Chase, AT&T Capital, Heller Financial, SFS. Develop biz from "scratch to success". Looking for challenging & pioneering job.
Email: frans@alliedproperty.net
Philadelphia, PA
27 yrs. exp. sales, ops., credit, strategy, P&L mngmet. Most recently created & executed the biz plans for 2 highly successful Bank-owned small ticket leasing subsidiaries.
email: mccarthy2020@comcast.net
Southern CA
20 years exp. as hands-on leasing CFO, managing accounting, treasury, FP&A, including securitizations, Great Plains/FRx, budgets, risk management. MBA. Also available as interim Controller/CFO, consultant.
Email: leasecfo@gmail.com

Overland Park, KS
Top Syndicator from single deal to portfolios. 20+ yrs exp. Available for contract work or full time position. Nationwide contacts.
E-mail: FFLLeasing@aol.com
Free Posting for those seeking employment in Leasing:
http://www.leasingnews.org/Classified/Jwanted/Jwanted-post.htm

All "free" categories "job wanted" ads:
http://www.leasingnews.org/Classified/Jwanted/Jwanted.htm
[headlines]
--------------------------------------------------------------

#### Press Release #############################

Mount Pleasant Capital
Launches Major Franchise Lending Program
Warrendale, PA,—Mount Pleasant Capital, LLC (MPC) announced that it has entered into a venture with a subsidiary of a global insurance company. The program will focus on non-real estate franchise lending for transactions between $100 thousand and $5 million, filling the current void in the franchise industry for a national, non-bank lending program focused on small to mid-market transactions. As the program evolves, real estate franchise loans and loans larger than $5 million may also be considered.
MPC has been appointed managing agent for the program to originate and underwrite creditworthy franchise transactions, working directly with both franchisees and franchisors whose expansion plans have been on hold due to the current lending drought. MPC will also manage the funding process and handle portfolio administration for the new venture. Bob Rodi, Managing Member of Mount Pleasant Capital, will oversee the executive responsibilities associated with the agency appointment.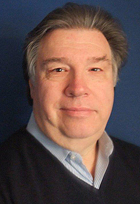 "Our new venture is very well capitalized and has a team with a securitization underwriting background as well as extensive expertise in risk assessment and mitigation, "Bob Rodi stated." We have designed this lending platform specifically to focus on the under-served small to mid-ticket markets. We believe that we have the perfect combination of experience, financial strength, and the desire to invest in a great American industry. The alignment of interests associated with this venture will foster the growth of a successful national franchise finance program that will thrive in the "new normal" credit environment."
This program will expand the team's reach and capability by providing them with the ability to consider virtually any transaction that makes economic sense and which meets underwriting criteria. Mr. Rodi stated, "My team is looking forward to fully implementing this new program since we will now be able to consider larger volume, multi-unit franchise loans, real estate loans and portfolio acquisitions."
MPC will also be engineering further enhancements to its Internet based processing system which uses a custom web based interface to connect to the Fair Isaac Liquid CreditTM platform. MPC has customized Liquid CreditTM with scored parameters that have proven to be highly predictive in screening franchise applicants. The software and website can provide rapid response screening to franchisors who cannot afford to waste time on unqualified prospects. The venture also offers qualified franchisors, who find that they are increasingly involved in the lending process, the opportunity to work with a true financial principal who can assist not only with financing, but also with the logistics of setting up and managing captive finance and other risk sharing programs. "Franchisors who make the decision to take an active role in the finance process will be the ones that see their systems flourish in the years to come," stated Mr. Rodi.
The new platform was launched on January 3, 2012, the first official business day of the New Year. Franchisors who are interested in discussing the new lending platform and various programs are invited to contact Bob Rodi directly at 1-800-321-5327, x 101.
About Mount Pleasant Capital, LLC -Headquartered in Warrendale, PA., Bob Rodi and his team have been providing financing to franchises and small businesses since 1988. Over the past decade, the team has originated and funded more than 2,000 loans and leases representing over $200 million in receivables.

#### Press Release #############################

Comprehensive personal property tax outsourcing services
We accept file exports and integrate personal property tax information with all lease management or accounting software. No other firm offers the combination of individual attention, software capabilities expertise, "full disclosure" and web port accessibility to information more than we do.

Click here to learn what our clients say about our service
Gary DiLillo, President 440.871.0555 or gary@avptc.com

[headlines]
--------------------------------------------------------------
Disclosure
—Bob Rodi, a long time friend
Bob Rodi was one of the original Leasing News Advisory Members in June, 2000:
Bob Baker, Wildwood Financial
Phil Dushay, Global Leasing
Mike Granieri, Granieri and Associates
Ken Greene, Attorney
Bob Rodi, LeaseNOW
Bob Teichman, Teichman & Associates
Andrew Thorn, Thalman Finance
Rob Yohe, Yohe and Associates

" I feel that what you are proposing will be very useful to brokers and funders."
Steve Crane, Bank of the West
" I have been following your newsletters and really find them informative. As a matter of fact I look forward to them. If you feel someone on the east coast could help, you can count on me."
Phil Dushay, Global Leasing

"I will help you in any way I can."
Andy Thorn, Thalman Financial

" I'm for anything to improve the industry. I would like to see all of us in the business, Brokers, Lessors, Funders and everyone else in the industry gets along better."
Roy Yohe, Lease Consultant
" I think your newsletter is an important to the industry."
Bob Baker, Wildwood Financial
" This may be an opportunity for people who are either members of different associations or who are not affiliated with any to come together to find a solution ( to fraud and unprofessional conduct ). An industry-wide Code of Ethics is critical. "
Bob Teichman, Teichman Financial Training
" I think that we may be able to do some things that the associations cannot. I will always be on board for anything that promotes our industry, raises standards and preserves our livelihood. I also feel that this effort will have a lot of credibility because there is no profit motivation."
Bob Rodi, LeaseNOW
" I hope that I am able to make a positive contribution."
Ken Greene, Attorney
Current Leasing News Advisors
Leasing News

Chairman, Advisory Board

Bob Teichman, CLP
Teichman Financial Training, Sausalito, CA.

Advisory Board

Edward Castagna

InPlace Auction, Melville, New York

Steve Crane, CLP

Bank of the West, Walnut Creek, CA

Endeavor Financial Services, Costa Mesa , CA

Phil Dushey

Global Financial Services, Manhattan, NY

Ken Greene, Esq.

Hamrick & Evans, Universal City, CA

Shawn D. Halladay

The Alta Group, Salt Lake City, UT

Robert S. Kieve

Empire Broadcasting, San Jose, CA

Bruce Kropschot

Kropschot Financial Services, The Villages, FL

Bruce Lurie

Douglas-Guardian Services Corporation, Houston, TX

Andrew Lea, M.A.

NetSol Technologies, N.A., Alameda, CA

Allan Levine

Madison Capital, LLC., Owings Mills, MD

Don Myerson

BSB Leasing, Colorado, Hawaii

Armon L. Mills, CPA

J.H. Cohn, LLP, San Diego, CA

Tom McCurrin

Barton, Klugman & Oetting, Los Angeles, CA

Hugh Swandel

The Alta Group, Canada

Ginny Young

former Brava Capital, Orange, CA

Rosanne Wilson, CLP

1st Independent Leasing, Beaverton, OR
[headlines]
--------------------------------------------------------------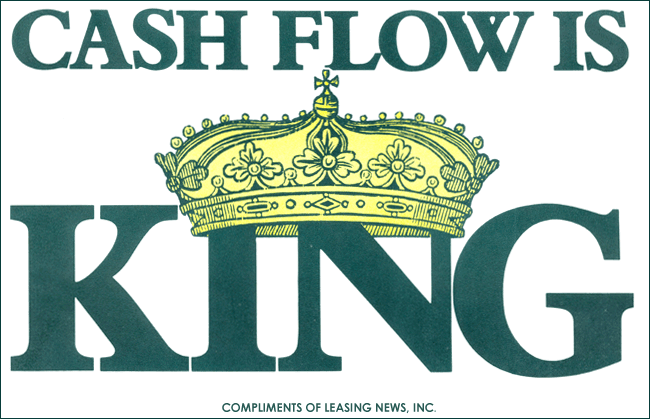 [headlines]
--------------------------------------------------------------
Leasing Industry Help Wanted




Sales Professional-Nationwide
Are you producing over $400,000 a month and
want the ability to reach $1 million a month?

Ascentium Capital is self-funded equipment finance company focused on vendor programs across many industries, as well as end-user transaction sizes ranging from $10,000 to $500,000 per schedule.

We offer unlimited earnings potential based on your ability to innovate and produce results within an entrepreneurial sales environment. In addition, we offer a comprehensive benefits package which includes Medical, Dental, Vision, 401(k), Profit-Sharing as well as paid holidays.

If you believe that you have what it takes, please send your cover letter and resume to: SalesCareers@AscentiumCapital.com

www.ascentiumCapital.com
Join a resource-rich company with over $300,000,000 in lending capacity for your customers.
Marketing Associate
Los Angeles, California
Direct, small ticket ($10k-$250k) leasing company
looking for an energetic, intelligent quick thinker to be our Marketing Associate. 3+ years of commercial equipment leasing experience required. Daily activities include: deal previews, prospecting, managing prospect
database and other marketing support.
Contact: Michael Green, mgreen@dakotafin.com
(310) 696-3030 x 124

Dakota Financial provides equipment leasing/finance solutions to small businesses throughout the United States. We specialize in providing funding for those who can not obtain financing from traditional sources.
www.dakotafinancial.com


For information on placing a help wanted ad, please click here:
http://www.leasingnews.org/Classified/Hwanted/Hwanted-post.htm

Please see our Job Wanted section for possible new employees.
[headlines]
--------------------------------------------------------------
Recent Testimonials--Help Wanted Ads Work!
"The ad worked great. We hired a Documentation Coordinator that has been out of the industry for almost 3 years as a friend of hers saw our ad on Leasing News. She is now in her 2nd full week.
"We are actually looking to fill 4 sales positions this year so we'll likely be back again. It feels nice to be managing growth, albeit measured, again.
Andrew Nere, President
Innovative Lease Services, Inc.
""I want to thank you for listing our Business Risk employment position in Leasing News. Through our various postings, we received resumes from over 50 very qualified candidates.

""I am very happy to report that the position has been filled..."

Laurie Bakke, President
Western Equipment Finance


Leasing News Help Wanted Ad Pricing
Help Wanted Web Ad New Programs
Classified Ad Section
(rotates chronological above headlines and
also appears in Classified Ad section.) *
21 days in a row:
$595 four lines (a space is a line)
($40 each additional line or space)
Design work is free. Logo is free as well as company description not to exceed the number of lines of the ad.
Also free: click to a click to a web site or a full description of the position.
Ads are placed in the "Help Wanted' section by category, alphabetical, with the ad with the most lines first in the group. They appear on the web site and in each news edition at the top in a rotation basis per issue.
* Help Wanted" ads appear in each issue on a chronological basis above the top headline as a courtesy. This position is not available as a paid position, but is generally on a rotation basis. At the same time, the ad continues in the classified help wanted section in the news edition and web site, so in effect appears twice.
Leasing News reserves the right to refuse advertising, particularly to a company that has appeared in the complaint bulletin board
[headlines]
--------------------------------------------------------------
Story Credit Lessors---Up-Date
These companies specialize in "C" and "D" credits, often new businesses, or businesses where the principal(s) have Beacon score around 600 or previous difficulties; meaning to become comfortable with the credit and financial situation you need to learn the "story" to make a positive decision, often requiring further security, shorter term, or additional guarantors. Many of these companies may also have programs for "A" and "B" rated companies, but their specialty is not being a "cookie cutter" and often require full financial statements and tax returns as well as a "story about the company, its history, goals, circumstances" to fully understand the full financial picture.
To qualify for this list, the company must be a funder (as qualified by Leasing News and on the "Funder List" and not a "Broker/Lessor" or "Super Broker/Lessor", along with an acceptable Better Business Bureau Rating and no history of complaints at Leasing News, as well as notifying lessees in advance when the lease will end and what the residual will be, specifically not automating extra lease payments, or insisting their discounter follow the same policy. We reserve the right to not list a company who does not meet these qualifications.
Leasing News encourages companies who are listed to contact us for any change or addition they would like to make. Adding further information as an "attachment" or clarification of what they have to offer would be helpful to readers is very much encouraged.

[headlines]
--------------------------------------------------------------
Chris Enbom-Doug Houlahan
—"Why I Became a CLP"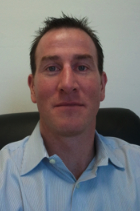 Doug Houlahan, CLP, was with Allegiant Partners in San Rafael, California, and is now at Maxim Commercial Capital, Los Angeles, San Francisco, California.

Chris Enbom, CLP, is the CEO at Allegiant, past-president,
National Equipment Finance Association.
Their Story
Enbom:
"Doug, who I was working with at the time, said he was taking his CLP in a couple weeks. I told him I thought I could score higher than him just studying for a week. "
Houlahan:
" It was only a couple of weeks before the United Association of Equipment Leasing (now National Equipment Financial Association) Conference in Tahoe that we threw down the gauntlet and I don't recall who dared who but neither one of us was likely to back down from that kind of bet. Actually it was a little foolish on my part as Chris spent his entire career in the Leasing industry and was teaching Leasing classes when I first met him back in 2001. If you ever get a chance ask him about his near miss with the Twin Towers on 9/11."
"Due to the short window of time to prepare, and the fact that I received my CLP Book about 10 days before the test, I didn't have a lot of time to prepare and therefore no mentor or formal training. I do remember however, sitting outside our hotel with Chris the day before the test reading the history of leasing and making sure I had "Lease Classification" down solid. The balance of the material I either did on a day-to-day basis or was heavily exposed to at Allegiant Partners.
Enbom:
"No mentors! Luckily I had built a leasing company from scratch so I really know lease accounting, tax accounting, collections, etc.
"I read the CLP book once (took a few hours) and reviewed sections of the CLP book before taking the test. I studied a few hours.
"Remember, though, I live an breathe pretty much every aspect of the test every day running an equipment finance company with its own balance sheet.
"We took the test in Lake Tahoe (in Nevada) at the fall UAEL conference. We had both been up until 4:00 am the two nights before. We were staying at a casino. It was a fun conference! That 8 hour exam was not easy to get through! "
Houlahan:
"I must say that I really underestimated the quality of the CLP test going into it, while it was challenging, it was very relevant and does a great job testing your knowledge in every facet of the leasing business.
"Chris had been in the industry a long time and used his experience to help him build Allegiant, I'm very grateful for my experience and the benefit of my CLP to help me build Maxim Commercial Capital. As was discussed in some Marketing pieces for the CLP a couple years ago, it may not necessarily be what you know from the CLP, you may actually receive as much benefit from knowing what you don't know that can benefit your career and your Company."
Enbom:
"And while we both took the test and we both passed, they never gave us our scores. So - I took it as part of a bet and we never found out who won. We are both very competitive (actually I think in Doug I finally found someone more competitive than me).
"One day I sure would like to know if I scored higher than he did."
Houlahan:
"I probably find myself in more situations that are not necessarily beneficial due to my machismo, however the CLP bet was one I've benefited from tremendously and will continue to for years to come."
Enbom:
"All joking aside about who outscored who, it is a commitment of time and energy, but you will learn a huge amount by studying for the test. It is a hard test.
"For people who are not heavily involved in all aspects of leasing, finding a mentor to help you out is helpful. NEFA also has classes at various times and if you have a group they are usually willing to put a class on in your location."
Why I Became a CLP Series:
http://www.leasingnews.org/CLP/Index.htm
(Send Leasing News to a Friend and ask them to subscribe.
We are Free!)

The object is to insert the numbers in the boxes to satisfy only one condition: each row, column and 3x3 box must contain the digits 1 through 9 exactly once. What could be simpler?