Alert---Another One/ from Lease Police
Hi xxxx , if you have been looking for a more affordable way to obtain Unsecured Corporate Cash Credit using a Credit-Ready Aged Corporation, then this is your opportunity. We are now offering Credit-Ready Aged Corporations with a $20K Corporate Cash Credit Program for only $999, and they come with Tax ID #, DNB #, Bank Account, Merchant Account, Website, Phone System, 411 Listing, and the list goes on. You can pay eCheck or Credit Card.
There are only 50 Corps left - First Come, First Serve.
Below is the Link:
http://www.linkhop.org/999corpoffer
CreditReadyCorps
228 Park Avenue South, New York, NY 10003.
You are receiving this E-Mail because you have either applied for financing on one of our other Websites in the past and/or because your Business meets the minimum Qualification Criteria for this Program. We want to always be the first ones to let you know about New Programs you otherwise would probably never hear about. This service is currently in Beta Stage and is offered to you completely at no charge.
If for any reason you do not want to receive these Alerts in the future, you may unsubscribe by simply replying to this e-mail with the word "remove" in the subject line.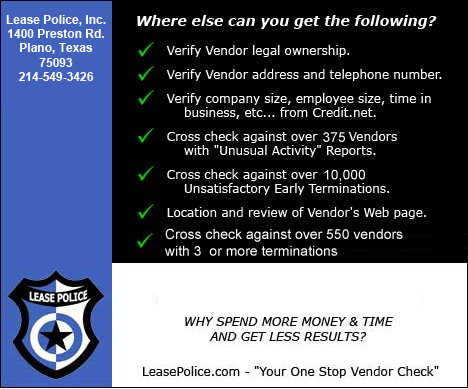 (Leasing News provides this ad "gratis" as a means
to help support the growth of Lease Police)

[headlines]
--------------------------------------------------------------

Classified Ads---Sales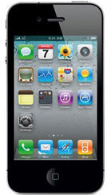 (These ads are "free" to those seeking employment or looking
to improve their position)

California
Aggressive, competitive self-starter with vendor/direct equipment
leasing and asset-based lending experience. Success in business banking sales and financial planning.
Email: dsp559@hotmail.com | Resume


Garfield, NJ
15 years experience small to large ticket sales exp. All types of equipment industries. Vendor & direct. Self motivated. Work with leasing company or broker.
Tony Lio tonylio@optonline.net
Montgomery, AL
Individual with 10 years advertising sales exp. & 7 years insurance sales exp. Wants independent contractor situation in Alabama.
Work with leasing company or broker.

334-590-5133


E-mail: billmcneal2003@yahoo.com
Orange County, CA
20+ yrs. leasing sales/sales mgmt
Established remote office w/Lessee/Vendor following
Request Salary + commission or partnership w/direct funding source.
shermbp@gmail.com
Pittsburgh , PA
Aggressive self starter looking for leasing position w/10 plus yrs sales exp., plus banking experience

814-227-4592


mwiser500@hotmail.com
San Francisco Bay Area:
15 year Vendor Program Agreement HUNTER. Currently employed at major IT manufacturer captive supporting direct and channel sales. Must have base, commission and benefit package.
E-mail: VdrPgmBizDev@aol.com
Texas/Oklahoma
15 year lease vet looking for plact to take business.great references. all major equipment types. open to compensation. please contact if interested.
E-mail: bankingdallas@yahoo.com
Free Posting for those seeking employment in Leasing:
http://www.leasingnews.org/Classified/Jwanted/Jwanted-post.htm
All "free" categories "job wanted" ads:http://www.leasingnews.org/Classified/Jwanted/Jwanted.htm