Five Years for Defrauding Leasing Companies
Sentencing of Robert Vaughan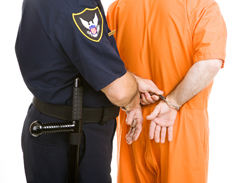 Charles Robert Vaughan aka Robert Vaughn who, along with Ruth Stellwagen ran a company called @Vantage in Santa Rosa, California pled guilty and was sentenced to five years in prison for false statements to a governmental agency and bank fraud. He defrauded numerous leasing companies including LEAF Funding, Balboa Capital Bank of America Leasing, Chesterfield Leasing, CIT, Citi Capital, GE Capital Irwin Finance, Marlin, Pinnacle Capital, and US Bank. The prosecution was ordered by a Federal Bankruptcy Judge, who found the testimony of both lessees so incredulous that he requested the US Attorney to investigate the pair for criminal conduct.

The leasing fraud was on three levels:
First, he submitted false financial statements, a fact which also snared him with the FBI.

Second, he used false names in connection with the lease applications, including fictitious and deceased persons with phony social security numbers.

Finally, the leased equipment was over-priced and he used the proceeds for personal expenses including a well-documented spending spree in San Francisco at the Mark Hopkins Hotel and Victoria's Secret.
In one of the egregious frauds, he claimed to be an owner of land when in fact the land was fraudulently transferred to a LLC which was under his control.
His company, @Vantage, filed for bankruptcy in 2009 and when placed on the witness stand had to admit that he had a prior felony conviction for bank fraud, and served 5 years in prison, used a variety of different names (various misspellings of his own name) to conceal his true identity and use multiple credit profiles, and submitted false financials to obtain a US Government loans. His girlfriend, Ruth Stellwagen testified that most of the financial documents were false, but that she fabricated them at the request of Mr. Vaughan. In one of the more embarrassing exchanges quoted by the Government in its sentencing memo, Mr. Vaughan stated: "My legal name is Charles Robert, but I spell the name different ways depending on the occasion. For personal matters, I use the spelling "Vaughn, I can spell my name any way I choose."
He was caught lying on the stand about his business partner who in reality was dead, and using one thousand dollars in government money for a week at the Mark Hopkins Hotel and a $10,000 shopping spree at Victoria's Secret to dress up his lover. He also claimed that he did not know what his previous conviction was for (he forgot, he told the Bankruptcy court).
One of the attorneys in the bankruptcy trial, Tom McCurrin, told Leasing News:
"One of my fondest memories was asking the question about the Victoria's Secret clothing, and watching the Judge's Clerk literally lose a half glass of water through her nose, and wrecking her keyboard when that question was asked and answered. Priceless."
Mr. Vaughan was allowed to self-surrender after his conviction, but that was quickly rescinded, when it was found he violated the terms of his release, and he was quickly escorted to Federal Prison on February 27, 2012.
The lessons for the lease underwriter in a case of this type are probably familiar to the leasing professional: know your customer and the lease application might want to contain a question whether the applicant and officer or guarantor have prior felony convictions. This is common in SBA loan applications but not so common in leasing applications.
The lessons for lessees who want to defraud creditors are less obvious. If the applicant is going to lie, make sure that no one can verify the truth and above all, don't take the witness stand under oath in a Federal Bankruptcy proceeding.
Vaughn Sentence
http://leasingnews.org/PDF/VaughnSentence.pdf
Vaughn Sentencing Memo
http://leasingnews.org/PDF/VaughnSentencingMemo.pdf
Why Choose Advanced Property Tax Compliance?


Dedicated to the leasing industry
click here to learn more.

Hear What Our Clients say about us
click here

Gary DiLillo, President 440.871.0555 or gary@avptc.com
[headlines]
--------------------------------------------------------------

Classified Ads---Senior Management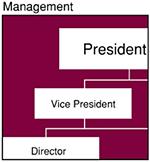 (These ads are "free" to those seeking employment or looking
to improve their position)
Europe
25+ yrs exper. management roles Chase, AT&T Capital, Heller Financial, SFS. Develop biz from "scratch to success". Looking for challenging & pioneering job.
Email: frans@alliedproperty.net
Philadelphia, PA
27 yrs. exp. sales, ops., credit, strategy, P&L mngmet. Most recently created & executed the biz plans for 2 highly successful Bank-owned small ticket leasing subsidiaries.
email: mccarthy2020@comcast.net
Southern CA
20 years exp. as hands-on leasing CFO, managing accounting, treasury, FP&A, including securitizations, Great Plains/FRx, budgets, risk management. MBA. Also available as interim Controller/CFO, consultant.
Email: leasecfo@gmail.com

Free Posting for those seeking employment in Leasing:
http://www.leasingnews.org/Classified/Jwanted/Jwanted-post.htm
All "free" categories "job wanted" ads:http://www.leasingnews.org/Classified/Jwanted/Jwanted.htm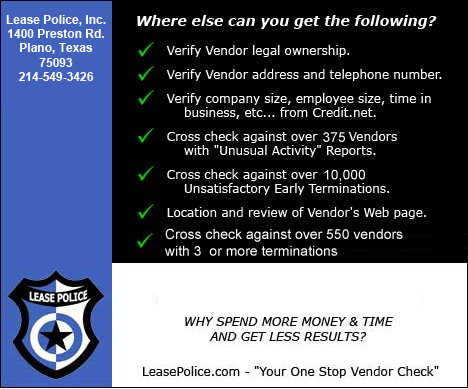 [headlines]
--------------------------------------------------------------

New Hires---Promotions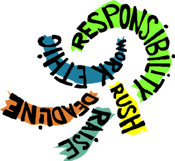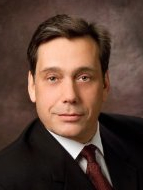 Ned Covic named Consultant Chief Financial Officer, Blue Stret Capital. Previously he was Director of Leasing, Fusion Storm (May, 2011-January, 2012), president, Sysix Financial, LLC (September, 2001-July, 2009), vice-resident-Syndications, Sanwa Business Credit/Fleet Capital Leasing (June, 1998-June, 2001), vice-president-Finance, Forsythe Technology (March, 1984-June, 1998).Loyola University of Chicago - Graduate School of Business MBA, Finance, Graduate School of Business, University of Illinois at Chicago Bachelor of Science, Mathematics.
http://www.linkedin.com/in/nedcovic
Rob DeMaranville has been named as senior vice president of Wells Fargo Equipment Finance Business Banking division. He "...will lead a nationwide team to provide equipment financing solutions to Wells Fargo Business Banking customers. He will be based in Tempe, Ariz. and report to Tom Petersen, division manager for the Business Banking, Commercial Vehicle and Healthcare divisions of Wells Fargo Equipment Finance. Prior to joining Equipment Finance, DeMaranville served as senior vice president for Wells Fargo SBA Lending." Arizona State University Finance (1983 – 1987) Activities and Societies: Phi Delt
http://www.linkedin.com/pub/rob-demaranville/b/295/36b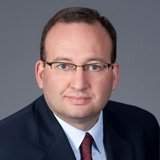 Jose Ignacio Garcia, age 39, was named vice president and chief financial officer for Latin America, GE Global Growth & Operations. In this role, he leads the finance function driving growth and operational excellence across the region. He has 15 years of experience at GE, serving as CFO, Latin America (July, 2011-Present), CFO,GE Energy-Power Generation Services (June, 2009-July, 2011), CFO, GE Energy, GE Hitachi Nuclear Energy Holdings (April, 2008-June, 2009), Commercial Finance Manager, GE Energy-Power Generation (December, 2005-April, 2008), CFO, GE Energy, China Region (May, 2003-December, 2005), Associate, Corporate Business Development, (1999), Senior Audit Mgr., Corporate Audit Staff (2001) ,Audit Manager, Corporate Audit Staff (2000), Executive Audit Manager GE Corporate ( 1998), Financial Analyst (August, 1992-August, 1998). FMP - Financial Management Program (Trainee), Barcelona, Spain, Bergen Op Zoom, Netherlands, Plainville, CT, HEC School of Management CEMS, Business (2005 – 2005 )Spring semester, Grad. School, Brandeis University, Lemberg - International Business School CEMS, Business (2004 – 2004) Fall Semester, Grad. School, HEC School of Management CEMS, Business (2005 – 2005) Spring semester, Grad. School, Brandeis University, Lemberg - International Business School CEMS, Business (2004 – 2004) Fall Semester, Grad. School, ESADE Business School BA & MBA,(1990 – 1995), MBA, Business Administration, Licenciado en Direccion de Empresas, Univ. Ramon Llull ESADE Business School BA & MBA (1990 – 1995), MBA, Business Administration, icenciado en Direccion de Empresas, Univ. Ramon Llull
http://br.linkedin.com/pub/jose-ignacio-garcia/4/a23/92

"Anne Kennelly Kratky, age 50, has been appointed as a GE company officer. She is currently deputy treasurer and chief risk officer for GE Capital Treasury. In this role, she is responsible for providing oversight and management of financial institution and sovereign credit risk, market risk, and enterprise and operational risk for GE's Treasury operation. Anne has over 28 years of experience at GE Capital in a variety of cross functional roles, with 18 years in Risk Management. Prior to joining Treasury in August 2011, Anne held positions such as chief risk officer (CRO) of GE Capital Aviation Services, CRO of Global Media and Communications and managing director of risk in the Structured Finance business as well as a variety of cross-functional roles and leadership positions in sales and marketing, business development and Six Sigma Quality.

Anne holds a Bachelor's degree in Systems Analysis with a concentration in Finance from Miami University in Ohio and is a graduate of GE's Information Technology Leadership Program."
http://www.linkedin.com/pub/anne-kennelly-kratky/26/588/788
Rebecca Ricci promoted to director, Syndications, De Lage Landen Financial Services. She "...is a 15-year veteran of De Lage Landen and has served in a variety of syndication roles within the Global Structured Finance group, most recently managing the operations area of the group in addition to syndicating. In her new role she is responsible for the management of all Syndication activity within the United States...In this role, she replaces Bennett Viverito, who retired at the end of 2011."
http://www.linkedin.com/pub/rebecca-ricci/3a/631/936
"Khozema Z. Shipchandler, 38, has been named vice president and chief financial officer for the Middle East, North Africa and Turkey, GE Global Growth & Operations. In this role, he leads the finance function, driving growth, development and operational excellence for GE across the region's 24 nations. Khozema brings more than 15 years of experience to this role, having previously served as the chief financial officer for GE Aviation Services, Aviation Systems, & Military Systems. Khozema is a graduate of Indiana University as well as GE's Financial Management Program and Corporate Audit Staff.
"Marcelo L. Soares, 54, has been named vice president for Latin America, GE Energy. In this role, he is leading GE Energy Latin America, focused on strengthening the business structure and developing the team in the region, while delivering results and solutions to our customers in Latin America. Marcelo has more than 30 years of experience in GE, serving as the regional leader for Latin America since 2011. Prior to that position, Marcelo led Global Supply Chain for GE Energy in the same region. During his career with the company, he moved through different positions at GE Celma, a rapidly-growing jet engine overhaul and repair operation facility located in the city of Petropolis, Brazil, where he started as an engineering trainee in 1980 and progressed through several engineering and business management roles of increasing responsibility, until he was named General Manager of Celma in 2001. Marcelo graduated from the Universidade Catolica De Petropolis with a degree in Mechanical Engineering."
Ed O'Toole was named regional sales manager at LEAF Commercial Capital, Greater Boston Area. Previously he was regional sales manager, US Express Leasing/Tygris/EverBank Commercial Finance (June, 2004-February, 2012).Bachelor of Science (BS), Business Administration and Management, General 1986 – 1990. http://www.linkedin.com/pub/ed-o-toole/10/315/b55
Leasing Conferences ---Funding Exhibitors Up-Dated
New Information—Including Early Bird Warnings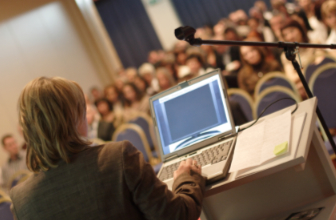 ---
April 17-19
24th Annual National Funding Conference
Fairmont Hotel
Chicago, Illinois
The big deadline coming up is April 6, Friday:
To be included in the final list of attendees, registration and payment must be received by Friday, April 6, 2012.

Register online at: www.elfaonline.org/events/2012/NFC/. Registering online gives you the ability to make advance appointments with the Funding Source Exhibitors of your choice.

After Friday, April 6, please register on-site at the conference.
Tuesday, April 17
Women in Leasing LinkedIn Group Luncheon
12:00pm--2:00pm
Signature Room, 95th floor, John Hancock Bulding
Further Information: slipski@ecsfinancial.com
(Women who attend are not required to be a member of an association to attend
nor do they have to be a registered attendee at the conference.
For more information contact: Shari Lipski at slipski@ecsfinancial.com)
Funding Sources
(As of March 29, 2012)
AIG Commercial Asset Finance
ATEL Capital Group
Banc of America Leasing
Bank Financial FSB
Bank of the West
BB&T Equipment Finance
BMO Harris Equipment Company
Boston Financial & Equity Corporation
CapitalSource, Inc.
CIT
Diversified Lenders, Inc.
EverBank Commercial Finance, Inc.
Fifth Third Equipment Finance Company
Financial Pacific Leasing
First Bank of Highland Park
First Eagle Bank
GE Capital Corporate Finance
GE Capital Markets
Government Leasing Corporation
Huntington Equipment Finance
Key Equipment Finance
Kingsbridge Holdings, LLC
MB Financial Bank
People's Capital and Leasing Corporation
PNC Equipment Finance, LLC
RBS Asset Finance
Regions Equipment Finance Corporation
SCG Capital Corporation
Sentry Financial Corporation
SG Equipment Finance
Sterling National Bank Equipment Finance
SunTrust Equipment Finance & Leasing Corp.
TAB Bank
U.S. Bank Equipment Finance, Inc.
US Capital Partners, LLC
Wells Fargo Equipment Finance, Inc.
Funding Sources have significant flexibility in determining who they meet with.
Funding Source Exhibitors who purchase a "Suite on the Floor" have access to all attendee profiles, not just the ones who have made appointments with them. Therefore, it is very impor¬tant that your business profile be as complete and as accurate as possible.

Convenient Schedule: The National Funding Con¬ference will begin with a reception on Tuesday, April 17th, fol¬lowed by a full day of meetings on April 18th, concluding with a half day of meetings on April 19th.
Brochure:
PDF
---
April 23-25
National Vehicle Leasing Association
Annual Conference
Worthington Renaissance Hotel
200 Main Street
Fort Worth, Texas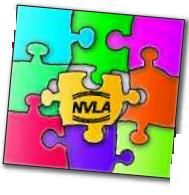 Full 2012 Conference Information
http://www.nvla.org/Events/2012Conference.aspx
---
April 26-28, 2012
Denver Sheraton Downtown Hotel
Denver, Colorado
Today, Friday, March 30th is the deadline to get the Early-Bird rate to attend the conference and get the discounted NAELB room rate of $139 per night at the Sheraton Denver Downtown Hotel. Current regular rates at the Sheraton are over $200 per night so don't delay! Reserve your room online or call the reservation desk at (303) 893-3333 and identify yourself as an attendee of the NAELB 2012 Annual Conference.

6th Annual Women in Leasing Luncheon
Thursday, April 26, 2012
Please contact Melissa Smith
at smith@marilease.com for more information.
(Members of Women in Leasing LinkedIn Group are invited to attend.
Women who attend are not required to be a member of an association to attend
nor do they have to be a registered attendee at the conference.)


NAELB Announces the Exhibit Hall
is SOLD Out with 37 Exhibitors:

360 Equipment Finance
Allegiant Partners, Inc.
AmeriMerchant
Amerisource Funding, Inc.
Axis Capital, Inc.
Bankers Capital
Baystone Financial Group
Belvedere Equipment Finance
Blackstone Equipment Leasing, L.P.
Blue Bridge Financial, LLC
Bryn Mawr Funding
BSB Leasing, Inc.
Channel Partners, LLC
CLP Foundation
Commerce National Bank
Dakota Financial, LLC
Diversified Lenders, Inc.
Financial Pacific Leasing, LLC
First Federal Leasing
Harbor Capital Leasing, LLC
Maxim Commercial Capital, LLC
Merchant Cash and Capital
MicroBilt Corporation
NAELB Benefits Booth
On Deck Capital
Pawnee Leasing Corporation
Preferred Business Solutions
Quail Capital
Quiktrak, Inc.
RLC Funding a Division of Navitas Lease Corp.
Stalwart Contract Finance, LLC
Summit Leasing, Inc.
TEAM Funding Solutions
Tetra Financial Group
TimePayment Corporation
United States Capital Corporation
Varilease Finance, Inc.
Conference Brochure:
Conference brochure
Schedule:
http://www.naelb.org/displaycommon.cfm?an=1&subarticlenbr=281
Registration with fees:
https://www.paymyassociation.com/displayemailforms.cfm?SessionId=12444721-EB8B-7832-CF209E9F55C9119C&emailformnbr=174905&event=375692
---
AGLF/ELFA Public Sector Finance Forum
May 9 - May 11
Doubletree Magnificent Mile
Chicago, Illinois
Registration
http://members.aglf.org/source/events/event.cfm?event=ANN12


---
September 7
Eastern Regional Meeting
Westin Baltimore Washington Airport Hotel
---
September 13—15
Funding Symposium
Rennaisance Washington, DC Dupont Circle Hotel
1143 New Hampshire Avenue, NW
Washington, DC 20037-1522


---

October 21-23
ELFA 51st Annual Convention
JW Marriott Desert Springs
Palm Desert, California
---
November 7 - 9, 2012
32nd Annual Fall Conference
Hilton La Jolla Torrey Pines
La Jolla, California


---
November 9-10
Western Regional Meeting
Hilton Irvine/Orange County Airport Hotel
Irvine, California
---

November 14-16
67th Commercial Finance Conference
JW Marriott Hotel
Phoenix, Arizona

-------------------------------------------------------------------
To view Leasing Association Events-Meetings Open to All, please click here.
Mr. Terry Winders, CLP
Anaheim, California
April 5 & 6
Two Day Seminar
sponsored by
Equipment Leasing Department
4040 MacArthur blvd, Suite 100
Newport Beach, CA 92660
The seminar will contain information on how to approach leasing in 2012 with the following subjects:
New lease language
Proposed new accounting rules for lessee's
Structuring and pricing for competition
Income tax rules, Article 2A vs. Article 9
New reasons to lease
Questions to ask lessee

Vendor needs

Credit enhancements
Documentation issues
and a take home assignment to see how to propose a lease.
Cost $450 per person

Registration and Outline of Course: PDF

For questions, please contact Mr. Terry Winders, CLP, at leaseconsulting@msn.com or call 502-649-0448.