Equipment Leasing Account Executive

What sets CoreTech apart from other equipment leasing companies is our team members and impeccable reputation. Are you unhappy with the ethics of your company and the promises made to you? Come to Newport Beach and join us.
To learn more, please click here
www.coretechleasing.com
CoreTech specializes in medium to
large size companies and firms
Over 100 law firms trust CoreTech for their leasing needs, why wouldn't you?


Wednesday, November 8, 2017
Today's Equipment Leasing Headlines

10% Buyout on Truck Lease Ruled a Security Agreement
Not a True Lease
By Tom McCurnin, Leasing News Legal Editor
Hurricanes Reasons for 8th Consecutive Q Loss at OnDeck
Press Release Claims/Also GAAP profitability in 4th Quarter 2017
New Hires/Promotions in the Leasing Business
and Related Industries
Positions Open
CoreTech Leasing/Harbour Capital
Sales Makes it Happen by Scott Wheeler, CLFP
Sell Aggressively
Are you an Equipment Leasing's Version
of the Blockbuster Video?
Observations from the Front Porch by Jim Acee
Combine Search Engine Optimization with Marketing
FinTech #102 by Alex Vasilakos
Senior Loan Officers Report Easing of Credit
Federal Reserve System Survey Bank Lending Practices
Amur Equipment Finance's Mike Coon Elected to NEFA
President and Chairman of the Board of Directors
Wonderstruck/Faces Places
Spider-Man: Homecoming/Lady MacBeth/Barry Lyndon
Film/Digital Reviews by Leasing News' Fernando Croce
Labrador Retriever Mix
Hilton Head, South Carolina
Lease Conferences- Update NAELB, NEFA
Dubai Auto/Fleet - Equipment Leasing Special
News Briefs---
Northern Leasing Clogging Up Manhattan Civil Court
Now Require Two Special Judges in Credit-card-machine suits
First Tech FCU Chooses CO-OP Financial Services
for Full-Service Credit, Member Rewards
New Video Highlights Equipment Finance Industry
Association Benefits
Broker/Funder/Industry Lists | Features (writer's columns)
Top Ten Stories Chosen by Readers | Top Stories last six months
www.leasingcomplaints.com (Be Careful of Doing Business)
www.evergreenleasingnews.org
Leasing News Icon for Android Mobile Device
You May have Missed---
Baseball Poem
Sports Brief----
California Nuts Brief---
"Gimme that Wine"
This Day in History
SuDoku
Daily Puzzle
GasBuddy
Weather, USA or specific area
Traffic Live----
######## surrounding the article denotes it is a "press release" and was not written by Leasing News nor information verified, but from the source noted. When an article is signed by the writer, it is considered a "by line." It reflects the opinion and research of the writer.


Please send a colleague and ask them to subscribe. We are free.
Email kitmenkin@leasingnews.org and in subject line: subscribe

[headlines]
--------------------------------------------------------------
10% Buyout on Truck Lease Ruled a Security Agreement
Not a True Lease
By Tom McCurnin
Leasing News Legal Editor
Court Ruled That There Was No Residual Value,
and Hence Not a True Lease
Ford Motor Credit Co., LLC v. Lasting Impressions Landscape Bankr.D.Md. Sep. 14, 2017, No. 15-24433-TJC) 2017 Bankr. LEXIS 3123.)
This is not a particularly earth-shattering case. But it does demonstrate some fundamental bankruptcy issues of which readers must be aware, and the dangers of having documents be overly-complicated. This case holds that a 10% buyout on a set of five-year leases is not a true lease but a disguised security agreement. Any leasing lawyer worth his or her salt would know this, so why the lessor made a run at this is unknown. The facts follow.
The debtor-lessee is a landscape contractor and leased seven pickup trucks for its business. They were 60 month leases with a 10% optional buyout at the end. The debtor defaulted on the leases prior to maturity and filed a Chapter 11 bankruptcy proceeding. The debtor continued to make adequate protection payments on the leases, but did not assume the leases on the grounds that they were disguised security agreements. The lessor moved for relief on the grounds that the leases were true leases.
The lessor's argument was a little convoluted and involved calculations for the "assumed residual," "early termination fee," and the difference between "rent" and the actual lease payment. I did not understand these mathematical arguments, and neither did the court. I think the argument was that the lessor, by requiring a rigid repair schedule under the terms of the lease, coupled with a different rent and payment schedule, somehow preserved the residual value to the lessor at an amount over the 10% number if the collateral was returned At the end of the lease the maximum the lessee would have to pay was 10%, so the mathematical mumbo-jumbo was irrelevant. The focus should be on what the lessee must pay, not what the lessor might receive.
The court applied the "economic realities" test to hold that since the trucks had at least a 10 year life span, "only a fool would fail to exercise the purchase option." Thus, the court ruled that the leases were disguised security agreements. Debtor wins and creditor-lessor loses.
How did the debtor-lessee win? Usually, when an obligation is construed as a loan in a Chapter 11, the equipment lessor is at a disadvantage. The lessor is at a disadvantage in two ways.
First, at the outset, if the obligation is a deemed a true lease, the lessee will owe the lessor the entire lease balance plus attorney fees, and must make the payments in the full amounts or risk losing the equipment. The lessee must assume or reject the lease within the first 60 days and if assumed, the lessee must pay the delinquency before assumption. If the obligation is a loan, until a Chapter 11 Plan is confirmed, the lessee needs only to make adequate protection payments (sometimes interest only) until Plan Confirmation. The lessee gets to keep the equipment.
Second, after Plan Confirmation, if the obligation is construed as a loan, the debtor gets to keep the equipment and value the lessor's claim not as to the lease balance, but as to the value of the collateral, and extend those payments for the life of the plan, perhaps 3-5 years. The rest of the lessor's claim is relegated to an unsecured claim, for which the lessor might receive 1% over the life of the plan. Obviously, if there is a default, the lessor gets to repossess the equipment, but its claim is strictly for the equipment.
It should be noted that guaranties are generally not affected by Chapter 11 filings by the corporations.
What are the takeaways here?
• First, The Lease Documents Were Too Clever. The lessor's lease documents were ambiguous as to what was to be paid at the end of the lease to keep the collateral There was a full half a page on selling the vehicles by either party, with all sorts of calculations, but nothing terribly plain as to what the purchase option was.
• Second, If There is a Meaningful Residual, the Documents Should Plainly Set It Forth Despite all the accounting mumbo-jumbo, at the end of the day, the residual appeared to be only 10%. The documents were unnecessarily complicated. I'm a firm believer in having documents being capable of being understood by a high school senior.
• Third, The Legal Decision Was Correct. Assuming the maximum that the lessor could receive if the lessee kept the vehicles is 10%, this is a secured transaction. The focus is on what the lessee will be required pay, not what the lessor might receive if the equipment was surrendered.
The bottom line to this case is that the court got it right Notwithstanding some accounting smoke and mirrors, if the lessee is required to pay a nominal amount, it is secured transaction, not a lease.
Ford Motor Credit vs. Lasting Impressions Landscape Contractors (14 pages)
http://leasingnews.org/PDF/FordvLastingImpressions2017.pdf
Tom McCurnin is a partner at Barton, Klugman & Oetting
in Los Angeles, California.
Tom McCurnin
Barton, Klugman & Oetting
350 South Grand Ave.
Suite 2200
Los Angeles, CA 90071
Direct Phone: (213) 617-6129
Cell (213) 268-8291
Email: tmccurnin@bkolaw.com
Visit our web site at www.bkolaw.com
Previous Tom McCurnin Articles:
http://www.leasingnews.org
Previous Tom McCurnin Articles:
http://www.leasingnews.org/Conscious-Top%20Stories/leasing_cases.html



[headlines]
--------------------------------------------------------------
Hurricanes Reasons for 8th Consecutive Q Loss at OnDeck
Press Release Claims/Also GAAP profitability in 4th Quarter 2017
OnDeck Capital reported a $4.5 million loss for their third-quarter.
The press release blames hurricane damage along the Gulf Coast which required a higher loss charge off. The fact is OnDeck has recorded losses in eight consecutive quarters. It lost $17.2 million in the third quarter of 2016.

OnDeck Chief Executive Noah Breslow said, "Absent these weather events, our Provision Rate and 15+ Day Delinquency Ratio would have improved sequentially and our GAAP net loss would have been closer to breakeven for the period. Looking ahead, our business is well-positioned to build on our strong customer demand and disciplined operating performance. As evidenced by our recent partnership announcement with VISA and Ingo Money, we remain committed to innovation that better serves our customers and drives responsible originations growth. We remain on track to achieve GAAP profitability in the fourth quarter and look forward to profitable growth in 2018."
The company press release stated, "At September 30, 2017, the 15+ Day Delinquency Ratio was 7.5%, up from 7.2% at June 30, 2017. Broken out separately, the 15+ Day Delinquency Ratio at September 30, 2017 for the FEMA-designated "individual assistance" hurricane disaster areas was 14.5%, and for all areas other than those disaster areas it was 6.6%. At June 30, 2017, the 15+ Day Delinquency Ratio for those disaster areas was 7.3% and for all areas other than those disaster areas it was 7.2%. The sequential decrease in delinquency observed in the non-disaster areas resulted primarily from improved credit performance of recent originations and better collections execution. The Net Charge-off rate in the third quarter was 16.9%, down from 18.5% in the second quarter of 2017.
"The Cost of Funds Rate was 6.4% in the third quarter of 2017."
Full Press Release:
https://investors.ondeck.com/press-and-events/press-releases/press-release-details/2017/OnDeck-Reports-Third-Quarter-2017-Financial-Results/default.aspx

[headlines]
--------------------------------------------------------------
New Hires/Promotions in the Leasing Business
and Related Industries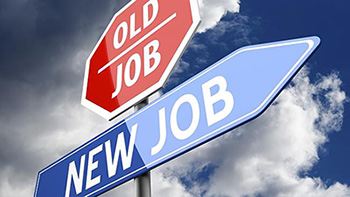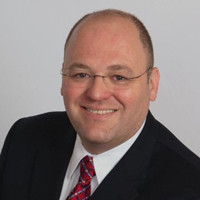 Scott Adelsky was hired as Chief Financial Officer, LeasePlan USA, Alpharetta, Georgia. He previously was Global Vice President, Finance & Accounting, CSM Bakery Solutions (July, 2014 - June, 2017). He joined Americold Realty Trust (dba AmeriCold Logistics, LLC) as Director, Financial Reporting, July, 2006; promoted April, 2007, Senior Director, Financial Reporting, Treasury & Tax, April, 2007; promoted November, 2008, Vice President, Corporate Controller; promoted Senior Vice President, Chief Accounting Officer, September, 2011. Prior, he was Division Controller (Group Manager) Carmax,Inc/Carmax Auto Finance (May, 2002 - July, 2006); Audit Manager and Business Advisor, Arthur Andersen & Co. (September, 1996 - May, 2002). Volunteer: Habitat for Humanity International (2000 - 2001). Education: City University of New York, Queens College.
Bachelor's degree, Accounting and Information Systems, Cum Laude (1992 - 1996). Activities and Societies: President of the Accounting Society, Accounting Honor Society member.
https://www.linkedin.com/in/scottadelsky/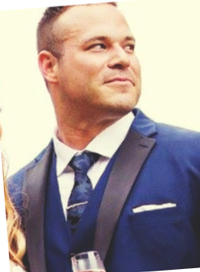 Dominic Knight was hired as Senior Account Executive, Currency Capital, Portsmouth, New Hampshire. Previously, he was Senior Leasing Consultant, Beacon Funding (May, 2017 - November, 2017); Lending Solutions Manager, Direct Capital Corporation (January 2016 - May, 2017); Director of Mortgage Brokers, Lenderful/MadDog Technology (December, 2013 - January, 2016); Director of Alumni Relations, Orchard Lake St. Mary's Preparatory (January, 2014 - December, 2015); Senior Mortgage Banker, Capital Mortgage Funding (August, 2012 - December, 2013); Key Account Manager, Fathead (January, 2012 - August, 2012); Mortgage Banker, Quicken Loans (November, 2010 - August, 2012); Asset Management Project Manager, Asset Management Resources (May, 2007 - November, 2010). Education: Robert Morris University, Chicago. Bachelor of Arts (B.A.), Business Administration and Management, General, Cum Laude (2006 -2010). Activities and Societies: Robert Morris Baseball. Orchard Lake St. Mary's Preparatory (2002 -2006).
https://www.linkedin.com/in/dominic-knight-3823b650/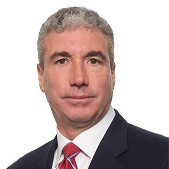 Jeff Knittel was hired as Head of American Operations for Airbus. "He recently served as President of CIT Transportation Finance, up until its $10 billion acquisition by Dublin-based Avolon. He will join the European company on January 12th next year as Chairman and Chief Executive of Airbus Americas." He had joined CIT in 1986. Prior, he was Transportation Finance, Manufactures Hanover Trust (1982 - 1986). Education: Embry-Riddle Aeronautical University. Wharton School of Business. Advanced Management Program.
https://www.linkedin.com/in/jeffknittel/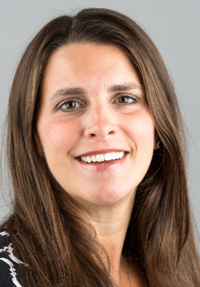 Rondy (Glenn) Leizerowicz was hired by TD, Mount Laurel, New Jersey, as VP, Head of Commercial, Retail & Payment Operations Strategy. Previously, she was at Canon Financial Services, starting April, 2003, as Tax Manager; promoted January, 2008, Controller; promoted May, 2011, Senior Manager, Strategic Projects; promoted January, 2013, Director, Corporate Planning; promoted October, 2014, Director, Major Account Customer Service, Collections & Litigation. Prior, she was Tax Manager, US Fleet Services (1999 - 2003); Senior Staff Accountant, Arthur Andersen (1997 - 1999). Education: Rutgers, The State University of New Jersey-Camden, Bachelor's Degree, Accounting, Cum Laude.
https://www.linkedin.com/in/rondy-leizerowicz-563a684/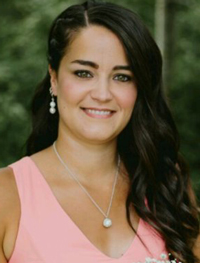 Sylvie Lesage was promoted to Senior Account Manager, National Leasing, Winnipeg, Manitoba, Canada. She joined the firm July, 2010, as Account Manager. Education: Universite de Saint-Boniface.
https://www.linkedin.com/in/sylvie-lesage-0a25296a/
Angelo R. Pirri was hired as Director of Institutional Sales, primarily for the Private Debt Division, ATEL Capital Group, San Francisco, California. Previously, he was Western Intermediary Sales Director, RIA & Private Bank, HSBC Global Asset Management (March, 2013 - November, 2017); Senior Sales Director, Private Wealth BD and RIA, Rafferty Capital Markets-Direxion Funds (December, 2011 - March, 2013); Senior VP Pacific Northwest, RIA Division, Deutsche Bank (March, 2010 - December, 2012); Director of Western Broker Dealer Sales, Julius Baer (May, 2006 - December, 2009); VP and Sales Director, Credit Suisse (2004 - 2005); Vice President and Sales Director, Merrill Lynch (May, 1996 - January, 2004). Education: University of San Francisco, Attended Masters Program, Graduate School Business (1986); Universita Commerciale 'Luigi Bocconi'. Bachelor of Business Administration (BBA), Business & Economics (1981); University of California, Santa Barbara (1979 - 1981). University of San Francisco.
https://www.linkedin.com/in/angelo-r-pirri-84775312/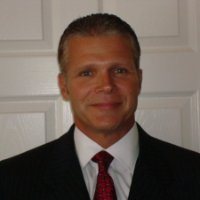 Tom Zettwuch was hired as Director of Originations in the South Florida Market by SunTrust Equipment Finance & Leasing, "responsible for covering commercial and private wealth clients in the region." Previously, he was Senior Vice President, Bank of America (March, 2010 - October, 2017); Senior Vice President, General Electric Capital Corporation (February, 2008 - February, 2009); Director, Wachovia Equipment Finance (March, 2005 - February, 2008); Vice President & Senior Account Manager, General Electric Capital Corporation (January, 1998 - January, 2005); Vice President, First Union National Bank, International Corporate Banking (January, 1992 - January, 1998); Assistant Vice President, Norddeutsche Landesbank (March, 1989 - January, 1992); Assistant Treasurer, Commerzbank AG (July, 1984 - March, 1989); Senior Credit Analyst, Manufacturers Hanover Trust Company (June, 1991 - July, 1984). Education: State University of New York College at Plattsburgh, BS, Business Management (1979 - 1982).
https://www.linkedin.com/in/thomas-zettwuch-77a34612/


Michael Viola was announced Director at BMO Harris Equipment Finance, Milwaukee, Wisconsin. He is located in the Greater Chicago Area, actually joining the firm August, 2017. Previously, he was Senior Vice President, Citizens Asset Finance, Inc (March, 2010 - August, 2017); Vice President Originations, Contemporary Healthcare Capital (2008 - 2009); Co-Founder, Landmark Realty Capital (April, 2005 - July, 2008); Senior Vice President, GE Capital Business Property (2001 - 2005); Pure Markets (March, 2000 - October, 2001); Senior Vice President/Regional Sales Manager (GE Capital CEF (1993 - 2000); Account Executive, IBM (1989 - 1993). Education: Northwestern University, Kellogg School of Management, Masters, Finance (1993 - 1996). Indiana University Bloomington, B.S., Marketing (1985 - 1989).
https://www.linkedin.com/in/michael-viola-107093a/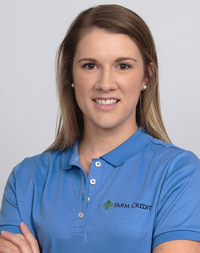 Kelsey Zook was hired as Loan Officer, MidAtlantic Farm Credit, at their office in Shoemakersville, Pennsylvania. Previously, she was Project Associate, Climeco Corporation (June, 2017 - October, 2017); Retail Sales Associate, E.G. Landis Jewelers (February, 2015 - June, 2017); Graduate Assistant Field Hockey Coach, Wilkes University (August, 2015 - May, 2017); Organic Chemistry Tutor, Delaware Valley University (September, 2013 - December, 2014); Member Relations Intern, Pennsylvania Farm Bureau (May, 2013 - August, 2013); Farm Hand, Earl Hafer and Sons (May, 2012 -August, 2012). Education: Wilkes University, Master of Business Administration (M.B.A.), Business Administration and Management, General (2015 - 2017). Activities and Societies: Delta Mu Delta. Delaware Valley University, B.S. Animal Science, Large Animal Science, Science Specialization with a minor in Agribusiness (2011 - 2014). Activities and societies: Field Hockey Team Captain, Collegiate Farm Bureau, Student Athlete Advisory Committee. Graduated with high honors in Animal Science and minored in Agribusiness. Member of Sigma Alpha Sorority, service as the Public Relations Chair for 2014, member of Women's Field Hockey Team, serving as Team Captain for 2 seasons.
https://www.linkedin.com/in/kelsey-zook-09952a84/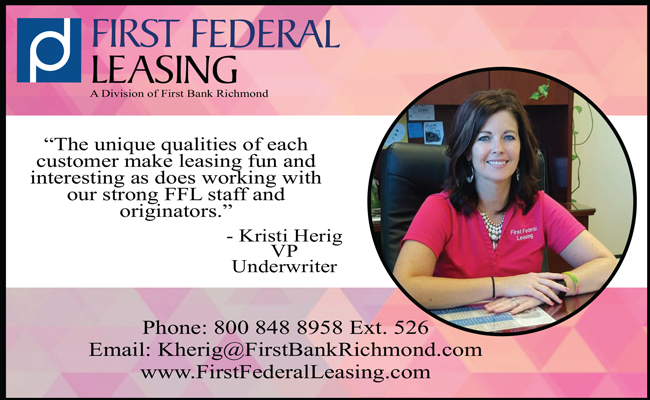 [headlines]
--------------------------------------------------------------

Equipment Leasing Account Executive

What sets CoreTech apart from other equipment leasing companies is our team members and impeccable reputation. Are you unhappy with the ethics of your company and the promises made to you? Come to Newport Beach and join us.
To learn more, please click here
www.coretechleasing.com
CoreTech specializes in medium to
large size companies and firms
Over 100 law firms trust CoreTech for their leasing needs, why wouldn't you?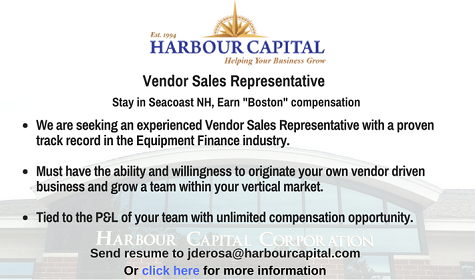 [headlines]
--------------------------------------------------------------
Sales Makes it Happen
by Scott Wheeler, CLFP
Sell Aggressively
Top producers are maximizing their efforts and working diligently to make the fourth quarter the best of 2017. A top producer suggested the following tip:
Call every client that you have funded in 2017 and every company that you have quoted over the past 10 months.
Explain to them that you have access to $XX of funds to be used by the end of the year in their industry.
Ask them if have any needs that can be satisfied with those funds, or if they know anyone in their industry that they can refer to you that may need the funds.
Sample statement: I have access to $2.5MM of funds to be used specifically for the medical industry by the end of 2017. Do you have any specific needs that require funding? Or do you know of any companies needing equipment that you could refer to me to use these funds? I have been tasked with employing this pool of funds over the next 6 weeks.
Numbers matter. If you want to fund additional transactions in November and December of 2017, you need to let the world know your specific objective and you need to ask for referrals from every possible contact.
Finish 2017 Strong
Wheeler Business Consulting has updated its website:
www.wheelerbusinessconsulting.com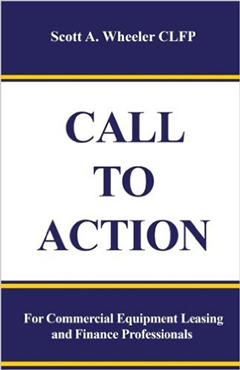 Available Here:
https://www.createspace.com/5355516

Scott A. Wheeler, CLFP
Wheeler Business Consulting
1314 Marquis Ct.
Fallston, Maryland 21047
Phone: 410 877 0428
Fax: 410 877 8161
Email: scott@wheelerbusinessconsulting.com
Web: www.wheelerbusinessconsulting.com

Sales Makes it Happen articles:
http://www.leasingnews.org/Legacy/index.html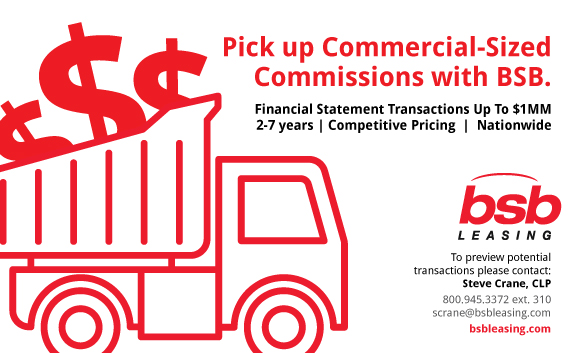 [headlines]
--------------------------------------------------------------
Are you an Equipment Leasing's version
of Blockbuster Video?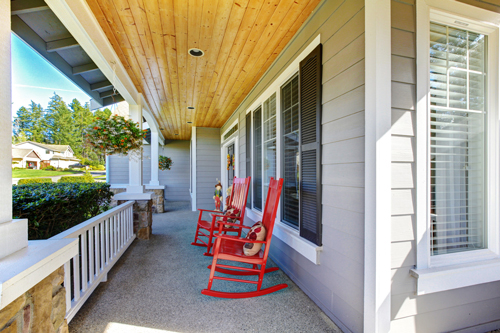 Observations from the Front Porch by Jim Acee
Believe it or not there was a time when you would get in the car and drive to the nearest 'video' store to rent your favorite new movie release (Millennials – please feel free to ask the old guy in the next cube what a video rental is).
Back then our cars did not come standard with electric windows or cruise control. (Come on, you Gen Xers remember your parents '86 Ford Taurus with crank handles for the car windows.) It seems that almost every luxury eventually becomes a necessity (raise your hand if you had a 'bag' phone…).
There are some new trends in equipment financing that may appear to be just unneeded costly upgrades. Like electronic car windows after the Reagan administration, they will eventually become standard operating procedure. (I've intentionally left FinTech off the list as that is an article all by itself).
Ignoring these trends may leave your company playing catch up, assuming your competitors don't bury you before you adapt and adopt.
Worse yet, if you are an equipment finance sales person, it will mean losing sales to competitors that have embraced these technologies. (If the only change in your company's process in the last 20 years is getting fax on plain paper instead of thermal you might want to consider looking for a new job with a company that will be around in 5 years).
Those companies still using paper documents, 2-hour credit turnaround and faxed credit apps will soon become the Blockbuster Video of the leasing industry.
Below is a list of just some of the new trends that are starting to emerge in the equipment finance industry (some have been around for more than a decade but only starting to be adopted in the equipment finance industry).
Automated credit decisioning – While auto decisioning has been around for 20+ years, few companies trust their decisioning models enough to eliminate most human intervention. If your automated credit model is not decisioning at least 70% of your credit applications, without human intervention, you will be playing a losing game to those that do. Expect the companies out their touting 2 hour turnaround time on credit decisions to be buried by those doing it in less than 3 minutes.
Electronic signature/eDocs – Electronic documents from companies like DocuSign are becoming the norm in the mortgage industry. Unfortunately, the equipment finance industry has been slow to adopt this technology. Expect the bank lessors with mortgage divisions to be leading the charge to change over to eDocs in their leasing divisions. Just think, no more incorrectly signed leases or lost doc packages!
Phone apps – I've seen various leasing company apps for mobile phones but most are just a lease quote tool and nothing else. One Top 25 lessor has a phone app that not only does the quote on the vendors letterhead that can be emailed to the end user, their vendor's sales reps can also enter a credit app (up to $250K with the just the information on a business card and a picture of the lessee's driver license), get an automated credit decision in less than 3 minutes and request the document package. The eDocs are sent directly to the customer for eSignature. It is feasible that from quote to document signature could take less than 10 minutes. Now that's how you take a deal off the street!
Telematics (the long-distance transmission of computerized information) - Telematics is used to transmit equipment operating information on everything from copiers to construction equipment. Today, manufacturers and equipment dealers are capturing this information primarily for service and maintenance information. Captive equipment lessors and non-captive lessors with large vendor programs are already offering programs where they are tied into the manufacturer's telematics information to streamline 'servitization' billing. Look for telematics to change the face of equipment leasing industry away from the financing of just equipment to more 'cost per', usage and 'servitization' models.
Electronic invoicing – this is not only convenient it is a major cost savings over snail mail of invoicing.
Electronic lessee payment – the ability to accept Credit Cards, Pay Pal and other forms of electronic payment just makes good sense. Your customers are paying everything else electronically, why not your monthly invoice?
ACH payment to vendors – You're not actually still sending checks are you...really?
I was compelled to put together this short list of emerging trends after speaking to a well-known lessor recently. When I asked the individual what the companies value proposition was, he touted the fact that they have 2 hour credit turnaround time, fax funding and could do app only to $150,000. While I would argue that these were handicaps, I feel an obligation to level set the playing field for those still in the dark.
Jim Acee
(m) 484-883-9618
jjacee@verizon.net
He has a rich background, serving as
DLL Country Sales Manager;
Vice President, Syndication Buy Desk;
Vice President, Field Sales, Wells Fargo Capital Finance;
Managing Director, Vendor Leasing, US Bank;
Director of Sales, US Bancorp (formerly BCL)
https://www.linkedin.com/in/jim-acee-578a03b
Observations from the Front Porch by Jim Acee
http://www.leasingnews.org/Conscious-Top%20Stories/porch.html
[headlines]
--------------------------------------------------------------
Combine Search Engine Optimization with Marketing
FinTech #102 by Alex Vasilakos
In your attempts to bring out the best in your company, you're focusing on your marketing strategy. That being said, it's also a good idea to turn your attention to search engine optimization (SEO) to truly maximize your results and put your company on the fast lane to true success. See for yourself just what you have to gain by looking at SEO and marketing as a single entity rather than seeing them as two separate components.
Optimize Your Site's Page Titles
You might not realize it, but your page titles actually show up in page results on search engines. This means you have to go a lot further than simply title a page "About Us" or "Our Philosophy." Think about your reaction if you were to see that in search engine results. Would you be eager to click on the link, or would you need something a bit more descriptive and in-depth to whet your appetite? For that reason, you're much better off taking an SEO approach when it comes to selecting titles for the pages on your site. Not only can a well-chosen title attract site visitors, it can position your business near the top of search results rather than muddle them in the middle or bottom where they're much less likely to be seen.
Overall Visibility
Something else to bear in mind with the combination of marketing and SEO is you want the investment of time, energy and money you've made in marketing to pay off and be seen by members of your target audience. SEO helps all your marketing efforts to truly pay off and take off. This is done by boosting your site to the top of search results where potential visitors are most likely to see them and click on your links. This particular tip works by:
Scattering popular keywords and phrases throughout your site where they can be picked up by search engines
Ensuring the content you have contains the most recent key phrases and words in your industry so you can better maintain and boost your position in search engine results
Successfully reaching your target customer, which is especially useful if you have a niche product or service that's for a specific type of customer rather than the general public
Take steps to show site visitors and potential customers you can back up your marketing claims and truly take care of whatever needs your products or services say they can.
Making and Maintaining Connections
Building your audience, business reach and customer base is all about not just making connections, but taking steps to sustain those connections for the long run. This is done by showing potential visitors and customers your business has personality and is operated by flesh-and-blood humans rather than some app or computer program; you want to make it plain there are people behind your page. If you only focus on SEO, your site has a great chance of shooting to the top of search engine results, but what users see likely won't be appealing enough to make them want to choose your site and business over your competitors. When SEO and marketing come together, you get the best of both worlds: visibility and being engaging enough to site visitors that they actually want to do business with you and not keep scrolling.
Once you've engaged your customers, you need to keep them engaged. Here, you'll want to bring content creation into the equation. All the videos, images and written content on your site should evolve over time rather than remain stale. Remember, your consumers don't have the attention span they used to.
While marketing your business, don't forget SEO; and when thinking about your company's SEO strategy, be sure you bring marketing along for the ride. The two combined create quite the end result.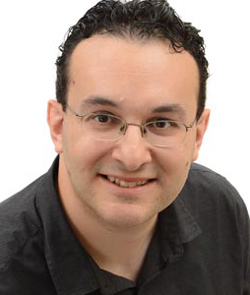 Alex Vasilakos
Director of Marketing
The Finance Marketing Group
Alex@financemarketing.com
Office: 518-591-4645x102 / Fax: 518-677-1071
90 State Street, Suite 1500, Albany, NY 12207
Currently, Alex works exclusively with financial services companies but his depth of knowledge and experience can help design and implement long-reaching strategies for businesses across all industries.
Previous Financial Technology Articles
http://www.leasingnews.org/Conscious-Top%20Stories/fintech.html


[headlines]
--------------------------------------------------------------
Senior Loan Officers Report Easing of Credit
Federal Reserve System Survey Bank Lending Practices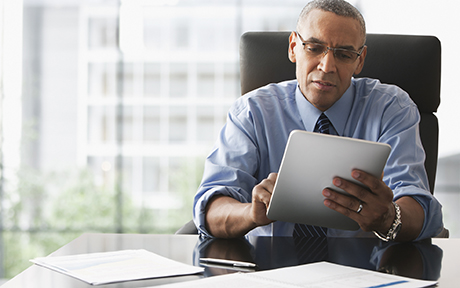 "Among the domestic respondents that reportedly eased their credit policies on C&I loans over the past three months, more aggressive competition from other bank or nonbank lenders was by far the most emphasized reason for easing. In particular, a majority of banks reported that more aggressive competition was an important reason for easing, with 14 of 29 respondents reporting it as a very important reason, while no other reason queried was cited by more than one bank as being very important.
"Regarding the demand for Commercial & Industrial loans, a moderate net share of domestic banks reported that demand from large and middle-market firms weakened, while demand for such loans from small firms was reportedly unchanged on net. The reasons cited for weaker loan demand were less concentrated than the reasons for having eased standards.
"In particular, each of the following possible reasons for weaker demand was cited by at least half of the banks that reportedly experienced weaker demand:
decreases in customers' needs to finance inventory,
accounts receivable, investment in plant or equipment
mergers or acquisitions.
"Meanwhile, inquiries from potential business borrowers regarding the availability and terms of new credit lines or increases in existing lines reportedly remained basically unchanged over the past three months on net."
The October 2017 Senior Loan Officer Opinion
Survey on Bank Lending Practices (14 pages)
https://www.federalreserve.gov/data/sloos/201710/default.htm
[headlines]
--------------------------------------------------------------
[headlines]
--------------------------------------------------------------
Labrador Retriever Mix
Hilton Head, South Carolina Adopt-a-Dog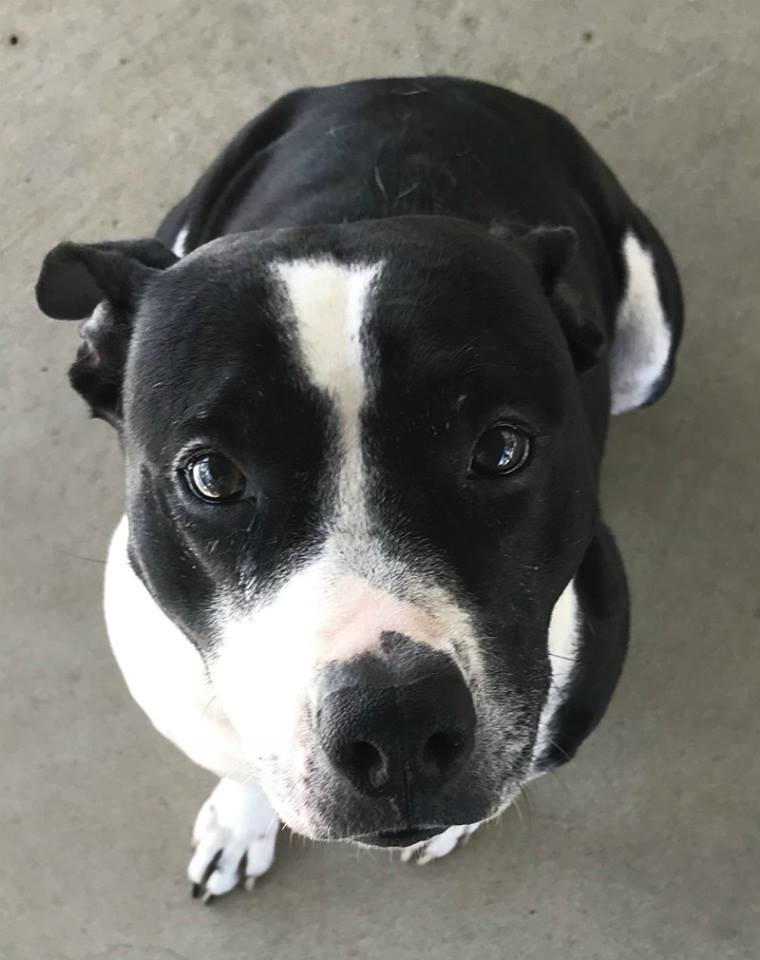 Angel
Female
Five Years Old
"Everyone needs an angel in their life. Well, here is a wonder Angel for you. She knows a few basic commands, and would like to learn more."
Hilton Head Humane Association
10 Humane Way
Hilton Head Island, SC 29926
Phone: 843-681-8686
adoptions@hhhumane.org
Hours:
Open from 11 am until 4 pm.
Adopt a Pet
http://www.adoptapet.com/
[headlines]
--------------------------------------------------------------
Leasing/Finance/Loan Conferences
Updated Information/Exhibitors
---

November 12 to November 13, 2017
EXPO Super Regional Conference

Hyatt Regency Jersey City
2 Exchange Place
Jersey City, New Jersey 07302
The Hyatt Regency Jersey City is beautifully situated on the Hudson River with fabulous views of the New York City Skyline. And all the action of New York City is just 7 minutes away on the PATH train, which is just outside the door of this year's Expo, with trains running every 10 minutes!
EXPO Co-Chairmen, Frank Peretore and Robert Hornby, assisted by a team of member volunteers will be putting a top-notch, timely education program together to compliment all the great networking EXPO is famous for.
Exhibitors
4 Hour Funding
Advantage Funding
American Lease Insurance
Amur Equipment Finance
Beneficil Equipment Finance Corp.
Bryn Mawr Funding
Business Credit Reports
Channel Partners Capital
ECS Financial Services, Inc.
Financial Pacific Leasing, Inc.
LeaseTeam, Inc.
Marlin Business Bank
North Mill Equipment Finance, LLC
Pawnee Leasing Corporation
Quality Leasing Co., Inc.
VFI Corporate Finance
Registration:
https://nefassociation.site-ym.com/page/17ExpoPrice
Registered to Date:
http://www.nefassociation.org/events/RSVPlist.aspx?id=936462


---
Western Regional Meeting
November 17 - 18, 2017
Doubletree by Hilton - Anaheim
Anaheim, California
Exhibitors to Date
360 Equipment Finance
4 Hour Funding
American Lease Insurance
Amur Equipment Finance
Ascentium Capital LLC
Beneficial Equipment Finance Corporation
BlackRiver Business Capital
Blue Bridge Financial, LLC
BlueVine
BSB Leasing
Channel Partners Capital
CLFP Foundation
Cobra Capital
Dakota Financial, LLC
Financial Pacific Leasing, Inc.
First Federal Leasing
FORA Financial
Global Financial & Leasing Services
Hanmi Bank
InstaCOVER
Marlin Equipment Finance
Maxim Commercial Capital, LLC
Navitas Credit Corp
NCMIC
Opportunity Fund
Orange Commercial Credit
Paradigm Equipment Finance, Inc.
Pawnee Leasing Corporation
Professional Solutions
Quality Leasing Co., Inc.
Quiktrak, Inc.
RapidAdvance
TEAM Funding Solutions
Tetra Financial Group
TimePayment Corporation
TradeRiver USA
VFI Corporate Finance
General Information
https://www.naelb.org/events/event-description?Calendar
EventKey=c32837eb-8b8a-49ae-a908-c0b1d8557d6e&Home=%2fhome


---


4th Middle East Leasing Summit
December 4 -7
Jumeirah Creekside Hotel, Dubai
Auto & Fleet Leasing December 4-5, 2017
Equipment Leasing Special December 6-7, 2017
Information
http://www.duxes-events.com/leaseme
[headlines]
--------------------------------------------------------------
News Briefs----


Northern Leasing Clogging Up Manhattan Civil Court
Now Require Two Special Judges in Credit-card-machine suits
http://nypost.com/2017/11/06/credit-leasing-company-clogging-manhattan-court-with-lawsuits/
First Tech FCU Chooses CO-OP Financial Services
for Full-Service Credit, Member Rewards
http://www.businesswire.com/news/home/20171107005158/en/Tech-FCU-Chooses-CO-OP-Financial-Services-Full-Service

New Video Highlights Equipment Finance Industry
Association Benefits
http://blog.keyequipmentfinance.com/new-video-highlights-equipment-finance-industry-association-benefits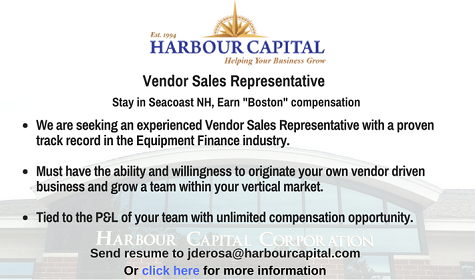 [headlines]
--------------------------------------------------------------

You May Have Missed---
'Psychologically scarred' millennials are killing countless industries from napkins to Applebee's
— here are the businesses they like the least
http://www.businessinsider.com/millennials-are-killing-list-2017-8


[headlines]
--------------------------------------------------------------
American Football Poem
Often read before a football game:
Willian Ernest Henley (1875) .
Out of the night that covers me,
Black as a Pit from pole to pole,
I thank whatever gods may be
For my unconquerable soul.
In the fell clutch of circumstance
I have not winced nor cried aloud,
Under the bludgeoning of chance
My head is bloody, but unbowed.
Beyond this place of wrath and tears
Looms but the horror of the shade,
And yet the menace of the years
Finds, and shall find me, unafraid.
It matters not how straight the gate,
How charged with punishments the scroll,
I am the master of my fate:
I am the Captain of my soul.
[headlines]
--------------------------------------------------------------
Mourning Roy Halladay, a Master Who Craved the Big Moments
https://www.nytimes.com/2017/11/07/sports/baseball/halladay-death-plane-crash.html
How the Rams Went From Laughingstock to Contenders
https://www.nytimes.com/2017/11/06/sports/football/jared-goff-rams.html
The Packers should tank
https://www.washingtonpost.com/news/sports/wp/2017/11/07/the-packers-should-tank/?utm_term=.45107dfc6fcf
49ers' patience with Jimmy Garoppolo could end with one hit
http://www.pressdemocrat.com/sports/7611376-181/grant-cohn-49ers-patience-with
Patriots sign Ricky Jean Francois
https://www.yahoo.com/sports/report-patriots-sign-ricky-jean-182320868.html
[headlines]
--------------------------------------------------------------


California Nuts Briefs---
Can armored cars protect California's $1 billion marijuana payday?
http://www.sacbee.com/news/politics-government/capitol-alert/article183267146.html#emlnl=Afternoon_Newsletter
Sacramento County approves $44 million for
homeless mental health and drug abuse services
http://www.sacbee.com/news/local/homeless/article183227976.html#emlnl=Afternoon_Newsletter
New '60 Minutes' shows shocking footage of the cracks
in the Millennium Tower basement
http://www.sfgate.com/local/article/60-minutes-shows-footage-cracks-millennium-tower-12335207.php
[headlines]
--------------------------------------------------------------



"Gimme that Wine"

http://www.youtube.com/watch?v=EJnQoi8DSE8
Raising a Glass to the Man Behind Napa's Martha's Vineyard
http://www.winespectator.com/blogs/show/id/Heitz-Marthas-Vineyard-Tom-May
18 new Masters of Wine join the Institute at the Annual Awards Ceremony
http://mailchi.mp/d71710e5b254/18-new-masters-of-wine-join-the-institute-at-the-annual-awards-ceremony?e=7c7521ad40
Auction Could Change Face of Walla Walla
https://www.winesandvines.com/news/article/191802/Auction-Could-Change-Face-of-Walla-Walla
A 'Wine Lover's Daughter' Savors Her Dad's Vintage Story
https://www.npr.org/2017/11/04/561813417/a-wine-lover-s-daughter-savors-her-dad-s-vintage-story
Wine Prices by vintage
http://www.winezap.com
http://www.wine-searcher.com/
US/International Wine Events
http://www.localwineevents.com/
Leasing News Wine & Spirits Page
http://two.leasingnews.org/Recommendations/wnensprts.htm

[headlines]
----------------------------------------------------------------
This Day in History
1519 - After landing on the Yucatan peninsula in April, Spaniard Hernan Cortés and his troops marched into the interior of Mexico to the Aztec capital and took the Aztec emperor Montezuma hostage. Going against the governor's orders, he took 800 Spaniards on eleven ships, landing on what is now Vera Cruz on the east coast of Mexico., Marching to meet the Aztecs, he persuaded thousands of Indians to join his forces. He had horses, muskets, pistols, steel swords, and armor. The Indians
thought he was from God, or maybe he was God. His military triumphs led to 300 years of Spanish domination of Mexico and Central America. He brought horses to our continent (more on that when we write about Coronado) and his troops were the first to "invade" what is now the United States, actually exploring parts of what we now call New Mexico. In one village, after an uprising against their visit, he cut off the right foot of every male adult so they would not attach them again.
1638 - Anne Hutchinson was banished from Massachusetts. An important participant in the Antinomian Controversy that shook the infant Massachusetts Bay Colony from 1636 to 1638, her strong religious convictions were at odds with the established Puritan clergy in the Boston area. Her popularity and charisma helped create a theological schism that threatened to destroy the Puritans' religious community in New England. She was eventually tried and convicted, then banished from the colony with many of her supporters.
1701 - William Penn presented his Charter of Privileges. Penn envisioned a colony that permitted religious freedom, the consent and participation of the governed, as well as other laws pertaining to property rights. The Charter of Privileges recognized the authority of the King and Parliament over the colony, while creating a local governing body that would propose and execute the laws. Penn clearly states the responsibilities the citizens have in selecting virtuous men to lead and govern what many would refer to as the "Holy Experiment."
1731 - Benjamin Franklin opened the first US library. The first circulating library in America, the Library Company of Philadelphia, was founded by Benjamin Franklin and others.
1775 - Mail franking privilege allowing free use of the mail was granted to members of Congress and private soldiers in service. Regulations of January 9, 1776, provided that soldiers' mail was to be franked by the officer in charge. On April 3, 1800, free franking of mail during her natural life was granted to Martha Washington.
1789 - Bourbon whiskey was first distilled from corn by Elijah Craig (1738-1808), Bourbon, Kentucky. He was a Baptist preacher in Virginia who became an educator and capitalist entrepreneur in the area of Virginia that later became the state of Kentucky. He built Kentucky's first fulling mill (for cloth manufacturing), its first paper mill, its first ropewalk (for manufacturing rope from hemp), and the first lumber and gristmill at Georgetown.
1837 - The first college for women in the United States was founded as Mt. Holyoke Seminary in South Hadley, Massachusetts. While many colleges for women became coeducational institutions in the 1970's and 1980s, Mt. Holyoke remains a women's college.
1861 - The Trent Affair. The United States almost went to war over the capture of a British ship supposedly bringing supplies to the Confederacy. During the raid Union officials found Confederate officials on board.
http://memory.loc.gov/ammem/today/nov08.html
1864 – Abraham Lincoln was re-elected president as the civil War was coming to a climax. Running against George McClellan, the battlefield commander Lincoln removed, Lincoln carried all but three states (Kentucky, New Jersey, and Delaware), and won 55 percent of the vote. He won 212 electoral votes to McClellan's 21. Most significantly, a majority of the Union troops voted for their commander in chief, including a large percentage of McClellan's old command, the Army of the Potomac.
1870 - The first storm warning was issued by the U.S. Signal Corps Weather Service
1883 – Birthday of painter Charles Demuth (1883-1935)
http://www.artchive.com/artchive/D/demuth.html
http://www.artcyclopedia.com/artists/demuth_charles.html
http://www.demuth.org/
1884 - Samuel Sidney McClure established McClure's Syndicate in New York City, the first newspaper syndicate.
1887 - Gas lighting brought many fires toward the end of this century. Though Boston had experienced several damaging fires, the worst one started on this Saturday evening in a dry-goods warehouse. Spreading rapidly in windy weather, it devastated several blocks of the business district, destroying nearly 800 buildings. Damage was estimated at more than $75 million. It was said that the fire caused a bright red glare in the sky that could be seen from nearly 100 miles away. The Boston fire came one year, one month and one day after the Great Chicago Fire of Oct 8, 1871.
1889 - Montana became the 41st state in the United States. Helena is the capital of Montana; the western meadowlark is the state bird and the bitterroot is the state flower. Of course, this has nothing to do with some of Montana's bitter history, its most notorious event: The Battle of Little Big Horn (Custer's Last Stand).
1889 - Birth of Oswald J. Smith (d. 1986), Canadian clergyman. Founder of the People's Church of Toronto, Smith also authored a number of books and composed more than 1,200 hymns, including "The Song of the Soul Set Free."
1900 - Birthday of Margaret Mitchell (d. 1949) at Atlanta. American novelist who won a Pulitzer Prize (1937) for her only book, "Gone with the Wind," a romantic novel about the Civil War and Reconstruction. "Gone with the Wind," sold about 10,000,000 copies and was translated into 30 languages. Mitchell died after being struck by an automobile Aug 16, 1949.
1900 - Theodore Dreiser's first novel, "Sister Carrie," a realistic book, was published by Doubleday & Company. Worried about the immorality of the book and suffering public pressure, the publisher pulled the book off the stands. Depressed, Dreiser was unable to write another novel for over a decade.
1904 - Theodore Roosevelt was reelected President of the United Sates. Charles W. Fairbanks was elected Vice President. The electoral vote was Roosevelt, 336; Alton B. Parker, Democratic candidate, 140. The popular vote was Roosevelt 7,628,834; Parker, 5,884, 401; Eugene V. Debs, Socialist candidate, 402,460; Dr. Silas C. Swallow, Prohibition Party, 259,257; Thomas E. Watson, People's Party, 114,752. The Republicans carried Missouri for the first time since the Civil War in what was the biggest election victory since 1872. They maintained a 57-33 majority over the Democrats in the senate and picked up 43 seats in the House for a 250-136 majority.
1906 - Cameraman Fred A. Dobson began filming "The Skyscrapers of New York" atop an uncompleted skyscraper at Broadway and 12th Street, the first documentary of the changing of a metropolitan landscape due to the innovation of steel girders.
(lower half of: http://memory.loc.gov/ammem/today/nov08.html)
1907 - Birthday of actress Katherine Hepburn (d. 2003), Hartford, CT. Academy Awards for "Morning Glory" (1932), "Guess Who's Coming to Dinner?" (1967), "The Lion in Winter" (1968) and "On Golden Pond" (1981). Nominated eight more times for her work in such movies as "The Philadelphia Story" (1940), and "The African Queen" (1951).
1910 - The Washington State Constitution was permanently amended to grant women the right to vote. In 1871, Susan B. Anthony and Abigail Scott Duniway led a crusade through the territories of Washington and Oregon and helped to form the Washington Woman Suffrage Association. Due to the group's constant protesting and pushing, full voting rights were given to women in 1883 by a bill that passed through the Territorial Legislature. But in 1887, the Territorial Supreme Court overturned that law. Another was passed in 1888, but was also overturned. This happened because women voters were making sales of liquor more difficult with their votes, and the state's liquor lobby had fought hard to remove their voting rights. In light of this opposition, some activists chose to emphasize the contributions of women workers to the community and finally, in 1910, succeeded. It would be ten years before the rest of the country's women had that right.
1927 - Singer Chris Connor (d. 2009) birthday, Kansas City. MO. http://www.ddg.com/LIS/InfoDesignF96/Ismael/jazz/1950/Connor.html
1929 - Museum of Modern Art (MOMA) opens, New York City.
http://www.moma.org/about_moma/
1932 - Franklin D. Roosevelt was elected President of the United Sates in a Democratic landslide. John Nance Garner was elected Vice President. Roosevelt carried all by seven states with 472 electoral votes to 58 for Herbert Hoover. The popular vote was Roosevelt, 22,821,857; Hoover 15,761,841. Norman Thomas, Socialist, 881,9951; William Z Foster, Communist, 102,785; Verne L. Reynolds, Socialist Labor 33,276; William D. Upshaw, Prohibition, 81,869; Jacob S. Coxey, Farmer Labor, 7309. In congressional elections the Democrats gained 13 Senate seats for a 60-35 majority. In the House, the Democrats gained 90 seats for a 310-117 majority, with five seats going to minor parties.
1938 - The first African-American female state legislator was Crystal Bird Fauset of Philadelphia, PA, elected to the Pennsylvania House of Representatives. Her term of office began on December 1, 1938 and she was sworn in and assumed her seat on January 3, 1939. She later became Assistant Director for the Works Progress Administration in Pennsylvania and served as a race relations advisor to First Lady Eleanor Roosevelt and New York City Mayor Fiorello La Guardia. She chaired of the Philadelphia Negro Woman's Democratic League, was a member of the board of trustees of Cheyney State Teachers College, and was on the board of directors of the Small Business Opportunities Corporation of Philadelphia. She died on March 27, 1965
http://www.afsc.org/about/hist/2003/crystal_bird_fauset.htm
1939 - Frank Sinatra had his last recording session with the Harry James Band. "Every Day of My Life" and "Ciribiribin" were recorded. If you listen to these records today, you will not be able to identify Sinatra as he sounded more a "crooner" without the phrasing or rhythm in the 1950's and forward.
1949 - Birthday of Bonnie Raitt, Burbank, CA. Singer, songwriter. Grammy award winner. Her mother was a pianist and her father is actor John Raitt
1950 - The first pilot of a jet fighter to win a dogfight in the Korean War was First Lieutenant Russell John Brown of Pasadena, CA, the pilot of an Air Force F-80, who destroyed a MiG-15 over Northern Korean in jet-versus-jet combat.
1951 – Yankees catcher and future Hall of Famer, Yogi Berra, won the first of his three MVP awards.
1952 - Maurice "Rocket" Richard of the Montreal Canadiens became the leading career goal scorer in the National Hockey League with his 325th career goal in a 6-4 win over the Chicago Blackhawks.
1953 - Residents of New York City suffered through ten days of smog resulting in 200 deaths.
1954 - Dave Brubeck makes "Mime" Magazine cover for "Take Five." Louis Armstrong was the first jazz musician to make Time's front page in 1947.
1954 - The American League approved transferring the baseball's Philadelphia Athletics team to Kansas City, Missouri. Charles O. Finley of Chicago, Illinois would eventually tire of Kansas City and relocate the A's to Oakland, California.
1955 - Top Hits
"Autumn Leaves" - Roger Williams
"Moments to Remember" - The Four Lads
"I Hear You Knocking" - Gale Storm
"That Do Make It Nice" - Eddy Arnold
1956 - Cecil B. DeMille's cinema classic, "The Ten Commandments," starring Charlton Heston and Yul Brynner, premiered in New York. It later won an Oscar for Best Special Effects, and received a Best Picture nomination.
1959 - Elgin Baylor, the Minneapolis Lakers' "Big E", scored 64 points to set a National Basketball Association scoring mark. The Lakers defeated Boston 136-115.
1960 – John Fitzgerald Kennedy was elected President of the United States. Sen. Kennedy, Democrat of Massachusetts, was the second youngest man ever to win the nation's highest office and the first Roman Catholic. Sen. Lyndon Baines Johnson, Democrat from Texas, was elected Vice President. The electoral vote was Kennedy, 303, Nixon, 219, and Senator Harry F. Byrd, 15. Kennedy won 49.7% and Nixon 49.6% of the popular vote making the election one of the closest in U.S. history. In congressional elections, the Democrats took a 65-35 majority in the senate. In the House, they lost 20 seats but kept a majority of 263-174.
1961 - With only one Cy Young Award given for the two leagues, Whitey Ford, the AL leader in wins (25) and innings pitched (283), wins the honor ahead of Warren Spahn, who led the NL in wins (21) and ERA (3.02). In one of the closest votes in Award history, future Hall of Famers Ford and Spahn total nine and six points respectively.
1963 - Top Hits
"Sugar Shack" - Jimmy Gilmer & The Fireballs
"Deep Purple" - Nino Tempo & April Stevens
"Washington Square" - The Village Stompers
"Love's Gonna Live Here" - Buck Owens
1963 - Dick Clark's traveling Caravan of Stars opens its fall 1963 tour in Teaneck, New Jersey. The bill features Bobby Vee, Brian Hyland, the Ronettes, Little Eva and the Dovells among others.
1964 - Judy Garland and daughter, Liza Minnelli gave a joint appearance at the London Palladium. The program was shown on television in the United States, and was recorded on the LP, "Live at the London Palladium" that became a classic for Capitol Records.
1965 - The daytime soap opera, "Days of Our Lives," starring MacDonald Carey as Dr. Tom Horton, premiered on television. This popular daytime serial, like many others, has gone through many changes throughout its run. It expanded from 30 minutes to an hour; it went to number one in the ratings and slipped to nine out of 12 in the 1980s; and it dropped or de-emphasized older characters, which angered its audience. The soap is set in Salem and centers around the Horton and Brady families. Notable cast members included Mary Frann, Joan Van Ark, Susan Oliver, Mike Farrell, Kristian Alfonso, Carry Marshall, John Aniston, Josh Taylor, Wayne Northrop, John DeLancie, Andrea Barber, Deidre Hall, Thaao Penghlis, Jason Bernard, Marilyn McCoo, Charles Shaughnessy, Peter Reckell, Francis Reid, Patsy Pease and Genie Francis.
1966 - The first African-American to be elected US Senator by popular vote was Edward William Brooke III (1919-2015), the attorney general of Massachusetts, who was elected by a popularity of 439,000 votes. A graduate of Howard University and Boston University Law School, the liberal Republican Brooke served in the Senate for twelve years, until he was defeated by Paul Tsongas in 1978. Brooke was instrumental in developing the legislation that would become the 1970 Housing and Urban Development Act.
http://bioguide.congress.gov/scripts/biodisplay.pl?index=B000871
1966 - Actor and future United States President Ronald Reagan was elected governor of California, beating incumbent Governor Pat Brown, former District Attorney of San Francisco. When he first heard Reagan was going to run against him, Brown was noted to say, "Hey, we got a shoo in as they are going to run an actor from Hollywood against me."
1966 - The temperature in downtown San Francisco reached a November record of 86 degrees.
1966 - RUBIO, EURIPIDES, Medal of Honor
Rank and organization: Captain, U.S. Army, Headquarters and Headquarters Company, 1st Battalion, 28th Infantry, 1st Infantry Division, RVN. Place and date: Tay Ninh Province, Republic of Vietnam, 8 November 1966. Entered service at: Fort Buchanan, Puerto Rico. Born: 1 March 1938, Ponce, Puerto Rico. Citation: For conspicuous gallantry and intrepidity in action at the risk of his life above and beyond the call of duty. Capt. Rubio, Infantry, was serving as communications officer, 1st Battalion, when a numerically superior enemy force launched a massive attack against the battalion defense position. Intense enemy machinegun fire raked the area while mortar rounds and rifle grenades exploded within the perimeter. Leaving the relative safety of his post, Capt. Rubio received 2 serious wounds as he braved the withering fire to go to the area of most intense action where he distributed ammunition, re-established positions and rendered aid to the wounded. Disregarding the painful wounds, he unhesitatingly assumed command when a rifle company commander was medically evacuated. Capt. Rubio was wounded a third time as he selflessly exposed himself to the devastating enemy fire to move among his men to encourage them to fight with renewed effort. While aiding the evacuation of wounded personnel, he noted that a smoke grenade which was intended to mark the Viet Cong position for air strikes had fallen dangerously close to the friendly lines. Capt. Rubio ran to reposition the grenade but was immediately struck to his knees by enemy fire. Despite his several wounds, Capt. Rubio scooped up the grenade, ran through the deadly hail of fire to within 20 meters of the enemy position and hurled the already smoking grenade into the midst of the enemy before he fell for the final time. Using the repositioned grenade as a marker, friendly air strikes were directed to destroy the hostile positions. Capt. Rubio's singularly heroic act turned the tide of battle, and his extraordinary leadership and valor were a magnificent inspiration to his men. His remarkable bravery and selfless concern for his men are in keeping with the highest traditions of the military service and reflect great credit on Capt. Rubio and the U.S. Army.
1966 – Triple Crown winner Frank Robinson of the Baltimore Orioles is the unanimous choice as AL MVP. He became the first Major Leaguer to win the award in both leagues. Traded by the Reds in the previous off-season, Reds GM decided that Robinson was "an old 30" and traded him. In addition to the MVP and Triple Crown, Robinson was also World Series MVP as the O's swept the Dodgers.
1967 - JOEL, LAWRENCE, Medal of Honor
Rank and organization: Specialist Sixth Class (then Sp5c), U.S. Army, Headquarters and Headquarters Company, 1st Battalion (Airborne), 503d Infantry, 173d Airborne Brigade. Place and date: Republic of Vietnam, 8 November 1965, Entered service at: New York City, N.Y. G.O. No.: 15, 5 April 1967. Born: 22 February 1928, Winston-Salem, N.C. Citation: For conspicuous gallantry and intrepidity at the risk of life above and beyond the call of duty. Sp6c. Joel demonstrated indomitable courage, determination, and professional skill when a numerically superior and well-concealed Viet Cong element launched a vicious attack which wounded or killed nearly every man in the lead squad of the company. After treating the men wounded by the initial burst of gunfire, he bravely moved forward to assist others who were wounded while proceeding to their objective. While moving from man to man, he was struck in the right leg by machine gun fire. Although painfully wounded his desire to aid his fellow soldiers transcended all personal feeling. He bandaged his own wound and self-administered morphine to deaden the pain enabling him to continue his dangerous undertaking. Through this period of time, he constantly shouted words of encouragement to all around him. Then, completely ignoring the warnings of others, and his pain, he continued his search for wounded, exposing himself to hostile fire; and, as bullets dug up the dirt around him, he held plasma bottles high while kneeling completely engrossed in his life saving mission. Then, after being struck a second time and with a bullet lodged in his thigh, he dragged himself over the battlefield and succeeded in treating 13 more men before his medical supplies ran out. Displaying resourcefulness, he saved the life of 1 man by placing a plastic bag over a severe chest wound to congeal the blood. As 1 of the platoons pursued the Viet Cong, an insurgent force in concealed positions opened fire on the platoon and wounded many more soldiers. With a new stock of medical supplies, Sp6c. Joel again shouted words of encouragement as he crawled through an intense hail of gunfire to the wounded men. After the 24 hour battle subsided and the Viet Cong dead numbered 410, snipers continued to harass the company. Throughout the long battle, Sp6c. Joel never lost sight of his mission as a medical aid man and continued to comfort and treat the wounded until his own evacuation was ordered. His meticulous attention to duty saved a large number of lives and his unselfish, daring example under most adverse conditions was an inspiration to all. Sp6c. Joel's profound concern for his fellow soldiers, at the risk of his life above and beyond the call of duty are in the highest traditions of the U.S. Army and reflect great credit upon himself and the Armed Forces of his country.
1969 - "Wedding Bell Blues" by 5th Dimension topped the charts and stayed there for 3 weeks.
1970 - Tom Dempsey of the New Orleans Saints set an NFL record by kicking a 63-yard field goal to give the Saints a 19-17 victory of the Detroit Lions.
1970 - Jim Morrison records the poetry that the other members of the Doors would set to music after his death and issue on the 1978 album, "An American Prayer."
1971 - Top Hits
"Gypsys, Tramps & Thieves" - Cher
"Theme from Shaft" - Isaac Hayes
"Imagine" - John Lennon Plastic Ono Band
Here Comes Honey Again - Sonny James
1971 - Sly & the Family Stone have huge hits with "Family Affair" and "There's a Riot Goin' On." The album's title could well describe some of Sly's concerts during this time. Much to his fans' dismay, he's a frequent no-show. Of eighty concerts booked in 1970, he canceled 26 and has ducked out of 12 of forty shows in '71.
1973 - No. 1 Billboard Pop Hit: "Keep on Truckin' (Part 1)," Eddie Kendricks.
1973 - The first golfer to earn $100,000 in a contest was Miller Barber of Texas, who won in 144 strokes in the World Open at Pinehurst, NC, on November 8-17.
1974 - Lt. William Calley is paroled after serving about three years in "prison" (under house arrest in his apartment) for overseeing the murder of Vietnamese civilians (possibly as high as 500 or more) at My Lai
http://www.fortunecity.com/tinpan/parton/2/mylai1.html
1978 - A bizarre NBA game happened during the Philadelphia 76ers and the New Jersey Nets, when an official assessed three technical fouls against Nets coach Kevin Loughery and player Bernard King The league office ruled that the official had acted in error and ordered the game replayed. It was on March 23, 1979, and Philadelphia won, 137-133. On February 7, however, the 76ers traded Ralph Simpson to New Jersey for Erick Money and Harvey Catchings. So these three wound up finishing the game on March 23rd as members of the team they had originally opposed.
1979 - Top Hits
"Pop Muzik" - M
"Heartache Tonight" - Eagles
"Dim All the Lights" - Donna Summer
"You Decorated My Life" - Kenny Rogers
1979 - The Grateful Dead's "Shakedown Street" LP is released.
1983 - Dale Murphy (.302, 36, 121) joins Ernie Banks, Joe Morgan and Mike Schmidt as one of the players who has won the MVP award in consecutive years. The soft-spoken Braves' outfielder receives 21 of the 24 votes cast.
1983 - No. 1 Billboard Pop Hit: "All Night Long (All Night)," Lionel Richie. Richie sings the song at the closing ceremonies of the 1984 Olympic Games in Los Angeles.
1986 - A new Utah record for wind was set when a wind gust of 124 mph was recorded on 11,000-foot Hidden Peak in the Snowbird area
1987 - Top Hits
"I Think We're Alone Now" - Tiffany
"Causing a Commotion" - Madonna
"Mony Mony 'Live' " - Billy Idol
"Am I Blue" - George Strait
1988 - George H. W. Bush was elected president of the United States, carrying 40 states. He defeated Governor Michael Dukakis of Massachusetts, the Democratic candidate. The electoral vote was Bush,
426, Dukakis 112. The popular vote was Bush, 47,917,341, Dukakis, 41,013,030. In congressional elections the Democrats gained one Senate seat for a 55-45 majority; in the House they gained 3 seats for a 260-175 majority.
1990 - The Gender Gap at the voting booth succeeded in electing Ann Richards as Texas Governor (with 61% of the women's vote) and Barbara Roberts as Oregon Governor with 30% more of the women's vote than her opponent got. Sharon Pratt Dixon was elected the first black woman as Mayor of Washington, D.C. Joan Finney who opposed abortion was elected governor of Kansas. Of 85 women who ran for statewide offices, 57 won... all with significant Gender Gap margins...
1991 – A new "The Carol Burnett Show" premieres on CBS-TV
Her first run on TV lasted from September 11, 1967 - March 29, 1978.
My good friend Warren Luening played lead trumpet for her TV show and toured with her. He said he enjoyed every minute as she was a wonderful person to work for and always thoughtful of those around her. What you saw on TV was the way she really was in life, he commented.
http://www.tvtome.com/tvtome/servlet/PersonDetail/personid-1025
http://timvp.com/carolb.html
http://us.imdb.com/title/tt0302389/
1991 - The first week of November ended in Iowa with the average temperature for the state of 18.3 degrees, a full 24.7 degrees below normal. Easily this was the coldest first week of November ever.
1993 - Microsoft Windows for Workgroups 3.11 was released. The operating system boasted improved support for NetWare and Windows NT, and slipped in numerous architectural changes to improve performance and stability (changes that later found their way into Windows 95).
1994 - Top Hits
"I'll Make Love To You" - Boyz II Men
"All I Wanna Do" - Sheryl Crow
"Another Night" - Real McCoy
"Here Comes The Hotstepper" (From "Ready To Wear") - Ini Kamoze
1999 - The House of Representatives passed a resolution calling for Shoeless Joe Jackson to be honored. The resolution stopped short of calling for his induction into the Hall of Fame. "It is worthy for this body to take a few minutes to stand up for fairness and right an old wrong," said Rep. Jim DeMint, the author of the resolution who represents Jackson's hometown of Greenville, SC. Jackson was eligible for the Hall of Fame until 1991 but was never voted in either by the writers or the Veterans Committee. In 1991, the Hall's board adopted a resolution prohibiting players on the permanently banned list from consideration.
2004 - Receiving 27 of 28 first-place votes, Bobby Crosby (.239, 22, 64) wins the American League Rookie of the Year Award. The Oakland shortstop, who is the son of former big leaguer infielder Ed Crosby, joins Harry Byrd (1952), Jose Canseco (1986), Mark McGwire (1987), Walt Weiss (1988) and Ben Grieve (1998) as the sixth A's freshman to be honored by BBWAA.
2014 - North Korea releases Americans Matthew Todd Miller and Kenneth Bae; Bae was imprisoned for two years after arrest for missionary actions, while Miller was detained in April for 'hostile acts' after tearing up his visa and requesting asylum.
-------------------------------------------------------------

SuDoku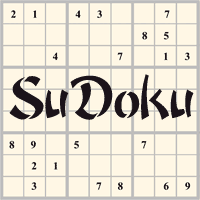 The object is to insert the numbers in the boxes to satisfy only one condition: each row, column and 3x3 box must contain the digits 1 through 9 exactly once. What could be simpler?
http://leasingnews.org/Soduku/soduko-main.htm
--------------------------------------------------------------

Daily Puzzle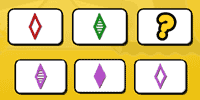 How to play:
http://www.setgame.com/set/puzzle_frame.htm
Refresh for current date:
http://www.setgame.com/set/puzzle_frame.htm
--------------------------------------------------------------


http://www.gasbuddy.com/
http://www.gasbuddy.com/GB_Map_Gas_Prices.aspx
http://www.gasbuddy.com/GB_Mobile_Instructions.aspx
--------------------------------------------------------------

Weather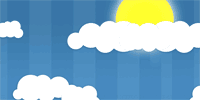 See USA map, click to specific area, no commercials
--------------------------------------------------------------

Traffic Live---
Real Time Traffic Information
You can save up to 20 different routes and check them out with one click,
or type in a new route to learn the traffic live
--------------------------------