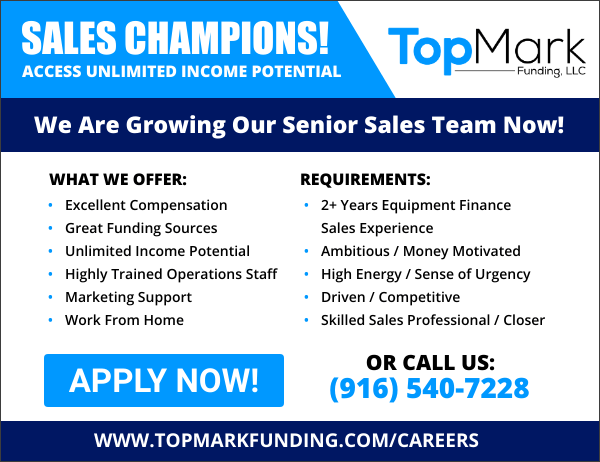 Friday, September 25, 2020


Today's Leasing News Headlines

No Longer taking Broker/Discounting Business
plus Leasing Companies Out of Business
New Hires/Promotions in the Leasing Business
and Related Industries
Leasing Industry Ads
---Help Wanted
The Three Aspects of Digital Marketing for Finance
FinTech #102 by Bridget Carney
Solar Financing Firms
Working with Third Party Originators
ELFA MLFI Falls 23% in August from July
Month Year-to-Year Down 24%
Top Ten Publishers on Facebook August 2020
Source: NEWSWHIP
Recreational Cannabis Sales Increase Rapidly
in Canada
OnDeck Surpasses $1 Billion in Small Business
Financing in New York State - $500,000 MM NY City
Bill and Ted Face the Music/The Hole/Tesla
I'm Thinking of Ending Things/The Personal History
of David Copperfield -Reviews by Fernando Croce
Retriever/Mix
Louisville, Kentucky Adopt-a-Dog
Eleven Attorneys Against Evergreen Abuse
Help in Leasing News' Bulletin Board Complaint Issues
News Briefs---
San Francisco Bay Area applicants flood program
that pays them $10,000 to leave California
She lost her job in the pandemic.
She can't even afford the dollar store to feed her kids
State Farm, Allstate face big claims
from wildfires, hurricanes
In Chicago, Overnight el trains,
weekend Metra service in danger?
You May Have Missed ---
University of Washington to test smartphone technology
that tells you if you were exposed to the coronavirus
Broker/Funder/Industry Lists | Features (wrilter's columns)
Top Ten Stories Chosen by Readers | Top Stories last six months
www.leasingcomplaints.com (Be Careful of Doing Business)
www.evergreenleasingnews.org
Leasing News Icon for Android Mobile Device
Sports Brief----
California Nuts Brief---
"Gimme that Wine"
This Day in History
SuDoku
Daily Puzzle
GasBuddy
Weather, USA or specific area
Traffic Live----
######## surrounding the article denotes it is a "press release," it was not written by Leasing News nor has the information been verified. The source noted. When an article is signed by the writer, it is considered a "byline." It reflects the opinion and research of the writer.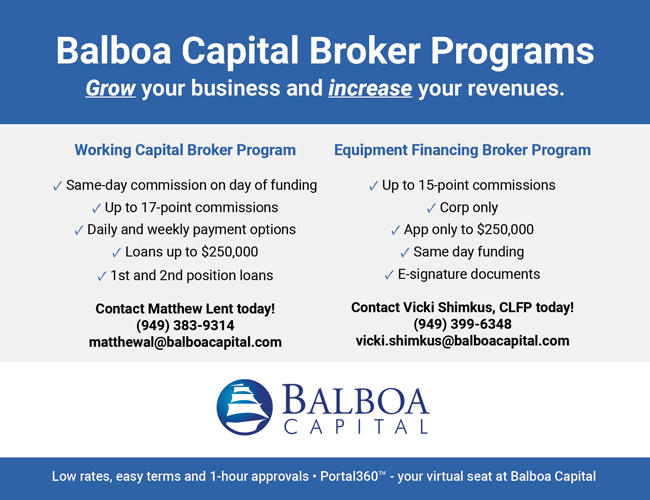 [headlines]
--------------------------------------------------------------
No Longer taking Broker/Discounting Business
plus Leasing Companies Out of Business

Companies with an * are no longer in business. The others are companies that were taking broker business, but announced that they no longer are accepting broker business. Many have also down-sized or are managing an existing portfolio.

More details are available in this list by company name:
http://www.leasingnews.org/list_alpha_new.htm

*ABCO Leasing Inc., Bothell, WA
*ACC Capital, Midvale, Utah
Advantage Business Capital, Lake Oswego, Oregon
AEL Financial, Buffalo Grove, Illinois
(No longer taking new broker business)
Agility Solutions Corp., Prescott, Arizona
Allegiant Partners, Bend, Oregon
Alliance Financial, Syracuse, New York
Allstate Leasing, Towson, Maryland
*Alternative Capital, Apollo Beach, Florida
*AMC Funding, Charlotte, North Carolina
*American Bank Leasing, Alpharetta, Georgia
*American Equipment Finance, Warren, New Jersey
American Leasefund, Tigard, OR (no longer a funder)
Bank of Ozark Leasing/Finance, Little Rock, Arkansas
*Bank of West Indirect Leasing, Dublin, California
*Bank of the West Leasing Indirect, San Ramon, California
*Bank Midwest Leasing, Overland Park, KS
Bankers Healthcare Group, Weston, FL
*BBVA Compass Equipment Leasing, Houston, Texas
*Blackstone Equipment Financing, Orange, California
*BusinessFinance.com (on line aggregate funder)
*Business Leasing NorthWest, Seattle, WA
*Capital One Equipment Finance, Towson, Maryland
*CapitalSource Healthcare Finance, Chevy Chase, Maryland
*CapNet, Los Angeles, California
*C and J Leasing Corp, Des Moines, Iowa
*Carlton Financial Corporation, Wayzata, Minnesota
*Chase Industries, Inc., Grand Rapids, Michigan
*Chesterfield Financial, Chesterfield, Missouri
CHG-MERIDIAN U.S. Finance, Ltd, Woodland Hills, CA
(Sales Management focuses very selectively on certain brokers.)
*Churchill Group/Churchill Leasing, Jericho, NY
CIT Group (limited)
Citizens Business Bank, Ontario, CA
Columbia Bank Leasing, Tacoma, WA
*Columbia Equipment Finance, Danville, California
Commercial Equipment Lease, Eugene, Oregon
Concord Financial Services, Long Beach, California
*Court Square, Malvern, Pennsylvania
*Creative Capital Leasing Group, LLC, San Diego, CA
Crossroads Equipment Lease & Finance, Rancho Cucamonga, Ca
Diversified Financial Service, Omaha, NE
*Dolsen Leasing, Bellevue/Yakima, Washington
Equipment Finance Partners, a division of Altec, Birmingham, Alabama
Evans National Leasing, Inc., Hamburg, NY
*Enterprise Capital Partners dba Enterprise Leasing, Spokane, WA
Enterprise Funding, Grand Rapids, Michigan
Enverto Investment Group, LLC, West Los Angeles, California
*Evergreen Leasing, South Elgin, Illinois
*Excel Financial Leasing, Lubbock Texas
*First Corp.(IFC subsidiary), Morton Grove, Illinois
First Federal Financial Services, Inc., Menomonee Falls, Wisconsin
First Republic Bank, San Francisco, CA
Fora Financial, New York, New York
Frontier Capital, Teaneck New Jersey
*GCR Capital, Safety Harbor, Florida
GE Capital, Conn (limited)
Global Funding LLC., Clearwater, FL
*Greystone, Burlington, MA
*Heritage Pacific Leasing, Fresno, CA
*Hillcrest Bank Leasing, Overland Park, KS (Parent bank sold)
Huntington Equipment Finance, Vendor Finance Group, Bellevue, Washington
*IFC Credit Corp., Morton Grove, Illinois
Irwin Financial (Irwin Union Bank), Columbus, Indiana
Irwin Union Bank, F.S.B. (Louisville, Kentucky)
Lakeland Bank, Montville, NJ
LaSalle Systems Leasing
*Latitude Equipment Leasing, Marlton, New Jersey
*Leaf Specialty Finance, Columbia, South Carolina
*LEAF Third Party Funding, Santa Barbara, Ca.
Lease Corporation of America, Troy, Michigan
Lombard, part of Royal Bank of Scotland, worldwide
*M&T Credit, Baltimore, Maryland (Merged with M&T Bank)
Note: M&T Bank | Commercial Equipment Finance, Baltimore, MD
(accepts broker business)
Manufacturer's Lease Plans, Inc., Phoenix, Arizona
*MarVista Financial, Villa Park, California
*MericapCredit, Lisle, Illinois
*Meridian Healthcare Finance, San Diego, California
Merrill Lynch Financial
Midwest Leasing Group, Livonia, Minnesota
*Mount Pleasant Capital, Wexford, PA
National City, Cleveland, Ohio
*Navigator (Pentech subsidiary) San Diego, California
*Northwest Leasing Company, Clyde Hill, WA
OFC Capital, Roswell, Georgia
Old National Bank, Evansville, Illinois
*Pentech Financial, Campbell, CA
*PFF Bancorp, Inc, Pomona, CA
Pinnacle Business Finance, Fife, Washington
*Pioneer Capital Corporation, Addison, Texas
PredictiFund, a subsidiary of Capital Access Network, Inc
*Podium Financial Group, Inc.,Costa Mesa, CA
Popular Finance, St. Louis, Missouri
Puget Sound Leasing, Seattle, Washington
Radiance-Capital, Tacoma, WA
Rapid Finance. Bethesda, Maryland
Rational Technology Solutions, Rolling Meadows, IL
*Reliant National Finance, Jacksonville, Florida
Sandy Springs, Olney, MD
*Securities Equipment Lsg. (SEL, Inc.), Glendora, CA
*Select Equipment Leasing Co., Concord, CA
* Sharpe Financial Network, Phoenix, Arizona
Sovereign Bank, Melville, New York
Specialty Funding, Albuquerque, NM
Sterling National Bank, Montebello, New York
*Studebaker-Worthington Leasing, Corp., Jerico, NY
(part of sale from Main Street Bank to Ascentium Capital)
*Summitt Leasing, Yakima, Washington
Sun Trust Equipment Finance & Leasing, Baltimore, Maryland
*SunBridge Capital, Mission, Kansas
Suncoast Equipment Funding Corp., Tampa, Florida
TCF Equipment Finance, Minnetonka, Minnesota
TechLease, Morgan Hill, California
*Tennessee Commerce Bank, Franklin, Tennessee
Textron Financial
*Triad Leasing & Financial, Inc., Boise, Idaho
*TriStar Capital, Santa Ana, California
*Union Capital Partners, Midvale, Utah
US Bank, Manifest Funding, Marshall, Minnesota
(new requirement: large yearly funding)
US Bank, Middle-Market, Portland, Oregon
Velocity Financial Group, Rosemont, Illinois
VenCore, Portland, Oregon (former company Len Ludwig)
*Vision Capital, San Diego, California
Vision Financial Group, Inc. (VFG Leasing & Finance), Pittsburg, PA
Wachovia Bank Leasing
*Warren Capital, Novato, California
*Washington Mutual Financial
Western Bank, Devils Lake, ND
*Westover Financial, Inc., Santa Ana, California
*Your Leasing Solution, Las Vegas, Nevada

(Note: Should a company policy have changed, please contact kitmenkin@leasingnews.org)

Funders looking for new Brokers:
http://www.leasingnews.org/Funders_Only/New_Broker.htm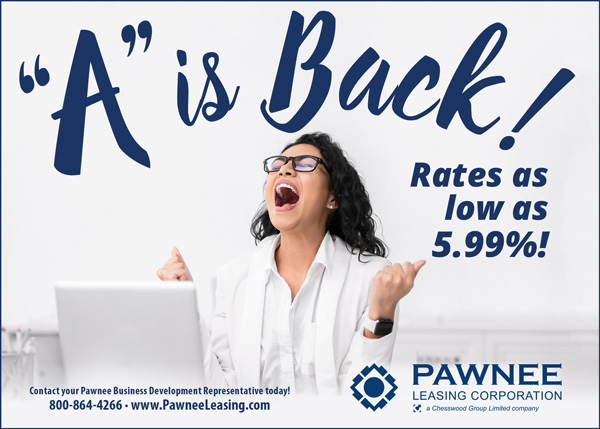 [headlines]
--------------------------------------------------------------

New Hires/Promotions in the Leasing Business
and Related Industries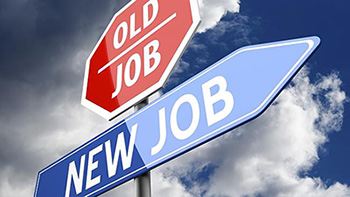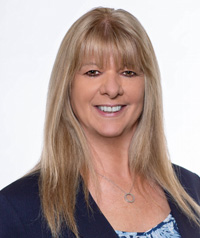 Marie DeWitt was hired as Collections and Remarketing specialist, Western Equipment Finance, Devils Lake, North Dakota. She is located in Mount Laurel, New Jersey. Previously, she was at Marlin Capital Solutions, starting 2000 as Regional Remarketer Specialist; promoted May, 2000, Senior Equipment Remarketer; Residual Remarketer Special, Marlin Capital Solutions (2000); Customer Service, Advanta business Services, May, 1998 - 2000). Volunteer: Team Capital, March of Dimes. fundraiser, Multiple Sclerosis Foundation. fundraiser, Autism Speaks. https://www.linkedin.com/in/mariedewitt/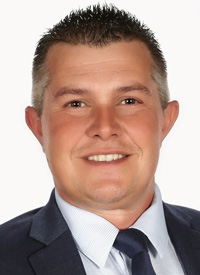 Austin Eiler was hired as National Business Development Manager, Western Equipment Finance, Devils Lake, North Dakota. He is located in Rochester, Indiana. Previously he was at Independent Purchasing Cooperative, starting July, 2010, Services Credit Analyst; promoted February, 2016, Franchisee Finance Manager. Intern. Independent Purchasing Cooperative (January, 2009 - May, 2009). Education: DePaul University. Bachelor of Science. BS, Economics (2006 -2010). Activities and Societies: DePauw Management Fellows Phi Kappa Psi. https://www.linkedin.com/in/austineiler/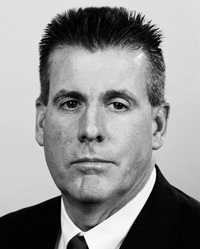 Joe Fitzgerald was hired as Lease Market Strategy, Visual Lease, Woodbridge, New Jersey. He is located in the Greater New York City Area. Previously, he was a EY, starting 2013 as Health Market Leader-FAAS; promoted 2013 as Lease Accounting GTM Leaders; Northeast Health Leader; Global Client Service Executive; promoted July, 2015, Lease Technology & Managed Services GTM Leader; Chief Financial Officer/Chief Operating Officer, The MaCc Group (2001 - 2012); Chief Financial Officer, The Westfield Group (2000 - 2001); CFO, Hobart West Group (1997 - 2000). Education: Pace University. Lubin School of Business. BBA, Accounting (1980 - 1982). https://www.linkedin.com/in/josephpfitzgerald/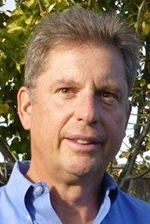 Joe Friedling was hired as Director of Business Development, NFS Leasing, Beverly, Massachusetts. He is located in San Luis Obispo, California Area. Previously, he was Regional Account Manager, Xerox Financial Services, Western Region (March, 2014 - March, 2020); Vice President, Account Executive, Commerce Bank (December, 3013-March, 2014); Equipment Finance Broker September, 2013 -December, 2013); Business Banking Officer, U.S. Bank (July, 2012 - August, 2013), Equipment Finance Professional, PEC USA Inc. (February, 2002 - July, 2012); Graphic Business Development, CitiCapital, formerly Copelco Capital (1999-2002). Education: The College of New Jersey fka Trenton State College, BS MET, Mechanical Engineering (1979 – 1983): Activities and Societies: ZBT Fraternity. https://www.linkedin.com/in/pecusainc/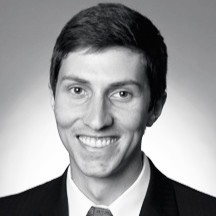 Matt Lawrence was hired as Business Development Representative, Targeted Lease Capital, LLC, Williamsville, New York. Previously, he was at Pawnee Leasing, joining the firm May, 2014, as Regional Manager East; promoted May, June, 2014, Business Development. Internal Wholesale III, Jackson (September, 2009 - May, 2014). Education: Fort Lewis College. Bachelor's degree, Business Administration. https://www.linkedin.com/in/mpl29544/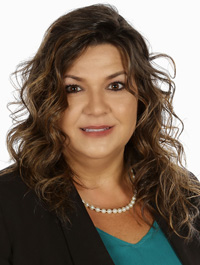 Bobbie Rota was hired as Asset Manager, Western Equipment Finance, Devils Lake, North Dakota. She is located in Northampton, Pennsylvania. Previously, she was at Action Machinery Co., Inc., starting as Receptionist and Sales Administration, October, 1989; promoted October, 1990, Office Manager; promoted November, 1998, Executive Administrative Assistant to Vice President; promoted March, 2012, Asset Recovery/Sales/Remarketing. Volunteer: Team Support, East Allen Township Youth Sports (April, 2005 - June, 2019). https://www.linkedin.com/in/bobbie-rota/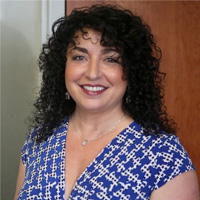 Loretta Troiani was hired as Vice President, Sales, Ascentium Capital, Kingwood, Texas. She is located in Medford, New Jersey.Previously, she was at Marlin Business Services Corp., joining the firm November, 2008, as Account Manager, Late-State Collections; promoted September, 2012, Business Development Manager; promoted February, 2015; promoted April, 2015, Senior Business Development Manager; promoted April, 2018, Senior Business Development Manager, Team Lead. Education: Boston College. Bachelor of Arts (BA), English, Philosophy, Romance Languages, Magna Cue Laude. Order of the Cross & Crown Honor Society, National Dean's List. https://www.linkedin.com/in/loretta-troiani-06309a7b/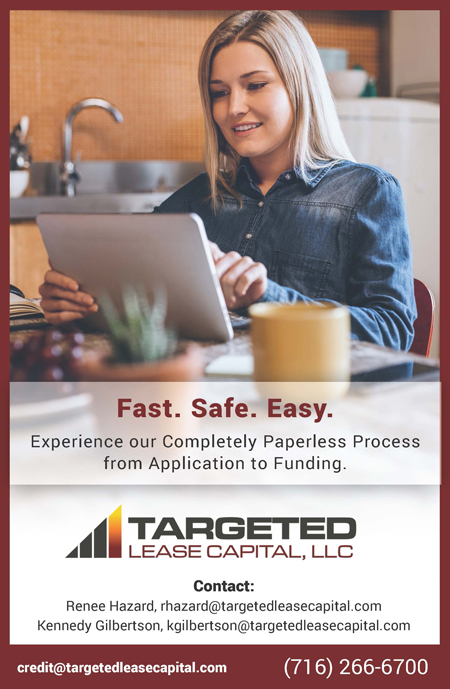 [headlines]
--------------------------------------------------------------
Leasing Industry Help Wanted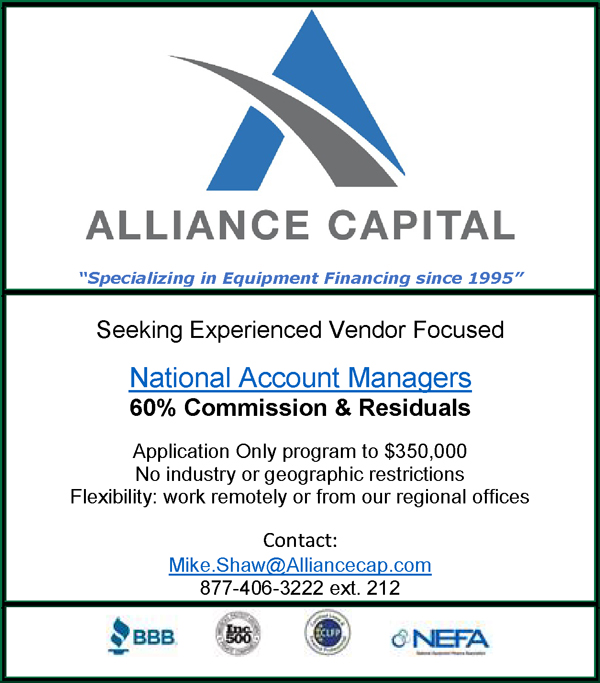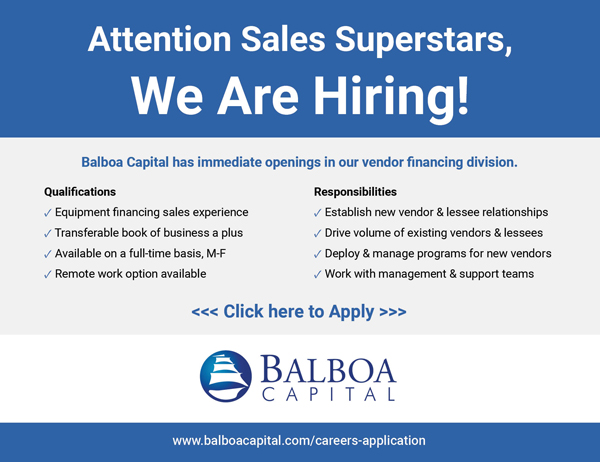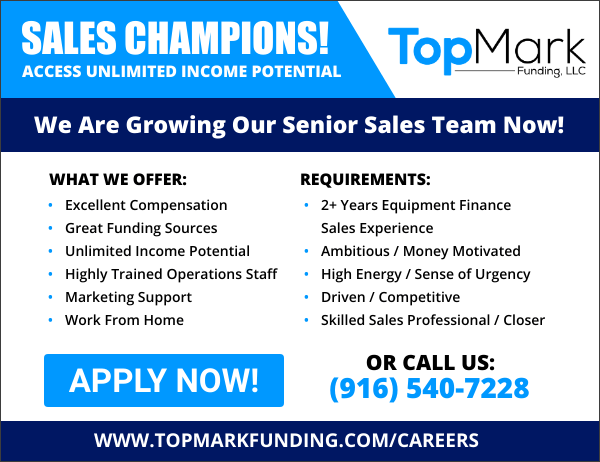 [headlines]
--------------------------------------------------------------
The Three Aspects of Digital Marketing for Finance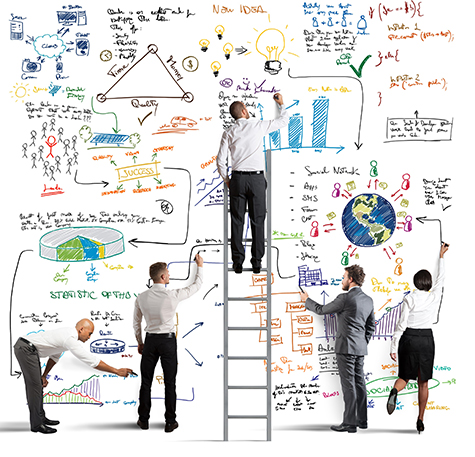 FinTech #102 by Bridget Carney
In order for leasing and financial companies to reach their full potential, they must connect with their customers and potential customers. The best way to do that is to formulate a cohesive digital marketing strategy that fills all three marketing "buckets": lead generation, lead nurture, and brand awareness.
Marketing is such an imperative aspect of a business strategy overall due to the wide range of key performance indicators that can be tracked. From views, to impressions, to engagements, to conversions, the ability to identify which pieces of content resonate best with your audience allows a company to continue to serve their audience to the best of their ability.
So, when it comes to building a strategy that fills each of the "marketing buckets," where does one begin? The website.
The Epicenter of Your Digital Marketing Ecosystem
At the center of your digital strategy will be your website, the tool that provides the initial impression and is a hub of knowledge for your business. It is vital that this impression is informative and engaging, the first step to building trust and establishing credibility. It should also provide your hours, contact information, product information, product reviews, and relevant news.
Marketing Bucket #1: Lead Generation
Lead generation is done through pay per click advertising (PPC), which is a real-time tool through the Google Ad Platform. A PPC campaign gives a company the opportunity to determine which products they'd like to highlight on Google, as well as what they'd like to allocate as their budget.
PPC has been deemed so effective due to how quickly and easily it can be changed and measured, which allows for the retargeting of real-time searchers. When a potential lead clicks on your ad on Google, a unique code is then embedded in your site, making sure the individual continues to see your ads.
Also, when someone clicks on your ad and is then directed to your landing page, which is essentially a mini-website that highlights the product of your choice and fills out the form on the landing page, their contact information is sent directly to the business. This then allows you to follow up via phone or email, preferably both.
Marketing Bucket #2: Lead Nurture
Email marketing is an excellent way to stay top of mind for your leads, even if they haven't already closed. It is important to remember that even if someone decides that working with you right now is not something they are interested in, they may change their mind in the future, or, better yet, they may be able to refer you out.
As far as statistics are concerned, email marketing is considered the most cost effective method of achieving conversions and reaching an audience. The continued sharing of value and information keeps you relevant to your leads, many of which you've already paid for, continuing to establish the trust and credibility that is required to become a thought leader in your industry.
Marketing Bucket #3: Brand Awareness
Two important aspects of marketing which aid in brand awareness are content marketing and social media marketing.
Content marketing is excused through the blog section of the website and has two main functions: to increase SEO (search engine optimization), as well as to educate readers. The correct and consistent SEO practices will assist users in finding your site, which means there's a more significant chance they'll be interested in what you have to offer. Additionally, SEO organically increases your rankings on search engines, which does eventually result in conversions.
Social Media Marketing, the other piece to filling the "brand awareness" bucket, is characterized as any type of platform which allows its users to engage through likes, comments, or shares. This includes, but is not limited to, Facebook, Twitter, YouTube, LinkedIn, Pinterest, or Instagram.
In order to establish your brand with social media, it is important to consistently post content that is relevant and considered an added value to your audience. This can come in the form of external articles or videos, or content you create yourself. A well rounded strategy typically uses both.
In addition to the content that you post to your page, social media includes the social proof element which is done through reviews. It shows that not only are you talking about the greatness of your products and services, others are talking about it as well.
While all pieces of the digital marketing ecosystem are not used to directly or immediately generate leads, they do work alongside one another to establish a credible, strong brand and digital footprint, which does, over the lifetime of one's business, will generate consistent revenue or referrals.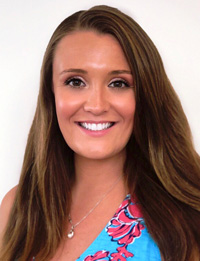 Bridget Carney
The Finance Marketing Group
bridget@financemarketing.com
Office: 518-591-4645 x102
An energetic, ambitious, and organized leader in the digital marketing space, Bridget manages projects, timelines, and workflow across all departments at The Finance Marketing Group, in addition to its sister company, The National Alliance of Commercial Loan Brokers where she serves as an all-encompassing digital marketing specialist and speaker at the annual conference.
Bridget prides herself on her client facing skills in addition to her ability to clearly and effectively communicate, all while maintaining a relentlessly positive attitude. A self-proclaimed "lipstick enthusiast," you can find Bridget with a cup of coffee in one hand and her yoga mat in another.


[headlines]
--------------------------------------------------------------
Solar Financing Firms
Working with Third Party Originators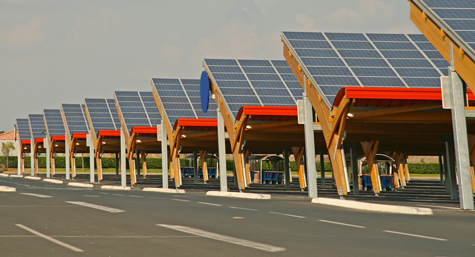 Thomas Cadle, CLFP, LeaseSource Financial Services. Voice: 800-991-0099 Fax: 800 - 988 -3921
email: tcadle@leasource.com
Michael Kountze, Regents Capital., Voice: 512-222-5539 Fax: 512-222-5539
email: michaelk@regentscapital.com
John Meredith, CG Commercial Finance. Voice: 949.720.9511 fax: 949.720.9611
email: john.meredith@cgcommercial.com
Jim Recker, Crestmark Equipment Finance. Voice: 248.593.3919 Mobile: 248.705.5704 Toll Free: 888.800.3705
email: jrecker@crestmark.com
Any additions or corrections, please contact: kitmenkin@leasingnews.org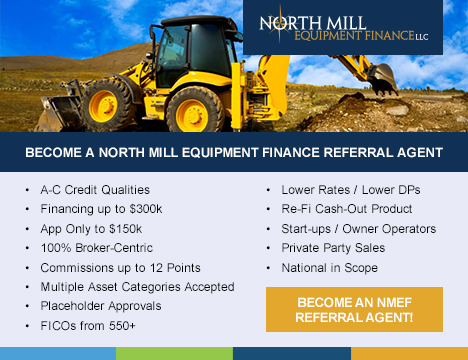 [headlines]
--------------------------------------------------------------
ELFA MLFI Falls 23% in August from July
Month Year-to-Year Down 24%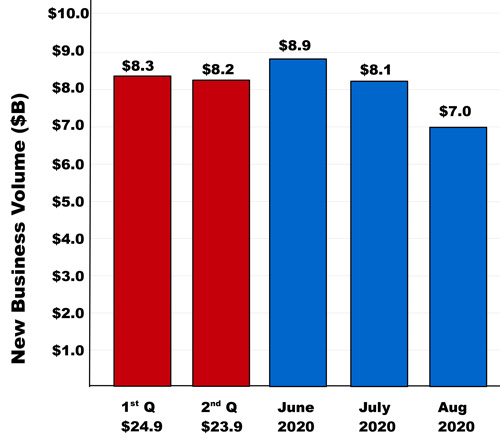 (Chart: Leasing News)
The Equipment Leasing and Finance Association's (ELFA) Monthly Leasing and Finance Index (MLFI-25), which reports economic activity from 35 companies showed showed their overall new business volume for August was $7.0 billion, down 24 percent year-over-year from new business volume in August 2019. Volume was down 23 percent month-to-month from $9.1 billion in July.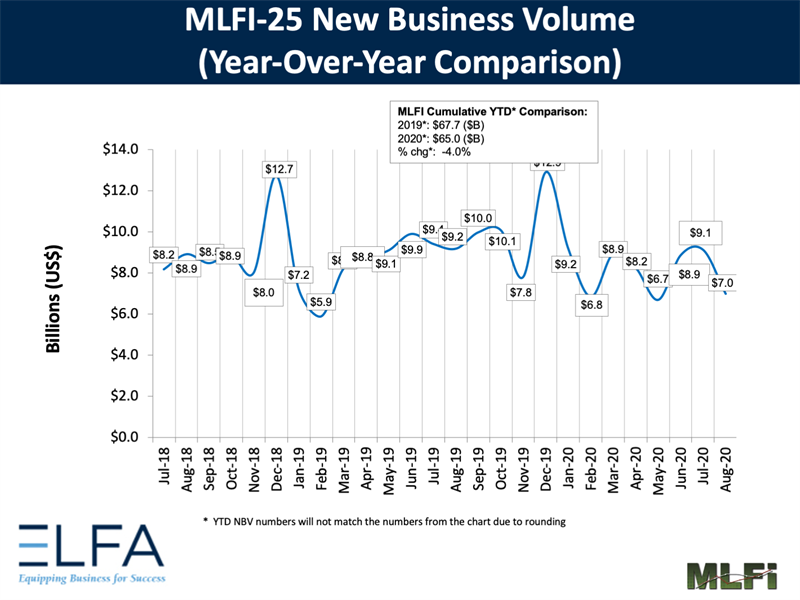 click to make larger
(Chart: ELFA MFLI)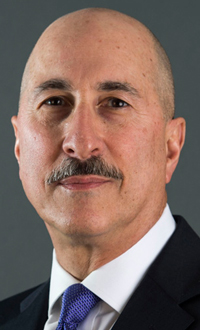 ELFA President and CEO Ralph Petta said, "The sizeable drop in new business volume is testament to an economy that continues to struggle in certain industry sectors. Seasonality also plays a role in the noticeable decline in equipment investment in the month of August. The hope is that Congress's inability to enact additional stimulus legislation to combat the pandemic will not slow an economic recovery that many economists, including the Fed, are projecting for the third and fourth quarters."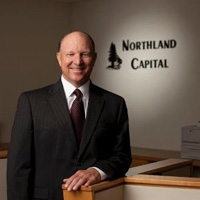 Willis Kleinjan, Founder and CEO, Northland Capital Equipment Finance, said, "The new monthly data gives reason for continued apprehension about the overall economy as COVID-19 maintains its grip on the country. We have seen with many of our customers in agriculture and construction that these essential industries continue to experience growth as they are minimally impacted by the virus. Low interest rates continue to fuel those businesses and industries that are the least affected by the pandemic and are using this opportunity to expand."
Receivables over 30 days were 2.40 percent, unchanged from the previous month and up from 2.00 percent the same period in 2019. Charge-offs were 0.75 percent, up from 0.73 percent the previous month, and up from 0.42 percent in the year-earlier period.
Credit approvals totaled 71.0 percent, down from 72.9 percent in July. Total headcount for equipment finance companies was down 1.9 percent year-over-year.
Separately, the Equipment Leasing & Finance Foundation's Monthly Confidence Index (MCI-EFI) in September is 56.5, an increase from the August index of 48.4.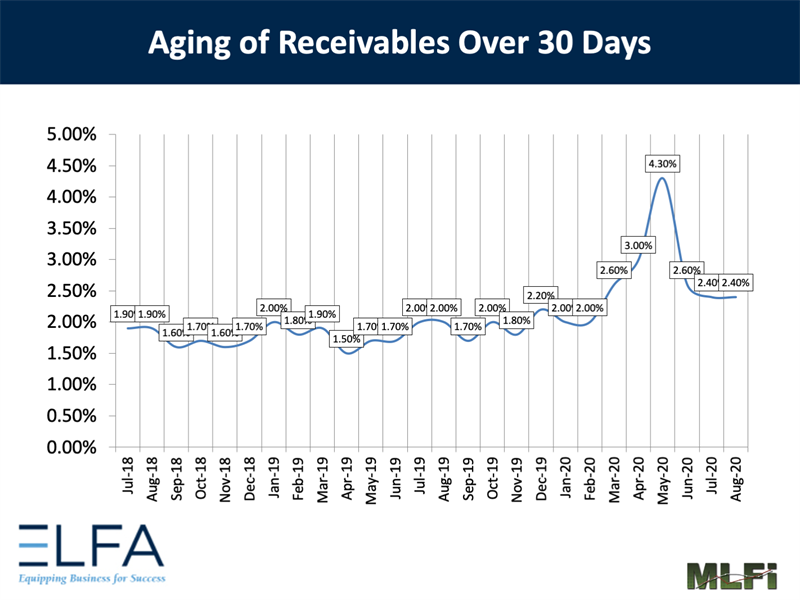 click to make larger

(Chart: ELFA MFLI)
Full Listing of 35 MLFI Participants
Bank of America Global Leasing
Bank of the West
BB&T Bank
BMO Harris Equipment Finance
Canon Financial Services
Caterpillar Financial Services
CIT
Citizens Asset Finance
Dell Financial Services
DLL
Fifth Third Bank
First American Equipment Finance, a City National Bank Company
Frost Equipment Leasing and Finance
GreatAmerica Financial Services
Hitachi Capital America
HP, Inc.
HPE Financial Services Company
Huntington Equipment Finance
John Deere Financial
Key Equipment Finance
LEAF Commercial Capital Inc.
M&T Bank
Marlin Capital Solutions
Merchants Bank Equipment Finance
PNC Equipment Finance
Societe Generale Equipment Finance
Siemens Financial Services
Stearns Bank
Stonebriar Commercial Finance
TCF Capital Solutions, a division of TCF National Bank
TD Equipment Finance
TIAA Commercial Finance, Inc.
US Bancorp Business Equipment Finance
Volvo Financial Services
Wells Fargo Equipment Finance

[headlines]
--------------------------------------------------------------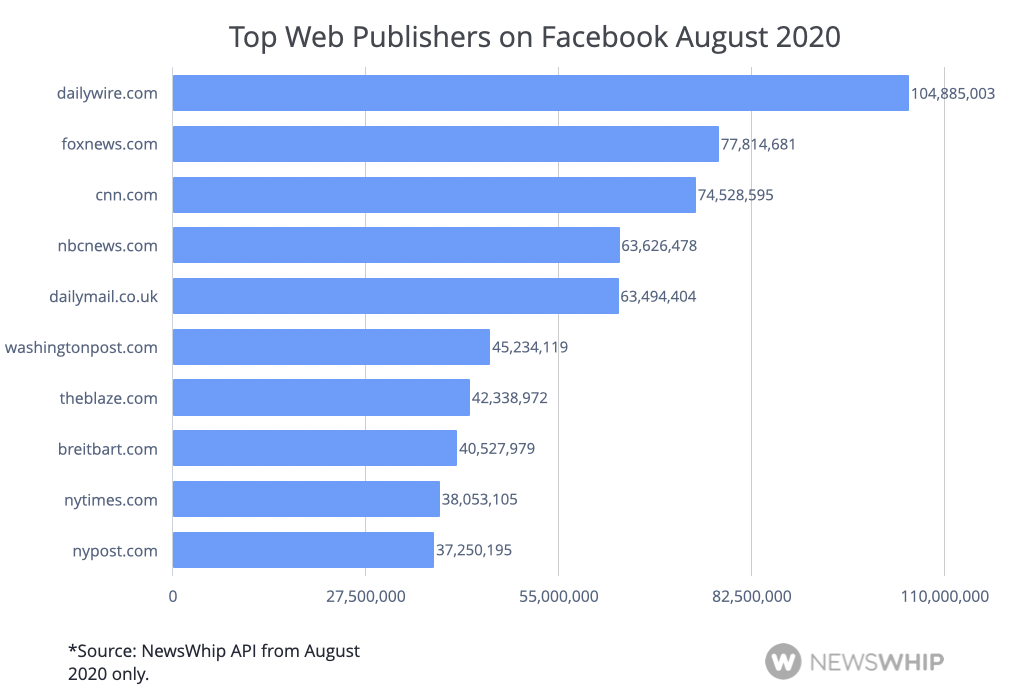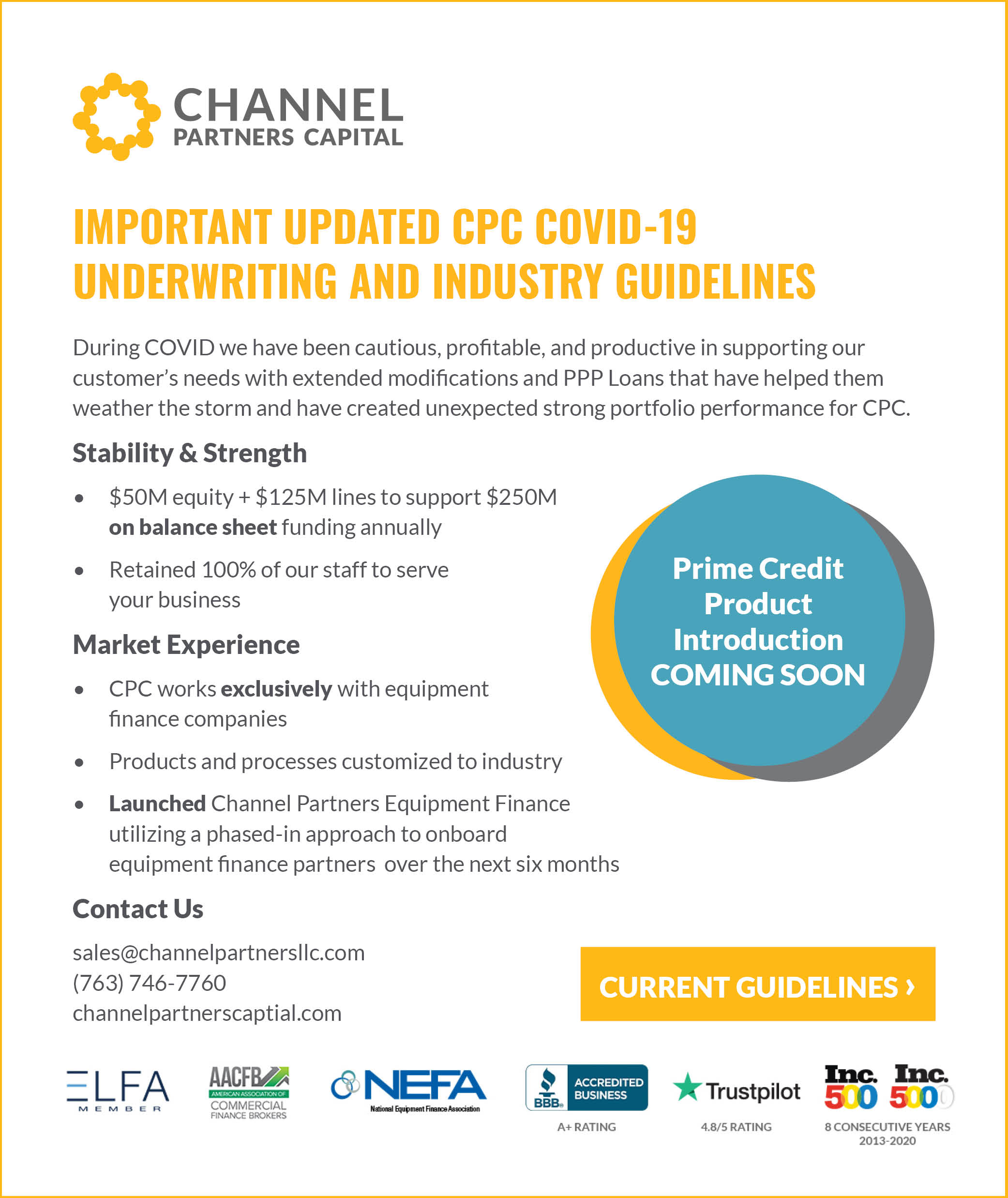 [headlines]
--------------------------------------------------------------
Recreational Cannabis Sales Increase Rapidly
in Canada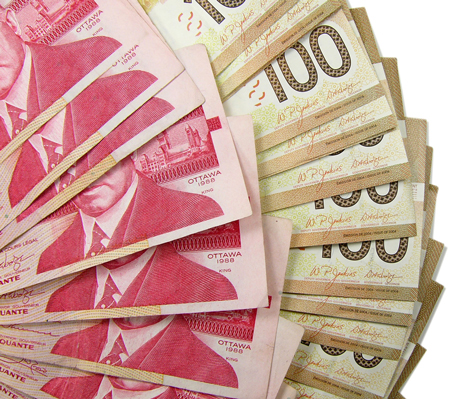 July sales of adult-use marijuana in Canada were recorded at CA$231 million, which is a 15.2% growth. The retail sales, which equate to CA$175.6 million, beat the previous months' sales record of CA$201 million ($151 million). This shows that the annual Canadian cannabis market may be worth about CA$2.8 billion ($2.1bn).
Statistics Canada reported last Friday that the monthly sales of regulated recreation marijuana had increased in all Canadian provinces. Ontario, which is the largest province with regard to population, recorded a 23.5% increase in monthly sales, which translates to CA$60.3 million ($45.3million). This increase comes after Ontario's marijuana store license count exceeded 100 in the month of June.
CEO and co-founder of Sessions Cannabis, Steven Fry, has launched five retail outlets in Ontario thus far and is planning to open an additional 27 come April 2021. This will help address Ontario's deficiency in marijuana retail stores. Earlier in July, two new Sessions outlets launched in Ontario. Fry stated that both stores experienced significant weekly sales increments.
He added that the growth trend would continue, as physical stores had proved to be far more popular in comparison with online sales stores in Ontario.
Fry stated that people preferred visiting the physical store locations and engaging with the staff, as they learnt more about the products and had any questions they had answered.
Alberta recorded sales of CA$51.8 million ($38.3million) in July, which translated to a 10.9% monthly growth. The province, which has many more marijuana outlets per capita as compared to any other province, beat out the more populated provinces like British Columbia and Quebec.
Quebec has relatively fewer stores in comparison to the other provinces but recreational marijuana sales in the province increase by 9.8%, which is roughly CA$11.9 million ($8.9million), on a monthly basis.
Additionally, the province of British Columbia recorded recreation marijuana sales of CA$34.6 million ($26million), which is a 17.6% increase.
In Manitoba, retail sales grew 10.8% to CA$9.1 million ($6.8million), while the Saskatchewan province recorded the smallest retail sales increase of 6.8%, an equivalent of CA$11.9 million ($8.9million).
July marijuana retails sales were as follows in eastern Canada:
In New Brunswick sales were CA$6.4 million, which is a +20.9% growth.
In Nova Scotia recorded sales worth CA$6.9 million; a 12.2% increase.
In the Prince Edward Island sales were worth CA$1.5 million; a remarkable 35.3% increment.
Lastly, in Newfoundland sales were recorded at CA$4.1 million, which equates to a 25.3% growth.
The figures above represent July sales and with the upward trend that is observed, retail sales are bound to grow as Canada's marijuana market flourishes. These numbers are likely to serve as a massive encouragement to entities like The Alkaline Water Company Inc. (CSE: WTER) (NASDAQ: WTER) as they look forward to the time when the U.S. federal government legalizes pot sales.
Source: CannabisNewsWire
[headlines]
--------------------------------------------------------------
##### Press Release ############################
OnDeck Surpasses $1 Billion in Small Business
Financing in New York State - $500,000 MM NY City

NEW YORK -- OnDeck® (NYSE: ONDK), a leader in online small business lending, today announced it has surpassed $1 billion in financing to small businesses across the State of New York. Small businesses are the lifeblood of the American economy and have an enormous impact and influence on the communities in which they reside. This significant milestone demonstrates OnDeck's commitment to supporting thousands of small businesses statewide over the past 14 years.
As a New York City (NYC)-headquartered company, OnDeck makes this announcement in partnership with the New York City's Economic Development Corporation's (EDC) All In NYC Campaign. All In NYC is designed to remind the world of the spirit of New Yorkers and small business owners. During the two-week campaign, participating companies are highlighting how significant NYC small businesses are to the wellbeing of the city.
Since 2007, OnDeck has lent nearly $500 million to businesses in NYC. NYC has an abundance of small businesses that support, improve, innovate, and benefit the lives of New Yorkers daily. Now, more than ever, OnDeck remains committed to assisting these small businesses by providing them with the access, choice, and transparency in securing the financing they need to navigate the pandemic and the re-opening of the economy.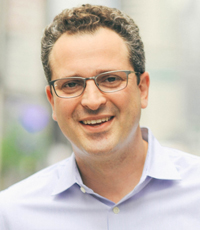 Noah Breslow, CEO and Chairman, OnDeck, declared, "I'm thrilled that OnDeck has been able to support so many New York-based small businesses over the past 14 years and that nearly half of that lending has gone to small businesses located in New York City, where we are headquartered.
"We're proud to be a New York born and bred company and to be able to serve the small businesses that represent the unique and vibrant identity of NYC make it a great place to live and work."
As NYC and New York State look to recover and re-open from the global pandemic, serving and supporting small business owners has never been more important. We've supported New York businesses for over a decade and will continue to advocate for small businesses in New York and around the nation.
A fundamental part of OnDeck's advocacy for small businesses has been supporting legislation that advances transparency in small business lending disclosures. OnDeck is proud to have partnered with the NY State Senate and General Assembly to promote and pass SB5470, legislation that requires online lenders doing business in the State of New York to present small business borrowers with a clear, concise disclosure of the key terms and conditions of their loan. New York has some of the best and most resilient businesses in the world, and we believe this legislation ensures that New York small businesses receive clear and transparent terms from their lenders.
About OnDeck
OnDeck (NYSE: ONDK) is the proven leader in transparent and responsible online lending to small business. Founded in 2006, the company pioneered the use of data analytics and digital technology to make real-time lending decisions and deliver capital rapidly to small businesses online. Today, OnDeck offers a wide range of term loans and lines of credit customized for the needs of small business owners. The company also offers bank clients a comprehensive technology and services platform that facilitates online lending to small business customers through ODX, a wholly owned subsidiary. OnDeck has provided over $13 billion in loans to customers in 700 different industries across the United States, Canada and Australia. The company has an A+ rating with the Better Business Bureau and is rated 5 stars by Trustpilot. For more information, visit www.ondeck.com.
### Press Release ############################


[headlines]
--------------------------------------------------------------
Watch at Home
By Fernando Croce
From goofy to somber, from whimsical literary adaptations to pandemic musicals, we offer a wide variety of subjects and moods in our latest list of new releases. Check out your provider of choice for streaming options.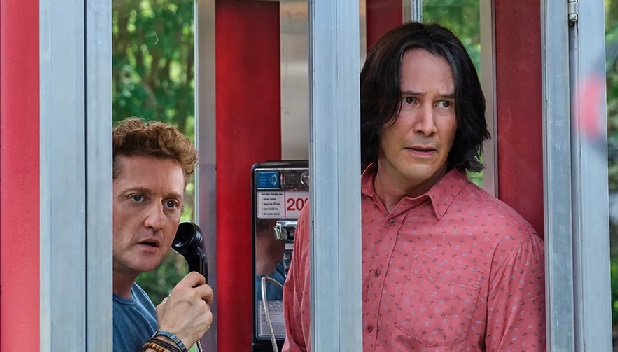 Bill and Ted Face the Music (Orion Pictures): Late '80s-early '90s icons of goofy youthfulness, metalheads Bill (Alex Winter) and Ted (Keanu Reeves) reach middle-age in this lively and surprisingly poignant third entry in their comic adventures. Now husbands and fathers, the two best friends find themselves with another most excellent mission as the leader from the future assigns them to come up with a song that will save the world. Hoping to avoid work by time-traveling and getting the finished tune from their older selves, they instead keep messing up the universe's timeline. With a little help from their daughters (Samara Weaving, Brigitte Lundy-Paine), can they fix things and bring harmony back? Attuned to the protagonists' sweet brand of silliness, director Dean Parisot ("Galaxy Quest") turns in a pure burst of spacey optimism.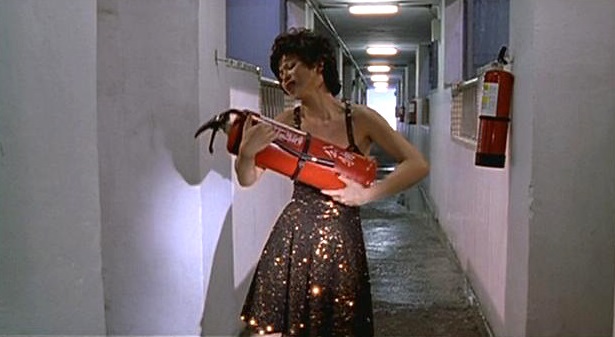 The Hole (Roxie Theater's Virtual Screening Room): The great pandemic movie is here, and it was made 22 years ago. Filmed in 1998, Taiwanese master Tsai Ming-liang's fable is set in the beginning of the new century as a mysterious disease strikes the world and people are evacuated from their homes as water is shut off on New Year's Eve. One of the residents (Lee Kang-sheng) decides to stay behind, with a hole drilled in the floor of his apartment leading to a rivalry with his downstairs neighbor (Yang Kuei-mei). In the underpopulated complex, there's little dialogue or sound except for the continuous rainfall… and the occasional splashy musical number that materialize from the characters' psyches! Enjoying a restored re-release, Tsai's alternately bleak and joyous film is a cinematic treat now more than ever. With subtitles.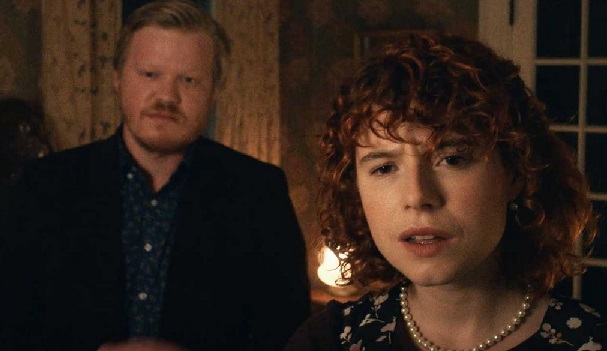 I'm Thinking of Ending Things (Netflix): Oscar-winning filmmaker Charlie Kaufman ("Eternal Sunshine of the Spotless Mind") serves up another complex slice of existentialism in this psychological drama, which showcases his patented blend of cleverness and morbidity. It follows a young woman (Jessie Buckley) who's thinking of breaking up with her boyfriend (Jesse Plemons) s they drive to the farmhouse owned by his parents (Toni Collette, David Thewlis). Though it may sound simple, the story is told in a challenging style full of abrupt changes in time and perspective, inexplicable asides and deliberate inconsistencies, meant to represent the dueling psyches of the characters and perhaps that of the writer-director himself. Kaufman's uncompromising approach is bound to alienate some viewers, but those on his unique wavelength will find this work profoundly rewarding.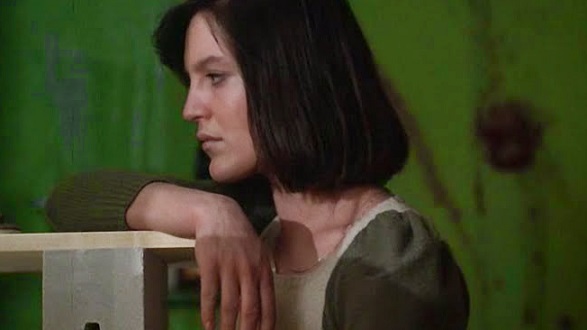 The Personal History of David Copperfield (Walt Disney): Scottish writer-director Armando Iannucci ("The Death of Stalin") brings his distinctive satirical touch to this lavish adaptation of the great Charles Dickens novel. David Copperfield (played as a boy by Jairaj Varsani, and as a young man by Dev Patel) experiences a most eventful life in Victorian England, from his childhood with kindly nanny Peggoty (Daisy May Cooper) to exploitative work under his cruel stepfather Murdstone (Darren Boyd) to life lessons with the eccentric Micawber (Peter Capaldi). Including such other memorable characters as Aunt Trotwood (Tilda Swinton) and Uriah Heep (Ben Whishaw), Iannucci's version takes a jaunty tone that, while fast-paced, is noticeably warmer and less caustic than his previous movies. The results are whimsical, breezy, and full of vibrant turns.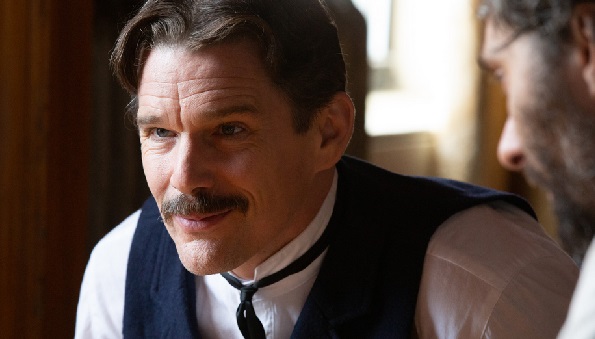 Tesla (IFC Films): A restless art-house staple for decades, director Michael Almereyda serves up an eccentric, hypnotic take on the biopic genre with this study of Serbian-American inventor Nikola Tesla. Brilliantly played by Ethan Hawke, Tesla is here shown as an intense man whose visionary projects attempt to improve humanity while, on a more personal level, illustrating a lonely mind's aching desire for connection. Along with fellow inventor Thomas Edison (an equally superb Kyle Maclachlan), he's trapped between legend and reality, a state visualized inventively by Almereyda with anachronisms and moments that break the screen's fourth wall. Philosophical one moment and impishly exuberant the next, the film will not satisfy those looking for a straightforward account of Tesla, but will delight those looking for striking cinematic creativity.
[headlines]
--------------------------------------------------------------
Retriever/Mix
Louisville, Kentucky Adopt-a-Dog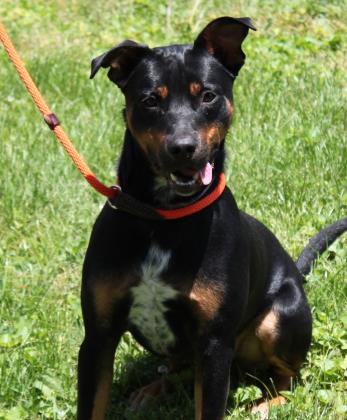 Miller (Mod Squad) explained below

Male
1 Year, 2 months
Large
Black/Tan
Neutered
Intake Date: 06/22/2020
Adoption Price: $260
Available by Appointment
If you're an athlete that wants an equally athletic dog, then Miller is your boy! Miller is a one-year-old Retriever mix that came to the Kentucky Humane Society from an overcrowded shelter. He is beyond smart and picks up training very quickly. Fetch is life and he could go for hours. Tennis balls are the best, but he'll fetch toys and even sticks larger than himself! Need a jogging partner? No problem! He's great on leash and will trot by your side happily. Miller is a friend to all dogs and enjoys playing with dogs of all sizes. He's great at adjusting his play style for the other dog. Miller has a ton of energy and may do best in a home with another dog that could help him get out some of that energy. Miller isn't big on petting and snuggling, but he will stick by your side and at your feet and is a wonderful companion. He has been a student in the Behavior Modification program and has learned about impulse control and manners. He occasionally will jump or test boundaries so he needs an experienced dog guardian who can teach him what is appropriate. Because of his energy level Miller is restricted to an adult only home. Miller's adoption also includes a free private training session with a certified trainer that will help Miller and his new family gets the very best start possible. Miller is neutered and up to date on all of his vaccinations.
MOD SQUAD:
This animal is a student in our Behavior Modification program. As part of our program, some of our canine friends have the opportunity to learn a few more skills before they are placed in homes. This also allows our staff to learn more about each animal's individual personality and needs. The goal of the Behavior Modification program is for these dogs to be adopted into appropriate homes with behavior counseling and support. An appointment is necessary to meet and adopt this animal. If you are interested in meeting them, please first submit an online adoption application located at www.kyhumane.org/dog-app. Once we have received your adoption application, our behavior team will follow up and provide you with more information. You can also email behaviorteam@kyhumane.org for more info.
Did you know that every Kentucky Humane Society adoptable dog and cat comes with 30 days of health insurance through PetFirst Health Insurance? Ask an adoption counselor for details.
Kentucky Humane Society
Direct: 502-366-3355
Internet Contact: https://www.kyhumane.org/contact
COVID-19 Pet Food Assistance Helps Needy Pets
Dog and cat food assistance is available by appointment to pet owners impacted by pandemic's economic toll
Pet food assistance is available to qualifying pet owners who first fill out a COVID-19 Pet Food Assistance Application. The Kentucky Humane Society is no longer offering a drive-through pet food bank.
https://docs.google.com/forms/d/e/1FAIpQLSdJ35_WTivwj6yY523mAQ2Jsm2TFIs7Dtj8QsG-U1kq3dRESw/viewform
[headlines]
--------------------------------------------------------------
Eleven Attorneys Against Evergreen Abuse
Help in Leasing News' Bulletin Board Complaint Issues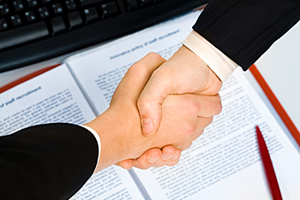 The original intention of the Evergreen clause in an equipment leasing contract was to have an alternative to when the lessee did not exercise the residual at the end of the contract. Often the clause calls for an automatic additional twelve months when the residual is not resolved.

In most cases, the lessor notifies the lessee that the residual will be due, often ninety days in advance. However, often there is nothing in the contract that requires the lessor to notify the lessee regarding the expiration of the contract.
Contrarily, many small ticket lessors do not notify the lessee, and automatically continue the lease, often via an ACH or continued billing, which often goes unnoticed until many payments have already been made.
Leasing News would like to see an industry standard that lessees are notified in advance of the expiration of their contract regarding its termination. We support the clause, and the notification requirement is wide open, meaning 90, 60, even 30 days and by telephone or mail.
This list of attorneys agrees with this and will be available to lessees, sometimes able to help them without a fee, or at a reduced rate, in an effort to end the abuse of Evergreen clause leases.

Joseph G. Bonanno, Esq., CLFP
Attorney at Law, Massachusetts
Andover Landing at Brickstone
300 Brickstone Square, Ste. 201
Andover, MA 01810
Tel: (781)328-1010
Fax: (781) 827-0866
Email: law@jgbesq.com
"Industry expert witness in litigation, numerous authored and
co-authored published articles and conducting educational
seminars. Very well-known in the industry."
Jim Coston
Coston & Coston LLC
105 W. Adams Street
Suite 1400
Chicago, Illinois 60603
(312) 205-1010
jcoston@costonlaw.com
(In 1998, he was elected to the United Association of Equipment
Leasing Board of Directors, and in 2003-04 was the first
attorney to become UAEL President, very active in his political party.)
Ronald J. Eisenberg
Schultz & Associates LLP
640 Cepi Drive, Suite A
Chesterfield, MO 63005
(636) 537-4645 x108
(636) 537-2599 (fax)
www.sl-lawyers.com
(Proven Leasing Litigator, well respected by all sides)
Marshall Goldberg, Esq.
GLASS & GOLDBERG, ALC
22917 Burbank Blvd.
Woodland Hills, CA 91367-4203.
(818) 888-2220
mgoldberg@glassgoldberg.com
www.glassgoldberg.com
Ronald P. Gossett
Gossett & Gossett, P.A.
400 Seridan Street, Building I
Hollywood, Florida
954-983-2828
Fax: 954-983-2850
rongossett@gossettlaw.com
(Many cases including NorVergence, Brican, among others, a winner)
Ken Greene
Law Offices of Kenneth Charles Greene
5743 Corsa Avenue Suite 208
Westlake Village, California 91362
Tel: 818.575.9095
Fax: 805.435.7464
Skype: 424.235.1658
kenlaw100@gmail.com
(Ken was involved in the formation of Leasing News and
represented it (pro bono) in the early days.)
Peter S. Hemar, Esq.
Hemar & Associates, Attorneys at Law
2001 Wilshire Blvd., Suite 510
Santa Monica, CA 90403
Telephone: (310) 829-1948
Fax: (310) 829-1352
phemar@hemar.com
(My firm supports the clause giving lessees advance
notice of the expiration of their contract.)
Brandon J. Mark
Attorney at Law, Admitted in Utah and Oregon
Parsons Behle & Latimer
201 South Main Street, Suite 1800
Salt Lake City, UT 84111
Direct Dial 801.536.6958
Facsimile 801.536.6111
www.parsonsbehle.com
BMark@parsonsbehle.com
(His firm represents banks who buy leases, and his
clients refuse to buy these types of leases.)
Frank Peretore
Chiesa Shahinian & Giantomasi
West Orange, New Jersey
http://www.csglaw.com/biographies/frank-peretore
Phone 973-530-2058
fperetore@csglaw.com
(Experienced leasing attorney, aggressive, author, active
National Equipment Finance Association, ELFA, too)
Kevin E. Trabaris, Partner
Culhane Meadows PLLC
30 S. Wacker Drive, 22nd floor
Chicago, IL 60606
Telephone: 847-840-4687
Email: ktrabaris@culhanemeadows.com
llflegal.com/attorneys/kevin-trabaris
"In my career, I've repeatedly seen this provision misused
by unscrupulous lessors and think it's a bad idea for both
the lessee and the lessor."
Michael J. Witt, Esq.
MICHAEL J. WITT LAW OFFICES
4342 Oakwood Lane
West Des Moines, IA 50265
Tel: (515) 657-8706
Mobile: (515) 868-1067
Fax: (515) 223-2352
email: MWitt@Witt-Legal.com
Web: www.witt-legal.com
(Former Advanta Leasing
and Wells Fargo Equipment Finance attorney)
[headlines]
--------------------------------------------------------------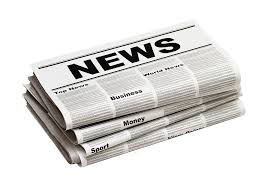 News Briefs---
San Francisco Bay Area applicants flood program
that pays them $10,000 to leave California
https://www.sfgate.com/living-in-sf/article/San-Franciscans-are-jumping-at-an-offer-of-10k-15591762.php
She lost her job in the pandemic.
She can't even afford the dollar store to feed her kids
https://www.cnn.com/2020/09/24/us/child-hunger-family-food-insecurity-coronavirus-trnd/index.html
State Farm, Allstate face big claims
from wildfires, hurricanes
https://www.chicagobusiness.com/insurance/state-farm-allstate-face-big-claims-wildfires-hurricanes
In Chicago, Overnight el trains,
weekend Metra service in danger?
https://www.chicagobusiness.com/greg-hinz-politics/overnight-el-trains-weekend-metra-service-danger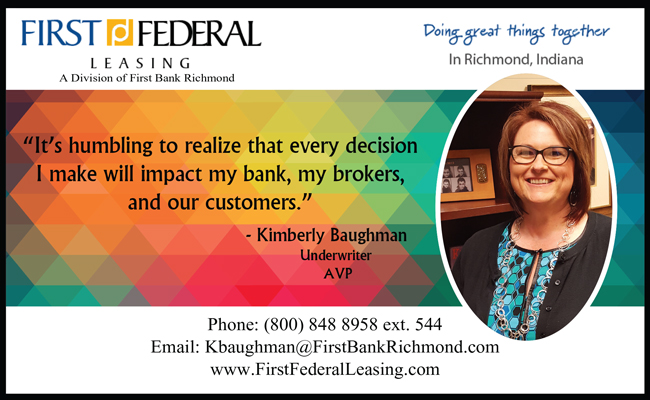 [headlines]
--------------------------------------------------------------


You May Have Missed---

University of Washington to test smartphone technology
that tells you if you were exposed to the coronavirus
www.seattletimes.com/seattle-news/health/university-of-washington-to-test-smartphone-app-that-tells-you-if-you-were-exposed-to-the-coronavirus


[headlines]
--------------------------------------------------------------

Sports Briefs---
Pac-12 football returns: 7-game slate starting in November
https://www.espn.com/college-football/story/_/id/29964509/source-pac-12-play-seven-game-slate-starting-november
Jimmy Garoppolo's injury may reveal a flaw
with NFL officials' face masks
https://www.eastbaytimes.com/2020/09/24/does-49ers-jimmy-garoppolos-injury-reveal-safety-risk-with-nfl-officials-masks/
Battered 49ers facing another banged-up team this week
https://www.pressdemocrat.com/article/sports/battered-49ers-facing-another-banged-up-team-this-week/
Chiefs or Ravens in potential AFC championship game preview?
https://www.usatoday.com/story/sports/nfl/2020/09/24/usa-today-week-3-nfl-picks-predictions-chiefs-ravens-patrick-mahomes/3515000001/
Chicago Bears legend and Hall of Fame running back
Gale Sayers dies at 77
https://www.usatoday.com/story/sports/nfl/2020/09/23/gale-sayers-bears-legendary-running-back-dies-77/3501844001/
[headlines]
--------------------------------------------------------------


California Nuts Briefs---

SF Bay Area site surprisingly named one of America's
most endangered places--in Berkeley, Calif.
https://www.sfgate.com/living-in-sf/article/Berkeley-site-surprisingly-named-one-of-15594690.php
Los Gatos High alum picks familiar Locale for food delivery business
https://www.mercurynews.com/2020/09/24/los-gatos-high-alum-pick-familiar-locale-for-food-delivery-business/

[headlines]
--------------------------------------------------------------



"Gimme that Wine"

http://www.youtube.com/watch?v=EJnQoi8DSE8
Napa vintner will leave grapes on the vine
this year after Hennessey Fire
https://www.northbaybusinessjournal.com/article/industrynews/napa-vintner-will-leave-grapes-on-the-vine-this-year-after-hennessey-fire/
California regulators identify violations after Rodney Strong
wine spill, but no fine yet
https://www.northbaybusinessjournal.com/article/news/california-regulators-identify-violations-after-rodney-strong-wine-spill-b/
Winners of Wine Spectator Video Contest
https://www.winespectator.com/videovoting
Los Angeles Vintners to Pick Historic Grapes this Weekend
https://www.winebusiness.com/news/?go=getArticle&dataId=236687
Free Wine App
https://www.nataliemaclean.com/mobileapp/

Wine Prices by vintage
http://www.winezap.com
http://www.wine-searcher.com/
[headlines]
----------------------------------------------------------------
This Day in History
1493 - Columbus' 2nd expedition to the New World left New Cadiz, Spain. On June 25, 1493, they landed on a rugged shore on an island that he named Dominica. They sailed with 17 ships and 1,200 to 1,500 men to find gold and capture Indians as slaves in the Indies. Columbus established a base in Hispaniola and sailed around Hispaniola and along the length of southern Cuba. He spotted and named the island of Dominica on November 3, 1493. http://www.enchantedlearning.com/explorers/page/c/columbus.shtml
1513 - Vasco Nüñez de Balboa, a Spanish conquistador, stood high atop a peak in the Darien, in present-day Panama, becoming the first European to look upon the Pacific Ocean, claiming it as the South Sea in the name of the King of Spain.
1676 – Greenwich Mean Time became the standard for England. In 1884, it became the time standard for the world. Two precise clocks were set in motion at the Royal Observatory in Greenwich, England, establishing the standard.
1690 - The first American newspaper was published. "Publick Occurrences," with sub-title, "Both Foreign and Domestick" was written, printed, and distributed by Benjamin Harris, at the London-Coffee-House, Boston, Massachusetts. British authorities considered the first newspaper published in the US offensive and ordered immediate suppression. "American Facts and dates" states "Publick Occurrences" lasted only four days. Governor Simon Bradstreet of Massachusetts said he did not like certain "reflex ions." Harris had intended to issue its monthly "or if any Glut of Occurrences happen, oftener," but only the one issue appeared. It was a one-sheet paper folder to present four pages, containing news in double columns. The last page was blank. There were no advertisements. France brought their war with England to the Americas, making an alliance with the Indians. The estimated colonial population was 213,500. Very few colonials could read. Town carriers were very popular and the reading of the newspaper in the pub had a very high rating with active discussions that followed.
1775 – Ethan Allen surrendered to British forces after attempting to capture Montreal during the Battle of Longue-Pointe. Benedict Arnold and his expeditionary company set off from Fort Western, bound for Quebec City.
1777 - The Conway Cabal began, an alleged plot to remove George Washington as commander of the Continental Army. This followed Washington's defeats at Brandywine and Germantown, and Gen. Horatio Gate's victory at Saratoga. The plotters wished to put Gates in Washington's place. Gen. Thomas Conway, whose promotion had been opposed by Washington, wrote an indiscreet letter to Gates. Its contents, in distorted form, were then reported to Washington. When details of the plot leaked out, public opinion was overwhelmingly on Washington's side. Actually, Conway seems to have been more the victim of the plotters than the guilty party. He resigned from the Army in 1778.
1789 - Congress transmitted to the state legislatures twelve proposed amendments, two of which, having to do with Congressional representation and Congressional pay, were not adopted. The remaining ten amendments became the Bill of Rights. The establishment of religion on a national level was expressly prohibited in the U.S. with the adoption of the First Amendment, the opening words of which read: 'Congress shall make no law respecting an establishment of religion or prohibiting the free exercise thereof.' Final ratification of the First Amendment came in 1791.
http://www.constitutionfacts.com/amendments.shtml
1804 - The Teton Sioux of the Lakota demanded one of the boats from the Lewis and Clark Expedition as a toll for allowing the expedition to move further upriver.
1846 – During the Mexican-American War, US forces under Zachary Taylor captured Monterrey, Mexico.
1861 - Secretary of Navy authorized enlistment of slaves as Union sailors. Eventually the Union had 18,000 black sailors.
http://usgovinfo.tqn.com/library/weekly/aa111700a.htm
Howard University has a database, stating 18,000:
http://www.itd.nps.gov/cwss/sailors.htm
This site says there were 20,000:
http://www.civilwarnews.com/archive/articles/blacksail_fitts.htm
National Park Service Complete History of Service;
http://www.itd.nps.gov/cwss/
1882 – The first doubleheader in Major League history was played between Providence and Worcester.
1890 - Polygamy was officially banned by the Mormon Church. This announcement followed on the heels of an 1890 Supreme Court ruling denying all privileges of U.S. citizenship to Mormons who practiced this outlawed form of marriage.
http://www.lds.org/media2/library/display/0,6021,184-1-314-4,00.html
1890 - Congress establishes Sequoia National Park, California
http://jrabold.net/yosemite/
http://www.yosemite.org/
http://www.yosemitepark.net/
1897 - Birthday of William Faulkner (d. 1962) at New Albany, MS. American novelist and short story writer, Nobel Prize winner who changed the style and structure of the American novel. Faulkner's first novel, "Soldiers' Pay" was published in 1926. His best-known book "The Sound and the Fury," appeared in 1929. Shunning literary circles, Faulkner moved to a pre-Civil War house on the outskirts of Oxford, MS, in 1930. From 1930 until the onset of World War II, he published an incredible body of work. The "Portable Faulkner" appeared in 1946 and "Collected Stories" in 1950. In June of 1962 Faulkner published his last novel, "The Reivers."
http://memory.loc.gov/ammem/today/sep25.html.
1911 – Groundbreaking for Fenway Park in Boston.
1912 – Columbia University Graduate School of Journalism was established in NYC.
1917 - Birthday of Philip Francis "Scooter" Rizzuto (d. 2007), in Brooklyn. Hall of Fame shortstop for the New York Yankees (1941-1942, 1946-1956). Member of World Series teams in 1941, 1942, 1947, 1949, 1950, 1951, 1952, 1953, 1955. 5-time All-Star and 1950 American League MVP. Rizzuto overcame his diminutive size to anchor a Yankees dynasty, helping them win seven of nine World Series during his 13 seasons, not counting three years lost to World War II. "The Scooter" was a durable and deft shortstop, skilled bunter and enthusiastic base runner who compiled a .273 lifetime batting average. Upon retirement, he spent 40 years as a popular Yankees broadcaster, the longest tenure of any Yankees broadcaster.
1918 - RICKENBACKER, EDWARD V., (Air Mission) Medal of Honor.
Rank and organization: First Lieutenant, U.S. Army Air Corps, 94th Aero Squadron, Air Service. Place and date: Near Billy, France, 25 September 1918. Entered service at: Columbus, Ohio. Born: 8 October 1890, Columbus, Ohio. G.O. No.: 2, W.D., 1931. Citation: For conspicuous gallantry and intrepidity above and beyond the call of duty in action against the enemy near Billy, France, 25 September 1918. While on a voluntary patrol over the lines, 1st Lt. Rickenbacker attacked 7 enemy planes (5 type Fokker, protecting two type Halberstadt). Disregarding the odds against him, he dived on them and shot down one of the Fokkers out of control. He then attacked one of the Halberstadts and sent it down also.
1919 - President Woodrow Wilson becomes seriously ill and collapses after a speech in Pueblo, Colorado. The next day, they diagnosed
it as a stroke. It is said that he was incapacitated and Mrs. Wilson and a "cabal" began to run the United States (more on this tomorrow. Yes, the press was controlled about presidential cancer operations, infirmities and other "goings on.") This event brought about a major change in American history, studied by students in high school to college.
1919 - Drummer Rossiere "Shadow" Wilson (d. 1959) birthday, Yonkers, NY. Much of Wilson's early work was with swing jazz orchestras, including Count Basie, 1944-46.
http://music.barnesandnoble.com/search/artistbio.asp?user
Id=&mscssid=&pCount=
& sRefer=&sourceid=&ctr=181092
1926 - Henry Ford announces the 8 hour, 5-day work week. Ford was the first to grant a ten-hour week, paid vacations, paid sick days, all before union organization. He worried about safety, boredom, and knew his "modernization" may eliminate jobs, even started company schools for employees. He was quite liberal for his day, a leader among inventors and scientists, and unfortunately most uninformed people remember him as an industrialist who took advantage of his workers. While he did have his prejudices and faults, he looked at his employees as part of his "family."
1926 - NHL grants franchises to Chicago Black Hawks and Detroit Red Wings
1929 – Testing skills that would serve him well in World War II, Jimmy Doolittle performed the first blind flight from Mitchell Field in Brooklyn, proving that full instrument flying from take-off to landing is possible.
1934 - Lou Gehrig plays in his 1500th consecutive game
1934 - Rainbow (US) beats Endeavor (England) in 16th America's Cup.
1936 - Bluesman Roosevelt "Booba" Barnes (d. 1996) is born in Longwood, MS.
1939 - A west coast hurricane moved onshore south of Los Angeles bringing unprecedented rains along the southern coast of California. Nearly five and a half inches of rain drenched Los Angeles during a 24-hour period. The hurricane caused $2 million damage, mostly to structures along the coast and to crops, and claimed 45 lives at sea. "El Cordonazo" produced 5.66 inches of rain at Los Angeles and 11.6 inches of rain at Mount Wilson, both records for the month of September.
1944 - Birthday of actor/director Michael Douglas, New York, NY.
(it is also his wife's birthday, see 1969)
1945 - New York City, pianist Errol Garner records for Savoy his famous version of "Laura."
1950 - "The Kate Smith Hour" premiered. Kate Smith was a talented singer who hosted a radio show before beginning a successful but short TV career. This late afternoon show was the most successful among two other prime-time shows, "The Kate Smith Evening Hour" (September 1951—June 1952) and "The Kate Smith Show" (January—July 1960). It included interviews, musical numbers and comedy or drama sketches. The sketches spun off many series, including "The World of Mr. Sweeney" and "Ethel and Albert.' She was a very popular singer on the radio, best known for "God Bless America," but she could not make the transition to the small screen. Smith's rendition of "God Bless America" was played during the 7th inning stretch of New York Yankees home games from 2009 until April 2019, when the practice was discontinued amid controversy surrounding her 1931 recordings of "That's Why Darkies Were Born" and "Pickaninny Heaven." The following day, the Philadelphia Flyers followed suit. The statue of Smith was removed on April 21, 2019. Her family responded by denying the racism allegations. Those against the discontinuation of using Kate Smith's works have cited the satirical nature of the song "That's Why Darkies Were Born." and the fact that it was also popularized by Paul Robeson. Smith called for racial tolerance in 1945 in an address on CBS Radio, saying, "Race hatreds, social prejudices, religious bigotry, they are the diseases that eat away the fibers of peace." She went on to say that it is up to us to tolerate one another in order to achieve peace.
1951 - Top Hits
"Because of You" - Tony Bennett
"I Get Ideas" - Tony Martin
"Come on-a My House" - Rosemary Clooney
"Always Late (With Your Kisses)" - Lefty Frizzell
1952 - Perhaps one of television's finest drama series, "Four Start Playhouse" premiered. The actors who founded Four Star Films—Dick Powell, Charles Boyer, Joel McCrea and Rosalind Russell—starred in this dramatic anthology series. David Niven and Ida Lupino replaced McCrea and Russell, who left shortly after the series began. Other guest actors included Ronald Colman in his first TV dramatic appearance ("The Lost Silk Hat," 1952) and Joan Fontaine in her first major dramatic TV role ("The Girl on the Park Bench," 1953).
1954 - Elvis Presley performs live on "Grand Ole Opry," singing "Blue Moon of Kentucky."
1955 – Detroit's Al Kaline became the youngest ever to win a batting title, at age 20.
1956 - "Broken Arrow" premiered. My father, Lawrence Menkin, wrote many of the episodes. This half-hour western was one of the few to portray Native Americans in a positive light. It starred Michael Ansara as Cochise, Apache chief, and John Lupton as Indian Agent Tom Jeffords, Cochise's blood brother. The show was syndicated under the name "Cochise."
1956 – TAT-1, the first submarine transatlantic telephone cable system, is inaugurated. It was laid between Scotland and Newfoundland. The agreement to make the connection was announced by the Postmaster General on December 1, 1953. The project was a joint one between the General Post Office of the UK, AT&T, and the Canadian Overseas Telecommunication Corporation. The share split in the scheme was 40% British, 50% American, and 10% Canadian. The total cost was about £120 million.
1957 – Three weeks after being barred from Little Rock's segregated Central High School, nine black students entered the school, protected by the 101st Airborne Division.
1959 - Top Hits
"Sleep Walk" - Santo & Johnny
"('Til) I Kissed You" - The Everly Brothers
"Mack the Knife" - Bobby Darin
"The Three Bells" - The Browns
1960 - Sam Cooke's "Chain Gang" peaks at Number Two on both the R&B and pop charts at the same time. It's his biggest hit since "You Send Me."
1962 - Charles "Sonny" Liston won the heavyweight championship by knocking out Floyd Patterson at 2:06 of the first round at Comiskey Park, Chicago. Liston defeated Patterson in a rematch and then lost to Cassius Clay in Feb, 1964.
1964 - No. 1 Billboard Pop Hit: "Oh, Pretty Woman," Roy Orbison.
1965 - Willie Mays hit his fiftieth home run of the baseball season, making him the oldest player to accomplish this. He was 34 years old. Ten years before, at the age of 24, he was the youngest man to accomplish the same feat, marking the longest span between 50 HR seasons in MLB history.
1965 - Satchel Paige, the oldest player in Major League history at an estimated 59 years, 8 months, 5 days, pitched the last game of his career. He hurled three scoreless innings for the Kansas City Athletics against the Boston Red Sox. Paige gave up only one hit, to Carl Yastrzemski.
1965 - Birthday of Scottie Pippen, basketball player, born Hamburg, AR.
1965 - "Eve of Destruction," sung by S/Sgt. Barry McGuire, moved to the top of the charts.
1967 - Top Hits
"The Letter" - The Box Tops
"Never My Love" - The Association
"Apples, Peaches, Pumpkin Pie" - Jay & The Techniques
"My Elusive Dreams" - David Houston
1967 - Paul Butterfield Blues Band at the S.F. Fillmore.
1968 - Rap/television/film star Will Smith (a.k.a. the Fresh Prince) was born in Philadelphia.
1969 - Catherine Zeta-Jones, Academy Award-winning actress, wife of Michael Douglas, was born Wansea, Glamorgan, Wales (see 1944 for his birthday.)
1974 - No. 1 Billboard Pop Hit: "Rock Me Gently," Andy Kim. He wrote the 1969 No.1 song "Sugar, Sugar" with Jeff Barry for the Archies.
1974 - The first ulnar collateral ligament replacement surgery (Tommy John surgery) was performed, on pitcher Tommy John by orthopedic surgeon Dr. Frank Jobe, then a Dodger team physician who served as a special advisor to the team.
1975 - Top Hits
"Fame" - David Bowie
"I'm Sorry" - John Denver
"Fight the Power" - The Isley Brothers
"Daydreams About Night Things" - Ronnie Milsap
1976 - Blue Oyster Cult's "Agents of Fortune" LP enters the chart.
1979 - The third musical resulting from the collaboration of Tim Rice and Andrew Lloyd Weber lit up the Great White Way. "Evita" opened on Broadway to rave reviews.
1979 - The Eagles LP, "The Long Run" is released, the sixth studio album by the group. This was the first Eagles album to feature Tim Schmitt, who had replaced founding member Randy Meisner, and the last full studio album to feature Don Felder before his termination from the band in 2001. It also turned out to be their last studio album as the Eagles disbanded in 1980, until 2007's "Long Road Out of Eden" after the band had reformed in 1994. Three singles were released from the album, "Heartache Tonight," "The Long Run," and "I Can't Tell You Why." "Heartache Tonight" reached No. 1 on the singles chart and won a Grammy Award. The album was certified 7× Platinum by the RIAA and has sold more than eight million copies in the US.
1979 - Joe Jackson releases his "I'm The Man" single.
1981 - Rolling Stones begin their 6th US tour (JFK Stadium, Philadelphia, PA)
1981 - Sandra Day O'Connor was sworn in as the first woman associate justice on the US Supreme Court on this date. She had been nominated by President Ronald Reagan in July 1981.
1983 - Top Hits
"Tell Her About It" - Billy Joel
"Total Eclipse of the Heart" - Bonnie Tyler
"The Safety Dance" - Men Without Hats
"Baby, What About You" - Crystal Gayle
1987 - Hurricane Emily crossed the island of Bermuda during the early morning. Emily, moving northeast at 45 mph, produced wind gusts to 115 mph at Kindley Field. The $35 million damage inflicted by Emily made it the worst hurricane to strike Bermuda since 1948. Parts of Michigan and Wisconsin experienced their first freeze of the autumn. Snow and sleet were reported in the Sheffield and Sutton areas of northeastern Vermont at midday.
1988 - Florence Griffith Joyner runs Olympic record 100m in 10.54s
1989 - Twenty-three cities in the south central U.S. reported record low temperatures for the date, including Topeka, KS with a reading of 33 degrees, and Binghamton, NY with a low of 25 degrees. Showers and thunderstorms in the southeastern U.S. drenched Atlanta, GA with 4.87 inches of rain, their sixth highest total of record for any given day.
1991 - Top Hits
"I Adore Mi Amor" - Color Me Badd
"Good Vibrations" - Marky Mark & The Funky Bunch/Loleatta Holloway
"Emotions" - Mariah Carey
"Leap of Faith" - Lionel Cartwright
1993 - A Florida judge ruled that it was legal for a child to divorce biological parents. The court case involved twelve-year-old Gregory Kingsley who didn't want his parents anymore.
1998 - Hurricane Georges crossed the Florida Straits, passed over Key West and took aim on the northern Gulf coast. On September 26, hurricane warnings went up from Panama City to Morgan City, Louisiana.
1998 - By hitting a 462-foot blast at the Astrodome, Sammy Sosa hits #66 (and his final homer) of the season to take the lead in the HR race. Less than an hour later, however, Mark McGwire also hits his 66th in the Cardinals' 6-5 victory over the Expos to tie the Cub outfielder in the historic home run race, on the way to 70.
2003 - Sammy Sosa becomes the first National Leaguer to have at least 100-RBIs nine seasons in a row. The Cubs' right fielder surpasses Mel Ott and Willie Mays who had accomplished the feat eight straight seasons, and joins Rafael Palmeiro and Jimmie Foxx as the only players in major league history to hit 35 home runs and 100 RBI for nine consecutive seasons.
2009 - President Obama, British Prime Minister Brown and French President Sarkozy, in a joint TV appearance for a G-20 summit, accuse Iran of building a secret nuclear enrichment facility.
2014 – In his final Yankee Stadium at bat, Derek Jeter knocked in the winning run in the bottom of the 9th to defeat the Baltimore Orioles, 6-5, after the Yanks blew a 5-2 lead in the top of the inning. From opening introductions through the tumultuous game-winning hit, and well after the game ended, the Stadium was a cacophony of cheers for the Yankee star. Jeter retired at season's end after 20 years as the Yanks' SS, with 5 World Series rings and 3465 hits, the most of any Yankee and 6th most in history. Jeter was elected to the Baseball Hall of Fame, Class of 2020, on the first ballot, falling one vote shy of a unanimous selection.
-------------------------------------------------------------

SuDoku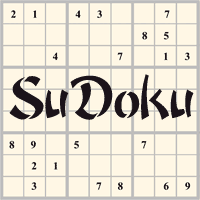 The object is to insert the numbers in the boxes to satisfy only one condition: each row, column and 3x3 box must contain the digits 1 through 9 exactly once. What could be simpler?
http://leasingnews.org/Soduku/soduko-main.htm
--------------------------------------------------------------

Daily Puzzle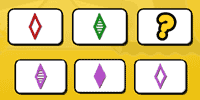 How to play:
http://www.setgame.com/set/puzzle_frame.htm
Refresh for current date:
http://www.setgame.com/set/puzzle_frame.htm
--------------------------------------------------------------


http://www.gasbuddy.com/
http://www.gasbuddy.com/GB_Map_Gas_Prices.aspx
http://www.gasbuddy.com/GB_Mobile_Instructions.aspx
--------------------------------------------------------------

Weather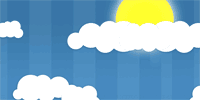 See USA map, click to specific area, no commercials
--------------------------------------------------------------

Traffic Live---
Real Time Traffic Information
You can save up to 20 different routes and check them out with one click,
or type in a new route to learn the traffic live
--------------------------------